Thursday, May 31, 2007
| | |
| --- | --- |
| | [7] |
The Science of Sleep
I am such a horrible sleeper. I have trouble falling asleep so I stay up too late, and then once I am asleep I find it impossible to get out of bed. Last weekend I slept in til 11 o'clock one day! (What am I, a uni student?) I really need to get up and exercise in the mornings, and I just can't. I'm tired and groggy for the first two hours every day and it's so frustrating. Last week I was reading AskMeFi when I saw a reference to Modafinil. This drug WAKES YOU UP. It sounds awesome. Unfortunately it seems to be prescription-only in Australia, and judging by the online pharmacies, it's pretty damn expensive too. Crap. I'll ask my doctor next time I see him, but that looks like a dead end.

The Snook: Just have a coffee!
Me: But I don't love coffee as much as you, and all the coffeeshops near me in the city suck. Choking down a burnt and bitter long black just makes me ill.
Him: So have an espresso. Pretend it's medicine.
Me: Now there's an idea...

Today he made me a macchiato (espresso with a tiny bit of milk) as soon as I got up. I downed it in three sips. Verdict? I'M RARIN' TO GO!

Wednesday, May 30, 2007
| | |
| --- | --- |
| | [2] |
DUDE! TiVo's finally coming to Australia! I wonder if there would be any advantage to switching from our MythTV system. As far as I know, the only real advantage would be that TiVo records stuff for you that it thinks you'll like. That might be neat.

| | |
| --- | --- |
| | [2] |
Penn and Buster. Okay, that's the CUTEST AND FUNNIEST baby picture ever.

| | |
| --- | --- |
| | [4] |
Dear god. First home payments hit $3000 per month in Sydney. That's nearly twice what we pay in rent! See, this is why I don't want to buy a house.

| | |
| --- | --- |
| | [5] |
My daemon is a monkey! You can take a test on the official Golden Compass site. (Link courtesy of Bex.)

Tuesday, May 29, 2007
| | |
| --- | --- |
| | [3] |
Third World*
I didn't notice anything at first because I had my iPod on. Sure, the house felt a little cold when I walked in the door... It wasn't until I set my jacket down in the bedroom that I noticed something odd. The little red light on the dehumidifier wasn't on. I pushed the power button repeatedly but nothing happened. And HEY, the alarm clock's dead too! The TV won't turn on! The heater isn't blowing toasty air! The stove won't light! WHAT'S HAPPENING? I called the Snook. "I think we blew a fuse. Everything's dead." "So fix it. It's over the fridge." Oh. Duh. So after ten minutes of wrestling with the door of the fusebox (true story), I got it open and flipped the switch. Ahhh, sweet electricity. Of course, our Internet was still dead, the server was down, and I couldn't get to the TiFaux. I HAD TO WATCH ACTUAL, BROADCAST TELEVISION, PEOPLE. At one point, my only options were the tabloids and Big Brother, and I couldn't even fast-forward through the commercials! I NEARLY DIED.



* Don't give me that look, hippies. Yeah, I know, going without the Internet for two hours is nothing like living in the Third World. I like to exaggerate for comedic effect. And besides, I REALLY ALMOST DID DIE.




"I Lost My Son to a War I Oppose." What an excellent - yet terrible - essay to contemplate on Memorial Day...

Sunday, May 27, 2007
| | |
| --- | --- |
| | [7] |
DUDE. Just finally watched the Heroes finale. [more...]

| | |
| --- | --- |
| | [4] |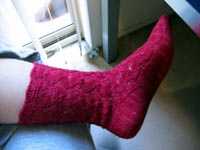 Waving Lace Socks
Well, these took a while! I started these socks not long after I arrived back in Sydney last month. The pattern is called "Waving Lace" and it's the second one I've done from Interweave's Favorite Socks book. (In fact, it's the one on the cover.) The yarn is, of course, the Koigu KPM that I got at Wildfiber in Santa Monica. (I scoured yarn shops in three states to find this stuff.) It was interesting to finally knit with this much-hyped yarn. It's very tightly spun, and it didn't seem to fuzz up at all even when I had to frog a few inches. I really think it was the perfect yarn for this pattern, as the depth of colour and crispness of the stitches really show off the details. (Here's a close-up.) Knitting nerds may be interested to learn that these are the first socks I've knitted using the Addi Turbo 12" circs I picked up in the States. These tiny, tiny circulars are actually short enough to knit a sock, courtesy of an almost 90° bend in each tip. They did take some getting used to though, and I think I went much slower than I would have using the two circulars method. I just couldn't resist the novelty of the needles. Next on my list: a pair of "Uptown Boot Socks" from the same book for my Secret Pal...

| | |
| --- | --- |
| | [1] |
Remember the Titanic Super Slide? I think I may have found something even more tacky: the Titanic Kitty Condo. (No, Dr. Amy Jones will not be getting one of these.)

Saturday, May 26, 2007

Hooray! I just noticed that Roger Ebert is reviewing movies again. Not a lot just now, but it's nice to see him doing what he loves again.


The Tapestry Craft Sale is now live!


Ooh, official teaser trailer for The Golden Compass! That looks AWESOME. I literally gasped. "Iorek Byrnison!" "Pantalaimon!" Eva Green looks great as Serafina Pekkala. And how much do I love Sam Elliot? So, so much. (Link courtesy of patrick.)

| | |
| --- | --- |
| | [3] |
This one's for Mel: "Do female mud wrestlers get mud in their, uh, ladybits?" That discussion had me cracking up today.

Friday, May 25, 2007
| | |
| --- | --- |
| | [2] |
If you've got a second, can you go to the shop website and let me know what you see? Should be a holding page.

| | |
| --- | --- |
| | [4] |
This site claims that Australians have been eating poutine (the famous Canadian dish of french fries covered in cheese curds and gravy) "for decades." O RLY? Where the heck do they get that? I've never seen it here. I've been googling for the past few minutes and I can't find any Australian restaurants that list it. Sure, you can get chips and gravy here, but it's not exactly the same. Do any of you know of a Sydney eatery with poutine on the menu?



That reminds me. When we got to "Canada" at Epcot, I looked all over for a booth selling poutine. Couldn't find one! So we went into one of the gift shops and I asked the cashier, who was VERY Canadian. "Oh, no," she said. "Me and the rest of the staff, we can't find anybody in all of Orlando that serves it. There's this restaurant out on the highway that will put gravy and cottage cheese on your fries though, if you ask, eh." Damn.




Has the ABC News website been hacked? Did they really just post a story about a guy who wore the same pants for 2.5 years as a "JUST IN"? It's not April 1st, is it? And what's that weird quote about "odour" at the end of it? This HAS to be a joke.

Thursday, May 24, 2007
| | |
| --- | --- |
| | [6] |
Haircut. We kept it blonde, mostly because it'll need to be bleached anyway in July when I go "bubblegum pink" to play Tonks. We're growing the back out for now, but I've got a new, shorter sideways fringe going on. I really friggin' love my new salon.


Truffle salt. Oh my god. I want that.


30 Facts About Star Wars, on occasion of the movie turning thirty-years-old tomorrow.

Wednesday, May 23, 2007
| | |
| --- | --- |
| | [3] |
"He looks like a Bob." Apparently scientists have determined that certain names are associated with certain facial characteristics. Huh. I wonder if it only works for guys. (I'm reminded of The Breakfast Club and the bit about "Claire" being a fat girl's name.) I guess if you have an obscure name like the Snook, the benefit is that nobody has a preconceived notion of what you're going to look like!

Tuesday, May 22, 2007
| | |
| --- | --- |
| | [1] |
Pass the Tums
Sale preparations continue and I'm starting to feel a little stressed. Plus I keep remembering that this is about the time last year when I developed my stomach problems. Must stay relaxed. Things always work out in the end, right?



(Pssst. Word on the street is: minimum 20% off everything, with some big discounts on some "supreme" packets of wool. You didn't hear it here.)




I've been listening to the Kimchi Girls podcast lately. It's two adorable girls teaching you to speak Korean. And they use K-pop to bookend the show! Very awesome.

| | |
| --- | --- |
| | [4] |
While stumbling blearily towards the bus stop this morning, the Snook hissed at me: "Hey, it's the Idol guy!" I looked up and made direct eye contact with Mark Holden. The Devil himself. Standing less than 100 yards outside my house. *shudder*

Sunday, May 20, 2007

Chocolate Dog Goes Mexican by Night
The Snook and I spent a couple hours this afternoon starting to implement the Getting Things Done system, and we thought we'd reward ourselves by going out to dinner. But where to go? We were feeling like Mexican, but our previous experiences in Sydney haven't been great. Suddenly, I remembered something. "Hey, you know that random cafe 'Chocolate Dog' down King Street in Newtown? I saw on Grab Your Fork that they turn Mexican at night." Isn't that the wackiest idea? (It reminds me of "Swallows" from Arrested Development.) So we headed down there. Interestingly, the place was PACKED. On a Sunday night! There were even tables reserved. I was amused to see the sombreros dangling from the doorway (put up every night?), and our server greeted us with a hearty "Buenos noches!" We shared the ceviche appetizer, which was chunks of raw barramundi marinated in lime juice, onion, salsa, and (loads of) coriander. It was great. Seriously, put enough coriander in it and I'll eat anything. (I'm sure my sister just threw up in her mouth a little bit there. Americans get so weird about cilantro.) Then the Snook had the beef enchilada, while I had the mole poblano: chicken breast with a thick, curry-like sauce made from Mexican chocolate and chilies. Everything was fantastic. It was without a doubt the most authentic Mexican food I've had in this entire hemisphere. Amy and Rob, you gotta try this place...

| | |
| --- | --- |
| | [5] |
Well, I just spoke to my brother Anthony and he gave me the go-ahead... so I can announce that he and his girlfriend Kara are officially HAVING A BABY. Woohoo! Congrats, Ant. Now I just have to see if I can find a cheap airline ticket so I can attend the shotgun wedding. :)

Saturday, May 19, 2007

As Paris Hilton would say, crochet is HOT. Apparently another journalist wants to talk to you hookers about your craft. Me, I'll pass on this one.

| | |
| --- | --- |
| | [1] |
Mary-Helen has posted the pictures from SSK last weekend, including a blurry one of me with my sock (I actually rather like it though) and another one with me and Miss Fee where I have ginormous boobs. (For those who thought I was exaggerating the weight I gained in the US, the boobs don't lie.)

Friday, May 18, 2007
| | |
| --- | --- |
| | [6] |
I think I've told all the knitters I see on a regular basis, but in case I missed you, here's the Hot Tip of the Week: the Tapestry Craft Annual Sale starts Saturday the 26th.

| | |
| --- | --- |
| | [3] |
Stupid Customer
Sometimes it's very difficult to keep a note of frustration out of your voice when dealing with an exceptionally stupid customer. Say, for instance, a woman who demands a child's dress pattern she saw in a book "last week," yet can't remember which book it was (or even what colour the cover was). People, if you see something in a shop that you want to buy later, especially in a shop with lots and lots of products, WRITE IT DOWN. Because sometimes things sell out, or get moved around, or even get shoplifted, and god knows I'M NOT A MINDREADER. Expecting me to be one only marks you out as a big idiot. (And lastly, no, your status as a prominent Sydney radio personality doesn't mean I remember your every move.)

| | |
| --- | --- |
| | [3] |
Remember my customer that used the adjective "nigger" to describe very dark brown? It appears this is not uncommon.


Heeheehee. Toxic Socks Clothes Bin. That's pretty funny!


Ever since we attended the Bugs Bunny on Broadway event a few years back, the Sydney Opera House still sends me notices of upcoming events we might like to attend. Most of them look like snoozers, but the latest one couldn't have been more tailored to me and the Snook: PLAY! A Video Game Symphony. The Sydney Symphony is going to play the themes to videogames while big screens show the games themselves. HOW COOL IS THAT? We're so going.


EIGHTY-FOUR CENTS ON THE DOLLAR. Man, that makes me fume.


Ooh, Felix Felicis! Those are really cute. Apparently the artist has also done a custom HP necklace. Personally, I kinda prefer the broccoli! (Link courtesy of fellow Hoosier Jamieanne.)


RIP Veronica Mars. *sniff*

Thursday, May 17, 2007

If anybody is looking for a nice gift, my Mom is selling another Amish quilt. (She didn't make this one; she bought it at an auction.)

| | |
| --- | --- |
| | [2] |
Congratulations to brigita, who popped out of blog-retirement to announce she's having a baby! (I think this officially constitutes a baby boom amongst my acquaintance, y'all.)

| | |
| --- | --- |
| | [2] |
Amy did the math.
Gallon of gas in USD in Australia: $3.72
Gallon of gas in USD in America: $3.10 (average)

I'm so glad we don't have a car and we can both walk to work.

Wednesday, May 16, 2007
| | |
| --- | --- |
| | [3] |
What. The. Hell? Train stations closed and mobile phones jammed? That's gonna suck.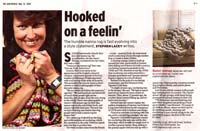 Thanks to a nice Sydneysider named Barbara, I now have a copy of the crochet article I was interviewed for a few weeks ago. It was in this past weekend's "Home on Sunday" supplement in the Sun-Herald. It's a pretty good article, actually, and I don't sound too idiotic. (They did run a full page photo of a woman knitting - as opposed to crocheting - but what are you gonna do? The muggles always get it mixed up.)

| | |
| --- | --- |
| | [1] |
Tired.
This guy is trying to break the world's record for going without sleep. It's ELEVEN DAYS. I find this particularly gruesome to contemplate, especially as I'm sucking down coffee and hating life after a mere seven hours of sleep. It also reminds me of the time Eileen and I pulled a Mega-All-Nighter before a freshman bio exam and then, upon getting our second wind, decided to see just how long we could keep going. I don't have a lot of memories of that night, but I do remember the two of us traipsing across campus to the computer lab and then there was something about us sitting in a tree and then we decided that we needed shirts that said "Roomate" and "Roomater" (like Dumb and Dumber) and oh god, we're so tired... To this day, I'm not sure how much if it I imagined. We still both call each other Roomater (or "RT") to this day though.

Tuesday, May 15, 2007
| | |
| --- | --- |
| | [5] |
RunningBlog: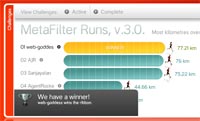 I won another challenge! Over the 14 days of MetaFilter Runs 3.0, I managed to log 77.21km (squeaking by the awesome AJR by a mere 1.21km). Folks, that's an average of 5.5km A DAY. Back in the first Challenge, I did 88km in a whole month. Pretty big improvement, huh? I will admit that my ratio of running to walking isn't great, but that's intentional. I'm so wary of hurting myself again that I'm making a conscious effort to build my strength up slowly. The Snook and I are doing the Couch-to-5K Plan to jump-start our City 2 Surf training, and we've just finished Week 2. I've been walking to work whenever possible too - I've saved a heap on bus fare! I'm also icing my hamstring whenever I can to aid in recovery.

Of course, the MetaFilter boys aren't giving up. The next Challenge has already started... and we're going for speed. Who can run the fastest 5K in the next two weeks? Don't worry; I'm happy to let this one go. :)

Monday, May 14, 2007
| | |
| --- | --- |
| | [3] |
Menial??
The Freakonomics guys ask: "Isnít it puzzling that so many middle-aged Americans are spending so much of their time and money performing menial labors when they donít have to? " And by "menial labor," they mean knitting, cooking, and gardening. I have to tell you, that stuck in my craw a little bit. It seems so... belittling. The related article is more even-handed though, so I'll chalk it up to an unfortunate turn of phrase. And besides, this is an issue that seems to amaze non-knitters. Why would you spend twenty hours and $100 in wool to make a sweater when you can buy one at Target right now for $25? For me, it all comes down to making art, creating something beautiful and useful and tangible. I live in my head so much of the day - meaning all the hours I spend staring at a computer - that it's a joy to really make something.* And it's funny how the money issue comes into it. I've found in the past that when I did works for hire - scarves, sock monkeys - it really was harder than when I make things for myself. I guess I'm also a special case in this whole debate, given that I work in a knitting shop. As I admitted to Andrew at SSK last weekend, sometimes I just get a little "knitted out" over the course of the week. I guess it's hard to maintain your interest in anything if you're surrounded by it 24-7...

* I'm proud to say that our new meal plan is also having a big difference in how I view cooking. Now that I know which nights I'm responsible, I find that I'm more interested in making an effort. Tonight it was grilled lamb sausages from the butcher alongside Creamed Cabbage, Carrot, and Cauliflower. (I also threw in a leek. Go creativity!)


Cool business card designs. Wow. I wish I had business cards. (Link courtesy of kottke.)

| | |
| --- | --- |
| | [2] |
How do you 'go' in space? I will confirm that this was definitely something our Space Camp team wanted to know about.


Hmm. I gave an interview to a journalist about the resurgence in crochet a week or two again, and apparently it was published in one of the weekend papers. I haven't been able to find it online. Anybody seen it?

| | |
| --- | --- |
| | [2] |
Wow. Crocheted high heels. Those are, like, my kryptonite.

Sunday, May 13, 2007

Small world. The Snook and I headed over to Tempe tonight to the German Club to bid farewell to two friends leaving for a long European bike tour. Imagine my surprise when I recognized a fellow MeFite amongst the party! Turns out he's the brother of one of our friends. It was really amusing trying to explain to people that we knew each other through a random website. Muggles just don't get it.


Woohoo! I'm proud to announce that the website of the Inner City group of the Knitters' Guild is now live.

Saturday, May 12, 2007
| | |
| --- | --- |
| | [3] |
I should've brought more Kool-Aid back from the States. I've suddenly got a killer idea for this year's Halloween party hors d'oeuvres... (Link courtesy of Max.)

Friday, May 11, 2007
| | |
| --- | --- |
| | [3] |
[MOM, DON'T LOOK. SERIOUSLY.] Oh my gosh, I want everything that this chick makes. The whole concept - the website, the photography, the freakin' CLOTHES - is awesome. (Prediction: Amy will love it.) Or maybe I just need to take an embroidery class or something.

| | |
| --- | --- |
| | [5] |
World Wide Knitting in Public Day
After much debate and research (I spoke to several City events coordinators), everyone seems to agree that the best venue... is the same one we had last year. Yep, we're making it official, folks.

Where: Sidewalk Cafe + Bar, Sydney Opera House
When: Saturday, June 9, 2007 from 2pm onwards
Bring: Your knitting! A fold-up chair might be useful if you have one, and sunscreen if it's a sunny day.

I hope to see everybody there!

Thursday, May 10, 2007
| | |
| --- | --- |
| | [2] |
Today in the knitting shop I had a call from someone "working on the new Bazmark film." Sweet! (Regular readers will recall that I once gave Baz's wife Catherine Martin knitting lessons.) So anyway, the chick wanted all this thick gnarly grey alpaca wool and I managed to track it down for her. She came by in the afternoon to pick it up.

Me: So will we be seeing Nicole sporting a jumper from this in the movie?
Her: Uh, no. *pause* We're using it to make Aboriginal pubic coverings.

But of course.


Oh, dear lord! I will be waking up to the sound of Stephen Fry from now on, for sure.

| | |
| --- | --- |
| | [3] |
A righteous rant! Excellent. Just what a bootylicious girl needs after seeing her doctor "Tsk tsk" and pull out the measuring tape... (Link courtesy of Lara.)

Wednesday, May 9, 2007
| | |
| --- | --- |
| | [4] |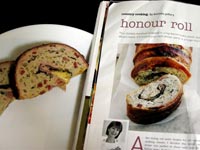 Italian Chicken and Bacon Rotolo
My culinary adventures continue! Thanks to Ma Snook's generous birthday gift of a delicious subscription, I always have lots of

food pr0n

inspiration lying around. Tonight I made Belinda Jefferey's "Rotolo," which (as she herself admits) is really just a glorified chicken meatloaf. It starts with chicken mince, to which you then add tiny cubes of salami, an onion, fresh thyme and parsley, garlic, two types of mustard, and grated parmesan. Then comes the fun part - mushing all that up with your hands. Next you're supposed to add a beaten egg, milk, and breadcrumbs, but I switched to cream and no breadcrumbs (to keep it low-carb). The mixture is spread out on a piece of baking paper and then layered with mint, ham, and smoked cheese. The whole thing is rolled up (like a jelly roll) and then covered in bacon. (How many animals are we up to yet?) Then it gets baked in the oven. YUM. I was absolutely thrilled when I saw how closely mine resembled the picture in the magazine! It was pretty darn tasty too, and very filling. We'll be having the leftovers tomorrow...

| | |
| --- | --- |
| | [2] |
ZOMG! YARRRN. It's pirates, and it's knitting. I need that T-shirt. (Link courtesy of the Snook.)


HA! Did David include a blooper reel at the end of his last podcast? The end music started up and I was about to switch off, but I got distracted buying a bottle of water. The next thing I knew, I heard him trying to keep his cat from eating the microphone. Too funny!

Tuesday, May 8, 2007

How Sassy Changed My Life. Dear GAWD, one of these times I go home to my Mom's house I really must remember to look in her basement for the oh-so-cool photo of me on the cover of Sassy. (Yes, I had it taken at one of those photo trickery booths at Cedar Point. I was, like, 14.)

| | |
| --- | --- |
| | [6] |
Crap! How did I miss that the latest Buffy comic's already been out for a week? And there's another Gunslinger as well! Looks like I'm off to the comic book store tonight...

Monday, May 7, 2007
| | |
| --- | --- |
| | [10] |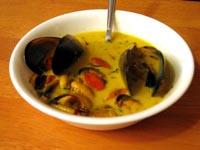 Curried Mussel Soup
When I stayed with my sister in LA last month, I was very inspired by the Mom-like way she planned out the menus for the week and then did one big shop for just what she needed. I know; it's not like this is a hugely novel idea. But we're lazy and we never plan, and I'd always end up coming home and surfing through recipes fruitlessly while bingeing on whatever was in the fridge. And unless the Snook felt like cooking something, we'd end up eating out or having takeaway and feeling useless. Well, not any longer! I'm proud to report that we've instituted a new plan and managed to stick to it for over a week. I'm responsible for Monday to Thursday, and the Snook handles the weekend. Last week I made turkey stew, burritos, veal steaks and veg, and moussaka, while the Snook went with burgers, fish fillets and veg, and shepherd's pie. Which brings it 'round to me again... and I decided to step it up a notch: Curried Mussel Soup from Ainsley Harriott. Okay, firstly I chose it because the Snook hates Ainsley. He just really gets on his nerves. And I think that's funny. Secondly, I'm still working on my seafood phobia, and I figure that knowing how to cook it can only help. So I stopped in at the DJ's Food Hall after work for a kilo of cleaned, de-bearded mussels. The soup itself is really easy to make and it's super low-carb, which was a bonus. I steamed the mussels in white wine until they opened, and then drained and shelled them (reserving the liquid in the pot). The soup had lots of aromatics: shallot (I had to use red onion), fresh ginger, chili, and garlic. We had some lovely saffron from Herbies in there as well. In the end, I managed to eat about half my bowl. I've gotten to the point now where it isn't the taste of the seafood I object to. I mean, this tasted good! But mentally, I still have a block when it comes to eating slippery, scary-looking sea bugs. It's like I can feel them churning in my stomach. No matter though; the Snook was happy to polish off my share as well as his own. I figure it's just a matter of time and repetition until I can join him.

| | |
| --- | --- |
| | [3] |
The Amazing Race finale. [more...]

| | |
| --- | --- |
| | [2] |
I know everybody says their own babies are cute, but seriously? My nephew is the cutest baby ever. I'm not even joking. And I'm "DELIBERATELY BARREN," so you know I'm being objective.

| | |
| --- | --- |
| | [4] |
Live spiders... IN HIS EARS! I'm going to start wearing earplugs to bed.

Sunday, May 6, 2007
| | |
| --- | --- |
| | [2] |
Double trouble.
| | |
| --- | --- |
| | [2] |
RunningBlog: In addition to taking the lead in our MetaFilter Runs 3.0 Challenge... I just passed the 250K/150 Mile mark! The Snook and I have been easing ourselves back into running with Robert Ullrey's Couch-to-5K podcasts.

Saturday, May 5, 2007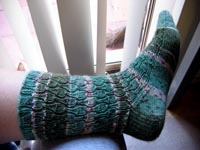 Undulating Rib Socks
Upon further reflection, I've decided to keep these socks for myself instead of gifting them to my Secret Pal. I used 3.25mm needles, and I think they're just a bit too stretchy (and rough on the sole) for a present. The yarn is lovely to work with though. It's called Austermann Step, and it's actually impregnated with aloe vera and jojoba oil. I got it at Ewe-Nique Knits in Goshen, Indiana, and I pretty much had them finished by the time we got home. The pattern is from Interweave's Favorite Socks book and it was fairly fun to knit. I'm not sure I like the way the self-striping competes with the intricate pattern, but that's the problem with these new-fangled sock yarns. My next socks are going to be solid-colored, that's for sure.

Friday, May 4, 2007
| | |
| --- | --- |
| | [2] |
This article about a DNA test that can tell the sex of a fetus at six weeks blows my mind. They test the mother's blood for Y-chromosomes? I didn't think the mother's and baby's blood intermingled. I didn't know you could do that. Huh.


How to Spray Block Crocheted or Knitted Squares. That's an excellent Flickr photoset. Now I want to make a blocking board.


Hey, Dad! Looks like the General Lee is for sale. Edited to add: Holy crap! I just realized that Bo Duke is the one selling it.

| | |
| --- | --- |
| | [1] |
Ooh, juicy yarn industry scandal! Apparently last year rumors started going around that Debbie Bliss Baby Cashmerino had no actual cashmere in it. The Australian distributor has researched these claims and was told by the manufacturer that they are categorically false. According to them, an industry competitor had a dodgy test done last year and leaked the results to weaken Baby Cashmerino's position in the market. Debbie Bliss has since had numerous chemical and DNA tests done to prove that cashmere is, in fact, in there. Pretty scandalous, huh? This is the only link I can find with more details.


Note to self: Go through unwanted books this weekend and use BookFinder to see if any are particularly valuable. Take others up to Elizabeth's and see if they want them.

| | |
| --- | --- |
| | [8] |
Last night at the SnB, it suddenly popped into my head that Worldwide Knitting in Public Day was probably approaching. When I got home, I idly surfed over there to check the day. Crap! It's on June 9th, and the deadline for signing up as a host is, oh, TOMORROW. I quickly sent off an e-mail offering to coordinate for Sydney CBD. (The only other Australian location currently listed is Bankstown.) I've tentatively put down last year's location of the Sidewalk Cafe and Bar at the Opera House, but Mary-Helen and I both think it would be better to find somewhere else. That was a good location in terms of foot traffic and amenities, but the seating wasn't really conducive to a big group. Can anybody else think of somewhere better? Preferably it'd have nice seating, food, drink, bathrooms... and be as public as possible! I'm investigating Darling Harbour, but please let me know if you have any other suggestions.

Thursday, May 3, 2007
| | |
| --- | --- |
| | [3] |
Junk Food Confession: I actually had a McDonald's Cinnamon Melt on our trip. It was the morning of Space Camp, and that was the only place open we could find for breakfast. I wasn't too hungry (TOO! MUCH! ADRENALINE!) so I just thought I'd get a pie or something. I had no idea they were a new thing when I ordered it; I just saw the sign above the cashier. Unfortunately about two seconds after I was given my change, a shout rang out from the kitchen. "WHO SOLD A CINNAMON MELT? WE DON'T KNOW HOW TO MAKE THOSE YET!" Apparently it was, like, Day One of the Cinnamon Melt and our cashier had unknowingly sold one before the kitchen was even prepared. I said I'd be more than happy to take something else, and after much back-and-forth I was provided with two(!) Cherry Pies. A little while later, my cashier appeared triumphantly at our table with a cardboard box in her hand. "I made one!" she announced. "That's okay, really; I just ate a Cherry Pie!" I said. "No, you have to try it! They're really good! And it's on me." Well... okay. It was pretty darn tasty! I don't like dry, cakey cinnamon rolls, and this one was pretty much the opposite of that. Moist, gooey, loaded with icing... I guess that's why it has 460 calories, huh? (Yeah, I gained like eight pounds on that trip.) If you can spare the nutritional deficit, I recommend the Cinnamon Melt. (Link courtesy of PCJM, who thinks they sound nast.)

Oh, and I tried Diet Coke Plus too. I thought it tasted exactly the same as regular Diet Coke (i.e. DOUBLE-PLUS AWESOME).


"We Has Tribbles and Also Troubles." GENIUS. The Snook and I do enjoy the lolcats.

| | |
| --- | --- |
| | [1] |
Bendigo Woollen Mills finally has a website! It's really nice too. (I wonder who did it? There's no mention of any outside company.) I like the way the yarn thumbnails zoom out into a picture of the full ball. I'd love to do something like that on the TC site, but with our current hosting plan, it just isn't possible. We just have too many products!

| | |
| --- | --- |
| | [20] |
I think I need to have a button made that says "DELIBERATELY BARREN". Any of you other girls want one?


Hmm. Looks like we could've taken the cat on vacation with us after all!

Wednesday, May 2, 2007

Just a quick apology to those who are waiting for e-mail replies from me. I'm still fighting this darn cold and work is kicking my butt this week. I'll get back on top of things soon, I promise.


Holy crap! My friend Kel reports that Rob Sudduth, a guy I knew in college and who I actually KISSED in a play, had a speaking role in last night's episode of Veronica Mars. Craziness.

Tuesday, May 1, 2007
| | |
| --- | --- |
| | [2] |
What luck! I'm giving the Kitty Kat Cardigan its first public wearing today, and who should pop into the shop but Miss Fee, Amy, and Amy's Mom. It's always more fun when people you know see you wearing new things.

| | |
| --- | --- |
| | [8] |
My sister is annoyed at having to breastfeed her son in an icky public bathroom. I can't say I blame her. I've had women breastfeed in our shop before, and yeah, while it momentarily made me uncomfortable, I just figure that's my problem and not theirs. Go public, mothers!

archives
You can search through the archives by post keyword using the form on the left, or you can browse by month using the links at the bottom.
"Moblog" refers to posts and images posted directly from my mobile phone.

"PW Blog" refers to posts recovered from my very first weblog, which dealt with news related to my college dorm.