Saturday, May 31, 2008
| | |
| --- | --- |
| | [2] |
Cat Ladies. Oh. My. God. I'm almost tempted... Almost.

Edited to add: And if you haven't seen it already, behold Manbabies.

My sister was way ahead of the curve with all this. I remember the summer she "helped" with the Coachmen website and spent the entire time Photoshopping her head onto Pete Sampras's girlfriend's body (and his Wimbledon trophy as he was kissing it).


What I Imagined the People Around Me Were Saying... This is very funny. Unfortunately I can completely relate to the 15- and 16-year-old ones, because I was pretty much dating that guy and that's pretty much exactly what I was thinking at the time. Good grief. (Link courtesy of PCJM.)

| | |
| --- | --- |
| | [9] |
Next thing you know there'll be a mosque...
Ugh. It was bad enough learning this week that Camden Council had rejected a planned Muslim school in their community and then claimed that it was solely zoning issues - not racism - that motivated the decision. But now to see this idiotic woman parading her ignorance and prejudice in front of the world's media? I hope the council members are rightly embarrassed for themselves and their constituents. I've already run into the stereotype that Australia is somehow more racist than other countries - most notably over on MetaFilter - and people like this aren't doing our image any favours.

| | |
| --- | --- |
| | [5] |
Eileen is taking a poll about sweet corn butter application: Butter roll, yay or nay? I grew up in a "roll" household (where you roll the sweet corn on top of a stick of butter for maximum distribution, but which unfortunately causes a dent in the butter and renders it unfit for any other purpose). But now here in Australia I can't find butter in long skinny sticks, so I find myself doing the pat. I weep for my youth.

Friday, May 30, 2008

Wow! Does this story remind anybody else of Satomi Tiger?


RunningBlog: Hey runners: John "The Penguin" Bingham has a new blog! My friend Susi lent me his book No Need for Speed earlier this year. Very motivating for us plodders...

Thursday, May 29, 2008
| | |
| --- | --- |
| | [2] |
In the interest of SCIENCE - and because this AskMeFi question is so facinating - I am going to see if Dr. Amy Jones can operate a computer laptop trackpad tonight. Stay tuned for the experiment results.

Later: Well, she moved it a little bit but not much. I think that mashing her whole paw against the trackpad was just too much surface. I would've tried it with a single digit but the test subject fled the scene. Hm. You'd think that a DOCTOR CAT would be more interested in science.


The Perils of Working with Socially-Challenged Nerds
My hair's getting a bit longer, so this morning I decided to try pulling it up with a barrette. The first thing a co-worker said when he saw me: "What's wrong with your hair?!" Grrr. Thanks. Thanks a lot.

Wednesday, May 28, 2008
| | |
| --- | --- |
| | [2] |
How Microsoft Counts: Let me see if I've got this straight. 3, 3.1, 95, 98, ME, 2000, XP, Vista, 7. That is some of the worst product naming I've ever heard.

| | |
| --- | --- |
| | [2] |
We are officially living in the Bizarro World. I find myself disagreeing strongly with Kevin Rudd... and agreeing with Malcolm Turnbull. And I bet a lot of you are in the same boat!

Edited to add: This is an excellent, excellent editorial on the Henson controversy. Elizabeth Farrelly brings up a lot of the points the Snook and I were making when we debated it at home last night. I fail to see much difference in a kid posing for Bill Henson and one competing in one of those "JonBenet" type beauty pageants. If you're against the sexualisation of children, fine, but you're going to be banning a lot more than just an art show.

| | |
| --- | --- |
| | [5] |
RunningBlog: I went for a short half-hour run this morning. I'm still not back at 100% health. It's really annoying. I've got this perpetual feeling that I can't quite clear my throat, and it makes it difficult to breathe easily when I'm running.

I've started planning my events for the rest of the year. Here's what I've got:Here's my question: How the heck do I train for these? Do I just follow a training plan for the half-marathon and do the other events as I come to them? Hal Higdon's "novice" plan for the Half-Marathon (which I used before) goes for 12 weeks, while Jeff Galloway's "timed goal" plan goes for 15. (At least, I think it does. It also includes two weeks past your goal event.) If I use the Galloway, I'd need to start by June 23rd at the latest. What do I do between now and then? Or I guess I could start now and stretch out the plan by another three weeks. Will I be overtraining for the race then? I'd really like to hear from any other runners how they'd approach planning out these next five months...

Also: Congratulations to my stepfather Joe, who ran his first 5K race in a long time this past week! And my mom's going to do a 5K walk with him next week. I'm really glad that I could inspire them to get out there.

Monday, May 26, 2008
| | |
| --- | --- |
| | [1] |
Synesthesia
I watched a fascinating documentary yesterday afternoon called Derek Tastes of Earwax. It was about people with synesthesia, the condition where your senses get mixed up in interesting ways. Most synesthetes perceive numbers and letters as being colored in some way. The title referred to one gentleman who "tasted" nearly every word that he heard. I was pretty sure throughout the film that I don't have synesthesia, because most of the examples and experiments they showed didn't describe me at all. Then they started talking about number lines, and people who perceive numbers and dates in three-dimensional space... and I realized that I do do that, to an extent. I have a very clear mental calendar that runs from Janary (to my far right) to December (where I'm standing, no matter what month it actually is). Neat.

| | |
| --- | --- |
| | [3] |
"Every girl online is fat, ugly and unsexy. Here's how to get over it." Interesting article on being a woman and dealing with harrassment. I had a great discussion about personal conflicts (both online and off) on Saturday morning with my girlfriends. It turned out that pretty much all of us had been subjected to it. On one hand that's depressing, but on the other hand it's nice to know you're not alone, I guess. Things have been mostly quiet on the troll front here, but there have been a couple blips of contact in the past few weeks. I'm happy with how well my strategy of ignoring them is working though. They don't bother me. I just feel sad at people's capacity to bear petty grudges and surprised at the energy they expend posting hateful comments that no one will ever see. Life's too short to spend two seconds thinking about people like that. (Oh crap, I just did, didn't I? Consider that the next year's quota.)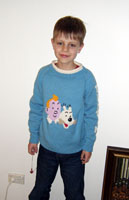 Weekend Update: Well, I survived. It was a stressful week. I spent several nights getting the TC website ready for the sale launch on Saturday morning. On Friday I rushed home from work to do an emergency house-clean before Jeannie, Chris, and Kurt came over for dinner. We had lamb shanks cooked in our new slow cooker (thanks Miss Fee!) and everybody had a nice time. Kurt really liked his Tintin jumper and, as you can see here, it fit perfectly! It's just a little bit big, so I'm hopeful he'll get another winter's worth of wear out of it next year. After they left, it was back to the TC site for final preparations. (I would've pulled an all-nighter if not for the help of the Snook, who I really don't deserve.) Saturday morning I dragged myself into the city to meet the girls at the shop, and then we all went out to breakfast afterwards. That afternoon the Snook and I went to Broadway to see Indiana Jones and the Kingdom of the Crystal Skull. It was highly entertaining... but yeah, the story is really stupid. Sunday morning I joined Miss Fee and some of her running buddies to do the "Bay Run," a 7km course around Iron Cove. I started out well, but by the 4km mark I was struggling to get my breath. My lungs just still aren't 100%. Somehow though, I still finished in a really good time. Maybe I need to run with other people more often. I spent the rest of Sunday chilling out and listening to podcasts while I knit. It was just what I needed.


What Your Cat Thinks When She Rubs Up Against Your Leg. Yup. True.

Saturday, May 24, 2008

Could the eagles have flown Frodo into Mordor? Fascinating little throwaway link from Kevin's Indiana Jones review.

| | |
| --- | --- |
| | [2] |
Weezer just won the Internet. That is the coolest music video of all time. I don't even recognize all of the memes they reference in there. (Link courtesy of Daring Fireball.)


It's 1:24am. The Tapestry Craft sale website is finished and will launch in less than eight hours. I need to sleep.

Friday, May 23, 2008
Bacon is good.
| | |
| --- | --- |
| | [11] |
TC May Sale starts tomorrow!
I'm just a little bit speechless right now. I've been killing myself this week trying to do all the normal sale website prep stuff on top of my real job - I was up past midnight last night - and this morning I logged in to Ravelry to see somebody complaining about the splash page on the site. They were upset that they couldn't get to the site and order a pair of knitting needles NOW. I'm just flabbergasted. We used to keep the site up and running normally right til the sale began, but inevitably we'd get half a dozen emails the following week from customers who unknowingly bought the day before it started and were bitching that they didn't get the discount. You really just can't win. At least this way we cut down on the complaining, and it gives us a full day to test the site and make sure it's ready. Plus I think it's kinda fun and builds up a sense of anticipation towards the Sale. What do you guys think?


Fashion! Turn to the left!
Thanks to the Snook, we recently came into the possession of a 40% off Jeanswest corporate discount coupon. Sweeet. The deadline to use it was last night, so we zipped over to the Broadway for some much needed new clothes. (The man has literally not purchased a stitch of clothing in over a year.) We got two pairs of jeans each, and I also got a denim skirt, a T-shirt, and some awesome thick tights. Snookums got a T-shirt, three dress-shirts, and a pullover. So if you see us anytime soon and we look uncharacteristically not like ragamuffins, that's why.

Thursday, May 22, 2008
| | |
| --- | --- |
| | [2] |
RunningBlog: Oh, nice! Jeff and Allan over at the Running with the Pack podcast congratulated me on my half-marathon finish in their most recent episode. Thanks, guys!

| | |
| --- | --- |
| | [1] |
"My Lady Parts Do Not Ache for Hillary Clinton." Damn right! (Link courtesy of Kevin.)

Wednesday, May 21, 2008

iPhone 2.0 to launch on June 9th. Yeah, it's just a rumour at this point, but like everybody is reporting it. I'm so excited! I haven't had a new phone in four years, and mine was pretty crappy even by 2004 standards.

| | |
| --- | --- |
| | [1] |
The Moment I Knew I Had a "Coffee Problem": I was standing in the queue at Three Beans this morning, patiently waiting for my large takeaway skim latte, when ALL THE LIGHTS WENT OUT. And all I could think about was whether he'd managed to make MY coffee before the blackout, because if he didn't, I was going to have to steal somebody else's.


Ebert has a new blog post about how much he loved the new Indy and how much AICN sucked for running a negative review before the official premiere.

Tuesday, May 20, 2008
| | |
| --- | --- |
| | [8] |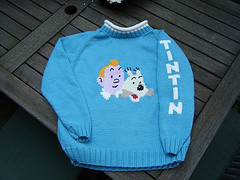 Tintin Jumper
This was a special surprise birthday gift for my nephew Kurt, who is a big fan of Tintin. I used the pattern for "Jumper with Raglan Sleeves" from Panda Handknits #204 ("11 Handknits for Kids"). I noticed that in many of the illustrations of Tintin he's wearing a sky blue jumper, so that decided me on the colour. Ma Snook provided me with a picture of Tintin and Snowy, which I transferred to knitter's graph paper in Photoshop. The main areas of colour were knit in intarsia, but the smaller details (Snowy's tongue and nose, and the black outlines on their faces) were embroidered on after the fact. I also decided to put "TINTIN" in block letters down one of the sleeves, just to keep it interesting. It was a fairly quick knit, and the only annoyance was weaving in all the ends and sewing it together. (I normally like to knit in the round, but the intarsia in this case prevented that.) I knitted it out of Filatura di Crosa Zara, and I probably used 9 balls of the blue and 1 of the white. (I used scraps of random 8ply for the other colours.) I used 4mm needles and finished it in just over a month. He and his parents are coming over Friday for dinner... I hope he likes it! (Ravelry details.)


Hey Mom, you should do this Korean-American survey. You could win a trip to Seoul! (Link courtesy of Ask a Korean.)

Monday, May 19, 2008
| | |
| --- | --- |
| | [1] |
RunningBlog: The official race photos are up, and there are FOURTEEN of me. My personal favorites are this one and this awesome one with the Harbour Bridge in the background. And I have a happy smile in this one. Some of the others look... not so good. Also, I think these photos conclusively prove that I do NOT give the thumbs-up whenever my photo is taken; instead, I actually run with them sticking out at all times. I did not know that.


"I guards u frm teh dingoz." Bwahahaha!

| | |
| --- | --- |
| | [1] |
Joomla Day: Today my workmates and I headed to Darling Harbour for Joomla Day. (Joomla is a content management system for websites, and we're using it on a project right now.) Unfortunately I didn't get a lot out of it. The audience seemed to be pretty varied, from folks who'd never used it before to small business owners to power coders like us. In retrospect, there really wasn't any way they could cater for all levels. For instance, we'd been really looking forward to the "Security and Performance" talk, but it turned out to be given by a non-coder whose only real advice was "keep everything updated." Gee, thanks. (He also threw in a ten minute advertisement for the hosting company he runs, which was a bit weird.) And there were way too many audience questions about "SEO" and "link exchange" for my liking. (*shudder*) The only bit of the day that was really relevant or interesting for me were the two talks by Andrew Eddie, one of the Core developers, but even then he didn't really cover anything I'd hadn't figured out on my own. At one point in the afternoon, this teenage kid (who'd talked about his experience with GHOP) actually pulled out a guitar and warbled a song about how much he loved his Macbook. It was amusing and all, but really - is this what we paid $90 for? I feel like the business and marketing types probably got more out of it than the developers did. Oh well. It was a nice to not be in the office while I'm still so tired and sore... and I got a T-shirt out of it.


RunningBlog: Here are some details about yesterday's half-marathon winners. The chick who won had been nursing an Achilles tendon problem all week!

| | |
| --- | --- |
| | [2] |
RunningBlog: Official Results: I just ran out to get the morning paper and check the results. I finished in 156:59, which is just shy of two hours and 37 minutes. (As Allan mentioned in the comments below, that means I averaged a twelve minute per mile pace for the whole thing.) I placed 5979th out of 6032 finishers... which means I was in the bottom 1%. But you know what? This race was marketed as Australia's "most prestigious restricted entry running event," and I was in the company of serious runners. I'm just happy to have been out there with them.

Sunday, May 18, 2008
| | |
| --- | --- |
| | [29] |
RunningBlog:
I did it!
Thank you so much to everybody who wished me well. This was for Snookums, and my sister, and my whole family, and all my friends (especially Miss Fee, Eileen, Emily, Tricia, Max, Emma, Hoey, and Michelle), Coby at Muscle Medicine, Jeff and Allan over at Running with the Pack, Brandon of Brandon's Marathon, everybody who gave me advice at AskMetaFilter, and everyone who cheered me on and sent me messages and said I could do it. You guys all ROCK.

Okay, so you want to hear the nitty-gritty details, right? (Full iPod log here.) I felt pretty good this morning. I got a decent night's sleep (despite a crazy dream that I'd written a Joomla plugin to create a half-marathon object), and I had half a bowl of oatmeal in the morning. I was feeling a bit antsy. When we got to the park, my spirits fell a bit upon seeing all the hard-core runners warming up. It's a sobering thought to look around and realize that EVERYONE ELSE YOU SEE is way fitter than you. (Turns out there were people there less fit than me, but I didn't spot them till later.) I parted ways with the Snook early, wanting a little time to myself getting ready. I made some friends in the line for the Port-a-Potty. I stretched. I checked my supplies: iPod in one pocket, jelly babies and Powerbar Gel in the other. I self-seeded pretty far towards the back. The weather was beautiful. (Suck it, meteorologists!). And we were off!

The first couple kilometers were mostly downhill through the city. I felt much better than I did on my previous couple of runs. I don't know if it was the inhaler I've been using or the enforced rest, but the run felt a lot easier than it did last week. I cruised through the first 4.5km, only walking when I hit the first water station. I was watching my pace on the iPod pretty closely, since I was obsessed with making the 75min cutoff. To my delight, I soon realized that the iPod was under-reporting my distance a little bit! (Like, when I hit the 5km mark, the iPod only thought I'd gone 4.9k.) That meant that my actual speed was better than I thought. Eventually I'd built up enough of a "buffer" that I knew I was going to make it. We doubled-back into the city and I saw Snookums at about the 7km mark. I grinned and waved and stuck my tongue out. "I'm going to make it!" I said. The next 4km were through the Domain, but I'm pretty comfortable running there. I passed Snookums again as I started my second lap. A block later, I passed the all important 11km mark at exactly 75:00. I was in a pack of girls at that point and we all cheered for each other. (I realized later that they were extremely lenient with the cutoff. I know for a fact that there were people who finished more than half an hour behind me.)

Okay, so the second lap? HELL. I was cheered by the fact that I'd met my #1 goal (one that I'd been obsessing about for six months), but the prospect of running for another 80 minutes was just crushing. Still, I knew I could walk now if I needed to. At about the 14km mark... I realized I was starting to "bonk". My legs just felt so dead I could barely lift them. I knew there was a water station coming up, so I went for the Powerbar Gel. It probably took 10 minutes to kick in, during which I shuffled and walked as best I could. "I think I'm hitting the wall," I said to another girl as we neared the Harbour Bridge. "Do you have sugar?" she asked. "I'm good," I said. "Just waiting for it to digest." Eventually I felt like I had a little more gas in the tank, but not much. When I saw Snookums at the 17km mark, I was hurting. "Only 4 more to go..." he told me. I headed into the Domain again. It was killer. The sun was hot. The field was extremely thin at that point (I'd been lapped by the race winners before I was even halfway through) but there were still a number of people that I could see behind me. I know it shouldn't matter, but knowing that I was going to finish and that I wasn't going to be dead last cheered me up. I walked a lot of those last hills. As I came back up near the Art Gallery, I passed a few people who were still pushing onwards in the other direction (meaning they were a good distance behind me). We all clapped and cheered each other on. I could hear the roar of the crowds at the finish line and a man's voice on the loudspeaker. "Are they saying people's names?!" I wondered. I pulled off my headphones as I came around the fountain in Hyde Park, smiling as Snookums took a last photo. "And here comes... Kristine Howard up to the finish line. Any relation to Johnnie?" "NO RELATION!" I yelled as I crossed the line. I did it. I was done. My time was probably around 2:35 or so, which I'm extremely happy with. A nice old guy took my timing chip off my shoe for me, and I collected my medal. Then it was over to Snookums for a much-needed hug and some water. I was surprisingly upbeat, considering how much my legs and back hurt. We made our way home.

Continue on for the photos. [more...]

Saturday, May 17, 2008
| | |
| --- | --- |
| | [5] |
9.5 hours to go. I'm hydrated. I'm carbed up. I still feel woefully under-prepared. I'm going to bed. I hope I can do it.

Friday, May 16, 2008

Discovery: A new production of RENT will be playing in Sydney next month. Snookums, I am going to this.

| | |
| --- | --- |
| | [3] |
Sunday's forecast: Showers. Cold and windy.

Crap.

| | |
| --- | --- |
| | [2] |
Fostering International Cultural Exchange Through Hairstyles.
I wore pigtails today. This is apparently quite a novelty for a few of the programmers here.


RunningBlog: 8K Photos
The official race pictures from last weekend's 8K are now available. Check out that second one! (I snaffled a copy here if you don't like turning your head 90 degrees.) I'm pretty sure that's coming in to the finish line. I look pretty pained, don't I?

| | |
| --- | --- |
| | [2] |
Oh, neat! I just discovered that there's a play about Richard Feynman currently running in Sydney. The Snook's got his autobiography and we've both read it. Might be fun...

| | |
| --- | --- |
| | [5] |
Man. Stuff like this is why I get anxious every time we visit the States. The Snook already suffers the indignity of frequent "random" bag searches and being fingerprinted upon arrival (as all Australians do). I can just see some jerkass immigration official deciding he visits too often and throwing him in jail.

Thursday, May 15, 2008

RENT 10th Anniversary performance of "La Vie Boheme" by the original Broadway cast. Awesome. (Link courtesy of Kel.)

| | |
| --- | --- |
| | [2] |
Mario is a menace. (Link courtesy of Tim.)

| | |
| --- | --- |
| | [7] |
RunningBlog: Exercise. We're less than 72 hours from the half-marathon, and my lungs still aren't up to 100%. Thanks to Dr. Emily, I'm trying out a ventilator that seems to be helping though. I'm certainly coughing a bit less. I went out for a short (4.5km) run Tuesday morning, and I've done a couple of Wii Fit workouts this week as well. (I unlocked Super Hula-Hoop, and OH MY GOODNESS that gets the heart pumping! I guarantee you that right now some chubby nerd is working out with this thing in his basement, and six months from now he's going to be fifty pounds lighter and Nintendo will anoint him as the next Jared.) Anyway, I've got my number and timing chip for the race, and Project Hydration begins today. I'm going to do my best.

Wednesday, May 14, 2008
| | |
| --- | --- |
| | [2] |
Cat Butt. Hahahaha... That's just wrong. (Link courtesy of Gadgetgirl, who's still far, far away.)

| | |
| --- | --- |
| | [2] |
Joomla 1.5 Title Tags
Since it took me the better part of an afternoon to figure this out, I'm going to immortalize it here for future Googlers. You see, there's no nice way in Joomla 1.5 to customize the head title tags of each page. (According to this site it was meant to be included - they even have a screen shot! - but somehow the Joomla Powers That Be decided to kill it.) There are numerous third-party extensions that can allow you to set custom titles, but you have to specify the title on every single page. All I wanted was to have the name of the actual website appear before the page title without hacking the Joomla core. (Joomla generates the page title on the fly. Yes, you can modify the script that generates it, but on this particular project we're trying to leave the core untouched so future upgrades don't break it.) So finally, after several hours, I chanced upon this site which talks about modifying the header to remove unnecessary javascript files. "A-HA!" I thought. "This is the answer!" So here you go:

<head>
<?php
$headerstuff = $this->getHeadData();
$headerstuff['title'] = "My Site Name - " .
                        $headerstuff['title'];
$this->setHeadData($headerstuff);
?>
<jdoc:include type="head" />
| | |
| --- | --- |
| | [1] |
Things Younger Than John McCain. My favorites are Alaska and the polio vaccine. (Link courtesy of PCJM.)

Tuesday, May 13, 2008
| | |
| --- | --- |
| | [5] |
Flight of the Conchords finally premiered in Australia, and we very much enjoyed it. Snookums made me pause it at one point just so he could verify that, yes, the New Zealand consulate is located in the same building as "All Asian Massage."

| | |
| --- | --- |
| | [1] |
Queen of Fashion: What Marie Antoinette Wore to the Revolution
I just finished this fascinating book last night. It makes for an interesting companion-piece to the Antonia Fraser biography I read a few years ago (and that the recent movie was based on). The central thesis is pretty much that Marie Antoinette's obsession with fashion was a calculated political maneuver to gain the power and influence she wasn't able to get through the usual means (i.e. her relationship with the King and the production of royal heirs). There's also quite a lot of discussion about the Queen's more "shocking" costumes, such as her appropriation of mens' riding wear and the loose peasant-style dresses she and her friends wore at the Petit Trianon. (Somehow both of those looks fed into the rumours of lesbian debauchery that continually plagued her.) It's not the usual view of her as a pouf-obsessed idiot. I loved the details about the development of the French fashion industry, and it was fascinating to see how most of the country were falling over themselves to imitate her even as they were calling for her head. And I'd love to read a biography of this Rose Bertin woman! My only complaint about the book is a small one: the glossy colour plates in the middle seem to be misnumbered. Towards the end, a lot of the text references seemed to point to the wrong one. It's a small quibble about an otherwise interesting read.


Optus has the iPhone too. Multiple carriers in Australia!

Monday, May 12, 2008
| | |
| --- | --- |
| | [2] |
RunningBlog: "Official" Race Time... Not.
My phone beeped at 6:30am this morning. It turned out to be my "official" race results from the Mother's Day Classic. According to the SMS, my time was 56:00. WRONG. Check out the iPod data. I started timing it when I actually crossed the start line (and the electronic mats). I actually forgot to hit stop on it til after I'd removed my timing chip, so my actual race time was probably a minute less than that. There's no way my chip time was greater than what the iPod recorded. (Even if its distance was miscalibrated, you can't argue with time.) So I'm a little annoyed with their accuracy. I'm guessing that they SMSed the clock time when I passed the finish line without adjusting for the time it took us to get to the start.

Sunday, May 11, 2008
| | |
| --- | --- |
| | [4] |
Dude, CLEAR Converse All Stars? WANT. Just the perfect thing to show off your handknitted socks! (Link courtesy of passionknit.)

| | |
| --- | --- |
| | [3] |
My Mom said she was interested in getting the Wii Fit, so I took some videos today of me playing it. I've got them on the site here. (Sorry it's hard to see the screen sometimes; I think the white balance is set depending on when you hit the "record" button.)

| | |
| --- | --- |
| | [5] |
RunningBlog:
Mother's Day Classic 2008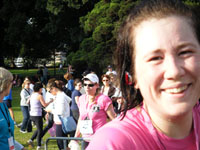 The Snook and I got up at the butt-crack of dawn this morning to head to the Domain for the 2008 Mother's Day Classic 8K race. (That's five miles for the non-metric.) We ran it together before in 2006, but the Snook wasn't running this year; he was my support staff. We met up with Miss Fee and her running buddy Jan-Maree (and the Sock Victim, who was also there strictly for moral support). The girls strapped on their timing chips and started stretching, while the boys huddled for warmth and talked about computer stuff. I felt cautiously optimistic. My cold is mostly gone from my head, but my lungs are still fighting it off. My goals were to run the whole thing, and to finish at a better than 7:00/km pace (which is what I need for the half-marathon next weekend). The gun fired and we were off. As usual, there was a huge crush at the beginning so I lost the other two girls pretty quickly. (I figure I'm tall, so it's always the other person's responsibility to spot me.) I settled into my pace pretty easily, but I could immediately tell this was going to be a slog. Before I caught the cold last week, my shorter distance runs had been starting to feel really easy and effortless. I'd been hoping to feel like that today, but instead I felt like I was really gasping for oxygen. (I'm guessing that was the effect of the cold on my lungs.) I had a stitch threatening from about the 5K mark. I really, really wanted to take a walk break on the 2nd lap, but I told myself how great it was going to feel to run the whole thing. On the last steep hill, I put my head down and channeled Steve Runner, chanting in my head "I eat hills for breakfast. I EAT HILLS FOR BREAKFAST." It wasn't fast, but I made it up that sucker. Coming down the path towards the finish line, I spotted the Snook and the Sock Victim waiting at the bottom. I managed to croak to the Snook: "Haven't stopped yet!" I was so focused on that thought that I didn't even realize he was filming me. I didn't have much left in the tank, but I managed a tiny sprint towards the finish line. And then I was done! I'd met my two goals: I ran the whole thing (my longest continuous run to date), and according to the iPod I averaged 6:50/km (which is exactly what I need to do for the first 11K next week). The other two girls finished a couple minutes behind, and we all congratulated each other over apples and some much-needed water. Read on for photos and the aforementioned video... [more...]

Saturday, May 10, 2008
| | |
| --- | --- |
| | [1] |
Meteorologists don't know nothin'. I sorta guessed that, but it's nice to have it validated. Remember Opera in the Domain? Every weatherperson in Sydney said it was going to pour rain, to the extent that a bunch of people piked. And it turned out to be a gloriously sunny afternoon! (Link courtesy of PCJM.)

Friday, May 9, 2008
| | |
| --- | --- |
| | [10] |
"Want to be happy? Don't have kids." Of the trifecta of being married, having money, and having kids, a Harvard academic says being married makes the biggest difference to your personal level of happiness. He's pretty harsh about parenting: "Parents tell me all the time that: 'My child is my greatest source of joy'... My reply is that: 'Yes, when you have one source of joy, it's bound to be your greatest'." Yowch.


RunningBlog: I've given this blasted cold four days of rest, with no running or swimming in that time. Thursday I started to feel a lot better though, so today I decided enough was enough. I put on my new shoes, zipped up a hoodie for extra warmth, and headed out for a slow, easy run through the neighborhood. I did 25 minutes of jogging without stopping, and though it didn't feel as easy as some of my recent runs, it wasn't too difficult either. I didn't start hacking or coughing or anything. And the burgeoning sinus headache I'd felt when I woke up? Completely disappeared. (If you'd told me six months ago that running could actually make me feel better, I'd never have believed you.) I'm still planning to do the Mother's Day 8K on Sunday, but I'm not going to kill myself trying to get a PB or anything. It's all about Sunday the 18th, and my goal right now is just to hold it together for nine more days and give myself the best chance to finish the half-marathon.

Oh. And my race pack came in the mail last night. I've got my official race number (#508, baby! I must have gotten in early) and my timing chip. Seeing them on the dining room table suddenly made it all seem very real. Nine more days.

| | |
| --- | --- |
| | [1] |
"Ask a Korean" tackles the issue of South Korean citizenship. Check out the section on "simplified naturalization":
1. If one of your parents was a Korean citizen. (Emphasis on "was". It's ok if your parent renounced Korean citizenship.)
Hey, I think that includes me! My mom was born in Korea to a Korean woman, so she would've been a citizen, right? (She would've renounced it as a child when they moved to America.) That's pretty neat.

Thursday, May 8, 2008
| | |
| --- | --- |
| | [5] |
I LOVE WII FIT.
I headed to EB Games tonight to pick up my pre-ordered Wii Fit kit, and I was so excited. I tried to get the guy to price match Kmart, but he informed me that Kmart sold out of 'em way earlier today. (They don't match a price if there's no stock.) Oh well. I wanted the thing NOW. So I carried it home and set it up. Snookums walked in while I was doing my first fitness test, so we quickly got his character set up on it too.

Okay, first off, this thing is ADORABLE. I wouldn't have thought it was possible to anthropomorphize a heavy (and it is heavy) plastic platform, but the Japanese are geniuses. It speaks in this fun squeaky voice - "Initializing!" - that kept cracking me up. Of course, I stopped laughing as soon as Mr Balance Board calculated my weight and BMI, and my cute little Mii suddenly grew quite stout around the middle. Bugger. (For the record, Snookums is smack dab in the middle of his ideal weight. Bastard.) It also told us that our "fitness ages" are in the mid-forties, and it somehow correctly predicted that I trip a lot. (I wish I were joking.) We set our fitness goals and then started playing.

There are four types of games (Yoga, Balance, Muscle, and Aerobic), and we started with Balance since we're lazy. Heading the soccer balls was surprisingly difficult... but so fun too. The board is very sensitive. I had to keep reminding myself that moving my actual head didn't do anything; it's all about shifting your weight. Incidentally, I love that Wii games always use the Miis from your machine, which meant that the people firing soccer balls (and shoes, and panda heads) at me included Miss Fee, Steph and Eva, Andrew and Kathleen, and basically anybody who's ever played Wii at our house. I found the slalom skiing pretty hard until I worked out that I needed to bend my knees and shift my weight forward. That helped move me down the mountain faster. I think the funniest moment of the night, though, was when Snookums sped down the ski jump and stood up too late, resulting in his Mii doing a crazy header down the mountain (and turning into a giant snowball).

After Snookums retired to cook dinner, I tried out some of the yoga games. I chose the female trainer (she sounds like a Pom!) and started each exercise with a tutorial. They were surprisingly well done and effective! Even the simplest "game" - deep yoga breathing - takes on a new level of difficulty when you're trying to keep a dot representing your center of gravity in the middle of a circle onscreen. I was actually pretty good at the yoga stuff, and I managed to unlock an extra level already. I can't wait to try it out properly (like, when I'm not just about to each dinner).

So overall, I'm loving this thing. I did a good 20 minutes of varied, fun exercises tonight without even realizing it. While that doesn't sound like a lot, I'm sure that there are millions of people who don't get that much exercise in a day. This thing is gonna be revolutionary. I'm already looking forward to my next workout!


Via the Snook: The Sub-Prime Mortgage Crisis Explained. It involves stick figures and the F-word. Very enlightening.

| | |
| --- | --- |
| | [4] |
I don't suppose any of you have a Myer One discount voucher booklet (including a $40 off coupon for the Wii Fit) that you won't be using? Because that would, like, rock.


Wait, WHAT? Ebert has a blog? That's awesome!

| | |
| --- | --- |
| | [3] |
Wow! Hillary only won Indiana by two percentage points? That's much, much closer than I imagined it to be. Awesome. (Sorry Grandma. I voted for the black guy.)

Wednesday, May 7, 2008

Role Reversal. It's not often you see the media scrutinizing a man's belly...


Still sick. I felt so crappy last night that we decided to skip the Neil Gaiman talk. I just couldn't face the thought of standing in a crowded bookstore coughing and hacking all over everyone. Luckily, I can vicariously squee over Neil through crumpet, who saw him twice in 24 hours. What a fangirl. :)

Tuesday, May 6, 2008

Vodaphone announces it's got the iPhone. As Snook just put it, "Tomorrow's news: Vodafone no longer able to sell iPhone due to leaking info to the press."


Remember our discussion about women taking their husband's surnames? In the US, a couple just successfully sued the state of California on the basis that it should be just as easy for a man to take his wife's surname upon marriage as it is for her to take his. And they won! Nice one.

| | |
| --- | --- |
| | [1] |
The Knitting Fame-Whore strikes again!
This past Friday I went to Newtown after work to join Bex and the goth knitters for a stitch and bitch. We were waiting for a journalist from JJJ Magazine to show up to photograph and interview us. He turned up over an hour late, by which time all the real goths had gone home (leaving only me and a couple other not-so-goth Ravelers). He took a ton of photos, so you may see yours truly in the magazine next month wielding a pair of needles menacingly. Anyway, before all the real goths left, Fin took a couple photos of us all. Yes, I realize that the Argyle Kitty Kat Cardigan hardly qualifies as goth...


Bacon Candy
Remember the Maple-Bacon Lollipops? Thanks to the amazing Mr. Barker, I actually got to try one last night. (I also inflicted it upon my co-workers Kunaal and Tim.) It was... bacon-y. I'm not sure I enjoyed it. I feel like there was some sort of "uncanny bacon valley" happening, where the taste was so similar to eating normal breakfast bacon that my brain got creeped out and refused to accept it.

| | |
| --- | --- |
| | [11] |
Wow. I know I'm supposed to be annoyed at the additional tax, but I can't help but think that this new federal parental leave proposal is a Good Thing. Six months paid maternity leave at full salary? Sweet. And four weeks paternity leave? Hey, it's more than you get in America. (Right, Sis?) Actually, I wonder if it would be possible to switch it, like if the father intended to stay home and the mother go back to work. Could he have six months leave? (She ponders thoughtfully...)

Monday, May 5, 2008

Holy crap! I don't feel so bad about not getting that job at SBS anymore...


World's Longest Foosball Table. The guys at work are going to love this... (Thanks Bex!)

| | |
| --- | --- |
| | [7] |
RunningBlog: Good and Bad News
The good - actually GREAT - news is that I know I can run a half-marathon. I know this because I successfully ran 18.4km yesterday afternoon! (That's nearly 11.5 miles.) And at the end, I honestly felt like I could've easily gone all the way to 21km, were it not for my sore back. I ran the distance pretty slowly (you'll see why in a minute), taking frequent walk breaks and not pushing too hard. Still, I wasn't far off the pace I need to finish in 2:30. I was well-hydrated and carried a water bottle with me, which I sipped on frequently. I also had my first trial of using an energy supplement. At the 6km mark, I had half a chocolate PowerBar gel and then finished it off at the 12km mark. It tasted like medicated chocolate toothpaste. The biggest effect it seemed to have was mental. At the end of the run, I just felt a lot more clear-headed than I had at the same point last week. I never realized how fuzzy and muddled my brain gets after 90 minutes of running. This time I just felt way more energetic and aware. With regards to my body, I didn't notice any immediate jolt or anything, but I definitely had more energy in the tank at the end of this run. Like I said, I was honestly toying with going the whole distance. I was still tired and sore, but I didn't feel like I was falling apart. (I'm also happy to report that the gel didn't give me any stomach problems, as some people seem to have. I did get a bad stitch at the 7km mark, which I attributed to gulping down too much water to help digest the gel.) So all in all, this was a massive confidence boost before the race in two weeks.

And now the bad news. I've caught a cold. I'd been coughing a bit at night last week, but I assumed it was just irritation from the endoscopy. Sunday morning I woke up with the trifecta of headache, sore throat, and stuffy nose. Great. I spent the whole day sucking down water and trying to decide whether I should go for the run or not. I knew that the timing wasn't that bad, because I've got two weeks to shake this thing before the actual race. But this was pretty much my last chance for a really long run, and I felt like I really needed that to mentally prepare. So would running make it worse? Since all my symptoms were "above the neck" (classic runner's justification), I decided to go for it. So I dosed up on paracetamol and headed out. I took it easy on the run but I was happy to find that I still felt pretty good. My stomach got a little acidic but it was manageable. I even braved a few minutes in an ice bath when I got home to help out my legs. I feel pretty awful today, but I'm still glad I did it. Now I just have to concentrate on getting well as soon as possible. Anybody got any good home remedies for a cold?

Sunday, May 4, 2008
| | |
| --- | --- |
| | [1] |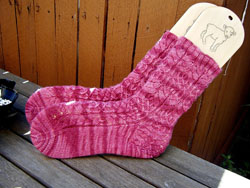 Twisted Flower Socks
These socks nearly killed me. After cruising along all summer averaging better than one pair of socks per month, these suckers took me more than two months to finally finish. The pattern is by Cookie A. (designer of the ubiquitous Monkey Socks and instigator of the hated "socks and high heels" photo fad), and the yarn is the Knittery's Merino Cashmere Sock in the special breast cancer pink colourway. I started off using two 2.75mm circular needles to knit both legs at the same time. I cheerfully dived into the first chart (of three!) and within a fortnight had them up to the heels. Then I switched to chart #2 and polished off the heel flaps. Suddenly... I noticed that they didn't seem very stretchy. I tried them on and the damn things wouldn't fit over my ankles! So I frogged them back completely all the way to the start. Eventually i started over on 3.25mm needles, which seemed to work a lot better. I think a big part of that is just that this lace-and-cable pattern has very little stretch. (I kinda wish I'd put more ribbing at the top, because I fear they may sag a little.) One reason for my slow speed was the intricacy of this pattern, and the fact that every single row was different from the last. I found it impossible to memorize, especially as the patterns and charts shift every so often. Another impediment was the yarn itself. I have to say, I wasn't very impressed. Oh it was definitely soft, but it was also very, very splitty. The spin was such that it actually UNTWISTED as you knitted it (and no, it didn't matter which end of the skein you used). So I'm not sure how robust they're going to be in the long run. I'm also a little annoyed with how the color striped and pooled (considering how pretty it was in the hank). It competes with the pattern a lot, don't you think? They're definitely soft and cozy though, and judging by my own foot, they're going to be a perfect fit. Hopefully Mom won't receive them too long after Mother's Day... (More details on Ravelry.)


Jamerica the Beautiful.

Saturday, May 3, 2008
| | |
| --- | --- |
| | [4] |
Political Slacktivism Well, it's a quarter to 11 and I'm still sitting here in my pajamas... which means I don't have enough time to get to the Obama photo thingy. *sigh* Although, really, I think I could do more net good for his campaign simply by trying to get my Grandpa to stop forwarding emails bagging him out...

Friday, May 2, 2008
| | |
| --- | --- |
| | [1] |
I fast-forwarded through most of last night's Biggest Loser finale, but I'm really happy that Sam won. He, Alison, and Kerstin did a great job. For me, though, my favourite transformation was definitely Sheridan. Great dress, great hair, great makeup; she looked like a million bucks. I was really pulling for her to win the eliminated contestants' prize, but Sean had that one in the bag. Did anyone notice of AJ asked Sheridan or Michael about their romance? If she did, I certainly missed it.

| | |
| --- | --- |
| | [3] |
RunningBlog: I feel great. I wanted to skip my swimming lesson last night, but the Snook urged me to go. I'm glad I listened to him. It felt good to get back to my training and stop letting my stomach dictate my life. This morning I headed out for my first run of the week, an easy 5K around the neighbourhood before work. Along the way I listened to the most recent episode of Phedippidations, which Steve recorded during this past Monday's Boston Marathon. How hard-core is that?! He was running on an injured ankle (which he himself admits wasn't very smart), but he persevered and finished in less than five hours. It was really inspiring to listen to his updates every mile and to marvel at how far he was pushing himself. Yes, his podcasts get a little cheesy and self-important at times with all the affirmations and cosmic hoo-ha, but when I'm out running, that really appeals to me. And dude, if/when I ever finish my first marathon, I'm sure I'll hear the Carmina Burana playing in my head too...

Anyway, at the end of the podcast Steve mentioned the World Wide Half Marathon. The idea is that people around the world sign up to run a half-marathon (or a 5K) sometime around the weekend of October 11-12. I was checking the Cool Running calendar to see what's on that month... and I discovered that the Melbourne Marathon (and half marathon) is that weekend. Sounds like a plan right? I can't wait to do a lap inside the MCG!


CSS Homer Simpson. Holy crap, that's cool! (Link courtesy of Daring Fireball.)

Thursday, May 1, 2008
| | |
| --- | --- |
| | [5] |
All Queue Jumpers Go to Hell
What IS IT with people cutting in front of me in line lately? I've had women cut in front of me THREE TIMES in the past two days.
Yesterday morning I was waiting for a bus during rush hour when several pulled up at once. I headed for the second one, which was quite full. Since I was the first one waiting, the bus driver held up his hand to stop me from boarding until he could see how many folks were getting off at the back door. While I'm standing there, this lady tries to BLOW PAST ME and climb on the bus. I actually stuck my arm out to block her and said, "Excuse me? I'm WAITING TO GET ON THE BUS." Like, what the hell did she think I was doing there? Staring at the bus driver trying to decide if I was getting on?
Today I went to the grocer at lunchtime to pick up some veggies. There were four cash registers, each with one customer being served at them. I was the only person waiting, so I wasn't sure exactly where to stand. The "Fresh Express" place is sorta in the middle of a shopping mall, and there wasn't room for a queue for each register. So I stood to one side, waiting for one of the cashiers to tell me to come over. While I was standing there, this lady brandishing an avocado BLEW RIGHT PAST ME and nabbed a just-open cashier. It was so quick I didn't even get a chance to yell at her. At first I was tempted to give her the benefit of the doubt, like maybe she was observing the proper queue procedure and I wasn't, but really, there was no way she could've missed me standing there with a basket looking expectantly at the cashiers.
Not five minutes later, I was at Baker's Delight waiting to buy a cinnamon roll for my afternoon snack. Not wanting to crowd the counter, I was standing, like, two feet back waiting for one of the clerks to be free. Again, some lady BLOWS PAST ME and squeezes into the space directly between me and the counter.
So what the hell? Does my "waiting" face convey that I'm some slack-jawed yokel who doesn't know what she's doing? Or are these people really just that rude, and it is my mission in life to catch them out and teach them a lesson?


"Brazen scammer claims to be fraud squad head." Oh, wow! Snookums actually got a call from that scammer yesterday! He didn't know what "court appearance" the message was talking about, so he pressed the button to get put through to somebody. He didn't get this "Col Dyson" person though; he said it was an Asian lady and he couldn't understand what she was saying. He hung up and then called the actual courthouse to see what it was about, and they told him that loads of people had gotten similar messages and they were all bogus. Be vigilant, people!

archives
You can search through the archives by post keyword using the form on the left, or you can browse by month using the links at the bottom.
"Moblog" refers to posts and images posted directly from my mobile phone.

"PW Blog" refers to posts recovered from my very first weblog, which dealt with news related to my college dorm.