Tuesday, May 31, 2011

"Food in the fast lane - Ambitious young chefs are turning their love of American snack food into high-end cuisine..." AWESOME. Bring on the sliders and hot dogs!


Shared today on Google Reader:here.


Yes, yes, the Grand Rapids Lip Dub is pretty awesome. But how did they not include the Calder?? I mean, they put it on their garbage trucks but they don't include their most famous landmark in the video?


RunningBlog: Paranoia
It's 12 days from the marathon, and it's been pouring rain. I worry with every step that I'm going to slip on rain-slickened leaves and fall down. I stare at my feet as I walk, dreading an ankle roll or a knee twist. On the bus, I shrink back as the girl in front of me hacks and coughs. Can't I just work from home for the next week and a half?

Monday, May 30, 2011
| | |
| --- | --- |
| | [1] |
Shared today on Google Reader:here.

Sunday, May 29, 2011
| | |
| --- | --- |
| | [5] |
Thermomix
I got a mysterious phone call from my friend Kathleen yesterday, saying she had something that would help me out with all my "foodie projects." Hmmm. After some amusing miscommunication (I thought maybe she had a source for raw milk), she confessed that she's now a Thermomix rep! I'd heard of these things before. They used them on Masterchef last year, and they've been getting pretty rave reviews. It's hard to categorise them - they're like a blender crossed with a food processor crossed with a heating element. You can't buy them in shops; they're only sold via personal demonstrations (which is what Kathleen is doing). Everyone who's used one seems to rave about it. Unfortunately they're pretty pricey, and our kitchen funds are earmarked for new countertops and a fridge. But I promised her I'd blog about it, so if you think you might be interested (and you're in Sydney), leave me a comment and I'll put you in touch!


RunningBlog: Podcast news
No, not mine. (Sorry Ted!) Yesterday I was fortunate enough to be invited as a guest on the latest episode of the Slow Runners Club. Adam and Eddie have been coaching me online for the past month, so it was great to get to talk to them about my final weeks of marathon preparation. As I said on the show, I'm one of those people who loves to learn things from books, but in this sort of situation it's nice to get advice from people who've actually done what I'm trying to do. Of course, it's the Slow Runners Club so we rarely stayed on one topic for very long! It felt like just a fun chat with friends. You should give it a listen, and don't forget to donate to the SRC fund for the Diabetes Action Team at the Chicago marathon.

| | |
| --- | --- |
| | [1] |
Jamie's 30 Minute Meals #17: Pork Chops & Crispy Crackling
This is our 17th cooking/blogging experiment from Jamie's 30 Minute Meals. For this one we chose "Pork Chops & Crispy Crackling, Crushed Potatoes, Minty Cabbage, and Peaches 'N' Custard." We picked it mostly because we had a lot of cabbage already, and it seemed like a good wintry dish. It was also pretty simple, which was good because I was cooking this one BY MYSELF. As we did last week, we adopted a "rally car" method where this time I cooked while the Snook read out the recipe, timed things, and took photos. Once again, it worked really well!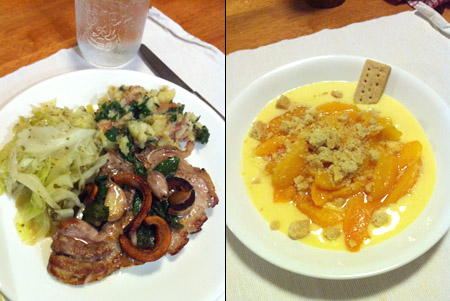 Substitutions: Our pork chops were a fair bit bigger than the ones he used. We couldn't get "Maris Piper" potatoes, but we googled them and settled on Desiree as an acceptable substitute. We had plain cabbage instead of Savoy. Everything else was as-written!

Quick verdict: This was a simple, hearty winter meal without anything too fancy. The method for cooking the chops worked well, but the crackling was a disappointment. He doesn't have you salt it at all(!), so it wasn't as tasty as it should've been. The potatoes and cabbage were both good without being too much work. The dessert was another of his "quick assembly" recipes, and while custard and fruit are always good, it's not exactly something you'd make to impress. Overall we both rated it 8 out of 10. You probably wouldn't do this one for a dinner party, but it's good enough for a cold Tuesday night. My final time was 33:17, so it's another fast one too! Read on for a photo essay of the preparation. [more...]


Shared today on Google Reader:here.

Saturday, May 28, 2011
| | |
| --- | --- |
| | [1] |
Shared today on Google Reader:here.

Friday, May 27, 2011
| | |
| --- | --- |
| | [1] |
RunningBlog: Week 21
Taper Madness has ensued. My low-carb diet has totally gone off the rails this week, I'm sorry to say. Training was good though. Sunday I went for a night run after our cheese class, and I managed 8.5K before the CHEESE BABY in my belly demanded that I stop. Monday I went to Spudds and had a particularly hard workout. Tuesday I went for a lunchtime run with some work buddies. Wednesday was Spudds again, but thankfully easier this time. Today I went for a solo run at lunchtime, pushing the pace a bit. Not bad for taper week 2 of 4!

May 22: 8.56km
May 24: 6.11km
May 27: 6.31km
Total this week: 20.98km (13mi)
Total in 2011: 540.25km (337.65mi)

To meet my goal of running 1100km in 2011, I should be at 444km. Holy crap, I've got nearly 100km of cushion!

The rest of the winter running season is falling into place. On August 7 I'll be running the Bay Run (7K) with the Snook and three buddies from work. The following weekend the Snook and I will be running the City 2 Surf (14K) as part of the DailyMile Sydney team. My big goal race for the 2nd half of the year will be the Blackmores Half Marathon on September 18.


Shared today on Google Reader:here.

| | |
| --- | --- |
| | [2] |
Adventures in Dyeing
After I got home from cheese-making, it was time for more fun with giant pots. It was finally time to dye my February Lady Sweater. I always meant to dye it, but I was just too lazy. The cream did nothing for me though, and I never wore it. So I picked up some Jacquard Acid Dye in Burnt Orange and got to work (with some much-needed email guidance from knitabulous). The cardigan - which had been previously washed and soaked overnight - went into the pot along with some citric acid, dye, and lots of water. It was very vivid and murky. I kept it on a gentle simmer for about 40 minutes, checking on it often. I was pleased to see the water clearing just like Ailsa said it would! I turned off the heat and left it overnight. In the morning I dumped out the water and gave the cardigan a rinse and another soak (with hair conditioner). That night I finally squeezed out the water and had a look at the final product. To be honest, I was a little surprised at how blotchy it was. The dye didn't take up evenly, and the effect is almost like tye-dye. (I've since read on Twitter that this is a common problem, and that dying whole garments rarely works perfectly.) Anyway, I let it dry thinking I'd make a final assessment later. Today, I actually wore it to work. And you know what? I think I like it!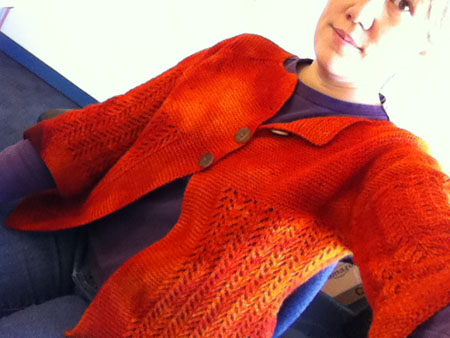 I've had some compliments on it at work, and everybody seems to think the dye effect is intentional. It's definitely more wearable than the cream version was! I may still have a go at touching it up; I've got more dye that I can "paint on" the lighter areas. But for now, I'm pretty happy with my first go at dyeing. Thanks to Ailsa and everybody who gave advice on Twitter!

| | |
| --- | --- |
| | [1] |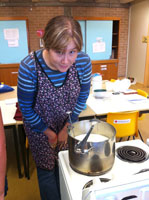 Blessed are the cheese-makers...
A few weeks ago I booked us in for a cheese-making workshop with one of the local community colleges. You know we like our food, and we've been toying with the idea of making cheese for a couple years now. (As my friend Ailsa said, "Ah, the last Amish skill you don't yet possess." It's part of our long-term strategy to accumulate skills we can put to use when the revolution comes and society collapses.) So last Saturday the Snook and I headed off to Alexandria with a selection of aprons, tea towels, and sharp knives. There were 11 of us there on the day, and our teacher was Zigi Ozeri. He gave each of us a big handout full of recipes for various cheeses. (Do you know how easy it is to make mascarpone? I'm never paying $6 for a tiny tub of it again!) Zigi talked us through some of the strange equipment and ingredients we'd be using, and then we got stuck in! It was like being back in high school Home Ec (which was fitting, because we were using a school kitchen). We split into three groups, each of whom made a fresh mozzarella and ricotta from 4 liters of milk. Zigi also made a labne from some yogurt. A lot of cheese-making is standing around waiting for stuff to get to temperature or curdle or whatever, so we had plenty of time to socialise. We finished the day with a meal of homemade pizza, salads, and lots of cheese! I took some photos... [more...]

Thursday, May 26, 2011
| | |
| --- | --- |
| | [1] |
"Secret to breaking glass ceiling? Go home for dinner." I thought that title was weird at first, but upon reading the editorial I am in total agreement. I have worked in several places where there is a culture of working late into the night. You know who benefits in that environment? Single guys who are happy getting takeout for dinner and who don't have a life outside work. We need to support everyone having a balanced life and getting out of the office at a reasonable hour.


Shared today on Google Reader:here.

| | |
| --- | --- |
| | [1] |
Making the Sassy Pillowcase Dress: 20 Years Later. Oh wow. I remember seeing that dress when I was in high school (I had a Sassy subscription) and thinking even then that there's no way I'd ever wear that. But Mena's updated version looks great!

| | |
| --- | --- |
| | [2] |
Felted Ukulele Gig Bag. AWESOME!

Wednesday, May 25, 2011

Chippendale Creative Precinct - "aims to promote the area as a creative, sustainable community and a diverse and unique cultural meeting place." Nice! According to this story, they're even planning a festival.


Shared today on Google Reader:here.

| | |
| --- | --- |
| | [2] |
Dead Wrestler Of The Week: "Macho Man" Randy Savage. An excellent overview of the Macho Man's long career, with lots of YouTube clips. We were big WWF fans as kids. I remember watching that match where Macho Man was getting beat up by the Honky Tonk Man and the Hart Foundation, and Miss Elizabeth getting knocked down, and her then running back to the dressing room. And I got chills all over again when Hulk Hogan came running out to Macho Man's rescue and Hulked out all over the place. Yeah, it was all a bit 80's and silly, but that was some serious myth-making in action too.

Tuesday, May 24, 2011

Shared today on Google Reader:here.

| | |
| --- | --- |
| | [1] |
Scalloped Waist Skirt Tutorial. Self: make this.

| | |
| --- | --- |
| | [1] |
Chunky Knitted Homewares. Wow. Margarita is gonna LOVE that stuff. :)

Monday, May 23, 2011

Shared today on Google Reader:here.

Sunday, May 22, 2011

Jamie's 30 Minute Meals #16: Tasty Crusted Cod
This is our 16th cooking/blogging experiment from Jamie's 30 Minute Meals. We selected "Tasty Crusted Cod, My Mashy Peas, Tartare Sauce, and Warm Garden Salad" because it seemed vaguely wintery and we had the episode recorded. We also decided to switch up the format of our experiment a bit. Rather than both of us cooking, we decided to play it like a rally car team. Snookums was the cook/driver, while I was the one shouting out instructions (and taking photos). We figured that was the most fair way to test the "30 minute" claim, and it avoided the usual chaos of both of us trying to read from the same recipe. To our surprise, this system worked out amazingly well!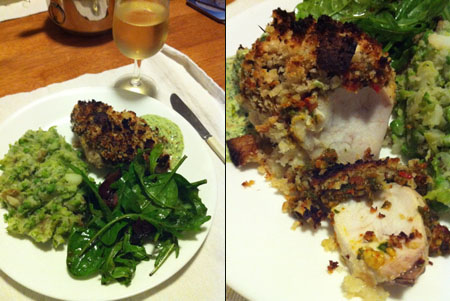 Substitutions: Our fish was "Blue-Eyed Cod," which is an Australian fish that we figured was close enough to what Jamie used. (North Atlantic cod and haddock aren't easy to come by Down Under.) Our pancetta was round and had less fat than Jamie's, which was more like a very thin bacon. The only other substitution was using a mix of rocket and spinach for the salad (rather than rocket and watercress). Everything else was as-written.

Quick verdict: This was FANTASTIC! Neither of us was expecting much, given that Jamie bills it as a grown-up version of fish fingers and mash. But the fish was cooked perfectly, and the herb paste and breadcrumbs were a welcome addition. The tartare sauce was a great accompaniment too. The mashy peas were rustic and comforting (and the recipe made HEAPS). I'd feared the simple salad would be bland, but the warm dressing was a knock-out. We both rated this meal a 10 out of 10. And what's more: the Snook finished it off in 31:58! RIPPER. Read on for a photo essay of the preparation. [more...]

| | |
| --- | --- |
| | [1] |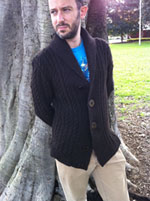 Snook's Hipster Cardy
As my knitting buddies know, this has actually been finished for more than a month but I've only just now gotten around to documenting it. This was my entry to the 2011 Sydney Royal Easter Show, where it didn't win anything. The pattern is "#17 Man's Cable Cardigan" by Josh Bennett for the Winter 2009/2010 issue of Vogue Knitting. (Many thanks to Reecie for lending me the pattern.)

The Snook was not initially receptive to the idea of a cardigan, because they seemed either a) too daggy and "grandpa" or b) too hip and trendy. That's when I started calling it the Hipster Cardy. I told him that as a bicycle-riding, bearded I.T. nerd from the Inner West it was his sacred destiny to wear an ironic grandpa cardigan. So I knitted it anyway, knowing he'd like it once he had it on. He's worn it several times now. We've had some fun staging photos where I tell him to "Look supercilious! Like you think my favourite band is crap!" and stuff. "More condescending! Sneer at my carbon footprint!"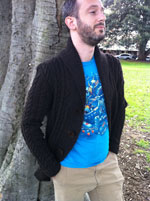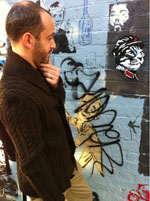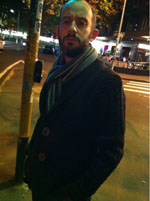 It's actually a very nice cardy and he does sincerely like it. I was worried about the ribbing along the buttons, because I had seen others that came out very wavy and ripply. The instructions say to cast off as loosely as possible, which seems INSANE. That would just make it more ripply! I did a sewn cast-off, and I'm mostly happy with it. He tends to only do up a couple buttons anyway, which means you can't really tell.

The wool is Brooklyn Tweed Shelter in "Pumpernickel" (a nice dark flecky brown). I actually knitted on the recommended needles (4mm and 4.5mm). The buttons are vintage men's buttons I got at All Buttons Great and Small. (Ravelry details)

And as always, the Easter Show judges can suck it. :)

Friday, May 20, 2011
| | |
| --- | --- |
| | [2] |
New Adventures in Cat Parenting
Recently I stumbled across this fantastic MetaFilter comment by a veterinarian advocating feeding your cats ONLY canned/wet food. The Snook and I discussed whether it would be a good thing to do for our furballs. They've both had UTIs, so anything that gets them ingesting more water is a good thing. The only thing we've ever fed them has been Friskies, and they both seem to like that. Amy begs for the occasional bit of chicken fat or bacon rind, but Petey's never shown any interest in meat or human food. (We even put out raw chicken wings for him a few times, but it's like he didn't even know what to do with them.) Anyway, a couple weeks ago I saw that the grocery store had a sale on a case of cat food pouches. I checked the ingredients to make sure that it was high in protein and real meat, which it was. "Why not?" I went for it. We've been augmenting their daily food ever since.

We started with just a tablespoon of the meat. Amy woofed it up before Petey even got a sniff. For the first few days, that was the biggest problem - we couldn't get Petey to eat any because Amy would get to it first. We eventually resorted to locking her in the bathroom so we could try to get him to eat some. Eventually he seemed to realise it was good stuff. Now we're up to giving them a whole pouch each morning. I divide it into two bowls so they don't have to fight. We're still giving them dry food as well, but a smaller amount. The really weird thing is that they both seem to LOVE the gravy. Like, they'll lick all the gravy out of the bowls and leave the meat chunks. They'll eventually eat most of the meat, but only if the dry food is gone. Still, getting more water into them is a good thing, right? And I'm sure they'll eventually transition all the way to the wet, as long as we keep restricting the dry.

To my surprise, we've seen some immediate behaviour changes! Especially in Petey. He is being way more playful and affectionate, even going so far as to rub my legs while I'm prepping his breakfast. (Previously he'd never come into the kitchen while we were in there.) Last night we even got him to chase the laser pointer, which is something he'd shown no interest in before. He's actually behaving like a normal cat instead of nervous, socially-awkward 'fraidy cat! Amy also seems to be a little more energetic and demanding of cuddles. The experiment is going so well that I picked up another case of the food while it's on sale. I'll keep you posted...


Shared today on Google Reader:here.

| | |
| --- | --- |
| | [1] |
RunningBlog: Week 20
I am very, very happy to be recording my highest distance week EVER, and the first over THIRTY MILES! I had my marathon run on Sunday, then I took Monday off to recover. I went for a very gentle run/walk at lunch on Tuesday, and I could tell my legs felt better. Wednesday I had a session at Spudds where I recorded DOUBLE HUNDREDS on the rower! Surprised the heck out of me. Thursday was another rest day. Today I went for a 3:1 run/walk at lunch with some guys from the office. I think overall recovery is going extremely well, and so far there's been no sign of taper madness. Only 3 weeks to go! CAN YOU TELL I'M EXCITED?

May 15: 42.25km
May 17: 4.32km
May: 20: 5.68km
Total this week: 52.25km (32.6 miles)
Total in 2011: 519.27km (324.5mi)

Goodness! My goal is to run 1100km in 2011, and I'm nearly at the halfway point way ahead of schedule. Maybe I should revise my goal to 1200km?


RunningBlog: Unsung Heroes: Wilma Rudolph. Awesome blog post about a female runner I'd never heard of.

| | |
| --- | --- |
| | [1] |
Gripe
Oh good grief. The goddamn New York Times has an article about "yarn-bombing," aka "graffiti knitting," aka that annoying "movement" I ranted about two years ago. I thought it had jumped the shark back then, but here we are still taking about it in the most famous newspaper in the world. VOMIT. I also like how a "movement" that is supposedly so DIY and subversive and anti-consumerist is now being officially sponsored by Toyota and Smart Car. The founder of the movement has quit her job to make a full-time career out of this. She doesn't even knit the stuff by hand anymore; she has five assistants and uses looms. I guess this gives me yet another reason for not taking part in any "yarn-bombing" projects: they get sold as some sort of community-minded art project, when in reality you're just helping promote somebody's made-up trend that's now used to sell cars and surfboards.

Thursday, May 19, 2011

Shared today on Google Reader:here.

Wednesday, May 18, 2011

Shared today on Google Reader:here.

| | |
| --- | --- |
| | [1] |
Well, this sucks. Just saw on Michael's blog that the Duck & Swan is closing. That's our favourite local pub. That's where we went to celebrate moving into our house. The new owners are English and - reading between the lines - they sound like jerks.

Tuesday, May 17, 2011

Shared today on Google Reader:here.

Monday, May 16, 2011

Shared today on Google Reader:here.

Sunday, May 15, 2011

Jamie's 30 Minute Meals #15: Kinda Sausage Cassoulet
This is our 15th cooking/blogging experiment from Jamie's 30 Minute Meals... and the FIRST ONE we actually managed in UNDER 30 MINUTES! It's "Kinda Sausage Cassoulet, Warm Broccoli Salad, and Meringues." We picked it because we had the episode; it seemed like a good wintery choice; and we had a lot of the ingredients on hand. I was also carb-loading for my long run, so BEANS YAY.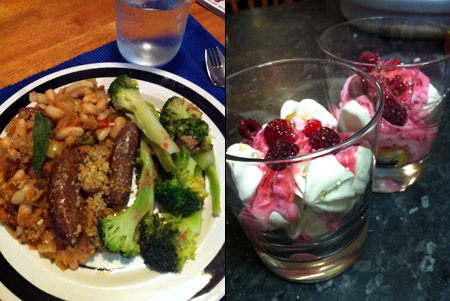 Substitutions: We used a can of tomatoes rather than passata. (Jamie suggested that substitution on the show.) The Snook doesn't like broccolini, so we used regular broccoli instead. For the dessert, we had mini meringues instead of big ones, and we used frozen raspberries instead of fresh. Everything else was as-written.

Quick verdict: Woohoo, 28:52! It helped that the cassoulet was basically a one-pot dish and the dessert is just assembly. But still, this is by far the fastest meal we've found in the book. Also, it's pretty tasty and it makes HEAPS of leftovers. We were surprised how good the cassoulet turned out given how little cooking time it has. The "dressing" on the broccoli seemed weird when I was making it, but it's actually really nice and I can see myself using it again. Overall we both rated it 9 out of 10! Read on for a photo essay of the preparation. [more...]

| | |
| --- | --- |
| | [14] |
RunningBlog: I ran a marathon today.
Seriously. I DID IT. This was my last training run before next month's Macleay River Marathon. I don't think it's quite sunk in yet. I did 1:1 intervals the whole way. And I did this one all on my own, without any running partners (other than the Snook for the last 3K). BABY I'M A FIREWORK! (Run data: part 1 / part 2)

I was pretty well-prepared for this one. You should see the checklist I made the day before! Everything was ready. As I've done on all my long ones, I used a mix of Endura and Hammer gels and took one every 45 minutes along the way. I also used Endurolytes to mitigate cramping; 2 at the start and then 2 every hour. I put Body Glide everywhere I thought I might chafe, and I slathered Neurofen gel everywhere that felt sore. I also made sure to take a Zyrtec the night before, and I had some paracetamol and Tums before I started. (Stress gives me acid reflux.)

Okay! So that's the OCD stuff out of the way. I got up at 5am (only a few hours' sleep, of course) and had a coffee and some oatmeal for breakfast. I was dressed and out on the road exactly at 6am. The sun wasn't even up yet, and it was COLD. I headed up Broadway to Glebe, passing runners headed to the SMH Half. I wished all of them good luck as I ran by. I was deliberately going really slowly, trying to keep my pace down while I warmed up. My fingers were like ice. I ran around Blackwattle Bay and then headed up Victoria Road. I became aware of needing to pee. This is unusual; I rarely need to make pitstops on my runs. But I guess I overhydrated, so I had to stop at a gas station and use the facilities. I got to Iron Cove Bridge at about 6:45, just as the sun was finally coming up over the city. My pace started to pick up.

I did two laps around the Bay Run. It was quiet at first, but gradually the number of runners started to increase. I became aware that there was actually a race on that day ("The Memory Run/Walk" to raise awareness of Alzheimer's, I think) but it didn't start til 9am. I felt good! My pace was picking up. My right foot was hurting - I'd taped it since my injury isn't quite 100% yet - but I told myself that dealing with pain is part of the marathon challenge. I had to pee AGAIN, so I used the toilet near the Leichhardt Oval. I was doing well with my nutrition, but I wasn't drinking much. (I was so cold that it took a good hour before I started sweating noticeably.)

I stopped to fill my water bottles a final time before heading towards home. Unfortunately I fumbled with the iPhone and somehow managed to stop my run. D'oh! So I had to start a new one. I headed back up Victoria Road. My pace dropped a little on the uphill sections, but I picked it up on the downhills. When I got to the fish markets, I realised I was actually a little ahead of my mental schedule so I added an extra bit by running up Bridge Road to Glebe.

I was feeling good when I got to the house. The Snook helped refill my water, Endurolytes, and gels while I used the bathroom and changed my shirt. I took a couple more paracetamol and slathered on some more Neurofen gel. I was smiling, but I could tell my legs were feeling tired. But 20-30K is when I get my second wind, and I knew I was going to enjoy heading to Centennial Park.

I had a big smile on my face when I got to Centennial. My pace was still great! I did 2.5 laps, staying mostly on the inner track (which is grass and dirt - I thought it would be easier on my legs). The day had turned absolutely beautiful by that point, and the park was full of families, sporting teams, and picnickers. My feet were still sore, but they'd passed through pain into comfortable numbness, to be honest.

Once I hit the 30K mark, things started to SUCK. My left calf suddenly started hurting. I've never had pain there before! (I think maybe because I was compensating for my sore right foot by pushing off more with my left?) Then both of my quads started feeling quaky and tentative. I took an extra walk break and tried to regroup. I kept looking at my WWBD? bracelet and telling myself "Keep it together." I suddenly remembered that Galloway recommends going into a "shuffle" when your legs are tired or hurting. I tried it out. It worked! The less I lifted my feet, the less it hurt. I morphed into a new superhero: THE AMAZING SHUFFLER, whose ability is to skim the ground while barely touching it. The idea of it made me laugh.

By that point all the podcasts I'd queued up were finished, so I switched over to music. At the 23 mile mark, Katy Perry's "Firework" came on and I NEARLY LOST IT. I'd been too preoccupied with the pain and my nutrition and just all the logistics to really deal with the emotional side of what I was doing, but the music just opened me right up. (Seriously? That is a REALLY GOOD song to listen to when you're doing something difficult.) I actually had to tell myself to calm down, to not start celebrating the accomplishment when I still had 5K to go! The music did help me focus on the fun rather than the pain and tiredness though.

I left the park and headed towards home. I knew the Snook was heading towards me. I met him near the tennis courts on Cleveland Street, and he ran with me the last 3K to home. The nicest part of these runs has been being with him when I meet my goals! We abandoned the strict intervals then, just running/shuffling as much as I could and walking when I needed a break. (He thought my superhero idea was pretty funny, referring to me as "Captain Shuffle" at one point.) We had to add on a little extra around Prince Alfred Park to meet the distance. And then suddenly... we were done! It was actually pretty anticlimactic. Surprisingly, I didn't have an emotional freakout like I thought I would. I guess I got that out of my system 5K earlier, huh? :)

Clock time was 6:36, but that included a couple toilet breaks, water refills, stop lights, etc. My actual "chip time" was 5:55:36, so I actually met my goal of breaking 6 hours! (I just hope I can do it on the day.) I never hit the glycogen wall. Yeah, my legs got real sore in the last 6 miles, but my pace remained pretty consistent and I never felt like I lacked the energy to run. (I LOVE the 1:1 intervals.) Back at home, I had a couple protein drinks and sat in an ice bath while the Snook cooked me a monster steak with fries. BEST POST-RUN TREATMENT EVER. My lower legs are still really sore, especially that left calf. But I've got 4 weeks of taper now to heal everything up before my big run.

YOU GUYS, I CAN TOTALLY RUN A MARATHON!

Saturday, May 14, 2011

Shared today on Google Reader:here.

Friday, May 13, 2011

Shared today on Google Reader:here.

| | |
| --- | --- |
| | [1] |
The First Four Harry Potter Books: Illustrated by Lucy Knisley. These are BRILLIANT. (Link courtesy of MetaFilter.)


RunningBlog: Week 19
This was a fairly intense week! Sunday I had the Mother's Day Classic, where the Snook and I actually extended the distance to about 12K. Monday I went to an after-work session at Spudds. Tuesday I did a morning run of about 6K, and I froze my butt off! (Winter is coming.) Wednesday was another Spudds session, this time at lunch. Thursday was a much needed rest day! Then I did another 5K run today at lunchtime.

May 8: 11.8km
May 10: 6.01km
May 13: 5.14km
Total this week: 22.96km (14.4mi)
Total in 2011: 467.02km (291.9mi)

In order to meet my goal of running 1100km in 2011, I should be at 402km. Yep, still heaps of cushion.

Of course, that last five months of training have all led up to this Sunday. I will be running a full marathon as a training run. That's 42.2km. That's 26.2mi. Then I'll have four weeks of taper before my actual race. This is it. I can do it.

And major shout-outs to the Slow Runners Club Coaching Team. The encouragement has been flowing on our Facebook page!

Thursday, May 12, 2011

Shared today on Google Reader:here.

| | |
| --- | --- |
| | [1] |
It's cold. No snow in Sydney, of course, but our house feels very chilly. (We don't have central heating.) I put another blanket on the bed last night, much to the warm-blooded Snook's chagrin!

| | |
| --- | --- |
| | [5] |
Now that I've got the Snook successfully wearing a knitted cardigan in public, it's time to take it up a notch: The Dude's Cardigan. We'd have to stock up on White Russian ingredients...

| | |
| --- | --- |
| | [5] |
I wore my Road to Golden today, and it prompted a girl in my office to comment, "I need to get back to knitting. I mean, I know all the basics - except how to purl - but I used to knit and knit..."

Wednesday, May 11, 2011

Shared today on Google Reader:here.

| | |
| --- | --- |
| | [2] |
The 10 Worst States to be a Woman. Indiana is #4. Two things about our high school: 1) Our Sex Ed program was laughable. 2) We actually had a nursery in school so that teen moms could visit their babies while they attended class. It was well-used. Hoosier lawmakers don't seem to see the frickin' connection.

Tuesday, May 10, 2011

Shared today on Google Reader:here.


Oh, nice! Last weekend I noticed some work being done on the Martin Luther King mural in Newtown. People seemed to be scraping away the paint, and I was sad thinking it was being removed. Turns out it's actually being fixed up after being damaged in a fire. That's awesome!

Monday, May 9, 2011

Shared today on Google Reader:here.

Sunday, May 8, 2011
RunningBlog: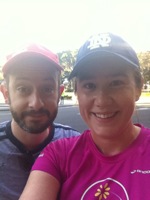 Mother's Day Classic 2011
This morning marked my 5th year running the Mother's Day Classic 8K in Sydney's Domain. (Previously: 2006, 2008, 2009, 2010.) This year I was joined by the Snook and by my friend Kunaal. I actually had 7 miles on the schedule for today, so the Snook and I decided to run the 2 miles to the start of the race. We did 3:1 intervals the whole way. It was pretty cold out there at first, but eventually we warmed up. We met up with Kunaal at the Cathedral and then headed to the starting line. As usual, it was a complete and utter circus. I've run this race many times and I like the vibe and the cause, but the organisation is just a MESS. There are too many people running on a course that is far too small for them. We had to run all the way to the Art Gallery just to get across the course to the starting line (since they had it all fenced off). Luckily we made it to the start with a few minutes to spare. They seemed to be releasing the group in waves. We were towards the back, which was fine with us. It probably took us 10 minutes to get across the line, but eventually we were off!

Kunaal ran with us and we kept up our 3:1 intervals. It was hard at the start because of the immense crush of people. We'd only just completed the 1st km and were heading back down Art Gallery Road when we heard sirens behind us. The lead runners had already completed 4K and were lapping us! It was utter confusion. Art Gallery Road is fairly narrow there, and you had lanes of people running in both directions with a crowd of people watching at the fence on either side. We moved out of the way to let the motorcycle and the lead runners past. Up ahead though, I could see that NO ONE was moving aside! The motorcycle siren was whooping, but people just didn't get out of the way. The lead runner actually caught up to the motorcycle and passed it (while shoulder-charging some woman out of the way). It was madness. I bet the elite runners were pretty pissed about it.

Anyway, once we got past the Art Gallery things opened up and it was fun again. The Snook and I chatted the whole way. Kunaal kept up with us for the first 5K or so but then dropped back a little bit as his shins were hurting him. My legs felt a little tight, but I knew we were nearly done. The Snook and I decided to skip the walk breaks on the last kilometer and run it in. We finished in 60:10, which is pretty good! Definitely not my PB, but the goal was just to have fun and not injure myself, so I'm happy. (Plus I did run an extra 3.8km before the start!) Here's my RunKeeper data.

Happy Mother's Day! Read on to see some photos. [more...]

| | |
| --- | --- |
| | [2] |
Jamie's 30 Minute Meals #14: Piri Piri Chicken
This is our 14th cooking/blogging experiment from Jamie's 30 Minute Meals. We chose Piri Piri Chicken, Dressed Potatoes, Rocket Salad, and Quick Portugese Tarts. We'd been looking forward to this one for a long time, because who doesn't like Portuguese custard tarts? Nobody.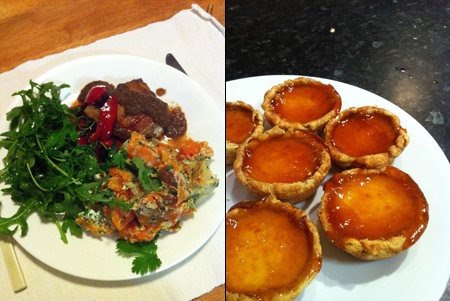 Substitutions: We couldn't find yellow peppers/capsicum anywhere (must be out of season), so we just used a single red one. We used just white vinegar instead of white wine vinegar. And the sugar for the tarts was just plain rather than "golden caster". Other than that, everything was as-written.

Quick verdict: This is the first recipe where I think the time is an outright cheat. We were both working flat-out the whole time and we didn't come anywhere close to the deadline. Our time was 39:50. (Sure, having everything memorised would save you a couple minutes, but not many.) Also, we found a mistake in the recipe! That was annoying. In terms of flavour, I thought the potatoes were the highlight. I'd never had sweet potatoes done in that way before, and I can see myself repeating it in the future. (The Snook thought it had too much lemon, but he also thinks Jamie tends to go overboard on lemon everywhere anyway.) The chicken was very good, and the tarts turned out surprisingly well (with a couple caveats). The Snook rated the meal overall as 8/10, while I gave it 8.5/10. Read on for a photo essay of the preparation. [more...]


Shared today on Google Reader:here.

Saturday, May 7, 2011

Patchwork U.S. Wall Hanging. Ooh, neat. Mom will like that. Although I do think the shape of Indiana looks pretty dodgy...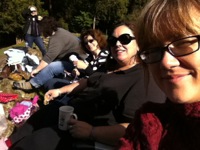 Knitting Camp 2011
Last weekend was my third time attending the Wollongong Knitting Camp put on by CR&K Daisy Designs. It's held at Mount Keira Scout Camp overlooking Wollongong. We had a much smaller group this year, but it was still a lot of fun to relax with friends for a few days in beautiful surroundings. My photos are here. I didn't take very many this year, so if you want to see more then visit Margarita, Lyn, and Kylie to see theirs. Thanks to everybody who attended, and especially to the Camp organisers who turned some pretty trying circumstances into a fun and happy adventure!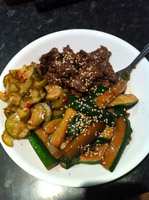 Korean Feast
Last week the Snook pointed out that we were accumulating cucumbers from our weekly veggie box faster than we were eating them. That was all I needed to hear. "Pickles! I'll make Korean pickles!" I'd seen this oijangajji recipe on Maangchi's site some time ago. It was pretty easy to follow (I halved it since I didn't have 5lbs of cukes), and I had them fermenting away in a big jar in the fridge for the past week. To go with them, we made my all-time favorite Korean dish: bulgogi. It's basically beef marinated in sesame and garlic and then barbecued or grilled. I used Maangchi's marinade recipe but substituted an apple for the Asian pear. I mixed it up before work on Friday and then left the beef to marinate in the fridge all day. Friday night the Snook cooked it in batches on the stove while I finished off the pickle. I sliced a couple of the pickles up and added chilli flakes, garlic, green onion, sesame oil, sliced fresh chilli, honey, and toasted sesame seeds. YUM. The crunchiness and heat of the chilli contrasted really well with the silky sweetness of the bulgogi. We also sauteed some zucchini with soy sauce, chilli flakes, sesame oil, and green onion. Really excellent meal!


RunningBlog: Week 17-18
I wasn't able to post last week's RunningBlog because I was stuck on a mountain in Wollongong with no electricity at Knitting Camp! But on the plus side, I also got in a great run while I was there. So there's that. Okay, let's recap the past fortnight. First there was my 23 mile long run, which was AWESOME. I actually didn't pull up too sore from that, but the effort of running with a virus really wiped me out. I took a few days off to recover. I did manage a 5K at work on Thursday though. Friday through Sunday was Knitting Camp, and I did a 10K run down and up the mountain on Saturday. It was actually quite a technical (and dangerous) run, given that I was running on the road along switchbacks without much visibility on a rainy and foggy day. Yeah, I had to jump in the ditch a few times to let cars pass, but I felt great when I finished. On Tuesday I went for another easy lunchtime run, and on Thursday I had a brutal workout at Spudds that left me sore for days. I just had another easy run around the neighbourhood to hopefully shake out the stiffness before tomorrow's Mother's Day Classic 8K.

Apr. 24: 37.91km
Apr. 28: 5.03km
Apr. 30: 10.08km
May 3: 5.46km
May 7: 5.37km
Total in week 17: 42.94km (26.8mi)
Total in week 18: 20.91km (13mi)
Total in 2011: 444.06km (277.5mi)

To meet my goal of running 1100km in 2011, I should be at 380.7km right now. Yeah. Big cushion. :)

In other fun running news, I just had my first official call with the Adam Tinkoff (aka the Zen Runner) as part of the Slow Runners Club Coaching Program. Adam and Eddie are providing online coaching for a group of 11 runners (including myself) for the next three months. We have a private Facebook group where we share workouts and encourage each other, as well as a weekly Skype call to check in. I'm really looking forward to it! I think this is going to be just the encouragement I need to rock the winter running season.

Friday, May 6, 2011

Shared today on Google Reader:here.


What is half of a deviled egg? On good grief, that's dumber than that whole "Is cereal a soup?" thing. One egg gets you two deviled eggs. That is the only right answer, and anyone who thinks different is a LUNATIC.

| | |
| --- | --- |
| | [1] |
"Let's be clear on this: Admiral Ackbar did NOT destroy the Death Star. A Rebel pilot did. Ackbar just happened to be the one who recognized a trap. This is not an Ackbar victory, but a Rebel victory. Don't let him distract you from the fact that he has never produced an official Mon Calamari birth certificate."

HA! Reddit uses Star Wars to mock all those birthers and tea bagger idiots. (Link courtesy of the Snook.)

| | |
| --- | --- |
| | [1] |
Knitted Hello Kitty pants. Upon first glance I thought these were cute... then I realised they're disturbing. Hello Kitty famously doesn't have a mouth, but if she did - it's the kid's butt. Ew.

Thursday, May 5, 2011
| | |
| --- | --- |
| | [2] |
Shared today on Google Reader:here.


How to turn a pallet into a vertical garden. Man, I wish our garden got any sun. (Link courtesy of Michael.)

Wednesday, May 4, 2011

Shared today on Google Reader:here.

Tuesday, May 3, 2011

"How it Turned Out." A lovely, sad little piece imagining the future for some beloved comic strip characters. No, not the one you're thinking of, but that's okay, somebody on MetaFilter wrote that one.


Shared today on Google Reader:here.

Monday, May 2, 2011
| | |
| --- | --- |
| | [2] |
Health Month Rules for May
I've just started my fourth month of playing Health Month. I've been steadily increasing my rules each time! Here are the habits I'm trying to reinforce for May.

1. Study BABOK (Business Analyst Book of Knowledge) at least 1 day a week
This is my relevant to my long-term career plans as well as my current job.

2. Stretch for 15 minutes at least 3 days a week
Still trying to fix a few niggling running injuries.

3. Bring lunch to work 3 days a week
This worked great last month; I saved lots of money and ate healthier. Have increased it from 2 to 3 days.

4. Go to bed before 10pm at least 4 days a week
Actually reduced from 5 to 4 days per week, as I had trouble meeting this one.

5. Floss every day
ARGH. I had a two month streak going til I forgot my floss at knitting camp on the weekend! However, I CANNOT do the whole "floss before brushing" thing. I do it after.

6. Read a book for at least 30 minutes 2 days a week
I spent too much time on the Internet and not enough time reading books.

7. Allow 2 alcoholic drinks a week
I interpret this as two days with allowed alcohol per week. It's healthier and saves me money!

8. Allow white flour 1 day per week
This is my "eat low carb" rule, and I allow myself one cheat day per week.

9. Limit internet usage to 24 hours a week
I interpret this as "messing about when you should be doing something else" time. Slowly cutting it back each month.

10. Do meaningful work at least 4 days a week
I give myself leeway here. If I do something that is challenging or that I don't want to do (whether at work or at home), that counts as meaningful.

11. Practice my ukulele at least 2 days a week
This is fun. I gave my first performance at camp last weekend!

12. Exercise for 45 minutes at least 5 days a week
I'm pretty good about running 3x a week, but I want to commit to cross-training as well.

13. Take a multivitamin at least 4 days a week
New one! I only made it 4 days to give myself time to develop the habit.

14. Track your spending every day
I do this most days, but having it in HM will help cement it as a daily habit.

15. Do household chores for 20 minutes at least 3 days a week
Rather than trying to do 15 loads of laundry all at once on Sunday…


Shared today on Google Reader:here.

| | |
| --- | --- |
| | [1] |
Just a quick note that there will not be a Jamie's 30 Minute Meals post this week. I was away for most of the weekend so you'll have to wait for the next one!

| | |
| --- | --- |
| | [2] |
All the food and photo bloggers I know in Sydney are freaking out because Billy Law made the Masterchef Top 50. Go Billy!

archives
You can search through the archives by post keyword using the form on the left, or you can browse by month using the links at the bottom.
"Moblog" refers to posts and images posted directly from my mobile phone.

"PW Blog" refers to posts recovered from my very first weblog, which dealt with news related to my college dorm.