Tuesday, May 29, 2012
| | |
| --- | --- |
| | [2] |
Transit of Venus
Next week is a very important and rare scientific event: a transit of Venus. I first read about this phenomenon in Bill Bryson's book A Short History of Nearly Everything. Captain Cook's first voyage was actually to Tahiti to observe and record the 1769 transit. After the transit, he opened his sealed orders and learned he was to try to find the rumoured "Terra Australis." And here we are!

Monday, May 28, 2012
| | |
| --- | --- |
| | [1] |
Frank Frazetta's 'Lord of the Rings' Illustrations Make Middle Earth Metal - Hahahaha. Eowyn took on the Witch King with her ass hanging out like that??

Favorited today on Twitter:
You can follow me here.
Sunday, May 27, 2012
Shared today on Instagram: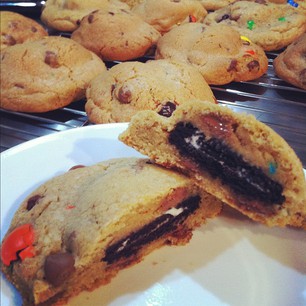 Oreo-Stuffed Choc-Chip and M&M cookies. Monday morning is going to rock.

Powered by Webstagram


Tiny Tack House - While I like the idea of living in a tiny house, I don't know if I could live in one *that* small. I like to have my own separate space sometimes. (Not to mention the fact that the Snook is a certified pack rat...)

| | |
| --- | --- |
| | [1] |
Isaac Surprises His Girlfriend Amy With a Wonderfully Choreographed Live Lip-Dub Marriage Proposal - This made me cry. So lovely and joyous!

Favorited today on Twitter:
You can follow me here.
Saturday, May 26, 2012

A glimpse from one side of the dog fence - ABC News (Australian Broadcasting Corporation) - Hey Dad! It's an article with a picture of the dingo fence!

Shared today on Instagram: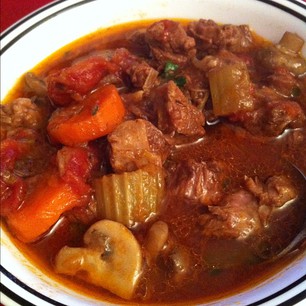 Yum. It's @nomnompaleo 's Slow-Cooker Beef and Tomato Stew.

Powered by Webstagram

Friday, May 25, 2012
| | |
| --- | --- |
| | [1] |
Shared today on Instagram: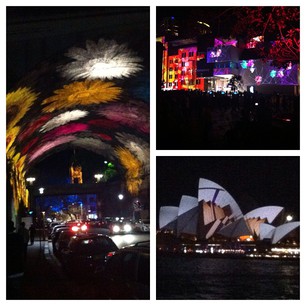 Start of the Vivid Festival! Sydney Harbour in stunning lights.

Powered by Webstagram

Thursday, May 24, 2012
| | |
| --- | --- |
| | [1] |
Call Me Maybe - THE SUPERCUT. This is awesome. I am such a sucker for catchy songs.

| | |
| --- | --- |
| | [1] |
13 Untapped '90s Fashion Trends - Oh good grief. I still sport an embarrassing number of these on a near daily basis.

Tuesday, May 22, 2012

Cupcakewurst - DEAR GOD, this is going straight to the top of the ooky Halloween foods list!

Favorited today on Twitter:
You can follow me here.
Monday, May 21, 2012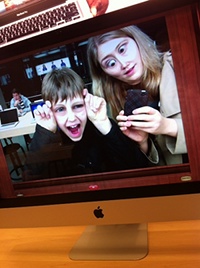 Jamie's Italian
We had a special visitor on the weekend! Our nephew Kurt recently turned 12 so he came over for a sleepover. Knowing that his favourite food is Italian, I thought we might check out the new Jamie's Italian in the city. It's the first Australian location for Jamie Oliver's chain of family-style restaurants. It opened late last year but I was hoping the hype would have died down by now. They don't take bookings, so we turned up on Saturday night at 6pm hoping for a table. The nice host explained that we were looking at a wait of nearly two hours. I turned to Kurt, leaving the decision up to him. He was happy to wait. So we gave the guy my mobile number and then headed off to do some window shopping. As you might have guessed, we ended up at the Apple Store. :)

At 7:30 we headed back to the restaurant and perched ourselves near the bar waiting for our table. The host was still telling incredulous newcomers that it was a two hour wait, so we weren't the only ones making that mistake. Eventually we got seated and quickly placed our order. (We had plenty of time to look at the menu while we were waiting!) We ordered some olives and parmesan to start, then all three of us had pasta as mains: Truffle Tagliatelle for me, Spaghetti Bolognese for Kurt, and Risotto Milanese (with Roasted Bone Marrow) for the Snook. We also split a Rocket & Endive salad between us. Service was very prompt, and we didn't have to wait long for the food at all. Which was good - because we were hungry!

I wish I could say that the food was worth the wait, but it probably wasn't. However, it was definitely worth the cost which was extremely reasonable. My tagliatelle definitely had an aroma of truffles and a slice of one on top, but in terms of flavour it was mostly just butter. (Not that there's anything wrong with that.) Kurt really enjoyed his spag bol and pronounced everything "beautiful". The Snook felt his risotto didn't have a lot of saffron in it, but given that it was on the table in under 20 minutes he thought it was pretty good. Quantities were decent and all of us left satisfied. I'd definitely go back, but not if it involved such a long wait. (Pro Tip: they do take bookings for parties of 6, so next time I'll get a group together!)

We finished the birthday party back at home with ice cream and flourless chocolate cake from Bourke Street Bakery. There was plenty of Guitar Hero, Doctor Who, Ghostbusters, and iPad gaming. It's always fun when Kurt comes to visit!

Sunday, May 20, 2012
Favorited today on Twitter:
You can follow me here.
Saturday, May 19, 2012
Shared today on Instagram: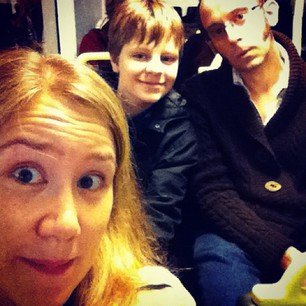 Three silly people on the bus to the city!

Powered by Webstagram

Shared today on Instagram: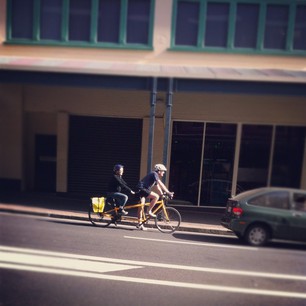 Spotted near Broadway. "Should we get one?" "Dude, it's our DESTINY."

Powered by Webstagram


How to Not Kill a Cyclist - The Morning News - Matthew Baldwin (from Defective Yeti) gives good tips for both cyclists and drivers alike. Please read them.

| | |
| --- | --- |
| | [1] |
The Disappearing Double Chin Trick for Portrait Photography - Dear Snookums: Please watch this and then use it every time you take a photo of me from this day forward.

Favorited today on Twitter:
You can follow me here.
Friday, May 18, 2012
Shared today on Instagram: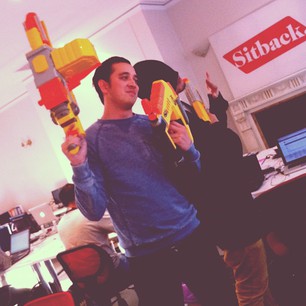 Just your average Friday afternoon.

Powered by Webstagram

Shared today on Instagram: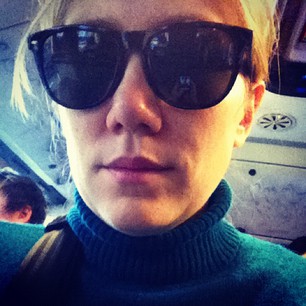 Turtleneck and dark sunnies. I am European royalty incognito...

Powered by Webstagram

Thursday, May 17, 2012
Shared today on Instagram: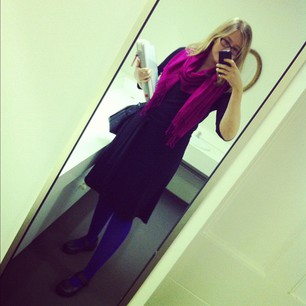 Went for a sort of funky librarian look today. #colouredtightsprotest

Powered by Webstagram


Bicycle Repair: Keep it Quiet. A guide to tracking down mysterious noises from your bicycle. Very useful! (Thanks Snook.)

Favorited today on Twitter:
You can follow me here.
Wednesday, May 16, 2012
Favorited today on Twitter:
You can follow me here.
Tuesday, May 15, 2012
| | |
| --- | --- |
| | [4] |
Reading Speed Test. Oh, interesting! Have a go; it only takes a minute. [more...]


Amish farm kids remarkably immune to allergies: study. Ooh, neat! They even specify that the study was done in northern Indiana. I never had allergies growing up there as a kid. Granted, I didn't hang out in barns or drink raw cow's milk, but I was still in the same general environment. It was only when I moved to Sydney that I developed a wicked bad dust allergy...

| | |
| --- | --- |
| | [3] |
Hello Kitty Liberty of London Tana Lawn. SQUEE! But my sources tell me nobody in Australia is going to be carrying it. I wish I could get my hands on some...!

| | |
| --- | --- |
| | [1] |
Shared today on Instagram: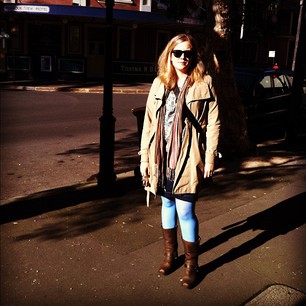 Blue tights, motorcycle boots, and homemade shirt. Hells yeah. #colouredtightsprotest

Edited to add: The tights "protest" was a reaction to some of my friends on Twitter to this article about sexist corporate fashion prescriptivists. We're all wearing coloured tights today in response. :)

Powered by Webstagram

Favorited today on Twitter:
You can follow me here.
Monday, May 14, 2012

6 Simple Ways to Avoid Burnout - I haven't been getting much sleep or exercise. No wonder I feel exhausted.

Cathedral Flora Quilt Blocks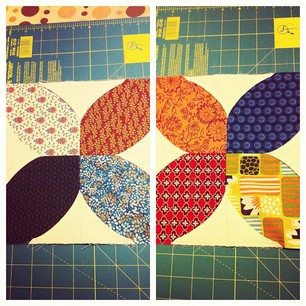 These were the May block for my MetaQuilter quilting group. The designer Melissa chose some great fabrics, and she pointed us to a detailed tutorial explaining exactly how to put them together. I had admired cathedral window quilt blocks in the past but figured they were probably really difficult. Turns out that bias is magic, baby! I LOVED doing these! I used my trusty Uhu glue stick to aid in the initial triangle placement, and after that everything came together perfectly. My patchwork skills are improving nicely and I'm finding it much easier to get my seams to line up.



I'm now 5-for-5 on my MetaQuilter blocks! I have to say though, I was disappointed when the organiser sent out an email offering amnesty to the apparently several people who haven't been sending their blocks back. That sucks. I understand that life happens, but why would you sign up for a group that involves people paying money to send you lots of fabric and then not follow through? Gah. Frankly, I wouldn't be surprised if the whole thing falls apart before we get to my month (which is scheduled to be December)...



Favorited today on Twitter:
You can follow me here.
Sunday, May 13, 2012
| | |
| --- | --- |
| | [2] |
Tova Top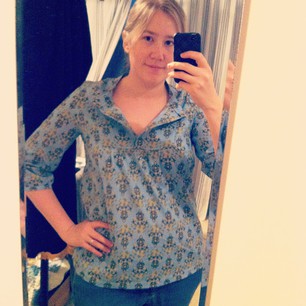 Another completed sewing project! Tova Top in vintage cotton. Not sure it's me...

Commenter Mel recently recommended I check out the Tova Top/Dress pattern. It's a downloadable PDF, so on a whim I bought it. As soon as I did I started to second guess it. It's really much more of Miss Fee's style than my own. But what the heck - I should branch out, right? Last weekend I convinced the Snook to go on a bike ride with me to the Sydney Fabric-a-brac for some fabric stash acquisition. I was looking for something interesting to make the Tova, and I settled on this blue vintage cotton. I got 1.7m for $7, which was just enough to make the shirt. The project was very quick to put together, starting Saturday night and finishing Sunday morning.

It was interesting to sew from a non-Colette pattern, since that's what I've been using so much lately. The markings were different and I kept forgetting/missing them. The instructions are relatively easy to follow though. I had been worried about setting in the sleeves, but I breezed through that. The hardest part was actually attaching the front inset pieces, which require you to pin and sew on three 90-degree sides of a square (with the bottom also involving gathers). Yeah, I swore a bit through that part. But overall in terms of technical skill, I feel like I'm coming along leaps and bounds. This is definitely the best constructed garment I've made yet.

That said, I knew when I tried it on halfway through that there were going to be sizing issues. I made the largest size - which is a 14 - but I think it's definitely intended for a more slender, boyish figure. It's quite tight around my hips, which made me glad I didn't go straight to the dress. (If I do that, I'll definitely be adding in some width there.) I could also use some more width across the shoulders. I feel like if I crossed my arms tightly, I could pop a seam! And along with that, maybe a bit more depth in the armhole.

So not a total win, but definitely a wearable muslin. It's totally in the "post-modern Laura Ingalls meets Japanese minimalism" vibe that I was going for. (Whether I can work that into my wardrobe is another question.) And I've got some good solid pointers for how to adjust the size on my next one. On to the next challenge!

Favorited today on Twitter:
You can follow me here.
Saturday, May 12, 2012
Shared today on Instagram: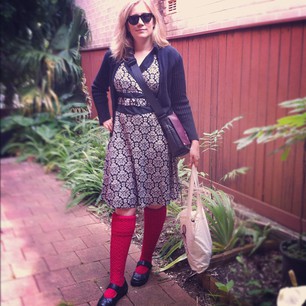 In their first - and let's be honest, probably last - public appearance: my prize-winning Rhiannon socks!

Powered by Webstagram

Friday, May 11, 2012

"To infin-knit-y and beyond: Housewife asked to knit a spacesuit for NASA's rubber chicken " - Love it.

Thursday, May 10, 2012
Favorited today on Twitter:
You can follow me here.
Wednesday, May 9, 2012

Get Yourself Frozen In Carbonite At Disney 'Star Wars' Weekends - Oh man. That's so awesome. (Link courtesy of Shane.)

| | |
| --- | --- |
| | [2] |
"Paris cyclists given right to break traffic laws". Hey, that's brilliant. Just this morning I stopped at a red light on Ultimo Road waiting to turn left onto Darling Drive. And there was no traffic coming from the other direction and no pedestrians around. I could've gone for it. But instead I waited for the green, thinking that I'd rather be the kind of cyclist that car drivers see and go, "Huh. There's one following the rules!"

But it did cost me like a minute of sitting there.


"Big Price for Single Bed"
Woo, neat! I got quoted in the Daily Telegraph on the weekend. Here's a scan. Of course, it's me talking happily about the ridiculous price my neighbour's apartment sold for. I am so Sydney.

Tuesday, May 8, 2012
Favorited today on Twitter:
You can follow me here.
Monday, May 7, 2012
| | |
| --- | --- |
| | [1] |
Meringue Skirt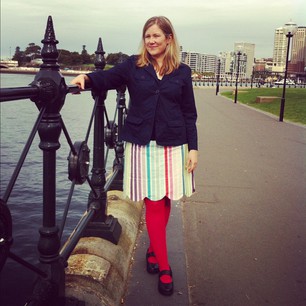 Squinting on a cloudy day in my new Meringue skirt!

So this is my Meringue Skirt! This was a very quick and (relatively) easy project. The fabric is ANNBETH from IKEA, and it's a nice sturdy cotton. Despite my continued lack of an invisible zipper foot, I think this is my best zipper yet. (Of course, it took me like three tries because I kept sewing it on the wrong side of the garment.) The instructions for sandwiching the zipper in between the waist facing were brilliant. I mean, I had no idea what I was doing at the time, but I followed the instructions religiously and trusted that when it came time to flip it right-side out, it would work -- and it did! The scallops around the bottom are the defining feature, of course, and they're trickier than they look. I'm not 100% happy with how the hem facing sits, but I did my best and I know what to do better next time. The only real problem with the skirt is that it's TOO BIG! Once again I sewed a size 16 out of fear I wouldn't fit the 14, and now I'm swimming in it. So I'm going to have to figure out how to take it in a little bit. But overall, I feel like this is my best executed project yet!



I posted a sneak peek on Facebook a week ago and my high school geography teacher commented that it looked like an AWNING. So now that's all I can see when I look at it. IT'S AN AWNING. THANKS, MR. SCHMIDT.




5 Scientific Explanations for Game of Thrones' Messed-Up Seasons - Neat! I had no idea that such a thing was actually plausible.

Sunday, May 6, 2012
Favorited today on Twitter:
You can follow me here.
Saturday, May 5, 2012
Shared today on Instagram: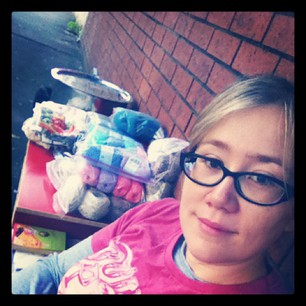 Manning the world's tiniest garage sale. #garage2012

Powered by Webstagram


If Apple Designed a Bike Light, It Would Look Like This | Wired Design - Aww, what will the Brooklyn bike hipsters think up next? This is very cool. Too bad it's only for the rear light.

Favorited today on Twitter:
You can follow me here.
Friday, May 4, 2012
| | |
| --- | --- |
| | [1] |
Shared today on Instagram: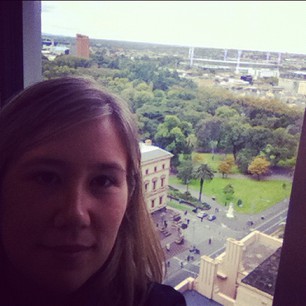 All I could think was that @kunaal84 would *kill* for this office.

Powered by Webstagram

Thursday, May 3, 2012
Shared today on Instagram: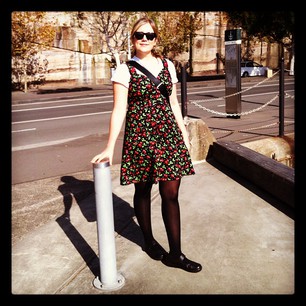 It amused me to wear a homemade dress to work when Sydney Fashion Week is happening just a few blocks away!

Powered by Webstagram


Giant crocheted lions created as part of the UK's "Cultural Olympiad". THAT'S INSANE. I can't believe she did it by hand! I'd like to see more photos of the creation process.

Also, she got HALF A MILLION POUNDS for that. Clearly, my aversion to crochet is misplaced. (Link courtesy of my Mom.)

Wednesday, May 2, 2012

Sweet! How to Make a Chocolate iPhone - Brit & Co. - Super cute!

| | |
| --- | --- |
| | [1] |
Favorited today on Twitter:
You can follow me here.
archives
You can search through the archives by post keyword using the form on the left, or you can browse by month using the links at the bottom.
"Moblog" refers to posts and images posted directly from my mobile phone.

"PW Blog" refers to posts recovered from my very first weblog, which dealt with news related to my college dorm.