Friday, June 29, 2001

I didn't find much bloggable today. I think I've got an addiction to online content. When there isn't enough new stuff, I get bored and cranky. I'll sit here obsessively clicking through my list of links, just waiting for the magic moment when Max or Brigita will publish their new material for the day. Obviously I'm having a bit of a slow period at work. Which is part of it, because I should remember that not everybody spends 10 hours a day online like I do. Other people have lives. Maybe I should try to get one of those.

Anyhoo, my home life will be experiencing a much needed change anyway... because my sister is arriving this Monday to live with me for a few months! Yes, Amy's going to give London a shot. And contrary to popular believe, no, I'm not forcing her to earn her keep as our housemaid. We're gonna get her set up in a pub job so we can score lots of free beer. You know, the summer is looking up already!


Huge hugs and good luck go out to my buddy Tara D, who's competing in this acting/comedy/improv "Survivor" type thing at a Chicago theater tonight. It's actually been going on for over a month now, and every show a few more people get voted off. Her opening monologue (which I saw when I went home last month) was a dramatic reading of New Kids on the Block's "Hangin' Tough." HILARIOUS. TARA D IS THE STAR OF TOMORROW! And if she wins, she gets five hundred bucks! I wish I were there to vote for her. Good luck TD!

| | |
| --- | --- |
| | [3] |
Not that I was really looking forward to seeing it or anything, but it really cheeses me off that the UK will be seeing a censored version of Lara Croft: Tomb Raider. What, it's okay for 12-year-olds to perv on a woman with 34DD breasts, but we can't show her headbutting anybody? The knives and throat chops are probably the only highlights of the whole sucky movie.

Thursday, June 28, 2001

Heh. I guess Ironminds saw that Salon interview with "Komo" too.


Hooray! The second Harry Potter trailer is officially up at harrypotter.com. You're supposed to watch the embedded file, but sneaky me poked around in the source code to find this link to the file itself. Just right-click and "Save Target As..." to your own hard drive. (This is the high-quality version and it looks to be over 25MB. I'm still downloading it myself, so I'm not even 100% sure that it'll work. I'll let you know.)

Update: It works! Of course, I had to uninstall and reinstall Quicktime 5 about three times, but I finally got it to play with sound. It looks FANTASTIC. I love the kid who plays Neville. The brooms looked much cooler and less cheesy than I thought. I thought the scar would be a little more prominent. I want an owl. Whew. I gotta go watch it again!


How did I miss this? Pet-Care Tips from the Onion. My favorite: "Pet rabbits often benefit from a glass of white wine and light breading in a rosemary butter sauce." Hee!


Holy crap! I was totally wrong about the UK-recognizing-gay-unions thing yesterday. Apparently as of September, lesbians and gay men living in London will be able to register their relationships. It doesn't confer the legal status of "married", but "it is hoped that it will be accepted as evidence in any dispute or civil action over tenancy, pension or immigration rights." It's a step, kids. (I wonder how this affects that hunger strike?)


Hey, Naked Man is at it again! That nudist I told you about before is planning to get nekkid in public again on July 1. You should check out the paintings he'd done in his spare time. The one at the bottom cracked me up.


Salon posted a story written by Komo, the dragon that bit Phil Bronstein. I might find it funnier if Ironminds hadn't written almost the same thing over a week ago.


Very interesting. A company called zTrace has invented software to trace stolen laptops. We've had several stolen from our office this year. As more and more companies supply employees with laptops to work from home, this kind of service could get very lucrative.

Wednesday, June 27, 2001

A gay British couple are on a hunger strike for same-sex marriages. Dude. I mean, I think that's a worthy cause and all, but a hunger strike? Given the realistic chances of the law being changed right now (like 0%), I'd sooner move to Vermont and get married than die of starvation. I guess I don't have enough motivation to become a martyr.


Will the home LAN save us? We have one. It's not very extensive at the moment (only extending between Snookums' and my rooms), but we've got big plans.


Bill Gates can bite me. I've turned off Smart Tags. Have you?

| | |
| --- | --- |
| | [7] |
Salon reports that consumer confidence is up again. Which is nice, but the best part of this article are the ridiculous metaphors economists use to describe the news.

"The economy is clearly coming out of hibernation and beginning to move about," said Sung Won Sohn, chief economist at Wells Fargo. "But it's still pretty dark in the woods."

WHAT? Another good one:

National Association of Manufacturers President Jerry Jasinowski said the figures were "like a ray of sunshine in an otherwise stormy sky." He said that "while I don't think the clouds are going to fade right away," the numbers "show that the storm is beginning to moderate."

I suppose if this is what it takes to make economics interesting, so be it.


Well, Chuck and Camilla finally kissed in public. It doesn't look very passionate though. In fact, I'd say Michael Jackson and Lisa Marie showed more spark than these old fogies do. Of course, I guess you're not exactly going to slip your boyfriend the tongue when his mother, the Queen of friggin' England, is standing right in front of him, are you?

| | |
| --- | --- |
| | [11] |
No way. Hey Brigita, she's pregnant. This story just gets worse and worse.


The Loch Ness Monster is 'caused by seismic waves', says an Italian scientist. How very un-romantic. As if tourism in the UK needed another blow.

Tangent: A good friend of mine was up visiting Scotland a few years ago when we were both here as students. He wasn't staying far from Loch Ness, so he decided to walk there along some nature trail. He was nearly there when suddenly he turned round a bend and came upon a couple "having intercourse." Oh, did I mention my friend was studying in the seminary to become a priest at the time? Hee! He was so embarrassed he turned around and snuck back to the hostel without even seeing the Loch. We still kid him about it to this day. (He ended up leaving the seminary a few years later.)

| | |
| --- | --- |
| | [2] |
Snookums: I had this crazy dream last night about psycho animals with guns trying to take over the world.
Me: Ha! Why do you always have these silly boy G.I. Joe dreams?
Snookums: Don't make fun! Pandas with rocket launchers are scary.

Tuesday, June 26, 2001
| | |
| --- | --- |
| | [4] |
Brigita's been posting short little magnetic poems she's written. I like them.

| | |
| --- | --- |
| | [4] |
New poll is up. If you don't get it, please head to your video store and stand in the 1980's section until you do. ("Did you have a brain tumor for breakfast?")

Results of the old poll. I'm happy to report that almost 79% of you preferred Britney to Christina. I apologize to those of you whose retinas were permanently damaged by the picture of Christina's testicle. I'll try and warn you about that stuff in the future.


I was going to update you all on last night's Survivor episode but I just can't. It was too awful. James is gone. Charlotte is the only member of Helang left. Ular are being so mean and petty and terrible that they're even making me feel sorry for the whinging tart. All the good guys are gone. Only the bad guys are left. I hate Jackie. I hate Zoe. I hate Eve. I hate Richard. Only a victory by Mick or Pete would make this travesty marginally more easy to take, and I don't rate either of their chances very high. It sucks. I'll watch til Charlotte is gone next week, and then that I'll quit. I don't want to see one of those bastards win.


I just noticed a link to a My Yahoo! Survey while checking the news. I filled it out even though I'm ineligible for their stupid sweepstakes. From the angle of the questions, it looks like our old friend Yahoo! is finally starting to consider charging for their services. They wanted to know which publications I subscribe to offline and whether I'd be willing to pay for access to that content online. I said no. I do get most of my news from their service, but it's not like that's the only way I can possibly get information. If they shut down, I'll go elsewhere.

| | |
| --- | --- |
| | [3] |
"Oh, what a cute little... zorse? zetland?"


You can now see the last 100 Google search terms people used to find this site. Man, there are some weirdos out there! (Hello to any of those weirdos reading this.)


A study claims that 19% of kids on the Internet get unwanted sexual solicitations. Can I be the first to say, "Duh?" I mean, how many adults get unwanted sexual solicitations on the Web? Probably like 75% (minus people like my Grandpa who don't surf or frequent chat rooms). I mean, have you seen my Yahoo! Mail inbox recently? If it's this bad for adults, of course a large proportion of kids are going to get them as well.


Congrats to Beau on finally moving into Bashert, his country dream house. I've enjoyed following the saga on his site. (Man, I'm all about the personal shout-outs today!)

| | |
| --- | --- |
| | [1] |
Jann is back! Well, his site is back, but he's off on holiday. He did link to an amusing story about the perils of shagging in front of your webcam, though. Nice.


Some great new Lord of the Rings pictures if you're interested... (I can already tell I'm going to have a major Viggo Mortensen fixation in about six months.)

Monday, June 25, 2001
| | |
| --- | --- |
| | [4] |
Hooray! Martina Hingis has suffered a stunning first round defeat at Wimbledon. I really dislike her.


Oh jeez. It's going to be hell on the Tube tonight. Not only is every train packed full because of various strikes and breakdowns, but our sunny weather is going to raise the temperature down there to over 90. People are going to be dropping like flies. (Thank God I live within walking distance of work.)

| | |
| --- | --- |
| | [8] |
Ugh. I finally managed to finish that horrid The Wind Done Gone piece of crap. Since I know at least one person who takes an interest, here's what I got from the last half:
I misread the bit about Prissy and Ashley. He didn't have an affair with her, he had one with her brother. Homosexuality, miscegenation, murder... this book has it all.
Scarlett was black. Yeah, that one threw me for a loop too. It all came to light in a series of letters between Mrs. O'Hara and her childhood sweetheart/cousin, Philipe. They wanted to get married, but her mother wouldn't allow it. It turns out that Scarlett's great-great-grandmother was "a Negresse", and the family was terrified that if the two of them got together they'd have a dark child. The phrase "pour a little more milk into the coffee" was actually used. Philipe got killed anyway, and Mrs. O'Hara became, uh, Mrs. O'Hara. (I can't remember her real name.) And she kept the whole thing secret.
Well, not from Mammy. Apparently Mammy kept the letters and knew what happened. And when little Bonnie was born to Scarlett, I think she either started to get a little dark or else Mammy was worried that she was. Either way, Mammy would come into her room at night and scrub her with a lemon. Seriously. That's why she was afraid of the dark. How dumb is that?
Scarlett died. It was very anti-climactic. Do you need more proof that this woman can't write than the fact that she killed off one of literature's greatest female characters and I failed to care?
Seriously, here's the whole book distilled into one paragraph: "My mother always preferred my half-sister to me, and I spent my whole life having huge issues because of it. To make up for it, I stole her husband and her house and her clothes. But wait, I guess I really did love my half-sister and my mom. I'm going to leave her husband and go bear a child for a black Congressman and then die of lupus."
 
It adds nothing to the idea of the Old South that the original book perpetuates. I wanted to hear the voices of the people that made Scarlett's extravagant childhood possible. Instead of telling the real story of slavery, though, this mean-spirited author merely re-wrote the story to make herself win. She ends up with fine clothes, living in a fine house, and sleeping with Rhett Butler. She becomes Scarlett. Big friggin' deal. If she needed to write that to be able to sleep at night, good for her. It's like, hate Scarlett if you must, but don't hate her simply because you envy her. It makes for a very boring book.


Wimbledon has started. Venus Williams has been on the front of every sports page in London for the past week. Quite mannish, that one.


Reason 6,000,004 Why Microsoft Sucks: They're shutting down ListBot. It was a free service that you could use to manage large e-mail lists and send out newsletters. Now I've got to go download the 200+ addresses I've collected on my Dahl site and figure out a new solution. Poodoo.

| | |
| --- | --- |
| | [3] |
If you haven't seen the Powers of Ten site yet, take a look. It starts in the Milky Way and then closes in on the Earth by powers of 10, 'til you end up looking at a proton from a leaf on a tree. Very cool.


I've wanted to buy a new mobile phone for a while now, but I haven't been able to justify the expense to myself. My old one works fine; I just want a cooler looking one with ring tones and games. But if I can get one with Atari games on it... Clear a path to Carphone Warehouse, baby.


Reuters asks, "Is Michael Jackson Still Marketable?" As a big former Michael Jackson fan (with the souvenir glove to prove it), even I have to answer with a resounding: No! Even if his new album is the greatest piece of pop ever, the man still looks and acts like a freak show. And not in a good way. Not in a marketable-to-teens way.

Friday, June 22, 2001
| | |
| --- | --- |
| | [1] |
On my way out, I stopped at reception to pick up a package that had arrived for me. It turned out to be three! One was a CD from a musician friend, one was a Roald Dahl video, and one was my long-awaited copy of The Wind Done Gone. So I came home, put in a load of laundry, and cracked the book. It's pretty short and I'm a fast reader, so I'm already about halfway through it. Max, you have no need to worry about this book tarnishing the glorious South. I have no problems admitting that it sucks. Big time. I was honestly interested in reading an alternate version of Gone With the Wind, but this version is seriously on crack. If you're planning on reading this book (and I wouldn't advise it), skip the rest of this post. If you're curious, here's what I've learned so far:
Gerald O'Hara's slave Pork was the real lord of the plantation. He contrived to get himself won by Gerald in a poker game by poisoning his own master with alcohol, and then he used the same trick to help Gerald win Tara. He and Mammy conspired to get Gerald to marry her mistress. Pork designed Tara himself and built it from the ground up.
Gerald started sleeping with Mammy on his wedding night. Something about Mrs. O'Hara being frigid and frail.
Mammy killed all three of Mrs. O'Hara's infant sons so there wouldn't be any "sober" white men on the plantation to order them around.
Mrs. O'Hara and Cynara (the mulatto protagonist) would become so jealous after seeing Mammy nurse Scarlett that Mrs. O'Hara would spontaneously lactate and nurse Cynara in her room.
Belle Watling was a lesbian.
Rhett Butler was screwing Cynara a full year before he even met Scarlett. He even slept with her the night his daughter died. They have a special couch that they use when Rhett's in the mood to "visit the honeysuckle garden."
I'm pretty sure there was an allusion to an affair between Prissy and Ashley that somehow led to her brother being beaten to death, which is what made her so "silly", except she's not really silly, she's crafty. Oh, and I think Prissy killed Melanie.
Mammy raised and taught Scarlett to break men's hearts as a weapon against men. (Miss Havisham, much?)
Rhett's getting old and having difficulty getting it up.
Seriously, was the world crying out to have this stuff told? No. This is not a thoughtful re-write of literary history from a politically correct point of view. This is Gone With the Wind on acid. The "parody" label is fully deserved. This isn't a novel; it's the kind of thing you imagine as a dirty joke. It isn't thought-provoking, it isn't well-written, and it isn't a fun read.

Of course I'm still going to finish it. I paid $30 for the damn thing. *sigh*


Woohoo! The meeting my project team had this morning with the head of the company (and that I stayed here til midnight preparing for) went so well that my manager's given us the rest of the day off. Any further posts will be done from home while sipping a cool drink and enjoying daytime television. Kickass.


You are, of course, aware that it's Royal Ascot week over here in England, right? As I know nothing about horse racing, my favorite part is the hats. The BBC have chosen some Hits and Misses for this year, but personally my favorite's the one on the right. These are supposedly the best from last year, but they look more like "Fashion Don'ts of the 1980's" to me. The rules about what you can and can't wear are pretty amusing, too.


I don't quite get it. So there's *less* cold water flowing south from the Arctic than there was 50 years ago... and yet England's still getting colder?? Climate change is so weird. Everytime I hear something like that, I'm reminded of all the chaos theory my high school calculus teacher tried to teach me. Butterflies flapping their wings and all that, you know. The ice caps are melting, so water levels should rise. Then there's the greenhouse effect, which should make everything get warmer. And yet now suddenly the Gulf Stream might change, meaning the winters get eleven degrees colder. So random. It's hard to fathom on a day like today, with the sun shining and an entire beautiful weekend stretching before us. I'm sure I'll feel differently in the pits of January next year, though.


If you're running Mac OSX, you might be interested in a Register article about the real differences between Cocoa and Carbon and why rewriting the Finder isn't necessarily a good idea.


It's a horrible thing to contemplate, but I have to admit that I was morbidly curious about how she did it. I mean, I'm sure that by the age of five I would've known what it means to be "dead." (I've got memories of nightmares as evidence.) Did she start with the young ones, or the old ones? And she did it one at a time? If Mom kept bringing my lifeless, wet siblings out of the bathroom wrapped in sheets, I'd be pretty damn freaked out. As it turns out, I was pretty much right. She evidently had to chase the eldest boy around the house. This is just so sad.


Sad day. John Lee Hooker (who I always think of singing outside the Soul Food Cafe in "The Blues Brothers") and Carroll O'Connor (aka Archie Bunker) have passed away.

Thursday, June 21, 2001

HA! Do you have a personal site? You should do the 2001.DESIGNER.SITE.CHKLST. It'll analyze your design and tell you how much of a wanker you are. And it's so funny (in a web design, nerdy kinda way) that I spewed Coke out my nose.

| | |
| --- | --- |
| | [4] |
New feature!
You can now see the last five Google searches that led folks to web-goddess. They're in a box down on the left after the poll. (Vote if you haven't!) I've been watching my referrer logs and entering particularly good ones at Disturbing Search Requests for a while now, but I thought it might be fun to see them one-by-one as they come in. Kudos to Brigita for noticing before I even announced it!

| | |
| --- | --- |
| | [2] |
I'm still laughing at the Date My Sister Project that Gael linked. I showed it to my sister, who responded that she wouldn't mind if Snookums and I launch a similar initiative when she gets to London. Heh.


In U.K. theater news, Mark Ravenhill has a new play at the Royal National called "Mother Clap's Molly House". The play intertwines both a contemporary storyline and one set in a 1726 London "molly house" (gay meeting place). Sodomy is somehow involved. The religious right are, predictably, already up in arms. I saw Ravenhill's first big production, "Shopping and F***king", back in 1998. I wasn't a big fan, but it wasn't because of the anal sex or the toplessness. I just thought it was a sucky play. It should've been called "Shopping, F***king, and Ramen Noodles", because that's the vision of my generation that it presented. And no amount of loud music and neon lights can paper over juvenile, sucky writing. But anyway, I still don't see any problem with nationally-funded theater doing avant garde productions. I'm probably going to try to see his new one, just as an act of support for the RNT.


A Korean theater hit called "Cookin'" is coming to the U.S. "The show... features the high-tempo slicing of four chefs who have an hour to prepare a glorious wedding banquet." They do comedy and use their utensils as percussion implements. It's like "The Iron Chef" meets "Tap Dogs"! They don't mention who gets to eat the food at the end though. I would hope the audience does.

Wednesday, June 20, 2001
| | |
| --- | --- |
| | [8] |
New Poll: In case you haven't noticed, I've implemented a new database-driven polling system that allows me to save poll results. So starting from today, all polls will be archived here. For our first topic, I've chosen the age-old question of "Who's better: Britney or Christina?". Please register your answer (and reasoning!) over at the left.

Results from the old poll: The breakdown of Kaycee Nicole reactions among my site visitors was pretty much the same as it was among all Netizens. Most of us had heard of her site but never really gave it much thought, while only a few had mourned her and were bitter about the hoax. A few didn't even think it qualified as a hoax, but rather as a form of "internet art". And then there was my sister, who can never resist taking the bait of the joke response I always create just for her.

| | |
| --- | --- |
| | [4] |
Can you place this quote?
Oh, he's very popular Ed. The sportos, the motorheads, geeks, sluts, bloods, waistoids, dweebies, dickheads--they all adore him. They think he's a righteous dude.
Of course you can. Brigita found a great story about the enduring popularity of the film. The best part is that Edie McClurg, who played Grace, is quoted as saying that she wished they wouldn't edit out her "dickhead" and replace it with "airhead" for TV. "I wish they'd just go back and play the real movie on cable," she said. Ha!


I was a bit alarmed to read a story on Slashdot about car rental companies monitoring speeding via the car's GPS system. Whoa. Did I speed at all on our trip? I'm sure I did; you can't drive in Chicago without speeding. You've got to go 20 mph over the limit just to avoid being rear-ended. I'll be watching my credit card statement...

Tuesday, June 19, 2001

Wow! Check out this amazing photo. I swear it's not pornographic, okay? (Link courtesy of John.)


Yahoo explains the story behind "What's the Frequency, Kenneth?". The REM Lyric Annotations FAQ tells a slightly different story. Neither site, unfortunately, explains why "irony was the shackles of youth."

| | |
| --- | --- |
| | [6] |
An e-mail from my housemate Nick: "DangerShirt.com - The World's Most Dangerous T-Shirts! I like their sales pitch: 'Your ass kicked, or your money back.'"

| | |
| --- | --- |
| | [2] |
U.K. Survivor Update:
Man, I've really been slacking off with these. I missed a week's worth while I was on holiday, and they keep moving the schedule around on me, yada yada yada, I'm a little behind. I'll try and bring you up to speed. (Sorry for those who aren't interested. This is going to be a HUGE post.)
 


Episode 4: Helang finally pulls it together! First they managed to win the Reward Challenge, which involved a giant square maze on a pivot which they had to guide a ball through without falling into holes. As reward, they got three chickens. While they ate well, there was still a large division between the "old" and "young" team members. As Jayne said of Adrian, He's a total wuss. He won't eat rat, he won't kill anything and he's lazy about the camp. And I'm getting really sick of him shagging Charlotte all the time." (Okay, I added that last sentence. But you know she was thinking it.) Even that couldn't stop Helang from winning the Immunity Challenge, though, which involved gathering masks that had been positioned around the mangrove swamp. Ular faced another Tribal Council, and various alliances were formed, changed, and broken. In a shocker, model Sarah was voted out by five of the other six members. Jackie, Richard, and Eve proved what nasty little beeatches they are yet again.
 


Episode 5: Now it was Ular's turn to suffer. The weather'd been crap, and everybody was on edge. Eve voiced her concerns that Zoe's an actress, which might make her more duplicitous. Zoe responded: "If I was any sort of actress do you think I'd be here being bitten to pieces by sand fleas? No. I'd be in my dressing room with a large Gin and Tonic saying 'wasn't I marvellous?' Don't worry, I'm not that good." Meanwhile in Helang, Adrian admitted: "Here I have to do [everything] myself. Well, Charlotte acts as my mum sometimes, she comes and wakes me up." I'll let you fill in your own joke there. The Reward Challenge involved diving for letters and forming words. Helang's "cleans" beat Ular's "jury", so they won Alphabet Spaghetti, Beer, and Chocolate. Some members of Ular were bitter and started picking their enemies on Helang. "She's got some gob on her hasn't she?" said Zoe about Charlotte. "Bikini babe we call her. She seems to have a large wardrobe of spangly bikinis and she's incredibly loud. I just have a dislike of incredibly loud people." The Immunity Challenge was an assault course in five legs. Helang won, but on the replay it was discovered that James messed up and didn't go under one of the logs. Helang started to prepare for Tribal Council. Andy was torn between voting for Jane, who was less athletic, and Adrian ("I think the only way he could survive on his own is if McDonalds decided to open up on the island.") In the end, everybody voted for Jayne.
 


Episode 6: The Reward Challenge for this show was to create a distress signal to be seen from the air. Adrian immediately showed why he's a big piece of poo: "This challenge is such a nothing for me. It's not a race, it's not a competition, it's not a diving competition... it's just make a symbol on the ground." Ular spelled out "SOS" several times while Helang eventually cobbled together an "X". Ular won, but were less than thrilled with their prize. It consisted of toilet paper, sheets, pillows, and a Walkman. They were really pissed that it didn't contain any food. The Immunity Challenge was some sort of treasure hunt that involved fetching a map in a bottle from the sea and then finding a key and chest. Charlotte screwed it up for Helang by failing to get the bottle on her first dive. Ular won the crucial Challenge and would go into Tribal Merger with six people to Helang's four. Helang retreated to their beach to decide who to send off. In the midst of this, Charlotte revealed she'd had a premonition that she was going to win the million. At this, a million eyes simultaneously rolled back in their owner's heads around the country. Charlotte, Simon, and Adrian decided to vote off James as punishment for losing the two earlier challenges. Andy and James wisely decided that Adrian should go. The actual voting was another huge surprise, though, as Simon switched his vote and Adrian was voted out. He'd been so cocky he hadn't even brought his stuff from the beach with him. He kissed Charlotte good-bye (another communal eye roll) and left. Good riddance.
 


Episode 7: The time had come for Tribal Merger. Ular's beach was chosen for the new tribe to live on (Helang never even built a toilet), and the new tribe name would be "Sékutu" (meaning "merge" or "join" in Malay). The group headed back to build their new camp and found a steak barbecue waiting for them. Tension was still high, though, as Ular cemented their plan to vote off each Helang member starting with Simon. The next day was Charlotte's birthday, and the day of the first individual Immunity Challenge. The Survivors had to stand on a log in the sea and the last person standing would win. Twenty hours later, Andy, Richard, and Simon were still standing. Mark Austin, the host, explained that they'd only expected it to run six or seven hours, so Tribal Council might have to be postponed. Eventually Andy won around the twenty-three hour mark. As the Immunity Idol was placed around his neck, Andy explained that it was Mothering Sunday (Mother's Day in England) and that he was thinking of his Mom. At this moment, Andy became my favorite player. Tribal Council finally convened, and Simon was voted out as expected. Some unexpected humor came from Charlotte, who voted for Eve and explained: "There's a masterplan concocted by James en route here. I'm not really sure why, but I hope it works." It might've worked a little better if she'd voted for Zoe, the way Andy and James did. She's such an idiot. Simon was very gracious as he left, saying that he hoped they'd award the million to the "true competitor, the true Survivor."
 


Episode 8: This one sucks. While I can appreciate Ular's strategy, it pisses me off that some of the most useless, crap people (like Jackie and Eve) are surviving simply because they got placed on the better team. Luck of the draw shouldn't factor into being a Survivor. Anyhoo, Charlotte was very upset because all her suitors had been voted out and all the other girls hated her. That was a small highlight. As Eve put it, "It's the constant screeching in my ear that winds me up." Charlotte responded in excellent bitch fashion: "She needs to go straight back into the army and start ordering her corporals around like the little sergeant major she is. I'm sure it's got nothing to do with the fact she's 4ft 2." Another small moment of humor came when Zoe lost her fishing hook and went off on a rant about life on the island. "What is the sodding point of being here?" she said. "I haven't had as much fun since granny got her nipple caught in the f****ing mangle." (For the record, I have no clue what that means.) The Reward Challenge involved diving underwater and hanging onto a submerged log for the longest time. James eventually won after staying under for nearly two minutes. (The official site said he used "meditation to aid him".) He won a night with all the luxuries of a five-star hotel, and when told he could share it with someone, he instantly chose Andy. Awww, James is my other favorite. Even though he's so skinny he looks like the Sloth guy from Se7en. So they went off to have their night of hot tub, food, and massage on the beach, while Charlotte got to spend the night with six people who hate her. On second thought, this wasn't such a bad episode. The Immunity Challenge involved the Survivors standing on logs and answering questions about survival on the island. To my dismay, Pete eventually won. Everybody knew that Andy would be the next to go. As Pete himself put it, "There's a tinge of sadness. I was hoping Andy would win the Immunity Challenge. He's a great guy. It's a hard decision. Hard game. Tough rules."
 
Pete spent the next day moping on the beach by himself. He's a devout Christian (the Bible was his luxury item) and the decision to vote Andy out was weighing on him heavily. "I'm frightened that it'll come down to the votes on the last day and it'll be two people I couldn't give a monkey's about and that's so wrong because a million pounds is a life-changing thing." Andy observed this and told Pete, "Promise me you'll vote against me. I'm ready to go. Promise me you'll be in the last two - if you are you'll win the one million pounds. Think of how much good you could do with it. Nobody else here would. The only way you can do it is if you vote against me - if you don't you'll be off." Did I mention how much I love Andy? Poor Pete was still in a quandry. "I gave my word to Ular but how just was that word? Do I think it's right to stick to my word even if I think something unjust is going to happen or do I break my word to make something more just happen? Which way do I go? It's a nightmare." Wow. I didn't expect complex moral and ethical issues on this show. That's why the British version rocks, kids. Oh, and we don't have product placement like the US one. And our host is better. But I digress. The rest of the former Ular members knew what was going on and hoped that Pete wouldn't go behind their backs. Jackie lived up to my bitchy expectations and said of Helang, "They don't have to be bitter, just be resigned to failure. Losers!" Why couldn't they have voted her out in that first episode? Even Nick would be better than this. Finally, Tribal Council. Mark Austin explained that whoever was voted out would be the first member of the jury to decide the eventual winner. The host then went on to question Richard about his voting strategy. Richard said quite straight-faced that his loyalty was to the old Ular and that he was going to vote for Andy. "He was my nemesis for 23 hours, he'll remain my nemesis for quite some time." Andy's response to this: "I will be voted of the island in the next few minutes because the majority here know that if they fail to do this I'll punish them severely at forthcoming Immunity Challenges - I take that as a compliment." As expected, all of the Ular voted for him. My Andy was gone. A slight glimmer of hope was presented by Pete, though, who said as he cast his vote: "This is the first part of the promise. I'll try and keep the second part as well." Man, I hope Pete wins. Anybody but Richard, Jackie, or Eve.


Britain may introduce a US-style green card system in the UK for immigrants. The scheme would give priority to those with skills needed in the country. As an "IT professional", I'd be pretty high on the list. Awesome. My current visa runs out in the beginning of 2003... and though I've still got two years left, it'd be nice to know that I could stay longer if I choose without getting thrown out of the country.


So I was reading Dan's site today and came across a reference to a "Turducken". I clicked on the link and found myself at an amazing site dedicated to the preparation of a this dish, which consists of a chicken inside a duck inside a turkey. Of course, I immediately sent it round to Snookums, Nick, and Alex with the suggestion that we make this the centerpiece of our next barbecue. So I continue flipping through the guy's BBQ pictures, and my eye is caught by a familiar name in a caption. Two of my good friends from college were at this event! There's Nat and Staci right there. How random is that? I'm off to e-mail them right now. I gotta know how this thing turned out.

| | |
| --- | --- |
| | [3] |
Ha. I just saw a great signature on Slashdot:
The only "intuitive" interface is the nipple. After that, it's all learned.
Hmmm... I wonder what Jakob would make of that? (Snookums just wondered: "hence the nipple-mouse on IBM thinkpads?" I don't think that reasoning works though. You'd get drool all over your keyboard.)


Matt has written an incredibly useful bookmarklet that turns on all the table borders within the page you're viewing. It's nice for instantly checking your own work and for seeing the ways complicated sites put their pages together. It's only for IE on Windoze machines, but it's worth grabbing if you can.

Monday, June 18, 2001
| | |
| --- | --- |
| | [6] |
I'm finding tons of interesting stuff online today. For instance, ever wonder about ramen noodles? Like, how are they made? Is it just one long noodle? Are they really that bad for you? This article has it all. And another thing: is the Counting Crows song "Mr. Jones" really about Adam Duritz's penis? Enquiring minds want to know.


Looks like Peter Buck's back in town to face those air rage charges.


I would've thought Roger Ebert would've had more to say about that whole Phantom Edit thing. I mean, as a Star Wars fan myself I wish the film had been better. But as a film student, I don't like the idea that we can just cut up somebody else's work because we didn't agree with it.


Salon also has an interview today with the horse from Monty Python and the Holy Grail. That's right, the non-existent horse. Really it's just a pair of coconut shell halves that they banged together. But you knew that.


Those Duct Tape promgoers from my high school were mentioned on Salon! (They had the red, white, and silver ensembles.)


Just this morning Snookums and I were discussing my dream job, which is basically to get paid for surfing and writing about the 'Net. We agreed that I might have a chance writing for a newspaper or television show, but that I don't have a snowball's chance in hell of getting paid for online content. So I just keep doing what I've been doing: working for The Man during the day, and doing my own stuff whenever I get a chance. It beats being homeless. John Scalzi agrees with me. (Again, link courtesy of John.)


Ha! The next time I get in another REM versus U2 battle, I'm gonna whip out this little story. The Metafilter comments are pretty good too. My favorite: "Good luck, U2. They jumped the shark long ago, with the lame Batman movie song they did." Word. (Links courtesy of John.)


Hmmm. A UK movie review site has images of the knut, sickle, and galleon coins produced for the upcoming "Harry Potter" movie. They're cool... but isn't one of them supposed to be triangular? I seem to remember that from the books.

| | |
| --- | --- |
| | [2] |
"Call to drug test women at work." Ooh, that pisses me off. Since when is my private life my employer's business? (And it's not really random if they're singling out women, is it?)


Sorry for the dead air lately. I got caught in the two-day training session from hell on Friday and Saturday. (What did I learn, you ask? A little about XML and UML, and a whole bunch of touchy-feely crap about communicating effectively.) Sunday me, Snookums, and Nick made a big roast chicken dinner for ourselves and then watched another three episodes of the Buffy Season 1 DVD. (I'm going to buy us the Season 2 box set this week when our new DVD player arrives!) So the weekend had its high points and its low points...

Thursday, June 14, 2001
| | |
| --- | --- |
| | [1] |
Great. Apparently vitamin C pills can cause cancer. There's seven bucks down the drain...

Have you guys heard about the Duck Tape Prom Contest? The company is awarding $2500 scholarships to the couple that attended prom in the most original and stylish outfits made entirely from duck tape. This couple is from my brother's school! The guy, Kyle, used to be on Antny's little league team. Go to the Indiana page and vote for them a couple times, okay?

Wednesday, June 13, 2001
| | |
| --- | --- |
| | [1] |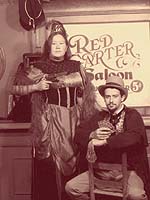 Guess what? My trip pictures are finally ready! This one here was taken at the Antique Photo Shop. That's Snookums as a gambler and me as, ahem, a lady. (No comments from the peanut gallery, please.) There's lots more if you've got some time to waste!

| | |
| --- | --- |
| | [4] |
Apparently it'll cost you over $165,000 to raise a child nowadays. I know, uh, somebody who might find that interesting.

| | |
| --- | --- |
| | [3] |
The reviews for "Tomb Raider" are starting to come in... and they're horrendous. "'Tomb Raider' is going to be one of the worst movies of the summer, if not the year. It is an abomination. It is unbelievably, laughably bad. There are not words that can accurately describe just how pathetically awful it is." And that's from a film fanboy geek, who should be this movie's target audience. Ouch. Here's another one that's just as negative. A quote: "The bubble breasts aren't the only thing 'fake' in the film. Angelina Jolie's 'English' accent makes Mike Myers, as Austin Powers, come off as a blessed Thespian." Hee hee!


I can't believe it. So not only is Bush dissing England, France, and Germany by visiting smaller (read: "easier") European countries, but he went and messed up the Spanish Prime Minister's name? That might sound like a pretty easy mistake to make, except that "Aznar" is only five letters long, Bush is supposed to speak Spanish, and he was speaking on Spanish television right before meeting with the guy. I'm embarrassed. He should've followed Salon's tips more closely.


"Chocka with innuendo, Tim Tam takes the biscuit." I love Australians. This article is all about a popular chocolate cookie (they call 'em "biscuits") and sex. Yes, cookies and sex. Snookums brought back a bag of Tim Tams when we went to Australia last March. They're awesome. It's sort of like a Keebler fudge graham; you know, with a sweet crunchy square covered in chocolate. Apparently one in every three cookies consumed Down Under is a Tim Tam. Can you believe that? They've got tons of varieties and related merchandise, including the "Tim Tam Jim Jams pyjamas (the majority of Tim Tams are consumed at night while watching TV)." I want some of those! I had no idea that the marketing was so sex-related, but I can verify the existence of the "Tim Tam Suck", which Snookums demonstrated for me. You bite off both ends of the cookie and then dunk it in your coffee, "sucking the liquid through the light biscuit texture, quickly drawing it into the mouth where the biscuit explodes." Mmmm, good.


Kim linked to a great interview with Conan O'Brien. I really like him.


No more Bozo? That's so sad! I can remember watching Bozo every morning at the babysitter's when I was, like, four. Seriously, my greatest wish in the world at that time was to be selected for the Grand Prize Game. The kids they picked were always so terrible! I knew I would've won the bike. (I came across the Grand Prize Game at an arcade once as a grown-up and embarrassed everyone in my group by insisting to play. I won though, dammit.)

I especially liked the quote by Billy Corgan about Bozo's influence on kids in the Midwest. And what about Cookie? They write an entire article on Bozo, but don't mention the most famous clown sidekick other than Sideshow Bob? *sniff* Awww, I'll miss you, Cookie.

Tuesday, June 12, 2001
| | |
| --- | --- |
| | [1] |
Ugh. The Natural History Museum wants Britons to report any sightings of "mole crickets". I know I should feel upset that they're becoming extinct, but I really, really dislike creepy crawlies. If I come across one, the scientists will probably know by the scream.

| | |
| --- | --- |
| | [4] |
Weirdness. I'm on a new project so I just got moved back to the other office today. As my old desk was taken, I had to take the remaining empty spot... right next to Snookums. Which basically means that we'll be spending 24 hours a day within four feet of each other. A bit much? What do you think?


Great. This is not the type of thing I wanna hear two days after landing at Heathrow myself. And why did they make a point of mentioning that the trainee was female? Grrrr.

Monday, June 11, 2001
Amazon has finally listed The Wind Done Gone for sale. (Amazon UK doesn't seem to have it, so I went ahead and ponied up for international shipping.) Huh. I thought it wasn't supposed to be available for a few more weeks. Anyhoo, take a look at that cover. They're really playing up the "It's a parody, so the Mitchell estate can bite us!" angle, aren't they? I'm exceedingly curious to see how this turns out. I'll keep you posted.


Parents have no sense of irony. I wore my "goddess" shirt in front of my mother last week and she didn't complain. Of course, I'm not 14 anymore either. But still, we were figuring out our "porn star names" on the school bus in eighth grade, and I don't know anybody from my class that went on to make X-rated films.

Oh, and I really don't appreciate the way this article goes on and on about the horrors of teenage girls wearing promiscuous slogans, but barely mentions the fact that just as many boys wear this stuff too. *PUKE* I suppose boys are just crude and expected to get off on this stuff, while little girls are like tiny delicate flowers that must be protected? No wonder these chicks get a kick out of shirts that read "Hottie" and "Good Girl Gone Bad." I would too.

| | |
| --- | --- |
| | [4] |
You're probably thinking, "Okay, Kris. You've been back from vacation for 24 hours already. Where is the 17-page photologue with in-depth commentary that we've come to expect?" Wellll... it's coming. Unfortunately I was a lazyass and didn't take many pictures. My sister, however, did, and she's scanning them all in for me to use. So fear not, the Great Narrative of My Life will continue very soon.


Hmmm... Could that fire at HarperCollins' London office this morning have had anything to do with this? There's no justice like divine justice. Now leave my Narnia alone, bastards. (Link courtesy of John.)

Update: Snookums found out that it wasn't a fire, it was merely the building's diesel backup generator kicking in and coughing up some smoke. Darn. Snookums also pointed out that what HC is doing to Aslan is no different than what Disney have been doing to his beloved Winnie-the-Pooh for years. Good point.

| | |
| --- | --- |
| | [1] |
What a fun day back! On my walk through Hammersmith this morning, I was startled to find that all the lights were out in the pedestrian subway. They were also out in the Hammersmith Broadway shopping center... and all the way down King Street... and all the way to my office. The best part was that the traffic lights on the Hammersmith Roundabout were dead, which meant that crossing the street became a life-and-death chicken game. I sent a quick text message to Snookums to enquire whether the other office was dark as well. He called me to report that they were all standing outside, as it looked like the HarperCollins building was on fire. Lovely. And it appears that all this mayhem was due to a construction worker that accidentally cut a major electrical cable. I have to admit, it certainly livened up the Monday-after-vacation.

Monday, June 4, 2001
| | |
| --- | --- |
| | [2] |
Just checking in... We made it to America, no thanks to the extremely unhelpful and unefficient bastards at the airport in Montreal, Canada (more on that when I get home). Went to my brother's high school graduation yesterday, which was nice. Now we're off to Cedar Point. Back in a few days!

Friday, June 1, 2001

Sorry, folks, I've got too much pre-trip anxiety to do anymore blogging today. In five hours Snookums and I take off for the land of Mountain Dew and Choco-Tacos. I'd like to give a quick "Congratulations, Antny!" to my brother, who'll be graduating from high school this Sunday. We'll be running around quite a bit this week, but I might be able to sign on for a few minutes to let you know what we're up to. (You can, of course, expect a full photo diary when I return.) Oh, and if you feel a disturbance in the Force this Wednesday, as if two young people were hurtling to their deaths, that'll be me and Snookums on this thing.


Rick Schroder is leaving NYPD Blue... and they're replacing him with Mark-Paul Gosselaar?? Man, Steven Bochco is just pillaging my childhood television boyfriends left and right. I just gonna predict right now that when Zack leaves in two years, he'll be replaced by the middle brother from The Hogan Family.

archives
You can search through the archives by post keyword using the form on the left, or you can browse by month using the links at the bottom.
"Moblog" refers to posts and images posted directly from my mobile phone.

"PW Blog" refers to posts recovered from my very first weblog, which dealt with news related to my college dorm.