Sunday, June 30, 2002
| | |
| --- | --- |
| | [15] |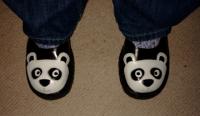 I can't believe I forgot to show you my new shoes! Am I a sixteen-year-old Japanese girl or what? Yes, they're black leather Mary Janes with pandas sewn on the top. They even have little smiles. Aren't they cute?


Max has upgraded to Movable Type and has a whole new design! Same with Bill! My web surfing routine has been shaken.


It's been a quilting kind of weekend. The Storm at Sea Quilt project is progressing nicely. I finally finished all the big squares and now I'm busy working on the smaller ones. I'd like to get the top finished as soon as possible so I can have lots of time to do the quilting (which I plan to do by hand).

Friday I dragged the Snook to the Sydney Needlework, Craft, and Quilt Fair. It was a nightmare. I mean, first off, the place was full of really mean grandmothers who'd step all over you to get to a bargain on rubber stamps. Then there were the housewives with gigantic strollers (probably to match their gigantic SUV's) ramming into you at every turn. And then the quilts themselves. They were so gorgeous. They weren't blankets; they were literally works of art. I left bruised and depressed, thinking there's no way I'd ever be able to make anything like that.

But now my spirits have lifted a little. My mom sent me a videotape of "Simply Quilting" shows from HGTV in the States. I got a lot of good ideas and inspiration. And my sister received her package with the Bandanna Quilt, which she loved. So now I'm feeling all warm and fuzzy. Back to work, I guess!


I've created a GoddessBlog mailing list so I don't have to rely on people reading the blog to find out about releases and bug fixes. If you'd like to be on it, just send a blank e-mail here.

Saturday, June 29, 2002
| | |
| --- | --- |
| | [1] |
According to the Celebrity Biorhythm Calculator, the Snook and I have an amazing 94% compatibility rating. That's pretty darn good. By comparison, me and Pacey only have a 69% rating. Ahh, too bad. (Link courtesy of anon.)


What's the most evil thing you've ever done? And I mean something that's so evil you would call it "eee-vil". Eee-vil, like the froo-it of the devvv-il. Got something? Good. Now go over to Brigita's site and join in our contest to find the meanest one of all.


Another GoddessBlog Update: The Backlinks module is now available! It's incredibly easy to setup and maintain. Go forth and code, my guinea pigs. :)


In case you didn't notice on the previous post, I've implemented another minor change here at w-g: posts with extended text. This way I can post extra-long rants (or big fat images) without worrying about them cluttering up the main page. I've also rolled these changes into GoddessBlog. (If you're already using GoddessBlog, I've got instructions for the changes you need to make to enable this.)

| | |
| --- | --- |
| | [5] |
I just got a great e-mail forward from my Aunt Deb entitled "How to be a Hoosier". (For you international types, a "Hoosier" is a person from Indiana, USA.) It's pretty funny and scarily accurate. I figure Moire will get a kick out of it anyway. What "rules" could you come up with for your home state/city? (Read on for the whole Hoosier list.) [more...]

| | |
| --- | --- |
| | [2] |
Friday Five: When was the last time you...

1. ...sent a handwritten letter?
I can't remember. I got one recently, though, from my Grandma. So I'm going to write her back. I've sent some hand-written cards recently too.

2. ...baked something from scratch or made something by hand?
I bake lots from scratch (as my former co-workers can attest). I think the most recent was cookies with mini M-M's in them a few weeks ago. As for "making something"... Remember the quilt?

3. ...camped in a tent?
Oh man. Ages and ages ago. I think when I went to Cedar Point with some friends during one of our college summer holidays. Must've been five years ago. (I'm not a big fan of roughing it.)

4. ...volunteered your time to church, school, or community?
I don't belong to a church. Schools in England and Australia generally don't have to have bake sales just to stay afloat, so there's not a lot of opportunity for volunteerism there. So that leaves community. Well, I try to donate blood whenever I can. The last time was in London back in August of last year. Does that count?

5. ...helped a stranger?
I helped a lady who was lost in Central Sydney the other day. (There's nothing that makes you feel more like a local than giving somebody directions.) And according to the certificate on my fridge, the Snook and I helped lots of strangers in poor nations when we did the Walk Against Want in March.

Friday, June 28, 2002
| | |
| --- | --- |
| | [12] |
Another guessing game for you. I'll give you an Australian brand; you guess what the product/service is. No cheating and looking up on the Internet! The fun is in the invention. (And sorry, you Aussies can't play this one.) Here we go:
Oporto
Big Kev's
Uncle Toby's
Mushroom
Tim Tams
Just to reiterate (since the Snook doesn't get it), the point isn't to get them right. The point is to see what y'all think these sound like. It'll be fun. I'll throw out some hints in a few hours.

| | |
| --- | --- |
| | [9] |
Not only does Jeff have a new blog... but he used GoddessBlog and got it running all by himself! (To my knowledge, he's the first that hasn't had to turn to me for help with my unclear instructions.) Kickass.

Thursday, June 27, 2002
| | |
| --- | --- |
| | [2] |
Australian politics are hilarious. Everyone's in a tizzy because a Labour politician just called Prime Minister John Howard an "arse-licker" with respect to his conduct in America recently. All the PM's Liberal cronies want the guy to apologize. He refuses, saying it's a "great Australian phrase". Here's my favorite part of the article: The media monitor Rehame reported about 200 callers split 50-50 - but one third of the negative callers objected to the language not the sentiments. In other words, more than half of Australians think Howard is an arse-licker, even if they wouldn't use those words themselves. Hee!

| | |
| --- | --- |
| | [13] |
I had a big long rant here about the Pledge of Allegiance and how I sorta agree that "under God" shouldn't be in there. (There was also a big random digression about the Notre Dame fight song too, but let's not discuss that.) But now my righteous indignation has faded away and I don't feel like ranting anymore. It's difficult to discuss "serious" stuff in this forum, you know? I can argue that stuff with my friends, but when I put it out in public I just end up getting flamed by random assholes. (Case in point: the e-mail spam deluge continues seventeen hours later. Ten e-mails every five minutes. I must've pissed somebody off.) So I'm a little tired of seeing people (including myself) ripped on for posting their opinions. What do my fellow bloggers think? Should we allow harassment from strangers to prevent us from posting serious stuff? Or should we just stick to the links and memes?

| | |
| --- | --- |
| | [1] |
Celebrity or Look-Alike? I got 14 out of 16 right. That pisses me off; I'm usually really, really good at identifying people. In my defense, the two I missed were the ones with the crappiest image quality. So I don't think they count, right? (Link courtesy of anon.)

Wednesday, June 26, 2002
| | |
| --- | --- |
| | [2] |
RunningBlog: Hayley (of Born Squishy) is back! Her return post is exactly what I needed to read right now. I've been feeling a little let down since the race, and it's been hard to get back into the gym when I don't have a clear-cut training goal anymore. I've given up on weight loss as a reliable metric, so what's left to motivate me? I think Hayley's provided me with an answer.


Grrr. Some asshole just spammed me sixty times. He thinks he covered his tracks pretty well, but the Snook's on the case. Bastard.

| | |
| --- | --- |
| | [5] |
News from Hollywood: Actors Will Smith and Ryan Phillippe are teaming up to produce "White Boy Shuffle", a feature described as a hip-hop "Catcher in the Rye". Good lord. Can you hear that? It's a thousand English majors committing hara-kiri.

| | |
| --- | --- |
| | [4] |
I've changed a few backend things here at w-g, but the only change y'all should notice is that you need to reset your cookie when leaving a comment. Just re-type your info and check the "Re-save cookie" box before submitting. Sorry for the inconvenience!

Update: Actually, there's something else you might notice. I've implemented backlinking on all the archived posts of this site. This means that whenever you link to one of my permanent posts (and someone actually uses that link), an automatic link back to your site will be created. (See it in action here.) There's a Metafilter discussion about this and what it means to "blogspace". I'm not sure what I think of all that; I just thought it would be an interesting experiment. We'll see what happens, eh?

| | |
| --- | --- |
| | [16] |
Wow? Where have I been? I just found lots of pictures from the next Harry Potter film. Kenneth Branagh looks great, but I'm not so sure about Dobby. That isn't quite how I pictured him. And hello? Check out Harry in some of those pics. Daniel Radcliffe is gonna be hot in a few more years!

| | |
| --- | --- |
| | [5] |
New Poll! Where are you on the food chain? I know some of you vegan types will complain about only having two options, but just pick whatever fits you best.

| | |
| --- | --- |
| | [6] |
I've been noticing lately that when I hit the site in the morning, more than eight comments have gone by in the "Recent Comments" list. Since I like to read each and every one, I've made an extended Recent Comments page that lists the last 50 comments here at the site. (It's also linked down there on the left.) Now you never have to lose track of a w-g discussion!

| | |
| --- | --- |
| | [2] |
I am the sports jinx of all time. My teams never, ever win. As soon as I crowed about England, Senegal, Korea, and USA being in the quarterfinals, their fates were sealed. Sorry, everybody.

Tuesday, June 25, 2002
| | |
| --- | --- |
| | [3] |
Moire found an amazing article about the practice of many Amish and Mennonite families traveling to Tijuana, Mexico for low-cost medical treatment. I had no idea that stuff happened. Reminds me of that episode of The Simpsons where Homer undergoes a bypass from Dr. Nick. How desperate do you have to be to travel to Tijuana for a hysterectomy? And how the hell do they get to Mexico anyway? They don't drive all the way there in their buggies, do they?

| | |
| --- | --- |
| | [4] |
Snookums and I were most impressed to see the poster for The Two Towers. It looks great. There is, of course, some scholarly debate over whether the towers depicted are the ones Tolkien intended. There's a great comment on that page from Kevin that sorta explains the confusion. (You have to wade through the usual AICN fanboy slobbering nonsense to get to it, though.)

Monday, June 24, 2002
| | |
| --- | --- |
| | [7] |
Is it wrong to find shirtless Ned Flanders from the "Oh Streetcar!" episode of The Simpsons kinda sexy? I mean, I know it's Flanders and all, but he's ripped! (Snookums is rolling his eyes at me.)


I was walking through the QVB shopping centre in the city today when I found myself drawn to a fabulous-smelling shop full of soap. To my surprise, I realized it was Lush, the cosmetics store Megan's always raving about. I stepped in to look around, and before I knew it I'd let the goateed shop assistant talk me into buying three bath bombs and a tub of scrub. Mmm, everything smells so delicious. I can't wait to try them out!

| | |
| --- | --- |
| | [4] |
Feel the need for some new music? Sign up for the Metafilter CD Swap Part Deux. Registration is only open til July 1!

| | |
| --- | --- |
| | [9] |
Hey, you athletic yoga types! Do you know of a good stretch for the lower back? Mine is killing me. It's right down at the very base of my spine on either side, just above my hips. I can't seem to figure out a way to work it out, other than having the Snook walk on me. (Ouch!)

Saturday, June 22, 2002
| | |
| --- | --- |
| | [6] |
SOUTH KOREA WINS!

Friday Five:

1. Do you live in a house, an apartment or a condo?
For the next three weeks, a one-bedroom apartment. Then we're moving to our new adorable little two-bedroom house!

2. Do you rent or own?
Rent. We can't afford a mortgage at the moment. Maybe in a few years though...

3. Does anyone else live with you?
The Snook and four fish.

4. How many times have you moved in your life?
Ooh, lots and lots. Probably over fifteen times. (This move to the new place will be the sixth move in just over two years. Sheesh.)

5. What are your plans for this weekend?
I need to finish up the site I've been working on (yay, contracting!) and then get to the gym. I've been way too lazy since the race last weekend. I'm also probably going to work some more on the Storm at Sea quilt. Oh, and we've been invited to this party where everyone has to dress up as ABC characters. (That's the Australian Broadcasting Corporation, not the US ABC channel.) I'm not sure we'll go, though. The only characters I know are the "Bananas in Pajamas", and I don't fancy going out dressed like that. :)


England lost. USA lost. But my Banana Split Cake was a big winner! I decided to go with the "real whipped cream" option. It was goooood.

Friday, June 21, 2002
| | |
| --- | --- |
| | [2] |
Another great link from Meg: How well do you know your Swedish furniture? Try the IKEA Game! I scored 6 out of 10. (It helped that we have one of the items in our house.)

| | |
| --- | --- |
| | [8] |
Meg came up with a fantastic new way to have fun with Google, and now everybody's doing it. Now it's my turn.

Kris is...
Home!
also an Emmy-award winning investigative reporter.
a seven time U.S. National Unicycling champion.
believed to have originated in Java, Indonesia in the 14th century by a Janggalo king named Inakto Pali.
proud to have won these fine awards!
the distinctive weapon of Indonesia and Malaysia.
a leader in the Akron real estate community.
a board member of the newly formed Vizsla Rescue Fund.
also the sire of BLISSFUL KRIS, winner of the 2001 Florida Stallion Stakes MY DEAR GIRL DIVISION.
not so grainy now :-)
reputed to be able to fly by night and seek out victims (their owners' enemies, presumably) without a guiding hand.
unable to sign CDs ordered through the mail.
a Windows-based computer program that allows easy access to data tables, charts, photographs and bibliographic materials relevant to fisheries, water quality and watershed management.
Wow. (I edited out some of the more boring ones.) This is too fun. Here's a few for the Snook.

Rodd is...
godd.
the Vice President of Corporate Development.
busy as chair of the East Asian Languages and Civilizations department of the University of Colorado at Boulder.
quality.
a human jukebox.
Who are you?


Kim found an excellent report of the recent Buffy panel at the Academy of Television Arts and Sciences. All the important cast and crew were there, and they discuss a lot about Season 6 and what's coming up in Season 7. Very recommended if you're a fan... (Especially the bit about James Marster's cheekbones. Phwoar!)

Thursday, June 20, 2002
| | |
| --- | --- |
| | [5] |
Question: My friend Major is hosting a World Cup Barbecue tomorrow night and I'd like to take a dessert. The only problem is the good old fashioned Indiana dessert I was planning to make requires Cool-Whip, which you can't get here. (Snookums made a "puke face" when I tried to explain to him what it was.) So what do I do? I found some "mock" Cool-Whip recipes on the Internet, but that seems like a lot of work. (And the ingredients, though probably accurate, seem odd. Even if that's what real Cool-Whip is made from, I don't want to know.) Do you think I could just use (real) whipped cream? Or should I suck it up and attempt to replicate that lovely synthetic goodness?

| | |
| --- | --- |
| | [1] |
Someone's done the Aussie Big Brother contestants as South Park characters. HILARIOUS. My favorites are Damian and Shannon.


Jann has pictures of his new son up at his site. Sooooo cute...

Wednesday, June 19, 2002
| | |
| --- | --- |
| | [5] |
I got a library card! It's been, like, a decade since I've been to a public library. Usually I buy books (I'm a hoarder and a collector), but that habit is an expensive one for somebody who's only a part-time contractor. Thus when I was in the bookstore the other day, I decided to pause before laying down $60 AU for the Lemony Snicket box set. I mean, I don't even know if I'll like the stories or not! (I know a bunch of y'all have recommended them, but I hated Artemis Fowl and didn't want to get burned.) So I decided to track down the Newtown public library. Twenty-four hours later I've got my card and my book! The only negative about the whole experience was the librarian... an ill-tempered, sullen, red-headed, uh, "little person". (Yes, she was a dwarf.) As I am a giant, I'll leave you to imagine that encounter. Meanwhile, I gots books to read!

| | |
| --- | --- |
| | [12] |
Need some help! My Dad's wife Cindy is a landscape designer who's going into business for herself. She's trying to come up with a catchy name for the business. Any ideas?

| | |
| --- | --- |
| | [8] |
Test your Science IQ. I only missed one. How well do you do?

| | |
| --- | --- |
| | [1] |
Korea are through to the quarterfinals. This is nuts. Seriously, every team I was cheering for (England, US, Senegal, Korea) won. It is fated that I should become a soccer fan.

| | |
| --- | --- |
| | [5] |
HO-LEE CRAP! An earthquake hit Indiana? That's amazing. I can't believe I missed it. "We were shaking, rattling and rolling," Wallis said. "I thought it was Jerry Lee Lewis doing the big one." Ahhh, Hoosiers.

Tuesday, June 18, 2002
| | |
| --- | --- |
| | [5] |
Fantastic news! The Snook and I are going to be moving! Our lease on the apartment is up and we've been looking for a place nearby with more space. On the weekend he spotted an adorable little house a few blocks away, and we both went back yesterday morning to inspect it. It's soooo nice. All hardwood floors, lovely tiled courtyard in the back, two bedrooms (one of which will become our office), everything renovated and nice. We filled out applications immediately and today we found out that we got it! July 12th will be moving day. I can hardly wait!

| | |
| --- | --- |
| | [1] |
Tara D finished her 60-mile Avon Breast Cancer 3-day walk. I am so impressed and proud of her. She actually got a stress fracture in her foot on the first day and continued to walk anyway. It sounds like it was such hell, yet she powered through and finished. I feel like Cher in Clueless, when she realizes that "all my friends [are] really good in different ways." You guys never fail to impress me and make me proud to know you. Tara D, you're amazing! (Man, am I spreading the love today or what?)


John pointed me to an article entitled "What We're Doing When We Blog" by A-lister Meg Hourihan. I agree with most of what she says, but I disagree with the importance of timestamps on each post. Meg argues that seeing the exact time a weblog was updated allows the visitor to experience a sense of being "there" at the same time as the author and of having a real-time conversation. Long-time visitors will remember that I used to have timestamps, and indeed, they're stored in the database for every post I've ever made. It's a conscious choice not to show them. It started because I used to blog from work, and I decided it wouldn't be prudent for people within the company to see how often I was doing it. I would guess that this is the case for most bloggers (who aren't A-listers making a career out of this hobby). Even more importantly, what time zone do I use? I'm located in Australia, my server is located in the United States, and my visitors are located everywhere. Even if a reader hits the site two minutes after I post, what are the odds that they're going to instantly be able to calculate the time difference? Meg's idea that timestamps allow for a "powerful connection" only works if author and reader are in the same country. I suppose I could analyze visitors' IP addresses and try to adjust the timestamps on the fly, but how accurate would that be? For us international types, it's just more hassle than it's worth.

| | |
| --- | --- |
| | [1] |
Love Day continues. Congratulations to Jann on his new son Gabriel. We want to see some pictures!

| | |
| --- | --- |
| | [2] |
Jhames wants us to spread the love today. You all know that I love the Snook (lord knows I talk about him enough!), but I wanted to publicly highlight some of the reasons why.
He tells me I'm pretty at least once a day. And he means it.
He always wakes up when I have a nightmare and gives me a hug.
He tells me he's proud of me after my athletic endeavors.
We speak in a secret language of South Park, Buffy, and Star Wars quotes that no one else understands.
He's smarter than me. I like not having a dumb boyfriend anymore.
We're both slobs. The only nagging about housework is from my own guilty conscience.
He's such a good cook. I'm not. Yet he always says what I make is good and eats every bite.
He enables my Harry Potter Trading Card addiction.
He never wants to "go out with the guys" by himself. Even if I try to stay home, he insists that I come along or "it won't be any fun."
He understands the things that piss me off (like bad HTML, insulting commercials, and inappropriate baby strollers).
He's a very good father to our fish. :)
He's my best friend.
Okay, yeah, a little cheesy there. But I just wanted to show that there's more to him than the cartoon-y bits you get here at my site. So go on, celebrate Love Day at your site. Put down the memes and quizzes for five minutes and spread some joy and beauty. Thanks to Michele for drawing my attention to this.

Monday, June 17, 2002
| | |
| --- | --- |
| | [5] |
USA JUST SCORED THEIR SECOND GOAL! Man, this is a great game. That was such a sweet header. Of course, we'll probably get our ass kicked by Germany, but just getting this far is fantastic.

| | |
| --- | --- |
| | [2] |
How about them Mets? They finally won a Subway Series! I know some Yankees fans who're probably pretty pissed right now. I didn't even realize David Wells was back on their team. I'm happy for the Mets, but mostly just because I like Mike Piazza and loathe that troglodyte Roger Clemens.

| | |
| --- | --- |
| | [10] |
Do any of you watch Smallville? Is it any good, besides providing fodder for Clark Kent/Lex Luthor slash fiction? It's going to be starting on TV here soon. We're also getting the latest series of Dawson's Creek and The Osbournes too. How great is Australian television? Answer: very.

| | |
| --- | --- |
| | [4] |
My fellow webloggers - do you ever get Blog Crushes? This is a new term I have invented. It refers to the period after you discover a new blog that you love and start visiting daily and then find yourself reading all the archives and commenting on every single item. That's how I am with Claire right now. It's like when you make a new friend and just totally click and get momentarily obsessed with them. Her post about skin care products cracked my shit up. (I sound like a Blog Stalker, don't I?) :)

| | |
| --- | --- |
| | [2] |
Once again Ebert answers the questions enquiring minds want to know: Who would win in a fight - James Bond or Ethan Hunt (from Mission Impossible)? I think he gets it wrong, personally.


How great are the Senegal team? The Snook and I watched their marvelous victory last night and then headed out to dinner. We were sitting by the window in the restaurant when a parade of Senegalese in six cars drove through Newtown, honking their horns and waving the flag. Everyone on the streets cheered. Later we saw they were having an impromptu celebratory rally by the church on King Street. Man, I love it when an underdog wins!

Sunday, June 16, 2002
| | |
| --- | --- |
| | [13] |
RunningBlog: This is it! I'm hydrated and rarin' to go for the big race. Stay tuned for pictures and results. Wish me luck!

Update: I did it! Well, sorta. The course was actually pretty hard and I had to walk the last couple of hills. I think my increased pace from the "race day adrenaline" made up for it, though, because my time was pretty much the same as it was on the treadmill (despite my unfamiliarity with running outdoors and the pounding heat from the sun). Here are the official results, which show me coming in at 356th out of 663 participants. (Note that I was just beaten by a ten-year-old. Sheesh.) I was disappointed that I had to walk at all, but the Snook pointed out that everybody except the first few runners had to walk the last hill. So that made me feel better. And I was definitely not last. There were hundreds of women running, jogging, and walking, and it felt good just to be out there among them challenging myself.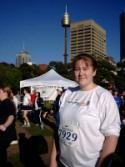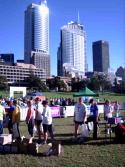 The first is good ol' number 7929 before the race. (My tummy is really not that round, I swear. It's the shirt.) I'm squinting because although it's only 8:30 a.m., the sun is bright and it's already above 70 degrees. The second is me sprinting towards the finish line. My mouth is open because I'm trying to yell "I'm going to die!" at the Snook but I lack the moisture to form the words. The last is me after the race, wearing my little "participation" medal and picking up my goodie bag of drinks and power bars. Man, it felt good to be done. That was seriously one of the hardest things I've done in years.

Saturday, June 15, 2002
| | |
| --- | --- |
| | [3] |
Anybody know where I can get one of those big silver "K" earrings Kylie wears in the "Love at First Sight" video?? :)


Friday Five:

1. How often do you do laundry?
Whenever A) the pile in the bedroom threatens to smother us, or B) whenever I have nothing to wear, whichever comes first.

2. What's in a typical wash load?
Mostly just clothes. If it's me, jeans and T-shirts. If it's the Snook, work shirts and pants.

3. Front or top loader? Powder or liquid detergent?
Top loader. Powder detergent. The brand of detergent is a tricky issue, because Snookums won the State Science Fair when he was, like, eight, with a project on the effectiveness of various laundry detergents. So I have to get one of the good ones.

4. Do you use fabric softener in the rinse cycle?
Are you kidding? Once I close the lid that load is FINISHED as far as I'm concerned. You're lucky if I remember to take the clothes out at all, let alone put fabric softener in.

5. Dryer or clothesline?
Dryer. We thought we might dry some stuff on our balcony, but the traffic from the nearby road generates a little too much dirtiness.


Ha! Korea helped the US team go through to the second round. Check out my two teams helpin' each other!

Friday, June 14, 2002
| | |
| --- | --- |
| | [2] |
Ladies and gentlemen... Introducing Couch Cam! You should be able to see it over there on the right. Yes, that's my actual couch in my actual living room (and probably my actual ass parked on it). The camera is located on a shelf about two feet above our TV. It's currently set up to upload a new image every five minutes while we're online. Keep in mind, though, that Sydney is about 15 hours ahead of Indiana time, so you Yanks can only expect to see us during your wee morning and evening hours.

Since the home page was getting rather image heavy, I've broken the big repeating header image down into four parts, any one of which will randomly show up when you hit the page. It loads pretty quickly on my crappy modem, but let me know if you have any difficulties.


Ever have a dream so great that you got angry when you woke up and realized it wasn't real? This morning I had a fantastic dream that the Snook found a "Two Million Dollar Golden Ticket" in a Hershey bar. It was so exciting, and when he gave his interview on the news he even mentioned my Dahl site. I was on the phone to my mom happily explaining that we were now fabulously wealthy when I woke up. I was so mad I swore. Not a good start to the day.

Thursday, June 13, 2002
| | |
| --- | --- |
| | [7] |
New Poll: Have you caught World Cup fever?

| | |
| --- | --- |
| | [6] |
It's meme time again, kids! Here's "Me From A to Z", courtesy of TD.

A - Animals/Pets: Four goldfish, all named after Star Wars characters (Admiral Ackbar, Porkins, Aurra Sing, and Grand Moff Tarkin). Unfortunately Salacious Crumb, our snail, died last week. *sniff*
B - Best Friend: Snookums. I'm not just saying that to be cute, either.
C - Cohabitants: Snookums and the fish.
D - Desire(s): To get paid well for doing stuff I like. To get fit and lose some weight.
E - Eye Color: Brown.
F - Favorite Food(s): French fries, risotto, Thai green curry, my Aunt Berb's chicken and dumplings, cheesecake. (Basically, if it's fattening, I love it.)
G - Games: Ms. Pac-Man, Super Mario Bros. 1-3, euchre, Trivial Pursuit, JewelToy.
H - Habit(s): Clenching my jaw and squinching up my forehead when I'm concentrating (Snookums calls it my "constipation face"), cracking my knuckles, quoting Pride and Prejudice.
I - Interests: Blogging, quilting, watching TV, reading, baking, Roald Dahl.
J - Job: After nearly eight months of unemployment, currently contracting as a web designer and developer.
K - Kitchen (Wonder or Blunder?): Somewhere in the middle. I'm good at some things, but others I really have to work at. I can generally produce edible, non-poisonous fare, though.
L - Languages: English (American, UK, and Australian varieties), German (conversational), and a smattering of Korean.
M - Most Valued Possession(s) (an item, not people/pets): My iBook. That sounds cold, but I honestly don't know what I'd do without it. It's my connection to the world.
N - Name (Named after?): Kristine Michelle. The unusual spelling of my first name was apparently inspired by my mom's best friend.
O - Outfit You Love: I don't really *do* outfits. I like jeans, T-shirts, and sneakers.
P - Pizza Toppings: Meat (any and all), onions, green peppers.
Q - Question Asked To You the Most: "Do you have a job yet?"
R - Relationship/Partner: The Snook and I celebrated our two-year anniversary last April. My Australian Permanent Residency was granted on the basis of us being in a "defacto" marriage, but as far as actual ceremonies go, my ring finger is still unadorned.
S - Sport: Currently limited to running and working out at the gym.
T - Television Show(s): Friends, Malcolm in the Middle, Sex and the City, Six Feet Under, Buffy, Days of Our Lives.
U - Unsavory characteristic(s): Tendency towards inertia (staying home and being lazy), never answering e-mails, whinging.
V - Video (Favorites): Pride and Prejudice, Office Space, Clueless, The Stand, Mallrats, A Christmas Story.
W - Webpage (Favorite--not your own): Ahh, too many to list. The ones on my home page are the ones I visit every single day.
X - Xylophone (or other Instrument?): I used to play the trumpet, but it's been years since I touched one.
Y - Year Born: 1977, the year of Star Wars.
Z - Zodiac Sign: Pisces. It suits me.

| | |
| --- | --- |
| | [1] |
RunningBlog: Good luck to Tara D, who begins the Avon Breast Cancer 3-Day Walk tomorrow. Sixty miles! I know you can do it, TD!

| | |
| --- | --- |
| | [5] |
Hey Dad, I found an interview with Ted Nugent you might like. I read it figuring I'd loathe the guy, but he actually comes off pretty cool. I mean, he stands up for what he believes in. I had no idea that he was such an environmentalist. Plus he's hilarious. I'm going to start "Nugetizing" my own speech. And his constant ranting about The Osbournes was priceless.

(P.S. Hey Pop, you want this Nuge cookbook? Sounds like a great Father's Day present!)

| | |
| --- | --- |
| | [1] |
Take heed, children, of Brigita's wisdom. It reverberates through all time and space. (Yeah, I'm just jealous that I've never spawned a MeFi catchphrase.)

Wednesday, June 12, 2002
| | |
| --- | --- |
| | [7] |
RunningBlog: "That which doesn't kill us..."
In running news, I'm ridiculously happy to report that today I managed to run the entire 5K (3.1 miles) without stopping! That is seriously, like, a Lifetime Best. My pace is still pretty slow, but at least I managed to finish. Only four more days til the race! I figure I'll try to run the full distance again Thursday and Friday, and then take Saturday off to rest and hydrate. I'm still nervous, though. My registration stuff came in the mail today, with a map of the course, the T-shirt I ordered, and my official race number. (7929 in the hizzouse!) I guess I can't back out now. I've caught myself secretly hoping for rain a few times. It's not that I'm worried about physically being able to do it anymore. It's more like I'm afraid I'll chicken out mentally and end up being disappointed with myself. Snookums has been very encouraging and has promised to be there cheering me on. Today he even dangled the promise of a skiing weekend if I run the entire race! Mostly, though, I just want to make him proud of me. Being unemployed for eight months isn't the best way to feel great about yourself. If I can do this, though, it'll go a long way towards making this last year of upheaval and change feel like it's heading in the best possible direction.

| | |
| --- | --- |
| | [3] |
Since Snookums is home this week, we happily accepted his sister's invitation to accompany her and her son Kurt to Sydney's Taronga Zoo yesterday. We figured it would be a pleasant morning of pushing the baby around in his stroller and pointing out animals to him. Man, we were so wrong. I had no idea how much energy two-year-olds have! We chased him up and down that place. (Our legs are sore today!) Everybody had a great time though. Here are my favorite three pictures from the day: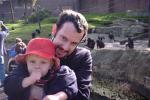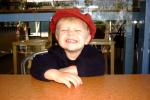 The first one is Uncle Rodd and Kurt in front of the chimpanzee island. What a bunch of monkey boys! The second is me, Rodd, and Kurt as a family of penguins. And the last is Kurt at lunch wearing my new red hat and giving us his beautiful big boy smile. Isn't he a cutie?


In case you're interested, here are some more info and links about my problems with that latest OSX update. This guy got the same exact error I did.

Tuesday, June 11, 2002
| | |
| --- | --- |
| | [1] |
Great news! Boudicca (my computer) is back up and running. (Well, she's not 100%, but she's getting there.) Always remember to backup your hard drive before updating your operating system. Just a helpful tip there, kids.

Monday, June 10, 2002
| | |
| --- | --- |
| | [5] |
CRAP. I was trying to install the latest Mac OSX update today (10.1.5) and it completely killed my machine. Kernel panics everywhere. I can't even boot up into OSX anymore. Now we're frantically trying to back everything up in OS9 before doing a total reinstall. In other words, I might be MIA for a little while...


I meant to post this days ago and forgot, but anyway, here are my answers to the Blogger Survey. For those of you interested in the why's and wherefore's of blogging, this is a good way to get my take on it.

| | |
| --- | --- |
| | [2] |
Happy birthday to Moire! (It's still her birthday in the States! I didn't miss it!)

| | |
| --- | --- |
| | [4] |
WHAT? Okay, I need some EastEnders assistance, and quickly. According to this article, the actress that plays Zoe - the runaway - actually ran away from home recently. They found her but she's suffering from nervous exhaustion. Here's the part that freaked me though: "Her absence has meant the show's writers have had to delay her screen wedding to Dr Anthony Trueman, played by Nicholas Bailey." Zoe's marrying Dr. Trueman? Like, the handsome black doctor that her mother dated? That's gotta be a typo or something, right?

Sunday, June 9, 2002
| | |
| --- | --- |
| | [3] |

I just found a great site called Strange Indiana. The author moved to the Midwest and decided to document all the strange Indiana weirdness that he found. Man, some of this stuff makes me homesick. I was also excited to finally show Snookums "The Mouse Game", shown in this image. My Dad is the Mouse Game Champion of All Time. Basically it's a big spinny table with lots of numbered holes around the edges. Then they chuck a mouse onto it and it runs down into one of the holes. You win prizes (usually stuffed animals) by correctly betting which hole the mouse will run to. I used to know kids that would skip school during Fair Week and spend every day down there wasting their allowance. Ahhh, teenage gambling addicts. Does it get anymore fun that that?

| | |
| --- | --- |
| | [6] |
My mental age is apparently 16. This comes as no surprise to my family, who've known it for years. Interestingly, yesterday I bought an over-priced hat that I'll hardly ever wear simply because it reminded me of one I had... when I was 16. It's a red corduroy floppy driving hat. (Snookums claims it looks like the ones train engineers wear.) I think it looks cool. Like I said, I'm 16.

Friday, June 7, 2002
| | |
| --- | --- |
| | [9] |
RunningBlog: Good News Part Two. Last night at the gym I managed to run two and a half miles without stopping! I know that's peanuts for some of you, but it's a major personal best for me. My goal is to be able to run the entire Nike Women's 5K (3.1 miles) next weekend. And I'm actually starting to think I might be able to do it! I have a few nagging concerns though:
My pace is really pretty slow. (It's more of a jog than a run.) I'm worried that when the race starts I'll subconsciously speed up to keep up with the others and then burn out halfway through the course. I could wear a watch, I guess, and time each kilometer, but I'll have run a fifth of the race before I'm able to adjust. I also thought of creating an iPod playlist of songs with beats at my running pace and just listening/running to that. What do you think?
I run much, much better when I'm well hydrated. At the gym I drink frequently while I'm running. But how in the world do you carry water while you're running?
Any advice would be appreciated!

| | |
| --- | --- |
| | [8] |
Good News Part One. I have a meeting about a job today! I'm fairly certain I'm going to get it, too! It's just an HTML contract, but it's a step in the right direction.

Update: I got it!

Thursday, June 6, 2002
| | |
| --- | --- |
| | [15] |
I am so mad I could spit. I just got the following e-mail from a jerk:
Hi tell me please why have you got a website, with tales in which only you and a few of your intimates would only be very vaguely interested?

And a Goddess of what, pray?

I cannot quote the scripture but is it not written in the Christian Holy Bible, something to the effect about praising oneself being no prasie [sic] at all?
Oh, thank you, Mr. AOLer, for pointing out the errors of my ways. NOT. Can you believe that? Someone actually criticizing my personal site and journal? What an asshole. I shouldn't have responded to such a blatant troll, but I couldn't resist. Oh, and if any spammers are looking for a good address to scrape, I think you know what to do.

Wednesday, June 5, 2002
| | |
| --- | --- |
| | [7] |
Hey Brigita, it looks like McDonald's is admitting they screwed up by tricking all you vegetarians and Hindus into eating fries tainted with beef. They're donating $10 million to "Hindu and other groups" to say they're sorry. Hmmm, I wonder how you get in on that payout?


It's been a very World Cup kind of day. It's fantastic that we get all the games on regular TV during primetime. I'm learning a lot about the game. Today I learned what the "offside" rule means. Now if I could just figure out how it applies in ice hockey...


A French politician has called for a ban on the Scream movies after a teenager stabbed a girl to death in a killing he claimed was inspired by the film. Correct me if I'm wrong, but doesn't the killer in the second movie (the delicious Timothy Olyphant) plan to use media manipulation as his own defense? Rather ironic, that.

| | |
| --- | --- |
| | [3] |
Screw Korea... GO USA! That was stunning. That was also the first soccer game I've ever watched in its entirety in my life.

| | |
| --- | --- |
| | [3] |
Woohoo! And Korea wins! I guess this World Cup thing isn't so boring after all... :)

| | |
| --- | --- |
| | [4] |
Is Your Boyfriend Gay? I'm happy to report that Snookums lands firmly on the straight side of the spectrum. Man, I could've used that checklist in high school... (Link courtesy of encorswish.)

Tuesday, June 4, 2002
| | |
| --- | --- |
| | [2] |
If anybody's interested, I'm thinking of selling the registration key for my copy of BalanceLog. It's a program for your PDA that allows you to set weight loss goals, log food and exercise, and chart your progress. It's actually a really nice application, but the food database is all based on American stuff and I got tired of typing in all the Aussie products. But it'd be great for any of you in the U.S. My key is for the "Palm OS only" version, and I'll sell it for half price ($25). Let me know if you're interested.

| | |
| --- | --- |
| | [11] |
I don't care what anybody else thinks... I think the Jedi Wedding idea rocks! I especially like the bit where the priest asks if anybody has any objections to the marriage, and "Duel of the Fates" kicks in while Darth Vader stands up and is repelled by lightsabre-wielding groomsmen. If you're gonna get married, do it in style.


The Five Most Profitable Companies in the Star Wars Galaxy. Heh. (Link courtesy of John.)

| | |
| --- | --- |
| | [3] |
This is my day for finding new blogs. Max pointed me to not martha, which I completely love. It's got lots of great crafty ideas on it. (My sister would love the instructions for making your own lip balm.) It started me thinking that maybe I should document some of my own projects. I mean, I'm knee-deep in yet another quilt. Would you guys be interested in seeing it as it progresses?


Calling all grammar Nazis and pedants! Check out Yet Another English Language FAQ. It track current news stories of relevance to English and English usage. I tried to skim through the home page but found myself getting engrossed in articles about spelling bees, politically-correct words, and Scottish rhyming slang. If you're interested in language at all, this is a great rainy day site. You could get lost for days in here.


I'm using Google to find all the sites that link to me to let them know about the URL change. And lo and behold, there are some new ones I didn't even know about! Born Squishy is going straight onto my list of daily reads. eremophobia has a really cool design that I'm still trying to figure out. Froot is from South Africa - finally another blogger in the Southern Hemisphere! Trevor is yet another brilliant Canadian weblogger. (You're all so snarky!) And I'm lovin' rosie's bloated blog. If you've got some free time, check 'em out.

| | |
| --- | --- |
| | [2] |
Important note: There is now a new domain pointing to this website! web-goddess.org should work identically to the .co.uk version. If you've linked me somewhere, please update it to reflect the .org. I'm hoping to eventually phase out the .co.uk down the line (since I'm not in the UK anymore, of course).

Edited to add: Oh, and if you use the new domain, you'll probably find that your cookies (for the poll and commenting) have disappeared. You'll have to reset them but they should be okay after that.

Monday, June 3, 2002
| | |
| --- | --- |
| | [5] |
Roger Ebert answers one of Life's Great Questions: "Who would win in a fight - William Wallace (from Braveheart) or Maximus (from Gladiator)?" I totally agree with his answer. Kinda funny that they're both fake Australians, though. :)


Haha! Apparently three people broke into the Big Brother house this morning and videotaped themselves cavorting in the garden. I wonder if they'll mention it on the show tonight?

I was disappointed with the big double eviction show yesterday. The "surprise" ouster of Nathan and Alex seemed a little engineered. I mean, Alex has been flying under the radar quite successfully in the last few weeks. The producers just haven't been showing him at all. Nathan, on the other hand, got lots of screen time for his jokes. I personally thought he was hilarious. Both of them seemed pretty secure on the show. The "singles" were picking off the couples each week with ease. Then suddenly it's like the producers got annoyed and decided to reassert some control over the show. So they nominated everyone and then spent a week showing footage that made Nathan and Alex look incredibly bitchy. One week later, they're both gone. And I'll have to spend the next month watching Australia's own lobotomized version of Romeo and Juliet, Marty and Jess. Ugh. (Hmm, I suppose I could turn off the television... Naaaahhhh.)


The Spider-Man game promotion website the Snook's been working on has just launched. Check it out! You won't be able to register unless you've got a pack of Maggi Noodles lying around though. (It's basically Ramen.) That excludes just about everybody other than the Kiwis and the Aussies, then!

| | |
| --- | --- |
| | [3] |
I had the weirdest dream this morning. It involved characters from Sex and the City, Days of Our Lives, and Buffy. I watch way too much television.

Sunday, June 2, 2002

Snookums and I headed to the Good Food Show out at the Olympic Park. It was the first time either of us had been out there. It was really cool to see Stadium Australia and try to picture what it must've been like full of people during the Games. The Show itself was packed. We wandered through the aisles tasting olive oils and wines and chocolates and watching demonstrations of nifty kitchen gadgets. I had wanted to attend Ansley Harriott's cooking demonstration, but Rodd thinks he's a wanker and couldn't be trusted to behave himself. (We did see Ainsley doing a book signing, though. Man, the old women just love him.) We also took in a wine tasting and I got more than a little pissed sampling the fine Australian Shirazes. We left loaded down with two new cookbooks, a packet of olives, and several jars of dried tomatoes, capsicums, and jalepenos. A very good day.

Saturday, June 1, 2002
| | |
| --- | --- |
| | [13] |
I've been reading this story (and its associated MeFi comments) about a 15-year-old Alabama girl who went off to college and was abused by almost the entire football team. She ended up a drug addict as well. In the Metafilter discussion, I was surprised to see so many people arguing that 15-year-olds are incapable of living on their own and making the right choices. Snookums was 16 when he went to Uni, and he turned out fine. I have to wonder if the girl's home schooling was more to blame than her age. It had to be a shock to go from virtual isolation to living in a big college town environment. (Although when asked about this, the Snook responded that if a group of large women had wanted to make his 16-year-old self their plaything, he would've been all about that. It's just that he was a nerd and no one offered.) :)

archives
You can search through the archives by post keyword using the form on the left, or you can browse by month using the links at the bottom.
"Moblog" refers to posts and images posted directly from my mobile phone.

"PW Blog" refers to posts recovered from my very first weblog, which dealt with news related to my college dorm.