Sunday, June 29, 2003
| | |
| --- | --- |
| | [1] |
We're now five days into the "family" portion of the visit and luckily the jet lag is finally starting to wear off. Highlights so far included seeing Finding Nemo (which I loved) and visiting the Mishawaka Brewing Company (which the Snook loved). It's so weird seeing my family after so long. My younger cousins have suddenly all become teenagers, and even my own parents look different than I remember. I'm having fun with little baby Joey though. Tonight we're introducing Rodd to another uniquely American experience: Chuck E. Cheese!

Wednesday, June 25, 2003
| | |
| --- | --- |
| | [6] |
Well, we're here. That was literally the longest day of my life. After nearly twenty hours of transport, the Snook and I are safe and sound back home in Indiana.

And yeah, I finished Harry Potter. No, I didn't love it.

Monday, June 23, 2003
| | |
| --- | --- |
| | [3] |
And we're off! See you in five weeks, kids. Play nice while I'm gone!


Since I know you're all dying to talk about it (and since I don't want to be spoiled just yet), I've revived the Book Group in order to start a Harry Potter and the Order of the Phoenix discussion. I've posted a little rant to get you going, but I won't be checking in again til I finish this thing. (At the rate I'm going though, that should happen sometime over the Pacific tomorrow afternoon.)

| | |
| --- | --- |
| | [2] |
The lies we tell ourselves...
"Hmm, this bath is so nice. I feel totally relaxed and not at all stressed about leaving for the US tomorrow. You know what would be nice? I'll just read the first chapter of Order of the Phoenix to whet my appetite. Just fifteen minutes; I can stop anytime I want to."

One hour later...

"CRAP! The bathwater is cold; I'm all wrinkly; I've wasted an hour on this book and I'm all stressed about the trip and I STILL CAN'T PUT IT DOWN!"

Saturday, June 21, 2003
| | |
| --- | --- |
| | [5] |
Bloody Poms. We totally threw that game. The World Cup will be ours. (Since when did I become an Aussie?)

| | |
| --- | --- |
| | [8] |
Less than one hour til Harry Potter 5 goes on sale! I've been trying to figure out the release schedule. I mean, it goes on sale here at 9:01 am, but most other places seem to get it at midnight. I think it's been designed so nobody gets it before England. Therefore we get it at the same time, but the US will have to wait an extra six hours.


Update: I got it! I decided to pay a little extra and support our local bookstore (rather than fighting my way into Kmart to save an extra five bucks). There were about fifty people crammed in there, with a couple of the kids in costume. As you can see, I wore my Gryffindor stocking cap. The three kids who'd been waiting the longest got to open the first box at 9:01. Then we went in order of the tickets they handed out. We also got these sweet bags. The only problem is that Rodd won't let me start reading it yet! We've got so much to do before we leave Tuesday that I just can't. I know if I open it I won't be able to put it down!

Friday, June 20, 2003

Friday Five:
I haven't done one of these in a while! This one's nice and easy though.

1. Is your hair naturally curly, wavy, or straight? Long or short?
It's very straight. (My hair's a quarter Asian, after all!) I've always worn it pretty long because I like to put it in braids and ponytails.

2. How has your hair changed over your lifetime?
It's a long and sordid tale. My hair was long, blond, and staight down to my bum until I hit the 4th grade. That's when I caved to fashion by chopping it off and getting a spiral perm. The perm looked horrible for a week, relaxed into exactly what I wanted for two weeks, and was gone within a month. My hair just doesn't like to curl. Then there were a few bad years of middle school involving more poodle perms and bad chopped off mullets. Yeah, I did the poofy bangs too. My hair also changed into more of lightish-brownish-reddish blond during this time (courtesy of our town's rusty water). By the time I got to high school I stopped fighting it and just let it grow out again. In college I experimented with dyeing my hair and spent most of those years as a blonde. I also finally grew out my bangs. After graduating I decided to go red on a whim. In London I went very red (almost purple). I liked it, but it was a lot of maintenance and it always faded so quickly. Arriving in Australia I decided I needed a fresh start, so I had several years of colour stripped from my hair and my natural brown returned. I also had bangs put it again. That got boring pretty quickly, which is why I've now got a mixture of red and blond streaks. I think this is the best compromise. Told you it was a long story. :)

3. How do your normally wear your hair?
For work I generally just wear it down, parted in the middle or on the side. I usually take an elastic so I can braid it or pull it up in the afternoon. At home I usually have it up in a messy ponytail.

4. If you could change your hair this minute, what would it look like?
I wouldn't change the style or anything. I'd just make it so that it would magically always look like I'd just blow dried it. It looks so good when I get back from the salon but I can never achieve it on my own (mostly because I'm too cheap to buy good product and too lazy to spend half an hour drying it).

5. Ever had a hair disaster? What happened?
I mentioned the mullet, right? Actually I think the most traumatic event was when I first cut it off and permed it in the 4th grade. I expected to see preppy spirals and instead I had a tight Afro helmet. I tried to pass it off like it was what I wanted, but I wanted to cry. I got home that night and my Dad just looked at me and said, "You ruined your hair." I felt awful. Luckily a few shampoos loosened it up to what I wanted, so I was eventually able to venture forth in public. I never forgot that though.

| | |
| --- | --- |
| | [4] |
A rather boring article about the release of the next Harry Potter movie features a good picture of Harry and the Knight Bus. I can't figure out who the other guy is, though. It's not Stan or Ernie... I wonder if it's the director?


Trogdor the Sweater-Wearing Burninator
Rodd wore his new green jumper to work for the first time today and apparently it's having a weird effect. People keep talking to him. He sent me the following extremely nerdy (and extremely funny) e-mail about it:

----------
Extract from the Dungeon Masters Guide, Vol. 3 : Extraordinary Creatures and Treasures for Advanced Gamers

Treasure #55 - The Jumper of Egregious Approachability... [more...]

| | |
| --- | --- |
| | [10] |
Trivia Update: In case you couldn't tell from the previous post, I'm a little tipsy. Why? We got second place in the trivia tonight! (The team that won was so far in front they had to have cheated.) Even more amazingly, we won four of the mini-jackpots for the night. Snooky won a Wild Turkey prize pack (hat, keychain, coaster, and glass of beer), Kenya won a jug of beer, and I won a Wild Turkey pack and a bottle of wine. In other words, we drank free all night. Personal highlights were naming the song "Sunny Came Home" and the actor who played Apollo Creed in the Rocky movies. (The latter was the subject of an immense bet between a roommate and me in college. Somehow I had picked up the misguided belief that the same actor played Apollo and Lando Calrissian. Can you name both different actors?) Also - what are the four most spoken languages in North America? What are the three biggest islands in the Mediterranean that start with the letter "C"?

| | |
| --- | --- |
| | [6] |
If you were head of programming at a cable station, what five television shows would be on your channel? This is the discussion we're having over at Max's site. I answered: 1. "Get a Life"; 2. "Parker Lewis Can't Lose"; 3. Vintage 80's "Days of Our Lives"; 4. "Double Dare"; 5. "You Can't Do That on Television". The Snook's answers: 1. "The Goodies"; 2. "Dr. Who"; 3. "Battle of the Planets"; 4. "You Can't Do That on Television"; 5. "The Greatest American Hero".

Two comments: First, hello? We both picked "You Can't Do That on Television"! He hadn't heard my answers when he said that. He confessed to having a crush on Moose too. And second, his Mom informed me that when he was little he fashioned himself a "Greatest American Hero" costume from a pair of pajamas. How freakin' cute is that?

Thursday, June 19, 2003
| | |
| --- | --- |
| | [2] |
Surprise victory.
There's a posh boutique down the street from my house and every day as I walk by I covet the grey wool skirt in the window. It's fitted from the waist to the knee but then has these kicky big pleats that make it look like something from the 1940's. I figured they wouldn't have any size to fit me though so I never went in... until today. "Screw it!" I thought. So I went in and asked the guy (who turned out to be the designer himself) what sizes he had. He said he had a 14. I haven't been a 14 since high school. He held it up though... and it kinda looked like it might fit. So I tried it on. And it did fit! I stood there in the changing room like an idiot pulling on the zipper because I just couldn't believe that I'd really zipped it all the way up. It didn't look that great on me, to tell the truth, but that's beside the point. Wearing a 14 was one of my original weightloss goals! I've probably been this size for ages but never thought to check. Amazing.

(And no, I didn't buy the skirt. On top of its unflatteringness, it was $120! I thanked the man and made a hasty retreat.)

| | |
| --- | --- |
| | [3] |
I keep forgetting to update my reading list. Anyway, I just finished Orson Scott Card's book Ender's Game. It's one that I always meant to read, but I've had such bad luck with the "geek canon" lately that I was almost scared to try. (Examples: though I loved Philip K. Dick, William Gibson and the Dune series really let me down.) I shouldn't have worried. Ender's Game was fantastic. It's really almost a kid's book, and once I picked it up I found it difficult to put down. In the future humanity is threatened by a sentient alien species called "buggers" so we specially breed and train military commanders to lead the war against them. That makes it sound boring and nerdy. Really it's about an 8-year-old boy called Ender who just might be the hero we need. The story follows him through his training, which mostly involves playing games (both physical and video). It's really, really good. I had a couple remaining comments and questions for those of you who've read it... [more...]

Wednesday, June 18, 2003

I like it when people don't realize their domain names can be read in different ways than they intend. Today's examples: powergenitalia.com and artisansexchange.com. Hee!

Update: It appears that the first one isn't working right now. It's actually the site for PowerGen Italia, an Italian company that makes batteries. It was mentioned in the Sydney Morning Herald today so it must have gotten too much attention. :)


What do you think Martha Stewart's jail cell will look like? (Apologies for harshing on your idol, Max, but it was too funny to pass up.)

| | |
| --- | --- |
| | [6] |
Great discussion at not martha (6/17 entry) about the preferred order for receiving change from a cashier. Personally, I hate it when they give me change on top of the bills. The grocery store in Newtown is even worse because they usually throw the receipt in there too. So I stand there juggling change and trying to get receipt into bag, change into compartment, and bills into slot before the next customer barrels up and knocks me over. As a former checkout chick I guess I understand part of the impulse: if you put the bills down first, you don't have to touch the person's hand. (You'd be surprised how many ferals there are in my Indiana town - and in Newtown too.) The end result is I'm using my debit card more and more, which means I never have change for train tickets or the pop machine. It's a no-win situation. Which way do you prefer?

Tuesday, June 17, 2003
| | |
| --- | --- |
| | [7] |
I scored 34% ("Total Geek") on this Geek Test. The Snook managed a 37% ("Major Geek"). This should come as a surprise to no one.

| | |
| --- | --- |
| | [2] |
I was all set not to recommend this Mash Game because I had such trouble getting the stupid thing to work on my Mac. When I finally got it to function in IE though, my fortune was so good that I just had to share. According to the site, I'm going to be a professional knitter in Paris and drive a pink PT Cruiser. I'm going to be married to Seth Green and we're going to live in a mansion with no kids. That rules!


RunningBlog: The official race photographs have been posted and there are two of me! Unfortunately their stupid site won't let me link directly to them, so you'll have to search on my number (6847) if you want to see them. The one on the right is from about the halfway point, while the one on the left is just as I was coming up to the finish line.

| | |
| --- | --- |
| | [9] |
The height of vanity.
Confession: I had my eyelashes tinted. Yeah, I know... but listen. See, a couple weeks ago the beautician at Kevin's salon asked me to help her design a new brochure. She liked the end result so much that she's been offering me free treatments ever since. I've already had a massage and an eyebrow wax, so last Saturday she offered to tint my lashes. I was hesitant. I mean, I thought I'd read that it was illegal in the US because it can cause blindness. (Turns out I was right.) Lots of salons do it here though, and she assured me that it was completely safe. I also had additional persuasion in the form of all the compliments I got at the wedding last week. (I was wearing mascara and lipstick, which I don't normally do.) Apparently the eyelash tint gives you the appearance of wearing mascara for four weeks. The Snook's response when I told him about her offer didn't help either: "You don't have enough lashes to dye!" Whatever! So I gave in.

It was an odd experience. First she smeared Vaseline all around my eye socket to keep the dye from staining my skin. Then she put these little pieces of paper below each eye for additional protection. The dye was then applied to my lower lashes with a q-tip. Then I had to close my eyes so she could glop it on the uppers too. After that, you just have to wait with your eyes closed while it works. I didn't experience any stinging, mostly because I was so terrified of getting the stuff on my contacts (yeah, I shouldn't have worn those) that I kept my peepers screwed up pretty tight. After ten minutes she came back and removed it with some wet cotton balls. I could see the difference right away. It really does look like I'm wearing mascara (but without all the goopiness that I normally get since I can't apply it very well).

Anyway, that's my confession. To tell you the truth, the novelty wore off after about four hours. Now I don't even notice it in the mirror. I probably won't have it redone. It's not the way it looks or the experience... It's more the horrible feelings of feminist guilt. I actually risked blindness for a cosmetic effect. I'm disgusted with myself. You guys don't think any less of me now, do you?

| | |
| --- | --- |
| | [2] |
RunningBlog: Race results are in! There I am at #374 with a time of 35:33. I came in at 96th for my age group though, which is pretty sweet.

Monday, June 16, 2003
| | |
| --- | --- |
| | [4] |
Bah, Father's Day. I nearly missed it. It isn't til September here, so if my sister hadn't reminded me yesterday I would've forgotten completely. I did get to talk to my Dad though, so I'm still on the Good Child list. Happy Father's Day, Dad! See you in a week! :)


Oh, the horror. Yes, those are armless and faceless sock monkey corpses littering our coffee table on CouchCam. I know; it's a disturbing image. I'm finally catching up with my monkey backlog though, so those of you who are waiting should be getting one soon!

| | |
| --- | --- |
| | [4] |
"No one who has seen 'Birth of a Nation' or 'Gone With the Wind' could fail to recognize the resemblance between the relationship of Scarlett O'Hara and Mammy and of Master Barry and Winky," Mendelsohn writes.

I have now officially heard everything. What a ridiculous comparison. I'm not arguing that there are racial issues in Harry Potter; that much is obvious. But Mammy and Scarlett? Mammy was strong-willed and gave as good as she got in that relationship. She was a member of the family. Winky was not a member of the Crouch family. (And her master was Barty, not Barry.) I'd agree with a comparison of Civil War-era human racism and wizarding racism in general, but using these specific examples is just silly.


The World's Smallest Game of Pong is not as difficult to play as you might think, though I still lose every time. I just suck at Pong. (Link courtesy of Kristen's soon-to-be-hubby Mark.)


Good grief. My site was down all day! Sorry about that.

| | |
| --- | --- |
| | [4] |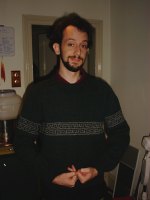 Curse be damned; I knitted the Snook a sweater. This is my first seamless and patternless sweater and the first of my own design. The stripe pattern is from a woven scarf his mother gave him a few years back. (I just graphed it and worked it twice, once in reverse.) The sweater itself is green and the pattern's in grey. It's made of a thick Aran wool and it really absorbs the light, which makes it pretty hard to see here. It's got a regular crew neck and raglan sleeves, which means the seamlines run up diagonally from the armpit to the neck (like a sweatshirt). My biggest problem was getting the cast-off collar loose enough to fit over his head! Read on to see some more pictures of him in his favorite modeling poses. [more...]

Sunday, June 15, 2003
| | |
| --- | --- |
| | [11] |
RunningBlog: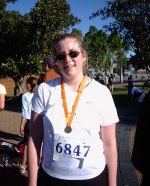 I did it.
Thanks to everyone for their training advice over the past few months. My time for the 5K was 35:30, which is almost ten minutes faster than last year! I didn't feel like I was going very fast, but I didn't have to walk much and I only had one sip of water along the course. I also hit on a new strategy halfway through the race: pick someone ahead of you and make sure you beat them. In my case it was a short chubby girl with the endurance of a plow horse. I kept up with her the whole way and finally blew by her on the final turn. It felt wonderful. The Snook was there taking pictures and hopefully I'll get some from the official photographer too. Thanks again to everyone who was mentally cheering me on. Next year - the 10K! [more...]

Saturday, June 14, 2003
| | |
| --- | --- |
| | [2] |
RunningBlog: Twelve hours til the race... I'm kinda dreading it.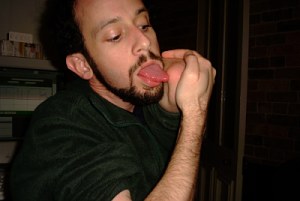 I told you so!
Elbow licking mutants are among us, and my boyfriend's one of them. His mother also confirmed on the phone tonight that he inherited the trait from her. In case you're wondering, it's not that they have freakishly long tongues so much as really bendy and double-jointed shoulders. Snookums can pull his arm right back behind his head! I have yet to determine what biological advantage such a trait gives in the larger scheme of evolution.

Friday, June 13, 2003
| | |
| --- | --- |
| | [4] |
New Poll: Can you lick your own elbow? Most folks would say it's impossible. I certainly can't do it; my elbow is miles from my tiny tongue. And yet... last night I personally watched someone achieve this feat! (Photographic evidence is forthcoming.) Clearly this person is a mutant with powers the average person can only dream of. We can only hope he'll turn out to be a nice cuddly Patrick Stewart-type instead of an evil campy Ian McKellan mastermind.

(As you've probably guessed, I'm talking about the Snook.)

Thursday, June 12, 2003

We had some crazy fog in Sydney this morning. Check out the pictures. Anzac Bridge is decidedly spooky when you can't see anything but the other cars. (I also thought it was pretty funny that even though it's been eight years since I was in high school, my first thought when I looked outside was "Fog delay!")

| | |
| --- | --- |
| | [1] |
Tracey has organized her latest mass photographic "happening": 26 Things. It's sorta like a scavenger hunt. I signed up, which should be interesting seeing as how we'll be on holiday for most of it.

Wednesday, June 11, 2003
| | |
| --- | --- |
| | [3] |
Grammar Nerds: I've recently noticed yet another Australian linguistic quirk. Many people, when cheering for their favorite sports team, add a "the" in there. For example, last weekend I heard lots of folks say "Go the Wallabies!" See, doesn't that sound weird? I kept trying to explain the weirdness to the Snook by, like, diagramming the sentence. "Go" obviously makes it an imperative statement, so "the Wallabies" should be who the command is directed at. But you never use a definite article when you're talking to someone, do you? I can't imagine a Yank saying "Come over here, the team!" or "Silence, the cadets!" or even "Come on the Cubs!". I don't remember ever hearing such a thing in England either. Like I said, it's just weird.

Tuesday, June 10, 2003

The Herald is running a rather annoying article about efforts to catalogue Roald Dahl's papers before the opening of his new museum in the UK next year. Oh, I think the archive is a good idea, but I have serious misgivings about the inevitable whitewashing of history that will occur. Towards the end of his life Dahl increasingly relied on editors to shape his best-selling plots, and as the article seems to gloss over this in favor of the "great genius of literature" angle, I'm sure these guys will go unrecognized yet again.

| | |
| --- | --- |
| | [1] |
Last summer Indiana had the West Nile virus; this year... monkeypox?? No way.

Sunday, June 8, 2003

GAHHHHLKJKLHJLKHJKLHKLHKLJ. Frustration. I'm knitting a sweater for the Snook and I've had to redo the patterned stripe on the front, like, three times today. I'm giving up for now. Luckily we have tomorrow off so I'll be able to fix it! (Hooray for the Queen's birthday! Nothing like a public holiday to make a nation of temporary monarchists.)


Max is lamenting the passing of the great Jenny Jones show. As I commented on his post, my favorite Jenny episode ever was: "Your Hair is Green, Your Face is Pierced, I Want You Baby... You're Fierce!" Ahhh, what else are you going to watch on summer vacation to fill the time before Days of Our Lives?

Saturday, June 7, 2003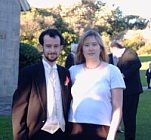 Congratulations to Kenya and Sal on their wedding. The Snook was a groomsman, as you can see here. Doesn't he look handsome? The church was out in Watson's Bay, which is right at the mouth of Sydney Harbour. The view was amazing; on one side you could see all the way back into the Harbour with the sunset shining through the Bridge, and on the other you just looked right out over the cliffs to the sea. The reception was at the Centennial Parklands Restaurant and the Snook and I had a great time dancing to the jazz band. (I ate salmon! Can you believe it? And it was good!) I couldn't wish for a better day for my friends.

A helpful tip for future weddings though: When someone warns you that the father of the bridge has a tendency to be long-winded, take them seriously. An open bar and a never-ending speech make for a very uncomfortable bladder.

Friday, June 6, 2003
| | |
| --- | --- |
| | [20] |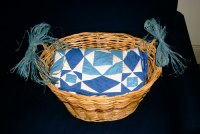 Storm at Sea Quilt
It's done! Today is the wedding of my friends Kenya and Sal, and this is the quilt I made for them. It's a traditional American pattern called "Storm at Sea". I started it just over a year ago (but I took a bit of break in the middle of the summer). The top was machine-pieced but I quilted the whole darn thing by hand. I also used a bias binding for the edge, which was a first for me. All in all I'm really proud of how it turned out. And isn't the basket cute? I saw it in a shop yesterday and realized it was the perfect way to package the quilt. Read on for more pictures (and click to enlarge). [more...]

Thursday, June 5, 2003

At last, at last! Vanilla Diet Coke is launching in Australia. I can't believe it. Now all I need is TiVo and the iTunes Music Store and my consumer dream trifecta is complete.

| | |
| --- | --- |
| | [2] |
Defective Yeti said to drop what I was doing and go watch this movie. I did not regret it.

Wednesday, June 4, 2003
Three-Legged Dog Sweater
Just kidding. It's actually a Sweater Sampler from Jacqueline Fee's book The Sweater Workshop. She recommends you knit this thing so you can practice all the different techniques you need to knit a seamless one-piece sweater (the Holy Grail of knitting, as far as I'm concerned). It has different widths of ribbing, increases, decreases, a cardigan placket with a buttonhole, a hidden pocket, a knitted belt, two-color knitting, and four different kinds of cast-offs. Fun, huh? It reminds me of a Thneed. It took me a few days but I'm a lot more confident now. Onwards and upwards! [more...]


Roger Ebert has such a great sense of humor. A couple weeks ago he reviewed Vincent Gallo's film The Brown Bunny and pronounced it "the worst movie in the history of the Cannes Film Festival" (a view that was shared by many others). Gallo is pissed and has been badmouthing Ebert in all the papers, calling him a "fat pig" and saying he has "the physique of a slave-trader". An excerpt from Ebert's response:
Vincent Gallo has put a curse on my colon and a hex on my prostate . . . I am not too worried. I had a colonoscopy once, and they let me watch it on TV. It was more entertaining than "The Brown Bunny" . . . It is true that I am fat, but one day I will be thin, and he will still be the director of "The Brown Bunny."
Classic.

Tuesday, June 3, 2003
| | |
| --- | --- |
| | [8] |
From today's Column 8:
[T]hree hours into a Virgin flight from Perth to Sydney on Sunday, horrified cabin crew spotted a security lapse. A passenger armed with two long plastic needles was busily knitting away, reports a Willoughby reader. He says the potential weapons were seized and handed to the purser, who carried them discreetly to the cockpit, apparently trying to avoid attracting the attention of other passengers. All went well until the purser dropped the ball of wool, which "trailed . . . up the aisle as he went to advise the captain of the breach in security."
Damn. Knitting on the trip is out. I wonder if a crochet hook is acceptable? Maybe it's time to acquire a new skill...


Max has a great discussion going on about terrible reading experiences. What book was so bad that you'd give anything to have those precious reading hours back? For me it's Gibson's Neuromancer. *shudder* I hate that damn book.

Monday, June 2, 2003
| | |
| --- | --- |
| | [3] |
Hate seeing commercials at the movies? A Chicago attorney has filed a class-action lawsuit against the theater chains for breach of contract (i.e. not starting the movie at the advertised time). While I totally agree with this action, I think the example mentioned in the court documents is ridiculous. The movie started four minutes late. Four minutes! Heck, your watch could be off that much. In both England and Australia it's common knowledge that you've got at least 15 minutes after the advertised start time before the movie actually begins playing. In fact, commercials are so prevalent here that I get more pissed off when a theater doesn't have them. The Snook and I missed the first three minutes of Fellowship of the Ring because it started immediately while we were still out buying ice cream cones. I just want some consistency, you know? I remember when I lived in Germany they clearly advertised both the times when the ads would start and when the film would begin. That was nice.

| | |
| --- | --- |
| | [2] |
First Alexander Graham Bell... and now Benjamin Franklin. Next you'll be telling me Al Gore didn't really invent the Internet!

Sunday, June 1, 2003

Singapore is now offically SARS-free, which means my family should be slightly less anxious about us flying through there. On the news tonight they showed footage of the celebrations going on. It reminded me of the end of Return of the Jedi, where everybody's celebrating the fall of the Empire. (In my geeky defense, it was just on last night so it's not like I pulled that observation out of nowhere.)

archives
You can search through the archives by post keyword using the form on the left, or you can browse by month using the links at the bottom.
"Moblog" refers to posts and images posted directly from my mobile phone.

"PW Blog" refers to posts recovered from my very first weblog, which dealt with news related to my college dorm.