Wednesday, June 30, 2004
| | |
| --- | --- |
| | [18] |
Marty and Jess from Big Brother are getting hitched. My prediction: Channel 10 will televise the whole event, which will feature Shannon Noll and Killing Heidi performing at the reception (during the AFL Grand Final, naturally). Afterwards Marty and Jess will star in the Australian version of "Newlyweds." Mark my words!

| | |
| --- | --- |
| | [2] |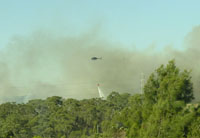 Bush fire!
For several hours now my co-workers and I have been watching a bush fire not far off from our office in North Ryde. It started with just a gigantic plume of smoke down near the river. Eventually a couple choppers showed up - one from the Fire Department to drop water on it, and another from Channel 7 News. My friend Roy took this picture from our office on the 3rd floor. Now we can hear sirens off in the distance. None of the Aussie news sites seem to have any information on it yet. How excitement!

| | |
| --- | --- |
| | [1] |
ColorVision Test. Are you color blind? I'm not, but two of my co-workers are. (They already knew they were but it was cool to see the test verify it.)

| | |
| --- | --- |
| | [2] |
"It's a superhero movie for people who don't go to superhero movies, and for those who do, it's the one they've been yearning for." Ebert gives SPIDER-MAN 2 four stars. Wow, I can't wait for this one!

| | |
| --- | --- |
| | [1] |
Amazing Pictures of babies in the womb. The one where he has his eyes open freaks me out a little bit. I mean, it's weird enough to think about women walking around with little people inside them, but to think those little people are blinking, sucking their toes, and scratching themselves just blows my mind.

| | |
| --- | --- |
| | [11] |
Yep, I've seen it. "Harry Potter and the Half Blood Prince." I'm not sure about that one. It has a "Phantom Menace" sort of ring to it. And who's the half blood prince? Voldemort? He's the only one we know of that fits the bill, right?

Tuesday, June 29, 2004
| | |
| --- | --- |
| | [9] |
Why I Love the Snook
He secretly cleaned up all the wires and cords around the TV because he knows they drive me crazy.
He happily ate lentil casserole with me for dinner tonight and only mentioned it being "hippie food" once.
He calmed me down after an intense anxiety attack tonight when I realized that by this time next week, I'll be earning half as much as I do now and working about ten times as hard for it. (What was I thinking?!)
Oh yeah, and that makes five full days of vegetarianism for me! My longest stint ever. Although I have to confess, four different people at work have told me I look pale over the last couple days. I need some red meat! Other than that the detox is okay. I haven't made it to the gym since the aborted race last weekend, mostly because every night when I get home my stomach starts churning and I'm afraid to venture too far from the bathroom. But the dizziness of days 3-4 has passed and I'm feeling pretty energetic. Maybe tomorrow then...

| | |
| --- | --- |
| | [3] |
Steve Jobs has unveiled a preview of the next version of Mac OS X, codenamed "Tiger". It looks pretty sweet. And ha ha! Looks like the folks at the Worldwide Developers Conference had a little fun at Microsoft's expense...

| | |
| --- | --- |
| | [2] |
"Earthquake Rattles Midwest." Dammit! Why do all the cool things happen when I'm not there?

| | |
| --- | --- |
| | [1] |
How to Find Lost Objects. This will be useful. I borrowed the Snook's Swiss Army knife when we went to Prisoner of Azkaban so I could cut apart my little knitter business cards. That night he asked for it back. I told him I'd given it back. He didn't have it. I swore I didn't have it. We argued back and forth for ten minutes, with him imploring me to check my bag and me insisting that I didn't have it. Finally, to prove him wrong I dumped out my bag. There it was. Oops.

Monday, June 28, 2004
| | |
| --- | --- |
| | [14] |
Weird Foods of the World. Man, poutine sounds good. I haven't had durian but I've seen it in the supermarket here. (I did notice the restrictions on eating it while we were in Singapore in 2001.) I've tried Vegemite but I think it's horrible! The Snook happily ate black pudding in the U.K., though he never ventured to try haggis. I've had octopus, though, as well as alligator and kangaroo. Everyone I know in the U.S. has done the deep-fried turkey thing, though I haven't had it yet. And since when is miso soup "weird"?

Sunday, June 27, 2004

Crafty weekend.
I made my first return to the Sydney Sity Klickers in ages yesterday. They're all so nice! I was able to pick Mary-Helen's brain for some much needed knitting tips and I had fun seeing what everyone was up to. My stomach still wasn't completely settled though so my visit was pretty brief. I was feeling much better today. I met up with gadgetgirl and sidherian for a wander around the Craft and Quilt Fair in Darling Harbour. My experience was much the same as it was two years ago. There were gangs of mean old ladies, herds of inappropriate strollers, and stalls full of way overpriced "kuntry" crap... but we still had fun. We snarked on the scrapbookers and played PunchFeathers the whole time. (Amy pretty much ran away with that victory.) I was dismayed at the high price of fat quarters and the abundance of novelty yarn. I did pick up a few balls of cheap sock yarn from Bendigo, and I found a great birthday present for my Mom at one of the folk art stands. Ooh, and I also bought a kit to make these sweet little Japanese "cicada purses". I haven't been able to start them yet though, as I'm slogging my way through yet another round of sock monkeys. Will the sock monkey cycle never end?

| | |
| --- | --- |
| | [3] |
Koala tunnel! How cute is that?

| | |
| --- | --- |
| | [6] |
Apple Center Frustrations
Well, I have my computer back. Sorta. Remember, I had dropped it off Monday to have it checked for the logic board defect that Apple is fixing for free. I took it to Apple Centre Broadway (since I'm still pissed at the one in the city for the headphone-fixing debacle). When I went in, I was like: "My display has been buggered for ages. I brought it to you guys last year and you told me I needed a new $2000 monitor. Since it's out of warranty, I declined and I've been using an external monitor ever since. But now Apple are including my machine in this logic board repair program, and since my computer's symptoms match the ones they list, I wondered if that might be the ultimate cause of the problem." He was like, "Uh... okay." I handed it over and waited. On Friday a technician called me at work to let me know that my machine needed a "new LCD panel", and this would run me around $600. "What?" I asked. "What about the logic board? Did you check that?" Him: "Uh... logic board? What? Uh, no. It's not that." Me: "Well, how come you guys quoted me a totally different repair and price for the same problem last year?" No answer. Me: "Fine. Don't do anything to it. I only wanted the free repair. I'll pick it up tomorrow." Idiot.

So yesterday the Snook and I headed over to pick it up. I brought it home, plugged it in, and started relishing the OSX prettiness. Then I fired up my browser and started working through my bookmarks. I also fired up Limewire to look for a song that had been stuck in my head. Suddenly my machine was running slow as a dog. The hard drive was churning and it was taking minutes to change between applications. "Snookums," I said, "my machine's acting funny. It's really slow and the hard drive is making lots of noise." He looked puzzled. "Hmm. Sounds like you're low on RAM. You should check it," he joked. "Sometimes service places steal it." We shared a laugh as I fired up System Profiler. The laugh died as I noticed that only have the 128MB of built-in RAM... and the extra 256MB I bought and installed myself is missing. Son of a bitch. I immediately called the Apple Center and ranted at some poor little sales boy. He took down all my details but couldn't do anything about it... as the service guys don't work on the weekend. He's like, "Well, the guy who did your computer is new, but he's really good, and I'm hoping he just has it lying on his desk or something..." So I've got to go all weekend with a computer that can only handle one application open at a time. I think it's time for another sternly-worded e-mail to Apple Customer Relations. I have no problem with the company, but I've been having a hell of a time with their affiliate retailers this year.

Update: The RAM was actually in the computer all along... He just forgot to "reseat" it. Uh-huh. Well, it should be back to normal now anyway.

Saturday, June 26, 2004

Wow! Afterthought heels for knitting socks. I might have to try that on my next pair. (Link courtesy of passionknit.)

| | |
| --- | --- |
| | [5] |
Kirsty has pointed me to some new breakthroughs in female urination technology. BBC News Online has apparently recruited some women to try them out at Glastonbury. Ma Snook has a device very similar to "The Whiz", which she swears by. And I love the fact that the manufacturer "recommends using the Whiz in a urinal or toilet if possible, to prevent pollution of local water courses." Riiiight. Like men follow that rule.

| | |
| --- | --- |
| | [2] |
For the record, Ebert gave Fahrenheit 9/11 three and a half stars. Also for the record, I am incapable of typing "fahrenheit" on the first try.

| | |
| --- | --- |
| | [1] |
DetoxBlog: Well, as Max predicted, it was a little bit like Poopalooza 2004 there for a while. I started out well - I had my warm water with lemon as soon as I woke up (to kick start the metabolism, of course), a glass of vegetable juice 20 minutes later, and a bowl of muesli with banana and goat's milk for breakfast. My mid-morning snack was a kiwi and a cup of green tea, and for lunch I had two (surprisingly tasty) sandwiches of salad, sprouts, wholemeal bread, and tahini. I was feeling good up til that point (despite the, like, ten herbal supplements I had consumed along with the food). Then for some reason - boredom, probably - I pigged out on dried apricots and almonds. Not a good idea. At about 3:00 in the afternoon, my stomach made a shuddering noise that reminded me of the sound the pipes make in The Goonies just before they burst. It was not a good night.

Day 2 seems to be going a bit better. I've had basically the same food as yesterday, just without all the excess Fiber Snacks. My stomach has settled down, hopefully for good. I feel vaguely energetic. Maybe I'm getting ready to hit the "euphoria" stage of dieting/cleansing. Either that or I'm going to pass out.


awfulcufflinks has a good laugh over these recycled plastic chickens, wondering: "Why in the world would anyone ever buy [a chicken statue]?" Well, since I actually found myself purchasing a metal chook from Michael's Craft Store a few years back, I think I can answer this one: People buy them because their Moms collect them. Moms collect them because Longaberger baskets are too expensive. That's my reasoning, anyway.

Friday, June 25, 2004
| | |
| --- | --- |
| | [1] |
Where were you?
Just saw this quiz over on Max's site and thought I'd have a go.

1. Where were you when you heard that Ronald Reagan died?
Sitting at my desk in our office at home. I'd just gotten up and I was going to check my e-mail. I saw the headline on My Yahoo immediately and yelled the news to Snookums.

2. Where were you on September 11, 2001?
I was at my job in London, messing around and blogging about mundane things like "the carrot sack". I went to lunch at a pub with the Snook and returned to find an e-mail from a co-worker with a picture of the plane crashing into the tower. I thought it was a joke. Within a few minutes everybody seemed to realize it wasn't. We all ended up in the kitchen clustered around the only TV.

3. Where were you when you heard that Princess Diana died?
I was sitting in my friend Andrew's off-campus apartment watching a movie or something. As soon as we hit STOP on the VCR we immediately saw that every channel was blaring the news. We both hopped in his car and rushed to our friend Mark's dorm room. He'd studied in London the year before and he'd developed a major crush on her. As expected, he was sitting in his room in the dark watching the news reports with horror. We sat with him there for a while and cursed the paparazzi. [more...]

Thursday, June 24, 2004
| | |
| --- | --- |
| | [3] |
DetoxBlog: I have reached a new low in navel-gazing and self-absorption... I am starting the Quick Cleanse 15 Day Internal Detox Program and you poor folks are going to suffer along with me. I really have no idea why I'm doing this. I guess it's because I need some new crazy health obsession after the race disappointment, and this super buff guy at GNC convinced me that this program was "rilly, rilly awesome." So here we go. Fifteen days of no meat, no dairy, nothing but fiber, fruit, and fresh vegetables (and a multitude of herbal supplements). As I understand it, the basic gist is that you simply, well, poo out every bit of impurity in your body. At any rate, I like the idea of becoming a short-term vegetarian. I've never really tried it before so I have no idea how my body will react. Will I start dreaming of bacon? Will my body go into beef-deprived shock? Stay tuned for all the gory details. (Well, probably not gory. Even I have my limits.)


Just a little tip for any of you who might be sleepwalking through your final days at a hated job and have already read every Seinfeld script at least three times: the Friends script archive. Yeah, it's been a real boring week.

Wednesday, June 23, 2004
| | |
| --- | --- |
| | [13] |
Gmail Invites: It seems like most folks that want one have already gotten one, but if anybody is still interested, I've got five more invitations sitting unused in my account.

| | |
| --- | --- |
| | [3] |
Mmmm... Chocolate-dipped pork fat. I wonder if they could make the chocolate sauce with Splenda, thus resulting in the Best. Low-Carb. Treat. Ever! (I kid, people.)

| | |
| --- | --- |
| | [1] |
It's certainly shaping up to be a knit-tastic weekend! Tea in the Library (on York Street) is having a "Yarn-A-Rama" event tomorrow night after work. Five knitting gurus are going to talk about the craft and answer questions. Sounds fun!

| | |
| --- | --- |
| | [1] |
RunningBlog: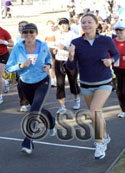 Mortification and Hilarity
My friend Mardi noticed this morning that photos are available from the Nike Women's Classic. Curious, I did a search on my bib number (#1422). The image shown here was the only one returned. I was confused. "Where the hell am I? I'm not either of those girls!" Did I have my bib number wrong? Then I clicked on the image to see the full-size version. Ohhhh, good grief, there I am. Yeah, I'm that half-person in the red shirt on the left edge of the photo. Click on the thumbnail to see the large version, complete with telltale wristband. I feel like Charlie Brown. I didn't even manage to get in a photo.

| | |
| --- | --- |
| | [3] |
Kitty Update: Well, whatever it was, it fell off. I picked her up this morning to check and it's not there anymore. She's got a tiny little bald patch and the skin underneath is slightly pink. I'm taking this as confirmation that it was just a scab. We'll be monitoring it but I'm glad we didn't bother going to the vet.

Tuesday, June 22, 2004

The Australian Parliament is considering whether to require special driver's licenses for people with SUV's. They'd be required to pass an off-road driving skills test. Brilliant! Maybe it'd cut down on all the clueless soccer moms in Land Cruisers yammering away on mobiles while cutting people off in rush hour traffic. Too bad such a thing would never pass in the U.S. (People here don't believe me when I tell them how many Notre Dame students had brand new Cherokees that were only used to drive between campus and Meijer.)


Great name for a knitblog: When Knitting was a Manly Art. More guys should knit. I spent lunchtime showing a couple girls in the office how to finish a cushion cover (adding button holes and casting off), and a male co-worker joked that we looked like a bunch of grannies!

| | |
| --- | --- |
| | [10] |
The Craft and Quilt Fair is on this weekend! Any of you Sydneysiders want to meet up Saturday?


Anybody want to apply to be my replacement? (For the record, that job description bears little to no resemblance to what I actually do.) In related news, I now have a Last Day for this job - next Friday, July 2 - and a First Day for Tapestry Craft - the following Tuesday, July 6. Hooray!

Monday, June 21, 2004
| | |
| --- | --- |
| | [9] |
I've got a developing case of kitty anxiety. I noticed while I was brushing Dr. Amy Jones the other day that she had a hard little bump under the fur near her right shoulder My first thought was that it was her microchip so I took care not to touch it. Today I noticed that I could actually see the place where it was without touching her, because it displaced her fur a bit. I held her under the desk lamp and checked it out. It's sorta hard and dry and yellowish, about the size of maybe half my pinky nail. It didn't seem to hurt her but she didn't like me touching it too much. (I also think she's been more vocal with the meowing lately, but maybe I'm just being paranoid.) Anyway, I was pretty sure it's just a scab, but I thought maybe I'd call the vet just to make sure. Well, that woman freaked me out. She was like, "It's not the microchip. Those are, like, granular. You should definitely bring her in. Can you bring her in tonight? Ooh, maybe the weekend would be better in case we have to operate." I'm like, "WHAT? OPERATE?! I think it's just a scab!" And she was like, "Cats are very prone to abscesses. They can fill up with pus. You should bring her in so we can check her and put her on antibiotics." So we're booked in for tomorrow night. The rational part of my brain (and the Snook) insists that she just poked herself climbing around under the dining room table or something, and it's just a harmless little scab, but the manic little paranoid bit keeps screaming that it's probably some kitty tumor and she'll have to have surgery and get shaved and eat weird food and be in all sorts of pain. Which is totally irrational, right?

| | |
| --- | --- |
| | [5] |
Roger Ebert has posted a thoughtful essay on Fahrenheit 9/11 that addresses a main complaint about the film: that it's not "objective" like a documentary should be. Newsflash! No film is objective, and no book is either. If a human being is deciding which images and words to use, then the result is inherently biased.

I think this is a useful point to make. I spent a semester studying with director Jill Godmilow and she quickly disabused us of the notion that documentaries were supposed to be "the truth". Everybody's got an agenda. Everybody's making an argument. I remember she showed us Nanook of the North, which is the prototypical "follow the foreigner through his daily life" documentary. We all assumed it was True. Then we learned how the director cheated, how the big walrus fight was actually staged with a dead carcass, how the igloo was a cut-away to let the light in better, how he glossed over Nanook's second wife so as not to offend audience sensibilities. The whole thing was a construct, and everything contributed to the theme of the exotic yet noble Savage. It was about as "true" as reality television.

Cinema is by definition untruthful and biased. That's just how it is. Moore's under no obligation to present the opposing viewpoint. At least he never claimed to be "fair and balanced", huh?

| | |
| --- | --- |
| | [6] |
Changes I observed in Newtown today...
A new Gloria Jeans coffee shop has opened and it looks to be doing brisk business. Very interesting. It's the only big franchise on all of King Street. (I'm told that the Newts basically ran McDonald's out on a rail when they tried to open a branch a few years ago.) I did notice a large sign out front though: "This is a locally owned and operated business." Translation: "Please don't throw a chair through our window, hippie. We're not The Man."
There are now three gelaterias in Newtown. Three! There's no way the market can sustain that. There's one in the old Greek place near the Marly, one where Vinnie's Gourmet Greengrocer used to be, and a brand new one next to Sushi Boat. The last is really gorgeous and gleaming, and its gelato is very yummy. Uh... not that I would know or anything. (Hmmm. It was only a year ago that I was raving about all the gelato I ate in Italy. Maybe I started the new Australian gelato craze!)
The "pink store" is gone! I can't believe it. It was this completely random shop on Wilson Street that didn't seem to fit into any existing shop genre. It sold clothes, furnishings, flowers, all kinds of crap. As near as I could tell, the only criteria was that the product be pink. Now it's a trendy kids' clothing shop or something.
The 7-11 next to the Post Office has closed! I bet it was because of the exorbitant electricity bills they incurred as a result of their extra-sensitive automatic door, which opened whenever anyone walked past it on the footpath.
It's so weird going back to Newtown. Now I feel like a tourist...

| | |
| --- | --- |
| | [3] |
The O.C. is coming... again. Remember how I posted about its Aussie premiere last November? I caught a couple episodes at the gym but never enough to get hooked. It must've tanked because it hasn't been on in months. That's why I was surprised to see Channel 10 start hyping it recently. (They weren't the network that showed it originally.) The tone of the commercials is hilarious. The announcer is like: "Dawson's... 90210... Party of Five... We know the shows you love. And here's a new one: The O.C. Coming to where it belongs on Channel 10." From that I conclude that they picked up the rights to the show after the first channel dropped it, reckoning that they've got the more appropriate audience demographic. Channel 10 is basically bragging that it's the real home of trashy teen dramas in Australia. It's like, "Yeah! None of those poofy documentaries here! We're all about dumbass rich Americans." I love it! I'm so going to watch.


Kickass. I just logged into Slashdot to discover that Apple have extended their Logic Board Replacement Program - and lo and behold, my machine is now covered! You'll recall that I began having display trouble last year but the service guys claimed it was a bad monitor. Well, as soon as I verified that my serial number fell in the magic range, I hauled ass over to the Apple Centre Broadway to drop Boudicca off for repair. I'm now computer-less at home so I've got to use the Snook's Linux machine. (It's nice, but it's just not lickable, dammit!) Unfortunately I was in such a hurry to get it there before closing that I neglected to check for recent e-mails. So if you're expecting an answer from me, you may have to wait a while longer!


RunningBlog: So... A subluxated cuboid bone. That's what the physiotherapist thinks I have. It certainly fits the symptoms. We ruled out the whole "plantar fasciitis" because my pain is on the outside of my foot, not the arch. I had a couple X-rays this afternoon to hopefully rule out a stress fracture. (There's something unsettling about a medical procedure so dangerous that the technician has to stand outside the room while it's performed.) In the meantime, I'm to keep it iced and lay off the running. The physio also showed me how to tape it up, while seems to help a little bit. I guess it's back to weight training for the time being!

Sunday, June 20, 2004
| | |
| --- | --- |
| | [7] |
RunningBlog: Busy Weekend.
Saturday afternoon I had my second shift volunteering at the Cat Protection Society Op Shop. I was with the same old ladies as before - Robin and Barbara - and they mostly left me to tend the till while they sorted and priced donations. I had a good time though and the hours just flew by. I met an American guy who gave me some recommendations for our trip in November and I found a pewter beer stein that I knew the Snook would love. (He did.) So that was successful.

Saturday night was the Lord of the Rings Symphony at the Sydney Opera House. Our seats weren't great; we were sitting in the front row so we could basically only see a couple violins, cellos, and the conductor. The music was fantastic though. I got shivers when the flautist started in on the Hobbiton theme. The projected concept drawings were beatiful and helped remind you where the music came in the films (though they did look like they were put together using the "Ken Burns Effect" in iMovie). The second half featured Katie Noonan extensively and she sat right in front of us. (She's the lead singer from george, an Australian band.) She was amazing. Really, really good. I loved her rendition of "Gollum's Song" and "Into the West". It was cool to see so many little kids sitting still for three hours at the symphony. I'm very happy that we went. (I'll admit that I spent at least an hour watching this kickass lady cellist and thinking, "Why aren't I a cellist? Can you study to be a cellist when you're 27 or is it something you have to start when you're 2? If I were a cellist, I'd wear my hair just like her...")

So... the Nike Women's Classic was today, Sunday. That suuucked. Unfortunately my injury reduction plan didn't work very well. I'd had a couple short runs this week without any significant pain, so I figured I'd worked through whatever was bothering my left foot. I started out the race in fairly good form, though I was disturbed that I seemed to be the only one wearing a terry cloth sweatband. (And I thought it was such a brilliant idea!) I was happy to make it to the drinks station (2.5km) before taking my first walk break. That's when I noticed some slight achiness whenever my affected foot hit the ground. I pounded on... and it got worse with every step. By the 3.5km marker, I was gritting my teeth. I was getting shooting pains up my left leg. I started walking at 4km, thinking I could at least finish the distance that way. Within a few minutes, it became obvious that I needed to stop. I was worried that pushing on would lead to some sort of serious injury. So as I approached one of the race volunteers at the final turn back towards the finish line, I told her that I was hurt and I needed to take the shortcut back to the start. I've got nothing but praise for her and the rest of the race staff. She offered to have the medical staff come pick me up but I said I thought I could manage. I saw the Snook soon after, as he'd been watching for me with the camera. He knew what was up as soon as he saw me limping. I made it to the medical area and had a nice hairy paramedic check me out. He said that it could be a stress fracture, or it could be a torn ligament, or maybe it could even be a "spur". He said that if an X-ray didn't turn anything up, to pester my health fund for an MRI. Then he rubbed down my ankle and heel with some smelly Chinese balm and sent me off. Snookums and my other running buddies urged me to go collect my race goodie bag before leaving, but I felt like such a loser that I didn't want to get any prizes that I didn't earn. So I didn't even get a medal this year. I hobbled back to the car and headed home. I've been putting more smelly balm on it all day, and I think I've pretty much isolated the source of the injury: the ligament below my left ankle that runs the length of my foot. If I point my toes, it feels like it's just going to snap. I guess a visit to the sports physician is in order, huh?

And on a related note, I have decided that running sucks and I'm never going to do it again. :(

Saturday, June 19, 2004
| | |
| --- | --- |
| | [2] |
People Falling Over.com - The only website about people falling over, by people falling over. I predict that this will be my sister's favorite website of all time. She thinks people falling down is the height of comedy.

On a sadly related note, I nearly wiped out again on my way home yesterday.

Friday, June 18, 2004
| | |
| --- | --- |
| | [10] |
More stapler madness! "Khan, you're my stapler..." and "Damn it feels good to be a stapler."

| | |
| --- | --- |
| | [3] |
New licensing terms for Movable Type have been announced, and they're much more reasonable. Good on 'em. I still can't see paying more than $20 for a piece of software myself these days (unless it's an operating system), but this should make some folks happy.


Coolest. Bike. Ever. A guy named Joshua Kinberg has put together the coolest bike ever: it sprays chalk words on the sidewalk behind you as you ride. It's controlled by a PowerBook with a roaming wireless network, so people can send in messages as the bike is moving! Check out this video footage. He's planning to ride it through New York during the Republican National Convention spraying anti-Bush slogans as part of the Bikes Against Bush protest.


Slang City Songs: Translations of Popular Songs from Slang to Standard English. Very funny. My favorite so far is Sk8ter Boi, which helpfully explains that a punk is "a young troublemaker who reacts against authority."

Thursday, June 17, 2004
| | |
| --- | --- |
| | [3] |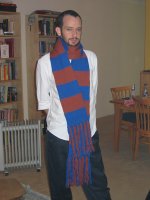 Another Hogwarts Scarf!
As you can see, I've just finished an old-school Ravenclaw scarf as a commission for a nice Aussie girl named Kat. (Kat went with the "blue and bronze" color scheme from the book as opposed to the "blue and silver" from the movie.) The Snook was kind enough to model for me (as usual). It was knitted with Cleckheaton Country 8-ply 100% wool. Somehow my gauge was off from the last one I did, which resulted in a slightly skinner yet longer scarf. The dimensions on this one were 6" wide by 76" long (not counting fringe). That should keep Kat pretty warm throughout this winter!

Stay tuned for a revamp of my Harry Potter Scarves page with more pictures and descriptions.

| | |
| --- | --- |
| | [2] |
Holy crap. A meteor the size of a house crashed in southern New South Wales last night. That's, like, an hour from Sydney! Weird stuff is always happening here.


The Snook sent me two of the funniest links I've ever seen on the Internet: "I believe you have my stapler" and "What's new, Khan?" Be sure and have your volume turned up. Then be prepared to have people stare at you as you scream with laughter.

| | |
| --- | --- |
| | [2] |
South Park underwear gnomes as a lesson for investors. Man, not a single website I worked on during the dotcom boom had a Phase 2. Maybe that's why they're all gone!

| | |
| --- | --- |
| | [3] |
Hee! Dendy Films (which is an Australian chain of arthouse cinemas) is offering free tickets to Super Size Me to any McDonald's employee. That cracks me up. On a related note, Macca's has become rattled enough about the film's reception Down Under to start airing commercials defending themselves.

| | |
| --- | --- |
| | [6] |
Somehow the other night the Snook and I got to talking about Coca-Cola (I think I was regretting my Pepsi iPod contest obsession) and he suddenly started telling me this crazy story about how a bored factory worker from Indiana designed the distinctive bottle shape to mimic the leaves of either a kola nut or a coca leaf, but he messed up and turned the wrong page in the encycloped and ended up basing it on the cacao bean instead. He's always telling me crazy things like this. "You're so making that up," I said. Turns out he wasn't. How crazy is that?

Wednesday, June 16, 2004
| | |
| --- | --- |
| | [7] |
Cat Photos. The last refuge of the bored blogger. Let's just say it's been an extremely boring week on the Internet for me, folks. From left to right here you've got: "Kitten in a Box"; "A Geek and his Cat"; and "Kitten in the Sink." If I can't keep you entertained, I can at least help you meet your daily cuteness quotient.






Max pointed me towards this article about the "new" trend of parents buying their daughters breast enlargements as a graduation gift. As Max said, this isn't really news. One of my good friends had it done after our college graduation a few years ago. It was kinda shocking to me, to tell you the truth. This was a georgeous girl who had a long-term boyfriend (and a constant flock of male hangers-on) who just happened to be a little flat-chested. She was also brilliant and I have no doubt she's rocking the corporate world somewhere. I just didn't get why she needed that to complete herself. It just seems like a weird thing for an otherwise well-adjusted person to want, you know? Granted, I'm not flat-chested and I haven't been in a long time. It's just that I would've given anything to trade places with her back then - pretty, popular, skinny, great family, direction in life, everything. It completely floored me that her parents paid thousands of dollars just so she could have boobs. It's like gilding the lily, you know?



The evil imp on my left shoulder - his name is Schadenfreude - wants me to add that I gave her a hug a few months after her surgery and was happy to note that though her new boobs looked good, they felt like baseballs against my chest. We all need to feel smug about something, I guess.



| | |
| --- | --- |
| | [23] |
Much ado about e-mail. I just logged in to my old Yahoo! Mail account to discover that they've upped the storage limit to 100MB and unveiled a new look-and-feel. I guess they must be feeling the heat from Gmail. Nevertheless, I'm thinking I'll probably keep the Yahoo address as my spam trap and try to move most of my friend correspondence to Gmail instead. At least I won't have to log in and clear out the spam in the Yahoo account so frequently...

Tuesday, June 15, 2004
| | |
| --- | --- |
| | [11] |
Didn't find anything interesting in my blog routine today, but I did discover three more invites from Gmail! They're tossing these things out left and right. Who wants?

Sunday, June 13, 2004
| | |
| --- | --- |
| | [6] |
RunningBlog: Running Update
You may have noticed a considerable hole in my training schedule. Basically, the pain in my left foot I experienced after my last run (and the one previous) got worse and worse over several days. I'm fairly certain it's from the way I "pronate" (i.e. roll) my foot to the outside. I could barely stand to walk on it. I spoke to the doctor about it and she gave me an X-ray referral to check if I have a stress fracture. I haven't used it yet. The pain is gone and the race is in a week. There just isn't time. I did a short run on it today and it's feeling all right. I know I need rest and new shoes, and I figure I can get both of those after the race. And if it hurts after the 10K... I'll get the X-ray. I promise. I just don't want to miss the race. I'm planning to take it nice and easy. My goal at this point is just to finish.

| | |
| --- | --- |
| | [2] |
Big Brother was awesome tonight! Merlin got evicted but showed up on stage with his mouth taped shut and sporting a "Free the Refugees" sign. He refused to talk or answer any questions. Gretel was fuming yet striving to remain calm. The audience turned on him as soon as it became obvious he wasn't going to play by the rules. The producers resorted to showing, like, ten minutes of live footage from the house while both the psychologist and Merlin's Dad tried to get him to cooperate. Eventually he disappeared and Gretel was left trying to fill time before an angry mob. Now that is some brilliant reality TV.

| | |
| --- | --- |
| | [14] |
Woohoo! The Snook and I just scored three Gmail invites each. I've already sent two out. (Kel and Moire, check your e-mail!) Any of you guys want one? Apologies to the randoms and the lurkers, but frequent contributors will have priority.

Saturday, June 12, 2004
| | |
| --- | --- |
| | [4] |
Just enjoying the long weekend... and the fact that I officially have a job post-Epson. Huzzah!

Thursday, June 10, 2004
| | |
| --- | --- |
| | [9] |
Oh, right, so back to the movie... It was fantastic! At first I was gasping with how quickly the story moved and how much material was getting cut out. (Trivia: Aunt Marge is also the Trunchbull!) I can see the need to tighten it up, though. I was also struck by how much the kids had grown, and not just the main three. (Good grief, was that Neville?) I thought Gary Oldman and David Thewlis were excellent as Sirius and Lupin. Oldman, in particular, made me appreciate the character more than I ever had before (and made me sadder about Book 5 than I was when I first read it). The effects were very well done and Buckbeak looked amazing. I was so caught up in the story that when Prongs appeared, I just started bawling. The Snook was like, "What's the matter with you? It's saving them!" And of course I cried again when you see the event the second time. And holy crap, were those not the best credits EVER? That must've taken ages to animate. The Snook and I watched them all. Kudos to everyone involved. Alfonso Cuaron and his team have made the best Potter movie yet.

| | |
| --- | --- |
| | [21] |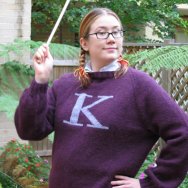 Swish and flick!
Well, that was AMAZING. I absolutely loved the film. But more on that in a minute. First, I need to confirm that yes, I did dress in costume. And yes, I was the only one. Not only that, but the theater was probably only 20% full anyway. So I was a big dork. But Snookums thinks I'm cool and I got a few great looks from some kids, so I feel it was a success. Read on to see all the photos of me in my Hogwarts glory. [more...]

Wednesday, June 9, 2004
| | |
| --- | --- |
| | [4] |
I think I'm having cold feet. It's just over twelve hours til the first showing of Prisoner of Azkaban and everything's ready: the scarf is finished, my badges have been ironed-on, my skirt is pressed. Now I'm just fearing that I'm going to look like a really big dork. What if there aren't a lot of people there? We are talking noon on a Thursday, and it's not even a school holiday. Am I going to look like a big freak? Should I care?

| | |
| --- | --- |
| | [14] |
Thanks to the wonders of gmail swap, Snookums and I are now the proud owners of Gmail addresses. Go on, send me an e-mail! I'm kris.howard@gmail.com. (Snookums would rather I not post his for spam safety, so e-mail me if you want it. But you can probably guess it anyway.)


My boyfriend. (I wish.)


Cloud boobs. Don't worry; it's entirely safe for work. I'm just amused that the scientific name for the clouds seems to be entirely derived from their resemblance to breasts. (Link courtesy of Max, who got it from John.)

| | |
| --- | --- |
| | [10] |
Jitters.
So have I mentioned that I'm completely obsessed with this Pepsi Win an iPod competition? (Shut up. I know, I've already got an iPod. But that doesn't mean I don't want another one, especially if it's newer and cooler and free!) The idea is that you SMS your name and the code from the back of the bottle wrapper, and every hour they have a drawing from all the entries received in that hour and the winner gets a new 15GB iPod! And they're doing this every hour for six weeks! I'm like, "How many people are there in Australia anyway?! And how many will play as hardcore as me?! None! I'm a shoo-in!" Now of course normally I'm a loyal Diet Coke drinker, but I figured I might as well switch it up for the duration of the contest. (Just call me Violet Beauregarde.) Thus I find myself slogging away through my sixth bottle of "Pepsi Light" - which, by the way, sucks ass. But like I said, I'm now obsessed with this contest. I've actually had in-depth mathematical discussions with the Snook about ways to increase my probability of winning. (For instance, if you've got two codes, do you send them in during the same hour or separate? We decided "separate", but it's a long explanation...) Last night I actually set the alarm clock and sent one in at 2:30 a.m., and then another at 5:30 when Amy woke me up. (The theory being, of course, that most people aren't hardcore enough to send them in the dead of night.) Then I went back to sleep and had crazed dreams that I had actually won, and I was telling everybody, and I was the coolest kid in school (because for some reason I was in high school in the dream), and it was the greatest thing ever, and I was so disappointed when I woke up and discovered that I was a big fat loser that I went right back out and bought some more Pepsi Light so I could try again.

Maybe I need to lay off the caffeine.


In the fine tradition of mash-ups, fan fic, and other illegal art, a guy named Brad Neely has created an "unauthorized re-envisioning" of Harry Potter and the Philosopher's Stone in the form of an alternate audio track. It's called Wizard People, Dear Reader. Apparently you're supposed to download it and burn it to disc, and then play the CD along with the DVD (with the sound muted). It made its cinematic debut recently at the New York Underground Film Festival. From this review I gather that it isn't exactly for kiddies. I'm going to see if the Snook can get it for me so I can check it out for myself.

Tuesday, June 8, 2004
| | |
| --- | --- |
| | [1] |
Hmmmph. I'd much rather be an Indianian than a Michigander.

| | |
| --- | --- |
| | [1] |
Annoyance. The Sydney Morning Herald is apparently getting ready to require registration to read the paper online. That's fine for me as a resident, but I think it's stupid and frustrating that my international friends should have to do the same. What's the point of targetting ads to them? They don't even live here! I'm going to have to find another free source for Aussie news blogging.

| | |
| --- | --- |
| | [4] |
American Traveler International Apology Shirt. I just may have to get one of those. At any rate, it'd make a fine outfit to wear to the Fahrenheit 9/11 premiere, huh?


Digital Photography Composition Tips. Very useful for those of us who possess more camera technology than we know what to do with.

| | |
| --- | --- |
| | [3] |
Looks like you lucky European bastards are finally getting the iTunes Music Store. I hope at least if it launches Steve will have more time to focus on the Australian version...


This one's for my Dad: "Lessons from the Wolf", a fascinating article about the reintroduction of wolves to Yellowstone and the amazing econological changes that are taking place there. I would have never guessed that introducing a predator would result in so much growth among seemingly unrelated species like trees and birds. It makes me wonder if the deer overpopulation problems we often have in Indiana would be better managed with a natural solution than periodic culls.

Monday, June 7, 2004
| | |
| --- | --- |
| | [2] |
The Sydney Morning Herald has decided to clear up an issue currently perplexing Australians: Why was Ronald Reagan called "The Gipper"? I'm a little annoyed that they didn't mention ND though. I wonder if they're having any special memorial service on campus...


We Antipodeans are getting a rare astronomical treat tomorrow... a transit of Venus. The last one occurred in 1882. The CSIRO is going to have a live webcast of the event. Sounds pretty neat! I wish we had a bit of welding glass to actually look at it.

| | |
| --- | --- |
| | [4] |
The Field Guide to Spotting Annoying Parents. Very funny. See, this is why we don't reproduce. Hmmm, maybe I could write a version about cat owners...


Broken Windows: Why Windows users are besieged by security exploits but Mac users are not. Excellent essay with lots of good information for my next interoffice OS flame war.

| | |
| --- | --- |
| | [11] |
Feel like testing your smarts? How many petals are around the rose? Apparently this is one of those brainteasers where smart people have more trouble figuring it out. I, on the other hand, grasped it by my third attempt. (Link via the 'Filter, but don't go there til you try it because you'll get spoiled!)

Sunday, June 6, 2004
| | |
| --- | --- |
| | [4] |
If any of you Sydneysiders want a laugh today, head down to Tapestry Craft on York Street. They're having their big "80% Off" Annual Sale and yours truly is going to be working there all day. Yes, working. I figure that this trial-by-fire will be a good indicator of whether I'm fit to work in craft retail. The old ladies in there get vicious.



Oh, and Dr. Amy Jones's no-vomit streak ended this morning. Poor thing.



Saturday, June 5, 2004
| | |
| --- | --- |
| | [10] |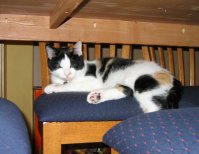 Super Secret Kitty Hiding Place
You know, we've spent well over a hundred bucks on various cat beds and scratching posts and the little stinker turns up her nose at all of them. Instead, Dr. Amy Jones has chosen a dining room chair for her special lounging place. You should see the cushion. It's absolutely white with cat hair. I tried attacking it with a lint brush but I fear it's a lost cause. We just accept that it's her chair now.

Friday, June 4, 2004
| | |
| --- | --- |
| | [2] |
I was all excited to read this girl's dating tips for gamer boys until I realized it was stupid. Incredibly stupid. I lost my ability to stomach the metaphor after about paragraph three.


This interesting article on the ubiquitous neon "OPEN" signs made me think of my sister, who's been obsessed with neon for a couple years. She created a legendary piece of artwork in college involving, if I recall correctly, a custom-made "EAT ME" neon sign surrounded by pig's feet and resin-molded pig heads. That was my favorite piece of militant-vegetarianism-inspired art ever.

| | |
| --- | --- |
| | [3] |
Woohoo! A 14-year-old kid from South Bend, Indiana won the National Spelling Bee this year. Give it up for the local boy!


The Sydney Cancer Centre is sponsoring Bad Hair Day today. I am participating. Unfortunately it was unintentional.

| | |
| --- | --- |
| | [9] |
Resignation. The deed is done. I have handed in my one month's notice at EPSON. Hmmm... Maybe I should start that job search, huh?

Thursday, June 3, 2004
| | |
| --- | --- |
| | [3] |
Oh, good grief. Remember Miriam, the transsexual who caused all the controversy in that British reality show last year? Apparently she's going to be a Big Brother intruder starting on Sunday. Channel 10 didn't start airing There's Something About Miriam til after BB started, so theoretically the housemates won't know anything about her. It's cheap, it's exploitative, it's crass... and I'm ashamed to say I'll probably watch.

| | |
| --- | --- |
| | [1] |
The Queen of Indiana - another blogging Hoosier. (She's actually a Wolverine in disguise, though.)

| | |
| --- | --- |
| | [5] |

Well, of course I'm collecting the Harry Potter pins from the Daily Telegraph. I freaked out last night though when I couldn't find the Hagrid pin anywhere. I went to four different newsagents and it was sold out everywhere! Luckily today I went to the little crappy one near my office and they had extras. So I'm all caught up!

| | |
| --- | --- |
| | [5] |
Hey, the Red Cross "Knit Your Bit" Kit is now available to order online. It's $25 +$8 postage. I've run into some difficulties having it shipped to an international address, so folks outside the US should probably wait a while. And whoa, not only is Dakota Fanning in, like, fifteen movies, but she's a knitter! At her age I was still making potholders on a dime store loom.

Wednesday, June 2, 2004
| | |
| --- | --- |
| | [6] |
RunningBlog: New Running Personal Best - 8 kilometers! (That's 5 miles for you non-metric folks.) Actually I did it once before but I injured myself in the process. I'm feeling pretty good right now. My feet and ankles are sore again, but I'm starting to think it's just my body adapting to the stress of longer distances*. The really interesting bit is that my pace (12:00/mile) is remaining consistent despite running farther. I've set a baseline goal of 80 minutes for the 10K but if I maintain my current pace I should be able to do it in 75. And of course, I'm counting on race day adrenaline to cut it even further. I just might pull this off!



Note: I fully realize that me saying "longer distances" is probably laughable to you guys that run marathons. But take pity on the curvy girls... Five miles is a long way!




I've made a much-needed improvement on my Archive page: You can now search post text, comment text, or both. Previously it was only post text and it drove me crazy because occasionally I'd want to find a specific comment and not be able to remember which post it pertained to. You know, I really need to roll all this into GoddessBlog sometime soon...

| | |
| --- | --- |
| | [6] |
My Hogwarts costume for the Prisoner of Azkaban premiere is nearly complete. Earlier this week I managed to locate an image of the Gryffindor crest, which I painstakingly traced in Illustrator. I found a great "Dumbledore's Army" insignia too. I'm thinking of printing them on iron-on paper, transferring to fabric, and then sewing the fabric to pieces of felt for stability. Overkill? Probably, but what the hell. :)

I've uploaded the high-resolution images if you want them yourself. (Gryffindor | D.A.) They're each at 300dpi, which means they'll look huge on your screen. When printed out, they're just about full page size. You can shrink them for badges or keep them large for posters. Get them now if you want them, because they're large files and if I get too much direct-linking abuse, I'll take 'em down.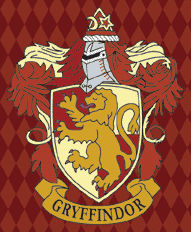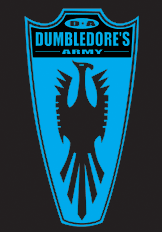 StopTheDraft.com - If there's anything that could make my conservative relatives vote for Kerry, it's probably the thought that my brother could be drafted.


Letter to the Editor. A courageous mother writes a letter about the abuse her son has suffered. It's amazing. I dare you not to get choked up. Read it now.


The Sydney Morning Herald has finally unveiled the new "Radar" section of its site... and it's powered by Movable Type. Interestingly, they don't actually say that they're using it anywhere, which I thought was one of the licensing requirements. Hmm...

Update: Nevermind. The link is apparently optional. Still, I have to wonder if the Herald actually ponied up for the $200US commercial license fee.

Tuesday, June 1, 2004
| | |
| --- | --- |
| | [1] |
Strange things are afoot at the Circle K...
Sorry about the silence. Our Internet was down completely at work today. I may have semi-big news at the end of the week though. (No, Sis, we aren't getting married.)

archives
You can search through the archives by post keyword using the form on the left, or you can browse by month using the links at the bottom.
"Moblog" refers to posts and images posted directly from my mobile phone.

"PW Blog" refers to posts recovered from my very first weblog, which dealt with news related to my college dorm.