Thursday, June 30, 2005
| | |
| --- | --- |
| | [5] |
How to Fold a Fitted Sheet - a photoset on Flickr. I have to say, that's a much better way than the way the Snook and I do it. Oh, and the inclusion of the cat in those pictures is perfect. I laughed out loud. (Link courtesy of not martha.)

| | |
| --- | --- |
| | [1] |
DietBlog: Tuesday night I officially transferred to the Glebe Weight Watchers group, who I've visited a couple times before and who impressed me with their energy and friendliness. They did not disappoint! When Megan the leader mentioned that I was joining them permanently, everyone was like, "Great! Welcome aboard!" and I heard one person actually say, "Oh good, I was hoping you would..." How nice is that? I was yet again dreading the weigh-in though, as I'd felt really sluggish and fat all day long. To my eternal surprise, I'd lost another half a kilogram (a little more than a pound)! I will not give the virus credit this week though; I'm 99.5% over it and I've been making an effort to get back into the program properly. I tracked my Points and even walked to work a couple days, so this is the first one is ages that I felt like I really earned. (It also puts me firmly on the other side of the "10% loss" line, so I don't feel like last week was such a fudge.) My body seems to be settling in to the pound-a-week rate, and I'll be happy if I stay there for the rest of the time. I should reach my next big mental milestone in a week or two: the lowest I weighed while on the Atkins plan. (I'm actually probably already past it, given the difference between the WW fancy scales and my crappy ones at home, but I still have that number in my head and I going past it will be HUGE.) Oh, and I went to yoga for the first time in, like, six weeks last night. It felt great at the time, but I'm hurting today. Hillary the teacher was like, "Wow, Kris, you didn't seem to lose any flexibility with the time off!" And I was like, "That's because I lost ten kilos. My belly doesn't get in the way so much now!"

Wednesday, June 29, 2005

Awesome cushions. (Link courtesy of miftik.)

Tuesday, June 28, 2005
| | |
| --- | --- |
| | [26] |
Send Emma a Postcard
My Dad sent me a letter about his little next-door-neighbour, Emma Bickel. Emma is four-and-a-half years old and last week she slipped while playing in the sprinkler and broke her femur. She's going to have to spend most of the summer in a half-body cast. Poor little thing! So to keep her occupied, she's trying to collect postcards from all around the world. I'm sending her a postcard, and you should too! (Even if you're from the U.S.; she's trying to get all 50 States.) So if you can spare postage and a few minutes of your time, leave me a comment with an e-mail address and I'll send your her details. (I'd post it here but I don't want to create a Craig Shergold situation.) Thanks...

| | |
| --- | --- |
| | [2] |
Man, I'm glad I didn't get that job with Kazaa after all. Ouch.

| | |
| --- | --- |
| | [1] |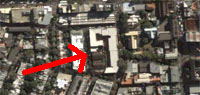 How neat! Google Maps now has satellite images for all of Australia. You can even see our house! Check it out. Right in the middle of that image is a large apartment complex with a white roof that looks sorta like a "9". Well, see the little standalone white square, right between the big white connected bit and the two darker roofs below? That's our apartment! We're separate from the rest of the building. How cool is that? Some other noteworthy Australian locations: Uluru (which looks pretty similar to the one I took), the Maree Man (which blows my mind; more info here, and of course, Wandoo, otherwise known as the Snook family homestead up in Eungai Creek. (The new Pacific Highway runs NW-SE across the middle, and Wandoo is located in the middle of the sock-shaped loop of trees just south of it in the middle. Oh, and the big mountain with the white spot on top is Yarrahappini.)

| | |
| --- | --- |
| | [5] |
Down with the Shearer!
(We interrupt this weblog for a special Big Brother related announcement.) Kick. Ass. She may be a John Howard lover, but this week Kate can do no wrong with me. Rather than uselessly take three nomination points off herself, she chose to face public opinion and take them off Christie instead... resulting in five nominees this week! Even better, one of those nominees is Glenn the Shearer, who I hate with the intensity of a thousand suns. Come on, Aussie women! Let's get this affront to humanity out of the house and off our televisions. Even if you don't watch the show, you should still phone in a vote to get the lying root rat bastard out. I won't even bother bringing up the awful Michelle situation - even Gretel was feeling sorry for her - but him then immediately making plans to get on Kate was disgusting. My jaw dropped tonight during the clip of Geneva talking to the guys in the bathroom, when she left and Glenn turned to the other guys and said, "We were all thinking it, right? *pause* She looked like f**kin' sh*t." HE MADE OUT WITH HER A FEW WEEKS AGO, and then he turned around and said nasty things to the other boys behind her back, just because he likes someone else now. It's every thirteen-year-old girl's WORST NIGHTMARE. The Shearer must go!

Monday, June 27, 2005
| | |
| --- | --- |
| | [3] |
At long last, the Tapestry Craft sale is over. W00t! There's nothing like a 13-hour-shift to really bookend a month of stress. A question for you craft types though: We're considering some different ideas for promoting the website, and our two big options at this point are: A) offering free shipping, or B) price-matching with any other Australian website. Which would you find more enticing? Option B is probably the bigger discount, but it puts the onus on the customer to hunt around and find a low price first. Any thoughts?

Sunday, June 26, 2005
| | |
| --- | --- |
| | [3] |
This FAQ about push molds and polymer clay looks to be very helpful in my and Amy's project to produce our own sickles and knuts.

Saturday, June 25, 2005

Whoa! I was just sitting here knitting and watching some old stuff on the TiFaux when I had a total ND flashback. I was watching the "Like a Virgin" episode of Songs That Changed the World and not really paying attention when I suddenly recognized the voice of one of the commentators. It was Professor Pamela Wojcik! She started at ND when I was a senior and I ended up taking two different classes with her. (Three of the essays I wrote for her are on my writing page. They're not great, but I still have fondness for the ABBA/Muriel's Wedding paper.) How weird to see her on television! And without her funky glasses, which - I admit - inspired my own latest frame selection. She was definitely one of the cooler teachers I had. I should drop her a line and let her know that one of her former students just saw her on television in Australia!

Friday, June 24, 2005
| | |
| --- | --- |
| | [3] |
What type of yarn are you? Ewww, I'm mohair! (That's nearly as bad as when my sister's hubby got sorted into Hufflepuff at a Warner Brothers event. Heh. Carbo's a badger.) My favorite part of the yarn quiz is the completely random Christian Slater movie question.


Ebert finally gets some mad props. Sweet!

| | |
| --- | --- |
| | [2] |
Hooray! I'm not the only one who favors Lefty Tim to win this year's Big Brother. I hate everybody else on that show except for Kate, who I thought was pretty, but who I am now ambivalent about since I found out she's a big Liberal John Howard supporter. Oh, and the rest of the stuff on that BB mini-blog is pretty damn funny...

| | |
| --- | --- |
| | [4] |
Robert is knitting some seriously fabulous-looking Gryffindor banners!

| | |
| --- | --- |
| | [2] |
Moblog: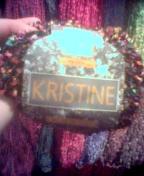 Craft Show 2005
Check it out - a yarn with my name!

Just got back from my annual visit to the Craft Fair, and I have to say it seemed a lot better this year. It was still 75% quilting booths but the quality of the knitting wools on offer was much higher. I still saw some $1.50 Feathers knockoffs, but overall there seemed to be a trend towards hand-dyed natural fibers. I went along with Miss Jane (from the TC Stitch and Bitch), who inspired me to go on a bit more of a spending spree than I'd planned. I started off small, by indulging my now yearly habit of picking up a couple balls of sock wool from Bendigo Woollen Mills. Then I stopped in to talk to Don from Prestige Fibres, just to say hi... and somehow I ended up with eight balls of Superbaby Alpaca. (He's selling them for an incredible price, so if you want any, get your bum down there.) That will become the basis of the argyle cardy that's gestating inside my brain. I also got a big ball of self-patterning "Online Super Socks" from Yarns Galore. Lastly I stopped by Stick to Your Knitting, where I was promptly recognized by the owner Janette. She honestly came up to me and went, "I know you! I read your blog!" (As if I didn't have a big enough head anyway.) Turns out Mary-Helen gave her my link. I got a couple pairs of Addi Turbos there - At last! I will be the fastest knitter in the world! Mwa ha ha ha! - and a tiny belated birthday gift for Amy. Janette also set me up with an STYK bag so I can make my boss Albert's head explode. Jane and I also stopped by the Knitter's Guild Booth, where I ran into Pam North again (she does the Guild newsletter) and got to meet a few other ladies from the suburban groups. Lastly, I somehow decided to give sewing another try with a kit to make the COOLEST handbag ever. The fabric has pin-up girls on it! I hope I don't bugger it up...

Thursday, June 23, 2005
| | |
| --- | --- |
| | [6] |
Try not to yawn. I lost that game within about thirty seconds.


Spring Cleaning
I was checking out my referers list and it looks like I'm still getting hit hard by comment spammers and message board scammers. GAH! I figured the easiest thing to do was just delete a few of the problematic posts. People take everything out of context.

| | |
| --- | --- |
| | [2] |
The Snook feels that the lack of any quotes from the film Tombstone underlines the fundamental flaws in the AFI's Top Movie Quotations list. "I'm your huckleberry" really needed to be on there.

Wednesday, June 22, 2005
| | |
| --- | --- |
| | [3] |
Is Bob Geldof annoying the crap out of anybody else? Now he's actively trying to guilt people into playing Live 8. I think it's great if artists want to perform for charity, but pressuring them into it really sucks. He'd probably make a law that everybody has to watch too, if he could.

Monday, June 20, 2005
| | |
| --- | --- |
| | [2] |
DietBlog: Holy crap. I've officially lost 10% of my body weight! I was actually 100 grams short when I first got weighed, but my group leader Emily insisted I step up again - this time without my shoes - so I could cross the proverbial line into double digits. I was awarded a little gold "star" charm for my keychain. Hooray! Unfortunately Emily then asked me to tell all the new girls how I was doing it, like it was going to be this big inspirational moment, and instead I was like, "Uh, I haven't really followed the program for a month now. I just got lucky with the BEST SICKNESS EVER." (BSE? I must have mad cow disease.) So I sorta feel like a bit of a cheat, but hey, pounds is pounds, right? I also feel like I might have turned the last corner on this sickness. My doctor's got me on antibiotics and my energy is finally starting to return. The sad thing is that now the Snook, the yin to my yang, has caught it himself. Poor dear's been home for three days trying to recuperate. (I hate to see him feeling bad, but I do so love it on the very rare occasions when he lets me baby him.)

Sunday, June 19, 2005

Happy Father's Day, Dad! Hope it's a great one...



(It's probably pointless posting that since his company doesn't let him read my site anymore, but I'll say it anyway in the hopes that someone else in my family will see it and tell him about it, and if they do, could they perhaps mention to him that he hasn't e-mailed me in MONTHS, and couldn't he maybe drop his first-born a line every once in a while? Thanks.)



| | |
| --- | --- |
| | [6] |
Jaded and disillusioned
I feel like a little kid that's found out DisneyWorld didn't live up to the hype. For the past two weeks you haven't been able to turn on a television in Sydney without hearing a manic guy screaming about the "MASSIVE LIQUIDATION SALE" going on at Fox Studios. "REPOSSESSED AND SEIZED GOODS! NAME BRANDS FOR A FRACTION OF THE COST! ADIDAS! VICTORIA'S SECRET! STAR WARS! LEVIS - $20! HARRY POTTER - 10 CENTS! MILLIONS OF BRAS! CDS AND DVDS! AHHHH!" Through sheer force of repetition I found it sinking into my brain. I started to get excited at the thought of all those bargains. "I could really use some new jeans," I thought. "Ooh, and the Snook's been after some new T-shirts." I talked myself into it. So tonight I finally caved and headed out there with the Barkers. What a load of crap it turned out to be. It made the Shipshe Flea Market look like Bloomingdale's. It was a big warehouse staffed by indifferent backpackers and dodgy looking types with walkie-talkies. We didn't find any Star Wars stuff, nor any Levis. The "massive" discounts all seemed to have been taken off massively inflated recommended retail prices. I found myself grabbing things because they were "on sale," only to realize that I wouldn't buy them from Kmart for the same price. I ended up getting a a comforter (which the Aussies called a "quilt"), a quilt cover, a Harry Potter magnet, two crap CDs (Acker Bilk's Reflections and The Very Best of the Allman Brothers, which I got because it will forever remind me of my roommater Eileen), and a packet of socks. SOCKS. I am officially old. I left feeling a little bit wiser and a lot more jaded. If you can't believe in warehouse sales of Star Wars merchandise, what can you believe in?

Saturday, June 18, 2005
| | |
| --- | --- |
| | [1] |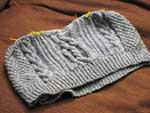 Looking Glass Sweater
This is the first unveiling of my latest knitting project, a cabled jumper for the Snook. The pattern is from the Sirdar Denim Book of Aran Knits (which for some damn reason isn't up on our site, so I had to link to it elsewhere). He wanted something warm but not itchy, something like a sweatshirt that he could wear around the house. So I'm knitting it in Denim Sport Aran (wool, cotton, and acrylic blend), which worked really nicely on my sampler sweater. I'm calling it the Looking Glass Sweater because, with all the naiveté of a rookie knitter, I decided to adapt the pattern to be knit in the round instead of flat. So I cast on the body stitches, knit my ribbing, and then knit the first round of the pattern. Then I stopped DEAD IN MY TRACKS. The first problem is that this annoying pattern writes everything out in words instead of using a simple, succint chart. (I hate words.) It wouldn't be such a bit issue except for problem two: every even-numbered round has to be knit backwards, and every single stitch has to be inverted (knits become purls, etc.). This is because in the original, the even-numbered rounds were on the wrong-side of the garment, and I'm knitting it from the front-side only. At any rate, I spent about two hours tearing my hair out before I cracked open Excel and plotted my own damn chart. It's now a hundred times easier. I still like the concept of every other row being inverted from the original though, like some sort of Mobius strip or 4-dimensional space, which is why I've given it the name that I have. Never let it be said that knitters are not philosophical!



On a side note, cables are really hard to photograph! If you use the flash you lose all shadow and definition of the cables. This is the best I could do without the flash. As you can see, the sweater has panels of double moss stitch on each side, followed by a braid, a section of slip-stitch ribbing, and a triple intertwining central cable. Pretty neat, huh?



| | |
| --- | --- |
| | [2] |
Oh. They bought a house. That's not very earth-shattering!

Friday, June 17, 2005
| | |
| --- | --- |
| | [2] |
Miss Helen has a lovely new website redesign up. How cute is that? I love the little image of (I imagine) her and Clinton. I really need to do a redesign myself. Multiple themes is so 2003! Too bad all my creativity is currently being used up on a new jumper for the Snook...

| | |
| --- | --- |
| | [1] |
Has anybody seen that Cursed movie with Christina Ricci? I only know of it because Margaret and David reviewed it on The Movie Show recently, but they showed a clip featuring Mr. Pacey Witter (aka Joshua Jackson) who's sporting a smokin' hot Ewan-McGregor-as-Obi-Wan-type beard. Basically, I'm asking if it's worth sitting through a crap teen horror-fest just to get a quick Pacey fix...

Thursday, June 16, 2005
| | |
| --- | --- |
| | [1] |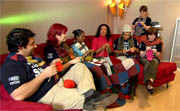 As promised, I have actual video footage of the Tapestry Craft team knitting with Nuala, the Channel 7 weather girl. From left to right, that's Albert, me, some chick from Australian Country Spinners, Nuala, Joseph, Leanne, and Rebecca (on the stool in the back). The Snook was able to convert the footage into two different formats, so hopefully at least one of them will work for you.

AVI: small (1.5MB), large (5.4MB)
MPG: small (3.0MB), large (10.0MB)


More trouble with Apple Australia
Yesterday was exactly three weeks since I was promised a replacement iMac G5. Unfortunately upon contacting the company, it seems they're still dicking me around. It's going to be yet another week. That makes more than TWO MONTHS that the machine's been sitting dead on my desk. To rub even more salt in the wound, they're now telling me that data recovery isn't covered by the warranty and I'll have to pay for that myself. Granted, I have 90% of it backed up (from the last time the damn machine broke down, which was a mere four months ago), so it isn't a huge loss, but there were a few dozen new photos that I'd be upset to lose. I just wrote a fairly scathing reply back stating that I'd be filing formal complaints all over the place and it seems like them covering the costs of recovery is the least they could do. Otherwise it looks like the Snook and I will have to shell out a hundred bucks for a Firewire hard drive enclosure, pry the drive out of the machine, and see if we can back it up ourselves. Bastards.

Update: I just filed an official complaint with the Office of Fair Trading.


I'm ranting about Australia over on Ask Metafilter again...

| | |
| --- | --- |
| | [7] |
Return of my Inner RENT Rat

SQUEEE! My good buddy Kelly McMahon just sent me a link to the official RENT trailer. Holy crap, how did I miss that it's coming out so soon? It's like I can feel the Christian Bale lust fading as my long-dormant Adam Pascal crush begins to bloom again. His long hair does look kinda wacky though. (That said, the two-second glimpse of "Roger leading his punk band" ROCKED MY WORLD.) It really does look like he's going to be the central character of the film. I think Rosario Dawson is going to be a great Mimi. Other than that, I'm just tickled to see so many of the cast back together. Anthony Rapp looks to be given short shrift (in the trailer, at least) but Jesse Martin seems to be nicely featured (and deservedly so, since he's probably the only recognizable face to most of America). I wonder if they're going to keep it a true musical, where the songs spontaneously arise out of the action, or whether they're going to do some cheat like in Chicago, where the songs are just fantasies in one character's head. I wonder how well it will translate to film, seeing as how the best part of the theatrical version was feeling like you were really there, that you were really part of the whole experience. (The finale - with Mark shining his camera all over the audience - used to bring me to tears.) Man, I just can't wait to see this! And hey, there's a blog too. It's nice to know that the Larson family is so involved.

| | |
| --- | --- |
| | [3] |
Dammit. WHAT is Andrew and Kathleen's secret? It's killing me. I mean, I think I know - you're all thinking it too - but we could be wrong, right? So come on, guys, tell us before I explode!

Wednesday, June 15, 2005
| | |
| --- | --- |
| | [4] |
Ebert gives Batman Begins four stars! Now maybe I can convince the Snook to go see it. (I like superhero movies a lot. Him... not so much.)

Tuesday, June 14, 2005
| | |
| --- | --- |
| | [2] |
Famewhoring burns calories!
Yes, it's true. As Tracey noticed, that was me knitting with the Nuala, the Channel 7 weathergirl, on the evening news tonight. A bunch of us from the shop went down to help promote the Salvation Army's Knitting for our Homeless event this weekend. Man, my hair looked RED! The Snook's extracting the video and I'll have it posted in the morning.

After the newscast I headed into Glebe for my catch-up Weight Watchers meeting (since yesterday's was cancelled because of the holiday). Again, I LOST WEIGHT. That doesn't sound remarkable because you people don't know what I ate this past weekend. On Friday night the Barkers watched me eat a veal schnitzel the size of a dinner plate with a side of deep-fried potatoes and wash it all down with three pints of beer. (Mmmmm, beer.) And I still lost over a kilo! My weight loss is now defying the LAWS OF THERMODYNAMICS. I can't explain it. It's like a sign from the universe telling me that my efforts to get rid of this virus are ALL IN VAIN, because it's a GOOD VIRUS, and I love it and want to keep it forever. My precious, precious virus.

Oh, yeah, and so I ended up doing some more famewhoring, because there was a journalist at our meeting covering the Weight Watchers group leader pay dispute (which is spearheaded by our leader). The journo explained that nobody had to be photographed if they didn't want to, but most of us ended up hanging around. The guy took a bunch of pictures from behind and then asked if anybody was willing to go up front for a few. Nobody moved. Finally I was like, "Sure, why not? I'm not from this bloody country anyway." So I stood up and told my little story while the the photographer circled the room. Later I asked the journalist where the story would run and she said - barring any legal complications - it should appear in Good Weekend sometime soon.

So keep your eyes out for my newly skinny form, soon coming to every form of media in Australia. I expect to be appearing on Neighbours next year...

| | |
| --- | --- |
| | [3] |
I saw it on the news and had to go to the official site to confirm: Tetsuya was awarded the Order of Australia today! We have to go there now.

| | |
| --- | --- |
| | [7] |
What a long and unblogged weekend!

Friday I had my first experience with dentistry outside the U.S. I know, I know... I've been living overseas for, what, over five years now? But we've got private health insurance now and I felt like it was finally time to do something about the way my wisdom teeth keep flaring up in this INTENSELY PAINFUL WAY every few months. Sure enough, it looks like they're going to have to come out. (The bottom ones, anyway.) I'm not sure how I feel about that. I've never had an operation. Everyone who's ever had them out has differing tips and horror stories too. At any rate, the HCF Dental Centre in Chatswood was really cool in a futuristic kinda way. I'm used to tiny little rural dental practices. This was like dentistry as practiced with economies of scale. I was directed back into a massive warren of cubicles, each manned with a little Asian dentist and assistant. I drew Dr. Tang, who had an extremely Ocker accent and threatened to beat me over the head with a book if I don't start flossing. I liked him.

After the dentist I had lunch with Rodd's sister Jeannie and his nephew Kurt. (Hey, I guess he's my nephew now too! Odd that I never really thought of that before. I'm an Aunt!) We had a lovely visit. Afterwards I had a long walk from Milson's Point over the Harbour Bridge into the city. What a gorgeous day. I was just walking along, listening to the iPod and having this total Tara D Moment where I just felt so in tune with the universe and in love with the city and so grateful about the state of my life. Oh, and obsessively poking my tongue into the seemingly gigantic holes between my newly-cleaned teeth.

I'm rambling on and on. I'll never get to Monday at this rate! I should go faster. On my way home I saw a car on fire in the middle of George Street. I called the Snook and took pictures with my phone but it never blew up or anything, so eventually I headed back to Chippendale. That night we took Amy and Rob over to Una's for some much-needed bratwurst and beer action. We finished the night watching Samson & Sharkey at the Nag's, where Sharkey was so kind as to dedicate an Elvis song to the Snook and me. Saturday, of course, we pulled up pretty short after all that beer. I just made it to the Knitting Guild meeting that morning. We spent the rest of the day eating zucchini bread and lazing about. I also managed to finish the Snook's Slytherin scarf - in record time! - in preparation for our trip to Hogsmeade. Sunday it was back to work for me, but luckily today was a public holiday so my week is all nicely broken up. (The colonials are all supposed to be celebrating Lizzie's birthday.) I spent the day knitting a new sweater for the Snook while he brewed a beer in honour of the sovereign. As it's a brown ale, I believe he's calling it "Her Majesty Mrs. Brown." Heh.

Saturday, June 11, 2005
| | |
| --- | --- |
| | [3] |
Face Analyzer - You upload a picture and this site purports to analyze your race, gender, and aspects of your personality. It's pretty crap though. The first one I uploaded was my short hair and it came back with "No archetype found." I'm a mutt! Then I tried this one with long blonde hair and glasses. It pegged me as a 100% Chinese male. Whatever. And no matter what I uploaded of the Snook, it always came back as predominantly Middle-Eastern. I even tried one with no facial hair - thinking that was the issue - and it pegged him as a Middle-Eastern/Eastern-European female! He must be too pretty.

Friday, June 10, 2005
| | |
| --- | --- |
| | [3] |
The funniest parts of this Fugging are the references to Dawson's Creek:
Joey Potter would not lie to me like that. She didn't lie to me when she went off on that boat with Pacey, and she didn't lie to me when Dawson's dad died chasing an errant scoop of ice cream, and she wouldn't start now.
And what's with Tom Cruise wearing the leather jacket everywhere? He wigs me out.

Wednesday, June 8, 2005
| | |
| --- | --- |
| | [2] |
Via John: Dating a Developer. You know, I'd have to disagree with several of those "tips." In fact, most of them actually apply to me way more than the Snook. I'm the one that stays up all night writing code to categorize cross-stitch charts. I'm the one on the street pointing out the frequency of iPods to iPod Shuffles ("...and can you believe that wanker still using a Nokia N-Gage?") I'm the one with the growing collection of Apple-related T-shirts. (I'm totally making my own "Steve Jobs is my homeboy" shirt.) Him? He's in bed every night by 10:30. He never notices people's gadgets (or their shoes or anything else about them, for that matter). He's not a bleeding-edge consumer; he finds old hard drives in our apartment complex's garbage room and tries to bring them back to life. He doesn't drool over the Apple Store. I think he's a lot more old-school geek than the new era of fanboy Mac-loving CSS cowboy "designers," and I prefer him that way.



Oh, and #2? She was SO WRONG on that one. My Snookums only has eyes for me. :)



| | |
| --- | --- |
| | [1] |
Via the Snook: A scotch egg... made from an ostrich egg. Normally I loves me some scotch egg, but blecch! (I'm still a little queasy from the thought of poor Charla eating an entire scrambled ostrich egg on The Amazing Race.)

Tuesday, June 7, 2005
| | |
| --- | --- |
| | [2] |
Bookstores: The Natural Laxative? That is the funniest Ask MetaFilter of ALL TIME. "The power of bowels compels me!" Bwa ha ha!

| | |
| --- | --- |
| | [3] |
Holy crap. The rumors were true! Apple is switching to Intel chips. Even the best Mac pundits got that one wrong. Man, I haven't even gotten my new replacement G5 yet, and it's already obselete! Friggin' great.

Monday, June 6, 2005
| | |
| --- | --- |
| | [2] |
I just found a great new Sydney food blog: Grab Your Fork. And check it out, they review Tetsuya's... with pictures! The Snook and I have plans to finally pay a visit to Tetsuya-san this year with Amy and Rob. I didn't know the degustation included FOUR dessert courses. Sign me up!

| | |
| --- | --- |
| | [3] |
DietBlog: As the time for the meeting drew closer tonight, I started mentally preparing myself for my first week of weight gain. I mean, it was a given. I haven't been exercising; I haven't been tracking my Points; and I've been eating my face off. (For the record, the deep-fried camembert at Una's is the BOMB.) So anyway, there I was groaning: "You guys, seriously. I've gained, like, two kilos this week." "What?" my boss Albert said. "No you haven't. You've lost half a kilo." You wanna bet? So we wagered twenty bucks on it. I headed off to the meeting feeling like it was a win-win situation.

Well, guess what? The bastard won! I lost another half kilo exactly! I was in total shock. This goes down in the books as officially the Best Sickness Ever. That brought my total loss to date up to 8.2 kilograms. That's just over eighteen pounds in two months! How insane is that? I don't feel that different. I mean, my pants are looser and my new pink jacket buttons nicely in the front, but I feel like eighteen pounds should be more obvious, you know?

At any rate, I'm back on track with the program now. I managed to talk the Snook into doing the City to Surf with me this year, and it's only ten weeks away. Hopefully I'll be closing in on my goal around then!

Saturday, June 4, 2005
| | |
| --- | --- |
| | [2] |
Finished Baby Objects!
Nat's baby package is nearly ready to go out. On the left is the completed Baby Norgi sweater, which I finished up today. I pretty much followed the pattern exactly for once. The wool is Bambi by Grignasco, which is an extrafine 4-ply 100% Italian merino. (And it's nicer than anything I've ever knit for myself!) My only reservation with this project is the fear that the baby's head won't fit through. Babies have big heads. I tried to make the neckline as loose as possible, but who knows. Nat and Staci might have to save this one for their next kid and hope for a smaller noggin. :)

The second item is a secret one that I finished a couple of weeks ago: the Sirdar Sleeping Bag. Isn't it the cutest thing ever? It even has little teddy bear ears! The cuteness of it almost makes up for the fact that Snowflake Chunky is the worst, most godawful thing in the world to knit. It's as if someone took a nice terrycloth towel and cut it into a long, very fine strip. You can't see any of your stitches amidst all that fleeciness, which kinda defeats the purpose of hand-knitting something in the first place. I mean, if you saw that in a shop, would you think it was hand-knitted? (Slight wonkiness aside?) Nope. So while it's definitely a cute project, I don't think it's quite heirloom quality. At least I know that one will fit though.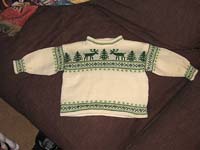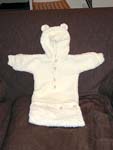 Now all I've got to do is give them a final wash to get all the cat hair off...

Friday, June 3, 2005

"Orson Scott Card Has Always Been an Asshat." Great title, crappy article. I do think he's an asshat, but I don't need to question his authorship of the books or equate Ender Wiggins with Hitler to do that. (Link courtesy of the Snook.)

| | |
| --- | --- |
| | [1] |
Oh my God. Miftik found a pattern for a knitted cat sweater... with STEEKS! Insanity.

| | |
| --- | --- |
| | [2] |
Who are the world's sexiest vegetarians? I voted for Christian Bale and Natalie Portman. Man, there are a lot of weird names on there though. Come on, who's gonna vote for Casey Kasem or Ed Begley, Jr? (Link courtesy of Brigita, who questions Bale's vegetarian credentials but I don't care, because he's smokin' hot and he has been ever since Little Women.)

Thursday, June 2, 2005
| | |
| --- | --- |
| | [2] |
I haven't been following the Michael Jackson trial that closely, but how can the defense team make the argument that the boy's family are out for money when this went to a criminal trial? If they wanted to cash out, wouldn't they have just threatened him and taken the multi-million dollar payout like the last couple of kids?

| | |
| --- | --- |
| | [5] |
What I wouldn't give to see Obi-Wan singing "Luck Be a Lady"... *sigh*

| | |
| --- | --- |
| | [3] |
I could not agree more with Graham about the stupidity of the "Corby Martyrs' Bridgade" (TM Graham), and I take back some of the good things I said about Australians' attitudes towards Indonesians last January. One drug-smuggling conviction and the yobbos are back to hating them again. We didn't even get anyone from the Red Shield Appeal at our door this year, but I've half a mind to call up the Red Cross and donate $100 with the express wish that it go directly to Indonesian causes. Harrumph.

Wednesday, June 1, 2005

I know it's probably all hot and SUMMERY where you are, but Down Under it's the first day of winter and it's damn chilly out. Tonight felt like the perfect night for some CHOWDA. We tried out this Corn and Cheddar Chowder recipe and it was excellent. As per some of the recommendations, we added a couple cloves of garlic, a few shakes of cayenne, and some extra potato and bacon. Not low-fat or low-cal at all, but who's counting? (Says the sick girl who hasn't done any exercise or Points-tracking yet has nevertheless managed to lose another pound because, YAY BEING SICK!)

| | |
| --- | --- |
| | [3] |
And just like that, a fading star in the blogosphere has suddenly winked back into existence. Welcome back, Tara D! Now, make with the funny! I love Tara D's funny.

archives
You can search through the archives by post keyword using the form on the left, or you can browse by month using the links at the bottom.
"Moblog" refers to posts and images posted directly from my mobile phone.

"PW Blog" refers to posts recovered from my very first weblog, which dealt with news related to my college dorm.