Saturday, June 30, 2007
| | |
| --- | --- |
| | [6] |
Dude, we just saw Transformers. And it ROCKED! The Snook's a bit of a fanboy (but I'm sooo not), so we joined the full house at the Broadway for the 8:30 show. It was awesome. Yeah, the action sequences are good and all, but get this - it's actually really funny. The human characters and storylines are all excellent. (Pssst. Hey, Sis? Shia LaBeouf is, like, the second coming of John Cusack. Seriously. You're gonna LOVE that kid.) And now I really, really want a yellow Camaro. Come on, even Margaret and David gave it a good review! If you're in the mood for some whizzy action fun, this one is highly recommended.

Friday, June 29, 2007
| | |
| --- | --- |
| | [5] |
Some of you might be aware that there's a bit of a feud going on in the Sydney "knitternet." It's all very high school at the moment, and I've been trying to stay out of the muck myself. (I will say, though, that I find really artsy, sparse, poetic knit blogs incredibly BORING, and since Mary-Helen is a mate of mine... Well, maybe I have picked a side after all.) Anyway, ginger_nut waded into the fray recently and was rewarded with the snotty insult that her blog lacked "personality." Rather than stoop to her insulter's level, she took the opportunity to make an excellent post about her battle with depression. She's even started a bit of a campaign to raise awareness, which is why I've added her "Knit & Fight the Black Dog" button to my site. Kickass, ginger_nut.

| | |
| --- | --- |
| | [1] |
Star Wars fans hate Star Wars. Never a truer word has been spoken. That essay is spot-on. (Link courtesy of John.

Thursday, June 28, 2007

Knitting pattern: Baby's First DNA Model. That rules! I like the Sputnik ball too. (Incidentally, I found that website because the creator, Kim, is coming to Sydney next month and sent an e-mail asking if she could come to our Stitch and Bitch! So if you want to meet her, come to the SnB.)

Wednesday, June 27, 2007
| | |
| --- | --- |
| | [5] |
Which Superhero Are You? According to that quiz, I'm the Human Torch:
You're on fire, baby! Literally and in spirit. You're the fun-loving, thrill-seeking, life-of-the-party superhero. Some people say you need to grow up. You think those un-super losers should get a life and kiss your flaming comet. It's hard for you to be a team player, but when the spit hits the fan, your fantastic friends know they can count on you.
FLAME ON! Link courtesy of The Hulk.


My sister will LOVE this: Better Off Dead Camaro. Some guy actually tracked down the black '67 Camaro from this classic John Cusack movie and then painstakingly restored it. Now all he needs are some Asian guys who talk like Howard Cosell...

| | |
| --- | --- |
| | [5] |
Calendar of Public Appearances for this Weekend:

Saturday, June 30, 9am-1pm - I will be manning the Knitter's Guild booth at the Craft Fair with Miss Fee. Stop by if you're at the show!

Sunday, July 1, 10am-12pm - I will be teaching folks to knit at the Wraps With Love booth at the ABC 75th Birthday Open Day in Ultimo. (Incidentally, any other knitters interested in doing this with me?) You should definitely stop by if you're in the neighborhood, if only to see if I've thrown down with Margaret Throsby yet.

Tuesday, June 26, 2007
| | |
| --- | --- |
| | [1] |
Turn a C Battery into a D With Quarters. WOW! I can't even remember the last time I needed a C or a D battery, but I still find that tip remarkable.

| | |
| --- | --- |
| | [1] |
Tour de France Knitalong. Now that's cute! I like the different jerseys/categories.

| | |
| --- | --- |
| | [1] |
Anybody got a spare half million lying around? It looks like Nundle Woollen Mill is FOR SALE!

| | |
| --- | --- |
| | [6] |
Weasley's Wizard Freezes
Okay, so I was just reading this random Harry Potter puff piece and eating my lunch, when I got to the part on page two where the interviewer asks the kids what they've spent their millions on. Emma Watson bought a Mac; Daniel Radcliffe wants to collect art. Rupert Grint? "I've recently got an ice-cream van," he said. I nearly spewed lamb stew out my nose.



And then later on, they get asked whether they're going to keep acting when the movies are finished. Grint says that he will... "and if it doesn't work out, I've still got the ice cream van."



| | |
| --- | --- |
| | [6] |
I know that Fake Steve Jobs isn't the real Steve Jobs, but I hope to God he's somebody important in the industry and that, therefore, his mention of the iPhone coming to Australia soon is true. BECAUSE I WANT.

Sunday, June 24, 2007
| | |
| --- | --- |
| | [6] |
Weekend Recap: Aches and Pains
I spent, no lie, like twenty hours knitting. In addition to finishing Penn's hoodie, I also started a new jumper for the Snook. It's an Elizabeth Zimmerman Seamless Hybrid, with a very special design on the front (which the Snook himself charted). It's pretty much top secret for now, but we're calling it "Robots in Disguise." Anyway, my arms, shoulders, and neck absolutely KILL from the sustained effort. I have knitting-induced carpel tunnel syndrome.
I also finished my marathon viewing of the Dawson's Creek Season 3 DVDs, which I cannot in good conscience recommend to any of you. No, not even actual Creek fans. It's that whole music problem. The horrible generic crap they've used to replace all the recognizable songs just sucks all the cheesy goodness out of even the best scenes. (And yes, HATERS, there are some.) So that was a disappointment.
My head cold is finally starting to diminish, but as I was eating breakfast this morning I made a massively disappointing discovery: a burgeoning cold sore on my lip. GODDAMMIT. I HATE COLD SORES. I haven't had one in nearly two years, so I'd been lulled into a false sense of security. The combination of a compromised immune system and the stress of the sale must've done the trick. I spent the day employing every remedy I could find in an attempt to keep it from erupting. I've slathered my lips with Zovirax. I've dosed myself up with Lysine. I held ice cubs to my lips til they went numb. I even rubbed in some zinc oxide (which Amy'd given to me as a sunscreen) because I read it would help. It's still slightly tingly and swollen, and now the glands beneath my jaw are starting to ache. Any other suggestions? I feel like a goddamn leper. (Don't look at me! I'm hideous!)
So those were the bad things. On the plus side, we wandered over to the Nicholson Museum to check out the antiquities. And the stupid sale is finally finished, so things should calm down a bit at work...

Saturday, June 23, 2007
| | |
| --- | --- |
| | [1] |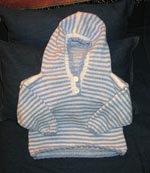 Hooded Striped Top
This quick little knit is something I whipped up for my nephew Penn. The design is from Debbie Bliss's Baby Cashmerino Book but I adapted it to be knit in Sirdar Snuggly DK instead. (I used about 1.5 balls of each colour.) I also decided that I couldn't be bothered with knitting lots of little bits and sewing them all together, so I modified the pattern to be as seamless as possible. The body was knitted on circular needles as a tube up to the shoulders, then armholes were machine-sewed and cut. The shoulders were then joined via a three-needle cast-off. I also knit the sleeves on circulars and added a few rows of reverse stocking stitch at the top of each to be sewn down as an interfacing inside the cut armholes. The neck stitches were left live and then knitted up into the hood, which was seamed again with a three-needle cast-off. A couple buttons at the neck completed the project. I hope it fits him!

| | |
| --- | --- |
| | [6] |
Oh my god. I think Eileen has finally killed Crocs for me.

Thursday, June 21, 2007
| | |
| --- | --- |
| | [5] |
Not happy, Jan.
Here I am, doped up on cold medicine, and all I wanted to do tonight was curl up on the couch with my Dawson's Creek Series 3 DVDs I brought back from the States. So I popped in the disc and hit Play All. (I'd skip right to the Pacey-and-Joey-smooching episodes, but I won't feel like I've really earned it unless I watch all the shite ones that come before.) Imagine my surprise when, instead of Paula Cole's familiar warbling of the title song, they played some other random crap! WHAT. THE. HELL. There's random crap music all through it! Turns out that the original music cost too much. THAT SUCKS. One of the

best

only pleasures of the Creek was its savvy usage of 90's pop songs. AND I AM DENIED. I am most seriously put out.

| | |
| --- | --- |
| | [2] |
Despite a sudden misery-inducing head cold, I bundled up last night and headed out with the Snook to see Play! A Videogame Symphony. The Sydney Opera House was filled to the rafters with geeks of all ages, races, and genders. For me, the highlight was the first ten minutes when the Sydney Symphony Orchestra played a medley of themes from Super Mario Brothers. How can you not like that? The crowd was actually cheering as each familiar tune came up. (I've always liked the carousel-sounding "swimming" theme, myself.) The rest of it was a bit meh for me. Sonic, Zelda, Halo, World of Warcraft, whatever. Sure, they were kinda epic sounding, but hearing one after another just emphasized how John-Williams-knockoff they all sounded. The only notable exception was Silent Hill, where the composer (a supercool Japanese rock star from the future) actually came out and accompanied the orchestra on the electric guitar. That was pretty cool. Other than that - and this may well be the decongestants talking - it was pretty much a snoozer.

| | |
| --- | --- |
| | [4] |
My sister informs me that the Philadelphia Phillies (her husband's favorite baseball team) are hosting their first ever Stitch and Pitch night. "Needlearts enthusiasts" are invited to come to the game and knit, crochet, or embroider as the Phillies take on the Reds. What a great idea! As someone who has knitted at the cricket over here, I give it a big thumbs-up.

Wednesday, June 20, 2007
| | |
| --- | --- |
| | [4] |
Baby Viking Hat. Now that's cute!

Tuesday, June 19, 2007
| | |
| --- | --- |
| | [2] |
Cyclonic winds to batter Sydney. This is probably the closest I'm gonna get to being in a hurricane!


Well, I couldn't manage to get him on the phone, but Happy Father's Day, Dad!

Monday, June 18, 2007
| | |
| --- | --- |
| | [6] |
Baby Chucks = CUTEST THING EVER.

| | |
| --- | --- |
| | [6] |
YOU'RE WELCOME
Not to toot my own horn, but the people of this town really ought to give me a big thank you today. I successfully fended off a supplier who was giving me the hard sell on "a system for applying rhinestones to garments." Yes, he wanted us to sell BEDAZZLERS. And I told him that I really couldn't be a party to the fashion crimes that would ensue.


Sideways Sock. That is utterly BRILLIANT. I'm so going to make those.

Sunday, June 17, 2007
| | |
| --- | --- |
| | [3] |
Stuffed.
We had a bit of a foodie weekend. Saturday we were invited to a barbecue at my co-worker Bridget's house in Malabar, a suburb in Sydney's southeast. We borrowed the GoGet car and I successfully piloted us all the way down Anzac Parade. (Google told us to take the Tunnel, but no way. Baby steps.) I arrived with resolve to stick to my healthy eating plan, resolve that melted away in the face of sparkling Merlot and wedges of Brie. The rain started pelting down again, and I tell you it felt amazing to eat wonderful food with good friends while watching the waves crash into the Malabar headland. This is such a beautiful city. We made it home in one piece and spent twelve hours digesting... before heading out to meet up with Leanne and Brendan at the Good Food Show. We tried a little bit of everything. The highlights were the Korean stall where I bought some kimchi (and successfully greeted the chick with "Annyong haseyo!"); sampling the always delicious brews from Redoak; and getting a whiskey tasting lesson at the Jack Daniel's booth. But really, what else are you going to do on a cold, gray winter weekend?

| | |
| --- | --- |
| | [1] |
Sydney Webcams. Just in case any of you guys want to actually see this crappy weather we've all been complaining about.

Saturday, June 16, 2007

The Top 15 Most Embarrassing Photos of George W. Bush. I'm just disappointed we didn't get to see him falling off his Segway. (Link courtesy of Kevin.)

| | |
| --- | --- |
| | [2] |
Um. A knitted, felted jellyfish. Really. In Noro, no less. (Oh, the humanity!)


It looks like the folks at Ravelry have sent out a lot more invitations. If any of you knitters get in, go ahead and add me as a friend. I'm listed as "webgoddess." However, I'm warning you: If I see one more photo of someone's Monkey socks worn with dress shoes, I'M GOING TO KILL. (It almost makes me not want to knit them! Almost.)

Wednesday, June 13, 2007
| | |
| --- | --- |
| | [5] |
Only one of these people exists.
We just got our invitation to my brother's wedding. It's addressed to "Mr. and Mrs. Rodd Snook."

The Snook, of course, finds it all so highly amusing.

| | |
| --- | --- |
| | [1] |
I think this Clamato energy drink just might be my Kryptonite. Mussst... puke... now.

Edited to add: Max has found an even less appetizing drink, and he's using it to play "Death Is Not an Option." I actually voted for the Clamato.


RIP Mr. Wizard. I used to love that show. Fun fact: The two penguins on "Beakman's World" were named "Don" and "Herb" in his honor.


"Gordon Ramsay crashes a car while trying to herd buffalo." Now THAT'S an intriguing headline!

| | |
| --- | --- |
| | [4] |
The Summer Knitty is up... and it may be the freezing, nasty weather here, but I'm just not feelin' it. The only designs that really stood out for me were the bloomers and the lion washcloth.

Tuesday, June 12, 2007
| | |
| --- | --- |
| | [4] |
Huh. A public library in the States is becoming the first to drop the Dewey Decimal System. Interesting. I have to say, I'm a "browser" myself and I always found Dewey constricting when moseying along the racks.

| | |
| --- | --- |
| | [6] |
This critique of the Wii by a "serious gamer" really annoyed me. He's worried because he doesn't think the popular Wii games are as serious or immersive as games for other platforms, and the market will become flooded with low-quality knockoffs. And you know what? He can BITE ME. He sounds exactly like the people the decry Harry Potter as poor literature. They'd rather people didn't read/play at all, if they're not going to read/play something deemed acceptable. I also resent the implication that the only reason I prefer Wii Tennis to Gears of War is because I'm too stupid to appreciate the latter. Maybe I don't play games to have long, immersive experiences. Maybe I just want to relax and have a good time. Is that somehow cheapening the experience of hardcore gamers? Pffft. Whatever. The gaming industry has been stagnant for far too long, and I'm happy that there are finally games that I'm interested in playing.

| | |
| --- | --- |
| | [3] |
Your Fat Fighting Question of the Week: How can I learn to slow down and enjoy what I'm eating?

Monday, June 11, 2007

How to Custom Fit Your Knitted Knee Socks. I'm all about the knitting links here lately. I've got my knitting mojo back! (It helps that I'm working on a super secret project.)


Dark Mark Illusion Scarf. That is BAD. ASS.

| | |
| --- | --- |
| | [3] |
More photos from WWKIP Day: Mary-Helen, Michelle, Charisse, Kate, Gemma, and Andrew. And David's posted his podcast, in case you want to hear our ambient noise. (He also interviews me. I sound WEIRD. Do I really sound like that?)

Sunday, June 10, 2007
| | |
| --- | --- |
| | [6] |

Under the Weather
Poor, poor Puss Puss. It was time for Dr. Amy Jones's annual checkup and shots, so the Snook and I took advantage of our new GoGet membership and borrowed "Enda the Yaris" for a couple hours yesterday morning. So on top of the normal stress of taking the cat to the vet - which she hates - I also had to contend with driving in Sydney - which I'm not used to - and a bucketing rainstorm. I think the cat part was the worst though. She YOWLS like we're killing her, making unholy noises that no Earth creature should make. She pants and scrabbles to get out of her carrier. It's not pleasant. I got us to Petersham, though, and the Snook took her in while I spent a harrowing ten minutes trying to find somewhere to turn around and park on Stanmore Road. Eventually I made it in to learn that she's perfectly fine, other than some tooth buildup from the cheap grocery store food we give her. (Yes, we were suitably chastised by the nice vet.) Then it was another twenty minutes of yowling and scrabbling until we could get her home. The shots kicked in a few hours later... and it was honestly heartbreaking to see. She spent the whole night curled up between my feet on the bed and didn't even bother to wake us up in the morning. She didn't feel like eating or playing. And the worst part is, you can't really communicate to a cat that it's for her own good, you know? I just tell myself that she lives a spoiled existence for 364 days out of the year; one day of inconvenience is a fair trade.

| | |
| --- | --- |
| | [2] |
How to Lose Most of a Sunday Morning
Ravelry is turning in to SUCH A TIME SUCK. And I mean that in the best possible way. I now have 22 projects posted, all with photos and as many details as I can remember. (So far the Argyle Kitty Kat Cardigan seems to be popular; it has three "Favorites" already.) I've also spent way, way too much time flipping through pages of Finished Objects, favoriting things I like and queueing up things I want to make. I can't link to the individual pages yet since the site's still in beta, but luckily all the photos are on Flickr so I can link to them there. Here's a sampling of stuff I'm in love with: gwinniegirl's Tardis phone cozy, tentenknits' Moulin Rouge top, Devvy's ripple afghan, knitorious's St. Brigid (by Alice Starmore), and thomasina's DNA Scarf.

Saturday, June 9, 2007
| | |
| --- | --- |
| | [3] |
Worldwide Knitting in a Freakin' Squall Day
Sydney knitters are the TOUGHEST knitters in the world, dammit! Here we are suffering the worst weather in thirty years, and yet 27 people still braved wind, rain, and freezing temperatures to knit together at the Opera House today.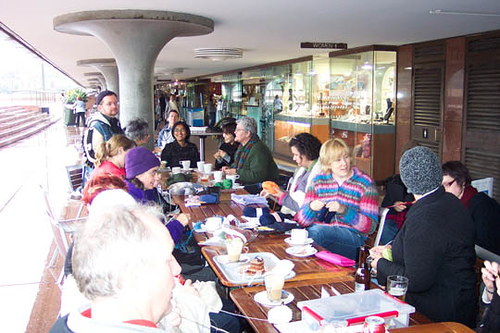 Photo courtesy of jenwren, who has others here.

Thank you to everyone who attended. And for those who didn't, you'll be able to relive the experience via David's podcast, which he recorded live today. I'll post links to more photos as people upload them!

| | |
| --- | --- |
| | [2] |
Yay, an interview with Tara D, who is definitively my favorite person that ever went to Ohio State. :)

Friday, June 8, 2007
| | |
| --- | --- |
| | [5] |
Why do cats follow you into the bathroom? HA! Yeah, ours does this. She just doesn't like the idea of closed doors and places she's not allowed to go. She's similarly entranced by the kitchen cupboards and the drawer in my nightstand.

| | |
| --- | --- |
| | [3] |
Severe weather warning. Oh, this is just GREAT. Do you know, we haven't had rain for over two weeks? (I am acutely aware of this fact thanks to the gang of local birds that had a lilly-pilly party and proceeded to poo purple fruit seeds all over our garden.) And of course it comes NOW, the day before WWKIP Day. We will have shelter from the rain, but I'm not sure how many people will venture out if it's blustery and cold. That suuuucks.

| | |
| --- | --- |
| | [2] |
AWESOME. I applied to be a beta tester for Ravelry some time ago and today I finally got my invite. It's a "Web 2.0" application (i.e. Flickr) for knitters and crocheters. I'm having a look around now and - wow - I could be spending a LOT of time on this site. If you want to see what it's all about, they've just posted a sneek peak with lots of screenshots.

Edited to Add: I'm really pleased with the site so far. I sent an e-mail to Casey this morning asking whether they'll be alternatives to using Flickr for your photos, and he wrote back (really quickly!) to confirm that there definitely will be. He also offered to give me "editor access" so I can upload a lot of the Australian wools and patterns missing from the site.

Thursday, June 7, 2007
| | |
| --- | --- |
| | [3] |
"Is gingerism as bad as racism? I can vouch for the fact that anti-redhead sentiment is much stronger in the UK than anywhere else. (But they do still make ginger jokes in Australia, too.)

Wednesday, June 6, 2007
| | |
| --- | --- |
| | [1] |
Wheels.
Every now and then I miss having a car. The Snook, mostly, does not. This week we compromised by signing up for GoGet CarShare. (Well, I signed up, anyway.) It's sort of a hippie collective where you pay $15 a month and you can cheaply rent these little cars that are parked near your house. There's one in our neighborhood. They sent me the key today and everything! The only stressful bit was passing the "CarShare Exam" over the phone. Thankfully, the Hermione Granger-like zeal with which I studied the Online Orientation meant I scored five out of five. (FIST PUMP.) We're going to try it out this weekend. I'll be sure to post our experiences for you other carless hippie-types.


What the World Eats. It's a series of photographs of families from around the world, together with the foods that they would typically eat in a week. Some immediate observations:
Wow, a lot of people around the world drink a lot more soda than I would have expected.
I liked the Italian family (except for all their soda). If I could eat nothing but bread and tomatoes all day, I would.
People in Kuwait really like macaroni and cheese. Who knew?
Man, the only fresh foods this American family eats are some grapes and tomatoes.
Who the heck in the Mexican family is drinking TWELVE 2-liter bottles of Coke every week? Jeez Louise!
Brits eat a LOT of candy. But we knew that.
I like the way that the Germans have exercised ruthless efficiency in lining up all their items.
My own diet has changed over the past week, as I have (penitently) returned to Weight Watchers. I've put on a bit of what I lost last year, and I really want to nip this in the bud. This time I'm trying out the "Core" plan, where you don't have to count Points or anything but you do have to stick to a list of low-GI foods. Pasta, rice, and fruit are back on the menu, but white bread, butter, and avocados are out. I'll let you know how I go once I weigh in tomorrow night.

Tuesday, June 5, 2007
| | |
| --- | --- |
| | [4] |
When life hands you lemons...
Me: Hey! So I'm on the Kinokuniya mailing list, and last month they announced a contest they're running with Lonely Planet. You're supposed to send in your travel disaster stories. I sent them our story about missing the goddamn flight, and we won Runner-Up! They're sending us a coffee-table book.
Snook: Cool. We can call it our $1300 coffee-table book.

| | |
| --- | --- |
| | [1] |
Huh. So that "Fin" guy from the really annoying iiNet ads? Just an actor. Not really an employee of the company. He's still annoying.

| | |
| --- | --- |
| | [4] |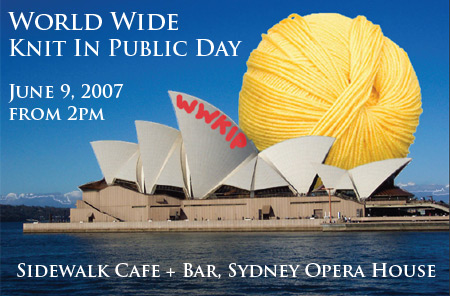 Isn't that so cool? This image comes from a poster that was created by my co-worker, Devvy Leys. (Thanks, Devvy!) You can see the poster and a small version of the Opera House image after the jump. If you'd like to download a printable-version of the poster itself, it's here (PDF). Spread the word, folks! [more...]

Monday, June 4, 2007

RunningBlog: City 2 Surf... with Charity!
Registration is now open for this year's City 2 Surf, and I'm officially signed up. The Snook and I will be once again pounding the pavement for 14K all the way from the city to Bondi Beach. For the first time ever, this year racers have the opportunity to raise money for the charity of their choice. The City 2 Surf is already the world's largest timed fun run; now they want to become one of the biggest fundraising events as well. I've decided to run in support of Sydney Children's Hospital Randwick. I've created a fundraising page to track our progress. Please consider donating if you can!

| | |
| --- | --- |
| | [3] |
Woohoo! Sydney has finally been added to the Official World Wide Knitting in Public Day site.

| | |
| --- | --- |
| | [4] |
Cat Cam. Awesome! A guy rigged a tiny camera to his cat's collar and had it take pictures every so often. It looks like cats spend a lot of time hanging out under cars. (Poor Dr. Amy Jones. I'd never bother doing something like this since her day is so boring! She just sleeps.)

| | |
| --- | --- |
| | [1] |
The Top 10 Geekiest Yarn Creations on the Web. I was actually expecting #10 to be: "Pathetic Harry Potter fan knits entire outfit; ends up being only person at theater."

Saturday, June 2, 2007

It was a very productive Saturday!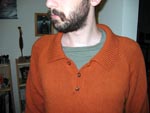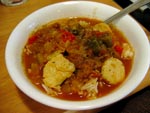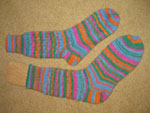 First up was the Snook's cotton jumper, which you may recall I finished over a year ago. Yeah, it's taken me that long to put buttons on the thing. I just forgot! They're lovely round carved horn from the button shop. Doesn't it look nice?

Next is the Snook's offering for dinner tonight: Seafood Gumbo. The recipe came from Herbie's Spices and we picked up the seafood at the Fish Markets this morning. It has scallops, prawns, and crab meat. It was delicious! Just the thing for a cold winter night.

And lastly, those are some socks I just finished for my Secret Pal. The pattern is "Uptown Boot Socks" from Interweave's Favorite Socks. Yes, this is the third pattern I've knit from this book. It has a subtle cable twist down the leg and the top of the foot that this photo really doesn't do justice. (You can see it better here.) The yarn is Heirloom Jigsaw colour 37. (One ball was more than enough.) I hope my Secret Pal likes them!

Oh, and what's that you say? One of those socks appears... blockier than the other? That would be because Snookums has completed the prototype of my very own Sock Blocking Forms. This is basically a flat wooden foot in profile that you use to stretch the sock into the correct shape. I've wanted some for ages but I've never seen them in Australia, and I can't be bothered paying to get them shipped from overseas. Instead I traced my own in Illustrator and made a resizable template. The Snook cut this one for me out of plywood. He still has to drill holes in it to allow the sock to dry faster, and then give it a coat of varnish so it doesn't get moldy. I'll be sure to show you the finished product though!


Knitting trivia: Every cardigan Mr Rogers wore on his television show was hand knitted by his mother (scroll to #15). Isn't that lovely?


I'd heard of making "duct tape mannequins" before (so people who make their own clothes can have a dummy with their exact measurements), but this photo tutorial really demystifies the whole process. Cool!

| | |
| --- | --- |
| | [2] |
Skyping Penn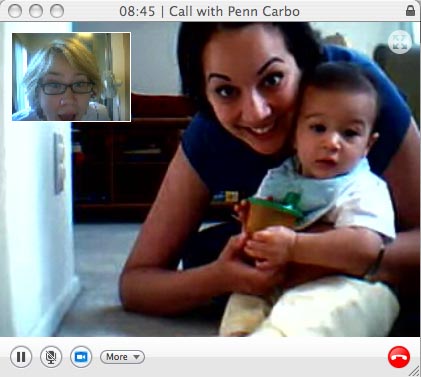 Friday, June 1, 2007

My blog... as lolcats. HA! (Get your own here.)

Update: Snookums FOR THE WIN! He came up with the great idea of using a Google news feed for "kitten". That is too good.

| | |
| --- | --- |
| | [1] |
Pretty kitty! Too bad I don't have a spare $22K lying around.

| | |
| --- | --- |
| | [3] |
I just got an e-mail from Crocs alerting me to the fact that they've put their Fuschia Prima (aka BARBIE SHOES!) on sale for $30! I might need to get those to soothe my disappointment over the discovery that the way cool Pirates Crocs are only for kids.

| | |
| --- | --- |
| | [2] |
Wow, I didn't realize that smoke-free pubs were coming to Sydney so soon! That will be nice.

| | |
| --- | --- |
| | [3] |
Poll: Do you eat grape seeds?
I bought a bag of grapes this morning expecting them to be seedless, but the very first one went CRUUUNCH! in my mouth. Being new to grape-eating and curious about the protocol, I went googling. Hey, it turns out that all the good stuff is in the seeds! I decided to crunch away. (Besides, I'm anti-spitting.) I may need to take a poll on this issue though. Down on the right, folks...

archives
You can search through the archives by post keyword using the form on the left, or you can browse by month using the links at the bottom.
"Moblog" refers to posts and images posted directly from my mobile phone.

"PW Blog" refers to posts recovered from my very first weblog, which dealt with news related to my college dorm.