Monday, June 30, 2008

RunningBlog: This past week was the start of my Melbourne Half-Marathon training. I did easy half-hour runs on Tuesday and Thursday, and I was happy to note that my lower back pain was almost completely gone. On Saturday I had a long, leisurely walk with the Snook. On Sunday, I headed out for a 5-miler. I've been reading Jeff Galloway's Book on Running and I'm already trying to put a few new things into practice. The big one is speed. My pace on the long runs has been way too fast. My goal pace for the actual race is 10:00/mile, therefore I'm supposed to do my long runs at 12:00/mile (including walk breaks). It seems counterintuitive to slow down now in order to go fast later, but as I understand it, the biggest factor in gaining speed is not getting hurt. I can be patient. The other thing I'm working on is FORM. Galloway gives the helpful mnemonic "CHiPs": Chest up, Hips forward, and Push off. I think I'm improving, though I still get annoyed when I check myself in shop windows and catch myself leaning forward too much. (Check out this Phedippidations episode for a great discussion about running form.) Anyway, I did my five miles at 12:00 pace pretty easily. The biggest problem I had was my perpetual bugbear - hydration. I thought I'd had enough to drink but the sun was hot and I got parched quickly. I hit every water fountain I could find but still my mouth was dry. I really need to work on that.

Happily, my lower back felt pretty good after the run and I had a great final session with the physiotherapist this morning. My pelvic alignment is rock solid and my core strength is improving. I think I'm pretty much fixed! I actually feel kind of stupid for suffering through so much back pain when all it took was a couple sessions to correct. I can highly recommend Michael over at Peak Physique for any exercise-related injuries.


From the Snook: Chicks dig whiskers. Well, a little bit of whiskers, anyway. Personally, I'm a big, big fan of the scruff.

| | |
| --- | --- |
| | [3] |
Weekend Update: What a difference a week makes. You know how sometimes you just fall into a rut? Last Sunday I told the Snook that I was feeling cross and frustrated. Sometimes we enable each other's laziness a little too much, you know? And it was starting to get to me. This week, though, my mood went through the roof. It was like turning on a light switch. We spent time hanging out in the evenings (without automatically burying ourselves in Warcraft/knitting). We crossed off a lot of errands on our To Do list. We kept the house relatively clean. On Saturday afternoon, we went for a long walk to Newtown and back, and then headed to Broadway to buy a new DVD player (since ours died). Sunday I went for a long run and finished off a few knitting projects. It was... nice. It's always a surprise to realise how much a difference simply deciding to be in a good mood can make. I feel rested and happy.



Although, part of me wonders how much of my good mood can be attributed to the sunshine. We had a week of fine weather and it certainly improved my outlook a lot. So maybe that was part of it.



Friday, June 27, 2008
| | |
| --- | --- |
| | [7] |
Pushups! Okay, so I nearly killed myself trying to do Day 1 this morning. I don't think it's my arm strength so much as my lack of core stability. (My wrists were also kinda hurting.) My form is seriously crap. So I've been reading up on ways that I can ease into it a bit more...Based on what I'm reading there, I think I'm going to start each workout doing my best to do full pushups, but I'll switch to knees when my form starts to suffer.

Any else make a start yet? (The Snook managed 15 in his initial test - much to both of our surprise - but he nearly killed himself trying to do the first day's workout.)

| | |
| --- | --- |
| | [1] |
Woman Geniuses. Great thread that I somehow missed over at AskMeFi.

Thursday, June 26, 2008
| | |
| --- | --- |
| | [1] |
Blogging from the Apple Store! Some idiot's smashed one of the glass plates at the front door already. :(

| | |
| --- | --- |
| | [8] |
I am seriously, seriously thinking about doing the Hundred Push-ups Challenge. I can probably do, like, two proper push-ups.

| | |
| --- | --- |
| | [1] |
I just find this amazing. A major cricket scandal has erupted because, in the course of a match, the English team ran out a New Zealand player after he collided with the bowler and fell down. (In baseball terms, imagine that a base runner collides with an infielder and falls down, and the other team proceeds to tag him out.) As near as I can tell, the main objection that the NZ team have is that, well, it just wasn't good sportsmanship. Isn't that great? And the English captain has actually apologized! It really couldn't happen in any other sport.

| | |
| --- | --- |
| | [1] |
What could be better than a ray gun? A ray gun that changes the TV Channel. Cooooool.

Wednesday, June 25, 2008
| | |
| --- | --- |
| | [2] |
Ammonite washbasin. Gorgeous. We're going to have to redo the bathrooms someday...

| | |
| --- | --- |
| | [1] |
Giant Kit Kat. Hmm, maybe one of these oversized confections would be a good centerpiece for our Halloween party?

| | |
| --- | --- |
| | [1] |
Feel like doing a good deed? Go throw crumpet a few bucks so she can enter a prestigious art competition. I've been reading her blog for years, and I've always appreciated her perspective on the process of making art. Not to mention the fact that when the Snook and I went to Melbourne a few years back, she and Mr. Crumpet insisted we come over for dinner at their place, even though I really only knew her through the Internet. So if you ever wanted to be a patron of the arts, I can't think of somebody more deserving. (And when I get my inevitable talk show, I shall decorate my entire dressing room with crumpet's works.)

Tuesday, June 24, 2008
| | |
| --- | --- |
| | [1] |
Nintendo Wall Decals. ZOMG. Now my desire to have a lovely, grown-up home with proper furniture is competing with the urge to put GOOMBAS ON MY WALLS.

| | |
| --- | --- |
| | [2] |
RunningBlog: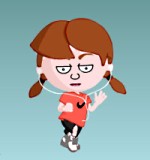 It's all about form
I had my third session with the physiotherapist yesterday morning. I'd taken a few days off at the end of last week, so I was curious to see whether that helped or hindered my pelvic alignment issues. The verdict? It hadn't budged since he'd straightened me out last week! So that was good. There was still a slight twist in my lower back, but that was quickly put to rights. I went through my exercises and stretches and Michael said he could already see an improvement in my core stability. He gave me a few new things to do, including a simple little exercise to work the glutes (which left me with a SORE BUM all day long). Michael said that by the time I run my next race, I'll be one of those runners with a strong and stable upper body instead of looking like a floppy marionette. Sounds good!

Today marked the official start of my Melbourne Half-Marathon training, so I headed out for an easy 30 minute jog. I immediately noticed a difference in my form. My core muscles were engaged and I could tell my pelvis wasn't moving around so much. I felt like I was running more upright. I was also going a little bit faster than usual, so I decided to push it and see how quickly I could do the second mile. I did it in 10:56. I know the iPod is slightly miscalculated, so my real mile time should be slightly less than that. Not bad! (I wonder how much faster I could do it if I actually ran it as a sprint...) I could tell that my form suffered a bit as I started to tire towards the end. I'll get better.

Isn't my Nike Mini-Me cute? I discovered them over on Max's site. You can build them on Nike+ if you're a member.

Monday, June 23, 2008

How to make casein. Neat. You could make your own knitting needles!

There are many things people do not know about BARACK OBAMA. It is every American's PATRIOTIC DUTY to read this message and pass it along to all of their friends and loved ones...
I am so, so tempted to start forwarding this Barack Obama exposé to everyone in my Inbox right now. (Link courtesy of John.)

Sunday, June 22, 2008
| | |
| --- | --- |
| | [3] |
Cat on a Treadmill. Heh.

Saturday, June 21, 2008

Dance Off With the Star Wars Stars 2008. I'm... just... speechless. BRILLIANT. (Who knew that female Gamorrean guards look just like the males - except for their long red hair?)

Friday, June 20, 2008
| | |
| --- | --- |
| | [1] |
Great find from the Snook: Moleskine Store at Notemaker Australia & NZ. They sell for under RRP and if you buy two, the shipping is free. I've been using a Moleskine Daily Diary this year, trying to get in the habit of writing things down. Of course, if I get an iPhone I'd use that instead and have one less thing to carry...

| | |
| --- | --- |
| | [3] |
2008 Web Design Trends. I love the retro stuff. Man, I wish somebody with talent would redesign my website. I'll knit you something in return!


The Goatee Saver is definitely on the Snook's Christmas list. (Link courtesy of Max.)


Aaaaand just like that, my sister will be voting for Obama.

Thursday, June 19, 2008
| | |
| --- | --- |
| | [4] |
Apple Store Grand Opening
"CBD Chaos as Apple Store Opens."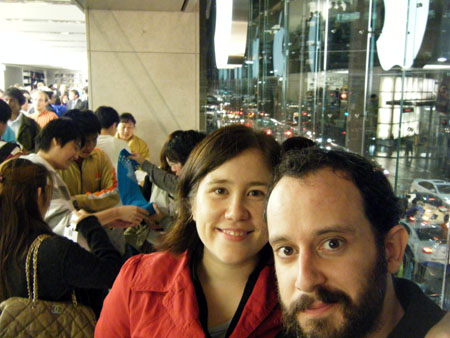 [more...]

I want to get married again, just so I can put these wine glasses on a bridal registry.

| | |
| --- | --- |
| | [1] |
Star Wars Snowboarding. This is an awesome, awesome video. That Jawa squeal never fails to make me laugh. (Link courtesy of co-worker Rob.)

| | |
| --- | --- |
| | [2] |
Teacup lights. These are pretty! I always see lovely teacups at op shops but I resist because I don't have anything to do with them. (We've got plenty of cups for drinking and I don't have, like, a curio cabinet or anything for displaying them.)


"But I hope wherever Mom is there is a 24 hour Law and Order marathon, the beer is always cold, and Bush is no longer president." Gadgetgirl is coming home.

Wednesday, June 18, 2008
| | |
| --- | --- |
| | [1] |
Shhh! Don't tell the Snook, but I am totally going to rickroll his birthday next month. (Link courtesy of not martha.)

| | |
| --- | --- |
| | [4] |
Well, tomorrow's the big day and people are already queueing up for the Apple Store opening. Gizmodo has pictures from inside, and Lifehacker has tips for "getting the most" out of the store. Their advice: Don't go on the first day, and don't wear a skirt. Noted.

| | |
| --- | --- |
| | [4] |
Go Celtics!
I was just walking up Miller Street in North Sydney on my lunch break when I happened to glance inside the Rag and Famish. They were playing the NBA Finals live! I stepped in to check the score - the Celtics were up by, like, 25 points. Oh man. Eileen must be having SO MUCH FUN!

| | |
| --- | --- |
| | [2] |
RunningBlog: Runners for Obama. I'd buy that T-shirt.


This one's for the Snook: "How do I stop getting headaches after working out?" Now if only I could find an explanation for why I get the post-exercise sneezes...


Don't forget to download Firefox 3 today! They're trying to set a world record.

Monday, June 16, 2008
| | |
| --- | --- |
| | [4] |
I'd just like to say that if this rumour is true, then THANK YOU APPLE. Sensis absolutely sucks and there's no way I'd want that crap pre-loaded on my iPhone.

| | |
| --- | --- |
| | [1] |
Survival tips for time travelers. My favorite comment is: "Didn't Bruce Campbell and Sam Raimi already answer this question in Army of Darkness? Just make sure you bring a shotgun, a chemistry textbook, and an Oldsmobile."

| | |
| --- | --- |
| | [1] |
RunningBlog: Miracle of miracles - I got the Snook out on the road again! He hasn't done any running since the 9K Bridge Run in September of last year. His company is entering a team into the City 2 Surf though, and he's feeling the pressure not to come in last. So Sunday he headed out on a short half-hour run around the neighbourhood with me. My back was still feeling quite tender from the physio earlier in the week, but I managed. My lungs are in great shape now. I didn't feel winded at all. I may have even been pushing it a bit, trying to impress Snookums with the improvement in my fitness. He kept up with me the whole way, but I think a lot of that was male pride. He's hurting a lot worse than I am today. Anyway, now I just have to keep him motivated for two more months.

In other news, I went back for another session with the physiotherapist today. My back was starting to lock up again (as he expected), but it wasn't nearly as bad as it was last week. He put everything back in place and then showed me some simple Pilates exercises to start strengthening my core. I'm still restricted to short 30 minute runs, but I've got another week or two before I begin my Melbourne Half-Marathon training in earnest.

Lastly, I was getting caught up on my podcasts this morning and was happily surprised to get a shout-out on Brandon's Marathon. Brandon ran a triathlon earlier this month, a feat that I can only dream about right now. Well done, Brandon! Good luck on whichever of the fall marathons you decide to do...

Sunday, June 15, 2008
| | |
| --- | --- |
| | [3] |
John sent me a link to this Guardian essay on how "alternative knitters" are killing feminism and the punk movement. He also somehow ties it into WWKIP Day (as if the concept has anything to do with rebellion or alternative culture). The writer also proudly repeats his oh-so-witty observation that "the concept of radical knitting is as absurd as radical dusting or radical toilet cleaning," and he predicts that he'll get frothing hate mail from "knitting Nazis." Quite frankly, I just can't work up the rage to bother. It's hard to get angry over what is so transparently a troll. So knitters of the world, please don't take the bait. This is obviously a sad, humorless little man who deserves neither our ire, attention, or lovely homemade knit goods.



Although... if my knitting *did* in somehow contribute to the disappearance from silly "punk rawk" kids and floppy-haired emo teens from the streets of world, I wouldn't complain. KNITTERS FOR THE WIN.



Saturday, June 14, 2008
| | |
| --- | --- |
| | [14] |
WWKIP Day 2008
Our WWKIP Day event was a complete triumph, in my humble opinion. We had 53 knitters in attendance (plus one adorable baby). The folks at the Bayside Lounge were fantastic hosts and I can't say enough good things about them. I've posted my photos and I'm sure there'll be some more from other folks. We gave away a $50 gift certificate (courtesy of TC) and ten pattern books (courtesy of ACS). I sold out of the calico tote bags I had printed. I feel really proud and happy to have helped organise such an awesome gathering! Thanks again to everybody who came.


| | |
| --- | --- |
| | [1] |
The big day is here!


Friday, June 13, 2008
| | |
| --- | --- |
| | [3] |
Kinkos = FAIL
ARGH. I wasted like an hour today with stupid Kinkos, trying to get a nice corflute sign printed up for WWKIP Day tomorrow. I was given a price brochure at the North Sydney branch and it lists the price as $50. I emailed the head city branch and asked whether it was possible to get one printed to pick up at noon tomorrow. The guy wrote back and said yes, so I sent them through the file and requested that they confirm the price for me. He never responded, so after an hour I rang them up. Turns out that guy had gone home for the day. The night guy had to ring me back about three times, finally letting me know that my sign had already gone into the production queue, would be ready "by 4pm" tomorrow, and would cost $140. WHAT??

After much to-ing and fro-ing, in which it became apparent that the price in the brochure is for the sign alone - NOT THE PRINTING - I cancelled it. Very frustrated. I really wanted us to have a nice sign. :(

Thursday, June 12, 2008
| | |
| --- | --- |
| | [1] |
Bex just sent me a link to the greatest knitting pattern of all time: Felted Cat Fez. I LOVE IT.

| | |
| --- | --- |
| | [1] |
RunningBlog: Last night I officially registered for the Melbourne Half-Marathon on October 12th*. I also booked us into a hotel for that weekend. My friend Kylie told me about this "secret hotel" thing where you can get a reduced rate at a 4* CBD hotel, but the catch is you don't know which one it is till after you book. (Presumably it's whichever one has a room to fill.) Now me, I like surprises. So I made a reservation and we ended up getting the Batman's Hill on Collins. Not bad, considering we're saving $70/night off their regular rate. Anyway, now we just need to get some plane tickets and I'm all set. Well, except for that pesky TRAINING part...

On that note, I went for a short, slow 4.5k run this morning. My lower back had been feeling a bit bruised from the manipulations, and it got weirded when I ran. I felt like my whole "caboose" was moving around a lot more than normal. I suppose it probably was, given that he'd freed up a lot of muscles that had become frozen in place. I noticed that it was easier to run without hunching. It's a few hours later now, and I'm feeling some uncharacteristic soreness in my abs. I suppose these are the core muscles that are meant to be engaged when I run, but due to my misalignment I haven't been able to use them properly. It's a little weird to have to get to know your body all over again.

* I will be doing this as part of the Phedippidations Worldwide Half Marathon Challenge. The idea is that thousands of runners around the world will all set a goal to run a set distance (5K, 10K, or the half-marathon) around that date in October. You don't have to do it in an official race; you can run it on your own on the treadmill if you want. There are about half a dozen Australians signed up so far. If you're a runner and you need a goal, I really recommend you consider taking part. It doesn't cost anything and you get access to some great training plans and running forums. Check it out!

Wednesday, June 11, 2008
| | |
| --- | --- |
| | [5] |
A guy in a Texas roadhouse is serving up chicken-fried bacon... with GRAVY ON THE SIDE. I know, I know; you're supposed to laugh at the stupid fat people eating their deep-fried cancer sticks. But secretly, I was watching that video and thinking to myself: "Replace that gravy with ranch dressing and we're in business!" (Link courtesy of reader Lisa, who hilariously pointed out that there's another reason for me to be amused by this video... which I'll leave it up to you to discover.)

| | |
| --- | --- |
| | [5] |
RunningBlog: If it's not one thing, it's another, really. My lungs are finally recovered to the point where running feels good again. I did an 8K on Sunday and I felt energized at the end of it. No huffing and puffing. It was great... except for my lower back. I've had this issue for a couple years now, and it's been one of the reasons that I always quit after a few months. I started seeing a sports masseuse earlier this year in an attempt to fix it. That made the problem bearable, but no matter what we did, it didn't seem to right it completely. In fact, in the past week or so it's progressed to the point where I'm feeling pain even when I'm not running. So this morning, it was off to a proper physiotherapist. I saw Michael at the Sports Clinic at Sydney Uni, and it turns out he's an expert at this type of thing. He confirmed the diagnosis that my pelvis was pretty far out of alignment. (Like, centimeters out.) This biomechanical issue is the source of just about all my running complaints: back pain, tight hips, pinched sciatic nerve, tight hamstrings, hunched gait, etc. So he set about putting things back in place. There was much pulling-of-legs and manipulating-of-joints, and it all ended with a lovely session under a heating pad. I noticed some immediate changes: I could touch my toes without pain, and my hamstrings were able to stretch a lot farther. Michael gave me some stretches to do at home, and he's restricted me to shorter runs for the next few days. He says that normally I'll regress a third of the way back, so I'm seeing him on Monday for further correction. I can't wait to see if this gives me a breakthrough in my speed and performance!

Tuesday, June 10, 2008
| | |
| --- | --- |
| | [1] |
At last. I only have to put up with my crappy old phone for one more month...

Monday, June 9, 2008
| | |
| --- | --- |
| | [9] |
Media Consumption
It was a grey, rainy, horrible (in lots of ways) weekend, so we spent just about all of it holed up in the house.* We read, worked on our hobbies (me: knitting; the Snook: Warcraft and homebrew), and watched a lot of movies.* I did make it out for a 5 mile run on Sunday, which helped my mood considerably.

| | |
| --- | --- |
| | [2] |
From the serious to the silly: The Top 10 Rock & Roll Mustaches. (Link courtesy of cousin Jenny.)

| | |
| --- | --- |
| | [1] |
Thank you
I just sent this in an email to a friend, and I realized as I was writing it that I should probably post it here as well:
And thanks for your message. I feel a bit sheepish and guilty now, because really, I'm fine. I feel guilty that I didn't get to know Josh better, but at the same time a little relieved because his loss hasn't affected me much. I was mostly worried and sad at how his family would take it... but having spoken to them, I realize now that they're all much stronger people than I thought. They've got a good support network around them, and really, it's silly of me to think that my being there would make a great deal of difference (while I'm sure they would appreciate it). I'm still very, very lucky in that I haven't had to deal with the loss of someone close to me. I think that's why I tend to freak out in these situations, because I have no idea how I would deal with it.
So thank you for your kind thoughts and messages. It seems weird to think that the well wishes of a group of random Internet friends can be a positive force in the world, but I think it probably is. At the very least, I hope you guys have been inspired to give your loved ones a call and tell them how much you care about them. As for me, I still feel a little bit like I'm living on the space station, in that I'm so far physically removed from what's happening over there. That's the situation though, and there are lots of folks besides me who have to deal with the same reality. We do the best we can. I guess it's back to normal now...


Sydney Apple Store: We have an official opening date. Thursday, June 19th, 5pm.

Sunday, June 8, 2008
| | |
| --- | --- |
| | [23] |
Tragedy
Last night the Snook and I were having fun watching a silly Bollywood film. It was long though, so halfway through we paused and took a break. While the Snook was microwaving some popcorn, I idly opened my laptop to see if I had any email. There was a one line message from my brother Anthony, sent from his mobile phone. My stepbrother Josh was killed in a car accident. "Oh shit." I immediately tried to ring my Dad's house but the line was busy. I didn't manage to get through to them until this morning. By then I saw that the story was in the local paper. They're... holding up as best they can. It's just so random and stupid and unfair. I hate that I'm not there to help them out. It just sucks to know that people you love are really, really hurting, and there's nothing you can do or say to make it better.

Edited to add: The obituary's up, less than 24 hours after the accident.

Friday, June 6, 2008
| | |
| --- | --- |
| | [3] |
Hooray! It looks like the restrictions on knitting needles on airplanes may be lifted!


Netdecider-spotting! Christian Heilmann got name-checked on Daring Fireball today. It's a little weird to realize that the kilt-wearing guy whose job I saved seven years ago is now, like, a bigtime international name in web development.

| | |
| --- | --- |
| | [1] |
Remember Weezer's awesome YouTube-inspired music video? Here's an explanation of ten of the memes it references, along with the original videos. How had I never seen "Evolution of Dance"? When he started jumping up and down to House of Pain, I just lost it...


Understanding Model-View-Controller. Very useful little essay explaining the MVC design pattern for those of us trying to take our programming skills to the next level.

| | |
| --- | --- |
| | [6] |
Twilight Saga
My cousin Jenny IMed me yesterday. "Do you know anything about twilight?" she said. "Uh... you mean that gas they give you at the dentist?" I guessed. "No! It's a series of books about teenage girls in love with sexy teenage vampires. I'm obsessed." Sounds very Buffy, right? She raved about it for ten minutes. Then she went for the clincher: "They're coming out with a movie on the first book in December and CEDRIC DIGGORY is playing the vampire!" Hoo-yah, sign me up! I went out and got the first book at lunchtime, and I'm already a hundred pages in. Don't be put off by the fact that it's in the "Young Adult" section; they're quite thick books and they're very well-written. Now if you'll excuse me, I have to go read my book and SQUEEEE some more...

Thursday, June 5, 2008

If there are any American expats out there who need to register to vote or request a postal ballot, get yourself over to VoteFromAbroad.org. You answer some questions, print out a form, and mail it off. Easy peasy! (And since people keep asking me, yes, dual citizens get to vote in both countries.)

| | |
| --- | --- |
| | [1] |
RunningBlog: Struggles and Inspiration
I haven't been having great runs in the past week. The weather's been crappy; my back is sore; and I'm still fighting this nagging cough. It's hard to get out of bed early in the morning. I tried running on my lunch break on Tuesday (since we have a shower in the building), but North Sydney is HILLY and I felt stupid having wet hair all afternoon. I'm just not feeling a lot of excitement about my training right now. I guess I'm still in my post-Big Race depression period. That said, I got a big boost talking to my Mom the other night. Not only did Joe run a 5K recently, but the whole family did the Sunburst Fitness 5K Walk last weekend. How awesome is that? Mom also mentioned that she's on Week 2 of the Couch to 5K podcasts, with a goal of running her own 5K later this summer. Isn't that fantastic? I'm so proud of them, and I'm humbled to think that I might have been part of their inspiration.

Last night I registered myself and the Snook for our third consecutive City 2 Surf. I wanted to get in early so we don't have to start in the Back of the Pack. My goal is to break 100 minutes this year, so avoiding the gorillas, baby strollers, and budgie smugglers should help with that. Now I just have to get excited about training again...

| | |
| --- | --- |
| | [2] |
When it rains, it pours. I left my umbrella on the train Tuesday morning, so I quickly went to buy another one. It was blue and pretty and it kept me dry for 48 hours. Then the wind blew it inside out and broke two of its ribs. Now I need another umbrella. Can somebody in Sydney point me to an umbrella that won't break but is small enough to carry every day? (I refuse to carry a golf umbrella, and I give dirty looks to everyone who does.)

Wednesday, June 4, 2008

I should be above this... but I'm not. Bad Pictures of John McCain. Come on, he totally gurns!

| | |
| --- | --- |
| | [9] |
I saw it on the SMH site first, but it wasn't until Kevin confirmed it that I really believed: Obama has won the nomination. FANTASTIC NEWS on an otherwise crappy day!

| | |
| --- | --- |
| | [3] |
Somehow I always end up being the person people send their "weird food" links to. My co-worker just alerted me to the existence of bacon in a can. While I do enjoy bacon... this. is. horrifying.


iPhone speculation has hit a fever pitch. People are talking about mysterious shipments of oddly labelled shipping containers, the increase in Steve Job's airline expenditures, the leaked AT&T employee memos, etc. It's pretty amazing that still nobody's got an actual photo of the actual device. Only six days to go...

Tuesday, June 3, 2008
| | |
| --- | --- |
| | [2] |
To: Whoever it is on the office network sharing the iTunes library with the "150 Greatest Hits of the 90's" Album
From: Kris

I love you.


White people like grammar. True! Every time I heard somebody misuse "begs the question" my head explodes.


Suddenly I am cravin' some kimchi...

Monday, June 2, 2008
| | |
| --- | --- |
| | [4] |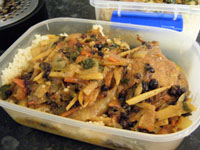 Syrian chicken with ginger, lemon and saffron
Wow, this was good. My friend Sharon sent me a link to the recipe last week. It uses a lot of spices and aromatics, but once you've done all the prep the actual cooking is pretty painless. I used four thigh cutlets and two drumsticks since I couldn't be bothered cutting up a chicken myself. Other than that, I followed the recipe pretty much exactly. (Well, except for using an entire bunch of coriander at the end. I loooove coriander.) I served it on some couscous and ended up with enough for three more meals. Highly recommended for a cold winter's night!

| | |
| --- | --- |
| | [2] |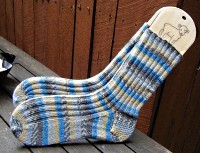 Ribbed Socks
These basic-yet-functional socks were a quick project I whipped up for the Snook. The yarn is Lana Grossa Meilenweit Cotton Fantasy, and I was hoping that the additional cotten content would make them less itchy for his feet. (We'll see.) I used 2.75mm needles and a single ball was plenty long enough.

The pattern is basically just one that I improvised. I knitted them toe-up at the same time on two circular needles. I used Judy's Magic Cast-on for the toes, but I decided to try an experiment. Instead of making the toes symmetrical, I decided to do make them more pointed on one side (mimicking the outline of the Snook's toes). So on each toe, I increased every row on one side, and every few rows on the other side. I don't know whether it's going to make them any more comfortable, but it was fun to try. Of course, making separate toes meant that the socks aren't interchangeable. You have to wear the "right" sock on the right foot. To make it easier to tell them apart, I knitted in an L or R on the back of each leg against a background of reversed stocking stitch. The gusset increases and heel turns were taken from Widdershins. I like doing the reversed turned heel, and I think it fits better and looks nicer than a short-row heel. I did an "eye of partridge" heel for added strength as well.

He put them on first thing this morning so I guess that's the seal of approval! (More photos on Ravelry and Flickr.)

| | |
| --- | --- |
| | [2] |
Aussie Heroes fans: I was just about to order the Season 1 DVD from Amazon yesterday when I thought to check ezydvd first. Good thing I did! It comes out on Wednesday and they're pre-selling it for less than AUD $40 (which is cheaper than Amazon). They're also giving free domestic shipping.

Also, lately I've been obsessed with The 10th Wonder podcast. Definitely the best Heroes podcast out there...

Sunday, June 1, 2008

Where did the weekend go? No, seriously, WHERE did it go? It was over so quick. Did I sleep through it all? I don't feel like I did anything. I went for a spectacularly bad run today, one where the rain was pouring down and my back was killing me and my stomach acid was trying to eat holes in my esophagus. That sucked. I started work on a new knitting project (Cookie A's Rhiannon socks) and quickly got stymied by the worst increase I've ever seen. I just can't do it. It's still raining. Maybe I should just go to bed.

| | |
| --- | --- |
| | [4] |
"Third of men still want a virgin bride." I was all set to be flabbergasted and enraged by that poll until I read who conducted it: FHM. Oh. Well, duh. It's pretty funny seeing the disconnect between the type of woman that gets featured on the cover of the magazine and the type of woman a third of its readers say they want to wed.

archives
You can search through the archives by post keyword using the form on the left, or you can browse by month using the links at the bottom.
"Moblog" refers to posts and images posted directly from my mobile phone.

"PW Blog" refers to posts recovered from my very first weblog, which dealt with news related to my college dorm.