Tuesday, June 30, 2009
| | |
| --- | --- |
| | [1] |
I really need to make the Snook a Persian Love Cake. Looks like something he'd like!

| | |
| --- | --- |
| | [1] |
There, I Fixed It. Ha! It's like CraftFail but for DIY and home repair.

Sunday, June 28, 2009
| | |
| --- | --- |
| | [3] |
Sick. Ugh. I felt kind of crappy and tired last weekend, but it never turned into anything so I figured I fought it off. Turns out that wasn't quite the case. Friday morning at work I suddenly became aware of a telltale tingling in my lip. Cold sore! Again! This is my second one this year, which is way more frequent than usual. I guess I was more sick and/or stressed than I thought last week. The problem is that as I've gotten older, my reaction to the virus has gotten more and more extreme. Having a blister is the least of my worries. The lymph nodes under that side of my jaw swell up and get painful and tender. If it's really bad, I get shooting pains (neuralgia) all the way up the side of my face. That leads to a headache. It's really pretty awful, and it can take more than a week to heal. Anyway, after my last one Dr. Chin gave me a prescription for an antiviral. The key, he said, was that I had to take it IMMEDIATELY when I noticed the symptoms. Of course, the prescription was at home and I was at work. I went to a drugstore at lunch to get some Zovirax and ask the chemist how long the window was for taking the antiviral. He said I could still take it that night when I got home, but the sooner the better. I finished up what work I could and then left early at 4pm. I grabbed the script at home and went straight to get it filled ($28 for three pills!). By then my lip was getting puffier and I was feeling more and more crappy. I took the antiviral, then doped up with lysine, vitamin C, and paracetamol. I basically spent all day yesterday in bed, which is pretty unusual for me. (I rarely nap.) The good news is that I think the antivirals have helped. The blister started disappearing yesterday and is now nearly gone. My glands are tender, but it's manageable with painkillers. And I never got the shooting neuralgia pains, which is a big relief. I still feel dizzy and tired, and I'm annoyed that I'm going to miss my long run for the third week in a row. Still, it feels like this is going to be a much shorter recovery time. Back to bed, I guess...

Friday, June 26, 2009
| | |
| --- | --- |
| | [8] |
New iPhone
Yes, I'm a bit of a Mac fangirl, but you have to believe this wasn't my idea. The Snook started thinking about getting an iPhone a few months ago. (It was all due to wurdle, really, which he played whenever I set my phone down.) I told him he should just get one of the old 3G ones, because they'd be cheaper when the new ones came in. Except they aren't. They've discontinued the 16GB (which is the one he wanted), and none of them have come down in price in Australia. So he started crunching numbers on plans, and he worked out that it was only a little bit more expensive to get a 3GS. Then, since he didn't really care about video and a better camera, he'd swap with me! I got my phone unlocked last week so it would work with his Exetel SIM. The Snook is at the extreme low end in phone usage, so the original plan was just to get the Optus $19 Cap Plan (which actually had a lower TCO than buying the pre-paid iPhone from Vodafone and unlocking). We ordered it on Optus's website last night. BUT - this morning I learned on Twitter (in between all the Michael Jackson craziness) that the Apple Store was selling them outright for $200 less than Vodafone's pre-paid! I called Optus to cancel the offer while the Snook ran down to the George Street store. They have plenty in stock. He got the phone, and tonight we did the big switch. It worked perfectly! Expect more mobile video in the future, kids.

Thursday, June 25, 2009
| | |
| --- | --- |
| | [3] |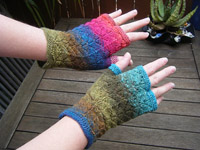 Cranford Mitts
I saw Lyn's Cranford Mitts last week and realised they were the perfect project to use up the Noro left over from my ribbed socks. The pattern is available for free (but just watch out because there's a missing YO on row 8). I cast on last week and had most of the first mitt knitted on Saturday, but when I tried it on I could barely get it over my hand! My tiny hands! My legendary tight tension strikes again. (And that's with going up to a 2.75mm needle.) So I frogged it all back and started over with 60 stitches instead of 50, which meant I had a whole extra pattern repeat. That works much better for me. I lengthened the pattern a fair bit, adding in extra repeats before and after the thumb. I finished the pair of them in just five days. When I tried them on last night, I noticed that the opening around my knuckles gaped a bit so I had the bright idea to sew the sides together between my 3rd and 4th fingers. That made them fit much closer to my hand and feel a lot warmer. (Well, as warm as lacy fingerless mitts can feel!) I think they look pretty cool though, and they match my Clapotis. Yay for crafty accessories! (Ravelry details are here.)

Wednesday, June 24, 2009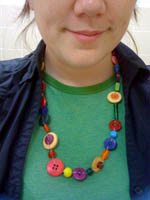 Button Necklace
I spotted a stall selling these necklaces when I was at the Kirribilli Art & Design Markets earlier this month. The seller had necklaces and bracelets of varying lengths, some in bright colourways and others subdued. I was drawn to the shiny discs like a toddler to candy. The buttons are strung together with tiger wire, and the whole things feels much much sturdier than it looks. I couldn't resist. Yeah, I probably could have made my own if I really wanted to, but it was a case of instant gratification. (And given that it was only $15, pretty cheap too.) I like it!

Tuesday, June 23, 2009
| | |
| --- | --- |
| | [5] |
From Alegrya today: "@web_goddess isn't knitting supposed to be a way to dispel stress and drama??"

Ha! You'd think that. Instead last week started with a fellow Sydney knitter being harrassed by lawyers for a big craft company, and this week I copped it for an innocent email to my own guild group about Ravelry names. Maybe I should take up making cake balls instead.


Interview with the artists behind Wall-E's end titles. I loved the end titles; they were absolutely my favorite part of the movie. (Link courtesy of kottke.)

| | |
| --- | --- |
| | [6] |
Buffy vs. Edward. A couple people sent me that link, and it was FANTASTIC. "In this remixed narrative, Edward Cullen from the Twilight Series meets Buffy the Vampire Slayer at Sunnydale High. It's an example of transformative storytelling serving as a visual critique of Edward's character and generally creepy behavior. Seen through Buffy's eyes some of the more patriarchal gender roles and sexist Hollywood tropes embedded in the Twilight saga are exposed in hilarious ways." I did feel like kind of a nerd to immediately recognize the few shots from Harry Potter.


Carnivores: Keep being awesome! Okay, that made me laugh a little bit. (I still love you though, vegans.)

| | |
| --- | --- |
| | [6] |
Knitting Basket Cake, link courtesy of my sister. Wow. I can see that it's a work of art... but it doesn't exactly look appetising.

Monday, June 22, 2009

Infinite Summer has begun, and I'm about 55 pages in. We're meant to be to page 63 by Friday, which I should hit without too much trouble. The only problem is that 63 pages isn't 63 pages. That goal secretly includes probably a dozen or more additional pages of DENSE ENDNOTES at the back of the book. Oh, and the timelines skip all around and some sections are written in a tortured Ebonics dialect. I'm trying not to think about how daunting the challenge really is. Am I really going to stick with this guy for another 950 pages??


GetUpGo has launched!
I've been working on this project for nearly six months now, and we finally opened it up to the public today. Now, just keep in mind that most of you aren't the target-demographic. But it's kinda neat, huh? The idea is that you don't have to subscribe to an expensive service to get new ringtones and such. You can sign up a free member, and then buy just as many credits as you need to download stuff. You can even earn credits by using the site, so technically you don't have to spend any money at all! There are only a couple catches: only Australians can sign up, and iPhones aren't technically supported. (iPhones don't allow you to download stuff to the phone except through Apple's channels.) But anyway, there it is. It's not the cure for cancer by any means, but it was a big project and a team effort, and we did a good job getting it out there. And there will be a LOT more coming in the next few months... (If any of you do sign up, let me know and I can give you some free credits to play around with.)


RunningBlog: Another light week as I recover from my shin splints. I didn't log many miles (only did two short runs), but I did manage two circuit training sessions at Spudds that kicked my butt. So hopefully my fitness level isn't taking too big of a hit.

This week: 8.4km (5.25mi)
Last week: 10.11km (6.3mi)

Sunday, June 21, 2009
| | |
| --- | --- |
| | [1] |
Trip to Blaxland - "Welcome to the Knitternet" World Tour
A couple weeks ago I got an email from Merrin, Convenor of the Blue Mountains Guild group, asking if I would visit them and give my Knitternet presentation again. Why not? So yesterday morning I caught the train to Blaxland along with Lyn and Fran of the IC group. Lee and Margarita met us there, so we had quite a contingent from the city! It turns out that Blaxland isn't nearly as far into the mountains as I expected. The meeting is at the local library/community center, and the hall was large and comfortable. It was really neat seeing how a different convenor conducts her meetings. Merrin doesn't seem to bother with the bureaucracy that we do (approving minutes and such, all a relic of the previous Convenor really). She has this great bell that she rings to start the meeting though, and whenever folks get a little too loud. (Note to self: I WANT A BELL.) I had my presentation in a little side room, and about half the group came in for it (15-20 people). It was great! They had a wide range of internet experience, and I had good questions and suggestions from around the room. They all seemed excited to get the handout with all the links we'd suggested, and I heard more than one person say she was going to get right on Ravelry. Very gratifying! The six of us caught the train back to the city and had a merry time, knitting and laughing through the rain. I've been invited to do it again at the Southern Highlands group in a few months, so there may be another Expotition on the cards in the future!

| | |
| --- | --- |
| | [20] |
New design!
Wow, it's been awhile, hasn't it? Several months ago I commissioned a new header from Matt over at Scrubbles. (In exchange I'm knitting him a custom scarf.) Isn't it fantastic? Feels like a whole different vibe. I also love the retro, half-alien half-Samantha-from-Bewitched portrait he drew of me. I'm still tweaking link colours and stuff, so let me know if you find anything that looks odd.

Note: You may need to do a control-refresh to grab the new version of the stylesheet. If you're seeing a non-white background, you've still got the old version.

Saturday, June 20, 2009
| | |
| --- | --- |
| | [1] |
Great to see you! LOVE IT. Will Arnett is so awesome. I wondered at first if it was wierd for Amy Poehler to stand there while her husband made out with another dude on the street, but then I figure that actors have to deal with their partners making out with other people all the time. Plus she probably thought it was as awesome as I did.

Friday, June 19, 2009
| | |
| --- | --- |
| | [1] |
Alice and Kev - homeless father and daughter someone created in Sims 3. It's fascinating.

| | |
| --- | --- |
| | [1] |
20 Minute Simple Skirt Tutorial. I really need to do some sewing.


iPhone 3.0 Update: 10 Hidden Features. I never knew about the force-quit thing.

| | |
| --- | --- |
| | [3] |
For my sister: Cupcake Kebabs. (I noticed recently that another cupcake bakery has opened in the QVB. That makes, like, three in the CBD alone. When will the cupcake fad implode??)

Thursday, June 18, 2009
| | |
| --- | --- |
| | [1] |
I installed the iPhone 3.0 update this morning and have been playing with it today. I was able to send and receive MMS, but it's *very* slow. Maybe because all the other Optus iPhone users are trying it out. Or it's just that Optus sucks.

Wednesday, June 17, 2009
| | |
| --- | --- |
| | [3] |
Like Gael, I was amused by this list of "unnecessary appliances". Alton Brown famously rejects such uni-taskers as well. I've gotta take exception to the inclusion of the ice cream maker and the pasta machine though. They're uni-taskers, yes, but they're also the best way to do those particular tasks.


I just discovered that the Powerhouse Museum has a Photo of the Day blog, which included in April this shot of the Lansdowne Hotel in Chippendale in 1926. Wow, it's a lovely building when you strip all the signage off it!

Tuesday, June 16, 2009
| | |
| --- | --- |
| | [2] |
Meme Time
Miss Fee has tagged me in a meme, and as typing is the only thing keeping my fingers warm on this cold, cold night, I might as well participate. (I'm going to skip any questions that annoy me, and I'm not going to bother tagging anybody else. You can participate or not if you like.)

What is your current obsession?
Hm. Not feeling particularly obsessed about anything at the moment. Perhaps Battlestar Galactica? We're nearing the end of Season 2. I'm also anticipating becoming obsessed with Infinite Jest when Infinite Summer starts in a few days. [more...]

| | |
| --- | --- |
| | [2] |
Brycie's Outfit and Noro Ribbed Socks
A couple finished objects to report! First up is an outfit for Andrew and Kathleen's new son, Bryson Burton. The whole set is knitted from two balls of the new Morris Empire 4ply in "Plumage". Details for the vest, hat, and socks are all up on Ravelry. The vest was the trickiest, in that I was adapting a Sirdar pattern for 8ply. I ended up just knitting a bigger size and hoping for the best. It worked pretty well! I delivered the set (still a bit damp from the final blocking) to the happy parents on Sunday, and hopefully they'll be able to post a piccie of him in it soon.


I also finished the Noro socks I started when I taught the Morris and Sons sock workshop last month. The pattern is Wise Hilda's Basic Ribbed Sock, which I knitted out of Noro Kureyon Sock on two 2.75mm circular needles. (Rav details) I'm really pleased that I got the colour gradients to match up so nicely. (I wasn't actually really trying.) I finished these off yesterday morning before work and put them straight on my feet. Man, there is nothing better than wool socks in winter. I feel my sock mojo starting to come back...

Monday, June 15, 2009
| | |
| --- | --- |
| | [1] |
RunningBlog: After having an extremely light week last week, I headed out in my new shoes this morning to test my shins. I went very slow, and I took a short walk break every five minutes. I felt great! No pain at all while running. I massaged in some Voltaren after the run, and I could feel some residual pain (especially on my left leg) then. I'll take it easy until I'm fully recovered.

This week: 10.11km (6.3mi)
Last week: 25.83km (16mi)

Yeah, big drop there. I swear I'm going to take it slow.

| | |
| --- | --- |
| | [1] |
Mary-Helen has posted her recap and photos from WWKIP Day, including this one... which, if you'll look closely, you'll notice is the exact reverse of this one I took.


Lucy and Bart. Neat. I totally need to do that with me and the Snook somehow. (Link courtesy of John.)

Sunday, June 14, 2009

Petey Watching a Documentary
One cat is learning about the history of the stock market, while the other licks herself. (Yes, I upload minute-long videos of my cats to YouTube. I am THAT GIRL.)




How to Roast a Cheap Cut of Beef (PDF). The Snook and I were fascinated by this Cooks Illustrated article today. We had a blade roast ready to go, and we followed their advice to slow cook at a low temperature before blasting at a high temp for the last few minutes. It was fantastic. We had it with homemade mashed potato, sauteed swiss chard with garlic, and fresh sweetcorn. (We always hit the veggie box hard on Sundays!) Dessert was a slice of Orange Poppyseed Cake, which the Snook made from scratch this afternoon. Oh, that was after he made three jars of marmalade with lemons from our tree. Can you tell what our favorite winter pasttime is?


If any of you are Dooce fans, she is having the baby NOW!


Amish Finances. Fascinating article on how Amish people afford such nice houses and big pieces of farmland. The author doesn't mention whether the Amish community in Lancaster has taken outside jobs to the extent that they have in my area of Indiana. With the collapse of the RV industry, a lot of the Indiana Amish find themselves in very different circumstances.


RunningBlog: I got some new shoes! This morning the Snook and I caught a bus to Rozelle so I could go to Running Science. My physio had recommended the place, and even given me a referral voucher for 10% off. When I got there, the staff had me take off my shoes and socks and walk barefoot on their treadmill. (I was a little intimidated by this part. I kept waiting for him to go: "Boy, you walk FUNNY!") A video camera was positioned behind me pointed straight at my feet, so the monitor above showed exactly where I was striking and how far I was rolling with each step. I was happy to learn that I have fairly neutral pronation, which was backed up by the wear pattern on my old shoes. My left foot rolls in a tiny bit more than the right, but other than that I was fine. To him, this indicated that my shin splints aren't really due to any mechanical problem other than too much running in very deflated shoes! He brought me out two pairs of shoes (New Balance and Brooks) to try that both offered moderate stability. I walked around and ran on the treadmill in both pairs, and they both felt great. In the end I went with the New Balance, just because they seem to inspire greater devotion on the running blogs and podcasts I listen to. They're New Balance 1224s, and I'm wearing them around the house now to break them in. I also picked up a couple new technical T-shirts (half off! only $20!) and a stick of Body Glide. Today will be my third day off running, and I'll go for an easy jog tomorrow and see how I feel.


Oh yeah. I got my Facebook vanity URL: facebook.com/kristine.howard. I'll admit it's not quite as good as facebook.com/TheSnook.

WWKIP Day 2009
Many thanks to Sally for taking over the organisational duties this year. She did a fantastic job! We had EIGHTY knitters gathered together at the Bayside Lounge, taking over an entire half of the cafe (both inside and out). Sally gave away nearly a dozen door prizes that were donated by local yarn-related businesses. There are several more photos on my Flickr page. It was a lot of fun. Thanks to Sally and everybody who came!

| | |
| --- | --- |
| | [4] |
W.T.F. NOTRE DAME?
Just found out that the fantastic Bourke Street Bakery around the corner from our house is going to be leaving. Why? Because Notre Dame bought the whole block and is evicting all the tenants. THAT SUCKS. Look, I thought it was really neat four years ago when we discovered ND were creating a tiny campus in Chippendale. In the intervening years though, they've slowly been buying up buildings and shopfronts in the neighbourhood for expansion. I don't want my neighbourhood to turn into a sterile college campus! I NEED MY SOURDOUGH, YOU BASTARDS. I think this definitely merits a strongly worded letter from a local homeowner AND alumnus.

Friday, June 12, 2009

Asian Poses - I am so going to start doing Puffy Cheeks and Nyan Nyan in my photos from now on.


Ten Things You Should NOT Do In Las Vegas. Snookums was happy to be vindicated in our choices. "We got it right. Chapel of Love bad, Little White Wedding Chapel good. Denny's is also recommended!" However, I feel compelled to point out that I failed at #3 - Wear Painful Shoes. I wore my beautiful white brand new wedding Converse and they gave me blisters on my heels.

Thursday, June 11, 2009
| | |
| --- | --- |
| | [4] |
RunningBlog: Shin Splints. This kinda sucks. I'd been feeling some little niggles in my left shin for the past week or so, but nothing too major. I mentioned it to the physio last week and she said to just keep an eye on it and make sure it didn't become worse. I did some research on it the other day so I knew what symptoms to look for. Today at lunch, I headed out for a 45min jog around the Domain in the winter sunshine. I walked for about 5 minutes to warm up, then start slowly jogging up the hill to the Art Gallery. I picked up my speed a little as I got into the park with all the other runners. I was feeling really good as I was rounding the tip of the peninsula at Mrs. Macquarie's chair, when suddenly I started getting sharp little shocks in that left shin with each footfall. It wasn't terribly painful, but it felt like a needle was poking me in the leg with every single step. I knew enough to back off. I stopped to stretch (and Twitter), and I ended up walking pretty much the whole way back to the office. I've done some more reading, and the good news is it seems like I've managed to catch it early. I don't really have any intense pain (except when I'm massaging it, and then it hurts like hell). I iced both shins tonight, and I took an anti-inflammatory and massaged Voltarin into both legs. I think the causes are fairly obvious: over-training, running on concrete, and running in really old shoes. (I was sure I'd gotten these last October before the Melbourne Half, but upon further checking, it looks like I got them last May for the Sydney Half. They're a year old! EEP! No wonder.) So I'm going to take a couple days off, and on Sunday we'll be taking a trip to Rozelle to visit Running Science. I'm going to get my gait examined and hopefully get myself some new wheels. In the meantime, let me know if you have any tips for faster recovery or keeping fit without aggravating it...

| | |
| --- | --- |
| | [6] |
Yay, there's a new Knitty! I especially like Treetop, which panders to my love of geometry, cables, and things going off in strange directions. I think Elenka might be cute for Indie, and I've already suggested knitting a Trilobite hat for the Snook. (He likes that idea.) I am even strangely drawn to the lace. (I KNOW! WHAT'S HAPPENING TO ME?)

The issue also has a review of the new Tom Bihn "Swift" knitting bag, which I kinda love. I'm not convinced on the cork version though...

| | |
| --- | --- |
| | [1] |
Operation Awesomeness - a "get fit" blog by Issy and Ness. Good on ya, girls!

Wednesday, June 10, 2009
| | |
| --- | --- |
| | [1] |
I found this AskMetaFilter question really upsetting. I have to deal with both a snoring husband and a couple meowing cats. So you know what I did? I got friggin' ear plugs. Works like a charm.

Monday, June 8, 2009
| | |
| --- | --- |
| | [1] |
RunningBlog: I pushed my workouts to four days this week (plus one cross-straining session at Spudds), so I had a bump in distance. I've been noticing lately that I've gotten extremely comfortable at my normal slow pace, and that I can easily run longer than 30 minutes without getting winded at all. My guess is this is a sign that I need to start pushing a little harder, maybe trying to bump up my speed a little bit. So I've been trying to incorporate some speedwork at least once a week. Last week I included some intervals in one run, and this week I did 20 minutes of fartlek as part of my Saturday run. The biggest limiting factor in my progress right now seems to be all the niggling aches and pains I'm fighting: my back, my hamstrings, mild case of shin splints, etc. I'm doing what I can for those, but frustratingly I think the biggest help would be to drop some weight. Having all these extra kilos pounding the road isn't doing me any favours. It's just hard, especially because all the exercise tends to make me hungrier than ever.

This week: 25.83km (16mi)
Last week: 19.86km (12.4mi)

| | |
| --- | --- |
| | [2] |
Toto's "Africa" as you have never heard it before. That made me smile and feel happy to be alive. The storm, the beat-boxing, the chorus, the smiling guy in the yellow cravat, the lady doing the solo at the end... Seriously, go watch it. It's great! (The group is a Slovenian jazz choir.)

Sunday, June 7, 2009

Stuffed. Oh yes, there were baked beans. And roast veggies. And my Mom's special scalloped chicken. We're going to be eating the leftovers for the next week...

Saturday, June 6, 2009
| | |
| --- | --- |
| | [1] |
Infinite Summer
I picked up my copy of Infinite Jest today, so I'm officially in for Infinite Summer. There's even a Ravelry discussion group. This is going to be fun! (But man, it's even thicker than I expected...)

| | |
| --- | --- |
| | [2] |
Holy crap! According to this AskMeFi question, my severe nearsightedness means that I actually have super-powered vision up close. I had no idea. I can't read most text until it's within 6 inches of my nose, but evidently once stuff moves into my focus, I am SEEIN' THE HECK OUT OF IT. Suck on that, normal-eyed people!


Artisan home canning and preserving. Oh, neat! Apparently canning supply sales are up 50% this year. Another food technique to get obsessed with. I am such a freakin' hipster sometimes.

Friday, June 5, 2009
| | |
| --- | --- |
| | [1] |
BlenderDefender - how to train the damn cats to stay off the counter. We need this!

| | |
| --- | --- |
| | [2] |
How the Snook wishes he could play piano. Yes, I'm serious. Exactly like that.


The baby boom continues! Congrats to Kristen and Mark on their impending second child...

| | |
| --- | --- |
| | [1] |
io9 has a whole bunch of new TV promos for Harry Potter and the Half-Blood Prince. Getting very excited!

Thursday, June 4, 2009

Little Rascals
Wow. I think I've mentioned before that every now and then I stumble across some cultural touchstone of my childhood that the Snook didn't experience here in Australia, and it's always really weird. At some point I became aware that he'd never seen the Little Rascals. The series wasn't unknown here (Ma Snook knew of it), but it wasn't shown every day after school like it was in the 80's for us. On Wednesday, Ma Snook came to Sydney and lent us a DVD entitled "The Best of the Little Rascals." It was six episodes, and we watched the whole thing tonight. OH MAN, NOSTALGIA. I don't think I'd seen any of those in probably 20 years at least. The first couple were from when Spanky was still really little, and we both freaked out how much he looks like Penn! (Seriously, Sis. There's a Halloween costume in the making.) And I remembered so much of them! I think I'd seen every episode. I found myself recalling the obscure kids' names and knowing what was about to happen. Best of all, it ended with "Hearts are Trumps," source of my numerous quotes about the He-Man Woman Haters Club. It was so fun.



Also - Spanky's catchphrase was "Okey-dokey"? Is THAT why I say it all the time?? Seriously, I caught a ton of phrases and inflections from me, my sister, and my brother in there...



| | |
| --- | --- |
| | [2] |
And we're back!
Sorry about the down-time. I assumed there was some sort of server hiccup when the site when down last night, but it turns out that my domain name had expired! The emails go to my old yahoo.com address, which has become such a spam trap that I never saw them. (And Yahoo don't seem to let you set up forwarding rules.) I tried to renew the domain at Joker.com this morning, but their stupid website kept rejecting my credit card. It appears to have been a problem with their "Verified by Visa" system, as the Snook's card (which hadn't been enrolled in VbV) worked just fine. I'm really annoyed at Joker for not responding to any of my help requests. I used them because they were cheap, but obviously there's a big trade-off in customer service. I think I'll be transferring my domains elsewhere...

Wednesday, June 3, 2009

Weekend plans: baked beans and brownies. YUM.

| | |
| --- | --- |
| | [1] |
Sewing tutorial: Baby bib with necktie appliqué. That is adorable! I know some little baby boys who might be getting one...


Okay, I know this Star Wars-related question starts off INSANE, what with speculating on midichlorian evolution and whatnot, but some of the answers are awesome.
"Additionally, Anakin Skywalker's parthenogenetic (or hermaphroditic) birth in combination with his geographic isolation on the backwaters of Tatooine prior to his contact with Qui-Gon Jinn and Obi-Wan Kenobi* suggest the pathogenesis of his particularly impressive Force-sensitivity follows neither a genetic nor physical transmission mechanism..."
I was also interested to learn that in one of the expanded Universe stories, Vader plots to kill the Emperor himself. Cool.

Tuesday, June 2, 2009
| | |
| --- | --- |
| | [3] |
Beef and Cabbage "Stir-fry"
The Snook arrived home tonight to some odd smells. "What are you cooking?" he asked. "It's kind of hard to describe," I answered. "I think it's sort of like homemade Hamburger Helper." Unfortunately that cultural reference was lost on him. He looked in the pot. "It looks like what my Dad used to call 'Savoury Mince,'" he said. That's... pretty accurate, really. Basically, I knew we had cabbage, broccoli, and a bit of celery to use up from the veggie box, so I googled and found this recipe. It looked strange and interesting. It's basically hamburger mince cooked with rice, some veggies, chicken soup mix(!), and curry powder(!). (I left out the Chinese noodles on top.) It actually turned out really good! We both enjoyed it, and we've got plenty left-over for tomorrow. Even with the small bit of rice, I think it probably works out quite low-carb too. I think this could be my new go-to recipe for using up odd bits of veg...

| | |
| --- | --- |
| | [1] |
Remember how I told you that my friend Kel was trying to win the chance to throw out the opening pitch at a Cubs game? Well, SHE WON! That's so frickin' cool. Thanks to everybody who signed up to the newsletter and helped her out. Her big day is on September 2nd, which is a day game on a Wednesday. I can't wait to see the photos!


Photo gallery for 25th anniversary of Tetris. I have two of the three vintage Game Boys pictured! Fun. However, I object to the inclusion of the Japanese "Hole in the Wall" game show pics. That has nothing to do with Tetris, really.


RunningBlog: I took an extra day off last week due to my lower back pain and general feelings of crappiness, so my weekly total went down a little. I've officially signed up for the Running Festival Half-Marathon though, so there's no backing out now. I'm on Week 5 of my 20 week training program, so I'm 25% of the way through. I've got plenty of time.

This week: 19.86km (12.4mi)
Last week: 22.39km (14mi)

Monday, June 1, 2009

Camel vs. Bin. Just a cute-yet-destructive camel to lighten up your Monday.


This makes me sick. And what REALLY annoys me is that these articles make Dr. Tiller sound like he was killing perfectly healthy babies. He wasn't. He specialized in terminations "after the fetus has been diagnosed with a birth defect: a deformed heart, missing kidneys, Down's syndrome, anencephaly." I can't imagine what it's like to be told your child has no brain and will never come to term. I can't imagine the mindset that would drive a person to shoot and kill a doctor who helps women in that situation. I just donated some money to the International Planned Parenthood Federation.

archives
You can search through the archives by post keyword using the form on the left, or you can browse by month using the links at the bottom.
"Moblog" refers to posts and images posted directly from my mobile phone.

"PW Blog" refers to posts recovered from my very first weblog, which dealt with news related to my college dorm.