Thursday, June 30, 2011
| | |
| --- | --- |
| | [1] |
Shared today on Google Reader:here.

Wednesday, June 29, 2011

Shared today on Google Reader:here.


How to Talk to Little Girls. Great little article. Some folks at MetaFilter were kinda down on it, but I think it's a valid concern. I think both my nieces are cute as a button, but I also want them to think that it's even more important to be smart and brave and kind and healthy. I'd hate for them to think that being pretty was all anybody cared about.

I even call out the Snook when he compliments my looks instead of my brains. I know this booty is all that and a bag of chips, baby, but I gots more to offer the world!

Tuesday, June 28, 2011
| | |
| --- | --- |
| | [5] |
Jamie's 30 Minute Meals #20: Chicken Pie
This is our 20th cooking/blogging experiment from Jamie's 30 Minute Meals. Woohoo! We're 40% of the way through! For this one we chose "Chicken Pie, French-Style Peas, Sweet Carrot Smash, Berries, Shortbread & Chantilly Cream." You may recall that I actually tried this recipe already back in January, before we started this project. We wanted to document it properly though, so the Snook stepped up to cook this one. We also rewatched the episode to refresh our minds. This was also the first time we've ever had an audience: our friend Sharon from Flavour Crusader was here! I think the extra spectator may have unnerved the Snook a bit, as his time was uncharacteristically slow: 39:56. Still, that's 5+ minutes faster than I managed it back in January...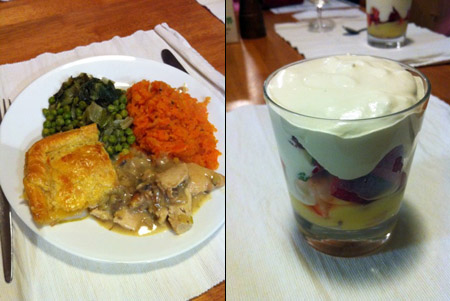 Substitutions: We used plain cream instead of creme fraiche for the pie filling. We had one large lettuce instead of two small ones for the peas. And the Snook assembled the dessert into a trifle (with some lemon curd) rather than leaving it as constituent parts, as you can see above. Other than that, everything was as written in the recipe.

Quick verdict: The perfect winter meal! Very tasty and filling. The chicken in the pie was a bit chewy, but I suppose that's to be expected when using breast. (Jamie never seems to use thighs?) We overcooked the peas a bit, but they were still good. The Snook's improvised trifle for dessert was beautiful, the perfect cap to the meal. Overall we both rated this one 8.5 out of 10, but I think there's still a little room for improvement next time we make it. Read on for a photo essay of the preparation! [more...]


Star Wars Burlesque
A couple of months ago, a friend on Facebook shared a link to an upcoming event at the Vanguard in Newtown: Star Wars Burlesque. I told the Snook, "We HAVE to go!" And this past Saturday night, we did!

My only exposure to burlesque is the musical Gypsy, so I didn't really know what to expect. I was pretty sure nobody was gonna get naked, but I figured we'd see some scantily dressed dancers. We'd booked in for the "show + dinner" option, and when we arrived we were seated right next to the foot of the thrust stage. Excitement! We had drinks and ordered our dinner, and over the next couple of hours we enjoyed ourselves as the place filled up. The food was excellent, as were the cocktails. We all got restless though, especially the non-eaters up in the balcony who'd arrived early to get good seats. After many hours, the curtain finally raised... on the Mos Eisley Cantina Band! These three guys went through a rockin' overture of the Cantina Song, Luke's theme, and Vader's theme. The crowd loved it.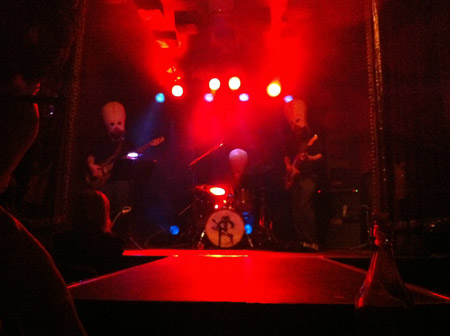 The host for the evening was a smooth-talking guy, and he entertained us between acts with nerd patter and Star Wars trivia. To kill time during setup, he brought on a "Go-Go dancer dressed as Princess Leia." She bopped around on stage for like 15 minutes while everybody played with their iPhones and looked bored. Finally, the host came out to announce the first dancer - "from the tundras of Tattooine, the Tusken Raider!" I GASPED. I'd joked to the Snook that I hoped they'd do some of the less obvious characters, and a pole dancing Tusken Raider had been our private joke. Well, here she was! Minus the pole. Standing on stage in the alien mask and robes before a pile of dirt. Rhythmic music kicked in and she began to dance. It was MESMERISING. Seriously, she was the best of the night. She eventually stripped down to underpants and some strips of cloth across her breasts, but she never removed the Tusken Raider head. It was so weird. People went nuts when her act finished.

We saw many more acts over the course of the evening: a sexy C3PO emerging from a pile of junk; a Twilek bounty hunter limbering up for a job; a trio of Wookiee hunters; a rather gymnastic Boba Fett; a light saber wielding Jedi; Storm Troopers; and many more. The first act ended with "Slave Leia" of course, whose chain was connected to the ceiling above our table. To our surprise, she actually SWUNG ON IT out over us! It was amazing. And the big finale was Darth Vader herself, dressed all in black latex. She was awesome too.

So yeah, a fun night watching some talented ladies dance in a big giant Nerd Fest. Highly recommended!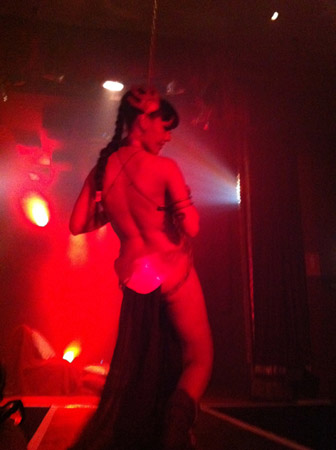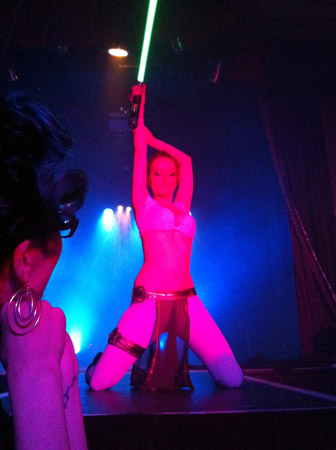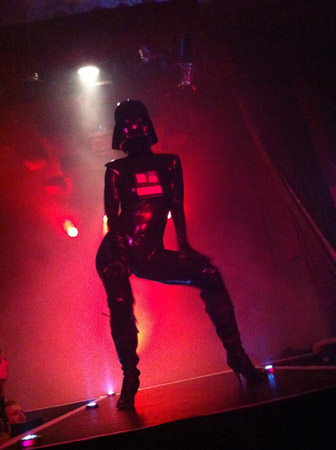 | | |
| --- | --- |
| | [2] |
As Mary-Helen is being harrassed at her workplace and accused of stalking, I've removed my own post about the same person. I don't need that kind of crazy.


Shared today on Google Reader:here.

Monday, June 27, 2011

Shared today on Google Reader:here.

Sunday, June 26, 2011

Shared today on Google Reader:here.

Saturday, June 25, 2011

Shared today on Google Reader:here.

Friday, June 24, 2011

RunningBlog: Week 25
Easing back into everything this week. Work, exercise, all of it. Some things are easier than others. My diet and sleep are still messed up, and I'm having trouble finding the willpower to get back to my low-carb diet and proper bedtimes. My running buddies think I need to cut myself some slack, given that - HELLO - I ran a marathon less than a fortnight ago. I just think I could do a little better. My workouts have been really good though. The Snook and I went for a short run Sunday, then I had a (hard) Spudds class Monday night. Tuesday was another run at lunchtime. Wednesday was Spudds again. For my last run of the week today, I did some hill repeats on Cathedral Street with a friend. YOWCH. I got that painful (but also good) burn down way down in my chest that you only get from wheezing up a hill in cold weather...

June 19: 4.08km
June 21: 5.63km
June 24: 5.43km
Total this week: 15.14km (9.4mi)
Total in 2011: 644.88km (403mi)

To meet my goal of running 1200km in 2011, I should be at 576.9km. Yep, still got a nice cushion.

I have to give a shout-out to the Snook too, who is gamely joining me in training for the Blackmore's Half-Marathon. He even did some mid-week workouts by himself! Kickass.


Shared today on Google Reader:here.

Thursday, June 23, 2011

Shared today on Google Reader:here.

Wednesday, June 22, 2011

Shared today on Google Reader:here.

Tuesday, June 21, 2011
| | |
| --- | --- |
| | [2] |
Shared today on Google Reader:here.

Monday, June 20, 2011
| | |
| --- | --- |
| | [4] |
Jamie's 30 Minute Meals #19: Chicken Skewers
This is our 19th cooking/blogging experiment from Jamie's 30 Minute Meals. For this one, we chose "Chicken Skewers, Amazing Satay Sauce, Fiery Noodle Salad, Fruit & Mint Sugar." We picked it because we already had some rice noodles to use up, and we had that particular episode recorded. This week it was my turn to cook, so the Snook was on camera and cookbook duty. There wasn't a lot of active cooking in this one; it was mostly making sauces and assembly. I managed it in a respectable 34:48, and I think I could shave a little more off that next time!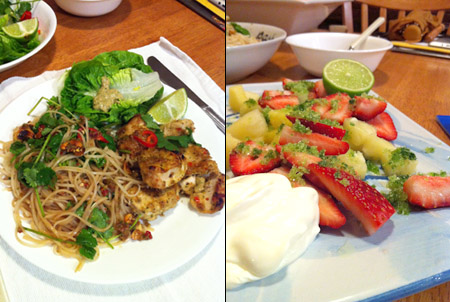 Substitutions: Our chicken breasts were a bit bigger than the ones Jamie suggests. We used metal skewers instead of wooden ones. We used rice noodles for the salad instead of egg noodles. For the dessert, we used canned pineapple instead of fresh along with strawberries and plain yogurt (rather than coconut yogurt).

Quick verdict: Very tasty! If you like lime, chilli, and coriander, this is the meal for you. Luckily those are some of my favourite things, so I loved this one. The satay sauce really was amazing, and I actually wished I'd held more back to eat on its own (rather than smother it on the chicken). The Snook thought the noodles needed something "more" (like sweetness or salt) but I thought they were fine. (He's not a big fan of cold noodle salads though.) I was dubious about the lettuce and "garnishes" at first, but I think they gave some welcome crunch. The mint sugar was really good and definitely transformed some simple fruit into something special. Overall I rated it a 9 out of 10, while the Snook went with 8.5. Read on for a photo essay of the preparation! [more...]


Shared today on Google Reader:here.

Sunday, June 19, 2011

Shared today on Google Reader:here.

| | |
| --- | --- |
| | [1] |
Nutter Butter Brownies with Chocolate-Peanut Butter Ganache. Oh. My God. *drool*

| | |
| --- | --- |
| | [1] |
My Daguerreotype Boyfriend - where early photography meets extreme hotness. I predict some of my friends are gonna be ALL OVER THIS. (Link courtesy of MetaFilter, where the 'shopped version of Teddy Roosevelt as Wolverine made me laugh and laugh.)

Saturday, June 18, 2011

Shared today on Google Reader:here.

Friday, June 17, 2011

Shared today on Google Reader:here.


RunningBlog: Week 24
As you all know, I DID IT. After the marathon on Sunday, we were pretty much stuck indoors at the Snook's parents' place while the entire coast was flooded with rain. The Pacific Highway is closed, but we managed to get to the New England Highway yesterday and drive home. (That little detour added nearly 4 hours to the trip!) I had planned to do a recovery run on Tuesday, but it was just impossible in the wet. Do you know that LEECHES come out in the rain up there? Ugh. So my first post-marathon run was an easy one today to Newtown. My hips are tight, but otherwise I feel okay*. I've got a bunch more races planned for the winter and spring... Bring it on!

May 12: 42.56km
May 17: 4.3km
Total this week: 46.85km (29.3mi)
Total in 2011: 629.74km (393.6mi)

To meet my goal of running 1200km in 2011, I should be at 553.8km. So I've still got quite a healthy cushion there!

* My right big toenail is still hanging in there. It's been sore and red looking, so I went to give it a trim before today's run. It turns out there's a blister underneath the nail, and when I trimmed it, I accidentally popped the blister. IT SQUIRTED. The less we talk of it, the better.

Tuesday, June 14, 2011

Shared today on Google Reader:here.


RunningBlog: This is interesting. According to these statistics, there have been 401 female Australian marathoners so far in 2011. And I'm one of them.

Monday, June 13, 2011
| | |
| --- | --- |
| | [21] |
RunningBlog: Macleay River Marathon 2011 Race Report
This is gonna be a long post folks, with a couple photos too, so settle in!

We left Sydney on Friday morning and headed north in our rental car. It felt like we were taking a lot of stuff with us, but I knew from my obsessive list-making that I had everything that I needed for the race. It was a beautiful sunny day, but when we stopped for lunch in Raymond Terrace the clouds rolled in. On a whim, I bought a couple rain ponchos from a discount store. (Fortuitous!) We ended up racing the clouds all the way to the Snook family homestead in Eungai. The empty house there was freezing (his parents are away for a few more days), so Snookums spent some time getting the fire going. We ended up sleeping on the couch in the living room since it was the warmest place!

Saturday morning we made a quick tour of the place, collecting more firewood and feeding the chooks. Then we packed up and started the 50km drive to South West Rocks, stopping in Smithtown and Gladstone along the way. Finally we arrived at our hotel, the Smoky Cape Retreat. After we checked in and dropped off our stuff, it was time to head to the race registration. This was being held on the grounds of Trial Bay Gaol, and it was also the site of the race start and finish. I collected my number, timing chip, and shirt. We spent some time reading through the info sheet and studying the course map. Then I flagged down the race organiser Mary to arrange my early start. Since it's such a small town and since they have to restrict traffic on pretty much the only road in and out of town, the race is limited to small numbers. (I could tell by the marathon sign-in sheet that there were even less than the 150 marathoners I expected.) You're also meant to finish in around five hours. Since I knew I'd be lucky to finish in six hours, Mary arranged for me to start an hour early at 6am. Apparently one other woman would be starting with me, a local who had run the race many times. That made me feel a little more confident about not getting lost.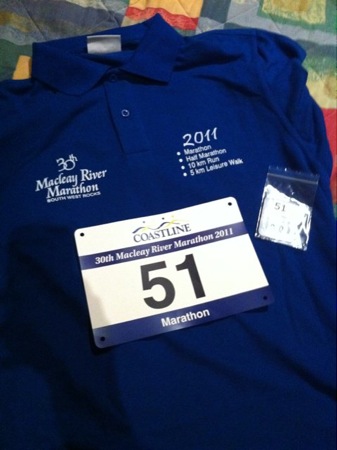 The rest of the day went by so quickly. The Snook and I hopped in the car and drove the course from the goal into town, making sure I knew where I was going. Basically, the 1st mile was all downhill from the Gaol running on the side of the road. At the bottom of the hill, a footpath started that ran all the way into the town center. It curved behind parks and a couple residential areas before popping out in front of the local surf club. The footpath continued all through town, though at one point you had to cross the street as it ended on one side. At the 8km (5mi) mark, the sidewalk ended and you were on the road. The majority of the race was on South West Rocks Road heading southwest out of town along the Macleay River. Once you hit the 21km mark, you turned around and headed all the way back. I felt pretty confident about the course. I felt less confident about the weather. The rain finally hit, and it hit hard. It poured all night. I tried to stay calm. I put out all my race gear (including the poncho!) and went over my checklists. I hydrated throughout the day. We ordered in pizza and pasta from the local delivery place before going to bed early. I tried to get some sleep, but I still felt like I was awake most of the night. At 4:30am on Sunday morning, the alarm went off.

I was so well-prepared that I was actually ready way early. Breakfast was a cup of coffee and a peanut butter and jelly sandwich. I avoided drinking much water, worried that I'd have to pee (like I did on my last training run). I felt pretty good. The rain had lessened to a sprinkle, and I had hopes that it would hold off. It was less than a 10 minute drive from our hotel to the starting area, and on the way we spotted a kangaroo watching us from the side of the road. "That's a good omen!" I announced. We got to the starting area at 5:40 am. The volunteers were setting up, and the professional timing person hadn't even arrived yet. Mary the organiser told me that the other early starter had pulled out of the race, so I was starting on my own. That's when I realised I had a problem. The sun wouldn't come up til 6:45am, and it was pitch dark. The hill road from the goal had no lights. How was I going to see? Mary was like, "Hmm... do you have a flashlight?" No, we didn't. "Oh! Could your husband follow you in the car with his headlights?" Necessity is the mother of invention. The Snook hasn't been behind the wheel of a car in over five years, but it was no time for complaining. He headed for the car while I sucked down my first gel and swallowed a couple Endurolytes. Mary put an orange safety vest on me so I'd be a bit more visible. The timer person had arrived, and she clicked a button on her laptop as Mary led me to the starting line. "Go!" Mary said. The volunteers cheered. I clicked Start on RunKeeper and took off. The opening lines of Cake's song "The Distance" started up. It was pitch black and raining, and I was finally running my marathon. [more...]

Sunday, June 12, 2011
| | |
| --- | --- |
| | [7] |
RunningBlog: Marathon Kris. I did it.



Thursday, June 9, 2011
| | |
| --- | --- |
| | [3] |
RunningBlog: Week 23
I'm putting up this post a day early as tomorrow we'll be on the road to the Mid North Coast. That's right - it's all come down to this. I took it very easy this week for my taper. Sunday the Snook and I went for a 7 mile run (as mandated on my Galloway plan). I tried to run it as an actual rehearsal for the first quarter of the marathon, using my goal pace and intervals. It went pretty well. Tuesday I went out for a very easy 5K at lunchtime with my friend Raj. He and I went out again today for an even shorter run. And that's it! No Spudds, nothing else. Just resting up, hydrating, and getting good sleep.

May 5: 11.02km
May 7: 5.05km
May 9: 4.28km
Total this week: 20.35km (12.7mi)
Total in 2011: 582.88km (364.3mi)

To meet my NEW goal of running 1200km in 2011, I should be at 530.8km. So I've still got a nice 50km cushion. I'm definitely going to eat into that in the coming weeks as I rest up... from the MARATHON I'M RUNNING ON SUNDAY.

I'm ready. I'm as ready as I'm ever going to be. Check Facebook and Twitter Sunday morning; I'll set Runkeeper up to tweet the link to follow me. (Or just go here to my page.) As long as my 3G holds out, the run should update live as I go. LET'S DO THIS.


Shared today on Google Reader:here.


This MetaFilter thread on the Human Centipede sequel (yes, really) is the funniest thing I've read in a long time. Rather than the expected discussion about censorship and film violence, it just descends into jokes as everybody posts random film titles with "human centipede" replacing one of the words. Needless to say, some of it's pretty gross so you shouldn't read it if you're easily offended. I, on the other hand, was literally CRYING WITH LAUGHTER when I read this one.

Wednesday, June 8, 2011

Shared today on Google Reader:here.

Tuesday, June 7, 2011
| | |
| --- | --- |
| | [1] |
Shared today on Google Reader:here.

Monday, June 6, 2011

Shared today on Google Reader:here.

Sunday, June 5, 2011
| | |
| --- | --- |
| | [1] |
Jamie's 30 Minute Meals #18: Rib-Eye Stir-Fry
This is our 18th cooking/blogging experiment from Jamie's 30 Minute Meals. For this one we chose "Rib-Eye Stir-Fry, Dan Dan Noodles, and Chilled Hibiscus Tea." We picked it because we had some bok choi already to use up, and we conveniently had this episode saved on our DVR. We went with the same strategy we've used for the past few weeks, where one of us cooks while the other is in charge of reading the recipe and photographing. The Snook was on chef duty for this one, and he managed it in a blistering 30:19! The meal name is a misnomer, as there's not really any stir-frying involved. It's basically a noodle soup served with greens, sliced steak, and lots of other accompaniments.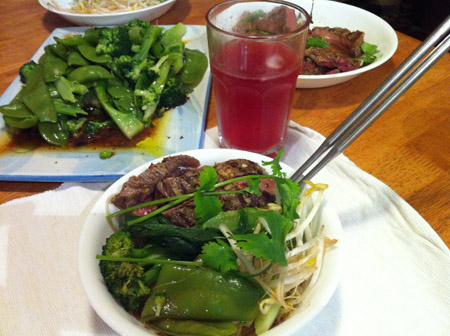 Substitutions: We used snow peas instead of sugar snap peas, and regular broccoli instead of sprouting broccoli. Our teabags were "rosehip and hibiscus" rather than just hibiscus. We also left out the mint in the tea, rather than buy a whole bunch just for a couple sprigs. Everything else was as-written!

Quick verdict: Tasty, but also a little messy! There are lots of components to this meal, and it's one of the ones where you're not really sure how to eat it. You just put everything out on the table and let people kinda heap things up in their bowls, I guess. Our greens ended up being overcooked, and the chilli oil in our noodles was overpowering. We probably could've used an extra tea bag or two in the tea. The steak was great though, and the flavours all worked really well together. The Snook felt that that overall the concept was a really good one, even if our execution didn't quite live up to it. We both agreed that our version only merited a 7.5 out of 10, but the recipe itself is probably worth 8.5 out of 10. It's a relatively quick one to prepare, and I think it would be nice for a casual group meal with friends. (Note: the messiness of slurping up noodles probably precludes this one from Date Night!) Read on for a photo essay of the preparation. [more...]


Shared today on Google Reader:here.

Saturday, June 4, 2011
| | |
| --- | --- |
| | [2] |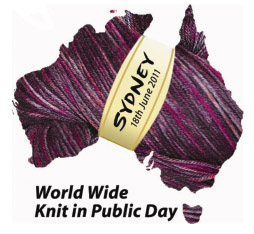 Sydney WWKIP Day 2011 - June 18
Sydney knitters: In case you hadn't heard, this year's WWKIP Day event will be held on June 18th in the Barnet Long Room at Customs House from 1-4 pm. Once again Sally and her helper Margot have done an outstanding job putting this event together. Margot writes:

We have one of the premier Sydney venues, close to transport with easy access - near train, buses and ferries. In terms of space, we have the Barnet Long Room, which is the main room for the event. We also have the balcony overlooking the harbour, should weather permit, as well as some lounge-style rooms... We have very generous sponsors that are supporting this event, which means we have many and wonderful prizes for attendees. All Sydneysiders, please put this date in your calendar and let others who might be interested know. This is a great opportunity for us to get together as a group as well as bring new people into the knitting community.

I'll definitely be there. Hm... I probably should try to find my knitting mojo first!

Friday, June 3, 2011
| | |
| --- | --- |
| | [4] |
RunningBlog: Week 22
Taper Madness has given way to Taper Paranoia. This week I wrestled with the constant fear of getting sick or injured in the run-up to the race. The weather's been really crappy too, which didn't help. Saturday I went for my scheduled 6-miler with the Snook, taking it easy at 2:1 intervals. Sunday and Monday I rested, then Tuesday I went for a run by myself at lunch (between downpours). It was a "zen" run: no headphones, no intervals, no distractions. I concentrated on visualising my marathon race plan and thinking about all the positive "Magic Words" I'll use to get me through the race. Wednesday I went to Spudds, intending to "take it easy." Well, I still managed 103m and 101m on the rower! It's all mental, I tell you. Thursday was rest, and then today I went for another easy lunchtime run with some of the guys from work.

May 28: 10.8km
May 31: 5.86km
June 3: 5.62km
Total this week: 22.28km (13.9mi)
Total in 2011: 562.53km (351.6mi)

I am so far ahead of pace for my goal to run 1100km in 2011 that I think I'm going to have to revise it. That's right - AS OF TODAY, my new goal for 2011 is to run 1200km. BOOYAH.

Meanwhile, nine days til the marathon. Preparations continue. Last night I had a long massage. Today I made checklists of everything I'll need to remember in the days before the race. This weekend I'm going to hack some sort of an additional pocket onto my water belt. I can't believe it's really happening...


Shared today on Google Reader:here.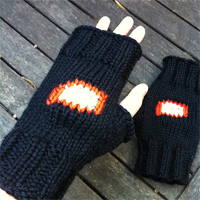 DailyMile Mitts
DailyMile is a community site for runners and other athletes. I've been posting my workouts there for the past eight months, and I've been blown away by the camaraderie and support I've received. A few months ago, a DMer from NZ named Lisa was visiting Sydney so a bunch of us had a meetup for her. Not long after she went home, the Christchurch earthquake happened. She and her family are fine, thankfully, but as you can imagine her community isn't in great shape. She's also had some injuries that have derailed her running. Last week one of the Sydney DMers proposed sending her a care package, and this was my contribution.

The pattern is a free one called 75-Yard Mmmalabrigo Fingerless Mitts. I used a very chunky black Japanese wool ("Nireana") I received in a swap a few years ago. (It's slightly thicker than what the pattern called for, so I upped the needle sizes to 5mm and 5.5mm.) The mitts were incredibly quick to knit in this thick wool. I lengthened the cuff a bit as suggested. They're a little big for me, but then again I have tiny hands. I duplicate-stitched the DailyMile logo on the back with some doubled 8-ply in orange and white. (Ravelry details)

Lisa received the care package yesterday and she was just blown away. She posted a photo today of her wearing everything, including my mitts and a red Snuggie. (Not sure who sent her the Snuggie, but that's BRILLIANT.) I'm so glad she liked everything! It was fun being part of the surprise.

Thursday, June 2, 2011

Shared today on Google Reader:here.

| | |
| --- | --- |
| | [1] |
RunningBlog: Mena over at the Sew Weekly talks about Vintage Running Clothes:
Thinking about my options, I decided to see if there were any photographs of Dita Von Teese (someone who famously maintains a vintage look at all times) doing the exericse thing. It turns out that even when Dita Von Teese is exercising, she keeps her look. But that's at the gym. And, she's barefoot. I want to know what she would wear going for a jog!

I guess the answer to that is: DITA VON TEESE DOES NOT JOG!
Heh. I bet not.

Wednesday, June 1, 2011

Shared today on Google Reader:here.


My friend Bex has written an excellent blog post: "Queer terms you should know..." I've been seeing the prefix "cis-" used more and more - especially over at MeFi - so it was good to clarify exactly what it means. Thanks Bex!


How-To: Chalkboard Cake Toy. I bet my sister's kids would LOVE THIS.

archives
You can search through the archives by post keyword using the form on the left, or you can browse by month using the links at the bottom.
"Moblog" refers to posts and images posted directly from my mobile phone.

"PW Blog" refers to posts recovered from my very first weblog, which dealt with news related to my college dorm.