Wednesday, July 31, 2002
| | |
| --- | --- |
| | [10] |
I finally picked up my copy of Anne Tyler's "Back When We Were Grownups" today. (They had to send it over from another branch of the library.) I'm a couple chapters in and I'm enjoying it so far. It's not what I'd pick up for myself, but it seems to be an easy read and I've already thought of lots of stuff for our discussion. Have you gotten your copy yet? Anybody having any difficulty?

| | |
| --- | --- |
| | [5] |
Rockpool was fantastic. It remained a total surprise for the Snook up until we actually walked in the place. He said he didn't figure I'd take him there, since it's, like, "the best restaurant in Sydney." (I didn't know that. I just picked it because I recognized the name and it had a good rating.) He had sashimi and baked kingfish; I had salad and a steak. They also just kept bringing us little appetizers, like delicious cold zucchini soup and these little savory dumplings. The waiters were excellent, and I even managed to get one to tell me the secret of their salad dressing: "palm sugar". (Whatever that means.) We had fantastic wines with each course and I learned what a "sommelier" does (that's my word for the day). Then dessert. I had the passionfruit soufflé and the Snook had the chocolate. He said, "This is the best chocolate cake I've ever tasted in my life." It was a pricey evening (well over $100 US), but it was soooo worth it. If you're ever in Sydney you should give it a try.

Tuesday, July 30, 2002
| | |
| --- | --- |
| | [7] |
Some advice to would-be screenwriters:
I am not legally affiliated with Roald Dahl in any way. I simply run a fan site. I have no input whatsoever into the planned remake of Charlie and the Chocolate Factory. Therefore please stop sending me your script and casting ideas. I will not "pass them on". Even if I were involved, I probably still wouldn't greenlight a script for a children's movie involving genetically-mutated Oompa-Loompas. Just some advice.

| | |
| --- | --- |
| | [1] |
Diet Update: My gym has doctors' scales. You know the ones, where you move the little weights across to make the thing balance? And you start by moving the big ones, and then they get progressively smaller so you can get your exact weight? Well, I just met one of my short-term goals: I got to move one of the big weights back a notch! That makes me ecstatically happy.


I was interested to note that my site received a hit from the Google search "his dark materials film lyra casting". So I looked through the other results and found some news regarding the books. Apparently there is a film version in the works, but not much has been done other than the hiring of Tom Stoppard to work on a script (which sounds like a brilliant decision to me). Philip Pullman seems to have very little involvement in the project, and has stated his "take the money and run" attitude towards it on many occasions. I also found a great interview with him that took place right before The Amber Spyglass was published. The second half was fascinating to me, as Pullman explains why Lyra's world is different and where he got certain ideas for the books. Interesting reading if you liked the series...


Happy birthday to Rodd, my sweet Snookums. He turns 26 today! He doesn't know it yet, but I'm taking him out for a super-fancy dinner tonight at Rockpool. (Shhh, it's a surprise!) Oh, and I score 25 points, right, Bill? :)

Monday, July 29, 2002
| | |
| --- | --- |
| | [4] |
That mention of River Phoenix on the PTWND (post that will not die) reminded me of a kickass Australian band I saw on TV last week called TISM. They were performing their song "(He'll Never Be An) Old Man River", the chorus of which is "I'm on the drug that killed River Phoenix." Seriously. Some of their other songs include:
"Honk if You Love Fred Durst"
"X-Treme Sports Can Kiss My Arse"
"I Might Be a C*nt, But I'm Not a F*cking C*nt"
"All Homeboys Are Dickheads"
"Defecate on my Face"
I mean, who wouldn't want to listen to a band like that? Oh, did I mention it's, like, nine guys all wearing leather hoods to hide their faces? The rumor is that they're all schoolteachers and they prefer to remain anonymous. What are the best song titles you've ever heard? Any that struck you as really, really funny?


Good lord. Seriously, the Goonies post is the post that will not die. Every month or so another psycho wanders in via Google and gets all pissed off about something I wrote almost a year ago. This isn't a Goonies site, people! Do you not understand the concept?


I don't know if any other Australians are participating, but I just heard from my local bookshop that The Lovely Bones will be out here in August. That fits into our reading schedule perfectly! It'll be $30 for the paperback. Not cheap, but definitely less than having it shipped from the States!

| | |
| --- | --- |
| | [4] |
Do you have any experience with composting? Our back courtyard is filled with fallen leaves and I'd like to get rid of them in an earth-friendly way. Composting seems like a good idea, because I could use the end result on all our lovely flowers and plants out there. Unfortunately most of the resources I've found aren't really geared towards an "urban" setting. The systems they describe are all too big or require too much maintenance. I've read some good things about "vermicomposting" though (using worms to munch everything up). But I have no idea where to even start. So again, anybody have any experience with this?

Sunday, July 28, 2002

The Death of Spike
Calm down, ladies. James Marsters is fine. I'm referring to Spike, the hot-shot Australian I.T. company that's currently in liquidation. Apparently they're selling off everything - and I mean everything! - via online auction. Schadenfreude AND a bargain! Get 'em while they're hot! (Hmmm, a Power Mac G3 for $500 sounds pretty damn nice...)

| | |
| --- | --- |
| | [6] |
The voting was helpful, but ultimately pointed out that the best way to do this is just to go through everybody's recommendations in turn. As some of us have to specially order the books, I figure the sooner we set the list the better. Therefore I'm just gonna call it. We'll be starting with Anne Tyler's "Back When We Were Grownups" for August and then moving on to Alice Sebold's "The Lovely Bones" for September. After that we'll go through the rest of the list, probably just in order. I think we should shoot for, say, the 25th of each month to start our discussion. Then we won't have too much book overlap. I'm going to be working on a new section of the site for us where you'll be able to see the whole list, read the past discussions, and possibly even get additional links and information about the books. So stay tuned for that! But for now, get cracking on the Anne Tyler!

(Also, it's perfectly cool if you have to skip a month or you don't want to read a particular book. This is just a social group and we're not gonna kick you out or anything. It would be awesome though if people would try stuff they wouldn't normally read. Even if you hate it, at least that'll make for a more interesting discussion!)

Friday, July 26, 2002
| | |
| --- | --- |
| | [7] |
Friday Five:

1. How long have you had a weblog?
Some of you might be surprised to learn that although I started web-goddess in January 2001, I've actually had a weblog since September 2000. It was for an earlier incarnation of the Purple Weasels site and it mainly focused on Notre Dame news. I was inspired by this question to log into Blogger and see if any of those old posts still exist. Amazingly, they're still there! I've scraped 'em out and I'm hoping to bring them back online soon. Like I said, it's mostly college news, but there are some gems in there too.

2. What was your first post about?
Well, everyone's very first post is always the equivalent of "Testing 1...2...3", right? Disregarding those, my first real post on the PW site was this article about the then-upcoming Notre Dame vs. Nebraska football game. My first web-goddess posts (which you can read for yourself) were an announcement about my Roald Dahl site and a rant about British retail culture.

3. How many changes (name, location, etc.) of your weblog have there been, if more than one?
Well, doing the PW blog for a few months made me eager to launch one of my own. Once web-goddess had started, though, I didn't have much blogging energy left over. The PW blog (and site) eventually petered out. Other than that, the only major change has been the switch from ".co.uk" to ".org". The former still works, but I think the latter is easier to remember.

4. What CMS (content management system) do you use? Do you like it or do you want to try something else?
I started off using Blogger but quickly got pissed off with server outages and mysteriously disappearing archives. So I wrote my own, called GoddessBlog. It's been a learning process, and I've done a lot of tinkering over the past year. You can download the source code yourself here. There are even a couple other sites running it! It's not the greatest thing ever, but it gets the job done and it feels pretty good to run your own system.

5. Do you read people who have both a journal and a weblog? Or do you prefer to read people who have all of their writing in one central place?
I've tried to get into journals before, but I always lose interest. It's like when you meet someone in person, you know? You can only talk about yourself for so long. I don't mind if people throw in some journal-type entries, as long as they also entertain me with posts about Buffy or politics or dance music. Once I get to know someone through their site, I'm more willing (and, indeed, eager) to read about their latest vacation or rants about their job. But you can't launch straight into that stuff, because when it's a stranger, it's boring. So I guess what I mean is, I'm not really interested in reading the journals of random netizens, but I am interested in reading the journals of my friends.

(Sidenote: That last question brings to my mind my greatest site anxiety, that y'all are getting sick of hearing about me - and especially the Snook - and would rather I just stick to the links and quizzes. I mean, looking back through my archives I can see the the percentage of biographical-type entries has been on the increase. But then I get indignant and think, "Screw that. There are a million identical weblogs and the only thing that makes mine stand out is ME. So why should I change that?" Which is comforting... for a while.)

| | |
| --- | --- |
| | [5] |
The minor slashdotting I'm receiving has demonstrated some flaws in my backlink system. I'm modifying it now so you may notice some weirdness. Once I get it ironed out, I'll post an update for the GoddessBlog version.

| | |
| --- | --- |
| | [24] |
Okay, it's time to pick our first book! I've gone through the previous comments and made a list of all the books people seriously recommended. (Let me know if I missed any.) I've included a link to their respective Amazon pages as well as a small descriptive blurb. To vote, just leave a comment with your choice. Just pick one; we'll get to the others eventually. (I know it's hard. I want to read all of them now!) You can even post anonymously if you want. At the end of the weekend we'll tally up and get started! Read on for the list... [more...]

| | |
| --- | --- |
| | [9] |
Forgive me, Dr. Atkins, for I have sinned. Did I mention that I fell off the low-carb wagon in a big way last night? I had a G&T (no diet tonic available), two pints of sweet, sweet beer, and a big vanilla milkshake. (Though the milkshake isn't as bad as you're thinking, since here they're mostly milk and not really any ice cream.) But still. I know. The amazing thing is that according to my testing strips, I'm still in ketosis. So either that's residual ketones still in my system, or I luckily managed *not* to exceed my as-yet-undetermined daily carb level. And it might've helped that I went to the gym yesterday and worked my ass off. But I promise to be a good girl from now on... Well, at least until Tuesday, when I take the Snook out for his birthday to a big, surprise, fancy-pants restaurant!

| | |
| --- | --- |
| | [4] |
Slashdot Meetup
This was excellent. The Snook and I showed up about ten minutes early, not knowing what to expect. It was at the Lord Nelson Brewery in the Rocks, which can get pretty busy with the after-work crowd. We found a little table and started looking for likely nerds, but we weren't having much luck. Then, as the Snook went for another round of drinks, I saw a guy reading sci-fi nearby who was approached by another geeky looking type. They both said something, looked relieved, and shook hands. I took the opportunity to run over and confirm that, yes, they were Slashdotters. The Snook and I joined them, and soon our merry little group was discovered by one of the evening's "hosts", who had procured a big table. Pretty soon there were about eight of us crammed in. (As expected, I was the only girl.) Anyway, the talk was definitely less nerdy than expected. We talked about all the poisonous animals in Australia (my topic), the job market, home networks, digital cameras, hacking, etc. (Okay, so it was pretty nerdy.) Later we discovered another smaller enclave of people on the other side of the bar, including another girl! After a few hours and several beers, most of us headed off to The Rocks Cafe for some chow. It really was a lot of fun, especially for me, since I don't know that many people here (much less ones that I can discuss PHP with). We've even made plans to meet up with some of them again soon!

I figured as the girl, I'd be the only one to remember to bring a camera. I was right. Anyway, here are some pictures of us: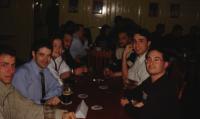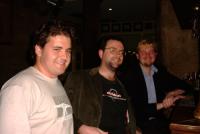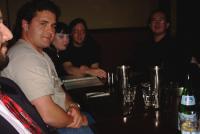 Thursday, July 25, 2002
| | |
| --- | --- |
| | [6] |

Gael linked to this fabulous archive of pages from a 1970's playground equipment catalog. It's not generally the type of link I go nuts over, but I checked it out anyway. And how cool is this? I've played on, like, all this stuff. I'm having some serious nostalgia here. My elementary school had the Mountain Climber, and I seriously think it's the first thing I ran to on the first day of kindergarten. I loved that thing. I'd play house in it. And the playground near my Grandma's house was even cooler. It had several of the Saddle Mates. I'm positive I've ridden the ram, the donkey, and the duck. It had a Buck-A-Bout and several Rainbow Climbers too. I also remember making it to the top of a Bell Buoy. (We cheated and used our bare feet to kinda "walk" up the second pole.) Playgrounds were so fun back then.

| | |
| --- | --- |
| | [7] |
The interview went really well! Thanks for all the supportive messages, and apologies for my random stress postings. As Hello Kitty points out, I "easily feel stressful". Luckily she has advice too: "Only with a little bit of additional work plus controlling your temper, you would then lose energy. Not only you would accumulate your stress, you are weak to release it. For this type exercise and Karaoke will be the best way." Huh. I don't know about karaoke, but I am going to the Sydney Slashdot Meetup tonight. What better way to unwind than sharing some much needed alcohol with several fellow nerds? :)

| | |
| --- | --- |
| | [2] |

Now that I've got my CompactFlash card reader working, getting pictures off my digital camera is a million times easier. That makes me want to take a million more pictures. Tonight I was somehow compelled to snap the front of our refrigerator. I think you can tell a lot about a person by their fridge. (The coolest one I ever saw was my friend Kel's, which was completely papered in beer bottle labels.) Going clockwise from the upper-left, on ours is: a calendar/menu from Trisha's, a local Indian restaurant; a "Smile!" sticker from the Newtown Hari Krishnas, over which I have added a note reading "TAKE BUGS SNOOKUMS!" to remind him to take his probiotics; a Notre Dame postcard my Grandma sent me; a Kenner Star Wars Ewok Village postcard Max sent me; a postcard from the Bad Ass Café in Dublin, Ireland; the aerobics timetable for my gym (it's there for the guilt factor, more than anything); a Star Wars: Attack of the Clones postcard; a Guinness magnet; a Big Ben magnet (a going away present from our London housemates); a postcard of an orangutan mother and baby that I got at London's Natural History Museum; and a "SODOMITE" postcard that I picked up free at my gym (it's a parody of the "Vegemite" label). Now wasn't that interesting? What's on your fridge?

(Yeah, I'm just blathering and navel-gazing. But it's ten hours before my interview and I'm a little nervous.)

Wednesday, July 24, 2002
| | |
| --- | --- |
| | [6] |
Good news! Firstly, I'm approaching the end of my first two weeks doing Atkins and I've lost approximately thirteen pounds! (That's about six kilos for you metric types.) I'm definitely going to stick with this for a while longer. And secondly... I have two job interviews lined up! One tomorrow, and one next week. Wish me luck!


Remember I told you about EyeTV yesterday? Well, I e-mailed the company asking if/when they were going to release an international version. They replied today saying, "We are working on bringing EyeTV to countries with the PAL broadcast television format. Watch http://www.elgato.com for announcements in this area later this year." Of course, that doesn't address the issue of whether they'll make program guides available for every country (especially as they don't charge any subscriptions and thus make no money off them). I hope they do, though, as otherwise it's pretty useless.

| | |
| --- | --- |
| | [8] |
Okay, so the other day I was thinking about drinking games (mostly because I haven't had a drop of alcohol in two weeks, courtesy of the diet). You know about them, right? Basically the format is a list of rules for watching a TV show or movie, and every time certain things happen you're supposed to take a drink. Yes, it's juvenile and stupid. Pretty fun though, too. The classic example is the Army of Darkness drinking game, which has only one rule: "Take a drink every time Ash gets hit on the head." Legend has it no one has ever made it through the cemetery scene without puking or passing out. Anyway, so I was thinking about these "games" and thinking about blogging and suddenly the two just magically merged in my head. I thus present to you The Weblogger Drinking Game. Yes, it's incredibly juvenile and navel-gazing and everything else bad about blogging. But what can I say? It amused me. Read on to find out what rules I came up with and suggest your own. [more...]

| | |
| --- | --- |
| | [13] |
Okay, folks, you've got one more day to throw out suggestions for our first book. It's odd; we've had a lot of contemporary fiction listed, but not much older stuff. Huh. Anyway, check out what's there and see if anything strikes your fancy. You can even read introductory chapters for most of them via their Amazon links. In a day or so I'll put up a poll and we'll have all weekend to pick one. Sound good?

Tuesday, July 23, 2002
| | |
| --- | --- |
| | [2] |
I feel pretty bad looking at all the unsuccessful searches that led people to my site. All those disappointed people! I mean, I don't know if Anna Kournikova is ovulating. Nor do I know a website hack for Weight Watchers. But I can answer one question: Where's Russell Crowe's farm located? It's in Lowana, near Coffs Harbour in New South Wales. See? I'm all about helping you folks out whenever possible.

| | |
| --- | --- |
| | [3] |
This completely blew my mind. Okay, pretend you've turned to the financial section of the newspaper and you're looking at all the stock prices. Now imagine that we took the first digit of each number and fed them into a computer and counted how many times each digit (1-9) appeared. You'd expect there to be a pretty random yet equal distribution, right? Wrong. The digit "1" will appear 30% of the time, and each of the subsequent digits in decreasing percentages. "9" only occurs 5% of the time. This works for stock prices, baseball statistics, and just about any other random collection of data you can dig up. Isn't that nuts? Apparently it also works on accounting books, which is how the IRS can tell if you've been fudging the numbers. Craziness. How do I know this? The Snook randomly brought it up in dinner conversation the other night and I've been obsessed with it ever since. Here's a page of more information about the phenomenon. Now see if you can sleep at night.

| | |
| --- | --- |
| | [11] |
Cecil answers the age-old question: "Where does belly button lint come from?" Of course, this still doesn't solve the mystery of how the Snook's navel generates more lint than any other human being in history. (We're talkin' alien lint babies here, folks.)

| | |
| --- | --- |
| | [2] |
I just found out that at least one person has received a copy of the Klez virus with my address in the "From:" field. Rest assured, I'm not infected. (I have a Mac, remember?) This particular virus just has the ability to fake its "From:" address based on the infected computer's address book and web cache. This probably means that whoever has it is someone that's visited my site or sent me an e-mail in the past. If you think it might be you, there are tools to disinfect yourself here. And if any of you others get mail from my address that you weren't expecting, don't open it. I'm a horrible pen pal and I hardly ever e-mail anyway. :)


More Mac news: EyeTV has been released! It's basically Tivo for your Mac. It does everything Tivo does, PLUS it allows you to burn shows directly onto VCD (as long as you have Toast). Unfortunately they don't offer international support right now. I've written to the company begging them to add it. Seriously, this is the software I've been waiting for.

Monday, July 22, 2002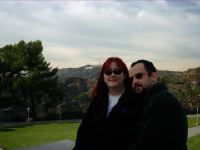 Thanks to iPhoto, I'm finally organizing and clearing out some of these pictures that have been sitting on my camera for months. Here at long last are some pics of the Snook and I during our brief stopover in Los Angeles last November. This one here with the "HOLLYWOOD" sign in the background is my favorite. Don't we look cool? Actually, we're just jet lagged. :)

| | |
| --- | --- |
| | [2] |
I had a nice long chat this morning with my friend Hoey, who's thinking about switching to a Mac. As you might expect, I gave him my usual gushing recommendation. I've got yet another reason for him now though: iPhoto. I was finally able to use this nifty bit of software (which is free!) today. See, my digital camera is slightly older and doesn't work well with OS X. To import my pictures, I used to have to connect the camera, boot into OS9, and use the horrible clunky software that came with it to grab them one-at-a-time. It sucked and it discouraged me from using the camera as much as I might. A few months ago I decided what I needed was a Compact Flash Card reader (i.e. a little thingy that you stick the camera's flash card into and it pops up on your desktop like a regular drive). The only problem was getting a compatible one in Australia without paying an ungodly amount for it. I mean, these things are fifteen bucks in an American shop, yet somehow cost $115 here. Ridiculous. The Snook somehow managed to find a shop that had some for $70, which was slightly more reasonable, so today I shlepped the laptop across town so we could try them out in the store. And guess what? We found one that works! * So now I just plug the thing in and I can transfer over all my photos with one click. I can edit them and organize them into albums, and even arrange them into a book and have it printed! I am loving this.

* Since it's not documented anywhere that I can see, I'm posting this in the hopes other OS X users might find it. The CR-V7-UC CompactFlash Card Reader works great with Mac OS X. No drivers or software are needed. You just plug the thing in and it works! Plus it's a lot cheaper than the "name brand" ones Apple have listed at their site. Just a tip!

| | |
| --- | --- |
| | [8] |
The Snook and I saw two very different and interesting movies this weekend. The first was Princess Mononoke, which we've had on DVD for ages but somehow never got around to viewing. We watched the dubbed version, thinking it might be easier to get into the story. Big mistake. Instead I spent half the film going, "That's Billy Bob Thornton! ... That's Claire Danes! ... That's Jada Pinkett Smith!" Didn't really help with the suspension of disbelief, you know? I understand that Miramax wanted big names in order to entice folks who don't normally watch anime to pick this one up, but I feel like it might have served the story better to use voices we didn't automatically recognize. Next time we watch it, we'll use the subtitles. Anyway, aside from the voices I thought it was great. I'm not much of an anime fan, but you don't have to be with this film. It really works on the level of an epic live-action picture. The characters are still stylized, but the backgrounds and scenery are on a level with anything Disney's ever done. The plot was much more intricate than I'd expected and I was never quite sure who to cheer for (that's part of the reason it's so good). Check out Ebert's review for a professional opinion. If you're in the video store and you feel like something different, I recommend you pick this one up.

The other film we saw was Dirty Deeds, a new Australian film that's just opened. The Snook's a big Bryan Brown fan, so I dutifully went along even though I hate gangster pictures. To my amazement I found myself really enjoying it! The actors are all amazing, especially Brown, Toni Collette, and John Goodman. In fact, Goodman's character was the most interesting of all to me. The Chicago mafia has sent him and his partner to Sydney to get in on the lucrative poker machine gambling business. The partner is a volatile psychopath, but Goodman is a good-hearted guy who wishes he'd gotten out of the profession years ago. Brown plays the kingpin of the Sydney "pokies" racket, who's trying desperately to protect his little empire from these larger American forces. He's also introducing his nephew to the business, a young guy that's just returned from Vietnam. I really enjoyed seeing the way director David Caesar drew parallels between the two sets of men: the older, experienced Brown and Goodman and their younger, immature protegés. The cinematography is also excellent, with lots of flashy camera angles and movement. Like I said, I went in expecting to tolerate it, and instead I really liked it. Highly recommended (if it ever makes it to the States). Oh, a word of warning though: these are THICK Australian ("'Strine") accents. Even I had difficulty with some of them at the beginning. It's not quite Trainspotting, but you do have to pay attention.

Sunday, July 21, 2002
| | |
| --- | --- |
| | [7] |
Everybody's up in arms about this list of One Hundred Albums You Should Remove from Your Collection Immediately. Personally I find it pretty funny. I love that U2's The Joshua Tree is at #2. "Oh, to be earnest, politically correct, Christian, and filthy rich. It's been 15 years since the birth of this critical and popular favorite, and U2-worship still hasn't been eradicated. When will it stop? When you do the right thing and retire this pompous collection of religious rock songs, that's when." HA! Anyway, I've got eleven of these, and I pretty much agree with his assessments. At any rate, I hardly ever listen to them, with the exception of REM's "Out of Time". And I can't even argue with his criticism of that; the rap with KRS-ONE was heinous. How many have you got? Do you cherish these albums, or are you now embarrassed that you bought them in the first place?

| | |
| --- | --- |
| | [21] |
Please list your suggestions for our first book in the comments. Once we've got a good selection, we'll have a vote. Then we'll have all August to read it, and we'll have our first discussion at the end of the month. Sound good? Some thoughts:
It might be a good idea to include a link to the book's page on Amazon. That way people can check it out to see if they'd like to select it.
Speaking of Amazon, commonly-available books are better than obscure ones. We're not all in the same country, so we're going to have to limit ourselves to stuff most people can find in libraries or bookshops.
Shorter is better than longer. :)
We're not in school; we're not trying to go through the "canon" of Great Books or anything. We can pick fun stuff.
Feel free to throw out as many suggestions as you like, and to comment on others' suggestions. After all, if everybody else has already read something, there's no point considering it, right?
If you have no clue what we're talking about but you think you might like to be involved, here's the original post that started everything. Everyone is welcome to join in!

Saturday, July 20, 2002
| | |
| --- | --- |
| | [3] |
Friday Five:

1. Where were you born?
I hate this question. *bracing for laughter* Hicksville, Ohio. Seriously. My parents lived in Indiana, but Hicksville is real close to the state line and thus was closest, I guess.

2. If you still live there, where would you rather move to? If you don't live there, do you want to move back? Why or why not?
Well, I never lived there. I guess I'd like to move back to Indiana some day. It's a good safe place to raise kids, and the cost of living is low. It's got nice hot summers and cold snowy winters. I liked it.

3. Where in the world do you feel the safest?
Back in Indiana, no question. I never realized til I left how sheltered we were there. Granted, bad stuff still happens, but it's mostly of the "car hitting a deer" variety as opposed to, say, violent crime.

4. Do you feel you are well-traveled?
Surprisingly, no. I've been to a lot of countries, but I don't think having a stamp in your passport means that you know anything about the place. It just drives me crazy how many Americans have no desire to experience life outside their own country. Do you know how many Americans have passports? Like, less than any other civilized nation in the world. Even Australians, who are much more isolated than Americans, do way more traveling to other countries. I purposefully tried to make sure that my brother and sister would visit overseas (him to Germany, her to England), if only to open their eyes a little bit to a world outside the U.S. It's such a shock to realize that there are places where under-21s can drink, health care is available for all, and the government isn't in the pocket of big business and religious wackos. But I'm getting off on a rant. To answer the question, yes, I've traveled a lot, but nowhere near as much as my non-U.S. friends have. So I suppose I'm only well-traveled compared to my fellow Yanks.

5. Where is the most interesting place you've been?
People think Australia is pretty exotic, but the bits where people live (the cities along the coast) are fairly Westernized. I'd probably say Singapore was the most interesting. It just seemed more "foreign" than any other place I've been. (Although Rodd's friend Kenya has invited us home to Africa next year for a safari, so I may have to revise that.) The most beautiful places were Heidelberg (in Germany), Paris, and Sydney.

Friday, July 19, 2002
| | |
| --- | --- |
| | [5] |
The Emmy nominations are out, and once again Buffy gets the shaft. Bastards. Six Feet Under did fantastically well, though. I think every one of the main cast got an acting nomination. (Don't bother going to the official Emmy site. It's crap. The nominations are everywhere else on the Web but those idiots haven't even updated their own site yet.)

| | |
| --- | --- |
| | [5] |
New Poll: I'm cookin' you breakfast. How do you like your eggs?

| | |
| --- | --- |
| | [8] |
RunningBlog: Diet Update
Well, it's been a week and as near as I can tell, I've lost over 8 pounds. That sounds like a lot but I've still got a long way to go. I am noticing that some of my jeans feel looser, though. I've started taking a vitamin supplement (as Atkins recommends) but I haven't noticed any effect from that yet. I also harnessed some of this new-found energy yesterday and headed back to the gym for the first time in a week. I did my entire weightlifting workout PLUS two miles on the treadmill. Surprised even me! And what's more - I think I'm going to go run again today... outside! Y'all have convinced me to give it a try. I've got a little two-mile route planned out through the neighborhood. I'll let you know how it goes. Later: It didn't go so well. I wore way too much clothing, and within 10 minutes I was sweating bullets. Next time I'll forgo the sweat pants and long-sleeve T-shirt in favor of cooler attire.

On the food front, meals are getting less boring as I figure out how to cook more stuff with the limited carbs I'm allowed. I've become the Queen of Eggs. I fry 'em, I boil 'em, I make omelettes. Yesterday alone I made deviled eggs AND a chicken-egg salad. I've also decided that as I'm not drinking or eating sugar, I am allowed a new vice - Diet Coke. I always hated the stuff before, but somehow now that I've kicked the sugar habit it tastes a lot better. I think I prefer the Lemon version, even though it originally reminded me of Pledge. But I drink a can or two of that everyday and pretend that I'm getting lots of sugary goodness. It helps.

Thursday, July 18, 2002
| | |
| --- | --- |
| | [12] |
Gah. Too much new Apple coolness! Brain suffering overload. 20GB iPods that come with belt clip, remote, new headphones, and work on PCs! iTunes 3 with smart playlists and audiobook support! 17-inch iMacs with SuperDrives and 80GB hard drives! And finally, the piéce de resistance, Mac OSX 10.2 (codename "Jaguar" - I love that!). And I'm spent.

| | |
| --- | --- |
| | [1] |
Do Tara D a favor and go vote for her blog in the Bloggys Humorous category. Thanks.

| | |
| --- | --- |
| | [6] |
Moire and I are both 70% lesbian. Huh. How gay are you? (Quiz is definitely not recommended for work or parents.)

| | |
| --- | --- |
| | [17] |
Once again I found myself debating a book on somebody's blog today. It gave me a small idea: would any of you be interested in participating in a little online book group? I'm sure there are similar things already in existence, but I figured it would be more fun if the group all knew each other. We could pick one book a month (maybe via a poll to be democratic) and then discuss it at the end, either in normal weblog format or even via a group chat. What do you think? Anybody interested or have ideas?

Wednesday, July 17, 2002
| | |
| --- | --- |
| | [2] |
There was no Friday Five last week! That sucks. Since my meme-propagation urge is unfulfilled, here's a new one I picked up from madalog:

10 bands/artists you've seen live
REM, They Might Be Giants, Ani Difranco, Reel Big Fish, Indigo Girls, Violent Femmes, The Bangles, Huey Lewis and the News, Dave Matthews Band, and Ben Folds.

9 things you're looking forward to
Our housewarming party, Snookums's birthday, the start of summer, getting a full-time job, finishing my quilt top, getting down to my target weight, picking out a new dining room set, the Buffy Season 4 DVD, and the next release of Mac OSX.

8 things you wear every day
My glasses, my contacts, my watch, my ND class ring, two silver hoop earrings in my earlobes and one at the top of my right ear. (Altogether that makes 8 things, right?)

7 things that annoy you
Inappropriate children, guys who wear hiking boots at the gym, my inability to own a Tivo in Australia, the fact that IKEA never has anything we want in stock, insulting commercials for "feminine products", George W. Bush, and Mac-bashers.

6 things you touch daily
My eyeballs (to put my contacts in!), my iBook, my mobile phone, my wallet, the TV remote, and Snookums.

5 things you do every day
Check my e-mail, visit my list of daily blog reads, watch Days of Our Lives, feel guilty about not going to the gym more often, and look for jobs.

4 people you spend the most time with
Ouch. The Snook. That's pretty much it. I suppose you could count the three fish too. We do have friends, but a lot of them are outside the country for various reasons right now. And I don't know anybody else!

3 movies you could watch again and again
Pride and Prejudice, Office Space, and anything from the Star Wars series.

2 favourite songs of the moment
Based on what I woke up singing this morning, "Dr. Worm" by They Might Be Giants and "A Thousand Miles" by Vanessa Carlton. Embarrassing.

1 person you could spend the rest of your life with
You know the answer. My Snook. Awww...


Pacey's thinking about getting married... and not to Joey! I really need to kick the Dawson's Creek habit. (Link courtesy of Kim.)

| | |
| --- | --- |
| | [1] |
Bill alerted me to the fact that a musical adaptation of Wicked: The Life and Times of the Wicked Witch of the West is in the works. Cool. I just read it a few months ago and I think it would be a fascinating topic for a show. It doesn't have as much in common with the Judy Garland movie as you'd think, though, which makes me wonder if deluded Manhattan parents will end up dragging their kids along to a musical about politics, culture, feminism, and fate. Oh, and there's sex too. :)


CouchCam is back! You'll note that our new living room setup looks a hell of a lot like the old one. You probably won't see me on it as much right now, since we have an actual office and I don't have to do my web surfing on the couch. (Although I've asked the Snook to put in a network access point down there, so I may revert to the old way if I get bored working without the telly.) Once we get ADSL installed, you should see us more often since it'll be on 24/7 and uploading more frequently. Enjoy!

Tuesday, July 16, 2002

You might have noticed (yet again) that my server time is incorrect. It keeps resetting itself back to, like, July for some reason. They usually fix it pretty quickly, so just bear with me.

| | |
| --- | --- |
| | [2] |
Moving sucks. It took us four days, but everything is finally OUT of our old apartment and INTO the new house. We've still got to put everything away, but at least we won't be making anymore trips back and forth. Saturday Ma Snook arrived and helped us cart over several carloads of stuff. On Sunday morning the movers came and not only did they manage to relocate all the furniture without a scratch, they also miraculously got our big cast-iron bed upstairs and into the bedroom. (It was a seriously tight fit.) Sunday night we headed to IKEA for even more flat-packed Swedish goodness. We got two more bookcases, night tables, and some under-bed drawers. We're all about the storage. Monday we brought home the last few bits of stuff and then paid some cleaners an outrageous amount to clean up the wreckage. Hopefully we'll get most (if not all) our deposit back.

Anyway, the phone is finally hooked up here (same number, for those of you who know it) which means that I should be able to resume my normal weblogging schedule shortly. In other news, the Snook and I have been sticking to the diet and - according to the new scales I bought - I've lost about five pounds already. Kickass. And for those of you that are worried, the three (remaining) fishies made it here safe and sound. They were a little stressed at first, but they seem to be adapting.

Friday, July 12, 2002
| | |
| --- | --- |
| | [3] |
As the connection is still up for another day, I couldn't resist posting. Some random stuff:
We signed the lease this morning! Since then I've made five trips between the apartment and the house, most with a gigantic heavy backpack full of crap strapped to me. Tomorrow (Saturday) brings the arrival of Ma Snook and her station wagon, which should help us with some of the bigger stuff. Then on Sunday the movers are coming to deal with the furniture. Busy busy weekend...
Our new landlords left us a big beautiful orchid in a pot to welcome us to the house! How nice is that? We were also surprised to see that all the lovely terra cotta potted plants in the back courtyard were left for us. (We thought they belonged to the previous tenant.) We've got all kinds of herbs: parsley, basil, rosemary, lavender. There's a big white magnolia tree in bloom in the corner. There are little pots of purple and yellow pansies. It's gorgeous! Of course, we'll probably have killed everything within a month, but for now we feel extremely grown-up to have a real garden.
The diet is progressing well. The first two days I was having major cravings, but they seem to have subsided a little. Maybe I'm breaking the sugar addiction! I got some of the ketone testing strips Dr. Atkins recommends, and according to that I am definitely in ketosis (i.e. I'm burning stored fat instead of sugar). I haven't been to the gym since I started, but I figure I'm going to get enough exercise with the move.
I've already had two irate phone calls (from my Mom and sister), so let's clear something up, shall we? I didn't "put" the Snook on a diet. Yes, even I agree that he's skinny. But he's been complaining for awhile now that his pants have been getting tight, so he decided to be my partner in this. He's not doing hardcore Atkins, though, so he's not gonna keel over or anything. He's just cutting back on the carbs and eating lots of fruits and veg. Don't worry; I won't let him starve.
You know how serious I am about this plan? I talked the Snook out of buying champagne to christen our new house. I'm not drinking anything til our housewarming party in two weeks (which should coincide nicely with the end of the "induction" phase of the diet).
Just to make it public, here are my health goals:

I will be a size 14. (Not that I really care how physically big that is; I just wanna be able to theoretically shop in any shop.)
I will run a ten-minute mile.

Oh, and in case you didn't notice, CouchCam has been shut down. The sign reads: "CouchCam is temporarily disabled while we move house. Back soon!"
Ugh. More packing to be done. Stay cool, everyone!

Thursday, July 11, 2002
| | |
| --- | --- |
| | [1] |
This is probably the last you'll hear from me for a couple days. We sign the lease for our new place tomorrow and then begin the task of moving all our crap four blocks. We're hoping to have the new phone connected on Monday, so look for me then. Have a great weekend!


Despite valiant efforts to save him... Admiral Ackbar died this morning. *sniffle* He was a good fish.

Wednesday, July 10, 2002
| | |
| --- | --- |
| | [3] |
Misquoting French with Jann reminded me of Better Off Dead, one of John Cusack's finest 80's movies. One of my good friends in college, Erin Fair, did a wicked imitation of the paperboy. ("Two dollars!") I was amused to find this drinking game based on the film: Better Off Drunk. Hee!


Day One of the "Low-Carb Diet" hasn't been easy. I've been doing well at home, but the Snook is having trouble at the office. I think he's losing it.

krisinsydney: have you had any lunch? what've you eaten today?
roddsnook: I had a chicken salad and water for lunch. Apart from that I've had a caffelatte, 1/2 glass of OJ and those couple of dried apples I snarfed this morning.
krisinsydney: wow! you've done well.
roddsnook: Yeah, but I'm still bloody hungry.
krisinsydney: hmmm. i had eggs and sausage (no carbs!) and i'm actually less hungry than usual.
roddsnook: HUNGRY! I'm looking at the potted-plant here with a less-than-innocent eye...
krisinsydney: Go get something!
roddsnook: no shops!
krisinsydney: You're five minutes walk from the city, dammit.
roddsnook: Yeah, but I already took an hour for lunch
krisinsydney: Then drink a lot of water!
roddsnook: NEED SNACKY CAKE! :(

I'm going to have to start packing his lunch.

| | |
| --- | --- |
| | [3] |
Birthday shout-outs all around! I'm just gonna do one big post to cover everybody. Happy birthday to...Whew! Did I miss anyone? All my friends are Cancers or Virgos, I swear. I'm gonna go bankrupt buying presents for you all!

| | |
| --- | --- |
| | [1] |
Bill pointed out that Joey Fatone (from N'Sync) will be joining the cast of RENT soon. I figured, given the pop star connection, that he'd be playing the role of Roger (the tragic HIV-positive sexy musician). Instead he's playing Mark, the nebbishy asexual narrator. Hello, producers? Not the best way to satisfy the screaming girl crowds.

Tuesday, July 9, 2002
| | |
| --- | --- |
| | [5] |
On a sadder pet-related note... Admiral Ackbar is sick! You remember him; he's our black goldfish with the bulgy eyes. He's been floating on his side for the past day or so. (No, he's not dead!) He'll occasionally swim around, but he keeps going in circles. I went to the pet store in a panic today and was informed that he's probably got a swim bladder infection of some kind. So I bought antibiotics and aquarium salt and all this other stuff that we're supposed to have been dosing them with every week (but in reality, haven't). He's all medicated now, but the patient's chances don't look good. The pet store lady also recommended we use a rubber band to attach halves of a wine cork to either side of him, thus forcing him to float upright. Seriously! Now I'm starting to feel sorry for the little guy. It's like those people who sign DNR's, not wanting any violent or invasive attempts to prolong their lives. Maybe he'd prefer to keep his dignity and not be shackled to a cork. Maybe he'd be happier if we just let him go. Can you believe I'm contemplating the ethics of goldfish euthanasia? God forbid I should ever get anything more complicated for a pet.

| | |
| --- | --- |
| | [2] |
Do you live in Seattle? Are you looking for a pet? Announcing DogBlog! Well, it's not actually a dedicated blog or anything. It's more like a regular feature at Jeff's site. He's on the "dog running" team at his local animal shelter. These folks take the dogs out to the park and run with them. He's going to post pictures of each dog he partners. The first one has already found a home!

Monday, July 8, 2002

For the Aussies: If you managed to catch Life Support on SBS tonight, the gym used in the martial arts segment is my gym in Newtown! Man, is that a pathetic reason to get excited or what?

| | |
| --- | --- |
| | [4] |
Holy crap! Jann is moving to France. The south of France, to be exact (the lucky bastard). His babies are gonna be FRONCH! You know, all the coolest kids are expats. :)

| | |
| --- | --- |
| | [13] |
Are any of you on one of those low-carb diets? How's that workin' out for you? Historically I've been a scoffer of Dr. Atkins and his many imitators, but this article has made me rethink. It doesn't argue that Atkins is necessarily right, but rather that the "low-fat" solution we've been indoctrinated with for the last 25 years isn't scientifically proven either. The Snook and I are now seriously considering giving carbs the boot. We're both moderately active (he walks a lot and I've been running more and more), and we eat a lot better here than we did in England (fresh veg, less takeout, etc.). But we don't *feel* any healthier. I know my own weight loss has stalled. Perhaps this might be a viable alternative for us. My biggest concern is just what to eat. I mean, take away the pasta and potatoes and bread and what's left? So again I ask, have you ever tried anything like this? What does a low-carb daily menu look like?

Sunday, July 7, 2002
| | |
| --- | --- |
| | [3] |
Most websites are complete crap. Seriously. I've just spent 15 minutes at this horrible, ill-designed, unusable, wank-filled site (there's some Googlebombing for you) trying to track down a simple piece of information: how long the Coffee Festival was running today. First I had them tell me that my browser wasn't standards compliant (BZZZ! Try again, Chet!) and thus I'd be denied entrance to the site. Y'all know how much that pisses me off. So I just spoofed my user agent string (Man, I love OmniWeb!) and entered their stupid site anyway. I had to fight my way through flash movies, gargantuan hierarchical menus, and bad information design. Once I found my info, I sent off a complaint that, while it will probably be ignored by all their wanker designers and developers, sure made me feel better. Next time, I'll just Google.


A-ha! I finally figured out what the heck this "snake legend" is that Max and Mia have been on about. *shudder* I like this bit:
Key to understanding the legend is appreciating that the fatal coat is never purchased from an upscale shop. The common perception of discount stores' trading off quality for price enters into this legend, as does an element of the overly frugal shopper getting her just deserts. Had she only been willing to pay retail, we nod sagely to ourselves, she'd have lived.
Just for the record, even though this thing is totally false, my new coat came from one of the most reputable shops in Sydney. :)

Saturday, July 6, 2002

Friday Five:

1. Where are you right now?
Sitting in my "office", aka. the living room couch. You can probably see me on CouchCam if you're lucky.

2. What have you lost recently?
I recently lost a silver ring that I bought in Acapulco a few years ago. I'm hoping it'll turn up when we move next week, though.

3. What was the first CD you ever purchased? Does that embarrass you now?
I can't remember. I was addicted to those "Buy 6 CD's for one cent!" mail order deals in high school, so it was probably something from those. I had embarrassingly bad taste back then, so we'll just leave it at that.

4. What is your favorite kind of writing pen?
Ooh, I can't remember what they're called! They've got a long straight nib and a window in the barrel so you can see how much ink is left. I was addicted to those in college. I used to go to Sam's Club and buy the packs with all the different colors.

5. What is your favorite ice cream flavor?
I haven't had any in ages, but Ben & Jerry's "Chubby Hubby" makes me a happy girl.

| | |
| --- | --- |
| | [5] |
Scene: Friday night; in our favorite restaurant at dinner; rather tipsy from an entire bottle of wine.

Me: So I think I'm gonna go to this Weight Watchers meeting tomorrow. It's worth checking out. I'm just worried that I'll be, like, the fattest person there.
Snook: Well, you could be their mascot!
Me: *blink*

Upon further explanation, he didn't mean it the way it sounded (or so he claims). Hmmm, we'll see.

Friday, July 5, 2002
| | |
| --- | --- |
| | [11] |
Sonofa... After meeting up with the Snook in the city today, I wandered into Grace Bros. (big department store) to look for a new winter coat. I found this great brown suede one lined with wool. I paid for it, got all the way home with it, and only then realized that the dumb saleslady forgot to take off the security tag. I'm afraid that if I try to do it myself it'll explode with dye or something. (It doesn't look like one of those tags, but what do I know.) So now I've got to go all the way back to the damn store tomorrow and see if they can fix it. What a pain in the bum...

Update: It's fixed now. I had to go back to the store, but they were fairly apologetic about it. Turns out the old lady that served me yesterday also forgot to tear off some vital UPC tag that they need to keep. I'm standin' there like, "Has this woman been given ANY training??" Moral of the story: always check your stuff when you leave the store, kids.


Sweeeet. They're going to be filming some low-flying helicopter shots for The Matrix sequels over central Sydney this weekend.

Thursday, July 4, 2002

Bill Gates wants you to switch to a Mac. Hahaha!

| | |
| --- | --- |
| | [4] |

We drove the car
To the top of the parking ramp
4th of July
Sat out on the hood
With a couple of warm beers
And watched the fireworks
Explode in the sky
-- Ani Difranco, "Independence Day"

Man, am I homesick. This is the third "Fourth of July" I've been out of the country, and for some reason this one's the worst. It's not that I'm a big gung-ho patriot or anything; it's more what the 4th of July represents. Sun, family, barbecues, fireworks, the Taste of Chicago, floating in a pool... and here I am, sitting in an apartment thousands of miles away. *sigh* Okay, I'll try not too get to maudlin on you. Just suffice it to say that I wish I was with all of you Yanks right now. So when you're watching the local fireworks tonight, pick out a pretty one for me, okay? I wanna hear all about it in the morning. :)

Tuesday, July 2, 2002
| | |
| --- | --- |
| | [3] |
Random TV Thoughts:
Australian Big Brother ended last night, and it did not disappoint. The final two were Marty, the Western Australian farmboy, and Peter, the East Coast IT guy. I wasn't sure who to support. Peter was the sentimental vote, since his parents died and he has to raise his younger siblings. But Marty was the fun vote, since he was rude and funny and unafraid to shag in the house. The Australian public, though, decided they couldn't turn their backs on a family of orphans. Thus Peter won the $250,000. The best part came while he was in the house all alone waiting to be brought out, and Big Brother announced one last surprise for him... and his little brother came running in. Seriously, you guys, we're talking tears here, okay? It was beautiful. My faith in humanity is redeemed.
Of course, after Big Brother was the much touted premiere of The Osbournes. I thought it was amusing, but not as "pissing-myself-funny" as you Yanks had let me to believe. I think part of it has to do with the accents. To Americans, anybody with an unintelligible British accent is funny. I can just picture y'all cracking up every time Ozzy says "wobbler". It's a lot less funny if you use that word on occasion (as I do). I'm not saying it wasn't good, though, and I'll definitely keep watching. It's just that I didn't think it was the greatest TV show ever or anything.
And finally, the Snook and I watched the "two-hour premiere" of Smallville tonight. (Well, really, it was just the first two episodes run together.) Lots of cheese - and Bo Duke - but it wasn't terrible. We had fun pointing out all the clichés that had been pulled from other teen shows. "Ooh, the meteor shower means that weird shit will always be happening in Smallville! How very Hellmouth." "Lana Lang doesn't have any parents, and all the guys love her. She's obviously Joey, and Clark is Dawson. But instead of a creek between them, it's a cornfield." And dude, I didn't even need TWOP to point out the potential for slash fiction. Lex is bald and beautiful. Thanks to everybody who recommended it!
Damn I need a Tivo. :(

Monday, July 1, 2002
| | |
| --- | --- |
| | [7] |
The Top Ten Films of All Time, as chosen by Ali G. I kid you not. My favorite bit is the last one:
10. Jaws 4
Altho' da first few Jaws flims ain't all dat, by da time dey made da fourf dey woz really gettin' dere shit togetha. Me still has nightmares about da bit where dey iz in da sea and den, completely hunexpectedly, dis big shark appearz and den if dat weren't bad enuf it only goes and eats people. To dis day, me swear me never goin' swimmin' in Hollywood where dese attacks 'appened and instead would choose places on da ovver side of da world like Ostaralia.
I'm still laughing. Ma Snook, you're gonna love these. :)

| | |
| --- | --- |
| | [2] |
Roger Ebert has become a full-fledged fight prognosticator. This time he's assessing Batman versus Shaft. Is there anything this man can't do? :)


Happy Birthday to my Mom! (Technically it was on June 30, but I'm trying to adjust for the Australian time difference.)

| | |
| --- | --- |
| | [15] |
Question: Do you guys prefer comment windows that pop up, or comments listed on an archive page? As you know, my site uses the latter. It'd be pretty trivial to bring pop-ups back on the home page, though, if people want them. (The archive pages would still remain as they are.) Whaddaya think?

archives
You can search through the archives by post keyword using the form on the left, or you can browse by month using the links at the bottom.
"Moblog" refers to posts and images posted directly from my mobile phone.

"PW Blog" refers to posts recovered from my very first weblog, which dealt with news related to my college dorm.