Friday, July 30, 2004
| | |
| --- | --- |
| | [4] |
Drunken Snookums!
No, we haven't been to the birthday drinkies yet. It's just this funny game that Kathleen sent me. The goal is to get your little drunk guy to walk as far as possible by correcting his motion with your mouse. (My best score was, like, 39 meters.) Kathleen quite astutely noted that the character bears an awfully close resemblance to the Snook!

| | |
| --- | --- |
| | [4] |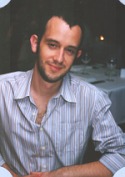 Happy birthday to the Snook, who turns 28 today. Isn't he a studmuffin in this picture? (It was taken at the Summit Restaurant during our anniversary dinner last April.) For any of you Sydneysiders that want to help us celebrate, we're going to be at the Forbes Hotel on York Street from about 8:30 tonight. See you there!

| | |
| --- | --- |
| | [2] |
Good morning, Tapestry Craft! This is Kris. Can I help you?
So I've nearly finished my first full month at the new job. Go me! Some notable milestones and highlights:
I met Sharon Aris! She came in the shop and placed an order for some Jo Sharp wool. As I was writing it down I asked for her name. As soon as she said it, I blurted out, "You wrote that book!" She was pretty amused. I mentioned to her that we've got several Sydney knitting buddies in common, including the SSK folks and Amy (who was quoted in the book!). My first knit-celebrity sighting!
Somehow the Aussie phrase "No worries!", which I had previously avoided, has totally and completely insinuated itself into my vocabulary. I say it All. The. Time. I can't stop. Need some help with that wool? No worries!
I've now got "my" customers, the ones who know me by name and like me the best. My own personal favorites are Monica, an awesome Chinese chick, and her totally cute Mom. They come in all the time and they think I'm a knitting genius. I love them.
Mrs. Coote always calls in and orders tapestry supplies for her elderly mother, Mrs. Proft. There was a problem with the last order though and I needed to contact her. She wasn't at home so I tried at the mother's house. "Hi, this is Kris from Tapestry Craft calling. Is Mrs. Coote there?" A creaky little voice said, "Ich verstehe Sie nicht!" Cool, I thought. Time to bust out the German! "Oh, sprechen Sie Deutsch? Ich spreche nur ein bisschen." (Do you speak German? I speak only a little.) I was totally expecting this big Miracle on 34th Street moment where the little old lady and I would chatter on happily in German about her tapestries. Instead, the old biddy hung up on me! *click* I must have totally freaked her out. When I finally got ahold of her daughter the next day, I was like, "Uh, did your Mom mention that I called for you there?" And she was all, "Mom doesn't speak English. And she doesn't talk to strangers." Yeah, I gathered. Still, a funny moment.
My legs and feet have felt great since I got the Kumpfs. I still haven't been back to the gym yet though. I actually got a letter from them yesterday asking if I had had an accident. Good grief. Now I'm going to feel all guilty and defensive when I finally venture back. (The slightest physical exertion still makes me hack up a lung, so it won't be anytime soon.)
I've had some great visitors! Rodd's sister Jeannie and his nephew Kurt stopped in to see me one afternoon, and on another day Mary-Helen and Sandra came in. Oh, and Ma Snook called to say that a family friend had been in there unbeknownst to me and given her a glowing report.
We had a big serious meeting with an AMP representative about setting up new pension accounts. I told him that I'd be sticking with my old fund. I did not, however, tell him that the real reason was my inability to trust my retirement money to a man that said "pacifically" when he meant "specifically." *shudder* I should write a letter to corporate headquarters.
I've met so many North Americans in the past month! A woman came in from Kentucky yesterday and I could feel my accent gravitating towards hers every second. It's funny, though; most Australians don't peg me for American. They think I'm Canadian or - oddly - Irish. I have no idea where that comes from.
Oh, and for those of you that know the shop, frickin' Linley was in again tonight. And get this - she was wearing a hat she'd knitted out of her dog's hair. It was grade-A, 8-ply, hand-spun Golden Retriever, I shit you not. I asked her with a straight face: "When it rains, does it smell like wet dog?" Needless to say, she didn't see the humor.

| | |
| --- | --- |
| | [1] |
Stop the presses, ladies... A male blogging Domer has been spotted! (Love that URL, by the way.) The proprieter e-mailed to ask whether I knew of any other ND alumni blogs. Off the top of my head, I pointed him to Brigita, Nora, and Yasmin. Who'd I forget? Anybody?

Tuesday, July 27, 2004
| | |
| --- | --- |
| | [1] |
Elvis Costello will be playing shows at Australian wineries? I'm so there.

| | |
| --- | --- |
| | [3] |
Everything you were afraid to ask about Donnie Darko. I think I'm finally getting a handle on this movie. It does sound though like the Director's Cut gives a lot of stuff away that might be more fun to guess on your own. (Link courtesy of Brigita.)

Monday, July 26, 2004
| | |
| --- | --- |
| | [3] |
Awww, Trevor won Big Brother 4! I totally screamed and got all teary when he proposed to his girlfriend. How very Rob and Amber, except without the whole "sleaze-tache" thing goin' on.

Sunday, July 25, 2004
| | |
| --- | --- |
| | [9] |
More fun with Australian commercials!
Remember this game? I give you the setup for a commercial on Australian television that is currently infuriating me, and you guess the conclusion and what product is being sold. (Sorry Aussies, but you'll have to sit this one out.) Here we go: A nice yuppie-looking couple are sitting down to tea at Grandma's house. As the old lady sets down the tray, her budgie (pet bird) flies past and - unbeknownst to Granny - craps in the wife's teacup. Yes, we actually see it plop. Thinking quickly, the wife mentions to Granny that one of the kids has started swimming lessons, and wouldn't she like to look at the picture on the mantel? As the husband helpfully distracts the old woman, the wife gets an idea...

How does she avoid drinking the tea without offending Granny? (Note: This is a commercial so we can't assume she does anything rational like, oh, point out that the budgie just pooped in her cup. That would be too easy.) So what does she do and what product is this advertising?

| | |
| --- | --- |
| | [9] |

Broad Street Mittens
As the Snook daily complains about how "frickin' freezin'" it is in the mornings, I decided to knit him these Broad Street Mittens from Knitty to keep him warm. They're basically fingerless gloves with mitten shells attached to the knuckles. There's a loop at the top of the mitten that you slip over a button on the cuff to keep them from flapping around. Cool, huh? I used some of the Bendigo sock wool I got at the Craft Fair last month and they turned out pretty nice. It wasn't nearly as hard to knit gloves as I thought it would be. I churned these out fairly quickly too, despite the small gauge. (I figure it was about 10 hours or so per hand.) Now to knit some for me!






As usual with Knitty patterns, I ran into a couple snags and at least one outright error. Read on for my (voluminous) knitting notes... [more...]

| | |
| --- | --- |
| | [1] |
More cat paraphernalia... We just ordered one of these automatic feeders in preparation for an upcoming weekend getaway. I'm not sure how much relaxation I'll have thinking of little Amy here all by herself!

| | |
| --- | --- |
| | [1] |
Revenge of the Sith. I like it.

Saturday, July 24, 2004
| | |
| --- | --- |
| | [3] |
Good idea: Remembering to worm the cat tonight as per our vet's instructions.

Bad idea: Thinking this could be easily accomplished.
Bad idea #2: Getting the syringe-with-goo stuff instead of the tablet.
Bad idea #3: "Okay Snookums, you wrap her up in a towel and hold her still while I squirt it in her mouth."

As you might expect, this led to her clamping her jaw, freaking out, and whipping her head around so that what little goo I managed to squeeze out ended up all over her chin.

Not-so-good idea: Giving up.
Not-so-good idea #2: Mixing the remaining goo with some food and putting it in her bowl, trusting that even though she'd already eaten dinner, she's a gluttonous little pig and she'd eat it anyway.

She ate it anyway. We felt smug and smart. Fifteen minutes later she puked everything up. We felt stupid. Now we have to do it all over again tomorrow.

Friday, July 23, 2004
| | |
| --- | --- |
| | [9] |
"Donnie Darko"
Here's what you should never do when you're at home by yourself, sick, on a rainy Monday afternoon: watch that Donnie Darko movie everybody's always raving about. Good grief. I was having paracetamol-enhanced psycho bunny dreams all night. Seriously though, what the hell was up with that film? I can't stop thinking about it. The performances were all great, and I can finally see why folks rave about Jake Gyllenhaal. (He would have made a great replacement for Tobey Maguire in Spider-Man 2.) The music was fantastic. Even real 80's movies didn't have such great period soundtracks. Patrick Swayze was suitably sleazy in his small role. I'm just not sure I understand what actually happened in the film. Judging by the reviews I've read, not a lot of other people do either. Have you seen it? Do you have a theory? [more...]

| | |
| --- | --- |
| | [7] |
Hee hee. Joy of Tech made fun of Wil Wheaton's blog.


Total and complete laryngitis. I can't talk at all. Well, I can, but the sound makes small children cry and I run the risk of ruining my vocal cords completely. So for all intents and purposes, consider Kris's mute button now pressed. As my job pretty much relies on my ability to communicate, I'll be rockin' the sofa yet again today. I'm in the process of trying various home remedies but nothing seems to work very well. I've tried drinking hot tea with lemon, inhaling steam with eucalyptus oil, and overloading on Vitamin C (though I have no idea what my "bowel saturation" level is). Today I'm going to go get a humidifier and see if that makes any difference. Otherwise... it looks like a prescription for a couple days of "shut the hell up." I'll go mad. It's worse than the bloody famine.

Wednesday, July 21, 2004
| | |
| --- | --- |
| | [4] |
Sick Kris = Festival of Carbs. Seriously. I baked an apricot and macadamia cheesecake Monday "for Snookums" and I've been plowing through it ever since. It makes me feel better. (Link courtesy of awful cufflinks.)


I'm still sick... It's moved from my nose down into my throat and lungs. My voice started out rather husky this morning and got progressively raspier all day. The last time this happened was when I spent all night camping out for Phantom Menace tickets. (For those of you that have seen the news footage, I sound exactly like I did that morning when I started croaking and raving like a psychopath about Han and Leia.) Snookums is now experiencing the extremely rare and rather unsettling phenomenon of Non-Talking Kris, as I'm going mute in the hopes of preserving a little voice for work tomorrow.

But in somewhat brighter news, my legs and feet are finally adjusting to standing all day. I took Amy's advice last week and got myself a pair of Kumfs. They're not the sexiest shoes in the world but they make a world of difference.

Monday, July 19, 2004
| | |
| --- | --- |
| | [1] |
"On Sunday NASCAR car racing champion Dale Earnhardt said that he had taken his buddies to see Fahrenheit 9/11 and that 'it's a good thing as an American to go see'." Wow. I've never been a big fan of NASCAR myself, but Earnhardt Jr. sounds like an intelligent guy. Maybe it's time to rethink the stereotypes.


Ker-CHUNK.
Apologies for the lite blogging of late... My computer hardware woes continue. Boudicca froze up on me a few days ago so I did a hard reboot. Within seconds loud clicking noises were emitting from the hard drive. Crap. I couldn't get her to boot up properly, not even off the OS X CD. In rode the Snook to the rescue. He downloaded and burned some sort of "Linux rescue disk" and was able to boot me up from that. He then proceeded to back all my crap up over the network. (I'm the worst backer-upper ever.) Then he performed some computer voodoo that resuscitated my OS from the dead. Apparently the problem only occurs when the hard drive starts up, which is why I was getting the problem on booting up and waking from sleep. So now I've got it set to never let the hard drive sleep. As I understand it though, it's only a matter of time before the drive dies altogether. I'm strangely ambivalent. It's been a good run. The iBook has lasted nearly three years, so my Apple Care (if I had it) would be running out soon anyway. I've given some serious thought to having the Snook fit me out with a kickass Linux machine, but there are still a few things holding me back. Despite all the problems and frustrations, there are still so many things on the Mac that "just work." I like how easy it is to transfer my photos and make movies and scan pictures. I know I can do all those things in Linux, but it wouldn't be so seamless. Not to mention the fact that we'd have to do some serious tinkering to get my iPod - which is still going strong - to work with it. So it looks like a new Mac is in my future. I wonder if the new iMacs will be headless...? Hmmm.


Amy pointed me to this hilarious list of cat quotes. Some of them struck me as particularly applicable for life with Dr. Amy Jones:
Anything not nailed down is a cat toy. Everything else is a scratching post.
A cat is always on the wrong side of the door.
I don't mind a cat in its place, but its place is not in the middle of my back at 4AM.
I want a cat with a snooze button.
IT's HARd to tYpe wHILe holdINf a Cat.
To a cat, "NO!" means "not while I'm looking".
I'm dreading the day this week when we have to try to worm her for the first time. (The vet's done it every time before.) We've got this syringe of goo that we're supposed to squirt down her throat. It's gonna be a bloodbath.

Saturday, July 17, 2004
| | |
| --- | --- |
| | [6] |
Sick and tired.
Just finished my second week at the new job... and I'm sick as a dog. I started getting a sore throat yesterday at work and now it's turning into a full blown illness of some kind. I'm all hot and muddle-headed. I'm terrified that my wicked tonsilitis from last year will return and I'll have to have them removed. Anybody have any good home remedies for warding off a throat infection? Bonus points if it doesn't involve me gargling anything particularly nasty.

| | |
| --- | --- |
| | [5] |
Just got back from seeing Fahrenheit 9/11 at a special preview. It was completely sold out. Never seen anything like it. Too late to write any more... and besides, I want to have this absentee ballot request form in the mail tomorrow.

Friday, July 16, 2004
| | |
| --- | --- |
| | [9] |
What's your ideal job? Mine is an "Animal Therapist", and Snookums is a "Monkey Impressionist". Seriously. Actually those two kind of go together... (Link courtesy of Max the Human Shield.)

Thursday, July 15, 2004
| | |
| --- | --- |
| | [3] |

Finally, another finished object: self-patterning socks for Mom! I used Opal Sockenwolle that I got from Knit-It in Beecroft. As all the previous socks I've knitted are too baggy to be worn with shoes, I tried to make this pair a bit smaller and tighter than normal. I can just get them over my chubby feet which hopefully means they'll be appropriately sized for Mom. The only problem is that I've still got a substantial chunk of wool left over... and I'm not sure what to do with it. Maybe wrist warmers?

Wednesday, July 14, 2004
| | |
| --- | --- |
| | [4] |
I was just surfing my sister's online wedding registry when I saw that she had requested this Tiki Head Tissue Box. *snort* That's the funniest thing I've ever seen. I want one!

| | |
| --- | --- |
| | [3] |
I giggled way too much reading Helen's explanation for her decision to officially barrack (Americans: substitute "root") for the Essendon Aussie Rules team. My favorite reason she offers is: "[AFL] players hug each other in a caring and proud manner upon doing something good in a game." I totally get that.


Pretty trippy. (Link courtesy of Matthew, who suggests ingestion of drugs for proper viewing experience.)

| | |
| --- | --- |
| | [2] |
Ah, it's good to feel the Roger Clemens hate. I was annoyed when I read that he was pitching to my boy Mike Piazza in the All-Star game, but afterwards I felt pretty darn cheerful that he'd completely blown it. Obviously my constant harping on the man has been the equivalent of a blogging voodoo doll and I have been the instrument of his downfall. Kickass. (Link courtesy of Kevin.)

Tuesday, July 13, 2004
| | |
| --- | --- |
| | [15] |
Mortification.

Woman: "Wow, it's really busy in here."
Me: "Yeah, I'm still adjusting to running around on my feet all day!"
Her: "Sure, and especially since you have a bun in the oven..."
Me (after thinking about this for five seconds): "WHAT? I'm not pregnant!"
Her: "Oh my God. I'm so sorry. You just looked like you had a little belly there..."
Me: "It's just this stupid denim apron! Everyone else's is custom-made but I don't have one yet so I have to wear this stupid one that pooches out in the front!"
Her bratty son: "Way to go, Mom."

So yeah. I'm off the detox and back onto the Atkins induction, big time. I'm strangely ambivalent about the end result of the detox. It was rough avoiding meat, dairy, and caffeine for two weeks, but I didn't feel fundamentally much different afterwards. I didn't lose much weight at all. (Granted, I only went to the gym, like, once, but I was running my butt off at the new job.) It certainly "cleaned my intestines" if you know what I mean (and I think you do), but I didn't pass any twenty year old marbles or anything. It was basically just two weeks of low-grade diarrhea. I think I've settled the question in my own mind about whether they're effective or not. I have to admit that it was kinda fun being a fake vegetarian, though. I actually had to send back a dish at a Korean restaurant when it came with seafood on it. I was like, "I'm sorry; I can't eat this. I'm vegetarian." And they were like, "Ohhh! I'm so sorry!" People suddenly started thinking I had ideals and principles and stuff. I almost felt like I could have kept it up if I had any political or moral leanings that way, but... Nah. Hamburgers are still too good.

But anyway, yeah, back to the Atkins. I can't believe that woman. That is the first time anyone has ever said that to me! Maybe I need to go all Mary-Kate and stop eating altogether.

Monday, July 12, 2004
| | |
| --- | --- |
| | [9] |
Movie Reviews:
People tend to think of me as a bit of a sci-fi film nerd, but for years I harbored a deep and dirty secret: I'd never seen Blade Runner. Recently I decided to remedy that. The only problem is that the DVD has been discontinued or something, so my local Blockbuster only had one copy that seemed to be perpetually out. Finally last weekend I nabbed it. The Snook hadn't seen the Director's Cut (which was the version I had), so we settled down to watch it together. I was pretty excited. I read the Philip K. Dick book it's based on (Do Androids Dream of Electric Sheep?) a few years ago and really liked it, so I figured it couldn't be that bad. Boy was I wrong. Sorry, my fellow SF nerds, but Blade Runner sucks. It is without a doubt one of the worst book-to-film adaptations I've ever seen. It's like they took one single plot point ("cop hunts androids that look like people") and threw out nearly everything else that made the book interesting. Even the few cool things they left in - like the Voigt-Kampff test - were ruined because all sense of context was missing. (The test measures empathic response to taboo questions about dead animals and people, which are especially shocking to humans since nuclear war has killed off most living things. The movie curiously doesn't mention this at all.) Where was the Mercerism? Why didn't Pris and Racheal look like each other? Why did the plot keep messing up how many replicants there were? What happened to Deckard's wife and his aspirations to own a sheep? The whole thing sucked. Yeah, yeah, so it looked cool. It had that whole "future-yet-film-noir" thing going on that critics love to rave about. I'll grant you that. The scenic design was completely visionary. But in terms of plot... I stand by my review. It sucked ass. I'm going to go re-read the book and try to put the sight of Rutger Hauer hooting in his underpants out of my mind.

I had a much more entertaining cinematic experience this afternoon as Amy and I headed out to see Mean Girls. It was pretty good. I do like that Lindsay Lohan (and for the record, I think the boobs are real). My only complaint was that it just didn't seem mean enough, especially with the cheesy feel-good ending. (I read some reviews this afternoon that mentioned how certain scenes and dialogue were tweaked to slide it in under an R rating. That explains the random "Butter your muffin" line, anyway. I wish they'd left it alone.) The high point of the whole movie was when the wheelchair chick said "I don't hate you because you're fat; you're fat because I hate you" and then wheeled herself off the platform backwards. Amy nearly fell out of her seat laughing, and I lost it laughing at her. We're easily entertained. So in the end I felt that Mean Girls was like Heathers-lite. The bus thing was shocking, but it was no "I heard she sucked down a cup of liquid drain opener and smashed through a coffee table", now was it?

| | |
| --- | --- |
| | [1] |
Huh. Where does the Vice President live? I didn't know that.


Happy birthday, Max! May the day bring you much joy and lots of navy polo shirts that bring out the blue in your eyes. :)

Sunday, July 11, 2004

Wow... CornCam. Man, that kinda makes me homesick! (Link courtesy of fellow Midwestern girl Amy.)

| | |
| --- | --- |
| | [4] |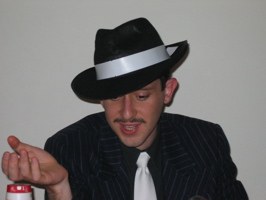 Last night we finally had our much-anticipated Murder Mystery Dinner Party. The theme was 1920's Chicago and the guests went all out on the costumes. The Snook, as you can see, was a dodgy millionaire gambler. (He also cooked us an excellent four course dinner.) It was an entertaining evening of alcohol, murder, sex, greed, bootlegging, crooked cops, and dangerous ladies. Nothing but good clean fun at the Chippendale Legitimate Businessmen's Social Club! Photos are available here. Thanks to all the guests!


Happy Birthday to my sister Amy! Our cat's namesake turns 25 today. (Well, yesterday really, but it's still her birthday where she is!)

Saturday, July 10, 2004
| | |
| --- | --- |
| | [3] |
Awww... Jeff Smith, the Frugal Gourmet, has just passed away. Man, I used to love his show. I had a crush on his hot assistant Craig.


Excellent. OverSeasVote.com makes registering for a US absentee ballot pretty darn painless. I'm definitely using it this year!

Friday, July 9, 2004
| | |
| --- | --- |
| | [9] |
Can you help me identify these breakfast cereals? I was able to get 14 of 26 on my own but the damn thing won't show you the rest of the answers! In fact, the site wants you to pay to see the answers! I think we can do better than that. Read on for my answers. (Link courtesy of Matt.) [more...]

Thursday, July 8, 2004
| | |
| --- | --- |
| | [2] |
Bloody hell. I just had a big long post about how I'm getting better at work but it's still hard standing all day, and how it's really fun when we get American tourists in, and how I managed to take a phone call and handle the whole enquiry myself, and how I got a great pep talk from my boss with nothing but positive reviews... but somehow I lost it. So bugger that. I'm too tired.

Wednesday, July 7, 2004
| | |
| --- | --- |
| | [2] |
Have I told you how much I friggin' love The O.C.? As I mentioned before, Channel 10 purchased the rights (after it tanked on another station) and they started showing it a few weeks ago. I think even the Snook is getting hooked! At first he claimed he didn't like it - because "there aren't any cute girls, and that main one looks like she's 35" - but it's slowly winning him over. Last weekend I had on a hooded sweatshirt and he was all, "You're pretty far from 8 Mile!" and I was all, "Welcome to the OC, bitch!" We need something to replace the aching void of Buffy and Amazing Race.

| | |
| --- | --- |
| | [3] |
Mac users: I just found a great little application called gCount that automatically checks my Gmail account for new messages. Pretty neat.

Tuesday, July 6, 2004
| | |
| --- | --- |
| | [9] |
How many of these 100 Wonders of the World have you seen? I had fifteen, but only because we saw, like, all of the Italy ones on our trip last year.

| | |
| --- | --- |
| | [5] |
How many hate groups are in your state? Indiana has fifteen and (as I expected) most are KKK groups. My parents went to high school in Butler, which is, like, their national headquarters or something. (Link courtesy of Max, who unfortunately has to contend with "Neo-Confederates".)

| | |
| --- | --- |
| | [13] |

My First Day

The Good: Well, that was different! I can honestly say I did more work in the past eight hours than I did in the previous four months at Epson. It was all pretty interesting, too. We had a lot more people in than I expected and I was kept busy ringing up sales and helping people find things. I also talked my damn head off. Every knitter in Sydney is going to remember the chatty American! I won't get bored.

The Bad: Man, I am beat. Standing all day is harder than I remembered. My feet kill. And GOD, some of those old ladies are mean! One woman was looking at a really simple mohair scarf we had hanging up so I asked her if she needed help. She said she wanted a pattern for it. I'm like, "Oh, I don't think there is one, really. I'd guess you just cast on 15 stitches and knit every row, changing colors every couple of rows." And she was like, "I can't rely on your 'guess.' I need a pattern!" Whatever, you stupid old Feathers-scarf-wearin' bag!

The Ugly: Oh god. I can hardly bring myself to type it. "How many balls of wool does it take to knit a scarf?" I must've heard that fifty times today. It's like a zen koan. There is no answer! I'm thinking, "Look, there are infinite thicknesses of wool, infinite sizes of scarf, and infinite patterns you can knit on many different thickness of needle, so that means that it would take an infinite number of balls to knit your damn scarf, IDIOT!" By the end of the day I had given up. I just started answering "Four!" with as straight a face as I could muster.

On the plus side, do I not have the cutest hair in the world? This what it looks like with me attempting to dry it without proper round hair brushes. I kinda like its shaggy texture. It's very Melanie Griffiths in Cherry 2000, I think. Just one more and I'll stop, I promise. [more...]

Monday, July 5, 2004
| | |
| --- | --- |
| | [14] |
New hair for a new job.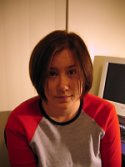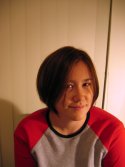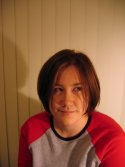 It doesn't make me look old, does it?

Sunday, July 4, 2004
| | |
| --- | --- |
| | [6] |
Five Questions:
I enjoyed reading Robert's interview so much that I asked to play along. Here are the questions he sent me:

1. You've talked before about the American foodstuffs you miss. However, if you were to move back, what are the Australian ones you would feel like you would die without?
That's a difficult one. I'm trying to think of what I eat now that's distinctly "Australian" that I wouldn't be able to get at home. I'm not a fan of Vegemite so much, but I love Tim Tams. (Those are a big hit whenever I sent some home.) Definitely Oporto's Big Bondi burger. Sweet chili sauce. Roasted Jap pumpkins. Kangaroo fillet. There's actually a lot more stuff I'd miss that I could technically get in the States, but not in the Midwest where I live. Things like good Thai food, macadamias, yum cha, ocean prawns, fresh mangoes, and a decent non-Starbucks cafe latte. Those are the things I'd really miss.

2. What is the one place in the world you have not travelled to yet, but would dearly love to?
Reykjavik. You know, the capital of Iceland. I don't know why. I just like the sound of it. Ooh, and all those hot natural spring baths. Whenever I'd play RISK with my guy friends in college, my (albeit inevitably doomed) strategy was always "Defend Reykjavik."

Read on for the other three questions... [more...]


Introducing ourwedding.web-goddess.org. Now don't get excited! It's not for me and the Snook. :)

| | |
| --- | --- |
| | [4] |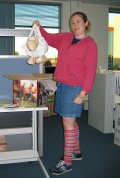 Free at last!
Yesterday was my last day at Epson. Man, last days are fun. Everybody's nice to you and you get presents and stuff. It makes you wonder why you wanted to leave in the first place! (But only for a second.) We all went out to the Ranch for lunch and then in the afternoon we had the gift presentation. The Head of Marketing gave a very nice speech and then I opened the box (decorated with custom-made Harry Potter wrapping paper by my friend Mardi) to find exactly what I wanted: a fluffy sheep knitting bag! (They're too cheesy for me to buy for myself, but I'll happily take one for free.) It was stuffed with wool and Epson toys. All in all, a very nice send-off. Now I'm just enjoying a couple days' rest before I start at Tapestry Craft on Tuesday.

And in related I'll-sleep-better-now news, the Snook got a raise and promotion at work! So I don't have to worry that my inability to stand my Epson boss any longer is leaving us destitute. Kickass. [more...]

Friday, July 2, 2004
| | |
| --- | --- |
| | [2] |
This one's for my sister, who works for the Leukemia and Lymphoma Society of California. A nine-year-old kid named Ben was in remission from leukemia and told the Make-a-Wish Foundation that he wanted to design a video game that would help kids like himself with the pain and stress. LucasArts stepped in to make the dream come through. Now Ben's Game is available to play. I haven't tried it out yet since I'm still at work, but it got good reviews from the folks on the 'Filter.

Thursday, July 1, 2004
| | |
| --- | --- |
| | [3] |
Lordy, lordy. Sex and the Knitty is here! The Snook caught me ogling this pattern and his eyes nearly popped out of his head. (I like the sizing designations myself. Hee.) And hello? Edible panties knit out of licorice ropes? That is the coolest thing ever.

| | |
| --- | --- |
| | [3] |
I'm thinking of taking a belly dancing class. Any of y'all ever done anything like that?

| | |
| --- | --- |
| | [1] |
I love sunny days... but this is getting ridiculous. This past June in Sydney was the all-time sunniest and driest! I've been making plans for the garden this year, but I'm starting to wonder if there's any use. I can't remember the last time it rained.


John Gruber of Daring Fireball has an excellent essay about the whole Dashboard vs. Konfabulator controversy. If you have no idea what I'm talking about, the guys who wrote this application think that Apple's new Dashboard is a rip-off of their idea. Gruber basically tears that allegation to shreds. Good on 'im. I looked at Konfabulator a while ago but didn't really see the point of using it. Dashboard, on the other hand, looks like something that could be really useful. I love the fact that the "widgets" (or gadgets or whatever they're calling them) are basically little web pages, built using HTML, CSS, and Javascript. I'm already envisioning writing my own blog posting widget as an alternative to bookmarklets. Ooh, and you could have one that alerts you if you have new Gmail (since there doesn't seem to be a convenient way to do that on OS X yet)! The possibilities are endless here, really.

| | |
| --- | --- |
| | [2] |
This one's for my Dad: A 14-year-old kid has landed a 52-pound striped bass while fishing in a kayak off the Atlantic City shore. That is a big fish.


Happy birthday to my Mom! (Well, technically it was yesterday here, but it's still her birthday today there. You know what I mean.)

archives
You can search through the archives by post keyword using the form on the left, or you can browse by month using the links at the bottom.
"Moblog" refers to posts and images posted directly from my mobile phone.

"PW Blog" refers to posts recovered from my very first weblog, which dealt with news related to my college dorm.