Saturday, July 30, 2005
| | |
| --- | --- |
| | [3] |
OhMyGod. Amy took the BEST picture of me hugging B1 from the Bananas in Pyjamas! Seriously, I look like I'm in love with that banana. She also got a nice one of me and Miss Fee knitting and a close-up of us three girls.

| | |
| --- | --- |
| | [3] |
A Prime Birthday
A couple weeks ago I asked the Snook where he wanted to go eat for his birthday. "Let's eat meat," he said. "It's time to drink the Grange." I gasped. "Are you sure? Is it a special enough occasion?" "Whenever you open the bottle," he said, "that's the occasion." And so it was. We ended up heading out to Kingsleys Steak House (the King Street location) in search of prime beef rich enough to pair with a 29-year-old $700 bottle of wine. (His brother-in-law gifted him the bottle some years ago and it's been in storage ever since.) That first picture is me and the Snook right before we left the apartment. I have to say though, my first impression of the restaurant wasn't that great. We were seated right in front of the staircase - prime traffic area - and it seemed kind of busy and touristy. Like, there were kids eating there. (Fair enough, but when I go out for a special dinner I don't expect to see sprogs.) The food was pretty damn good though, and our service - though not exceptional on a Neil Perry level - was unpretentious and attentive. Normally they don't allow you to BYO, but we'd made prior arrangements that we were "bringing something special" and the waiter seemed to know what he was doing with the decanter. While we waited for the Grange to "breathe," we tucked in to damper roll (home-baked bread) and shared an entree platter of Oysters Kilpatrick, Chicken Liver Terrine, and Deep Fried Camembert. (That's the second picture.) For the mains, I had the filet mignon and the Snook had the ribeye with prawn. My only real complaint about the food as that my filet was way, way redder than it should have been for a medium-rare. It was just plain old rare. I ate it anyway, as it's not a big deal for me, but I definitely didn't expect it that bloody. (The Snook's medium-rare ribeye was much more to my liking.) It was excellent beef though, and the wine - much to our relief - hadn't turned in to vinegar. I'd like to say that the subtleties of such an expensive wine weren't wasted on me, but in reality all I can remember was that it was pretty nice and I got pretty tipsy pretty quickly. For desert I had the creme brulee and the Snook had ice cream, which the waitress was kind enough to bring with a birthday candle in it. Wasn't that sweet? And now I'm full as a tick so I'm going to bed. I have a feeling that I'll be using my "Get out of Weigh-In Free" card this week...



Note for the fashion conscious: What do you think about the colour of my top? I just got it the night before and I'm terrible at shopping for myself. It's a very light teal blue and I just thought it made an interesting contrast with my hair. I was also skeptical of the boatneck, but it seemed flattering in the changing room so I went with it. Please be brutal with your assessment; I need to learn.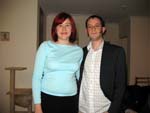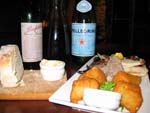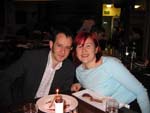 Stitch 'n' Pitch: Now that is a brilliant idea! Of course, if they ever officially introduce it at the cricket I'm going to take credit. (Link courtesy of Jeff.)

| | |
| --- | --- |
| | [7] |
Sorry Sis, but I just found a great site discussing the ending of Half-Blood Prince and I have to share it. It's in the comments though, so you won't be tempted to look at it. (Don't even mouse over the link. The URL is a massive spoiler.) And if anyone wants to discuss it, let's remember to include spoiler warnings to keep the home page clean...

| | |
| --- | --- |
| | [2] |
Australia has officially banned the sale of Grand Theft Auto: San Andreas... which actually makes me want to finally play it.

| | |
| --- | --- |
| | [3] |
Damn. ParkerWatch 2005 is officially over, and I have lost. The fabulous Ms. Posey has managed to elude me. According to my sources, she showed up at the shop yesterday to collect her fugtastic tapestries... right about the time I was at home, up to my elbows in homemade chocolate birthday cake for the Snook.

| | |
| --- | --- |
| | [4] |
Happy 29th birthday to Snookums, my geeky little scientist. There's no one else I'd rather stare down the barrel of thirty with. Here's to many more years of pancakes, laughter, and snuggles...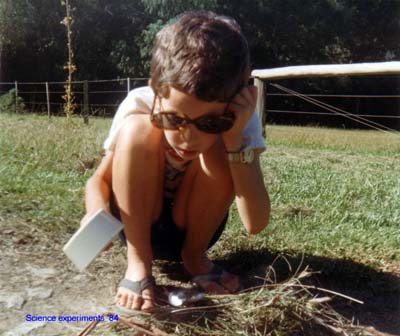 Me: So what kind of "experiment" were you conducting here?
Him: Ah, nothing. I was just burnin' sh*t.
Friday, July 29, 2005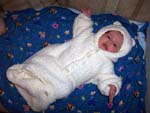 Awww, isn't that the cutest picture EVER? Baby Ruth is wearing the sleeping bag I knit her. Unfortunately the Baby Norgi sweater - as feared - is too small to fit over her head. (I've given Nat instructions on how to have a knitter add a slit neck and a placket.) But didn't the sleeper turn out cute? I love those bear ears. Maybe someday I'll forget how awful that yarn is to knit with and do another one.


Spotted! Evidently I was visible on the live video feed from the Knit In this morning, as Mary-Helen reports that she saw me! I did not, however, get interviewed or anything. (For once, I was restrained with the famewhoring.) They must have spoken to someone that sounds like me though, because I got at least one SMS from a friend who thought she heard me...

| | |
| --- | --- |
| | [5] |
Okay, you're not allowed to click on this link if you haven't finished Harry Potter and the Half-Blood Prince yet, but if you have... The Alternative Potter. It's a contest that the Guardian ran where people rewrote the climax of the book in the styles of various other authors. My favorite is the Irvine Welsh (who wrote Trainspotting). I like the idea of Voldemort as Begbie. (Link courtesy of Kevin.)

| | |
| --- | --- |
| | [3] |
Moblog: Last ones...
Three more pics from the ABC Knit In this morning. (I still can't believe Fiona and Amy convinced me to get out of bed at 6:30 a.m. on my day off.) The first is a completed blanket sewn together by one of the ladies sitting in our group. Second is me modelling Marlene's fabulous purple hat. (She thought it would look great with my red hair.) And last is the immense pile of squares and completed rugs in the atrium of the ABC. According to what's-his-name who was broadcasting live on the radio the whole time, we had over 600 knitters show up and over 42,000 squares were donated (from country areas too). At the end they introduced the little lady who started the whole Wraps with Love program and she started crying as she thanked everybody for their generosity and support. It was a nice way to start the morning.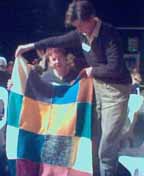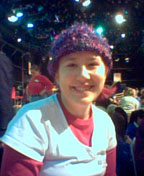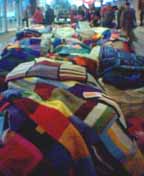 Moblog: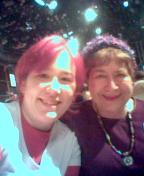 Making new friends
Me and my new friend Marlene, knitting away. I'm the first blogger she's ever met! She's making her internet debut here.

| | |
| --- | --- |
| | [1] |
Moblog: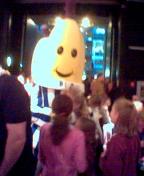 ABC Knit-In
I'm at the ABC Knit-In this morning. Hundreds of people are putting together blankets for the needy. And the Bananas in Pajamas just arrived!

Thursday, July 28, 2005
| | |
| --- | --- |
| | [2] |
I tracked down my uncle David's obituary in the Fort Wayne paper. Not much there. He's also listed on the Kendallville News-Sun page but the bastards require a subscription to read obits. Any Hoosiers with a login around?

| | |
| --- | --- |
| | [3] |
Stop the presses! Last night at yoga, the instructor Hillary actually told me that she thought I should stop losing weight. She said she thought I was skinny enough. HOW INSANE IS THAT? I mean, no, I'm not gonna listen to her; I'm still a good ten kilos above my healthy BMI range. But it just floored me. Never in my entire life has anyone told me that I shouldn't get any skinnier. It was an absolute first.

Tuesday, July 26, 2005
| | |
| --- | --- |
| | [1] |
DietBlog: There's nothing that takes your mind off bad shit as well as two hours of learning something new and difficult. I had my trainee session as the Weight Watcher recorder tonight and I think I did pretty well. It's all a bit bewildering. (I've never done any accounting before, and most of the stuff at the shop is computerized.) What makes it harder is that we're changing leaders at the same time, so next Tuesday it'll be the rookie team of Kris and Chris trying to figure stuff out together. In terms of my personal progress, I climbed back on the wagon this week with a 1.4 kilo loss! I am now officially at my lowest weight in recent memory, equal to my lowest weight ever on Atkins. So that's pretty good, huh?

| | |
| --- | --- |
| | [11] |
My mom called me at work today. I'm starting to develop a complex about phone calls from my family. They only call international when someone has died. Mom told me that my uncle David was killed in an accident yesterday. I took the news pretty calmly. She was upset so I tried to cheer her up, and we talked for a while about the quilt shop she's opening. Afterwards Albert asked whether I was close to David or not, and I actually stopped to think: "Well, I haven't seen him in years, and I don't think Rodd ever met him... but we used to be really close when we were kids." And suddenly that set me off.

David was my dad's half-brother and we were practically the same age. He and my grandparents lived on a farm and my sister and brother and I would always beg to stay the night. David had the coolest tree house that ever existed outside of the movies. (It was in the back of the horse paddock.) I remember him introducing me to "The Legend of Zelda" and me just being blown-away that a video game could actually remember your position. Once we stayed up all night crafting a Christmas wreath out of a coathanger and sliced green garbage bags. Another time we hauled a bunch of his old toys out on the front lawn and tried to flag down passing cars to stop at our "garage sale," which we were convinced was going to make us rich. We tried to make bread from raw grain out in his shed. We'd catch lightning bugs in his backyard. Once we went for a "hike" while the grown-ups were away and we all had to jump a creek. Antny was little and fell in (of course), so we had to rush him back to the house and clean him up before they discovered us. I don't think they ever knew about it.

We sorta grew apart once we got older, and I hadn't seen him since I moved away five years ago. I can't believe he's gone just like that though, and I'll never get to introduce him to my husband. It sucks being away from your family at times like this.

Update: I just got an e-mail from my dad. It sounds like my grandparents are going out of their minds with grief. I'm more upset than I thought I'd be. This is the first one of my relatives of my age that I've lost. It's hard. And I just found this...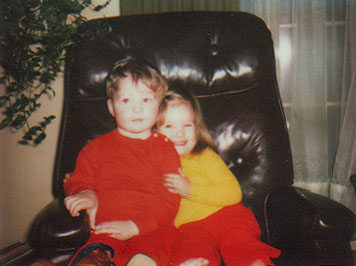 Sunday, July 24, 2005
| | |
| --- | --- |
| | [1] |
Are you a digital citizen? What a goofy name for a quiz. I got 8 out of 10 correct, and the only ones I missed were the ones that I couldn't be expected to know anyway (i.e. the percent of broadband users in the UK and which BBC show airs online before broadcast).

| | |
| --- | --- |
| | [5] |
Wow, the Snook's thesis is available on the new Google Scholar! As he says in his best Cartman voice: "I'm a scientist. I'm so kewl."

Saturday, July 23, 2005
| | |
| --- | --- |
| | [2] |
I can't decide what's funnier: the fact that Dulux actually have a red paint colour called "Redrum," or that an oblivious Kathleen wanted to use it on their apartment walls! (Sidenote: Andrew's anecdote reminded me of when Milhouse picked up Bart's telepathic message "kcip pu trab" in The Simpsons, which in turn led me to this nifty page detailing all the Stanley Kubrick references on the show.)

| | |
| --- | --- |
| | [7] |
What Book Are You? Oh good grief; I'm Catch-22. I remember that being one of the hardest books I had to read in college. (Hard in the sense that it took me about five tries to finally get into it, and I still pretty much hated it at the time.) My description: Incredibly witty and funny, you have a taste for irony in all that you see. It seems that life has put you in perpetually untenable situations, and your sense of humor is all that gets you through them. These experiences have also made you an ardent pacifist, though you present your message with tongue sewn into cheek. You could coin a phrase that replaces the word "paradox" for millions of people. Well, I guess that's flattering in a way, so I'll accept it. (Link courtesy of Kevin, who is strangely always going on about rabbits...)


Just did some much needed housecleaning of my weblog link list down there... Added a few new ones as well as some Sydney food blogs that I've been obsessed with lately.

| | |
| --- | --- |
| | [2] |
Speaking not as a Microsoft user but purely as a shallow marketing-driven consumer: Longhorn = great name. Vista = stupid name. I can't even type it; I keep typing Visa.

Friday, July 22, 2005
| | |
| --- | --- |
| | [6] |
Big Ted, Little Ted, Humpty, and Me!
As my friend Fiona is always getting to visit me in the shop, today I decided to visit her where she works: the ABC. I've been by the Ultimo location several times but I'd never been inside. I was really looking forward to seeing the inner workings of a well-funded, state-sponsored, lefty-leaning broadcast network. (And let's face it, I'd give my right arm to work for the ABC.) As I waited for her in the lobby, I was amused to see John Doyle (aka Raging Roy Slaven) walk by. Anyway, Fiona's a designer on Play School, which is a children's program that runs twice a day here. As I understand it, it's been running even longer than Sesame Street! Miss Fee was kind enough to give me a tour of her design "dungeon" down in the bowels of the building. It was just wild, like a kid's dream art cupboard. That's her in the midst of all the colour and fun. She even opened The Locked Cabinet for me and showed me all the toys! That's me with Big Ted, Little Ted, and Humpty. Millions of Aussie kids have grown up knowing these toys, and I got to hug them! (Jemima was in the cupboard too, but she was naked and we didn't want to display her without her dignity.) Even though I haven't known these characters my whole life, I could still feel how loved and cared-for and played-with they were. Hugging Big Ted is like hugging Grover or Big Bird!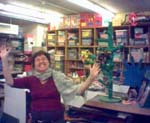 † †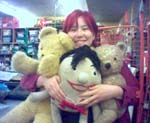 Check it Carlton's new ad. Pretty cool! Reminds me of something else... Wasn't it the Rugby World Cup when they had people making a giant player moving across the field? Looks impressive though, and I guess I'll contribute to their viral marketing campaign... (Link courtesy of Miss Jane.)

| | |
| --- | --- |
| | [3] |
Damn. It. I am having weirdo problems all over the place with new computer. Seriously. The first twinge was last Friday when I was trying to burn a CD, and it just refused to write to a blank. (I tested it with a music CD and it played fine; it just didn't want to burn.) Then a couple days ago I noticed that my iSight camera didn't start up automatically. I had to unplug it and plug it back in. Tonight I plugged in the iPod for updating... and was informed that it was unreadable and I'd have to restore it to factory settings. So after three hours of headache, it turns out that that wasn't the problem. It's the FireWire. The damn thing works perfectly with USB. Didn't I have this problem before? When the hell is the FireWire on the G5s going to work correctly?

Thursday, July 21, 2005
| | |
| --- | --- |
| | [1] |
RunningBlog: Guess what I did this morning? I went running. RUNNING! For the first time since my tendonitis incident during the Nike Women's Classic last year. I did 25 minutes of jogging/walking around Victoria Park, making sure I ran on both the sidewalks and the grass to give my legs some variety. My ass feels sore already and my face is nuclear red, but I feel pretty good!

Wednesday, July 20, 2005
| | |
| --- | --- |
| | [1] |
My sister e-mailed to let me know that the Leukemia and Lymphoma Society (where she works) is auctioning off signed bowling pins to raise money. (Just scroll down to the ones with the charity ribbon icon.) I think I found the Snook's birthday present! Heh.

| | |
| --- | --- |
| | [5] |
Holy crap! I was just reading through the schedule of events for the Notre Dame Film, Television & Theater Department Reunion this year when a name suddenly leapt out at me: William Mapother! William Mapother went to my university! He's the creepy Ethan guy from Lost who kidnapped Claire and nearly killed Charlie and kicked the crap out of Jack. Wow.

| | |
| --- | --- |
| | [6] |
Moblog: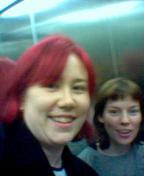 From a cramped lift.
I'm stuck in a frickin' elevator at our yoga building. As we speak. Is this a moblogging first?

| | |
| --- | --- |
| | [2] |
DietBlog: Put your arms in the air, kids, because we're officially on a rollercoaster! Yes, I've gone from gain to loss to gain. It's cool; all that candy on Saturday may have been magical but it sure wasn't Points-free. I can deal with a measly pound. I got renewed inspiration tonight from my friend Katie, who apparently found these posts inspirational enough to join WW herself. Kickass! That's four people I've converted now. I stuck around afterwards to sit through the induction routine with her (since I never really had a thorough one myself), and it turns out I was totally doing a bunch of stuff wrong and never realized! (For example: I was banking my exercise points each day, when you're actually not supposed to do that. Oops.) I'm a little bummed that Super Fun Leader Megan is leaving us for a semester because of a uni scheduling conflict, but I think the group is vibrant enough to sustain it. And get this - I may have a second job... working the cash box at the WW meetings! The girl who normally does it is leaving so the position is vacant. Nobody else seems to want to do it, so I told Megan I was thinking of volunteering. I apparently get my meetings for free, and I earn some nominal salary as well (like fifteen bucks or something). I kinda like the idea that I won't be able to skip out on any meetings too. I'm supposed to go early next week to see what it's like...

Tuesday, July 19, 2005

Awww, man! I've technically missed it, but for those of you in Chicago, happy Roger Ebert Day!


Ooh, I just got an e-mail that the Jordana Paige Knitter's Messenger Bag is almost ready for sale! They've got pictures there on the site. I am seriously coveting the camel/brown version.

| | |
| --- | --- |
| | [1] |
This one's for the Snook: How to Poach an Egg, complete with picture of the results of each method. We've actually tried the Delia Smith method ourselves and were similarly disappointed with the results. We blamed it on not having extremely fresh eggs, though, which I've always understood to be the key to the whole enterprise.

Monday, July 18, 2005
| | |
| --- | --- |
| | [9] |
Customer: I can't believe you've got all this Christmas stuff but no Nativity scenes!
Me: We've got Nativity scenes! See?
Her: No, I was looking for Christmas stocking designs. *pause* It's all because the Jews and Arabs are taking over the world.
Me: Excuse me, this shop is run by a Jewish family...
Her: I bet it is!
Me: Look, we've got tons of Nativity scenes here. See? Whole books full of Christian iconography. There you go. We just don't have any stockings right now!

And I left, fuming. How dare she? She looked like any other customer, like somebody's Mom. Your typical middle class, middle-aged, white Australian Christian lady with boofy hair and big earrings. When she said it, my first response was to try to shame her by pointing out that the people who owned the shop she was in were part of the groups she was maligning. Instead, she took it as a friggin' explanation. I'm still mad. I went downstairs and Albert asked me what I was so upset about. "Could you go upstairs?" I said. "There's a blonde woman over by the fabric counter. Could you just stand near her for a while? Maybe mutter something about Palestine or leave a suspicious package next to her?" He laughed it off; he's dealt with people like her before. I haven't. I just still can't believe how casually she said it, as if everybody knows about the big Jewish and Arab conspiracy to keep Fat Racist Cows from buying Baby Jesus Christmas Stockings. (And who puts the Nativity on a stocking anyway? Stockings are about Santa, woman! So blame the damn commercialization of Christmas, not a Zionist conspiracy.) Some of the other staff said that she made similar comments to them, so evidently she was just wandering all over the shop spouting this crap at anyone with ears. I've worked out what I should've done though, and what I'm going to do in the future: I'm going to say that I'm Jewish. And I am going to shame her. And then I'm going to ask her to leave the store. Not that she'll probably come back anyway...

Sunday, July 17, 2005
| | |
| --- | --- |
| | [8] |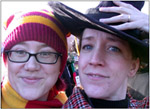 Gleewarts Express pictures
I'm still going through my (sixty!) pictures and adding captions, but in the meantime Amy and Rob have put some of theirs up on Flickr. My personal favorites: The Snook and I get up close and personal with a big friggin' snake; I shake Dumbledore's hand and it looks like I get some mythical power transferral; Amy and I excitedly wait for the 9:01 book launch; the high school girls who dressed up as an entire Quidditch team (seriously the best costume idea of the day!); and me and Molly Weasley have a family reunion. (And check out Hedwig in that last one! Didn't she look cool?)

| | |
| --- | --- |
| | [8] |
Matt invented an interesting concept: Indestructibles. These are those songs you enjoy no matter who's performing them. (Or in concrete terms, songs you have more than three different versions of in your iTunes library.) I posted a couple over at his site but I keep finding more:
"One" - U2, U2 + REM, and Johnny Cash
"Throw Your Arms Around Me" - Hunters and Collectors, Eddie Vedder, Crowded House, the Doug Anthony Allstars
"Take On Me" - A-Ha, Reel Big Fish, MxPx
"Fell in Love with a Girl" - White Stripes, Richard Cheese, Joss Stone (though she changes it to "Boy")
"Fly Me to the Moon" - Duke Ellington, Frank Sinatra, Julie London
"I Will Survive" - Gloria Gaynor, Cake, and Jim Carrey (doing Andy Kauffman doing Tony Clifton)
"Back Home Again in Indiana" - Bobby Darin, Bobby Hackett and Jack Teagarden, Milt Hinton
"Hotel California" - Eagles, Reel Big Fish, Don Henley (on his own doing a weird reggae version)
"It's the End of the World As We Know It (And I Feel Fine)" - REM, Great Big Sea, Vic Chestnutt (from a very weird out-of-print REM tribute CD I have called "Surprise Your Pig")
"Just Like Heaven" - The Cure, Goldfinger, Richard Cheese
"Landslide" - Fleetwood Mac, Smashing Pumpkins, Tori Amos
"Leaving on a Jet Plane" - John Denver, Chantal Kreviazuk, Me First & the Gimme-Gimmes
"Losing My Religion" - REM, Tori Amos, Tesco Vee's Hate Police (again from "Surprise Your Pig"), Sydney (techno dance version)
"Mrs. Robinson" - Simon and Garfunkel, the Lemonheads, REM (an extremely drunken live version with Robyn Hitchcock)
"Ob-la-di, Ob-la-da" - the Beatles, Save Ferris, Enoch Light Orchestra (from a mix CD from Matt, actually!)
"The Devil Went Down to Georgia" - Charlie Daniels Band, Primus, Lynn Anderson, Alvin & the Chipmunks (no, really), and several other versions where the Devil goes elsewhere
"Radio Free Europe" - REM, Just Say No (from "Surprise Your Pig"), and The Replacements (an EXTREMELY drunken live version)
"California Sun" - the Rivieras, Annette Funicello, the Ramones
"Shiny Happy People" - REM, Mitch Easter, and REM + the Muppets (which is actually "Shiny Happy Monsters"
I'd find more but the Snook's yelling at me to go to the store...

Saturday, July 16, 2005

Check it out, Dad - albino deer. I remember seeing some deer with partial albinism in Brown County a long time ago, but this is the first one I've ever seen that was totally white.

| | |
| --- | --- |
| | [1] |
The Gleewarts Express trip is getting all sorts of media attention already... And here too.

| | |
| --- | --- |
| | [45] |
Holy crap, ladies and gentlemen. I am DONE. I didn't really intend to digest the whole thing in one sitting, but here I am seven hours later all sniffly and hungry. Don't read the comments if you haven't finished it yet.

Moblog: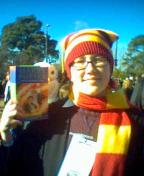 The wait is over!
I got it! We're in Hogsmeade (aka Mossvale) and it's beautiful but FREEZING!

Moblog: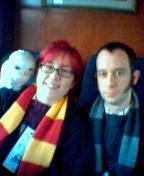 Seventh year students
Me, Snookums, and Hedwig, who has been the big hit of the day. No one else has one! (Thanks Cindy for giving him to me last Christmas...)

Moblog: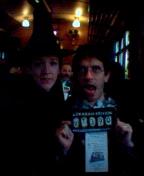 All aboard!
Madam Pince and Sirius Black (Amy and Rob) aboard the Hogwarts Express. We're on our way!

Friday, July 15, 2005
| | |
| --- | --- |
| | [4] |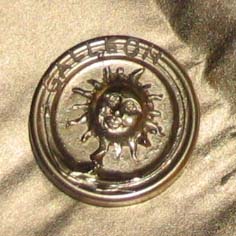 One sleep to go, and I'm painting homemade knuts, sickles, and galleons out in the backyard!

| | |
| --- | --- |
| | [2] |
Ebert gives Charlie and the Chocolate Factory three stars. What's remarkable, though, is that he says the movie succeeds in spite of Johnny Depp's performance. That's one you don't hear every day. Ebert also makes the Micheal Jackson connection (not to mention a weird Carol Burnett reference). Anyway, as most of my worries about the film had to do with Depp's performance in the trailers, it looks like if I can manage to ignore him the rest will be pretty fun. And I can live with that.


Me: Check it out! The Race is on!
Snook: Sweeeet. Remember the deal. If you see them here you have to call me so we can go head-to-head as Amazing Race tour guides.

(Link courtesy of Max.)

Thursday, July 14, 2005

Major had a POSSUM in his HOUSE. *shudder* I'm gonna freak out every time I go over there now. SMALL CREATURES!



Note: At least it wasn't a scary white American possum. It was a little brown marsupial possum. But it's still little and scratchy and terrifying.



| | |
| --- | --- |
| | [2] |
Snook: Sooo... how'd you go?
Me: *victory dance*
Snook: Yay!
Me: I lost 1.3 kilos!
Snook: No way! 1.3? Boy, you must've had a big poo before your meeting!
Me: *glares*

DietBlog: All disgusting scatalogical comments from the spousal unit aside, yep, I registered an honest-to-goodness loss this week. Go me! I even got (yet another) gold star when I told how I'd bounced back from my first gain and found inspiration from my friends in the group. That was pretty much the only high point of the meeting though... as karma has returned to bite me in the ass, big time. Remember how I left my original WW group because I thought it was a little boring? (Not you, Emily, if you're reading this! Just the dynamic of the attendees.) Well, my new Super Fun Leader Megan was off this week on vacation with her family, so we had a substitute. I'll call her "Bab," which stands for "Boring as Batshit." It was the absolute worst WW meeting out of the dozen or so I've been to. She just talked at us the entire time. The sum total of our group interaction - which is usually the highpoint of the meeting - was occasionally waving our hands when she'd poll us on something. "Who here knows about low G.I. foods?" *wave* "Who here uses Splenda instead of sugar?" *wave* "Who here cooks?" *wave* It SUCKED. At one point she was just reading the labels of various foods she'd brought to us. She spent a full ten minutes recounting a soup she'd made herself for dinner the week before. I also got to hear all about the aneurysm she'd had the year before, and about how being skinny was the only thing that saved her life. And about how much her family loves her for losing weight. And about how she's trying to give up coffee and it really sucks. Are you getting the idea? (And yes, I realize how ridiculous it sounds for me to be lambasting this woman on my WEBLOG for being self-obsessed, but it's not like I charge any of you guys to be here, right? Exactly.) I didn't feel inspired when I left, and I actually felt bad that some of the new people might think that Bab was indicative of the program. I'm worried, too, because even though we'll have Megan for a few more weeks, she's going back to Uni in August and we have to have a new Leader for the semester. PLEASE DON'T LET IT BE BAB!

Wednesday, July 13, 2005
| | |
| --- | --- |
| | [1] |
Holy crap! Amy's Azkaban Number Plate looks AWESOME!


Thanks, John. I am now forever to be haunted by the green dot. Can you not see it? That freaks me out.

| | |
| --- | --- |
| | [1] |
The Snook's gonna love this: open-source beer.

| | |
| --- | --- |
| | [1] |
I heart Gleebooks.
How cute are they? The bookstore just sent out our final instructions for this Saturday:
Dear travellers on the Gleewarts Express, It is only three sleeps to go. We have some last minute instructions and reminders. Please - please - set two alarms! If you are late, we cannot wait. We advise you to arrive somewhere between 5.20am and 5.30am at the latest. Eat a sensible breakfast before you embark on the train. Yes, we will have plenty to eat - but you may need food you are more - ahem - familiar with. For older witches and wizards, Thermoses of sustaining drink are advisable. Don't forget to wear your ticket around your neck. You need your ticket to board the train and you also need your ticket to get your very own copy of Harry Potter and the Half-Blood Prince. Please be in character. Costumes can be simple or sophisticated - but please wear one. Money: definitely not Muggle currency (but it doesn't have to be fancy either) for making purchases from the trolley witches. The Gleebooks branch of Flourish and Blotts, however, will only accept Muggle currency for previous Harry Potter books, tapes and DVDs on the return journey from Hogsmeade. Wet weather gear is essential. Raincloaks, batbrellas and owloshes may be necessary. Dress warmly. Please bring your sunny moods on the day. When you have an entire village of magical folk, not everyone can be first. Grumpiness attracts Dementors.

Warmest regards, a slightly nervous Minerva McGonagall
"Grumpiness attracts Dementors." I love that! It's so fun how they've kept every little bit of communication in character. I can't wait for Saturday!

| | |
| --- | --- |
| | [6] |
I've read a lot of arguments for and against abortion, but never have I read that there is a statistical link between Roe vs. Wade and a twenty-year drop in crime rates. Pretty mind-blowing, if you ask me...

Tuesday, July 12, 2005

I absolutely love these T-shirt designs that are being sold to support the British Red Cross. What a great idea. I'm also contemplating donating some money to buy a pint for the folks in emergency services.


The BBC is taking a poll of who everything thinks the "half-blood prince" will be. I'm still guessing Hagrid at this point. (Whoever wrote the poll is stupid though. Tonks is a girl!)

Monday, July 11, 2005
| | |
| --- | --- |
| | [5] |
What makes dogpeople and catpeople? I weigh in over at AskMetaFilter...


Score one for the matriarchy! We just got a wedding invitation addressed to "Rodd and Kris Howard." Hee! (Thanks, Steve.)

| | |
| --- | --- |
| | [2] |
Happy birthday to my sister Amy, who turns 25 today! It's all downhill from here, Sis... :)

| | |
| --- | --- |
| | [1] |
Cool! The New York Times ran a Harry Potter crossword today! The Snook and I are working on it right now... (Link courtesy of Manda.)

| | |
| --- | --- |
| | [3] |
Playing with toxic stuff is FUN!
On Friday Amy and I got together to make some galleons, sickles, and knuts for our Harry Potter train trip next weekend. We'd originally had plans to do them in Fimo clay, but the guy I spoke to at Barnes Casting Supplies in Newtown thought they might be too brittle. He suggested something a little more fun and a lot more dangerous: resin casting. So armed with a buttload of supplies, we set to work.


Looks fun, doesn't it? We were like two kids having play-dough craft time! First we made the Fimo coins, which turned out much better than expected. That's Amy talking to Rob and finishing off a coin in the first picture. We flattened the Fimo with the rolling pin, cut out circles with cookie cutters, and then stamped the coins with letters and shapes. While they were in the oven we got started with the resin. The first step was to make some molds. We were using "dental putty," which is evidently the stuff they jam in your mouth when you get braces. You knead two different colors of Silly-Putty-like goo together and then you have, like, five minutes before it turns into complete rubber. We attached the charms to the bottom of various sized glasses and then smooshed putty all over them. Picture 2 shows the completed molds. Picture 3 shows the baked Fimo coins. (Amy's got a great pic of these on her site.) Back to the resin. In Picture 4 Amy is measuring out equal parts of Scary Resin Stuff "A" and Scary Resin Stuff "B". Note that we're wearing dust masks and we had the door open with the fan blowing. (It actually didn't smell bad at all though. I don't think we had the super toxic version.) Picture 5 shows me and my small hands pouring the combined mixture into the molds. Within a few minutes they were starting to turn from clear into white and give off some serious heat. (That's Picture 6.) In Picture 7 you see them nearly finished. Then we just popped them out of the molds as seen in Picture 8. The Snook is now going to help me spray paint them and add some further writing and detail.

So to summarize, we just spent $50 and countless hours of time to make fake wizard coins to pay for chocolate frogs on a steam train to a fictional village. Really, we just want to show up the other kids. Hooray for being grown-ups with discretionary income!

Sunday, July 10, 2005
| | |
| --- | --- |
| | [2] |
Holy crap! Amy posted pictures of the Harry Potter coins we made on Friday (for our train trip this coming Saturday) and they got linked on Boing Boing! And here I was being lazy by not posting mine yet...

Saturday, July 9, 2005
| | |
| --- | --- |
| | [1] |
We just finally saw Batman Begins and, much like Ebert, I thought it totally kicked ass. The only negative was the pair of FLAMING IDIOTS who brought toddlers to the show. Toddlers! I wish I were joking. The kids cried through the whole damn thing. As the Snook put it, "The whole plot was about a guy tramatized as a child, and now those dumbass parents just did the same thing to their kids." Finally one of the other moviegoers yelled out to get the damn kids out of there, and the father actually had the nerve to look annoyed. That's the kind of crap that makes me laugh whenever people mention my "biological clock." I DON'T THINK SO.

| | |
| --- | --- |
| | [4] |
Forgot to mention: Any of you Sydney Apple users looking for a new keyboard and mouse? The new machine came with a brand new Apple keyboard and mouse, which means I've now got three sets. (I've got the wireless ones on my desk, while the Snook has my old black ApplePro keyboard on his now. "I think it makes my computer go faster!" he says. The assimilation has begun.) Anyway, I don't need it and I'm not feeling charitable enough to return it to them. Anybody want to make me an offer? Interesting swaps considered! (Lets be honest; buy me a beer and it's yours.)

| | |
| --- | --- |
| | [1] |
Ladies and gentlemen, DeskCam is BACK! Also note that I have changed my hair yet again. The colour is still red - lovely deep refreshed shocking red - but I had her chop a few inches off. We started with a classic bob but then cut into it and thinned it out a lot. (I have way too much hair.) Paige said that her official name for the cut is a "shattered bob," which I totally love. It goes with the punk rock image.

| | |
| --- | --- |
| | [4] |
The Ridiculously Thorough Guide to Making Your Own Pizza. How useful! My few attempts at homemade pizza have seriously sucked. (Link courtesy of not martha.)

Friday, July 8, 2005
| | |
| --- | --- |
| | [6] |
After eleven-and-a-half weeks... I finally got a new computer! About damn time.

Thursday, July 7, 2005
| | |
| --- | --- |
| | [6] |
Oh my God. We just saw the news. The Snook and I were sitting in a bar when he noticed a reflection of a TV screen behind us and recognized the words "London" and "bomb" as they scrolled past. We recognized Tube stations that we had both been in dozens of times. It's unbelievable. Londoners like to act blasť about the IRA threat, but something like this is just shattering. I remember how it felt on September 11, 2001 as we watched the World Trade Center fall from our kitchen in Hammersmith, getting reports of the City evacuating and wondering how safe we were. We're sending e-mails and SMSes to friends over there right now. Any of you Londoners able to tell us what it's like in the city?

This is a sad time. I hate to say it, but the possibility of something like this happening was part of the reason we left. As the Snook said on September 12, "If America goes to war, we're going to Australia." I'm really glad we did.

| | |
| --- | --- |
| | [2] |
Good grief. How many times do I have to say it? Willy Wonka didn't "hate children". That's just WRONG. This Patrick Lee guy has obviously never read the damn book. This is half the reason I stopped updating my Dahl site. No matter how much misinformation I try clear up, the same myths and inaccuracies persist. It's like shouting in the wind sometimes.

| | |
| --- | --- |
| | [1] |
Look, I may indeed have muttered "I wish these damn candy bars were off the shelves" during my darkest diet moments, but I swear the whole Masterfoods extortion threat wasn't from me, okay? (Although I will admit to a certain "If I can't eat Snickers, nobody can eat Snickers!!" shadenfreude.)

Tuesday, July 5, 2005
| | |
| --- | --- |
| | [1] |
DietBlog: So yeah, I registered a gain this week. I'm actually, really, truly kinda glad about it though, you know? I mean, I deserved it. I had a wonderfully rich dinner at Rosalina's on Thursday, pancakes and sausage followed by a mega-pig-out at the Food Show on Saturday, a massive portion of lamb tagine on Sunday, and an All-American Fat Fest on Monday. And here's the thing: I've had a loss every single other week and I think I was starting to take it for granted. My cheating has been getting more and more egregious because I just don't know where the boundaries lie, you know? But now I do. Now I have a better idea of how much I can indulge but still remain on the right track. It's a good thing. Plus I had this constant fear of gaining and it was like waiting for the other shoe to drop. Now I've faced my fear and gotten it out of the way, so I can quit obsessing and continue my progress towards goal.

That said, I got some major inspiration from the meeting tonight. First, I received a little star achievement pin for making it to thirteen meetings. (I guess most people peter out before then, but it's still nice to get an award just for showin' up!) Then I had a nice chat with Catherine, a naturopath who just started the program last week and who registered a two kilo loss tonight. That's like four pounds! How awesome is that? See, this is exactly how Weight Watchers is working for me. I'm at the stage where normally I'd get bored and give up, but now I've got this support network of totally inspirational and amazing people. Catherine was so excited telling me about the changes she'd made - more exercise, watching portion size, tracking Points - that I started to get fired up too. I told her that my goal is to join her in weight loss again next week!

| | |
| --- | --- |
| | [4] |
Real wood iPod. That is so cool! Reminds me of when Kramer put fake wood wallpaper up in his apartment.

| | |
| --- | --- |
| | [11] |
HOLY CRAP. Guess who was just in our shop? Parker Posey. PARKER POSEY. She's in town filming Superman, where she evidently plays the "female baddie." And no, I didn't even get to see her! The girls just told me she was in and I was like, "WHAT? YOU DIDN'T CALL ME?!" And then I started reciting all her lines from Dazed and Confused and now they think I'm weird. And get this: she's only been in town a week and she's already been in our shop TWICE. And since she put stuff on hold today, she's evidently planning to come back! I am officially on ParkerWatch 2005.


The new Tapestry Craft Class Schedule is up and yours truly is teaching three different sessions this year! I'm doing "Cables and Pattern Knitting," "Colour Knitting," and "Simple Knitted Socks."


Well, it's probably dark over in the U.S. by now, which means most of you will be settling down for some fireworks. Bastards! I wish I could see some fireworks. Or have a holiday. My whole family - and apparently most of the state of Indiana - are heading to Cedar Point this week. Me, I didn't even realize it was the 4th of July til over halfway through the day. I had to call the Snook immediately:
Me: It's the 4th of July!
Him: What, today? Can't be.
Me: It is!
Him: Well, we'll have to do something for that!
Me: I think so.
So we dined on Italian sausages braised in beer, spicy wedges, sweet corn, and berry shortcake. Oh, and the Snook swallowed his pride and picked up a six pack of MGD, which he felt was appropriate. (Stay tuned for the ensuing DietBlog post tonight in which I admit how much weight I gained this week...)

| | |
| --- | --- |
| | [2] |
Mary-Helen quite rightly takes Stella Minahan to task for her shoddy and - in my humble opinion - offensive research. Minahan is the person mentioned in all the Australian papers this week as the "researcher" looking into knitting, the Internet, and "stitchnbitch" communities. What I didn't realize was that Minahan has specifically restricted her survey to women under 40. Huh? My first SnB experience was the Newtown SSK group, who - while definitely not all over 40 - were pretty much all a fair number of years older than I was. Even at our Tapestry Craft SnB we get a good mix of older and younger ladies. How silly of Minahan to exclude them from her work when they would definitely add a different perspective!

Monday, July 4, 2005

If anyone is interested, the direct telephone number for the ANZ branch at Centrepoint in Sydney is (02) 9232 6322. I am posting this because I am annoyed that the only phone number they publish is the general freephone number and I had to wade through fifteen menus before getting to a human that could transfer me. So I'm posting it online out of spite. I'm takin' 'em down!

Sunday, July 3, 2005

I AM THE BAROMETER OF THE NATION. Every time I get mad enough to vote on Big Brother, that person invariably gets booted. Or maybe web-goddess has more influence than I thought? At any rate, the Shearer is gone and I'm loving it. Lefty Tim for President!

| | |
| --- | --- |
| | [1] |
Sheesh. And I thought 10 millimeter needles were cumbersome...! (Link courtesy of Kristen.)

Saturday, July 2, 2005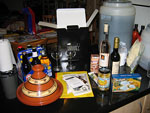 Good Food Show 2005
Good grief. What a day. The Snook and I were excited to see that the Food & Wine Show had moved to Darling Harbour this year, as that's pretty much within walking distance of our place. (It used to be in Homebush and the long train trip was a source of hesitation.) We made it down there about 3:00 today and figured three hours were more than enough to get through. We were wrong. We found ourselves amongst huge crowds, shuffling down long aisles full of bogans treating the show as an all-you-can-drink buffet. Once you got past that, though, it was pretty good! We ran into Steph and Eva fairly early and waved a greeting as we were swept past. Our first major purchase was a tagine from Spice Bazaar (that's the red conical ceramic dish). The booth owners were really nice and we got a packet of Moroccan spice to go with it. The Snook's already planning a recipe for tomorrow! We also bought some nice olive oil and verjus (which we tried for the first time). I also ate my very first pickled onion, which wasn't that bad! What else...? Oh, we picked up some gyoza molds for two bucks, and I grabbed some free Atkins stuff (which finally seems to be breaking into the market here). I pretty much blew my Points for the day, grazing on everything from cheese, laksa, Jelly Bellies, more cheese, dips, olive oils, mustards, and jerkies. Oh, and more cheese. We also picked up some tasting glasses and began sampling the wines on offer. YUM. The only misstep was a truly wretched Rioja, but other than that everything was really good. We came across the booth for the Wine Society and ended up chatting with the nice attendant for a good fifteen minutes. By the time we staggered off, we'd signed up and been given our complimentary Riedel glasses. Time was running short so we hurried off to the beer area... where the Snook promptly discovered the Australian Beer Club. We joined that one too. We never even made it down the last aisle before they kicked us out! What a day...


It has a kangaroo on it.
I just sent my postcard off to Emma today, so I thought I'd share what I wrote to remind any of you that haven't done it yet to get cracking!
Hi Emma! My name is Kristy and my Dad is your neighbour Ron Howard. I grew up in Indiana like you but now I live in Sydney, Australia, which is pretty far away! My Dad told me about your leg so I decided to get my friends all around the world to send you postcards too. I hope you get lots! Australia is a nice place to live but I sure do miss those Indiana summers. (Sweet corn is my favorite!) I hope you have a good 4th of July and your cast comes off soon. Hopefully I'll get to meet you the next time I visit my Dad! Your friend, Kristy
Observations: I use a lot of exclamation points when addressing children. I also noticed as I was writing that I've mentally adopted the British/Australian spelling of "neighbour" but "favorite" remains American. Odd, that.

Friday, July 1, 2005
| | |
| --- | --- |
| | [2] |
Whoa. Lismore's been officially declared a disaster zone. I hope Major's family are okay...

| | |
| --- | --- |
| | [3] |
What type of Disney fan are you? Much like Moire, I'm a member of the Disney elite. (I'm not though. It's just that I really liked "The Little Mermaid", "Beauty and the Beast", and "Mulan", and that knowledge got me past several of the questions.)


Holy crap. Apparently the Snook and I had a stowaway on our last visit home to Indiana! A 'roo in South Bend? That's nuts. (Link courtesy of brigita.)

archives
You can search through the archives by post keyword using the form on the left, or you can browse by month using the links at the bottom.
"Moblog" refers to posts and images posted directly from my mobile phone.

"PW Blog" refers to posts recovered from my very first weblog, which dealt with news related to my college dorm.