Thursday, July 31, 2008
| | |
| --- | --- |
| | [2] |
The SMH stages a race to prove what a lot of us already know: traffic in Sydney SUCKS. It also makes me want to buy a scooter.

Wednesday, July 30, 2008
| | |
| --- | --- |
| | [2] |
My wonderful husband sent me a link to this article about the results of a women's body survey. (Warning: The image at the top might not be safe for work.) The results? While women chose a skinny model as their ideal, men chose a much curvier shape. And the majority of guys also said that they were perfectly happy with their partner's body, and they only thing they wish is that we would be happier and more confident. Isn't that great? He's the best. :)

Happy birthday to Snookums, my best friend in the world. I'm sorry I had to miss it. This is the longest time we've ever been apart. (I did manage to video chat to him over Skype on the weekend, which was great.) I was secretly a little worried before I left that maybe we were "sublunary" (as per Max's awesome comment), but I'm happy to report that we can, in fact, function independently of one another. I haven't been sad or consumed by loneliness. In fact, I'm proud of how well I'm doing on my own. It's just that, well, things aren't as much fun without him around. He's my favorite person and I miss hanging out with him. Fortunately his sister, brother-in-law, and nephew were able to take him out to dinner to celebrate, so at least he got to mark the occasion properly. I only wish I'd been there to help celebrate! We're past the halfway mark though... Only 8 days til I get on the plane to fly home. (Photo courtesy of The Other Andrew, who - when I am rich and famous - will be my official photographer since he always makes me look good.)

Tuesday, July 29, 2008
| | |
| --- | --- |
| | [6] |
HOLY CRAP. We just had an earthquake here! It was my first one ever. I was actually sitting in the company founder's corner office having a big important meeting. I suddenly felt the room bouncing a bit. It was like being on the end of a diving board. I actually looked up at the ceiling at first, convinced that someone on the floor above us was jumping up and down or moving furniture or something. That's when I remembered that I was on the fourth floor of a brick building, and brick buildings don't BOUNCE. The three of us just looked at each other for a second, and I went, "What's going...?" And Shaun went, "Earthquake! Actually, this one's going on for a bit. We should probably get in a doorway or something." My legs felt like jelly. We opened the door to see the rest of the office on their feet, wondering what to do. Somebody suggested we should evacuate. That was all this Hoosier girl needed to hear! I hit the stairs and didn't stop moving until I was on the street. Lots of people from the building were milling around out there. Most of them were laughing, trading stories of other quakes they'd been in. People were trying to call friends and noticing that they couldn't get connections. A few minutes later someone said that the building manager told us we didn't have to leave, so we all headed back up into the office. My legs still feel a bit wobbly. I haven't felt any aftershocks yet.

But DUDE, what're the odds? I'm here for one friggin' week and we have an EARTHQUAKE? I should buy a lottery ticket.

Update: Wow! It made the SMH website. I didn't feel any of the aftershocks... but then again, I was frantically running down four flights of stairs and worrying about getting squished by a falling bit of masonry.


Money Button. Neat! Finally a use for all these damn pennies. (Seriously, America. You need to get rid of these NOW.)


Pocket Espresso to Go. Snookums needs some of those.

Monday, July 28, 2008
| | |
| --- | --- |
| | [1] |
Penn's New Slide
On Saturday morning, we went for a walk around the neighborhood and spotted a garage sale. They had a sweet plastic kids' slide for $8... and after some haggling, I bought it for $7. Then I had to lug it three blocks back to the Carbo house. We set it up in the back yard with some foam mats for protection. Penn... LOVED IT.



| | |
| --- | --- |
| | [1] |
Scuba Cat! I saw that cat on a Discovery Channel commercial last night and I just about fell over. He looks just like our Dr. Amy Jones!

Sunday, July 27, 2008
| | |
| --- | --- |
| | [1] |
Believe it or not, I actually did know that Chippendale boasts some bondage parlours. We actually got invited to a party at one of them by SOMEBODY. Apparently once you get past the fact that it's a dungeon, it's supposed to be a really fun time. We're just not sure it's our scene. (Link courtesy of Life in Chippendale.)


RunningBlog: This week was a return to my half-marathon preparation in earnest after the shorter recovery workouts last week. On Tuesday and Thursday I ran on the treadmill at the apartment. It was the first time I'd ever used the Nike+ on a treadmill, and I was prepared for it to be pretty inaccurate. Instead to my surprise it agreed pretty closely with the machine itself. Huh. Anyway, today I did my long slow run - 8.5 miles - around my sister's house in Petaluma. Quite a lot of the run was on walking and bike paths, which made for a pleasant change of pace. I tried to stay in the shade as much as possible since it was turning into a hot and sunny day. I picked up a bottle of water at the halfway point and swigged a mouthful every time I slowed for a walk break (which became increasingly frequent as I progressed). Still, I managed the distance at a 12-minute pace, which is pretty good considering the heat. I feel great right now.

Week 3 distance: 13.4mi (21.48km)
Week 4 distance: 9.7mi (15.6km)
Week 5 distance: 16.45mi (26.3km)

That's a 22% increase over my last long distance week two weeks ago. I made sure to have a nice cool-down walk at the end of my long one today, and I took the time to stretch in the backyard afterwards. My lower back is still feeling pretty good. My left hamstring and shin were giving me a little trouble today, but nothing too serious. Here's to staying healthy all the way until October 12!

| | |
| --- | --- |
| | [3] |
RunningBlog: Congratulations to Miss Fee for her awesome finish in the Bay Run yesterday! Well done. My team got somebody else to run in my spot, but to my dismay, she finished slower than I predicted I would. Oh well.

| | |
| --- | --- |
| | [3] |
SNOW?! You're freaking kidding me. And I missed it.

Saturday, July 26, 2008

Visiting the babies
Last night I caught a flight from Los Angeles to Oakland to visit the Carbos for the weekend. The kids were all asleep by the time I got here... but this morning we're all getting to know each other. My sister had the excellent suggestion to bribe Penn with some new toys and he seems to be warming up to me. Indie is just the sweetest, happiest baby I've ever seen. I'll be sure to take lots of pictures...

Thursday, July 24, 2008
| | |
| --- | --- |
| | [1] |
Compatto Yarn Salon
Last night I left work and walked a few blocks over to Compatto Yarn Salon. That's the knitting shop I found on my first day, and I knew they were having a sock knitting night. I'd brought my long-neglected Rhiannons along. There were five ladies sitting on the sofas in the back, happily stitching away. I introduced myself and a couple of them recognized me from a question I asked on the Ravelry LA forums. Everybody was really friendly and I had a great time. (My favorite bit: One of the girls who works there was like, "Maybe while you're here we can teach you to knit continental!" I chuckled and explained that I'm perfectly able to do continental and use it whenever I do two-handed fairisle, but in general I just prefer my silly old inefficient method of throwing. I think that threw her for a loop, so to speak.) I was surprised and fascinated to learn that one of the other knitters works on political campaigns, and she happily whipped out a photo of herself with Barack Obama. Cool! We debated the merits of the Australian electoral system as opposed to the U.S. Of course, sitting in such proximity to such gorgeous wool made Stash Acquisition inevitable. I managed to escape with only a ball of hot pink variegated Cascade Fixation (for making a hat for my niece) and a gorgeous golden skein of Pagewood St. Elias, a scrumptiously soft sock yarn made with Blue Faced Leicester wool. I'm going to try to make it back for next week's group too.


Knitters' Partner Interview
So I saw this cute little interview with the Sock Victim on Miss Fee's site. (She got the idea from here and here.) The idea is that the knitter asks their non-knitting partner some questions about their hobby. I sent the list to the Snook last night with a request for his answers. This morning I got my reply.

Snook: "Hmmm. There's a reason why I don't have my own website you know."

I expected as much.

| | |
| --- | --- |
| | [8] |
Ooh, something I forgot to add about my Grocery Store Experience the other night: They had special free sanitizing wipes at the front door for you to wipe down the handle of your shopping cart so you didn't pick up germs from other people. Is this an LA thing, or is this now de rigeur at all American grocery stores? I'd never seen such a thing in my life before. (Heh. The carts we normally use at Broadway are probably FILTHY. Everyone in, like, a ten block radius feels entitled to push their stuff all the way home in the cart. Then a little man in a truck drives around the neighborhood every day, collecting the carts and driving them back to the store. I doubt they get wiped down in the slightest. So not only have other people touched them, they've probably been sitting out all night in the elements too! Horrors.)

| | |
| --- | --- |
| | [1] |
Kitchen Block with Bowl. Neat! Filing this one away for future kitchen renovation reference...

Wednesday, July 23, 2008

Lunch at the Water Garden
There's an amazing office complex between the apartment and work called The Water Garden. I've walked and ridden past it on the bus a few times now so today I decided to explore. It was so pretty! There are several interconnected fountains and plazas with meandering pathways between them. The sun was shining with a nice breeze. I got some lunch - chicken quesadilla with spanish rice and guacamole - and sat myself down on a bench.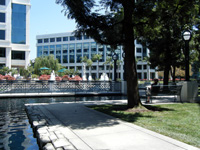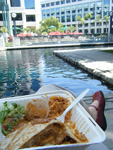 Yeah, that first one is me on the bench by the tree. What, you thought I wasn't the type of person who'd balance her camera on a trash can, hit the timer, and sprint 30 feet to the nearest bench? You were wrong. I have no shame.

| | |
| --- | --- |
| | [2] |
Mmmm, Decadent American Grocery Stores
So I've moved out of the swanky hotel downtown and into the staff apartment a few blocks from work. It's pretty nice! Somehow it just feels a lot more relaxing to come back to a place with a kitchen and a couch. There's a grocery store nearby so I headed over last night to get some supplies. Man, I forgot how amazing American grocery stores are. You guys just have no idea. I was walking around in a daze, like some Eastern European immigrant getting my first taste of capitalism. I'm pretty sure my jaw was open the whole time. And this wasn't even, like, a Super Walmart or anything. It was just a normal grocery store. I was freaking out. Too. Many. Choices. Everything so cheap. It is both the pinnacle of American achievement and a symbol of its decadance. I love it.

So there I was, wandering around like a slack-jawed yokel, trying to concentrate on the few things I knew I needed: something for breakfast, toilet paper, laundry detergent. And as I walked the aisles, I had a sudden epiphany: Snookums is my dietary Jiminy Cricket. Without him to keep me in check, my impulse was to load up on junk. It took all the willpower I had to buy some actual decent food (I got ingredients to make spaghetti carbonara for dinner tonight)... and even so, I still walked out with Golden Grahams, Pop-Tarts, and a pint of Ben & Jerry's. *sigh* At least I managed to get in a good run on the treadmill and start to work off some of the inevitable calories.


Coolness! My little brother Joey went to the Elkhart County Fair this week with his Day Camp group and they ended up on the evening news! My Mom put it up on Youtube. He's the one in the blue Cubs hat waving and pulling faces behind the camp leader.




Wired Magazine has a really cool article about the creation of WarGames, the Matthew Broderick movie about a computer hacker who ends up causing Global Thermonuclear War.


Holy crap! I was settling in at the staff apartment yesterday when I switched on the TV and nearly fell over. There on the screen was my ND friend Rob Sudduth, starring in a State Farm insurance commercial! You will recall, of course, that I got to kiss him in a play in college. (Previous posts about him have included his Dell commercial, a photo of us at a cast party, and his guest appearance on Veronica Mars.) It's just very, very amusing to me that Rob seems to really be making a go of this working-actor gig, whereas a lot of the "serious thespians" I knew in the theater department, um, aren't.

| | |
| --- | --- |
| | [7] |
Not happy, Target!
ARGH. A couple days before I left, I went to Target to pick up some cropped pants to wear to work here. I figured it would be hot in LA so I'd take advantage of the Australian winter discounts on summery stuff. I found some nice taupe capris and tried them on. Great fit! Maybe even a little big. On my way out, I impulsively grabbed the same size pants in black as well. That's what you do, right? When something fits and looks good, you get it in multiple colours! I packed them both in my suitcase, and I wore the taupe pair yesterday. All good. This morning I went to put on the black pair... and I could barely get them over my hips. SERIOUSLY. I double-checked the labels to be sure, but both pairs are exactly the same size. Yet somehow the black ones are at least two sizes smaller. I'm so annoyed. I can't even wear these. And I'd already cut the tags off and everything, so I doubt I'll be able to return them when I get home. How can there be so much variance in IDENTICAL pairs of pants? :(

| | |
| --- | --- |
| | [6] |
"The Disadvantages of an Elite Education". Fascinating article about how an Ivy League education isn't all it's cracked up to be. Now, Notre Dame isn't officially an Ivy, but it definitely aspires to be... and there's a lot in there that really rang true for me. (Especially since I spent three years in the ND Honors Program, which emphasized what elite intellectuals we chosen 40 were.) The homogeneity of the student body. The emphasis on "career" degrees like pre-med, business, and law. The sense of entitlement and the "old boy" network that goes along with it. And here's the bit that - shamefully - applied to me the most:
"How can I be a schoolteacher - wouldn't that be a waste of my expensive education? Wouldn't I be squandering the opportunities my parents worked so hard to provide? What will my friends think? How will I face my classmates at our 20th reunion, when they're all rich lawyers or important people in New York? And the question that lies behind all these: Isn't it beneath me? So a whole universe of possibility closes, and you miss your true calling."
It definitely applies. I won't lie; when I started back in IT four months ago I definitely thought about sending in an update to the alumni magazine. Working in the knitting shop... Well, I wasn't embarrassed to tell you guys or my real-life friends about it, but somehow I worried whether the other alumni would be snickering. Isn't that stupid? I still struggle with feeling like my college education was a bit of a waste (especially when I pay my student loan). If I'd stayed in the US, there's no doubt that it would have opened a lot of doors for me. Overseas, though, most people don't seem to care where your degree came from.

Tuesday, July 22, 2008
| | |
| --- | --- |
| | [3] |
Wii Shame. Just reverse the genders, and this comic is sadly all too accurate. :(


RunningBlog: This week was fortunately a shorter week. (My training plan cuts back every third week so you don't get worn out.) Instead of a long slow run on Sunday, I was meant to do 4 x 800m speed intervals. I went down to the treadmill in the hotel last night to do them... and just didn't have the energy. I managed one of them, but after that I just did a slow jog for a while. I was pretty worn out from all the walking I did earlier in the day though, so I don't feel too bad about it. (Plus, you know, I did spend 13 hours on a plane the day before.)

Week 3 distance: 13.4mi (21.48km)
Week 4 distance: 9.7mi (15.6km)
Week 4 distance (including walk): 14mi (22.57km)

So in terms of running, that was a decrease of about 27%. I feel pretty good about that. Tomorrow I'm going to do my morning run along the beach, I think!

Monday, July 21, 2008

WiiMMbledon Champions!
Ohmygosh, I can't believe I forgot to blog this! On this past Friday at around 5pm, Lucas Poole and myself became the Mobile Messenger Wii Doubles Tennis Champions! There were 32 people who originally signed up a few weeks ago, and people got paired up randomly into teams. There was a round robin group match (during which Lucas and I didn't drop a single set!) before going into the elimination tournament. It got tougher then, but somehow we found ourselves going into the final against Alek and Eliot. It was a match for the ages. People were standing on the sofa behind us trying to get a glimpse of the match. We ended up winning three sets to one, but every single set went right down to the wire. And the winning shot? I got an ace on a Power Serve. I knew that the receiver would totally be expecting it - I always go to the Power Serve in pressure situations - but some how he didn't! It was glorious. And the funny part is, Lucas might get sent out to the LA office before I leave. Snookums suggested we hold a similar tournament here, just so he and I can legitimately call ourselves WORLD CHAMPIONS.

| | |
| --- | --- |
| | [2] |
Emily posted a photo of me and Snookums from the Christmas party Saturday night...

| | |
| --- | --- |
| | [3] |
Made it. I'm so pooped. Hotel is nice. I'm in the Apple Store in Santa Monica. I've already walked fifty blocks (literally) and made my first visit to a knitting store. Trying to resist the urge to sleep.

Saturday, July 19, 2008
| | |
| --- | --- |
| | [4] |
Ready to fly. Well, my bags are packed and the butterflies in my stomach are finally starting to settle. We just got back from a lovely Christmas in July dinner with Emily and Clare and Bex and Fin. I introduced them to the wondrousness that is American pumpkin pie. (I had to shell out $11 to get real imported Libby's!) You know, proper roast turkey really should be something we eat more than a few times a year. I'm so full.

Anyway, in less than 12 hours I'll be boarding my flight to Los Angeles. It looks like I'll probably be staying here for the duration. I've booked tickets to visit my sister in San Fran on the first weekend, and then I'm making an insane 60-hour visit to Indiana on the following one. I should have Internet at both work and the hotel, so expect to hear all about my adventures as they happen!

Friday, July 18, 2008

Swapperiffic!
The third swap in the "Australian Knitters" group on Ravelry is taking place this week, and I just got my package! It came from the awesome "tasknits" (aka Gill) down in Somerset, Tasmania. She made me a beautiful black beret and matching mittens with red cable trim. I also got a calico bag, a bunch of cool gear from the Burnie Ten (a famous 10K race down there), a bookmark, and some chocolates. Thanks, tasknits! I used my work webcam to snap a quick picture of my hat and mittens: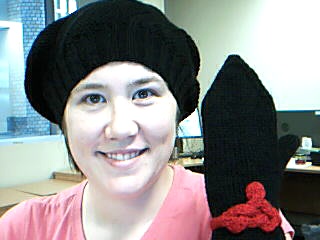 My own swappee's package will be sent at the very last minute tomorrow. It's been a crazy week.

The secrets of perfect chocolate chip cookies. Damn! I made chocolate chip cookies Wednesday night and I didn't rest them for 36 hours or put fleur de sel on top. Yet somehow when the Snook and I took batches to work yesterday, they all disappeared. Everybody loved them! So perhaps the real secret is that the perfect homemade chocolate chip cookie... is the one somebody else bakes for you. (Link courtesy of Miss Fee.)

Wednesday, July 16, 2008
| | |
| --- | --- |
| | [5] |
It's official: I am flying to the States on Sunday morning for nearly three weeks at our LA office. I'll be staying at the company apartment in Santa Monica. On the first weekend, I'm going to fly up to visit the Carbos. On the second, I'm going to try to get back to Indiana. They'll be quick visits, but hey, at least I'm getting the big flight for free!

It's going to be a little weird to be away from Snookums for so long. I refused to get schmoopy about it though. It's like those people on Survivor; I get so annoyed when they start crying after two weeks without their wife. It'll be fun to have this little adventure on my own, right? (And you know he'll be enjoying bachelor life back here...)

| | |
| --- | --- |
| | [7] |
The customer is always _____?
I've been having fun reading this epic Metafilter thread about some blogger who was denied espresso over ice at his local coffee shop. The coffee shop owner claimed that it's because espresso over ice goes sour and icky, and anyway most people just turn around and make "ghetto lattes" with it. The blogger felt like he should be able to order whatever he wants, coffee-snobs be damned. The MeFi discussion pretty much covers the whole spectrum. I was particular interested when people started bringing other service professionals into it. Like, should a good bartender serve a customer single-malt scotch and soda? Would a true culinary artist acquiesce to a customer's demand for risotto with a side of spaghetti? Should a real music fan refuse to sell a treacly Steve Wonder hit? Or - to make it relative to my own experience - should a yarn store employee sell a newbie Feathers yarn to make their first scarf?

Personally, I tried to talk people out of bad decisions. If I felt they were going to be disappointed with their project, I'd tell them why their chosen yarn wasn't really suitable for their pattern. Then I'd suggest alternatives. But I'd never go so far as to refuse to sell them what they wanted. If they want to kill themselves making a aran jumper out of cotton or a six foot long scarf out of Feathers, so be it. We'd had a "Knitting Nazi" working at the store before, and it's just not good for business.

Tuesday, July 15, 2008

Free speech prevails. FANTASTIC.

| | |
| --- | --- |
| | [3] |
RunningBlog: I was so busy yesterday getting ready for the presentation that I forgot to post my training update!

Week 2 distance: 12.4mi (20.01km)
Week 3 distance: 13.4mi (21.48km)

That's a much more modest distance increase of only 7%. Good, huh? Unfortunately I did feel some pain in my lower back on the second run. Stretching and anti-inflammatories seem to be helping.

This surprise work trip to L.A. means I'm going to miss the Bay Run next weekend. I'm sad about that, but at least I'll be back for the City 2 Surf. The company apartment over there apparently has gym access, so I should be able to run on a treadmill in a pinch.


Wii MotionPlus. Neat! Now bring on the lightsaber games. :)

| | |
| --- | --- |
| | [3] |
Quoth the Snook: "Heh. The kitteh is runnin." (Drag the box really slowly.) It's actually from a children's book that I've got to give to my nephew Isaiah when I finally see him...

| | |
| --- | --- |
| | [6] |
Holy crap. I've got a big important presentation at work this morning... and it looks like I'll be flying to LA this weekend to spend two weeks at our American office. (When did I get so fancy-pants? It's like I'm in Working Girl or something.) Anyway, who do I know in LA? Anybody? Drop me a line if you're willing to go out to dinner with me or something.

Update: The presentation? ROCKED. Who would've guessed that my high school speech team experience would turn out to be my most marketable skill?

Sunday, July 13, 2008

Something wicked this way comes.
We caught a great film on the TiFaux this weekend: Orson Welles's Macbeth. The Snook walked in during the very first scene and guessed, "Genghis Khan?" No, but you'd be forgiven for thinking that based on some of the wack costumes they wear. The landscape and setting are crazy too. It took me a long time to figure out that the giant rocky mountaintop where everything seemed to take place... was actually Dunsinane, the castle. It was really surreal and atmospheric and weird. There were characters (that crazy medicine man/priest with the long braids?) that I didn't remember from before. Some characters would drift in and out of Scottish accents. Yet the story was still there, complete with all my favorite speeches*, and it was still powerful. I liked Welles's touch of having some of the soliloquies be voice-over instead of spoken aloud. The shots of "Birnam Wood" marching through the mist towards the castle were unexpectedly eerie and beautiful. This one is definitely recommended, if you like your Shakespeare on the weird, expressionistic side.

* Snookums was slightly disappointed though that his favorite speech got cut. It's the scene directly after Duncan's murder, when the drunken porter goes to answer the door and goes on a long ramble about the effects of alcohol on the male anatomy.

| | |
| --- | --- |
| | [14] |
World Youth "Day" is about to begin, and the pilgrims are everywhere. There are currently at least 100 people milling about at the end of our street, waiting to pick up their baseball caps, lanyards, and windbreakers from the Uniform Center. It looks like the crowd outside a Christian rock concert. I have seen more nuns in full nunly dress in the past two days than I did at four years of Catholic university. I saw an actual Franciscan friar walking down the street yesterday. It just... irrationally irritates me. I'm glad they're all having a good time, but sometimes I just want to get my groceries home without being forced off the footpath by do-gooders playing hymns on a guitar. (That actually just happened.) I feel compelled to somehow redress the cosmic balance of our neighborhood. I've already hugged a lesbian, and I'll be getting my Depo-Provera shot later this week. Hm, maybe I'll donate some money to a pro-choice organisation. Any other ideas, short of hosting an actual Roman orgy in our living room?

| | |
| --- | --- |
| | [2] |
Okay, so I'm looking forward to the vampire smut movie as much as anybody, but I gotta agree with the Fug Girls on this one: Cedric Diggory looks like zombie ass in that picture.

Friday, July 11, 2008
| | |
| --- | --- |
| | [1] |
Woohoo! I just had my three-month performance review at work, and I rocked it. I felt like things were going really well, but you know me: I stress. It's good to get some positive feedback and know that my efforts have been appreciated. There may be some big things in the pipeline too... but I don't want to jinx anything.

| | |
| --- | --- |
| | [3] |
Doughnuts on Coffee-Flavored Cupcakes. BRILLIANT.

| | |
| --- | --- |
| | [4] |
Holy crap. Somebody is selling a complete Rock-afire Explosion in working order over on Ebay! I had my 8th birthday at Showbiz Pizza, and it was so awesome. If I had this, I could relive it in my basement EVERY SINGLE NIGHT!



(Except I don't have a basement. And I don't have $14,000. And I live in Australia.)



| | |
| --- | --- |
| | [2] |
Survival of the Sudsiest. Apparently modern society owes a lot of its existence to beer drinkers. The aside about alcoholism in Native American and Aboriginal communities is pretty fascinating. I have to wonder, though, how Johnson's book accounts for the inability of many Asians to digest alcohol. Wouldn't that have been selected against? I guess I'll have to look out for the book. (Link courtesy of Daring Fireball.)

Thursday, July 10, 2008

I was just reading this AskMetaFilter question, in which a non-American asks whether "hillbillies" really do still exist. In the course of the comments, someone points to this story of a trailer-dwelling woman in Georgia who spoke at a recent Obama event. It nearly made me cry. These are good, hard-working folks, and they're doing it really tough right now. And I really wish that those of you forwarding racist jokes about Obama (yeah, I still receive them occasionally) would READ IT. Things are broken right now, and they need to be fixed.


Schrödinger's cat was probably nicer than mine. I do love a good cat comic! Especially one with five randomly chosen endings.

Wednesday, July 9, 2008
| | |
| --- | --- |
| | [10] |
Me: "Nicole Kidman had her baby and they named it Sunday Rose."
Snook: "Sunday ROAST?!"

Poor kid's going to get that reaction her whole life.

| | |
| --- | --- |
| | [4] |
Plumber Recommendations? Can any of you Sydneysiders recommend a good plumber? We're probably getting gas installed at the house and we need a plumber to run all the connections. I've got one recommended to us by the Strata Manager but I'd like to get a couple quotes first.


Someone speculates on what happened when the Peanuts gang grew up... I thought that was pretty neat. I wish he'd included Sally and Marcie though.

| | |
| --- | --- |
| | [4] |
Wow. It's a sports bra with a built-in heart rate monitor! That's so tomorrow.

Tuesday, July 8, 2008
| | |
| --- | --- |
| | [4] |
Here's a true story about how awesome Pixar is. I can't wait to see Wall-E.

Monday, July 7, 2008
| | |
| --- | --- |
| | [7] |
STRIKE!
Oh, this is glorious. The railworkers have threatened a strike next week for the busiest day of the Pope's visit. BRILLIANT. I'm actually serious; I will happily walk the 8km to work if it means that World Youth Day gets buggered up that little bit more. Which reminds me: The official WYD "Uniform and Accreditation Center" happens to be located at 1 Grafton Street, Chippendale, if anyone wants to, you know, protest. Or something. Me, I'm just hoping I can walk down the street to my house without being fined for annoying a Catholic.

| | |
| --- | --- |
| | [1] |
RunningBlog: I've just finished Week 2 of my training for the Melbourne Half-Marathon. I'm feeling good!

Week 1 distance: 10.8mi (17.37km)
Week 2 distance: 12.4mi (20.01km)
Fastest mile so far: 10:41

That's a distance increase of 15%. I know that's higher than the 10% most runners aim for, but that's because I'm still ramping up the length of my daily training runs. They're at 35 minutes now, but in a few weeks they'll top out at 45 minutes. Then the only increase will come from my long runs on the weekend.

I'm still going nice and slow on most of my runs (as per Galloway's book), and I'm loving it. I did my long run yesterday at a 12:00/mile pace, and that included taking a minute's walk break after every kilometer. I didn't feel too tired at the end at all. In terms of injuries, my left hamstring has been feeling a little tender lately (I'm trying to remember to ice it each night) and my right shin started to feel a little sore towards the end of the run. My lower back pain is almost completely gone. I've been trying to pay more attention to my form, and I think that's really going to pay off in the coming months.

I ran a "magic mile" on Monday night and managed it in 10:41. According to Galloway, that means I'm capable right now of running a half-marathon at a 12:30 pace. That's actually a little bit slower than I ran it in May, so I'm not putting too much stock in his prediction right now. Or maybe I didn't run the mile as quickly as I could've. It was hard to pace myself over the distance, and I was running on the sidewalk in Newtown (and therefore dodging people). Maybe for my next one I'll make a trip over to the proper athletics track...

| | |
| --- | --- |
| | [2] |
50 States, 50 Bands. A list of the best all-time band, solo artist, and new band from each state in the union. I was all excited about this til I saw the Indiana selections. Sure, the Jacksons are from Gary... but they're hardly representative of Indiana music. I have to agree with the commenter who says "Indiana's Solo artist begins and ends with John Mellencamp." Damn straight.

| | |
| --- | --- |
| | [1] |
At the BBQ on Saturday, I met a guy from Chicago and we were reminiscing about missing the Taste festival. Now? Not so much.

| | |
| --- | --- |
| | [2] |
The Snook is obsessed with the idea of dirigibles. He thinks it's the future of air travel. I think he's been reading too much steampunk.


Another Halloween centerpiece possibility: Wasp Cake.

Saturday, July 5, 2008

Celebrations
It's been a weekend of special occasions. We're on our way out the door to a special 4th of July BBQ hosted by one of the Snook's sorta-American co-workers. Also, Happy Birthday (well, yesterday) to Miss Fee! And lastly, I was absolutely thrilled to get an email this morning announcing that Matt and Christopher had gotten married in California. Congratulations, guys!

Friday, July 4, 2008
| | |
| --- | --- |
| | [1] |
PIE PIE PIE
Wednesday night was our long anticipated excursion to A'Mews in Glebe for their Winter Pie Special. Apparently the chef has a tradition of designing a new meat pie each year which is only available on certain days in June and July. This year it was "Black Angus Beef, Madeira, Eschallot & Kipfler Potato Pie with Creamed Parsnip". We were joined Miss Fee, the Sock Victim, Emily the Car, and Clare. (Miss Fee has photos of the pie.) It was fantastic. Without a doubt one of the best meat pies I've had. The restaurant is cozy and inviting, and the staff are friendly and helpful. My only complaint at all is that the prices are pretty high for Glebe, which will limit how often we go there. But if you can afford a fancy night out - and you enjoy a bit of meat - you should definitely try the pie while it's still available...

Thursday, July 3, 2008
| | |
| --- | --- |
| | [2] |
Interactive Packaging. Neat. I didn't know that Jiffy Pop was invented in LaPorte, Indiana. I can remember my parents making some on a camping trip when we were little and my brother Anthony absolutely freaking out because he thought it was going to explode. Also, man, I miss pressurized biscuit dough. That stuff just doesn't exist outside the US.

Wednesday, July 2, 2008
| | |
| --- | --- |
| | [2] |
HIDA Scan
Well, that was the boringest medical procedure in history. Seriously. Other than a one-second pinch when they put the IV in my hand, there was nothing painful or scary. I just lay there on a "bed" (which was more like an industrial table) while they pushed the radioactive stuff through my IV. Then they wheeled this big metal contraption over my midsection and I just had stay still for an hour. I could see a sort of a screen above the machine with some sparkly dots on it, which the doctor said was my liver. (Later the dots coalesced into a single big bright spot, which was apparently my gallbladder.) Anyway, I put on my iPod, snuggled under the blanket they'd given me, and pretty much dozed the whole time. Then they trickled something else into the IV and took more pictures for another half hour. It was pretty relaxing... until I was presented with a bill for $500. Ouch. (Apparently Medicare covers the great majority of it though.) No word on the results yet; apparently the doctor has to do some analysis and then send the verdict over to my GP.

As for my superpowers... Nothing yet. I've been trying unsuccessfully to read minds without much luck. I asked the doctor about the half-life and he said it was six hours, so I'm sure it'll all be gone by tonight. I wonder if that's enough time for my DNA to finish mutating?


RunningBlog: Bex says that the next time I enter a race, she's going to be holding up the first sign. It's great to get encouragement from your friends.

Tuesday, July 1, 2008
| | |
| --- | --- |
| | [4] |
Radioactive Girl
In the continuing Saga of Kris's Stomach... now my doctor thinks it might possibly NOT be my stomach. Apparently if your gall bladder is malfunctioning, it can present as ulcer-like pain. Interesting. So in 14 hours, I'm having a HIDA scan. I'm going to get injected with radioactive dye (!!!) and then scanned to see if there are any problems. Fun, huh? Worst case scenario: They don't find anything and the mystery continues. Best case scenario: My gallbladder is at fault; I have surgery to get it removed; I'm all better; and I get super powers from the radioactivity! I'm kinda looking forward to it.

archives
You can search through the archives by post keyword using the form on the left, or you can browse by month using the links at the bottom.
"Moblog" refers to posts and images posted directly from my mobile phone.

"PW Blog" refers to posts recovered from my very first weblog, which dealt with news related to my college dorm.