Friday, July 31, 2009
| | |
| --- | --- |
| | [2] |
Fantastic Mr Fox
The trailer for the upcoming Fantastic Mr Fox movie is out... and I kinda liked it! (I'm as surprised as you are.) It bears very little resemblance to the original story, but to be honest it was never one of Dahl's best works anyway. (It also underwent extensive revisions, as the original was even more a glorification of thievery.) I actually chuckled quite a few times during the trailer, especially at the young fox with the tube sock on his head. So for the moment, I'm cautiously optimistic about this one...

I really should start updating my Dahl site again. This movie could generate some serious traffic.

Thursday, July 30, 2009

I had a weird and busy day away from the computer, but I need to say a public "Happy birthday" to my best friend and favourite human being. Many happy returns of the day, Snookums.

Wednesday, July 29, 2009
| | |
| --- | --- |
| | [1] |
Link List:Can you guess what I'm doing at work this week?


USE IT UP - WEAR IT OUT - MAKE IT DO! Love it! Of course, I make the Snook take his pants off before I mend them.

Tuesday, July 28, 2009
| | |
| --- | --- |
| | [2] |
RunningBlog: Running/Walking Challenge
Since I know some of you have been inspired to hit the roads and get healthy lately, I've just created a "NSW Knitters Challenge" over at Runner+. The challenge is to get in as many miles in August as you can. There's no prize for winning; just the encouragement of the group to keep going! I chose Runner+ because it doesn't require any special equipment to record your runs. You can enter the distances by hand (as I do), or you can sync it up to the Nike+ system. I've made the challenge private, so please let me know if you'd like an invite. (And non-knitters are welcome too!)

Monday, July 27, 2009

Infinite Jest
I'm sad to report that I've fallen so far behind that my Infinite Summer is destined to be a failure. I'm still reading a few pages here and there, but nowhere near the rate I need to keep up.


My buddy Michael, Chippendale's local sustainability expert, is quoted in an article in today's Sydney Morning Herald about road design and urban warming. He gave a presentation last week on how the Chippendale road gardens represent a way to change the way our city works. (I hope the tree thief reads it and chokes on his own shame.) I've also posted this over on the Life in Chippendale blog.


RunningBlog: What a difference a week makes!

This week: 28.8km (18mi)
Last week: 12.5km (7.8mi)

I know that's a ridiculously large jump, more than double. But 18 miles is what I should be up to on my plan, and the only reason the past few weeks were less was because of my stupid cold. The big difference was my long run, which I finally managed to get in yesterday. I did nearly 14km at a very slow pace (4:00 jogging, 1:00 walking) around Centennial Park. My legs, back, and lungs all felt better than I expected. Afterwards I chugged a chocolate milk while sitting in a cold bath. Bliss...

Sunday, July 26, 2009

More pictures of yesterday's tea party are up at JP's site...

| | |
| --- | --- |
| | [4] |
Jeez. The knitting world has been rocked by this post over at Yarn Harlot, where she details the harrassment she's been dealing with from a reader/commenter who doesn't like her. If you're visible on the Internet and you dare to utter an opinion on anything, there is someone who will take extreme offense to it. (And haven't I learned that lesson recently...) I checked out the Twitter stream of the woman harrassing YH, and man, what a nutbar. A nutbar wrapped in pro-American jingoism, too. Depressing.

| | |
| --- | --- |
| | [2] |
Tutorial: Market Skirt for little girls. So cute! I want one for me.


What's your Shuffle-Fail song? For me it's "Accelerate" by R.E.M. It's not so much that shuffle fails for me though, but rather that I mistakenly think I'm in the middle of a podcast. (Link courtesy of John.)

| | |
| --- | --- |
| | [4] |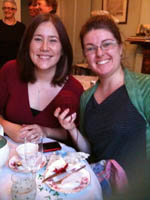 Knitters' Tea Party
Today I met up with 11 other frocked-up knitters for high tea at Harrogate Teas in Pyrmont. The event was organised by the amazing Jody as a special outing for the regulars at the Thursday night Morris & Sons SnB group. Over the course of three hours, we enjoyed numerous sandwiches, scones with jam and clotted cream, petit fours and chocolates, and lots of tea. (There were also several bottles of bubbly being passed around, but this sickie took a pass.) It was lovely! We knitted and chatted and tweeted and amused the heck out of some American tourists. There were also many photos taken...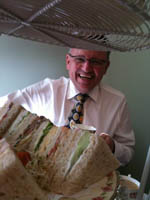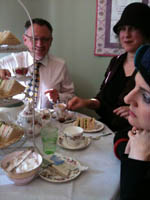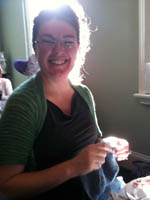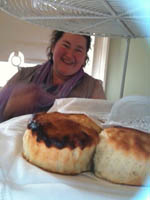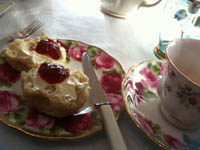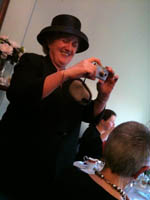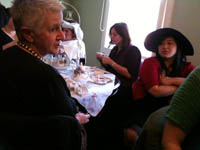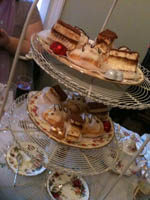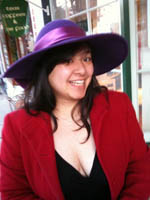 Friday, July 24, 2009
| | |
| --- | --- |
| | [8] |
Jill and Kevin's Big Day. It's a YouTube video of the opening of a wedding, and it's just the best thing I've seen on the Internet in ages. Made me smile and laugh and dance, and tear up a little bit. All weddings should involve goofy dancing! (Link courtesy of Eileen.)

Thursday, July 23, 2009
| | |
| --- | --- |
| | [2] |
I yearn for a Boot Room.
We just watched the Marlborough Farmhouse episode of Grand Designs. WOW. This is absolutely my favorite house ever featured on the show. I want it. This is a house I could see myself living in out in the countryside... eventually.

| | |
| --- | --- |
| | [1] |
Yay! My stepdad and little brother got photographed in the South Bend Tribune while waiting for Lou Holtz's arrival at a fan festival. (Joey is wearing a Lou Holtz mask, in case you're wondering.) How fun!

| | |
| --- | --- |
| | [2] |
100 Things Your Kids May Never Know About. The one that made me laugh was #92: "Writing a check." Not in the NSW Knitters Guild! I swear; they'll be the last cheque-requiring holdouts in the country. The Snook and I finally killed off our cheque account a couple months ago, since it was costing us $10/month and we wrote maybe three cheques a year. Of course, that came back to bite me in the ass when I needed to send in a new Guild member's registration form last week. Instead I had to make a special trip to the post office to get a money order, which cost me $4.50. It's ridiculous. We pay all our bills electronically now, and there's still this one organisation requiring me to send in a bit of paper.

Wednesday, July 22, 2009
| | |
| --- | --- |
| | [2] |
Just to warn you, DeskCam is a bit disturbing right now. I am knitting this, and it's so freaking me out.

| | |
| --- | --- |
| | [5] |
The star of tonight's dinner: Sauteed Parsnips and Carrots with Honey and Rosemary. YUM! We had a couple parsnips rattling around the bottom of the veggie box that I needed to use. The Snook isn't a big fan of roasting them, so I found this recipe. It was great! I followed the advice to put crispy bacon on top too. Highly recommended.

| | |
| --- | --- |
| | [2] |
New Zealand Tourism Posters, as seen on Murray's office wall in Flight of the Conchords. I've got no idea how the whole Australian-New Zealand antagonism storyline plays in the States, but it sure cracks up me and the Snook (who found the link).


How to Sew a Perfect Box Pouch. Awesome! I think I might have to try that out. Looks like it would make nice little gifts.

Tuesday, July 21, 2009
| | |
| --- | --- |
| | [2] |
Another unusual massage...
Tonight I left work early to see Dr. Chin at Broadway. I was due for my monthly allergy shot, and I wanted his opinion on my lingering cough. Well, half of Ultimo was backed up in his waiting room so I had a lot of time to kill. I headed next door for a massage.

My masseuse was a deceptively tiny Chinese lady. She noticed my stiff lower back and right hip at once, and I explained about seeing the physio for this running issue. At this point I was expecting the dreaded-but-usual ass massage. Instead she put a towel on my back and began drawing the curtains around the table. (Very unusual, since this place is in the middle of a mall. Hardly a private spa!) Then I heard her kick off her shoes and climb on the table. "You're...uh... Goin' up there?!" I asked. "Is it okay?" What the hell. So I finally had the mythical massage where the tiny lady WALKS ON YOU. For reals. I was torn between being weirded out (because you know I have a thing about feet) and reveling in one of the Best. Massages. Ever. Seriously, it was good. She mostly balanced one foot on my sacrum/lower back and used the other one to work my spine and knots. I wouldn't have believed it if I hadn't experienced it. It's definitely only for those that like a strong massage though. Now we just have to see if I can actually move tomorrow...

| | |
| --- | --- |
| | [3] |
Knitting Tribes
The situation would be comical if it weren't so depressing. One week I'm fielding drama from the "old guard" of the NSW Knitters Guild, convinced that I'm intent on destroying traditional knitting from within with my radical ideas about "email" and "the Internet." The next week I'm copping it from the "punk rock" guerilla knitters, accusing me of being a Granny and Communist (yes, really) for saying that I think most knitted graffiti is a waste of time.

Obviously the issue is that a lot of people identify really, really strongly with their particular niche hobby community (be it knitting, Star Trek, or the Dallas Cowboys). Saying you dislike an aspect of that community is tantamount to personal insult. They all take it so deathly seriously. I just don't get it. It's just sticks and string! I'm not offended by people who don't like knitting. It doesn't define me as a person. I don't take it as a personal insult when someone says they don't see the point in knitting socks. Sometimes I take it as an opportunity to try to sway them to my side, but I'd never use it as an excuse to insult and demean them. If you think that someone saying they dislike your preferred style of knitting project (or your favorite band or TV show) is equivalent to them saying that you are a bad person, then there's really no way to have a rational discussion or debate about it.

The only way to win is not to play, really. Militants (whether of the Old Guard or the New Subversives) really suck the fun out of everything.

| | |
| --- | --- |
| | [1] |
Masterchef and the Snook
For the record, NO, the Snook will not be auditioning for Masterchef next season. Why? "Because they want people who want to run restaurants. I don't want to run a restaurant. They said they want people who want to change their lives. I like my life how it is!" And there you have it. His superior cooking skills will remain mine and mine alone to enjoy!


God shines on those that tweet. Me, twittering away on Sunday arvo...


Snookums found this list of Bluetooth-enabled multiplayer iPhone games. Neat!

Monday, July 20, 2009

RunningBlog: I'm slowly working back into it. I managed three short runs last week, and the good news is that my shins feel great. The bad news is that this chesty cough still isn't budging. I'm going to the doctor for my allergy shot tomorrow night, and I'll take the opportunity to see if he thinks this bronchitis is worth some antibiotics.

This week: 12.5km (7.8mi)

Bay Run (7km) in two weeks, and then the City2Surf (14km) the following week!

| | |
| --- | --- |
| | [6] |
THEY STOLE MY TREE.
My beautiful little macadamia tree lasted six months. I went to check on it tonight only to discover that SOME BASTARD STOLE IT in the past 24 hours. Yep. They dug it right up out of its hole in the footpath. I WAS LIVID. I went down to see Michael on the off-chance he maybe transplanted it somewhere else, but he didn't. He had some choice expletives for the kind of people who steal trees. He told me not to give up, that he had more trees with stakes and mesh. We're gonna replant, and they're not gonna steal the new one. I know he's right, but man, I really just want to give up. Sometimes the rest of humanity just sucks, you know? And they don't deserve my trees.

| | |
| --- | --- |
| | [1] |
The Know-It-All
I logged in to Facebook before bed last night to see that I had a message in my Inbox. It was from an author called AJ Jacobs, who was trying to track down an obscure short story that he suspected might be by Roald Dahl. I wrote back to confirm that it wasn't... and then this morning realized that I've actually read one of AJ's books! He wrote The Know-It-All, which I read on vacation in 2007. I felt inspired to help him track down the real story, so I asked MetaFilter this morning and it was cracked within an hour. Fun, huh? So if AJ uses it in a book, you all will know that I helped!

Sunday, July 19, 2009
MetaFilter 10th Birthday Party
This weekend was MetaFilter's 10th birthday, and there were 67 celebrations on 7 different continents (including Antarctica!) to celebrate. I dragged the Snook along to the Sydney meet-up. It was an absolutely beautiful warm afternoon, and we took advantage up on the roof of the Glenmore Hotel. I was taking photos and tweeting throughout the afternoon. I think we had ten people in total, and we made full use of mathowie's bar tab. Thanks to everybody who turned up, and many happy returns to MeFi!

I'm happy to report that I scored 74% on the official MetaFilter Anniversary Quiz.

| | |
| --- | --- |
| | [2] |
I love, love, LOVE this vintage 1981 Lego ad. I love everything about it. If I ever had a little girl, I'd want her to be just like this.

Friday, July 17, 2009

Gadgetgirl is going to love today's Cat and Girl. I left a comment suggesting that the exact same thing also applies to knitters.

| | |
| --- | --- |
| | [1] |
Cauldron Cakes (aka Black Forest Cookies). Holy crap. I might need to make those this weekend.


The first episode of the Knitting Ness Video Blog is up, and it's great! Even though I know her in real life, I was surprised by how natural and charming Ness comes across on the video. (Not that she's not charming, but talking to a camera by yourself and not sounding like an idiot is a skill I do not possess.) Well done, Ness!

Thursday, July 16, 2009
| | |
| --- | --- |
| | [1] |
Rob "Millsy" Mills wrotes an editorial in support of gay marriage. Sweet! Nice one, Millsy. I can almost overlook that whole shagging-Paris-Hilton thing in my estimation of you.

| | |
| --- | --- |
| | [25] |
The Anti-Knitting-Graffiti Manifesto
This one's been percolating for a while. After all, I've been writing about my annoyance with this "movement" for three years now. Now the founder of "Knitta Please" is visiting Australia and the media are going crazy with kooky knitting headlines. Loads of non-knitters have again been asking whether I know about it or am involved. "Yes, I'm aware; no, I don't participate; yes, I think it's a massive waste of time and human energy..." Yesterday when I was running in the Domain I spotted some knitting stuck on a post at Mrs Macquarie's Point, and it just crystallized my whole annoyance with the subject. The non-knitting public needs to know that we're not all like this. We need an Anti-Knitting-Graffiti Manifesto. [more...]

Wednesday, July 15, 2009

RunningBlog: Nothing to report. I mean it. Nothing. Stupid cold kept me from any and all running last week. My sinuses cleared up by the weekend, but I've still got a wet cough that limits my breathing somewhat. I had to get out there yesterday, though, or go crazy. So I had short runs both yesterday and today. Mentally, I feel great. Physically, I'm still a hacking snot monster.

Child's French Sock in Citron Pattern and Diaper Knitting
Long name... for a fairly unsatisfying pair of socks. I dunno. I'm just not loving these. It's mostly the colour, I think. The yarn is Wired for Fibre "Rita" merino sock in the colour "Opulent". In the hank it looked like more of a semi-solid, so I thought it would be a good choice for this fairly busy pattern. Unfortunately when I started knitting it, the pink stripes really stood out and started to compete with the stitches. Not good.

Anyway, the pattern is from Knitting Vintage Socks. I knitted both socks at the same time on 2.75mm circulars. Despite looking complicated, the pattern was actually very easy to memorise. I'm still not happy with my lace knitting though. (My yarnovers between two knit stitches are way smaller than my YOs between a knit and a purl. I fear this would be problematic in a larger piece.) I do like the way the diaper knitting continues down on the heel flap. I was finishing the socks at Morris & Sons on Sunday when Mrs Morris came by and admired them. "You like 'em?" I said. "They're yours. Happy birthday!" At least they'll go to someone who really likes them. (More pics on Flickr and details on Ravelry.)


I contributed a review to this NYT blog post about the awesomeness that is RunKeeper. (I'm comment #3.)


Wes Anderson's "Fantastic Mr. Fox"???
Oh dear god. Wes Anderson is making a stop-motion animation version of Roald Dahl's Fantastic Mr. Fox (which I'd like to link to on my RDF site, but it's having a server issue at the moment). This looks... not good. There appear to be lots of random characters that aren't in the book, and the stunt-casting is just ridiculous. (MARIO BATALI as a voice actor?!) And judging by the comments, there are going to be callbacks to other Anderson films. UGH.


Swine flu numbers in Australia jumped by nearly 800 yesterday! I can also report that my "degrees of swine flu separation" is now ONE, as someone I know was diagnosed yesterday as well. (He didn't have it when we saw him last, so it's unlikely that the cold the Snook and I both have is related.)

Tuesday, July 14, 2009

Ooh, remember that fake Mars trip/experiment I posted about a few months ago? Tomorrow they'll be freed after living together in a small confined space for 105 days. The scientists put them through all sorts of tests to induce sleep deprivation and stress. That's so cool! Next they have to send 100 people to Antarctica like in Red Mars.

| | |
| --- | --- |
| | [1] |
Laser Portraits - that just might be the most awesome site on the Internet. I know for a fact my sister, brother, and I all have similar school pictures in my Mom's basement somewhere...


Carnivals, Festivals, and Fairs of Missouri. Gorgeous pictures, and one of the things that I really miss the most about the Midwest.


I did not know that Rainn Wilson was one of aliens in Galaxy Quest. Huh.


Jewish American Girl Doll Eats Bagels Sans Schmear. That title just cracked me up. (The word "schmear" always reminds me of Sandy Cohen from The O.C.)

Monday, July 13, 2009
| | |
| --- | --- |
| | [2] |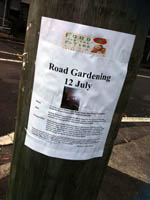 Chippendale Road Gardening
On Sunday, after I finished my last knitting class I headed out to help with the neighbourhood road garden working bee. Michael was successful at getting a $1000 grant from the council for more plants and supplies, so a couple weeks ago he put out a call for volunteers. There were six already helping when I got there. We planted some more trees, established a fourth community compost bin, and spread out lucerne mulch around the plantings on Myrtle Street. Snookums was too sick to help - he caught my cold - but he cooked a big pot of kangaroo chili and cornbread to feed the troops. (And there was much rejoicing.) It was a fun day. I got to meet several more cool folks from the neighbourhood, including James (who used to live in Chippo but now just works here). As I wasn't quite well enough to do the heavy labor, I got the fun task of documenting what was going on. [more...]

Saturday, July 11, 2009

Knitters Guild Meeting and Workshop
Well, I survived the July Knitters Guild meeting and our first "Knit Wits" workshop at the Library. The meeting was also a semi-surprise Presidential visit, and we had several other visitors from other groups as well. Miss Fee gave a fantastic presentation on "Colour and Knitting" that was very well received. (We're hoping to have the slides up on the Guild site soon.) Afterwards, twenty newbies turned up for the knitting lesson. We had all ages, from a 4-year-old boy on up to grandmothers. Everyone at least managed some garter stitch, with several ladies progressing to casting on and off, purling, and even ribbing. There are photos up on our Guild page. Thanks to everyone who came along and helped out!


A big HAPPY BIRTHDAY to my sister Amy, who joins me in the 30's today. And just to show what dorks we are now, her preferred birthday gift? A couple domain names for her forthcoming baking business.


Beer Geek Chocolate Salted Caramel Cupcakes. Oooh, that sounds good. (Link courtesy of gadgetgirl.)

Friday, July 10, 2009

Oh man. Adobe finally killed off HomeSite. All of the websites I built in the 90's were done with HomeSite. I even got quite a few folks at Netdecisions using it. I've still got the CD somewhere in my office. (The original developer wrote a few words about it too.)

| | |
| --- | --- |
| | [3] |
Is canning and preserving a moneysaver or a luxury craft? I've got no illusions there; it's definitely a luxury craft. I'm glad the author makes the apt connection to knitting. We do these things to feel connected to our environment, to produce something tangible with our own hands, to create something that hasn't existed before, and to bring a little bit of joy into our modern lives. We're lucky that we have the opportunity to do these things. But no, it won't save you any money. This is what money should be for.

| | |
| --- | --- |
| | [2] |
"First Peeps Store Opens in Maryland." HORRIFYING. They claim it will include - *shudder* - "Peeperphernalia." I should probably move there, given that I am pretty much the Buffy to this Hellmouth.

Thursday, July 9, 2009
| | |
| --- | --- |
| | [1] |
Still sick. I made it in to work today, barely. I really can't afford to be sick right now. I've got too much on this month. Too much.

Wednesday, July 8, 2009
| | |
| --- | --- |
| | [1] |
Sick. I knew I was tempting fate by saying I was getting back on track with my running. I got a tickle in my throat Monday evening at 5pm, and within 24 hours it had exploded across my head. My nose alternates between being completely clogged and running like a faucet, and my eyes are streaming. My throat is sore. My head feels like it has doubled in weight. Ugh. I cancelled work; cancelled the cleaners; cancelled everything. I'm at home in bed with a hot water bottle under the covers.

It probably didn't help that I dragged myself out of bed at 4:30am yesterday for the knitting-on-Sunrise thing. Hoping to get some video for you later...

Tuesday, July 7, 2009

Wait wait wait... I share a birthday with Michael Scott?!

| | |
| --- | --- |
| | [3] |
"DIY on the Moon: how Buzz saved the launch back to Earth". It's an extract from Buzz Adrin's book Magnificent Desolation: The Long Journey Home from the Moon. I really need to get the book. Those few paragraphs there are riveting. I can't even fathom the bravery of those guys.


Whoa! Way cool optical illusion.


It's 5am, and I'm up and dressed and ready to head out. The knitters of the Inner City Guild will be on Channel 7's Sunrise this morning promoting the knitting workshops we're running over the coming weeks. Yep, I'm taping it... Clips coming later!

Monday, July 6, 2009
| | |
| --- | --- |
| | [2] |
Transformers 2 FAQs. HA! Okay, if that's really the plot of the movie, then I don't think I need to waste any money on it.


More pics from Fiona's birthday, including a lovely one of Snookums in his Na Craga jumper.

| | |
| --- | --- |
| | [1] |
Baby panda. Awwwww! I think this might be the cutest photo.


The Flag of Equal Marriage. Come on, stars...


RunningBlog: Much better! I felt like I probably could've done a fourth day this week, but I didn't want to push it too hard given that I need to make up some distance on my long runs. I did a 4:1 run/walk ratio on my long one Saturday to force myself to hold back. I started to feel a bit crampy in my calves at the end, but I think I need to up the salts in my diet. (I'm eating fairly low-carb at the moment.) I had an ice bath afterwards, which helped a bit.

This week: 16.2km (10mi)
Last week: 9.5km (6mi)

See, this is where the 10% rule bites me in the butt. Because I wouldn't have such a big jump if I hadn't taken days off for injury/illness. If you're forced to skip a long run, that doesn't mean you have to drop all the way back to 10% + your previous milage, does it? I'm guessing not, since most training programs incorporate recovery weeks and then resume where they left off afterwards. So I've been thinking of the past couple weeks as "recovery time" and trusting that I can get back on schedule.


Ebert defends intelligence and critical-thinking while arguing that Transformers 2 is a BAD FILM. I had the same argument last week over an incredibly stupid blog post that argued that "critics" don't enjoy entertaining films. Anybody who reads Ebert on a regular basis knows that he's got a big soft spot for low-brow stuff. (After all, he was the writer for Beyond the Valley of the Dolls!) It's not about being an action movie; it's about being a really bad action movie.

| | |
| --- | --- |
| | [1] |
Augmented reality Tube station finder app for iPhone. That is so tomorrow.

Sunday, July 5, 2009
| | |
| --- | --- |
| | [2] |
Happy birthday, Miss Fee!
While all the Americans were celebrating Independence Day this weekend, Down Under we were celebrating the very special birthday of a dear friend. I didn't trust myself to mention the occasion before the party, for fear that I'd give away the big secret! Somehow I found myself as the organiser for a special group gift from TWENTY PEOPLE. Back in May, Fiona happened to blog about a beautiful red leather handbag from England that she coveted. What better to get her? How often do you get to give somehow her secret dream gift, the thing that she'd never expect and never buy herself? So I ordered the bag, trusting that I'd collect enough to order it. Instead I got nearly DOUBLE. So we ended up also getting her sizable gift certificates to her two favorite shops and a very nice bottle of champagne. You should've seen her face. "You guys didn't get me that red bag!?!" I really hope someone got a picture of that moment. (I was too busy jumping up and down and squealing.) There are a few other write-ups and photos at Fee's, Mary-Helen's, and Ailsa's sites.

I really can't say enough good things about the folks at Mimi Berry. They were very prompt in communicating with me via email, and they were able to send out the bag in plenty of time. Oh, and it's GORGEOUS. I actually gasped when I opened it up and saw the shocking blue silk lining. If I was going to splurge on a bag, I'd definitely get one of theirs.

Saturday, July 4, 2009

Sega is apparently giving away Columns Deluxe for iPhone for FREE to celebrate Independence Day this weekend. Unfortunately I can't tell whether that's going to apply everywhere or just in the US App Store. It's still showing $2.49 in the AU store right now.

Update: It's showing as free now!


How to Email Full-Resolution Photos from iPhone 3GS. Cool. I was just doing it via the "send email" button, which sends the smaller version. (Link courtesy of Daring Fireball.)

Friday, July 3, 2009
| | |
| --- | --- |
| | [1] |
Oh yes. When I get my canning jars, I am makin' some bread-and-butter pickles.

| | |
| --- | --- |
| | [1] |
Skippy the bush kangaroo. Lovely photo from the Powerhouse archives.

| | |
| --- | --- |
| | [2] |
Another one for my sister's "carbolicious" bakery: Spaghetti and Meatballs Cake. I'D EAT THAT.

Thursday, July 2, 2009
| | |
| --- | --- |
| | [3] |
Stash Enhancement: This and this just arrived at the house yesterday. Sooooo pretty. Ailsa is a fantastic dyer, but she's even better at photographing the yarn pr0n.

| | |
| --- | --- |
| | [1] |
RunningBlog: RunKeeper Pro Review
I know I've mentioned this before, but if you have an iPhone and you run/walk/cycle/ski/hike outdoors, you should get RunKeeper NOW. It's so good. It uses GPS to track your distance and speed, and it's a lot more accurate than Nike+. (You also don't need special shoes or attachment hacks.) I downloaded the free version in February, but not long after I paid the $10 to get the Pro version. Every release has brought welcome new features, including voice prompts during the run and the ability to edit your run data afterwards. Yesterday the highly-anticipated interval workout functionality finally dropped. Nike+ can't do this at all! I've been so frustrated with all the training plans that suggest running intervals laps at a track, because running tracks are very, very rare in Sydney. I've done them by looking at the RunKeeper distance as I go, but I'd much prefer to keep my eyes on the road. So I was really waiting for this one!

When you open the app, there's a new button at the bottom of the main screen labelled "Training." Clicking it brings up a menu of your saved training workouts. (They give you a couple of them as a examples.) You can edit an existing workout or add a new one. Each interval consists of "slow," "steady," or "fast" and an appropriate duration (which can be time OR distance!). You can set the intervals to repeat, and you can also tack on a 5:00 warmup and cooldown if you want. This morning I was meant to do an easy 30 minutes with 6 x 100m "strides." Since the shortest distance interval you can set is 250m, I instead changed it to 45 seconds (which is way longer than it takes me to run 100m, but it seemed like a good compromise.) So I started off with the 5:00 warmup, then did 10 minutes "steady." Each time period is announced with a chime and a voice prompt telling you what to do next. I did my 6 intervals of 45 seconds "fast" interspersed with 1:30 "slow," then finished with another 8:00 of "steady" and a 5:00 cooldown. The system worked PERFECTLY, not a single glitch. Something like this could make a huge difference to amateurs' training.

I'm also happy to report that I had ZERO leg/shin pain this morning. Yay! New shoes and rest seems to have done the trick. I'm really looking forward to my long run this weekend to see if my fitness has held up.

| | |
| --- | --- |
| | [3] |
Jungle Cats at the Watering Hole
This is quite possibly the most boring YouTube video in the history of the world. It's Petey playing in his water fountain and trying to dunk Amy in the water. The amazing part is that I filmed it on my new iPhone, and then I edited and uploaded it to YouTube FROM THE BUS on the way to work this morning. Hello, the Future!



| | |
| --- | --- |
| | [1] |
Bubble Dress tutorial for little girls. Man, there's so much cuter stuff to make for girls than boys.


USA Today writes about how the economy is taking its toll on the Amish in the area where I grew up.

Wednesday, July 1, 2009

Utegate as told by lolcats. Heh. I thought it started out really funny but went on way too long.

| | |
| --- | --- |
| | [6] |
Preserving Australia - preserving, canning, and cheese making at home. SWEEEEET. The Snook and I haven't been able to find any Mason jars, but that site just pointed me to Redback Trading, who imports them. And they've also got stoneware (for sauerkraut and kimchee), cast iron cookware, and smokers? I am in PIONEER WOMAN HEAVEN.

Edited to add: Ooh, maybe I could make my own cheese curd for poutine!


RunningBlog: Another light week thanks to the virus that laid me low on Friday.

This week: 9.5km (6mi)
Last week: 8.4km (5.25mi)

I'm happy to report though that I finally made it out for a run this morning, and I felt pretty good. My shin didn't bother me at all. I had some tightness in my calves and hamstrings, but I guess that could partially be attributed to me basically lying prone for 72 hours straight on the weekend and not stretching or exercising in any way. I'm eager to get back into my training plan if I can. This was meant to be a recovery week anyway, so I've got some breathing room. I'm just annoyed at missing three long runs due to the double-whammy of shin splints and sickness!

archives
You can search through the archives by post keyword using the form on the left, or you can browse by month using the links at the bottom.
"Moblog" refers to posts and images posted directly from my mobile phone.

"PW Blog" refers to posts recovered from my very first weblog, which dealt with news related to my college dorm.