Friday, July 30, 2010

RunningBlog: Week 30
Saturday's race wiped me out a bit more than I expected, so my runs this week were rather slow and laboured. I was sore! Tuesday the Snook and I went for a run on country roads near my Aunt Deb's house, but it was so hot and humid that we gave up halfway and finished the run on a treadmill in her basement. Thursday (today) was less humid, but I'm still feeling quite a lot of soreness in my lower back. My right foot has started to ache again too. I did my four miles, but it was awfully slow. The Snook joined my brother Joey on bicycles and they lapped me again and again.

July 25: 5.04 RACE
July 25: 3.22km run
July 27: 6.4km run
July 29: 6.72km run
Total this week: 21.38km (13.36mi)
Total in 2010: 566.74km (354.2mi)

To meet my goal of running 1000km in 2010, I should be at 576km. I'm only 10km behind pace!

Wednesday, July 28, 2010



RunningBlog:
The Runners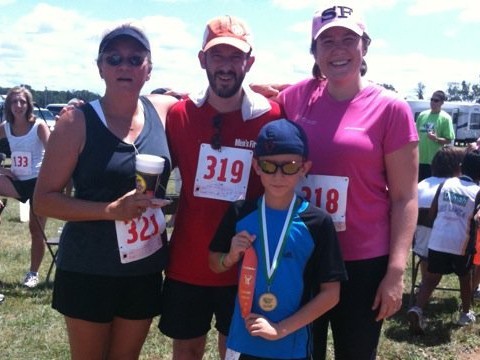 Monday, July 26, 2010

RunningBlog: Elkhart Road Race 5K Results
I think this will go down as the HOTTEST race I've ever run. The storms that went through over the weekend lowered the humidity, but it was still a very sunny day (probably mid-80s). Nevertheless, I am thrilled to report that I successfully met my goal of finishing within 35 minutes with no walking. The Snook made a valiant effort to catch me in the last half-mile but I outlasted him. Mom also finished strongly near her goal time of 40 minutes. The official results are here. And hey! I actually finished in the top 50% of my age group! That's a first. :)

Saturday, July 24, 2010




RunningBlog: Week 29
So far vacation hasn't stopped me from getting in the miles! The Snook and I arrived in Petaluma, California last Saturday morning and spent that first day resting up. On Sunday, I went out for my long run. I used RunKeeper to search for routes in the area, and I noticed that many of them ran alongside the airport. So that's where I headed! I did my 8km pretty easily that day. Petaluma is flat, and the weather was cool and dry. On Tuesday the Snook joined me for a 6km run through a few parks. Now we're in Indiana, gearing up for the big Elkhart County Fair 5K Road Run on Sunday. It's a lot more hot and humid here. We joined Mom today for a nice slow 5K alongside the river in Elkhart. It was probably close to 90F (about 32C). We survived though! Our entry forms for the race have been dropped off. The really funny thing is that the race runs along the parade route and starts 10 minutes before the parade, so we'll have "thousands" of people cheering us on! (Mom's worried that if she doesn't go fast enough, she'll get run over by a marching band!)

July 18: 8.25km
July 20: 5.96km
July 23: 5.66km
Total this week: 19.87km (12.4mi)
Total in 2010: 545.36km (340.85mi)

I'm only 12km behind my goal to run 1000km in 2010! I'll let you know how we go with the race... Indiana. It's hot.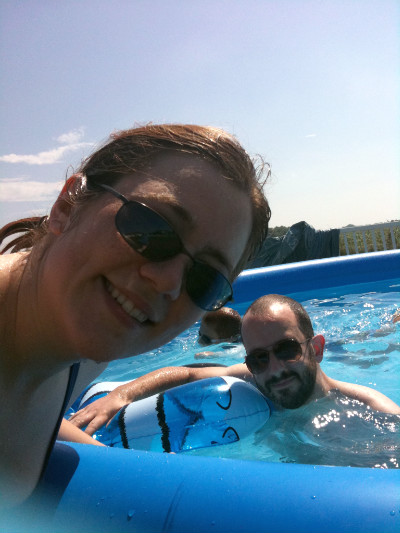 Thursday, July 22, 2010

Vacation Update: The Snook and I have finished the first leg of our trip! We spent the past 4.5 days with the Carbos in Petaluma, CA. It was great to get to spend some time with my nephew Penn and my niece Indie. Our goodbyes today were teary. Now we find ourselves halfway across the country in Chicago, bedding down for the night before driving to Indiana tomorrow. It's hot here. It will be good to see the rest of my family.

Sunday, July 18, 2010




Posting might be a bit sporadic - more so than usual - as we are in the USA for 3 weeks visiting the fam. I'll do a big post when we get home, but check Facebook and Twitter for pics as they happen. (And huge thanks to Issy for watching the house and cats!)

Friday, July 16, 2010




Shared today on Google Reader:here.

Thursday, July 15, 2010




Shared today on Google Reader:here. I am so enamored of the Scott Pilgrim movie. I bought the first book last weekend, and Snookums and I both finished it. Our first manga! All it took was George Michael Bluth... EPICWIN. Finally an iPhone To Do list app that I think the Snook might actually use! RunningBlog: Week 28
The week did not begin auspiciously. Last Friday night, I was coming home from the shops with the Snook and took a nasty fall on some wet, muddy leaves. I landed heavily on my left knee. I took off a layer of skin and got a massive bruise on the side.(Here's a photo from Saturday; it actually looked worse a couple days later. Very purple and green.) It was really painful the first day, so I took the weekend off to ice it and recover. On Monday I went out cautiously for my scheduled 4-miler... and I felt okay! It ached a little bit, but I think that was more to do with my running tights constricting around the bruised bit. I managed three runs total this week, and my knee and foot have been feeling better with each one. Today was the least my right foot has bothered me since February! It's pretty amazing. Each run has been faster than the last, too.

July 12: 6.45km
July 14: 5.69km
July 15: 5.77km
Total this week: 17.91km (11.2mi)
Total in 2010: 525.49km (328.4mi)

I'm still about 13km behind pace in my goal to run 1000km in 2010, but I'll get there. Each week I'm going a little bit farther. I'm excited that my next run will be back in the U.S.A.! I hope I survive the summer heat... Crustgate
So yeah, yesterday that whole "Crustgate" thing happened.

Summary: Crust Pizza are a pizza chain with a highly-regarded social media strategy, including a Twitter account that gives pizzas away every Friday. Yesterday they tweeted: "Need a laugh? Hilarious compilation of female driver madness." with a link to a YouTube video of women crashing into light poles and such. I didn't see the original tweet, but I saw one of my friends responding to it. I was really surprised they did it; their brand appeals a lot to women. So I retweeted it myself, adding: "Sexism FAIL. Badly done, Crust." A bunch of other people chimed in. By the end of the day, Crust had apologised and the social media experts started weighing in. Mumbrella had a story (which quoted my tweet amongst many others), as did the Amnesia Blog. As you might expect, the anti-PC brigade was out in full force defending the post as "funny" and branding the complainers as overly defensive whingers. This guy implied that only "social media experts" had issues with the tweet. I've just posted my thoughts on the subject over at Warlach's World, which I'll repeat here for posterity:
I tweeted about it fairly early on, just noting: "Sexism FAIL. Badly done, Crust." I stand by that. No, I wasn't offended. I'm not crying over it or anything. It's the CONTEXT. I expect blonde jokes and bad women driver jokes in emails I get from my Grandpa. I also expect that type of thing on South Park. It doesn't make me angry; it doesn't get me worked up. I probably wouldn't even have batted an eye if a brand like Dominos had sent the tweet out. But Crust's brand, to me, doesn't say larrikin. Their well-designed website; their social media presence; the weekly contest; their fancy pizzas... that's all stuff that I associate with being at the higher-end of the market, with appealing to a female audience. (Every Friday, I'd estimate that 75% of the tweets I see entering their contest are from women.) So yeah, to me it struck a really wrong note and I couldn't believe they'd made such a misstep.

That said, I'm totally happy with their response and the apology. That was well done. I just resent being lumped in as some sort of panties-in-a-wad "social media expert" (newsflash: I'm not) hyperventilating over political correctness... when in reality I was just a consumer going, "Huh, maybe this brand doesn't mean what I thought it meant."
Wednesday, July 14, 2010

Shared today on Google Reader:here. HA! I don't really like Jewel's music that much, but this video makes me love her a little bit. She put on a disguise and went to karaoke and sang her own songs. It's pretty cute. (I like pranks that don't involve humiliating people.) This is for my Mom: Patchwork Pattern Maker from the V&A Museum. You upload a photo and then it converts it to a quilt pattern. Really cool! (Link courtesy of not martha.)

Monday, July 12, 2010




Shared today on Google Reader:here. The only thing better than "Guy amazed by double rainbow" is the DOUBLE RAINBOW SONG. (I especially like how they did the Pomplamoose thing of showing the performers at the end...) Knitters Guild Meeting at Surry Hills Library
Saturday was the July meeting of the Inner City Group of the Knitters Guild. It was also our first meeting at our new venue: the Surry Hills Library and Community Centre. Our old meeting room at Customs House Library was just too small for the big crowds we've been getting at meetings. I was responsible for organising the move, and I was really worried that people would think it wasn't worth the extra effort of going to Surry Hills. Luckily we still had 41 people at the meeting (with apologies from another 10!). Everyone seemed pretty thrilled with the space. It's twice as big as our old room and absolutely filled with natural light. It has a separate kitchen with sinks and a long bench. We're up on the 1st floor, so we don't have to worry about annoying library patrons if we get rowdy. It's really just the perfect space, and I'm so grateful to the City of Sydney for allowing us to use it! After the meeting, several of us stayed around to help with the "Learn to Knit" workshop that Miss Fee had organised. I taught a woman named Christine who claimed she'd never knitted in her life. (She was a natural though; I had her knitting and purling within 90 minutes!) There are photos from the meeting on the Guild site. Thanks to everyone who came along and helped with the move and the workshop!

Saturday, July 10, 2010




The Language of a Marriage.
There's a clichéd idea that what makes people stay in love is things like candlelight and flowers and sexy glances across crowded rooms. All that is lovely, and it helps. But so does our nerdy private language.
This. A million times. There's only one person in the world I can say "This one." and "Where's the hat, Snookums?" and "Taikonaut!" and have him know exactly what I mean. That's the best.

Friday, July 9, 2010




Shared today on Google Reader:here. Knitted Meat. It's the cling film that really makes it awesome. Why I like Bejeweled: According to this study of female gamers, it's because I like simple controls, bright colours, and social competition. While I maintain that makes me sound like a BIRD or something... it's probably right. (Link courtesy of the Snook.) Rope Patterned Cement Wall by Dani Marti. Neat! This wall is actually in Sydney on the base of Centerpoint Tower on Market Street. I remember seeing the hoarding come off several weeks ago, and I actually stopped dead in my tracks when I saw the wall. My first thought was that it was knitting, but upon consideration I could see that it was woven. I had no idea what technique was used to create it. It's very cool. (Link courtesy of Miss Fee's Google Reader.) RunningBlog: Week 27
This was a pretty good week for running! We had a houseguest all week so I wasn't sure whether I'd get in my runs, but luckily Eileen went with me for all three of them. She also pushed me on my pace a bit, which really made me feel the fitness I've lost since the Half-Marathon. My right foot hasn't been bothering me too much. I can still feel a difference from my left foot, but there's hardly any pain. It's actually kind of frustrating, because I have no idea what's prompted the improvement! I guess I shouldn't look a gift horse in the mouth. I also managed a session at Spudds on Wednesday, which has left me feeling pretty sore...

July 4: 7.44km
July 6: 5.48km
July 8: 5.50km
Total this week: 18.42km (11.5mi)
Total in 2010: 507.58km (317.2mi)

I have finally crossed the half-way point in my goal to run 1000km in 2010! I should be at 519km right now, so I'm about 11.5km behind. My weekend runs are going to start slowly extending though, so I should make it up over the next few months. The only danger is my three-week vacation to the U.S. looming on the horizon. I'm going to have to work to get the runs in.

Wednesday, July 7, 2010




Shared today on Google Reader:here. The Egg. Something to ponder. Picky Eaters
Do grown-up picky eaters have an actual mental disorder? Some researchers think so. Some of those people sound genuinely phobic, and their stories about never sharing a meal with their kids (for fear that their kids will emulate the parent's pickiness) are heartbreaking. Still, most of the picky eaters I know are unrepentant about their limited diets. That I don't get. It just seems lazy and juvenile to honestly claim you prefer french fries to all over foods in the world.

Edited to add: The MetaFilter discussion was pretty fascinating. I fully recognise that my foodie evangelism is a bit over-the-top because I'm a reformed picky eater myself. And I really get that it's nobody's business what people do or don't eat. I just can't help but see it as a moral failing to have a food blacklist. I'm incredibly grateful that the Snook didn't see it as a relationship deal-breaker and that he managed to cure me of it. Paperdolls Redux. I noted with interest that no one seems to have cardigan-ized it yet. Hmmm. (Link courtesy of Miss Fee.)

Tuesday, July 6, 2010




Shared today on Google Reader:here.

Monday, July 5, 2010




Shared today on Google Reader:here.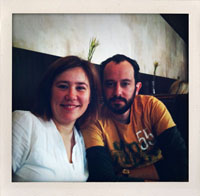 Busy Weekend: We had a non-stop weekend thanks to the arrival of Eileen and Dean on Friday night. We took them for a beer at the Friend in Hand, then dinner upstairs at the Aussie Youth. We finished the night with a rollicking Guitar Hero session. Saturday morning found us at the Eveleigh Farmer's Market before a long walk down King Street in Newtown for a kite-flying session at Sydney Park. Back at the house, we all got officially addicted to True Blood. Dinner was at Spice I Am in Surry Hills, where we sat about 7 feet from Peter from Masterchef. (The food was fantastic. I am still dreaming about the soft shell crab with mango salad. YUM.) Sunday morning Eileen and I headed out for a 7km run around Darling Harbour. Our special 4th of July lunch was at the Blue Plate Bar & Grill in Neutral Bay. We were a little sad that the full menu NQN blogged about wasn't available at lunch, but we placated ourselves with Philly Cheesesteaks and Chili Dogs. Then it was time for more vampire porn before Dean had to fly back to Melbourne. (Eileen is staying on til Friday attending a microbiology conference in the city.) Read on for some photos, or check out Eileen's site for hers! [more...] Happy 4th of July! I have to say that the hidden flag cakes are just about the coolest thing ever. I'm going to have to remember that.

Friday, July 2, 2010




Shared today on Google Reader:here. Sewing Patterns
Note to self: Make Leisurely for Indie, and Undaunted for me...

Thursday, July 1, 2010




RunningBlog: Week 26
I told you it could only get better! This week I managed three runs, including two of them actually on workday mornings. They weren't long and they weren't fast, but I got out there! Snook even went along with me for two of them. The last two were FREEZING COLD; Sydney has had some of the coldest weather in decades. We actually saw frost on Tuesday! My foot is still bothering me, but the last two runs weren't too bad. The ultrasound I had last weekend was inconclusive, so I still really don't know what to do to make it better. My half-marathon prep has started though, and I'm going to keep plodding on as best I can!

June 27: 5.91km
June 29: 5.41km
July 1: 5.43km
Total this week: 16.75km (10.5mi)
Total in 2010: 489.16km (305.7mi)

I am exactly halfway through the year I set myself to run 1000km in 2010, and as you can see I'm only about 10km behind... Shared today on Google Reader:here.
archives
You can search through the archives by post keyword using the form on the left, or you can browse by month using the links at the bottom.
"Moblog" refers to posts and images posted directly from my mobile phone.

"PW Blog" refers to posts recovered from my very first weblog, which dealt with news related to my college dorm.