Friday, August 31, 2007

Give 'em hell, Gough! Nicky Epstein Signing
We are officially *on*, folks! Tapestry Craft will be hosting a book signing with renowned knitting author and designer Nicky Epstein in two weeks. The details:

When: Friday, September 14, 2007 at 3:30pm
Where: Tapestry Craft knitting department, 50 York Street, Sydney

We're going to have as many of her titles available to buy as possible, and they'll all be sold at the recommended retail price. So if you've ever wanted to get them, this is the time! Hope to see you there.

Update: Just heard from Nicky's PR people, and she wants to do an hour-long demonstration for us! So the demo will be from 3:30-4:30, and then she'll sign books for people. Job News: As the girls at SnB know, the Company-That-Shall-Not-Be-Named rang me last night with the all important news. I'd been stressing all week to hear whether I'd been accepted or rejected. The reality, it seems, is neither. Sometime in the past week, they did some "internal restructuring" and decided that they don't actually need a permanent person to do this job after all. They want a temp for a few months. For a wild second, I considered it. It would be a way to get my foot in the door, I guess. But then reality set in. "I can't do it," I said. It would seriously screw up any plans to buy a house, and it's not really any kind of step forward career-wise. My HR contact admitted that she was expecting as much. HOWEVER, there's another opening in the company that suits my skills, and I told her that I'm willing to switch tack and go for that one. She's going to put me forward for it. Hopefully all the interviewing and work I've done will be applicable and I won't have to start over at step 1. So all in all, it's a strangely empty result, really. I didn't get rejected; in fact, I got the impression that they definitely wanted me. It's just that the position I was going for isn't there anymore. We'll see.

Thursday, August 30, 2007




Shane Warne, you are dead to me. DEAD TO ME! I'm over at MetaFilter defending High School Musical to the haters.

Wednesday, August 29, 2007



Koala Tea Cosy
This little fella didn't quite make it in time for the Fifties Fair last weekend, which is all the better really because now I get to keep him! He's awfully cute, isn't he? (Until you remember that he has a teapot up his bum, at which point it becomes disturbing.) The pattern is free online and purports to be from 1937. That might explain why I had so much difficulty following it. It reads like it's supposed to have a picture, but since it doesn't (except for a random illustration) you're knitting blind most of the time. You also have to do weird things like knit the two body pieces sideways. Anyway, I had to change a few things: 1) The nose. The shape they give is just perplexing and it didn't look at all like a real koala. So I went with more of an egg shape. 2) The neck. The opening at the top of the cosy is waaaay bigger than the head, so I had to cinch it up a lot. That's why I knitted him a patriotic scarf to hide the ugly join. 3) There's an error when you get to the second row of openings on the front. It should be on rows 67-68, not 66-67. Lastly, this makes for a pretty big tea cosy. I had to pad ours with a dishtowel just to get it to fill out his shape. Using 4ply and smaller needles would give you a smaller koala.

And that is IT for tea cosies for about the NEXT TEN YEARS! I hate waiting. I feel like Calvin waiting for his propeller beanie. *sigh* George Bush Aussie Dress-Up. Heh.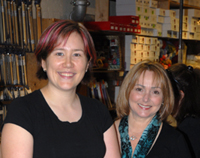 Nicky Epstein!
Chrystalla burst into the office waving frantically.

Her: That knitting author... You know, the Epstein lady?!
Me: Who, Nicky Epstein? What about her?
Her: SHE'S HERE!

And that's how I met Nicky Epstein, famous author of books such as Knitting on the Edge and many more. She and her husband just got into Sydney yesterday, and Tapestry Craft was one of their first stops. They're so nice! Nicky's writing a new book on knitting in Australia and they're doing research for it. Then she's heading to Melbourne for the start of the 2007 Vogue Knitting tour of Australia and New Zealand, which she's hosting. They'll be back in Sydney in a couple weeks, so I suggested that we should host an event for them! Nicky gave me the PR contact details so hopefully we can set something up. I'll let you know as soon as things are decided... Email Bankruptcy
Yesterday I realized that I had over 3000 messages in my Gmail Inbox, and that the items that needed action (replies, etc) were being buried in the pile. It was time to declare email bankruptcy. So I clicked on "Select: All", and then clicked the option to select everything in my Inbox. Then I clicked the "Archive" button. Voila! It's all gone. Then I created a new label called "@Pending" (the @ symbol is to make it get listed first alphabetically). I went through the archive and found the stuff that needed action, adding it to the "@Pending" list. I've now got a sparklingly empty Inbox and a pending list of 14 things that need my attention. When new messages come in, I'm forcing myself to decide immediately whether it requires action, and if it doesn't, whether I'm going to archive or delete. I can already feel the psychic benefits of being so organised; it's like a big source of guilt has been removed just by hiding all those old messages. I recommend it!

Tuesday, August 28, 2007




Come on, Stella!*
My sister has finally dropped her bombshell, so I guess it's okay to break radio silence. (IT'S BEEN KILLING ME.) That ain't her gallbladder, folks! (Though it bears more than a passing resemblance.) Yes, yours truly is going to be an aunt AGAIN. Though it's a little sooner than they'd planned, Amy and Dan will be welcoming another undoubtedly adorable baby to the world next April. And with my brother and his wife due later this year... we've got babies popping up everywhere! (But not here.) MAZEL TOV!



* Last year when we were all questioning the name "Penn," my sister jokingly told me that they needed to have him a sister named "Stella" to complete the pun. I think this would be BRILLIANT.

Australian Idol
I can't help it. I've been sucked in again. The guys on Sunday were pretty boring though, with the exception of crazy-ass Husny. The girls were a lot better. Tarisai and Cheray were my favorites, but I thought Lana did pretty well too. (I'm hoping Cheray will make it as a wildcard.) Tonight my favorites were definitely Ben the Emo Kid and Marty the Hot Surfer. (I'm downloading Marty's song as we speak.) I may even have to throw them some votes... I just peeked out the door to see the lunar eclipse. Contrary to the naysayers, it was still perfectly visible from our apartment in the light-polluted city. Now I'm waiting for my latent mutant powers to emerge... Michelle knitted Trogdor. That is too cool! In my sweetest voice...
"Linley, dear, 2005 called and they said to leave the Feathers in the past where it belongs." [more...] America's Worst Colleges. I'll admit that the Domer in me had a good laugh at Michigan State's prominent placement.

Monday, August 27, 2007




Cat. Stew. Ew.

Moblog: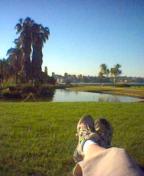 Relaxing at the Botanic Gardens
It's a beautiful Spring day, too lovely to be inside.

Later: I had the day off but I was getting antsy just sitting in front of the computer (especially since I was obsessively checking my e-mail for any message regarding the job). So I headed out to have a picnic lunch with the Snook in Hyde Park. Then I walked down to visit the Art Gallery of NSW for the first time. (I know; that's pathetic. I've been here nearly six years!) I explored the Australian and European collection on the ground floor, and there were a few pieces I especially liked: Snowdrop and the Seven Little Men, Bailed Up, The Camp, and Ned Kelly. That last one is actually a giant tapestry based on Sidney Nolan's painting Kelly and the Horse. The colours and the scale of it are just amazing to see up close. (I had visions of reinterpreting it as a quilt or a knitted piece.) I was a little disappointed not to see more of the famous Australian works I was expecting (having seen the tapestry canvases so many times) but a sign informed me that they were away on loan for a few months. I headed back out into the sunshine and down to the Botanic Gardens. I'm always amazed every time I go there. Flowers were blooming, tourists were picnicking, ibises were screeching, and fruit bats were chattering. I spread out my blanket and spent the next hour reading Kavalier and Clay under the blue, blue sky. There are worse ways to spend an afternoon...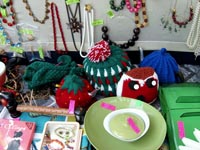 Fifties Fair
Finishing the Bryson book last week put me in the perfect mood for the Fifties Fair yesterday. The Snook and I caught the train to Turramurra and then the shuttle bus over to the Rose Seidler House. Luckily we'd followed advice and gotten there relatively early, so we didn't have to wait long to get in. We ran into Morgan and some of the other Sydney photobloggers pretty quickly. After delivering the tea cosies to the Snook's aunt's stall (as pictured), we set off to see the sights. I've put a few photos up on Flickr. Yeah, there were a lot of dressed up hipsters. Some of the costumes were great, though a lot of the tats and hair colours were pretty anachronistic! We also met up with Amy, Rob, and Bex (who has a sadly unflattering photo of yours truly here). I'm sure there'll be more photos popping up soon... The Life and Times of the Thunderbolt Kid
I needed a pit of a pick-me-up after the nightmare that was American Psycho, so I cracked open Bill Bryson's latest book, The Life and Times of the Thunderbolt Kid. It was just what I needed. (Not quite a unicorn chaser, but pretty close.) It's basically just Bryson talking about his childhood growing up in the 50's in Des Moines, Iowa, a place and time that are now so remote to us that Bryson can approach it like one of his other travel books. Since we saw the author in person earlier this year, it was as if I could hear his actual voice reading this one out loud. My favorite part was his several-years-long struggle to get into the "stripper tent" at the Iowa State Fair. His friend Stephen Katz (from A Walk in the Woods) makes an appearance towards the end. Overall it was a quick and pleasant read, though I'd still rank Down Under (known as In a Sunburned Country in the US) as his funniest. (And that's not because I live here; I read it while we were still back in England.) If you're the type of person that enjoys the gentle, nostalgic humor of A Christmas Story, then you'll like this book.

Saturday, August 25, 2007



I finally feel like a real designer.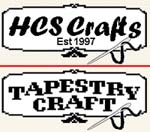 DUDE! I was just googling for a particular knitting book online, and I found a UK shop called HCS Crafts. Um, notice anything familiar about that site? They completely ripped us off. (I saved a screenshot for posterity.) As you might imagine, I immediately fired off a rather terse e-mail.

As I see it, there are three main problems here. The first is website design theft. They've copied the way part of our site looks in a really obvious way. (Also, RANDOM. They're in the UK but there's an embroidery of the Sydney Opera House? Did they even look at what they were doing?) This isn't really a "crime" that you can do anything about, other than naming and shaming. (Hence this post.) The second and third issues are a bit more serious. That header with the embroidery and the wool and the red rick-rack? That actually comes from a printed advertisement that we've been running in Sydney hotels for a number of years. A printed advertisement that is copyrighted and which we never gave any permission for anyone else to use. Lastly we have the fact that they've taken our shop logo, the actual trademarked image that we have on a sign in front of the shop, and simply replaced the words "Tapestry Craft" with their own. Yeah. You're really not allowed to do that.

So of course this is all very flattering, especially since I'm the crappiest website designer ever. But hey! Now that I've been ripped off, I've got industry cred!

Update: They seem to have taken it down now. Evidently naming-and-shaming works! Mary-Helen asks: "How hard is knitting, really?" I agree with a lot of what she says, even as someone who teaches the occasional knitting class. When I teach, one of the biggest messages I try to get across to my students is This is easy. You can do this. It seems that a lot of women* I meet don't rate themselves very highly. They think that because I'm knitting socks, I must be cleverer or more talented than they are. This is bullshit. It's all in the level of self-confidence. For better or worse, when I try to pick up a new skill, I usually start with the expectation that I'm going to be good at it. Otherwise why bother? And people were knitting long before there were knitting books and podcasts and Ravelry and all that other junk. It's just sticks and string. How hard can that be? If you can follow directions and pay attention for more than ten minutes at a time, you can learn it.



* Possibly Sexist Digression: Sadly, it really does seem to be mostly women that have this attitude. I've never once heard a guy - whether a knitter or not - express a belief that knitting is hard. They may think it's girly or beneath them, but they'd never say they weren't smart enough to do it. Guys seem to figure that if other people have worked it out, they can too. WOMEN NEED TO ADOPT THIS ATTITUDE.

Friday, August 24, 2007




Just to keep you posted (and so people don't keep asking me): Things are progressing on the job front. As you might guess, this company puts prospective hires through a pretty rigorous vetting process. So far I've cleared three hurdles and I'm still in the running. Hopefully I'll have news next week!

Thursday, August 23, 2007




Is it real or Photoshop? I scored 6 out of 10, but I have an issue with one of the questions. (Link courtesy of Eileen.) [more...]

Wednesday, August 22, 2007




Deathly Hollows Wristband. Pretty neat! (Link courtesy of miftik.) By Popular Demand: More Tales from Retail Hell
Look, I like to help people. And I get that some people need a little hand-holding with their knitting. But jeez, it drives me up the wall when someone wastes fifteen minutes of my time simply because they cannot be BOTHERED reading the pattern that's in front of them. They see something new, and they just immediately shut down without even following the instructions. I just had my second person in here in as many weeks trying to do short rows, and they both had the same problem: They're functionally illiterate. I get that short rows are a little weird to get your head around, which is why most patterns (especially easier ones like Patons and Cleckheaton) spell out exactly what you have to do in excruciating detail. "Note: When turning, move yarn to front between needles, slip next stitch from left-hand needle to right-hand needle, move yarn to back between needles, slip stitch back from right-hand needle to left-hand needle." Yeah, it's wordy, but it's all RIGHT THERE. You can give it a try. With this woman just now, I ended up having to stand over her shoulder and read it out to her while she did exactly what I said. "Oh, so that's how you do it." Yeah, you just DO EXACTLY WHAT IT SAYS. What's so freaking difficult about that? Harrumph. A woman got hit by a bus at the corner of Druitt and Sussex last night. I crossed that intersection four times yesterday on my way to and from my interviews. I even went through during rush hour last night. I must've just missed it.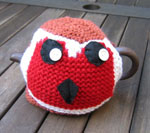 Christmas Robin Tea Cosy
Number five is done, folks! This one took less than a day from start to finish. The pattern is free online and I think it's just about the funniest thing I've ever knit. I used scraps of 8ply yarn (held double throughout) on 5.5mm needles. It fits a fairly small teapot, so you'd have to size up the pattern for a bigger pot. The eyes and beak are cut out of felt, and the white pupils are buttons.

Tuesday, August 21, 2007




Thanks!
Thanks to everyone for their interview help yesterday. It went really well. I'm not at liberty to discuss it right now - as I'm sure you'll understand! - but things are looking really good. Please keep your fingers crossed for me! Mmm, bacon-wrapped pancakes on a stick. I predict the Snook will be ALL OVER THIS. (Link courtesy of Bex, who apparently finds our American foods strange and exciting.) RunningBlog: Lupus - it's not just a joke on House
I occasionally get e-mails from people from my high school class, most of whom are just idly Googling and stumble across my site. They say "hey," and I say "hey," and that's that. Not long ago though, I heard from someone I used to be good friends with: Holli Wallace.* Holli wanted to ask me a favor. She and her husband Brian have family and friends with lupus, so Brian is running a fifty-mile ultramarathon next month to raise money for the Lupus Foundation of America. (I can't even begin to fathom how hard that would be. That's SIX TIMES farther than my farthest run ever. Insane.) Brian's set up a weblog to document his training and help raise awareness of the cause. Holli asked if I would mind throwing them a link... and duh, of course I will. In fact, I'll be donating some cash as well. So if you need an excuse to do a good deed this month, go donate at Brian's site, okay?



* Incidentally, I have a great photo of Holli that I took on our 8th grade camping trip to Pokagon, where she's lying on the beach and looking back upside-down at me. I always thought it would make a great album cover. Man, I should find that and e-mail it to her...

Monday, August 20, 2007




New hair. As my sister put it: "You're not really going to interview with them with SALMON-COLORED HAIR, are you?"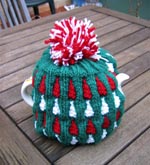 Christmas Tea Cosy
This is officially Number Four, folks! This pattern is actually called "Delphie" (no idea why) and it's from Patons Craft Book No. C.18. The book actually belongs to Ma Snook, who purchased it way back in the 1950's, I believe. I'm still using up oddments of 8ply yarn on 4mm needles. This cosy was mostly knit while watching the TV movie of Pratchett's Hogfather; hence the Christmas colours. If you were a fruit, what would you be?
Big interview in less than 24 hours. Have you ever been asked a particularly good - or bad - job interview question? This company is known for being rigorous, so I want to prepare as much as possible. Any questions or suggestions you could throw my way would be appreciated!

Sunday, August 19, 2007




My cousin Jenny (who needs a blog already!) sent me a link to this wonderful essay by Stephen King on the Harry Potter series. King's a big fan, and he does a great job of explaining why the books became so popular in the first place. It's interesting, because King himself has been tarred with the "popular but not a real writer" brush on many occasions. Me, I love books with lots of plot and imagination, which is why Rowling and King have prominent places on my own bookshelf. Hello to any of my knitting students dropping by! Our usual knitting teacher Mel had to cancel this weekend, so I got drafted as a substitute teacher for our Beginning and Intermediate Knitting classes. The classes I've taught previously have all been more advanced (socks, cables, etc) so I was a bit nervous about dealing with newbies. I needn't have worried. They were all great! Everyone learned something new, and quite a few of them seemed fired up and inspired when they left. Some of them even asked for my website to see my own knitting progression. (Check out the Crafts page, ladies!) It was nice to be reminded of how fun and exciting it is to teach someone a new skill.

Saturday, August 18, 2007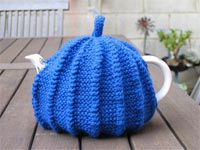 Ribbed Tea Cosy
Well, the Great Tea Cosy Challenge was on shaky ground there for a while, as it looked like Auntie Linda might not do the stall after all. Happily, I've just found out we're back on... and I've just finished my third cosy! This is another one I found on Ravelry, and it's a free pattern from Bernat (though you do have to register on their site). I used less than two balls of Cleckheaton Country 8ply on 4mm needles, and the only significant change I made in the pattern was to knit the top shaping bit in the round (rather than sewing it up). I also used i-cord to make the loop at the top rather than crocheting one. Onwards and upwards!

Friday, August 17, 2007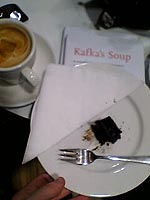 Kafka's Soup
Last night I joined Miss Fee and Eva at Kinokuniya for a book reading by author Mark Crick. Mark's book is called Kafka's Soup and it's billed as "A Complete History of World Literature in 14 Recipes." Basically, it's a little cookbook and each recipe is written in the style of a famous author. As foodies and book lovers, we couldn't say no. Mark read aloud from Irvine Welsh's Chocolate Cake, and we all giggled as he slurred his way through a passable imitation of a drunken Scotsman comparing the preparation of a chocolate cake to cooking up heroin. (We also got to have little pieces of the cake; it was lovely.) Afterwards we dutifully queued up to get our books signed, and though for most people he scribbled a polite "Bon Appetit!", the three of us requested - and were granted - X-rated quotes from the Irvine Welsh. It was a fun evening. Thanks to the girls for accompanying me, and to Miss Fee for taking the picture! The interview went really well. (How well? On a scale of 1-10, I'd say about 10100.) Thanks to everyone for their thoughts and well wishes! I'm crossing my fingers now for an onsite interview.

Update: Onsite interview booked for Tuesday morning. EEEEEEEEEEEEEE!!!!! [more...] RunningBlog: City 2 Surf Photos - The Agony and the Ecstasy
Last night I suddenly remembered that the City 2 Surf photos were available, so I looked up our bib numbers to see what they had. The first one of me was pretty good, with me chugging along and half of the Snook visible on the side. The second one? Not so good. In fact, I laughed and laughed and laughed. Ladies and gentlemen, I give you the Funniest. Running Pose. Ever. [more...]

Thursday, August 16, 2007




Looks like free wi-fi is being rolled out in various spots around the CBD... Sweet. Now all I need is my friggin' iPhone. Remember how I was looking for GAP Favorite Chinos? An awesome MeFite by the name of "orangemiles" came through for me! I just opened a big box with three pairs of pants, two boxes of Nutty Bars, and assorted other junk food. Hooray for the Internet! It looks like my brother Ant and his wife Kara will be bringing another BOY into the family! And while I'm thrilled because I've got lots of leftover ideas from Penn, I'm a little sad that I won't get to knit frilly girl things yet. (JENNY - GET ON THIS.) [more...]

Wednesday, August 15, 2007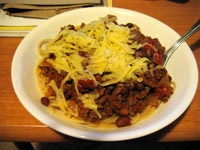 Cincinnati Chili
O what to make for dinner on a cold and rainy night? I had a flash of inspiration: Cincinnati Chili. (Or as I knew it from college: "the chili they have at Steak N Shake.") According to various web histories, this dish was created and popularized by Greek immigrants in Ohio in the first half of the 20th century. Basically, it's a version of chili served on top of spaghetti, with lots more toppings piled on. My version tonight was quick and bastardized (based on this recipe), and I'm sure the purists are writhing in agony. To begin with, I didn't BOIL my hamburger for two hours or puree it in the food processor. I forgot to add the chocolate. And I put the beans in the sauce rather than serve them on the side. Whatever; it was still pretty tasty. We had ours as "Chili Three-Way," with shredded cheddar cheese piled on top. YUM!

In other food-related news, I discovered a great new Asian food blog last week while googling for a mapo tofu recipe. I even waylaid the staff at our local Chinese grocery to help me track down fermented black beans. I was bummed that I couldn't find authentic Sichuan peppercorns... until the Snook came home and revealed he had some hidden in the spice cupboard. (Who knew?) The mapo tofu turned out EXCELLENT, so good I forgot to take pictures in our haste to gobble it up. But mine looked just like that guy's photo anyway. Highly recommended.

Tuesday, August 14, 2007




Of dream jobs and dream apartments...
Remember the amazing apartment I found online last week? The Snook and I went to check it out on Saturday (along with three other places in the neighborhood). To make a long story short: It wasn't my dream apartment after all. The first thing we noticed when we arrived was that I was not the only person pulled in by those photos. There had to be a hundred people there for the viewing, and we had to wait in a queue just to take the lift up. The photos weren't misleading or anything; the place still looked gorgeous. The biggest problem for us was the kitchen, which wasn't pictured (for good reason). It just hadn't been done up to the standard of the rest of the place, and it would need a major overhaul to be what we'd like. Also, the bedroom faced full west, and even on this cool spring day it was noticeably warmer in there. (It would be sweltering in the summer.) So, lesson learned. I'm going to try hard not to get emotionally attached to any place I haven't inspected with my own eyes; it's too easy to be misled.

In other news... I have a phone interview this Friday. I don't want to talk it up too much in case I jinx it, but it's with my #1 Dream Company to Work For. I'm nervous but excited. Any positive thoughts you could send my way - be it prayers, The Secret, whatever - would be much appreciated! This is so surreal. I was just checking my referrers and apparently I've been linked on the Wikipedia entry for "Happy's Place". I also noticed that a commenter here pointed me to this Google video of an entire episode. Man, suddenly it's like I'm 9-years-old, watching Happy at the babysitter's after school... A cautionary tale: Do NOT drink seven double espressos in one sitting! You will overdose!

Monday, August 13, 2007




American Psycho
Since I had the day off (and I could barely walk on account of the soreness) I spent several hours finishing off Bret Easton Ellis's American Psycho. I found it... disturbing, to say the least. At one point today, I actually said aloud to the cat: "But I thought porn was banned in Australia?" According to Wikipedia, this book is "classified R18" in Australia and should be "sold shrink-wrapped" only to those above 18 years of age. (The state of Queensland bans it entirely.) Um, I bought my used and well-thumbed copy for $1.50 from a CHURCH BOOK FAIR. Did they not know what they were selling me? Or is it a conversion tool, meant to scare unwary readers into a religious epiphany? Because that might work. [more...]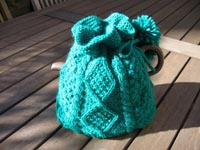 Irish Tea Cosy
I've just finished my second tea cosy for the aforementioned Great Tea Cosy Challenge. I also found this one on Ravelry, and the pattern is available online. (There are two mistakes though; I'll list them after the jump.) It was kinda fun knitting something without a picture to refer to. I wasn't quite sure what it was going to look like! I also had my first go at making pompoms. This cosy features an open top with a drawstring, which is nice if you've got a particularly odd-shaped lid or a handle on top. Even using 4mm needles and 8ply yarn, this is still a fairly large cosy. We only have small teapots, so I fudged the photo by propping our little pot up on a dishtowel. In terms of yarn, I again used some random cheap acrylic that I found in the bottom of my stash. (I'd never purposefully buy acrylic now that I'm a yarn-store-workin' fiber snob!) Anyway, that's two down! [more...] RunningBlog: Here's another story on the City 2 Surf, which includes the great detail that Australian defense personnel in Afghanistan and Iraq participated in their own version, the Desert 2 Desert. Fairfax is hoping to have their results included with everybody else. That's neat!

Sunday, August 12, 2007



RunningBlog: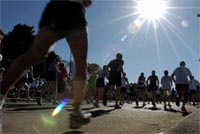 City 2 Surf 2007
Old American Guy: Excuse me. I just flew into Sydney today. Is there a race on or something?
Me: Yep. The City 2 Surf. Largest fun run in the world.
Him: Where does it go?
Me: From in the city here all the way out to Bondi Beach. It's like more than 8 miles. And hey, you sound like me!
Him: Where are you from?
Me: Indiana.
Him: Did you fly all the way here just for this race??

I wish I'd said, "Yeah, I'm the favorite to win." But instead I said, "No, I live here. I'm just waiting now for my husband to pick up his stupid race number."

Anyway, the Snook got his number and we took our positions in the Back of the Pack. (Last year we started in an earlier group, but the Snook had left his registration too late this year. So we were in the big group with the walkers and the strollers and the freaks in gorilla suits.) The gun went off and it probably took us twenty minutes just to get up to the starting line. We were literally in the last 500 people (out of more than 64,000) to start the race. I'll tell you what though - running with the fatties and the babies sure makes you feel like you're flying! We ran pretty much all the way to the tunnel at the end of Williams Street. After that, we alternated between jogging on the flat and downhill sections, and brisk walking on the hills. We passed thousands of people. In Double Bay I was thrilled to see the same 80's hair band rockin' out on the pub roof as they did last year. We made an effort to use the drinks stations more this year (it was a beautiful, hot sunny day) and I was checking our pace pretty frequently with the Nike+ iPod kit. Heartbreak Hill was hard, but mentally I was just so much more prepared this year. (At one point, Rodd commented that "This is where you pretty much broke down last year." I laughed and started jogging again.) We were both hurting on our descent into Bondi, and I'd been nursing a mild stitch since the 3km mark. But we persevered. The Snook knew just how to motivate me, letting me set the pace and pointing out other racers that he knew I would hate to let beat me, like the "Peaky Striders" (a walking group of old women in bright orange shirts who kicked my butt at several events last year) and the inevitable dork in a gorilla suit. We sprinted the last bit to the finish line, raising our arms for what should (hopefully) be a pretty awesome photograph. Our revised goal for the day had been to average less than ten minutes a kilometer, and thanks to all the jogging we did, we pretty much smashed it. The iPod registered a time of 2:01:30, which works out to a pace of 8:48 per kilometer. So that's a little slower than last year, but better than expected considering our injuries and lack of training. Getting home was the usual headache of endless queues and bus rides, and we stumbled in nearly six hours after we'd left. After a shower and a sandwich, I was off to the masseuse for some much needed relaxation... And now we're both dealing with the inevitable aches and pains. But we did it! Root Beer Float Cupcakes. YUM.

Saturday, August 11, 2007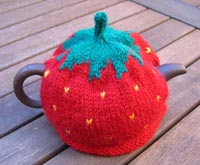 Strawberry Tea Cosy
Ma Snook called up the other night to confirm that Rodd's Auntie is indeed having a booth at this year's Fifties Fair, and would I mind making some knitted pieces for it? I decided to turn it into a challenge: Just how many tea cosies can one woman knit in two weeks? I polished off the first one in two days. I found the pattern through Ravelry and it's available online. I used some leftover Gryffindor scarf yarn for the red and yellow, and some cheap Kmart acrylic for the green. I think the effect is definitely kitschy and cute. On to the next one!

Friday, August 10, 2007



Finished Objects Report!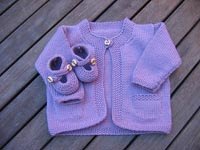 As I mentioned before, my friend Brigita had a baby (named Violet!) and I wanted to make her something. So last week I cracked open Debbie Bliss's Baby Cashmerino 2 and cast on for the "Cardigan with Moss Stitch Edging." It's a very quick little knit, especially when you modify it to the knit the body on a circular up to the armholes. I had three balls of Baby Cashmerino in colour #340010, but when I finished I found I had at least half a ball left over. That means booties! These are from a pattern I had in my Ravelry queue called "Saartje's Bootees." (It's a free download on that site.) Again, very quick to knit. And aren't the little wooden buttons just perfect? We actually had them at the shop and I couldn't resist. I'll be sending this off to Brigita today... I hope Violet likes it!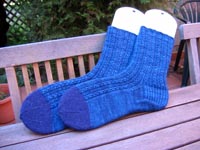 Next up are my "GVH Conwy Socks." Conwy is a pattern from Knitting on the Road, and while I still like the look of it, it wasn't that fun to knit. The little twisting cables just get really, really boring. I used Colinette Jitterbug in the Velvet Damson colourway on 2.75mm needles. And as you will remember, I ran short. I couldn't bring myself to frog them back though, so I used some leftover Sirdar Town & Country to finish the toes... Hence the "GVH" (i.e. "Graft Versus Host"). They're a little bit Frankenstein, aren't they? I still love the Jitterbug colour though, and I'm definitely going to wear them. Comic strip + Harry Potter + knitting = my kind of humour. (Thanks, Bex!)

Thursday, August 9, 2007




Ooh, neat! My friend Kel has this ASCII Magic Eye movie linked as her Google Chat away message. Can you see the bouncing ball? I can, but seeing Magic Eye pictures is my superpower. Kudos to the 17-year-old student who managed to corner Alexander Downer on climate change. I wish I'd been that politically-aware at that age. Claudine has a lovely little new online shop selling her totes. I just ordered number 3 from her!

Wednesday, August 8, 2007




How to feel like a grown-up: Meet with a mortgage broker. (Thanks to Miss Fee for the recommendation!)

Tuesday, August 7, 2007




RunningBlog: I'm already dreading that hill.
It's five days til the 2007 City2Surf, and the Snook and I are once again taking part. We'd hoped to better our times from last year, but the combination of my hamstring injury and his laziness have meant that we haven't done much training. We'll do our best on the day, but realistically I think we'll be walking most of it. There's still time if you'd like to sponsor us, though, and I hope you'll be cheering us on this Sunday! (Is it time to start carb-loading yet? Mmm, delicious carbs...) 10th best "foodie" city in the world. Nice. On top of everything else that's frustrating and annoying me this morning - the Sydney Morning Herald site has been revamped. It's ugly; I can't see as many headlines without scrolling; and since it's not stretchy, there's way too much whitespace on my monitor. I hate it.

Monday, August 6, 2007




GVH
I'm finally getting to the end of these darn socks I'm knitting for the Snook - "Conwy" from Knitting on the Road, for those who care - and I hit a bit of a snag tonight. I'd been watching with some anxiety as the small ball of Jitterbug disappeared just a little too quickly through the foot. Tonight I had to face facts. I did not have enough yarn to finish the toes. So... to frog or not to frog? To be honest, this pattern really bored me. I didn't think I can face doing the whole heel and foot again. So in desperation, I threw in some navy Town & Country I had in my stash. It looks rather bodgy, but I think I kinda like it. I told the Snook proudly tonight that I've decided to name the finished pattern "Graft Versus Host". I'll post pictures as soon as I weave the ends closed... How to Share Your Obituary with your Online Friends. Worth bookmarking, folks! Although in my case, you'd probably figure it out pretty quickly, what with my butt not being planted on CouchCam all the time... Damn. Fake Steve Jobs has been outed. Why do people have to ruin everything? (Although: Hee hee. The SMH used the word "mangina." I bet they didn't realize what it meant.) *Le sigh...* I've just found my dream apartment in our neighborhood. It's up for auction in two weeks. Too bad we'd never be able to get everything together in time.

Sunday, August 5, 2007




Reading Material
The Snook and I ventured down to Gleebooks yesterday to cash in my gift certificate and take advantage of the secret "Harry Potter's birthday" sale they have going on. (If you show your train ticket, you get 17% off.) I was armed with a long list of your book recommendations. We dove into the stacks and soon realized that they only had about a third of the titles I was looking for.* Here's what I ended up getting: The Amazing Adventures of Kavalier & Clay by Michael Chabon; The Accidental by Ali Smith; Middlesex by Jeffrey Eugenides; and The Life and Times of the Thunderbolt Kid by Bill Bryson. The Snook also picked up two fantasy books. As we headed home, we noticed that St. Barney's were having their annual fair day and book sale. I picked up secondhand copies of American Psycho by Bret Easton Ellis; Artemis Fowl by Eoin Colfer; Around the World in 80 Days (illustrated!) by Jules Verne; and a couple others as well. Thanks to everyone who gave me recommendations; I'll be on the lookout for the other books when I finish these!



* I like Gleebooks a lot, and I want to support local businesses, but man, their shop really isn't designed for people who know what they want. It's just such a jumble. If you're a browser it's brilliant, but when I have a shopping list I much prefer the Kinokuniya system of being able to look up exactly where a book is located. And Gleebooks doesn't seem to keep much of a back catalog either... :(

Saturday, August 4, 2007




R2D2 Beanie. THAT RULES. The Snook says he might even rescind his ban on wearing knitted hats! (Pattern found on Ravelry.)

Friday, August 3, 2007




The United Countries of Baseball is a map showing the geographical boundaries of regional baseball fandom in the US. I found their division of Indiana pretty surprising. I expected the northern part to fall under Cubs jurisdiction, but I didn't realize that there were some many Cardinals fans in the south. And wow, according to the map there are a LOT more White Sox fans these days than I remember... More pictures of the cutest baby ever. I can't get over how big his eyes are! And the leopard print nappy cover made me laugh and laugh... Ooh, Charisse alerted me to the fact that Rowan Book 42 is now out. I think it's lovely. There's a tweedy vest I really like (pic 16), and some seriously cute knee-highs (pic 21). I love the simplicity of the knitted homewares, including the flowerpot covers. (Are those knitted curtains??) I'm loving the muted colours, the chunky cables, and the rugged woolly-ness of it all. And the men's designs are great! Too bad the Snook refuses to wear A) cardigans and B) any form of turtleneck, mock or otherwise. Those seem to be the big two trends I'm noticing in men's designs at the moment... Mugglenet has a great web Q&A with JK Rowling, and she answers a LOT of interesting questions! (For one, she explains what the thing in Kings Cross really is.) My favorite question is the last: "Which muggle song would have been played at Dumbledore's funeral?" Her answer is perfect.

Thursday, August 2, 2007




For the Snook: Beer in space!

Wednesday, August 1, 2007




So the whole marriage thing was feeling rather rocky, what with the "ash-felt" issue and all, but then the Snook made it all better:

Snook: I think you need this. It's Dawson's "crying face" in animated GIF form!
Me: And that's why I love you. Any of you Yanks near a GAP factory outlet? I'm looking for pants. Harry Potter Spoiler Car. Ooh, that is just evil! (Link courtesy of Bex, who always finds great Potter links but refuses to post them to her own blog because she thinks it's nerdy.) Shocking Revelation: You know asphalt, that stuff they make roads out of? Well, we were watching Worst Jobs in History the other night and Tony Robinson kept pronouncing it "ash-felt." I was like, "WHAT is WITH that whack pronunciation? It's making me CRAZY!" And Rodd said, "That's how you say it." Say what? So I had to confirm with the Aussies here at work. People, THEY ALL SAY ASH-FELT. They're also incredibly amused by the fact that I say "ass-fault." Me, I'm still reeling from the fact that I am married to a person who says "ash-felt." How could I not have known that? Rar rar rarr... I live in a subdivision.

Edited to add: The Snook doesn't really get it. Maybe it's my raging headache, but I just found it kind of funny. It's from this webcomic. And, incidentally, I SO need this one printed on a T-shirt.
archives
You can search through the archives by post keyword using the form on the left, or you can browse by month using the links at the bottom.
"Moblog" refers to posts and images posted directly from my mobile phone.

"PW Blog" refers to posts recovered from my very first weblog, which dealt with news related to my college dorm.