Sunday, September 30, 2001

I don't get it. US news outlets say "Taliban." UK news outlets say "Taleban." What's that all about?


Hurray! I found a Mac OSX version of Bejeweled. A bit clunky, but at least I can play offline at home.


Random. A guy I graduated high school with just e-mailed me up out of the blue to say hi. He'd been browsing and found my site after searching on our school. Hi, Jer!

So anyway, I went to Google to try to reproduce his search to see if anybody else is on-line. In the middle of my results I came across this link, which is a list of all the high schools in Indiana and their nicknames. There are some weird names on there. Like, the nickname for the Indiana School for the Deaf is "Deaf Hoosiers". WHAT? How about the New Harmony "Rappites". What the hell is a rappite? And hello? The Indianapolis Northwest "Space Pioneers"? I'm also glad that I was never a River City "Ingot". (Isn't that a lump of metal?) And what about the Shoals "Jug Rox"? That's not even a real word! Compared to those, Lakeland "Lakers" is a lot less embarrassing than I thought.


Yeah, I thought I'd do some blogging yesterday, but I really and truly spent 10 hours straight doing hardcore HTML work. You can see it if you go to the Micky Dee's site and click on the "Kidzone". All of that was done yesterday. What a sucky weekend.

Saturday, September 29, 2001

Saturday morning. 10:05 a.m. At my desk. Hung-over.

Luckily I've got a kiwi!

Friday, September 28, 2001

Weirdness. We were supposed to have our monthly meeting/drinks session tonight and rumors were flying about more layoffs, buyouts, etc. We were also dreading more of the horrendous Chardonnay they tried to pawn off on us last time. But oddly enough, when we got to the board room there were just cases and cases of Beck's. And no meeting. Just drinks. On one hand it was really, really cool... but on the other hand, it was a little Twilight Zone.

And in further work-related news, after sitting on my ass for two weeks straight I've been suddenly asked to come in tomorrow for emergency work on McDonald's. Yeah, I'm the friggin' cavalry, and I'm riding to the rescue. So I'll be here all day. Expect more blogging.


Congratulations to my brother Anthony, who was accepted into the Kappa Sigma fraternity at Purdue. He assures me that they're not beer-swilling assholes. :)

| | |
| --- | --- |
| | [15] |
This morning I received one of those "Tell your friends lots of secret things about you" e-mails from Jann. As I'm still unallocated at work and bored out of my mind, I decided to answer via my weblog. It's similar to other memes I've seen, but some of the questions are different. Feel free to play along if you want.
What time is it? 2:01 pm, London time
Name as it appears on your birth certificate: Kristine Michelle Howard
Nickname(s): Kristy, Kris, Howie, Pants, w-g
Parents names: Ron and Susie (yes, my dad's name is "Ron Howard")
Number of candles that appeared on your last birthday cake: 24
Date that you regularly blow them out? March 15th
Pets: None currently, but we had a black pomeranian named Dale when I was growing up that I loved
Eye color: Brown
Hair color: Currently fire-engine red
Piercing: One in left ear, two in right, one (formerly) in navel
How much do you love your job? I guess I like it a lot compared to other things I could be doing (for less money with more effort), but it's still not the kind of thing I'd like to be doing forever. I think my dream job is one where I get paid to work on web-goddess and Roald Dahl Fans.com.
Favorite colour: Blue
Hometown: I was born in Hicksville, Ohio, but I grew up all over northeastern Indiana. I guess I'd probably say Lagrange, which is where I went to high school.
Current Residence: London, England, but looking to migrate Down Under ASAP
Favourite food: Traditionally I'd say my Aunt Berb's chicken and dumplings, but at this moment I'd give my right arm for a chicken Gordita Supreme
Been to Africa? Nope
Been toilet papering? Like I said, I grew up in Indiana. Going "teepeeing" is a universal rite of passage. In fact, I helped teepee somebody's dorm room during freshman orientation week at college. THAT was fun.
Loved somebody so much it made you cry? Since the question confuses me, I'm gonna have to say 'no'.
Been in a car accident? I rear-ended a Corvette. And once when I went to pick up my brother at baseball practice, I ran over a log and got my car stuck and had to be rescued by some construction workers.
Sprite or 7UP? Sprite is the lesser of two evils.
Favorite Movie: Too many to name, but I will say that my tape of the BBC miniseries "Pride & Prejudice" is starting to wear out
Favorite Holiday: In the American "national holiday" sense of the word, Christmas. In the British "vacation" sense of the word, any and every trip I've ever taken to Cedar Point.
Favorite day of the week: Friday (after 6:30 pm)
Favorite word or phrase: I say "You're terrible, Muriel" a lot. Snookums and I also have this habit we picked up from Cartman where we say -ty words as -tah, so we say "authori-TAH" and "securi-TAH" a lot.
Favorite Toothpaste: Whatever's cheapest.
Favorite Restaurant: In London, probably Wagamama's. At home, probably Chili's or Taco Bell. (I have very pedestrian tastes.)
Favorite Flowers: Sun flowers and gerbera daisies.
Favorite Drink: Non-alcoholic is definitely Mountain Dew. Alcoholic is a tossup between lager, gin & tonic, and the cheap chardonnay the Indian delivery guy brings us for free.
Favorite sport to watch: Notre Dame home football
Preferred type of ice cream: Ben & Jerry's "Chubby Hubby"
Favorite Sesame Street Character: Snuffleupagus
Disney or Warner Bros: Disney, of course
When was your last hospital visit? Two weeks ago. I got an injection in my bum for probably the first time in twenty years. Very nostalgic, that.
What colour is your bedroom carpet? Blue, I think
How many times did you fail your drivers test? None! And since I got an 'A' in Driver's Ed., I didn't even have to take the written part. (Thank God, because I can't parallel park to save my life.)
Who is the last person you got email from before this? Some kid who visited my Dahl site
Have you ever been convicted of a crime? Nope.
Which single store would you choose to max out your credit cards: Seriously, Sam's Club. Every time I'm there I just wish I had more to spend on discount books, cases of Snapple, and 40 pound bags of frozen burritos.
What do you do most often when you are bored? Surf the net
Name the person that you are friends with that lives the farthest? Probably my college roommate Eileen, who's currently working in Nicaragua for the Peace Corps
Most annoying thing people ask me: "Can you send me all the information about Roald Dahl? I have to write a paper."
Bedtime: Around midnight usually
Favorite all time TV show: In terms of how long I've been watching it, probably Days of Our Lives
Last person you went out to dinner with: Snookums and my sister last night
Last Movie you saw: "Planet of the Apes"
Time when you finished: 2:26 pm
That made me hungry. Time for lunch!

How many banned books have you read? I counted twenty-three for me. Most of those were children's books, but still...

| | |
| --- | --- |
| | [13] |
Are You Smarter Than Miss America? I'm not. I'm only as smart as Miss America. I got 6 out of 8 correct. D'oh! (Take the quiz and then go to the comments page so we can compare what we missed.)

| | |
| --- | --- |
| | [5] |
Ebert gets seriously pissy about Ben Stiller's new movie.

| | |
| --- | --- |
| | [2] |
A British father is pissed at FHM magazine after his 14-year-old daughter saw some "grotesque" pictures in it, fainted, hit her head on the pavement, and died. I'm very sorry for his loss, and I'm not trying to belittle that in any way. But how on earth is this magazine responsible? What if I'm reading the newspaper and I'm so engrossed in a good story that I step out in front of a bus and get squished? Is that the newspaper's fault? Why was this girl, who has been described as extremely "squeamish", looking at those pictures in the first place? Either she chose to look, or someone thrust them in her face (and if that's the case, why isn't that person responsible?). In a way, this reminds me of an article I just read over at the Banned Books Project. Parents don't understand that if they want to restrict access to what their kids' read and see, fine. The way to do that is to accompany your kids to the library or ask them what they're reading or generally just be involved in their lives. If you can't do that, you have no right to request that the material be made unavailable to everybody else. This father says, "I can't see how anyone's life is improved by seeing the range of degenerative pictures." I'd like to respond and say that just because he can't see any worth, that doesn't mean someone else wouldn't. Who's to be the judge of which material is appropriate and should be available? I hate to trot out the old "book burning Nazis" cliché, but that's what I think every time I read about another of these censorship outcries.

(I just deleted a couple lines in there about the First Amendment, which I suddenly realized doesn't apply in this case. As my knowledge of British law is scant at best, where is freedom of speech guaranteed here? It is, isn't it?)


Mets win. Braves lose. Mets are now three games behind the Braves... going into a three-game series in Atlanta. Eeeek!

Thursday, September 27, 2001
| | |
| --- | --- |
| | [3] |
Here he is, in his first (but certainly not the last) web-goddess appearance, my new little brother Joseph Robert!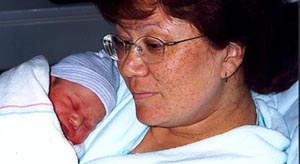 To the BT user who voted six times in my poll:

Yes, I know who you are. And yes, I've cancelled all of your votes. I'll assume it was a mistake and give you a second chance, but if you can't play nice with the other kids, I'll ban you from the site. Thank you.

| | |
| --- | --- |
| | [3] |
Just went to Marks & Sparks to pick up some stuff for my sister (and some kiwis, of course) when I noticed that they've got Christmas stuff everywhere. Seriously, Christmas stuff (right alongside Halloween stuff in some places). That's just ridiculous. I mean, people think of the States as being overcommercialized, but never have I seen Christmas stuff out before the end of September.


Ooh, I'm so mad I could spit. I was playing the MUD* today when this other character came along and killed me. That's against the rules, but it didn't stop this jerk from beating the crap out of me and stealing all my stuff. A character that I had spent a month creating! Oh, I could continue with a new body, but I've lost all my equipment and a quarter of my experience points. All because some snotty little teenager* got bored and decided to ruin somebody else's fun. What an asshole. It's probably better in the long run... My Sims have been missing me.

| | |
| --- | --- |
| | [8] |

I love kiwis. No, not Antipodeans (although they're nice), but kiwifruit. I seriously had never eaten one before a few months ago. I have no idea why; I guess I just thought I wouldn't like them. Snookums got me to try one, and the rest is history. The real question is, then, how do you eat them? I like the slice and scoop ("slooping") method, but others apparently peel and slice. And then there are the weirdos that eat the skin (which, according to the California KiwiFruit Commission, is perfectly acceptable and nutritious, but as Snookums put it, "tastes like shit"). Head down to my new poll and tell me how you do it.


I got a strange little e-mail the other day complimenting me on my site and inviting me to check this person's out. Turns out that it was a spam that several other people have received as well. *sigh* For future reference, here's my post about how to publicize your blog without being annoying. Read it, learn it, live it.


I met up with Jann and a few co-workers last night at a bar in London to reminisce about the good 'ol days of 2000. Well, that was the plan anyway. Instead Jann and I sat analyzing the weblogging community and thoroughly alienating everybody else. I could've kicked myself for not bringing a camera (I think it's an unwritten rule that when two bloggers meet up, photographic evidence must be produced). Anyway, many beers were consumed and a good time was had by all.

Wednesday, September 26, 2001

My Chinese Name is apparently "Hong Kongrui", which is ridiculous. I mean, it sounds like Hong Kong Phooey! (Link courtesy of Orbyn, my new twin.)

| | |
| --- | --- |
| | [13] |
Check it out: I've been twinned! This is actually a really cool idea. I mean, you're much more likely to check out a new blog if you think you've got something in common with the author. My new twins are:
a fire inside - I'd actually seen this one before and thought it would be a good daily read. Interestingly, I found it because Michele linked to my Roald Dahl site on her Banned Books page.
Interior Exterior - When I told Snookums about this twinning thing, he predicted that I'd get paired up with some 13-year-old blue-haired punk girl, and that it'd wig me out. Which is why I was a little wary of Amy, the 16-year-old Aussie author behind Interior Exterior. Turns out I needn't have worried. She sounds really cool.
Orbyn - The tagline of this site is "the internet is shit." And the author worked as a stage manager and web designer. And she admits to an obsession with alternative music. Forget "twin"; Robyn is my clone.
I'd like to submit some twins of my own, but it's harder than it sounds. Some people are just one of a kind. I mean, where are you going to find another Max?


Hooray! Mac OS X is here! But I'm confused. I can't just use Software Update to get it? Where can UK users get the upgrade??

Update: For you UK Mac people, I just called Micro Anvika (pretty much the big Mac retailer over here) and the woman said that they don't have the upgrade and she has no information on when or if they will be getting it. And since the mail-in form on the Apple site is only for US customers, as of now we're out of luck. This is gonna piss me off.

Update #2: I discovered that the UK Apple Store has the full version of OSX 10.1 available, but not the upgrade version. So I called them up on their free number 0800-039-1010 to ask about it. The lady informed me that the upgrade is available through them for £16, and I could order it right then. Which I did! I should have it within a week. Happy ending!


"Islamic law states, 'An eye for an eye.' By that logic, we should destroy one of Osama bin Laden's skyscrapers. Problem is, he doesn't have any, because he lives in fucking underground caves."

Oh yes, The Onion is back. Thank God.

Tuesday, September 25, 2001

An anniversary of sorts. I just noticed that this is my 1005th post here at web-goddess. The big rollover occurred down on the "Queen gets a mobile" post. I just calculated that I've been blogging for 264 days now (starting on January 4 of this year), which equates to an average of 3.8 posts per day. Not bad. I feel like that's a good area to be in. Just frequent enough to keep you coming back, and not so often that I get sick of doing it.

| | |
| --- | --- |
| | [3] |
So MJ's back. My dad will be excited. I was pretty surprised to see that he's donating his entire salary to the 9-11 relief effort. Just for that, I'll refrain from making fun of him for a while. At least until he gets schooled by the Knicks. (Make no mistake, I hate the Knicks with a passion. I just hate the deification of athletes more.)


Snookums and I were checking out the baby pumpkins at the Hammersmith market today. So naturally my thoughts turn to Halloween and I look to the Net for inspiration. My first impulse was to do one of these cool emoticon jack-o-lanterns. I mean, it's definitely appropriate for our Geek House. But then I saw these Martha Stewart monogrammed pumpkins and now I'm torn. Of course, if I did spend three hours making a translucent harlequin squash, somebody would only step on it in a drunken haze and I'd be all upset. So maybe I should just stick with the original idea.


EEEEEEK! I've been waiting for the Max OSX 10.1 Update for two months now, and every day I get disappointed. Yet this article says it's coming out today! Could my dreams be coming true??


Two Afghan men were picked up trying to row across the English Channel in a children's inflatable boat. That's seriously desperate.


Aww, check it out! The Queen's finally got a cellphone. I wonder what her ringtone is?


Salon.com defends their new interstitial ads, which I came across yesterday. I was really confused at first, and just kind of stared at the ad for a few seconds while I tried to figure out what had happened. I'm not a fan of them, but I'm not paying for a subscription either, so I guess I'll just have to learn to put up with it.


Movie Robot or Programming Language? I got 10 out of 15 correct, but admittedly a large number of those were educated guesses. Snookums got 13. Yeah, we're big nerds. (Link courtesy of John whom I cannot believe got "Johnny-5" wrong.)


This one's for my Dad: This Old Souse, a drinking game based on the television programs This Old House and The New Yankee Workshop. Although my personal favorite, as you all should know, is Hometime (but the original series with JoJo, not the later ones with all of Dean's other beeatches).

Monday, September 24, 2001

Folks, do not click on e-mail attachments. There's yet another new virus on the loose. I repeat, do not click on e-mail attachments.


I'm shamelessly stealing this link from Jann, who just sent it 'round to a group of us in an e-mail. It's a fantastic spoof of the BBC News page. Bravo to whoever was responsible. Now if only the news really looked like that...


What do you buy the person who has everything? An ass-kicking.


Rodd and I are becoming addicted to the Harry Potter trading card game. I'm Hermione and he's Draco. I was whipping him constantly when we were just playing with the starter pack, but we've since bought half a dozen expansion packs and now he's starting to win. Oh, and in other news, we've become Satan worshippers.

Not. Honestly, these people drive me up the wall. They don't give kids any credit for intelligence at all. Do children who read "Goldilocks and Three Bears" embark on a life of breaking and entering? How about "The Wizard of Oz"? There are good witches in that. My favorite book when I was twelve was called Fifth Grade Magic. And did I ever try to blight my classroom enemies with the chicken pox? I think not. What idiots.

Sunday, September 23, 2001

Man, is this day turning out crappy or what? I figured as long as I have to sit here NOT at the Dahl Open House, I might as well answer some of the e-mail I've received at the site. So fifteen minutes later I pointed my browser to Waterstone's to verify some information for a kid. (If you're not from the UK, Waterstone's is a big chain bookstore like Barnes & Noble.) And what greeted me on their home page? A big honkin' orange screen informing me that my browser wasn't good enough to see their crappy site. (I should pause here to remind everyone that I use an iMac at home, and currently my favorite browser is OmniWeb, which is free, small, and fast. It doesn't do all the fancy-schmancy stuff, but IE for Mac OSX is slow as a three-legged dog.) So annnnyway, some hotshot wank designer managed to convince the Waterstone's people that forcing punters to download and install a new browser is a good way to foster customer relations. They were wrong. I fired off a flaming e-mail that'd curl your hair, being sure to mention that not only were they not receiving my business, but I would never recommend them to any of the 15000+ visitors I receive at my Dahl site each day. (A slight exaggeration, but it was necessary for effect.) Bastards.

I've come across these "Web Standards" people before and I thought they were nuts. Zeldman and co. envision themselves as some kind of benevolent internet gods, (con)descending from the mountain to inform the brainless masses of their browser inadequacies. Why can't they just leave it alone? I'm a web developer and I have no problem making my sites backwards-compatible. And in the few cases where a client has demanded something that would break in one browser, we didn't ban users of that browser from visiting the site. That's just ludicrous. That's fine for a personal site, but businesses like Waterstone's are going to find out that people don't like being told what to do. I mean, hasn't every usability expert for the last five years been saying to get rid of those "Resize your browser to 1470x376 to fully enjoy this site" messages? You know why? Because nobody ever does it! I cannot fathom why a retail company would agree to such a proposal. I can only conclude that the owners weren't computer-savvy enough to smell the BS their wank web designer was shoveling at them.

Rant off. I need a beer.


Roger Ebert's Answer Man column attempts some answers at what the 9/11 tragedy means with regard to film, entertainment, and irony. Personally I thought Ebert could've responded with a little more. I wanted him to really defend the need for escapism and humor right now. Instead he gave some quick answers that seemed to indicate that he didn't really think the studios were going to magically change, and that he thought audiences wouldn't respond to special effects in the same way anymore. I guess I'll cut the guy some slack though; his family was in New York and he's probably been as preoccupied as the rest of us.

| | |
| --- | --- |
| | [1] |
Bloody Railtrack bastards! I've been waiting all summer for today, which is the Roald Dahl Foundation Open House. It's up at his home Gipsy House in Great Missenden. It takes forty-five minutes to get there on the train. Well, normally, that is. But today, fifteen minutes before leaving the house, I fortuitously decided to check Railtrack's website (no link because I hate them) to see what time the next train would leave. It informed me that due to work on the line, my journey would now start at Paddington and take three hours, encompassing two train changes and a bus trip. I couldn't believe this, so I called their damn number to verify. AARRRRGGGGGGHHHHHH. It was true. And even if we left right now, we probably wouldn't get there before it ended. So now I'm not going, and I may never get to go again. I hate British Rail. When I hung up the phone with the woman, I felt like Jeannie in Ferris Bueller's Day Off, where she screams in frustration, calls the person a dickhead, and slams the phone down. Bastards.


Prince William starts college. How cool would it be to be at school with him? Just to, like, hang out and stuff. Not that I'd be one of the girls ordering wedding dresses or anything... :)

The play was good. I saw a production of it at ND my senior year and therefore thought I knew what to expect. I was pretty shocked to discover that the version I saw was heavily censored. (Not that that's a real surprise, considering some of the the subject matter - homosexuality - and the venue - American's preeminent Catholic university.) Anyway, the story made a lot more sense this time. I thought Brendan Fraser and Frances O'Connor were fine in their roles, but Ned Beatty really stole the show as Big Daddy. I sat there for 15 minutes trying to remember where I'd seen Gemma Jones, who plays Big Mamma, before. Eventually I managed to sneak a peek at my seatmate's program while they were out at the bathroom. Of course! She was Bridget Jones's mom. The best part of the whole show, though, was the fact that they closed off the balcony (where our seats were) and upgraded us all to the stalls (on the floor). So we got to sit in £35 seats fifteen rows from the stage despite paying £17.50 for seats in the nosebleed section. Kickass. Here are some more in-depth reviews of the play if you're interested: Variety, Brendan Fraser fansite, and London Theatre Online.


Well, Notre Dame is 0-2 for only the fourth time since 1900. That sucks. But on the other hand, my Mets are only 3 1/2 games behind Atlanta. That rules. Come on, Piazza!

Saturday, September 22, 2001

Hair shorter and redder (thanks to a fifty quid visit to the salon), I'm about to head into central London with my sister and Snookums to see "Cat on a Hot Tin Roof". Hope everyone's having a good weekend...

Friday, September 21, 2001

It appears that Channel 4 are going to be airing that Tribute to Heroes thing tonight live at two in the morning. Given that John Cusack is going to be manning the phones, my sister may well stay up to watch it.


The R2 Project talks to Fox about the Buffy Season 3 DVD. I can't wait to get it! One more month...


Somebody left ten pigs' heads outside a mosque in England. Nasty. I've gotta wonder, though, how the miscreant even procured them all. I mean, how many people have access to pigs at all, let alone nearly a dozen with the means and wherewithal to chop off their heads? That's gotta narrow down the field of suspects for the cops, right?


"There's an overarching principle to consider here: Movies shouldn't be poo." Oh yes, it's a wonderfully catty review of Mariah Carey's Glitter. Ha!


Maxis (makers of the greatest game ever) have announced that they're cancelling their latest project Simsville. It was supposed to be a cross between The Sims and Sim City. I'm not too upset about it. Personally, I think my Sims needs will be fulfilled just fine with the upcoming Hot Date Expansion Pack and The Sims Online. And as Hemos said on slashdot, "Having had to play through some real stinkers of games before, I applaud Maxis decision to kill the product, rather then try to release it on an unsuspecting public."

Thursday, September 20, 2001
| | |
| --- | --- |
| | [1] |
The network's still down, but Snookums worked some magic so I could get this post up. I have a new brother. My mother just called. Joseph Robert Garberick III was born about 45 minutes ago. I knew this was gonna happen... but I'm still in utter shock. I feel like I'm going to puke. (Hey Jann, remember how we went on a drinking spree when I first heard the news last year? Are you free anytime soon?) I'll pass along the usual baby details as soon as I get 'em.


New Poll! You've heard me blab on about Papa John's and Indian takeout long enough. What kind of cheap, delivered food makes your tummy growl?


Snookums and I ordered from Curry King again last night. It's an Indian takeout joint in Fulham that we just discovered. The food's okay, not the greatest, but get this: the delivery guy that comes to your door wears a tuxedo! The first time we ordered from them last week we were like, "Whaaaa-?" But then there he was again last night, as dapper as before, handing over our Chicken Jalfrezi and Chicken Balti. We've decided that we're willing to trade food quality for such a surreal experience.

Wednesday, September 19, 2001

Elton John says he "wouldn't be hetero for all the money in the world". That's the first thing on the web that's cracked me up in two weeks. But hel-lo!? Elton? Sorry, but you're not the "piano man." Billy Joel is the piano man. Everybody knows that.


To the bastard pissing off Nicci: Knock it off! I miss my Kitty Noir!!


Eight hours wasted. That virus toasted my entire machine. In order to keep it from spreading, they had to shut down all our Internet access too. So I literally couldn't do anything all day long.

On top of that annoyance, we've now had two days in a row of "London weather", which means gray, rainy, windy, cold, and disgusting. The niceness of summer almost made me forget what the winter brings. I don't know if I can take six months of this. Mama Snookums, you better start sending us the Classifieds. We need jobs and an apartment. Get me outta here!


Scary new Micro$oft virus on the loose... And guess whose work machine is infected? From what I've seen, it's already spreading throughout the company. It's a bitch too. If you're running any version of Windows, watch out.

Tuesday, September 18, 2001

Gift-track is officially dead. It's such a weird feeling to have spent eight months of your life working on something only to see it literally disappear within the next year.


Max saw Mansfield Park the other day, which I love. I saw it on a flight back from the U.S. last year. I had one of those little TV screens with all the channels, and they went through the cycle of movies three times. So I saw Mansfield Park, and then I watched Three to Tango (which was short so I got to flip back over and see the end of Mansfield Park again), and then I started to watch What Lies Beneath (but that was crappy, so I watched Mansfield Park yet again). Yes, I watched the film three times during an eight hour flight. It's that good. Embeth Davidtz is a delicious beeatch, and Jonny Lee Miller is yummy as always. And Frances O'Connor is just perfect. (I'm choosing to ignore her horrid, horrid turn in Bedazzled.) She's apparently starring as Maggie the Cat in the revival of "Cat on a Hot Tin Roof" in London. With Brendan Fraser as Brick. My sister and I are so there.


"Afghan Clerics Postpone Meeting on Bin Laden." I've been playing too much MUD. "Clerics" means something entirely different to me now.

Monday, September 17, 2001

Snookums and I started planning our big Christmas holiday today. The original idea was to get "around the world" tickets and stop in the States to see my mom's new baby before heading off to Australia in time for New Year's. Along the way we thought we could stop in New York, or Vegas, or Tokyo, or Europe... Now, of course, everything's up in the air. I never thought I'd be trying to plan a vacation around a war.


Oh yeah. Home sick. Go me. (*sniff*)

Sunday, September 16, 2001

Just when I think things are finally starting to resemble normalcy again, something happens to make my blood boil and my heart race. Jerry Falwell went on television Thursday and blamed me for Tuesday's terrorist attacks. Yes, he did. Here's what he said:
"I really believe that the pagans, and the abortionists, and the feminists, and the gays and the lesbians who are actively trying to make that an alternative lifestyle, the ACLU, People for the American Way - all of them who have tried to secularize America - I point the finger in their face and say, 'You helped this happen.'"
Here I thought being a feminist was about earning equal pay for equal work and fighting for women's rights. Unbeknownst to me, it also apparently involves pissing God off so that He rains down fire, brimstone, and passenger planes on normal, God-fearing, Republican, heterosexual, non-feminist white folk. Good to know. And to all my pagan and gay friends that simply want to be left alone to worship and love however they see fit, that goes for you too. We're all to blame, apparently.

The bastard did apologize, but only after everybody from President Bush on down condemned his remarks. I believe in free speech, but I really have a problem with racist, sexist, reactionary idiots giving it such a bad name.

Friday, September 14, 2001

Wow. I was poking around at The Leaky Cauldron trying to lift my spirits with some Harry Potter-related goodness, when I came across this quote:
"I say to you all, once again - in the light of Lord Voldemort's return, we are only as strong as we are united, as weak as we are divided. Lord Voldemort's gift for spreading discord and enmity is very great. We can fight it only by showing an equally strong bond of friendship and trust. Differences of habit and language are nothing at all if our aims are identical and our hearts are open." - Albus Dumbledore in Harry Potter and the Goblet of Fire
That's a wonderful quote, and I applaud whoever thought to apply it. And, of course, many thanks to J.K. Rowling for penning it in the first place.


A couple weeks ago I mentioned a breakthrough in "parasitic computing" at my alma mater. I predicted that a lot of people at the university would have moral qualms about using such technology. I was right.


Not feeling very bloggy today.

I did fix a few things on the Perverts page though. I've modified my robots.txt file to keep Google from indexing that page and continuing the positive-porn-feedback loop. I also deleted a few of the fake entries that various people had put in (not that they weren't funny, but it looks better when they're all real). And check out the one where the guy starts defending his sexuality! Weird, man.

Thursday, September 13, 2001

From Salon:

"I'm proud to be American and I hate Arabs and I always have," said 19-year-old Colin Zaremba who marched with the group from Oak Lawn.

Fuck you, Colin. This sort of thing makes me so, so ashamed. I think it's time to sew a maple leaf on my backpack and start saying "aboot". I don't want anyone to lump me in with people like this.

| | |
| --- | --- |
| | [3] |
Hey, Brigita. Notre Dame's got pictures from the prayer vigil they held on South Quad Tuesday. Over 6,000 people were there. Looking at them really made me choke up.


It's Roald Dahl's birthday. I'm running a contest over at my site. Unfortunately the timing turned out to be pretty bad. Nobody seems to be in a celebratory-poem-writing mood right now. As it is, the two entries that have been submitted stand a pretty good chance of winning.


My sister, who is home sick today, called me to say she just watched a special Changing of the Guard at Buckingham Palace on television. Apparently for the first time ever they altered the ceremony and played the U.S. national anthem. A lot of people have been gathered there and at the U.S. embassy to mourn. Books of condolence have been set up. I wish I were out there instead of in here.

(On a more light-hearted note, that picture of Brendan Fraser is pretty funny. I mean, he's looking right at the photographer like, "Don't take a picture of me. I look like hell. Don't take a picture of me." I mean, I'm not laughing at him, but rather at the fact that the BBC used it anyway.)


I just got the Nostradamas e-mail forward again. Thank God for Snopes.


Giuliani's the man. I couldn't agree more. While I've never been a big fan of the guy, he's holding the city together right now and he's encouraging a lot of people to get on with their lives. He's a lot more reassuring than Bush, anyway.

| | |
| --- | --- |
| | [5] |
The dinner went well. Snookums settled the menu question by asking for chili, since he likes it a lot. So I made chili and corn bread. The Americans were both from the South and the tragedy didn't seem to affect them much. As for Jann's "getting hammered" idea... Ugh. I'm hungover. I hate the world. Thanks, buddy.

Wednesday, September 12, 2001
| | |
| --- | --- |
| | [1] |
Choire has pictures from today. Go there now.

| | |
| --- | --- |
| | [2] |
Nice to see that even during an international crisis, there are still those determined to get their daily share of porn. Ugh.


Just got an e-mail from my Dad. He's writing from our home town of Lagrange, Indiana, which is just about as "middle-of-nowhere" as you can get. He says:

"You should have seen the gas stations around here yesterday. People were panicked and the cars were lined up 30 and 40 to a station. The Shell station in LaGrange pumped dry... Some of the stations started price gouging by raising the prices to any where from 4 to 6 dollars a gallon. I also heard on the radio this morning that there was a fire in Topeka and the Life Care helicopter from the hospital was grounded and a little Amish girl died because they couldn't get her to the hospital in time."

Everybody's affected. Everybody's panicking. Those planes didn't just hit the east coast. They hit America.


I've been listening to Capital FM all day today. (It's the big "Top 40" station in London.) They've been pretty good about giving news updates. It's their playlist that I'm having a problem with. They claim that they're taking requests and only playing stuff that fits the listeners' mood right now. So far I've heard Gabrielle about fourteen times (nothing out of the ordinary there), Michael Jackson's "You Are Not Alone", and that "You're Makin' it Hard For Me" song that was big in the States, like, five years ago (the one my mom calls "That Erection Song".) What the hell? I hope to God that's not the prevailing mood in the capital right now. They did just play "Everybody Hurts" though, and the DJ said it was the most requested song of the day. I suppose the others can just be attributed to weird people calling in.


*Trying to get back to normal*

I was excited to see that Amazon has a new Computer Store that sells Apple machines! Now whenever somebody tells me that Apple's out of the question because they don't know where to get one, I'll have an answer.

| | |
| --- | --- |
| | [2] |
Amazon's accepting donations for the Red Cross. They're waiving all the fees. Just go to it. I made my donation and then went back to refresh the page to see the total go up. It jumped a lot more than I pledged. It's over $280,000. There's a lot of people helping out.

| | |
| --- | --- |
| | [5] |
Oh God. I just remembered that I'm supposed to be hosting a dinner party tonight for my friend eMan (the one who quit last week) and his two visiting American friends. Those poor kids. I'm pretty sure neither was from the east coast, but jeez. They don't even know how they're going to get home at this point. And now I'm preoccupied with the correct food to serve during an international crisis. Any ideas?


I forgot to mention this. Okay, I'm not saying that "public speaking" has anything to do with general competence in government officials, but the difference between George W. Bush and Tony Blair could not have been more marked last night. Bush seemed like he was floundering, like he couldn't function without somebody whispering the words into his ear. I cringed every time he said "turrorism" or "Amurrica." Blair, on the other hand, was both emotional and eloquent. Whatever else his faults, when he speaks you feel like he and his Cabinet are in control. Bush gave us generalities about "hunting those folks down". Blair told us what he was doing to make us safe. I know which one I feel safer with as a leader.

| | |
| --- | --- |
| | [3] |

Life goes on in London. According to the BBC, we remain on "high security alert". I think most of the City buildings are open though. (Any word, Jann?) All the flight paths going into and coming out of Heathrow have been altered, which means whenever I look out the window the planes are going in completely the wrong direction. (Hammersmith isn't far from the airport.) The security guards at my office -- who normally just wave the regulars on through -- have apparently been instructed to double-check everybody's ID's. I have no idea what that's supposed to accomplish. (What would a terrorist want to do in our building? Download porn and warez on our T-1 connection?)

People are shocked here, but more at the extreme devastation than the shock of American vulnerability. British people (and Londoners in particular) have been living with the constant threat of terrorism for decades. There have been several attacks just in the past year (bombs at Hammersmith Bridge, BBC offices, pub in West London, etc.). When I first arrived here in '98, I asked, "Why aren't there any garbage cans on the Underground?" The straightforward answer: "Because the IRA figured out they're a damn good place to hide explosives." Once you've been here for a while, you realize that terrorist acts do happen in the Americanized "West." We're not immune to it. It's just a shame everybody in America had to learn it the hard way.

(Brief moment of humor: Watching the news last night, Nick said we should spare a moment for the poor IRA guys who are inevitably sobbing into their pints and lamenting, "Look what they did! And we can't even blow up the bloody Hammersmith Bridge.")

I find the kneejerk racist reactions of many of my fellow Americans appalling. I live and work in a very multi-cultural environment. I know many Muslims and I don't hold them up as representatives of their countries or religions. They, in turn, do not see me as the embodiment of America. We would be a lot better off if everybody else did the same.

It's been so weird to be outside the country while this has happened. I had several people from the States contact me hours after the events asking whether I'd heard what had happened. Is it any wonder that the rest of the world makes jokes about America's self-absorption? I'm, like, "What the hell do you think I've been doing all day? We have television. We have the bloody Internet. Everywhere outside America isn't the goddamn Stone Age." My entire office was clustered around the telly in the kitchen following it from the moment it happened. We probably knew about it before half of America did. I suppose it's pretty natural to assume that since American media never carries stories about disasters in other countries, the same situation exists elsewhere. I'm happy to report that other nations aren't so insulated.

This is one of my longest posts. I don't know what else to say. As Snookums put it this morning when we were going our separate ways at work: "If America goes to war, we're going to Australia." I couldn't have put it better myself. Get me the hell out of here.


Roger Ebert went into a movie screening at 8:30 in the morning yesterday and "walked out two hours later into a different world." His wife and daughter were in New York City (they're safe). He puts into words what a lot of people were feeling. He's a good writer.

| | |
| --- | --- |
| | [1] |
Slate has collected all of the day's editorial cartoons. You know, a cartoonist can really make an event hit home in a way that video footage cannot. I really found myself getting choked up at a lot of these. A lot of cartoonists used the theme of the Statue of Liberty sobbing and averting her eyes... but there were two among the lot that show her still standing there, proud and defiant. I like those the best.

Tuesday, September 11, 2001
| | |
| --- | --- |
| | [4] |
Oh God. Beau works in Manhattan, right? Has anybody heard from him?


I'm compiling a list of blog reactions I can find in the NY/DC area. Here's what I got so far:

New York: Andy's Chest; East/West; UltraSparky; CamWorld; superhyperdemonchild; Everlasting Blogstalker; BroadwayStars.com; Saran Warp; Scripting News

DC: fredosite


Notre Dame's cancelled all classes and activities and declared it a "Day of Prayer". That's an understatement.

| | |
| --- | --- |
| | [3] |
They've evacuated most of the City of London. (The City is the square mile financial district in the middle.) Canary Wharf, the London Stock Exchange, the Natwest Tower, the Lloyds of London building... All empty. This is frightening.

| | |
| --- | --- |
| | [9] |
Oh my God. Oh my God. Can you believe this? Our whole office is clustered in the kitchen watching the news footage as it rolls in. The BBC site seems to be swamped. My cousin IMed me from the States to say she'd just seen the footage. I IMed my mom and told her to turn on the TV. My sister called from work to say she'd heard from her boss that something terrible had happened. It's like a disaster movie.


Excerpt from an Instant Messenger conversation:

Snookums: What is disputed? The fact that there is always carrots or the source of these carrots? The presence of carrots is ubiquitous enough to make it into at least 3 entries in this excellent list of regurgitative euphemisms.
Kris: Dude, you're just making this worse. You know it all goes straight to the blog.
Snookums: I found a reference to vomit always containing carrots somewhere on hairytongue.com.
Kris: Nasty. *pause* You ready to go to lunch?


Damn. My perverts page is catching people, but a bug in my code meant that their "appeals" weren't getting recorded properly. It's fixed, though, so hopefully we'll get some suckers today.

Oh, and I changed the poll. :)


Is it wrong to wanna see Michael Jordan fall on his ass? This is gonna be ugly, folks.

Monday, September 10, 2001
| | |
| --- | --- |
| | [5] |
Ever heard of the "carrot sac"? Snookums explained to me at lunch that everybody's got one in their stomachs where all the carrots you ever eat are sent. That's why when you vomit there's always carrots in it. (I swear, this is what the boy said.) I told him that this must be a quaint Australianism, because it's certainly never entered my slang dictionary before. Have you ever heard of it?


Ladies and gentlemen, I give you... the perverts page! I can't wait til they start rolling in.

| | |
| --- | --- |
| | [3] |
Well, that just about guarantees that Max will never ever come visit. Crap.


Remember how I said I was getting sick of all the nastiness on my Last Searches page? I knew I wanted to do something about it, but I wasn't sure what. But now, oh yes, I have a cunning plan. (Link courtesy of Jann via John.)

| | |
| --- | --- |
| | [2] |
Here's what amazes me about the I.T. industry: we can build something completely awesome for a client, only to have them screw it up completely with their marketing or P.R. For instance, I'm working on a site that allows a user to search for available holiday cottages in France to rent. It works well and the design doesn't suck. Yet here's a sample of the copy they sent to be used on the home page:

Finding your ideal French holiday cottage isn't easy, but every year we search France with a passion, for the most characterful cottages in the prettiest regions of the country.

"Characterful"?? That isn't a word! People get paid to write this crap? I'm going to be embarrassed to put that site on my CV!

Saturday, September 8, 2001

Damn. You people just cannot make a decision, can you? Currently the left vs. right debate is almost exactly 50-50, and I don't foresee any clear victory happening. So for now I've moved the boxes back to the left, just to make it consistent with the rest of the site. I'm working on converting w-g to XML/XSLT in the future, so we'll all be able to just pick a design/theme that suits our own preferences. Happy now?

Now I need a new poll topic. For some reason, the only one I can come up with right now is over which side to open an egg. Any better ideas?

Friday, September 7, 2001

Hooray! The Harry Potter movie will have its gala premiere in London on November 4. Now I just have to take the day off and stake out the theater all day. I'll get to meet everybody!

| | |
| --- | --- |
| | [6] |
You can call me Palmer. Lorraine Palmer. People are still naming kids "Lorraine" these days? I thought that went out in the fifties. Of course, I might just be thinking of this movie though. (Link courtesy of Max.)

| | |
| --- | --- |
| | [6] |
John doesn't think it's such a big deal that Internet Explorer now redirects to MSN Search rather than giving the user a 404 error page. I think I'm going to have to disagree. If they're only doing it on default server error pages, fine. I probably personally wouldn't like that (since I'm not an idiot newbie and I usually just go back to the home page and look from there), but as long as they allow you to change that setting, fine with me. However, if they're actually overriding custom 404 error pages that people have created, then I do have a big problem with that. (That article doesn't indicate.) A lot of people - myself included - have custom pages that can redirect users to the correct page, give them possible links to the information they wanted, or record the broken link for fixing in the future. If Micro$oft is going to break that functionality, I'm going to be very pissed indeed.

| | |
| --- | --- |
| | [5] |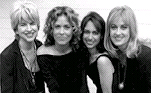 The Bangles were good. Not the greatest show in rock and roll history, but as Snookums put it, "I never thought I'd see the Bangles perform live, so it was a bit of a novelty." They did all of their songs that people remember, as well as some new ones from their forthcoming album. And I have to say, they're all looking damn foxy now. They look so much better than they did in the 80's. Oh, and who knew that Susanna Hoffs was, like, three feet tall? Seriously, that girl is tiny. Snookums and I were both in agreement that she's no longer the hottest Bangle though. Vicki - the second one from the left - takes that honor big time (even if she does hold her guitar like a handbag). I also noticed that they made quite an effort to spread the singing duties around. One girl would sing lead, and then on the next song another one would, and around and around. I had to wonder if that was built into their reunion contract. It's like, the other three are making damn sure that Hoffs isn't the "star" anymore. Which is a shame, because her songs were the biggest hits. The others are all very talented, but she's the only one with a really distinctive voice. They closed with an acoustic version of "Walk Like an Egyptian" that segued into "Mrs. Robinson" in the middle. Then for their first encore they played "Eternal Flame", during which everybody in the audience just slow-danced with their sweeties. (I have to give a huge thank you to the Snook for indulging me in my girlyness.) I wasn't that impressed with their other encore songs, which I didn't recognize. But overall it was a good time, and they really seemed to be enjoying themselves.

Thursday, September 6, 2001

Slide your feet up the street, bend your back, shift your arm then you pull it back. Life is hard you know (oh whey oh) so strike a pose on a Cadillac..."

Guess who I'm off to see tonight? That's right, the Bangles! Reunited for the first UK tour in ten years. It's all about the 80's nostalgia. (As a sidenote, you would not believe how difficult it is to find accurate lyrics for that song. Everybody sings it differently.)

| | |
| --- | --- |
| | [9] |
A random survey of 1000 adults in Britain found that more than half failed a test that is given to 11-year-olds in this country. I tried it and got 8 out of 10 (enough for "top marks"). How well do you do?

| | |
| --- | --- |
| | [8] |
The Onion A.V. Club is running a terrific interview with Joss Whedon, the creator of "Buffy." He's apparently worked on a lot of stuff I didn't even know about. ("Speed"??)

| | |
| --- | --- |
| | [1] |
Apparently it would take about ten cases of Mountain Dew to kill me. I think this calculator is wrong though. As proof, I offer the fact that Sallie Scherer is still walking and talking in this world. This tiny girl used to sit in our study lounge at college and just knock back Dew like nobody's business. If this calculator were accurate, she would've keeled over dead during Exam Week 1998.

| | |
| --- | --- |
| | [1] |
Nicci has yet another great new design and a really sweet story about how she and her husband got together. Happy anniversary, girl!

Wednesday, September 5, 2001

The Leaky Cauldron has revealed some amazing Harry Potter photos from the upcoming Vanity Fair issue. They look great!

| | |
| --- | --- |
| | [3] |
Ohmygosh... Finally, a doggie I could live with! How cute is that?

| | |
| --- | --- |
| | [1] |
Only 10 minutes til the Big Ring. I wonder if I'll be able to hear it from here?

| | |
| --- | --- |
| | [2] |
I first read about the furor over Fay Weldon's new book "The Bulgari Connection" yesterday. I've only read a little of her stuff (back on the Oz trip; Mama Snookums is a big fan), but I liked what I read. I think it's ridiculous that people are making such a big deal out of it. If you haven't heard, she was contacted by the Bulgari jewelry company and asked to write a limited edition novel that they were going to give to some of their special clients. She had total artistic control, but she had to mention the name "Bulgari", like, a dozen times. Fine. She did it. It turned out to be really good, though, so now her publishers have decided to release it to the world. And all these hoity-toity authors are up in arms over her perceived selling out. Whatever. Artists have had patrons since the beginning of civilization. Playwrights have had works commissioned. Artists have been paid to paint flattering portraits of rich men's wives. Musicians have licensed their songs to sell cars and tennis shoes. I don't see the problem here. Snookums and I watched the Channel 4 News anchorman interview Weldon last night, and it was just ridiculous the way he kept trying to get her to admit that she was "ashamed" of putting commerce before her "art." She held up pretty well, though. I just wish the self-appointed moral critics of the world would mind their own business and leave the rest of us alone.


"Prince Charles meets women in bras." So what? I'm sure 99% of the women he meets every single day are wearing bras. Sure, they're wearing clothes over them, which is a little different...


Someone has written a review of the first draft screenplay for "Rent". I think I've mentioned my obsession with the musical before. I wasn't thrilled to hear they would be filming it, but when I heard Spike Lee and Robert DeNiro might be involved, I thought it could be okay. Unfortunately it's since fallen into Development Hell and it doesn't look like it'll ever get made. This script makes it sound like it could've been something special. (Although I'm disappointed that they've turned "Light my Candle" into dialogue rather than a song. I love that bit.)


Dark Horizons has an interview with John Cusack, who my sister loves with the intensity of one billion white hot suns.

| | |
| --- | --- |
| | [1] |
More Buffy semi-spoilers! Nothing big, some interesting news for Spike lovers (you know who you are). Highlight here to read: Spike gets a motorcycle, and he and Buffy evidently *do* it. Pretty cool, huh?

| | |
| --- | --- |
| | [3] |
Okay, Anne Heche says sexual abuse made her 'insane'. I don't doubt that she really is a loony, and I don't doubt that something in her childhood might've really messed her up. I'm just sad that some people are going to look at her (and her weird-ass David-Copperfield-lookin' husband) and think: "Of course, she was only gay because she was crazy. Now that she's sane she's got a man. Hence gay = stark raving mad, and sane = hetero happiness." Whatever.

Tuesday, September 4, 2001
| | |
| --- | --- |
| | [2] |
Tara D finally has her pictures from the Madonna concert up. I especially like the last one, where her view of the stage is obscured by a glittery silver cowboy hat. (TD - What, did you guys sit above the stage or something? Those give me vertigo!)


Roger Ebert's reaction to Pauline Kael's death is up now. He makes me want to go buy all of her books.


Some people get "squicked" by the idea of Harry Potter slash (i.e. fan fiction that involves same-sex romantic episodes). I'm not. After you've sampled some fan fic, you realize that using well-known characters is just a handy shortcut for the writer to dispose with introductions and get on with other things (be that plot, humor, or sex). In grade school, I used to write tons of stories that involved my friends and classmates. No, nothing sexy, but just adventures and things. Instead of spending my time thinking up names and describing my characters, I could just say "Erin and Seth" and everybody knew exactly who I was talking about. Then I could get on with the plot and illustrations, which were my favorite part. That's all fan fic writers are doing, and I wish the original artists wouldn't get so upset. These writers aren't debasing Harry Potter. If anything, they're acknowledging the fact that the characters are more well-written than anything they could come up with themselves. If a couple people want to fantasize about Harry and Draco gettin' it on in the Forbidden Forest (and they're not making any money off it), who cares? Last I heard it wasn't illegal to have an imagination. And besides, Harry Potter takes place at an English boarding school! Considering some of the stories Alex has told me about his formative education, I don't think that slash stuff is far off the mark. (Link courtesy of Meg.)


A few minor changes are at w-g. First, I've removed the links to my CV and Portfolio. I'm not looking for a job, and having them there just makes me worry that somebody from my office could see it. Things in the tech industry aren't so hot right now (there's the understatement of the year), and if I wanna talk frankly about my job I should at least not make it obvious which company I work for. (Bad news of the week: my good friend eMan, the french guy I went to EuroDisney and Paris with, has quit. He's moving to Canada with his girlfriend. Very sad.) In other news, I've updated the StorTroopers on my About Me page to more accurately reflect Snookums's and my current appearance. My hair is redder and skin paler, and his hair a bit bigger.


Wow. Pauline Kael has died. She was probably one of the best film critics America has produced. I had to read some of her work as part of my Film Theory class senior year. I'll be monitoring Ebert's site for his response. (Link courtesy of Matt.)

| | |
| --- | --- |
| | [3] |
Max has a refreshing and exhilarating new design over at Lots of Co. I'm a fan. I definitely agree with him about the "your color" thing too. If you asked me what my favorite was, I wouldn't be able to tell you. But if you look in my wardrobe, you'll see that 70% of what I own is navy blue. Seriously. Unlike Mr. Jones I can't claim it enhances my eyes (which are brown), and it probably makes me look even paler than I already am (which is considerable), but it just sort of... goes with me. You know? I feel like my aura would be navy blue. It's sensible, but not trendy. Dress-up-able, but also dress-down-able. Navy blue is all things to all people. (And yes, going to this school certainly helped a lot.)


Snookums and I have been amazed at how frequent Google's been indexing this site. If I mention Paris Hilton one day, the pervert influx begins the next. We figured they must've just decided that I'm an authority on the entire Internet. Unfortunately I've just learned that that isn't quite the case. Instead, Google is now indexing weblogs every day. So it's not just me; it's everybody! We all get more hits from pedophiles looking for naked pictures! Hurrah!

Monday, September 3, 2001

Embarrassment. I overheard a few of my co-workers in the bathroom today talking about a new dance class they might attend that the New York Ballet is teaching. As I was washing my hands, I said, "Wow! That sounds amazing! Where is the class being taught?" Lyn, the HR lady, looked at me in confusion and replied, "Um, at our gym." *Horrors!* As in, the one we both belong to. As in, the one I haven't been to in weeks. So not only do I have my own personal guilt to contend with, but now Lyn knows I'm a big lazy slacker as well.

| | |
| --- | --- |
| | [1] |
When the wild deer population in Britain gets out of hand, they put the deer on birth control. Geez. You know, they'd save themselves a lot of trouble by just doing what we do in Indiana (i.e. put my dad in a tree with a gun). The problem would be fixed in no time.

| | |
| --- | --- |
| | [2] |
According to this story on Slashdot, "Harry Potter and the Goblet of Fire" has won the Hugo award for best sci-fi/fantasy novel this year. The nerds are, as expected, up in arms. Everything popular must be derided. "Lord of the Rings" didn't win, so no other fantasy book ever should win. Whatever.


Goran isn't the only asshole playing tennis, it looks like.

| | |
| --- | --- |
| | [4] |
Ewan McGregor... within... five miles of me... tonight... Hyperventilating... About to pass out... *thunk*


"Eating Chocolate Is Healthy, Doctors Say". That's good news for Poundy. But what's up with the word "flavonoids"? I don't wanna eat those.

| | |
| --- | --- |
| | [5] |
I'm going crazy. Alex just forwarded me a doctored picture of a shiny metal tea kettle with a reflection of the naked photographer on it. I know I've seen the original (with just the camera, not the nakedness) on a weblog somewhere. The picture was from an auction. I was sure it was on Matt's site, but I can't find it. Does anybody know where the hell it is?

| | |
| --- | --- |
| | [4] |
"Hmmm. I need to open an envelope. What could I possibly use? Oh yeah, James Marsters's cheekbones."

(That's the official cast pic for the new season of Buffy. They all look pretty crappy, except for Spike, of course. Yum.)

Sunday, September 2, 2001

British parents are finally starting to learn what American parents have known for years: It costs a lot to send a kid to college.. I have to say that I don't feel a hell of a lot of sympathy, though, since I'm carrying about $30G in debt myself. It'd be damn nice if my parents had been able to foot the entire bill, but I don't know anybody in my town that could've afforded such a thing (unless you went to the local community college). I guess it does suck, though, that countless generations of British students before have been given grants, and suddenly now everybody has to pay. I can't help but think it's going to have an effect on the number of kids going on to higher education...


Posh Spice admits she has an eating disorder. Is anyone in the world shocked by this revelation?

archives
You can search through the archives by post keyword using the form on the left, or you can browse by month using the links at the bottom.
"Moblog" refers to posts and images posted directly from my mobile phone.

"PW Blog" refers to posts recovered from my very first weblog, which dealt with news related to my college dorm.