Monday, September 30, 2002
All right, folks! I think it's finally time to start our The Lovely Bones discussion. Everybody is welcome to join in. I think we're going to have a lot more to talk about with this book than the last one. And don't forget, next on the list is Neil Gaiman's Coraline.


My sister sent me this link. So yeah, she's still makin' fun of the Atkins thing. :)

Sunday, September 29, 2002

The founder of Opus Dei is being canonized. I don't know much about Catholic sects, but I do remember the minor scandal that ensued when ND's magazine revealed the existence of a local campus branch. One of the guys in my Philosophy class was in it. (He was an ass, but in all fairness I don't think that had anything to do with religion.) I remember being horrified reading about their self-flagellation. I seem to remember the article going into great detail about some wire thing you were supposed to wear around your leg that cut into you all day long. I still shudder at the thought. Hey, I'm all for self-discipline, but some of this stuff borders on self-mutilation. I don't think it's very saint-like to endure suffering that you yourself cause. The guy in the article tries to play it down, but he still emphasizes the "constant sacrifice" that is necessary for "God's work". It sounds so cult-like. (You can read an "unofficial FAQ" here.) What do you Catholics think? Is this good or bad for the Church's image right now? (Does that even matter?)


Lest you think I've been slacking, I should probably report that the Storm at Sea Quilt is still on schedule. There were some minor mishaps though. First, while ironing the completed quilt top I forgot the third rule of Quilt Club: "Don't try to iron while watching James Bond and drinking Diet Coke." (The first and second, of course, are "You do not talk about Quilt Club." But I've broken that one too.) Anyway, yeah, I spilled it everywhere. Luckily a quick wash fixed it right up. Then when I finally went to put the damn thing together, I found, like, a gaping hole in one of the rows. Some emergency slip-stitching was performed and the patient recovered well. Eventually I got it all basted together and was finally able to start quilting. On my mother's advice, I'm using a dark blue thread that matches the backing fabric. I did this so my inevitable mistakes won't show so much. I've got about a square foot done now, and it's going okay. I was pretty stressed at first, thinking that it needed to be perfect since it's going to be a wedding present. But seriously, if they wanted a store-bought blanket they could just buy one, right? I've spent months on this thing, and I know our friends will appreciate that. So now I'm happily stitching away. I figure the sooner I get this thing done, the better. Summer's coming and sitting under a quilt in hundred-degree heat will not be fun.

That said, I think I'm going to take a break from the quilting after I finish this one and learn to knit. Then again, maybe I could actually find a hobby suited to the climate I live in, huh?


Friday Five:

1. What are your favorite ways to relax and unwind?
Here lately I'm all about the baths. I just crank the hot water in a our big ol' tub and chuck in a bath bomb or some bubble bar. Then I settle in with a book and soak til I'm wrinkly. Ahhhh... I also like working in our back courtyard. I water the plants and rake up the dead leaves and hang clothes on the line. I love being out in the sun.

2. What do you do the moment you get home from work/school/errands?
Hmm. *blink* You mean, like, leaving the house? Working from home means you don't do that much. I suppose when I do leave, the first thing I do when I get back is check my e-mail. Seriously. (I know how lame that sounds.) If I'm coming back from the gym, it's straight into the shower.

3. What are your favorite aromatherapeutic smells?
"Aromatherapeutic"? What a girly question. I don't really know. I like the stuff that's in my bubble bar - patchouli and tea tree oil. That's pretty good.

4. Do you feel more relaxed with a group of friends or hanging out by yourself?
Definitely by myself or with just the Snook. I tend to get too self-conscious when I'm out with others. Not that I don't have fun; it's just that it's not exactly relaxing.

5. What is something that you feel is relaxing but most people don't?
Working on my websites. I'm sure most people (whether part of the industry or not) don't think of writing PHP as a relaxing activity. I like the busywork though. I can turn my brain off and still feel productive.


I saw the headline for this article and got all excited about Apple-inspired haute couture. Then I found out they meant raincoats. Whatever. Yeah, I'm a nerd.


The Australian bush fire season has started a month early. Thanks to the drought we've been having, there are now more than seventy blazes burning in New South Wales. Sheesh. That kinda makes me feel a little guilty for enjoying the blue skies so much. I hope this Christmas doesn't turn out like last year's. The firemen deserve a holiday.


Mega update over at the Dahl site. I stumbled across the Locus Index to Science Fiction which had a treasure trove of information about Dahl. I couldn't stop til I assimilated it all. I think I have carpel tunnel syndrome now.

Friday, September 27, 2002
| | |
| --- | --- |
| | [11] |
Sometimes you just get tired of being taken for granted, you know?
Update: Feeling much better, thanks. No more Martyr Kris. Back to the fun! :)

Thursday, September 26, 2002
| | |
| --- | --- |
| | [9] |
Oh no. Don't mention their names. They're here.

Wednesday, September 25, 2002
| | |
| --- | --- |
| | [1] |
Moire has joined the Bride-to-Be Club! Go congratulate her. (And Amy, you might be interested in the comments discussion about changes in the Fort Wayne shopping landscape...)

Tuesday, September 24, 2002

There's a Metafilter discussion about skydiving that I'm participating in. I did a tandem jump back in May 1999 to celebrate graduating college. (It was a present from Dad.) I'm feeling a little freaked, though, reading about the many recent fatalities at Skydive Chicago, where we jumped.

| | |
| --- | --- |
| | [3] |
Recent Search Requests at this Site:

- coriolus effect northern southern hemisphere drains
Ah, the classic science experiment. My friend Pat and I tried it back in February. It really does go the opposite way here.

- james marsters workout
I imagine it involves kicking, punching, and faking a British accent all while wearing a leather trench coat. It's tough, but it'll give you great cheek bones.

- movie office space bill lumbergh license plate
Umm, yeahhh, I'm gonna need you to come in on the weekend, okay?

- Nigella Lawson pictures nude
I haven't seen any of these, but if they exist I bet she's lasciviously eating phallic-shaped food in them. She's always doing that.

- "andy roddick" nude
Again, no nude pictures here, but he does look incredibly like my brother. And no, I won't give you nude pictures of Antny.

- "goldfish euthanasia"
Waaaaah! Rest in peace, Admiral Ackbar.

- photos of jesse bradford and his boyfriends
Is Jesse Bradford gay? Does it matter? Hummina hummina. Yes please.

- vintage buddy icons
How vintage can they be? IM's been around for, what, less than 10 years? Ding dong.

- rice krispie chocolate balls
I've never tried 'em, but I bet they're salty.

| | |
| --- | --- |
| | [7] |
I'm thinking of making a peasant blouse. Yes, I know they're a fad, but I still kinda like the way this one looks. It seems simple enough. I'm just wondering at the lack of shoulder material though. Specifically, can one wear a bra with a shirt like this? (And not have it show? I'm not one of those girls.)


As John put it, Best. BBC. News. Online. Graphic. Ever. I really have to agree.

| | |
| --- | --- |
| | [4] |
Wow! An earthquake hit England! I can't believe I missed it! I've never been in one before, and apparently Australia is so geologically old and inert that I'm not likely to experience one here. Did any of you feel it?

| | |
| --- | --- |
| | [2] |
I've been doing some reading on Irish Travellers, the group that the Indiana child-beater mom belongs to. I suddenly remembered that they'd actually been through our part of the state (the northeast) before. Back in high school when I was working at the local grocery store, we got a fax through from some of the other IGA branches warning us to watch out for a group of "gypsies". Apparently they would swarm the store in a big group and distract all the employees while someone raided the safe in the office. I remember being pretty fascinated with the concept at the time. Not the scam, but the idea that there were actual nomads living in Indiana. They never hit our store though.

| | |
| --- | --- |
| | [7] |
My nose is a very blunt instrument. That's what I learned from our wine course (which just finished). When I smell wine, it smells of wine. I can't discern anything else. Mention that it smells of bread or mushrooms or apricots, though, and instantly I identify them. In fact, I'll start smelling them in every wine. My sense of smell isn't objective; it responds too much to the power of suggestion. Maybe it's from growing up out in the country. Smells in Indiana are uncomplicated. Manure, butter, fish... those I can identify. Elderflower petals? Not a chance. The dream of being a wine connoisseur has been shattered.

I did like drinkin' all the champagne tonight though. Yum yum!

Monday, September 23, 2002
| | |
| --- | --- |
| | [11] |
Emmy Awards Reflections:
(No, I didn't watch them. They weren't on here. I'm looking at the pictures and pretending.)Okay, so what did I miss by not seeing the show? Any wild and wacky antics that aren't getting mentioned on various news site recaps?


I've been doing tons of work over at my Dahl site lately. Check it out if you're bored. And don't forget, it's Banned Books Week! Celebrate your freedom to read. (I still can't get over the fact that some school tried to ban The Lorax because it "criminalizes the forestry industry".)

| | |
| --- | --- |
| | [2] |
Notre Dame has cracked the Top Ten. Commence cheering.

| | |
| --- | --- |
| | [2] |
Good grief. This Metatalk thread is like watching a traffic accident in slow motion. What is it about the act of posting on a website that makes people reluctant to take responsibility for their actions? Is it the anonymity factor? (i.e. "If nobody knows my real name, I don't have to say I'm sorry.") Yeah, it sucks when people gang up on you, but if you've made a genuine error, admit it and move on. The Net would be a much nicer place for all of us.


Damn! Claire has killed her blog. Now I'm going to have to seek out some other Aussie bloggers to fill the void.

Sunday, September 22, 2002
| | |
| --- | --- |
| | [5] |
Dude, it's a llama!
The Snook and I just watched Dude, Where's My Car?. We laughed a lot. (No, we weren't stoned.) It had Micheal Bolton in it! And Fabio! And the Alias chick! And I'm a sucker for bubble-wrap humor. And movies that use "Bust a Move" on the soundtrack. It rocked. We're looking forward to the sequel Seriously Dude, Where's My Car?. Seriously.


Notre Dame wins its fourth straight with a 60-yard touchdown off a pass from the backup quarterback with 1:15 left in the game. Holy crap. I'm torn between being upset that I don't get to see any games this year and the knowledge that - as the ultimate jinx - if I did, they'd most assuredly start sucking again. So it's a trade-off.

Saturday, September 21, 2002
| | |
| --- | --- |
| | [1] |
Hooray! I got worms! I ordered them Thursday from Sydney Garden and I was hoping they'd arrive in the mail yesterday. The lady called though and said she'd keep them til Monday so they wouldn't possibly get stuck in the post office all weekend. I was disappointed. But just now there was a knock on the door, and there she was! She'd been going out to dinner with friends in our neighborhood and just decided to pop 'round and deliver them personally. How nice is that? (Did I mention she did all this without me giving her a cent?) Worm farmers are good folks. So now I got a big bucket of 2000 reds, blues, and tigers all ready to move into their new home. Pictures in the morning!

| | |
| --- | --- |
| | [2] |
It's random picture time! Here are a few photos I've been meaning to post.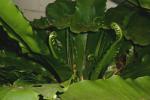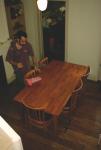 Going from top-bottom, left-right, you have:
Snookums transplanting marigolds in our garden. It's been so lovely and spring-like here that I felt we needed to grow things. We had four planters of dead flowers back there, so we chucked those out and put in some seedlings. We also planted some basil and parsley too. Yum.
Baby fern fronds. We have some amazing huge ferns along one side of the garden, and the other day I noticed that tiny new fronts are coming up in the middle. I just love the way the little arms unfold.
Low-carb pizza. I don't know how he did it, but the Snook managed to create a relatively low-carb pie that tasted great. It's still not something you can eat every day, but it's good for a treat once in a while. Let me know if you want the recipe.
Our new dining room set! It just arrived this morning. Finally our dining room isn't empty anymore! There's one more chair that goes on the far end, but we're going to keep it elsewhere until it's needed (to leave more space to get around). Now it's time to start organizing some dinner parties!
Stay tuned for more random pictures from my life...

| | |
| --- | --- |
| | [2] |
What's your pirate name? I'm Bloody Anne Rackham. ARRRRRRR!


Wow! I was just checking my backlinks and discovered that my site was linked in USA Today's "Hip Clicks" column last year. They pointed to my review of the Goonies DVD. How cool is that?


Friday Five:
Man, my answers are depressing this week.

1. Would you say that you're good at keeping in touch with people?
No. I suck at it. You'd think living so far away I'd have learned the importance, but sadly no. I talk to my immediate family pretty regularly, but as for my friends, I'm the worst pen pal in the world. I don't talk to anybody from high school on a regular basis, and there are only a few college buddies that I keep up with. It's just hard.

2. Which communication method do you usually prefer/use: e-mail, telephone, snail mail, blog comments, or meeting in person? Why?
Phone with the fam, because I miss hearing their voices. With everybody else, internet communication is the method of choice. (Of course, I'd go for "in person" if I could, but at $1600 a plane ticket, that's an expensive option.)

3. Do you have an instant messenger program? How many? Why/why not? How often do you use it?
Yep. I started out on Yahoo Messenger many years ago but quickly switched to AIM when I figured out that's where most of my friends were. Now thanks to iChat and our ADSL connection, I'm logged in 24 hours a day. The time difference to the States makes it difficult, but I occasionally catch folks on there.

4. Do most of your close friends live nearby or far away?
Do I need to answer this? Far, far away.

5. Are you an "out of sight, out of mind" person, or do you believe that "distance makes the heart grow fonder"?
A little bit of both. When you live this far from everybody, you necessarily have to try to put them out of mind or you'd just be homesick all the time. I still get my moments, though, when I realize how much I've missed out on and how much I miss certain people.

Friday, September 20, 2002
| | |
| --- | --- |
| | [7] |
It's country music time here in our office. We've just been listening to some Johnny Cash and Charlie Daniels Band. The Snook and I were both reflecting on the genius that is "Devil Went Down to Georgia" when I wondered if anyone's ever done a dance remix of it. A little googling turned up quite a list of covers. We have to get some of these.
"Devil Went Down to Brixton"
"Devil Went Down to Scunthorpe" (the punk version)
"Devil Went to Jamaica" (the weed version)
"Devil Came Up to Michigan" (the rap version)
"Cuando El Diablo bajo' a" (the Spanish version)
"Cletus Went Down to Florida" (the redneck version)
The Snook is hunting for these online as we speak. We're envisioning an entire album of covers of this song. :)

| | |
| --- | --- |
| | [8] |
Happy first birthday to Joey! My (other) little brother turns one today. Here's the blogged birth announcement from last year. Isn't he funny? Such a cutie. My sister took that first one, and it's one of my favorites. She's also the dork that bought him the cowboy hat. :)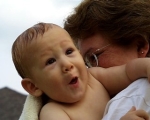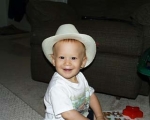 Thursday, September 19, 2002
| | |
| --- | --- |
| | [14] |
Ladies and gentleman, I think we have the first confirmed instance of a blogger wedding! Meg of not.so.soft is marrying Paul of digitaltrickery. Congratulations to them both. But of course, in fine blogger fashion, I must now make this all about me. I'm feeling weird. I remember reading Meg's site when she and Paul first got together. I can't find a date in the archives, but I'm pretty sure they've been together less time that we have. And that... makes me feel kinda weird. Not for them; for us. Know what I mean?

| | |
| --- | --- |
| | [2] |
Yum. Kris wine. I'm a winemaker. Betcha didn't know that? (The other Kris broke the secret.)

Wednesday, September 18, 2002
| | |
| --- | --- |
| | [4] |
I'm all about the Herald links today. I can't help it; they have good stuff. Anyway, they've got some more information on that crazy new "moon" I told you about. (They refer to it as only the second one, though, so I don't know what happened to the other one the BBC mentioned.) The best part is this graphic entitled "Route of the Space Intruder". It looks like they drew it with a Spirograph!

| | |
| --- | --- |
| | [6] |
And just like that, my lifelong dream of marrying Prince William is gone. *shudder*

| | |
| --- | --- |
| | [3] |
Antarctic ozone hole is closing. Hooray! The sun down here in Oz can be pretty powerful. At least if I'm still around in fifty years, I won't have to worry about it so much! :)

Tuesday, September 17, 2002

It's been a head-down-busy kind of day, and I expect tomorrow will be the same. Bloggage will resume soon.

Monday, September 16, 2002

"The thousand injuries of Fortunato I had borne as I best could, but when he ventured upon insult, I vowed revenge."
Wine class was really great tonight. Our topic was fortified wines (port, sherry, etc.) which I wasn't really looking forward to, but I learned a lot and got to try a lot of stuff I wouldn't have otherwise... including amontillado! I also tried some vintage port that was older than I am (27 years old!). I think the tawny port was my favorite. There were these jerks in the corner who talked all the way through the class though. I'm like, what kind of asshole pays $250 for a class and then doesn't pay attention? And I'm the youngest person in there! I thought grown-ups would behave better.

| | |
| --- | --- |
| | [4] |
New Jersey has become the first state in the U.S. to regulate G-Forces on roller coasters. Of course, the law is just pointless election-year pandering, given that it would set the limit at 5.6 G's and no ride in the country even tops 5.0. Even Cedar Point's Millennium Force - the tallest, steepest, fastest coaster in North America - is well within those limits. I love roller coasters and the bigger issue to me is the relative smoothness of the ride. We rode the Millennium last year and I thought it was great. No problems whatsoever. The wooden ones though... They shake and rattle me so much I have neck pain afterwards. I'll take more G's and a smoother ride any day.

| | |
| --- | --- |
| | [3] |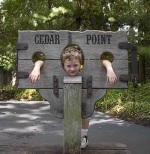 My dad's wife Cindy sent some pictures from the trip they all took to Cedar Point a few weeks ago. Here's my new little stepbrother Colfax in the stocks on the Frontier Trail. Isn't he a cutie? He's just started kindergarten. It's kinda weird that I'm all grown-up and stuff, yet here my dad is doing it all over again. He sounds like he's loving it though!

| | |
| --- | --- |
| | [1] |
Wow. I want a Harry Potter house scarf. They look pretty sweet. I'm almost wondering if I shouldn't just make my own, though, instead of ordering one (especially since the knitter sounds like she has a pretty big backlog). And I'm sure my sister would love one for Christmas. Can any of you more experienced knitters tell me if looks like a difficult project for a beginner? (Link courtesy of Moire.)

Sunday, September 15, 2002
| | |
| --- | --- |
| | [5] |
OUTRAGE. This morning I was checking my Roald Dahl site statistics and noticed that I'm suffering from some bandwidth theft. Several jerks on various messageboards have linked directly to large images without asking me. Wait, let's be clear here. They didn't make a link like this. They created an HTML image tag that referenced an image on my server. In other words, every time another jerk viewed the message board, I had to pay for them to download the image. According to my server logs, I've had an extra 2000 hits this month alone from image thieves. My problem isn't them claiming my work as their own so much (though that's what nearly all of them are doing); it's more that my work is being used to add value to another site and I'm being forced to pay for the privilege! But fine, whatever. I can configure my server to block them. The REAL PROBLEM however, is...

THE SNOOK THINKS IT'S OKAY. He thinks it's perfectly reasonable that since I put something out on the Internet, other people should be able to use it however they want. I agree, as long as I'm not paying for it. He claims that since I don't pay by the megabyte for bandwidth, I can't claim that they're stealing any money from me. I counter with the fact that once I breach my bandwidth cap, I will be, so it's the same difference. And irrespective of the "theft" issue, I just find it completely rude. The argument went on for some time. It climaxed with:

Me: "Okay, so you're posting to Slashdot and there's this image you've found to illustrate your argument, so you just embed it directly from the source?"
Him: "Yes."
Me: "That's it. What if it was my site? YOU'D SLASHDOT ME? We're breaking up."

It's a gorgeous day out today, but it's pretty chilly here in the house.

Later: An uneasy truce has been called. I think we've got an unspoken agreement to disagree.

| | |
| --- | --- |
| | [4] |
Notre Dame defeats #6 Michigan. Holy crap. They haven't beaten a top ten team since they last beat Michigan in the first game of my senior year (1998). Now that was a game. Michigan had won the national championship the year before and we were itching to take them down. I remember about mid-way through the fourth quarter, when it was pretty clear we were going to win, my friend Brian announced to all of us in the stands, "I'll see you guys on the fifty yard line." We win, we storm the field, people are taking pictures, students run out the tunnel and play in the fountain... I'm not a big gung-ho sports fan by nature, but that was one of the most exciting days of my life. It was high drama and it was real. And they just did it again! How amazing would it have been to be there? Ahh, homesickness, my old friend.

| | |
| --- | --- |
| | [2] |
Friday Five:

1. What was/is your favorite subject in school? Why?
Depends. I'd probably say English or Drama, because they came easiest to me and I always liked readin' the books and watchin' the plays. Math and Science were harder for me, yet (truth be told) I think I got more out of them. It's hard to say since I went to such a small school. There weren't enough resources to cater to everybody, so they took sorta a "lowest common denominator" approach. At the high end of the bell curve, I often found myself bored and frustrated.

2. Who was your favorite teacher? Why?
Mr. "Mont" Arnold, my AP Calculus teacher, was pretty cool. He was always trying to find new ways to interest us in a subject that (both we and he knew) most of us would never use again. He recommended sci-fi books to me and gave me extra credit for programming my TI-85. He was funny and he never talked down to any of us. We voted him to be our Commencement Speaker and he confounded all of our parents with a 15-minute speech on chaos theory. Pretty cool.

3. What is your favorite memory of school?
Pretty much all of my senior year of high school. I was the valedictorian, the #1 tennis player, the female lead in the musical; I went to the State Speech Meet and won third place in my event. I got into Notre Dame. I dumped junior year's alterna-teen boyfriend in favor of someone a bit more fun and normal. (Granted, a bit of a doof, but no regrets there.) That was a charmed year.

4. What was your favorite recess game?
Up until about fifth grade, I was one of those girls who jumped rope every single recess. We had these great long jumpropes with purple and white plastic beads. Our most frequent game was "School", where for each grade you had to do a certain stunt to progress. "Kindergarten" you just had to run through; "1st grade" was one jump; "2nd grade" was two jumps on one foot or something... That was fun. When I got a little bit older is wasn't cool to jump rope anymore. You were supposed to do dangerous things. The fad was for someone to swing really high while another person ran under them from one side of the swingset to the other. You had to time your run just right and follow them as they came down past you. I gave up on that one on the fateful day Charity Martin miscalculated and buried her thick skull full speed into the middle of the swinger's (i.e. my) lower back. I couldn't breathe for fully a minute. After that, I think I mainly stood around with my friends and tried to act above recess.

5. What did you hate most about school?
Ugh. Lots. First of all, I absolutely hated riding the bus. It seems statistically impossible, but every bus route I ever had was filled with the county's worst mouth-breathers and social deviants. The day I got my license was like being released from bondage. I also hated gym. I wasn't terribly unfit; in fact I was sorta towards the high end of the normal, non-super-athlete girls. But I was uncoordinated and self-conscious which made it torture. I won't even begin to describe the horrors of seventh grade gym with its units on gymnastics and square dancing. *repress, repress*

Friday, September 13, 2002
| | |
| --- | --- |
| | [1] |
HAPPY BIRTHDAY ROALD DAHL! Yes, the man himself would've been 86 today. In honor of the occasion, I'm holding a Roald Dahl Trivia Quiz Contest. The winner will receive a copy of Mel Stuart's forthcoming book Pure Imagination: The Making of Willy Wonka and the Chocolate Factory. Feel free to enter, but don't be expecting any personal-site-reading favoritism or hints! :)

| | |
| --- | --- |
| | [4] |

"Everybody loves me, nobody hates me 'cos I eat their scraps!"
That's right, I got worms. (Spot the movie quote, anyone?) Well, actually I don't have the worms yet. But I do have a worm farm! Like Brigita, I've decided to turn my garden and vegetable waste into nutrient-rich fertilizer with the help of a couple thousand wriggly invertebrates. I can't wait to get some lovely "compost tea" to use on my flowers. Now I just need the worms!

| | |
| --- | --- |
| | [1] |
Looking forward, our next book will be Neil Gaiman's Coraline. I've just discovered that there are two different versions. The US version has illustrations by Dave McKean, Gaiman's long-time collaborator. The UK version (which is the version sold in Australia and perhaps elsewhere in the world) is just the text. Personally, I've put the US version on order because I'm betting that McKean's illustrations will be worth the added expense. (If you've read it, can you tell me if that's a good idea?) As for the rest of you, what do you think? Shall we all try to get the same version so we can discuss the illustration side of it as well?

Thursday, September 12, 2002
| | |
| --- | --- |
| | [7] |
Hooray! An actual boy has joined in the Back When We Were Grownups discussion. (Thanks, Jeff.) Who all is reading (or has read) The Lovely Bones? I have a feeling we're going to get a lot more discussion out of that one...

| | |
| --- | --- |
| | [11] |
Ebert has seen Eminem's new film and, though he doesn't say much about the quality of the picture as a whole, he notes that Eminem's prospects for further film success seem much more likely than Britney Spears's. Interesting. I had no idea that Curtis Hanson was directing and Kim Basinger had a role (as Eminem's mom!). This thing has a much higher pedigree than I expected. And check out the classy poster! I figured it'd just be two hours of Marshall beating Brittany "Psycho" Murphy about the head and rapping.


I downloaded Apple's new calendar application iCal the other day and I'm having a lot of fun playing around with it. It's just so much easier to be organized when your schedule is so pretty! My favorite feature is the ability to subscribe to other calendars. I've got US and Australian Holidays, Notre Dame's football schedule, and upcoming DVD releases. You can even "turn off" calendars that you don't use so often so your daily schedule doesn't look so cluttered. I'm going to add another one with my gym's classes so I'll be able to be punctual with my non-attendance guilt. :)

| | |
| --- | --- |
| | [2] |
Wait a minute. So not only does the Earth have two moons, now they think they've discovered a third? My mind is blown.

Wednesday, September 11, 2002
| | |
| --- | --- |
| | [7] |
Annoyances.
I had three errands to run yesterday. Each one, in its own unique way, turned to crap. Be warned; this is one big long bile-filled rant. Feel free to skip over it if you're having a good day.

First, the doctor. I went in for my regularly scheduled [discussion of "women's business" removed for sensitive readers], which went well, and afterwards I'm sitting there while the doctor finishes writing on my chart. He says, "Anything new over the last few months?" I've been waiting for this moment. Proudly I say, "I've lost 10 kilos!" He's happy. He asks how I did it. Slight hesitation: "Well, I sorta cut down on carbohydrates..." And he goes off on me. Starts telling me how Atkins and all the rest are full of shit. As Atkin recommends, I calmly and rationally refute all of his arguments. He says it's because I'm exercising more. I tell him I've been doing to the gym with the same frequency since January, and it's only since I've been doing Atkins that I've had any results. He says if I wasn't losing weight, why didn't I see a dietician. "Because I saw YOU", I reminded him (mentally adding the word "dickhead"). He tells me my cholesterol will go up; I tell him that in most cases it goes down, and say that I'm willing to have my blood tested to prove it. "Have you READ the book?" I ask. "I've read ALL the books!" he huffs. Yeah, right. I point out to him the hypocrisy in denouncing something that he hasn't done any research on. That, of course, doesn't stop him from proclaiming, "It's just... IMPOSSIBLE." Yeah, like I just misplaced twenty pounds? This pleasant scene ends with him admonishing me to not "overdo" anything, and just take everything in "moderation". In other words, he advocates the traditional starve-yourself-out-of-sheer-willpower approach. I walked out of there seeing red. Dude, it's not like I'm doing the frickin' Weekly World News Blue Dot All Fruit Juice diet. He pissed me off. I'm gonna find a new doctor.

So then it was on to the bank. Banking here confuses me. I've got all these new PINs and secret phone passwords and registration numbers and stuff, and I can't keep any of them straight. I've only had the damn account for a week and I've already forgotten my Internet banking password. So I go to the local branch to reset it. There's only one information desk, and a little old man is currently being served. I figure he's probably just cashing a pension check or something. NO, he's actually, like, planning his entire retirement. Right there at the walk-up counter. I listen as he invests in stock, sets up term deposits, inquires about mutual funds. I swear I watched him hand the teller a check for $600,000. Twenty minutes later I give up and head on to errand #3...

...the library. This wasn't so bad. I pick up my reserved book (Lemony Snicket's The Reptile Room) and grab a few others. I head to the counter. And there she is, the Ill-Tempered Dwarf. The problem is that the check-out counter is really wide, and I always set down my stuff sorta in the middle (you know, as you normally would). But the dwarf has to strain to reach it. So then it's like, do I push them closer so she doesn't have to reach so far? Or will that draw attention to the fact that I'm four feet taller than her? If I don't, will that further cement my place as "Giant Asshole" in her head? It's rather stressful. I tend to just look down, mutter my thanks, and flee.

So back to the bank. Old man is still going strong. He finally finishes up and I get to the counter. "I need to reset my Internet banking password, please." She tells me I have to call Customer Service to do that (despite the fact that Rodd was allowed to do it at the branch). Gritting my teeth, I ask if she can at least link up my two accounts (personal and business) so I can get some money from the ATM. "Sure," she says, "what's your secret personal password?" I tell her. It's wrong. I throw out about fifteen other guesses, from my mother's maiden name to books I read in college. Apparently one of them was right (or else she took pity on me) because she pulls my info up on the computer. Oh, sorry, she can't do that. I'm not the prime signa-what's-it on the account, so I can't have the money. I can only get at it if I drag the man of the house along with me. WHATEVER. WHATEVER. WHATEVER.

Whew. I feel better now.

| | |
| --- | --- |
| | [1] |
The ten worst crimes in Indiana history. Wow. Indiana is all about the lynchings and repressed homosexual serial killers. I had no idea. I like the quote from the 1824 Shawnee Indian massacre hangings: "There are but two powers in the universe that can save your life. One is Almighty God and the other is the executive of Indiana." (Link courtesy of Moire.)

| | |
| --- | --- |
| | [2] |
Hey Max, remember that show FOX aired last year about how we didn't really land on the moon? Well, the loony that produced it apparently tried to conduct an "ambush" interview with Buzz Aldrin for yet another moon-conspiracy film. "I approached him and asked him again to swear on a Bible that he went to the moon, and told him he was a thief for taking money to give an interview for something he didn't do," said the 37-year-old filmmaker. What was the 72-year-old Aldrin's response? He decked the guy. Go Buzz!

| | |
| --- | --- |
| | [12] |
Last September I saw the Bangles perform. I grossed you all out with the notion of the "carrot sac". I hosted a dinner for some American friends. Roald Dahl had a birthday. So did my brand new little brother. I raved about kiwifruit. I shared some Buffy spoilers. All these little mundane life moments, you know? There I was, just swimming along, oblivious and happy. And then something terrible happened. After a year, those words don't even seem like mine anymore. I'm disconnected enough now to see my own reactions objectively. I see my own confusion and fear, along with a secret and shameful sense of excitement at the fact that my generation would finally have a "defining experience." I watch as those feelings turn to anger and sadness. Then, gradually, equilibrium is regained. I'm almost disturbed at how quickly I came to accept the situation and move on. Does anyone else feel like that? I didn't know anyone in the World Trade Center, and no one I know even lives in New York. It's almost as if this anniversary of mourning makes me feel guilty for not being more effected. Am I all alone here?

The most prophetic quote from the month: "As Snookums put it this morning when we were going our separate ways at work: 'If America goes to war, we're going to Australia.' I couldn't have put it better myself. Get me the hell out of here."

And that's all I have to say about that.

Tuesday, September 10, 2002
| | |
| --- | --- |
| | [7] |
Sell out with me tonight. The other day while perusing eBay I noticed a copy of Roald Dahl's The Gremlins going for $150 AU. It was his first book and it's extremely rare. As that price equates to about $80 US, my jaw just dropped. To compare, here's the very same book going for over $300 US. I've seen them sold for even more. I figure that all the Americans just bypassed the Australian auction since it was in a different currency. I've actually already got a copy, but I couldn't pass up the chance to get another one dirt cheap. The Snook agreed that it's a pretty good investment. So I waited and watched. The auction sat at $150 AU for most of the day, but as soon as we hit the magic five-minutes-left mark, the price started rising. I watched it go all the way to $300 AU. The Snook and I conferred and agreed that we'd go as high as $350. With one minute to go, I put in my bid... of $357.50. The odd numbers are key. Most people bid in "blocks", so you've got to have just a *little* bit extra to win. I had it at $320... less than 30 seconds... then $330... only fifteen seconds... then $350... and I got it! For $355, to be exact. See, I told you the extra $2.50 was key.

Now I'm sorta having second thoughts. Not about the money; I have no doubt I'll be able to sell it for a profit later. It's more the mercenary nature of it. Some other fan wanted that book pretty badly and the younger me would've let them have it. Instead I'm just perpetuating what is already an overpriced market. Do you think that was a shitty thing to do? In my defense, I'm not fabulously wealthy and I could certainly use an extra hundred bucks or so. Should capitalism outweigh youthful ideals?

| | |
| --- | --- |
| | [1] |
Holy crap! Television Without Pity, the website formerly known as Mighty Big TV, almost went under. They've managed to secure a deal to stay online, but they've got to cut some shows and implement even more intrusive advertising technologies. That sucks. I hope they offer some sort of subscription model. It's one of the few sites on the Net that I'd actually pay to access.

| | |
| --- | --- |
| | [15] |
I'm going insane. You know the song "All I Want" by Toad the Wet Sprocket? (Yeah, I'm putting together a 90's mix CD.) Wasn't it the theme to a TV show? At first I thought it was Party of Five, but no, that was the Bodeans' "Closer to Free". Was it Melrose Place? The IMDb is not helpful. What the hell am I thinking of?

| | |
| --- | --- |
| | [1] |
Will Self, the author of one of the books we're scheduled to read, has announced a plan to "lock himself in a one-bedroom flat on the 20th floor of a Liverpool tower block and allow the public to observe him while he writes a short novel". Apparently he mourns the loss of these high-rise residential monstrosities, many of which are being torn down. I think he sounds like a bit of a loony.

Monday, September 9, 2002
| | |
| --- | --- |
| | [7] |
I just started my second ever Metafilter thread. It's about the Big Things that serve as tourist attractions here in Oz: the Big Banana, the Big Pineapple, and the Big Prawn (to name just a few). I just told the Snook that I want to visit them all. :)

Sunday, September 8, 2002
| | |
| --- | --- |
| | [13] |
Fun Australian Slang:
The Aussies have this fun habit of taking the first syllable of a word and turning it into slang. (Hence, "Aussies.") Here are some more that I like:
mozzies = mosquitoes
cozzies = swimming costume = bathing suit
derro = derelict = bum
surfies = surfers
aggro = aggressive
ambo = ambulance
Maccas = McDonald's
arvo = afternoon
garbo = garbage collector
piccie = picture, photograph
pokie = poker/slot machine
Now try and use them in a sentence today. :)


The good news: Notre Dame beat Purdue and improved to 2-0 this season. (Sorry, little brother.) The bad news: Our offense hasn't scored a touchdown yet. Of course, that means our defense ROCKS.

| | |
| --- | --- |
| | [1] |
Happy (slightly belated) anniversary to Nicci, who just celebrated five very happy years of weddedness. (Is that a word?) Her post about her husband turned me into a big mooshy girly-girl.

| | |
| --- | --- |
| | [3] |
Woohoo! Pictures from Harry Potter and the Chamber of Secrets. I'm still not loving Dobby. But other than that, it looks great. And hey, Tom Riddle is hot! (Both links courtesy of Moire.)

[Related note: The Snook and I watched the James Bond film A View to a Kill the other night. It's the last one Roger Moore did, the weird one 80's one with Grace Jones and the Duran Duran theme song. Anyway, Christopher Walken plays the bad guy, this pseudo-German psychopathic genius horse breeder and microchip manufacturer. (Seriously.) He's really young and he's got dyed blond hair. Halfway through the film I blurted out, "He's Draco Malfoy!" And he seriously is. If they ever need a flash-forward in one of the Potter films to Draco about 30 years older, Walken in a blond wig would be perfect.]

Saturday, September 7, 2002

It was such a gorgeously hot spring day here today that the Snook and I decided to head to Victoria Park for a picnic. It was a good day for people-watching, with lots of folks playing Frisbee and just soaking up the sun. One guy was even throwing a boomerang around! That's the first time I've ever seen anybody do that (with a proper wooden boomerang, not a Nerf version). Even the Snook was impressed.

| | |
| --- | --- |
| | [1] |
The Herald's got another article on Steve Irwin: "Is this the best known Aussie in the world?" My new little step-brother Colfax loves the Crocodile Hunter. Of course, given that that's all he knows about the country, he's probably too scared now to ever visit. :)

| | |
| --- | --- |
| | [3] |
Note to my sister: put on lots of bug spray. Seriously. That's some scariness right there. (Link courtesy of fellow Hoosier Moire.)

| | |
| --- | --- |
| | [5] |
The Greatest Low-Carb Recipe EVAH!
The Snook discovered this the other day and I just have to share. Even you non-dieters would probably love it. I know it sounds gross at first, and believe me, I was a big doubter. Just bear with me. It's called a Mock Danish. Basically, you take 2 oz. of cream cheese (i.e. 1/4 of a Philly block) and melt in the microwave. Then you mix it all up with one egg. Add a little vanilla, lemon, and artificial sweetener. Nuke for two more minutes. Like I said, I know it sounds gross. But get this - it is so good. It is reminiscent of a cream cheese danish, and also a nice cheesecake. Personally, it reminds me of a good eggy custard. I like it with a handful of blueberries and a little cream and cinnamon on top, or with a spoonful of some Weight Watchers jam I got. Plus it has, like, no carbs in it (depending on what you add). It's good for dessert or even for breakfast. It's warm and nummy and soothing and it takes all of five minutes to prepare. Yes, I know you're still dwelling on the grossness. Up until the point I tasted it, I was too. Just give this one a try next time you're in the mood for something cheesecakey.

Friday, September 6, 2002
| | |
| --- | --- |
| | [4] |
Friday Five:

1. What is your biggest pet peeve? Why?
Biggest? I can't choose. I have so many. I get annoyed when people have to go to the bathroom too often. Seriously. I think it has to do with having a younger brother with a bladder the size of a teacup. The number of times we'd have to pull over so he could pee in a cornfield... I also hate it when people say "nu-cu-lar" instead of "nuclear". I'm irritated by parents who push inappropriate strollers (filled with inappropriate children) to inappropriate places. I rage when mobile phones ring during a movie. And I have a whole subset of pet peeves just for my gym, such as women who wear make-up on the treadmill, guys who wear combat boots instead of gym shoes, and old women who think they can get away with wearing just a sports bra as a top. Like I said, I got a lot.

2. What irritating habits do you have?
I crack my knuckles. I snore (just a little). I do this thing where I fiddle with the edges of fabric, like the hem of a pillowcase or a curtain. That drives my sister crazy. And I have this pathetic inability to just, you know, do stuff. I'm a procrastinator and I'm lazy. I'll decide to do something but then when the time comes, I'll find an excuse to back out. (Hence my spotty training record at the gym.) It even annoys me.

3. Have you tried to change the irritating habits or just let them be?
I've tried to change the last one, but it never lasts. I'll get this surge of empowerment and make all these "To Do" lists and stuff, but eventually I just peter out. It doesn't help that the Snook is exactly the same way, so we just enable each other's slackerdom. It's a vicious circle.

4. What grosses you out more than anything else? Why?
I can't watch scenes in movies where people receive injections. It's just squicks me out. (I don't mind getting them myself, as long as I don't have to watch.)

5. What one thing can you never see yourself doing that other people do?
Sadly, eat sushi or oysters. I just can't do the raw fish thing. I think eventually I might work up to cooked seafood, but there's no way I could eat something that's been plucked straight out of the sea. The very smell makes me ill.


Thank you for financing global terror. Hee!

| | |
| --- | --- |
| | [2] |
My Roald Dahl enthusiasm finally returned yesterday and I got to work going through a pile of about 400 unanswered e-mails. Ugh. I did come across one interesting one though. A game show researcher contacted me to clear up some questions they were going to run about Charlie and the Chocolate Factory. The show? The Weakest Link. (I was going to tip off Ernie, but it looks like he didn't need my help!)

Thursday, September 5, 2002

Metafilter has a post about Roald Dahl today. As you might imagine, I'm all over that.

Wednesday, September 4, 2002

Matt linked to an amazing collection of Barbie dolls that have been repainted and costumed to look like Hollywood movie stars. It sounds cheesy, but give them a look. This guy is amazing. If he can transform a mass-produced doll into Liza Minelli, why can't the toy companies make an action figure that looks anything like the real actor?

| | |
| --- | --- |
| | [9] |
I've been thinking about teaching. I was whinging to the Snook the other day about my dissatisfaction with I.T. work when he suggested that I go back to school. Since I had so much fun leading training courses in London, he thought I should look into getting teaching credentials here. It's an interesting idea. Max teaches, as do my friends Liz and Kel in California. Ma Snook is a teacher-librarian. If you'd asked my second-grade self what I wanted to be when I grew up, I'd have said "a teacher" without hesitation. So I decided to look into it.

Unfortunately, it seems it's a lot more difficult than I anticipated. Not only would it take two full years for me to get my Masters of Teaching from Sydney Uni, but as I'm still classified as an "International" student (because my permanent residency won't be fully "permanent" for two more years), I'd have to pay about four times the tuition that Australian students would. Then there's the question of whether my enthusiasm for training eager adults would in any way translate into enthusiasm for teaching sullen and obligated young people. I'm not sure. I just finished reading this five-part story about a journalist who took a year off to teach seventh grade English. His experiences are pretty eye-opening. I was always a good student, and in class I resented the teacher having to go so slowly and repetitively for the sake of other kids who couldn't care less. Apparently, though, that's exactly what teachers are forced to do. I like the idea of "breaking through" with a difficult student and teaching them something new, but realistically, how often does that happen? I'm not sure I could deal with putting out a lot of effort and seeing it go to waste. Someone once told me that journalism and education are the most cynical professions and that you lose your youthful idealism pretty quickly. I get depressed enough in I.T.; would it really be wise to make a move? (Article link courtesy of Moire.)

Tuesday, September 3, 2002
| | |
| --- | --- |
| | [4] |
Nooo! Lance is not going into space! All my work was in vain.

| | |
| --- | --- |
| | [1] |
Snook's Low-Carb Blueberry-Banana-Flaxseed Muffins
The Snook has been cruising various low-carb websites in search of recipes to emulate the high-carb stuff we've been missing. Yesterday he picked up lots of almond meal and ground flax seeds in preparation for doing some baking. We spotted some blueberries at the greengrocer and I flashed back to Max's blueberry-banana muffins. Armed with an idea, the Snook took to the kitchen for some invention. The resulting muffins don't look so great, but they taste pretty good and it's nice to eat something "bread-y" again. We estimate they've got about 12 grams of carbs each, so you'd best avoid them if you're doing Induction. Read on for the recipe... [more...]


Here's a nice interview with R.E.M.'s Mike Mills as he reflects on Chronic Town twenty years after its release. (Link courtesy of Kevin.)

Monday, September 2, 2002
| | |
| --- | --- |
| | [5] |

Sommelier, here I come!
The Snook and I almost missed our first wine-tasting class tonight because somebody misread the date on the acceptance letter. Tsk, tsk. Anyway, we're doing this class through the Sydney Uni CCE with Huon Hooke, who's this pretty famous Australian wine judge and writer. Tonight we learned all about how wine ages and why every wine doesn't necessarily get better as it gets older. We tasted four different wines, two reds and two whites, and within each we had an older and younger version. (The oldest as a 20-year-old cabernet savignon. Snookums thought it was a bit past its peak though.) It was pretty cool for a novice like me, because comparing them like that made it easy to see the changes. I even managed to ask a good question: "If the big variable in how the wine ages - and whether it goes bad - is the cork, why the heck are we still using them?" Turns out Mr. Hooke is a big advocate of using other things, like plastic corks and screw tops. Huh. I also had a lot of fun watching the hoity-toity grown-ups spitting out each mouthful like professional tasters. Not me, babe. That wine was too good and expensive to waste. The "young" vintages were all, like, $60/bottle, and the older ones didn't even have prices listed (because apparently the only way you get them is at auction). I believe wine exists to be drunk, so I downed 'em all. Lest you think I was the only lush, though, I'll have you know that the woman on the other side of Snookums not only drained each glass before we even discussed it, she admonished the guy pouring for not giving her enough. I at least made a pretense of being there for the learnin'. :)


Hooray! Kristen's jumped into the fray and our discussion has received a much needed boost. Meanwhile, is anyone still looking for a copy of The Lovely Bones? My vow to hold back on reading it lasted about three days. I'm all done now, and (to be honest) I don't think I liked it very much. I think the two chapters on Amazon led me to believe that the book was going to turn out very differently from the way it did. But I'm getting ahead of myself. We won't be talking about that one for another month!


What a glorious spring day. Mmm, I wish you could smell our garden right now. Too bad that whole Internet odor thing was a bust. You'll just have to look at these pictures I just took and pretend.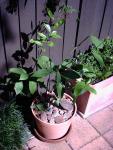 That first one is just a bit of the waterfall of jasmine that is cascading over the fence between our place and the neighbors'. It smells so amazing. A couple other houses on our street have it too, and you can smell it the second you open a door or window. That second picture is the little lemon tree Mama Snook got us last year. It's doing much better in our garden than it was on our apartment balcony. In fact, it's got some little buds and we thing it's going to flower! The third picture shows some of the gigantic peace lilies we have growing in the back corner. It's the same plant we used to have on our clothes dryer in London, except much bigger with several large flowers. And last is our neighbors' lemon tree, which has dozens of large fruit the size of baseballs dangling from it. The closest branch is only a couple feet from the fence, so I'm hoping a stiff breeze might knock some over our way. :)

Sunday, September 1, 2002
| | |
| --- | --- |
| | [5] |
Notre Dame won their first game 22-0. GO IRISH!

archives
You can search through the archives by post keyword using the form on the left, or you can browse by month using the links at the bottom.
"Moblog" refers to posts and images posted directly from my mobile phone.

"PW Blog" refers to posts recovered from my very first weblog, which dealt with news related to my college dorm.