Thursday, September 30, 2004
| | |
| --- | --- |
| | [6] |
Who's the best homebrewer in the house? Snookums is the best homebrewer in the house! He just won three places in the 2004 New South Wales Brewing Championships. His "English Mild" won 2nd place in the "Low Alcohol" category; his "American Pale Ale" tied for first in the "Pale Ale"; and his "Chocolate Cherry Stout" won Highly Commended in the "Fruit & Specialty". Pretty cool, huh?

Wednesday, September 29, 2004
| | |
| --- | --- |
| | [2] |
Retro coolness.
A few weeks ago I ordered a View-Master from Amazon for my little brother Joey's birthday. I was lamenting to the Snook that nowadays you only seem to be able to buy the "themed" View-Masters, like Winnie-the-Pooh and Finding Nemo, and they only come with a few disks each. (I ended up buying some old disks of Disneyland and fairy tales off eBay.) Anyway, the Snook suddenly goes, "Hey, did you ever have a Talking View-Master?" I'm like, "Whatchoo talkin' about, Willis?" I'd never heard of such a thing. He claimed to have a View-Master that took special disks with little records attached to them and the viewer would actually play the sounds as you watched the scenes. Wha?? I was skeptical. He kept imitating the voice of his Spider-Man disks, walking around for days going "The Amazing Spider-Man!" in a nerdy American accent. So, since his Mom happened to be coming down this week - and since the Snook family are notorious packrats that never throw anything away - he had her bring it over tonight. It actually exists! The sound doesn't work yet but the viewing mechanism still seems pretty good. He's got a canister with about fifty old disks in it too, like Disney stories and Star Trek and "Wonders of Asia" and Aesop's fables. I have been having a total View-Master nostalgia trip. Some of them are live-action and some are cartoon, but most are those weird diorama-type things where the characters are little dolls set up in three-dimensional space. It's so weird playing with one of these again, like falling through a time warp. We're going to crack it open and clean it up and see if we can't get the old record player working again...

Monday, September 27, 2004
| | |
| --- | --- |
| | [2] |
The squeaky blogger gets the grease!
Remember the rant I had a few months ago about my frustrations with my local Apple service centre? Well, apparently somebody over there was vanity-googling the other day and turned up my site. As a result, I got an e-mail from the Service Manager apologizing for all the difficulty I had and offering to arrange an "extremely amicable" price to replace my monitor with a refurbed one they had. Isn't that kickass? I'd basically been planning to put this sucker out to pasture when the new G5 arrives - what with my additional hard drive problems and all - but I'd love to still have an operational laptop if possible. He's quoted me a price well within my budget for fixing it so I've asked the Snook to help me replace the drive. If all goes well, I should have double the Mac goodness is less than a month! (And of course, I'll amend my earlier post so other Googlers get a better impression of the service.)


Behold the home-brewing cat!

Sunday, September 26, 2004

Max made deep-fried Oreos! Max made deep-fried Oreos! *drools* Meanwhile, I'm back in ketosis after nearly a year of cheating on the diet. Hopefully I'll be back down to fighting weight before I have to wedge myself into a bridesmaid's dress in two months...

| | |
| --- | --- |
| | [2] |
Thanks to the TiFaux, I've started watching Days of our Lives again on a regular basis. Yesterday I had a marathon session where I caught up with the whole past week. I'm still reeling from the whole "fast forward four years" thing. I don't buy for one second that Sami would ever get together with Lucas, nor would Roman ever marry Kate. Has everyone gone insane? And why is Phillip suddenly way older than Belle and Sean? The worst part of watching all these episodes back-to-back is that you're forced to confront (through repetition) all of the crappy, crappy tricks the producers use to pad out the show. Each episode has had, like, three dream sequences! Which leaves me confused about the big Friday cliffhanger... Did that crazy Jan girl really kill Victor "Jennifer Aniston's Dad" Kiriakis by throwing a stereo into his bathtub? I don't believe it.

| | |
| --- | --- |
| | [3] |
If we were having a wedding cake, this would be it.

Saturday, September 25, 2004
| | |
| --- | --- |
| | [8] |
[Edited to remove our mailing address]

This "engagement" is only a week old and I'm already getting annoyed. The link to our address is down. If you want to know it, please mail us. I've also deleted the wedding registry. God forbid my motives were questioned or people thought I was being crass.


If I had a kid, I'd totally dress him in one of these T-shirts. Hmm, I wonder if I could work that slogan onto some sort of cat garment...

Thursday, September 23, 2004
| | |
| --- | --- |
| | [5] |
Arts and Letters is real!
I was just snickering along at this article about creampuff college classes and trying to recall if there were any at ND. Nah, even the weird ones I took - like "Ancient Wisdom, Modern Love"; remind me to tell you about that sometime - still had a lot of reading and writing and study groups to attend. So I was totally unprepared when "Notre Dame" leapt out at me. Check this out:
When Lou Holtz was at Notre Dame they used to give out a degree called Arts and Letters. - Don L.
Okay, first off, Don, Arts and Letters isn't a degree. It's a college. There's the College of Science, the College of Business, the College of Architecture, etc. They're like departments. And the one with all the humanities courses, like philosophy and languages and history and literature? That's the College of Arts and Letters. What the hell do you think "B.A." stands for? It doesn't mean, like, finger-painting the ABC's or something. In fact, it was the College of Business that was commonly known as the "creampuff" degree at Notre Dame (but only because everybody who failed out of freshman pre-med moved into marketing). Secondly, what was the point of mentioning Lou Holtz? Are you suggesting that a football coach has anything to do with the classes that are scheduled? Or that our last championship team only succeeded because they had easy courses available to them? Because that's bull. Notre Dame has high entry standards for everybody, even the football team. We're not Ohio State or Florida where we let every rapist and mouth-breather over seven-foot onto the team. Hell, every year we suck the chorus gets louder from the alumni to actually lower admissions requirements so we can get better players! So to conclude, "Don L." was completely talking out his ass. Rant over. (Original link courtesy of Max.)

| | |
| --- | --- |
| | [5] |
How to play Egyptian Rat Screw. I first learned that card game at the Joseph Baldwin Academy, a sort of summer camp for smart kids I attended in Missouri after the 8th grade. I then taught it to lots of folks at my high school and we ended up playing it at almost every speech meet. Our version was a little more violent than this one, though, as it involved a "false slapper" being required to put one of his hands under the pile until the next double. Yowch.

Wednesday, September 22, 2004

I got two new things delivered in the past 24 hours! The first is my sexy she19 T-shirt urging my fellow American women to "make their mark" by voting in the next election. Dressy yet political. I wore it to work today because I'm funky like that. Second is a big bouquet of flowers set to us by Ma and Pa Snook! The arrangement was apparently called "Golden Birds", which explains the birds of paradise and weird little fake bird nestled in the middle. Ma Snook also made a point of including gerberas because she knew they were my favorite. Isn't that sweet? Unfortunately the cat took one look at the arrangement and fled in terror to the bedroom. Thus the flowers have to live in the laundry room when we're not home to prevent attacks.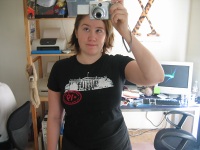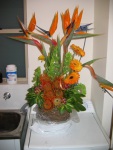 Crap. I thought I had at least another 24 hours before I had to go on Amazing Race spoiler alert. Instead I fired up my Yahoo home page and there it was, right in front of me. Double crap. At least it only told which state the winners were from, which limits it to two of the four for me. (And actually that's kinda good, because it means the team I hate didn't win!)

Tuesday, September 21, 2004
| | |
| --- | --- |
| | [8] |
Vote for Bush, get hit by three hurricanes. The facts don't lie!


Jann's having another baby! And the Netdecisions family just keeps growing...

| | |
| --- | --- |
| | [14] |
New Poll: What the heck do you wear when you get married by Elvis? I'm leaning towards the daggy tourist look - mostly because it'll be the most comfortable - but I could be persuaded.

| | |
| --- | --- |
| | [1] |
What with all this romantic mooshiness, I switched up the default theme on the site to the old "Valentine's Day" design. (If you don't notice any change, you have a cookie set so you'll have to do it manually.) I just figured it was appropriate. Hmm, I should make some new themes already...

Monday, September 20, 2004
| | |
| --- | --- |
| | [2] |
More Wedding Stuff
Thank you guys so much for all the wonderful messages! It's just reinforced the idea that this is the right thing for us to do. I mean, our day-to-day situation isn't changing yet people still seem so excited for us. To me, this means that there really is something there, some value in making this commitment public and sharing it with all our friends and loved ones. So yeah, it's a little scary but exhilarating too. I'm loving saying it to people. "I'm getting married." I said it to the man in the liquor store the other day and he gave us a free bottle opener! I figure this is a coupon I'll only have once, so I better take advantage of it, right?

On that note, I've had a couple inquiries about sending gifts. (Well, really it was only my aunt and my grandma at this stage, but again, limited time coupon...) So if you're inclined to send us something, we have both an Amazon Wish List and an Amazon Wedding Registry. The Wish List is just my regular one with "WEDDING" comments indicating the things we both want. The Registry is for the stuff they won't ship overseas, which is why it's going to my Mom's address. Note that none of this is traditional stuff like toasters and china, mostly because we already have all the crap. Plus we really, really need a PlayStation. But as the Snook recently pointed out to me, a wedding gift is really just a ticket to the wedding reception, and as our reception will be (at this point) entirely virtual, feel free to take a pass on the gift. We'll swing by everybody's towns some day and have a beer together. (Edited to add: If you want our mailing address in Sydney, just drop me an e-mail.)

Read on for more wedding crap. [more...]


Disassembled iMac G5. Oh man, I'm getting excited! Too bad my delivery is still scheduled "on or before October 12."

Sunday, September 19, 2004
Daggiest. Cardigan. EVER.
So today we were in recovery mode from Major's birthday party yesterday, which also saw us break the wedding news to the Snook's college buddies. (Hence, lots of drinking and merrymaking.) Despite my fuzzy-headedness I managed to get a lot of knitting done this afternoon. I finished another ball on my main project so I granted myself some reward time on my side project: the Round-the-World Cardigan. It's my first intarsia project and I'm having a lot of fun with it. Today I finished off the top of South America and most of the Caribbean. The pattern is from a totally daggy 80's knitting book that Mrs. Morris (who owns the shop) lent me. I love it! I'm using Nova Super Chunky and it's surprisingly soft and touchable for having so much acrylic in it. (It was the only thing thick enough to get gauge that had the necessary colors.) Hopefully I'll have it finished before I go home in two months so I can show it off!

Saturday, September 18, 2004

PS - Still recovering from Board Games Night with Andrew and Kathleen last night. At least both my teams - Pictionary and Scrabble - were victorious. I think "Treasure tits!" ranks up there with "Baby fish mouth!" in terms of all-time bad Pictionary guesses, though...

| | |
| --- | --- |
| | [28] |
Cancel the hog trough.
As the news should've reached most of our immediate family by now, I guess it's safe to let the cat out of the bag. It didn't seem to come as a surprise to most people, so I doubt it'll shock you folks... but for the record, yes, the Snook and I will be getting married in Las Vegas in two months. By Elvis. And yes, it'll be broadcast live on the Internet so you'll all get to watch. Fun, huh?

Addendum: I forgot to add a HUGE thank you to my sister Amy, who kindly consented to let her thunder be stolen a little bit so we could get married on the way to her wedding. She's the bomb, yo. [more...]

Friday, September 17, 2004
| | |
| --- | --- |
| | [1] |
Many thanks to Mary-Helen for stopping by in the shop today to say "hello." Some days a friendly face really makes a big difference!

Thursday, September 16, 2004
| | |
| --- | --- |
| | [1] |
Ack. I forgot that Roald Dahl's birthday was on Monday! If any of you Sydneysiders are interested, Amy has put together a Dahl exhibit at the Mosman Public Library using a lot of my Dahl materials. (Memo to Self: Get down there and take a picture...)


For, uh, no special reason or anything (*cough cough*), I've been doing some research on knitting cables without a cable needle. I guess I'll give that a shot tomorrow. Can't go any slower than I am now, huh?

Tuesday, September 14, 2004

Good: Schlubby Vince Vaughan in a flannel shirt. Hummina!
Bad: Snookums (jokingly) making me do ten squats before I could have some gelato, thus causing me to strain my hip because I'm disgustingly weak.

| | |
| --- | --- |
| | [5] |
Can I just say that our "TiFaux" has officially changed my life? Now when I watch TV, I have a whole backlog of shows that I actually want to watch! Time-shifting is the bomb. This allows me to watch a lot more TV in less time, which gives me additional good feelings because I feel, like, efficient. Recent TV thoughts:
Days of Our Lives - Oh my, could I have picked a better week to re-start watching Days? The Australian version has always been about four years behind the US one, which is convenient since that's about when I stopped watching. Yet for some reason Channel 9 has decided to fast-forward through, like, 1200 episodes to catch us up to the US timeline. Thus yesterday we had Drake Hogestyn (with some nameless Aussie tart) hosting a special where they filled us in on all the storylines we'll be missing. It was awesome. Kate married Roman? Austin jilted Sami? John and Marlena and Bo and Hope and Jack and Jen got married again? (Talk about 80's redux.) Sheesh. At the end they filled us in on the whole "Salem Stalker" storyline that's been going on for the past year, as well as revealing - dun, dun, dunnn - who the killer is. Shocking! I love it. I'm sad that they killed off some nice characters, but really, Maggie Horton hasn't done anything but annoy me since Mike left. But hey, what's up with the new Mickey? And who's this "Bonnie" that he's hanging out with? Isn't she "Adrienne", who used to play Patch's sister back in the 80's? Good grief, I can't believe I knew that.
The O.C. - This show is so great. The Snook and I actually high-fived during the big "Luke's gay dad" reveal. How can they be cramming all the best teen drama cliches into the first year of episodes? Where the hell can they go next? We actually get two episodes this week, which makes me hope that Channel 10 is burning through them in time to get us relatively caught up with the US for the second season. (Secret confession: I prefer Anna to Summer, but I have a sinking feeling that Seth's going to end up with the hoochie-mama. Smart girls always lose out.)
Australian Idol - I haven't really been paying much attention to the show this year but I happened to catch the live show last Sunday. Holy crap, everyone on it is really good! At least last year there were a couple definitively "evil" people to root against (like Cosima and Shannon). This year they're all really nice and talented! I was actually worried going into last night's verdict show. My favorite is Marty (for his bald head and geeky song choice) but there aren't many that I think deserve to leave. Thank God it was Dan. I would have preferred Hayley - who seems a little Cosima-like in her ambition and cool demeanor - but Dan sunk himself when he dared to sing Creed. What was he thinking? Ideally, next to go will be Hayley and then Daniel (the opera minger with chimpanzee hair). Everyone else is too good!
Now I'm off to indulge in yet some more low-brow entertainment. The Snook and I are going to see Dodgeball and we plan to laugh ourselves silly! (Don't tell the intelligentsia, but we find people getting whacked in the nuts pretty funny.)

Monday, September 13, 2004
| | |
| --- | --- |
| | [17] |
How to Make Deep-Fried Oreos. Hmm, perhaps something for our Halloween party next month...?

| | |
| --- | --- |
| | [2] |
Huh. So this is what everybody in Chippendale is going to look like in ten years. Neat.

| | |
| --- | --- |
| | [7] |
Oh, Spike. *sob* I feel like Drusilla when she realized how lame you were for liking Buffy.

| | |
| --- | --- |
| | [6] |
Kevin pointed me to this excellent review of the new Star Wars original trilogy DVD box set. I especially liked the shots showing exactly what George has changed from the original. Greedo still shoots first (but only barely), Jabba looks better in the new scenes, Ian McDiarmid has been inserted as the emperor, and (yuck) Hayden Christensen appears as Anakin's ghost. It's going on the wish list...

Sunday, September 12, 2004

Wow. Notre Dame has jumped on the ironic trucker hat bandwagon, only - as Brigita points out - about five years too late. I still kinda want one though.


Hahaha... Andrew has captured a classic picture of our little family on CouchCam. Nice one, mate!

| | |
| --- | --- |
| | [4] |

What a beautiful bright spring day! I headed into the city (after the Snook's and my customary Sunday brunch of pancakes, bacon, and The Amazing Race) to meet up with the Sydney Stitch and Bitch girls. Eventually there were four of us in all: me, Miss Helen, Katherine, and Belle (who is between blogs at the moment). We chatted about knitting and Australian Idol and Spiderbait and everything else under the sun. Our fabulous knitting skills also seemed to draw a lot of attention from the wandering tourists. (I think next time we should put out a hat for change. Performance knitting!) We also had a couple run-ins with ibis, which scare the crap out of me. I'd trade them for squirrels in a heartbeat! Read on for pictures of my fellow knitters. [more...]

| | |
| --- | --- |
| | [2] |
Congratulations to Hoey and Brigid, who welcomed their new baby daughter Molly last weekend. What a sweetie! I just can't wrap my head around the fact that a guy who once gave a friend of mine a three-pound salt lick as a gift before a dance now has a child, is an actual parent. What a fun Dad he's going to be. :)

| | |
| --- | --- |
| | [5] |
Holy crap! Notre Dame beat Michigan. Oh, how I love typing those words. "Notre Dame students ran out on the field to celebrate the win, turning the field into a sea of green with their green T-shirts." I know exactly how those students felt. I can still remember how exciting the build-up was for the Michigan game was in 1998. They were the defending National Champs and this was the season opener. I remember buying a bootleg T-shirt to commemorate "The Game" (I passed on the infamous "Muck Fichigan" design). I don't think I actually believed we'd win. My teams never win. Yet there we were, pulling ahead in the fourth quarter. I remember my friend Bryan turning to look at our group in the stands and announcing, "I'll meet you guys on the 50-yard-line." The security guards didn't even try to stop the flood. I remember hugging and cheering on the grass as photos snapped around us. I remember dancing as we eventually got to march up out of the stadium through the tunnel. I remember students splashing in Stonehenge and singing the fight song. I remember running back to my dorm room to call my Dad and try to explain how momentous everything felt right then. I know that it was just a football game, but it was truly one of the greatest shared experiences of my life. I don't know that I've ever been so sincerely and un-ironically bonded with everyone around me since that day. It was awesome.

And then we lost, like, a week later. Naturally. But I still remember The Game.

Saturday, September 11, 2004

If any of you Sydneysiders are up for an outdoor stitch 'n' bitch, Miss Helen has arranged (via a Yahoo Group) for a bunch of us to meet up in Hyde Park tomorrow. As long as the rain holds off, I'll be at the Archibald Fountain around 12:30. See you there!

| | |
| --- | --- |
| | [1] |
The new Knitty is here! Things I like: lacy wrap, funky skirt/poncho, ninja turtleneck, awesome pleated skirt, and not martha's amazingly cool retro knitted wig. This article on weaving in ends is one of the best I've seen on the subject. (I'll be trying that method on the cardigan I'm working on.) My nose also appreciated this article on knitting-related allergies. Best issue yet, I'd say!

| | |
| --- | --- |
| | [2] |
Great article about REM in preparation for their new album launch. I especially liked the bit about how Peter Buck has become obsessed with gifting iPods to everyone involved with the record. Apparently he fills them with thousands of songs and albums specially tailored to the receiver. How cool is that? Like Max with his mix CDs, only times ten. (Link courtesy of The Cult of Mac Blog.)

| | |
| --- | --- |
| | [4] |
Money and computers.
I was reminded today of this recent Ask MetaFilter discussion about the maximum amount of money you feel comfortable spending without discussing it with your partner. At the time I read it, I remember thinking that most of the couples sounded really strict and uptight. The Snook and I have never really had money-management issues between us. We have separate bank accounts along with a joint business account, but I don't think of the money as belonging to either one of us specifically. Last year I was the regular breadwinner so the rent came out of my account, and now that he's the sugar daddy he's paying it. When we go to the grocery store, whoever has their wallet handy pays. Bills get paid online out of whatever account works best. It works out for us. I've asked him on several occasions if he's comfortable with our system and he claims he's totally happy with it. So maybe it'll come back to bite us in the ass someday, but for now I can't imagine doing it any other way.

But getting back to the real issue, the reason I was reminded of the discussion is that I got an SMS from the Snook today at work that said, "So I got us some of that sweet sweet storage and also $1300 worth of upgrades for my PC. Any time you want to order that G5..." And you know what? I didn't bat an eye. The storage is for our home-made TiVo, so he knew I'd be cool with that. And I know he hasn't upgraded his computer in ages so that's fine by me too. Of course, I did take advantage of his pseudo-guilt long enough to order myself one of these babies (17" Superdrive with Bluetooth keyboard and mouse, AppleCare, and iSight). Woohoo! Only "three to four" weeks to wait now. I'm so excited. My computer is going to be so tomorrow. Anybody want to buy a broken-down iBook? :)

Friday, September 10, 2004

Mmm. Dr. Atkins's Maple Chicken Strips are officially delish!

| | |
| --- | --- |
| | [1] |
Ooh, Ebert's finally launching his own site! It'll be finished later this month and apparently I'll finally be able to read every review the man's ever written. Kick. Ass.

Thursday, September 9, 2004
| | |
| --- | --- |
| | [1] |
Trilobite cookies. How cool is that? Cookies that look like fossils!

Wednesday, September 8, 2004
| | |
| --- | --- |
| | [13] |
The most hated men in rock discussion is pretty fun. Now how 'bout the ladies? I nominate Fiona Apple right off the bat...

| | |
| --- | --- |
| | [1] |
I feel a niggling sense of guilt over my lack of posting these days. It's just so hard when I'm not sitting in front of a computer all day long. As much as it pains me to say it... The Internet is not a priority anymore. *gasp* I know, I know. Actually, I have a whole list of things that are more important right now:
Finishing my sister's wedding gift. (Seriously, you guys. It'll never be done in time.)
Dealing with drama at work.
Playing with the cat.
Not going to the gym.
Watching Neighbours and The O.C.
Planning our trip to the States in November.
Anyway, I just wanted to let you know that I haven't forgotten about you. I plan to return to my posting days of yore soon, I promise.

Tuesday, September 7, 2004
| | |
| --- | --- |
| | [10] |
Uh-oh Brigita... Somebody's calling out your boyfriend Sting as the most hated man in rock. Them's fightin' words! (For the record, I think Fred Durst should be a lot higher on that list.)

Monday, September 6, 2004
| | |
| --- | --- |
| | [4] |
Who's a damn pincushion? I am. I got stuck with needles three times today! First I had to go to a "haematology" specialist in yet another (probably) vain attempt to find out what's behind my raised ferritin levels. The real danger is hemachromatosis, but the doctor thinks it's unlikely I have it since I don't have a corresponding raised saturation of iron. He wanted to rule it out though, so he scheduled a bunch of tests. They had to take seven vials of blood! I had to get a bunch filled from one arm, then come back fifteen minutes later to do the other! (And that butcher of a nurse took, like, four tries to hit veins on both arms.) Then in the afternoon I headed off for my first round of allergy desensitisation therapy. The doctor injected me (on the back of the arm this time) with a tiny amount of the stuff I'm allergic to. Then I had to sit in the waiting room for half an hour to make sure I didn't go into anaphylactic shock. Fun. As I SMSed to the Snook afterwards, "He didn't have to inject steroids into my heart, so I guess that was a success." Now I just have to do that, oh, every week for the next three years. Would've been cheaper to just buy stock in Zyrtec, I guess.

| | |
| --- | --- |
| | [6] |
I'm absolutely ecstatic to report that at long last, we have partial TiVo-isation of our household. The Snook has managed to get MythTV up and running with a downloaded Australian program guide. We don't have enough processing power at the moment to play and record at the same time but the mere scheduling of recordings is enough to satisfy me for the present. Within five minutes we had it set up to record every episode of The O.C., Dead Ringers, and Iron Chef. The first actual program we recorded? This one. (It wasn't porn! It was a fascinating medical documentary, I swear!)

Sunday, September 5, 2004
| | |
| --- | --- |
| | [1] |
You know what scares cats? Hail. Man, we've had, like, four storms pass through in the past 24 hours. I've never experienced thunderstorms in cool weather before.






Saturday, September 4, 2004
| | |
| --- | --- |
| | [3] |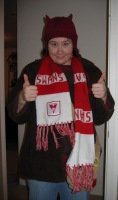 Go the Swannies!
I attended my first Aussie Rules Football match tonight! Snookums and I headed out with our friend Smithers to Telstra Olympic Stadium to watch the Sydney Swans demolish the West Coast Eagles. I know very little about Aussie Rules, but thankfully it doesn't seem to have as many crazy obscure infractions as rugby. Basically it's just a bunch of really tall fit guys in short shorts jumping and kicking and running for two hours. That's a sport I can get behind! (Plus I already knew the Swannies' fight song, so I figured what the heck. It's the closest I'll get to a Notre Dame game this year.) We drank beer and ate hot dogs and tried to start the wave and cheered on Bazza and the lads... and later we huddled in the concourse trying to keep warm as the freezing cold rain poured down. Unfortunately my camera batteries died so I couldn't get any pictures of our bedraggled selves until I got home. It was pretty fun though... Next week we take on St. Kilda! Go the Swannies!

| | |
| --- | --- |
| | [3] |
JK Rowling has offered up a peek at two sentences from Harry Potter and the Half-Blood Prince. Any guesses who they're talking about? My wild guess is that it's one of Harry's grandfathers (probably the wizarding one, as I doubt it'd be Marge's Dad).


That was a hell of a comment spam attack, huh? Assholes. Snookums and I are working on a prevention system. (Every IP address was a different open proxy.) I'm still cleaning up the aftermath. The "recent comments" list will look funny for a little while.

Friday, September 3, 2004
| | |
| --- | --- |
| | [13] |
Tales of the Weird
I stepped out of the break room after lunch today to be confronted by the weirdest little man: he had a ratty, pointy face; he was sporting a massive comb-over; and he was wearing an extremely fluffy white angora sweater. As my eyes adjusted to the cloud of fuzziness that was his torso, I realized with amazement that it was a woman's angora sweater. It had puffy shoulders and everything! It was like meeting a 60-year-old Ed Wood. He started mumbling to me about angora so I took him over to the case where we keep the balls. (They're expensive so we keep 'em under glass.) He started telling me about his beloved sweater and how he bought it for five dollars at an op shop, and how it's his fondest wish to have another knit just like it. I went to get Losh, the other manager. "Losh," I said. "I have a complete loony over there who wants to get a 100% angora sweater knit and I don't know what to quote him." So she came over to deal with him. After much hemming and hawing, she quoted him a price of $700. That's $500 for the wool and another $200 for the knitting. Seven hundred dollars for a sweater, of which we'd need 50% upfront. Undeterred, he picked out a pattern and Losh set about measuring him. Afterwards he disappeared to "go get the money." "He'll never come back," I said. "He probably just wanted some attention." Lo and behold, an hour later he was back with the deposit. I couldn't believe it. I deal with some characters, I tell you...

| | |
| --- | --- |
| | [4] |
Holy crap! Craigslist Sydney has finally launched! Not much there yet but hopefully it'll grow. I was surprised to see a link about US voter registration on the home page, but the explanation was delightful: "We're including a link to this page on our non US sites just to show that we're working hard to restore democracy to the US." Brilliant.

Thursday, September 2, 2004
| | |
| --- | --- |
| | [6] |
Anybody still looking for a last minute wedding gift for my sister? She'd love a genuine Ultimate Warrior WWF Championship belt, I swear. Hee. (Link courtesy of Chandler.)

Wednesday, September 1, 2004
| | |
| --- | --- |
| | [3] |
Bring on the election.
I was chatting to an old grandma at the shop today and she mentioned that she was from Arizona. "Oh, nice!" I love meeting fellow Americans. (Well, the nice ones anyway.) She said she'd just been reading about the Republican National Convention in the newspaper. Not wanting to say anything too controversial - at least, not before she'd paid for her wool - I just kinda nodded and said I'd seen something about it on the news. "You know," she said, "I'm a registered Republican but I believe in voting for the man, not the party. And I'm not voting for that man again!" I broke into a big grin. Right on, lady! Later that afternoon a woman from New York recognized my accent and blurted out that she hoped I'd registered to vote. I told her the story of the Arizona lady and she was delighted. So party on, Republicans. The more you tighten your grip, the more moderate voters will slip through your fingers...

| | |
| --- | --- |
| | [1] |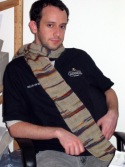 I've been obsessed for weeks with this 127 Print Italian wool that we've got at the shop so I finally bought a few balls last weekend and knitted it up into a scarf. Here's Snookums modelling the finished product. Isn't it pretty? The colors just come out like that when you knit it. I tried to combat the dreaded stockinette-curl with a border of garter stitch and regular thin garter stitch bands between the color stripes, but the darn thing still has a tendency to roll into a tube. *shrug* I still like it.



Notes: For those wishing to do something similar, I used three balls in total. Casted on 35 stitches on 6mm needles and did a few rows of garter stitch before starting the pattern. I worked out that I there was enough space between color patches to do three rows of stockinette, then four of garter, and then back to stockinette. It only got irregular where I changed balls.



| | |
| --- | --- |
| | [11] |
I'm fairly certain that everybody that wants a Gmail account already has one, but if you don't, just leave a comment. I've got five more invites to give out.

archives
You can search through the archives by post keyword using the form on the left, or you can browse by month using the links at the bottom.
"Moblog" refers to posts and images posted directly from my mobile phone.

"PW Blog" refers to posts recovered from my very first weblog, which dealt with news related to my college dorm.