Sunday, September 30, 2007
| | |
| --- | --- |
| | [9] |
Moblog: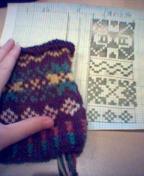 Steeking Workshop
I am the Hermione of fairisle knitting today! It's a little embarrassing. Also: other than one lady's 10-year-old daughter, I'm the youngest person here. Rock and roll...

Friday, September 28, 2007
| | |
| --- | --- |
| | [1] |
Moblog: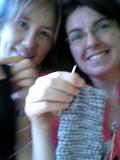 On the train heading north...
We're all packed up and on our way to Knitters' Guild Camp! Wish me and Miss Fee luck as we battle the blue-hairs and practice our mad skillz...

Thursday, September 27, 2007
| | |
| --- | --- |
| | [5] |
Why aren't all beer bottles screw-cap? I'd even extend the question to include wine as well.

| | |
| --- | --- |
| | [10] |
G

o

oooooo

d

news! You remember that job I was going for? I have another interview next Friday.

Tuesday, September 25, 2007
| | |
| --- | --- |
| | [2] |
Remember my cousin Tony and his girlfriend Molly, who visited us while they were studying here a few years back? They just had a baby girl! I think some congratulatory Tim Tams are in order.

| | |
| --- | --- |
| | [2] |
Wisdom from my friend Sharon: "Reno[vation] photos are porn for the thirtysomethings." Too, too true.

In related house news, things are still progressing. The bank is sending someone out to do a valuation, which seems to be the last big hurdle. Sadly, I can feel my my hopes for a Halloween Housewarming party slipping away. I just don't think we'll be in there in time.


RunningBlog: The official Race photos are up, and once again I'm giving everyone the big thumbs-up. Why do I always do that? I must run that way. And jeez, I'm all hunched over in this one. That's probably when my legs were killing me. (No photos of the Snook, sadly.)

Monday, September 24, 2007
| | |
| --- | --- |
| | [1] |
The Amazing Adventures of Kavalier and Clay
I forgot to mention that part of my sluggishness at the race yesterday may have been due to the six hours of sleep I'd had the night before. Why? Because I was up til 1am devouring this book! Thank you guys so much for recommending it. I was trying to describe it to a friend today: "Well, it's about comic books. But wait, no, it's more about the guys who write this comic book. And they're cousins, and they're Jewish, and it's all taking places in the 30's and 40's, so it's also about WWII and Nazis and Hitler and families and radio serials and Orson Welles and Houdini and escapism and surrealism and love and madness... And Golems. Big mythological Jewish superhero thing made out of clay. Just trust me; it's a really good book."

You know, I'm kinda glad that I didn't read the book before now. While you don't have to know anything about comics to appreciate it, I felt like my recent forays into the world of superheroes (and Bryson's memories of comics in Thunderbolt Kid) really put me in the right frame of mind. I just found it so fascinating. And now I really need to find some of those Escapist books...

| | |
| --- | --- |
| | [3] |
Funniest. Knitting Project. Ever.
As part of our barter arrangement for the Baker's Edge pan, I'm knitting a Yoda Halloween costume for Kristen's son Alexander. I found a great pattern for a felted Yoda hat along with a crossover Yoda sweater. I finished knitting the hat last week, so it was finally time to felt the sucker. I was a bit nervous... but it worked! Check out the before and after: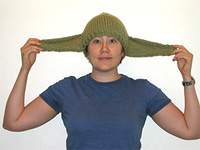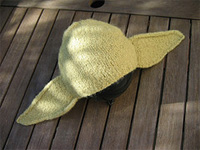 How cool is that? I blew up a balloon to the size of Alexander's head, and that's what the hat is blocking on in the second picture. Now I just need to get some fabric stiffener so I can make the ears stick out properly. And the jumper's all knitted; all I have to do is sew it up. I can't wait to see what it looks like on him!

Sunday, September 23, 2007
| | |
| --- | --- |
| | [4] |
Another possible Halloween decorating idea: Witches' Jars. Creepy!

| | |
| --- | --- |
| | [4] |
RunningBlog: Sydney Running Festival
The Snook and I staggered out into the early morning light today for a bit of running... along with 20,000 other people. We caught the train to Milsons Point and joined the crowd waiting for the start of our second 9K Bridge Run. (Last year's blog post.) It was cool in the shade, but the sun was warm and there wasn't a cloud in the sky. Soon we were off. We did pretty well getting up onto the bridge, and going downhill onto the Cahill Expressway is always fun. We hit the first drinks station at 3.5km, and that's where I somehow lost the Snook. It was rather unbelievable really. I mean, we're both giants and we were both wearing bright red baseball caps, but somehow he'd just vanished. I persevered onwards. I hit the 5K mark at about 33:00, so I was on track for the same pace as last year. Unfortunately that's where the course veers into the Domain, and I ran into some serious trouble on those hills. It's not just that my legs felt like rubber; for the first race ever, I was actually having some significant chafing issues. I'm pretty sure I wore the same shorts in the City 2 Surf, but today they were just KILLING ME. So I ended up walking a fair bit of the latter half of the course. Once I got back out onto the main road with a straight shot to the Opera House, I picked up the pace. My speed was also helped by the fact that I passed right by Julian from The Chaser standing at the side of the road with a bloke with a video camera, and nothing motivates like the fear of the entire nation seeing your chubby butt walking towards the finish line. I crossed the line at 62:00, which is about four minutes or so slower than last year. I can live with that. I found the Snook not long after, and we had a laugh at discovering that he'd only finished two minutes before me. We must've been within sight of each other the whole time yet somehow I never found him. I'm happy to report that the post-race organisation was much better this time, and it didn't take us long to turn in our timing chips and receive our medals. Unfortunately none of the buses were running yet (because the marathon was still going) so we had to walk the whole way home. Dudes, my thighs KILL.

Saturday, September 22, 2007
| | |
| --- | --- |
| | [5] |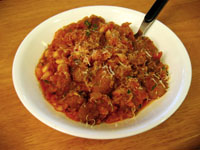 Sausage and Bean Stew
A couple years ago, my old Epson buddy Kiri invited me over to her place for a birthday party. One of dishes she had was a sort of gourmet beanie-weenies. "Mmm, what's the magic ingredient in this?" I asked. "Fennel," she replied. My jaw dropped. Fennel, you see, is also called "aniseed," and it's basically the stuff that gives licorice its taste. I hate licorice. But evidently cooking fennel reduces that strong medicinal taste. It was yummy! I asked for and was granted the recipe, which I've made a few times since... most notably last night. Recipe after the jump for those who want it. [more...]

| | |
| --- | --- |
| | [6] |
Hooray! Mary-Helen finally got her invite to the party. Any other Aussies finally get their invites?

Friday, September 21, 2007

I just found out that Gleebooks is hosting a talk this coming Tuesday with Nikki Greenberg about her new graphic novel adaptation of The Great Gatsby. "At this event, Nicki will use projector and screen to take us through the process of creating a graphic novel. A must for artists and graphic novel devotees." Sounds pretty cool, huh? Tickets are $10. Let me know if you're interested in going!

| | |
| --- | --- |
| | [2] |
Home Inspection Nightmares. Yikes. My favorite is the tobaccy tin.

| | |
| --- | --- |
| | [5] |
Awesome. I think I've just found the perfect piece of furniture to complement the house we're buying. The only question is: pandas or sharks?

| | |
| --- | --- |
| | [4] |
EEP! Sometime in the night, Ravelry announced a "limited edition beta run" of T-shirts! (You have to click on the home page to get the link, which is why I almost didn't see it.) I know I should've waited to combine postage with other people, but I couldn't resist making an order straight away.

Thursday, September 20, 2007
| | |
| --- | --- |
| | [6] |
Hmm. Any of you know how to interpret a Strata Inspection Report?

| | |
| --- | --- |
| | [1] |
No, I did not talk like a pirate at any time yesterday. However I will admit to chuckling at the "Pirate Sale" sign in the window of our local Student Flights: "If it be on the sea, it be on sale!"

Wednesday, September 19, 2007
| | |
| --- | --- |
| | [7] |
Two thoughts on the whole "Pumpkin" thing:
Man, you couldn't make this stuff up. If they catch this guy, it's going to be the Australian criminal case of this century.
I bet Pumpkin Patch are loving this free - albeit sordid - publicity.
I wonder if the US cops will catch him...

| | |
| --- | --- |
| | [10] |
"You gotta loosen up, my friend. You'd feel a hell of a lot better if you'd rip into the occasional customer." - Randall from Clerks

I finally did it. You know, there's only so much abuse one person can take. And today, on the phone, the biggest beeyotch in the world finally made me lose my cool. It had already been an extremely busy day, and I was trying to cover the lunch shift alone so Chrystalla could get something to eat. The phone rang, and as soon as I picked it up the customer started attacking me. She said she'd rung that morning to order some wool and whoever she'd spoken to had "promised to call her back in two hours," and she'd been sitting in her house that whole time unable to go anywhere for fear she'd miss the call. And she was terribly angry. I went into extreme-politeness mode, apologizing and trying to explain that we'd been really busy, and unfortunately there didn't seem to be any note about her wool order, so she'd have to wait until Chrystalla got back. She proceeded to RIP ME A NEW ONE. "If I'd been IN THE STORE, it wouldn't have taken two hours to find out about my yarn!" "Yes, ma'am, I'm very sorry, but it's difficult to ignore several customers standing at the counter to deal with phone enquiries, which is why she said she'd call you back..." "But I phoned FIRST, so I should've been BEFORE THOSE PEOPLE!" I kept trying to placate, explaining that I didn't really know the details of what she was after, so it might be that Chrystalla was trying to call the supplier or query the warehouse or whatever. She was having none of it. "I AM EXTREMELY ANGRY," she snotted. "I've never been treated like this from a shop before." "Well, ma'am, if you give me the details of the yarn, I might be able to chase that up for you." "WHAT, you're going to do in five minutes what she couldn't do in TWO HOURS?" Starting to get frazzled now. I finally convinced her to tell me what wool it was, and I realized that there had been a note, it just didn't have a name on it (and if she'd told me the wool to begin with, it would've saved ten minutes of arguing). "I've actually got your order here, and I've been trying to fill it," I said. "I've got all of one colour, but we're missing two packets of the second. I'm trying to locate it for you." "WELL, HOW MUCH LONGER IS THAT GOING TO TAKE?" Deep breath. "Well, I do have several customers waiting at the moment, so I'm going to have to call you back." "Can you PROMISE that you'll call by the end of the day? Because otherwise I'LL TAKE MY BUSINESS ELSEWHERE."

That did it. I barked, "Fine. I'll call you by the end of the day. AND THANK YOU, FOR BEING SO PLEASANT." And I slammed down the phone. The other customers waiting at the counter applauded.

Damn, it feels good to be a gangsta.

Update: Chrystalla just told me that she finally rang the customer back, and evidently I must've "put her in her place." She didn't say a word about her conversation with me. HARRUMPH.

Later Update: THAT COW! She called Albert to complain that I was rude to her. Whatever.

| | |
| --- | --- |
| | [4] |
Russell has come up with another way to get back in my good graces. I'm starting to relent.

Tuesday, September 18, 2007
| | |
| --- | --- |
| | [3] |
RUUUUDY!
The universe has rewarded me for the whole Russell-rooting-for-Michigan debacle. We sat down tonight after dinner to watch this week's episode of My Name is Earl, where Earl gets a job as a salesman in an appliance store. As he was frantically trying to unload an old lady's appliances in the rain, the music began to swell and I joked to the Snook, "Hey, that sounds like the Rudy theme!" Which was funny, because, you know, Sean Astin was guest-starring. I started to put two and two together. Later, Sean steals Earl's sale and Earl decides to give up being a salesman... only to have Charles S. Dutton come out to give him a pep talk. "Holy crap! He was the groundskeeper!" I exclaimed. Dutton gave the exact same speech he gave Rudy when he didn't make the team. Then Earl went to turn in his badge to the store owner, and -- "OHMYGOD, IT'S THE GUY WHO PLAYED DAN DEVINE! They're gonna all come in and put their coveralls down on his desk or something!" And they did.

Greatest episode of Earl ever.

| | |
| --- | --- |
| | [1] |
I'm stressed, and we don't even have the mortgage yet!

| | |
| --- | --- |
| | [2] |
Me: Dude! The next time we're in London, we should take the bus home.
Snook: A bus trip through Afghanistan sounds like a barrel of laughs.

| | |
| --- | --- |
| | [1] |
RunningBlog: Remember how my friend Holli's husband was running an ultra-marathon (50 miles!) to raise money for lupus? Well, HE DID IT! Congratulations, Brian! I can't even imagine how tired he must feel today. If you're a slack-ass like me and you forgot to donate, you can still contribute. (He's really close to reaching his funding goal.)

Monday, September 17, 2007
| | |
| --- | --- |
| | [13] |
MUCK FICHIGAN
Me: *GASP!* You are DEAD to me, Russell Crowe!
Snook: What'd he do?
Me: He gave a pep talk to Michigan before the damn game! He's all buddies with their damn coach!
Snook: You should write him an indignant letter, and point out that there's a Notre Dame campus about 500 meters from the bloody South Sydney Leagues Club!
Me: Too right.

| | |
| --- | --- |
| | [9] |
Hey Sock Knitters: Advice Please!
I'm currently working on these Vinnland socks and I'm having a bit of a problem. They're knitted toe-up, and so far the toes look disproportionately roomy on my foot. I'm using a 2.75mm needle (bigger than the pattern because I'm such a tight knitter) but I'm still getting a tighter gauge. I think the issue is my actual food. I have quite a slender foot with a high arch, so I'm aiming for a 10" foot circumference. That means I've got lots of extra room down near my pointy toes. I don't really want to knit a smaller size, as that might make it difficult to pull them over my ankles (once I actually get that far). So I figure the options are either to reknit the toes with less stitches and then somehow work in some increases as I go up the foot, or possibly to reknit the toe in a smaller needle and then get larger as I go. Or, of course, there's always the option to just leave them as is. They'll probably felt up a bit at the toe from wear anyway, right?

Sunday, September 16, 2007
| | |
| --- | --- |
| | [3] |
Thanks to everybody who came to the Nicky Epstein event at the shop on Friday. It was a huge success! We had nearly thirty people (including an actual fella) and everyone seemed to have a great time. I've posted some pictures from the day here. Nicky and her husband Howard are just the loveliest people, and they stayed for hours til the last person had been hugged and the last book had been signed. I love it when a plan comes togther!

Saturday, September 15, 2007
| | |
| --- | --- |
| | [7] |
Hairspray
I talked the Snook into going with me this afternoon to see Hairspray... and I absolutely LOVED it. Loved everything. The music, the costumes, the joy. I love love LOVE Nikki Blonsky, and when she got to kiss dreamy Zac Efron at the end I squealed to the Snook (forgetting momentarily that he was not, in fact, an enthusiastic girlfriend): "And she was working at an ice cream parlor when she got the part! Isn't that the cutest thing EVER?!" I had been expecting to merely tolerate John Travolta's stunt-casting, but he was fantastic. I can honestly say this is the only Travolta performance I have ever enjoyed. He just disappeared completely into the role, and I can only imagine how difficult it was to dance in that (amazingly realistic) fat suit. I even loved perky little Amanda Bynes, though she did seem to get progressively more orange throughout the movie. (The Snook speculated that it was to lessen the contrast between her and Seaweed.) I bought the album off iTunes as soon as I got home and I imagine I'll be boppin' along to that for a while now. If you like musicals, this one is highly recommended.

(And if you don't, go anyway. You'll survive. The Snook didn't love it, but he didn't fall asleep either.)

Friday, September 14, 2007
| | |
| --- | --- |
| | [2] |
My friend Nora's cousin Max recently performed performed as Napoleon Dynamite at some sort of assembly... and now it's on YouTube. And it rocks! I love how you can see him really start to get into it towards the end. That is a level of coolness to which I could only have aspired in high school.

| | |
| --- | --- |
| | [1] |
Name That Color. Now that is a phenomenally useful app! Especially to someone like me, who is constantly trying to come up with descriptive names for colours of knitting yarn. (Link courtesy of Patrick.)

| | |
| --- | --- |
| | [1] |
I was pleased to see that our very own Pierre the Yarn Snob got name-checked at the end of this Knitty article on depression... until I realised that the author referred to Meg as a guy! Quelle faux pas!

| | |
| --- | --- |
| | [4] |
New Knitty is up!

Updated to add: Oddly, I liked most of the cardigans and hats and disliked most of the socks. That's weird. I really dig this yoke sweater, and this little bag is so cute. I also think I could wear this funny hat, though I prefer it in the non-slubby yarn. There are a few things that make me scratch my head though. This seems like a prop in a future Darwin Award story. It's a total strangulation waiting to happen. These, I'm sorry to say, are some of the ugliest socks I've ever seen. And the Woodins? Are simply mystifying. Though that's not necessarily a bad thing.

Thursday, September 13, 2007
| | |
| --- | --- |
| | [4] |
Attention, my fellow American-Australians! The David Jones Food Hall in Sydney currently has a massive display of Libby's canned Pumpkin Pie Mix. Pumpkin Pie Mix! In Australia! I literally GASPED when I saw it today. And then I gasped again when the woman at the checkout charged me NINE DOLLARS for it.

| | |
| --- | --- |
| | [2] |
Don't forget... the Nicky Epstein Book Signing is tomorrow! I've been unpacking boxes of her books all afternoon. We've got all three "Edge" books ($49.99 each), "Knitted Flowers" ($39.99), and the new "Knitting Never Felt Better" ($39.99). See you tomorrow at the shop!

| | |
| --- | --- |
| | [3] |
Sometimes I get really tired of being the "knitting Rain Man," the person who's expected to know every single knitting pattern and yarn EVER, and who constantly gets interrupted all day by questions about it. And I'm not talking about interruptions from customers; I'm talking about staff. It's flattering to be the go-to person, but I think I'm about done with it.

Wednesday, September 12, 2007

Good news for Pommies (and Steve and Nath): British pubs have been spared from switching to metric and will continue to sell beer by the pint.


Google*: It's still on, baby! Things are on the back burner, but I've been in contact with HR and she's still hoping to find a position for me. Sweeeeet.



* You guys all guessed that, right?



Monday, September 10, 2007
| | |
| --- | --- |
| | [8] |
Any of you Yanks willing to send me a Baker's Edge pan? They look awesome, and I've never seen them here.

| | |
| --- | --- |
| | [1] |
I am converting people to the way of the truffle. *drool*

Sunday, September 9, 2007
| | |
| --- | --- |
| | [1] |
No, Self, you cannot send any Australian Idol votes this week, because you blew your entire SMS budget sending snarky text messages to Amy during the show.

| | |
| --- | --- |
| | [2] |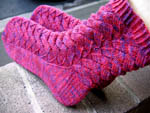 Monkey Socks
Well, I finally caved to peer pressure* and knitted the damn Monkey Socks. They turned out pretty well! The yarn is the Lang Jawoll Cotton I got at the Craft Show earlier this year. (I forgot to use the matching thread to reinforce the heels and toes. D'OH!) I did them on 2.75mm needles to compensate for being such a tight knitter, and they still only just fit over my ankle. The combination of the lace stitch and the cotton yarn doesn't make for a very elastic sock, but they're still quite wearable. The only change I made to the pattern was to adapt them for knitting on two circs (so I could knit both at once).



* More than 1300 people have already knit this pattern and posted it to Ravelry, and 700 more have it in their queues. I don't get the popularity. It's a nice pattern, but 2000 people? That's NUTS.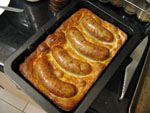 "...I was about your age then, maybe a little older, and in those days we always had a hot tea in the kitchen at five o'clock. I can remember exactly what was on the table that evening. It was my favorite thing of all, toad-in-the-hole, and my mum could make toad-in-the-hole like nobody else in the world. She did it in an enormous pan with yorkshire pudding very brown and crisp on top and raised up in huge bubbly mountains. In between the mountains you could see the sausages half buried in the batter. Fantastic it was..."
- Danny's father in Danny the Champion of the World

How awesome is it that I live with someone who will indulge a whim and cook me a special dinner based on something out of a beloved children's book? It was delicious.

| | |
| --- | --- |
| | [1] |
Best. AskMetaFilter. Question. EVER. "Why is Justin Timberlake so hottttttt?" I actually tried to give a semi-serious answer. (It'll probably get deleted in two seconds.)

Saturday, September 8, 2007
| | |
| --- | --- |
| | [1] |
Congrats to my sister and her husband on signing the lease for the Barbie Pistachio Dreamhouse up in northern California. (FIVE bedrooms?! The mind boggles.) I can't wait to come visit!

(In related news, Ma and Pa Snook have just checked out our prospective purchase and have given their hearty approval. Hurrah!)

Friday, September 7, 2007
| | |
| --- | --- |
| | [2] |
Our apartment smells so freakin' good right now.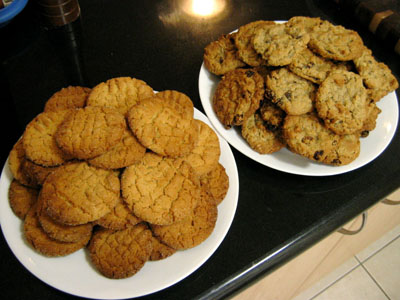 That's three dozen peanut butter and three dozen oatmeal raisin, baked in honor of today's Sydney Metafilter BBQ. Of course, it's rainy and miserable outside, so we'll be retiring to the Alfred instead...

| | |
| --- | --- |
| | [2] |
If we get the new place, I think some cat shelves are definitely in order... (And possibly another cat!)

| | |
| --- | --- |
| | [15] |
HA! It took the guys from the Chaser to finally make Sydneysiders see the funny side of APEC. I hope Julian and Chas don't end up in jail for six months...

| | |
| --- | --- |
| | [11] |
Big Secret
I really am crap at keeping secrets. This makes, what, six days? And that's a total personal record. Anyway: we're buying a house.

Seriously.

Well, it's not 100% sure yet, but we've cleared the first few hurdles. We just had the building and pest inspection tonight and all is well. The Snook's parents are coming down this weekend to have a look. We've got a solicitor who has started the strata report and various conveyancing things. If all goes well, we'll be settled and moved in by Halloween.

Oh, where is it? Not telling. It's not on the market yet, and we don't want you to gazump us. But trust me, the story of the finding of this place is pretty unbelievable. More to come in the future...

Wednesday, September 5, 2007

In case you haven't seen the previews yet, my friend Raelee's new film The Final Winter opens tomorrow! I'll go see it, even though I know less than zero about rugby league.

| | |
| --- | --- |
| | [4] |
Wonder Woman Jumper. That is truly one of the coolest pieces of knitting I've ever seen. (Link courtesy of Bex.)

| | |
| --- | --- |
| | [3] |
Nicky Epstein Update!*
I just had a call from Nicky's PR people, who said that she'd also like to do a demonstration at the book signing next Friday. So we're going to have a demonstration from 3:30-4:30, and then she'll sign books for whoever wants. And obviously we'll probably end up keeping the store open past 5:00 for the stragglers...

* Awaiting anguished wail from Mary-Helen in 3... 2... 1...


Does popular culture have any effect on wine sales? To the extent that the Snook and I always giggle that we're "not drinking any f**king Merlot," I'd say it does.


RunningBlog: Oh, wow! I just discovered today that the Nike+ site now offers embeddable widgets. I've replaced my old training log in the right-hand column with a sexy new Flash one that shows my last five workouts. (The slow ones are walking to/from work.)

Tuesday, September 4, 2007

Deep-fried latte. *shudder* Somewhere in Darlinghurst, the Snook is gagging quietly to himself... (Link courtesy of Just Jussi.)

Monday, September 3, 2007
| | |
| --- | --- |
| | [10] |
I don't know what's more annoying: that George Bush is arriving in Sydney tomorrow and can't even spell the name of the city, or that John Howard laughed it off because "Americans are bad spellers." I WON THE COUNTY SPELLING BEE, YOU CRAZY-EYEBROWED FOOL!


Mario Andretti woulda sure been proud...
I know I shouldn't be, but sometimes I'm surprised to discover that, yes, I really am a capable adult. This morning I had errands to run in both Clovelly and Rosebery, and I was dreading the thought of sitting on multiple buses. "Hey!" I thought. "I can take the car!" So I did. I used Google Maps to plan out my route and hit the road. The first stop was a relatively straight shot down Botany Road, which was cool, except for the parking, which was not. But I managed. Getting from Rosebery to Clovelly wasn't too complicated, and I even negotiated some roundabouts. Coming back home was the fun bit. And I mean fun in both the literal "Wow! Driving a little car on windy roads with a view of the ocean is FUN!" sense, and also in the ironic "Man, Google Maps was smokin' some crack with these directions to get on South Dowling" sense. Now I'm home in one piece, and basking in the pride of having managed my first solo driving trip in Sydney. And I didn't even run into any APEC fences!

Sunday, September 2, 2007
| | |
| --- | --- |
| | [6] |
Anatomically Correct Knee Socks. Oh, those are sweet.

| | |
| --- | --- |
| | [5] |
Urge to kill rising...
My knitting nemesis is leading a class today, and I keep overhearing snatches of conversation that MAKE MY BLOOD BOIL.
"When we're all dead, no one will knit anymore! Young people don't want to knit!"
"How in the world would I have ever learned that without you to show me? They print all these fancy books, but no one can learn something so difficult from a book."
And this was a classic:

Knitter: Where can you get cheap wool for a rug? Back when I was young, you'd never use expensive garment wool for a rug. I just want something cheap.
Me: (with a laugh) Big W.
Knitter: Oh, but I don't want acrylic!
Nemesis: (stage whispering so she thinks I don't hear) LINCRAFT AND SPOTLIGHT HAVE INEXPENSIVE WOOL...

Saturday, September 1, 2007
| | |
| --- | --- |
| | [7] |
I hate Facebook. There. I said it. It's just the most painfully difficult site I've ever used on the Internet (and that includes MySpace). To whit: Not long ago I got an e-mail alerting me to the fact that an old friend from college named Michelle Sweet had added me as a friend. Gee, that's nice. I'd like to add good ol' Mitchell (as we called her) to my list. I cannot for the life of me figure out how to do that. Searching for her name brings up nothing. Browsing through 160+ profiles from my graduating class brings up nothing. How the hell did I get an e-mail from her if she's not on there? Also, I tried to join the "Sydney" network and it asked me to provide a "valid Sydney e-mail address." What the hell does that mean? I put it my normal one and got rejected. Why is everything on this site so damned difficult?

| | |
| --- | --- |
| | [1] |
Moomin-tattie! That. Is. Brilliant.

archives
You can search through the archives by post keyword using the form on the left, or you can browse by month using the links at the bottom.
"Moblog" refers to posts and images posted directly from my mobile phone.

"PW Blog" refers to posts recovered from my very first weblog, which dealt with news related to my college dorm.