Thursday, February 2, 2012
| | |
| --- | --- |
| | [1] |
Princess Bride Wine From Alamo Drafthouse - Neat!

Wednesday, February 1, 2012
| | |
| --- | --- |
| | [2] |
Dinner Tonight: Slow Cooker Coq au Vin
This was a new recipe for us! The Snook made it up in the crockpot in the morning before work. He left out the flour to make it low-carb. We had it with some cauliflower mash. It was a really nice dish to come home to, and it made plenty of leftovers. Highly recommended!

Tuesday, January 31, 2012
| | |
| --- | --- |
| | [1] |
Super Tuesday Annual Bike Counts - Bicycle Network Victoria - Australian cyclists! Make sure you get out on your bike on March 6th to be counted.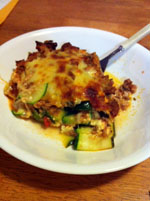 Dinner Tonight: Primal Zucchini Lasagna
This is a good recipe for building up your freezer stocks. I used about six big fat zucchini, and that was more than enough. For the meat, I used half ground beef and half ground pork (with some extra oregano, fennel seed, and chili flakes to make it more like Italian sausage). I also opted for the mushrooms for a little extra umami. Here's a tip: be sure to drain your browned meat if it's dropped a lot of fat/water. I always skip that step, and it does make the final dish a little sloppy. (Mostly just an aesthetic issue though - it still tastes good!) And obviously this is a low-carb lasagna that will fill you up without pasta. :)

Monday, January 30, 2012
| | |
| --- | --- |
| | [12] |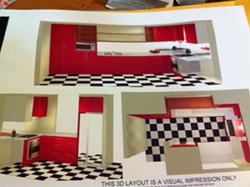 Our Kitchen
We have been talking about renovating our kitchen ever since we bought the house 4+ years ago. I mean, this? Pretty crappy. We replaced the cooktop and oven first, but that's as far as it went. I've had a New Year's Resolution for the past two years to Do Something About the Kitchen, and now the wheels are finally in motion. We made contact with three different custom kitchen places: two small companies, and then the big one (Harvey Norman Renovations). One of the smaller companies came out to measure and then never sent through the final quote. The other one measured and invited us to the showroom, but they wouldn't give us a detailed quote without a deposit. We called Harvey Norman mostly on a whim, figuring that they would be expensive and crappy. But they were AWESOME. Not sure if it's just the designer that got assigned to us, but Scott was fantastic. He was punctual, good with communication, friendly, and he had great ideas for our space. (He comes from an architect/designer background.) We spent 3+ hours at HN Alexandria on Saturday discussing options and appliances. The final quote for everything came in at a couple grand more than we'd hoped, but we talked it over with the Snook's Dad and our feeling was that it's going to be worth it. HN will project manage and handle everything, which we like. (We're so not DIY.) The cupboards are going to be SHINY RED polyurethane. Scott also introduced some wood to create feature shelves over and around the sink. The countertops are going to be stainless steel. (Huzzah!) The floor is going to be black and white checkboard tile. And the best part? We are getting an enormous side-by-side fridge that is going to DOUBLE our fridge/freezer volume. I expect it to be LIFE-CHANGING. (We also got a new kick-ass rangehood, an integrated dishwasher, and a convection microwave.)

The only downside? Apparently we'll be without a kitchen for THREE WEEKS during the build. (We're having them strip it back to bare walls to redo the floor and wiring.) So that's going to be a challenge. I expect we'll try to get by with the microwave and barbecue as best as we can. Anybody ever survived one of these renovations before?

Sunday, January 29, 2012
| | |
| --- | --- |
| | [1] |
Custom Power Rangers Hoodies - Awww, sweet! But screw buying one; I'll KNIT me a Pink Ranger hoodie!

Saturday, January 28, 2012

Succulent Collection crochet patterns - These are actually really pretty and neat! I kind of want to make them.


« previous week

welcome
I'm Kris Howard, a thirtyish Hoosier living in Sydney, Australia. I work as a Technical Business Analyst for one of Australia's biggest banks. I knit and sew and have crazy adventures. This is my weblog and personal site.
recent comments
Jenny: "Looooooooooove..."
Emily: "Love this! (clare now secretly wants a penny farthing). BUT 14 - surely German, no Pom, and NOT hips..."
Ptinutz: "Good to see you so active and happy with your job, you seemed a little reluctant at the beginning. ..."
Kris: "In the summer they will. In the winter probably not so much. We'll see. It's an experiment. (This is..."
Todd Diakow: "To add a little change I added red onion and red pepper to he chicken stuffing. Beauty about this re..."
JulieK: "Will they get at least 6 hours of full sun a day? If not, yes, they'll probably just die. Or grow a ..."
Jenny: "Stupid cute..."
WeeB: "Good luck Kris! You'll amaze them all without any trouble. ..."
[see last 50 comments] [RSS feed]
knitting (in progress)
recent craft projects
» Laurel Dress
» Self-Replicating Mittens with QR Code
» Juno Regina Lace Scarf
» Catriona Vest
» Martha Stewart's Chocolate Chip Cookie Icebox Cake
[see all crafts]
recent search requests
» salmon soy chilli salad
» jamies duck salad with giant croutons
» thewebs goddes of birth
» harris farms sydney marshmallows
» hen pincushion pattern
[see last 100]
weblogs
a room of my own
Amanda Palmer
Anton Emdin Illustration & Cartoons
Carbo-Mobile
Daring Fireball
defective yeti
Divine Comedy of Errors
Get Rich Slowly
Ghost in the Machine
Gift and Mystery
Girls of a Certain Age
Grab Your Fork
jlcfyi
jp knit 'n' natter
Just Ask Christopher
Ken Jennings Blog
knitabulous
Krisalis
Lemon-Lime
Little Tiny Hangers
Lots of Co.
miftik
missfee
Neil Gaiman's Journal
not martha
PomPom
Pop Culture Junk Mail
Random Knits
Rose Red
Scrubbles
sh1ft.org
Shades of Grey
smitten kitchen
Sore Eyes
Subversive Anarchic Lesbian Femme
The Simple Dollar
Tom&Lorenzo
Waiting is my favorite!
Witty Knitter
yogaknitdra