Tuesday, February 7, 2012

Favorited today on Twitter:You can follow me here. How to Back Up a Trailer - Like a Man! - This is my Dad's super power.

Monday, February 6, 2012

Shared today on Instagram: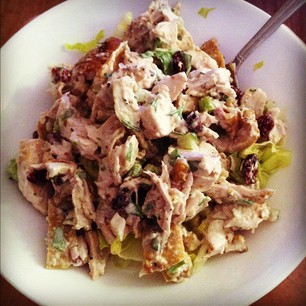 Cranberry-Walnut Chicken Salad

Powered by Webstagram

Sunday, February 5, 2012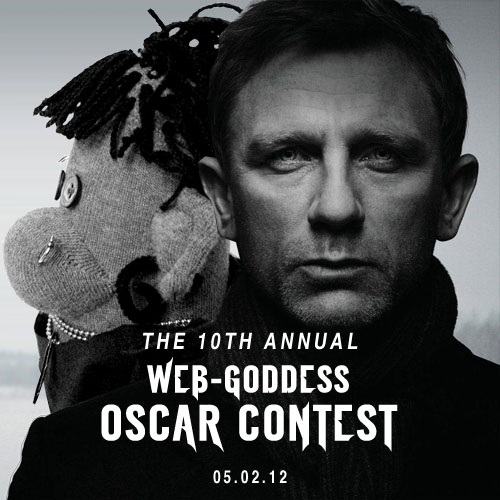 My annual Oscar Contest is now open! If you pick the most correct answers, you'll win the big prize: The Monkey with the Dragon Tattoo. Yes, I made Lisbeth Salander Monkey. She has piercings; she has a Macbook; she has a golf club; and she has the titular tattoo. I think this is the most work I've ever put into a single monkey! (She's also the first one that's probably Not Safe for Work, given the slogan on her T-shirt.) And remember, in the event of a tie, the person that entered earlier wins. So don't wait too long! Read on for more photos, or go here to enter. [more...] Right-wingers are less intelligent than left wingers, says controversial study - and conservative politics can lead people to be racist | Mail Online - I'll just leave that right there. Shared today on Instagram: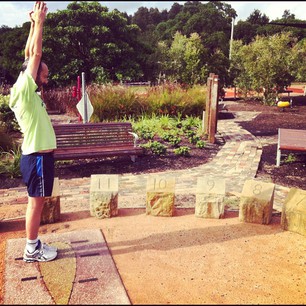 Snook as Human Sundial.

Powered by Webstagram

Friday, February 3, 2012

Rest assured, dear Cinematic Monkey Fans: the TENTH Annual w-g Oscar Contest is definitely coming! I've just been a bit busy with my new job. The prize has been created though, and just needs a few finishing touches before launch. I'm hoping to have it ready for you this weekend. Stay tuned! Sod the Bike, Let's Kiss - Sydney Cycle Chic

Thursday, February 2, 2012

Princess Bride Wine From Alamo Drafthouse - Neat!

Wednesday, February 1, 2012
Dinner Tonight: Slow Cooker Coq au Vin
This was a new recipe for us! The Snook made it up in the crockpot in the morning before work. He left out the flour to make it low-carb. We had it with some cauliflower mash. It was a really nice dish to come home to, and it made plenty of leftovers. Highly recommended! previous week

welcome
I'm Kris Howard, a thirtyish Hoosier living in Sydney, Australia. I'm the TV Development Director at Mi9, working with my team on cool stuff like 9jumpin. I knit and sew and have crazy adventures. This is my weblog and personal site.
recent comments
JulieK: "So given that our ceremony was about half the price of our wedding/engagement rings and our honeymoo..."
Kris: "Haha, always wrecking the bell curve, Lyn! :)..."
LynS: "Not sure about your conclusion, Kris, given that I lived with my ex-husband for several years before..."
Nicole: "Jealous :) I was out there last weekend and nearly baked to death in the heat. This weekend would b..."
Mary-Helen Ward: "We stayed in a hotel in HK (the Icon) that had a huge wall like this up three stories behind the che..."
Kris: "I got both! :)..."
Donna: "I hope you got the floral one!..."
Emily: "In England the answer is not to put them in the fridge - I think we have crappier fridges and cooler..."
[see last 50 comments]
knitting (in progress)
recent craft projects
» Hawaiian Negroni
» Out-of-this-World Washi Dress
» Melbourne Cup 70's Dress
» Heisenberg Blue Cupcakes
» Negroni Shirt for Mr Snook
[see all crafts]
currently reading
» Influence: The Psychology of Persuasion by Robert B. Cialdini
weblogs
a room of my own
Amanda Palmer
Anton Emdin Illustration & Cartoons
Carbo-Mobile
Daring Fireball
defective yeti
Divine Comedy of Errors
Get Rich Slowly
Ghost in the Machine
Gift and Mystery
Girls of a Certain Age
Grab Your Fork
jlcfyi
jp knit 'n' natter
Just Ask Christopher
Ken Jennings Blog
knitabulous
Krisalis
Lemon-Lime
Little Tiny Hangers
Lots of Co.
miftik
missfee
Neil Gaiman's Journal
not martha
PomPom
Pop Culture Junk Mail
Random Knits
Rose Red
Scrubbles
sh1ft.org
Shades of Grey
smitten kitchen
Sore Eyes
Subversive Anarchic Lesbian Femme
The Simple Dollar
Tom&Lorenzo
Waiting is my favorite!
Witty Knitter
yogaknitdra