Thursday, February 23, 2012
Shared today on Instagram: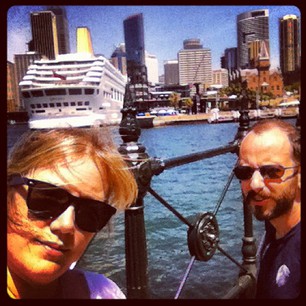 Sydney Harbour on a sunny day with a big boat.

Powered by Webstagram CATatelier by CatAtelier on Etsy - BRILLIANT. Everything about this is brilliant. Why won't my stubborn-ass cats let me dress them up? Personal favourites: the top hat, the strawberry tie, and the James Bond open collar. QuiltCon - Hey Mom - You should go to this. It looks neat! Favorited today on Twitter:You can follow me here.

Wednesday, February 22, 2012

Shared today on Instagram: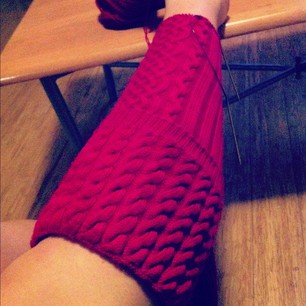 These damn socks just aren't growing. #neverending #knitting

Powered by Webstagram iPhone Mail Tip: Re-Open Most Recent Draft Message With One Tap - Huh. I was not aware of that. Plush Tobias Fünke - LOVE IT. Shared today on Instagram: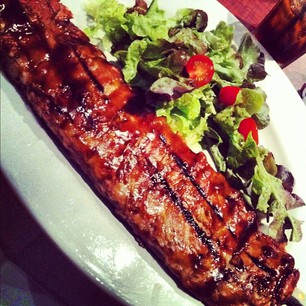 I discovered it *is* possible to eat #paleo at Pancakes on the Rocks.

Powered by Webstagram Favorited today on Twitter:You can follow me here.

Tuesday, February 21, 2012

Shared today on Instagram: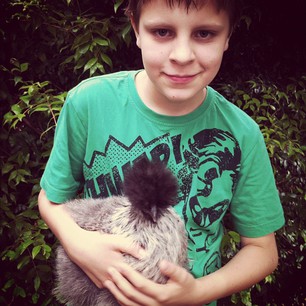 Australia has some weird-ass chickens.

Powered by Webstagram Of carbs and cavemen...
Well, it's Pancake Day, and man, I'd love a damn pancake. But I won't have one. This is as good a time as any to talk a bit about our current diet. I'm not trying to evangelize here; I'm too lazy to care whether other people do what we do. But I've been mentioning words like "primal" and "paleo" on Twitter and Facebook recently, and a few people have asked me what that's all about. So why not?

For the past six weeks or so, the Snook and I have been following a modified primal/paleo diet. We eat meat, fish, vegetables, fruit, nuts, and dairy. We try to avoid grains, potatoes, legumes, and sugar. We've each dropped a couple kilos, but it's not really about losing weight. We finally realised that eating this way makes us feel the best. It's been a long process to get here... [more...]

Monday, February 20, 2012

Favorited today on Twitter:You can follow me here.

Sunday, February 19, 2012

Bicycle Maintenance
Yesterday the Snook and I attended one of the City of Sydney's FREE bicycle maintenance courses. To be honest, I was a little scared going in. I don't consider myself to be very "mechanical" at all, and even though all the parts on a bike are exposed, it was still very much a black box to me. There were seven of us in the class (three guys, four women), and when the instructor Carlos said that we were going to be taking our tires completely off our bikes, I had a moment of mental panic. "I'M GOING TO RUIN MY BIKE," I thought. But you know what? I didn't. The class was fantastic. Carlos first taught us how to maintain our chains and why it's important. Then we all went out and cleaned our chains and lubricated them. I accidentally pulled my chain off the cogs, but I knew exactly how to put it back on. Then we talked about derailleurs and how they work, and then we got to tires. My bike has quick release tires, so I had them off in minutes! Then we deflated them and pulled the tubes completely out. Carlos showed us how to figure out the right size tubes to buy, what pressure to inflate them to, how to test for leaks and how to use a patch kit. Then we put the tubes back in, put our wheels back on, and reinflated our tires to the correct pressure. Neat! We also learned how to check our brakes and realign them, and how to make adjustments to some of the cables on our bikes. He also showed us what not to mess with. It was such a great course, and I'm so glad we did it. I walked out with a few grease stains on my hands but also with a much better understanding of how my bike works, and I think I actually could fix it in a pinch! I highly recommend the class to anybody in Sydney with a bicycle. (You have to book in as the spots fill up.) Jeffrey Zhang - PRE-ORDER Jeremy Lin Screenprinted T-Shirt - I kind of want one. I love the Linsanity. "I was crippled by Impostor Syndrome": One woman's story - If you want to understand me, you should read this. I'm not as bad as this lady, but I identify strongly with what she's saying - especially as regards my career in IT. I always undervalue the things I'm good at and tend to disbelieve compliments when I get them. And sometimes it doesn't help living with someone who is very clever himself. My saving grace is that there's still a small part of my brain - maybe 15% - that is completely egotistical and thinks I'm awesome at everything. If I just listened to that part more often, I'd be unstoppable. Quick Hit: The curse of Grace Hopper - MWAHAHAHAHA! My Vintage London | Punk girls on the Tube, 1980s - Awesome.

Saturday, February 18, 2012

Shared today on Instagram: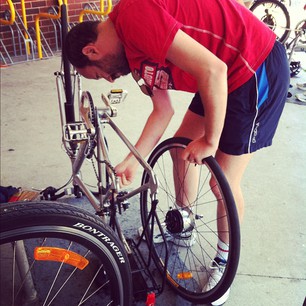 Mr Snook's internal hub gear made things slightly trickier for him.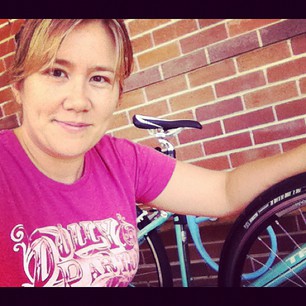 At today's bike workshop. I took my tire clean off!

Powered by Webstagram Favorited today on Twitter:You can follow me here.

Friday, February 17, 2012

Shared today on Instagram: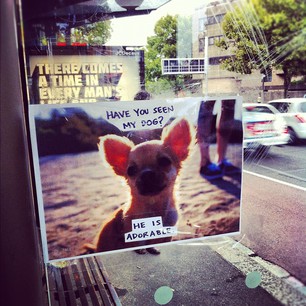 Spotted on Broadway tonight. #hipsters

Powered by Webstagram Shared today on Instagram: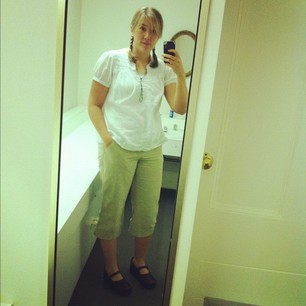 It's Friday and it's summer. Good enough excuse to dress like a hippie. #pose

Powered by Webstagram How Your Cat Is Making You Crazy - Magazine - The Atlantic - HOLY CRAP. I was convinced reading this that both Snook and I were infected with Toxoplasmosis and it was affecting our behaviour. I mean, men wear rumpled clothes, avoid risk, and get suspicious? Women dress nicer, court risk, and get extroverted? That's us over the past few years to a T.

Then I got to the end where they mention that indoor cats don't get the parasite, only outdoor cats. So we don't have it after all. Our weirdness is fully our own. Favorited today on Twitter:You can follow me here. previous week

welcome
I'm Kris Howard, a thirtyish Hoosier living in Sydney, Australia. I'm the TV Development Director at Mi9, working with my team on cool stuff like 9jumpin. I knit and sew and have crazy adventures. This is my weblog and personal site.
recent comments
JulieK: "So given that our ceremony was about half the price of our wedding/engagement rings and our honeymoo..."
Kris: "Haha, always wrecking the bell curve, Lyn! :)..."
LynS: "Not sure about your conclusion, Kris, given that I lived with my ex-husband for several years before..."
Nicole: "Jealous :) I was out there last weekend and nearly baked to death in the heat. This weekend would b..."
Mary-Helen Ward: "We stayed in a hotel in HK (the Icon) that had a huge wall like this up three stories behind the che..."
Kris: "I got both! :)..."
Donna: "I hope you got the floral one!..."
Emily: "In England the answer is not to put them in the fridge - I think we have crappier fridges and cooler..."
[see last 50 comments]
knitting (in progress)
recent craft projects
» Hawaiian Negroni
» Out-of-this-World Washi Dress
» Melbourne Cup 70's Dress
» Heisenberg Blue Cupcakes
» Negroni Shirt for Mr Snook
[see all crafts]
currently reading
» Influence: The Psychology of Persuasion by Robert B. Cialdini
weblogs
a room of my own
Amanda Palmer
Anton Emdin Illustration & Cartoons
Carbo-Mobile
Daring Fireball
defective yeti
Divine Comedy of Errors
Get Rich Slowly
Ghost in the Machine
Gift and Mystery
Girls of a Certain Age
Grab Your Fork
jlcfyi
jp knit 'n' natter
Just Ask Christopher
Ken Jennings Blog
knitabulous
Krisalis
Lemon-Lime
Little Tiny Hangers
Lots of Co.
miftik
missfee
Neil Gaiman's Journal
not martha
PomPom
Pop Culture Junk Mail
Random Knits
Rose Red
Scrubbles
sh1ft.org
Shades of Grey
smitten kitchen
Sore Eyes
Subversive Anarchic Lesbian Femme
The Simple Dollar
Tom&Lorenzo
Waiting is my favorite!
Witty Knitter
yogaknitdra