Tuesday, June 12, 2012
| | |
| --- | --- |
| | [6] |
"Woolworths is discovering what many consumers already suspect – that self-scan check-outs can be more of a hindrance than a help..." VINDICATION for the checkout chicks of the world! I've been griping about those things for years.

Favorited today on Twitter:
You can follow me here.
Monday, June 11, 2012
Favorited today on Twitter:
You can follow me here.
Sunday, June 10, 2012
Favorited today on Twitter:
You can follow me here.
Shared today on Instagram: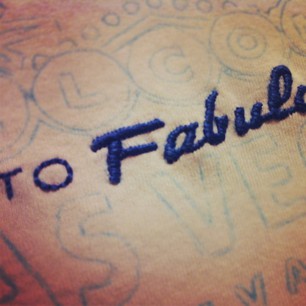 Did some embroidery tonight. Feeling like quite the Renaissance woman!

Powered by Webstagram

Saturday, June 9, 2012
Shared today on Instagram: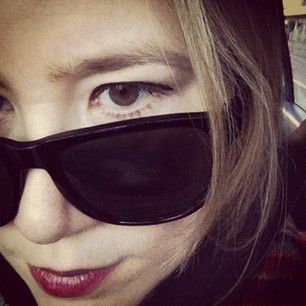 Ridiculously over-styled for a Knitters Guild meeting. I blame @1funkyknitwit .

Powered by Webstagram

Favorited today on Twitter:
You can follow me here.
Friday, June 8, 2012
| | |
| --- | --- |
| | [4] |
Sorry Mom!
After he read my post about inspiring women in I.T., the Snook said to me, "You know, you forgot one." "Which one?" "Your MOM, you ding dong!"

Oh good grief. I'm so sorry, Mom! He's totally, 100% right. I may not have known any card-carrying IBM computer programmers when I was growing up, but Mom was the reason we always had a computer in the house. I remember the first actual computer we got - an Atari 800XL that plugged into the television - and waiting for Mom to patiently type in hundreds of lines from a BASIC program in a computer magazine to create an animated picture. When we finally got a computer with a hard drive, Mom was the one who taught me the importance of parking the heads. Mom was the one who worked her way up from the factory floor at an RV manufacturer into a proper engineer and then into the I.T. department. Mom is the reason I can drop phrases like "AS400" and "green screens". Mom got me a summer job in college doing the website for the RV company, which put me on the path to the career I have now. Mom knows way more about tech support and hardware than I do, and sometimes she and Rodd geek out in a way that's even over my head.

It's ridiculous that I could forget how influential she was. Where I am strident and political about women in I.T., Mom just quietly made herself a career doing stuff she enjoyed and took care of her family as best she could. And while YouTube videos and initiatives and mentoring programs are great, nothing beats having a supportive parent who encourages kids to pursue their interests. So thanks to my wonderful clever Mom for showing me the way! (And those of you with kids - you should do the same for yours!)

Favorited today on Twitter:
You can follow me here.
Wednesday, June 6, 2012

Inspiring Women in I.T.
On Twitter recently I saw @tammybutow talking about a new project she's launched to highlight female role models in I.T. Tammy's project is affiliated with Go Girl, an I.T. career showcase for high school girls. Her idea is to collect photos of women with I.T. careers and compile them into a video to inspire the students. When I was in high school, I thought computer programmers were just guys in neckties who worked at IBM. I don't remember any girls in the Computer Club, and I certainly didn't join myself. I briefly considered a dual CS major in college but chickened out for fear I wasn't smart enough. I had no idea that one day I'd know lots of cool, smart, funky women who work in I.T. with jobs like "Programmer," "Game Designer," "User Experience Director," "Project Manager," and even "Business Systems Analyst." (That last one is actually ME!)

So anyway, this is an issue I feel pretty strongly about. I don't want my nieces growing up to think that computers aren't something girls work with. So I gathered up all the women in the office yesterday morning and corralled them into a photograph. (There are actually more than five, but this is all I could round up on short notice.) I present to you the inspiring women of Sitback!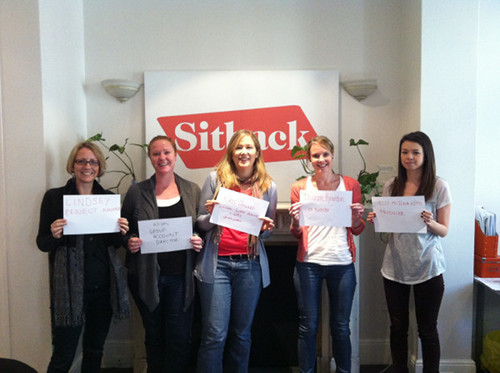 Full size version here. Thanks to Kunaal for the photograph!

From left to right, that's Lindsey (Project Manager), Alison (Group Account Manager), me (Business Systems Analyst + GEEK!), Leanne (User Experience Director), and Elly (Producer). Woo! Go women of Sitback!

Updated to add: I can't believe I forgot to mention the most inspiring woman in I.T. I know!


I realised the other day that my automatic blog posting from Instagram and Twitter was broken. Sorry about that. My web host changed some settings and suddenly my scripts stopped working. I managed to get through to tech support today though and the Snook gave some very welcome assistance. It ain't much, but your trickle of Kris-news will continue...

| | |
| --- | --- |
| | [1] |
Ratatouille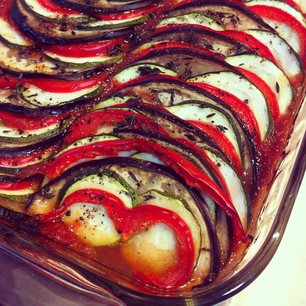 I made a beautiful, tasty thing tonight. #ratatouille

This is Smitten Kitchen's ratatouille, and it's a beautiful thing! Usually we just chunk everything up and throw in a pot, so spending the time to meticulously slice all the veg was an effort. I used a rather large eggplant (cut in two so the slices were half-moons), a big zucchini, and a big red capsicum. This version is also baked rather than cooked on the stove. The Snook was skeptical of all the work, but he was converted when I served it up. Oh! And I put some creamy goat's cheese on top, as the recipe suggests. PERFECTION. That just takes it right over the top...

Powered by Webstagram

Shared today on Instagram: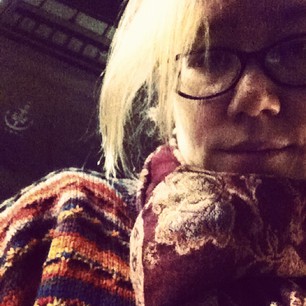 Sad hipster at the bus stop on a cold rainy night.

Powered by Webstagram


Coffee Drinks: A Visual Glossary | Serious Eats: Drinks - I was amused that the last slide shows the Australian latté and the flat white. However, no mention of the fact that cappuccinos here are always covered in cocoa powder? (I don't drink them.)


« previous week

welcome
I'm Kris Howard, a thirtyish Hoosier living in Sydney, Australia. I work as an Iteration Manager for the Jump-in team at Mi9. I knit and sew and have crazy adventures. This is my weblog and personal site.
recent comments
DrK: "you did a fantastic job, it really was awesome. time for a well earned break now i think!..."
Kris: "Nah! It was that one out on CR17 that we went to a few years ago......"
rdh: "El Camino......MUMMMM..."
M-H: "Your face....! Priceless...."
Kris: "Yeah, the Metafilter thread was full of "Eat the rich" comments too. Personally - and I acknowledge ..."
Kevin: "Also: Have a job, preferably more than one. Don't get sick... I know the guy means well, but this re..."
John Liam: "It is a myth that you need to add salt to make good crackling. It has taken me 30 years of cooking t..."
Emily: "Thanks for this Kris, really helpful...."
[see last 50 comments] [RSS feed]
knitting (in progress)
recent craft projects
» MetaQuilter - Finished
» Dresden Plate and Cathedral Windows Quilt Blocks
» Laurel Dress
» Self-Replicating Mittens with QR Code
» Juno Regina Lace Scarf
[see all crafts]
recent search requests
» salmon soy chilli salad
» jamies duck salad with giant croutons
» thewebs goddes of birth
» harris farms sydney marshmallows
» hen pincushion pattern
[see last 100]
weblogs
a room of my own
Amanda Palmer
Anton Emdin Illustration & Cartoons
Carbo-Mobile
Daring Fireball
defective yeti
Divine Comedy of Errors
Get Rich Slowly
Ghost in the Machine
Gift and Mystery
Girls of a Certain Age
Grab Your Fork
jlcfyi
jp knit 'n' natter
Just Ask Christopher
Ken Jennings Blog
knitabulous
Krisalis
Lemon-Lime
Little Tiny Hangers
Lots of Co.
miftik
missfee
Neil Gaiman's Journal
not martha
PomPom
Pop Culture Junk Mail
Random Knits
Rose Red
Scrubbles
sh1ft.org
Shades of Grey
smitten kitchen
Sore Eyes
Subversive Anarchic Lesbian Femme
The Simple Dollar
Tom&Lorenzo
Waiting is my favorite!
Witty Knitter
yogaknitdra