Sunday, June 17, 2012
| | |
| --- | --- |
| | [2] |
Shared today on Instagram: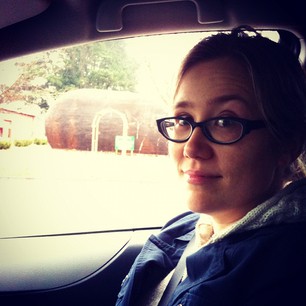 The Big Potato in Robertson is quite literally the crappiest Big Thing I've ever seen.

Powered by Webstagram

Saturday, June 16, 2012
Shared today on Instagram:

Mr Snook tries to ignore the giant wooden emu staring at his burger.

Powered by Webstagram

Favorited today on Twitter:
You can follow me here.
Friday, June 15, 2012
Favorited today on Twitter:
You can follow me here.
Thursday, June 14, 2012
| | |
| --- | --- |
| | [4] |
Shared today on Instagram: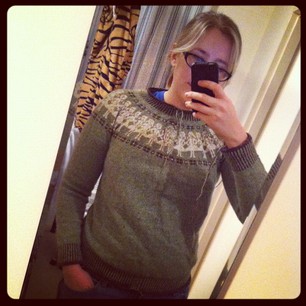 Paper Dolls is off the needles! Now to slice it up the front and add some buttons...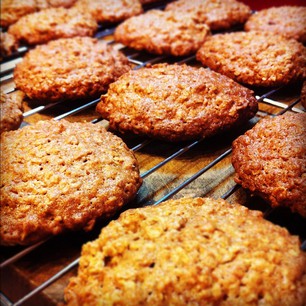 Maple Brown Sugar Oatmeal Cookies for @konvict67 tomorrow...

Powered by Webstagram


If you need to restore your faith in humanity, read this series of blog posts about how DisneyWorld cast members went above and beyond for an autistic boy who loved the Snow White ride that recently closed. *sniffle*

| | |
| --- | --- |
| | [2] |
Why cyclists should never pay rego - Frankly, I'd be happy to pay rego if it would shut up the anti-cyclists! But I also agree with every single point in this opinion piece.


The Dream Will Never Die: An Oral History of the Dream Team - I sent this link to my Dad yesterday, but it's too good not to share. I always wondered how that came about and how the coaches were able to manage those egos!


In Their Own Words: "Study Drugs" - NYTimes.com - Truthfully, some of those descriptions of the effects of Adderall make me want to take it NOW. I could be super productive and successful at work! My house could be clean! I'd get everything on my To Do list done! I'm not seeing much downside there.

Favorited today on Twitter:
You can follow me here.
Wednesday, June 13, 2012
Favorited today on Twitter:
You can follow me here.
Shared today on Instagram: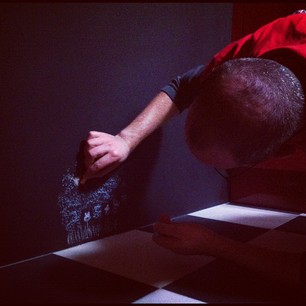 The artist at work. (Okay, I now totally love the chalkboard wall.)

Powered by Webstagram

Tuesday, June 12, 2012
| | |
| --- | --- |
| | [6] |
"Woolworths is discovering what many consumers already suspect – that self-scan check-outs can be more of a hindrance than a help..." VINDICATION for the checkout chicks of the world! I've been griping about those things for years.

Favorited today on Twitter:
You can follow me here.
Monday, June 11, 2012
Favorited today on Twitter:
You can follow me here.

« previous week

welcome
I'm Kris Howard, a thirtyish Hoosier living in Sydney, Australia. I work as a Technical Business Analyst for one of Australia's biggest banks. I knit and sew and have crazy adventures. This is my weblog and personal site.
recent comments
Jenny: "Looooooooooove..."
Emily: "Love this! (clare now secretly wants a penny farthing). BUT 14 - surely German, no Pom, and NOT hips..."
Ptinutz: "Good to see you so active and happy with your job, you seemed a little reluctant at the beginning. ..."
Kris: "In the summer they will. In the winter probably not so much. We'll see. It's an experiment. (This is..."
Todd Diakow: "To add a little change I added red onion and red pepper to he chicken stuffing. Beauty about this re..."
JulieK: "Will they get at least 6 hours of full sun a day? If not, yes, they'll probably just die. Or grow a ..."
Jenny: "Stupid cute..."
WeeB: "Good luck Kris! You'll amaze them all without any trouble. ..."
[see last 50 comments] [RSS feed]
knitting (in progress)
recent craft projects
» Laurel Dress
» Self-Replicating Mittens with QR Code
» Juno Regina Lace Scarf
» Catriona Vest
» Martha Stewart's Chocolate Chip Cookie Icebox Cake
[see all crafts]
recent search requests
» salmon soy chilli salad
» jamies duck salad with giant croutons
» thewebs goddes of birth
» harris farms sydney marshmallows
» hen pincushion pattern
[see last 100]
weblogs
a room of my own
Amanda Palmer
Anton Emdin Illustration & Cartoons
Carbo-Mobile
Daring Fireball
defective yeti
Divine Comedy of Errors
Get Rich Slowly
Ghost in the Machine
Gift and Mystery
Girls of a Certain Age
Grab Your Fork
jlcfyi
jp knit 'n' natter
Just Ask Christopher
Ken Jennings Blog
knitabulous
Krisalis
Lemon-Lime
Little Tiny Hangers
Lots of Co.
miftik
missfee
Neil Gaiman's Journal
not martha
PomPom
Pop Culture Junk Mail
Random Knits
Rose Red
Scrubbles
sh1ft.org
Shades of Grey
smitten kitchen
Sore Eyes
Subversive Anarchic Lesbian Femme
The Simple Dollar
Tom&Lorenzo
Waiting is my favorite!
Witty Knitter
yogaknitdra