Tuesday, July 24, 2012
Shared today on Instagram: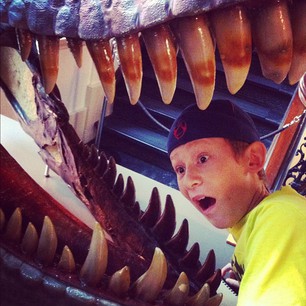 Joey has an encounter with some local wildlife.

Powered by Webstagram

| | |
| --- | --- |
| | [2] |
Shared today on Instagram: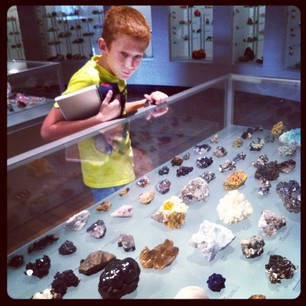 Everybody wants a rock to wind a piece of string around.

Powered by Webstagram

Shared today on Instagram: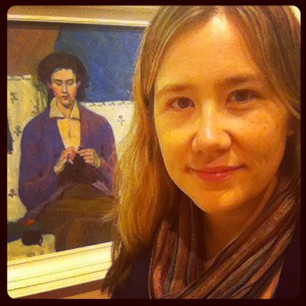 Visiting one of my favourite paintings by Grace Cossington Smith.

Powered by Webstagram

Monday, July 23, 2012
Shared today on Instagram: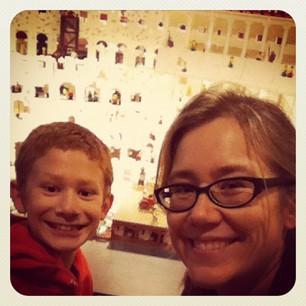 My brother Joey and I at the Lego Colosseum.

Powered by Webstagram

| | |
| --- | --- |
| | [3] |
Shared today on Instagram: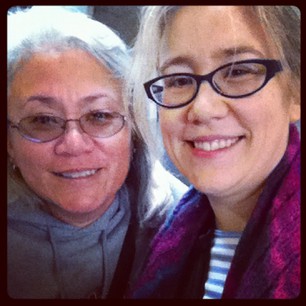 Airport pickup success! Me and my Mom. :)

Powered by Webstagram

Sunday, July 22, 2012
Shared today on Instagram:

Ten-year-old MoŽt... LIKE A BOSS. Thanks, @tvpk !

Powered by Webstagram

Saturday, July 21, 2012

Gmail engineer: Women in tech must overcome the impostor syndrome - ComputerworldUK.com - Great essay from a prominent female engineer at Google. I struggle with imposter syndrome a lot too.

Friday, July 20, 2012
Shared today on Instagram: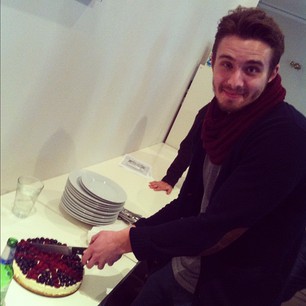 Here's @barbercraig85 cutting the cake!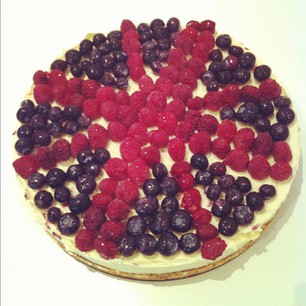 I made @barbercraig85 a Union Jack cheesecake for his last Friday at @sitback .

Powered by Webstagram

Edited to add: The recipe for the cheesecake is here, if anybody is interested. It's a no-bake cheesecake, which mightily offended the Snook at first. But it's a deliberate choice; if you baked the cheesecake the top likely wouldn't be as white. It's very quick and simple to make, and everybody loved it. I used frozen berries and they worked just fine.

| | |
| --- | --- |
| | [2] |
Dear Snook: Seven. It's okay to have SEVEN.

Favorited today on Twitter:
You can follow me here.
Thursday, July 19, 2012
| | |
| --- | --- |
| | [1] |
Donald J. Sobol dies: Author wrote popular "Encylopedia Brown" series - The Washington Post - Oh no! I loved these books, and some of the things I learned from them stick with me today. (Like the fact that a gold brick would weigh 300lbs, and a word with three double letters in a row is 'bookkeeper.') I also loved that Leroy's best friend and bodyguard was Sally, a smart but tough girl who punched out the town bully, Bugs Meany. This grown-up Sally salutes you, Donald J. Sobol.

Wednesday, July 18, 2012
| | |
| --- | --- |
| | [1] |
"They Donít Make Feminists This Outrageous Anymore" - Slate article about Caitlin Moran and her book How to Be a Woman. I read the article and immediately bought the book on Kindle. Looking forward to reading it next week on vacation!

Favorited today on Twitter:
You can follow me here.

« previous week

welcome
I'm Kris Howard, a thirtyish Hoosier living in Sydney, Australia. I work as an Iteration Manager for the Jump-in team at Mi9. I knit and sew and have crazy adventures. This is my weblog and personal site.
recent comments
DrK: "you did a fantastic job, it really was awesome. time for a well earned break now i think!..."
Kris: "Nah! It was that one out on CR17 that we went to a few years ago......"
rdh: "El Camino......MUMMMM..."
M-H: "Your face....! Priceless...."
Kris: "Yeah, the Metafilter thread was full of "Eat the rich" comments too. Personally - and I acknowledge ..."
Kevin: "Also: Have a job, preferably more than one. Don't get sick... I know the guy means well, but this re..."
John Liam: "It is a myth that you need to add salt to make good crackling. It has taken me 30 years of cooking t..."
Emily: "Thanks for this Kris, really helpful...."
[see last 50 comments] [RSS feed]
knitting (in progress)
recent craft projects
» MetaQuilter - Finished
» Dresden Plate and Cathedral Windows Quilt Blocks
» Laurel Dress
» Self-Replicating Mittens with QR Code
» Juno Regina Lace Scarf
[see all crafts]
recent search requests
» salmon soy chilli salad
» jamies duck salad with giant croutons
» thewebs goddes of birth
» harris farms sydney marshmallows
» hen pincushion pattern
[see last 100]
weblogs
a room of my own
Amanda Palmer
Anton Emdin Illustration & Cartoons
Carbo-Mobile
Daring Fireball
defective yeti
Divine Comedy of Errors
Get Rich Slowly
Ghost in the Machine
Gift and Mystery
Girls of a Certain Age
Grab Your Fork
jlcfyi
jp knit 'n' natter
Just Ask Christopher
Ken Jennings Blog
knitabulous
Krisalis
Lemon-Lime
Little Tiny Hangers
Lots of Co.
miftik
missfee
Neil Gaiman's Journal
not martha
PomPom
Pop Culture Junk Mail
Random Knits
Rose Red
Scrubbles
sh1ft.org
Shades of Grey
smitten kitchen
Sore Eyes
Subversive Anarchic Lesbian Femme
The Simple Dollar
Tom&Lorenzo
Waiting is my favorite!
Witty Knitter
yogaknitdra