Trip to Australia – March 3-21, 2001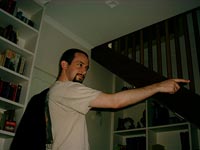 Tuesday the 12th we caught a train from Eungai down the coast to Sydney. Snookums's sister Jeannie (along with her boyfriend Chris and their son Kurt) met us and took us to their place in North Sydney. Here's Snookums gettin' ready for a cosmopolitan night out on the town. No, he doesn't pose like that normally. He's just doin' it for my benefit. :)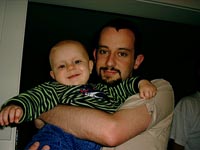 Adorable! Baby Kurt and his uncle Snookums.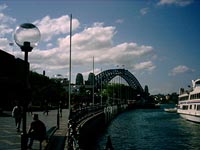 On Wednesday, as soon as we were up and ready, we headed into town. Here's the first of many picture of Sydney Harbor Bridge, as seen from The Rocks. The Rocks is the oldest part of Sydney, and it's a seriously gorgeous place to mooch around.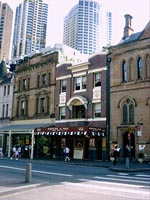 This is the Fortune of War, the oldest pub in Sydney. As it was still pretty early in the day, we declined to sample the wares.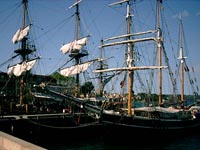 The sailing ship on the left here was "The Bounty", which was supposedly built for the Mel Gibson movie "Mutiny on the Bouty." Nowadays these boats give dinner cruises around the harbor. We'd see them sail out occasionally, and it always reminded me of the end of "The Goonies" when One-Eyed Willie's ship sails out to sea.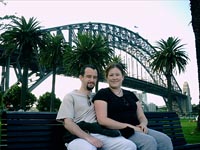 Me, Snookums, and the Sydney Harbor Bridge. (Note that I'm not quite so white anymore. I told you I got burnt at Nambucca Heads.)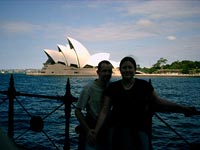 Here we are with the famous Sydney Opera House in the background. Cool, huh?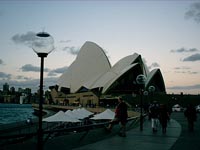 For the end of our first full day in Sydney, we decided to see a play at the Opera House. We saw a fantastic production of "Julius Caesar" down in the Playhouse. It really is a huge structure when you get right up next to it. There are, like, four different venues in there!
photos
Trip to Australia
Page 1
Page 2
Page 3
Page 4
Page 5
Page 6
Page7
Page 8
Page 9
Page 10
Page 11
Page 12
Page 13
back to photos