Halloween Party, October 29, 2011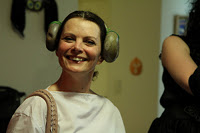 We actually had TWO Princess Leias at the party, but Donna was the only one mad enough to tie actual bagels to her head. :)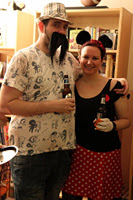 Mija was a lovely Minnie Mouse. Dave was - I think - serial killer Ivan Milat.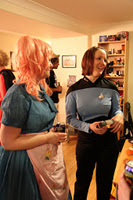 Here's Amy along with Bex, who was sporting some amazing vintage gear (as always). Loved the pink wig too!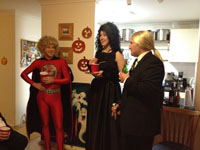 Issy and Derek made for a menacing couple of Death Eaters. She was Bellatrix Lestrange; he was Lucius Malfoy.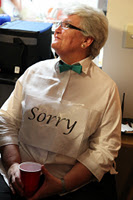 Sandra went conceptual in a tuxedo as a "Formal Apology," handing out printed sorry notes to people all night. It was great. Mary-Helen (again, no photo - sorry!) was a "Tangled Web," with half-woven textiles trailing her wherever she went.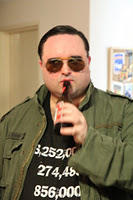 Toastman was Travis Bickle, announcing himself to the room with the cheery shout: "Anybody order a taxi?"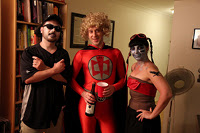 Here's the Snook hanging out with newlyweds Hank and Megan (Dead Easy-E and Dead Lisa Lopez, respectively).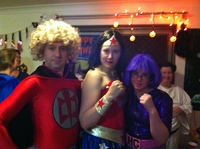 The Legion of Super Heroes! Snook, me, and O'lin as an AWESOME Hit-Girl. (You can see Jody in the background as our other Princess Leia.)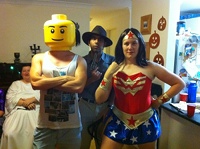 Lego Man, Indian Jones, and Wonder Woman.
That's all, folks! See you next year!
photos
Halloween Party 2011
Page 1
Page 2
Page 3
back to photos