Outback Adventure, October 12-18th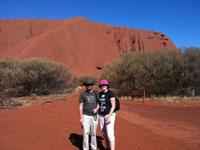 Most of our group decided against climbing Uluru. (It's still allowed, but the Aboriginal custodians discourage it.) So several of us decided to do the base walk, a flat track nearly 6 miles (10km) around the outside of it. Here's the Snook and I heading off. I just couldn't get over the blue of the sky against the red of the rock.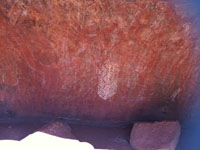 Aboriginal cave paintings from the base of Uluru.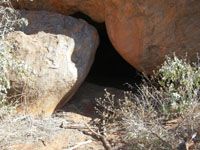 Here's a cave at the base of Uluru. There were many places - this isn't one - that were marked as sacred and you weren't supposed to take pictures. Interestingly, it wasn't really enforced. We only saw one more person on the track, so it was really up to your own conscience.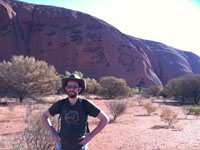 Snookums and Uluru.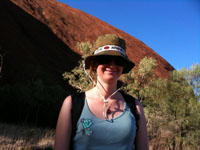 Eileen and Uluru.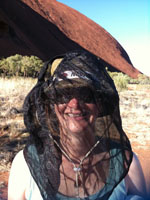 We were advised to bring flynets (along with hats and sunscreen and insect repellent). The flies got pretty bad on the walk, so Eileen experimented with her net. We mostly decided they were more annoying than useful though. But those flies SUCKED.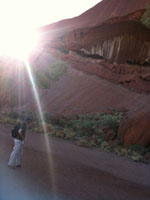 The funny thing is that Uluru isn't smooth all around. Many of the faces on the back side - which isn't the one in the postcards - have large chunks missing and interesting crevices and caves. Here's the Snook contemplating a big opening.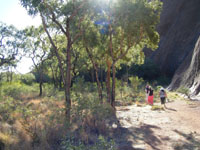 One of the most surprising things to me was how GREEN it was around Alice and Uluru. There were some lovely trees that provided shade around the base of Uluru.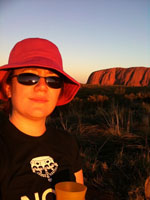 The walk took us about two hours to finish it, and we were all pretty hot and sweaty and uncomfortable at the end. The group met up and headed to the sunset viewing area to watch the colours change as the sun went down.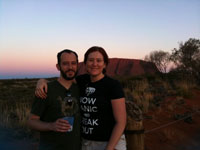 We had champagne and nibblies and watched the sun set. It was amazing. Eileen took this picture of me and the Snook.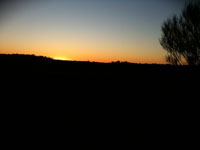 Most of us were surprised to learn that the Olgas (aka Kata Tjuta) were visible from Uluru. You can see them as the bumps towards the center of this sunset picture.
After sunset, we headed to our campsite at Yulara, the small "township" nearby. (It was really just hotels and campsites.) We started a campfire and cooked kangaroo bolognese before settling down in our swags for the night. (A swag is a heavy canvas bag with a thin mattress inside. You put your sleeping bag inside and it protects you from the dirt and the elements.) Quite frankly, sleeping on the dirt was my biggest worry about the trip. It was perfectly comfortable, but I never sleep well in strange places. I did toss and turn a fair bit. However, I'm happy to report that our campground had shared toilets and showers, so my "peeing behind a bush" fears weren't realised.
photos
Outback Adventure
Page 1
Page 2
Page 3
Page 4
Page 5
Page 6
Page 7
back to photos