Outback Adventure, October 12-18th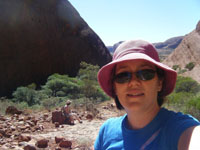 Self-portrait of me along the walk.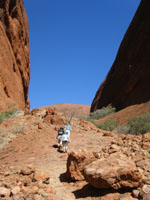 This was the trickiest section of the walk by far. At first I couldn't even see a path, just a solid wall up the middle of two domes. It was incredibly steep and rocky. (There's no way you'd have something like this in the U.S. without guiderails or safety features!)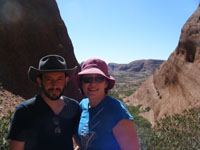 Here's the Snook and I, very relieved to have made it to the top.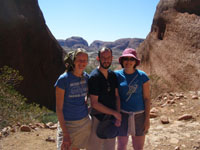 Together with Eileen at the top. Getting down was nearly as bad as going up!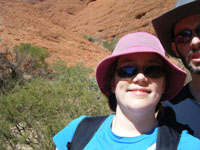 Self-portrait with the Snook.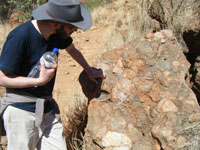 The Snook was the first to notice that the geology of the Olgas is very different from Uluru. Where Uluru is pretty much a solid lump of sandstone, the Olgas are a conglomerate made of lots of stuck-together rocks.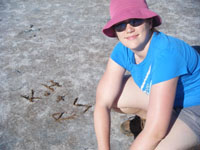 After the hike, we had lunch at the Uluru Cultural Center. Then we headed off towards our campsite for the night. Along the way we stopped at the salt lake for a closer look. I got romantic.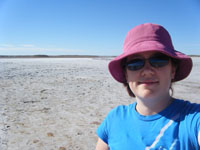 Self-portait with salt lake. Just to be clear, there wasn't any standing water. The thin salt crust cracked and gave way to some evil black mud though, which was the only visible moisture.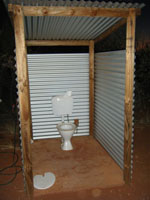 Our campsite for the night was Kings Creek cattle station. Wayoutback is the only tour group allowed to camp in isolated spots away within the station itself. The toilet and shower were completely open to the world (albeit faced away from the camp). I was gratified to see at least it was a real toilet. (The Snook and I immediately dubbed it the "epiphany toilet" from Scrubs.) The shower boiler had to be stoked with an actual fire. It was pretty amazing to stand naked in the outback and shower under a starry sky.
photos
Outback Adventure
Page 1
Page 2
Page 3
Page 4
Page 5
Page 6
Page 7
back to photos