Outback Adventure, October 12-18th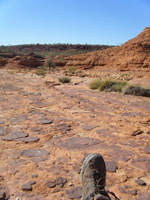 The top of these canyon walls was like being on the moon. I'm having a rest here, and you can see my dusty boots. We were all pretty dirty by this point in the trip.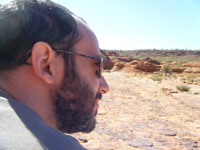 Snookums wondering how the heck we're ever going to get all the red dust out of our clothes.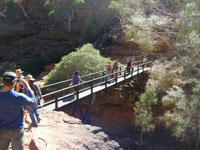 At one point in the hike, we actually climbed down into the canyon itself to go to the "Garden of Eden." This lush area was full of ancient cycads, trees, and songbirds.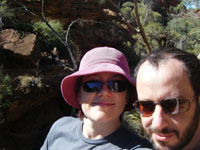 Yet another self-portrait with the Snook.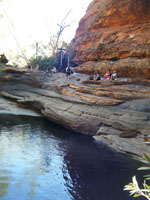 We stopped for snacks at this amazing water hole in the Garden of Eden. Sometimes groups get to swim in it, but the water was too low for us to do it.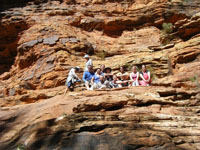 We all posed together on a rock ledge.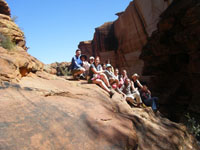 Another group shot.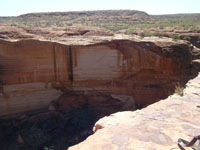 One last shot into that amazing sandstone canyon.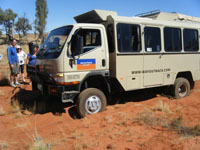 After Kings Canyon it was time to head home. We made a few stops for lunch and toilet along the way, and at one point we begged Mike to take us off-road a bit. He obliged... and of course we got bogged. Even with the 4wd engaged, we just couldn't move. We all piled out to help. We dug out the wheels, laid down sticks and brush for traction, and laid a metal ramp under the most sunken wheel. Then Mike floored it. We got out!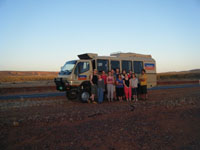 We made one final stop along the road for a group shot at sunset. Then it was back to Alice Springs for a quick shower before we all met up for dinner and beers at Bo's Saloon. Thanks so much to Mike, Carl, Andy, Ully, Caroline, Mari-Cris, Heath, James, Emily, Sofia, and Jackie for making the trip so memorable!
The three of us spent the next morning relaxing by the pool at the Heavitree Gap before heading out to the airport for our flight to Adelaide. Steph's dad Ian gave us a great recommendation for dinner: Beyond Adelaide. It was nice to be back in the city! (At least for me; I think the Snook prefers the bush.) We spent the night at the Adelaide Paringa, which was clean and well-appointed (and very centrally located). On our final morning, we caught the plane back to Sydney. It was a short but very exciting trip!
The end!
photos
Outback Adventure
Page 1
Page 2
Page 3
Page 4
Page 5
Page 6
Page 7
back to photos