Wedding Trip - November 17-December 5, 2004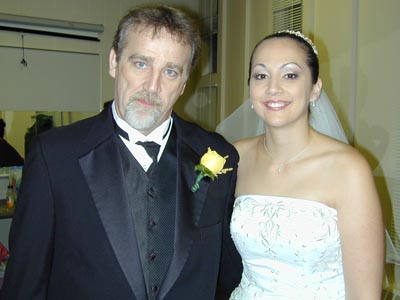 Dad shows off the bride, my sister Amy. He was pretty emotional that day, and more than a few tears were shed. And check out Amy's dress! Lots of beading and a really beautiful full skirt. I helped her get into it and it was a major undertaking.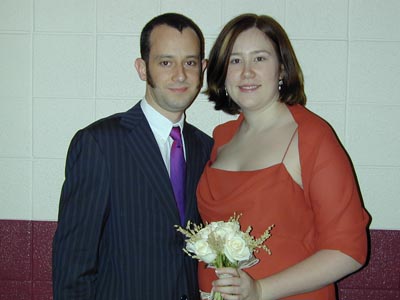 A quick shot of me and Snookums. Isn't my little bouquet cute? His suit jacket is the same one he wore for our wedding, but this time paired with the matching trousers. Everybody liked it a lot.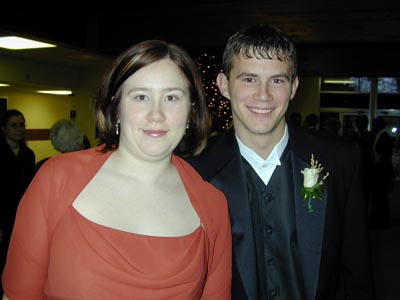 I'm making a horrible double-chin face in this picture, but my brother Antny looks good. I told you he looks like Andy Roddick!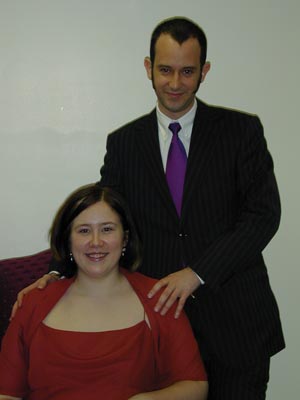 Me and Snookums again...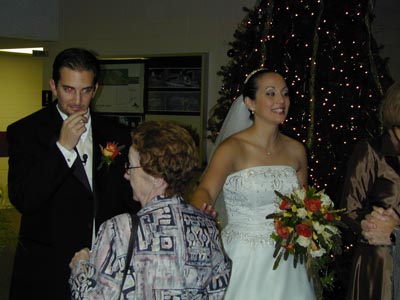 The newly-joined Mr. and Mrs. Carbo receive guests after the ceremony. I loved Amy's bouquet... Very pretty.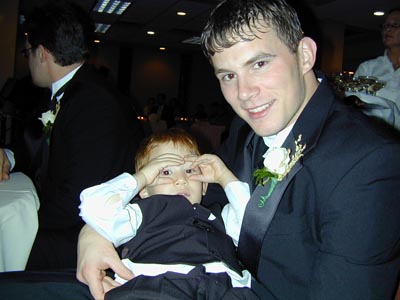 My two gorgeous brothers at the reception... Joey was the ring bearer and Ant was an usher.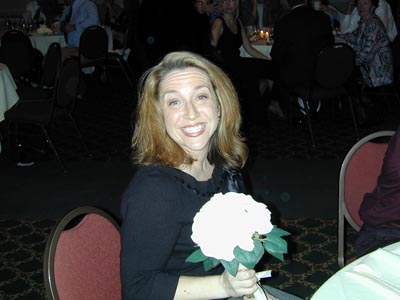 Check it out! It's my cousin (and frequent commenter) Jenny. (No, she didn't catch the bouquet, but not through any lack of cheering on my part!)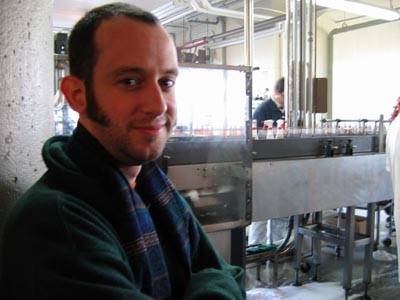 Finally we left Indiana and headed for San Francisco. Our hotel was the Metropolis, which we picked on the basis of price and the fact that it "looked kinda funky." Funky it was, but it was also pretty damn tiny and the neighbourhood (Union Square) was a little dodgy. At any rate, on our first day we headed to Anchor Brewing for a tour, which is where you see Snookums here.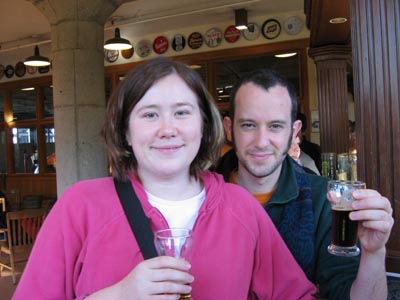 The Anchor tour was really, really good and I highly recommend it. (Book ahead!) It's a tiny little brewery and our guide, Amy, was great at explaining how they were different from everybody else. And afterwards you get to try all their different beers! My favorite was the Anchor Porter, which was much smoother and less bitter than most other dark brews I've tried.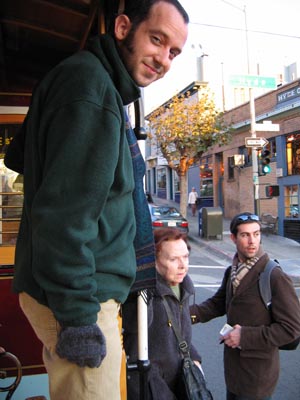 Cable car time! The one good thing about Union Square was all the public transportation available. We bought a 3-day pass and definitely got our money's worth. Here's the Snook on our very first cable car ride.