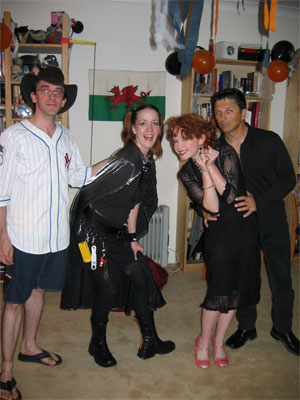 The first guests were Amy and Rob, who came as their online personas: "Yank in Oz" and "Gadget Girl." Rob's wearing a Yankees jersey with the very Aussie combination of board shorts, thongs, and an Akubra hat. Amy is, of course, covered with gadgets. (She was very popular throughout the night for her handy bottle opener.)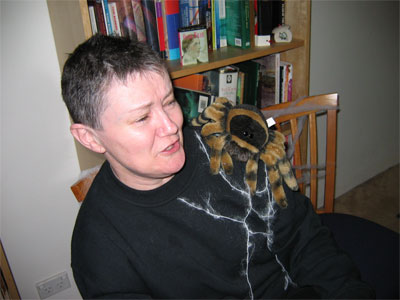 This is my co-worker Joanne with a very large, furry spider on her shoulder! It made noises when you squeezed it. Very creepy!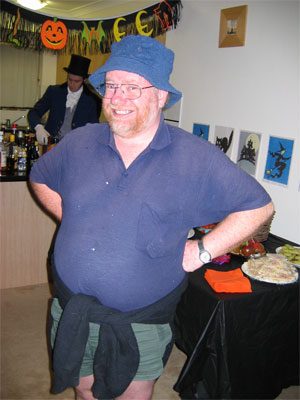 Joanne brought her hubby along and he seemed pretty amused by the whole concept. Another Australian converted!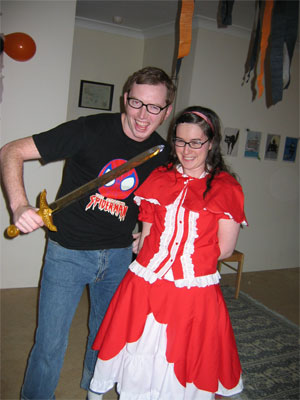 Isn't Helen adorable? She made her own Little Red Riding Hood costume. Beside her is her boyfriend Clinton, who (after being too shy to dress up last year) relished the opportunity to dress as a big nerd. He handed out Magic: The Gathering cards and later impressed us with his GameCube setup.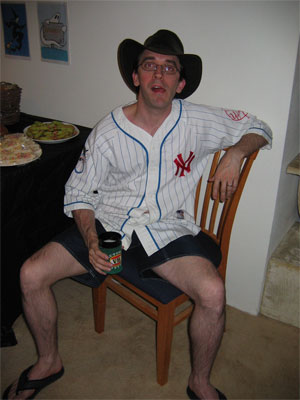 Here's a better look at Rob's "Yank in Oz" costume. My favorite part about this picture is that he was sitting there like a normal human being until I raised my camera. "Wait, wait!" he said. He quickly slouched back, spread his legs, and grabbed his VB stubbie holder. The effect was scarily realistic.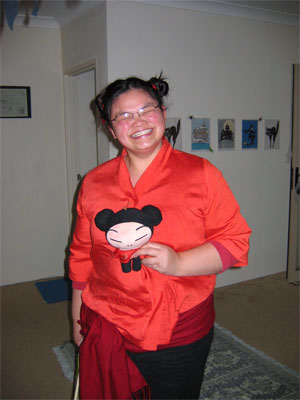 This is my kickass Scrabble-playin' buddy Eva, who I met though Andrew last month. She dressed up as her little doll! Isn't she the cutest thing EVER? (I can't remember the name of the doll. Can anybody enlighten me? I want one!)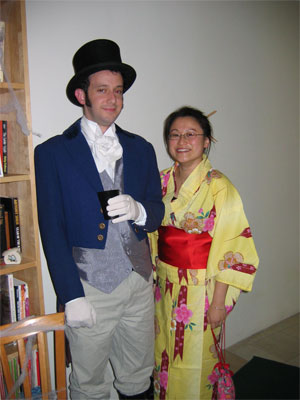 Here's Snookums posing with Kathleen, who wore the most beautiful Japanese gown. (She and Andrew lived there for a few years so they know how to be accurate!) I impressed myself by remembering what an "obi" is.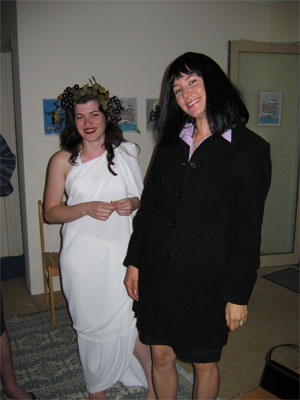 Themed costumes for couples were a big trend this year. Here's Kate portraying a lovely Maenad (you'll see why in a minute). Accompanying her is Steph, who's dressed as everyone's favorite White House intern, Monica Lewinsky.
Pages: <- previous / next ->