Tuesday, October 31, 2006

The things people wonder about, you know? Could a super strong person yank off his own head? That question cracks me up.

Monday, October 30, 2006
| | |
| --- | --- |
| | [1] |
Funny Kittens. (YouTube movie.) The Snook loves animals falling over. My favorite is the kitty playing ping-pong, and the one that pulls himself around under the dining room table. (Link courtesy of John.)

| | |
| --- | --- |
| | [3] |
Blogging as Market Research: Okay, Melbourne Knitters. It looks like Tapestry Craft is heading your way. We're trying to decide what kinds of yarn to stock. So tell me - what do you want? Are there brands/fibres/thicknesses you just can't get? We're all Sydney folks so we're not sure whether there's any big difference between the two markets.


RunningBlog: They've finally posted the official race results from the Gladesville 10K we did a few weeks ago... and woohoo! We both came in dead last in our age groups. Depressing.

| | |
| --- | --- |
| | [3] |
Did anyone else in Australia watch Rushmore on TV this week? Either our TiFaux had a huge hiccup, or Channel 10 cut the hell out of it. There was the scene where the teacher tells him she's too old for him and they shake hands, and then after a commercial they went directly to the part where Bill Murray apologizes for Max and says he shouldn't have let him drink alcohol. It's been a long time since I saw the movie originally, but wasn't there a dinner scene with Luke Wilson somewhere in there? And wasn't there another play by the Max Fischer Players? We only saw the one at the big finale. I was really confused. (Granted, I was in a candy coma...)

Sunday, October 29, 2006
| | |
| --- | --- |
| | [4] |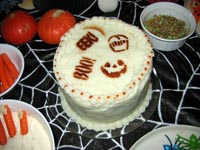 Our Halloween pictures are up!
What's that? Oh yeah, it's a Halloween Meat Cake. Pretty sweet, huh? The Snook and I just finished off the rest of the leftovers today. Apologies to the guests that I didn't get a good picture of. I'm sure the four photobloggers in attendance will have some other good shots to share!

Update: Andrew, Morgan, Amy, and Rob have all posted their photos.


Oh! I forgot to mention that the brilliance of our costumes pales in comparison to that of Amy's brother: Buster and Lucille II. That is AWESOME. The looks on their faces are what makes that photo.

| | |
| --- | --- |
| | [6] |
Our 4th Annual Halloween Extravaganza went even better than I'd hoped! The creativity and fun of our friends never fails to astound me. I've got a lot more photos to upload - including some of the Snook's greatest culinary creation to-date, the Meat Cake - but here's one to tide you over: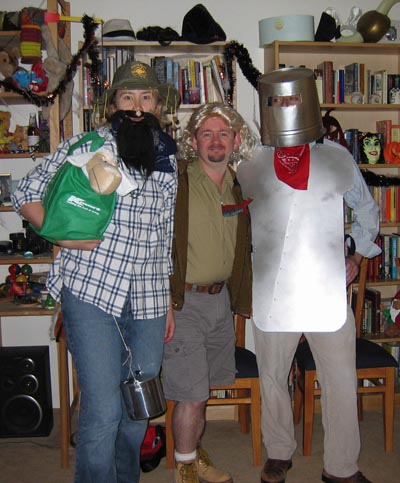 The Snook and I had settled on a theme of "Heroes of Australia" for our costumes this year, and to our surprise Andrew's costume fit right in as well. I'm dressed as the Jolly Swagman from Waltzing Matilda. (Note my authentic cork hat, billy can, and the jumbuck in me tucker bag.) Andrew is, of course, dressed as Steve Irwin. Complete with a scary looking barb poking out of his chest. (When he came in the door I was like, "You DIDN'T!" And he was all, "BUT I DID!" Brilliant.) And last is the Snook, dressed as Australia's most famous bushranger and outlaw: Ned Kelly. (You can admire the craftsmanship of his armour by comparing it to the originals.)

Now if you'll excuse me, I have some meat cake to eat for breakfast...

Saturday, October 28, 2006
| | |
| --- | --- |
| | [2] |
Mary-Helen pointed me to this excellent post on "gaming addiction." The Snook is pretty good about regulating his game play, and he did make a sterling effort at getting me to play with him. I'm not too worried yet. (Though he's only at level 47. What will happen when he gets to 60?)


Knitted Teletubbies Hats for babies. Those are so cute!

Friday, October 27, 2006
| | |
| --- | --- |
| | [4] |
Preparations are underway...
Yeah, that's a lot of eyeballs. Forty-two, to be exact. (I didn't even plan that.) What's even worse is, I actually threw out more than a third of the peanut butter mixture I made. I really should measure when I start these projects...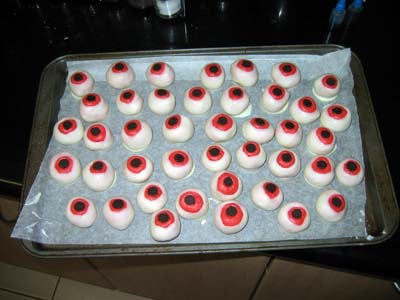 Oh, and if you catch us during daylight hours, you may see this year's special Halloween Rasterbation on CouchCam. It's the Wolfman!


Bookmarking for later: How to use Photoshop to make Pop Art. Sweet.


Big Mac Pumpkin. That's awesome!

| | |
| --- | --- |
| | [15] |
Out of 300 million Americans, how many share your name? There are only 84 Kristine Howards in the whole population! (And good grief, there are ZERO Rodd Snooks.)

| | |
| --- | --- |
| | [9] |
Urge to kill rising...
My Knitting Nemesis is at it again. I went out into the shop at midday so Chrystalla could go to lunch, and the first thing I noticed was that it was FREEZING. The air con's been on all morning and it was much too cold for me in a T-shirt. Meanwhile, over in the corner is my nemesis with the a few ladies from the Knitting Clinic. "Is that air conditioning too cold for anyone else?" I asked. "Oh yes," they all nodded. So I stuck my head back in the office and asked Chrys to shut it off. The arctic blast subsided. "Oh, thank you," one of the ladies said. "That's much better." I smiled. "I know! I was freezing. I couldn't stand it." "I see," sniffed the Knitting Nemesis. "You shut it off because it was for your own benefit."

WHO SAYS THINGS LIKE THAT?


The Snook would attest that I am much grumpier than him in the mornings. I need more sleep and I'm just not a morning person.

Thursday, October 26, 2006
| | |
| --- | --- |
| | [5] |
This is the most amazing thing ever. My Mom sent me a big ol' box of Halloween stuff this week, and inside I found... a pumpkin. WHA--? A BIG FAKE PUMPKIN. It's made out of some space-age foam stuff and you can actually CARVE IT. Oh, the things you can get in America! Thanks to Mom, Snookums has just carved his first jack-o-lantern.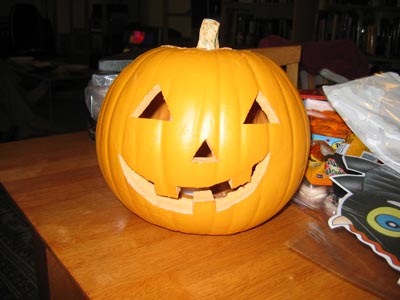 | | |
| --- | --- |
| | [2] |
This AskMetaFilter question interested me. Can you think of books written by a woman that sound like they're written by a man? (Or vice versa.) I'm nearly finished with Jonathan Strange and Mr. Norrell by Susanna Clarke, which seems to fit the bill.

Wednesday, October 25, 2006

Still sick. I managed about five hours at work today. And what little energy I have is consumed with planning for this weekend's HALLOWEEN SHINDIG. Blogging will resume once I can breathe properly...

Tuesday, October 24, 2006

Home sick. Mucus monster. Grrr. Arrrgggh.

Sunday, October 22, 2006
| | |
| --- | --- |
| | [3] |
Weekend Update: My knitting mojo has returned, I'm happy to say. My hands are aching with the effort of constructing the Cutest. Outfit. Ever. for my impending nephew. The Snook also took me to see Little Miss Sunshine, which I'd been hearing rave reviews about. To be honest I didn't laugh that much. I enjoyed it (way more than Kevin did, actually) but none of it struck me as knee-slappingly hilarious. (And whoever it was at Knitting Guild who said she cried? I did not get that at all.) I do think that Olive did a better version of that song than Bobby Flynn did.

And the other thing I did? I caught a cold. I feel like crap.

Saturday, October 21, 2006
| | |
| --- | --- |
| | [2] |
While the Snook will be growing out his facial hair for Movember, I'll be participating in NaBloPoMo. Basically, it means I have to post something here every day for a month. Hey, I do that anyway! This'll be fun.

Friday, October 20, 2006
| | |
| --- | --- |
| | [2] |
The women of MetaFilter answer the question: "How does it feel to have your period?" There's a really good range of experiences represented there (including my own). Personally, I'm just glad to see a lot of other people mentioning downing ibuprofen like M&Ms. I mean, I hope they don't get sick like I did, but at least it makes me feel a little less like a freak.

Thursday, October 19, 2006

TC News: Our new shipment of Jordana Paige bags has finally arrived in the shop! But unfortunately none of the new colours have been sent. (I'm a bit partial to the red satchel myself.) We did get the Knitting Needle Storage Box though, and I'm happy to report that it's a lot bigger and more solid-looking than it appears in the pictures.

| | |
| --- | --- |
| | [4] |
This morning the Snook was getting dressed for work when his mobile phone buzzed. "You've got a message," I said. "Do you want me to read it?" "Sure," he said. I clicked on it and nearly fell over. It said: "REMINDER - TAKE A POOP THURSDAY 8:30AM-11:00AM." What in the world? "It's a reminder," I yelled back. "You're supposed to take a poop!" And then I collapsed laughing. He claims that he and Hank were merely testing out whether Google Calendar's SMS reminder service would work in Australia, and that he entered that as a joke test item. Uh-huh. "Hey, if you have to schedule your bodily functions, I don't judge!" At any rate, it looks like the SMS service works. We haven't determined yet whether there's any cost associated.

Wednesday, October 18, 2006

RunningBlog: Those of you watching my training log (down there on the right) may have noticed that I've been doing a lot of workouts from the Biggest Loser DVD lately. I picked it up at Kmart a few weeks ago hoping that it would provide some exercise variety on rainy days. It's actually really good! Trainer Bob leads six of the contestants from the US show through four different workouts (plus warm-up and stretch). I've been alternating the "Low Intensity Cardio" and "Strength & Sculpt" options for a while now. It's funny; I was never a huge Bob fan while watching the show but I've definitely warmed to his style on the DVD. The hilarious part is that he knows the Bob fans are watching, and he totally plays up to it. He keeps turning to look straight in the camera and say things like, "You are looking so great. You are fantastic. You can do anything. I'M SO PROUD OF YOU." (And cheesy as it is, it still works on me!) Unfortunately yesterday I thought I'd step it up to the "High Intensity Cardio"... and today I can't move. I think it was all the trunk rotations and punches. My lower back is KILLING ME. And of course, I can't take any ibuprofen, so I've just been gritting my teeth and rubbing Voltarin on it all day. So if you see me moving like an elderly person this week, that's why. I did it all for the love of Trainer Bob.


This article about Dooce reveals what the mysterious lawsuit was that re-triggered her depression this past summer. I'll admit I was a little curious about that.


Remember the massive scarf being knit to commemorate the rescue of the Beaconsfield miners? It's growing...

Tuesday, October 17, 2006
| | |
| --- | --- |
| | [3] |
RunningBlog: I just found Hal Higdon's excellent running site. He's got dozens of training plans on there, including this Novice Half-Marathon that looks pretty promising. The Sydney Half-Marathon is next May, which means we've got about seven months to train. He suggests that you can stretch the plan out by doing each week twice, which should work out pretty well. In the more immediate future, there's an 8K Fun Run on Australia Day. (Didn't I say we were done for the summer? Sheesh.)


Israeli researchers have shown that facial expressions may be hereditary. That's fascinating! I would've thought it was just learned, the way you have your mother's laugh or your father's voice. But doing the experiment with blind people blows that out of the water. Neat!

Monday, October 16, 2006
| | |
| --- | --- |
| | [1] |
Idol was shocking - SHOCKING! - this week. No, really. I'm reeling. Sunday's performances were so good across the board (except for Ricky), that I had a really hard time trying to guess who was going to be in the bottom three (except for Ricky). I decided that I was going to be sad no matter who left (except for Ricky). Too bad it wasn't Ricky.

I'm glad they're letting Bobby come back tomorrow night. He deserves it. He was never meant to be the Idol, but he definitely brought a welcome dose of weirdness and musicianship to the competition. Okay, so who *is* going to win this sucker? At this point, it's looking like a three-way race between Damien, Jessica, and Dean. Holden wants Dean so badly he can taste it, and I'm not, uh, unfamiliar with that emotion. Boy is hot, yo. And he's getting better with each performance. As TallulahBelle said, he's "left the cheesy aspects of his performances behind and I, for one, am exceedingly grateful." I'll drink to that. Of the other two... I have to pick Jess. I just love her! Her singing is just so effortless and joyous. I'd give anything to have a voice like that. So my prediction is that the next bootees are Ricky, Chris, and Lisa, with Damien getting third and Dean and Jessica going on to the Final. I guess I should probably vote or something, huh?

| | |
| --- | --- |
| | [2] |
Ooh, check out these photos from the set of the upcoming His Dark Materials movies. The gyptian barge looks good! I like the atmosphere they've got going too.

Sunday, October 15, 2006
| | |
| --- | --- |
| | [18] |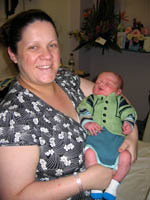 Elizabeth Zimmerman's Baby Surprise Jacket
At last, a finished object to report! I'd seen this famous jacket before but this is the first one I'd ever knit. It was for Tia and her newborn little son, Rohan. I took it over to them at the RPA Hospital tonight, and wonder of wonders, it actually fit! I'm also happy to report that this is officially the first knitted item the baby's ever worn (as poor Tia was too sick to knit for most of her pregnancy). It was knitted out of Debbie Bliss Baby Cashmerino and I used size 3.25mm needles. Read on for more pictures, including yours truly holding a truly unhappy newborn. [more...]

| | |
| --- | --- |
| | [4] |
RunningBlog: Well, today was the day of the Ryde Aquatic Festival and the 10K Fun Run event in Gladesville. (We'd actually mistakenly thought the run was Saturday morning, so Friday night we'd carb-loaded and everything before we thought to check the entry form. Oops. Oh well; it was too hot to run Saturday anyway.) I'd like to start off by saying that AS GOD IS MY WITNESS, I will NEVER run a race in a hilly residential area again. This was the hilliest run I've ever been on and it KILLED. Add in the fact that the crowd thinned pretty quickly - most of them were doing the 5K - and soon it was just me and the Snook and one old guy clambering up endless hill after hill of McMansions. I'd forgotten my pedometer and there was no signage announcing the distance, so we had no cue whatsoever about how far we had to go. I think I started to go a little mad. At one point the route crossed a park, and another section was along a trail through a little bit of woods, but mostly it was just endless suburbia. (At one point, I could swear that the damn course was a tesseract.) My goal had been to run the whole thing without walking, but the hills sapped my will to live pretty quickly. At roughly the halfway point - I have no way of knowing, really - I told the Snook to go on ahead. He was itching to pass the old guy but I didn't have it in me. So I plodded on alone. About three years later (in my subjective mental time) the tesseract finally folded in on itself and the finish line came into view. I crossed at 71:34. Not the greatest time, but understandable considering the hills, I think. (The Snook finished in 67:09.) I finished eighth out of my age group though! (There were only ten of us.) And I think that's probably it for the Sydney running season until the heat of summer is behind us. Maybe I'll take up swimming...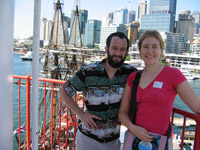 While everybody else was bitchin' and moanin' about the heat yesterday, the Snook and I decided to get out of the house and enjoy it. We headed down to Darling Harbour to visit the Maritime Museum, which we chose on the basis of two criteria: 1) we'd never been there, and 2) it's currently free. We walked over from Chippendale and soon discovered a Japanese Festival happening in Tumbalong Park. I took some photos... [more...]

| | |
| --- | --- |
| | [4] |
Apple made me gasp twice this morning. First when I saw Steve Jobs's 'tache, and second when I saw the new iPod nano RED. (They don't list the red nano on Australia's site though. DAMN YOU, APPLE AUSTRALIA! I hope I can get one.)

Saturday, October 14, 2006
| | |
| --- | --- |
| | [7] |
Do cats expose their stomachs to cool off from the heat? Because it's 90 friggin' degrees out and Dr. Amy Jones has been lying like this for twenty minutes. In fact, she's actually gone to sleep like that. It'd be really cute, except for me worrying that she's really hot and uncomfortable.



PS - Nice job on the weather there, Yahoo. You might want to revise the day's predicted high.



Friday, October 13, 2006

Ebert writes from rehab. What a touching little essay. I had no idea that his condition had been so bad! Sounds like he was basically in a coma for two months. I'm looking forward to his first review (due tomorrow).


In the Northern Hemisphere, it's now getting on Autumn. And Autumn in the Midwestern US means the county fair. And the county fair means a bewildering array of deep-fried foods, many of them on sticks. This one isn't on a stick, but man, I'd give it a try: Deep Fried Coca-Cola. Only in America...

| | |
| --- | --- |
| | [1] |
How's your Soctober going? Check out this short-row heel tutorial. Very useful! I've done short-row heels before but I didn't do her trick of double-wrapping as you go back and forth picking up the wraps. I also especially like the tip of wrapping the first non-heel stitch to keep a hole from forming. (I always get that hole.) I'm going to be doing socks all summer, I think. (Link courtesy of Lara.)


Dude, Mr T's character on the A-Team was called Bosco Baracus?? I never knew that.

Thursday, October 12, 2006

Congratulations to my friend Tia and her husband Daniel, who welcomed their son Rohan Stuart Daniel Porter this morning. He weighed 9lbs 12oz! (Which is why poor Tia hasn't been to Stitch and Bitch very much lately.) Mum and bub are doing well. I'm going to try to get a picture when I visit this weekend...


Are chimpanzees people? I had a discussion with the Snook about this article last night. He came down on the side of emphatically not, mostly because we're genetically pretty close to lots of other things too. I like the other argument though, that if they can communicate with us and share so many of our complex behaviours, then that makes them "people" no matter what the genetics say. (Or at the very least, ramen.)

| | |
| --- | --- |
| | [4] |
The Snook is considering participating in "Movember." It's an event to raise money for men's health issues. Participants start clean-shaven on November 1st, and then have the rest of the month to grow a mustache. Really, it's just an excuse for him to grow a big old shaggy 'tache and live out his Tombstone fantasy. (Me, I get to indulge in my secret fetish for guys with 70's facial hair: Jason "My Name is Earl" Lee, Sam "The Big Lebowski" Elliot, etc.) Let me know if anybody else wants to join him in this crusade!

| | |
| --- | --- |
| | [2] |
85C Cake Shop
I walked up to Giordano after work last night to buy some new pants, and as I left there I found myself walking past "85C", the coffee-and-cake shop that opened last month. (Grab Your Fork has a review.) I figured "What the hell?" and went in. I asked the guy for two pieces of their signature cake. "Uh... you mean the most popular?" Sure, as long as it's good. I left with "strawberry cardina" and "Black Forest chocolate cake" wrapped up in an adorable little box. After dinner, the Snook and I embarked on a taste test. I think the strawberry is the definite winner. Very fluffy and light, and pretty much as close as I've gotten to a strawberry shortcake over here. The Black Forest cake was disappointing though. If you got a bite that included a cherry, it was divine. Unfortunately there weren't a lot of cherries, so the majority of it was just chocolate with whipped cream. And that bit wasn't great. It had that Michel's Patisserie quality of making you feel like you're eating nothing but sugar and fat whipped with air. There wasn't a lot of flavor to the non-cherry bit, is what I'm sayin'. (Of course, the Snook got to this one before me, so it's entirely plausible that he surreptitiously ate more than his share of cherries.) Anyway, two pics:




Wednesday, October 11, 2006

Amish Memory Shawls. Now that is a lovely idea. (Link courtesy of Lara, who is a thoughtful and well-meaning person herself, no matter what she thinks right now. Buck up, babe.)

| | |
| --- | --- |
| | [2] |
My latest baby is finally ready to see the world: Queen Adelaide Needlecraft. Please let me know if you spot any bugs!


This is amusing: a "sprawling epic that examines the deep inner psyche of Batman"... in six pages. Heh. (Link from MetaFilter.)

| | |
| --- | --- |
| | [8] |
Quiz: 25 Cities of the USA. I buggered up some of New England. I always do that. And while I'd heard of "Great Falls," I had no idea what state it was in. Final score: 81% in 1:25. (Link courtesy of Kel.)

Addendum: Ooh, he has a bunch more! I just tried the Australia and New Zealand version... and gave up after the first three. I know nothing about New Zealand geography.


Hot Dog Loaf. Disgusting... but I'd eat that. Makes me wish I was still doing Atkins! (Link courtesy of Bex, who almost certainly expected more revulsion than this.)

Tuesday, October 10, 2006
| | |
| --- | --- |
| | [1] |
Kristen's having a baby! I'm a sucker for babyblogging.

| | |
| --- | --- |
| | [6] |
I've rather lost my knitting mojo of late, but this made me perk up right away: the Perfect Sweater is finished! Hmm, and I was looking for a pattern suitable for that lovely Jo Sharp 8ply cotton...

| | |
| --- | --- |
| | [3] |
Someone on MetaFilter asks: "Which pet is more likely to eat a deceased owner, a cat or a dog?" Heh. This article seems to indicate that it's usually dogs, but the Straight Dope reckons Amy'd be chewing on our faces within a day or two. Yeah, I'll buy that. Now the question is which one of us she'd eat first. I'm not sure whether her loyalty to me as the Alpha female would outweigh the fact that I'm obviously a much juicier and tastier morsel than the hairy Mr. Snook...

Addendum: Holy crap! I didn't realize that the face transplant lady had her face chewed off by her own dog after taking a bunch of sleeping pills! That's nuts. I wonder if she still has the dog. I don't think I could sleep in a house with an animal THAT HAD A TASTE FOR MY OWN FLESH.

| | |
| --- | --- |
| | [11] |
Litter Box Issues: Dr. Amy Jones has suddenly started to have a few "accidents" with her litter box. It's when she pees, see. She's always been a little weird with her box, pooing in one corner and peeing in the other. The "zones" are getting further apart though, and now she's going over the edge. We've actually seen her do it. She's physically in the litterbox but she's backed up to one edge, so when she squats down her bum's hanging over. Hence: the big piece of cardboard underneath to catch the overspill. We thought at first that it was the litter; we were trying an increased amount of the magic crystals to cut down on odor, and we think maybe they were too rough on her feet. Fine, we switched back to the old clumping stuff. But she's still doing it. I don't think there's anything physically wrong with her; I think she's just got a bit of a bathroom ritual going on and we need to move her forward a bit. Could we need a bigger box? Do we need to clean more frequently? (The answer is yes, but she never complained before.) Should we move the box out of the corner it's in? Any advice is welcome. Right now, I'm thinking of trying something like this...

Monday, October 9, 2006

Halloween Papercraft. Oh, I'm MAKIN' those coffins!


"Begging the question" explained by dinosaurs.

| | |
| --- | --- |
| | [4] |
Idol Roundup: I don't really have the energy to do a full recap, but here are my quick impressions from last night's "Disco Fever" performances:
Chris: good as usual. Solid performer, but don't think he'll ever pull the teen vote.
Damien: Yowch. I wouldn't say it was the worst thing ever, but I was definitely more bored than in any of his previous songs. Why didn't he bust out the Bee Gees?
Lavina: again, good as usual. Again, don't think she'll ever pull the teen vote. And why does Holden have a vendetta against her? Is it because he's still bitter about her weird-looking sister that he had such a crush on?
Ricky: We fast-forwarded. Boring! And crazy eyes. I think the judges want him gone. I do too.
Lisa: Great song choice, but really boring performance. We haven't really seen her grow or change at all so far.
Dean: I said to the Snook before the show, "If he doesn't do 'Kung Fu Fighting' and bust out some of his karate moves, he's DEAD TO ME." Well, he didn't sing my song but he did do the gymnastics. Still not the greatest singer, but that was my favorite performance of his so far. Very entertaining!
Bobby: Superfreak? REALLY? My enthusiasm died a little bit when he started, and I realized that he was basically just doing the Richard Cheese lounge lizard version. It got better at the end when he started doing the "Bobby thing" though. The touchdown was unwarranted. (Last week's "Under Pressure" was better.)
Jessica: I love her! So cute. She seems to be able to sing everything, and I'd love to see her go to the final two.
My Bottom Three predictions for the night are Damien, Lisa, and Ricky, with Ricky to thankfully go. Although there would be some Lisa backlash a-brewin'...

Sunday, October 8, 2006
| | |
| --- | --- |
| | [10] |

Guzman Y Gomez Taqueria (With Pictures!)
Sydney's lack of decent Mexican food has been well-documented. After another okay (but not excellent) dinner at Baja Cantina in Glebe Friday night, I was about ready to throw in the towel. Imagine our surprise then when we happened upon the Grand Opening of Guzman Y Gomez Taqueria in Newtown yesterday! We stopped for a minute to talk to one of the founders, a genuine Noo Yawker named Steven. He told us with pride how he'd actually brought one of the best chefs in Mexico to cook here in Sydney, and how many of the staff (which included some lovely ladies) were Mexican as well. We were loaded down with worms though, so we made a mental note to come back another time.

We lasted about 24 hours. We walked over to Newtown today and debated over whether a "taqueria" would survive on King Street. On the plus side, cheap and cheerful ethnic takeaways seem to do well there. On the negative, they're in the Cursed location on the corner between Newtown Thai and T2 (where Pasta Shot and a dozen other concepts have bit the dust over the past few years). The fitout and branding looked pretty slick to me, which might work or might not. The Snook thought it might look too "American," but I countered that Gloria Jeans and Crumpler seem to be doing pretty well there these days. So with trepidation, we arrived to see what all the fuss was about. And DUDE, there was a LINE out the door! [more...]

| | |
| --- | --- |
| | [1] |
OOOOKAY! Thank you, Max, for recommending a book that SCARED THE BEJESUS OUT OF ME. Yeah, I just finished Scott Smith's "The Ruins." I didn't know it was going to be a horror story! I could only read it during the day, in full sunlight. I'm still creeped out. Oh, and yeah, it's frickin' springtime here so the bushes and flowers and VINES are all flourishing and YOU KNOW how I am with nature at the best of times, right? *shudder*

| | |
| --- | --- |
| | [3] |
Food, Glorious Food
The Snook and I got up early yesterday to head out to the Good Living Growers' Market in Pyrmont. It was our first visit and we were not disappointed! When we left an hour later, we were weighed down with asparagus, tomatoes, St. Agur blue cheese (soooo good) from Simon Johnson, some Bircher Muesli from Whisk and Pin, bratwurst and boudin noir (we were feeling very Steingarten) from Eumundi Smokehouse, and last but not least... a genuine La Tartine fruit loaf. (I'd have taken my own picture but this sucker didn't last long.) For breakfast, we had lattes from Toby's and wagyu steak sandwiches. YUM. I kept my eyes peeled for an Asian photoblogger, but it looks like we missed AugustusGloop by an hour or two. I think this may become a monthly habit!

Saturday, October 7, 2006
| | |
| --- | --- |
| | [2] |
How to Make Your Husband Laugh Against His Will
Lean over during the "Bokashi Bucket" portion of your "Sustainable Living - Vermicomposting" workshop and whisper in his ear: "Bukkake Bucket." (I debated going with "Booyakasha Bucket" instead, but being shocking and prurient is funnier, right?)


The Snook and I have been going through a period of renewed interest in our garden, and I recently decided to start up our worm farm again. (I got one a few years ago but somehow managed to kill all my worms.) This time we're gonna do it right! So I booked us in for a free vermicomposting workshop at The Watershed this morning. It was fun! We learned a lot of great tips for keeping our worms healthy along with advice for harvesting and using the castings. I highly recommend it. You can even buy farms and worms there too! We left with a bucket of worms to restart our population. They're currently exploring their new home and hopefully having lots of little babies...

| | |
| --- | --- |
| | [3] |
Only three more weeks...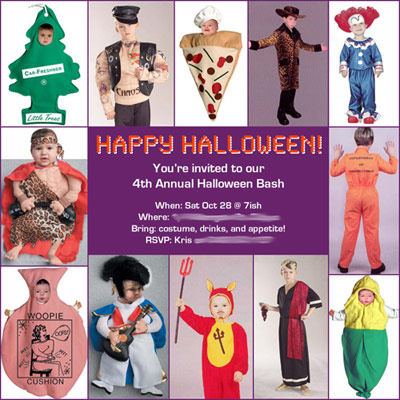 Ah, the horrors American parents inflict upon their children.

Most of those images come from this site, if you're interested.

Friday, October 6, 2006
| | |
| --- | --- |
| | [2] |
I am mighty. I know it's cheesy, but I actually found that a little empowering. My self-confidence isn't very high these days. Maybe I should watch that every morning or something. (Link courtesy of Brigita, who is also mighty.)


Foodie Alert: The Snook and I just booked in for this dinner with Bill Granger sponsored by gleebooks. It's on November 27th at the Hickson Rd Bistro (at the Sydney Theater). You get three courses plus a copy of Bill's latest book, which he's going to talk about. I think there are still spots left if anybody wants to join us!

Thursday, October 5, 2006
| | |
| --- | --- |
| | [3] |
Due to nefarious, evil, comment-spamming assclown bastards, you can no longer mention "viagra," "cialis," or "phentermine" in your comments at this site. Not that many of you ever did, but now you can't. This list will probably grow.


Someone on MetaFilter asked what the big deal is with Woz anyway... and the man himself responded!

Wednesday, October 4, 2006
| | |
| --- | --- |
| | [1] |
How in the world am I supposed to go to bed and sleep when there's a NEW VERONICA MARS TO THINK ABOUT? [more...]

| | |
| --- | --- |
| | [3] |
More Halloween supper ideas... I need to get going on the invitations!

How to survive a plane crash.
Tuesday, October 3, 2006
| | |
| --- | --- |
| | [1] |
not martha deep fries stuff. Mmmm.

| | |
| --- | --- |
| | [2] |
Burning Koala (aka Angela and Eric) has just posted some lovely photos of Sydney University and Victoria Park. This is just a few streets over from our house and it's one of the prettiest places on this side of Sydney.


Someone on MetaFilter just asked about married bloggers. Well, I guess I'm one. The Snook has kept up his streak of never commenting for five years now, but you all know he's basically the silent partner here, right? A few highlights for the newcomers:And don't forget our photos page, where you can see momentos from all our silly adventures. Being married to your best friend and sharing it with the world is so fun.

| | |
| --- | --- |
| | [7] |
This may be the Dumbest Question Ever, but how do you put powder on your feet? I have only recently discovered the joys of Lush T For Toes Powder for making sockless summer shoe wearing bearable. The only problem is that I get it *everywhere*. Do I need to invest in a puff or something?

Sunday, October 1, 2006
| | |
| --- | --- |
| | [7] |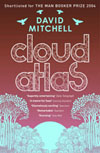 A few months ago, I remember reading a MetaFilter thread where somebody was asking for recommendations of a good, modern sci-fi-ish book to recommend to his wife, who doesn't actually like sci-fi. One title that popped up a lot was Cloud Atlas by David Mitchell. (Here's the thread.) I spotted it in the bookstore not long after and picked it up, but I didn't get around starting it til last week. I didn't really know anything about it other than it was supposed to be one of those "postmodern" novels where the timeline is a bit of a puzzle and the bits are all intersecting. Needless to say, I was pretty surprised to find myself reading some sort of Hornblower tale of the South Pacific, with a bunch of 19th century Englishmen learning about Maori history. "This is science fiction?" And then suddenly... it changed completely. [more...]

| | |
| --- | --- |
| | [3] |
I had my first piece of Vegemite toast today as an Aussie, and I think I can say I actually liked it! I ate the whole thing anyway. (The rumors about its efficacy as a hangover treatment seem to be true as far as I can tell.) I also made my first official trip to the Sydney Fish Market to get the prawns yesterday. I'd managed to avoid it for five years, but I figured it was finally time to take the next step. It was smelly, but I survived. Lastly, I played a demo version of Lego: Star Wars and I think I might be hooked on a video game for the first time in years. It was a good weekend for Firsts!

| | |
| --- | --- |
| | [4] |
Idol Impressions: Beware! There was a lot of shouting in my house during this episode tonight, so Here Be Capital Letters... [more...]

| | |
| --- | --- |
| | [4] |
Andrew has posted some great photos from the barbecue yesterday: fairy bread (his own contribution), chocolate crackles (courtesy of Bex), my patriotic cocktail cactus (featuring cabanossi, Coon cheese, pineapple, and luridly dyed onions, with the wooden cactus courtesy of Miss Fee), a nice shot of the Australian flag hanging on my clothesline (courtesy of the Barkers), and lastly, Amy's boobs. Like I said, it was a party!


How to use the Cornell Note-Taking Method. This should prove very useful if I find myself here next year. (Link courtesy of Max.)

archives
You can search through the archives by post keyword using the form on the left, or you can browse by month using the links at the bottom.
"Moblog" refers to posts and images posted directly from my mobile phone.

"PW Blog" refers to posts recovered from my very first weblog, which dealt with news related to my college dorm.