Friday, February 29, 2008

Awww, Eileen has posted a great story about a stranger returning her lost wallet. Very heart-warming!

Thursday, February 28, 2008
| | |
| --- | --- |
| | [4] |
Margaret Cho
Last night I joined Bex, Fin, and two of their friends at the Sydney Theater to catch the world premiere of Margaret Cho's new show, "Beautiful." It was AWESOME. I can remember when my Mom and I first discovered her in the early 90's. We liked her because she was Korean, and because we'd never seen a smart, funny Korean on TV before. Her imitations of her mother had us in stitches. I knew that she'd gotten really popular in the last few years, but I had no idea that she'd become such an international gay icon. (She's actually the grand marshal of this year's parade.) Last night the packed audience consisted of 90% gay men, 9.9% lesbians... and me. The audience loved her. They couldn't get enough. Most of the show was about sex, but she still threw in some hilarious Korean humour too. We didn't stop laughing for more than an hour. She was fabulous, much tinier than I imagined, and she ended the show with a song (whose title I won't repeat here, but which was stuck in my head for an hour). And then when we were standing around out front afterwards, Bex and I suddenly found ourselves talking to Mark Trevorrow (aka Bob Downe), an honest-to-goodness celebrity! He seemed really friendly.

Wednesday, February 27, 2008
| | |
| --- | --- |
| | [2] |
Vote for Niko!
Got thirty seconds to do a good deed? My mom's friend Jane has an autistic son and three adopted special needs kids, and a great charity called 4 Paws for Ability was able to provide them with a companion dog called Niko. Jane's entered a photo of Niko in an online contest with a grand prize of $10K to be donated to a pet charity. Jane wants to win so she can give back to 4 Paws for Ability. Isn't that awesome? If you'd like to vote for Niko, just go over here. (Yeah, it asks for an email address, but just use a throwaway one like I did.) Thanks!


For those of you who wanted to see it, The King of Kong: A Fistful of Quarters is finally opening at the Dendy theatres tomorrow...

| | |
| --- | --- |
| | [1] |
I just want to publicly acknowledge some good customer service. I got an email today from GoGet (the car share we belong to) letting me know that there's a new car available not far from us in Glebe, and that they're doing a special rate on it for the next month. It's going to save us like $60 on a day trip we've got planned. So "yay!" for saving money. I also like that all of their communications are really friendly and non-corporate, and they make me happy to be a part of such a successful local business.

| | |
| --- | --- |
| | [4] |
Happy birthday to crumpet! She's a blogger, an artist, a knitter, a beloved doggy-mama, and she makes a mean vegetarian chocolate pudding. And if you buy me a piece of art from her shop, you will make us both very happy. :)

Tuesday, February 26, 2008
| | |
| --- | --- |
| | [7] |
Excellent. I just got a call today from the Ian Thorpe Aquatic Centre letting me know that their Adult Swim Classes are starting back up again. I was a little hesitant to spend the money ($200 for ten lessons plus unlimited use of the pool over those ten weeks) when we're so broke, but I rationalized it to myself and the Snook thus: I am giving up Diet Coke. I know I tried that once before, but I'm serious this time. I spend at least $10 a week on Diet Coke, so I figure it's a good sacrifice for the class. I start a week from Thursday! (But the Diet Coke prohibition starts NOW.)


"Local laws could scuttle iPhone deals." Nooooooo! But-- wait. That article is stupid. I seem to recall that France had the exact same law about tying a mobile to a carrier, so Apple released an unlocked iPhone. So they've done it before! There's a precedent. I refuse to give up hope. (That was the #1 Google result for "iPhone France", by the way. You'd think these fancy pants QUT researchers could've turned up that little gem. Shoddy journalism.)

Monday, February 25, 2008
| | |
| --- | --- |
| | [1] |
Big Spanish Castle Optical Illusion. That is SO NEAT! You stare at the dot for thirty seconds, then mouse over the image so the black-and-white version comes up. Except your eyes have gone all wonky, and it looks full colour til you move them! (Link courtesy of Daring Fireball.)

| | |
| --- | --- |
| | [11] |
The web-goddess Oscar Contest 2008 is now CLOSED for new entries! The awards show is about to begin. I'll be updating scores as often as I can over the next few hours. You'll be able to see how you're doing on this results page. And remember to count the dead people for me! Thanks...

Update: And it's all over! Congratulations to Gerald Granozio, who takes out the top prize this year. There was actually a five-way tie for first between Gerald, Brinton Callaghan, Jeremy Muir, Kevan Tucker, and Terry Rutherford, all of whom got 11 out of 12 correct. It came down to the dead-people tie-breaker then, which this year ended up being 43. Gerald guessed 42, just beating out Kevan who guessed 45. I think this was our closest contest ever! Thanks to everybody who entered.

Even later: Wow! It turns out that Gerald is a bit of a ringer. :)

| | |
| --- | --- |
| | [1] |
"Starship Kimchi: A Bold Taste Goes Where It Has Never Gone Before." The first Korean astronaut is getting ready to go up to the ISS, and he'll be taking specially designed space kimchi with him.
"Ordinary kimchi is teeming with microbes, like lactic acid bacteria, which help fermentation. On Earth they are harmless, but scientists feared they could turn dangerous in space if cosmic rays and other radiation cause them to mutate."
I, for one, welcome our new mutant space kimchi overlords.

(Link courtesy of the Snook, who got it from Toast.)

| | |
| --- | --- |
| | [1] |
Happy birthday to Bex! We're going to see Margaret Cho on Wednesday night, and I'm super-excited...

| | |
| --- | --- |
| | [1] |
The Perils of Blogging
"Blog under your real name, and ignore the harrassment." That's a nice little article on the importance of using your real name on the Web. I had a few people tell me that my whole drama with anonymous trolls last week wouldn't have happened if I were quieter about who I am and what I do. "Why can't you just have a journal in a locked drawer?" I can understand their bewilderment, especially those who aren't that Internet-savvy. It comes down to this: I like to talk and I like to write. For whatever reason, I feel compelled to put my life out there for friends, family, and whoever to learn about. I've been doing this for eight years now, and the benefits far, far outweigh the occasionally annoyances. I've made friends - real "in person" friends - from around the world. I've gotten some amazing opportunities. I've met some of my heroes. I've got a community here that I can count on. That's why I do this. I made a decision early on - way before I started blogging, in fact - that I was going to be transparent about who I am online. And if people don't like it, they can get stuffed. :)

Sunday, February 24, 2008
| | |
| --- | --- |
| | [2] |
Wow! I just found out that a class of sixth graders will be using my sock monkey tutorial this week as part of a unit on, you guessed it, sock monkeys! Neat. Hello, middle-schoolers!

| | |
| --- | --- |
| | [1] |
Oh man. Why did it take me so long to listen to the Best of Bootie 2007? IT RULES. I've used it for my last two runs and it's been awesome. I nearly fell over when the Star Wars sound effects kicked in. I also really like the "Tender Umbrella" mashup. Highly recommended.


Even if you're not a knitter, I really recommend this week's Sticks and String podcast. David's essay about last week's apology by the Australian government was one of the best bits of writing I've heard about it, and it's a good explanation of what it was all about (for those from other countries).


It's Oscar time!
We're about 22 hours from the start of the Academy Awards, so if you haven't put in your entry for my Oscar Contest 2008, you'd better hurry! (There always seems to be such a rush at the end. I think everybody's waiting to see what the critics predict.) Also, as usual I'm asking if those of you are are TiVoing the show can help me out by counting the number of dead people in the annual obit montage. Just drop me an email or a comment with your total. Thanks!


I'm almost embarrassed to post this, but I just picked up a copy of Debbie Bliss's The Baby Knits Book at Borders in the city for $3.95. Some, uh, knitting stores sell it for a lot more. Like, $80 more. Ahem. Anyway, all the copies they had on the shelf are now gone (sorry!), but you might get lucky at one of their other locations...

Update! I've just been told that they have more stock at the Bondi and Macquarie locations.

| | |
| --- | --- |
| | [2] |
Great AskMefi Today: What do you call those big clumps of snow that accumulate in your car's wheel wells? In my Indiana family, they were always "car boogers."

Saturday, February 23, 2008

The Duckworth-Lewis Method explained. Neat! The DL Method is a system for deciding which side in a cricket match wins when the game has to be cut short (for weather or darkness). I always wondered how it worked.


lowercase L. It's a blog that collects photos of people's hand-written signs where they've capitalized all the letters except for "L". It doesn't sound like much of a phenomenon to me, but I'm sure I'll start seeing them everywhere now... (Link courtesy of Daring Fireball.)


The Ladies of Grace Adieu
I just finished reading this collection of short stories from the author of Jonathan Strange and Mr. Norrell. It's lovely. Susanna Clarke created such a large and unique universe in that novel that I was happy just to be able to see more of it. The stories all feature interactions between our world and the world of Faerie. Several of them feature women, which is nice since the other book was so male-oriented. These aren't complicated stories, and they feel more like fairy tales than anything else. The thing I really liked was the creepy mood throughout each one, that feeling that even in the must mundane British village, there are secret places around every corner just waiting to be wandered into. The writing is also amusing in places, such as the reworking of Rumplestiltskin. ("Mr. Simonelli or the Fairy Widower" is oddly stuffed full of references to Jane Austen. I suppose with a tale about five young ladies in Derbyshire though, you can't escape that.) I think this review does a great job of laying out the strengths and weaknesses of the book. Just think of the stories as extended footnotes from the novel. They're also great bedtime stories for grown-ups...

| | |
| --- | --- |
| | [1] |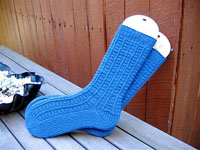 Glib Socks
These are my fifth completed pair for the Southern Summer of Socks, and I think they were the fastest to knit. Less than two weeks from start to finish! I'm still well on track to meet my goal of one pair per month.

This was my first time using the Cascade Fixation. It's a really weird yarn: 98% cotton, 2% elastic. It's thick and sproingy and I know a lot of people use it for bathing suits(!). I bought it because the Snook hates wearing wool on his feet, and I figured he might be willing to wear this. All the patterns I could find were either girly or boring though. I mentioned my frustration to Bex, and she remarked that she was working on a simple sock pattern at the moment. She e-mailed me the stitch pattern and it was perfect. (She's since put the pattern up on Ravelry as a free download.) Read on for the technical details. [more...]

Friday, February 22, 2008
| | |
| --- | --- |
| | [3] |
I was having a good chuckle over these bad science fair experiments - some of those HAVE to be Photoshopped, right? - when I stopped short at the last one, "Plants and Pop." Ohhh, man. My best friend Annie Fleck and I did a joint science fair experiment together in, like, fifth grade that was all about WORMS and POP. No joke. We kept various styrofoam cups full of dirt and earthworms in Annie's basement, and every few days we'd add drops from various cans of soft drinks and observe the worms' health. Based on how lethargic/dead they were, we somehow extrapolated which drinks had the most caffeine. It was Bad Science combined with Cruelty to Animals for the Double-Plus Win! We actually got to go to Regionals with it, which was all we really wanted (because it was held at a local college and we got to swim in their big pool for part of the day).

| | |
| --- | --- |
| | [6] |
Obama Wins!
It turns out that Obama won the Democrats Abroad primary that I voted in ten days ago. He kicked Clinton's butt by about a 2-1 margin. (Link courtesy of Kevin, where I confess I get nearly all my US election news these days.)

| | |
| --- | --- |
| | [3] |
Huh. Every now and then somebody will ask a question on AskMeFi about some regional linguistic quirk, and I realise that I have it. This person is confused and annoyed by Midwesterners who say things like, "This needs fixed" or "Those need washed." (As opposed to "This needs to be fixed" or "Those need to be washed.") I really had no idea this was such a strange construction. Those sound fine to my Indiana ears.

On the flipside though, there's a comment in there about some Pennsylvanians who say things like, "I'm done my book." THAT? IS SO WRONG.

Thursday, February 21, 2008
| | |
| --- | --- |
| | [3] |
Me: Ever seen this?
Snook: I bet there's a lot of pee in that pool!

Wednesday, February 20, 2008
| | |
| --- | --- |
| | [2] |
There is no day so bad that beers and knitting with your mates can't fix it. Thanks to Emily, Bex, Miss Fee, Rose Red, quaffy, JP, Sally, ramblybear, Devvy, Tia, and Damo for cheering me up immensely. You guys are THE BEST.

| | |
| --- | --- |
| | [9] |
A Public Apology
I've taken down the Sorry Day post. Things have gotten out of hand. One of the people who was harrassing me the other day sent the link to the woman mentioned in the post, and she's been very hurt by it. That was never my intention at all. I deliberately left out all identifying details, and I took great pains to clarify that even though I disagreed with her, I still liked and respected this person. In fact, I've directed this person to my website in the past, and I didn't say anything in the post that I didn't/wouldn't say to her face. Some of the comments got a bit rough though (not that I'm shifting the blame onto you guys!), and this woman isn't very comfortable with blogs and the Internet. To her eyes, it looked like we were ganging up on her. I'm really very, very sorry about this.

The whole situation came to a head this week and I had to do something to clear the air. (I'll also be apologising to the woman in person, and also the other woman mentioned in the comments.) To be honest, the decision to remove the post wasn't an easy one to make. On one hand I want to admit to my error and make things right... and on the other hand, it fills me with a blinding rage to give in to the trolls who were harrassing me. (I do not believe that the woman in question had anything to do with them, other than being told about the post.) But you know what? I have to be the grown-up here. My friendship with the woman affected is more important than spiting trolls. So I've removed the post and I unreservedly apologise to the woman in question. I'm sorry.



And as for the troll in question? I don't know what I did to piss in your proverbial cornflakes, and I'm sure at this point I don't care. For future reference though, I do have a log of your IP addresses, and the next time someone asks me to prove it was you - as happened today - I might not be the bigger person after all.



Tuesday, February 19, 2008
| | |
| --- | --- |
| | [1] |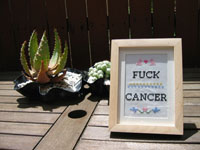 F*** Cancer
Hooray! Brigita got her care package from me. It takes a lot to get me to cross stitch, you know. (I've posted some more pictures after the jump.) The design comes from Subversive Cross Stitch. And how adorable does Miss Violet look? What a cutie! [more...]

| | |
| --- | --- |
| | [1] |
Bacon curls - the perfect garnish for your Meat Cake!

| | |
| --- | --- |
| | [3] |
Trainer Bob says that Australians are lazier when it comes to losing weight. Ouch. I don't know that I'd go that far, but I felt pretty bad when I saw the numbers that Rachel and JJ have posted since leaving the house. Maybe next year the producers will cast people who have a genuine desire to lose weight over those who just have a desire to stir the pot.

Monday, February 18, 2008
| | |
| --- | --- |
| | [4] |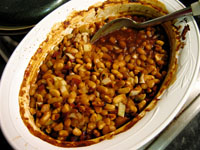 "Hot and Smoky" Baked Beans
I was chatting to the Snook over IM this afternoon about what we were going to have for supper when I suddenly got a massive craving for baked beans. And I don't mean crappy beans out of a can -- REAL baked beans. So I went looking for recipes. I settled for these Hot and Smoky Baked Beans, which seemed like a good compromise between my desire for mostly-homemade and my lack of thirteen hours to soak dried beans. I used Toohey's Old for the "dark beer," and I substituted treacle for the molasses (since we already had some in the cupboard). I don't see Great Northern Beans here very often, so I went with the much more common cannellini beans instead. Other than that, my only substitution was in using dried chipotle powder instead of canned chilis. (Since Australia doesn't have a big Hispanic population, stuff like that isn't easy to find. We get our chipotle powder from Herbie's.) The Snook was dismissive of my plan at first, as he's not a huge fan of American-style baked beans. (He says they're too sweet.) The smell of these won him over though, and he heartily approved of the nice smoky flavour from the chipotle. My only complaint was that I wanted the dish overall to be a bit thicker and stickier. Part of that might be because I only used five cans of beans instead of six (on the recommendation of some of the reviews). The next time I make them, I might use more beans and let 'em cook a lot longer. I think these would be great at your next big family dinner though!

| | |
| --- | --- |
| | [2] |
Sydney Meetup for Damo
In case you didn't see it over at Ravelry, "Damo" from ACS is going to be in Sydney on Wednesday and I'm organising a little meetup for him. Since the shop won't be open that night, we're going to have it at the "Crossroads Bar" at the Swissotel on Market Street from about 5:30ish. If you'd like to meet arguably the most influential guy in Australian knitting right now, let me know and I'll add you to the list.

| | |
| --- | --- |
| | [13] |
I hate trolls. In case you didn't notice, I've been being attacked on this website over the past 24 hours for sharing an opinion that 68% of Australians also hold. (Or it might be that I'm also American. Or that the person hates George Bush. They're not very clear.) Anyway, my attacker(s) aren't even debating the issue; they're trying to deny me the right to have an opinion on the matter. I tried arguing my case, but you know how well that goes. So now I'm just going to delete the crap. (I'd block them outright, but they share ISPs with several of my legitimate commenters, and that would block you all from the site. That said, if w-g suddenly disappears for you, that's what's happened. Drop me a line and I'll grant you access.)

I'm not really sure what else to do. These people really don't deserve any more of our attention, so perhaps we should just leave it at that. I guess I could force a sign-in for comments in the future, but I'd really hate to have to go to that option. Man, what kind of pathetic, antisocial jerk picks fights with people over things they say on their personal websites? We'll just have to ponder.

Update: I've locked down commenting for the time being. Those of you who've commented before shouldn't have any trouble, but please let me know if you do.

| | |
| --- | --- |
| | [7] |
Qantas = Ripoff Merchant
I have no idea how the airlines can get away with this crap. Using Qantas's website, I get a fare of $1998 for a return trip ticket between Sydney and San Francisco. If I switch to their US site and use the exact same cities on the same dates (just going in the opposite direction), the cost is USD $1229. Even allowing for the exchange rate, that's still a $500 premium that they levy on Australians. I got so mad I just called them. "We're very sorry, Ma'am, but there are certain fares that are only available to North Americans..." yada yada yada. Qantas is supposed to be an Australian company, right? Why shouldn't we be getting the special deals? This sucks. I'll fly Air New Zealand instead.


Ooh, I knew that Kaffe Fassett (textile artist and knitwear designer extraordinaire) was also famous for his paintings, but I'd never seen them before! So pretty.

Sunday, February 17, 2008

RunningBlog: Five miles. Eight kilometers. My legs felt great, except for the persistent feeling that I was wearing 2kg ankle weights. Why do you feel really heavy some days and really light on others? So weird.

| | |
| --- | --- |
| | [6] |
Picky Eaters
Another day, another picky eater question on MetaFilter. This time it's somebody who's looking for healthy recipes... but doesn't like vegetables or meat. Man, that just makes me sad. What the hell are these people eating? (It reminds me of a chick I lived with in London, who refused to eat anything but pasta. She had it EVERY SINGLE NIGHT.) I remember being shocked while watching The Biggest Loser last week, when they had a "temptation" to see who'd eat various foods, and Rachel nearly gagged at the thought of eating bruschetta. Because it had fresh tomatoes on it. That's the most pathetic thing about these fat people, in my opinion. They're not eating good food. They're just stuffing themselves with empty calories. Yeah, I'm still weighing in on the chunker side of the scale these days, but that's because I can't resist blue cheese and wine and risotto and steak. If you're going to be fat, you should at least be fat from eating tasty stuff, not from stuffing your gob with the culinary equivalent of wallpaper paste.


The 5 Most Badass Presidents of All Time. Sweet. They don't make 'em like that anymore!


Wow. My mom was reminiscing to me a few weeks ago about the Blizzard of '78, and how we'd gotten snowed in and the Fire Department had rescued her and me (as a baby) on the back of a snowmobile. Turns out that other people were being more productive with the enforced down-time. Two guys in Chicago came up with the idea for the first online community!

| | |
| --- | --- |
| | [4] |
Ha. Roger Clemens has an entry in the Dickipedia. I especially like that it mentions the particular game that made me hate him, the one where he threw a chunk of shattered bat at Mike Piazza.

Saturday, February 16, 2008
| | |
| --- | --- |
| | [1] |
Valentine's
Here's a belated "Happy Valentine's Day!" to my Snookums. We kept it pretty low-key, meeting Miss Fee (and Matt) and Bex (and Fin) for dinner at Una's. After some lovely food, we retired back to our place to introduce Fin to WarioWare. Too funny. I think it's a lot more fun to celebrate the day with friends and laughter than to worry about conforming to some romantic ideal. Wii and box wine are just fine for me!

Thursday, February 14, 2008
| | |
| --- | --- |
| | [7] |
The Name of the Rose
This book nearly killed me. And not in a good way. I bought it a few months ago on the basis of this AskMeFi thread, which compared it to Jonathan Strange and Mr. Norrell. I thought, hey, I liked that book! And people gave this one some rave reviews. So I dived in.

Ugh. I HATED IT. It started off okay, and I actually liked how Eco introduced William with a nod to classic Sherlock Holmes stories. (Specifically, the bit about the runaway horse.) The murder mystery was compelling, but it makes up only about 10% of the book. I'm serious. For every tiny scrap of a clue you got, there'd be twenty pages of random discourse on medieval monks, philosophy, the Inquisition, Papal succession, and heretical sects. I wasn't sure whether I was supposed to recognize all these groups' names (like, maybe in Italy this stuff is all well known?), or whether the point was to completely overwhelm and disorient the reader (which is what happened). The only, ONLY reason I forced myself to finish it was just so I could find out who the killer was. Oh, and I was mildly curious to find out what the title referred to, which is - SPOILER ALERT - nothing. IT SUCKED.

So basically, if you're looking for a mildly compelling murder mystery with lots of priestly sex, torture, and poison, but that's somehow also COMPLETELY BORING at the same time, this is your book.

Has anyone seen the movie with Sean Connery? Is it any good?

Tuesday, February 12, 2008

I put RSS feeds on the Tapestry Craft website today, so now you can see whenever I upload new products. There are even category-specific feeds, so you can subscribe to just knitting yarns or cross stitch kits or whatever. Huge thanks go out to the Snook, who helped me with some decidedly non-trivial coding issues. He rocks.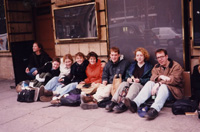 Rent Rats
My awesome college friend Nora posted this gem to Facebook earlier this week, and she kindly gave me permission to reproduce it here. Wow, that brings back memories. This was Spring of 1998 when we were both studying in London. I remember learning that RENT was going to be opening at the Shaftesbury Theater with most of the original Broadway cast. My roommates and I had been Rent-heads since the previous year, and I'd seen the touring show twice (in Boston and Chicago). There was no power on earth that was going to keep me from seeing Adam Pascal in the actual flesh. Four of us camped out all day for front row tickets for the first preview, and it was the GREATEST SHOW EVER. We laughed, we clapped, we wept. Adam rocked my college alterna-girl world. Less than a week later, I was back out on the street outside the Shaftesbury (as pictured) with seven other people. You were able to buy two tickets per person, so between the eight of us, we were pretty much able to secure the entire first two rows for the Domers. That's me third from the left, and Nora's second from the right. So that's the story of the third and fourth times I saw RENT!

| | |
| --- | --- |
| | [2] |
Oh, right. So the Broadway Shopping Center went BOOM today. I had, like, three people email me the news, one of whom was in the US! I have no idea what's going on. But hey, as long as the curse remains on that side of the road, we're okay. If anything blows up over here, though, I guess we'll have to sacrifice a chicken or something.

| | |
| --- | --- |
| | [4] |
Democracy and Beer
Thanks to the reminder from Meg, the Snook and I headed off to the Agincourt Hotel tonight to vote in the Democrats Abroad primary. (Well, I was voting. He was just there for the beer.) Clutching my US passport, I was directed up two flights of stairs to a tiny, dark back room. There sat a couple nice expats (Oklahoma, Kentucky, and New York) running the election while a small meeting of the faithful took place around a corner. I presented my ID and filled out my forms. (Sí se puede!) Then I picked up some leaflets from the party organiser. Hey, they're marching in the Mardi Gras parade! I'm totally considering it.

Monday, February 11, 2008
| | |
| --- | --- |
| | [8] |
CHITTER-CHATTER
For the past hour or two we've been hearing a strange chattering out in the garden. "What the hell's that?" I wondered. "Some kind of crazy bird?" "Fruit bats!" said the Snook. Instantly we both realized that our beautiful papaya tree in the backyard, the one with the lovely big fruit on it... is being feasted upon this very minute by these little fellas. (There's an audio file there if you want to hear what they sound like.) I suppose it's all right; the Snook doesn't much like papaya anyway. I just hope they don't poop seeds all over the place.

| | |
| --- | --- |
| | [2] |
Behold the Col-Pop, described as "the greatest fast food invention yet." It's a giant drink cup that actually has a well on top to hold your chicken nuggets. You know, I can actually see a practical application for this. At sporting events, this would RULE. So I don't think it's necessarily a BAD idea. But he needs to work out a way to get some more insulation between your pop and your chicken, otherwise your pop's gonna get warm or your chicken's gonna get cold. (Link courtesy of Bex.)

I seem to have a couple people - Bex, Miss Jane - who regularly send me freaky food links. My blog seems to have some sort of "weird food" reputation. I suppose it's not unwarranted, given some of the stuff we've made in the past...

Sunday, February 10, 2008
| | |
| --- | --- |
| | [4] |
A question for the "Cushion Woman" from the shop this afternoon: So, does the raging sense of entitlement come as a perk with the black metal AmEx card, or is it just something you cultivated yourself?


Oh, sweet! Mason-Dixon are having a Teeny Project Runway contest. Hmm, I've already knitted shoes for the monkey. Maybe I could whip something else up for him and enter it?


The King of Kong Continued. The Onion's AV Club gets an interview with Billy Mitchell from the movie. Look, I get that the filmmakers had an obvious bias and that Mitchell was definitely set up to the bad guy... but seriously, every time the guy opens his mouth he sounds like a dickhead. That's not bias; that's reality.


More rain for the next two months. What is this, Seattle? I really need to buy a decent umbrella.

| | |
| --- | --- |
| | [3] |
Pacey + JJ Adams (the guy who created Lost) = ZOMG, MUST SEE.

Saturday, February 9, 2008
| | |
| --- | --- |
| | [3] |
I made my soup.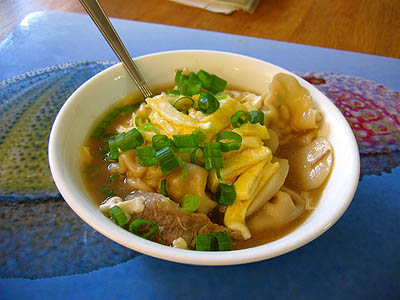 It was pretty tasty! (I left the seaweed off the top, as I'm not - as of yet - a fan.)

Friday, February 8, 2008
| | |
| --- | --- |
| | [3] |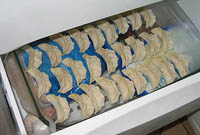 Happy Lunar New Year!

"My girlfriend made 68 dumplings!"
"In a row?"

(Apologies to Kevin Smith for that one.) Okay, so everybody in Sydney's going nuts over Chinese New Year, but you know what? It's Korean Lunar New Year too! So instead of wishing you "Kung Hei Fat Choy," I'm going to say "sae-hae-bok mah-ni bah-de-sei-yo" instead. We're going to be celebrating tomorrow with some traditional dduk mandu guk, a yummy dumpling soup. But before you can make dumpling soup, you gotta make dumplings! I printed out Ellie's recipe (have I mentioned how much I love her Korean recipes?) the other day, complete with a photo of the beef dashida so I could be sure to get the right stuff. Today I headed to Miracle at World Square to get the ingredients. (There was some confusion on the part of the butchers about what exactly constitutes "beef brisket," but we got there in the end.) Tonight I managed to sweet-talk the Snook into helping me with the prep work, and then I got to work shaping the dumplings. I haven't had much luck with making gyoza in the past, but Ellie's instructions were so great that I didn't have any trouble at all. I made 68 of them before running out of gow gee wrappers, and they're all chilling in the freezer as we speak. I can't wait to eat them tomorrow!

| | |
| --- | --- |
| | [17] |
I was just struggling in the front door with my groceries, hungry and hot and tired, when I heard faint strains of "Greensleeves" in the distance. ICE CREAM VAN!* I was out the door in a flash. I found him around the corner, surrounded by all the old people from the neighborhood. It was hilarious. Two minutes later, I was back at home with my choc top. Perrrrrfect.

* I should explain for my Yank readers that ice cream trucks here are all vans, and they all play "Greensleeves." They don't sell crappy pre-packaged ice cream bars either, but instead have a soft serve machine and make cones with all types of candies and sprinkles on top.

And now I should explain for my Australian readers that Americans have the "ice cream truck," which is often a little squarish truck. They don't seem to have a signature tune that they play (at least, not where I grew up in Indiana). Rather than make cones on demand, instead they have a freezer full of prepackaged Popsicles and ice cream bars. A lot of them are designed to look like character faces, and they're often really badly done.

| | |
| --- | --- |
| | [3] |
Matthew Baldwin (of Defective Yeti) often posts board game reviews, and today he posted a list of games he calls "Friendship-Enders". I can't believe he didn't include Monopoly! I have played Monopoly with the Snook exactly once, and I never will again. Let's just say SOME PEOPLE take it way, way too seriously. ("Don't you understand? The red properties are the KEY TO THE GAME! I've read articles where statisticians have worked this out! If you sell him that property, that Scottish bastard will WIN and I'll NEVER TALK TO YOU AGAIN.")

| | |
| --- | --- |
| | [2] |
Dulche de Leche Cheesecake Squares
I was just telling the Snook about my newfound resolve to cut down on refined carbs and to focus on protein for dinner and healthy snacks throughout the day -- when I stopped in mid-sentence. Because I just saw this. And all my resolve flew out the window. Oh my goodness...

Thursday, February 7, 2008
| | |
| --- | --- |
| | [3] |
RunningBlog: So far so good this week. I had a great run on Tuesday, and then I actually went out for another one on Wednesday. (I'm trying to increase up to four runs per week.) My legs felt pretty sore afterwards, so I decided it was time to call in a specialist. I did a Google search for recommended massage therapists for runners in Sydney and turned up This CoolRunning messageboard thread. On the basis of that, I rang Coby at Muscle Medicine and booked in for a session this morning. After he heard the history of my aches and pains, he had a look at my running shoes and my posture. The verdict is that I have a slight twist when I stand and run, tilting my left hip towards the front. This in turn caused my left quad injury, and my dodgy hamstrings, and my tense shoulders, and all kinds of stuff I never suspected. "So what do we do to fix it?" I asked. Coby just flexed his fingers ominously. Oops. He gave me the massage of my life. He actually spent most of the time on my back, telling me that it's no good focusing on my legs if I'm just going to re-injure them again. Fair enough. He warned me that my back is going to be covered in bruises, and that his patients' spouses are often surprised when they see them! The real pain came when he moved onto my hamstrings. Ow. Ow. Ow. I felt pretty good afterwards though, and I'm hoping to be recovered enough tomorrow to go for a run. I also asked him about the whole stretching issue, since - after reading Galloway - I haven't been doing it. He agrees with that course of action for me, saying that I seem to have a decent amount of mobility, and what would benefit me more is core strengthening. I guess it's time to book in those swim lessons, right?

Wednesday, February 6, 2008

Mmm, pancakes. Those are actually kind of brilliant. (Link courtesy of not martha.)

Tuesday, February 5, 2008
| | |
| --- | --- |
| | [2] |
The Electoral Compass. You answer some quick questions and it tells you which of the US presidential candidates matches up to you the best. I now have official confirmation that I am probama.

| | |
| --- | --- |
| | [2] |
Well. Linus says OS X is "utter crap." Awww, whatever. Sounds like somebody is annoyed at all the Linux switchers. I'm also amused that the things he cites as the most exciting developments in Linux - green credentials and mobile computing such as the One Laptop Per Child project - are stuff the average consumer user couldn't give a crap about.

Edited to add: After discussing it with the Snook, I'm going to take back my bitchiness. Linus was addressing a Linux developers' conference, and his quotes indicate that he was really talking more about the underpinnings of an operating system than its UI. So really, he was quoted out of context just to make for a bit of sensational reporting. I'll cut him some slack.


Is Obama a Mac and Clinton a PC? That's probably a good encapsulation about why I have warm fuzzies towards Obama and not towards Hilary, despite the fact that I think she'd do a good job.

| | |
| --- | --- |
| | [1] |
My favorite part of last night's Biggest Loser initial weigh-in was when Rachel, the hard-core dyke, realized that she's 85kg heavier than her tiny girlfriend. "Oh my God!" she said. "I must squish her!" HA! :)

Monday, February 4, 2008
| | |
| --- | --- |
| | [1] |
The Other Andrew has posted his photos from the opera, and they're all awesome. He got a great boob shot of me, a SUPER CUTE one of me and Snookums, and a hilarious one where I'm belting out the national anthem. (I had had some wine by that point.)

| | |
| --- | --- |
| | [5] |
Holy crap! The Snook and I were both awakened late last night by a tremendous boom that rattled our bedroom window. "What the hell was that?" I mumbled as we went back to sleep. My addled brain chalked it up to a car backfiring or the people upstairs dropping something large. Turns out it was a huge-ass gas explosion at Nando's about two blocks away!

Sunday, February 3, 2008
| | |
| --- | --- |
| | [5] |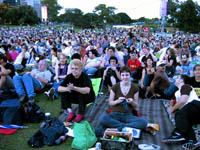 Knitting and Opera in the Domain
As you may have heard on David's podcast, yesterday was our big outdoor knitting event at the Australian Opera's performance of La Boheme in the Domain. About twenty or so knitters turned up to listen to Puccini under the stars with a hundred thousand other people. But before there were thousands, there were four. David, Bex, Reecie, and I braved rain and clouds to stake out a spot a full EIGHT HOURS before the performance began. Our dedication did not go unnoticed by the rain gods, who eventually gave way before brilliant sunshine. (A little too much sunshine. I'm rockin' quite the farmer's tan.) We ate and drank and knitted the day away. David did his podcast live from the event and interviewed most of us early arrivals (including me). Finally the sun went down and the show started. I'm a big fan of Puccini (we visited his hometown in Italy) and the music was just gorgeous. I loved the actress who played Mimi, and I thought it was awesome that she was Asian. The whole Paris=Newtown thing didn't bother me as I'd expected. (In fact, I approve heartily of their use of a goon bag.) The only thing that kept me from really loving this production... was Rodolfo. He didn't look like a starving romantic poet to me; he looked more like a beefy greaser. His voice was amazing, but I just couldn't buy him in the part. Musetta ruled though, and hearing those trumpets blast at the end of her Waltz while the moon rose over Sydney's skyline just... CHILLS, PEOPLE.

| | |
| --- | --- |
| | [2] |
RunningBlog: Well, I was bound to have a bad week eventually. I went out for my first run on Tuesday intent on increasing my running time by 10% to 28 minutes. I only made it about half that. I just felt so tired and run-down. Later that night, I was getting into the shower when I felt a sudden twang of pain in my left quad. Crap. An injury ON TOP of a bad run. I decided to give myself some time off. I spent the next three days icing my leg and rubbing it down with Voltarin. I saw my doctor on Friday and asked whether there were any anti-inflammatories that were safe for my stomach. Ibuprofen and other NSAIDS are a no-go for me, but he gave me a prescription for a new type that's supposed to be gentler. On Saturday, I gingerly headed out for a run. I just did laps around the park (so I wouldn't be too far away from home if it started hurting), and I tried to take small steps (shuffling, really) as much as possible. Basically, I took it easy. HOWEVER, I managed to last the whole 28 minutes and my leg felt fine. A little wobbly there at the end, but no significant pain. I took one of the new pills when I got home and that seemed to help a bit too. So it seems this week might not be the setback I feared it would be!

Friday, February 1, 2008

I heart robots.
This? Is so freaking tomorrow. Gyroscopes are cool. Doesn't that make you feel like we're living in the future? I like that much better than those creepy humanoid robots.

| | |
| --- | --- |
| | [2] |
I know Unclutterer only linked to these gun-shaped egg rings to mock them, but dude, I kinda think they pretty neat! But then again, I do have cookie cutters in the shape of Michigan...


Note to self: Here's another possible centerpiece for this year's Halloween Party. It needs to look more evil and less happy though. Maybe nasty big pointy teeth?


I just launched a new promotion on the Tapestry Craft website yesterday: Free Shipping February! And despite the fact that our webserver decided to blow up for an hour this morning, we're still going gangbusters. Why am I not being paid six figures for my marketing genius??

archives
You can search through the archives by post keyword using the form on the left, or you can browse by month using the links at the bottom.
"Moblog" refers to posts and images posted directly from my mobile phone.

"PW Blog" refers to posts recovered from my very first weblog, which dealt with news related to my college dorm.