Monday, April 30, 2001

Wee Ben just IMed me with an amazing link: WM Team. It's a German internet company of some sort. They have one of the coolest Flash sites I've ever seen. (If you knew how much I hate Flash, you're realize what a compliment that is.) Make sure you watch the whole intro and then click through the different areas. You can even change the music on the boom box!


The Notre Dame Observer picked up on that "Irish is an ethnic slur" story I mentioned the other day. As expected, nobody on campus agreed.


New Poll: Just to make sure that you've all tried out my theme functionality, this week's poll asks which is your favorite. Personally, I like the green.

Results from the old poll: Out of 19 respondents, 10 had positive feelings towards IKEA and 8 had negative. One person had never been to IKEA. I find that... disturbing and sad. There's nothing wrong with mass-produced, pseudo-European flat-packed modular furniture! (Actually, when I put it that way, it does sound kinda crappy.)


ZDNet mentioned Disturbing Search Requests in a story recently, so if you're discovering my site via that route, welcome! (And for regular visitors who didn't know, I get lots of DSR's that I share on that site.)

| | |
| --- | --- |
| | [3] |
John linked to an interesting story in the Financial Times about personal electronics and the "beauty zone." The author, Peter Martin, argues that with mobile phones appearance has become as important as functionality. He wonders, though, why that hasn't happened with PDAs and computers. Personally, I think this guy is a little too dismissive of the steps Apple's made in this direction. For example, if you walk down Tottenham Court Road in London on any Sunday afternoon, you'll discover a crowd - yes, a crowd - of people standing outside the Micro Anvika drooling over Titanium iBooks and Power Mac G4 Cubes with 15-inch flatscreen cinema displays. Computers are more beautiful now than they ever have been before. With any complex mass-produced item, the first versions are always the clunkiest and ugliest (the Model T Ford, the early telephones and televisions, the first radios). Mobiles have had an accelerated pace of aesthetic development because they're A) relatively cheap and B) show-offable. I mean, when you whip out brushed steel Nokia the size of a matchbox on the Tube, people notice. How many people ever see my iMac? Pretty much just me and Snookums. She's still damn beautiful though.


It looks like the DeCSS code-crack dispute is back in court. I have more than a passing interest in this case, considering that I possess an illegal copy of the DVD decryption code. Of course, it is on the back of a T-shirt. :)


Pubs to stay open round the clock. Hooray! Of course, it's an obvious ploy from the Labour Party to get re-elected, but I don't care. It's absolutely ridiculous that you can't get a beer in London after 11:00 pm. In college, we never even went out til after 11! England, welcome to the 21st century.

Friday, April 27, 2001

Also note down at the bottom of that same IMDb news page, there's a blurb entitled "Colin Firth Causes Problems For Bridget Jones Sequel." And what is it about? "Bridget Jones author Helen Fielding has found a flaw in the adaptation of her sequel Bridget Jones: The Edge Of Reason -- Colin Firth has to be in it twice." DUH. I've been telling everybody I know this for weeks. I don't really think it's much of a problem though. The main reason is that the Colin Firth interview in the second book only makes sense when you know about Bridget's obsession with Pride & Prejudice. Since they cut all of those references in the first film, there's no reason why they have to include them in the second. Also, as I pointed out before, the second book is really sucky plot-wise anyway and the Colin Firth bit has nothing to do with the storyline, so Fielding might as well lift it out and rewrite the whole thing. And lastly, this stupid blurb makes it sound like Fielding really just forgot that Colin Firth was in the second book. Nobody is that stupid. I think she and the filmmakers made a conscious decision to use Firth in the first film knowing that they'd have problems with a sequel. In my opinion, he was perfect to play Mark Darcy and the value of his performance far outweighs a few missing P&P references. (At least, for most of the non-Austen-fanatic moviegoing public.)

| | |
| --- | --- |
| | [7] |
Apparently Calista Flockhart fainted when she heard the news that Robert Downey Jr. had been arrested for drugs again. Fainted. Has any woman actually swooned with emotion since, like, 1885? I suppose when you're that tiny, any disruption in your trickle of blood flow is enough to bring on a collapse. (It's horrible, but I found this really funny: "Everyone ran over and tried to revive her. David's face was pale but Calista, who is usually very pale, was as white as a sheet." Of course she's pale, she's a skeleton.)


Have you been following the David Horowitz story? He's a journalist and "conservative provacateur" who sent 'round an advertisement attacking the notion of slavery reparations to dozens of American universities. When many of them refused to print it (or did print it and then published apologies), he accused them of censorship and claimed that his real point had to do with the First Amendment and the liberal press. It's become a real headache for a lot of college papers and some of them are even revising their advertising guidelines. (For the record, my alma mater was among those who declined to print it.) Anyhoo, another Salon writer decided that if Horowitz is gonna try to paint the conservatives as the real defenders of the First Amendment, he'd put it to the test. So he devised an ad that said "God is an abortionist" and sent it to several prominent conservative universities. Needless to say, only one out of eleven printed it. I wonder what Horowitz would say about that?


You know, in my History of Film class in college, the professor defined a "high-concept" movie as one where the plot can be summed up in 20 words or less. Giving that definition, I wonder where "One Night at McCool's" fits. Every advert I've seen for it only says one thing: "Liv Tyler washes a car." I predict this film will bomb at the theaters yet do a reasonably good business on video, simply for the teenage-boy-wank factor.

Thursday, April 26, 2001
| | |
| --- | --- |
| | [1] |

Uh oh. A judge has ruled that "Irish" is an ethnic slur. A woman in Vermont tried to get "IRISH" on a license plate and was denied. If this catches on in other states, half of Notre Dame's student body are going to have to get new license plates. And what about our mascot? We'll have to change the football chants! This is catastrophe in the making.


Heh. Okay, so Amazon is selling Red Hat Linux 7.0 Deluxe Edition. Check out the reviews at the bottom of the page though. How funny is that? Even funnier is the fact that Amazon refuses to remove them.


Meg pointed to "Tips for Dating Emotional Cripples." Let's see, I've experienced the musician, the best friend, the long-distance boy, the artist, and the punker. (That sounds like a lot, but really it's only two people. The categories overlap a lot.)

I sent Snookums a link to the hacker page and he responded, "YOU are the hacker around here these days." I said I wasn't, and he added, "Who's the one upstairs hacking while I cook dinner eh?" He's got me there.


Hey! That's my bookcase! (Damn younger siblings always steal your stuff when you're gone.)


Celebrity spotting. (Scroll to the bottom.) Congratulations again, Max!


I've been reading Jim Romenesko's MediaNews for a while now, ever since I saw it mentioned on Ironminds. It's sorta like a weblog that keeps tabs on the media. Today I was reading about a plagiarism case at the Indiana Daily Student. I clicked on a link for a related story, and my eyes immediately widened at the byline. It was by sister's ex-boyfriend! He took over my job at the local paper back home in Indiana after I graduated. Lucky bastard...

| | |
| --- | --- |
| | [4] |
I've added a new blog to my list at left: Sore Eyes. So far the blog looks to be a mix of UK stuff, geek news, television, and sci-fi. In other words, right up my alley! (John, I'm not so sure about that "marrying Jennifer Love Hewitt" thing though...)

| | |
| --- | --- |
| | [2] |
Heh. "Why would you get a boring old gray box when you can get a precious little see-thru one like this instead?" I couldn't agree with this woman more. Mine's blue though. :)


Someone has apparently written a sequel to "Flatland", the 1884 book by Edwin Abbott Abbott. I loved the original. It was recommended to me in high school by my Calculus teacher and I thought it was the coolest thing I'd ever read. It's all about A. Square, who lives in a two-dimensional world on an infinitely large plane. In a vision he visits the worlds of one-dimension (a line of points always travelling) and no-dimensions (just a point). Then he himself is visited by a sphere, which takes him into Spaceland and shows him the possibilities of even more dimensions. Apparently the sequel, called "Flatterland", features A. Square's great-great-granddaughter, Victoria Line. She is shown "spaces with infinitely many dimensions, spaces with none, spaces with fractional dimension, spaces with finitely many points, curved spaces, spaces that get mixed up with time, and spaces that aren't really there at all." In other words she is invited to see the surfaces and worlds imagined by recent theoretical mathematics and physics. Awesome...


Steve found an article called "No Backstreet Girls Allowed" about the lack of coed pop groups. I think the author needed to do some more research though. There are PLENTY of coed groups abroad. The British "Popstars" band, Hear'Say, consists of three girls and two boys, and they had the fastest selling single here EVER last month. And what about S Club 7 or Steps? Or even the Venga Boys? They're all hugely successful in Europe. This guy should've made some mention of the fact that only Americans seem to fixate on all-girl or all-guy groups.


If I were Madonna, I'd be weirded out. Some of these fans sound psychotic. "The other week I got video camera footage of Madonna and Guy shopping. I got it all on tape and I've watched it over and over again - it's fantastic." !?!?

Wednesday, April 25, 2001

London houses are the "most costly in the world". Well, DUH. I won't even bother to stun you with the amount of rent we pay for our place, which (although not as much as the folks mentioned here) is a hefty chunk of change indeed. I was also disappointed to note that the two other cities I might consider living in (Chicago and Sydney) both make the top ten as well. I need to develop cheaper tastes.

WOOHOO! Since some of you ingrates (well, just one, actually) have been bitching about the purple-ness of the site, I decided to grant your wish and make web-goddess customizable. Welcome to the world of themes! Just click on preferences and then select the flavor that floats your boat. Are ya happy now? :)

| | |
| --- | --- |
| | [7] |
"Domestic abuse agencies criticize 'wife beater' Web site." So, okay, I was all ready to defend this guy's right to sell wife-beater shirts. I mean, pretty much everybody calls them that nowadays (aside from the Australians, who call them "singlets"). It's not very politically-correct, but I don't think the name itself is going to encourage domestic violence. It turns out, though, that he's not selling undershirts... He's selling long-sleeved shirts that have "Wife Beater" embroidered on them. And he's offering a discount if you've got a conviction for spousal abuse on your record. He says he got the idea after watching "Cops" and seeing all the arrested batterers wearing sleeveless shirts. Isn't that the sickest thing you've ever heard? What an asshole.


Warning! Grossness ahead: Max wondered how that UK man managed to contract foot-and-mouth disease. I'm happy to say that I actually came across this nugget of information yesterday on Plastic. As an anonymous (yet helpful) visitor related, the slaughterman in question was swinging a calf carcass over his head, when the creature's distended stomach burst and the contents poured out - some of them going right into the unfortunate slaughterman's open mouth. EWWWW. (Apparently Newsnight was the only program that gave the full and disgusting explanation.)

In other words, folks, don't reach for the gas masks just yet. "Unless we all start gargling with cow stomach juices we are probably okay..."


Tuesday, April 24, 2001
| | |
| --- | --- |
| | [5] |
I've just added yet another PHP doodad to web-goddess: a list of the last five comments. You should see it over on the left. For now it just has some test comments from me, but if you'll leave one of your own, it should appear when you refresh the page!

| | |
| --- | --- |
| | [3] |
I just realized that Jann, a guy I used to work with here at ND, left me a comment! I didn't even know he knew I had this site. Hi, Jann!
†
Incidentally, he's got his own website with this addictive response-time test. I really suck at it... My best so far has been 0.241 seconds.


Evidently that plan to perfume London Underground stations isn't going so well...


HA! Jake Tapper starts out by mentioning that the Notre Dame women's national champion basketball team visited the White House yesterday. He finishes with an inspired mock-article that turns ND's last second victory into a satirical account of the Presidential election. Very funny. My favorite part:

'One minute into the second half, TV networks broadcasting the game, using faulty projections, awarded the game to the Purdue Boilermakers -- a call that later had to be recanted. "The game wasn't over when the [expletive deleted] media declared that it was, just because they favor Purdue," one Notre Dame assistant coach groused.'


(Pointless) R.E.M. News: Yeah, there's a lot of it floating around these days. I guess the Athens publicity machine is revving up for the new album. Anyhoo, the Nevada Assembly passed a resolution last week praising R.E.M. for the anti-suicide message of "Everybody Hurts". Yes, they thanked the band for a song that came out in 1992. I guess things take a long time to filter down to Nevada.

Monday, April 23, 2001

So like I mentioned, Snookums and Alex and I went on an IKEA excursion Saturday. Alex wanted a poster frame, and Snookums and I were looking for bookcases. (My book collection spilled out of my closet some time ago.) I'd never been to an IKEA before, so I wasn't sure what to expect. Holy cow... It was a madhouse. I think everyone in North London was there. It had its own parking garage, two restaurants, and a child-care area. It was insane. We were caught up in consumer frenzy. We ended up getting two excellent cheap bookcases (ours is the 3rd pictured), Alex's frame, eight wineglasses, martini glasses, a garlic press, a chest of drawers, ice cube trays, four candle holders, and numerous kitchen utensils. The real fun, however, was getting our haul home. How we managed to cram all of it and me into the back of Alex's little Peugeot I'll never know.

I'd forgotten how much fun it was to go shopping in a big place with lots of choice. Most shops in the UK are rather small and you're in and out within ten minutes. I miss the Meijer and Sam's Club experience, where you walk around acres of consumer paradise and emerge with all kinds of stuff you never knew you needed. Is that weird? I guess you don't realize what you'll miss til it's gone.


Hooray! I just uploaded my new and improved custom 404 error pages. Unfortunately all my fancy-pants innovations here at web-goddess in the last few weeks resulted in a lot of broken links from Google and the like. My new 404 page, though, will analyze what page you were looking for and, if it exists, redirect you on your merry way. Doesn't that kick ass? I'd post instructions for doing it yourself, but unfortunately it's got to be pretty much customised for every different site. If you are interested in setting one up, let me know and I'll help you out.

R.E.M. Update:
Peter is sorry.

I don't know about you, but I think a computer that causes this much confusion is very cool indeed.


Good grief. Some UK "internet monitoring" company says that musical mobile phone ring tones could be considered to be in breach of copyright law. This could be costing the record company up to $1 million a day. Yeah, right. This is getting ridiculous. Are you telling me that a five-second midi version of "The Girl from Ipanema" is damaging the integrity of the song and costing the songwriter profits? What about if I record my own voice humming the song - am I still breaking copyright? What if I *gasp* sing a few bars while walking through the park? Should I pay royalties for giving a "public performance"? Money-grubbing bastards.


Ebert's got a new Answer Man column that includes some good discussion of "Memento". I haven't seen it yet, but my flatmates saw it in London last year and really liked it...


New Poll: In honor of our shopping excursion Saturday, a new poll topic is up. Please give me your opinion on the world of IKEA.

Results from the old poll: Out of 23 respondents, almost half of you (eleven, to be exact) bow down to the god that is hummus. As a fellow addict, I'm right there with you. A further five of you admit that you like hummus but, as Snookums put it, don't feel the need to "eat it til it comes out your ears." That's cool. Four of you haven't tried it, which is a real shame. (I know at least one of these people is my own mother, who would love the stuff if she gave it a chance.) Two of you seem to have some sort of tastebud-impairment, because you claim to dislike our favorite dip. I urge you to seek medical help right away. And lastly, one person admits that she doesn't eat things with "tahini" in them. I'll bet you $20 this was my sister. I totally set that up for her.


Salon has vindicated everything I predicted about the American reception of "The Weakest Link." Could I be any more suited for a career in film/television criticism??


R.E.M. News: Wow. So Peter got busted for "air rage" and Michael's at war with his neighbors. Way to go guys. You better be ready to play this weekend. (Please, God, let me get tickets!)

Friday, April 20, 2001

Snookums and I were wondering yesterday about Daylight Savings Time. I mean, why put the clock forward an hour in the summer when it's light all the time then anyway? Why not move it forward in the winter so it doesn't get dark at 4:30 pm in London (like it bloody does now)? I'm happy to report that I found the answer, and it doesn't have anything to do with "extra time to frolic on summer evenings." It has to do with saving energy. Interesting...


As Kim pointed out a while back, Michael Jackson needs to get himself a good PR person who can make sure that his name and the word "child" never ever end up in another article together. Even when his intentions are noble, he still comes off sounding weird and scary.


Imagine my surprise, while reading Zannah's site, to come across another ninja reference! This one's a humor piece entitled "How To Hide Your Ninja Lifestyle From Your Co-workers".


Apparently some "ghostbusters" from Hertfordshire University have been poking around the vaults of Edinburgh. Though Snookums and I chickened out on our recent trip, I did do the Ghost Tour during a visit in 1998. It was the scariest experience of my life. I was such a wimp that the tour guide let me hold her only flashlight. I'm tellin' you, there's stuff down there. Seriously.


I just found an old Salon story about someone who was tapped for the "Skull and Bones" society I mentioned yesterday. The guy also slams Bush quite a bit, which is nice.

| | |
| --- | --- |
| | [5] |

Roald Dahl's "The Twits" is currently playing in London, so of course Snookums and I headed off to see the opening night performance Tuesday. I'm sorry to say that I was rather underwhelmed by the show. It seemed more like a Christmas panto than legitimate children's theater. I could count on one hand the lines of text that actually survived from Dahl's book, and those were mostly the insults that the Twits hurled at each other. The problem with dramatizing this story is that it was always a crude and confusing piece. One one hand you're supposed to loathe the Twits and on the other you're supposed to laugh at them. In the book, Quentin Blake's manic scribbled illustrations hit the right tone and made the crude bits seem more cartoony and surreal. Playing it straight is not the right strategy for a stage adaptation, I fear. And, as with all the Dahl dramatizations I've seen lately, there was an emphasis on cheezy moralizing that wasn't present in the original work. This production wanted us to feel sorry for the poor Mugglewumps, captured from the jungle and forced into degrading circus slavery, yet at the same time it urged us to laugh delightedly as the monkeys' captors scratched their bums and farted. Needless to say, I didn't enjoy it. (I do feel a bit guilty for saying that though, considering that Sadler's Wells linked to my Dahl site. Oh well.)


Combating an "olfactory nuisance": Apparently London Underground is going to start perfuming Tube stations. The idea originated in France, where the Metro has been "perfuming platforms for three years with Madeleine, a scent named after one of its smelliest stations." Starting Monday, Euston, St Jamesís Park and Piccadilly Circus will hopefully smell of a "fresh watery floral bouquet of rose and jasmine combined with citrus top notes, giving way to strong woody accents and a hint of sweetness in the base" as opposed to the "earthy concoction of sweat, fast food and mouse droppings that is the real líair du Tube." I'll give you a review as soon as I can.


Two positive foot-and-mouth related items today: the government's chief scientific adviser said that the disease is now under control, and Calista Flockhart's London stage debut has been postponed indefinitely, partly due to FMD's effect on tourism. Hooray!


Roger Ebert says the new Crocodile Dundee movie isn't great, but you could do worse. I also appreciated Ebert's deft use of Australian expressions. ("Good on ya, mate!") As a side note, why the heck is Ebert's site so slow these days? Take my advice - if you actually get the main page to load, open all links in a new window. Otherwise you'll never get back to the main page again.


Since I seem to get a lot of search requests for it, here's my official Bejeweled Strategy Guide:
Always play on Level 2. It's impossible to get a decent score on Level 1, and Level 3 is just too darn fast.
Getting a high score is less about making single matches and more about making combination moves. Always go for the combo-setup as opposed to the easy score.
Make vertical matches whenever possible. This allows for more pieces to fall and gives more opportunities for combo-scores. Matching a horizontal row means that the three rows fall together, and your chances of making another match are smaller.
Try working in only one area of the screen at a time, as opposed to jumping all over the place. I find I do better when I concentrate on a smaller area and get every possible match before moving on.
The time of day that you play can have a huge impact. If I play in the morning or after lunch when I'm "fresh", my scores are much higher than when I play at the end of the day (with my brain fried from ten hours of work). Find the time that's best for you.
I have to warn you though, my personal strategy seems to have a built-in score cap. While I have occasionally broken 10,000 points, 9 times out of 10 my score will hover in the 7000-9000 range. If that's an improvement for you, go for it.

| | |
| --- | --- |
| | [1] |
Just looking through the referrer logs, and I found the coolest thing ever. If you do a Google search on "Ninja swords" for pages within the UK, I'm the sixth result! Sweet.

PW Blog: One of the SMC chicks who participated in the illegal reading of "The Vagina Monologues" wrote a letter to Salon.com defending the play to Camille Paglia. Very cool.


Congratulations to my sister, who won the "Best Poetry Award" from her college's literary magazine! You can read the three winning pieces at her website. Way to go, sis.

Thursday, April 19, 2001

How incredibly weird. A reporter for the New York Observer managed to infiltrate the secret initiation rite of the "Skull and Bones" society at Yale University. This is the same society that both President Bush and his father belonged to, as well as "founders of Time Inc. and the C.I.A." and "several Secretaries of State and National Security Advisors." Slate calls the exposé a "great day in the annals of American journalism". Wasn't it also a movie starring Pacey?


Let's see, on Monday Metafilter wondered if George Bush's new strategy is to "court the Catholics." I'd say the signs are good... On Wednesday Notre Dame announced that Bush is going to be this year's commencement speaker. Ugh.


Steve points to an interesting page full of the real facts about the famous McDonald's spilled coffee case. I always thought it was a frivolous lawsuit, but hearing that a 79-year-old woman had to have skin grafts on 6% of her body changes things a bit.


Oh good Lord. As an experiment, two journalists from the Guardian walked around London asking American tourists about foot-and-mouth disease. Unfortunately we Yanks pretty much lived up to all the stereotypes. These people were idiots ("Is that the one where you have to burn your shoes?"), with the notable exception of one 13-year-old kid.

Wednesday, April 18, 2001

Max points to a review of the new American version of "The Weakest Link". I agree with everything Tom Shales says. In fact, I said most of it two months ago on this Plastic post and this Plastic post. Was that not brilliant of me? *grin*


I just found something else cool on Quadra - a site where you input your location and it tells you where you'd come out if you dug a hole straight through the Earth. From London, I wind up in the Pacific just off the coast of New Zealand.

| | |
| --- | --- |
| | [2] |
Did I mention we're thinking of getting a cat? Because we are. I just came across what must be the biggest innovation in feline-human interaction ever: a computerised cat door that will only let the kitty in if she's not holding something in her mouth. How cool is that? (Link courtesy of Matt, who got it from Quadra.)


Toni Morrison's come out in support of that Gone With the Wind parody I mentioned before. Apparently so have Harper Lee and Pat Conroy. Is Harper Lee still alive? I didn't know that. And wasn't "To Kill a Mockingbird" her only novel? Wow.


I just finished reading all ten Pulitzer Prize-winning essays by David Moats of the Rutland Herald newspaper in Vermont. Mr. Moats wrote about the landmark Supreme Court ruling that led to the institution of civil unions for gay couples. It was the first Pulitzer for a Vermont paper in history. I highly recommend them.


If you downloaded my Simple Poll System to try out at your own site, you should know that I just fixed a bug that cropped up when you tried to view the results before anyone had voted. Re-download the source files and just replace "pollresults.php" if you need to.


New Poll: In honor of my lunch today, a new poll has been started. Please take two seconds to give me your views on the gift from the gods that is hummus.

Results from the old poll: Well, apparently you guys didn't notice much of a change in the site. By "new design", I was referring to the now full-screen page width and the row of colored boxes down the left side of the page. As Snookums pointed out though, these aren't big changes and only design-obsessed geeks like me would even notice. I was basically doing the cyber-equivalent of "Do you notice anything differently about me?", and you guys were giving me the stammering boyfriend "Uh, no?" act. Point taken.


Download Prince Harry Desktop Wallpaper! My friend Liz always did prefer Harry to Wills, because she liked the fact that he looked awkward and not quite so smart, which she thought would make him a little bit more fun. I'm not sure about that, but he does look better now that he's hit puberty. (Link courtesy of NIMISIS, which has been promoted to my weblogs list.)

PW Blog: Sorry about the lack of updates. The blog will remain on hiatus until there's something interesting to report...


As my younger brother is about to graduate from high school, I also found the Onion's tips for choosing a college especially funny. (I'm going to start calling people "Fauntleroy" as an insult now.)

| | |
| --- | --- |
| | [2] |
Heh. The Onion's current infographic is on the "Hoof and Mouth Panic." It lists steps that are being taken to prevent the disease in America. My favorite was the last: "Boiling all British beef until gray and flavorless, the way the British do."

As an aside, are the American press really calling it "hoof and mouth disease"? Because that sounds weird. We call it "foot and mouth disease" over here, and we should know, since it's bloody everywhere.


Stephen Hawking's getting a software upgrade so he can speak with an English accent. Which is cool and all, but I had to laugh when the article referred to his "Dalek" voice.

Exterminate! Exterminate!


I knew it would happen. The producers are apparently mulling over a Bridget Jones sequel. I can see A LOT of problems with this. A) The actual book's sequel wasn't very good, if you ask me. I liked reading more about Bridget, but the plot itself (which was apparently based on Austen's "Persuasion," I think) was a bit ridiculous and not at all funny. B) There wouldn't be a role for Hugh Grant. Daniel isn't in the book at all, and for them to write him in would require a major rewrite of the entire story. And besides, they already expanded his damn part for the first one. C) It's not very romantic. It kills the "happily ever after" you get at the end of the first book/movie. It would be wrong. I'm sorry, Helen Fielding, but I think you should leave well enough alone.


Have I mentioned lately that I suck at Fantasy Baseball? Apparently picking all your players by how cute they are and whether or not you like them isn't a very good strategy. (Case in point: I waived Roger Clemens out of personal antipathy, and the person who picked him up has been doing really well.) I'm in fourth place. Out of four.

Tuesday, April 17, 2001

The Straight Dope answers a question that's been on my mind lately: Who invented hummus? I'm trying out some "Mediterranean style roasted red pepper houmous dip" today. My addiction knows no bounds.


I knew Roger Ebert wouldn't let me down. I knew it. His review of Bridget Jones is insightful and accurate and funny. He gets it. He liked it. He even made a subtle reference to "Pride and Prejudice." And I'm pretty sure he calls Colin Firth "luscious" in there. That's why Ebert's my favorite.


You know, I regularly come across disturbing search results in my website referrer logs, but it's not very often that I come across one that's complimentary. Today I found "korean star goddess". And I'm the third result! I'm ranked above Korean-Babes.com!


See? Linus likes OSX. I knew those other stories were crap. Everybody should like OSX. It's the best operating system in the world. I'm a raving convert.

| | |
| --- | --- |
| | [4] |
Psychic connection: On Friday Matt mentioned upgrading his iMac memory and playing "The Sims". What I did this weekend: upgrade my iMac memory and play (my brand new copy of) "The Sims." Spooky.

| | |
| --- | --- |
| | [3] |
McDonald's fries have beef in them. On one hand, I'm a carnivore and they do taste good, so I could care less. On the other hand, I know a lot of people who do not and cannot eat meat (vegetarians like brigita and Jains here in London), and so I think it's pretty crappy that they're not required to specify all the ingredients.


Obi-wan was... bisexual? Huh. I'm envisioning all new scenarios for Episodes 2 & 3 to explain the "betrayal" between him and Anakin. Oh yes, Ewan McGregor. You know what I'm talkin' about. Yeah, baby.


Thank you, Mr. Spielberg. I couldn't have said it better myself. And note to the Boy Scouts: excluding someone based on gender is *not* the same as excluding someone based on sexuality. That's why we do have boys' and girls' restrooms, but we don't have gay and straight restrooms. Quit trying to pass the blame.


Ooh! I didn't realize that the Harry Potter trailer is in theaters already. I may have to go see Spy Kids to get a glimpse.


Hooray! Blogger gets some assistance, finally.

Monday, April 16, 2001
| | |
| --- | --- |
| | [4] |
Oh no! The lead singer of the Ramones died yesterday. Nobody ever accomplished more with only four chords.


Ironminds points out some rather dodgy dealings at Plastic.com. I was a big fan of Plastic for exactly one month. I joined, I started posting, and I got hooked. Then they introduced their "Karma Contest." I thought I might actually stand a chance at winning, what with all the posts I was already making. In fact, I was in the lead for a few days. Then I started getting e-mails from people asking me to trade moderator points with them (i.e. cheat). When I refused, my posts started getting mysteriously modded down. Eventually, I decided that I wasn't getting out of the service what I put into it. Their discussions were less like back-and-forth conversations and more like a group of screaming, ass-kissing karma whores. The partners that edited the categories unfairly slanted the postings to their own site. And it all started to get way, way too commercial. I don't need to deal with that. I hope they are doomed.


I'm so mad I could spit. I thought that I wouldn't find a dumber review of the film than that last one, and then I came across this. I'm so furious I can't even begin to... Renee Zellweger weighs AT MOST 130 pounds in this film, and this woman has the NERVE to call her "an alcoholic chipmunk en route from the nougat farm"? Does "Carina Chocano" have any idea what the normal female looks like? We have breasts. We have asses. We look like Bridget. The whole point is that she's normal but believes that she's not. And it's this kind of attitude, "Carina," that fosters such f-ed up body images in young women. If no one had ever seen Renee Zellweger before this film, you wouldn't have even thought twice about her weight. Beeatch.


Ugh! This reviewer of Bridget Jones's Diary just didn't get it. She makes it sound like the whole movie's about sex. Sex and slutwear. And she liked Hugh Grant's character. *shudder* Obviously this woman has some serious issues.


A Shakespearean elegy for Kozmo.com: "You all did hear me at parties; I thrice presented Kozmo with a crown of "It's so wicked cool," Which the company -- faced with discrimination claims and a burn rate rivaling Boo.com's -- it did thrice refuse to acknowledge: Was this ambition?" This writer is good.


I saw this virtual Dubya game on the Channel 5 news the other night. (I think the newscasters were really looking for any story whatsoever that didn't have to do with foot-and-mouth disease.) I was all set to snicker at the Prez's expense, except that the story has started to sound very fishy. I mean, picture this: you're the head of a crappy "software entertainment" company whose biggest claim to fame so far is designing the Pamela Anderson Tamagotchi. Hmmm, what would really drum up interest (and presumably stock prices)? Cashing in on an international crisis. Make up something that mocks America and then claim that two billion Chinese (red bastards) are downloading it 'round the clock. Get your company mentioned in every newspaper in the world. Retire a millionaire.

Or maybe I'm just getting jaded.

Sunday, April 15, 2001

If you're interested, I just posted photos of our house and the recent Korean Feast. The house photos are really for Snookums's and my mothers, but you might get a kick out of seeing how us Brits live.

| | |
| --- | --- |
| | [2] |
I am Bridget Jones.

Well, not really. But I did see the film today and I didn't hate Renee Zellweger. In fact, I almost kinda-sorta related to her. But first things first: the movie was good. I was happy with some of the things they expanded from the book and disappointed by some of the things they had to cut, but overall I definitely had a good time. They really pared it down to a romantic-comedy and cut most of the girl-power, weight-obsession, Colin Firth references (for the obvious reason), and "Pride & Prejudice" overtones. And they completely changed the ending. (Actually, that's probably for the best. That whole subplot about Bridget's mom running away with "Julio" was a bit contrived.) I laughed a bit though, and I was sad a bit though, and I was happy when I left the cinema.



Renee Zellweger was wonderful. There, I said it. She looks great with the extra weight (she'd still qualify for "thin", if you ask me, but at least this way she has boobs and a bum). Her accent was a little unsettling at first, but once I got used to it coming from her, it stopped sounding fake and just became Bridget's voice. Her mannerisms and her facial expressions... they were spot on. You may never hear me say this again - given my eternal hatred for anyone who looks remotely like Jewel - but I like Renee Zellweger. Well, as Bridget anyway.

And now for the questions I know all you Americans are dying to ask. First off, no, I've never been to a Tarts & Vicars party. (Our Deviant and Diverse Party, while similar, still hardly qualifies.) No, there's no way Bridget could afford that flat on her salary. No, I've never met Salman Rushdie. And most emphatically, no, it never snows that prettily - and thickly - in Central London. Satisfied?

Saturday, April 14, 2001

I do this weird thing, where I read and watch things that I know are going to piss me off. Do you do that? For example, I just finished reading the latest "Dawson's Creek" recap over at MBTV. It (the show, not the recap) enraged me, as I knew it would. Another example - I always read Victoria Hervey's column in the Sunday Times Style magazine, even though I know she's a mindless name-dropping upper-class tart that's just going to drive me up the wall. Another example - I managed to find a copy of the film Danny, the Champion of the World, which was based on the Roald Dahl book. Jeremy Irons aside, they completely ruin the story. They take out all the morally objectionable bits and replace it with Robbie Coltrane and a horrible plot contrivance. It never fails to completely appall me. And yet I watch it repeatedly. These things are my hair shirts, and I must be really penitent subconsciously.

Friday, April 13, 2001

In case you haven't noticed, there's a new poll over there in the left hand column. After you're done voting, you might be interested in reading how I set it up. No database is required, and it's a lot simpler than the comment system. (Which reminds me, huge apologies to those who wrote asking for assistance with the latter. I've been so busy moving hosts that I haven't had much chance to really look at your e-mails. You're my top priority though, I promise.) Oh, and in case you missed it, vote! :)

Thursday, April 12, 2001
| | |
| --- | --- |
| | [5] |
Let me tell you a story. This morning I was happily checking my new referrer logs when I came across a link to somebody's personal page. I thought maybe they had linked to me so I fired up my browser to check it out. The site was the usual crappy Angelfire teenager personal page, but the design looked a bit familiar. In fact, it looked exactly like my friend Brigita's site. EXACTLY. This person had copied her entire design, right down to claiming Brigita's personality test statistics as her own. She even kept Brigita's StorTroopers and relabelled them as herself and her boyfriend. Needless to say, this pissed me off. Not only was she ripping off my friend, but the StorTroopers were being hosted at my site - as a favor for Brigita - and thus my own precious bandwidth was being sucked away. (And y'all know how I get about that.) So I calmly sent this little fiend a letter, explaining that we were on to her and I'd appreciate it if she'd kill the image from my site. I didn't get any answer, so I went back to the site tonight to see if she'd complied. What I saw was not pretty. See for yourself.
†
Am I being a bitch here? I really don't think so. You'll note that there's no mention of the bandwidth issue... basically because there's no excuse. As for her defense of "copying" - I wish I'd taken a screenshot so you could compare the sites. There's a difference between viewing somebody's source code (and maybe grabbing a few of their ideas) and co-opting somebody's entire look & feel. Hell, I incorporate elements from practically every website I read here at web-goddess. I'm a big fan of that. I'm not a big fan of simply saving somebody elses HTML (images and all!) and calling it your own. I feel bad that this girl feels her "work" has been wasted, but given the disregard she showed for Brigita's property, it's her own fault. What do you think? Leave me your comments.


My mom and I were just chatting on IM and trying to determine which day my brother graduates from high school this June. While she was trying to phone the school corporation to ask, I entered "Lakeland High School Lagrange" into Google on a whim. And check it out! They have a website! There's not much there, but I did get to see pages from some of my favorite teachers. Mr. Baumgartner's freshman biology class looks as exciting as ever, and Mr. Schmidt sounds like he's keeping busy. Mr. Hedstrom's trivia question looks to be a stumper. (I'd guess Purdue, knowing him.) And what's up with Mr. Baxla's computer programming course? I don't remember Lakeland offering that. I wouldn't have minded taking it!


Well the standoff is over. Apparently that site I pointed to where you can apologise for President Bush got a bit out-of-hand, though.

Oh no... I'm becoming English! Did you notice how I spelled "apologise"? What's more, I originally started out this sentence with the phrase "I just realised..." Next I'll be writing "colour" and pronouncing "herbs" with a hard H! I'm turning into a pom!

| | |
| --- | --- |
| | [1] |
Remember, May 2 is Free Cone Day at Ben & Jerry's. Man, if I was in the U.S. I'd be all over that. Phish Food is the greatest ice cream ever.


Tons O' REM News: A few days ago Ironminds featured a review of probably my all-time favorite REM album, "Out of Time." If you're a fan, the author does a fantastic job dissecting both the brilliance and the confusion of the album. (KRS-1? "Shiny Happy People"?) I'm definitely getting excited for the new album "Reveal", which is supposed to be released on May 15. (Shhh! I got a postcard from the Official Fan Club the other day telling me that streaming tracks will be available at remreveal.com this weekend. It's a secret!) And how fantastic is this? REM will be playing at the South Africa's Freedom Day Concert in London on April 29! I'm going to call tonight and try to score tickets...


Today's Disturbing Search Requests: "starwars nude," "hammer crusher icons," "Opera Gloves," "statistics on whether or not we landed on the moon," and "UK Photos of my sister naked." (Amy, do we need to discuss something about that last one?)


Thanks Max! It's great to be back. It's weird that so many people in the States were able to see the new site before I could here. (Damn slow English ISP's.) And on top of *that* greatness... this is my first official post using Mac OS X! It's so unbelievably cool. I'm going to go stare at my desktop for a few hours. :)

Wednesday, April 11, 2001

Korean Feast Update: Since my mom asked, the dinner party went very well. My obsessive-compulsive need to fret and stress about every little thing was balanced nicely by Snookums's chilled out attitude. For example, I was freaking out earlier that day imagining that I wouldn't have enough food to feed eight people. Snookums came to my rescue by suggesting that we pick up some bread and hummus to serve as appetizers. (Mmmm, hummus.) In the end, of course, we had about three times as much food as we needed and we'll be eating the leftovers all week. Which is fine by us, because my eggrolls are damn good. Overall it was a fun send-off for Kel, who should be arriving home in the U.S. about now.


Snookums and I had a laugh this morning reading "Boo! And the 100 Other Dumbest Moments in e-Business History". His favorite was #70, but I have to go with Bill at #88. (I'm happy to report that none of my company's projects managed to make the list.)


Hooray! My domain nameservers have finally been updated and they should be propagating down to your own ISPs as we speak. (Actually, if you can read this, you're already soaking in it.) And check out my fancy-pants new design! It's not a huge change, but I like it. There's a poll in the works too that will slot nicely into that column on the left... just as soon as I can figure out MYSQL.

Tuesday, April 10, 2001

Just checking my referrers for more disturbing search requests (today's was "giant breasts UK") and came across a new 'blog that links to me: NIMISIS. So I thought I'd return the favor.


I feel bad for the Countess of Wessex, but what did I say yesterday? It's all about propriety. The English don't care if their Royal Family are mad as hatters, as long as they don't make it obvious in public. Poor Sophie was just the victim of some spectacularly bad judgment.


"CBS Says Fox's 'Boot Camp' Is 'Survivor' Rip-Off." Well, duh. The only thing funnier than that title is a quote from an unnamed CBS insider about the lawsuit the network is filing: "This is a serious attempt to stop anyone, both now and in the future, from ripping off the family jewels." Do you think he meant to say that?!


Mike, the party's over. Nobody wants to see you come back and make a fool out of yourself. Take up fishing or something.

Monday, April 9, 2001
| | |
| --- | --- |
| | [2] |
Dear All Other Countries (But Especially China), I'm sorry about my stupid f***ing president. Yours truly, Kristine Howard.

Are you sorry? Do you wish to apologize "in the name of our soulless nation and leader"? Visit this site. I'm #1785.

| | |
| --- | --- |
| | [2] |
Some crazy "wanderer" damaged the Liberty Bell with a hammer. The loonies always ruin everything.


I think the American press is actually more interested in Sophie Rhys-Jones's comments about the Royal Family than the British are. I mean, I've read over what she supposedly said and I pretty much agree with all of it. Tony Blair is very presidential. Cherie Blair is a horrid woman. (An irreverant late-night fake news program portrays her very accurately as an animated frog.) William Hague does look deformed. Nobody would be surprised if Charles married Camilla after the Queen Mum dies. The British don't care exactly what she said; it's that she said it at all. The higher your class, the less you talk about yourself. The whole concept of her babbling away to a "sheik" (a disguised tabloid reporter) about sensitive family issues just smacks of the lower classes. As an American, I found this British attitude very difficult to understand at first. Unfortunately I seem to be absorbing it unconsciously... I can't define the class structure for you, but I can definitely sense when it's been violated.


I was all set to comment on my new-found respect for Jay Leno (who apparently called Giuliani a "fascist" on TV) but I was diverted by the phrase "National Ethnic Coalition of Organizations" in the story. Isn't that a bit redundant? Shouldn't it just be the "National Ethnic Coalition"? I mean, why do they feel they need to specify? As a self-proclaimed Grammar Nazi (Hey! Giuliani and I have something in common!), I have very little patience for bad writing.

Sunday, April 8, 2001
Here are three characters... Can you spot the one that's French? If you guessed the one in the middle, you're right. (That's Obiwan and Tigger on top of my computer monitor at work, flanking eMan the crazy-haired Frenchman.)


Joy of joys! Did I mention that I have the BEST boyfriend in the world? While I was running around Chinatown trying to find cabbage, Snookums was tramping around north London with Wee Ben looking for computer parts. I caught up with them in the Trocadero and Snookums handed me a big bag with a present in it: Star Wars: Episode 1 Monopoly! How cool is that? I geeked out big time. So while I was at home, ooh-ing and ahh-ing over my new toy, he put another bag on my lap. It was Mac OSX. He got me OSX! Isn't he the best? (If an operating system doesn't sound like a very romantic gift, you're obviously running Windoze.) I haven't had time to get it installed yet, what with the egg rolls and all, but I'm hoping to find time early this week. I'll let you know how it goes...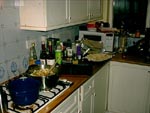 Korean Feast Update: Well, I couldn't find the red lettuce, but I got everything else. The worst part was finding "napa cabbage," which is a very long and leafy green Oriental cabbage. I was sure they had it in Chinatown, but the Chinese of course call it something different. Eventually I found an ancient little shopkeeper lady who was able to point it out to me. Sweet. So now the bulgogi's in the fridge marinating and all the egg rolls are prepared and ready to fry. Being a domestic goddess is hard work.

Saturday, April 7, 2001

In other exciting culinary news, I'm hosting a "Korean Feast" dinner party Monday night as a leaving-do for my friends Kel and BJ. (They're both leaving London and heading back to the States. *sniff*) Tentatively on the menu: bulgogi (spicy beef), rice, red lettuce, and all the chicken and beef egg rolls the guests can eat. Which reminds me, I need to run to Chinatown for some more supplies. I'd better go while London is still enjoying its weekly quota of one hour of sunlight... :)


How excited am I to receive my first order of groceries purchased on the Internet today? VERY. I feel so futuristic. Tesco, don't let me down!

Friday, April 6, 2001

Artists are funny people. I was just chatting to my sister, who's readying some sort of exhibit for an art show next week. It involves pigs and neon... and some sort of pitchfork. Here's an excerpt from the conversation so you can see for yourself:

Amy: hmm. man, i forgot to tell you...my pig mold is destroyed. i can't make anymore. (i tried to use polyester resin as a medium, and it was old and never hardened. it's like, impossible to clean out.)
Me: too bad. so you didn't even get one pig?
Amy: no, i got 2 and a portion of one out of wax. (it broke.) our stuff for the show is due next week, and i already ordered my neon sign. i'm screwed. :(
Me: why screwed?
Amy: i wanted 3 to sit below the sign, then another to go on top of this pitchfork i welded. i don't have any time to re-sculpt the pig and make a new mold.
Me: hmmm... "pitchfork i welded"
Amy: yeah, if i really apply myself, i'm thinking i might have time to sculpt a PIG'S ASS and get a mold made this weekend. then i can pour a few wax ones in time for the show. they can go next to the pigs' heads. :)
Me: what's, like, the message of this piece?
Amy: i hate school. i hate st. francis. what better way to show it than pigs and asses and a neon sign that says "eat me" ?
Me: hahahaha
Amy: i'm hoping somebody asks me that same question at the show.


Meg found the coolest game on the Internet: Bilbana. I have no idea what that means - it's Swedish - but you build a scalextrix race track (one of the ones that snap together and have little electric cars that whizz around) and then race against a cockatoo. Yes, a bird. I told you it was cool.

Snookums and I watched an awesome movie on telly the other night: Blind Fury starring Rutger Hauer. Here's the official plot outline from the IMDb: "A blind Vietnam vet, trained as a swordfighter, comes to America and helps to rescue the son of a fellow soldier." I ask you, what more does a film need? The bad guy is a drug dealer, and the cute little boy is Hobie from "Baywatch." Awww, yeah, baby. Feel the 80's love.

Quote of the Night: That's why Al Pacino gets an award for playing a blind man, and Rutger Hauer doesn't.
– Snookums expressing his bitterness at the lack of critical respect for this fine piece of cinematic fare.


Last night I went to see "Rent" for the seventh time. Yes, the seventh time. I'm psychotic, I know. But lemme see if I can explain it. When I first got the soundtrack in '96, it was solely because my roommate Liz and I had seen Adam Pascal performing on Rosie O'Donnell. He was brutally hot. We were smitten. Lizzie would come home from class and put "Glory" on repeat (to the point where she almost killed the song for me). By Spring Break '97, all of our friends knew it by heart. We saw it that March in Boston from the nosebleed section of the balcony. Eight months later we saw it in Chicago from the front of the balcony. The absolute pinnacle, though, was seeing it in London on the very first day of previews in April '98. We sat in the very first row and got to see four of the original Broadway performers (including Adam Pascal... *swoon*). It was so fantastic we went back to see it again a few days later. By that point I had seen it four times, and I didn't think any production could possibly top that first night in London. A few months later, though, I found myself in New York and a friend won front row tickets in the standby drawing. Off I went again to see the show in the original theater. It was good, but by this point my interest was definitely on a decline. I didn't give it a second thought, in fact, until I arrived back in London in October '99 and discovered that the production was about to close. I snagged one of the few remaining seats for the last day and watched as the cast laughed and cried and said goodbye. It was amazing. You see, "Rent" isn't about the production for me anymore. It's about remembering my best friends and how it became something that we owned. So when I heard that a UK tour was starting up, I couldn't resist. I dragged along my college friend Kel for an evening of nostalgia. We had the best time, clapping and laughing and mooing and screaming. The production itself was reasonably good, but it was more the invoking of the "Rent" ritual and all our memories that we enjoyed. Oh, and Adam Rickitt was pretty cute too. *grin*


Holy crap! It was Lisa! For those in the U.S., I urge you to get BBC World and start watching EastEnders. It's seriously the best soap in the world. Last night 20 million viewers tuned in to find out who shot big bad Phil Mitchell. I honestly never thought it would be mousy little Lisa, Phil's former girlfriend who is secretly carrying his child. I think he's going to frame it on Steve or Dan, though...

| | |
| --- | --- |
| | [2] |

So, yeah, last weekend Snookums and I went on a quick trip to Edinburgh, Scotland. As usual, I took lots of pictures for your perusal. Am I the poor man's Michael Palin, or what?


Huge apologies for the extended delay, everyone. I think I mentioned that I was having problems with my host, Portland. (Note: If you're thinking of hosting a site there, don't.) After numerous outages and problems, I decided to pony up for a real ISP. So I sent off a request to Portland to transfer my domain and then headed off to Scotland for the weekend. When I got back last Monday, I discovered that Portland had cancelled my account, thus rendering me unable to update the site any further. On top of that, they didn't get to my transfer request for over a week. In summation, Portland sucks ass. Big time. My new host should hopefully be much more stable and there won't be any bandwidth restrictions or long download times.

archives
You can search through the archives by post keyword using the form on the left, or you can browse by month using the links at the bottom.
"Moblog" refers to posts and images posted directly from my mobile phone.

"PW Blog" refers to posts recovered from my very first weblog, which dealt with news related to my college dorm.