Monday, May 31, 2010

Shared today on Google Reader:here.

Sunday, May 30, 2010

RunningBlog: Geek Girl Runner Episode 007
While those of you in the U.S. are celebrating Memorial Day weekend, Down Under we're counting down the last two days of Autumn before Winter begins in earnest. It's been cold, windy, and rainy in Sydney; the kind of week where you prefer to curl up under a blanket rather than drag yourself out of bed to exercise. I recorded the long-awaited Episode 7 of the Geek Girl Runner podcast tonight - IN A SINGLE TAKE! - huddled in my cosy closet. This episode features: what's been keeping me busy lately (both running and otherwise); recaps of the two races I ran this past month; a training update; emails, comments, and shout-outs; and ruminations on running for goals versus running for fun. I hope you like it!

Show links:
Mother's Day Classic race report
Sydney Half-Marathon race report
The Secret Life of Kris - blog of The Other Kris
Corso La Meta - podcast and blog by JayDub
Elkhart County Fair 5K Road Run
Fun Run Pink 10K
Blackmore's Half-Marathon - part of Sydney Running Festival
Runners Round Table
"Mixed Media: Podcasts you can run with" from The Buffalo News
Marathon Woman Returns! - blog of Elma
Chacos on the Run - blog of Shayna
One Girl Running - blog of Heidi
You Don't Have to Run Alone - blog and podcast of Ted

Thanks as usual to Nick Arthur for the use of his song "Little Donut Party"!


How to make a perfect PBJ. Neat trick! I'll have to try that.

| | |
| --- | --- |
| | [3] |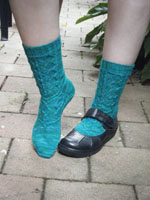 Absinthe Socks
I think I'm finally tired of knitting socks. Each pair is taking me longer and longer to finish. I started these on January 2nd! They're pretty though, right? These are Absinthe from Knitty, a toe-up swirl of Art Nouveau cables and lace. It's an absolutely perfect match for the yarn: Knitabulous Merino Sock in "Salwar Kameez" (from her Indian Summer yarn club). It's the most intense blue-green, from teal to emerald to even kelly green.

I knitted both socks at the same time on two 2.75mm circular needles. Unfortunately my first attempt at the feet was too small, both in length and diameter. So I frogged them back from the heels all the way to the toes. Then I added in some more increases (eight extra stitches) and lengthened the bit before I started the pattern. That did the trick! When I got to the leg, I finished the five lace repeats and then knitted 2x2 ribbing until I got to the end of the wool. I used Elizabeth Zimmerman's sewn bind-off to finish. (Details also on Ravelry.)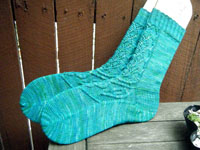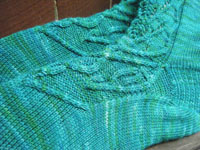 | | |
| --- | --- |
| | [1] |
Last night we caught the ferry to Manly (to celebrate Gadgetgirl's birthday), and we thus had a front row seat for Laurie Anderson's illuminated Opera House. It's part of the Vivid Sydney Festival, and several other iconic Sydney buildings are being painted by light at night as well. The patterns on the Opera House rotate, and we were lucky enough to catch a few of them while we waited for the ferry to depart. It's not every day you get to see the Sydney Opera House decked out in leopard print.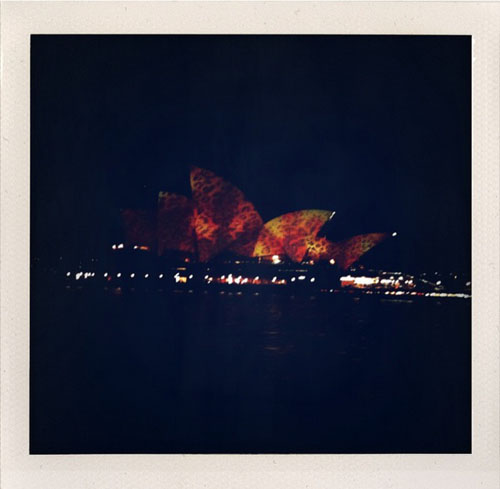 | | |
| --- | --- |
| | [1] |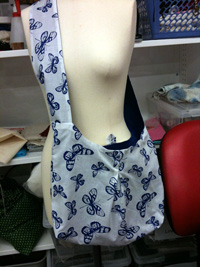 Sewing Class: Remember how I told you I booked in for a sewing class? Well, Thursday night was my first one! After work I walked over to the Sewing Room in Surry Hills to learn how to make a sling bag. The room was cheerfully crammed full of interesting things like mannequins and overlockers and boxes of trims. When I got there, a student was working on her HSC project: a chocolate brown ball gown that she's embroidering on the theme of Aboriginal history. (Needless to say, it was gorgeous. Why don't American high school kids get to do amazing things like that?!) Anyway, there were three other young women in the class, all of whom were total beginners. I know how to use a sewing machine for the most part, but I've never really sewn a garment from a pattern all on my own. (So yeah, I was the Hermione of the group a little bit.) The pattern was really basic and easy to follow, and the Bernina machine wasn't too different from my Janome at home. I snapped a photo during mid-construction. Our teacher Penny was fantastic, answering all our questions and giving everybody hands-on help. (She taught me a new way to turn narrow tubes inside out that will save loads of time on my next sock monkey.) The three hours flew by, and in fact, I didn't finish my bag til closer to 10pm. Isn't it cute? The fabric is just some cheap cotton I picked up at Lincraft. All I need to do now is sew on a button for the closure. Before I left, I took Penny's advice and used some scrap paper to trace around the pattern pieces so I can reproduce it at home. It'd be great for gifts, huh?

Next Thursday I'm booked in for Zippers, Casings, and Buttonholes. This is venturing into uncharted territory for me, which will be fun. After that, it's on to making an actual skirt! If you're interested in sewing in Sydney, I suggest you bookmark the Sewing Room blog. They have loads of classes to attend, and they also have nights where you can come and get help with whatever pattern you want to make.

Saturday, May 29, 2010

Shared today on Google Reader:here.

Friday, May 28, 2010

Shared today on Google Reader:here.

Thursday, May 27, 2010

RunningBlog: Fun Run Pink
I just learned over at Other Kris's site that the women-only Fun Run Pink will be happening a week after we get back from the States. Perfect! So even though I'm missing the Bay Run and City 2 Surf, I can still do a 5K on my trip and a 10K when I get home.


Shared today on Google Reader:here.

| | |
| --- | --- |
| | [1] |
RunningBlog: Week 21
A very light week for running! I've only done one short run since the DNF at the Half-Marathon: a slow and easy run/walk around the neighbourhood on Tuesday. I could tell that my foot was still sore, so I didn't push it. I've done four classes at Spudds since the big race though, so I'm still keeping up my fitness level. (Oddly, running for a couple minutes during a gym interval is okay. The soreness only appears past a certain distance/time threshold.) I managed double-hundreds on the rower twice this week, which was very gratifying. It's starting to happen more frequently than not. (I'm tearing up my hands though.)

In terms of my running schedule for the winter, my Mom is registering us (her, me, and the Snook!) for the Elkhart County Fair 5K Road Run while we're there visiting. That'll be fun! I'm also thinking of training for the Blackmores Half Marathon in September. If I do Higdon's 12 week program, I've still got a few more weeks before I have to start. That will give me more time to rest this blasted foot and hopefully start the program injury-free!

May 25: 4.83km
Total this week: 4.83km (3mi)
Total in 2010: 427.12km (267mi)

The rest week has eaten into my cushion a bit for my 1000km in 2010 challenge. I should be at 403.8km, so I'm still ahead a bit.

| | |
| --- | --- |
| | [1] |
Sassy: Oh man. Someone took photos of a heap of Sassy magazines from '92-'93. I think I had all of these. It's like that scene in Amelie where the guy finds the box of all his childhood memories.

Wednesday, May 26, 2010

The story of Cher Ami is fascinating. Poor little bird! And they gave him several medals. Why Disney hasn't picked up this story is beyond me.

| | |
| --- | --- |
| | [1] |
Shared today on Google Reader:here.


Meme. HA! (Link courtesy of the Snook.)

| | |
| --- | --- |
| | [2] |
Wednesday Whimsy: I have no idea what this site is about. All I know is I was having a bad morning, and then a co-worker sent me the link. I opened it. I mentally cursed while I waited and waited for the Flash to load. And then it started. And it made me smile. Lovely, lovely!

| | |
| --- | --- |
| | [7] |
The Facts In The Case Of Dr. Andrew Wakefield. The MMR vaccine does NOT cause autism. If you think or fear that it does, at best you're ignorant and at worst you're being WILLFULLY STUPID.

Tuesday, May 25, 2010

Shared today on Google Reader:here.

| | |
| --- | --- |
| | [3] |
"How the sex bias prevails." Fascinating and depressing. Obviously one of the difficulties in proving that gender bias exists is that very few people experience life as both a man and a woman. This article (an excerpt from this book) profiles two scientists at Stanford University in the U.S., both of whom are transgendered. Needless to say, the female-to-male is enjoying more success in his career than the male-to-female. Like I said, fascinating and depressing.

| | |
| --- | --- |
| | [4] |
"Allergy sufferers less likely to get cancer." Huh. So there's an upside. Of course, we're also more likely to go broke buying Zyrtec for the rest of our lives...


Manly crochet doilies. I particularly like the Superman insignia and the tighty-whiteys.


RunningBlog: Another GGR Review
Thanks to Shayna of Chacos on the Run for a great review of my Geek Girl Runner podcast. Shayna's an au pair from the US (I think) who's now living in Milan, Italy. She has a blog about her Italian adventures that fascinated me, mostly because I've visited many of the same places. Thanks for the shout-out, Shayna!

Monday, May 24, 2010

Shared today on Google Reader:here.


RunningBlog: GGR Podcast Review
I have to say, Elma's review of my podcast made me laugh and laugh. "It's great, she warbles on about knitting and her contraceptive implant and leeches before getting around to any running talk..." Just about sums it up, really!

Which reminds me - Elma also emailed to say she was having trouble seeing my previous episodes in iTunes. So I did some investigating and found out that my RSS feed was only showing episodes for the past 30 days. Whoops! I've fixed it up now. So if you need to get any back episodes, you should be able to find them in iTunes. If it doesn't auto-update, just right-click on the podcast title and tell it to "Update podcast" or "Show all episodes." You'll see 'em.

And hey, maybe I could even, you know, record a new show this week? I'll give it a shot. :)

| | |
| --- | --- |
| | [5] |
I don't get it. Is airbrushing school photos a new thing in Australia? It's been offered in the U.S. for decades. I remember it mostly being there for the kids with really bad acne. (One of R.E.M.'s albums even includes a photo of Michael Stipe with perfectly smooth skin and a large caption: "THEY AIRBRUSHED MY FACE.")

Sunday, May 23, 2010

Shared today on Google Reader:here.

Saturday, May 22, 2010

Shared today on Google Reader:here.

Friday, May 21, 2010
| | |
| --- | --- |
| | [4] |
Because every country is the best at something... Neat! Australia is #1 at "car thefts," and USA is #1 at "serial killers." This. This is my heritage. Great. :)


Shared today on Google Reader:here.


MetaFilter to the rescue! I was enthralled by this real-time unfolding drama of two Russian girls in a likely sex-trafficking scenario and a MeFite's attempt to save them. It's like a movie, except it's real. And the ending is amazing. Yeah, I got a little something in my eye...


Lando Calrissian and Han Solo, reunited 30 years later. Hellz yeah! (Link courtesy of the Snook.)


For next summer: how to sew a pattern-free halter top with built-in bra.


Hey, look! Eileen's in a fancy scientist magazine! (From the URL, I actually read it as "Micro Be" magazine. Durrrr.)

Thursday, May 20, 2010

Shared today on Google Reader:here.


Snook, I got two words for you: Breakfast. Degustation.

| | |
| --- | --- |
| | [2] |
RunningBlog: Week 20
It's turned out to be an eventful week for my running non-career. After a last gentle 5K run in the taper, there was the debacle of the Half-Marathon DNF. That forced me to re-assess my race plans for the rest of the year. There's no way I can think about a marathon right now, and I'd even put a half-marathon on hold until I can finally get my right foot back to 100%. Then, last night we booked our plane tickets home to visit my family in July/August... and I only just realised I am going to miss both the Bay Run AND the City 2 Surf. Those two are pretty much the highlight of winter running in Sydney. I'm going to have to motivate myself without the pressure of an event for the next few months, it seems. On the plus side, I've done two training sessions at Spudds this week and I'm kicking some ass. I think this cross-training is going to become a much more important part of my fitness plan now that I know I need to give my foot a rest.

May 14: 5.09km
May 16: 12.48km
Total this week: 17.57km (11mi)
Total in 2010: 422.29km (264mi)

I'm still ahead of the pace I need to meet my goal of running 1000km in 2010...


Wow! One of my knitting buddies features in this new Virgin Blue TV commercial. That's the Inner City group's own Lee (aka "FredAStep") on Ravelry. Congratulations, Lee!

Wednesday, May 19, 2010
| | |
| --- | --- |
| | [1] |
Congrats to Mary-Helen on getting her citizenship. Yay! Voting is fun! :)


Shared today on Google Reader:here.

| | |
| --- | --- |
| | [3] |
I like mochi. I wonder if I'd like warabi mochi. Sydney foodies: anybody know where I can find warabimochiko and kinako?


My little brother Joey ended up being the 2nd highest fundraiser in his school for the American Heart Association's "Jump Rope for Heart" event. Way to go, Joey!

Tuesday, May 18, 2010
| | |
| --- | --- |
| | [1] |
Shared today on Google Reader:here.

Monday, May 17, 2010

RunningBlog: Race Photos
The official photos from the Sydney Half-Marathon are up! If you search for my number (#3516) you'll see thirteen pics from my first lap of the course. So even though I didn't finish the race, I've got photographic evidence that I did start it! (You'll also notice that Venks is visible in a lot of these, trailing me by a bit. He was supposed to be my pacer. I told you I went out like a maniac. *sigh*)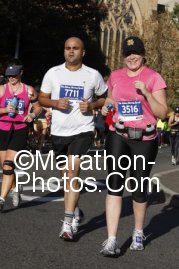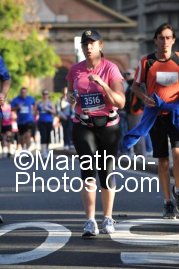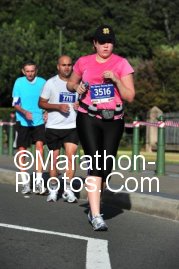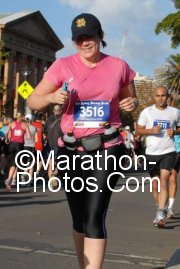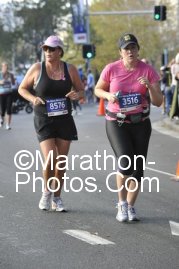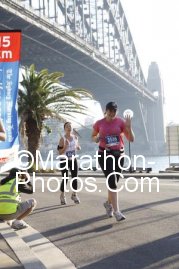 | | |
| --- | --- |
| | [1] |
Shared today on Google Reader:here.


Wow! Chippendale has the smallest block size in all of Australia. ("Block size" meaning the block of land that comes with each residence.) Thankfully our place has a little bit more than the average, by virtue of us being at the end of the building (and having courtyard/garden around the front and side). Still, as Life in Chippendale points out, the cramped-ness of our neighbourhood isn't really a big surprise. It's all terraces and apartments, really.

| | |
| --- | --- |
| | [16] |
RunningBlog: The Sydney Half-Marathon Non-Race Non-Report
Let's just get it out of the way, shall we? I didn't finish the Half-Marathon. Yep. DNF. I made it to 12.5km before pulling out. While I think it was the right decision, I'm still kind of disappointed I didn't finish. Let's go back to the beginning.

In terms of race preparation, this was my best ever. I drank about 2 liters of water every day last week. I had a couple doses of Endura the day before the race. I got plenty of sleep, even on the last night. I got up that morning feeling ready. I slathered my injured right foot in anti-inflammatories and popped a Mobic. I filled my water belt and packed it with energy gels. I got dressed, had a cup of coffee and a piece of toast with peanut butter, and headed off for the bus stop. I felt cautiously optimistic.

The day was sunny but chilly, but I didn't feel the cold much. I did some stretches while I wanted for Venks. After he turned up, I hit the porta-potties for one final pit stop before the start. Just as the gun went off, we met up with Other Kris (who has a cracking race report here). We hit the road. I had been telling Venks that we needed to go slow at the start, but the energy of the crowd was hard to fight. Our first kilometer was way ahead of our needed pace. We ran together all the way down to the Rocks and then turned onto the hill at Argyle Street. Without even thinking about it, I powered up the hill much faster than I normally would have, leaving Venks behind me. My legs felt great. As we came down into Hickson Road, I actually passed a couple people. I started to think that I was going to have the race of my life. I ran into my friend Emma (as I always seem to do) and said hello as I passed her. I ran all the way to the first water stop, which was around the 4km mark. I slowed to a walk while I sucked down a few gulps. Then back to running. I hit the 5km mark at about 33:25 (according to RunKeeper), which is probably a PB at that distance. Note: To reach my goal of 2:30:00, I needed to run about 7:10/km. So I was going way fast. I was fixated on making the 11km checkpoint though, so I kept pushing. I had an energy gel at this point, then started the climb back up into the city. I had to walk on Hunter Street. I could still see Venks only a short distance behind me. I kept telling myself that I felt great. The wheels were about to fall off. [more...]

Sunday, May 16, 2010

RunningBlog: Follow my #sydneyhalfmarathon live over at: RunKeeper

Saturday, May 15, 2010

RunningBlog: Less than 11 hours to go...
My clothes are set aside. The timing chip is on my shoes. Safety pins are attached to my bib. (Go #3516!) I am carbed up. I am hydrated. Bring on the Sydney Half-Marathon!

Once the race starts, the Snook will be posting a link so you can follow my progress live. My previous PR was 2:36:59, so I'd love to come in more around the 2:30 mark. And now I'm off to bed!


Awww, the government has finally approved a plan to drive out the fruit bats from Sydney's Botanic Gardens. It was always such fun to take tourists down to see them. I didn't realise how much damage they're doing to the trees though. Too bad.


Shared today on Google Reader:here.

Friday, May 14, 2010

Shared today on Google Reader:here.


Peeing in the road
We were joking around at work today, teasing one of my co-workers that she has pinkeye. (She really doesn't.) Of course, I immediately heard my grandmother's voice in my head saying "You'll get a stye in your eye if you pee in the road!" I've actually mentioned that to Rodd a couple times in the past, but it appears to have been a uniquely Midwestern superstition. Have you ever heard it? I know I'm not the only one; there are a ton of Google results. What a funny thing, huh?

Thursday, May 13, 2010
| | |
| --- | --- |
| | [3] |
RunningBlog: Week 19
The first race of the year is under my belt! Sunday was the Mother's Day Classic 8K, and you've probably already read my race report. This is my taper period for the Half-Marathon, so I'm taking things easy. I've done two other runs: an easy 5K through the neighbourhood, and a treadmill 5K at race pace. Feeling good. Only three days to go...

May 8: 5.67km
May 9: 8.09km
May 12: 5.62km
Total this week: 19.38km (12.1mi)
Total in 2010: 404.72km (253mi)

To meet my goal of running 1000km in 2010, I should be at 365km. Plenty of cushion.

The big decision, of course, is what's next. Oh, there's the Bay Run in August, of course, and the City 2 Surf a week after. But what about the spring? Could I do... the big one? I'd been thinking about Melbourne, which will be 21 weeks after the Half. But then today the website for Sydney launched, and they've changed the course in a good way. So I'm torn. But Sydney is only 18 weeks away, and I'm not sure I'll be ready to start training right away. Melbourne is safer... right?


Shared today on Google Reader:here.

Wednesday, May 12, 2010
| | |
| --- | --- |
| | [1] |
Shared today on Google Reader:here.


My Daily Sydney - a lovely blog post from my friend Lyn with photos of her daily commute from Redfern to UTS. It's a part of Sydney that I see every day and that never gets put on postcards.

Tuesday, May 11, 2010
| | |
| --- | --- |
| | [2] |
Shared today on Google Reader:here.


I've been trying to upload a PDF to my Google Docs account but I keep getting a "Server Rejected" error. It appears to be a common problem right now. I found a way around it though. If you email the PDF to your Gmail account as an attachment, you'll have a link to "View" it that will open it in Google Doc Viewer. Then when you go back to your Docs folder, it'll be in there.

| | |
| --- | --- |
| | [1] |
Sewing Classes: I just booked in for a couple classes at The Sewing Room in Surry Hills. I've been bookmarking all these things for years that I want to sew, but I just haven't been confident enough to dive in. And you know me - I love to indulge my inner Hermione. So I'll be doing Sewing Class 2: Sling Bag and Sewing Class 3: Zippers, Casings and Buttonholes. The goal is to then move on to garments like skirts and dresses!

| | |
| --- | --- |
| | [1] |
The Pickleback is apparently the name for having a shot of whiskey followed by a shot of pickle brine. On one hand, EWWWWW. On the other hand, I do like pickles.

Monday, May 10, 2010
| | |
| --- | --- |
| | [3] |
RunningBlog: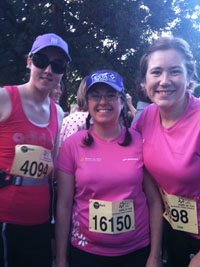 Mother's Day Classic 2010
Yesterday was my fourth running of the Mother's Day Classic 8K in Sydney's Domain. (Previously: 2006, 2008, 2009.) The weather was bright and sunny, but not as cool as in previous years. The Snook and I caught a bus into the city and headed over to pick up my timing chip. That's when I walked into CHAOS. The course was changed this year to start on Hospital Road and extend out into the city streets. The problem is that just about all of us were trying to get into the Domain VIA Hospital Road, so you had thousands of people streaming in while others were actually lining up for the start. It was crazy. It took me ages to get over to pick up my chip through the crowd. Eventually I got it and headed back to Hyde Park to meet up with my friends. We left the Snook laden with our bags and headed to the starting line. On the way, we discussed our race plans. Issy had been training like a champion and figured she'd do 6:30 kilometers. Miss Fee had had a rough couple of months and hadn't been able to train as much as she'd like, so she was planning to go slow. Me, I was somewhere in the middle. After all, my real goal event isn't til next Sunday. I was torn between wanting to test my speed and not wanting to push too hard during my taper. Then Miss Fee mentioned that she'd never run 8km without walking before. That settled it. "How about I run with you, and I'll make sure you do the whole thing without stopping?" She accepted. It was a staggered start, and pretty soon we were off. Issy ran with us for a bit then we waved goodbye as she pulled ahead. Fiona and I chugged along happily, enjoying the day and chatting the whole way. We got lapped by the winner and cheered him on. We talked about the house she'd just bought; we talked about my kitchen renovation; we talked about our fitness plans. I kept her going up and over the hills of the Domain. We passed my friend Venks at one point going the other direction. (The course was two laps of an out-and-back.) We slowed a bit on the second lap, but I picked up the pace in the last 2km. Fee was puffing, but we passed the 7km mark and she knew she was going to do it. "When we get to the final turn," I said, "we're going to sprint in to the finish. Whatever you got, all right?" To my utter surprise, when we rounded that corner she was OFF LIKE A BULLET. Seriously! I was so surprised I nearly forgot to sprint myself. There was no chance of catching her, and I crossed the line about five seconds behind. We had a big hug at the finish. [more...]

| | |
| --- | --- |
| | [1] |
Shared today on Google Reader:here.


Remember how my brother Joey was fund-raising for Jump Rope for Heart? My Mom has posted video of him jumping. Thanks to everyone who donated. :)


Car Rental
I just thought I'd share with you some surprising numbers regarding our trip to Canberra last month. A few weeks before the trip, I started researching car rental rates. I quickly discovered that the big problem with renting over Easter weekend is that most of the car rental places are closed on both Good Friday and Easter Monday. So we were going to have to rent from Thursday to Tuesday, pay for the extra days, and deal with the hassle of getting the car there and back on normal work days. Most of them were also requiring us to pay for a full week's rental (as a sort of holiday weekend surcharge). Bayswater quoted us $340; Discount Car Rental was $375; Hertz was over $400. Then I had a brainwave. GoGet! While we normally use it for short trips, they do have a day rate of $68 which includes 150km for free. We could pick it up and drop it off whenever we liked. So for Friday to Monday, the four days would cost us $280 and include 600km (which was basically the distance to Canberra and back). Additional kilometers are billed at 20c each, so we worked out that we could drive 325km in Canberra for the same amount we'd have paid Bayswater. Also, GoGet pays for gas (and Bayswater doesn't). So all in all, we figured we'd come out ahead. We booked the GoGet car and used it for the trip, and today I've just gotten my April statement that includes the final tally. Total cost: $320.20. Brilliant! The whole scheme worked perfectly. We saved money ($20 plus gas); we saved time (we could pick-up and drop-off on the public holiday); and we saved hassle (we didn't have to worry about parking on the street and driving the car back on a workday). GoGet FTW!

| | |
| --- | --- |
| | [2] |
Congratulations to RoseRed and her hubby on the birth of their son Connor. What chubby cheeks! (Self: Must not nom other people's babies.)

Friday, May 7, 2010

You might have noticed that I'm trying out a new script that auto-posts my Google Reader shared items each day. I've gotten used to sharing links over there, and I figured this was a good way to populate the blog with a bit more content for those who don't use Reader. So far it seems to be working well!


Shared today on Google Reader:here.


Even Doozers Knit! LOVE IT. How did I never see that episode?

Thursday, May 6, 2010

Shared today on Google Reader:here.

| | |
| --- | --- |
| | [2] |
RunningBlog: Week 18
Well, I did it. On Sunday I went out for the longest run I've ever done: 22km. It was hot and sunny, and I had to take walk breaks and suck down a lot of water. But I got it done. Afterwards I had an ice bath and a massage to help with the soreness, and I think I pulled up pretty well. I had Monday and Tuesday as rest days, then went for a short easy run Wednesday morning. My legs felt tired. On that basis, I decided to skip Spudds on Wednesday in favor of resting up as much as possible before Sunday's Mother's Day Classic 8K. (The Geek Girl Runner team will be meeting up before the race from 7:30 at the fountain in Hyde Park.) While I'd love to set a PR for this one - last year's time was 57:37 - I don't want to push too hard before the big race next weekend.

May 2: 22.03km
May 5: 5.32km
Total this week: 27.35km (17mi)
Total in 2010: 385.34km (240.8mi)

To meet my goal of running 1000km in 2010, I should be at 346km right now. So I've still got a nice cushion!

| | |
| --- | --- |
| | [3] |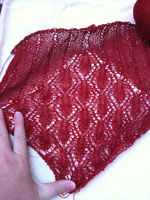 Juno Regina
Actual knitting content! It's been a while. I fell in love with Juno Regina when it first came out in 2007 but never felt inspired enough to give lace a real go. The Morris Empire 2ply kept calling to me though, so I finally cast on at Knitting Camp. I will be the first to admit that I was quite the sight, hunched over my lace and growling at anyone who dared interrupt me while laboriously counting yarnovers under my breath. Those first twenty rows were a trial, people. Eventually I got the hang of it though, and the diamond pattern started to emerge. Chart 3 threw me for a loop, but fortunately I found a Ravelry discussion that cleared it up. The end portion is now finished and I'm powering through the body of the scarf. I don't even know who it's for! I like it, but I'm not sure I'll wear it. I'm thinking maybe a gift for my Mom or my sister...

Tuesday, May 4, 2010
| | |
| --- | --- |
| | [1] |
How to Sew a Reversible Skirt. Bookmarking for future reference.

Monday, May 3, 2010
| | |
| --- | --- |
| | [2] |
RunningBlog: Geek Girl Runner Episode 006
Welcome to another installment in my increasingly sporadic running podcast! Sorry for that whole month-long delay. Oops. Life caught up to me in April, as you're about to hear. Thanks again to everyone who's been in contact in the past weeks; it's really meant a lot. This episode features: what I've been up to when I haven't been podcasting; my training update; emails, comments, and shoutouts; and a couple random bits at the end. Look, it's really more important that I finally RECORDED THE THING than it is to have a perfect three-act structure, right? Right. :)

Show links:
Our trip to Canberra
Masterpieces from Paris Exhibition
Knitting Camp 2010
Our hike/run at Mount Keira in Wollongong
Sydney Half-Marathon
Mother's Day Classic
My 16K long run
My 22K long run
You Don't Have to Run Alone - podcast by Ted Beveridge (with Chloe's Corner!)
Running With the Pack
Iron Brandon
Running the Narrow Path
CORSO LA META - podcast and blog by Jimbo_W
Triathlon Mind Training - podcast and blog by Ironmanjay
The Secret Life of Kris - blog of the Other Kris
missfee - my friend and fellow runner Fiona

| | |
| --- | --- |
| | [1] |
Moomins and the Comet Chase. That site - not to mention the movie - looks so amazing that I don't even mind that it made me install Silverlight. Hooray for Moomintroll and Sniff and the Hemulen! I can't wait.

| | |
| --- | --- |
| | [3] |
RunningBlog: Mother's Day Classic Meet-Up
Here's the course map. What do you guys think of meeting up at 7:30 at the fountain in Hyde Park? It's not too far from the start, and that would give us time to snap a couple photos, stretch, and head over to the starting line. (I have no idea how many folks are on the GGR team. I wish the MDC website would display it somewhere!)

archives
You can search through the archives by post keyword using the form on the left, or you can browse by month using the links at the bottom.
"Moblog" refers to posts and images posted directly from my mobile phone.

"PW Blog" refers to posts recovered from my very first weblog, which dealt with news related to my college dorm.