Tuesday, August 31, 2010

Me: Dude. Ben Folds + Nick Hornby + Pomplamoose.
Snook: Hah. Hipster asplosion.
Me: Totally.

I love it!



Monday, August 30, 2010
| | |
| --- | --- |
| | [6] |
Joss Whedon in Sydney
Yesterday I joined the Snook and Kunaal at the Sydney Opera House to see Joss Whedon. It was pretty fun! Joss was hilarious, and Wil Andersen didn't do too bad a job interviewing either. (There are a lot of quotes from the event here.) Then they opened it up for questions at the end, and I just CRINGED knowing what was going to happen. The Nerd Parade began! Instead of asking anything, you know, insightful, fully half of the people chosen used the opportunity to A) show off their fanboi credentials; B) beg Joss for a job/hug/lock of hair; C) explain their weirdo name, like we cared; D) ramble on and on in such a way that nobody knew what the actual question was. I mean, I know they're my people and all, but why is it always the Aspies who go for the microphones?

Sunday, August 29, 2010

I will totally cop to being a Politeness Enforcer. Granted, if a bus was empty I wouldn't bother, but if it's getting full and you have your bag on a seat? Be prepared to move it!


Historical knitting nerdery
Digital Resources from the Knitting Reference Library WSA . The University of Southampton have digitized much of Richard Rutt's collection of 19th century knitting books. They're brilliant. (Link courtesy of peacay's Google Reader feed.)

Saturday, August 28, 2010

Things Organized Neatly. Like crack to my organization-obsessed soul...



Every single time I went to type the word I spelled it 'organisation' with an S. Australia, I think you win this one!



Friday, August 27, 2010

RunningBlog: I just discovered that Dan Clark - who sent me the wonderful 13.1 medal mentioned in GGR Episode 9 - has started his own blog and podcast: Running the Golden Years. Thank you again Dan! I'll be reading and listening. :)


RunningBlog: Week 34
Things are slowly improving. I still feel sore and tired, but my pace is getting better. I went for a long run Sunday night and did 5:1 run/walk the whole way. My right foot was bothering more than usual. (I've ordered some new shoes to see if that helps.) My training plan has me doing 5 miles on my morning runs, but I backed off that a little. I just need to get my legs used to running on concrete again, I guess.

Aug. 22: 11.22km
Aug. 25: 7.03km
Aug. 27: 5.50km
Total this week: 23.75km (14.8mi)
Total in 2010: 628.82km (393mi)

I've clawed back a little ground in my goal to run 1000km in 2010. I'm still about 25km behind pace though...

Thursday, August 26, 2010

AwesomenessReminders. An actual subscription service where someone will call you on the telephone every day to tell you how awesome you are. I love it! I think it's brilliant. It seems like the kind of thing you could arrange with a friend though, right? Like every day I could email you a message about how awesome you are, and you could send one back to me. Wouldn't that be neat?


Shared today on Google Reader:here.


Coxisms - the Quotes of Dr. Perry Cox. Nice! Although I think I'd prefer one of Dr. Kelso.

| | |
| --- | --- |
| | [1] |
RunningBlog: Geek Girl Runner Episode 009
Hey, remember when I used to podcast and stuff? Guess what? I MADE A NEW EPISODE! This is basically a catch-up show, filling you in on all my running-related (and not-so-running-related) news from the past two months. The show also includes a race report from last month's Elkhart County Fair 5K Road Race which features the podcast debut of my husband, the Snook (as well as my Mom, Step-Dad, and little brother). I ended with bit of further discussion about the sports bra topic, as prompted by some new research that's come up. I hope you like the show!

Show links:
Elkhart County Fair 5K Road Run (official results)
The House on the Rock, Spring Green, Wisconson
Blackmore's Half-Marathon - part of Sydney Running Festival
Run Yank Run - Paul Abrelat's podcast
Phys Ed: The Right Kind of Sports Bra from The New York Times

Thanks as usual to Nick Arthur for the use of his song "Little Donut Party"!

Wednesday, August 25, 2010

Shared today on Google Reader:here.


Water Before Meal Means Fewer Calories Consumed. I want to know more about this study. So one group was told to drink two cups of water before each meal, and one group wasn't. Did the second group drink an equivalent amount of water at different times? All the diet and nutrition sources I've read say that staying hydrated is crucial to losing weight. Weight Watchers makes a big deal about it too. So is this study merely reaffirming what they already know, or are they actually saying that the specific timing of the water makes an even bigger difference? None of the articles I found were specific on that point. Anybody got another source?



Sidenote: I've given up Diet Coke. Again. It wasn't diet-motivated or anything; I just found when I came back from our vacation that it didn't taste good anymore. That's as good a reason as any to quit, I guess.



Tuesday, August 24, 2010

Shared today on Google Reader:here.

| | |
| --- | --- |
| | [4] |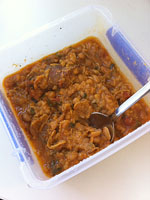 Thomas Keller's Slow-Cooker Cassoulet
Sunday afternoon I said to the Snook: "There are 500g of dried Great Northern Beans in the pantry. What we can we do with them? How about a stew?" Some googling led me to Thomas Keller's Slow-Cooker Cassoulet. Interesting! So we got everything together and I did all the prep and initial cooking on Sunday night.

Some recipe notes for you: My slow-cooker doesn't have a fancy metal insert (it's just ceramic), so I did the initial cooking in a pot on the stove and then transferred it after. I only made a half-recipe. The pork shoulder comes with a thick layer of fat on it, most of which I cut off. I didn't bother frying up the panko until Day 2 (when the slow-cooking was done). I did fry up the bacon though to get the grease, and I stored the bits in the fridge for garnish later. For the beans, we basically did a variation of the quick soak method. We boiled them for a couple minutes, then let them sit for an hour to soak. Then we drained and refreshed the water before cooking for an hour or so (until they were tender but not falling apart). My 500g made just about six cups of cooked beans in the end, so I didn't have to use any of the canned ones I had on backup. I used the Spanish chorizo, even though some commenters didn't like it. (We like chorizo.) My garlic was annoying, as when I sliced it in half the top half all came out of the paper. So those cloves I peeled. For the bottom half, I just removed as much of the loose paper as I could without it falling apart. It all went into the crockpot and then into the fridge overnight. Before work, I put the cooker on Low and left it for about 12 hours. When I tested it, the pork fell apart easily. I didn't have much fat to skim so I didn't bother. I fished out the half-head of garlic but left the individual cloves in. Then I fried up the panko and folded that in along with the parsley. We didn't bother with the bread/broiling (since our oven isn't working), so we had sourdough toast on the side. The half-recipe made six good-sized portions.

So what's the verdict? It was good! I think I expected it to be life-changing, but instead it was just a good, hearty pork-and-beans-and-sausage stew. Probably as good a cassoulet as you're going to get without confit duck legs... :)



Apologies for the photo. We were so hungry last night I forgot to take one! This is from my leftovers at lunch today.




Björk - The Comet Song
From the forthcoming film The Moomins and the Comet Chase.



We need milk, and cakes, and a warm bed...


Prince Caspian on a Boat
Ooh, three previews from the forthcoming Narnia movie Voyage of the Dawn Treader. That's one of my favorites. I know these movies haven't been huge hits, but I've really liked both of them so far. The casting of the Pevensie kids was great, and I think they've absolutely nailed my conception of Eustace Scrubb. I'm looking forward to the Dragon sequence, and the part where Lucy learns an Important Lesson About Gossip. Also - REEPICHEEP, my favorite character of all!


Free Solar Dress pattern. Okay, that's adorable. I really must make Indie some dresses. Hmm. And then I might have to make one for me.

| | |
| --- | --- |
| | [1] |
Know It All Pencil Set. I love it. I've been using an old-school pencil at work lately and I've been enjoying it.

Monday, August 23, 2010

Shared today on Google Reader:here.


Abbotsleigh School Literary Festival
Long-time readers will recall that last year I gave a Roald Dahl presentation for my nephew's third-grade class in Willoughby. It went so well that his teacher has asked me to come back again this year. Fun, right? So that's scheduled for next week. Well, when Gadgetgirl (who is a librarian, you know) found out, she asked me to come speak at the Abbotsleigh School Literary Festival too. That was last week, and it was pretty hilarious. I mean, the program was full of actual children's authors and important people -- and ME. I gave the same presentation as last year: who I am, how I became a Dahl fan, a bit about Dahl's life, how I started my website, how I visited Gipsy House, and then some of the more interesting items from my Dahl collection. I had two sessions, first the fourth-graders and then the third-graders. I didn't realise there was such a huge cognitive leap between those age groups! The fouth-graders were well-behaved and attentive, and they asked lots of good questions about Dahl. They were also strangely obsessed with hearing about his divorce! The third-graders were more fidgety and kept asking the same questions over and over. One of them asked what he died of, and I made the mistake of saying "pneumonia" (among other things). That led to 10 minutes of "What's pneumonia?!" and "My grandpa had pneumonia but he didn't die!" Lesson of the day: 9-year-olds go for the soap opera; 8-year-olds go for death and disease.

Sunday, August 22, 2010

"Study: Astronauts as weak as 80-year-olds in space. Bring on the rotating space ships!

Thursday, August 19, 2010

Just discovered that Marion Zimmer Bradley wrote two fanfics about LotR's Arwen: The Jewel of Arwen and The Parting of Arwen. Bookmarking for later reading!

| | |
| --- | --- |
| | [1] |
RunningBlog: Week 33
Well, I ended up taking the rest of last week off due to the cold I caught when I got back to Sydney. I spent the whole weekend just lying on the couch with a killer sinus headache. (Even drugs didn't help.) I finally managed to get back out there on Tuesday for a shuffle around the neighbourhood. I was tired and snotty, but I survived. I went for another one today. My lungs feel great, but like every muscle of my body is sore. I'm not sure if it's the lingering effects of the cold - possibly dehydration - but my legs and back and even hands were aching. So I took a lot of walk breaks and tried to just enjoy being out in the nice weather. Spring is finally here!

Aug. 17: 7.55km
Aug. 19: 7.2km
Total this week: 14.75km (9.2mi)
Total in 2010: 605.07km (378mi)

I should be at 634km right now to meet my goal of running 1000km in 2010, so I've got some ground to make up. However, I finally bit the bullet and signed up for the Blackmore's Half Marathon next month. My goal is just to finish the race, no matter what the time. I need to make up for the DNF in May. I'm really looking forward to it! The Snook will be running the Bridge Run 9K on the same day. I'm excited for the both of us...


WE ARE SEX BOB-OMB! 1-2-3-4!
Last Friday I went to see the long-awaited Scott Pilgrim vs. the World with the Snook and Kunaal. I'd been looking forward to it for so long that I thought the chances were good I'd be disappointed. Fortunately it lived up to the hype in my head - I LOVED it! I was giggling non-stop from the 8-bit intro to the very end. I just love the idea of applying the structure and aesthetics of an old-school NES side scroller to a movie. And yeah, I know that most of the world are completely over Michael Cera right now, but good ol' George Michael can still do no wrong by me. (The Snook nearly lost it at the "I have to pee on her..." line.) I read Kevin's review with interest this morning. I can see his complaints. Scott is kind of a dick, especially to Knives (who I loved). And Ramona is kind of a blank, passive cypher. I wasn't bothered by that though; to me that's just part-and-parcel of the whole videogame thing. Mario gets a personality; Princess Peach doesn't. Somehow it didn't trigger my feminist rage button. I think I tend to give well-written genre stuff a pass on a lot of that. (See also: The Princess Bride.) And on a practical level, they just had too much plot to get through to engage in a lot of character study. So I was able to forgive the gender stuff. It was just such a fun, visceral, WHIZZ-BAM! experience. It's like the lighter side of Kick-Ass. Can't wait to get this one on DVD...

Wednesday, August 18, 2010

Shared today on Google Reader:here.

Tuesday, August 17, 2010

Cook Like a Moomin. EEEEK! Moomin cookbook! Oh man, how cute. I'm not sure about how the Finns eat their fish, but I do enjoy lingonberries...


Bookmarking for future reference: DIY Painting Tips, Tricks, and a Step-By-Step Guide.

Monday, August 16, 2010

Australian Politics: A Harry Potter Primer. This is brilliant. I actually learned stuff from it! (Stuff other than the fact that Bob Brown was a total hottie...)

| | |
| --- | --- |
| | [3] |
Return of the Jedi Missing Lightsaber Scene. Okay, WHAT?! There's a Star Wars scene that I've never seen before? That's a mind-blowing way to start my Monday. Very cool.


Shared today on Google Reader:here.

| | |
| --- | --- |
| | [3] |
The Granny Square
In case you missed the posts on Ravelry, "The Granny Square" is finally open in Newtown! This is the new funky boutique knitting shop run by my old employer Morris & Sons. It's only a soft-launch for now - they don't quite have all the stock in yet - but it looks gorgeous. The Other Andrew has been supervising the visual merchandising and it looks great. He's put several photos up on Flickr.



I am totally taking some credit for the shop, seeing as how it was me that notified Albert that Champion Textiles was going out of business. By the time I met him for dinner that night, he was already working out details of the lease with the owner. See? I put people together to MAKE THINGS HAPPEN.




Shared today on Google Reader:here.

Saturday, August 14, 2010
| | |
| --- | --- |
| | [1] |
Our oven is still waiting to be repaired, but I'm already thinking of ways we can hack it to make great pizza...

| | |
| --- | --- |
| | [1] |
Happiness Tip: Throw away other people's trash. I sometimes do this. It only makes me feel happy if the litterer isn't around though. Otherwise if I see them do it, then my throwing it away usually precedes a blinding rage.

Friday, August 13, 2010

Shared today on Google Reader:here.

Thursday, August 12, 2010

RunningBlog: Weeks 31-32
I always knew that the last week of the trip would be hard to get in my runs. We were travelling by ourselves in Wisconsin, and we were doing a lot of sightseeing on our feet. (We spent nearly five hours walking through the House on the Rock, for instance, so there was no way I could run after that.) I did get in a 4-miler on the treadmill at our hotel though. Then we basically lost two full days in transit back to Sydney, and then another two to jet lag. Finally managed a decent run (in the freezing rain) on Tuesday, only to come down with a cold later that same day. I'm hangin' on. My only consolation is that last week was a scheduled cut-back week anyway, so I haven't wrecked my training plan too badly. I just need to get back out there as soon as I can.

Aug. 1: 10.05km
Aug. 4: 6.4km
Aug. 10: 7.13km
Total for these two weeks: 23.58km (14.73mi)
Total in 2010: 590.32km (368.95mi)

My tally for 2010 has taken a beating though. I'm now 25km behind where I need to be to meet my goal of running 1000km in the calendar year. Eeek!

| | |
| --- | --- |
| | [9] |
Welcome to Chunkerville. Population: 2.
Yikes. Snookums replaced the batteries in our bathroom scales today so we could see how our weights fared after three weeks of American food. Folks, it was pretty depressing. I was actually thinking of going back to Weight Watchers. On a whim though, I checked out Calorie King. I used to like using their site to check nutrition information for Australian foods, but last year they switched to an expensive paid-subscription model. I was pleased to see today that they've scrapped this and gone back to FREE. If you're Australian and you want to try out an online food/exercise tracker, I suggest you check it out.


Yahoo! Mr. Snook starts his new job today. Best of luck, Snookums! (He's the Best Husband in the World. He stood in line for two hours yesterday to get me an iPhone 4 to cheer me up.)


Tired.
Rest assured, I'm still working on getting photos up from our trip. But the double whammy of jet lag and then the sudden onset of a cold have left me wiped out. I'm tired of feeling so sleepy and worn out all the time. I just want sunshine and energy!

Wednesday, August 11, 2010

Shared today on Google Reader:here.

| | |
| --- | --- |
| | [1] |
A Fair Isle vest, patterned after one made for the Prince of Wales in the 1930s. *sigh* If the Snook would wear things like this, I would knit them for him.


Scott Pilgrim vs. the Weather. I agree. This is how all movies should be marketed. I am also amused that Schwartzman seems really comfortable and off-the-cuff and funny, while Cera looks even more awkward than he does in movie roles.

Tuesday, August 10, 2010

Shared today on Google Reader:here.

| | |
| --- | --- |
| | [2] |
Patricia Neal has passed away from lung cancer at 84. She was Roald Dahl's first wife and the mother of his children. She had an amazing life. (Thanks to Christopher for the tip.)

| | |
| --- | --- |
| | [5] |
What I Read on my Summer Vacation
The funny thing is, I bet I haven't finished a physical book in over a year. Yet on this trip, I ploughed through more than half a dozen of them.

Sunday, August 8, 2010
| | |
| --- | --- |
| | [2] |
Shared today on Google Reader:here.

Saturday, August 7, 2010
| | |
| --- | --- |
| | [1] |
We're home! Showered. Fed. Unpacking... started. The cats missed us. More when we're back to normal.

Monday, August 2, 2010
| | |
| --- | --- |
| | [1] |
The second (main) part of our trip is coming to an end. Today we leave Indiana on a short road trip to Wisconsin. We'll be at the House on the Rock tomorrow! Then Wednesday it's back to Chicago to meet up with friends before flying out on Thursday. I miss my bed... :)

archives
You can search through the archives by post keyword using the form on the left, or you can browse by month using the links at the bottom.
"Moblog" refers to posts and images posted directly from my mobile phone.

"PW Blog" refers to posts recovered from my very first weblog, which dealt with news related to my college dorm.