Jamie's 30 Minute Meals #36: British Picnic
This was our 36th cooking/blogging experiment from Jamie's 30 Minute Meals, and I've now got a backlog of THREE meals, so get ready for a flood of posts! The weather has finally gotten appropriately "summery" here in Sydney, so we chose to make the "British Picnic" for this one: Sausage Rolls, Mackerel Pate, Lovely Asparagus, Crunch Salad, and Pimm's Eton Mess. That's a lot of different dishes! We watched the TV episode to prepare. The Snook was on chef's duty, and he managed it in a respectable 38:54.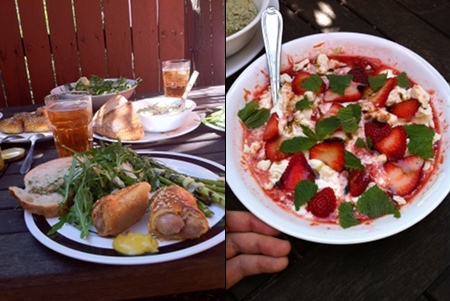 Substitutions: We couldn't find real Lancashire cheese, so we used cheddar instead. We also couldn't find prewashed watercress (and couldn't be arsed picking it off ourselves), so we used rocket for that. We had a plain orange instead of a blood orange in the dessert, as well as little meringues instead of big ones. Other than that, everything was as written in the recipe.
Quick verdict: How lovely! We might have been sitting in the stands at Wimbledon, I tell you. The sausage rolls were excellent, and for once Jamie's use of fennel seeds was appropriate. The cheese went a bit ick on the asparagus, but it was still tasty. I had been worried about the mackerel pate, but it was very nice! Strongly fishy, but nothing I couldn't handle. The pickled onions and pear worked surprisingly well together in the salad. And you can't really go wrong with Eton mess, can you? We washed it all down with a big glass of Pimm's Cup. Summertime bliss in only 38:54…
Read on for a photo essay of the preparation.Pre-start prep: We got out all the necessary ingredients, tools, and cooking vessels. The kitchen was clean (well, as clean as it gets) and everything wiped down and ready to go. The grill pan was put on high heat and the oven turned on to 205C. The food processor was fitted with the standard chopping blade.
First up are the ingredients for the sausage rolls: flour, puff pastry, egg, chipolatas, fennel seeds, Parmesan cheese, and sesame seeds.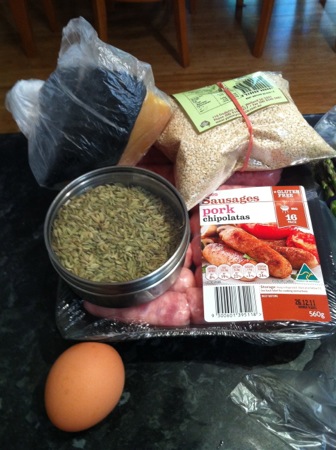 For the asparagus, we had asparagus, lemon, and cheddar cheese. For the pate, we had creamed horseradish, smoked mackerel, cream cheese, parsley, and lemons. (We don't like radishes so we didn't bother with those.)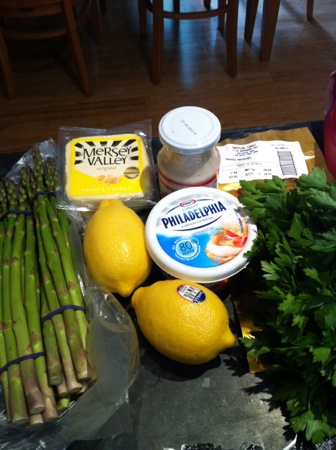 We also had a loaf of sourdough to have with the pate. For the crunch salad, we had rocket, pickled onions, pear, and lemon.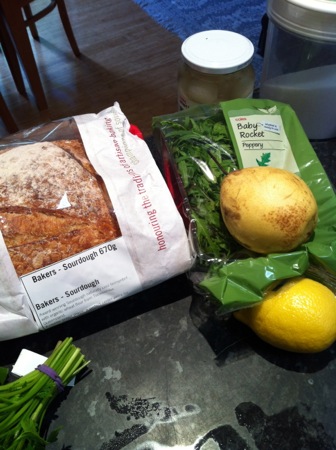 Lastly, for the dessert we needed: strawberries, sugar, orange, vanilla paste, Pimm's, yoghurt, meringue nests, and mint.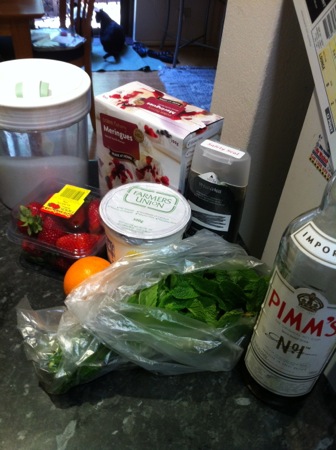 Pots and pans, ready to go! The grill pan is for the asparagus, and the baking sheet is for the sausages.
We also needed the food processor for this one.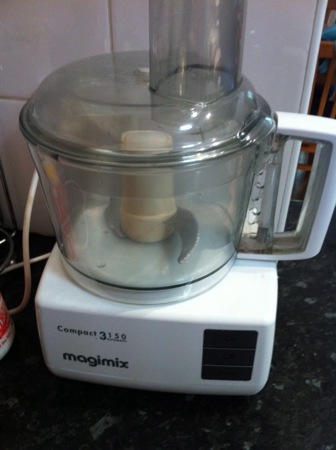 And he's off! The Snook started by preparing the puff pastry. He cut a single sheet in half.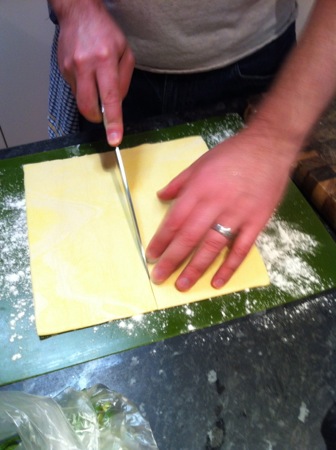 He then laid sausages down on each piece along the edge.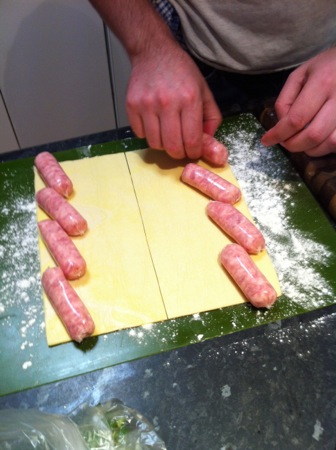 Next he bashed up some fennel seeds in the mortar and pestle…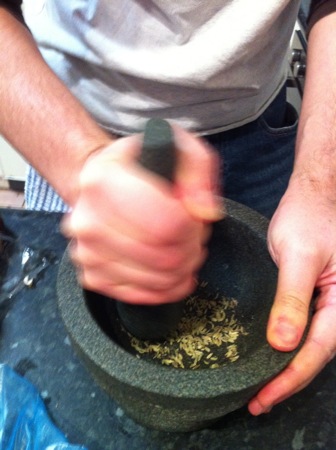 …before sprinkling it over the sausages.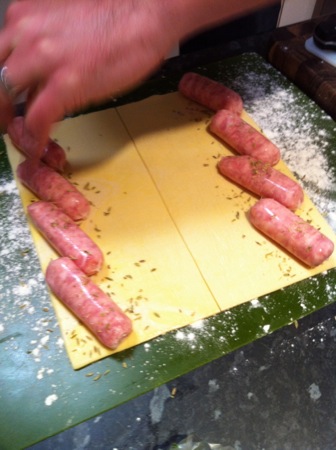 He also grated some Parmesan over the sausage. Then he painted the opposite edges with egg wash.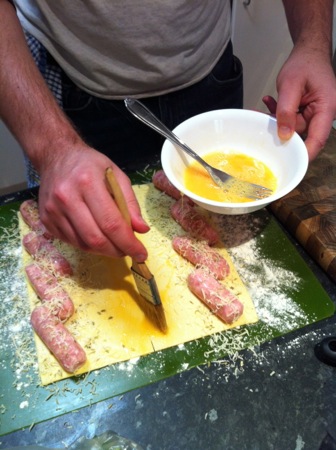 Then he carefully rolled up each sausage roll…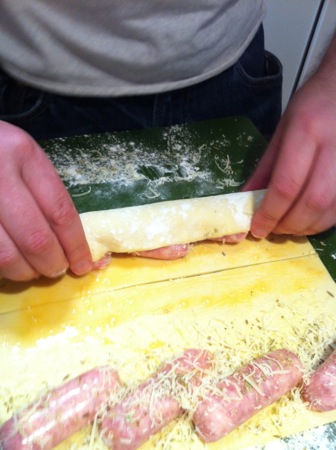 …and crimped the edge with a fork to seal it.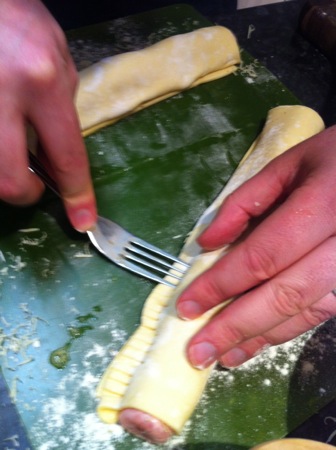 He brushed them with more egg wash and sprinkled on sesame seeds.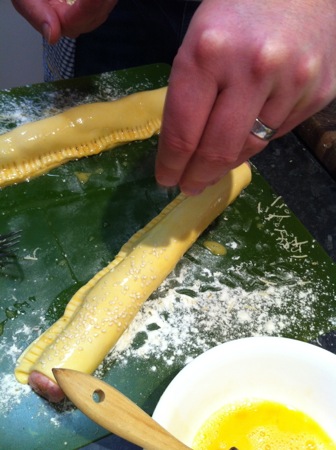 Finally, he cut each roll into several pieces…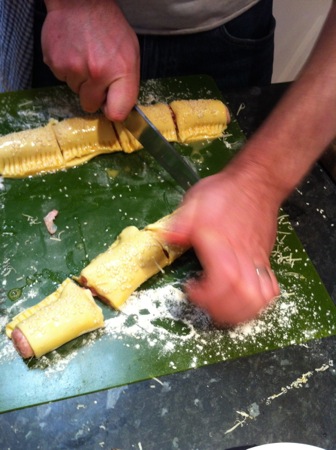 …before popping them in the oven on a floured baking sheet.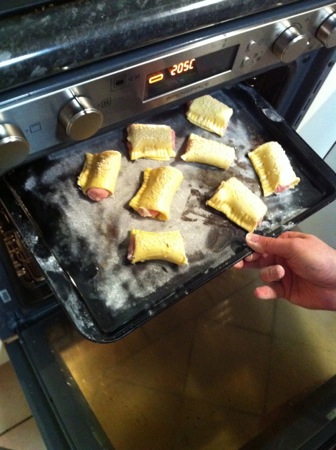 He also put some of our sourdough into the oven to warm.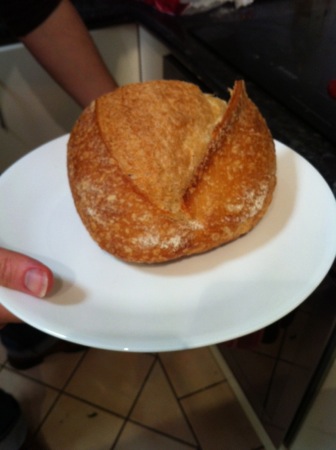 Now for the asparagus. He prepped them by snapping off the woody ends.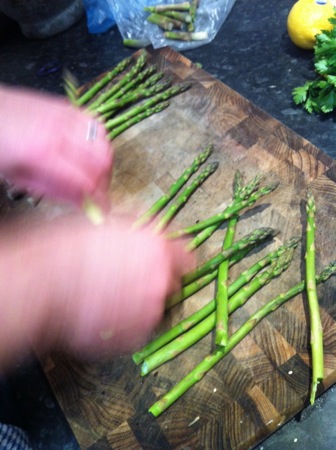 Then they went into the hot grill pan to cook.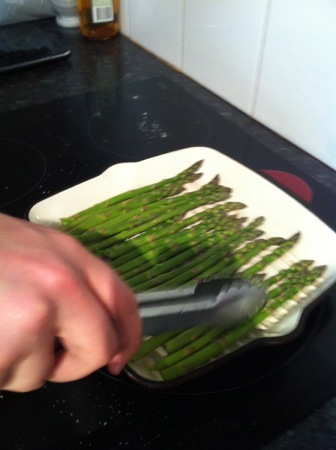 Mmm, smoked mackerel! We were surprised we were able to find it, actually. (We got it at Harris Farm Markets at Broadway.)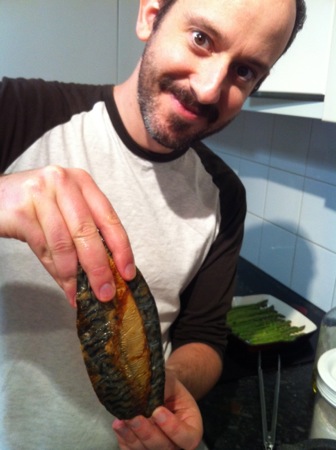 The mackerel went into the food processor along with creamed horseradish and creamed cheese.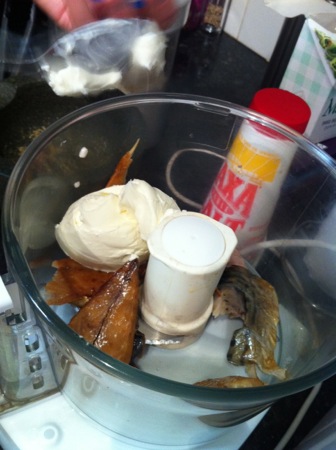 Then he added a bunch of parsley along with salt and pepper.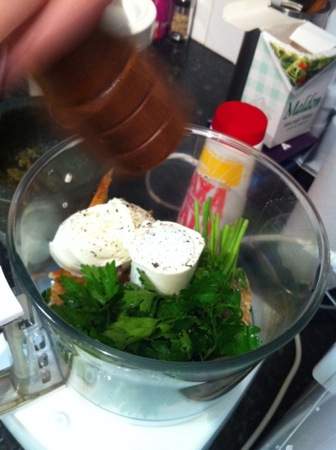 Finally, he grated in some lemon zest and added some juice as well.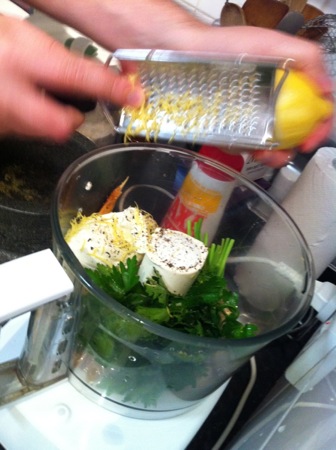 Whizz!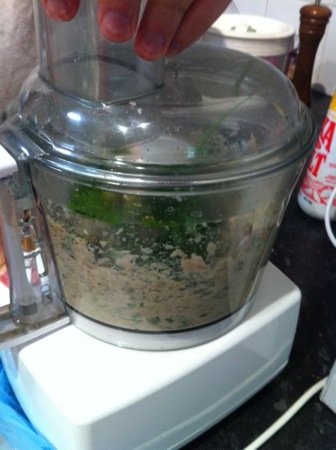 And here's what the finished pate looked like.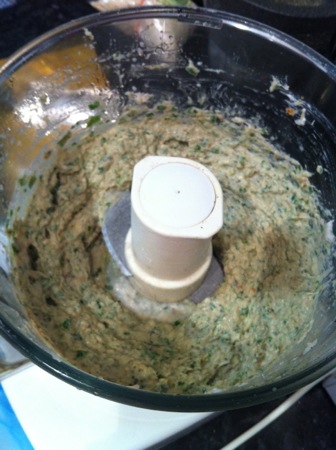 The asparagus were charring nicely, so he flipped them over.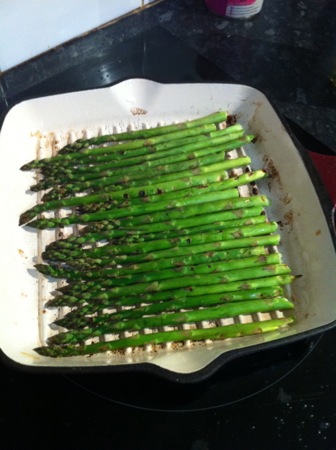 Now for the crunch salad. He started by slicing up the pickled onions.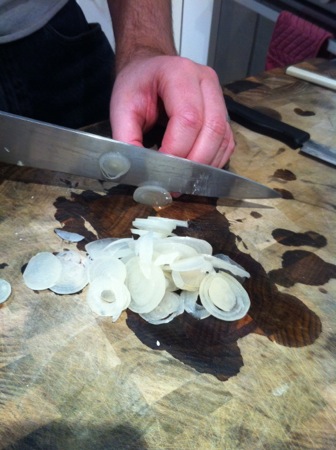 Then he sprinkled them on the bed of rocket.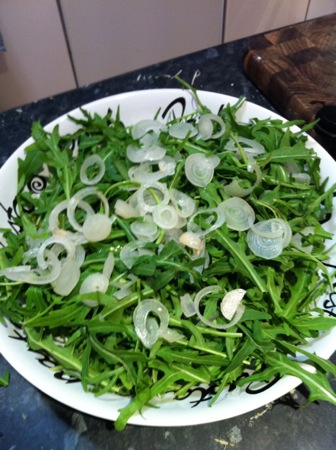 Next he sliced up the pear…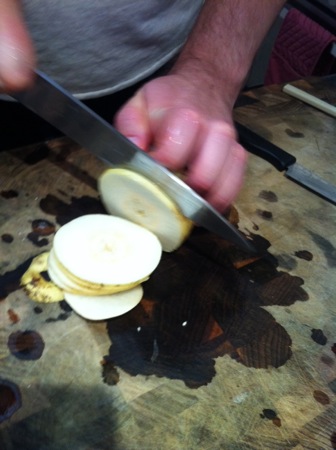 …and then cut each slice into matchsticks. These went onto the salad along with extra virgin olive oil, salt, and pepper.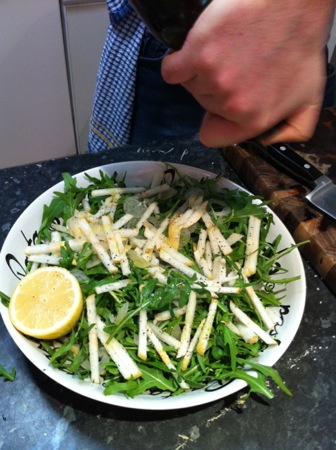 To finish the asparagus, he drizzled over some extra virgin olive oil and lemon juice.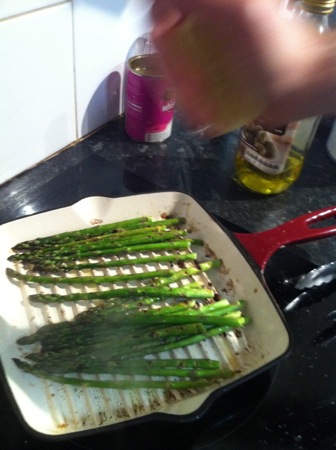 He put the hot asparagus on a plate and shaved over some Cheddar cheese to melt.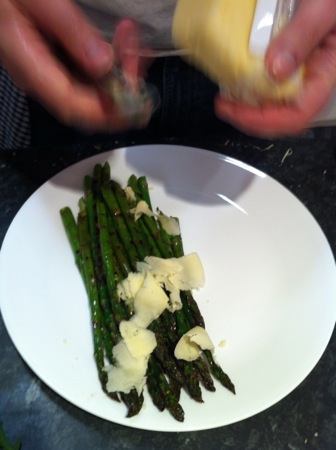 Time for dessert! He started by squashing the strawberries with a fork.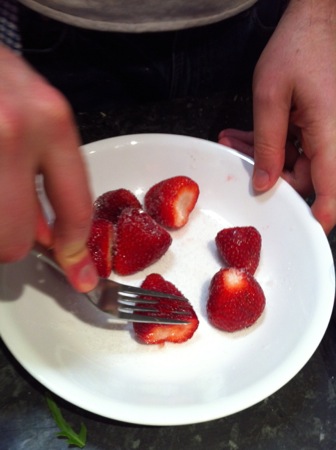 You might want to wear an apron for the squashing. The Snook, alas, did not.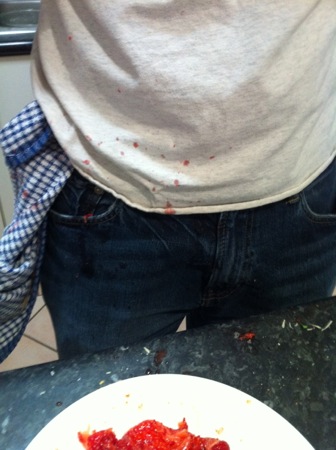 He added sugar, Pimm's, and orange zest to the strawberries…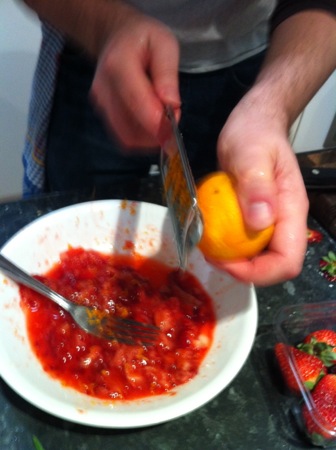 …and then started adding broken-up meringues.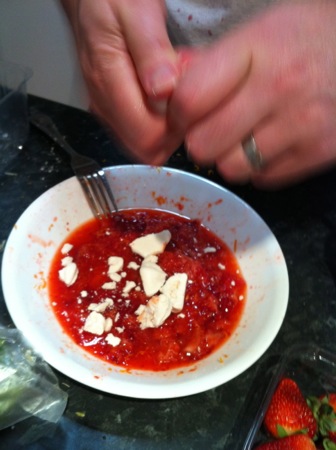 He also added yoghurt and vanilla paste and swirled everything together.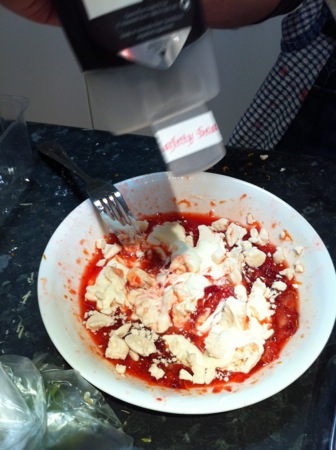 He finished the Eton mess with some sprigs of mint.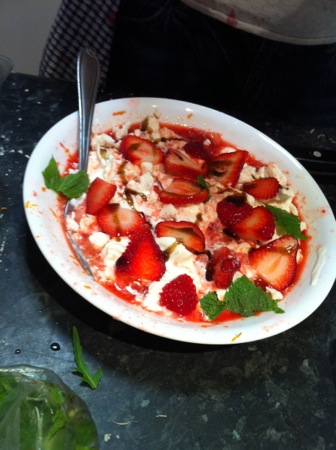 Here's the finished British Picnic (outdoors!): sausage rolls (with English mustard), crunch salad, bread and mackerel pate, and lovely asparagus. Oh, and Pimm's cup.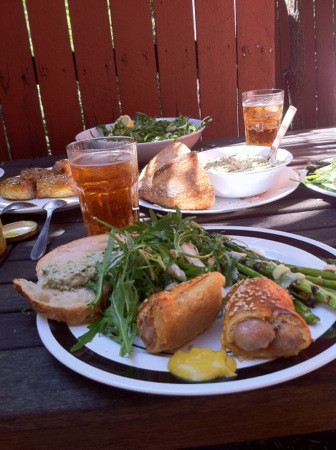 And the finished Eton mess, which we just slurped out of the same bowl together.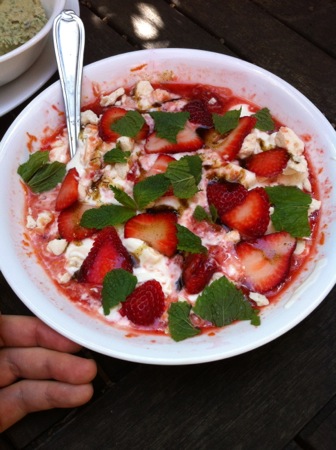 Dubious Kris trying the mackerel pate. It was pretty good!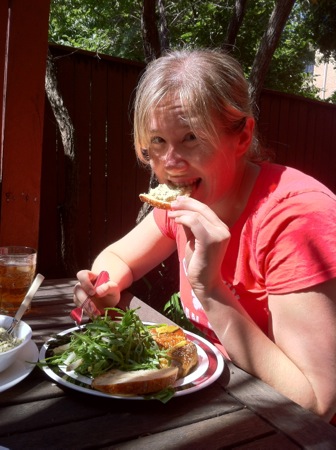 Happy Snook chowing down on sausage rolls.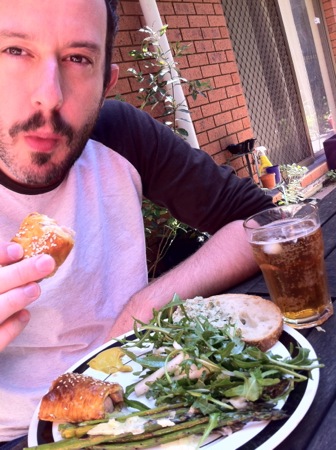 Tasting notes: The Snook thought the sausage rolls and asparagus were very good. He thought he probably overdid the parsley in the mackerel pate, but we both still enjoyed it. (The recipe makes a LOT, so be prepared for leftovers!) The crunch salad worked well, and the rocket seemed a fine substitute for the watercress. Everybody loves Eton mess. We both rated this one very high: a 9.5 out of 10! Highly recommended for your next outing to Wimbledon, or the next time you feel like being posh in the backyard.
Stay tuned for another recipe from Jamie's 30 Minute Meals!