After spending last weekend lying about the house like slugs (our first since we got here), we decided that we needed to get outside again. A few different folks had recommended we visit some of the many lakes near Munich, so this past Saturday we caught a train to Lake Tegernsee…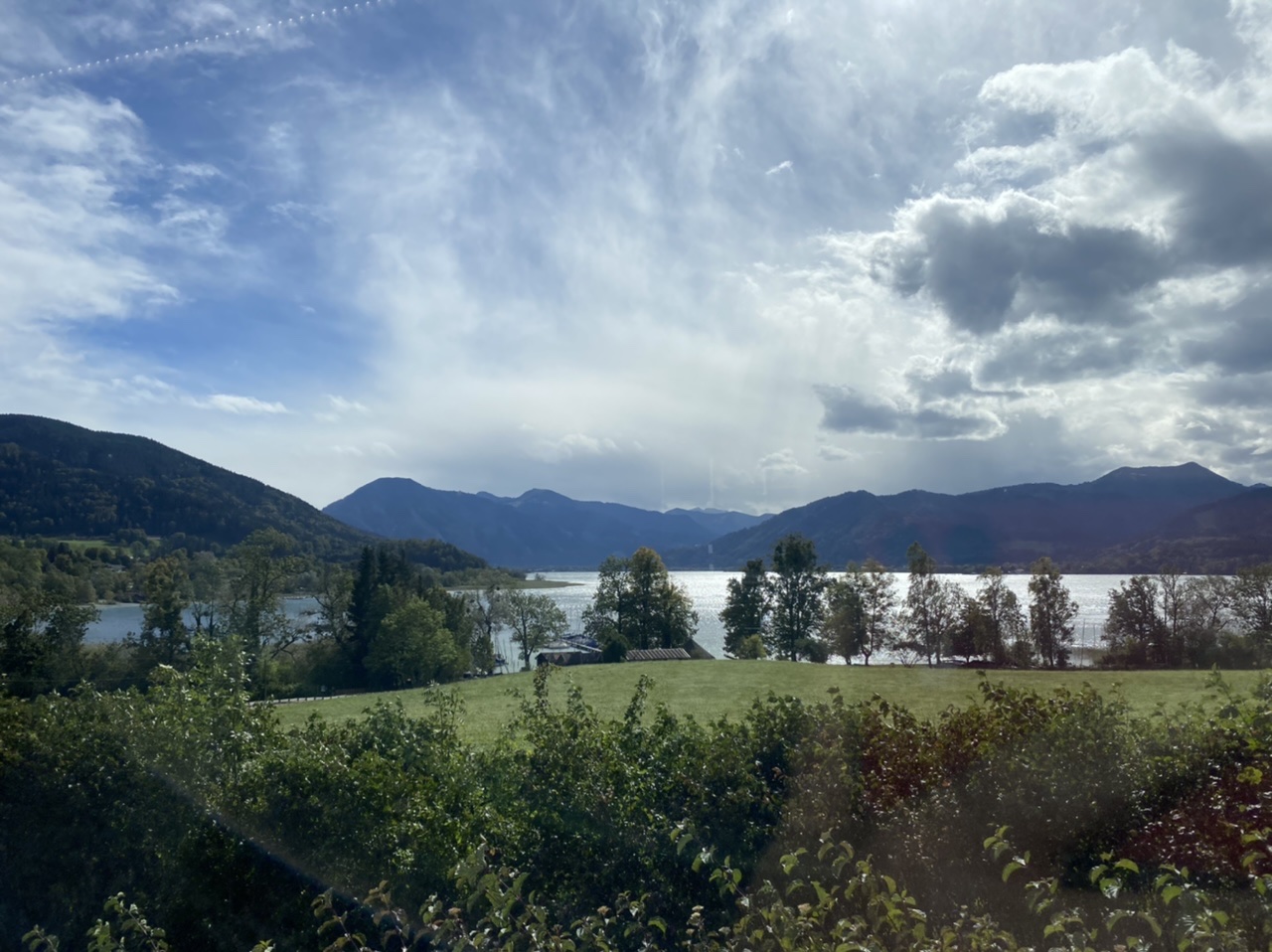 It was about a one hour ride south from Munich on one of the regional trains, which was nevertheless smooth and fast and sparkling. There were more folks on the train than I expected, including some in full lederhosen and dirndls (celebrating what would've been the end of Oktoberfest with a cooler bag full of beers). The forecast was for rain and wind, but we had all opted to take our chances. We whizzed through forests and fields and, for the time being, the sun was bright and warm. The last bit of the trip ran south along the east coast of the lake from Gmund to the village of Tegernsee, which was literally the end of the line.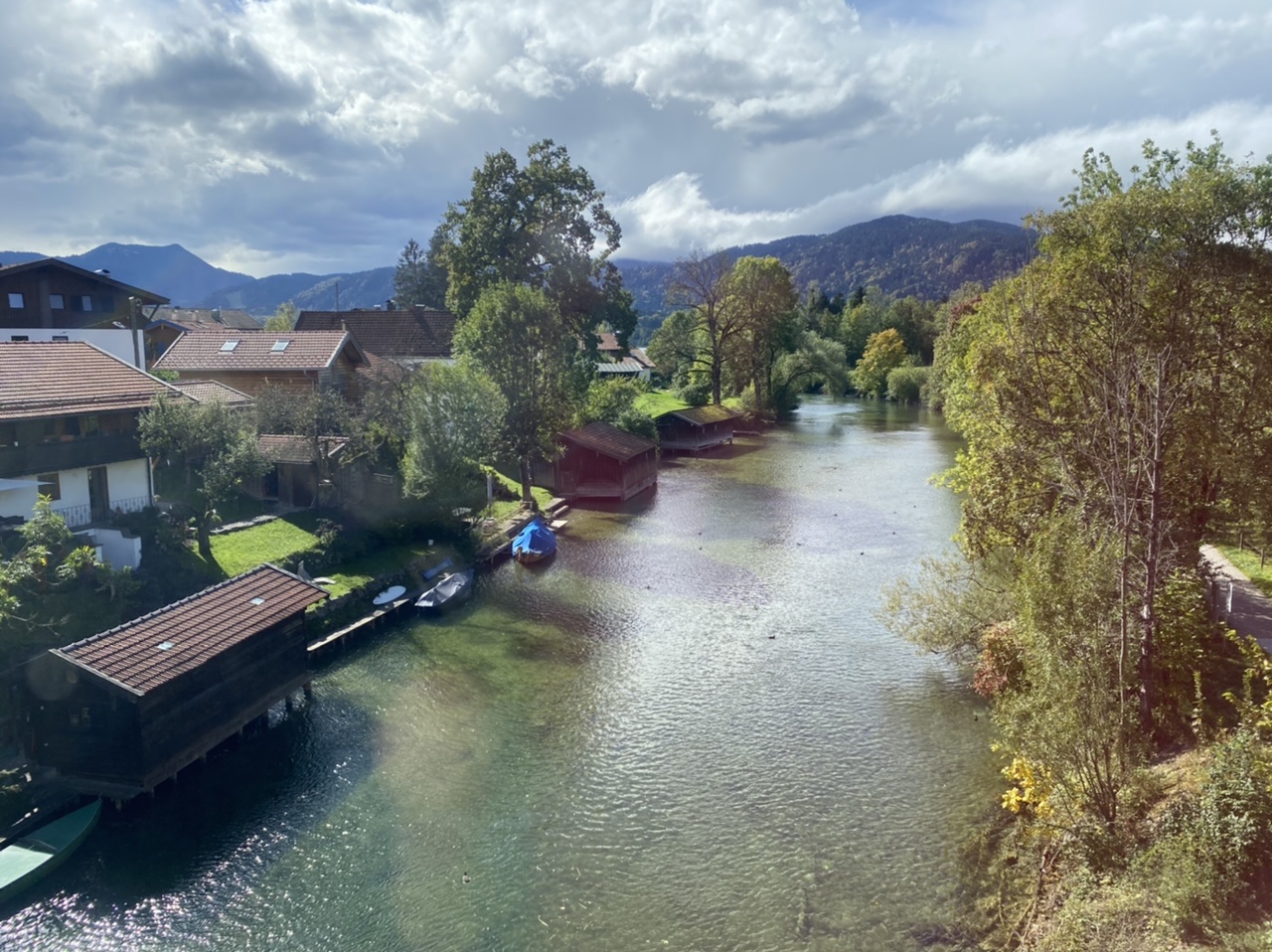 The train station is fairly high up, so to get to the lake you have to walk down into the village. We passed over little brooks with crystal clear water and wandered through narrow cobblestone streets that looked straight out of a storybook. Most shops were closed as it was German Unity Day, but we knew our destination was open: the Herzogliches Bräustüberl Tegernsee. This is a famous brewpub next to the Brauhaus Tegernsee brewery, and we were hungry for lunch.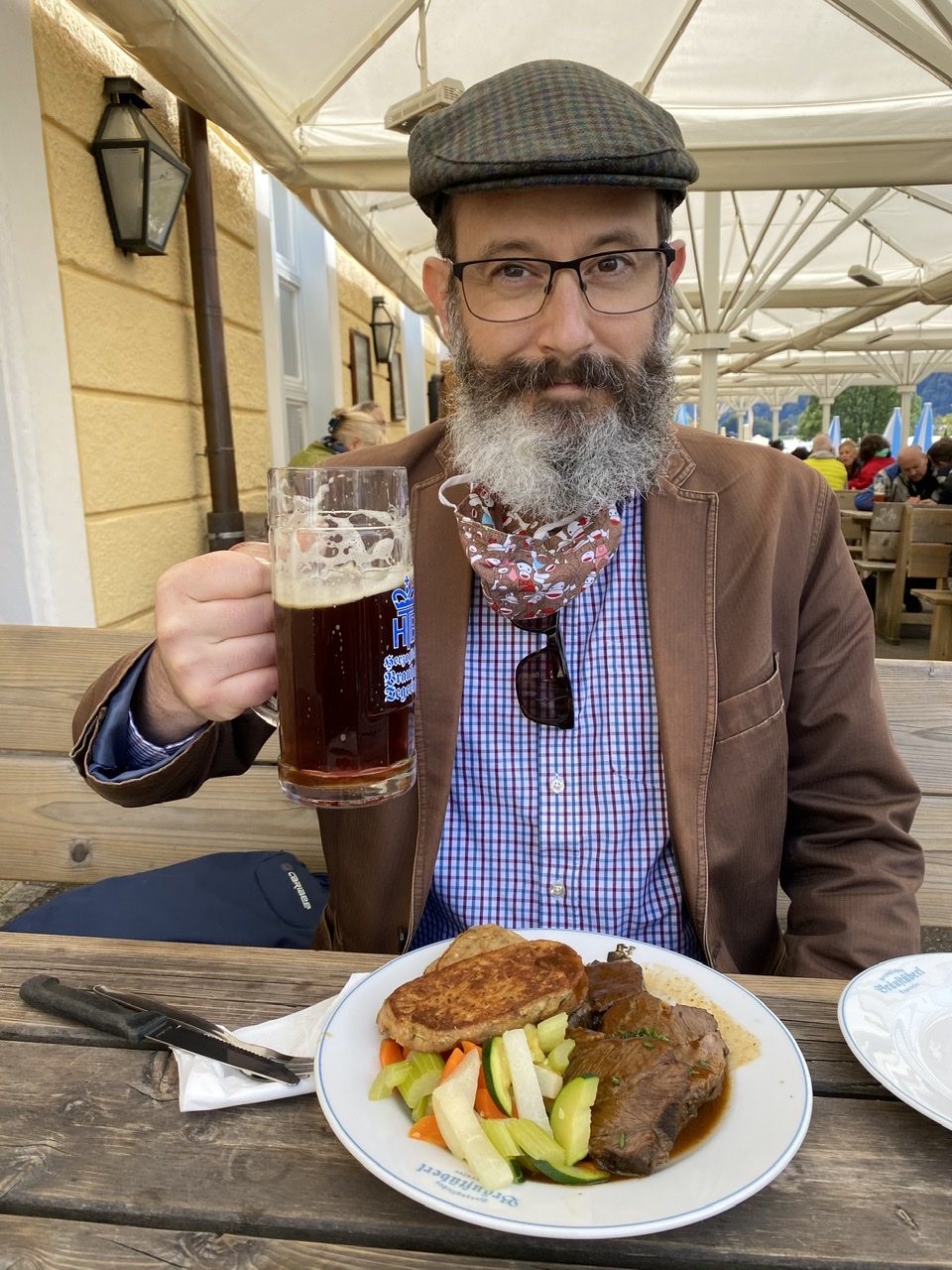 The place was pretty packed, but we managed to get an outdoor table that was still under cover. This was lucky, because just as we were finishing our lunch the rain hit!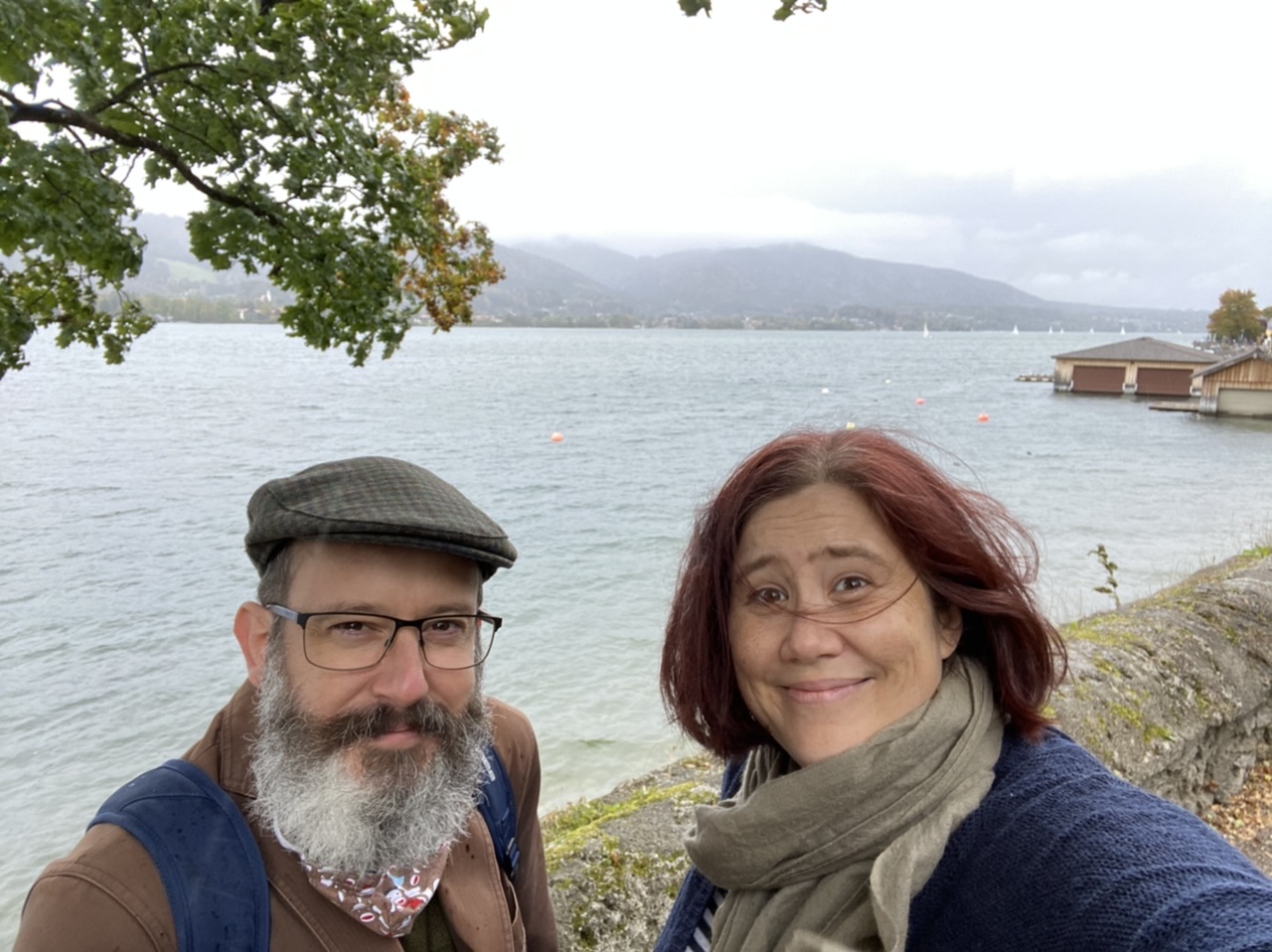 Here we are huddled under a tree next to the lake. We'd hoped to go for a walk on the shore – or possibly even go on a boat ride – but it just got grayer and windier and colder. We made our way to the Seehaus Cafe and waited in a queue to get in. (Everybody had the same idea we did!) Thankfully it was warm and cosy inside, and we had a great spot overlooking the lake. We saw a large group of sailboats all making for the shore, and the Snook had fun trying to identify the various seabirds we could see along the shore.
We gave up on any further lakeside activities and headed back to the train station for home. As we walked from the station to the house, the Snook pointed out that we were close to a very special sculpture…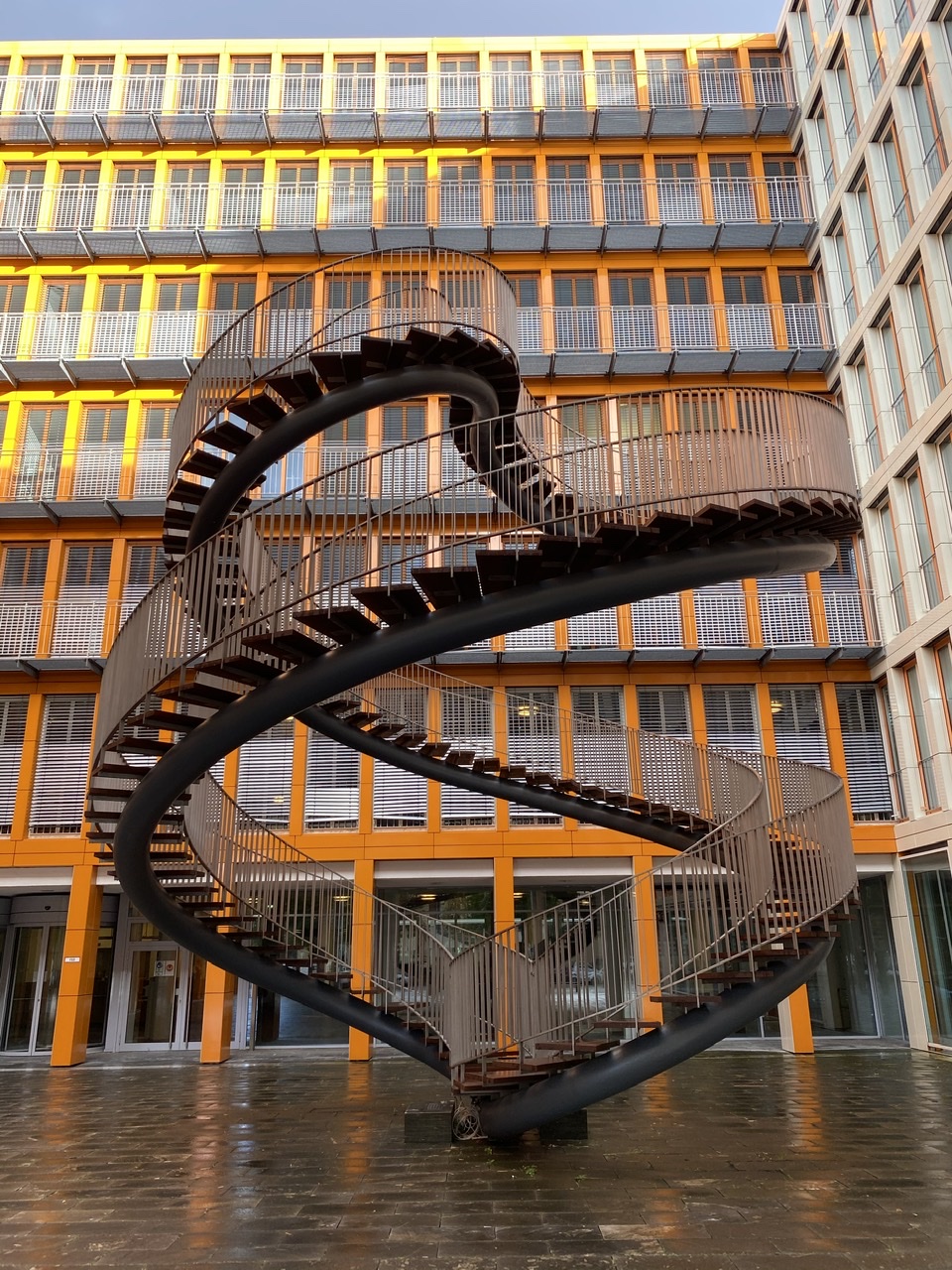 This is called "Umschreibung," and it's literally a staircase to nowhere. It does have an opening so you can climb on it, but there's a sign on it now telling you to stay off (presumably due to Covid or something?). At any rate, it seemed a fitting end to our day to Tegernsee and back.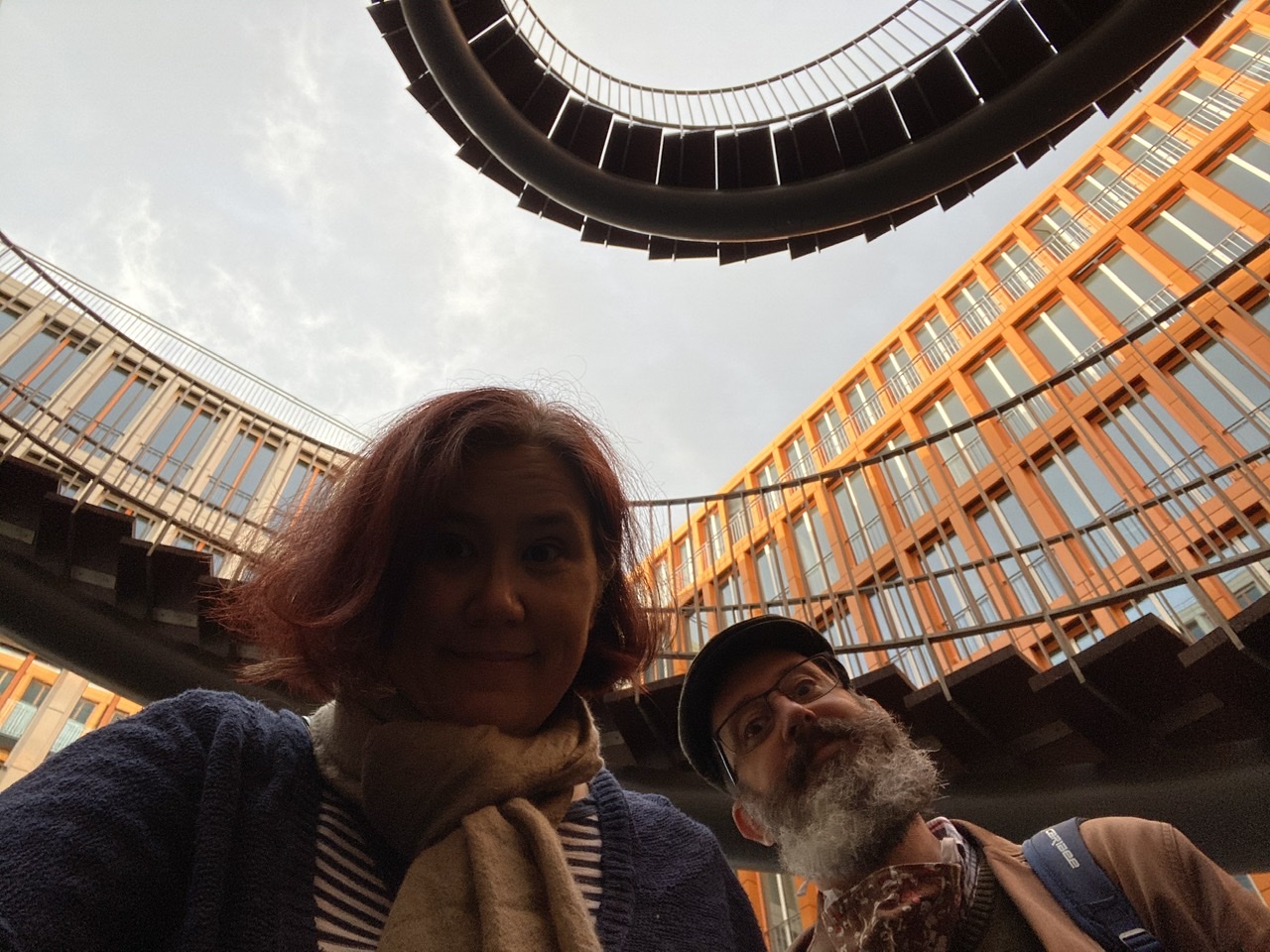 On Sunday the sun was shining again, but we decided to stick a little closer to home with a bicycle ride. We plotted a route over to the Flaucher, the park that runs along the Isar River. Thanks to Munich's excellent separated cycleways, we were safely there in no time.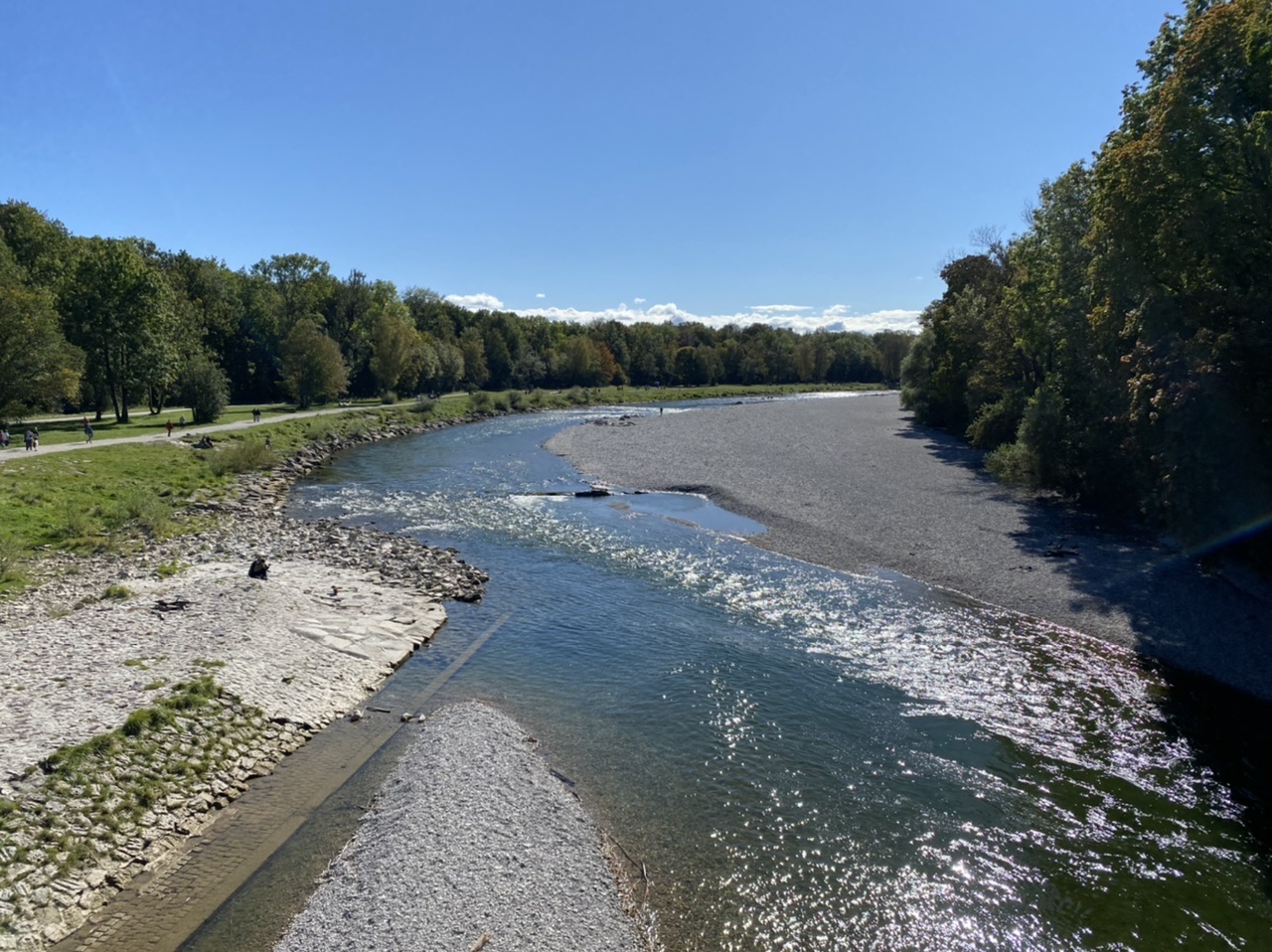 We crossed the river and joined the many, many folks riding, running, and strolling along the banks. It was very hard for these Aussies to imagine that this rocky shore is as close to the beach as you're going to get here!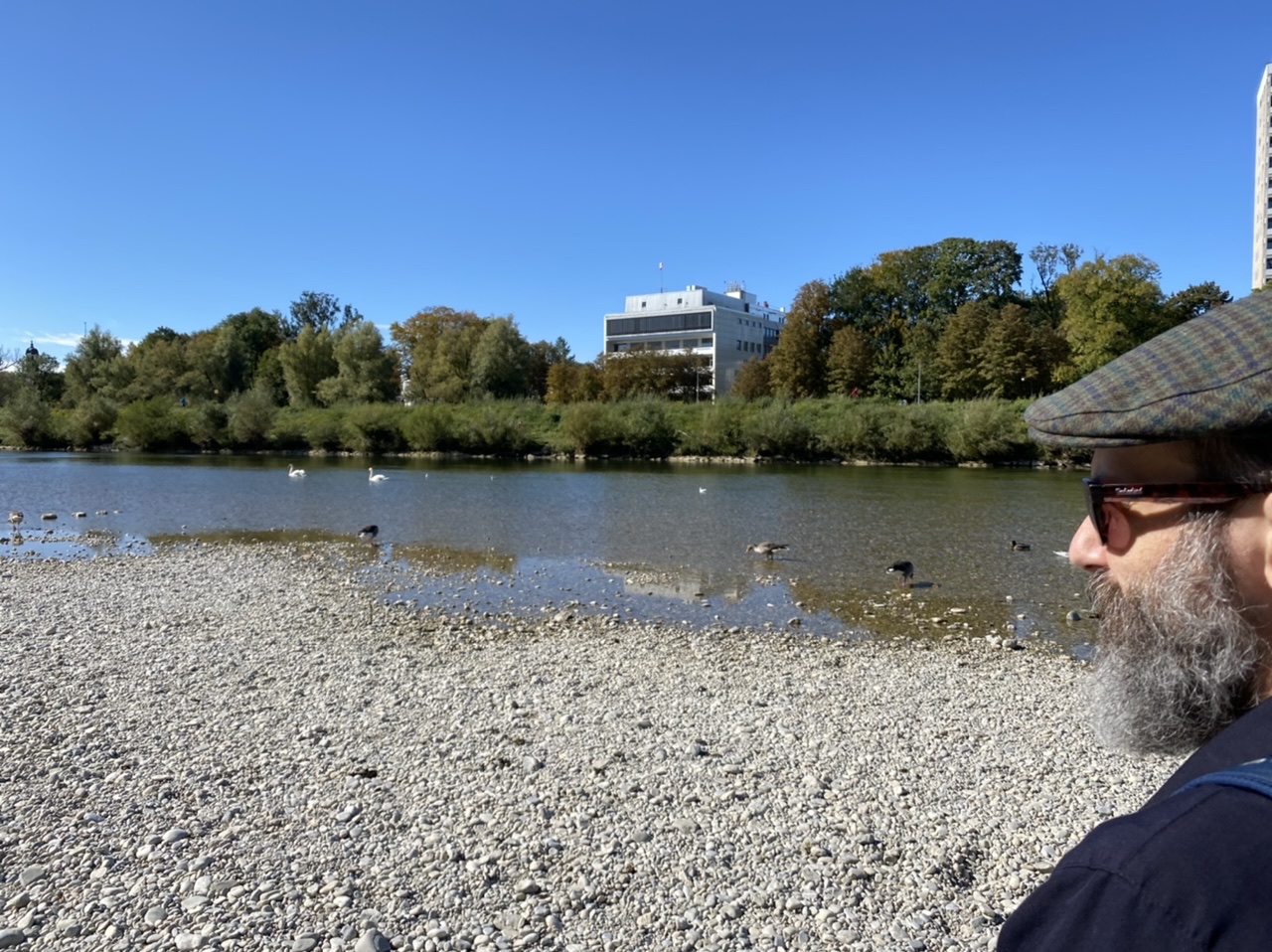 In the middle of the park we found the Zum Flaucher beer garden and refreshed ourselves with a quick lunch of leberkäse, potato salad, and Pommes frites. And of course, since we were riding, we washed it down with Radlers!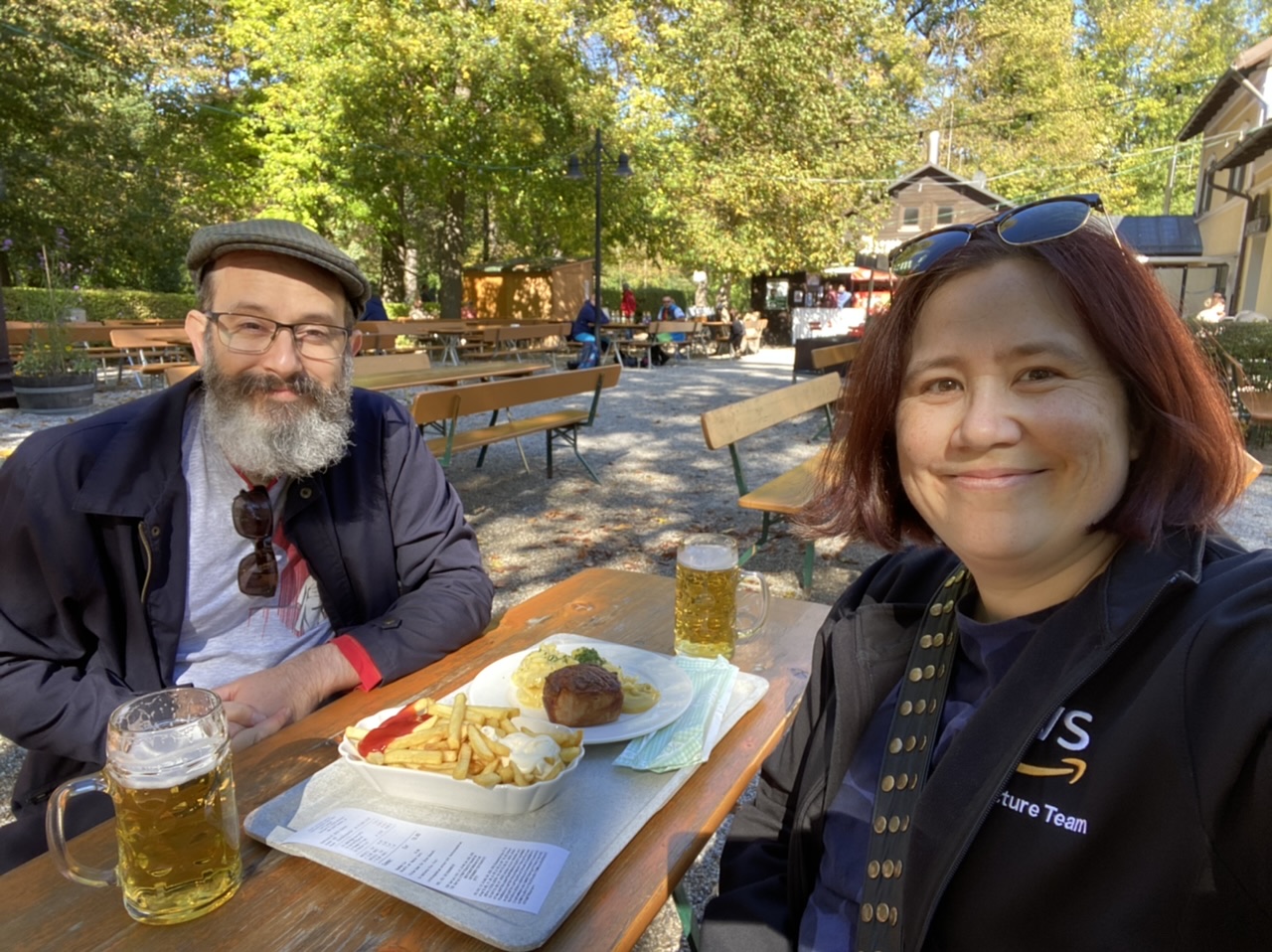 Oh, and did I mention there's a famous nudist (FKK) beach on the Isar? And people literally stop on the bridge to gawk at the sunbathers? And so did we??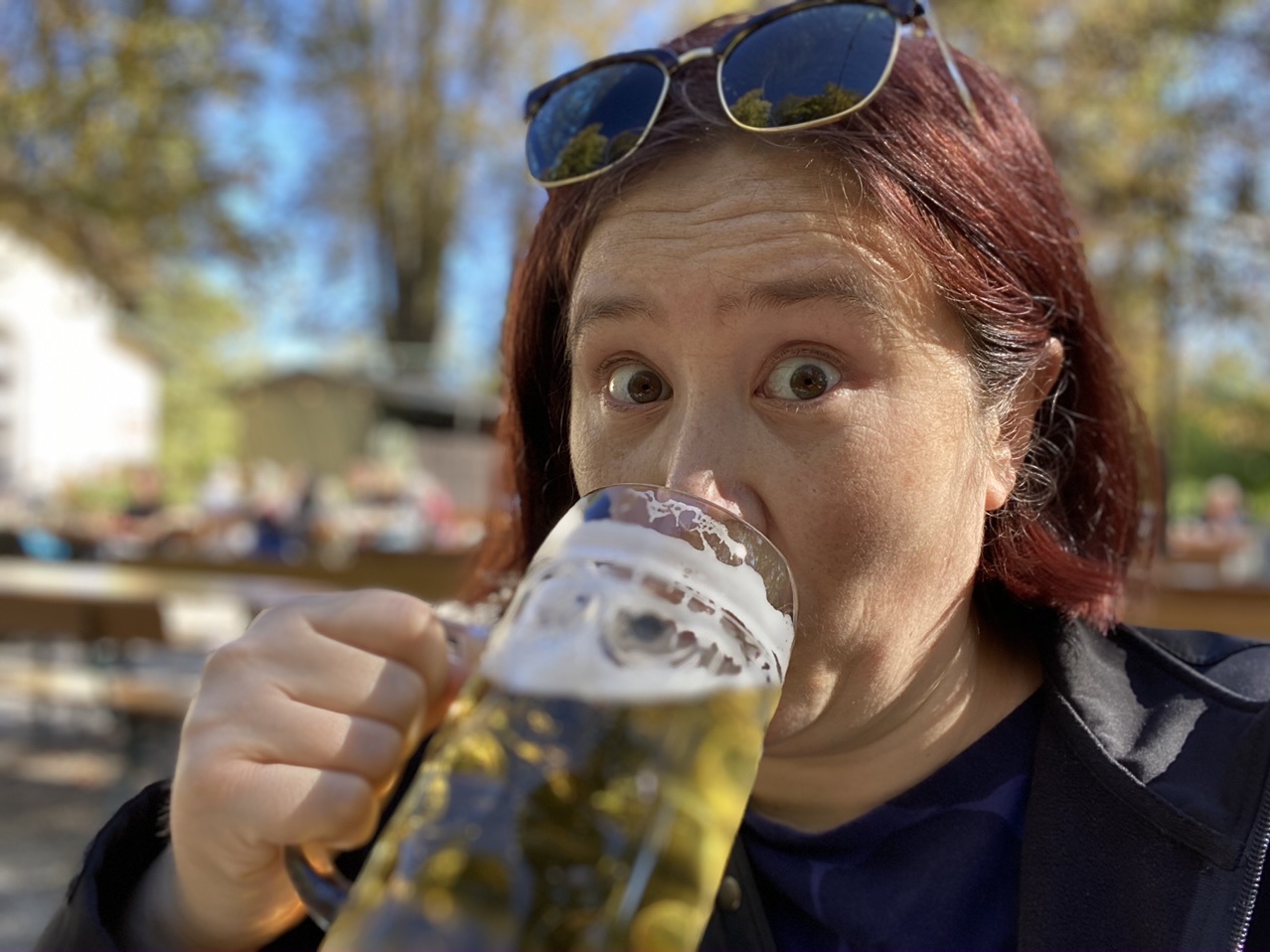 On our return trip, we checked out the northeast corner of the park, including the Entenweiher (duck pond). Munich really is ridiculously pretty, you guys. I can't wait to see it when the leaves have finished changing colours…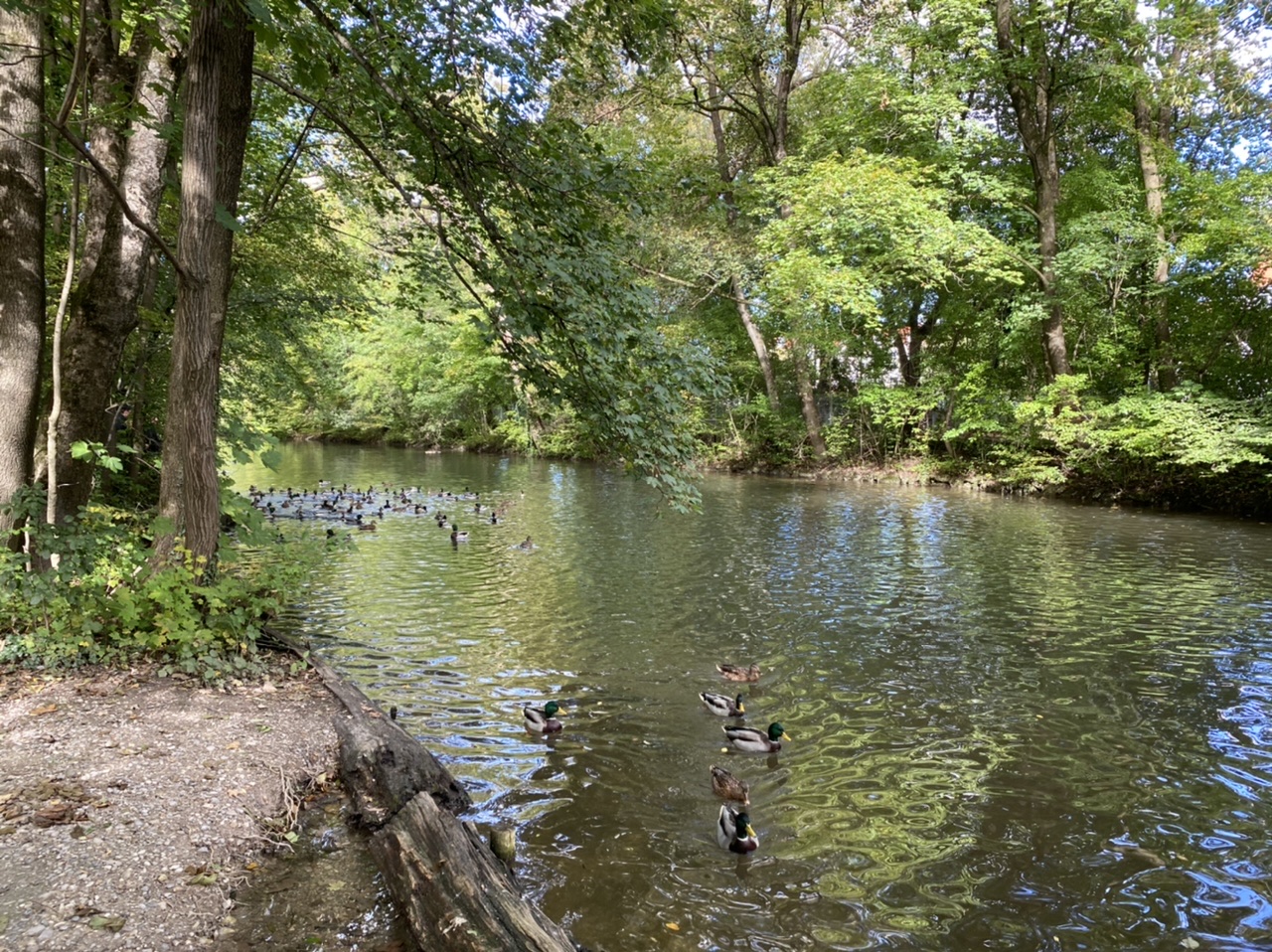 Then it was time to head home! We took a city route up across the Wittelsbacherbrücke and then up Kapuzinerstrasse back to Theriesenwiese. This would've been the final day of Oktoberfest, so we stopped to pay homage to the statue of Bavaria. Unfortunately she's closed now due to Covid so we couldn't climb inside, but I'm sure we will one of these days. Prost!