I can't believe I'm still documenting last year's travels! We have been incredibly fortunate to get to travel, even during the pandemic. In October, I had a work event in Barcelona and so the Snook decided to accompany me. We headed there a few days early so we had time to play tourist.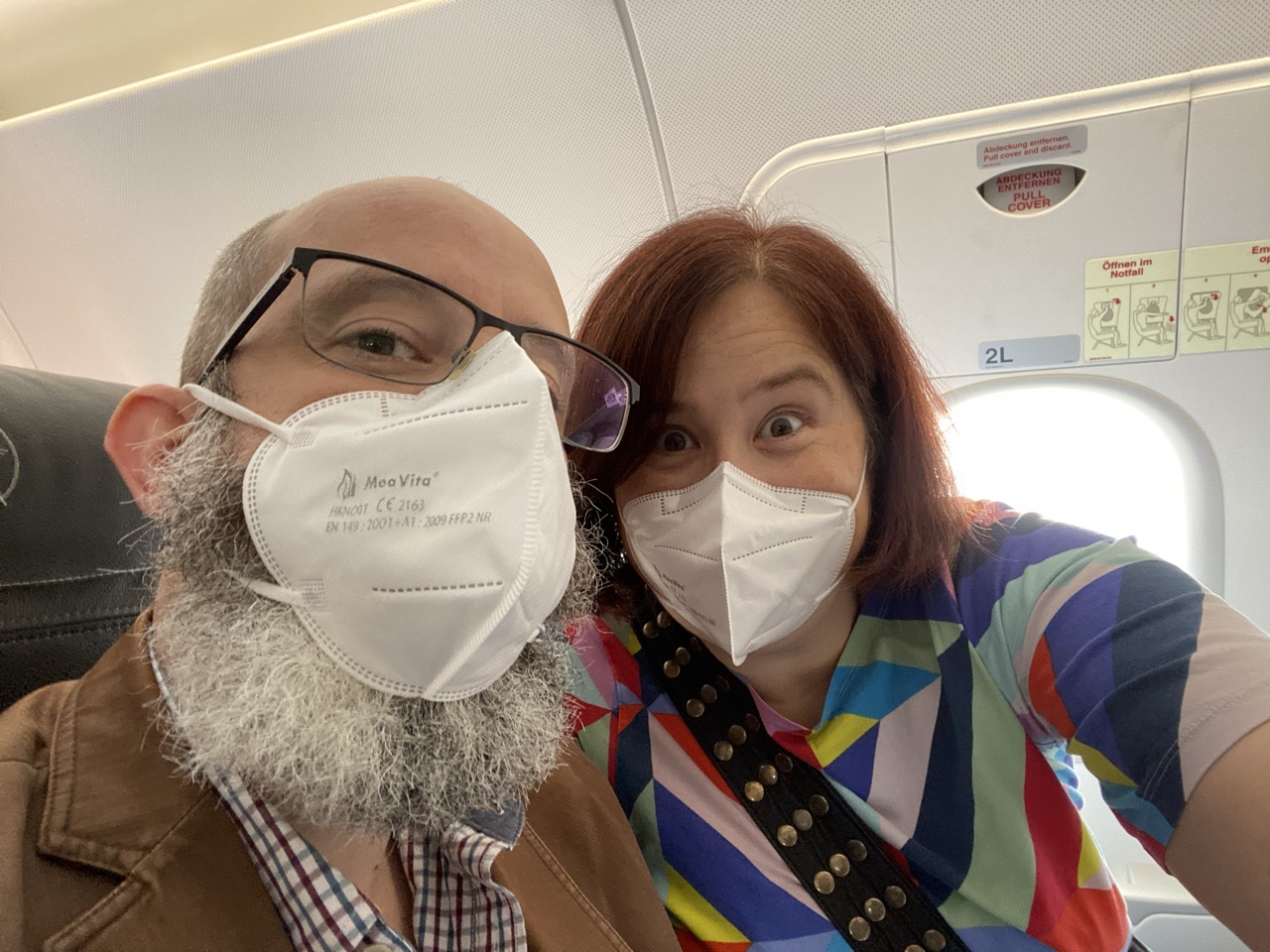 Neither of us had ever been to Barcelona before. Actually, other than a short work trip the Snook made to Madrid 20 years ago, neither of us had ever really been to Spain! We caught a Saturday afternoon flight from Munich and were there within a couple hours. We checked into our hotel and then went out in search of dinner. It was a lovely night.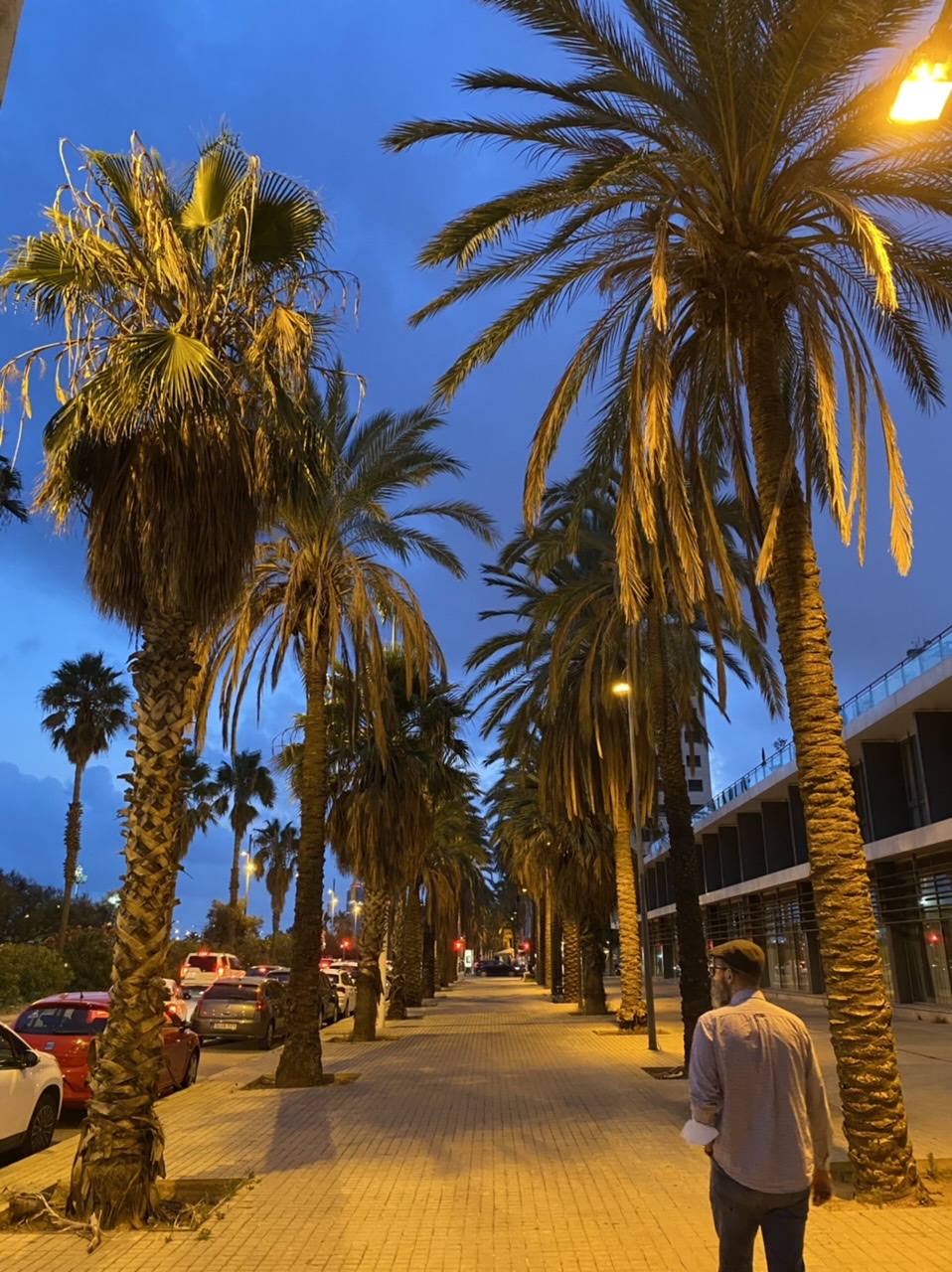 It was nice to see palm trees again! We had made a 9pm restaurant booking off a recommendation from my boss Enrique, and we had plenty of time to walk through the city and explore. Our route took us past the gates of the famous Citadel Park.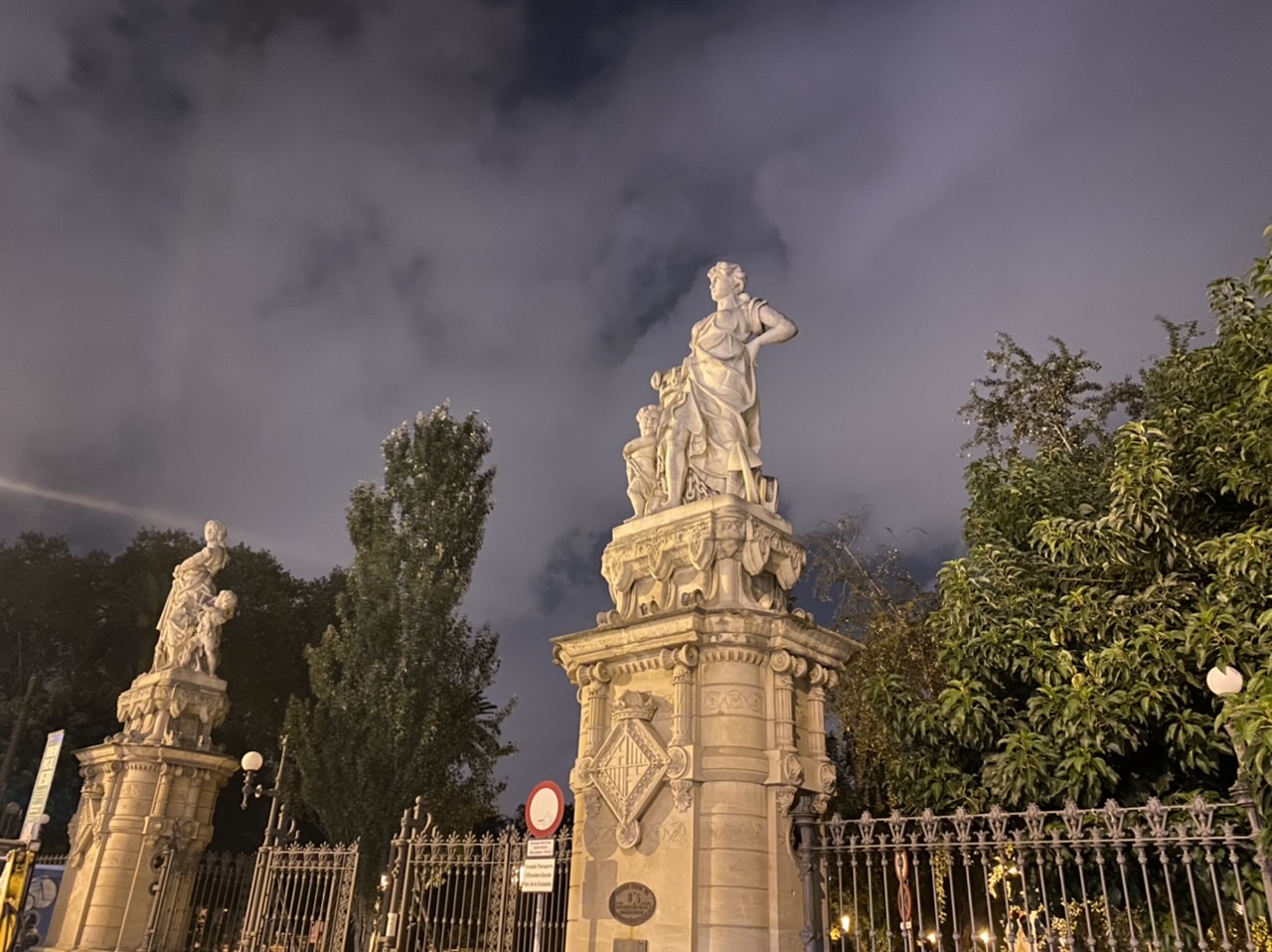 Our dinner booking was at Passadis del Pep. We honestly had no idea what to expect. Our first challenge was just finding the place – there's no sign, and you enter through an unobtrusive hallway. We noticed right away that our 9pm reservation – which felt quite late for us – was actually the first sitting of the night, as the place was still pretty empty!
Our waiter was an older guy who thankfully spoke a little English. "We have no menu," he said. "We cook whatever is fresh and in season. Are you happy to be surprised?" We said we were. The starter was the classic "pa amb tomàquet" (bread with tomato) with some olives and chips.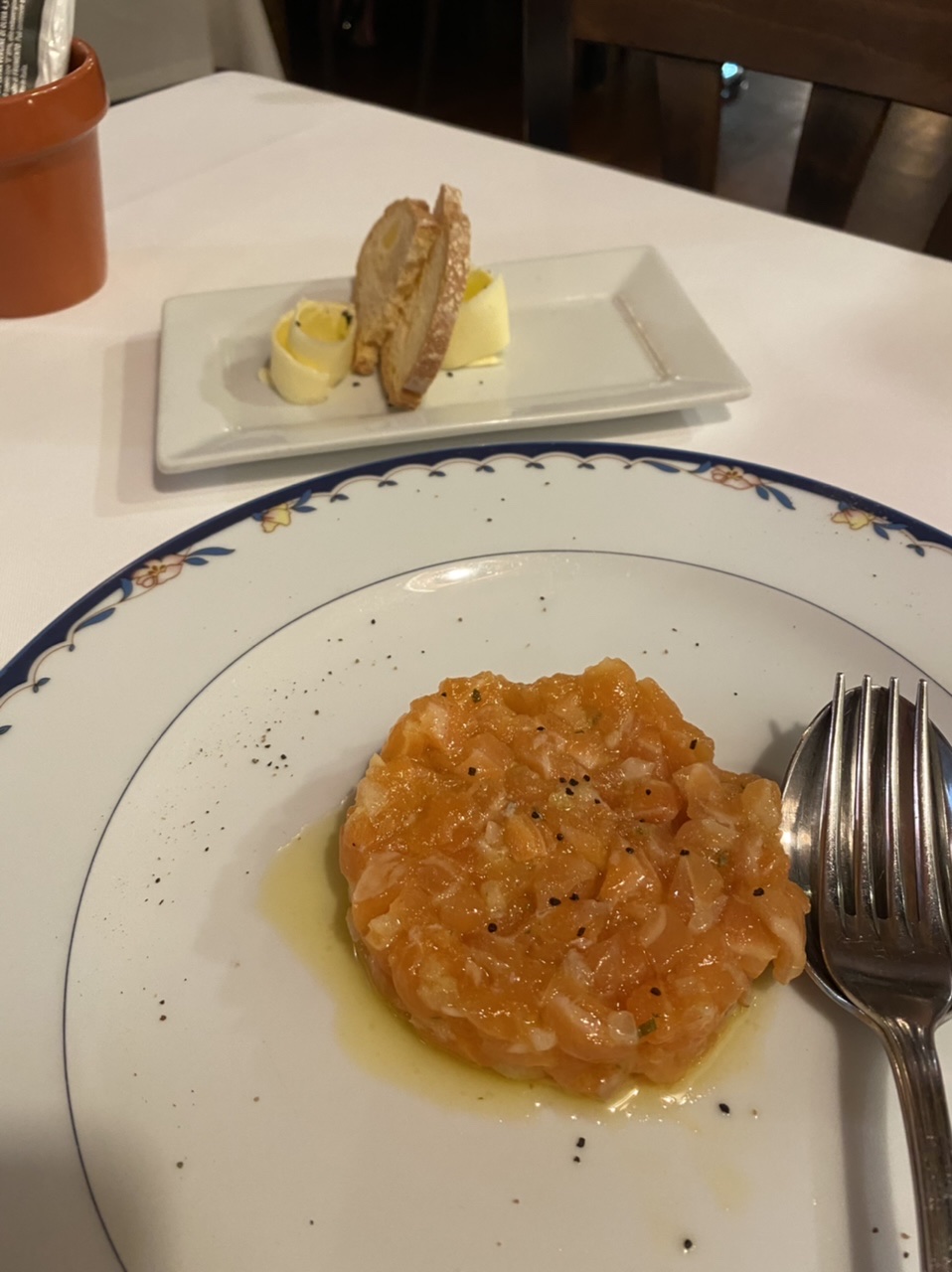 I knew we were going to be in for a lot of seafood! Next course was a tuna tartare doused in olive oil with some crisp toasts.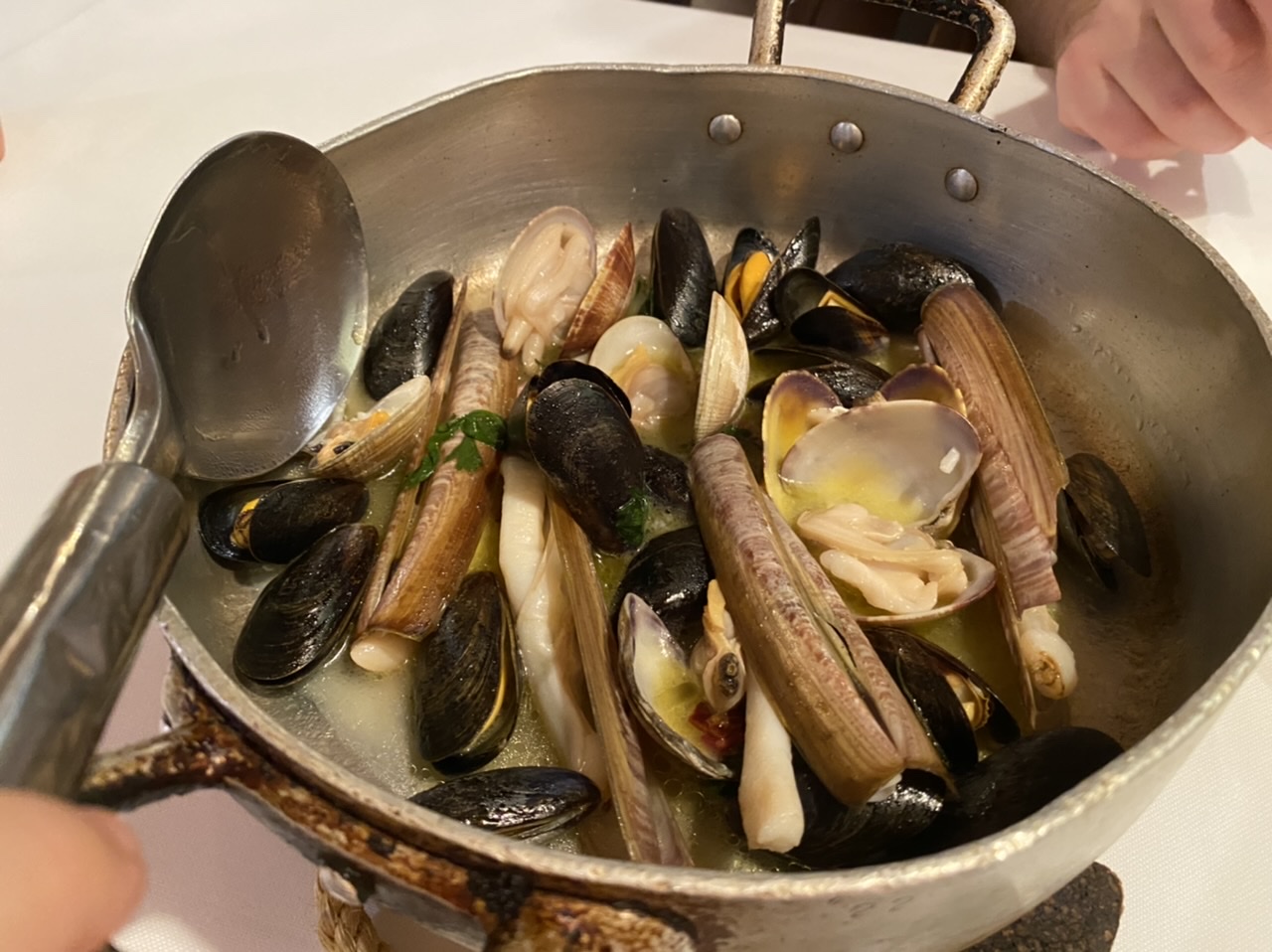 The food just kept coming. Next was a pot of all different clams and pippis. This was my first time ever having razor clams! The Snook was in heaven, and we eagerly sopped up the pot liquor with bread.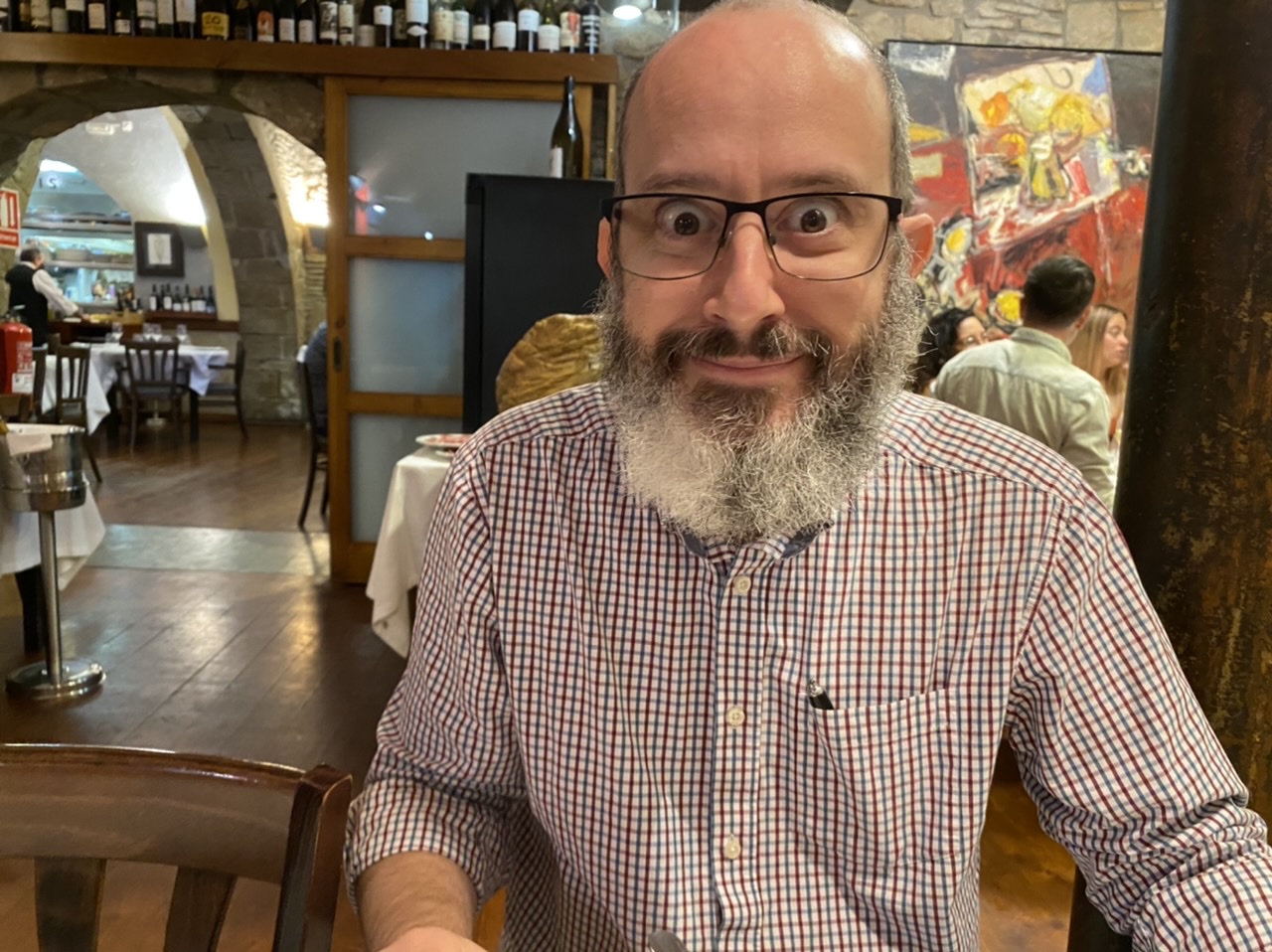 See? Told you he was happy.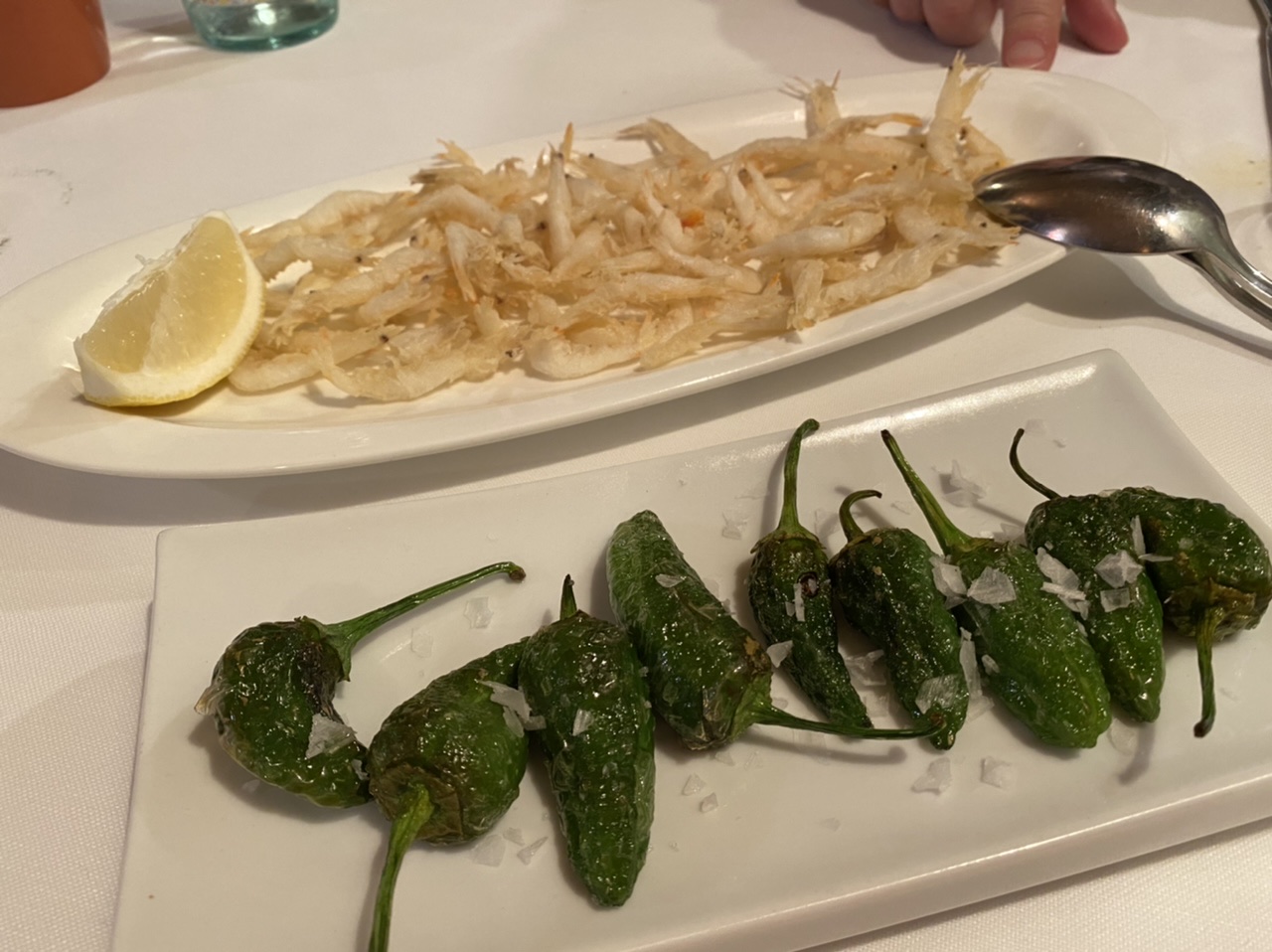 Next we had grilled Padrón peppers with sea salt, and a plate of lightly battered and fried baby shrimps. I was dubious of the Snook's advice to just eat them, legs and all, but they were so tiny they had crisped up like French fries!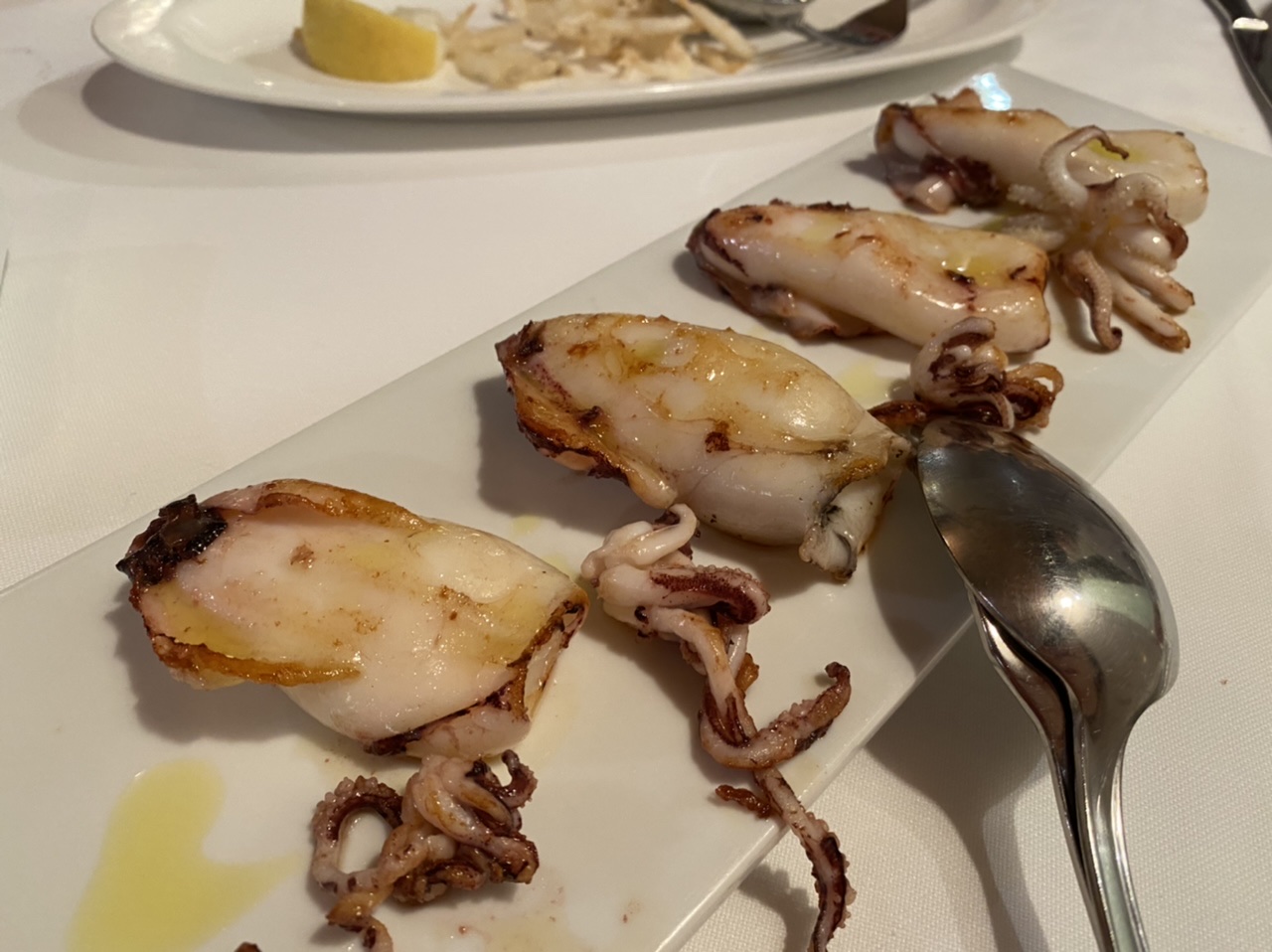 Little grilled squids! Just the right amount of char…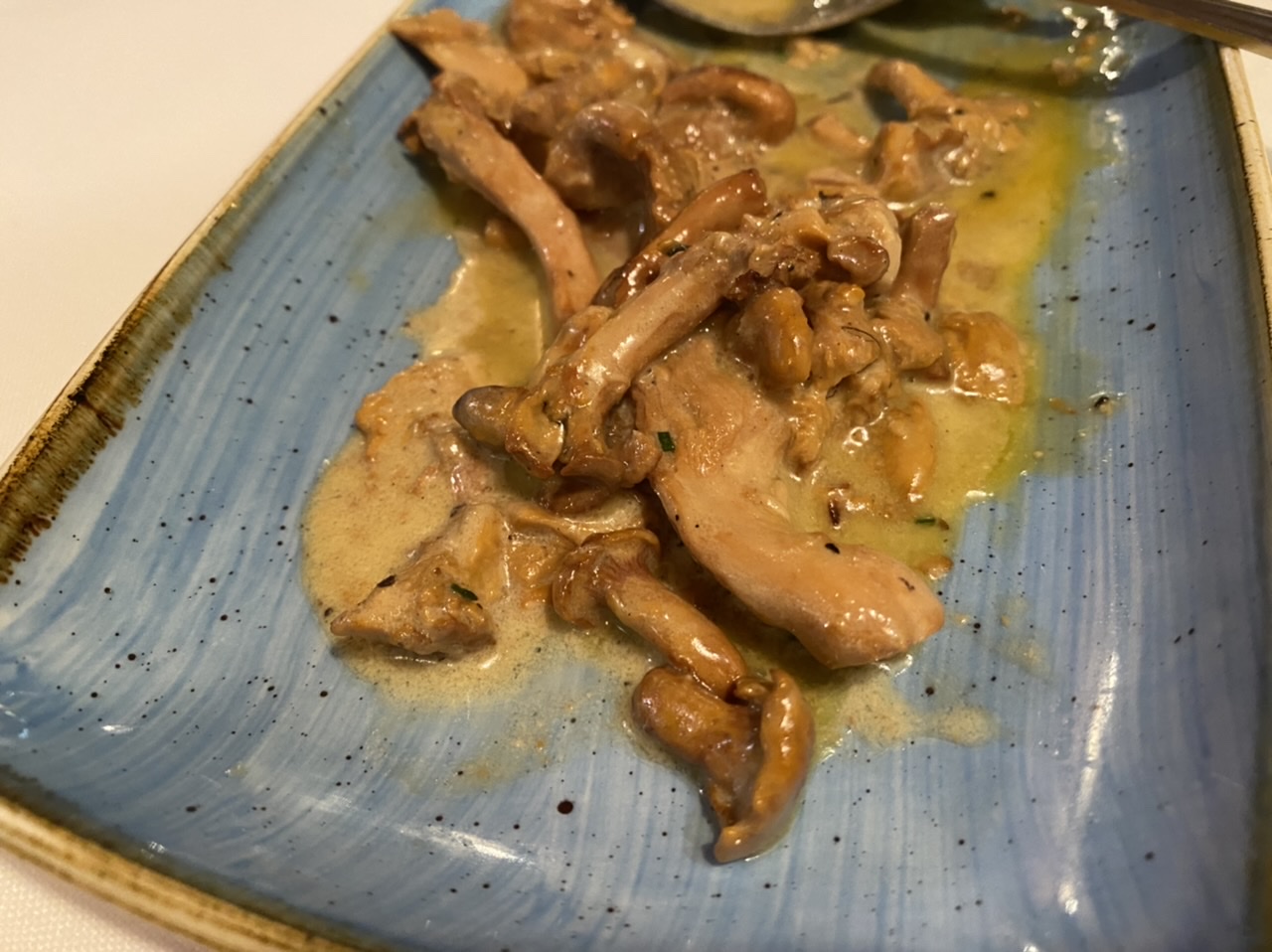 Next up was a local specialty of wild mushrooms with a very rich sauce. (Definitely butter, maybe even some egg yolks?) I liked this, but the Snook wasn't as much of a fan.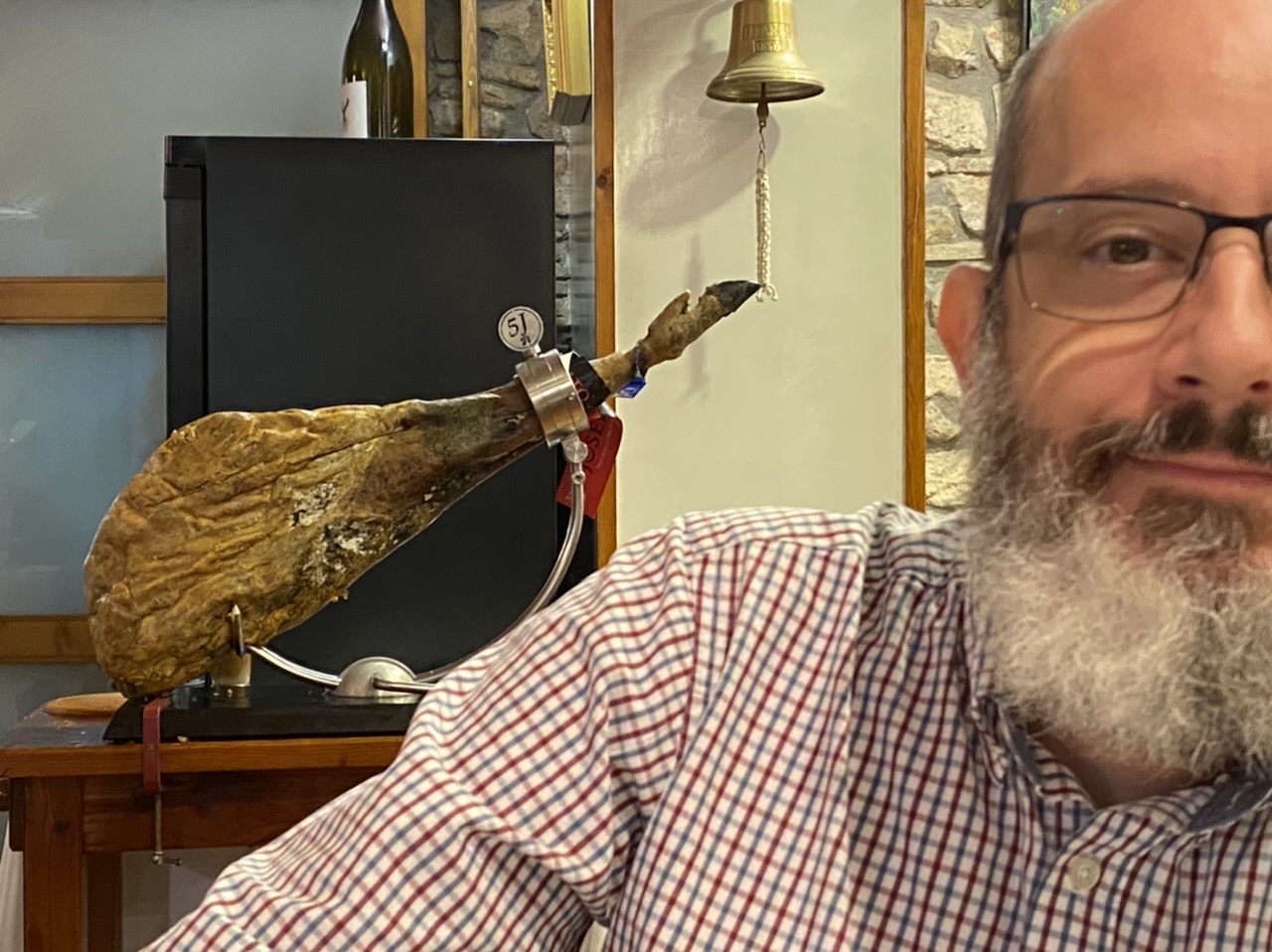 At this point I noticed there was giant Jamón on a special stand behind the Snook. *drool*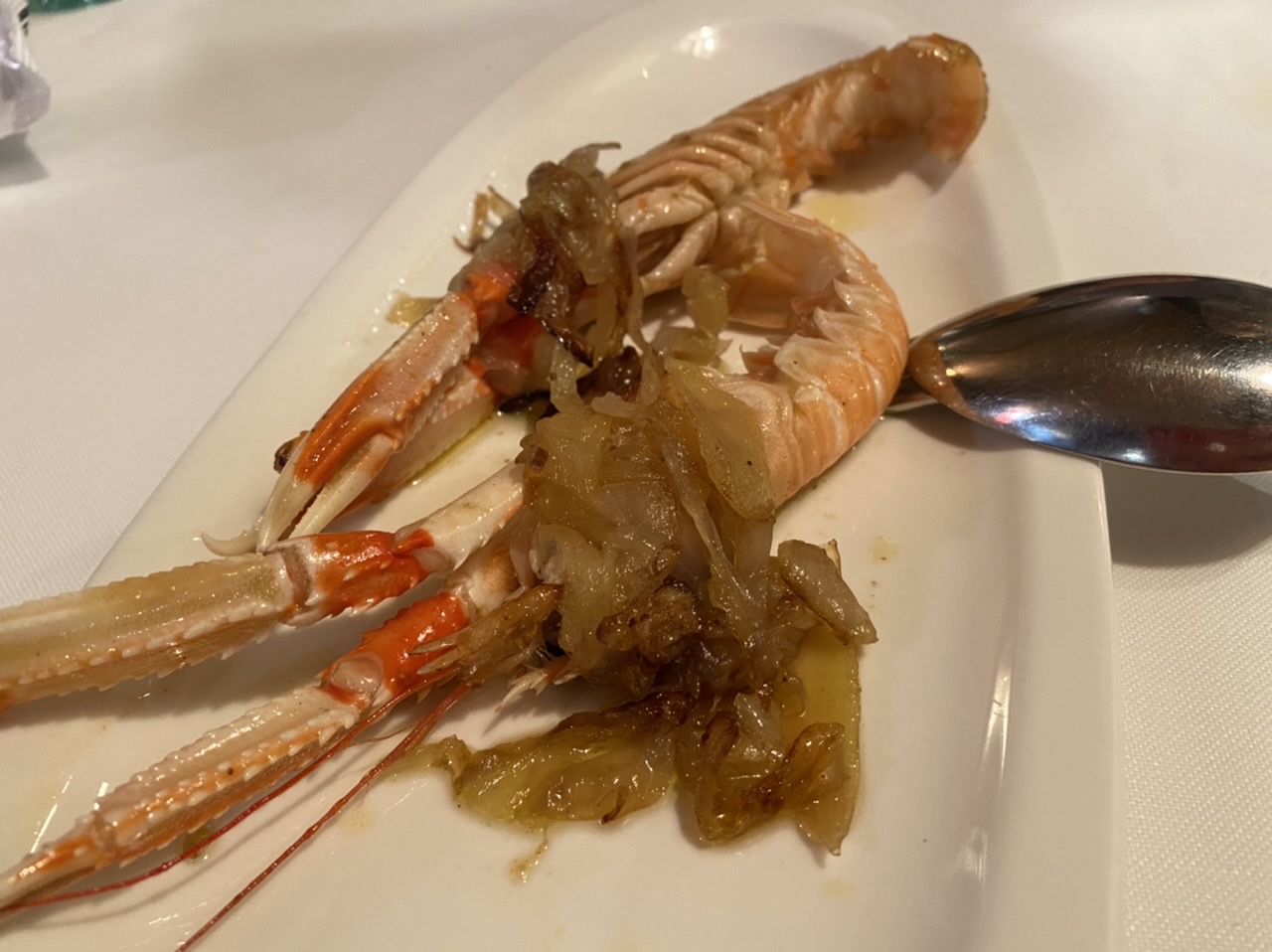 These were like a langoustine, I think? With some sweet caramelised onions on top.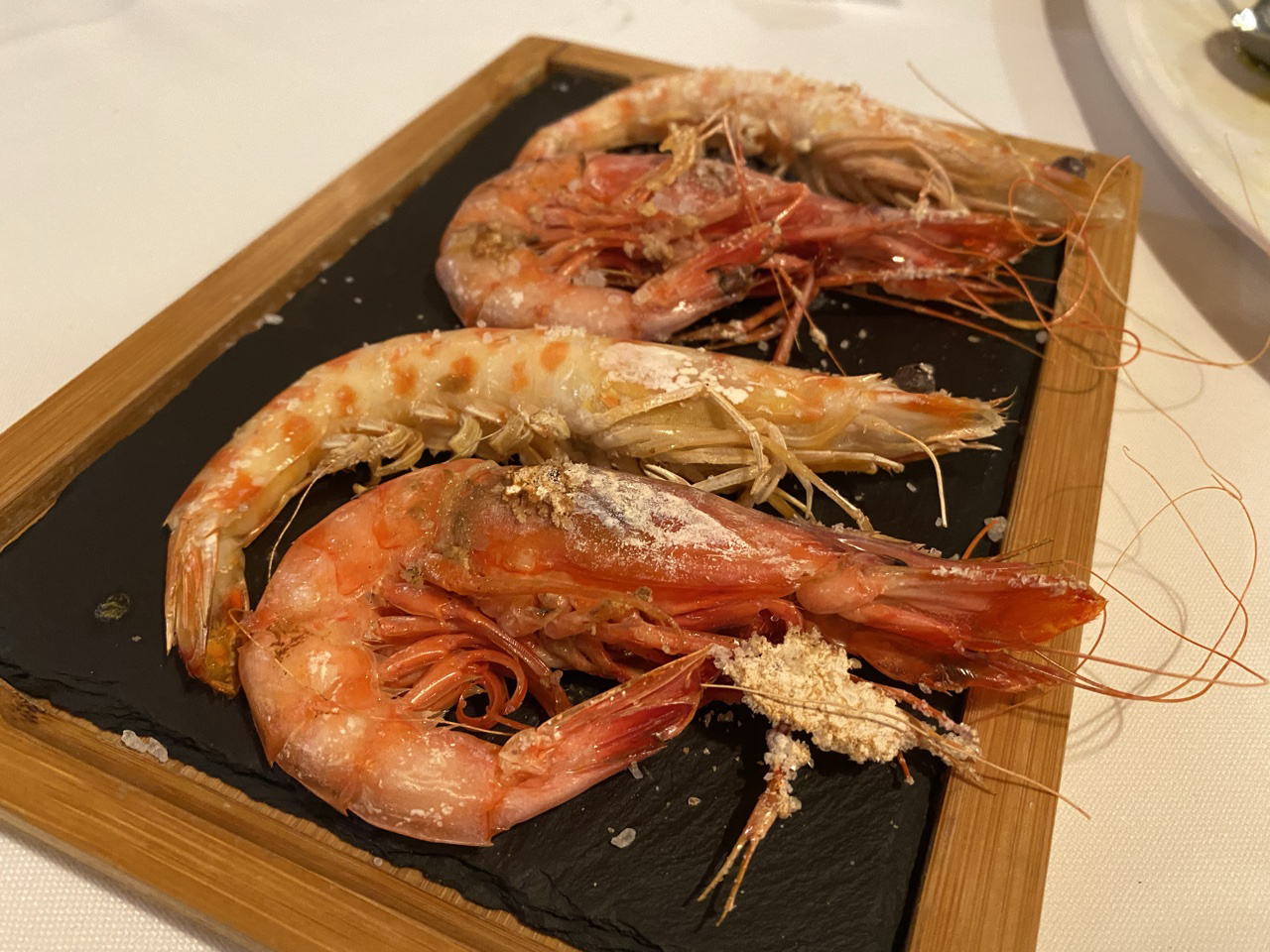 Yet more prawns! At this point we were getting pretty full, and there was no sign of the parade of dishes coming to an end. I flagged down our charming waiter to ask him how much more there was to come. "Steak or fish?" he replied. "Steak," I sighed.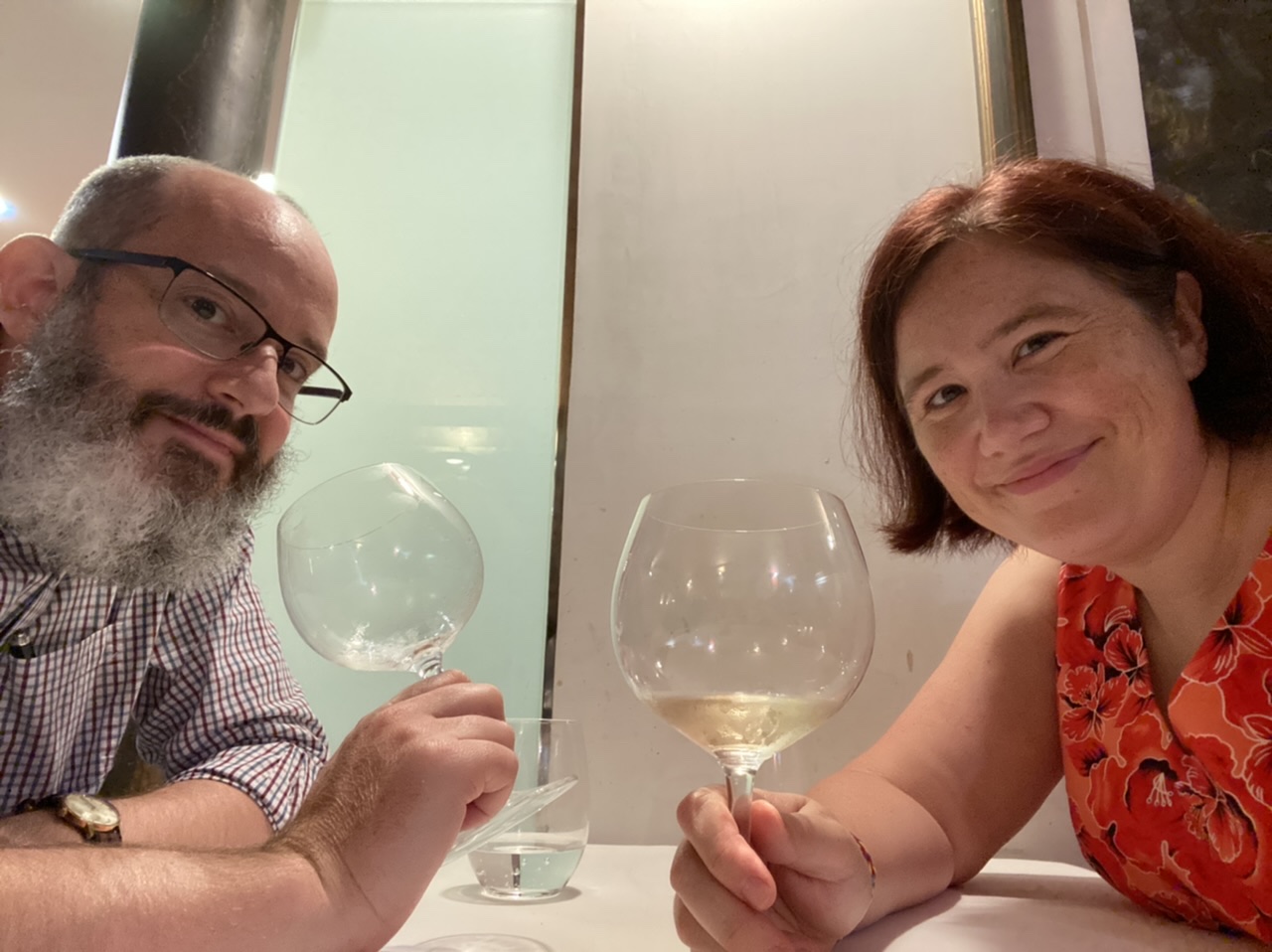 But we were feeling great. We drank an entire bottle of a local Catalan wine. That probably helped.
The next day we headed to Park Güell, higher up the hills looking down towards the sea. (The public transport in Barcelona is fast, convenient, and not too difficult to figure out.) The park is private and they strongly recommend you pre-book tickets. It's a UNESCO World Heritage site and was designed by the famous Catalan architect Antoni Gaudi.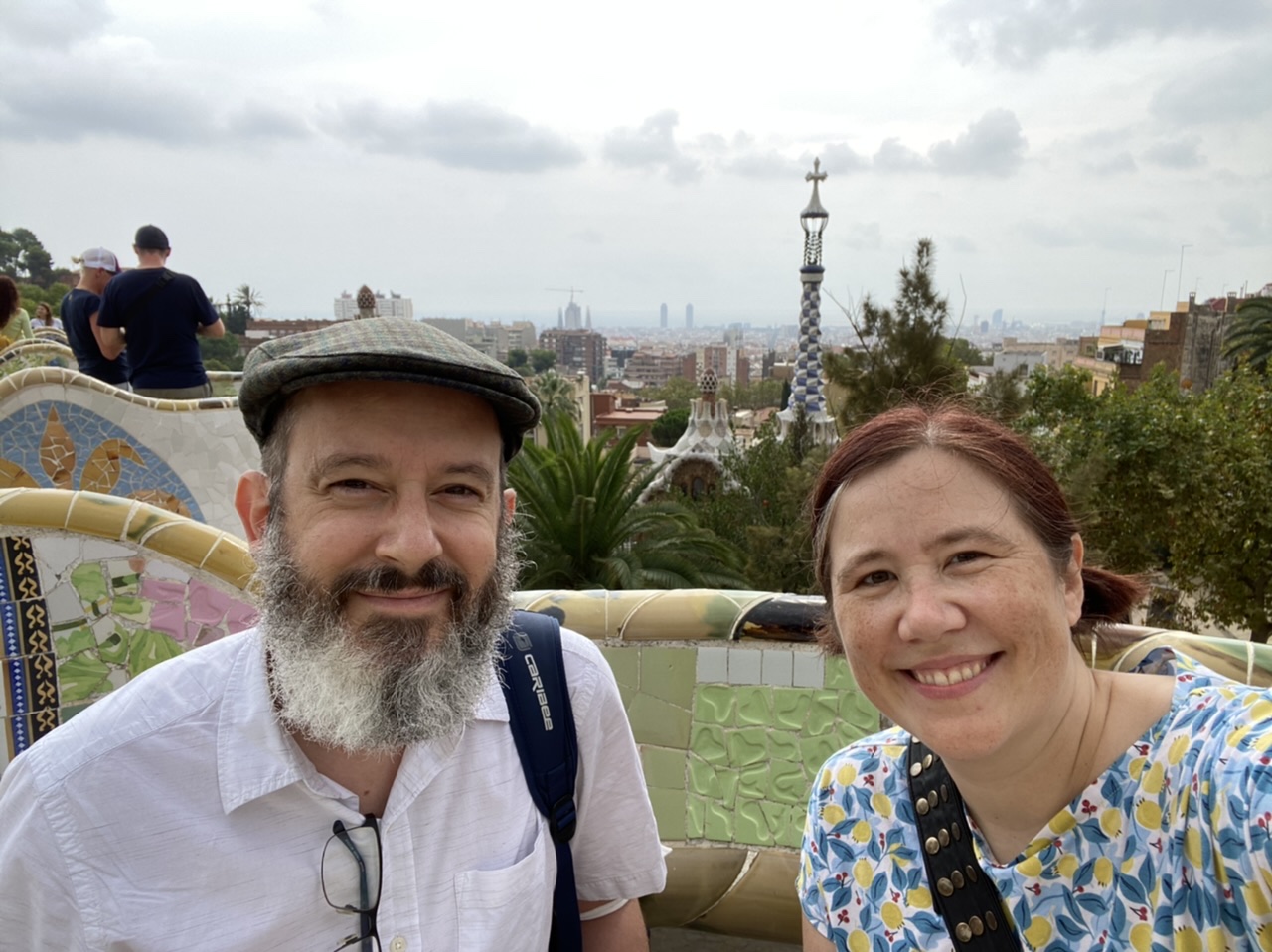 We entered at the top of the park and drifted straight to the main terrace, where we had lovely (if hazy) views over the whole city.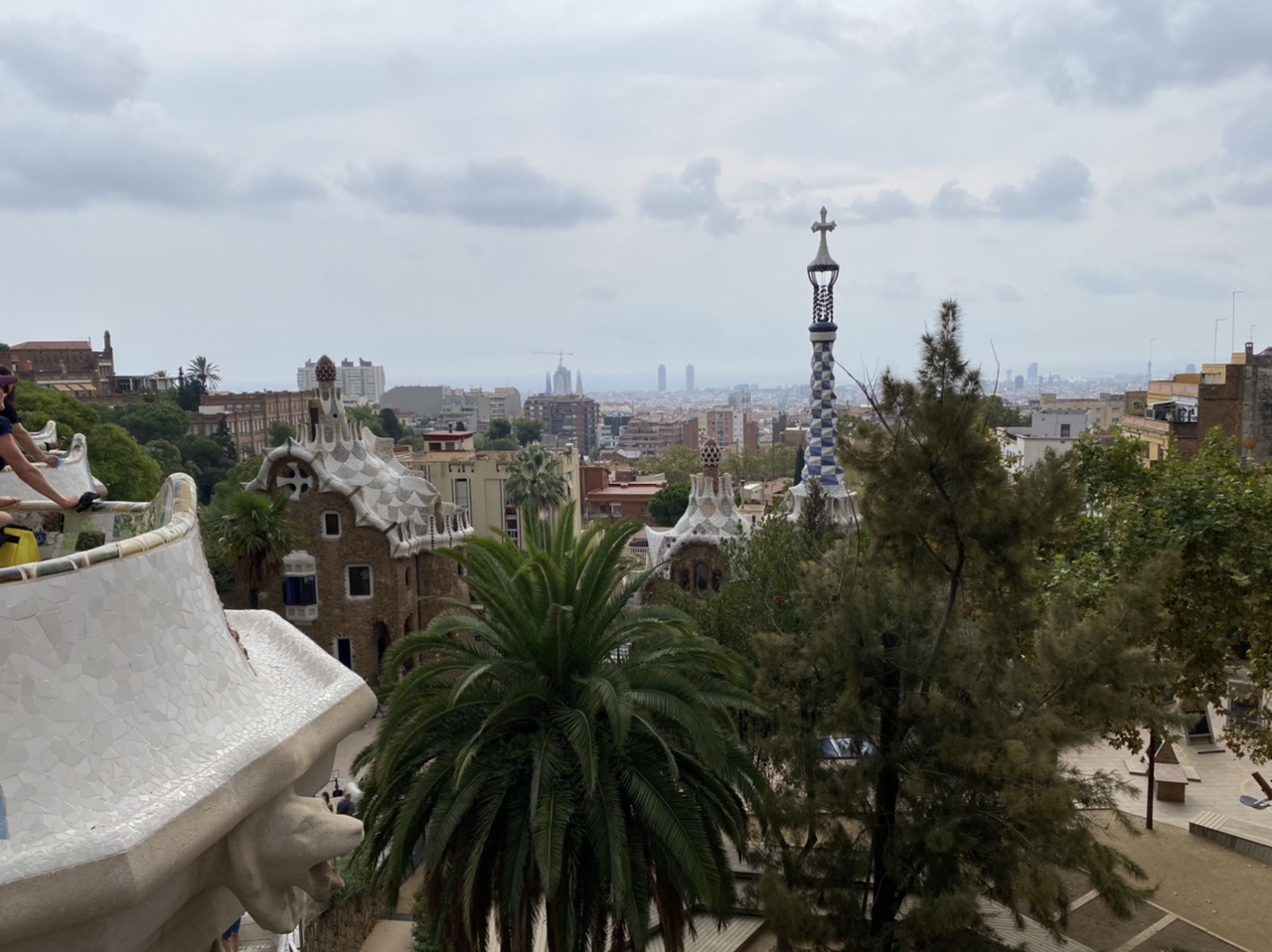 The entire terrace is ringed with a long curving bench decorated with trencadis mosaics in glorious rainbow colours.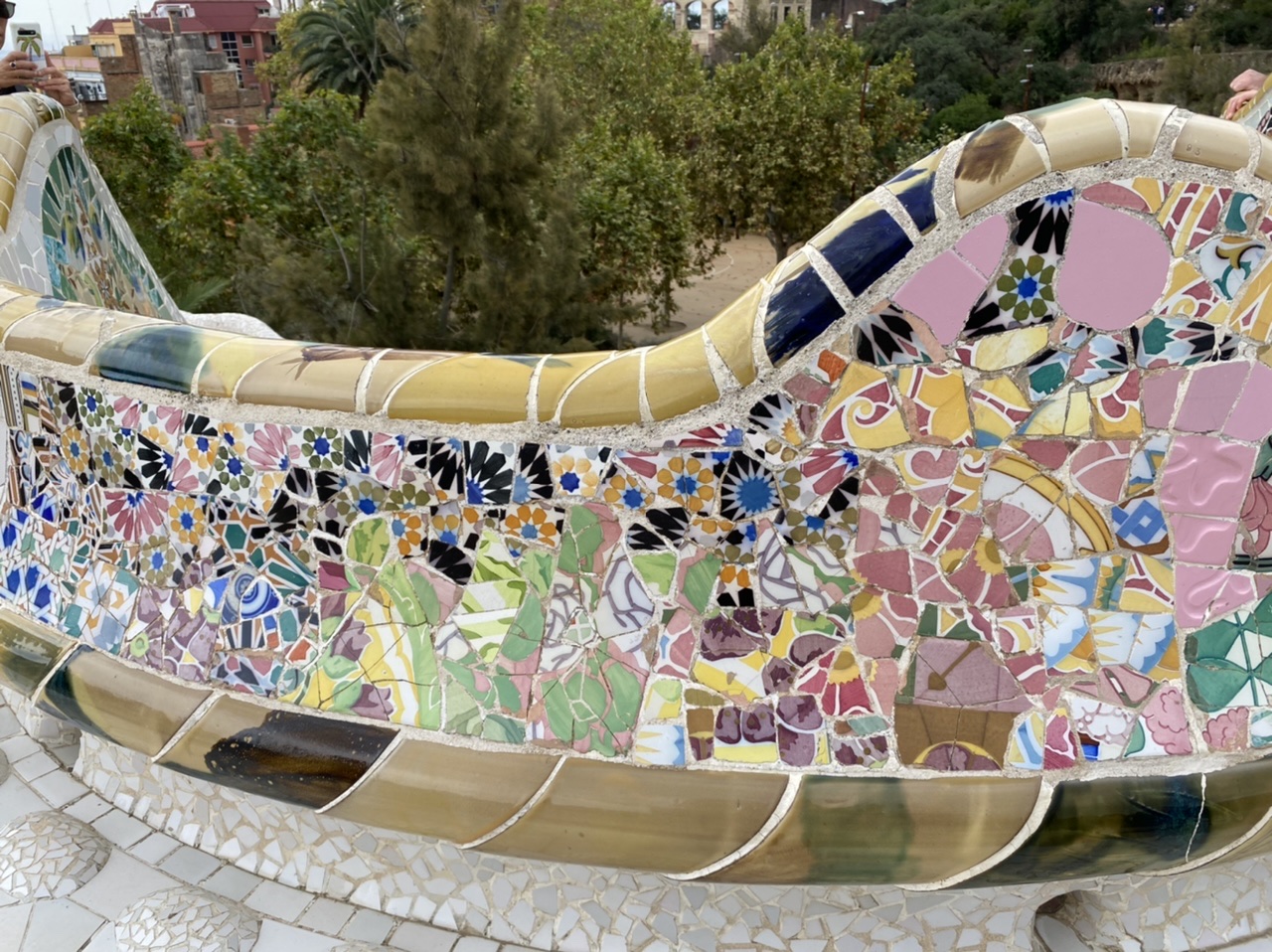 We also had a beautiful view of the trencadis mosaic roofs of the nearby Porter's House pavilion.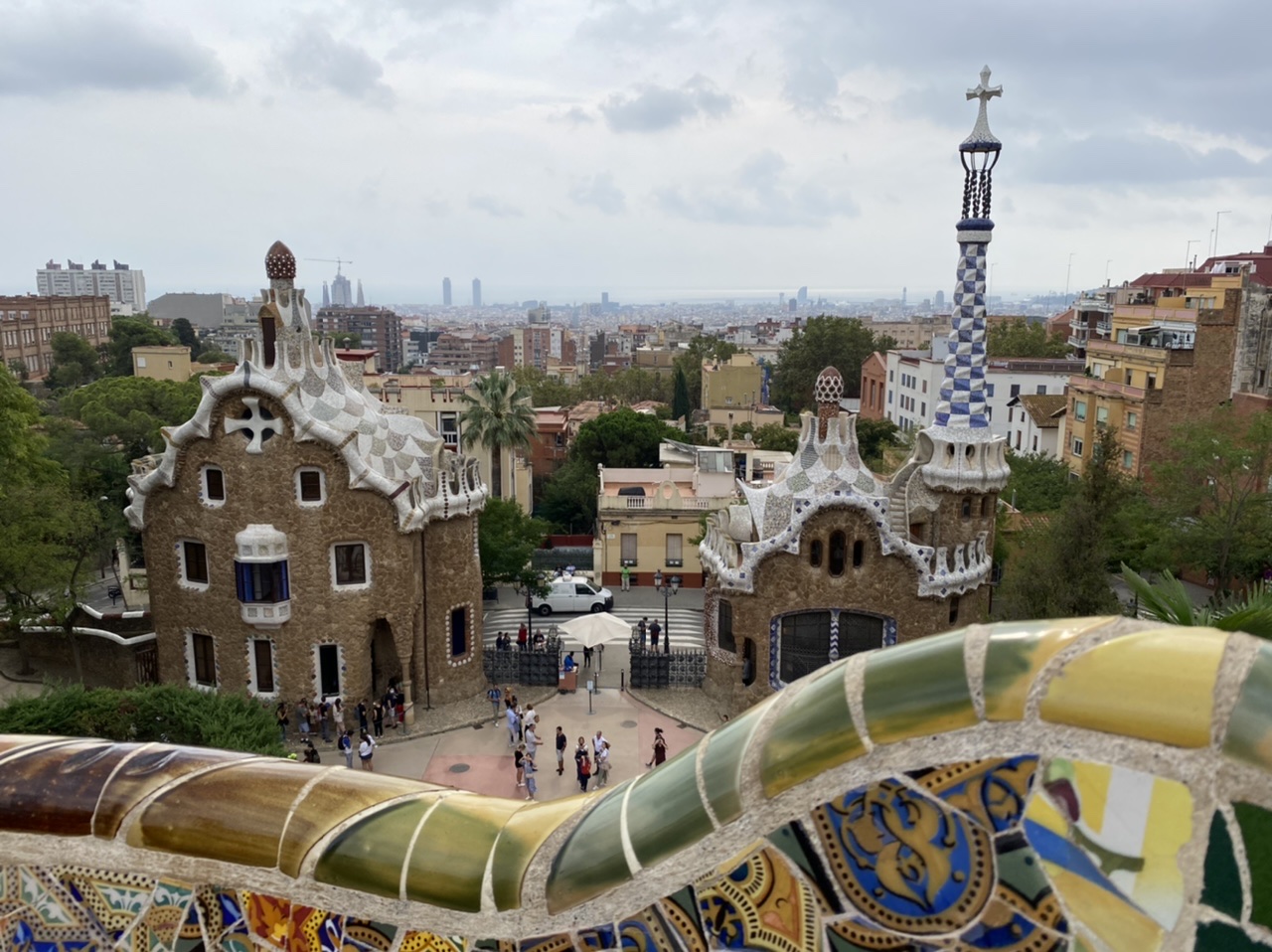 I found a section of the bench that matched my shirt!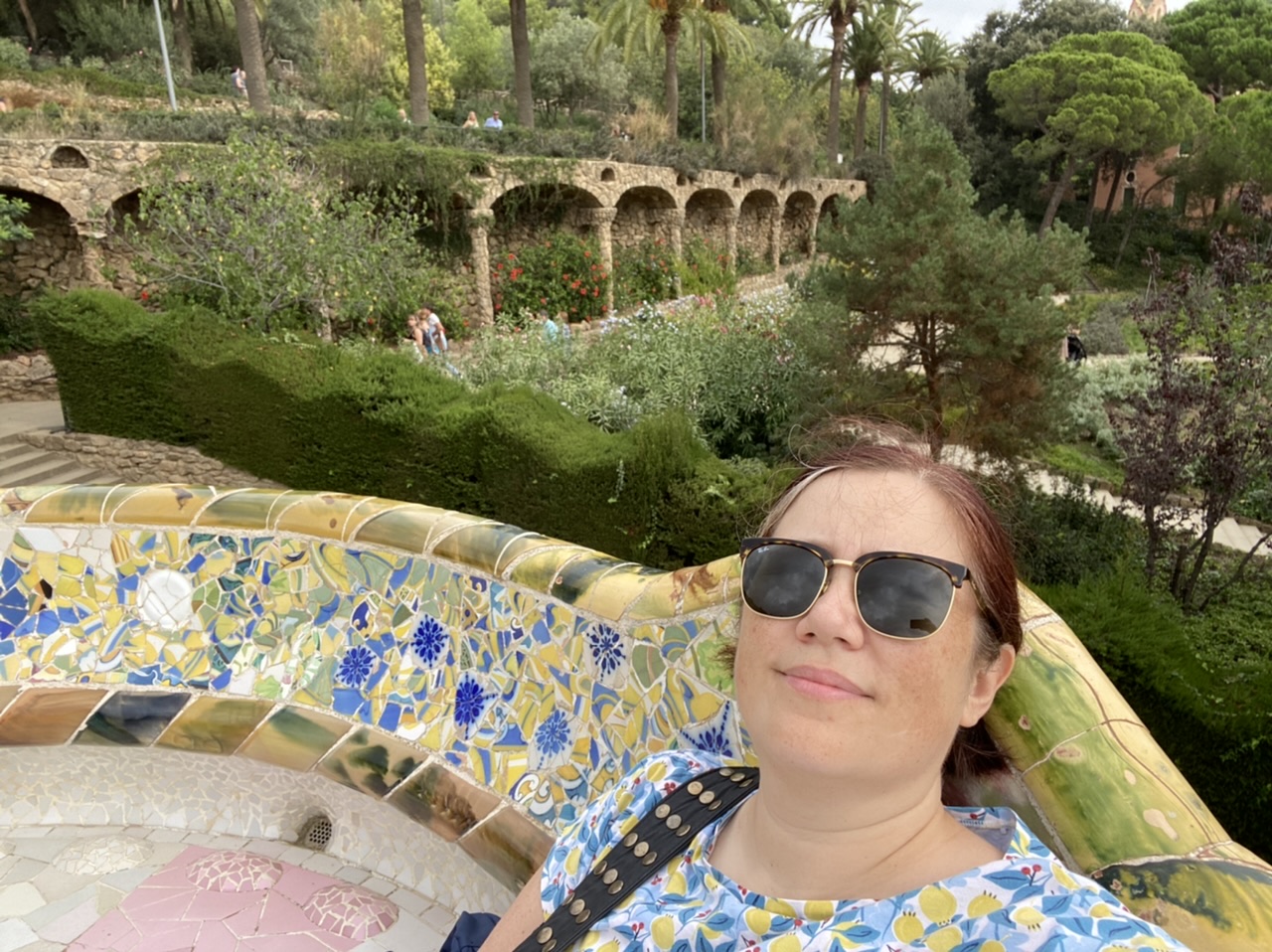 The terrace is held up by Doric columns and we walked down to get a better look from below.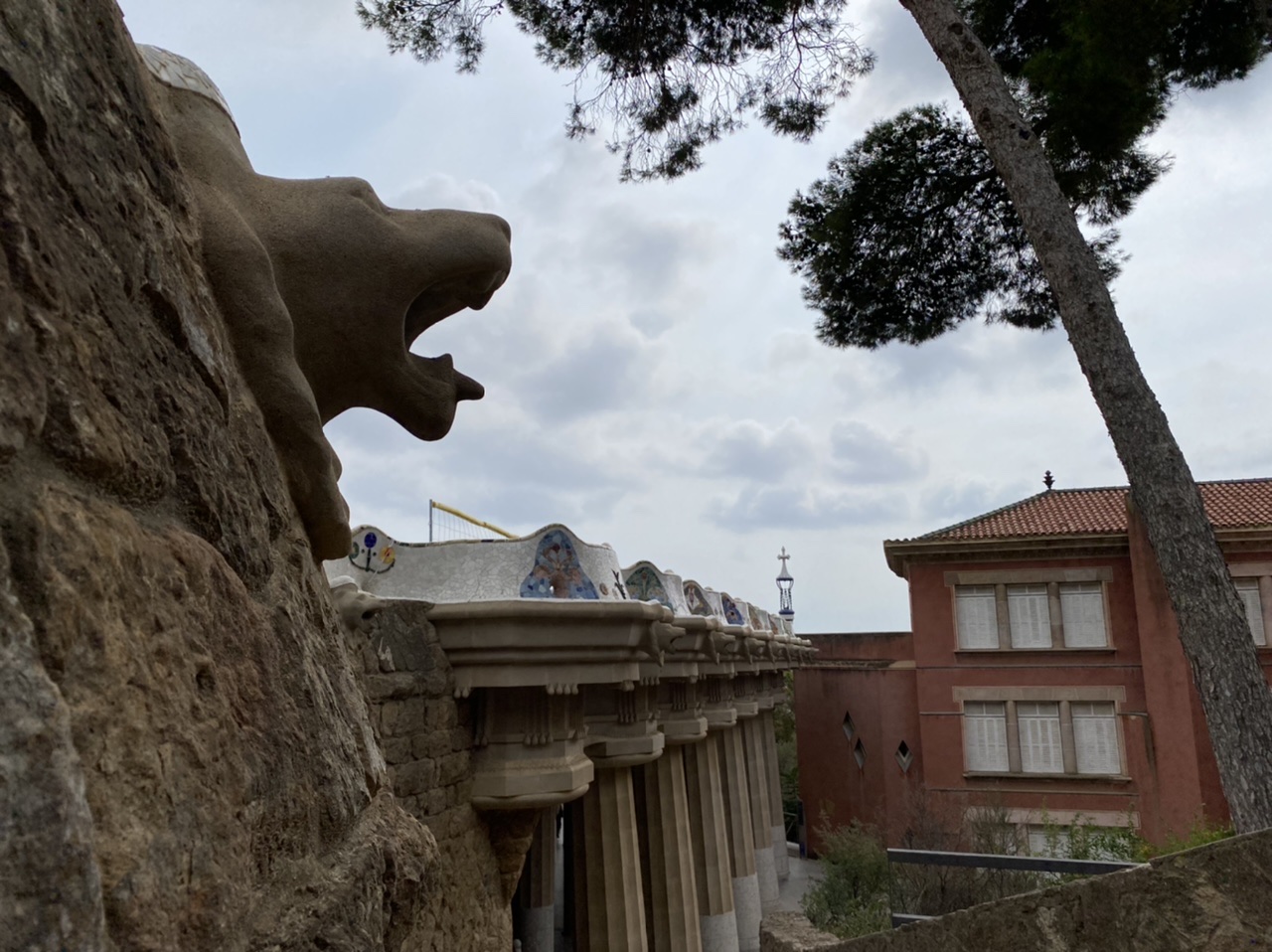 There are a number of paths that connect different parts of the park. They also call this particular one the Portico of the Washerwoman…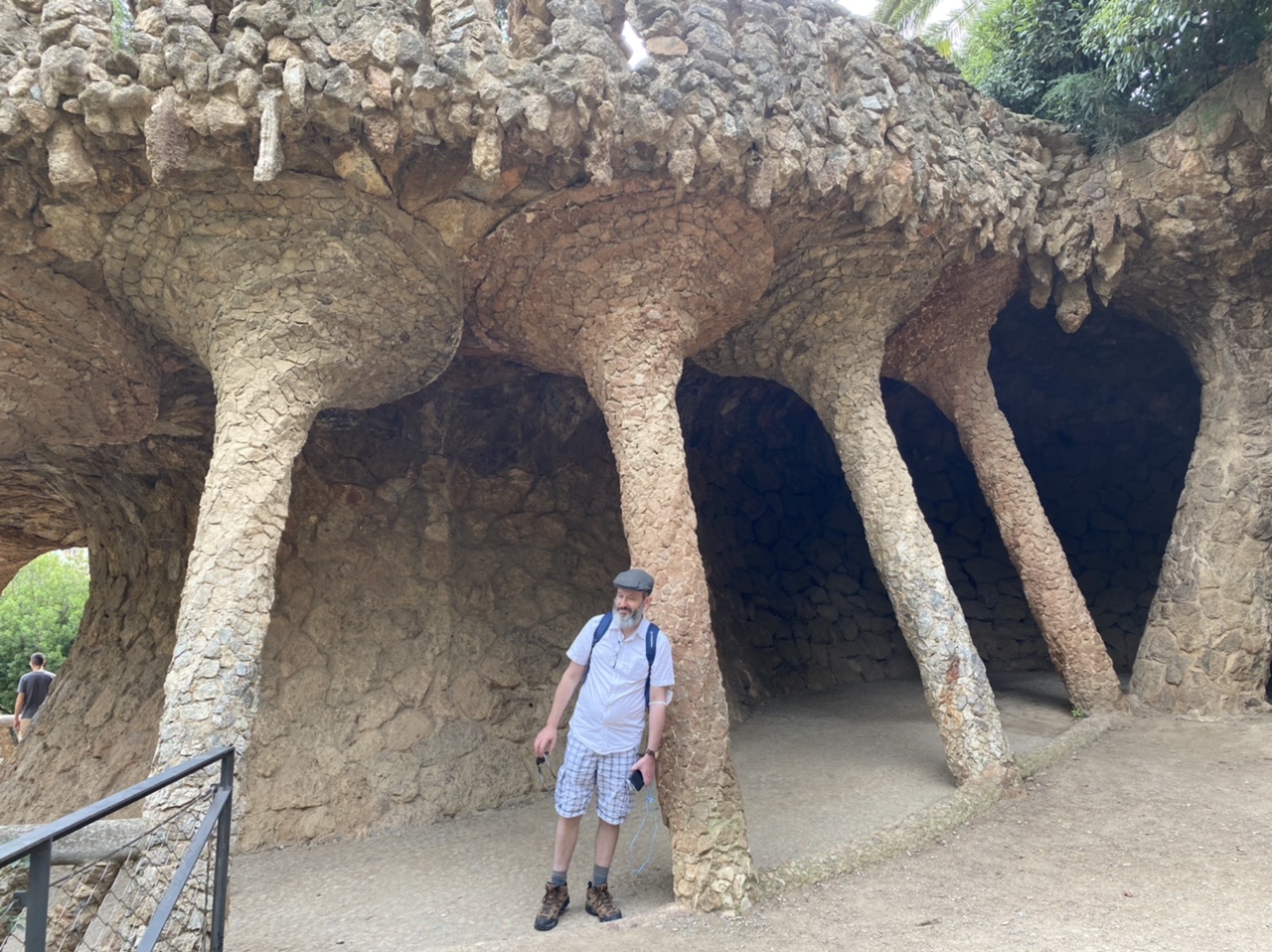 The columns holding up the roof of the portico all lean, and they are textured to look organic and natural. Some of them mimic the shape of the trees nearby, or they're covered in bits of rock and seashell and mosaic. The Snook found it all a bit too alien for his taste, but the more I saw of it, the more I liked it.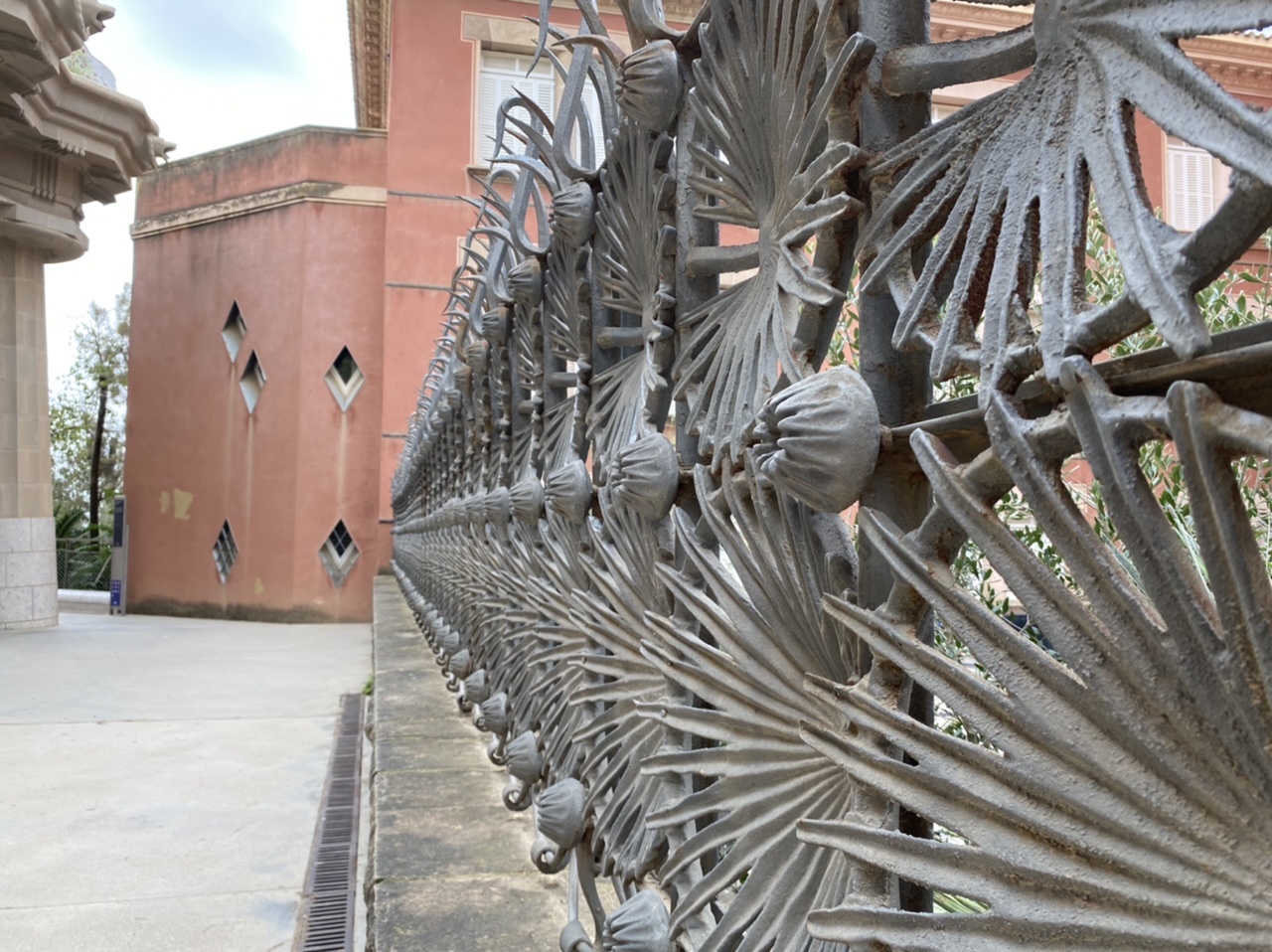 This is the cast iron fence outside Casa Larrard, a mansion that has since been turned into a school. I read on the Internet that this fence was not originally planned for the Park but was brought later from Gaudi's first big project, Casa Vicens.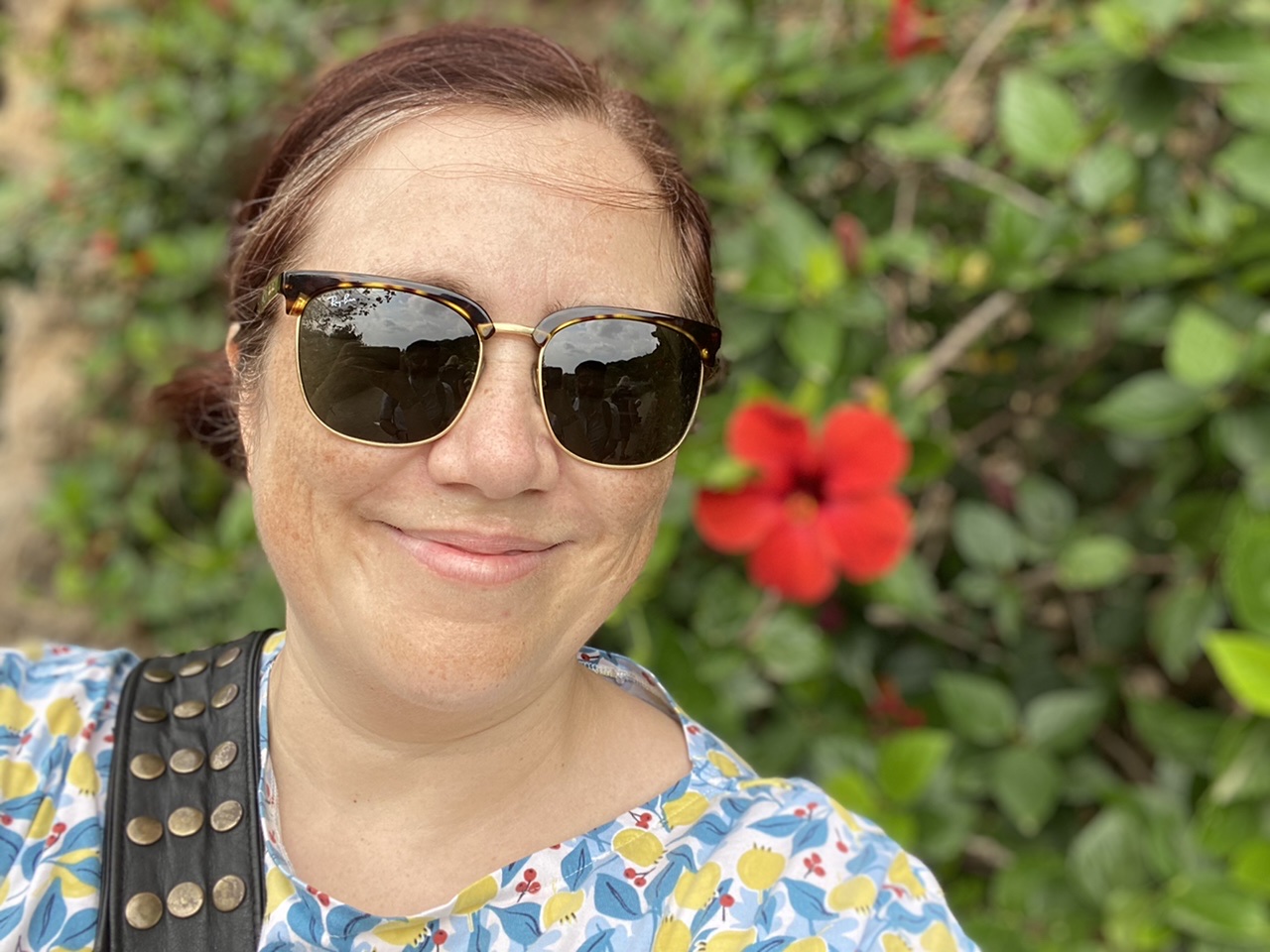 It's not all architecture – there were lots of pretty flowers and trees around the park too.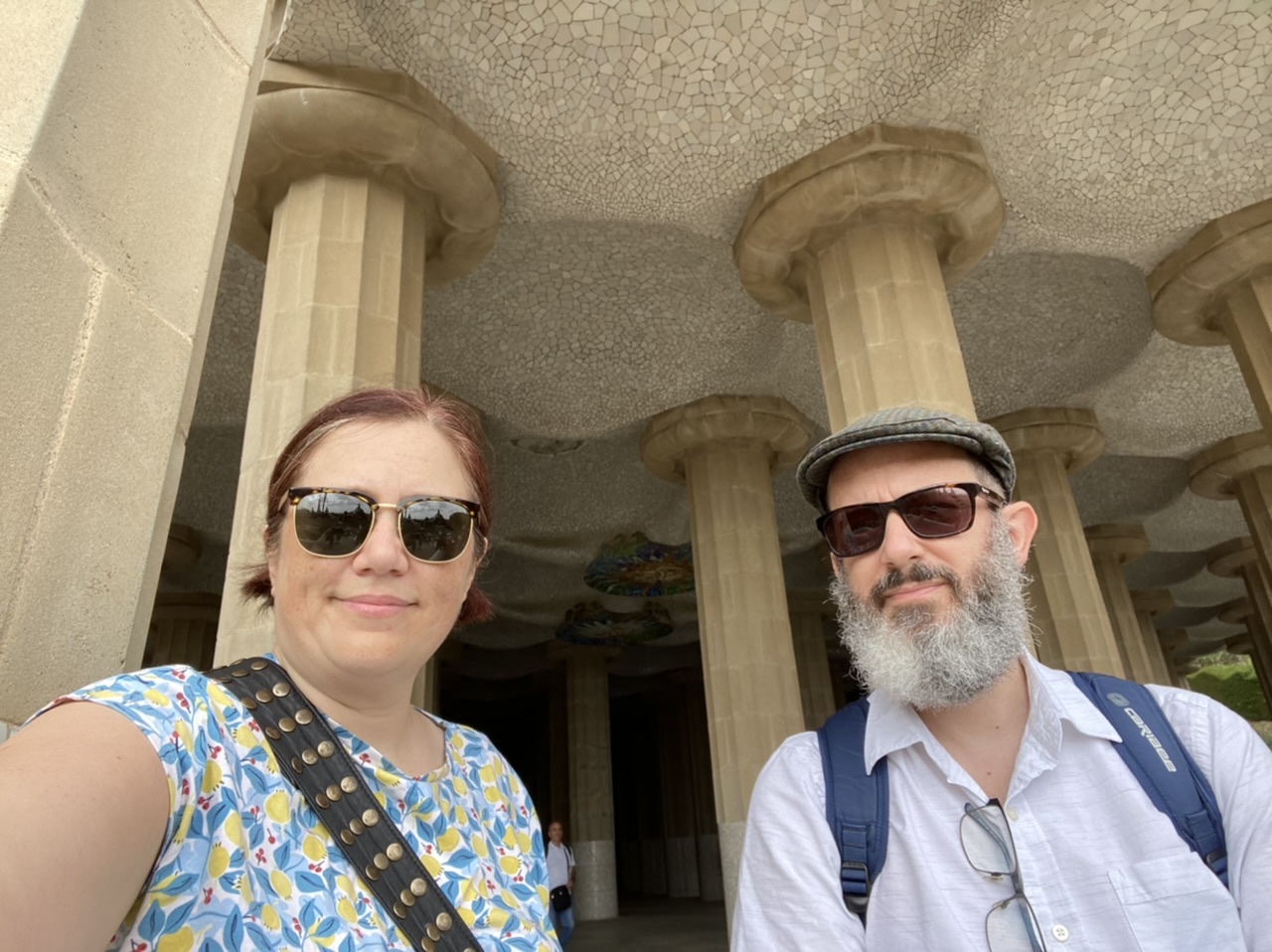 We found our way to the colonnaded area beneath the main terrace. It was cooler there out of the sun.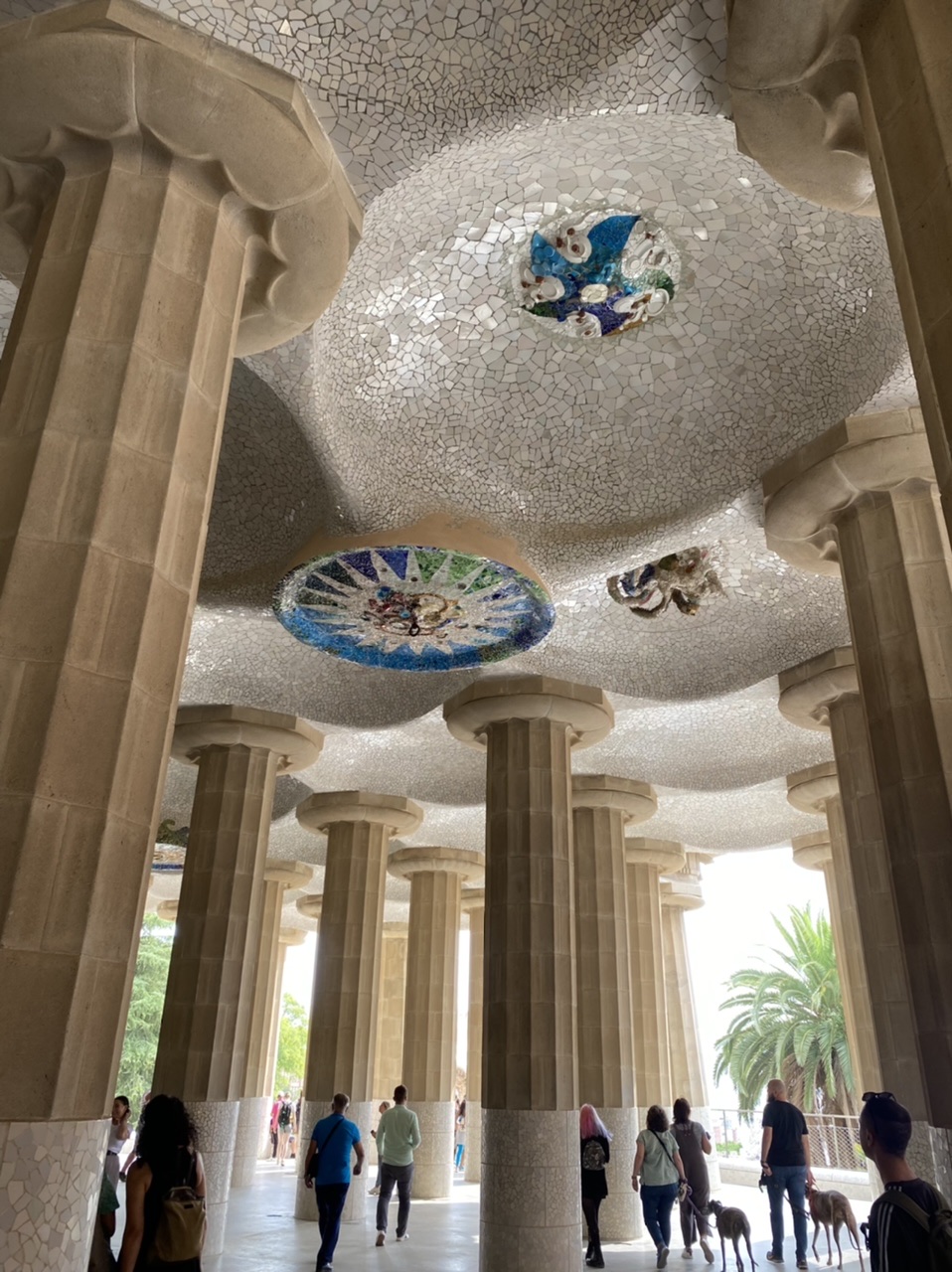 The trencadis ceiling was amazing. We had downloaded the park app onto our phones, which offered an audio tour of sorts with details about the different areas.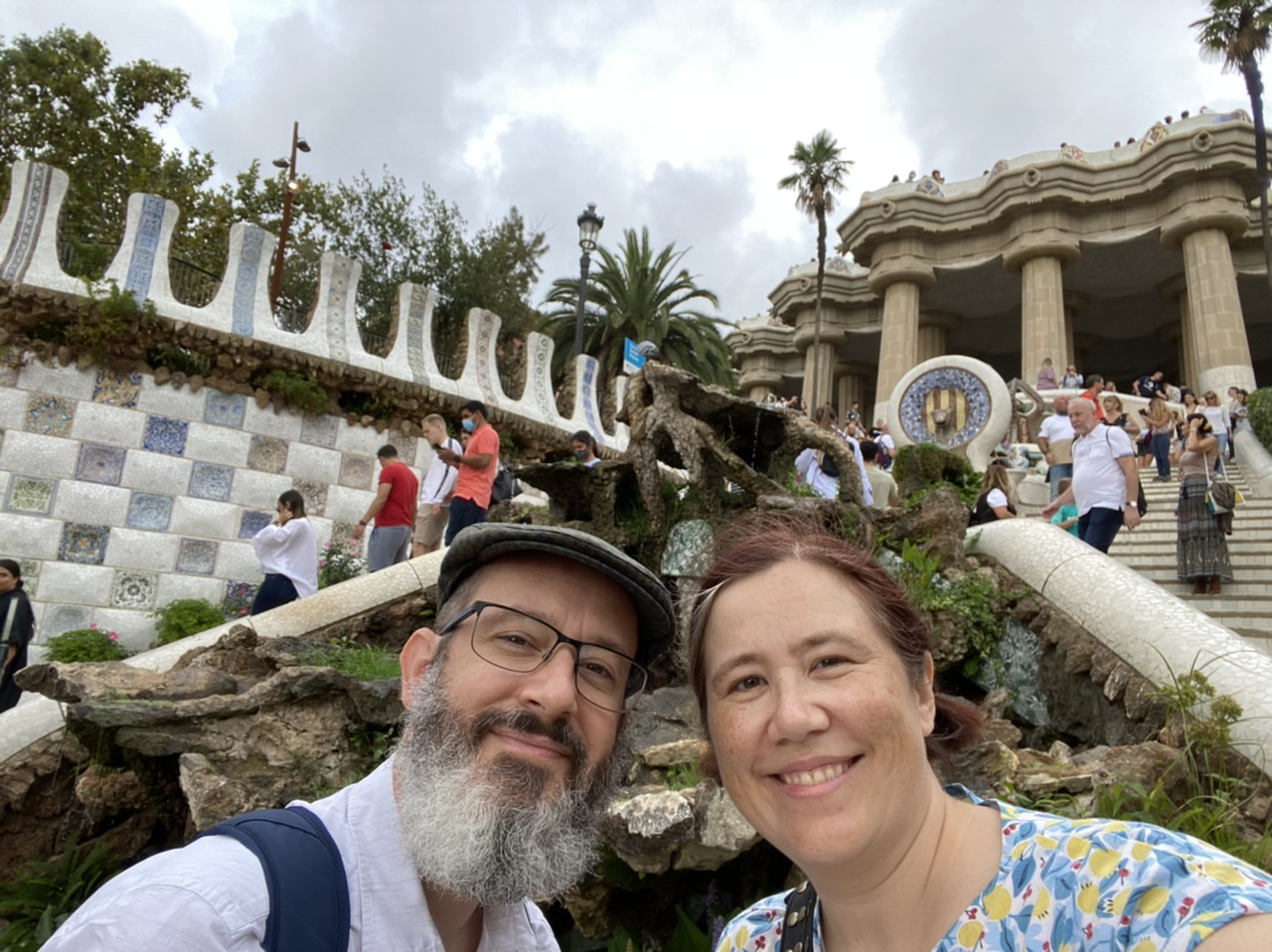 We were having a nice day. 🙂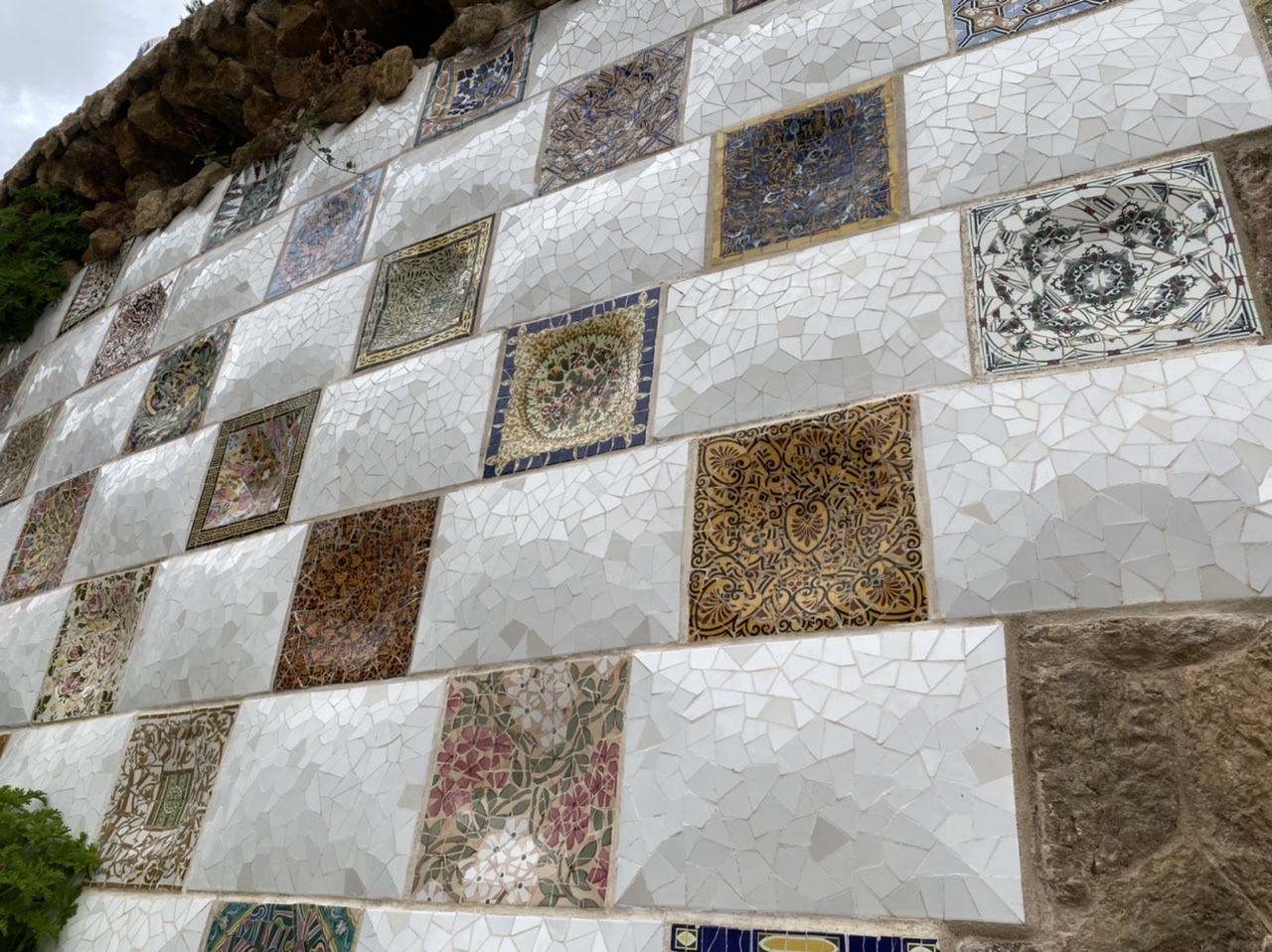 I took a closeup of the mosaic wall. Apparently one of the reasons Gaudi adopted the art form was the ready supply of broken ceramic tiles from a nearby factory.
After we finished exploring the park, we had a wander around some of the nearby neighbourhoods.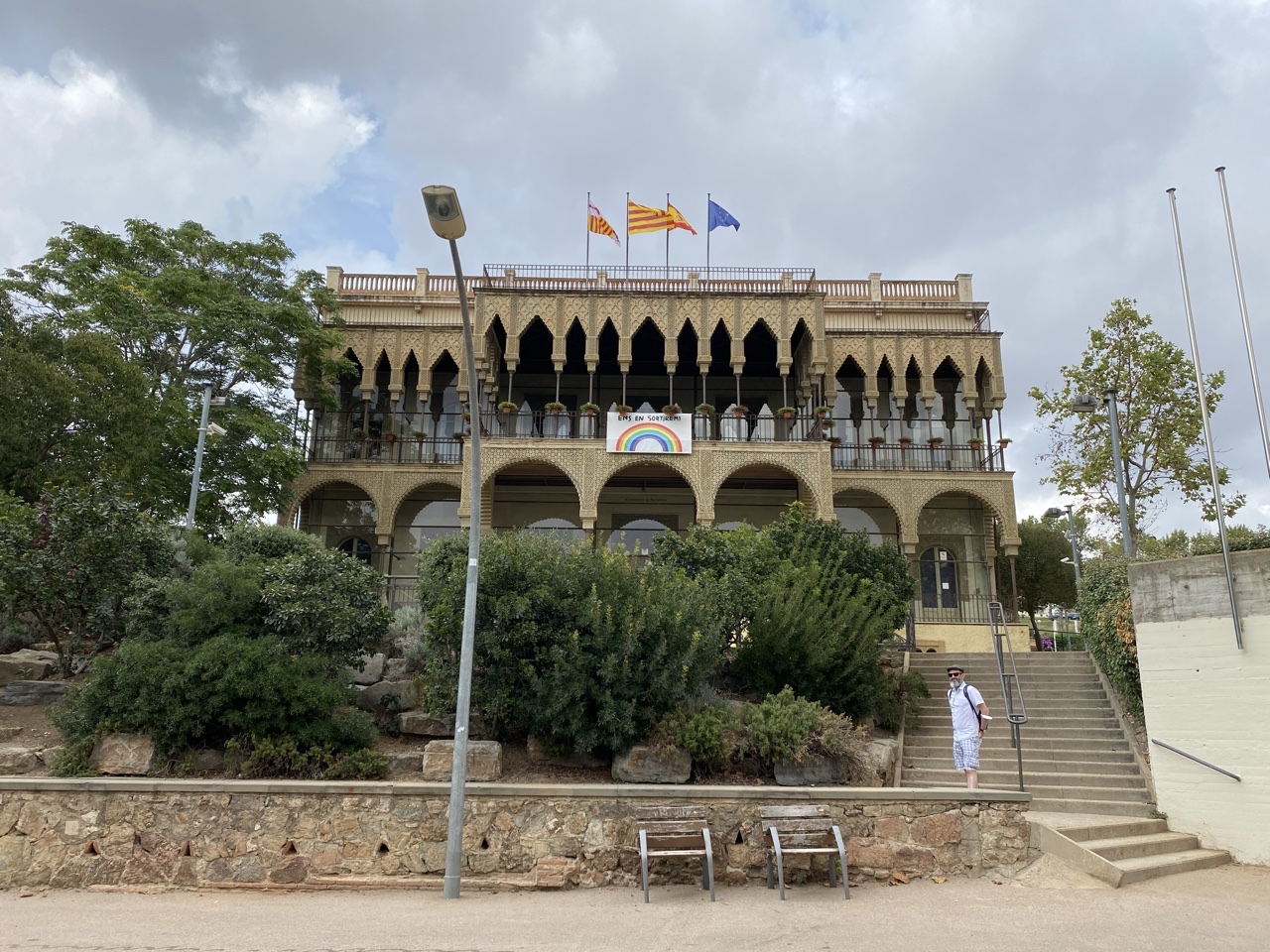 This is La Casa de les Altures, the council offices for the Guinardó neighbourhood.
We got tired of walking and caught a train to our next destination…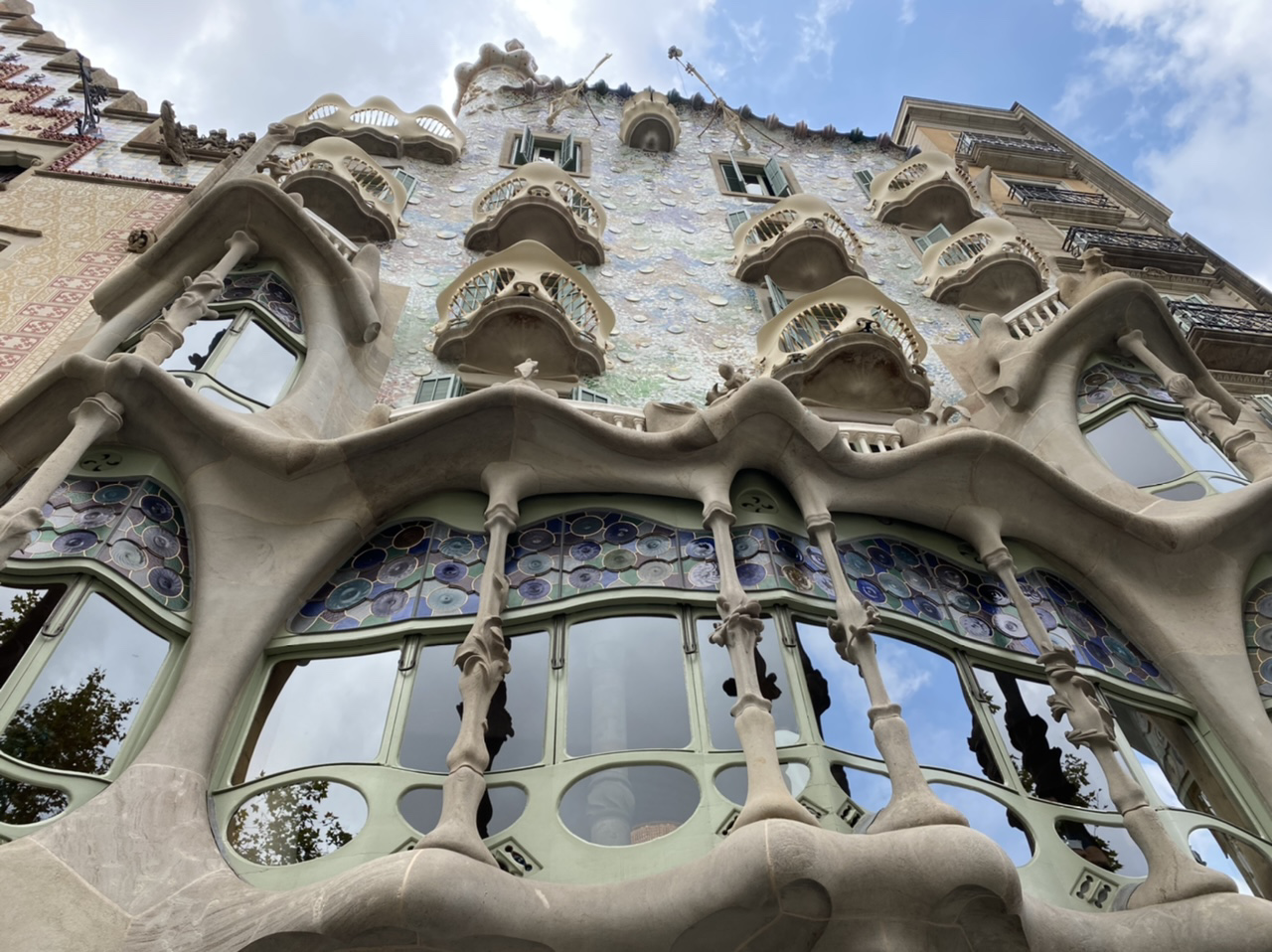 Casa Batlló. This supremely funky house is one of Gaudi's masterpieces. From the front it looks like it's got actual bones, like it's made from the skeleton of some great dragon. (The roof looks like it has actual dragon scales too!)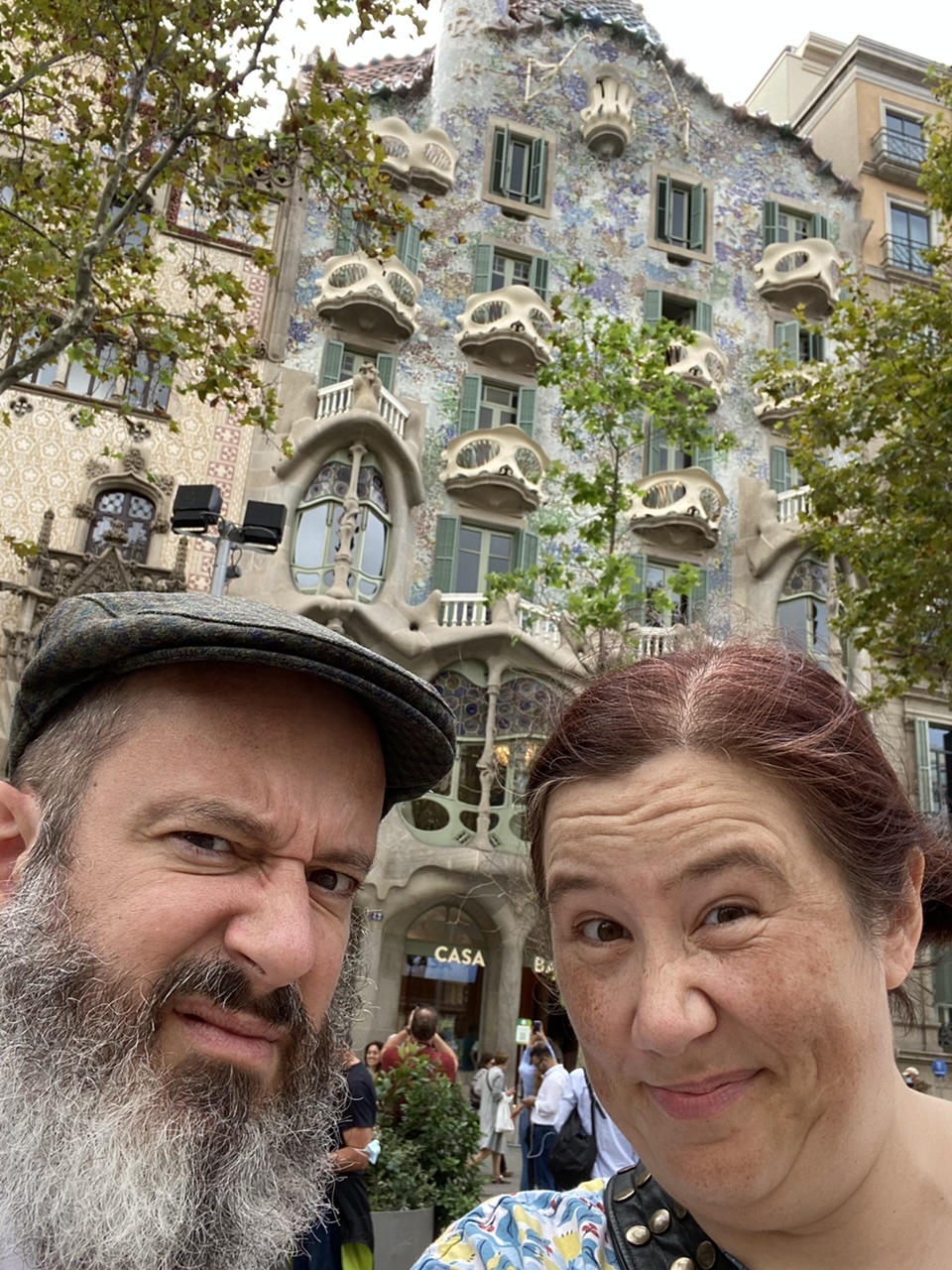 See, like weird lizard skulls poking out. The Snook wasn't much of a fan. I like the idea of it, but I don't think I'd want to live in it.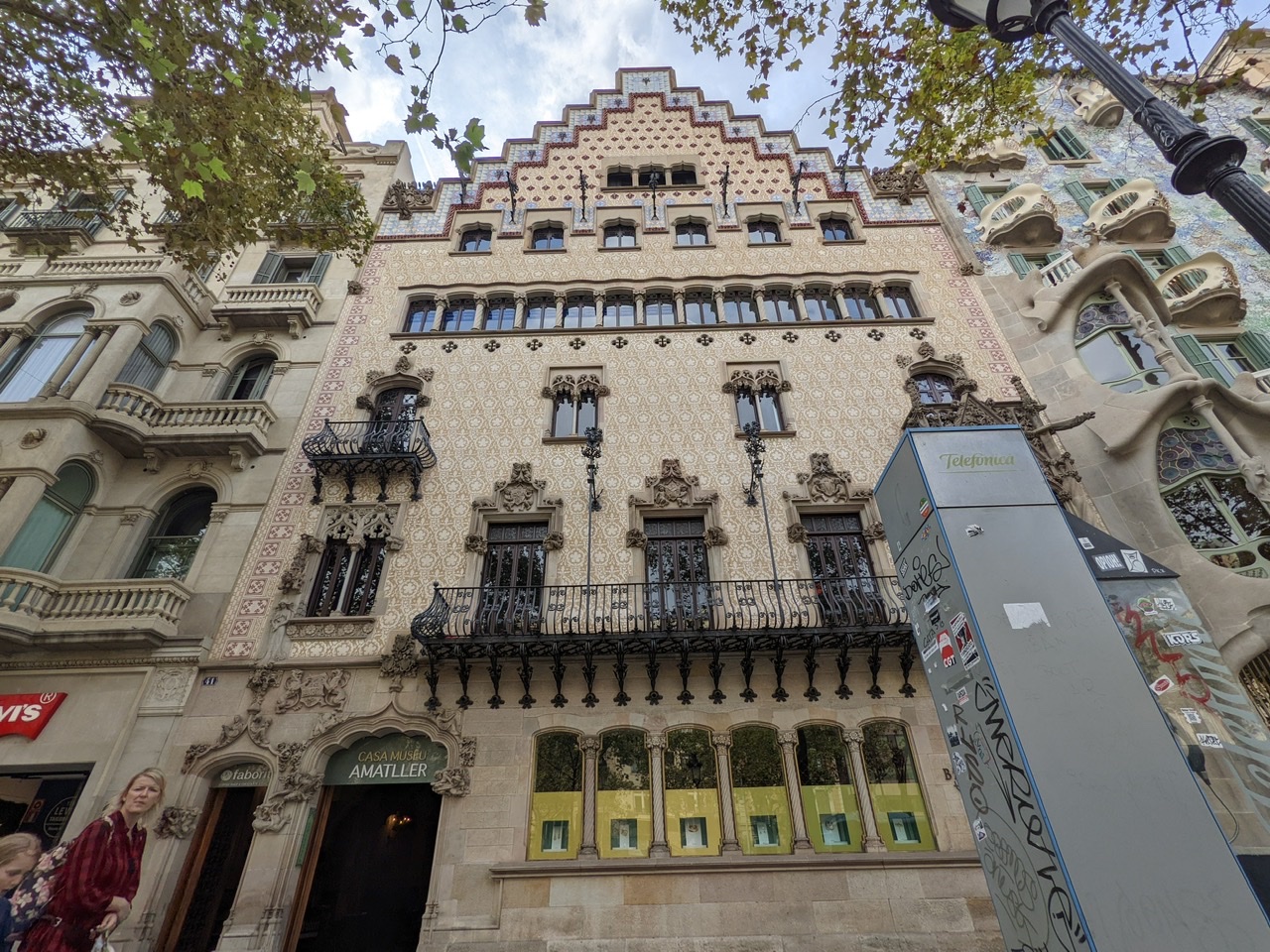 Rodd much preferred Casa Amatller next door. Very pretty!
Sohan
for lunch. When it's a hot day in Barcelona, what else would you drink but a giant sangria?? 🍷
After lunch we headed for a wander up La Rambla, a long tree-lined pedestrian street. Clearly in non-pandemic times this would be tourist central!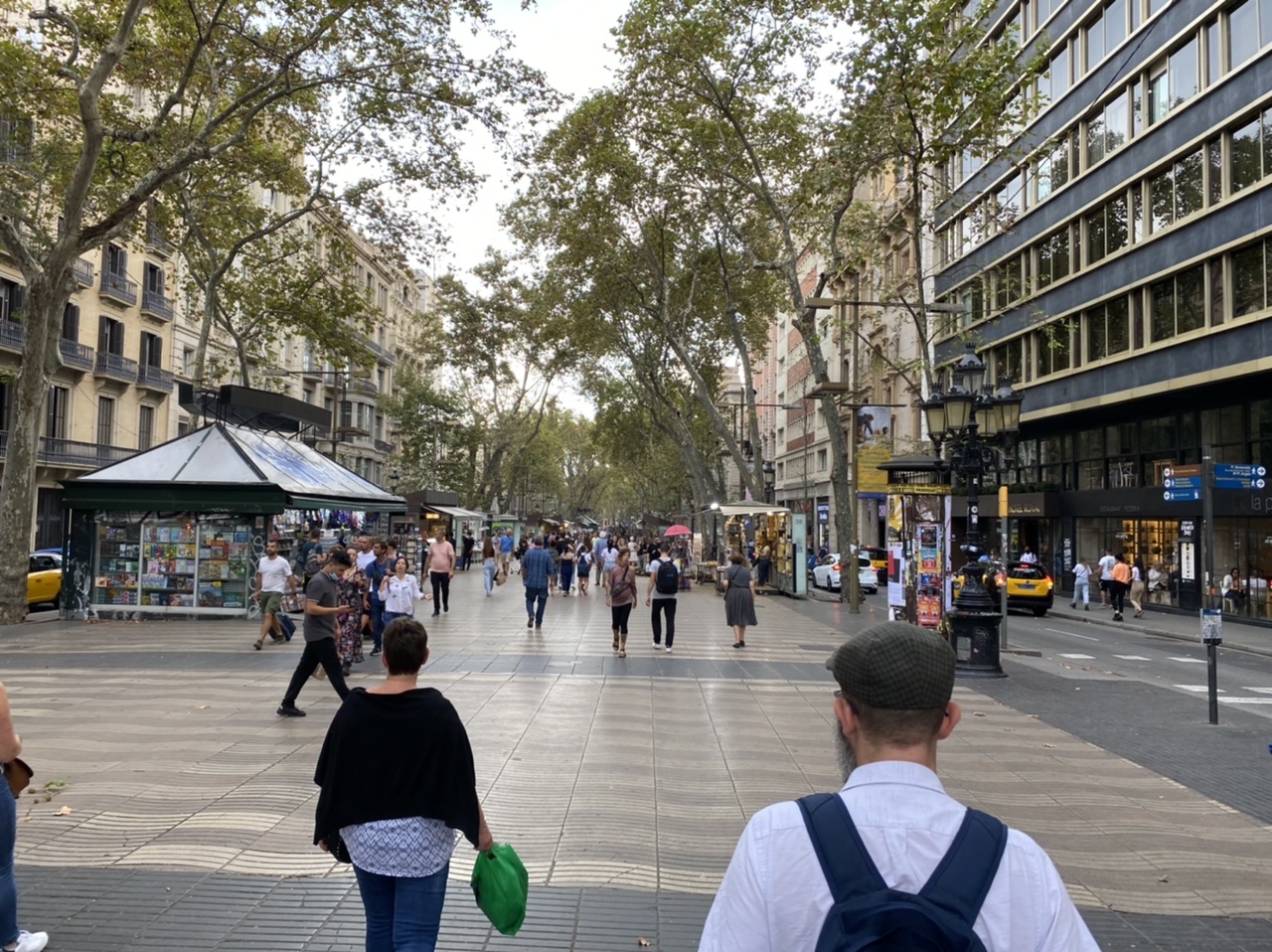 This part of Barcelona is called the Gothic Quarter. I really liked the cool old buildings.
Christopher Columbus Monument
. I remember studying Columbus in school, but I had no idea why Barcelona was significant. It turns out that it's where Columbus went to report his findings from the first journey to Ferdinand and Isabella.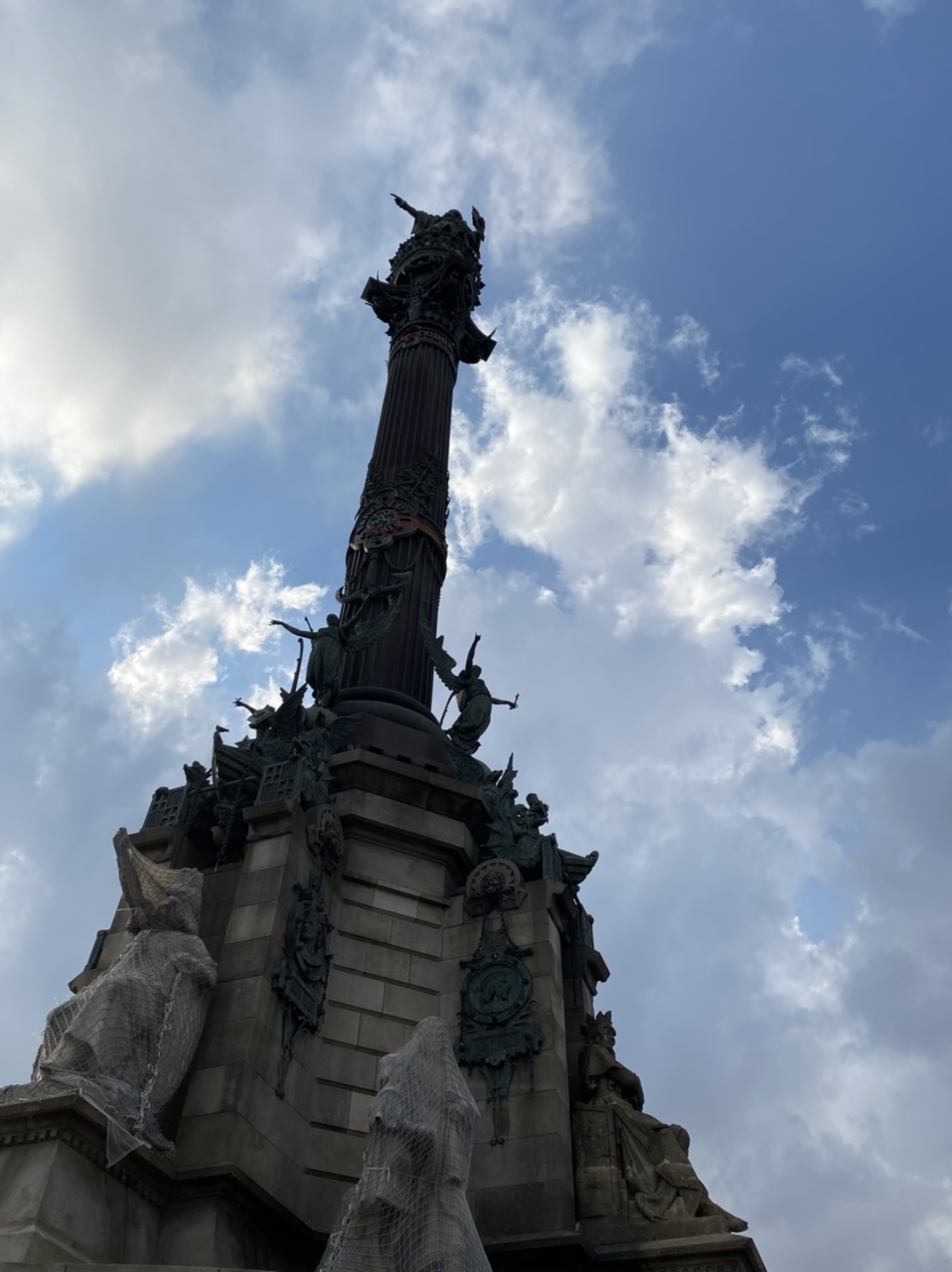 See? He's pointing out towards America!
The next day dawned cool and rainy, but we didn't care because it was finally time to visit the Sagrada Família.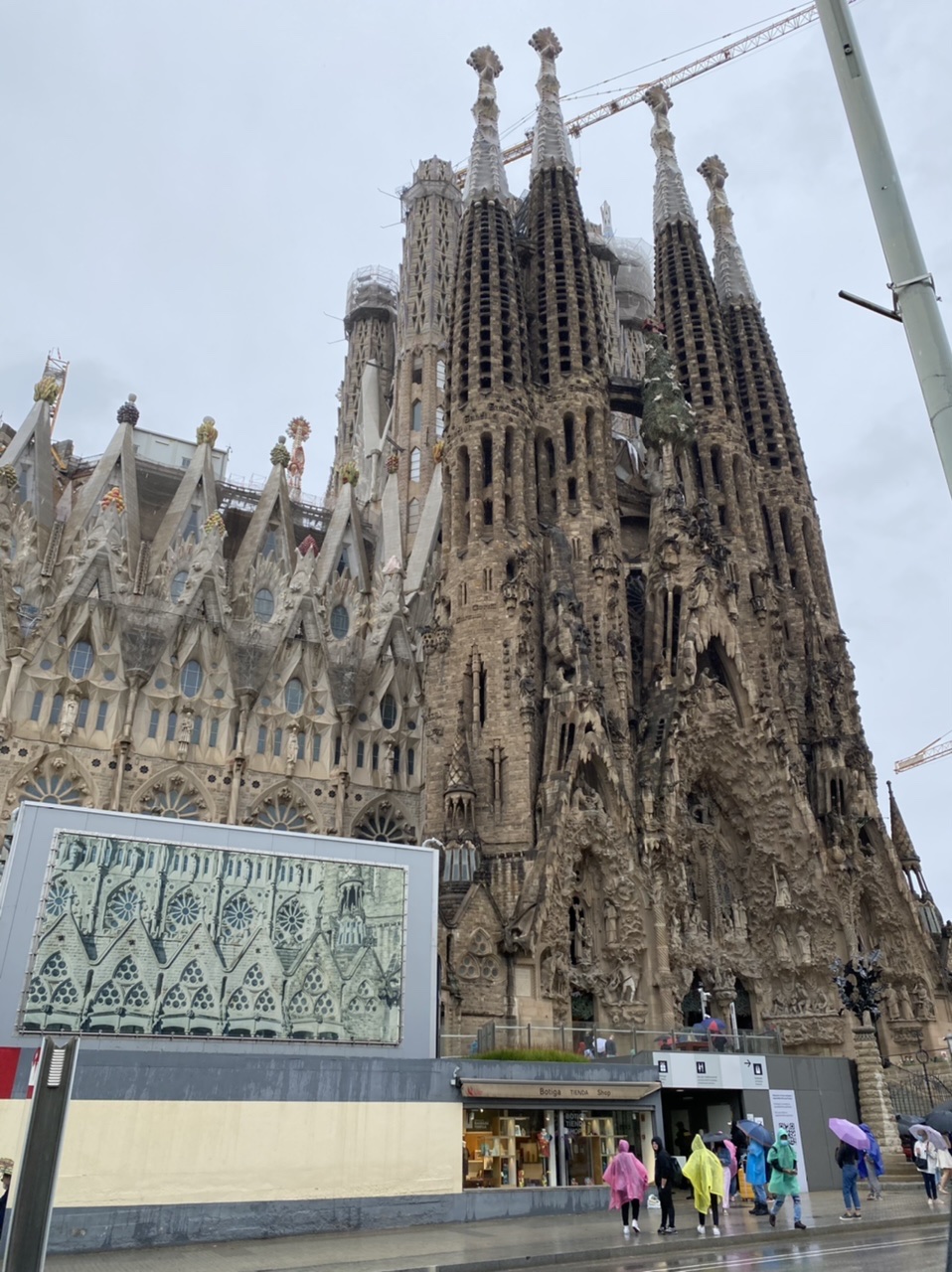 This basilica (Gaudi's great masterpiece) has been under construction for nearly 140 years, and it's still not done yet. Even as a work-in-progress, it's been designated a UNESCO World Heritage site.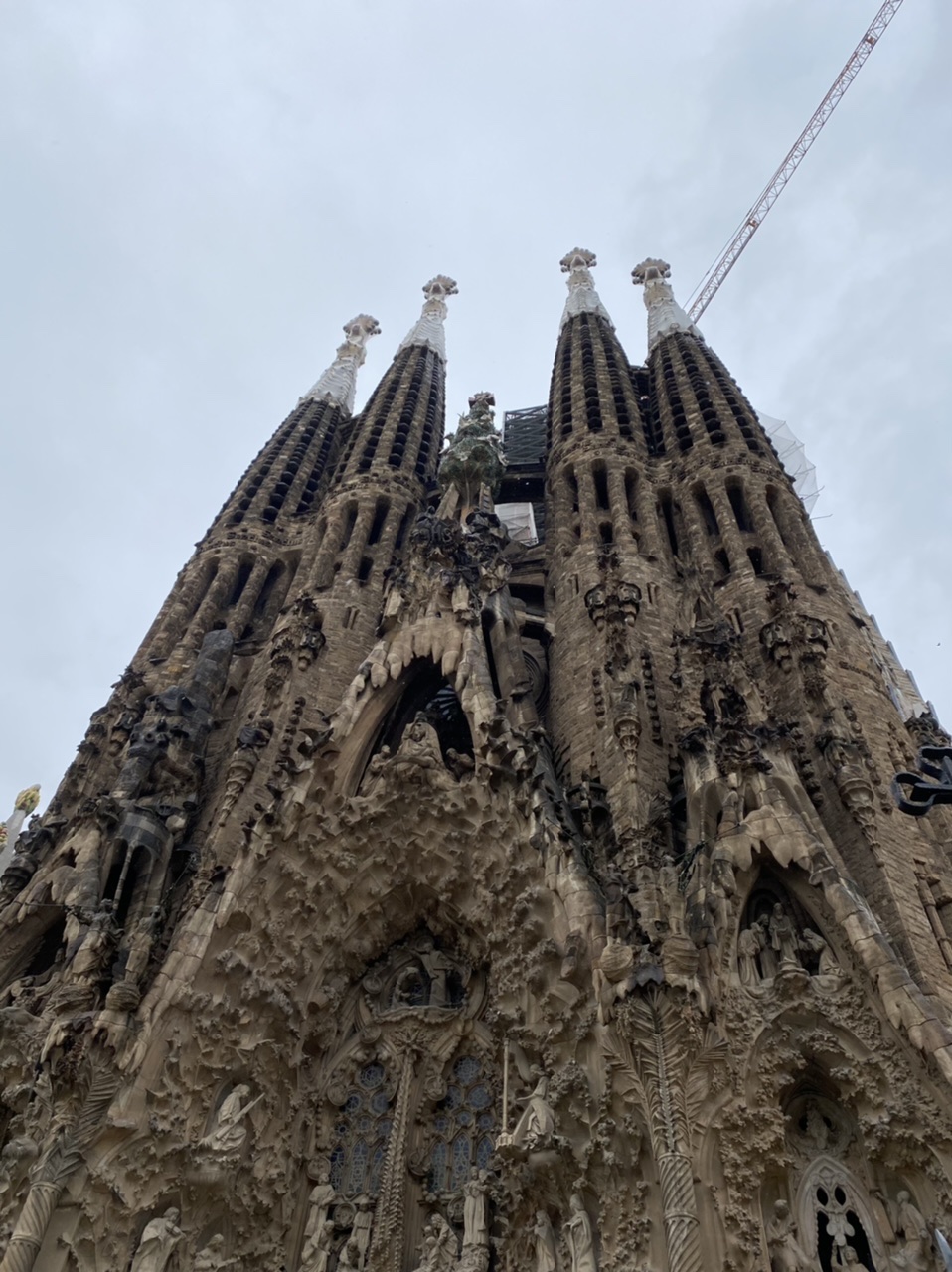 We entered at the side with the Nativity Façade. It's decorated with so many sculptures and organic forms that it's actually hard to take in. It reminded me of Alien, of termite mounds, of mud and organic matter. It made me uncomfortable.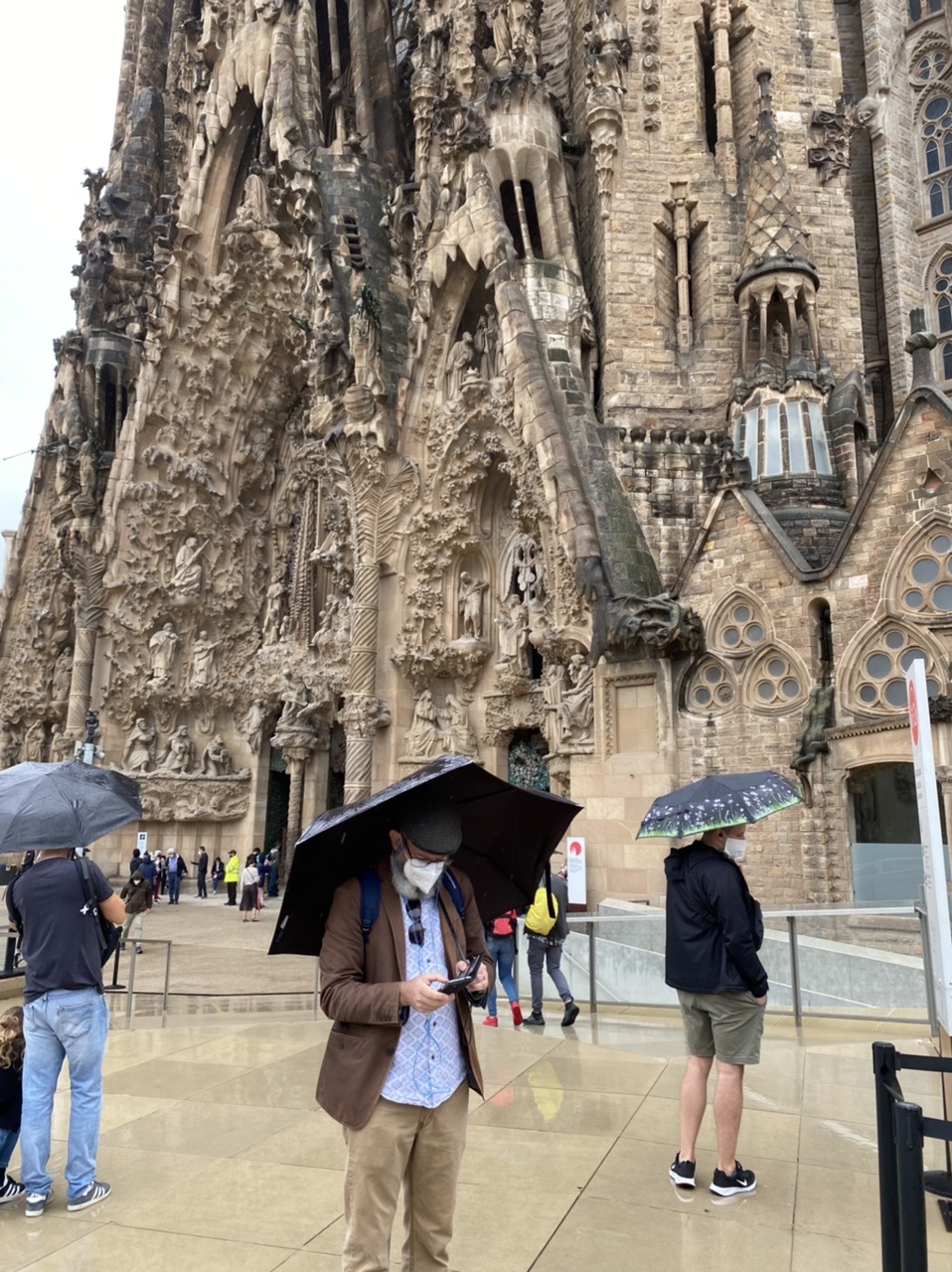 We had an app that provided an audio tour, which was pretty essential to know what you were looking at. Here's the Snook listening and trying to stay out of the rain…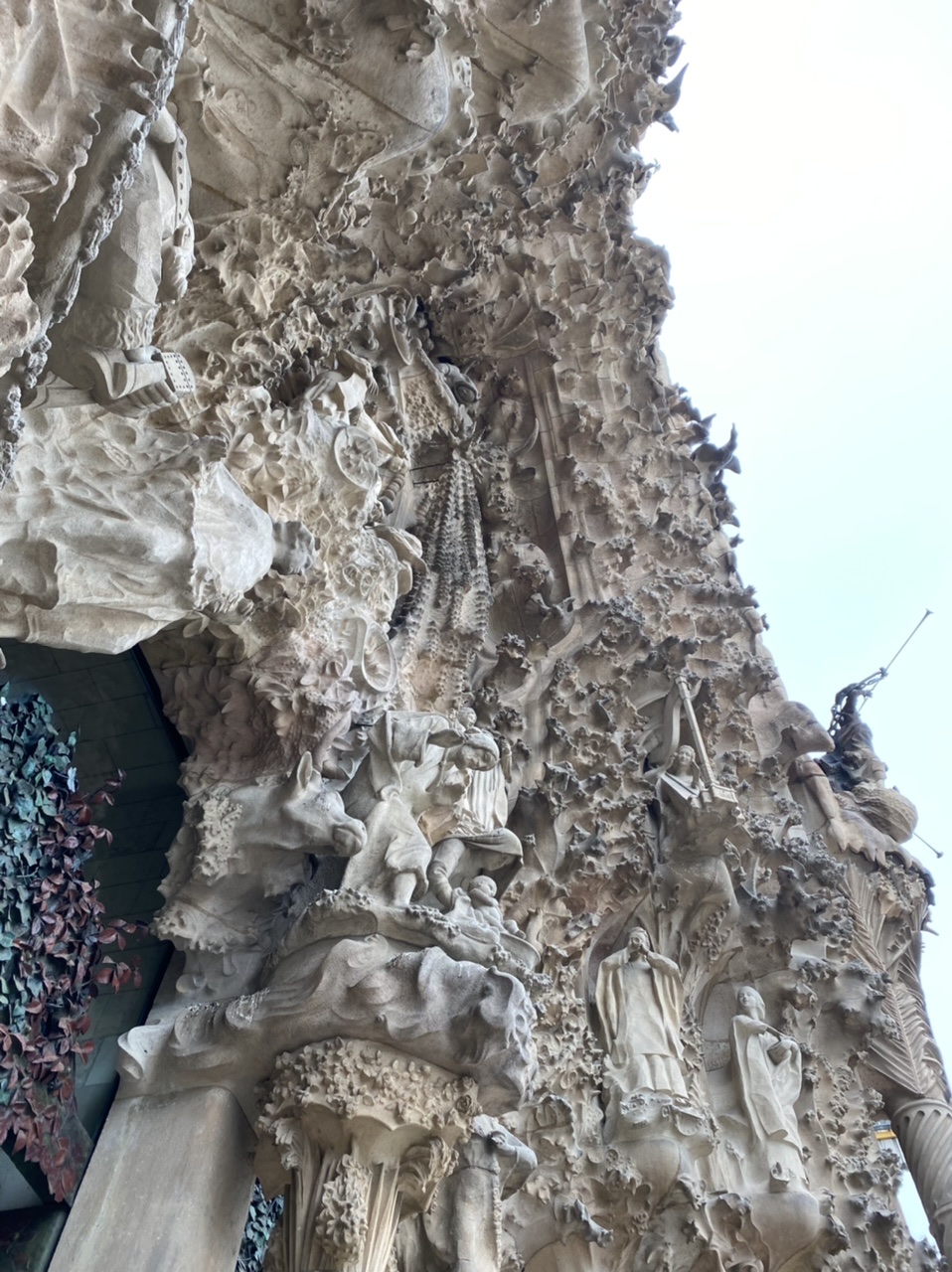 See? It's overwhelming. I wasn't actually sure if I liked it, but there was sure a lot of it.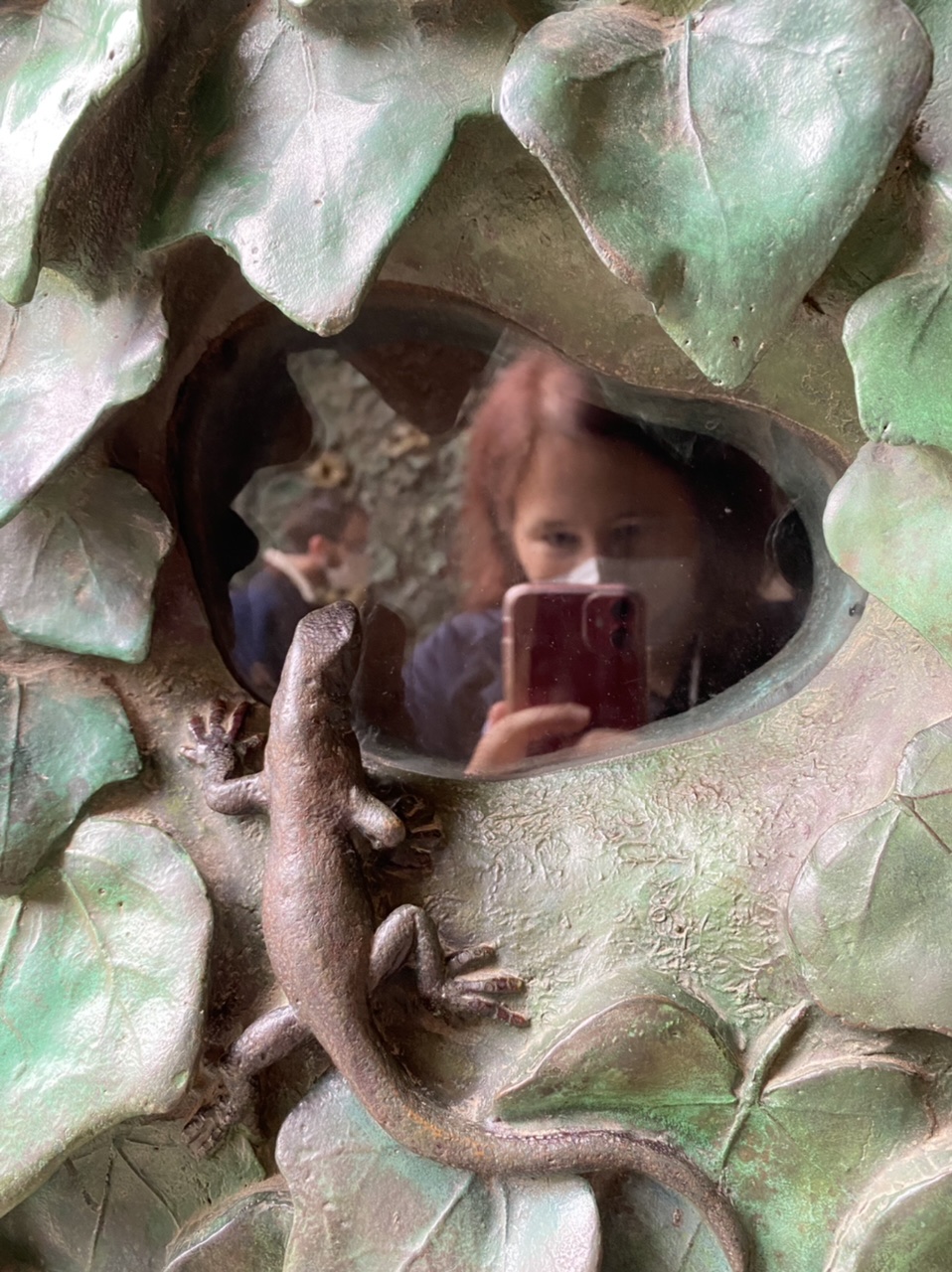 The doors were covered in sculpted metal leaves, and I discovered a charming little lizard hiding among them.
Still feeling unsure about this building, we went inside.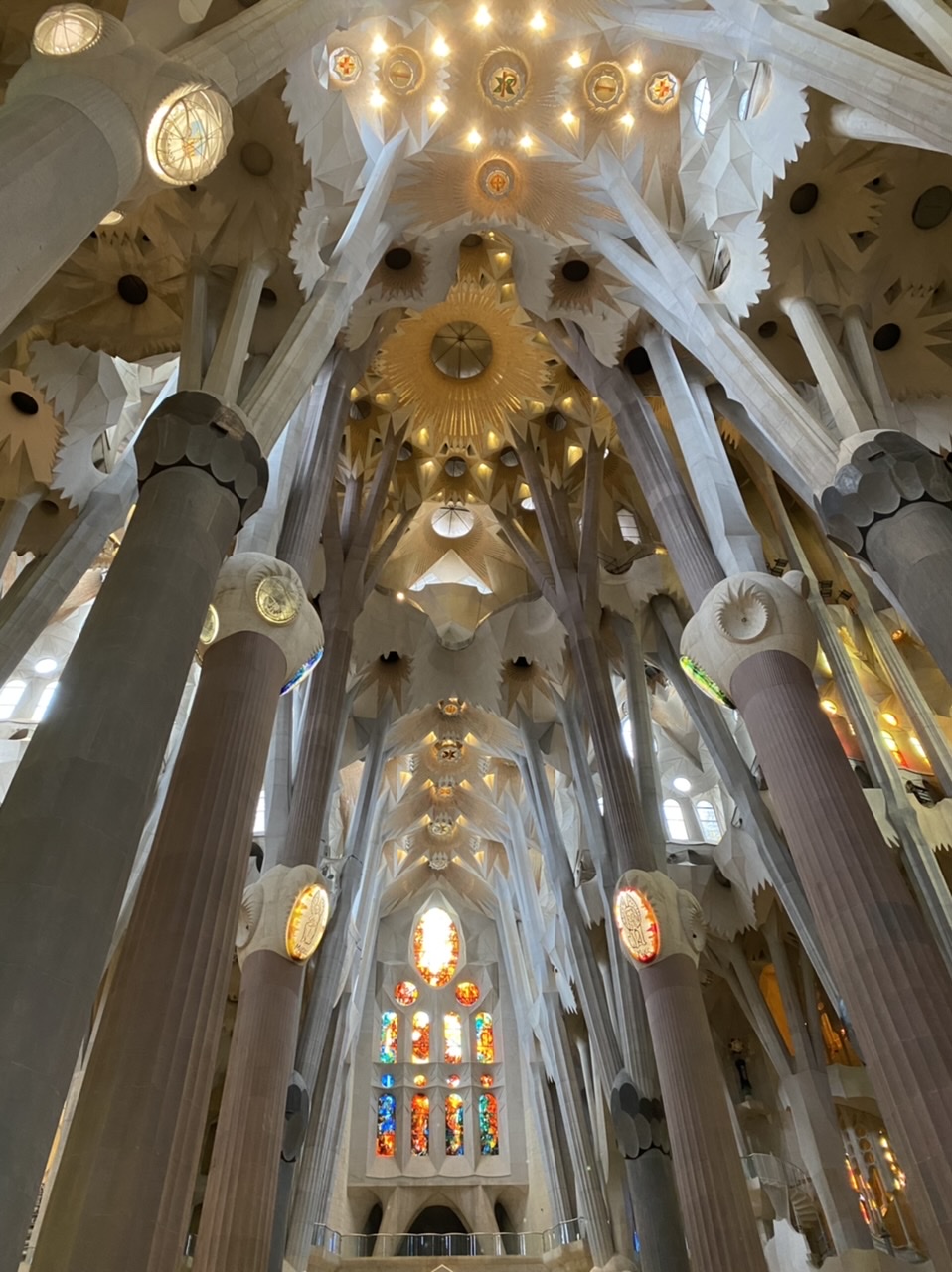 I was stunned.
It's quite simply the most gorgeous religious building I've ever been in in my life.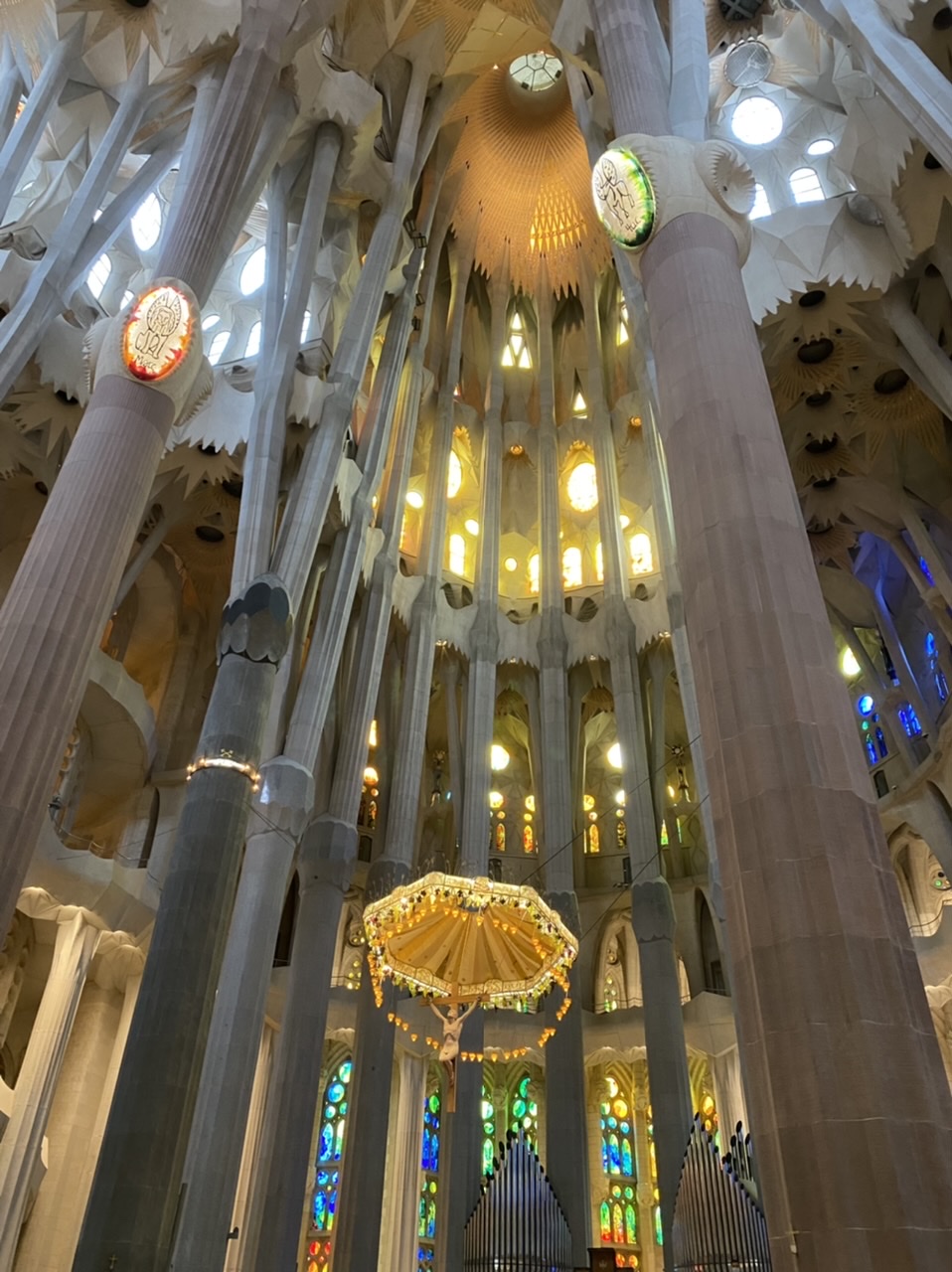 We wandered slowly, listening to the audio tour describe the design thinking that went into the interior. Those amazing, soaring columns were designed to look like trees and branches. There's no a single flat surface in there other than the floor. Everything is geometry and symbolism and colour. And those windows…
After we finished our tour of the inside, we exited on the side with the Passion Façade. Dedicated to the suffering of Jesus during the crucifixion, it's simpler than the Nativity facade and reminds you again of the bones of a skeleton.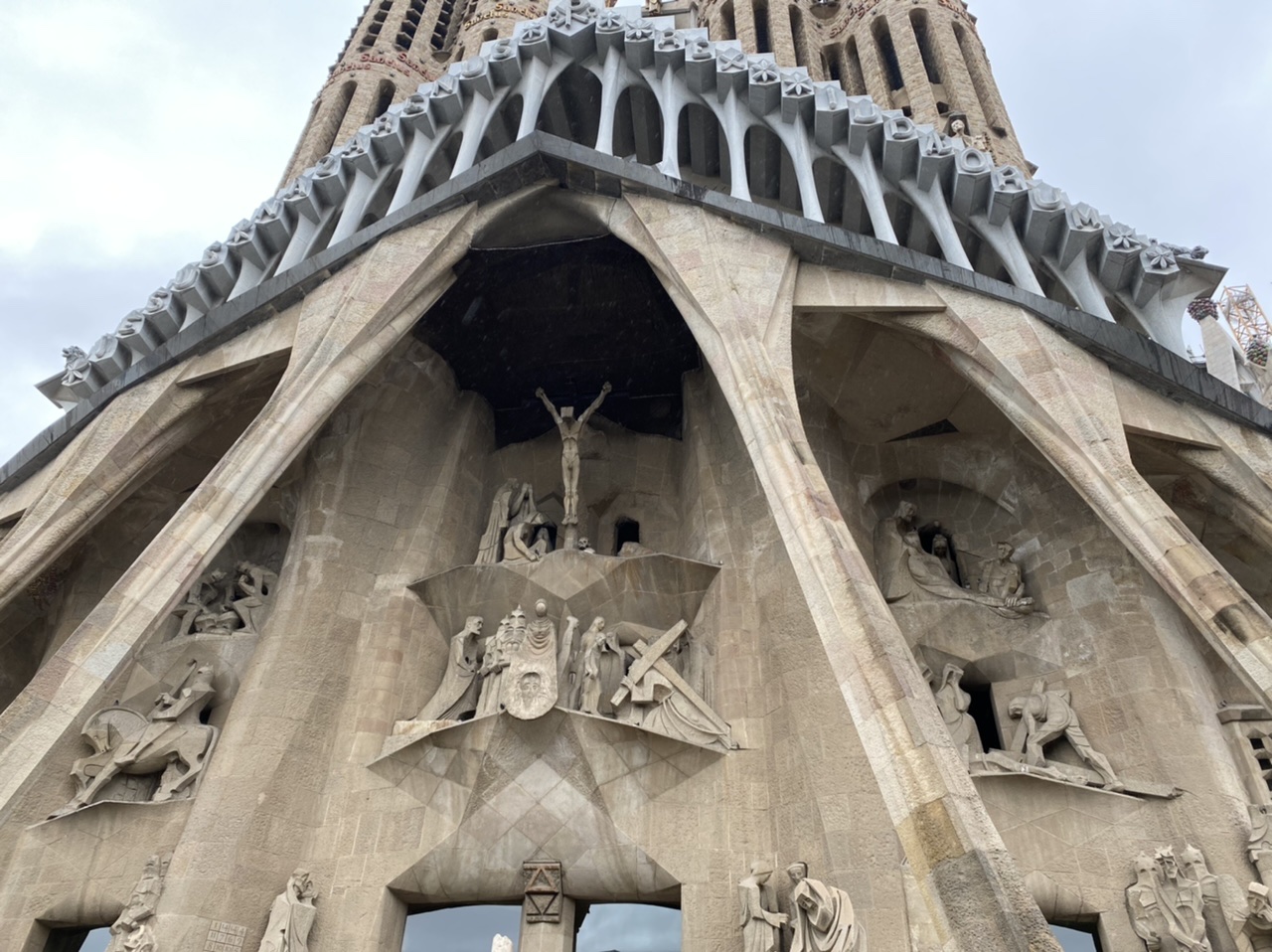 I was really drawn to the blocky, geometric sculptures on this side. I found them so expressive and haunting.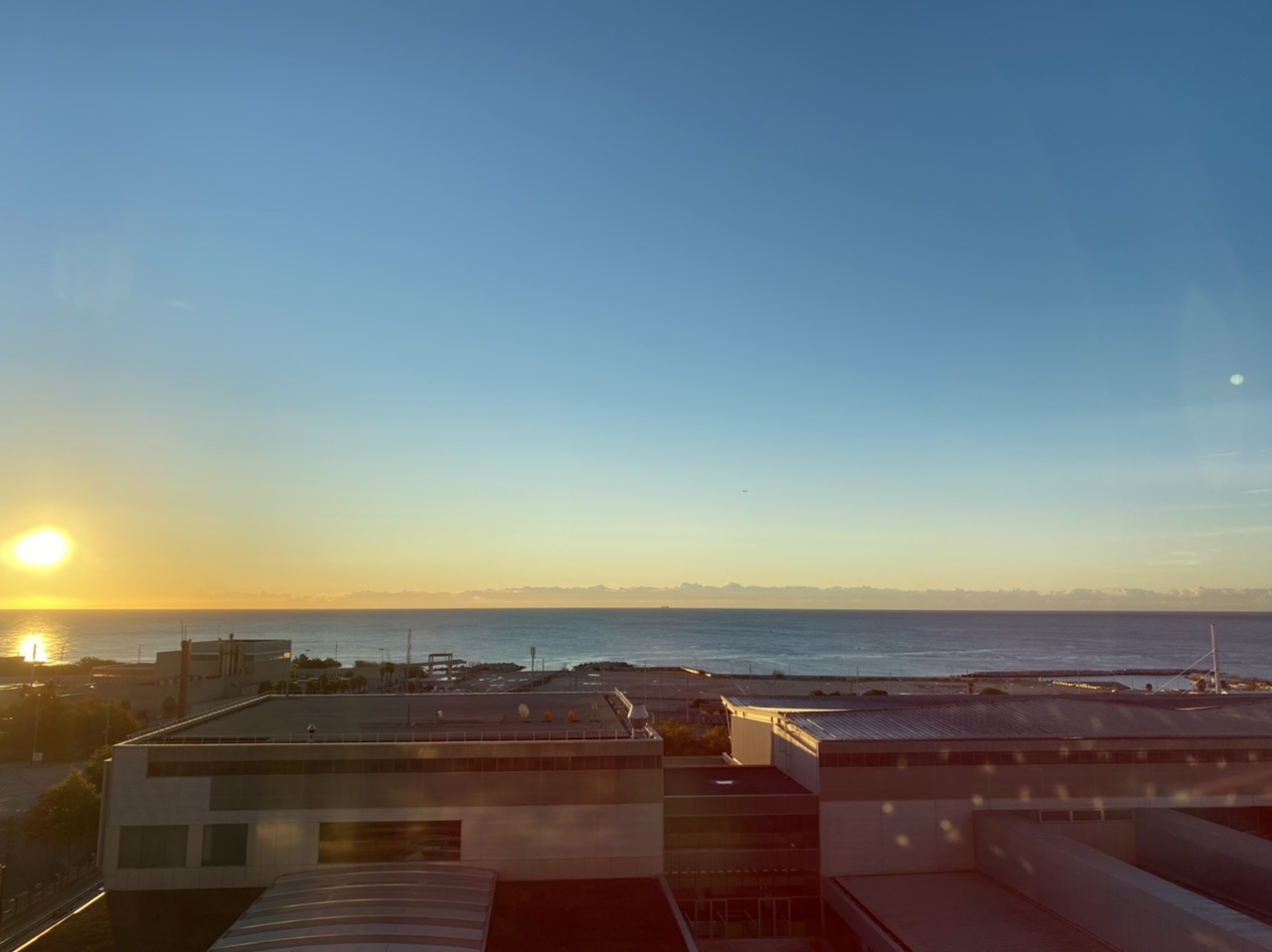 The sunset from the hotel roof bar was pretty spectacular too (even though it was too cold to swim in the pool).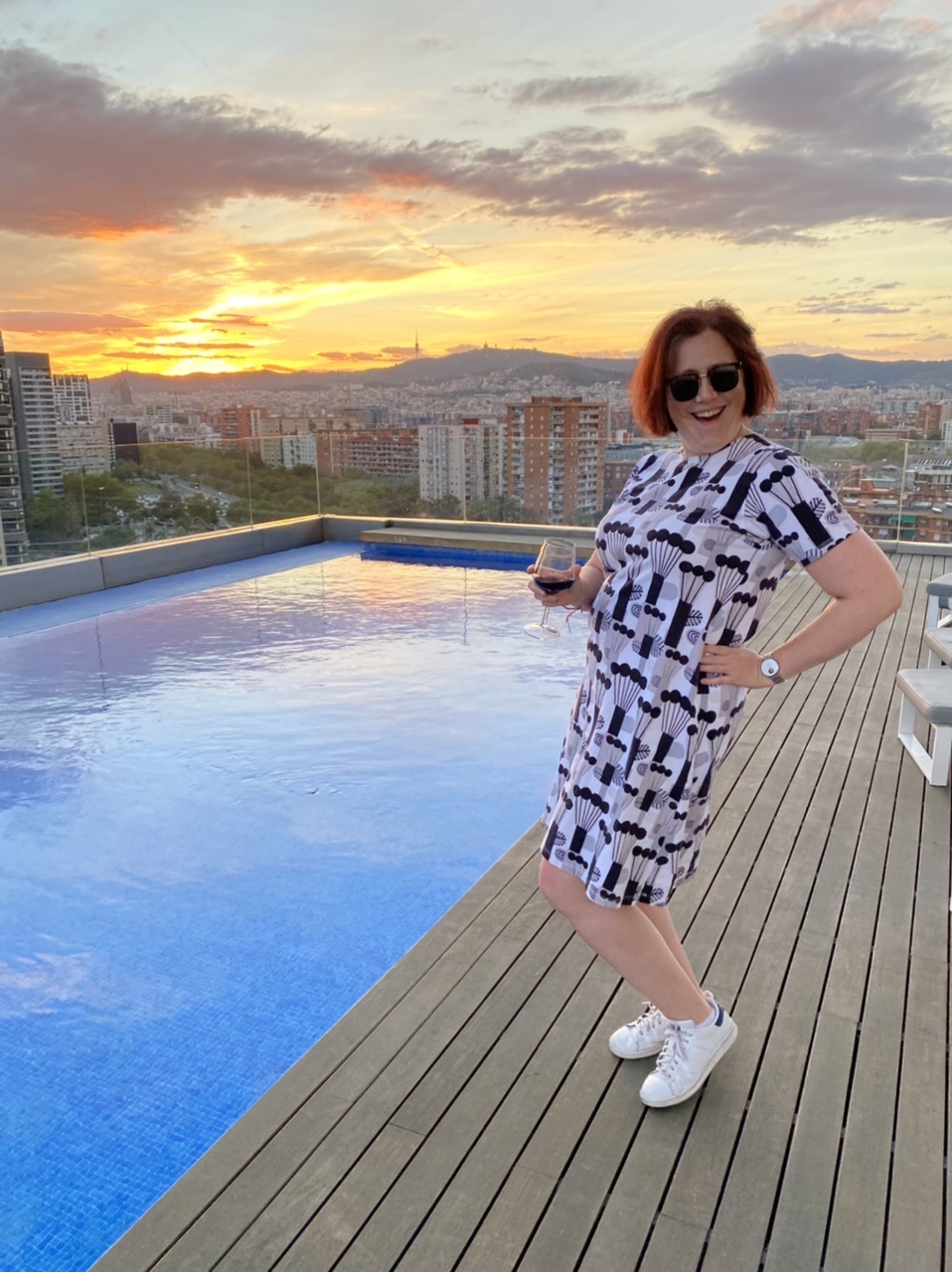 I did get to visit one more of Gaudi's works before we left – Casa Figueres.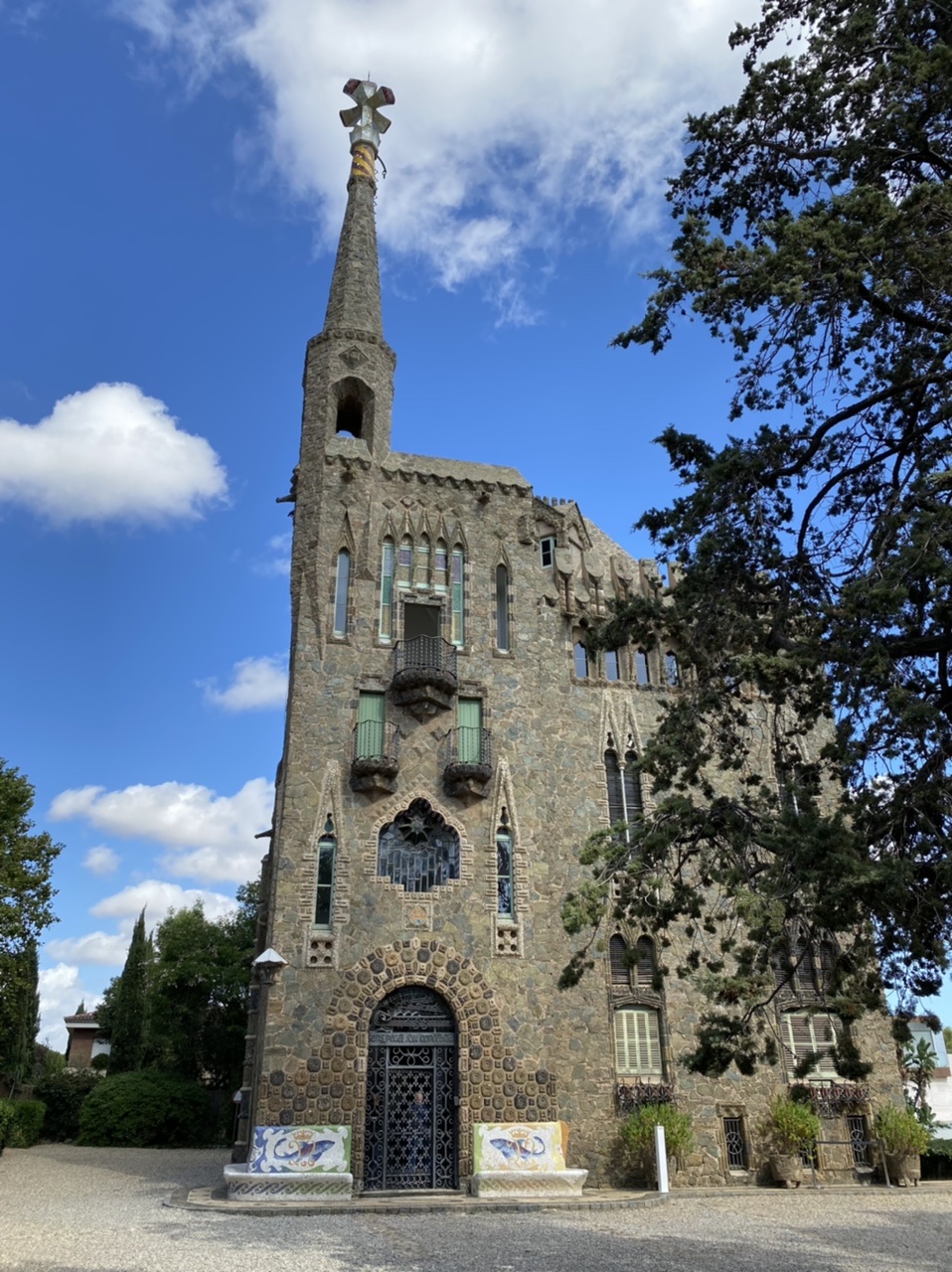 This modernist manor house is like a castle, and it features more of the trencadis that I like so much.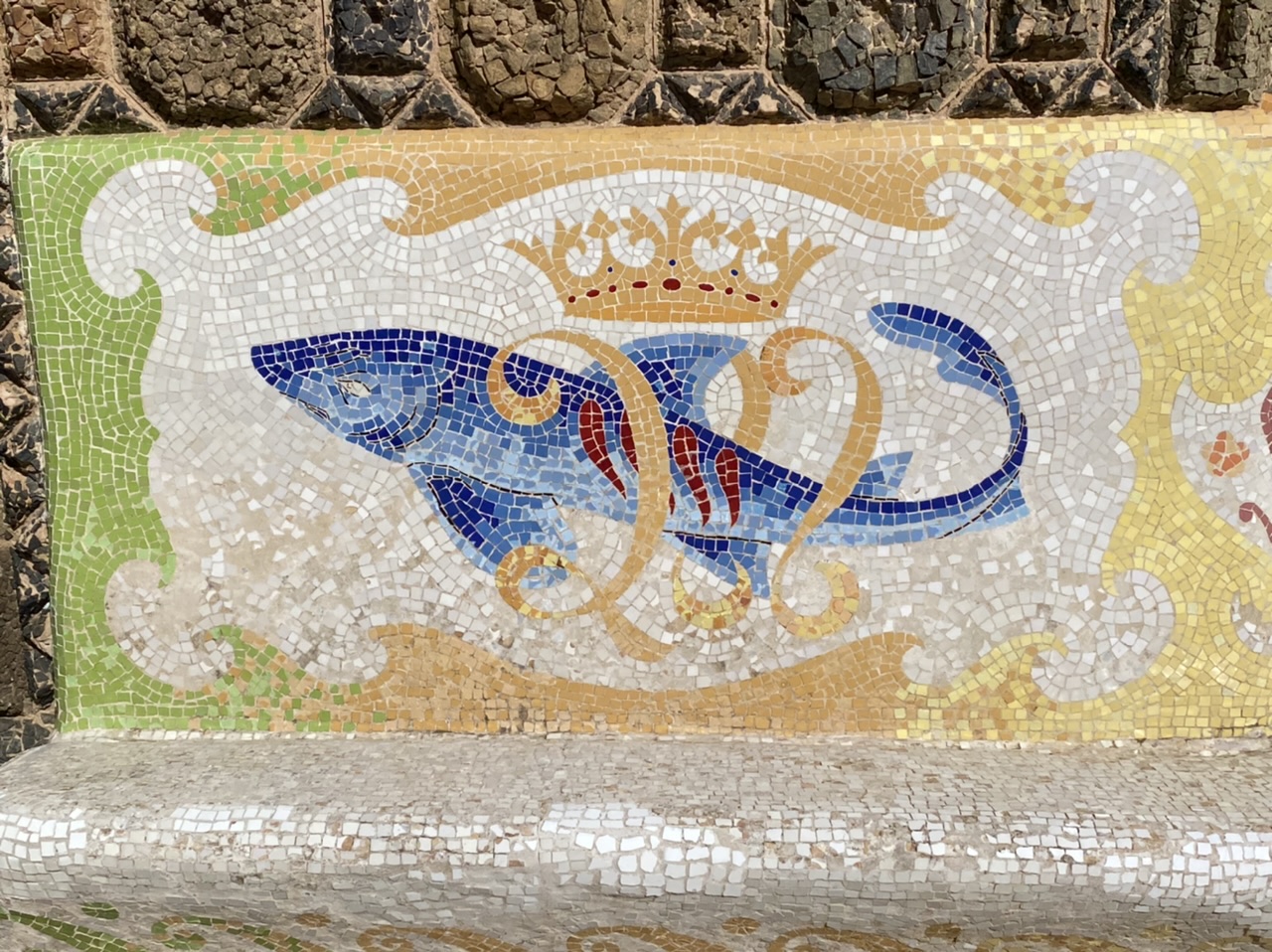 The home is still privately owned, but they do let you tour inside now so you can see some of the interiors.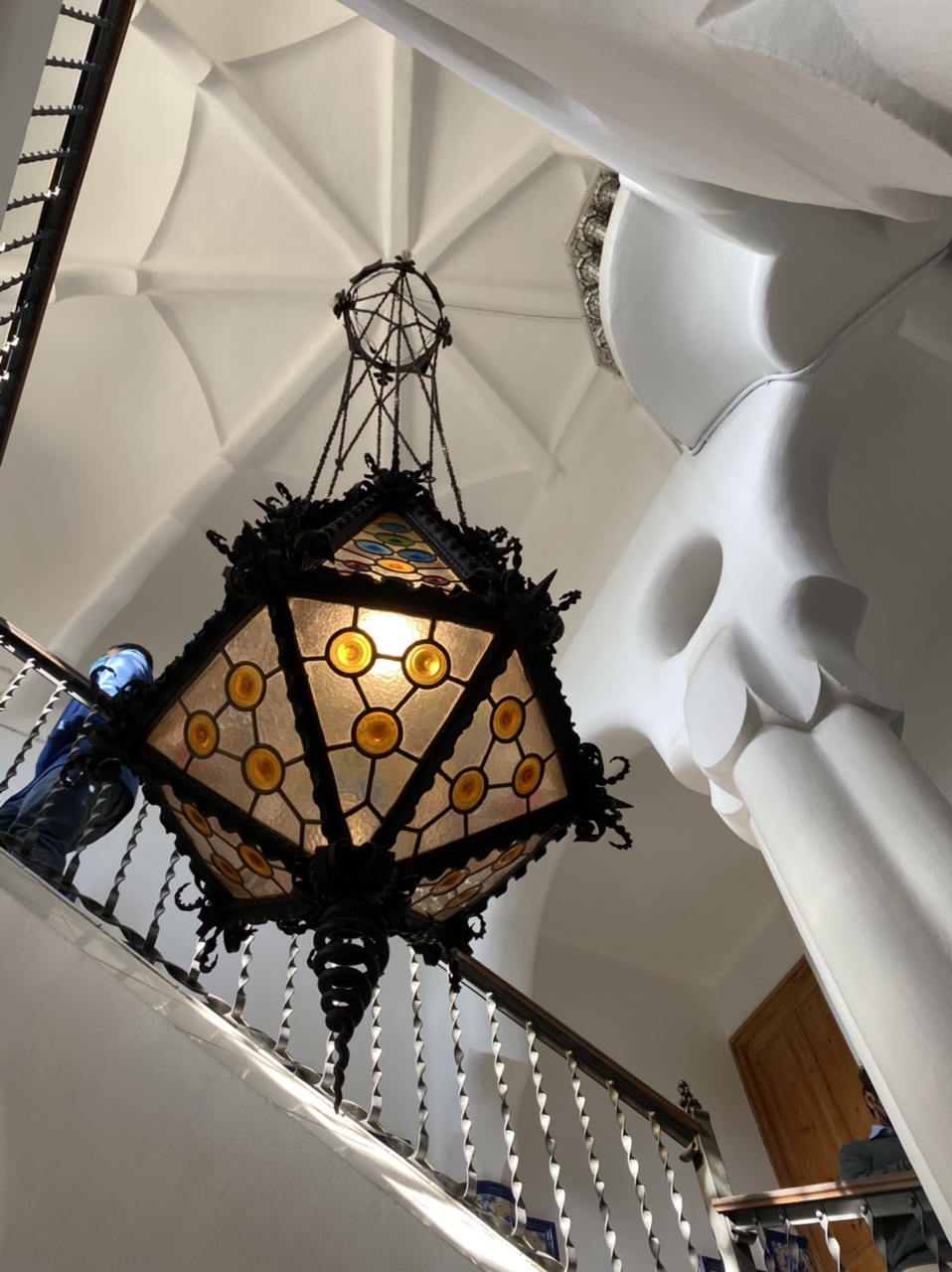 It still is highly decorative with organic shapes, but it's also simpler and more suited to a house. I liked it a lot.
Upstairs we could see the front balcony, surrounded with beautiful panes of stained glass.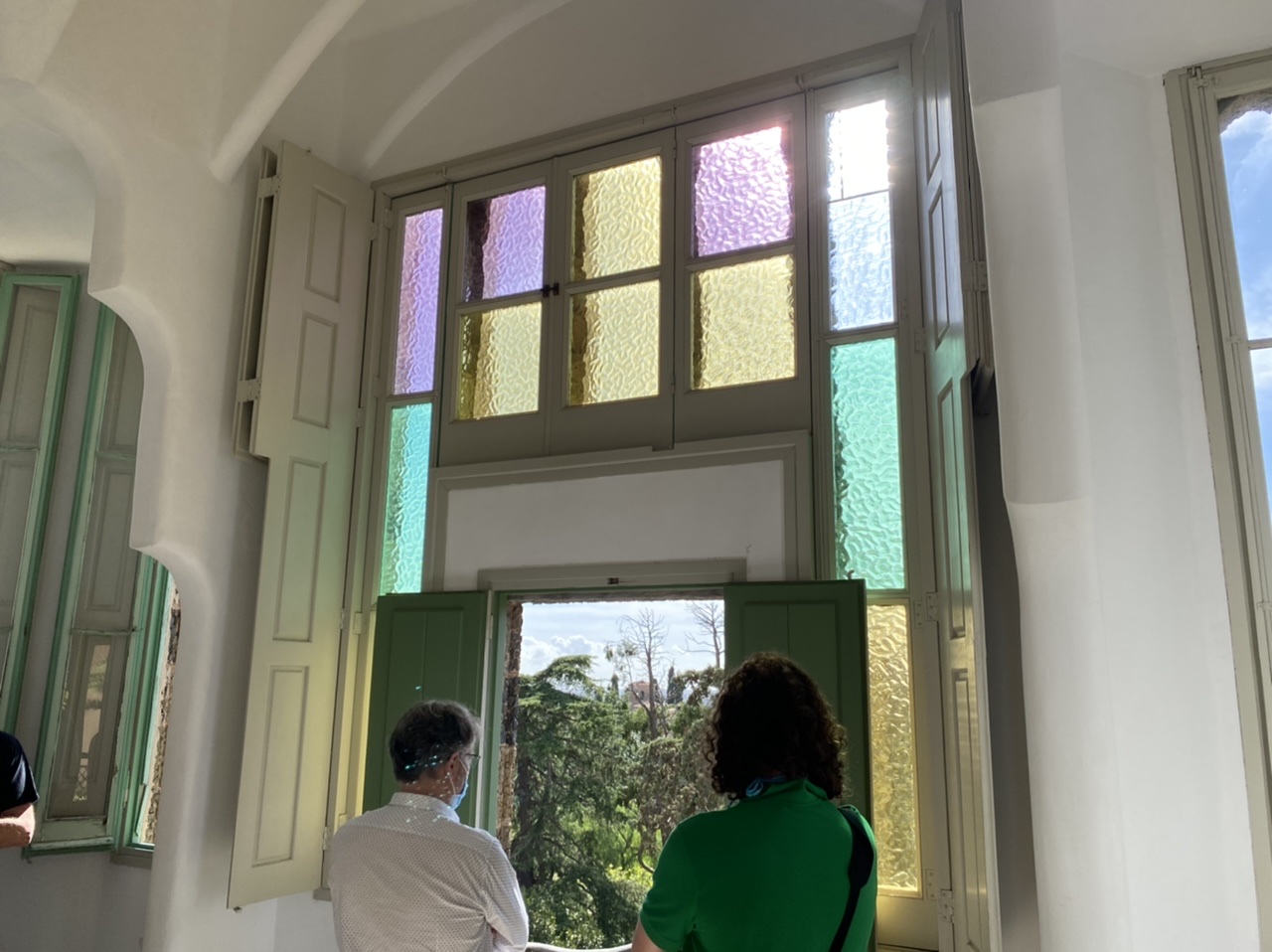 Everyone got a turn to take a look out at the view…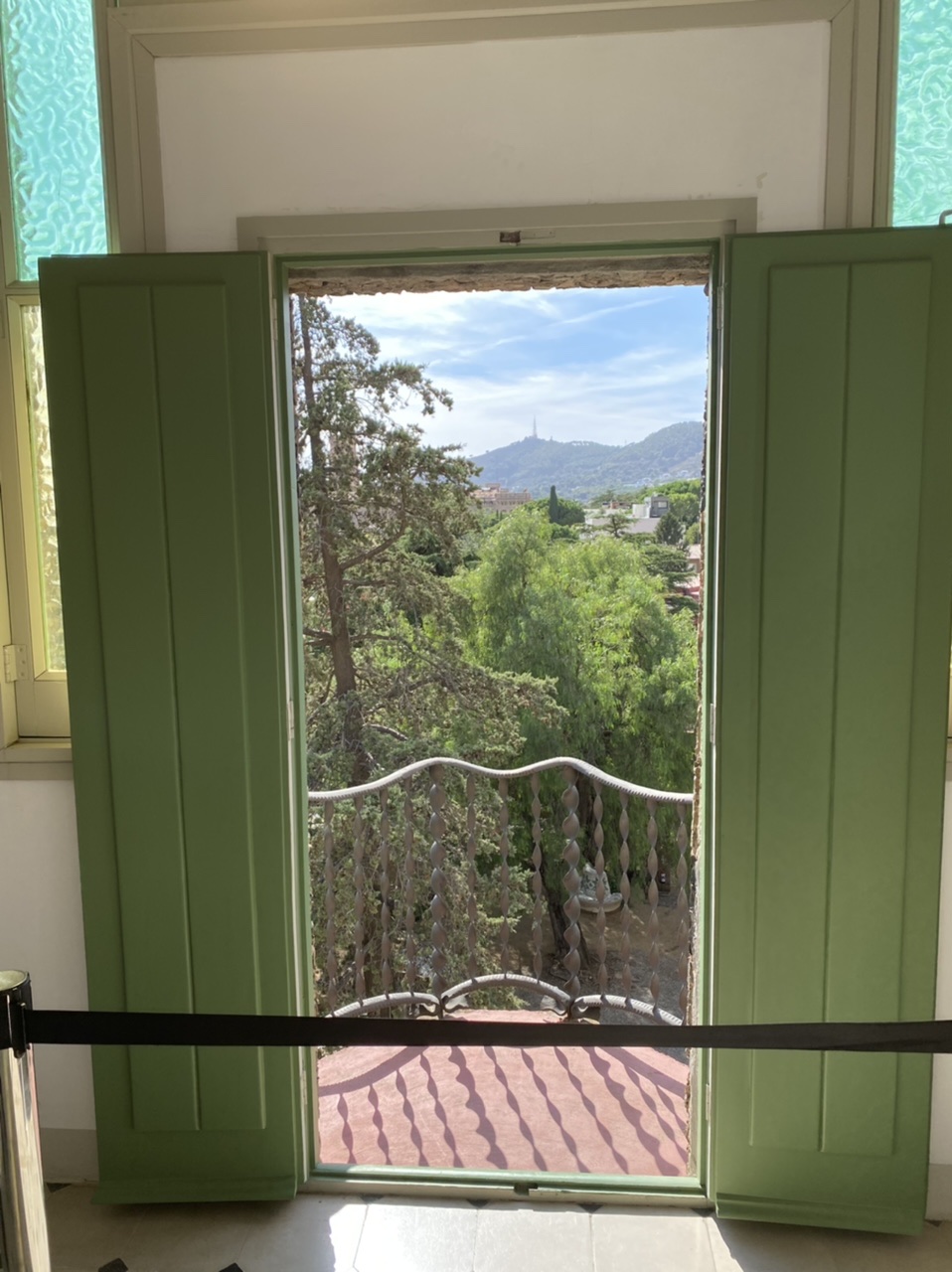 Our tour continued to the attic. It's unfinished, but I loved the M.C. Escher like brickwork supporting the pinnacled roof.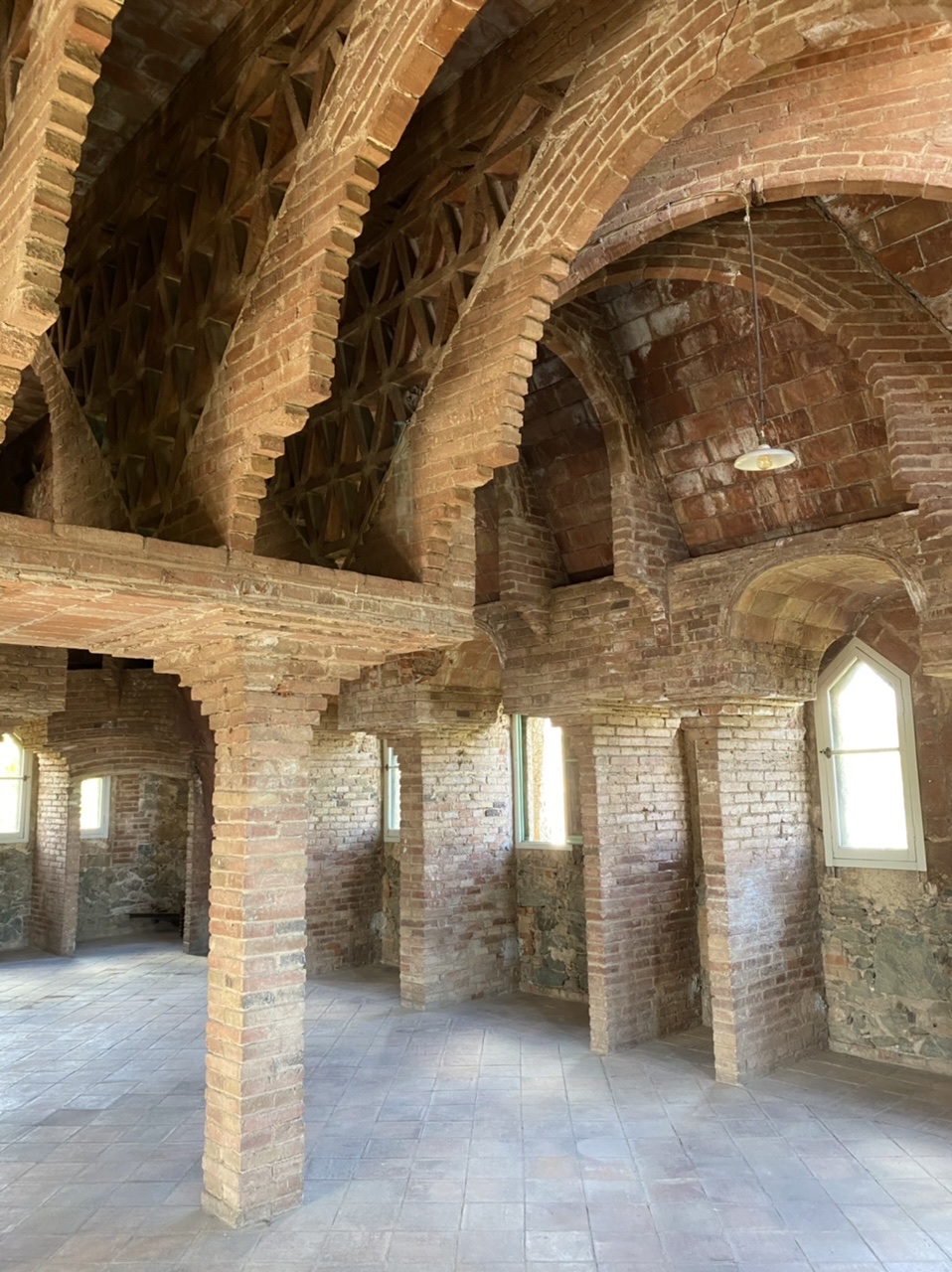 I stepped up to one of the windows to take a look back towards the sea.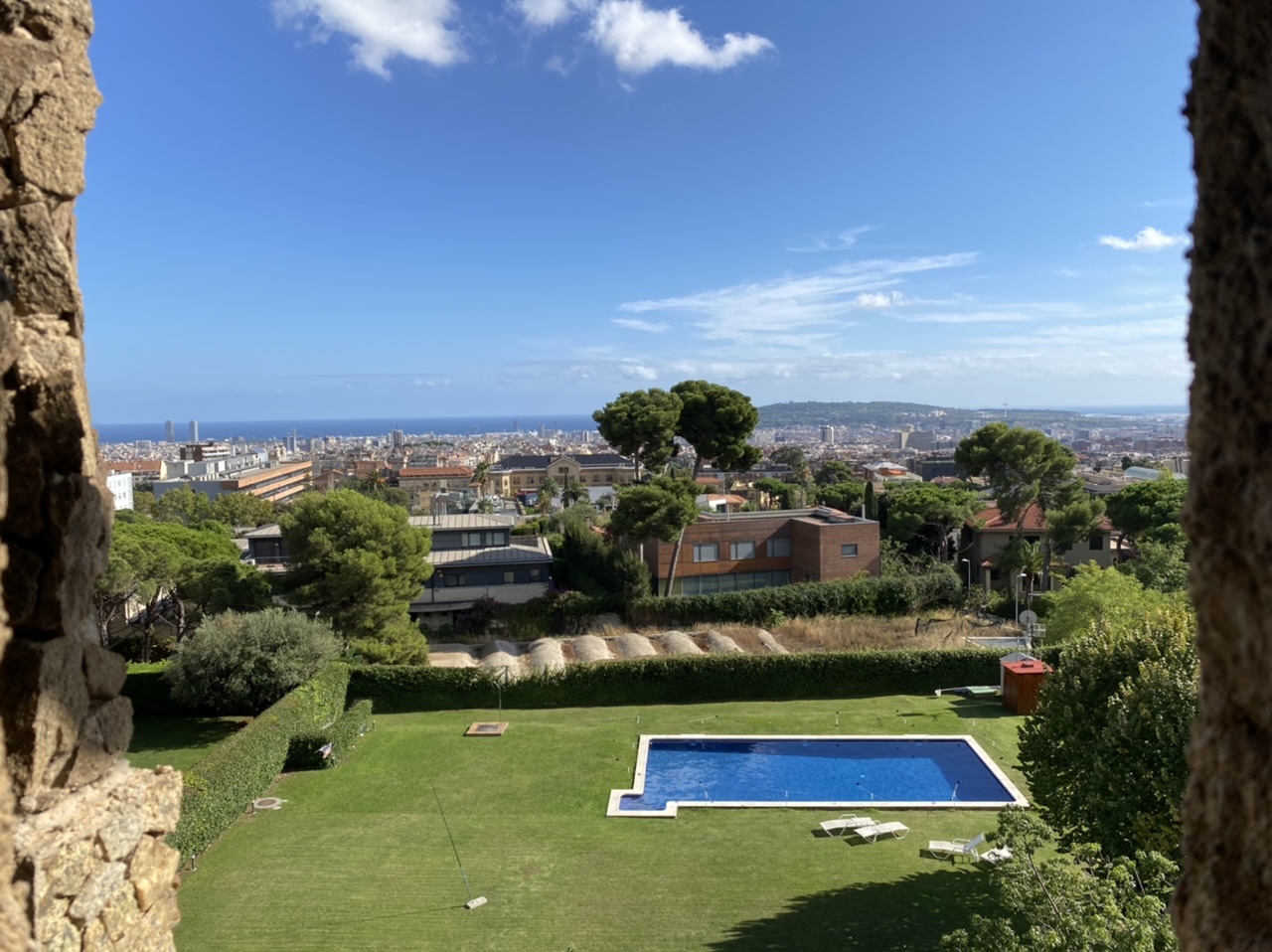 To my surprise, the tour then continued outside and up a hidden staircase along the roof.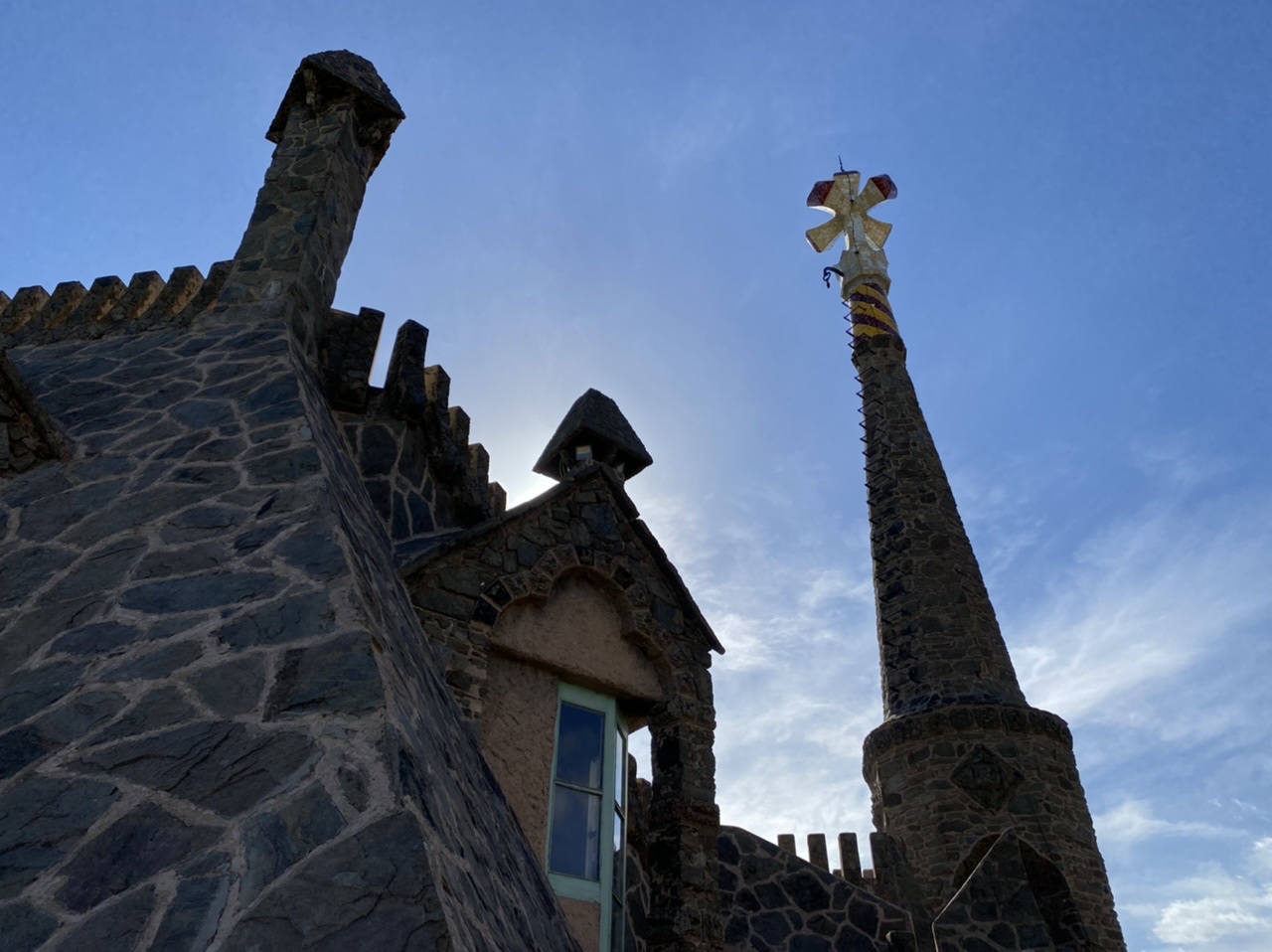 We climbed higher and higher to a walkway around the base of the tower. Again, Gaudi had indulged in his love of dragons. The roof, our tour guide explained, was designed to look like the head of a dragon. The windows are his eyes, and those are his nostrils below.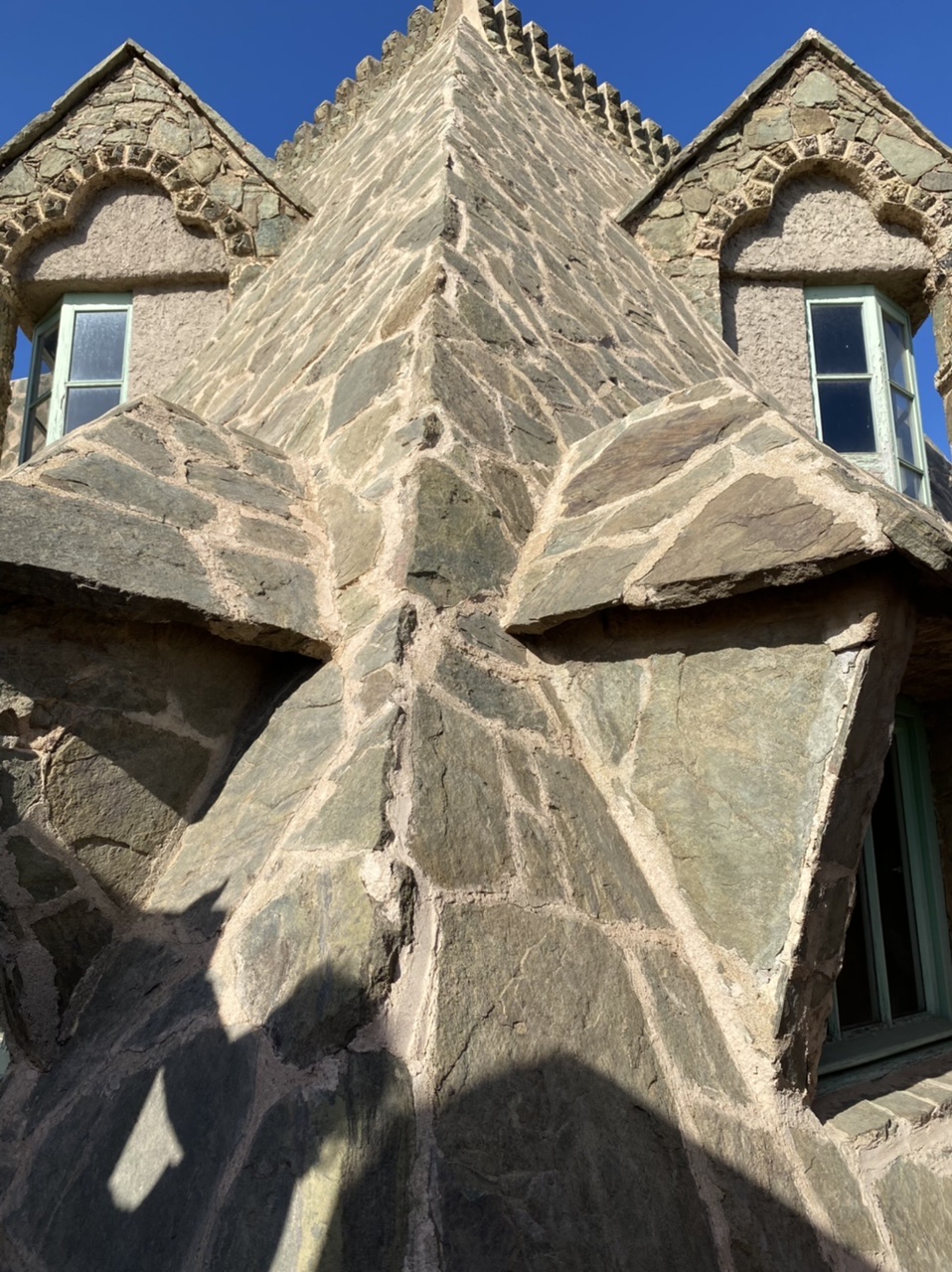 Another stunning view towards the sea, this time from the roof.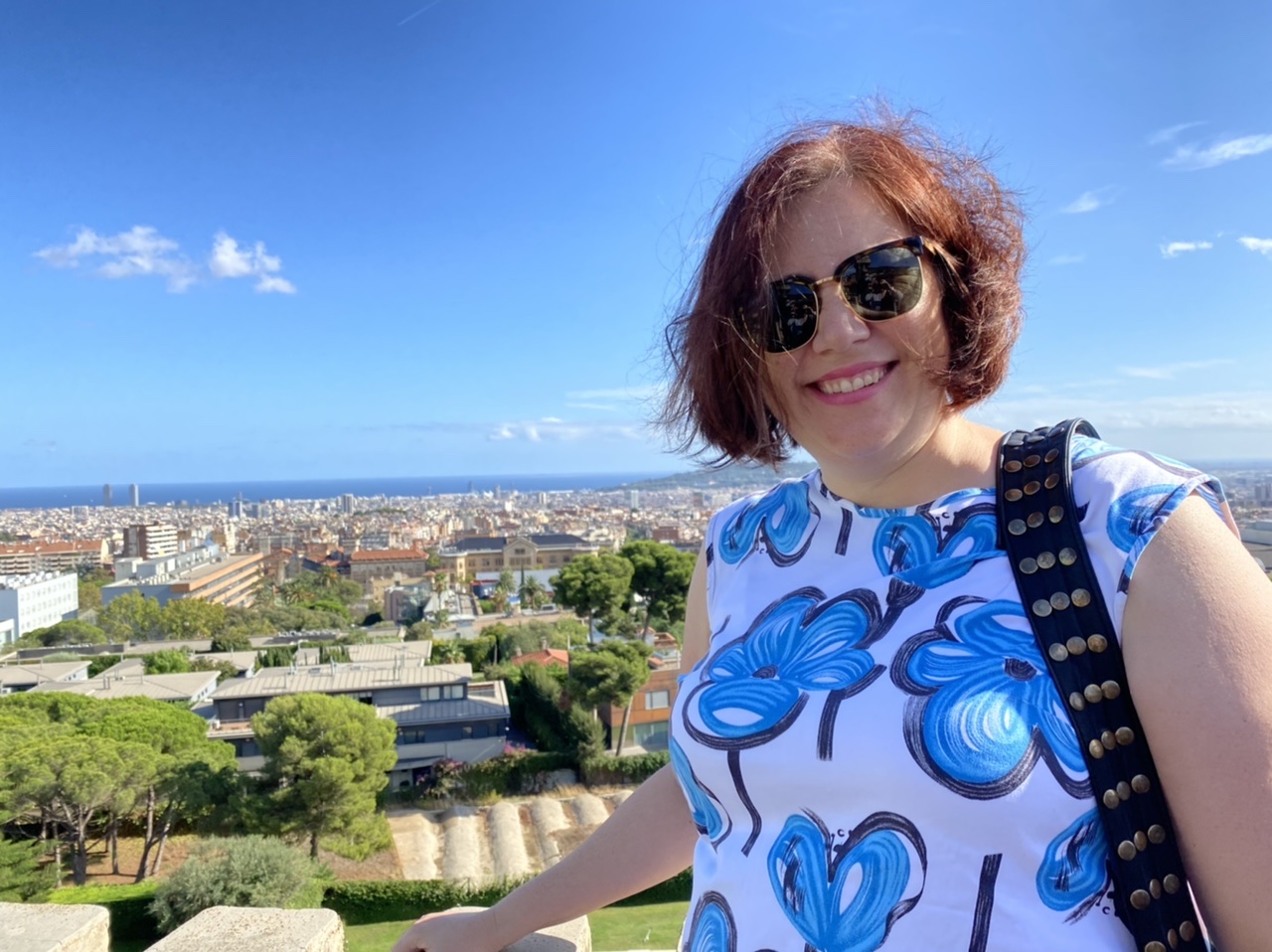 We finished our last night in Barcelona with burgers, patatas bravas, and craft beer at Cerveseria L'Alternativa.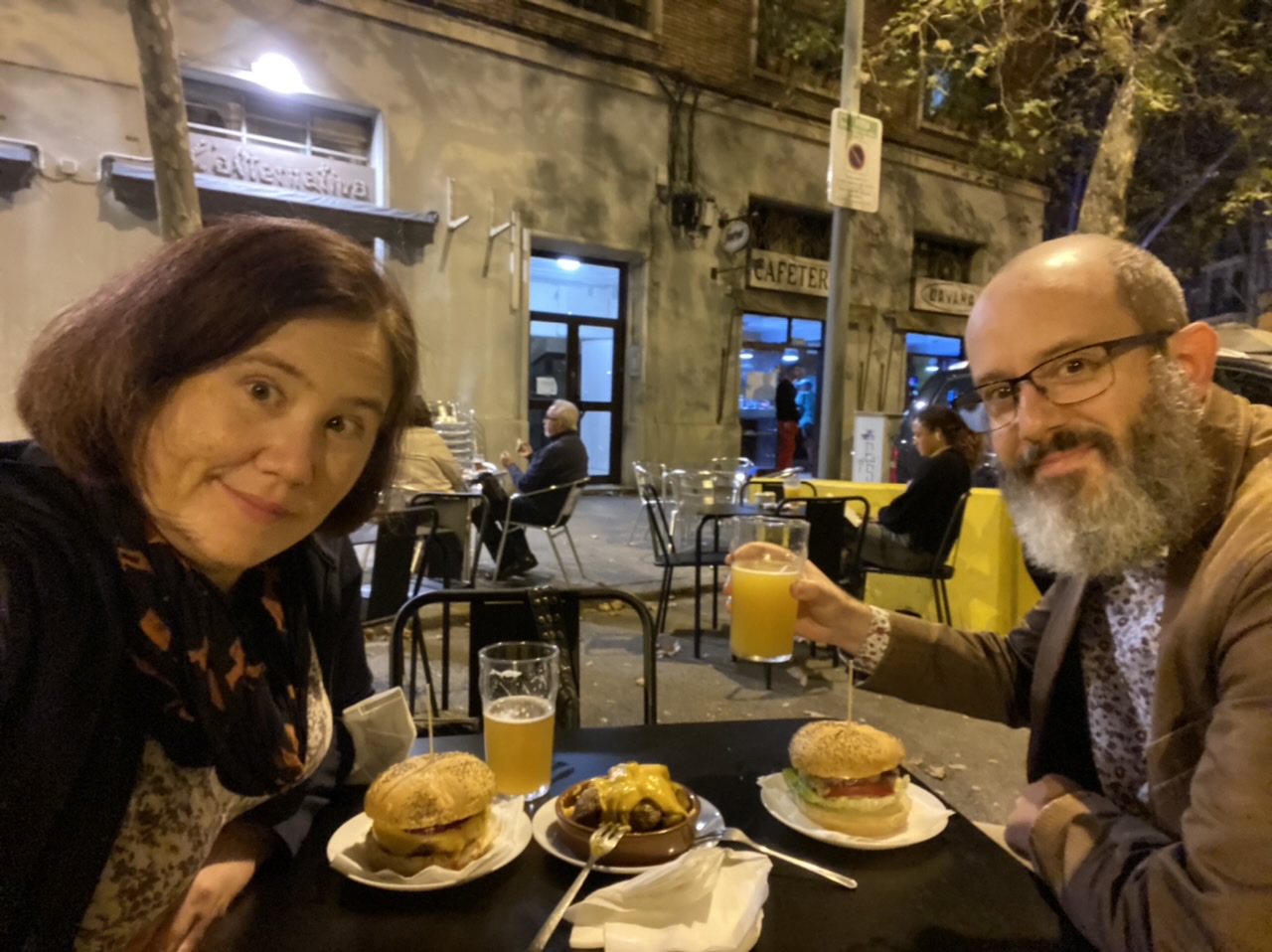 And then we headed home to Munich. It was pretty whirlwind trip filled with great food, amazing architecture, and a stunning city on the sea…