One of my goals before leaving Munich was to hit as many Christmas markets as possible before leaving. We had been to the Munich Residenz Weihnachtsmarkt and the Köln Hafenweihnachsmarkt when we visited in November 2019, but all Christmas markets were cancelled in 2020 and 2021 due to the pandemic. And even though I knew timing would be tight in 2022 since we would be leaving for Australia in December, I still wanted to try.
We ended up visiting 7 of them!
The first was the Praterinsel Weihnachtsmarkt. I had noticed a big sign for it when riding my bike down the Isar in November, and with an opening day of Nov. 10 it was by far the earliest one. That happened to coincide with a visit from our friends Emily and Clare, so we took them along that weekend.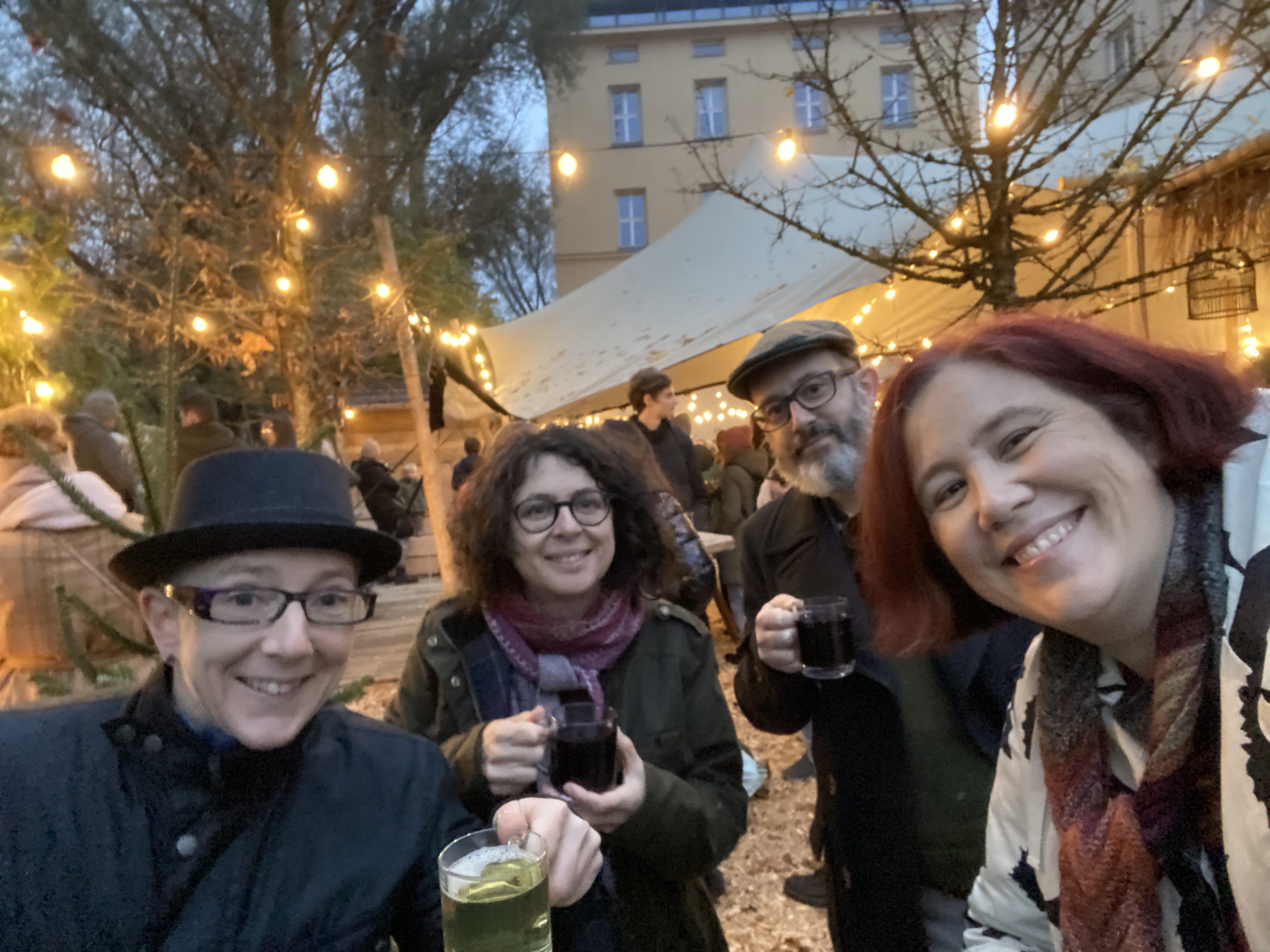 Truth be told it barely qualified as a market, it was so small. It consisted of a couple stalls near the river, and there were a few dozen people standing about drinking glühwein. Still, it was festively decorated and we felt like it was a cheerful start to the holiday season.
A week later was the opening of Das Weihnachtsdorf ("The Christmas village"), the market at the Residenz that we had visited in 2019. We were having dinner with some friends in the city so managed a quick visit beforehand. The market takes place in the inner courtyard at the palace, and the entrance is lit up with neon.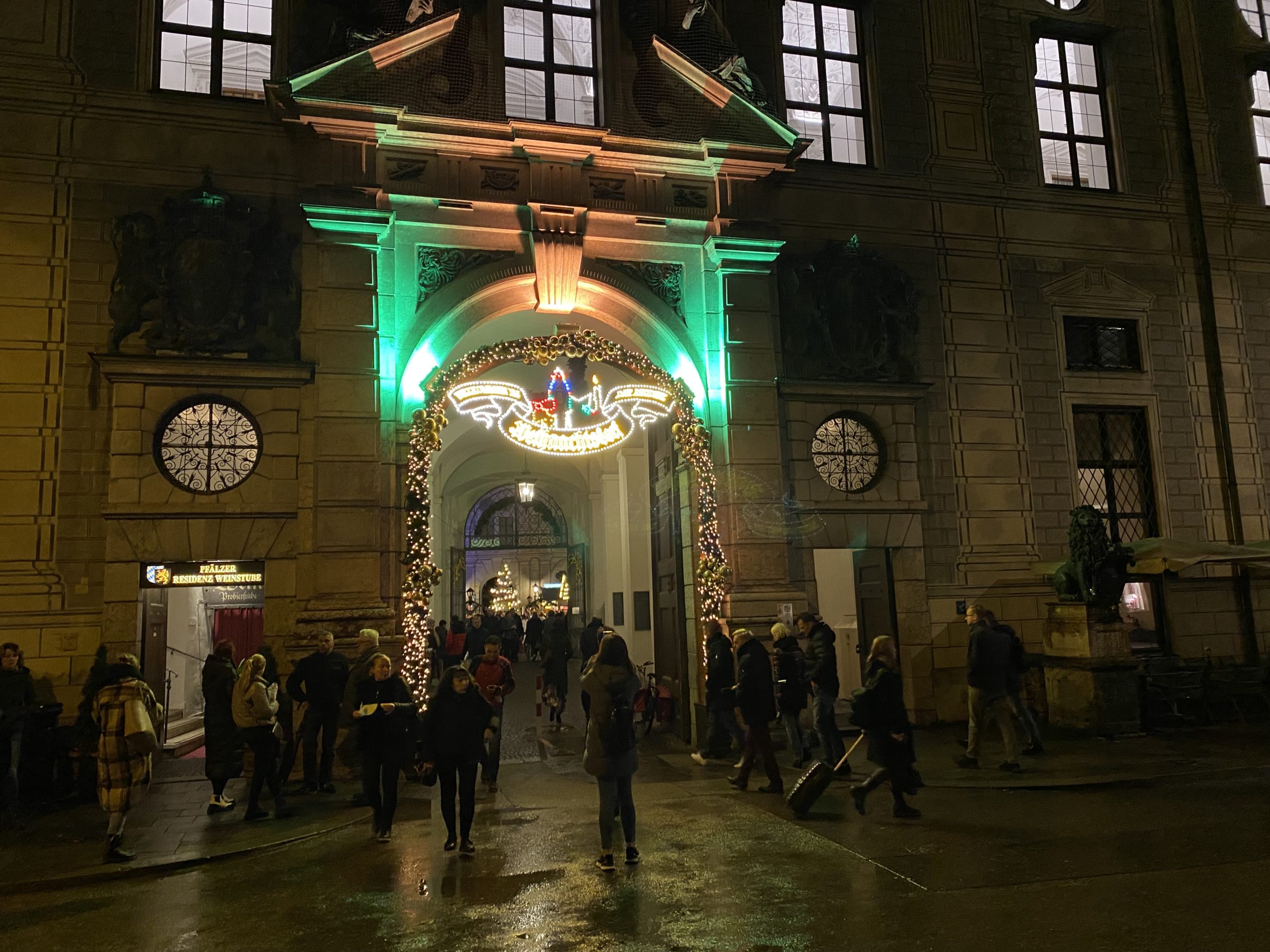 Inside they have lots of stalls selling food, drink, and gifts. It was pretty crowded even though the weather was cold and drizzly.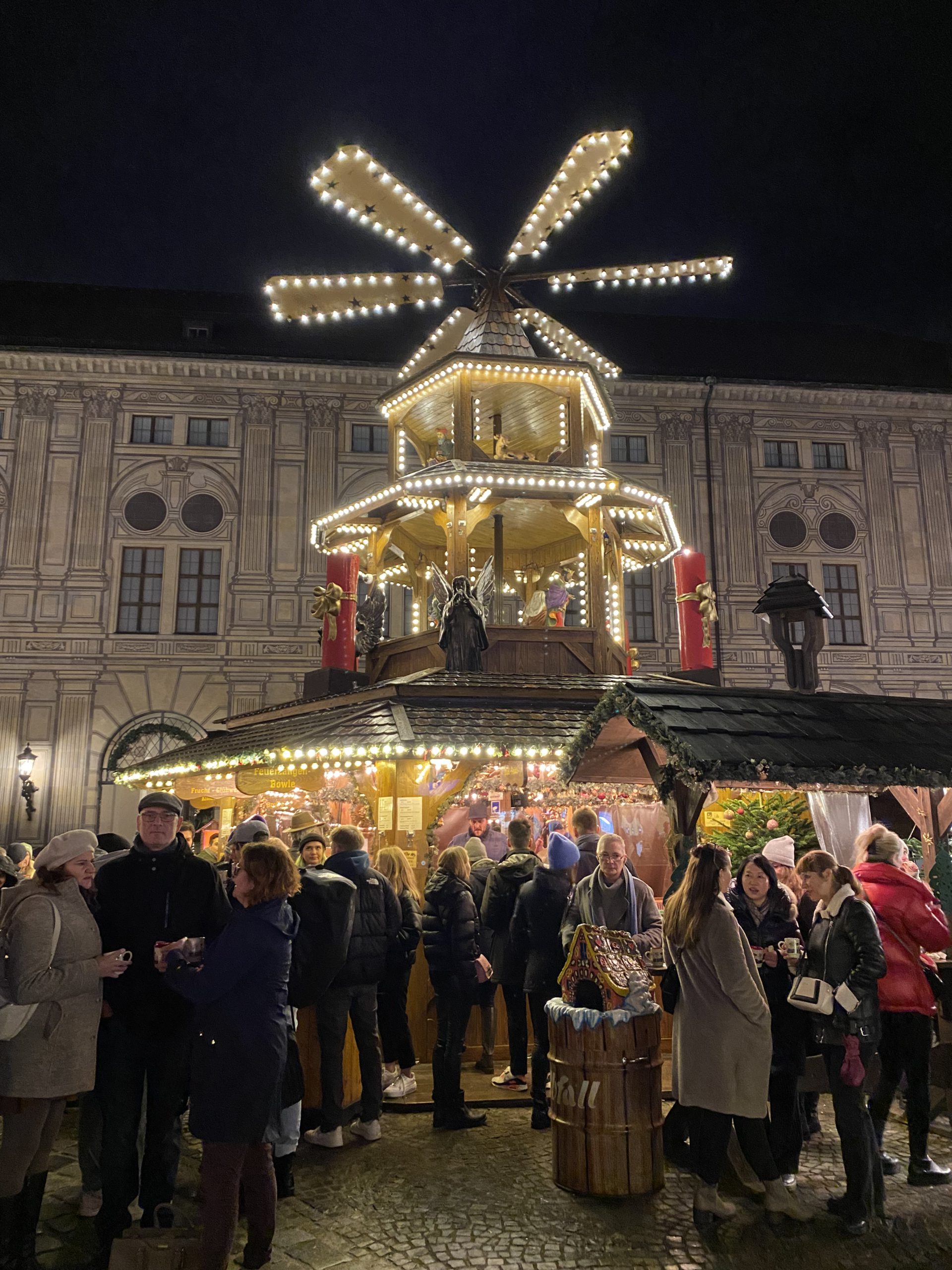 One corner is set up as a Märchenwald ("Fairytale Forest") with animatronic holiday scenes from stories for little kids. The giant robot mouse in the beautiful colourwork sweater was a particular favourite.
We had Glühwein as we had done three years earlier. We were standing there sipping our hot mulled wine and feeling quite relaxed when suddenly we realised we had made a major error on our first visit. All of the Glühwein stalls serve their drinks in real mugs, and you usually pay a couple extra euros deposit ("Pfand") that you get back when you return the mug. Back in 2019… we did not understand this. We thought the mugs were commemorative and that we had purchased them. Whoops. 😳 And that's how we ended up with two Residenz Weihnachtsmarkt mugs in our cupboard for the past three years! (Sorry!!)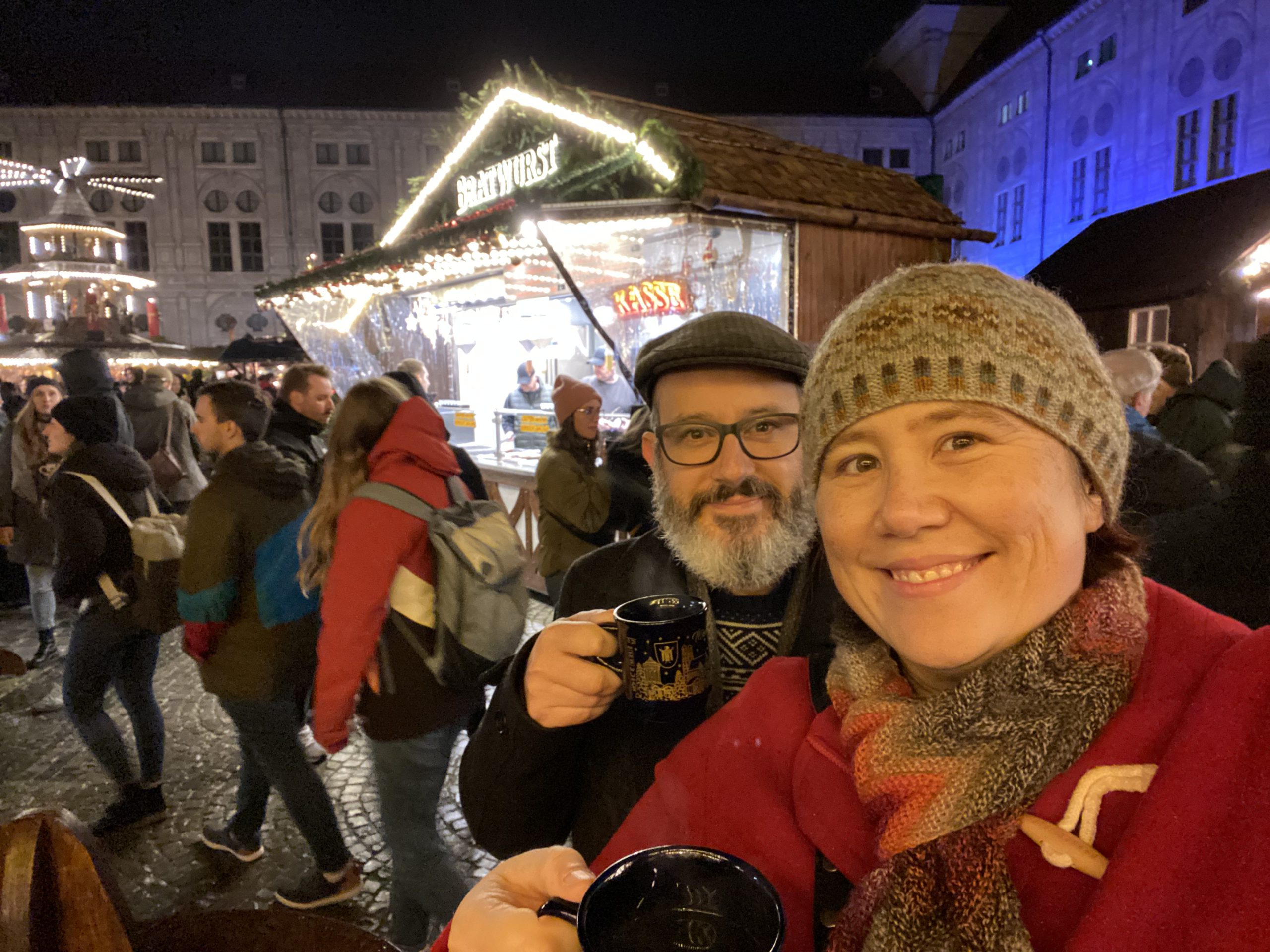 Our third Christmas Market of 2022 was "La Magie de Noël" in Paris, which you can read all about on that blog post.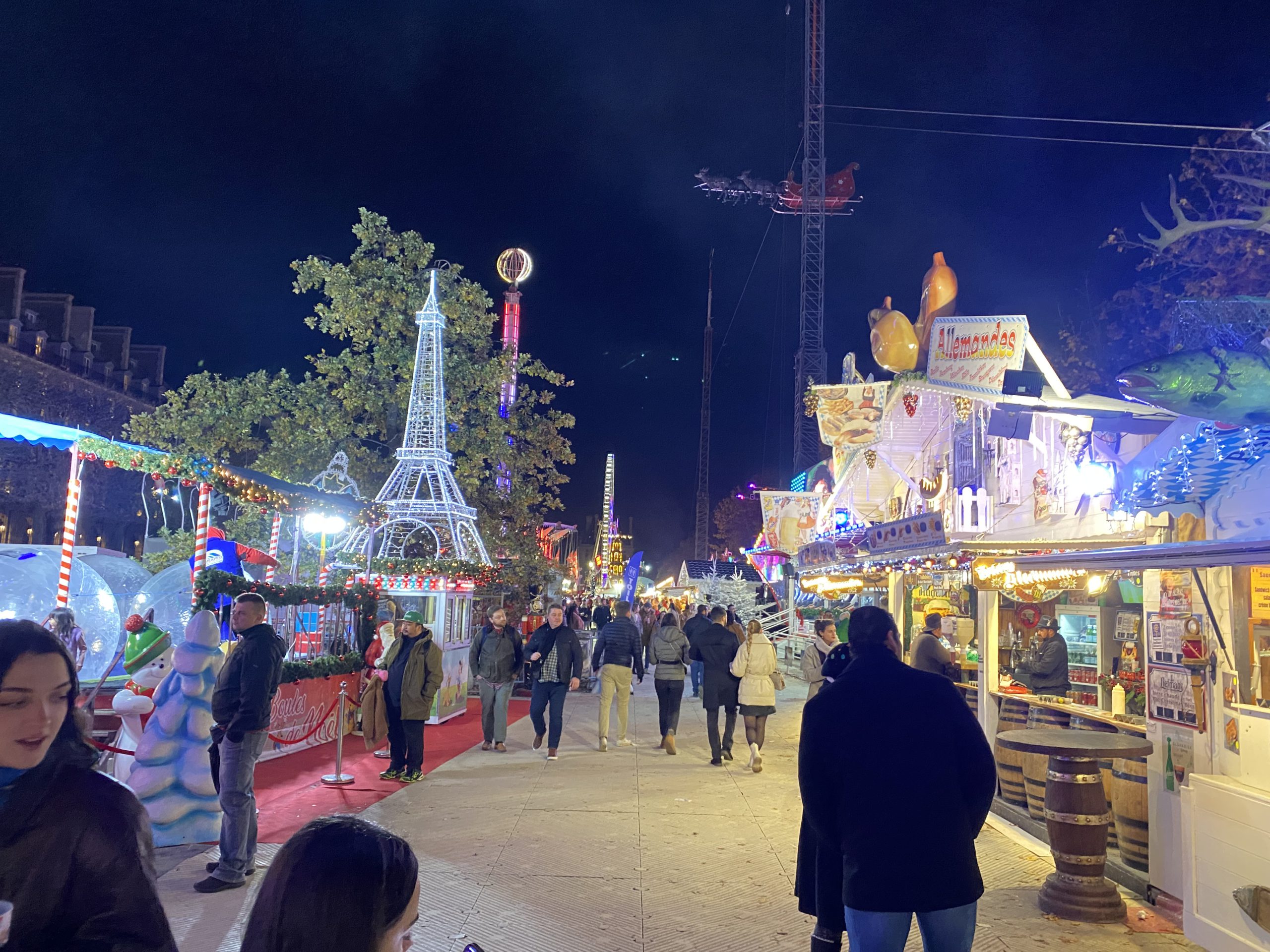 The fourth market was actually two of them – the Lëtzebuerger Chrëschtmaart and the Wantermaart – in Luxembourg. Again, more photos on the blog post.
The fifth market was back in Munich on Dec. 2 – the Mittelalterlicher Weihnachtsmarkt ("Middle Ages Christmas Market"). Rodd had found out about this one somehow, and it was right around the corner from my office. We checked it out in the evening, and it did not disappoint. If you'd have asked me ahead of time to imagine a Middle Ages Christmas Market, this is pretty much exactly what I'd picture.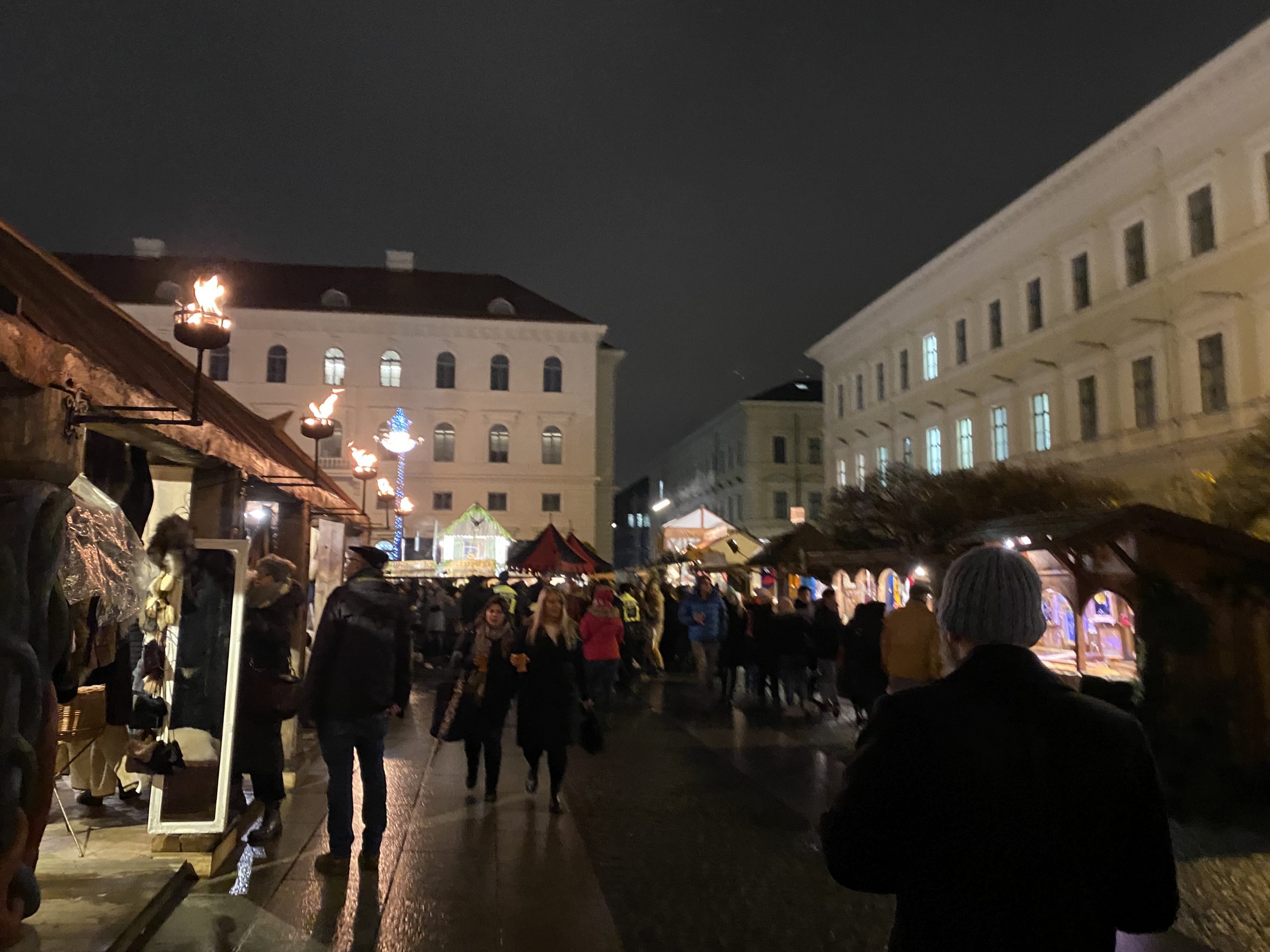 There were rough-hewn wooden stalls selling "ye olde" gifts like drinking horns, medieval dresses, fur slippers, honey candles, and weaponry. All of the vendors were dressed in robes and costume.
You could buy jewelry, dolls, and gear for knights and princesses.
There were also lots of food stalls, including one that was roasting a whole wild boar.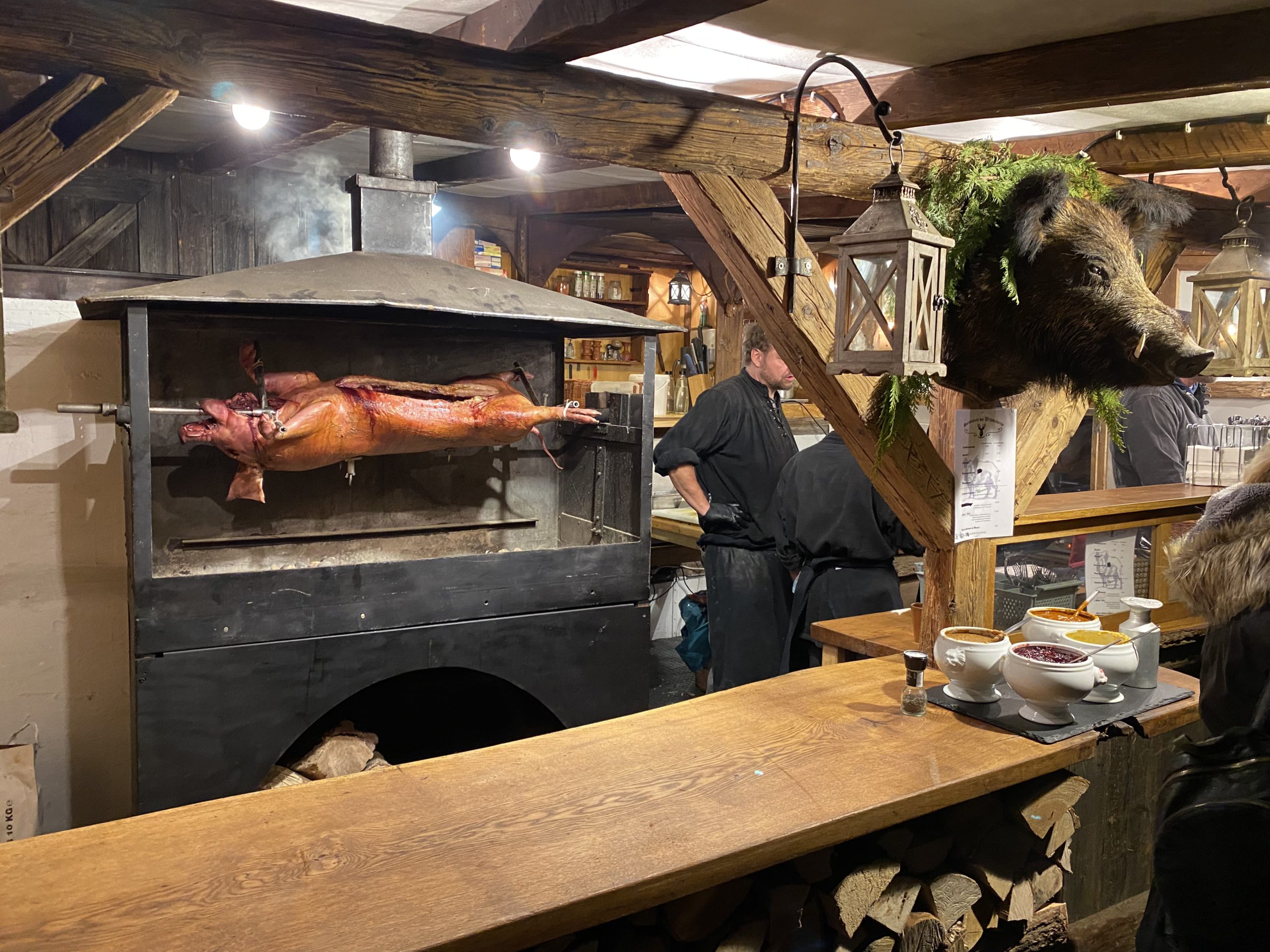 There was glühwein, of course, but beyond that there were several stalls selling more obscure medieval drinks. This one offered Hypocras, a Roman drink of spiced wine that was thought to have medicinal properties.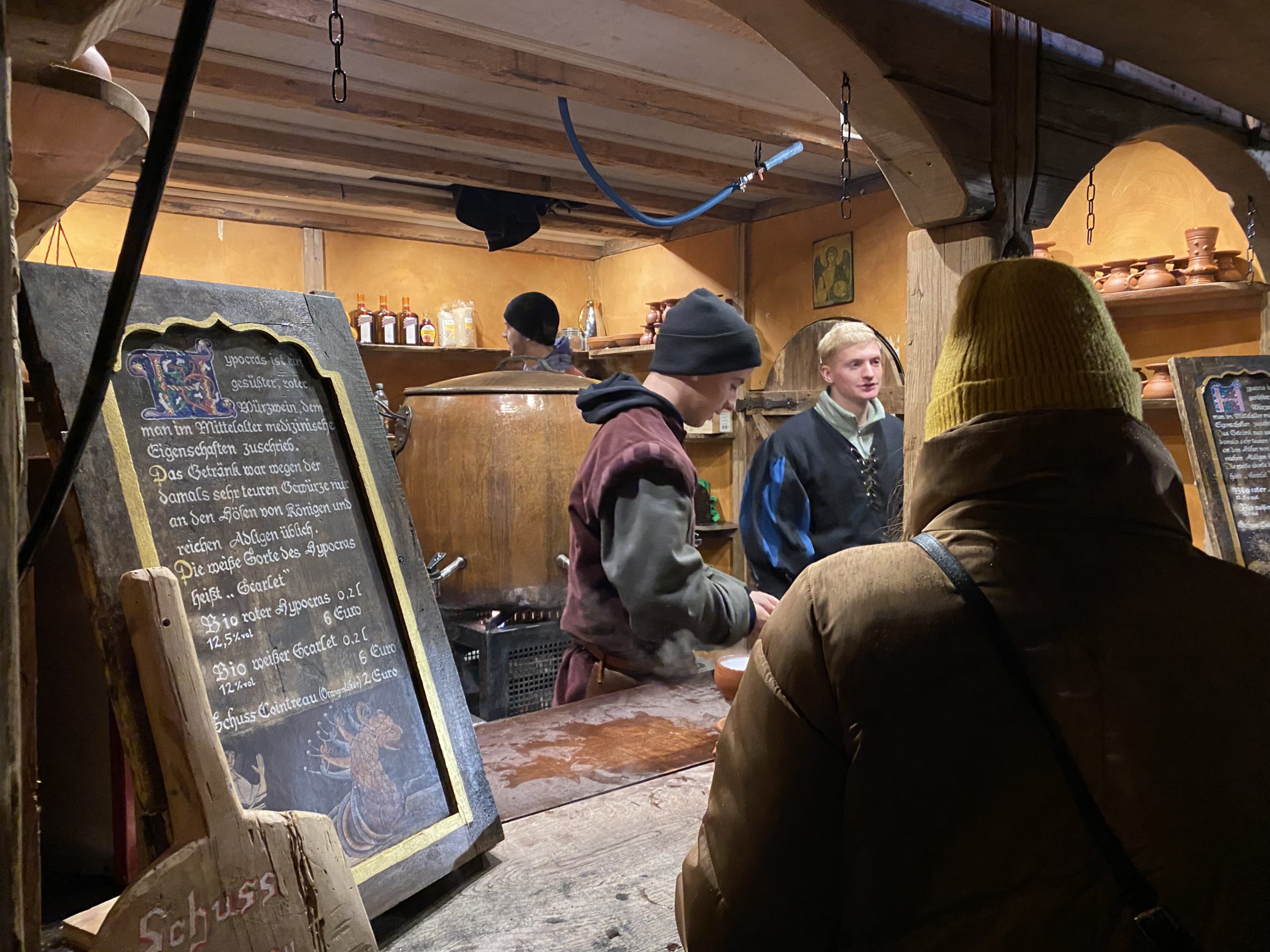 The one I was most excited about was the Feuerzangenbowle ("Fire-tongs punch"). I had seen people drinking out of these odd ceramic cups and was excited to try it. It's a hot mulled red wine, but the cup has a little bowl set into the lip that they set a rum-soaked sugar cube in. And then they light it on fire, and the hot melty sugar runs down into your wine. How bad-ass is that????? (You wait until it goes out to drink it, of course.)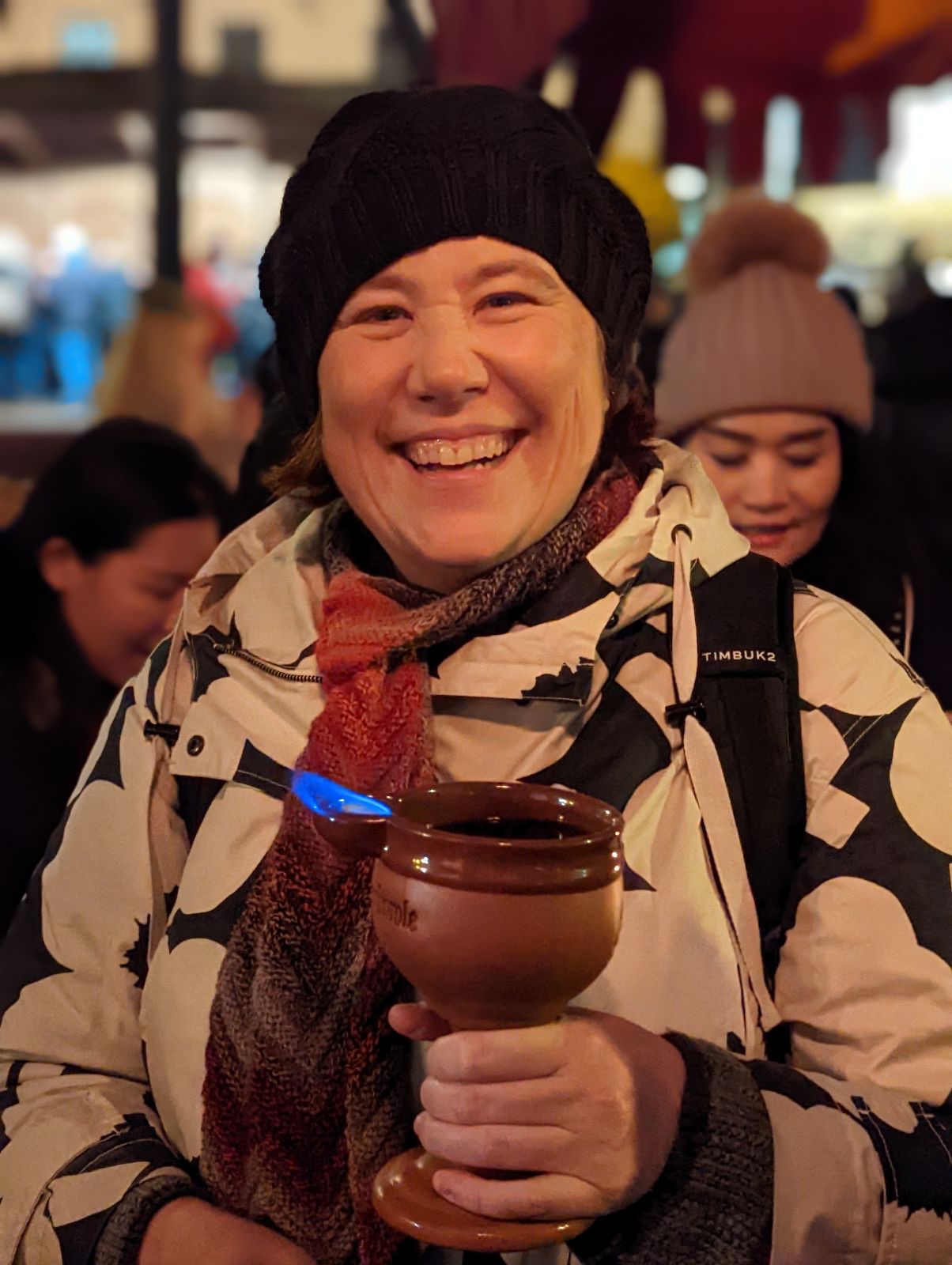 While I was indulging my pyromaniac tendencies, the Snook only had eyes for one stall: the Metschänke ("Mead Tavern").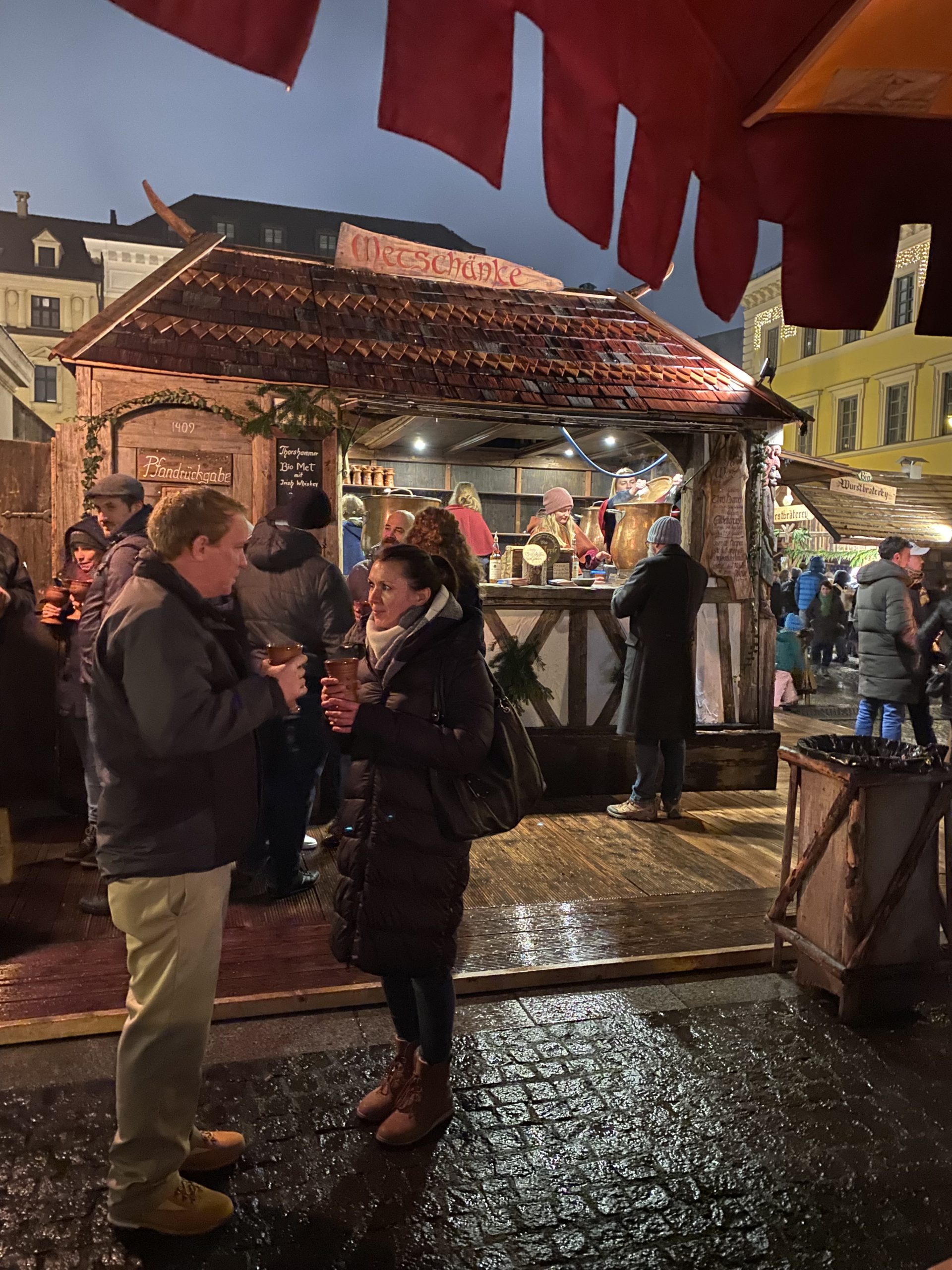 He ended up with a tankard of hot spiced mead.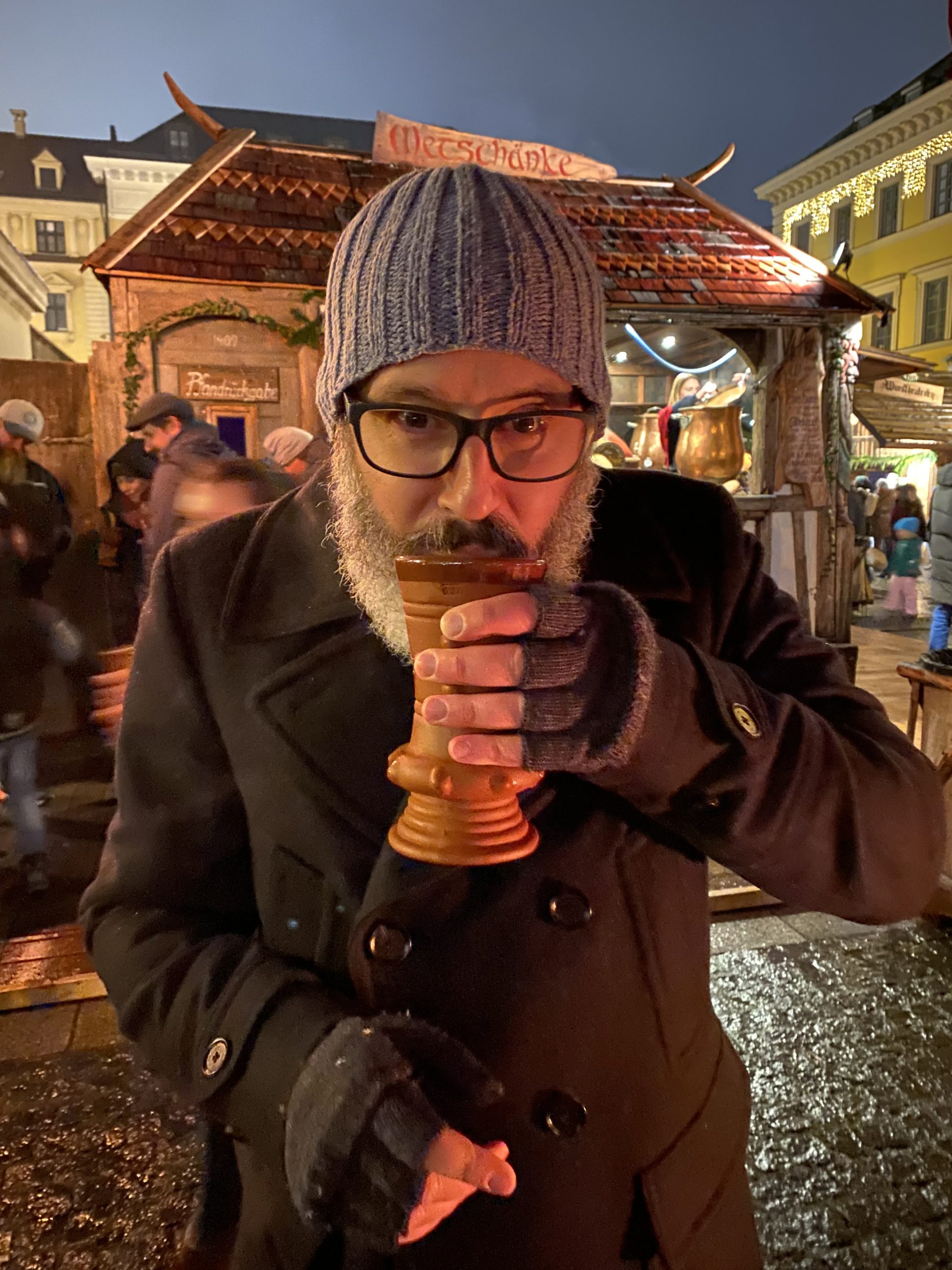 Incidentally, the deposit on these fancy ceramic mugs was €10 each, so there was no way we were walking off with these!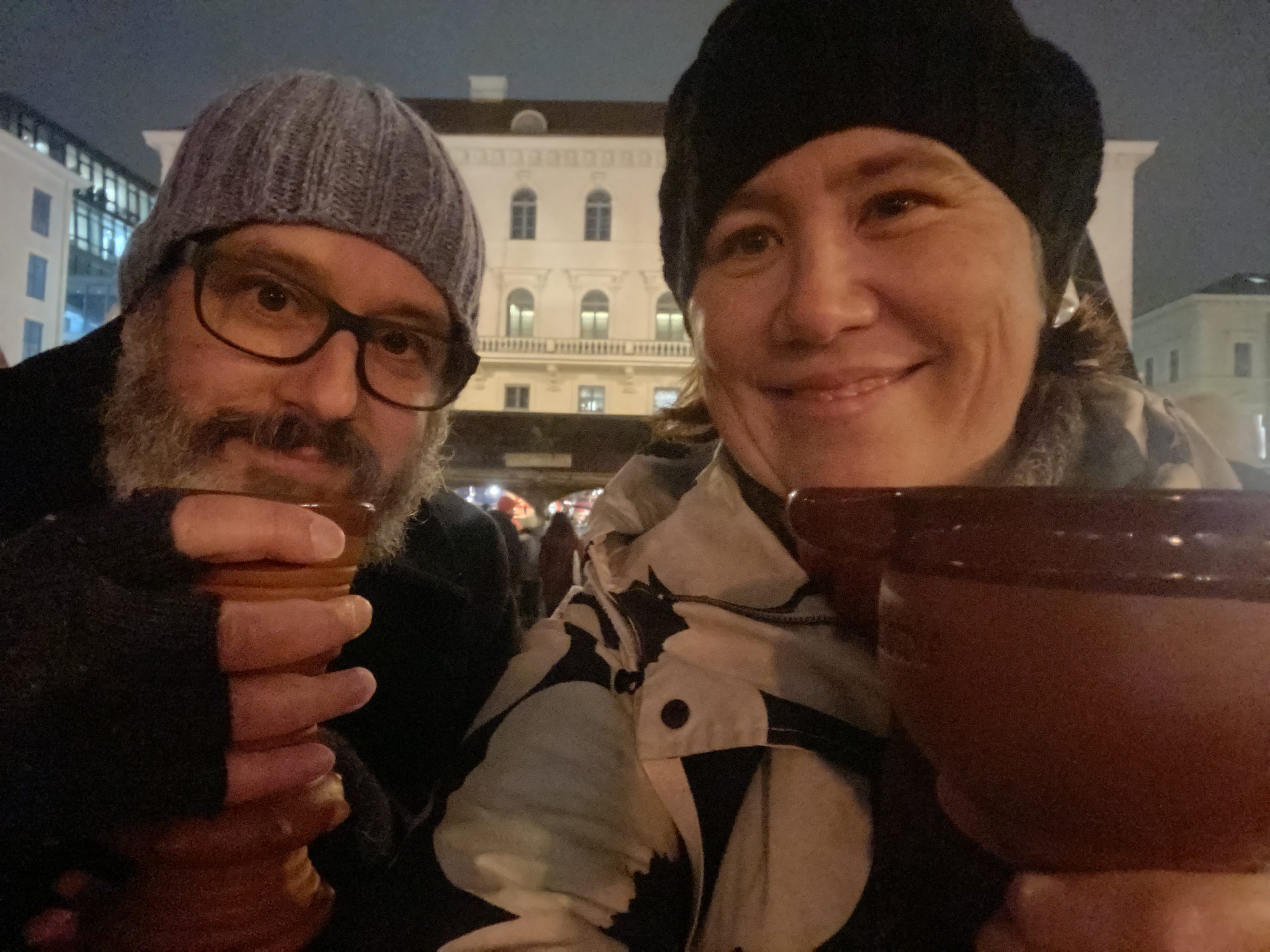 It's Germany, so there was also beer of course.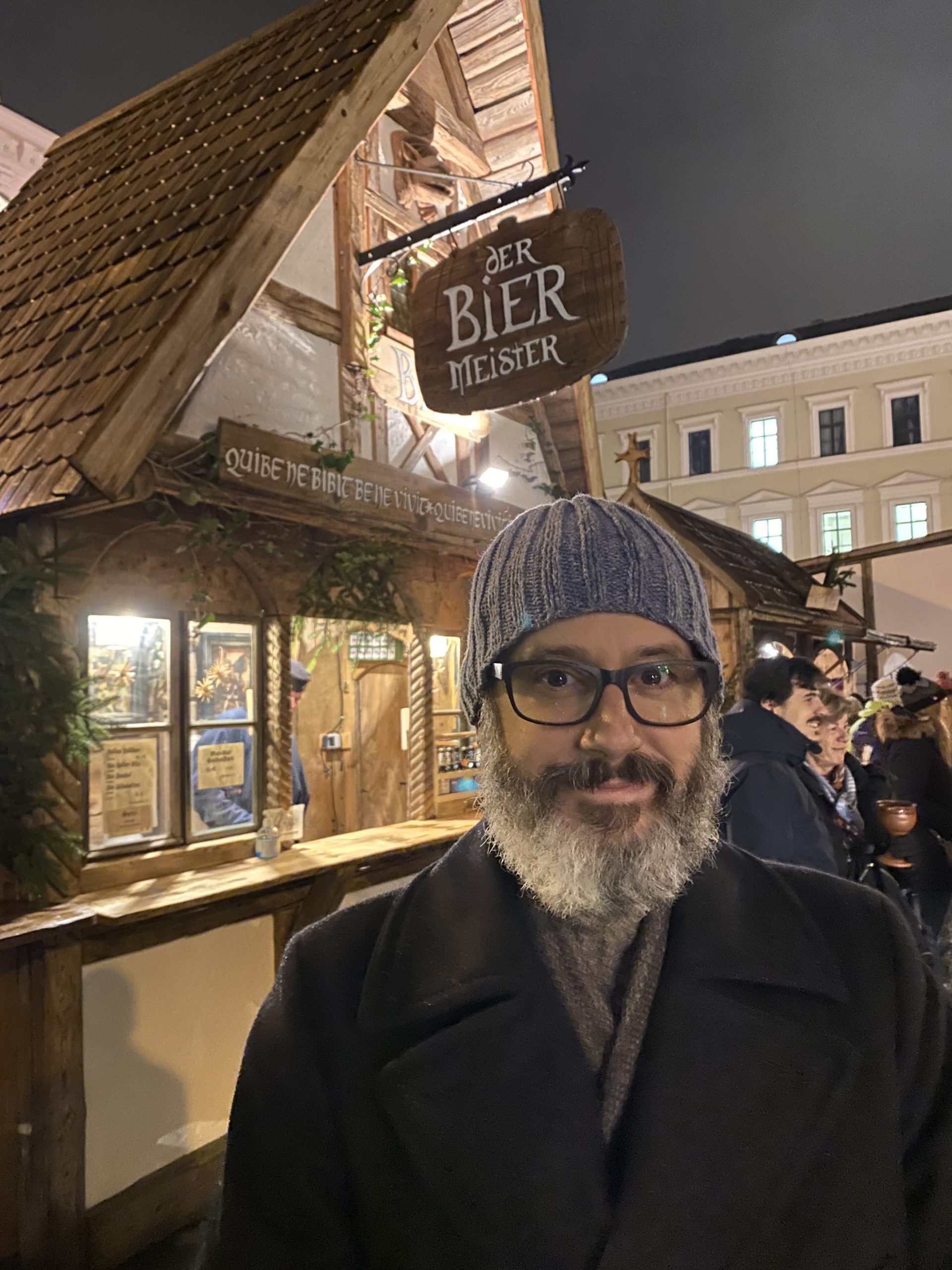 We were hungry so we hit up the Knödel ("dumpling") stall for dinner and ate it with sauerkraut hunched over a barrel like medieval peasants.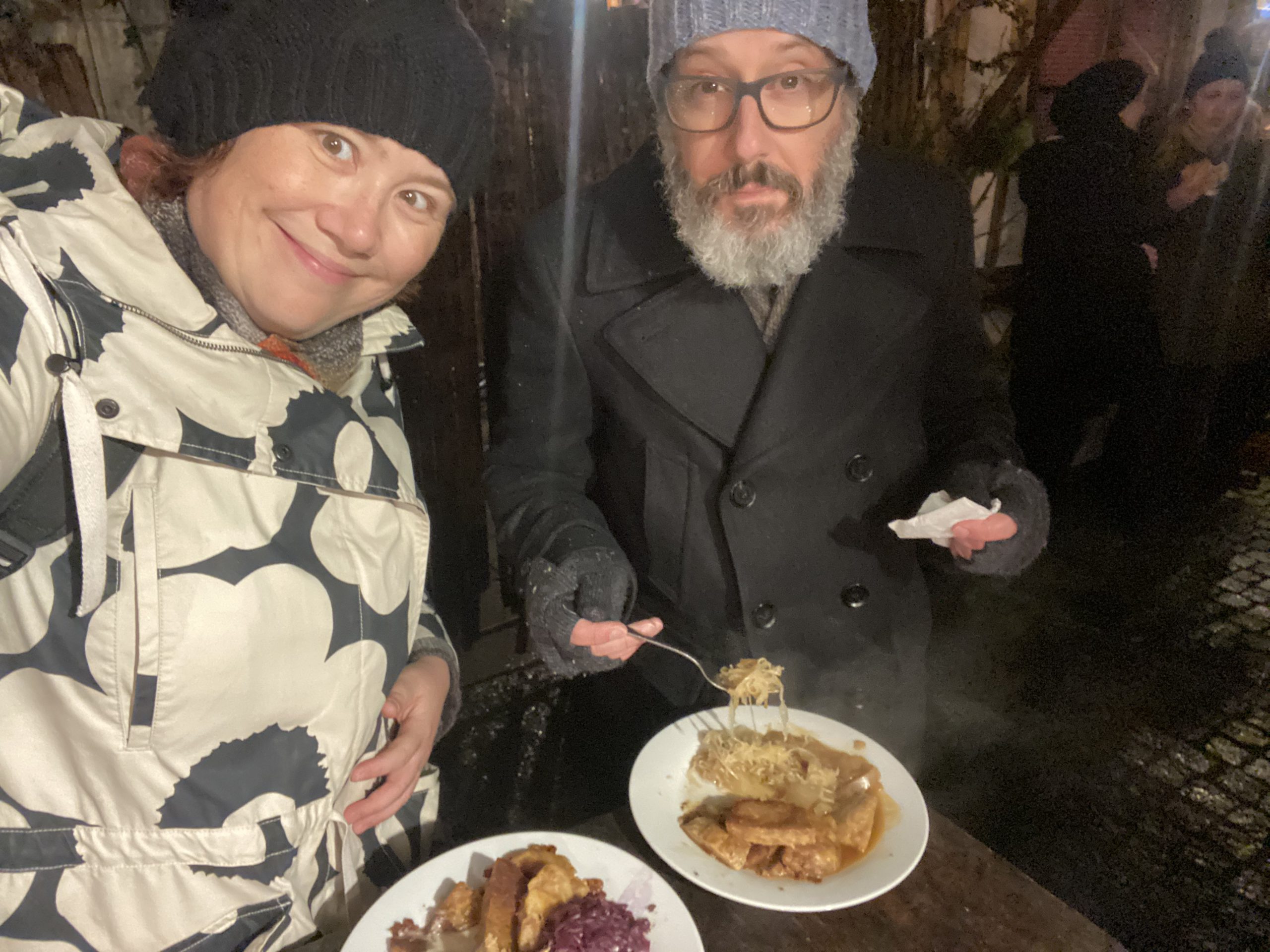 We went straight on to our sixth Christmas market that same night – the Munich Christkindlmarkt ("Christ Child Market"). We walked over to the Marienplatz and joined the huge crowds checking out all the stalls in front of the Rathaus.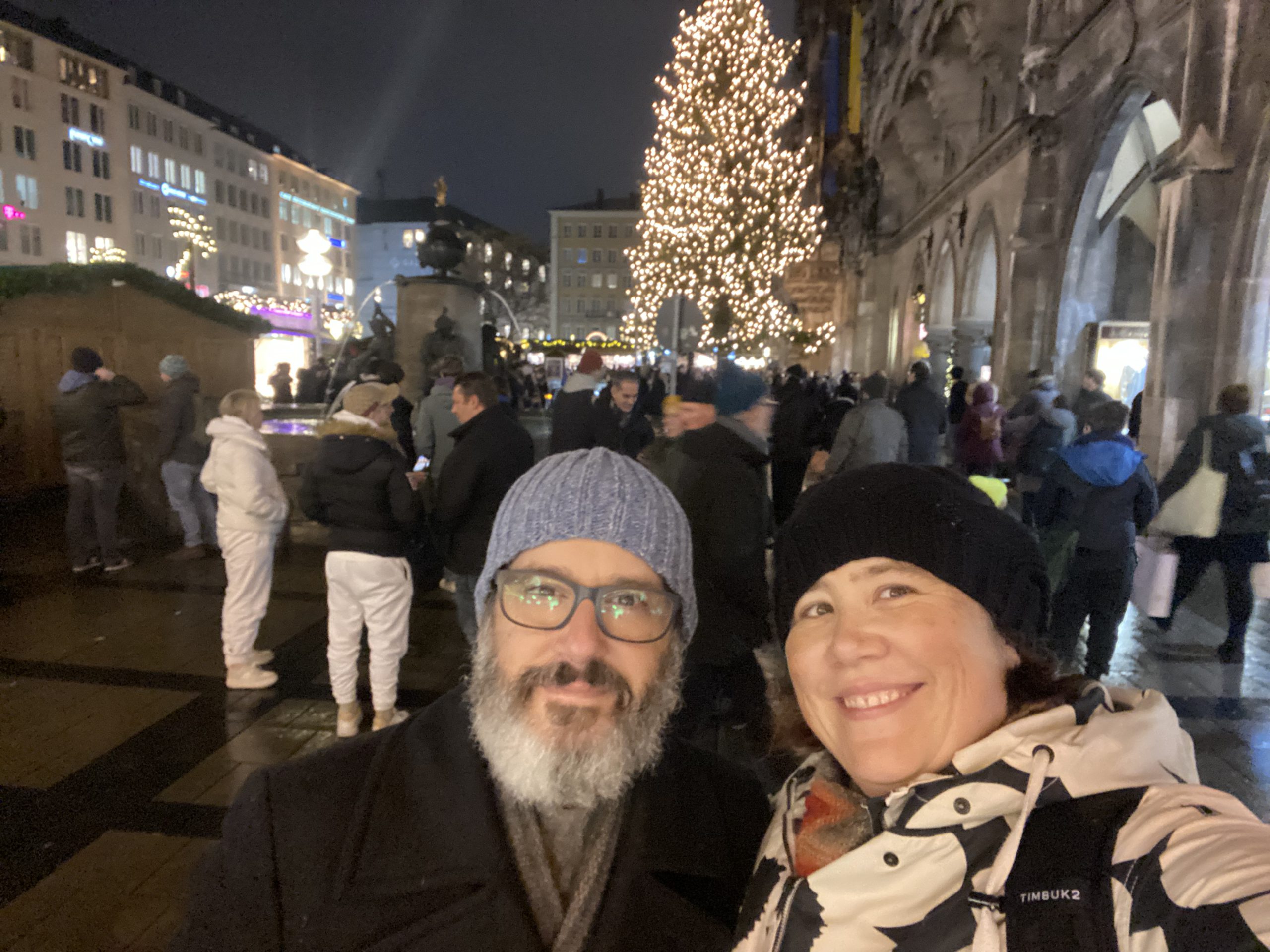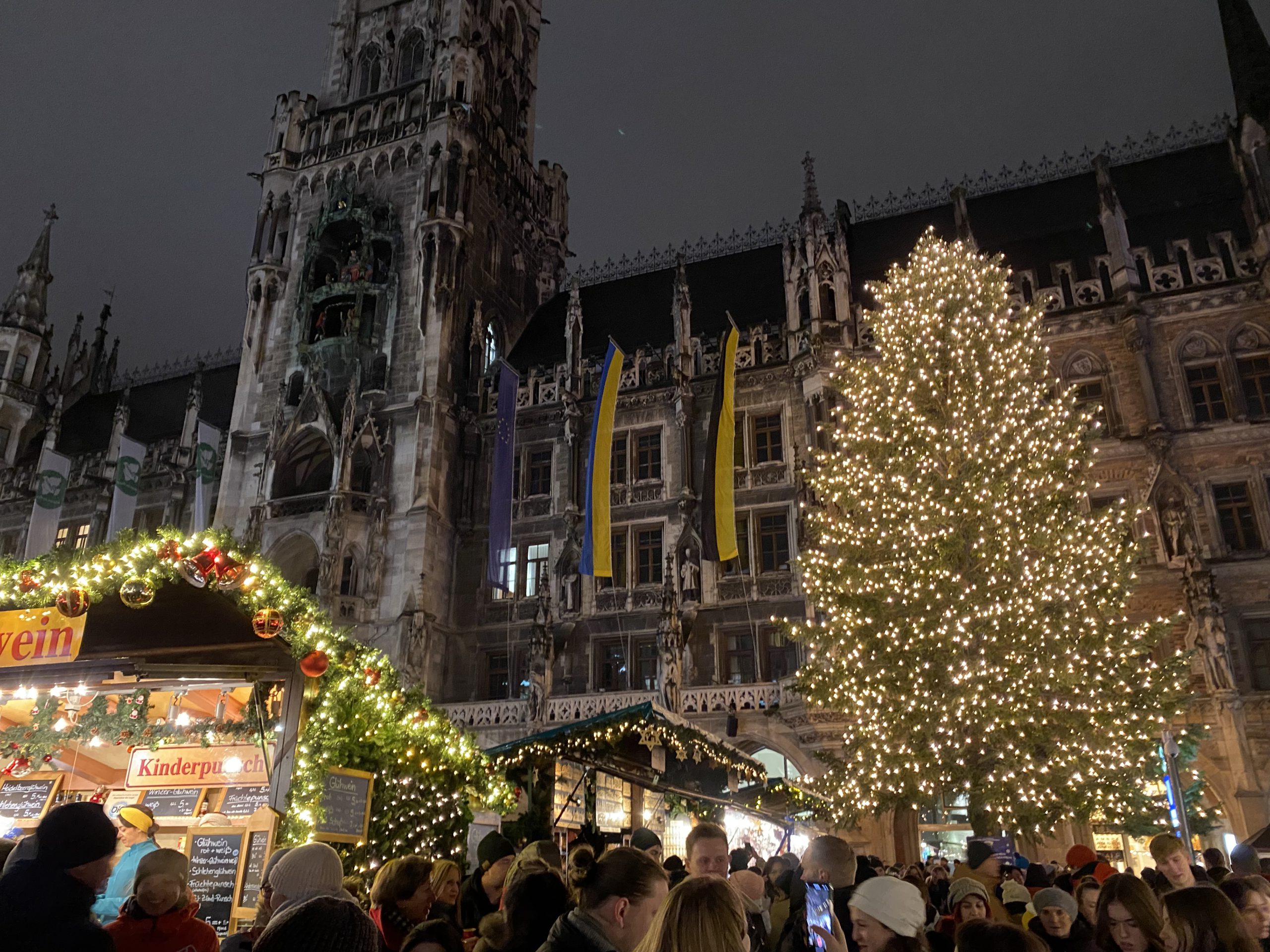 There were lots of stalls selling Christmas decorations, ornaments, toys, and gifts.
Did I mention it was crowded??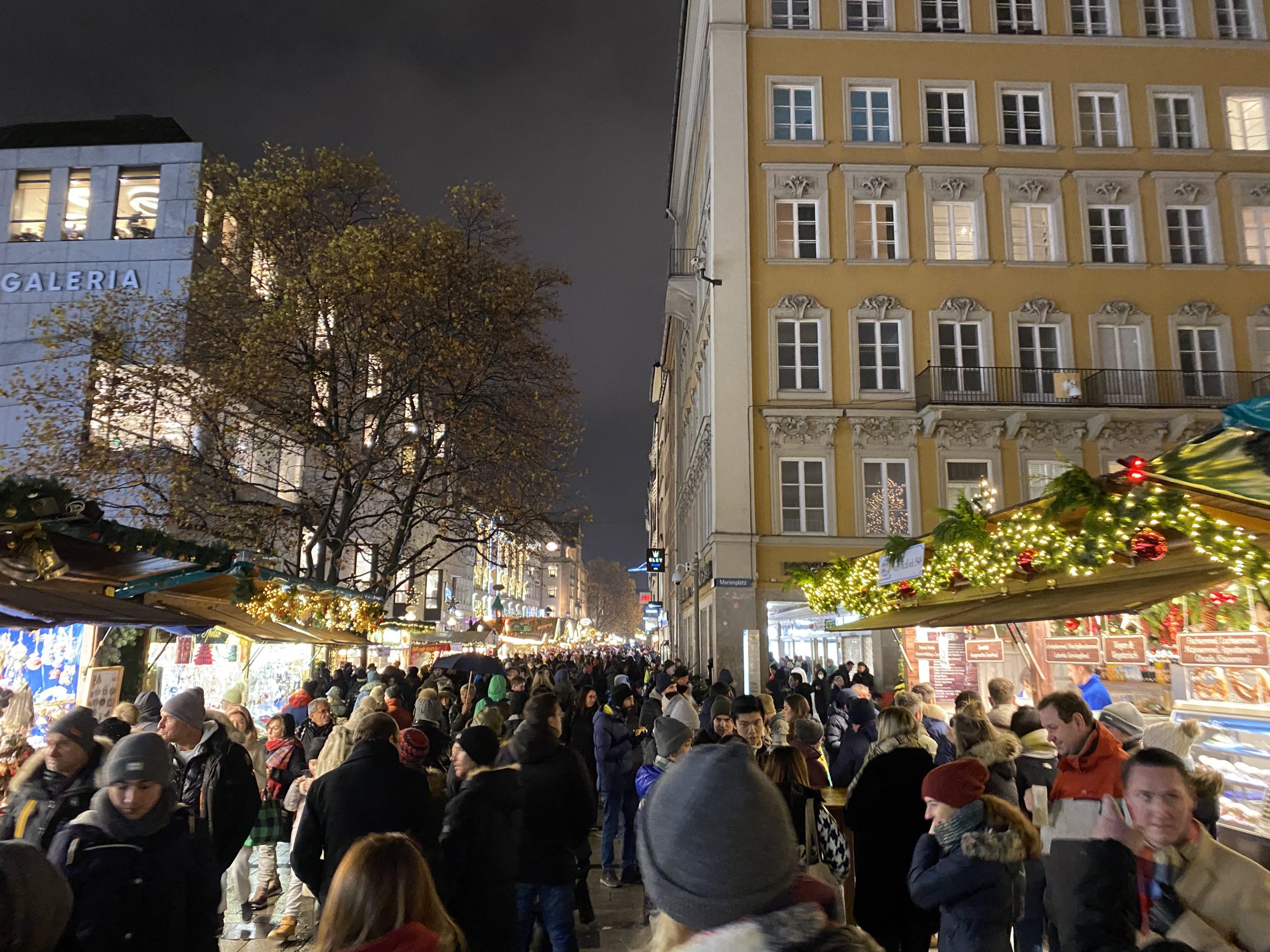 We made our way up Kaufingerstrasse, checking out the stalls along the way. There were a lot of stalls selling hot roasted nuts, food, and drink. The Willenborgs Crambambuli place was very popular, offering their fancy organic mulled wine.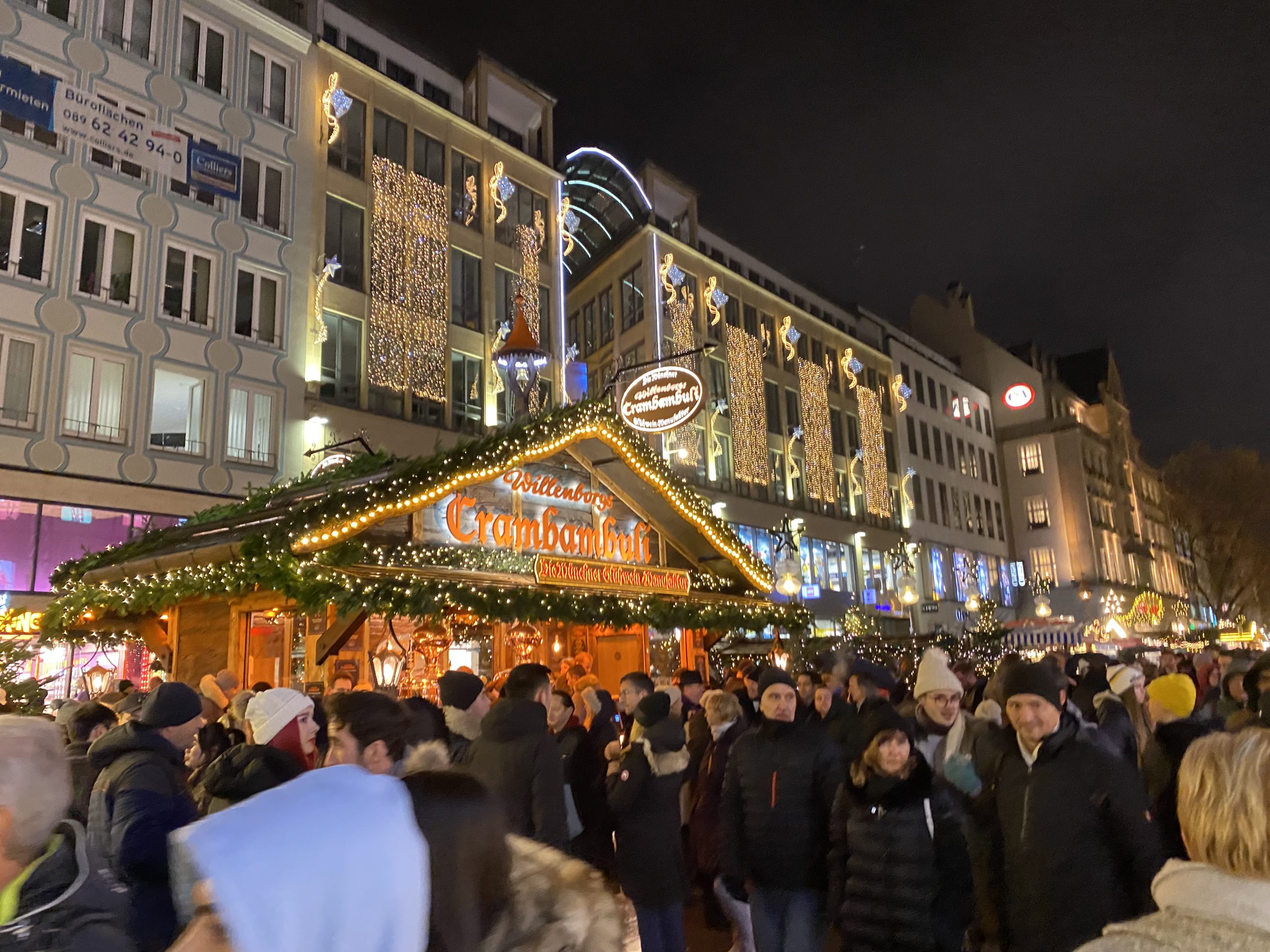 I was also delighted by this glühwein stall that had a mini Frauenkirche on its roof, set up right in front of the actual Frauenkirche.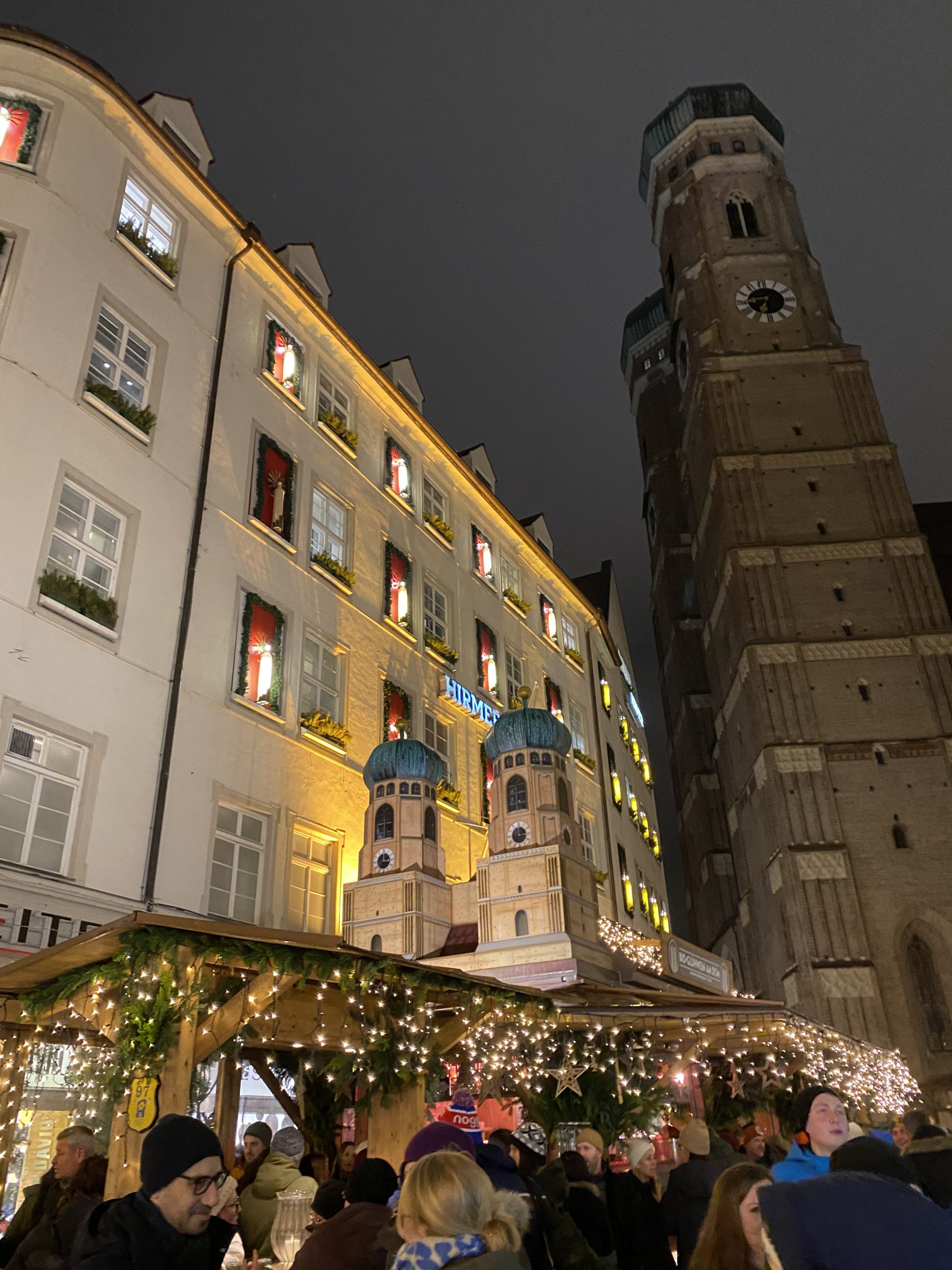 Mmm, sausages.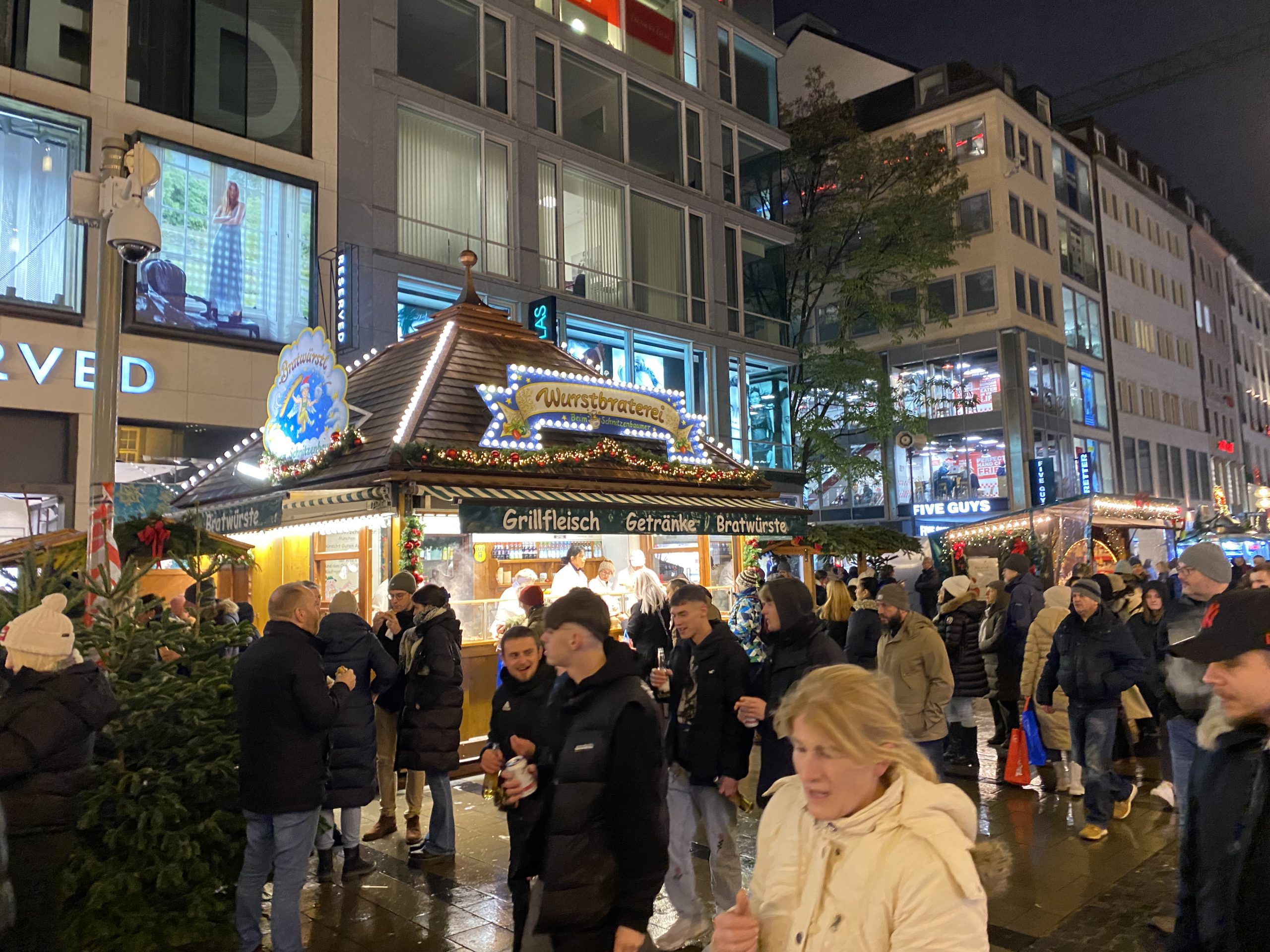 Eventually we reached the end of the stalls as we got to Stachus, and there ahead of us was the Münchner Eiszauber ("Ice Magic") – an outdoor ice skating rink with several bars!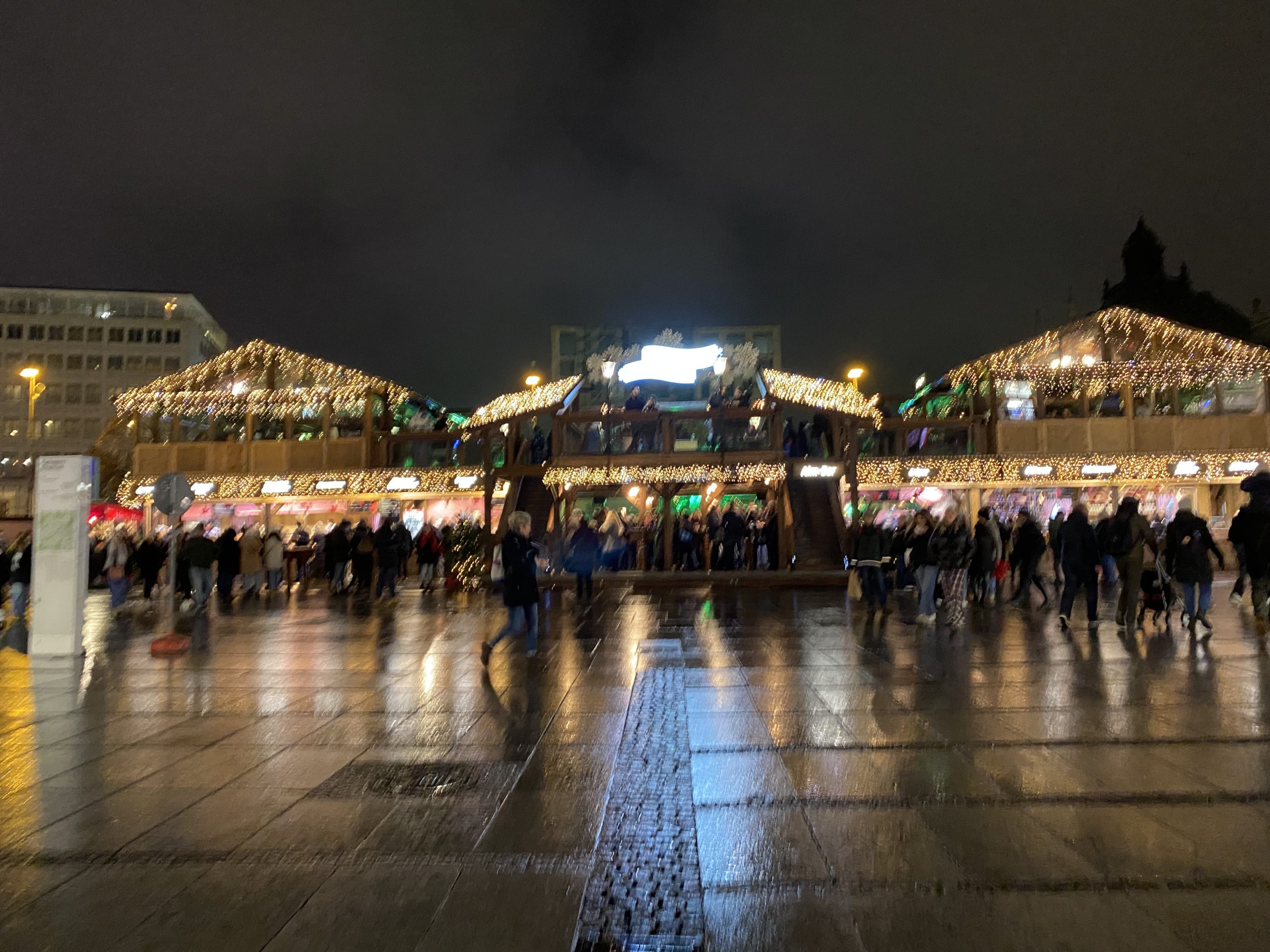 We went up to the second floor to have a look at the skating. Lots of folks were sitting up there having drinks.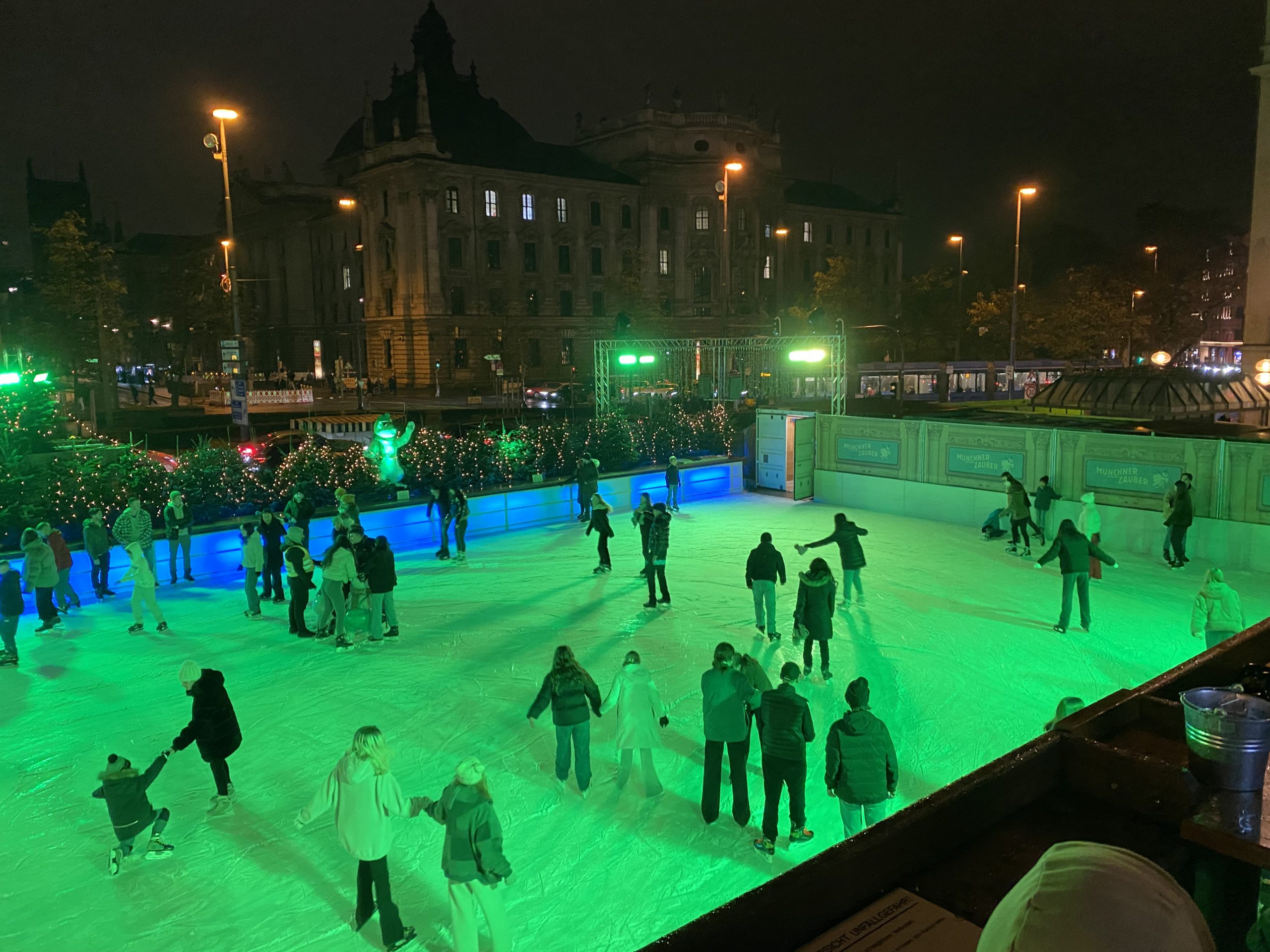 Our seventh and final Christmas market came two days later on December 4th – the Tollwood Winterfestival. We had attended the summer version of this arts and music festival back in July. The winter version was set up on the Theresienwiese, near our house.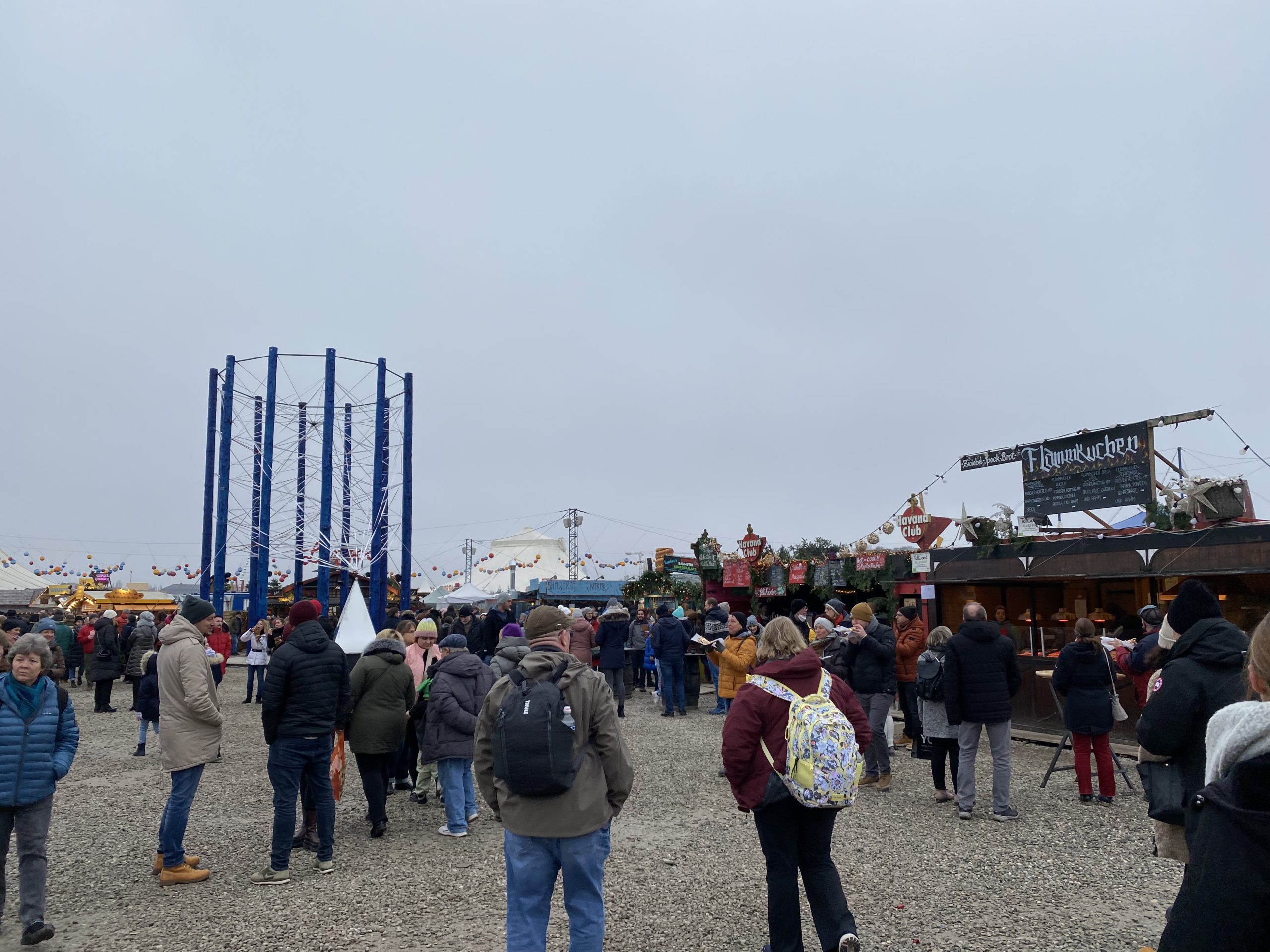 There were several music venues and a covered market, as well as lots of outdoor stalls.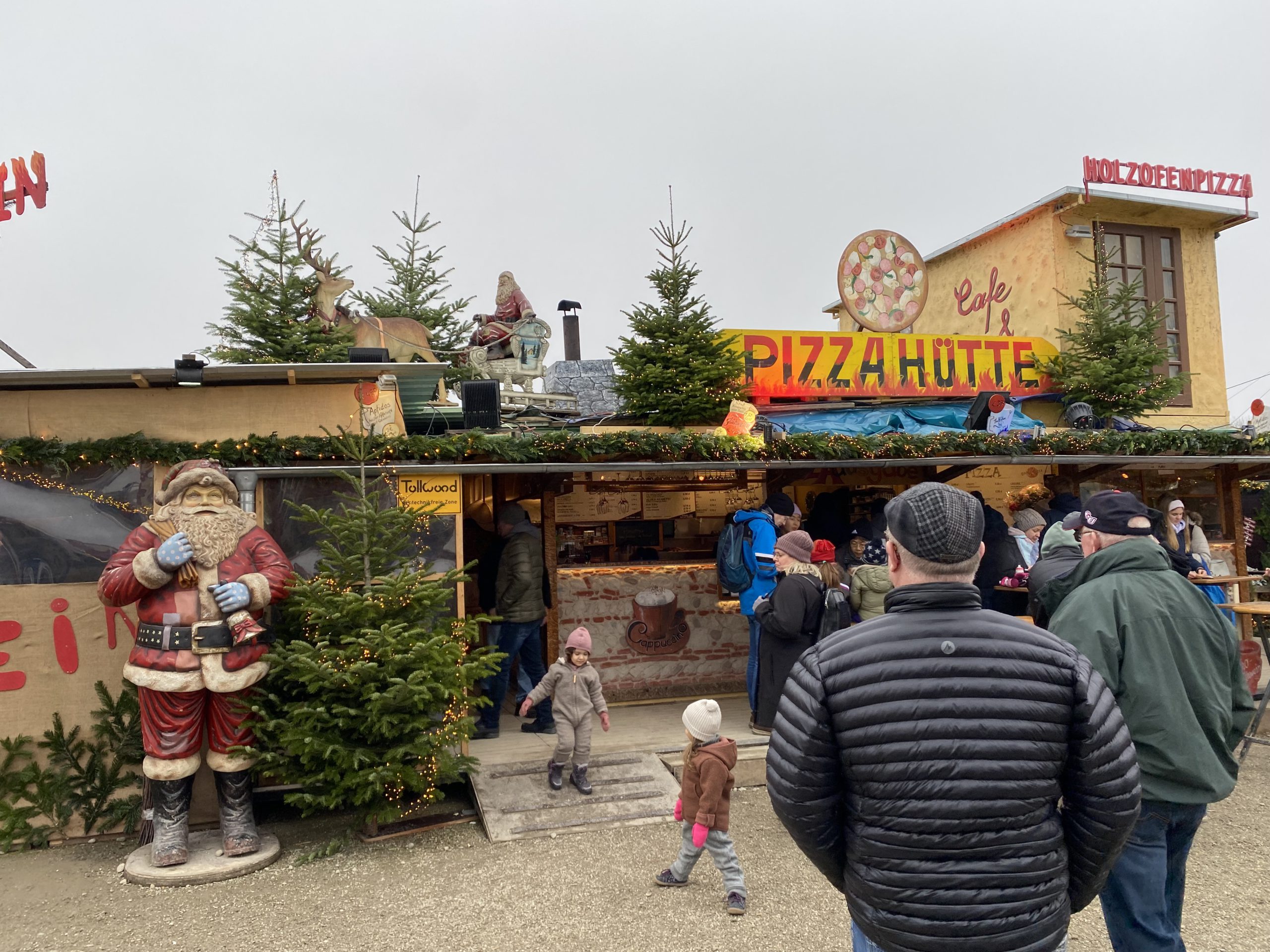 Since it's an arts festival, there are also large scale artworks dotted throughout the grounds.
A few folks were on the Eisstockbahn playing Eisstockschießen, a German winter sport similar to curling. There was no ice though, so it was really more like shuffleboard.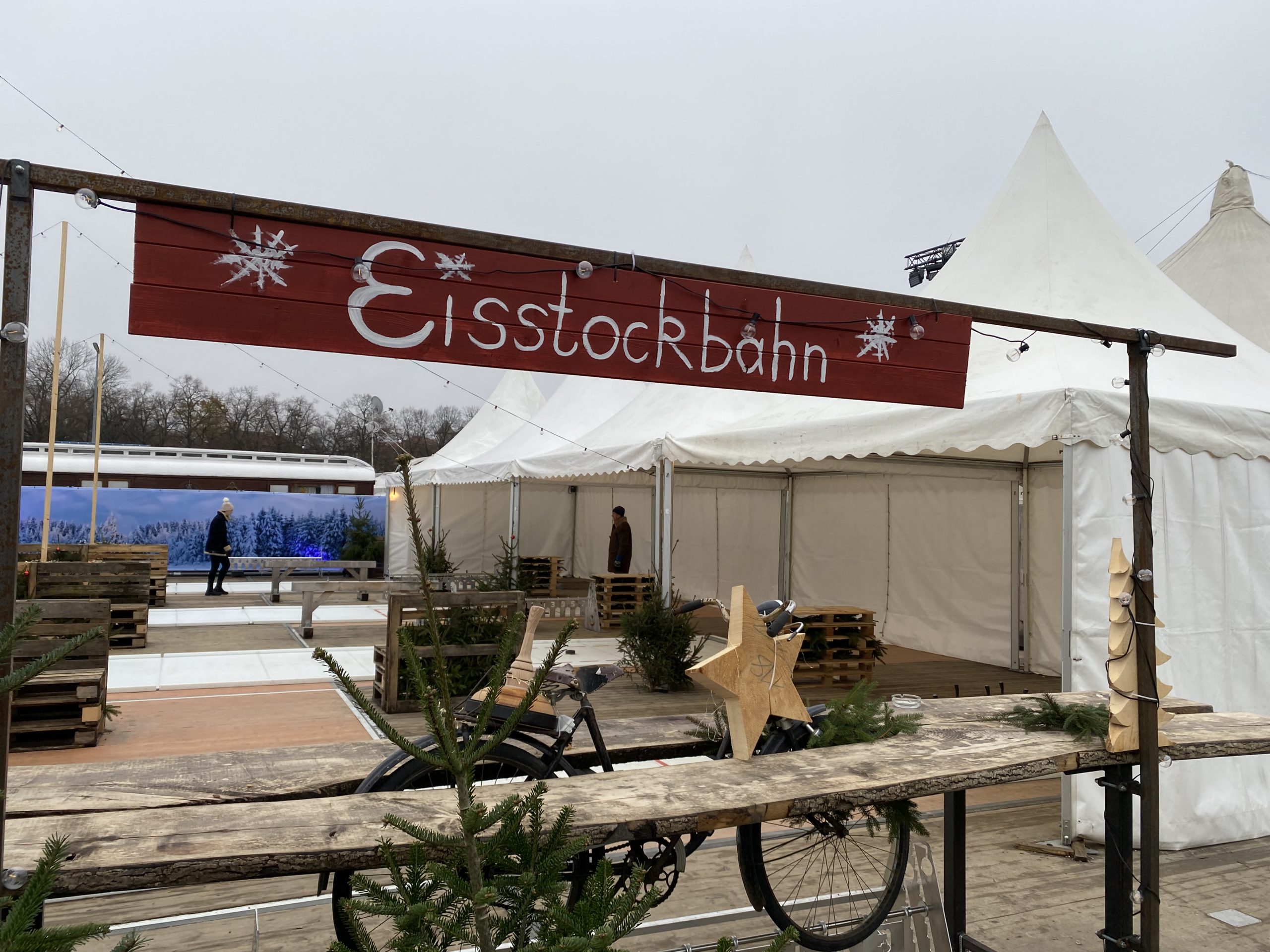 Time for sustenance! We went over to the crepes stall and shared one with applesauce and cinnamon sugar.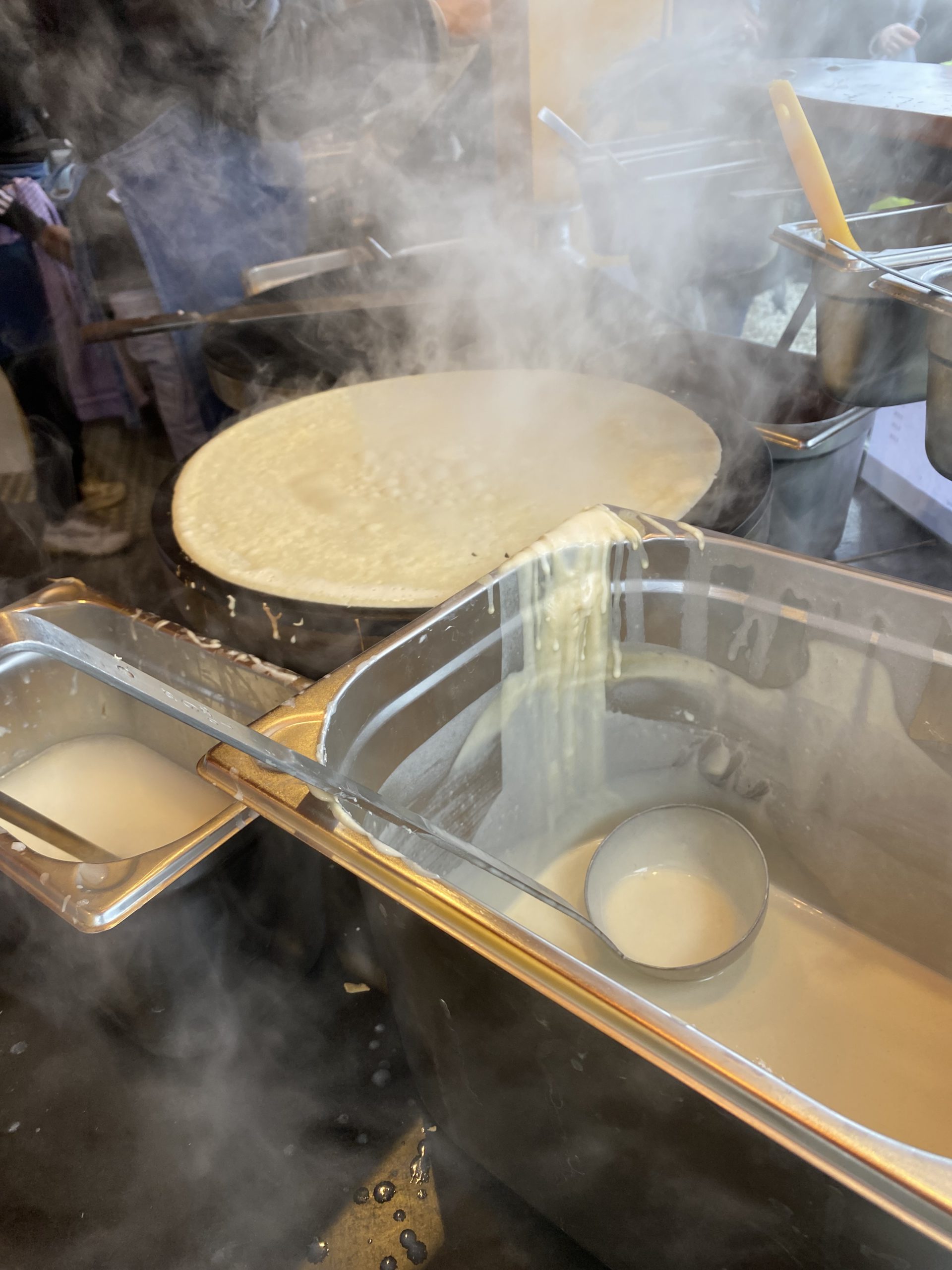 They also had a Feuerzangenbowle hut, which was hilariously decorated with wooden flames all over the roof.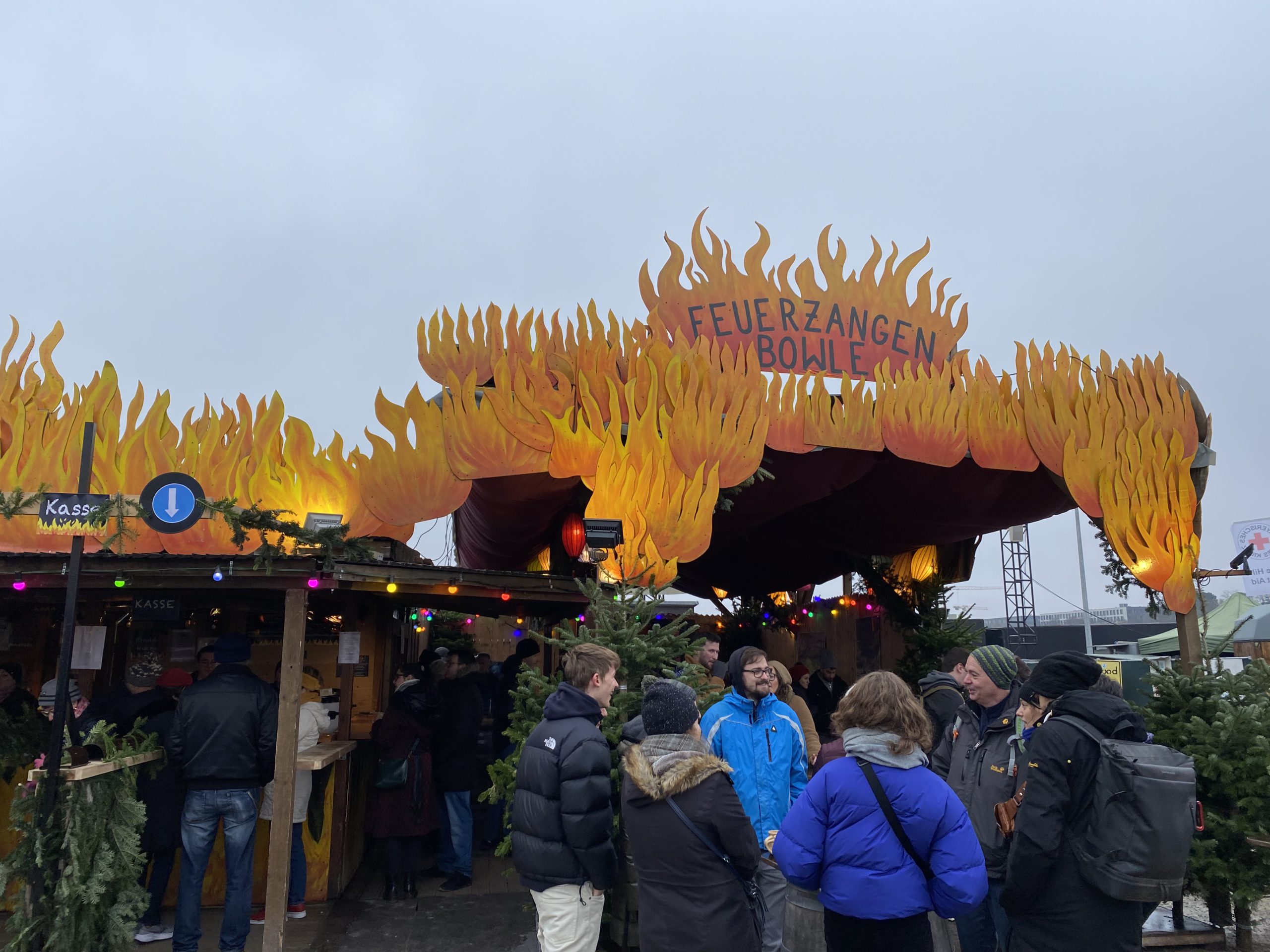 We wanted to try something new though so ended up at the Met-Amensis stall. This is yet another meadery, and the Snook ended up with one of their GoldenDark mead beers. I chose instead their "Drakenbluod" (Dragon's Blood), a hot spiced mead with cherry juice and ginger. It was delicious and warming on a cold day.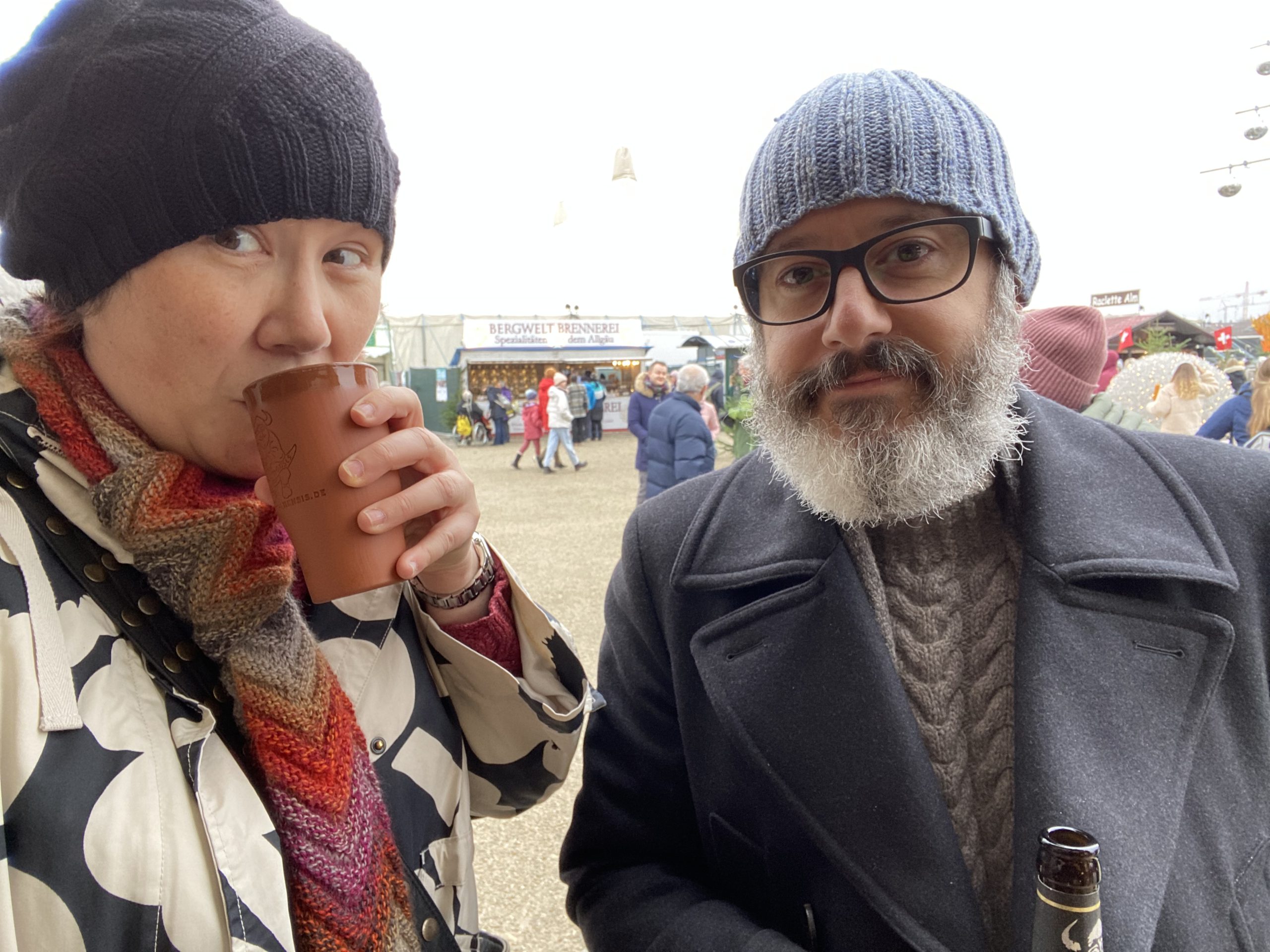 On our very last weekend in Munich, we made a final visit back to the Christkindlmarkt for some shopping. Amazingly, it was snowing.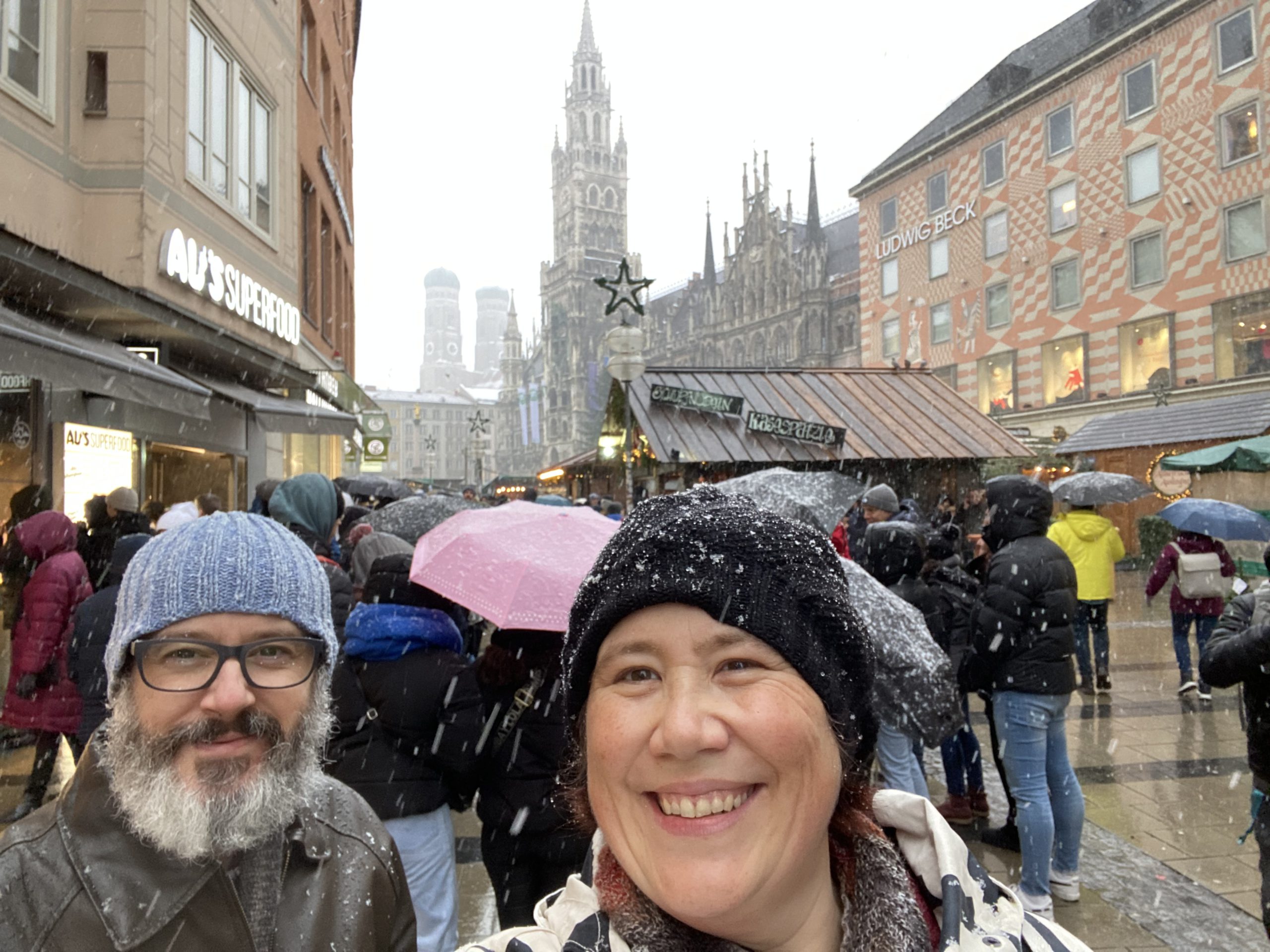 It was perfect. We picked up some Schmalznudel (fried Bavarian-style doughnuts) and ate them along with glühwein in the Viktualiensmarkt.
It was a lovely way to say goodbye to the city. You know, I love an Aussie summer Christmas: cricket on the telly; fresh mangoes; maybe a trip to the beach. But there's just something special about the holidays in a snowy climate. I'm so glad we got to experience it once more time before we left. 🎄🌟