Obviously, visiting Berlin has been on our To Do list since we got to Deutschland in 2020, and we finally got our opportunity this past May when I was invited to speak at the AWS Summit. We hopped on a train on the Friday before…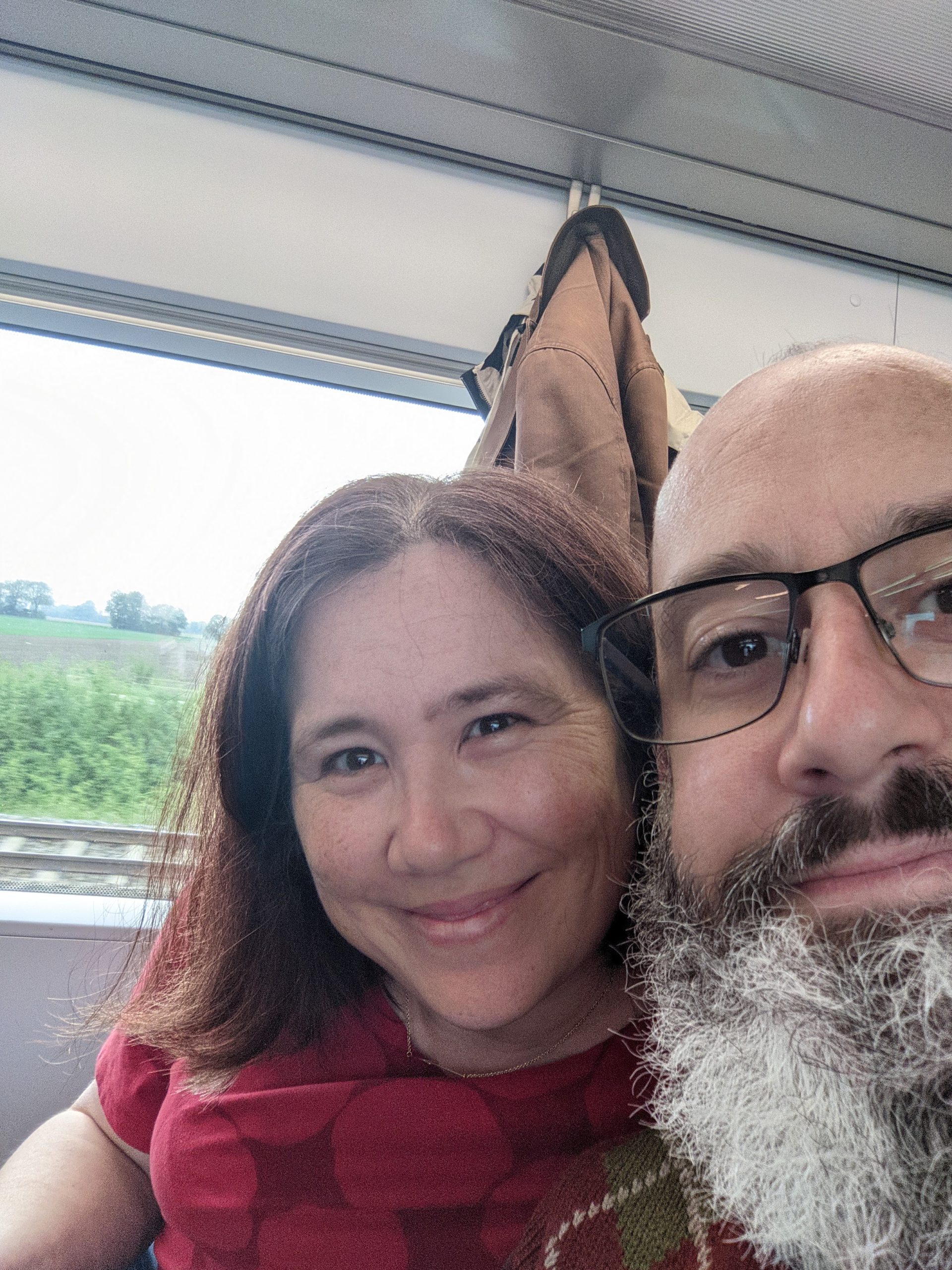 It's only about a 5 hour ride on the Intercity-Express (ICE), and we were happy to discover you could get catering delivered directly to your seat. I went with the pasta, while the Snook had chili con carne for dinner.
The train ride was smooth and the weather was shaping up to be a beautiful weekend!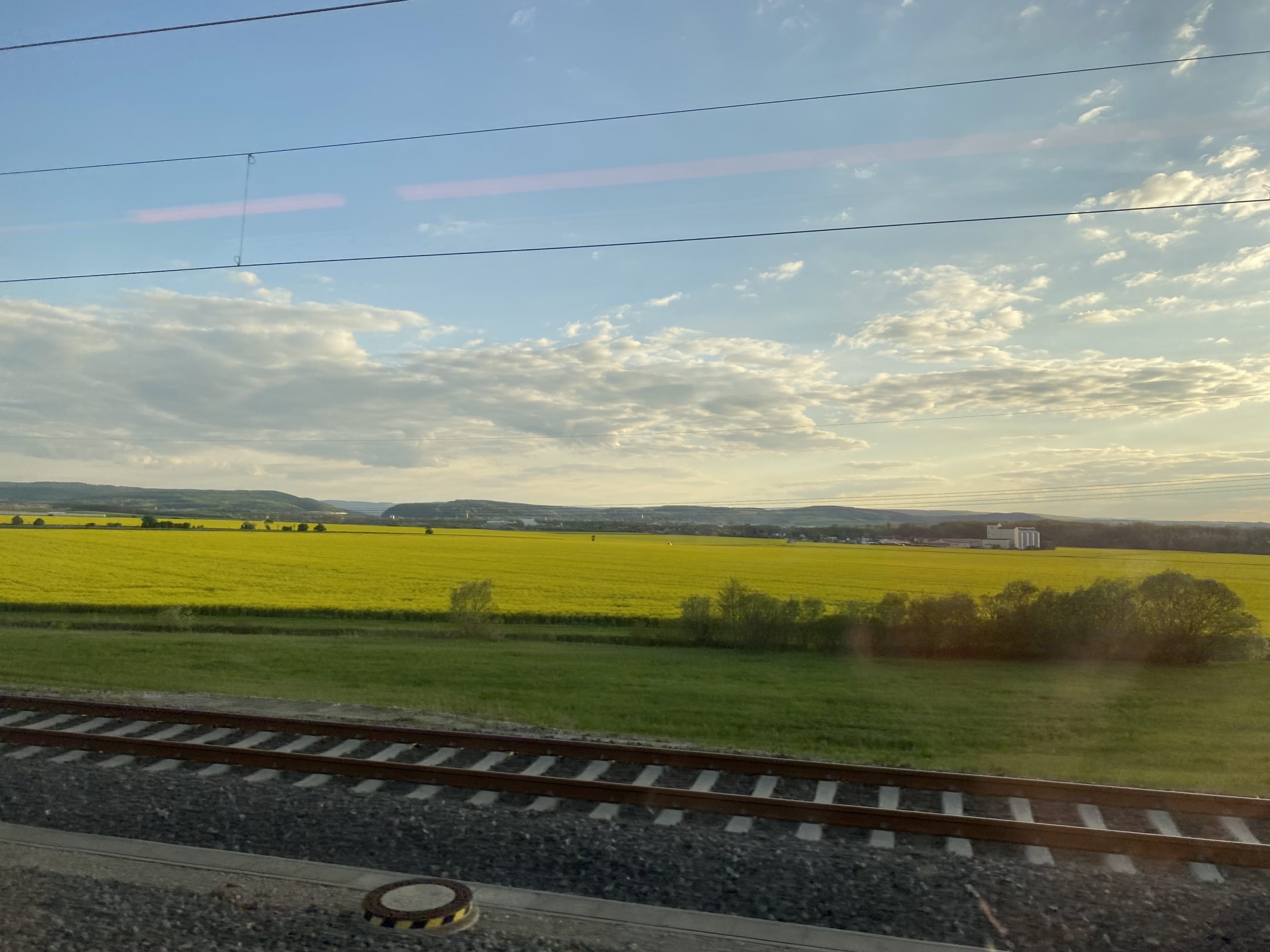 We pulled into Berlin in the evening and caught a taxi to our hotel, the Crowne Plaza Berlin Potsdamer Platz. The next morning, we decided to head out to get some culture. I was very excited to see my first Ampelmann in the wild! (These are the beloved East German traffic light symbols of a little man in a hat that are now located all over the city.)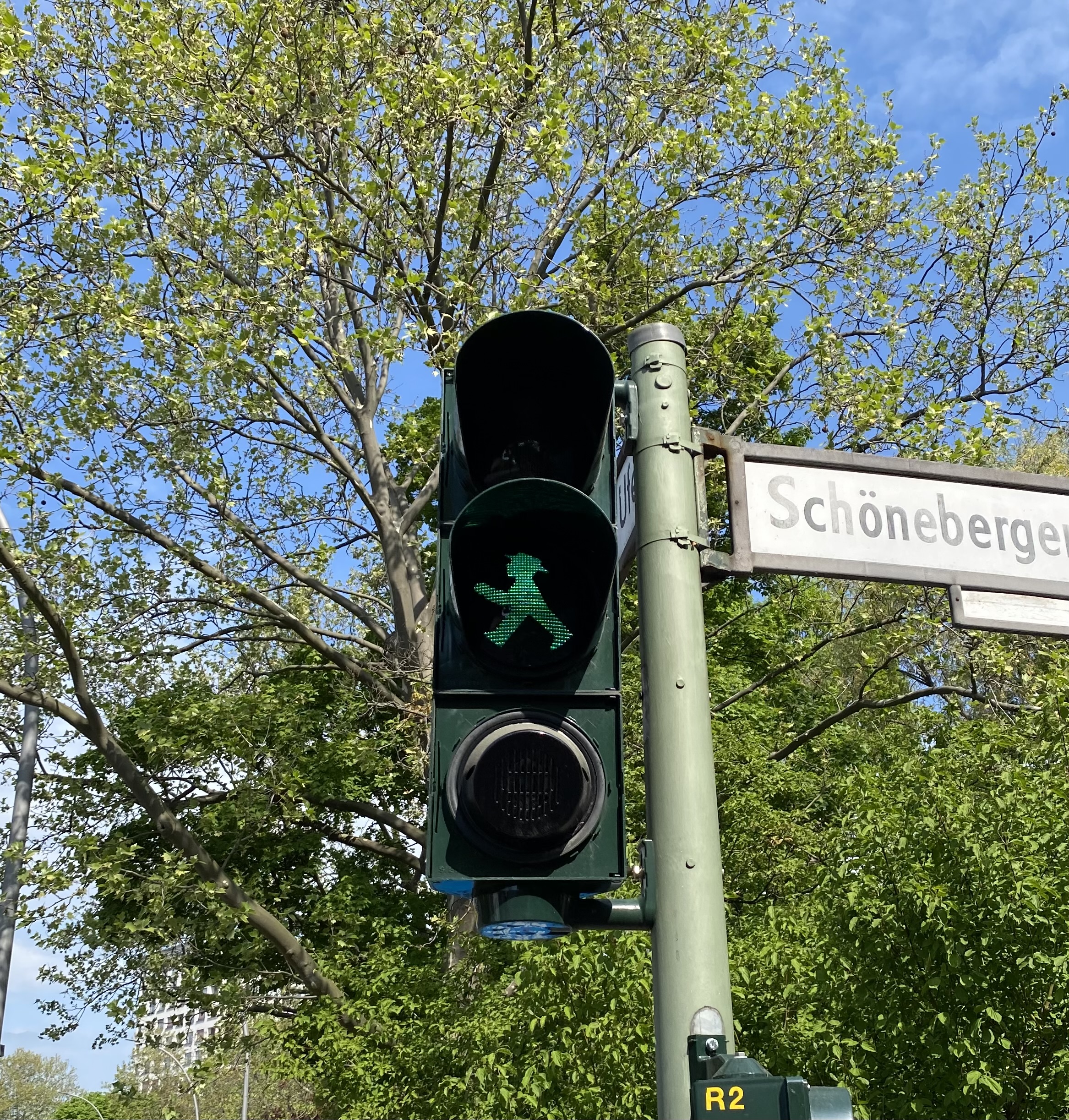 The Snook, on the other hand, was more excited to see that DJ Ötzi was going to be playing an upcoming Schlager festival. 😂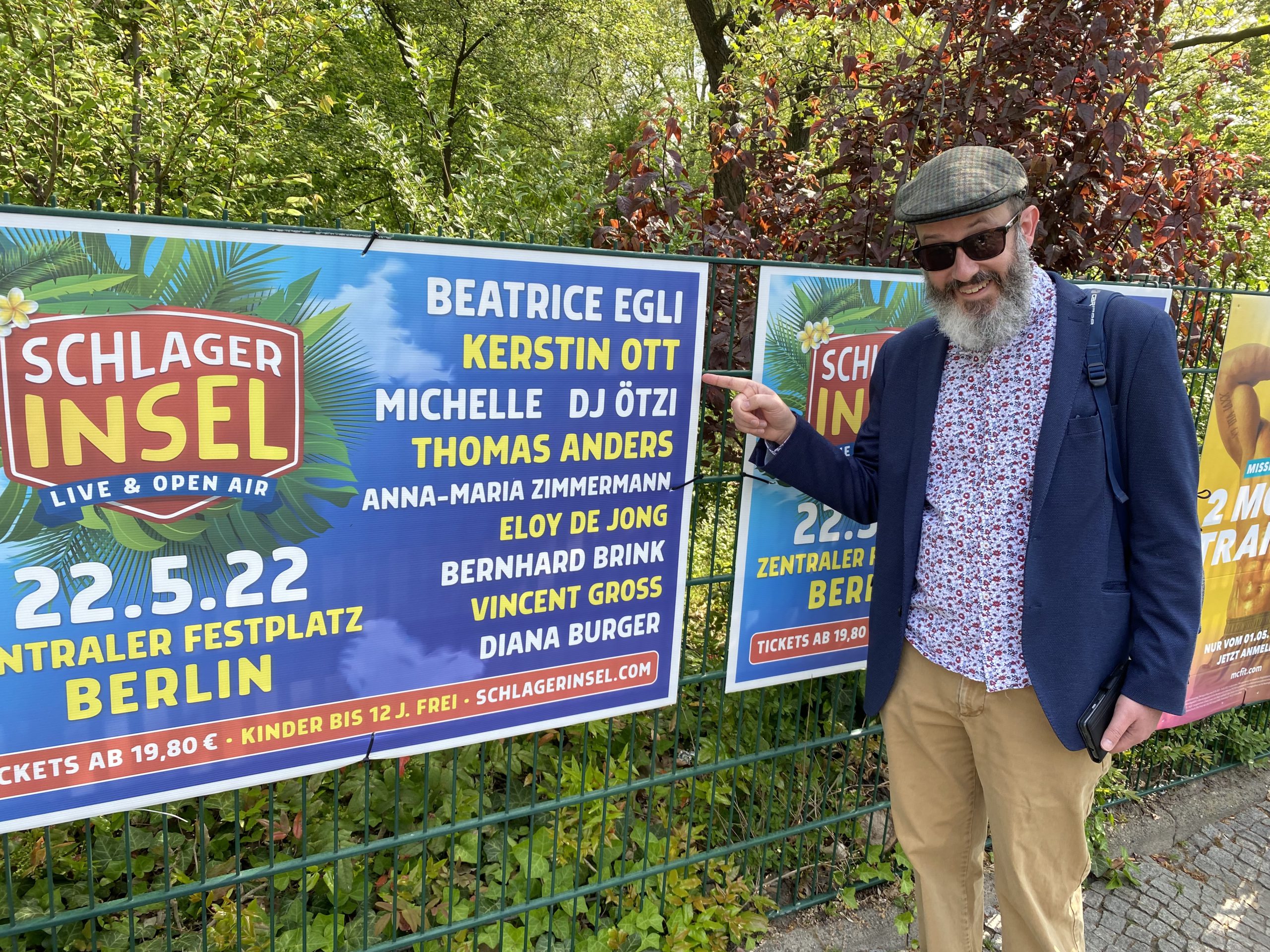 But that's not the culture we were after, thankfully! We were headed to the Neue Nationalgalerie, a museum of modern art. The museum pavilion and its sculpture gardens were designed by Ludwig Mies van der Rohe, and it's a stunning example of modernist architecture.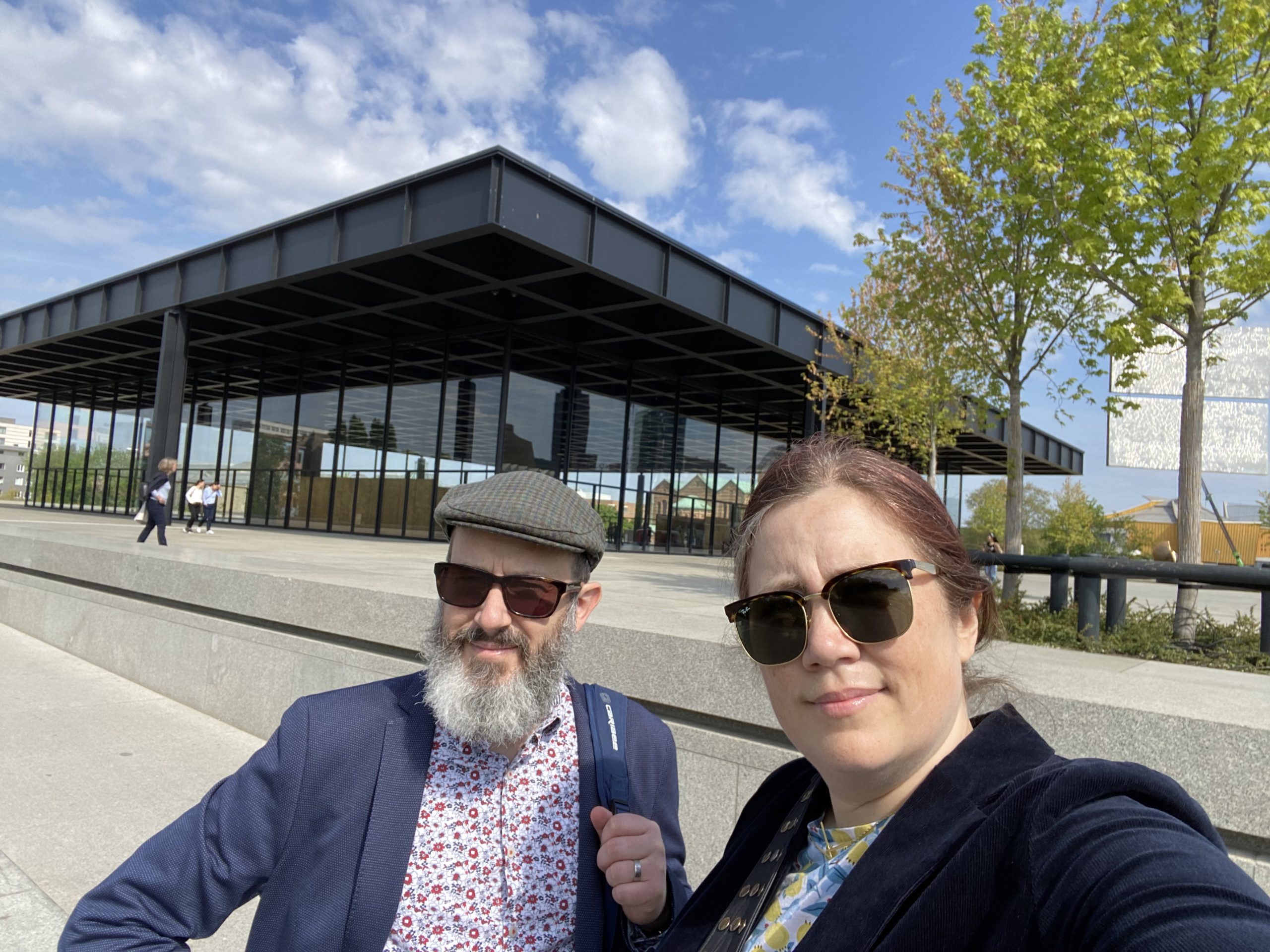 The roof looks like it's floating. It's all gorgeous steel and glass and clean lines. I loved it. We walked all around it checking out the outdoor sculptures.
The current exhibition inside the pavilion is conceptual artist Barbara Kruger's "Bitte Lachen / Please Cry". The entire floor is quotes and text related to current issues.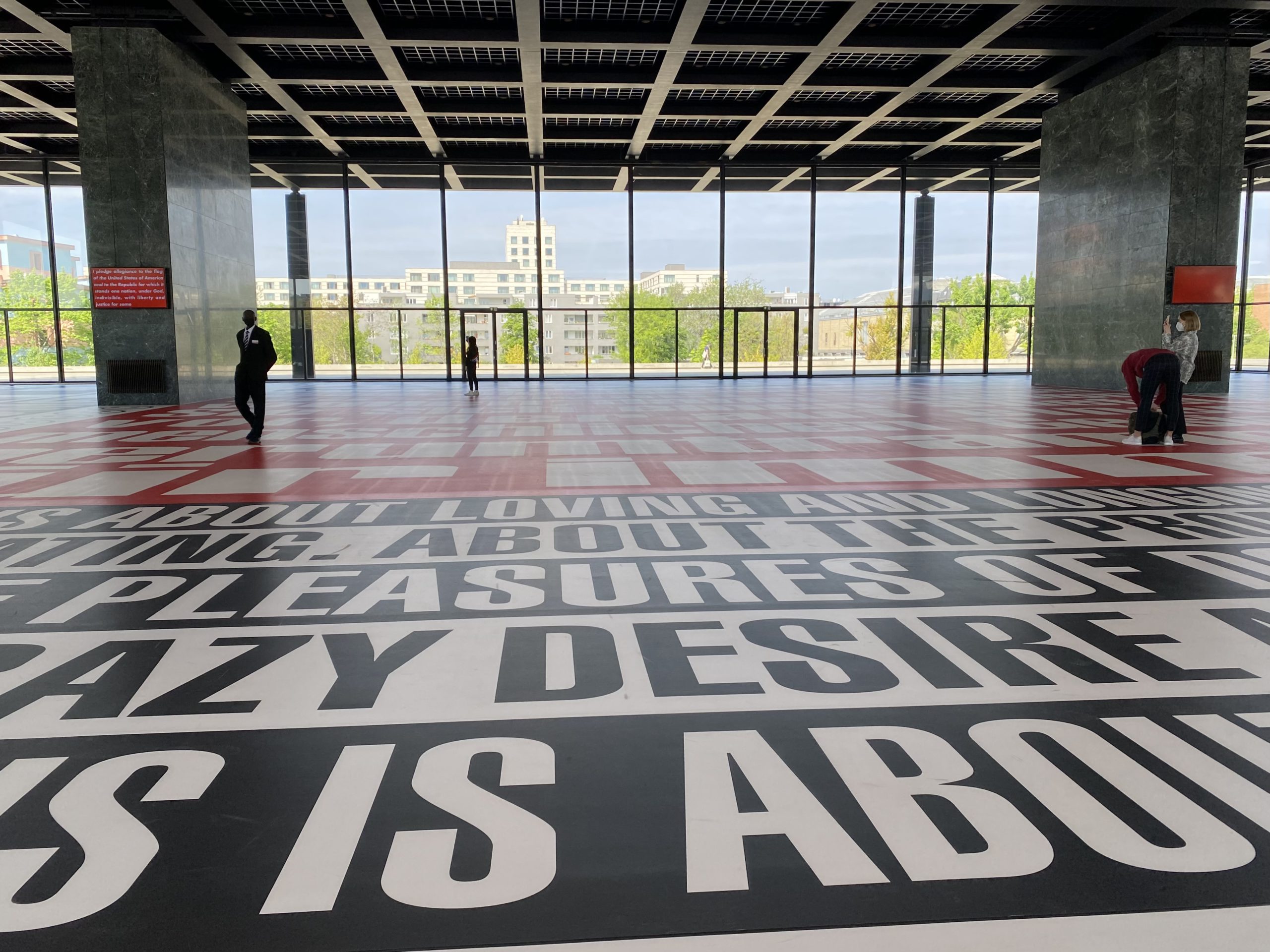 It was a fascinating use of the space.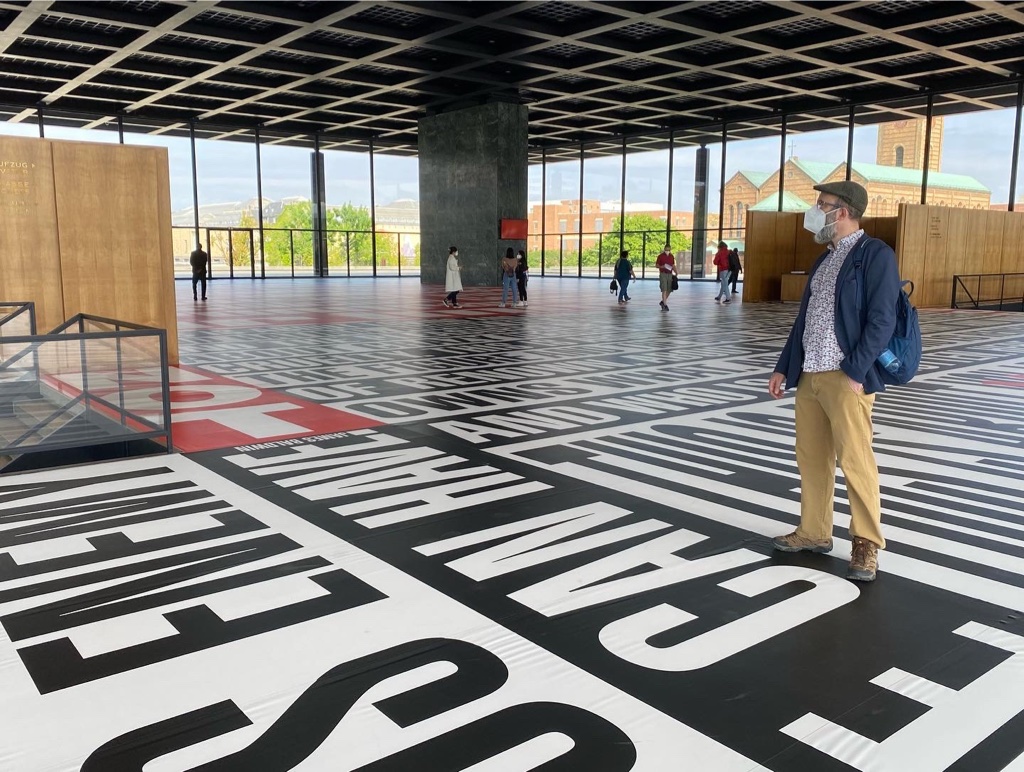 Honestly, my favourite part of the building may have been the ceiling in there.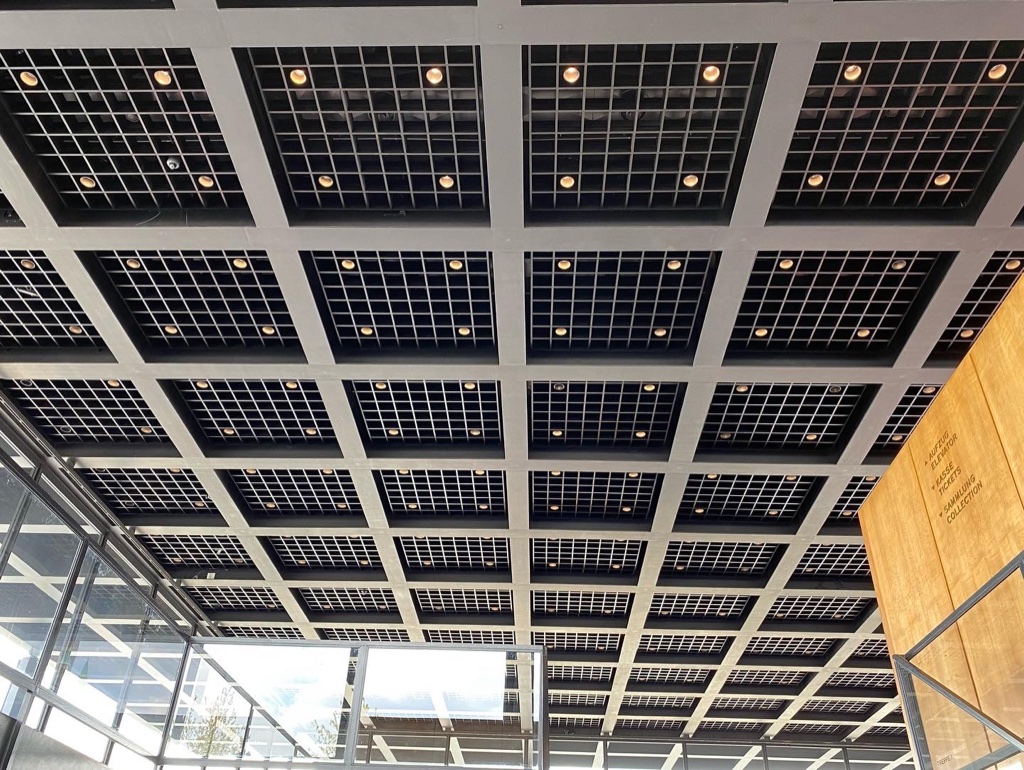 We headed downstairs and spent several hours exploring the museum's artworks. (No photos allowed.) It was fascinating, though admittedly less impressive than the pavilion above. We also ducked outside to another sculpture garden and to enjoy the beautiful day.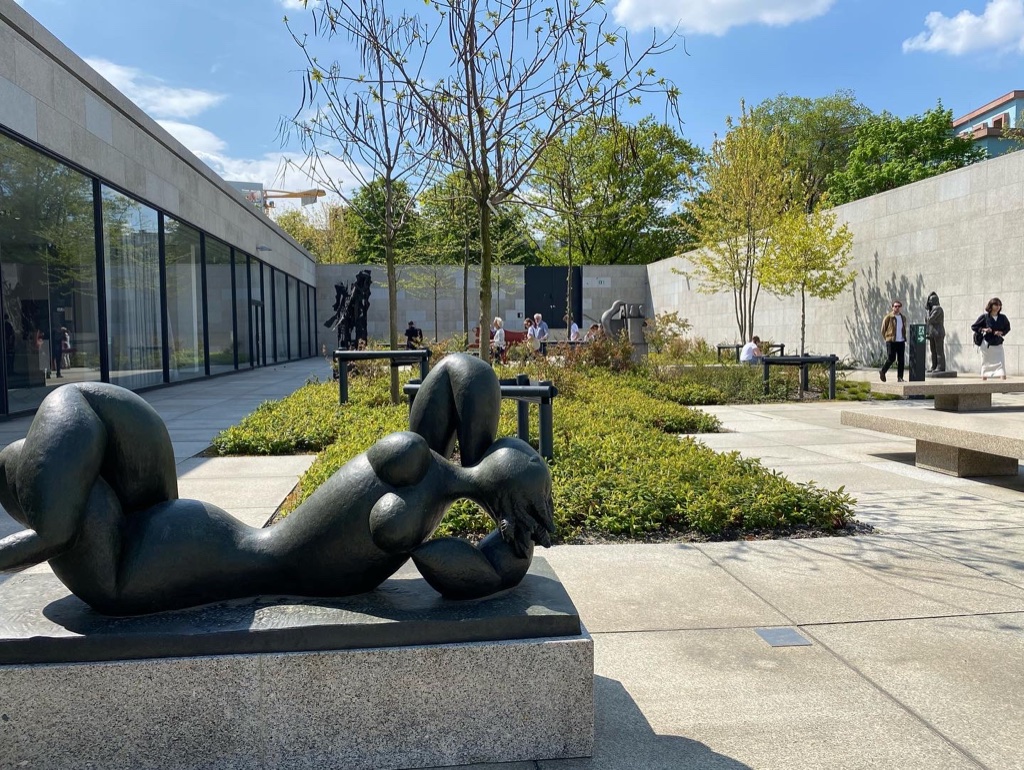 After the museum, we caught a train across to the east side of the city where we'd be joining a special tour later that afternoon. Here we are checking out the Oberbaum Bridge on the River Spree. For a long time, the Bridge formed part of the border between East and West Berlin.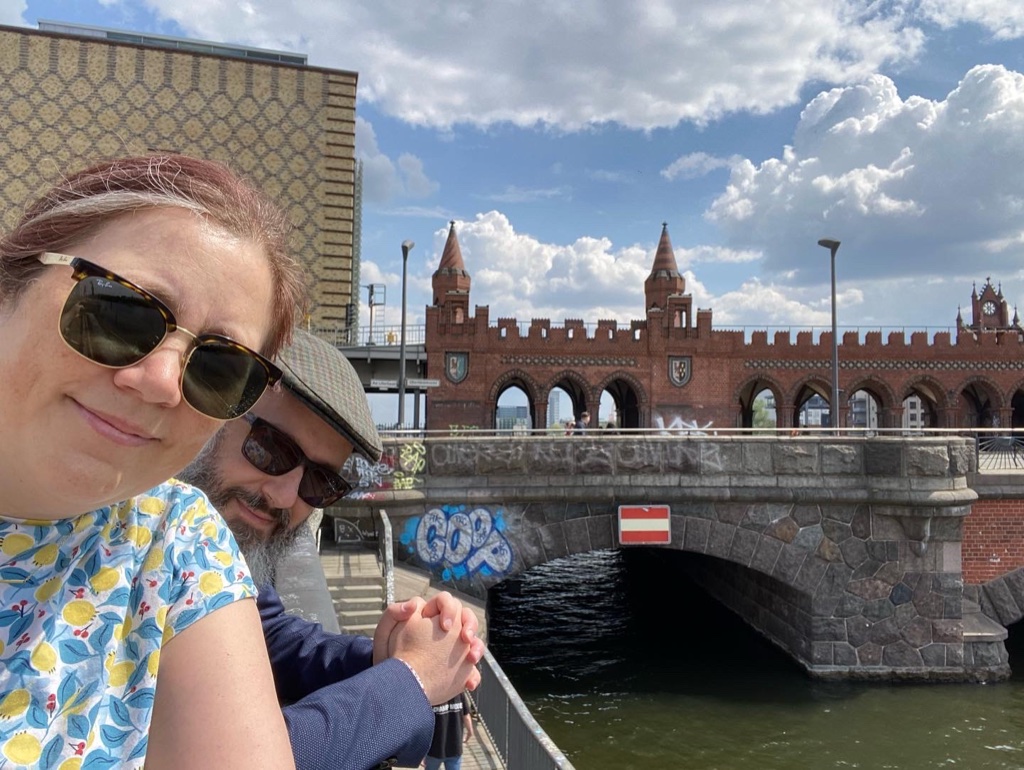 We walked along the river for a bit and checked out part of the East Side Gallery. This is "possibly the largest and longest-lasting open air gallery in the world," painted on a nearly mile-long section of the Berlin Wall.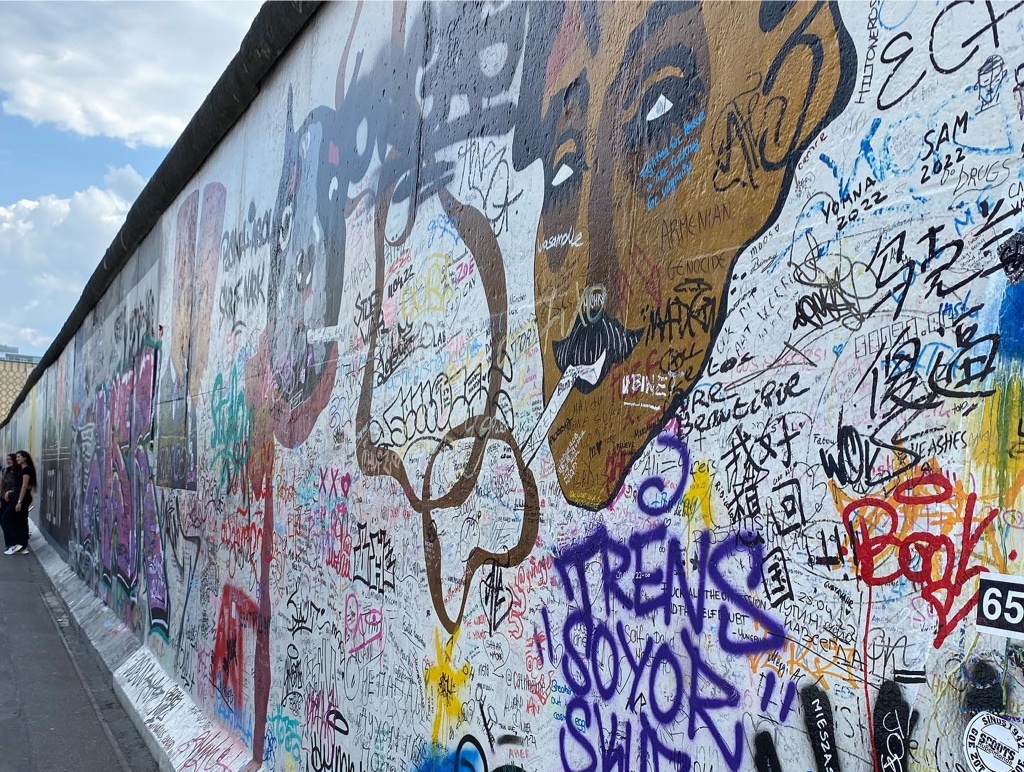 Then it was time to head to our tour – the Berlin Craft Beer Experience! We met up with four other folks and our tour guide, who happened to be from Ohio. Our first stop was the Salami Social Club, a pizza restaurant and craft beer bar. We had some pizza to line our stomachs and sampled a Pilsner from Berliner Berg. Then we headed to Hops & Barley, in an old converted butcher shop, where we had three more beers and learned about the brewing process.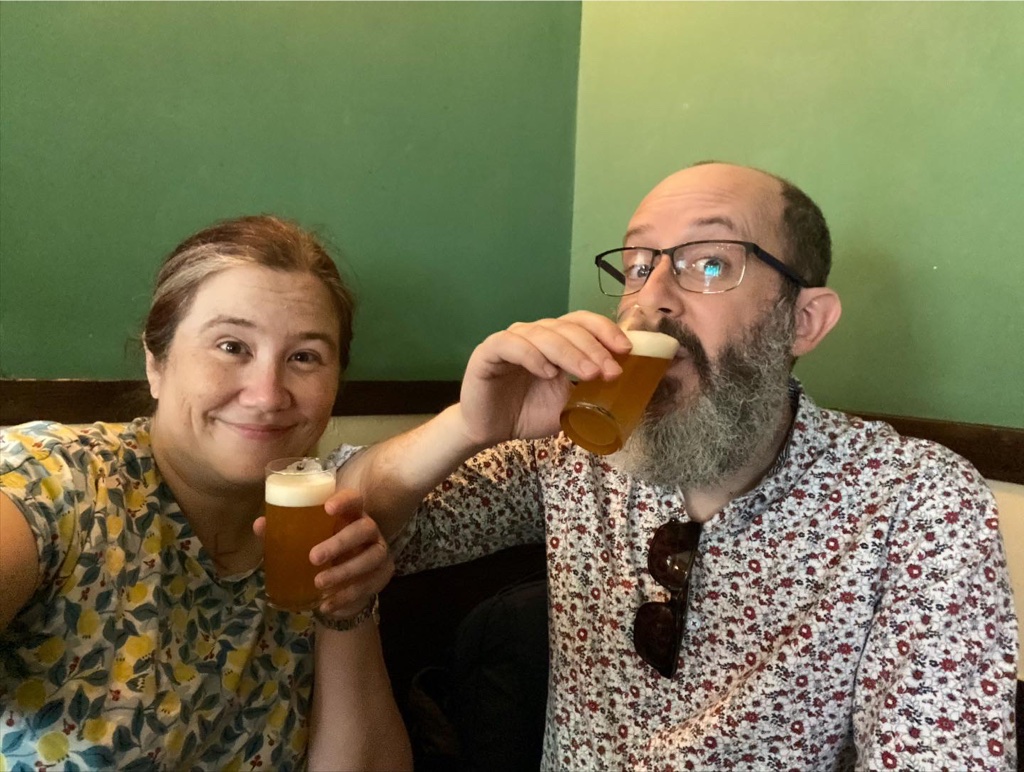 Our final stop was Protokoll Berlin, where we had some more beers and said goodbye to the group.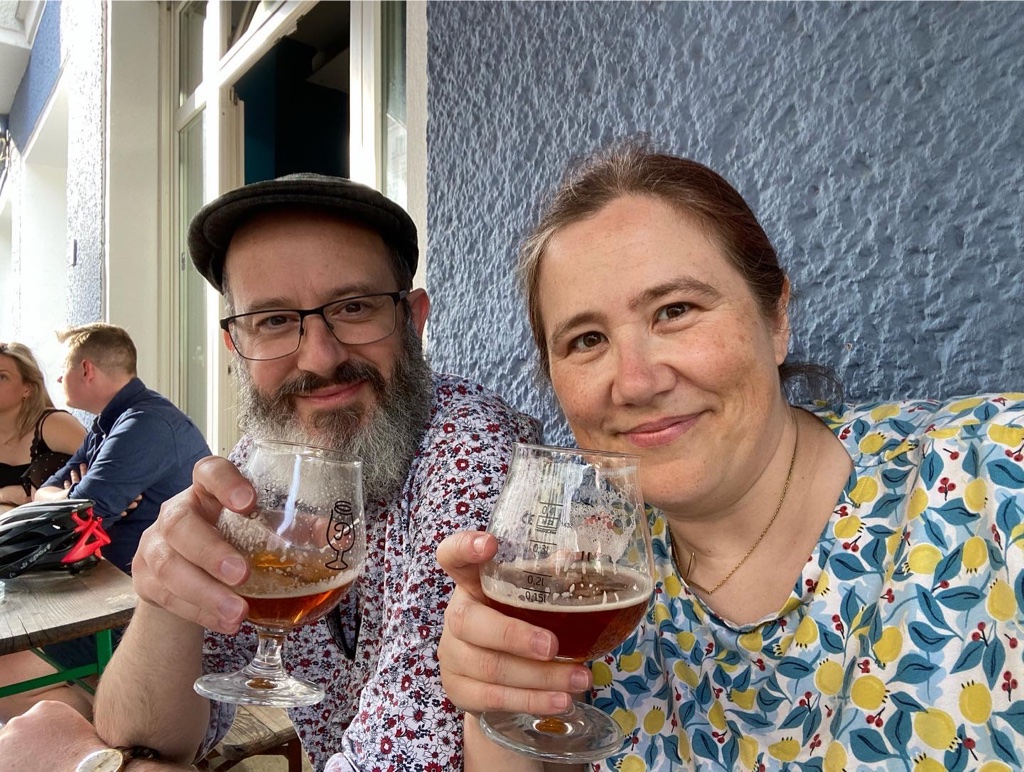 It was a fun evening!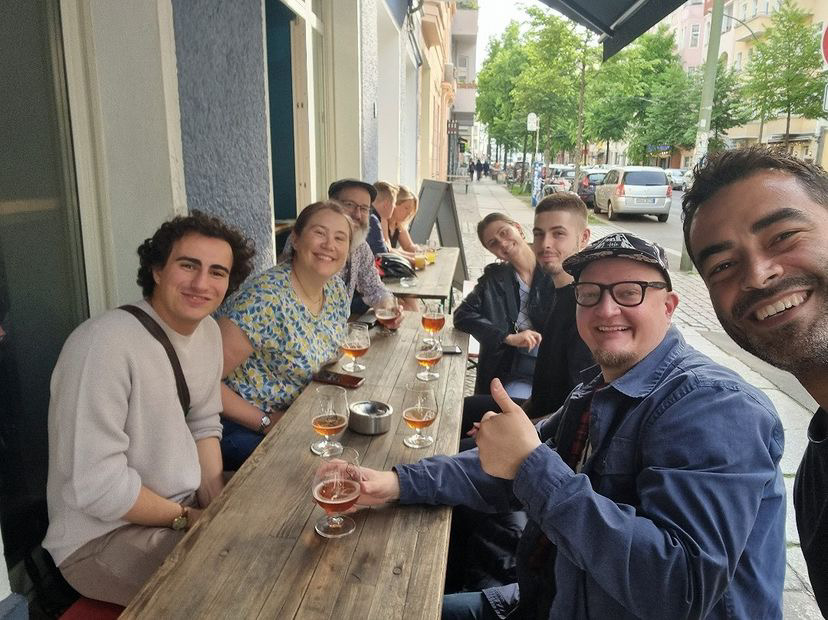 Later that night, we had a reservation at CODA, Germany's first and only Michelin 2-starred dessert restaurant. We had the 5-course tasting menu with matching cocktails. Every course involved interesting ingredients used in ways you wouldn't normally expect. We started with four little treats: gummy bear, churro, "Kopfsalat," and "Beefcake." The salat was my favourite, which delicate lettuce leaves that had almost been candied somehow.
Next was my favourite dish of the night, which had frozen marscapone with grapefruit, savoy cabbage, and thyme. It was like eating an amazing ice cream sundae.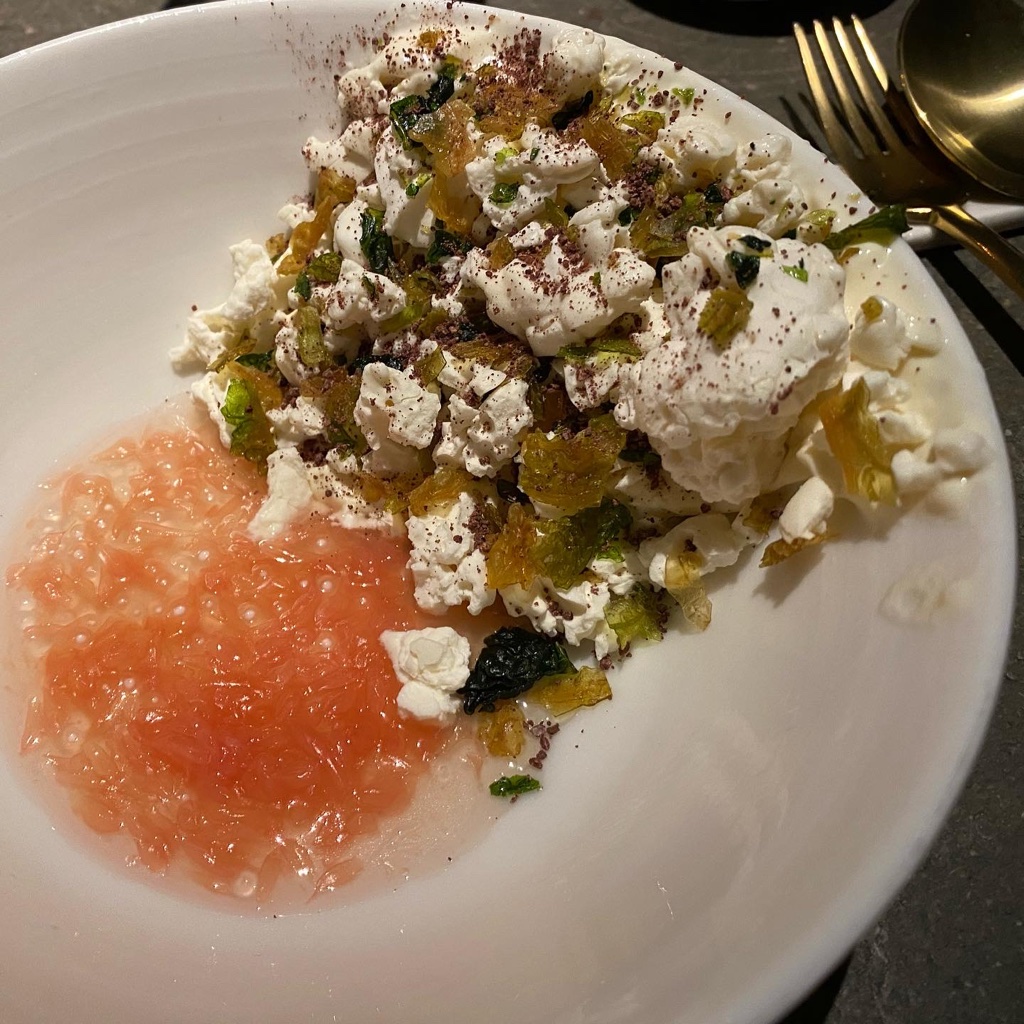 The next course had to be smashed to be eaten, and involved rhubarb, tarragon, and honey.
I was pretty excited by the next one – waffles with raclette cheese inside that you dipped in kimchi dust and yogurt.
We were getting to the more traditional style desserts. This one was grilled apple with an oat cookie and sultanas, but also with rings of crispy shallots!
You have the option at this point to sub in a "caviar popsicle," but we skipped that one. 😂 The final course was all about chocolate, with a gorgeous glazed little chocolate cake served with purple carrot, chicoree, and hazelnut.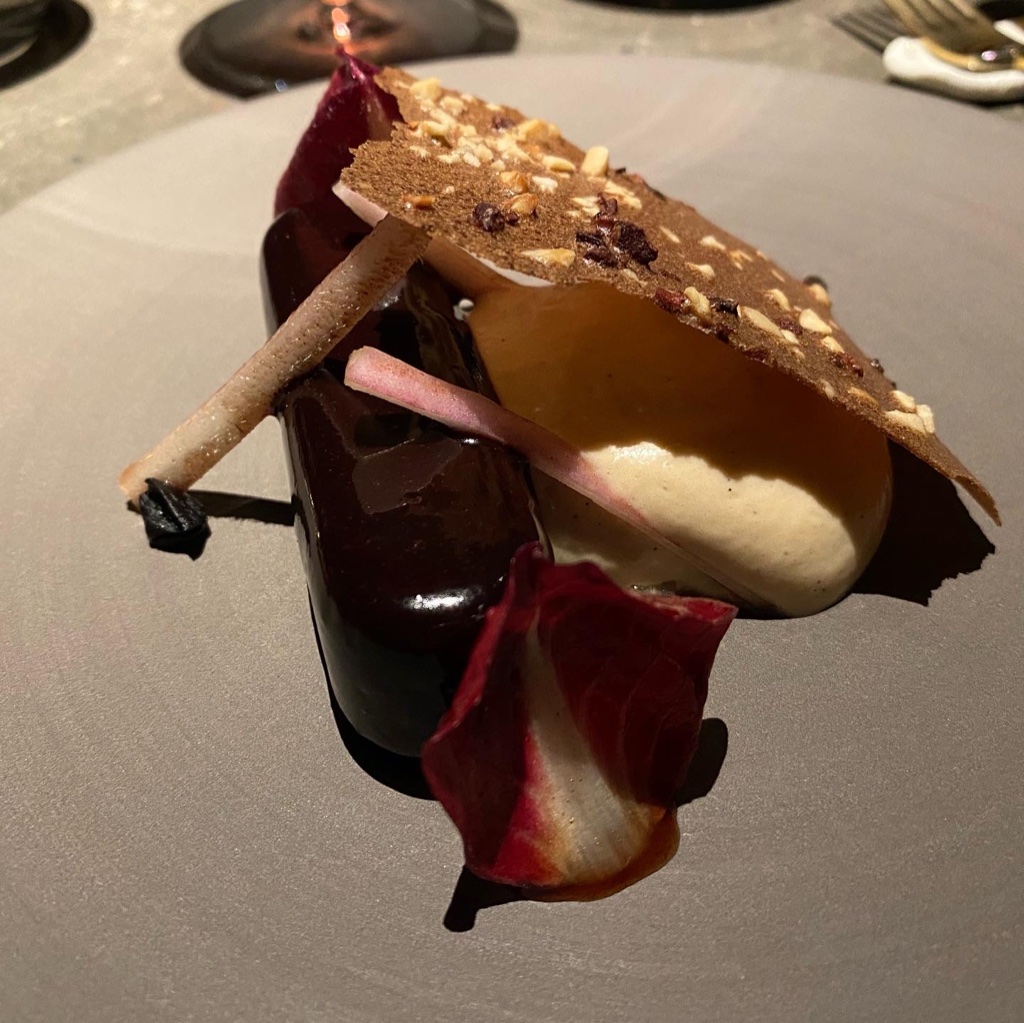 And of course you're still not done at that point, because they bring you a plate of little petit fours and chocolates to enjoy with your coffee before you go! I highly recommend CODA. I hadn't been sure what to expect with a "dessert degustation," but I was happily surprised by the variety of dishes and ingredients we got.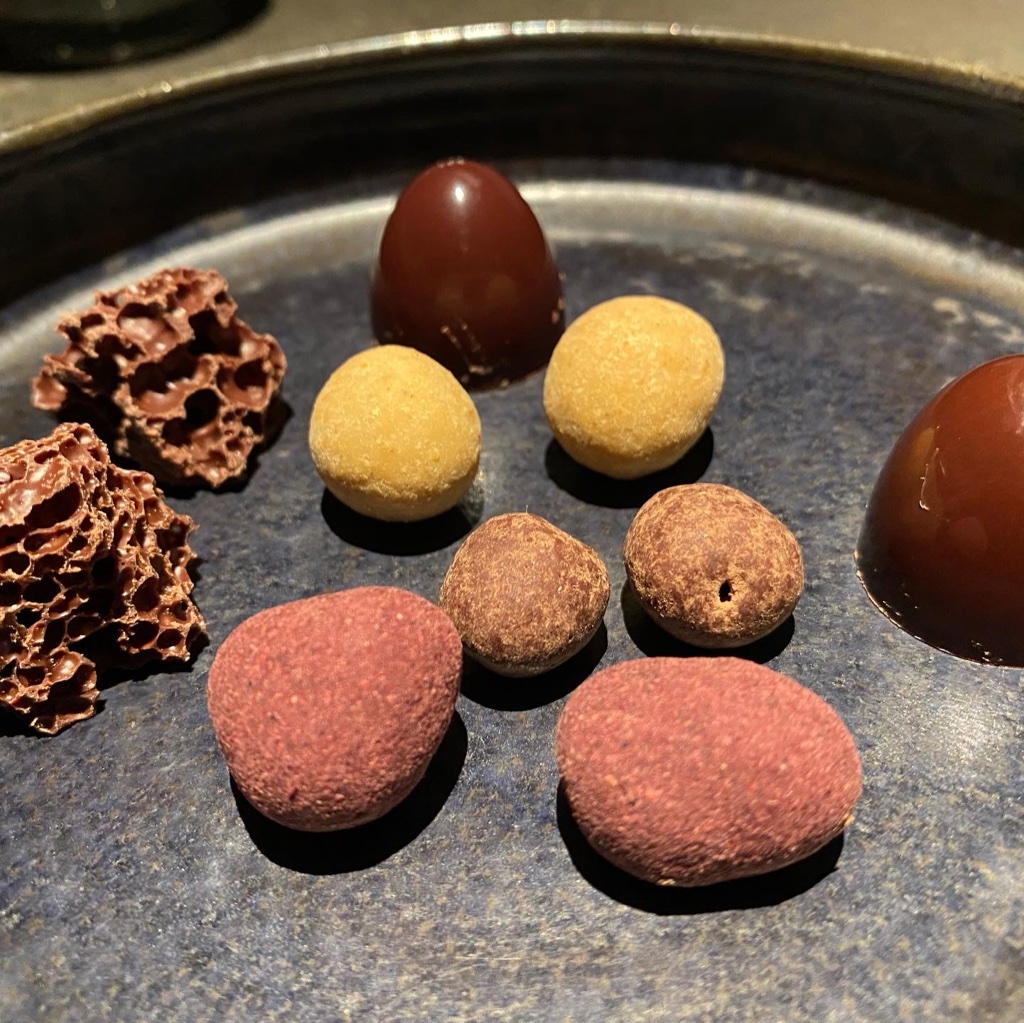 The next day was Sunday, and we planned to burn off all those calories on an all day bike tour with Fat Tire Tours. We met at the office near the Fernsehturm and discovered that it was only us plus one other American couple. The bikes were comfortable cruisers.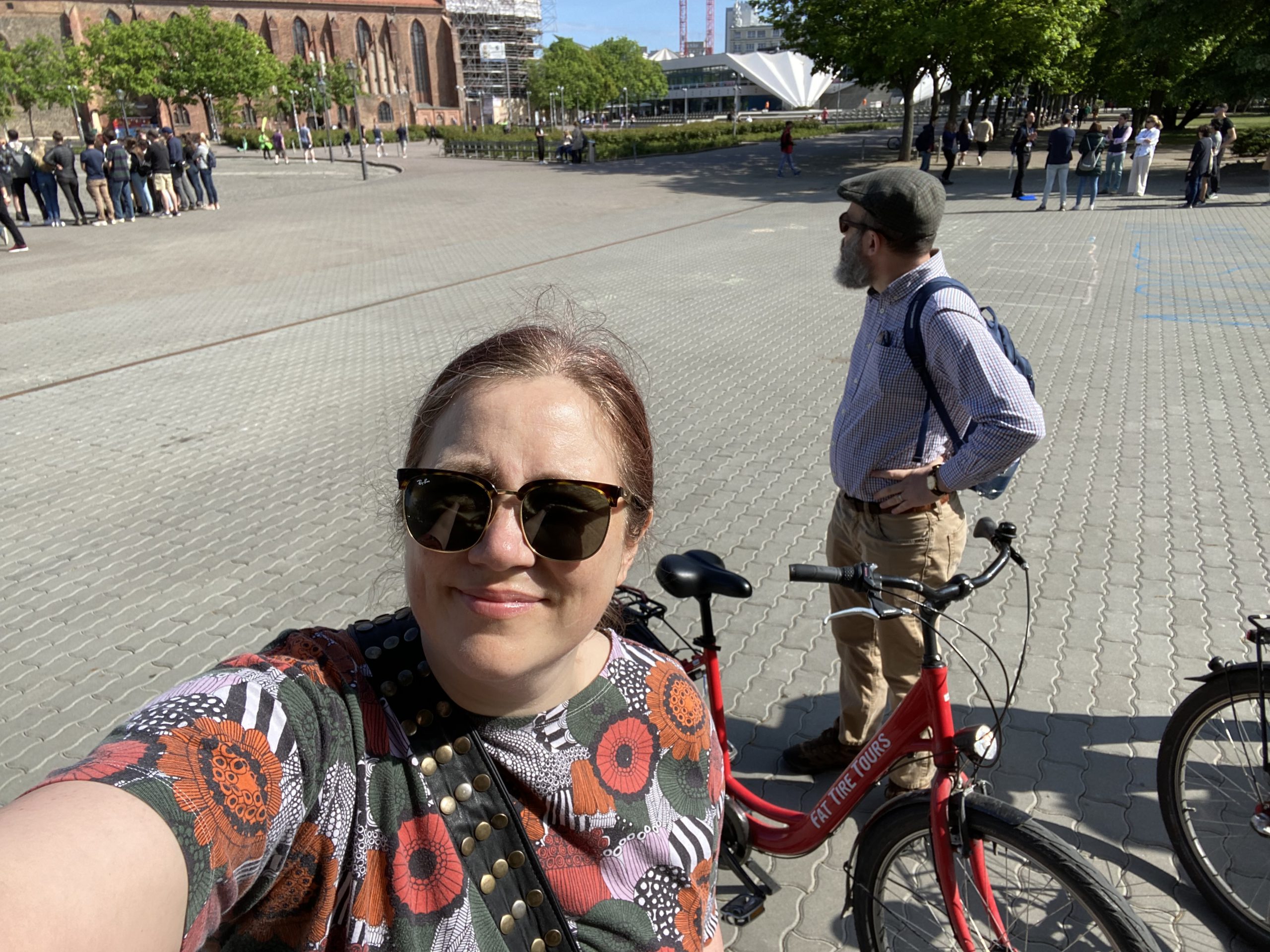 Our first stop was very close – the Rotes Rathaus (Red City Hall). Berlin is its own state in Germany, so this building is the seat of both the governing mayor and the state government of Berlin. Our host was excellent at answering all our questions!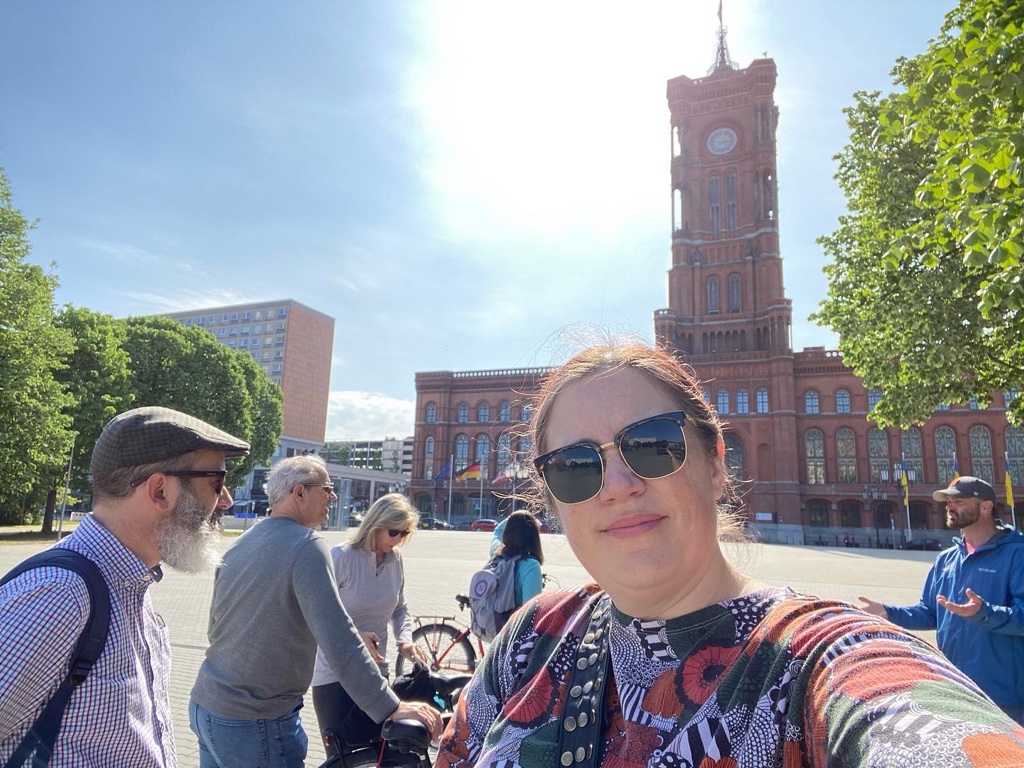 We next headed to the East Side Gallery at the Berlin Wall again, where we parked in the "death strip" gap between the inner and outer walls.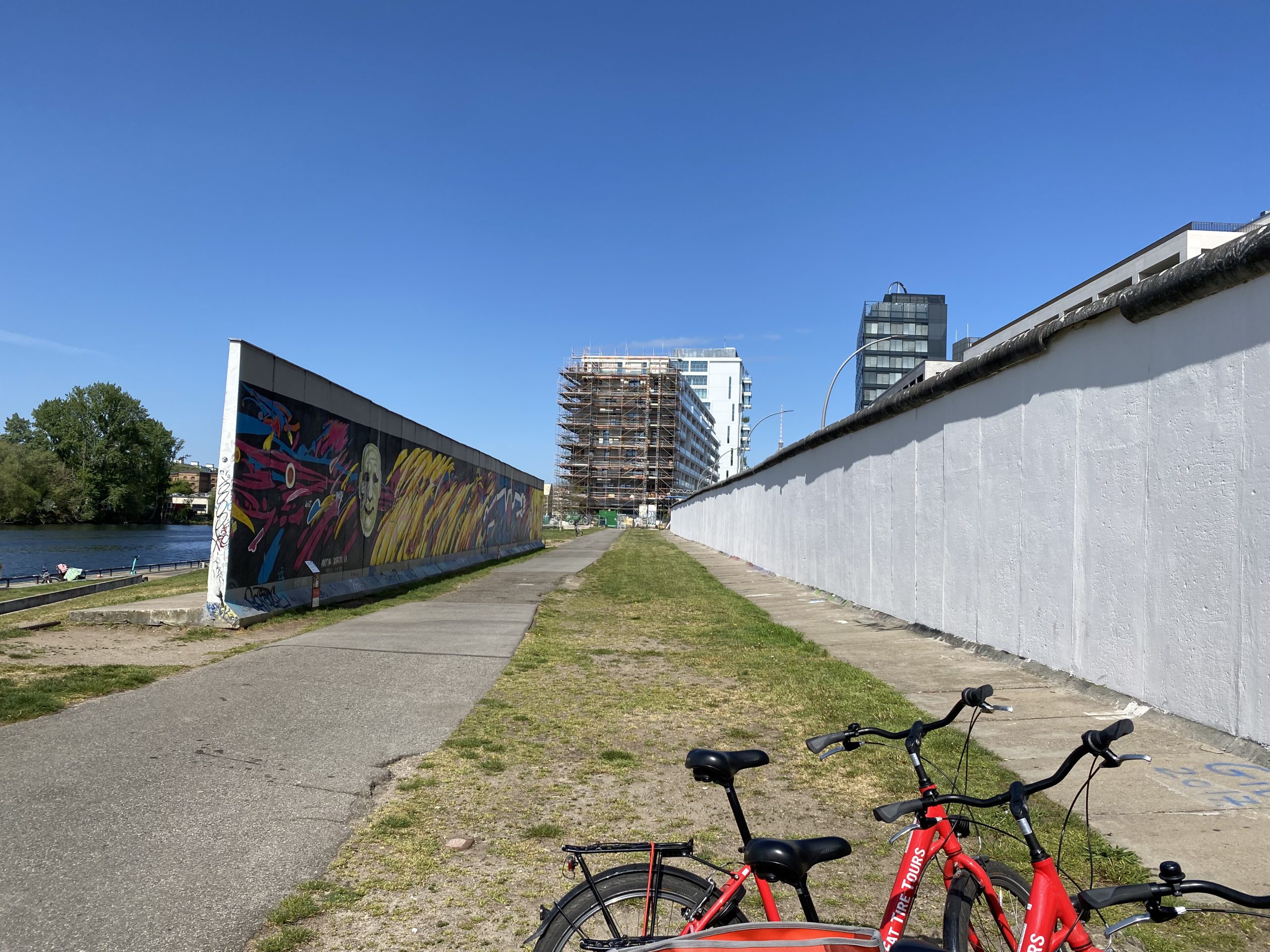 Our tour guide pulled out some chalk and gave us a potted history lesson on the division of Germany and Berlin following WW2. It was fascinating. I can't imagine what it would be like to wake up one day and find your city cut in half. People were unable to meet up with family and friends for literally decades.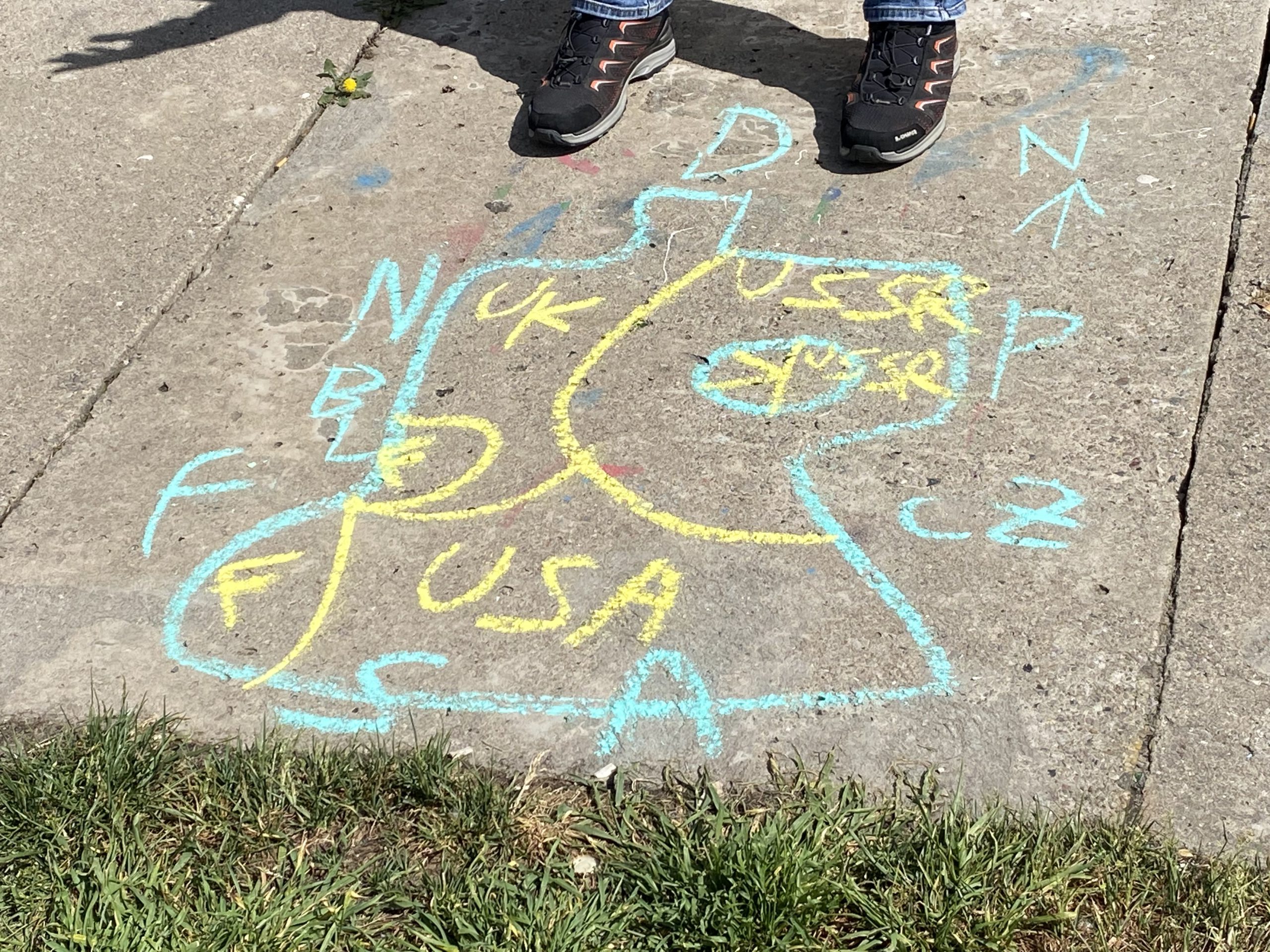 We then had some free time to see more of the artworks. After the Wall came down, in 1990 this section was covered in murals by 118 artists from 21 countries. Over the years they deteriorated, so they were restored in 2009.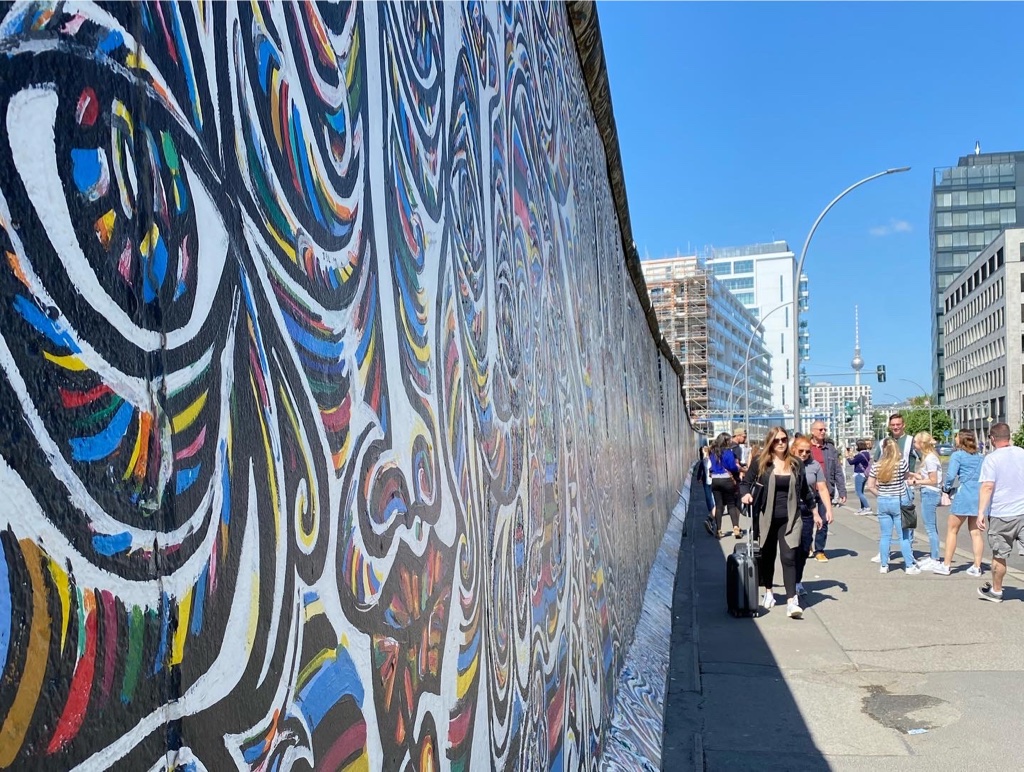 Some are abstract, while others are more straightforward. I especially liked this one, which was inspired by the artist's desire as young man to leave and study in Asia (which was forbidden in East Germany).
Our next destination was the Engelbecken (Angel's Pool), a basin formed by the Luisenstadt Canal. Our guide explained that the Wall ran right along the canal. It was difficult to imagine this beautiful neighbourhood marred by such an ugly thing.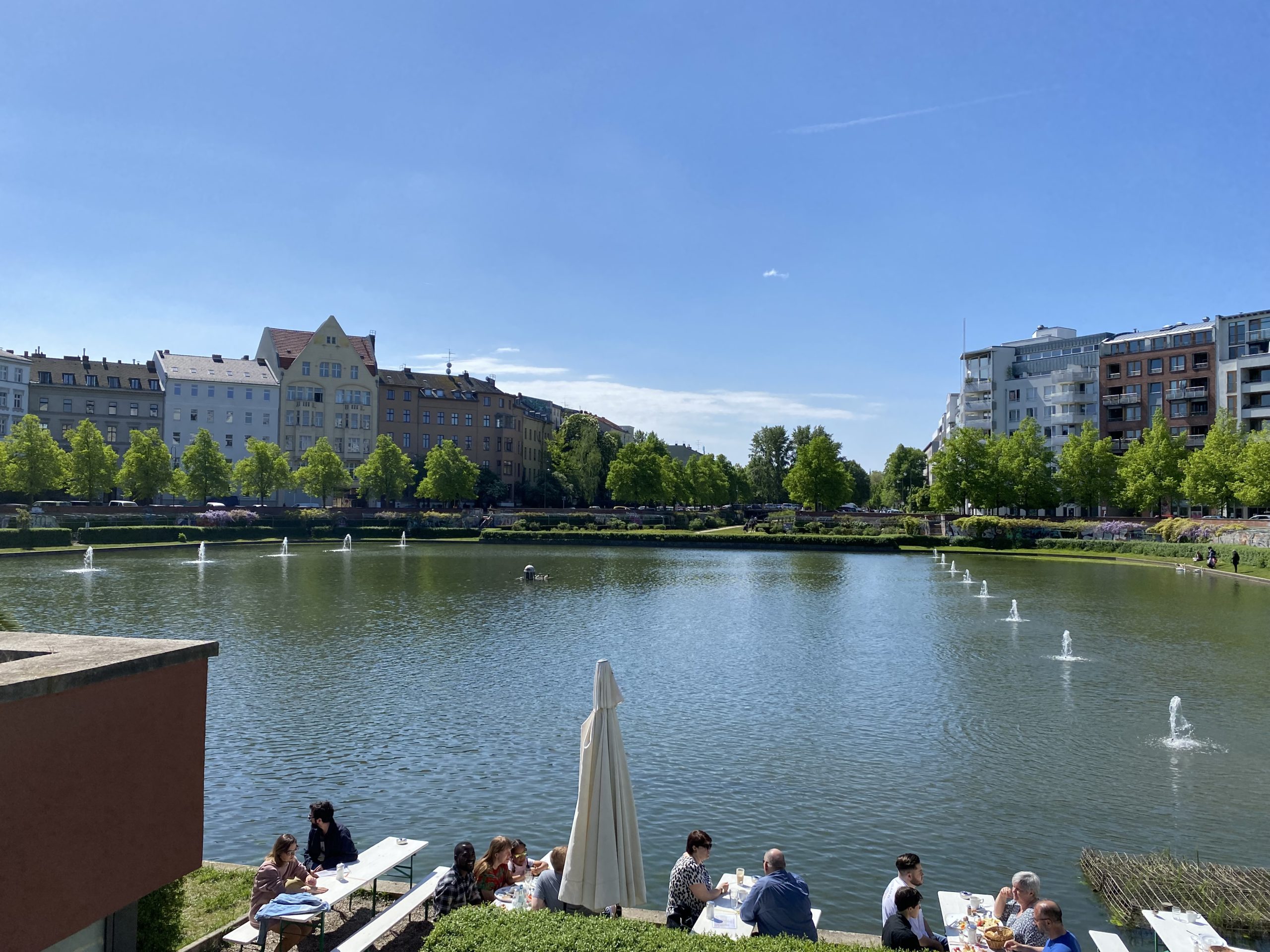 On the other side of the street is St. Michael's Church, an important historical monument in Berlin.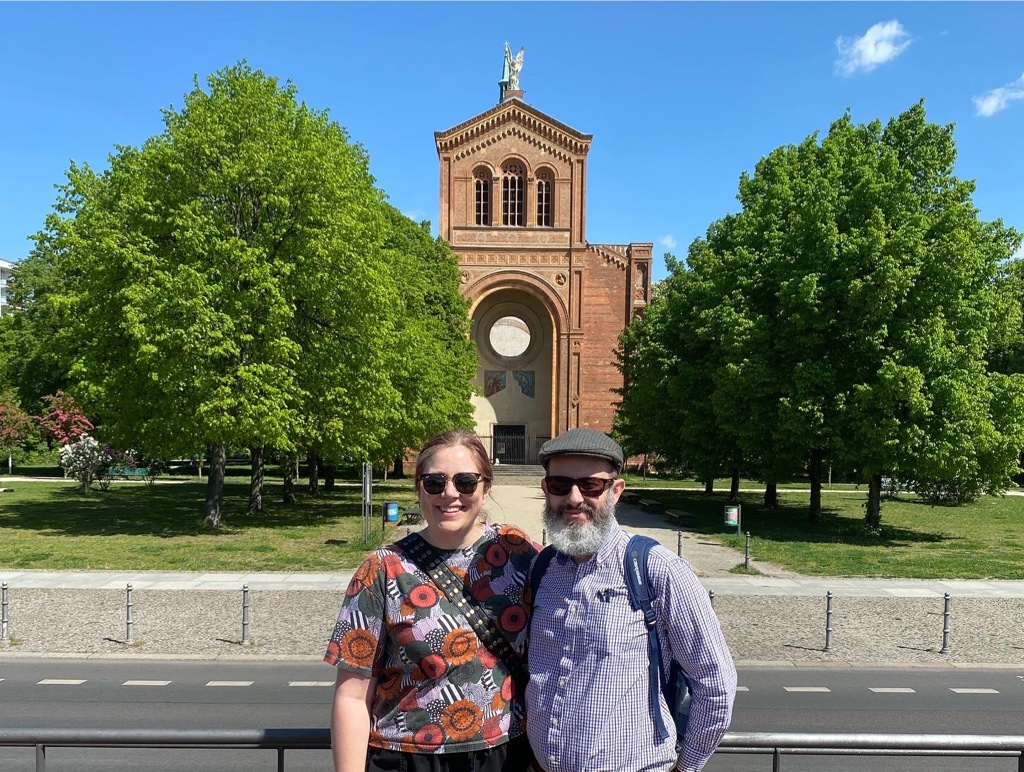 This is the point where I finally remembered that I should turn on Strava! You can see our route from the rest of the tour here. With the bit I forgot, we probably did about 20km over the full day.
We next headed to the Bebelplatz, a large open square near a palace, an opera house, a cathedral, a and several university buildings.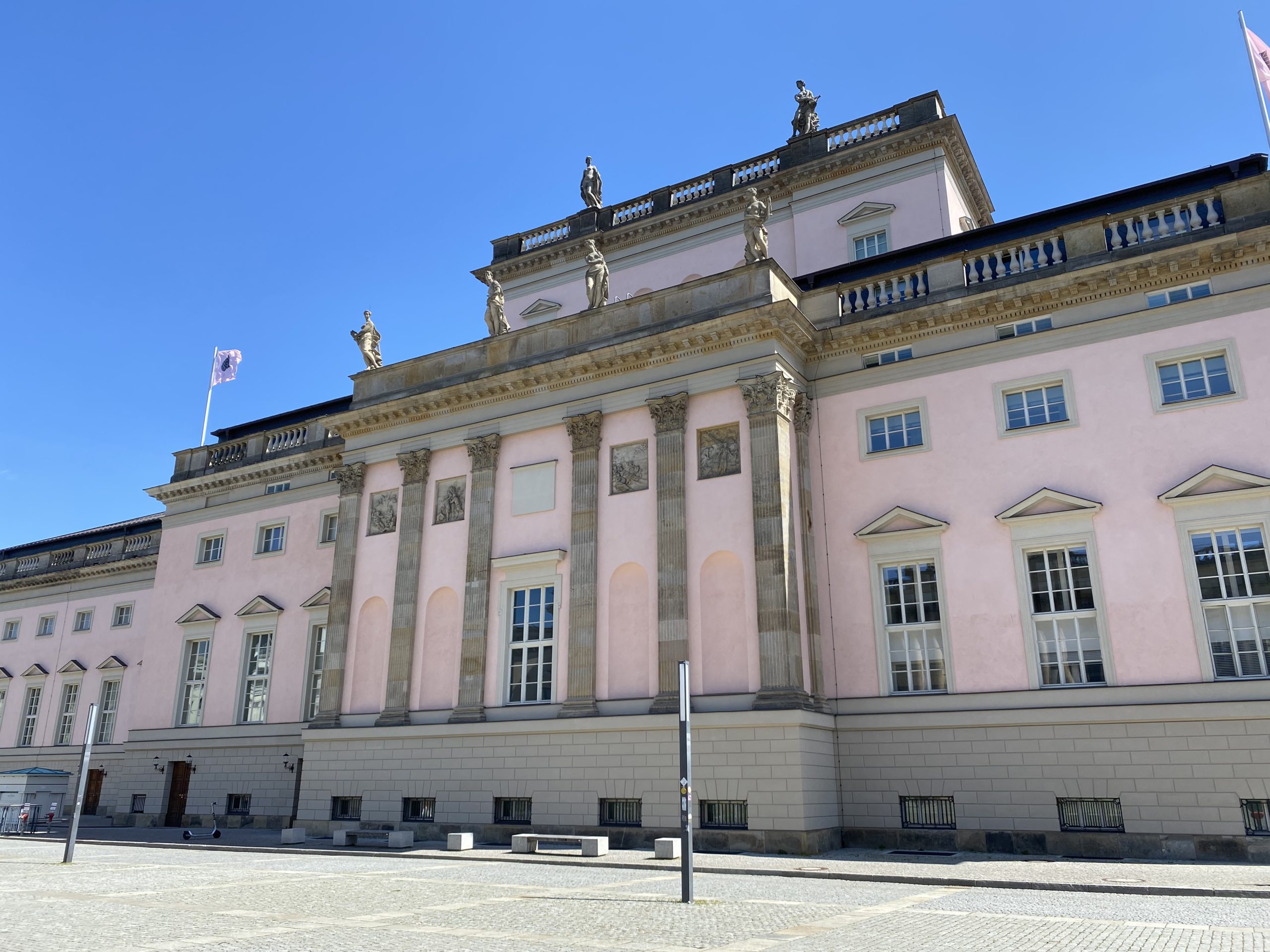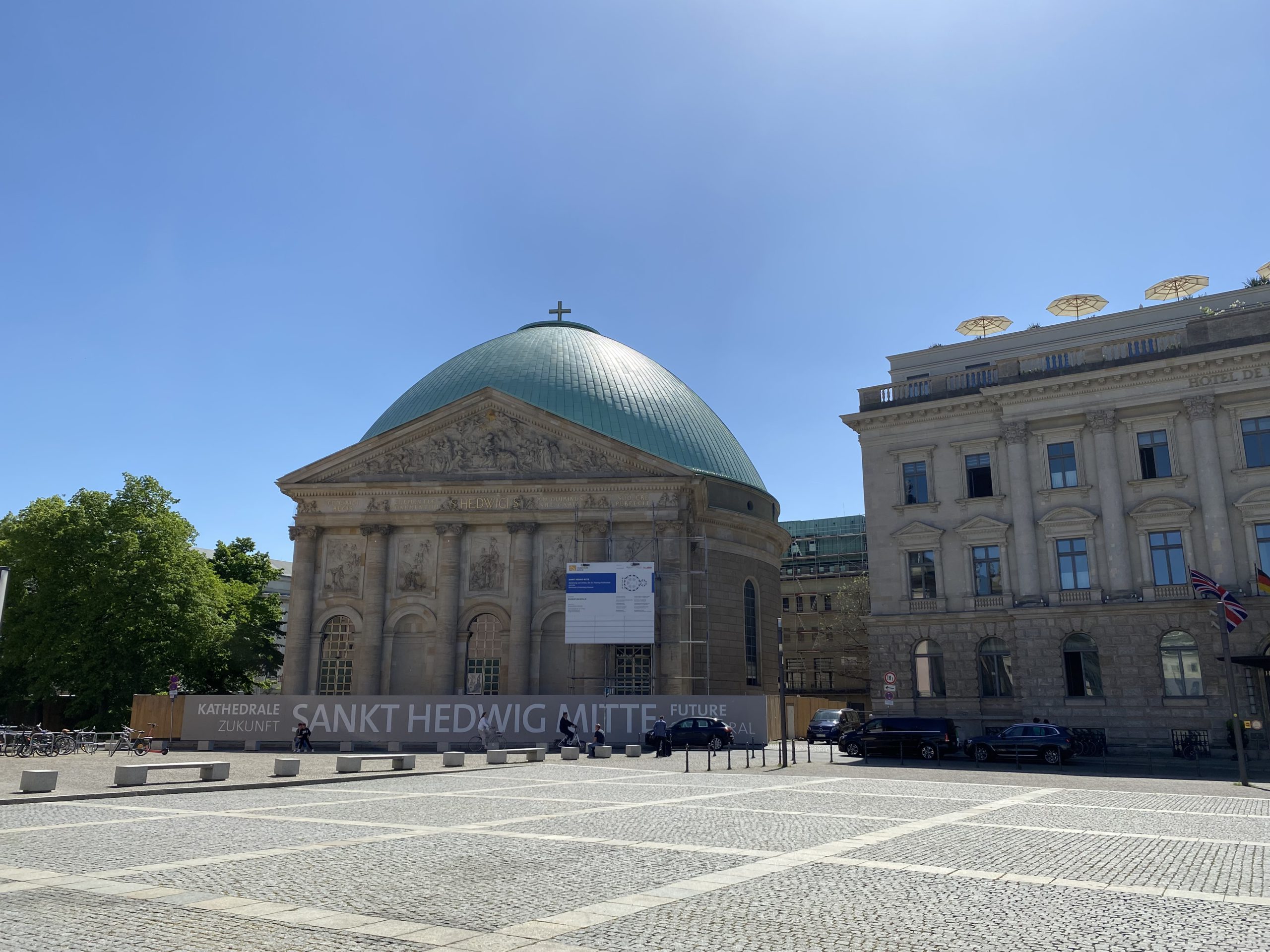 We hopped off our bikes so our guide could give us a history lesson. He explained that Bebelplatz is the site of one of the infamous Nazi book burning ceremonies held in the evening of 10 May 1933.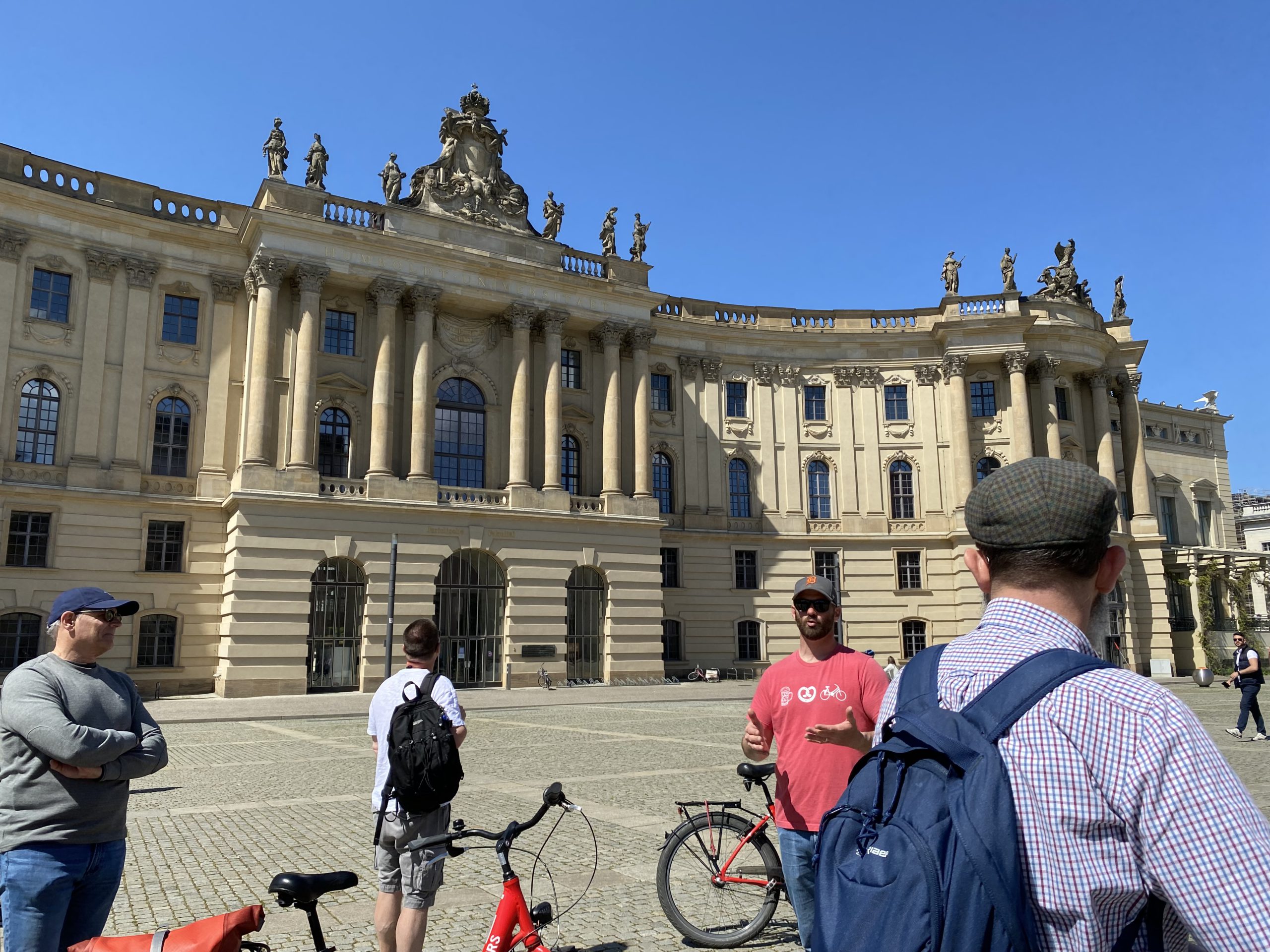 Twenty thousand books from authors the Nazis deemed unsuitable were burned, right here on this spot. It was sobering to think about. Now it's the site of a memorial called "The Empty Library." See the "window" set into the ground in the middle of the square? If you go up to it and look down, you are looking down into the ceiling of an empty room filled with bookcases, enough to hold all twenty thousand books.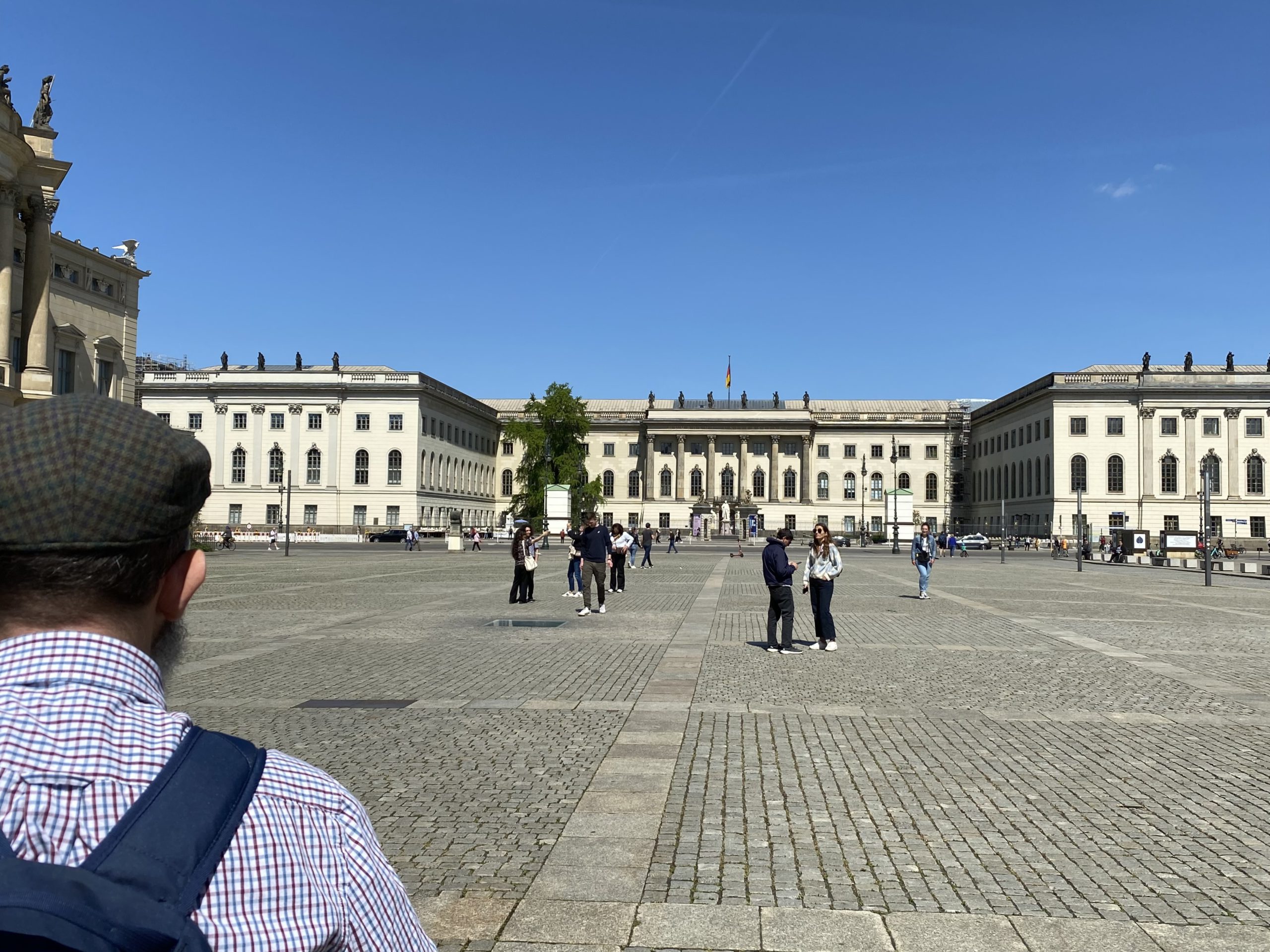 There's also a plaque explaining the memorial and including a quote from Heinrich Heine: "Das war ein Vorspiel nur, dort wo man Bücher verbrennt, verbrennt man am Ende auch Menschen." (In English: "That was only a prelude; where they burn books, they will in the end also burn people").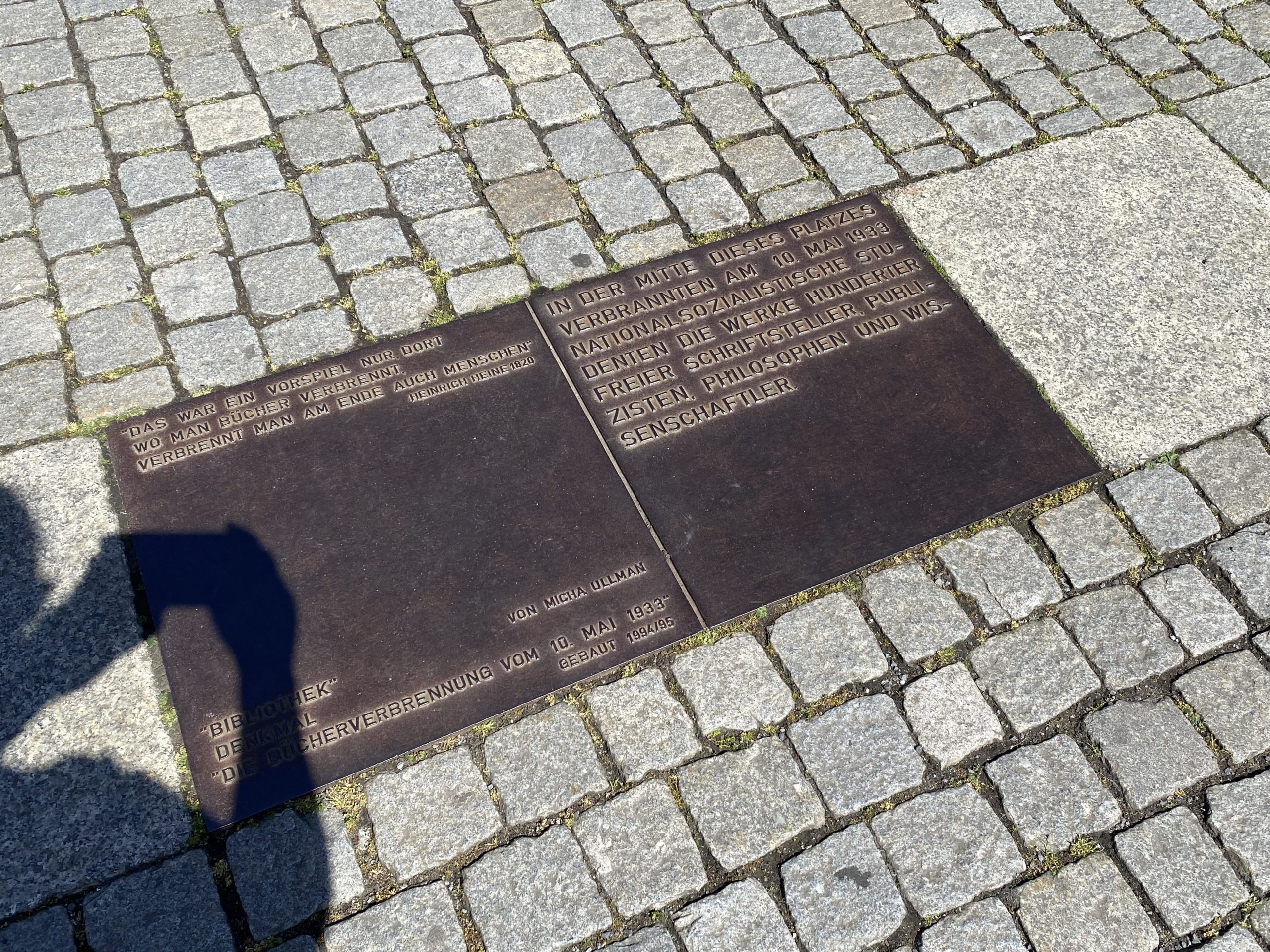 Not far away is the Gendarmenmarket, another large square surrounded by monumental buildings. One of them is the Konzerthaus (Concert Hall).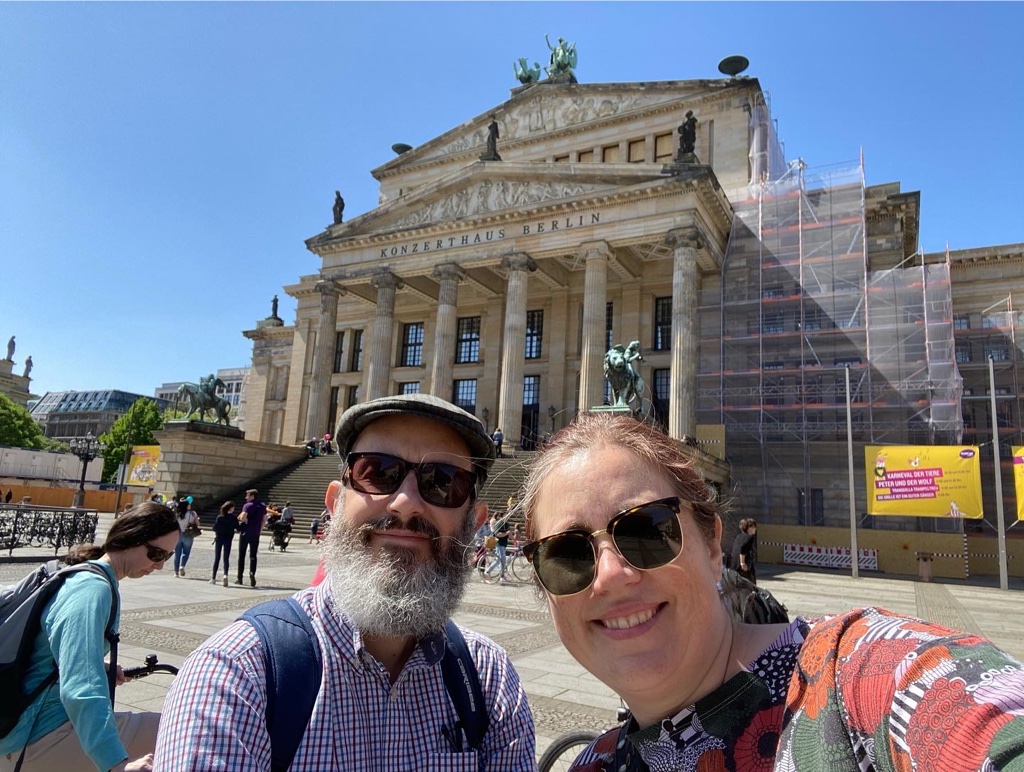 Another is the Französischer Dom ("French Cathedral," aka the French Reformed Church of Friedrichstadt). Like much of Berlin, this whole area was heavily damaged in WW2 and subsequently rebuilt.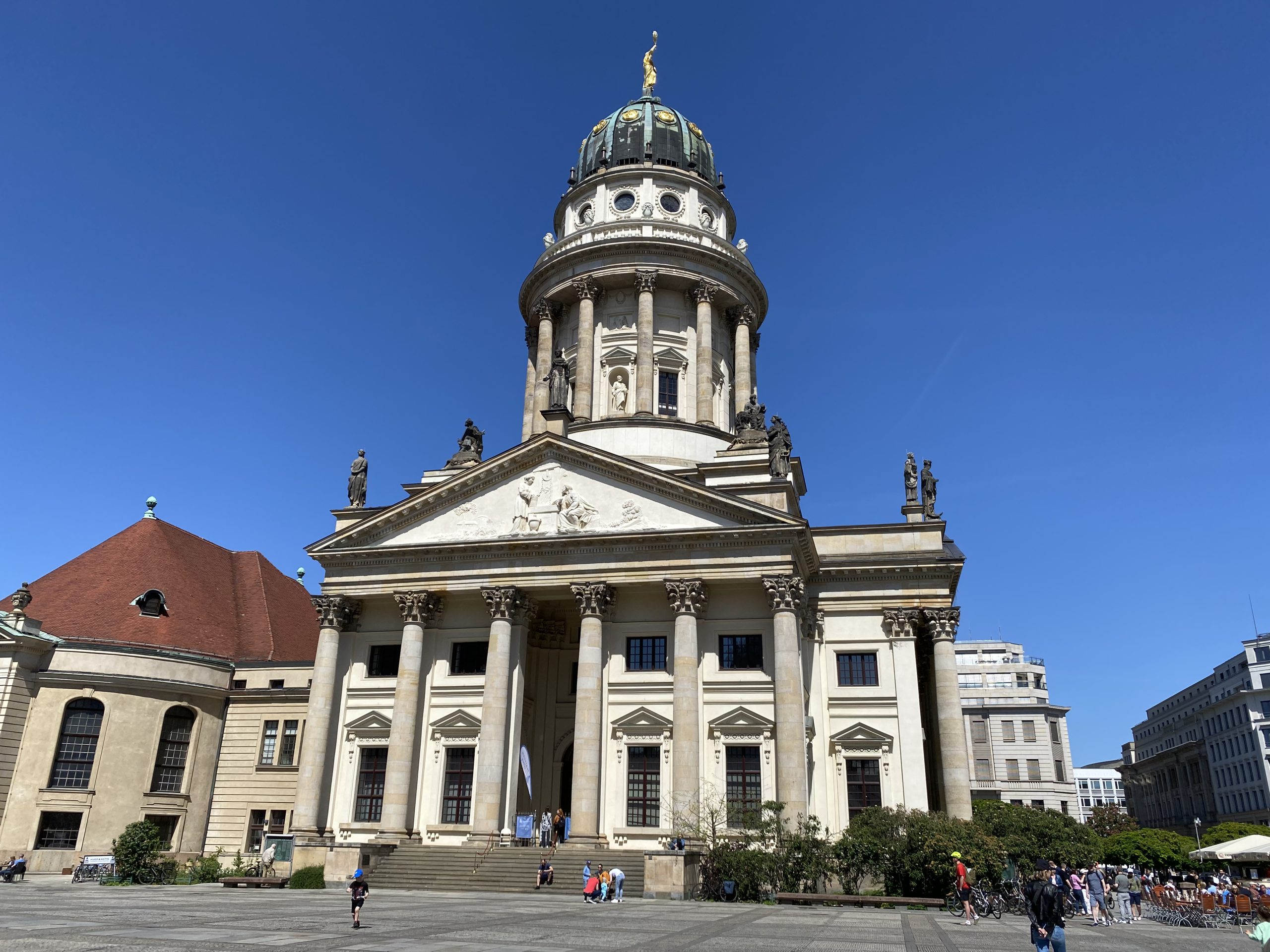 Our next stop was one of the biggest tourist stops – Checkpoint Charlie, the most well-known crossing between East and West Berlin. It's in the middle of a busy street, and there are several Cold War museums nearby if you want to learn more about it.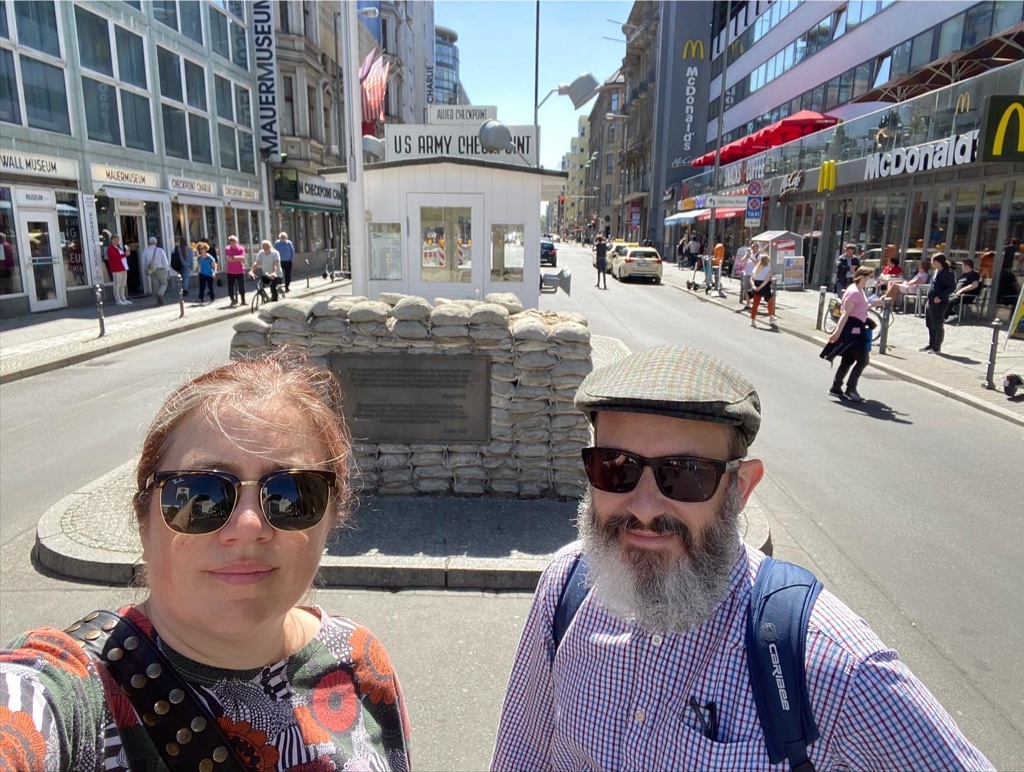 We stood listening to our guide right over a marker showing where the Wall ran through the city. It's like a scar, always there if you know where to look.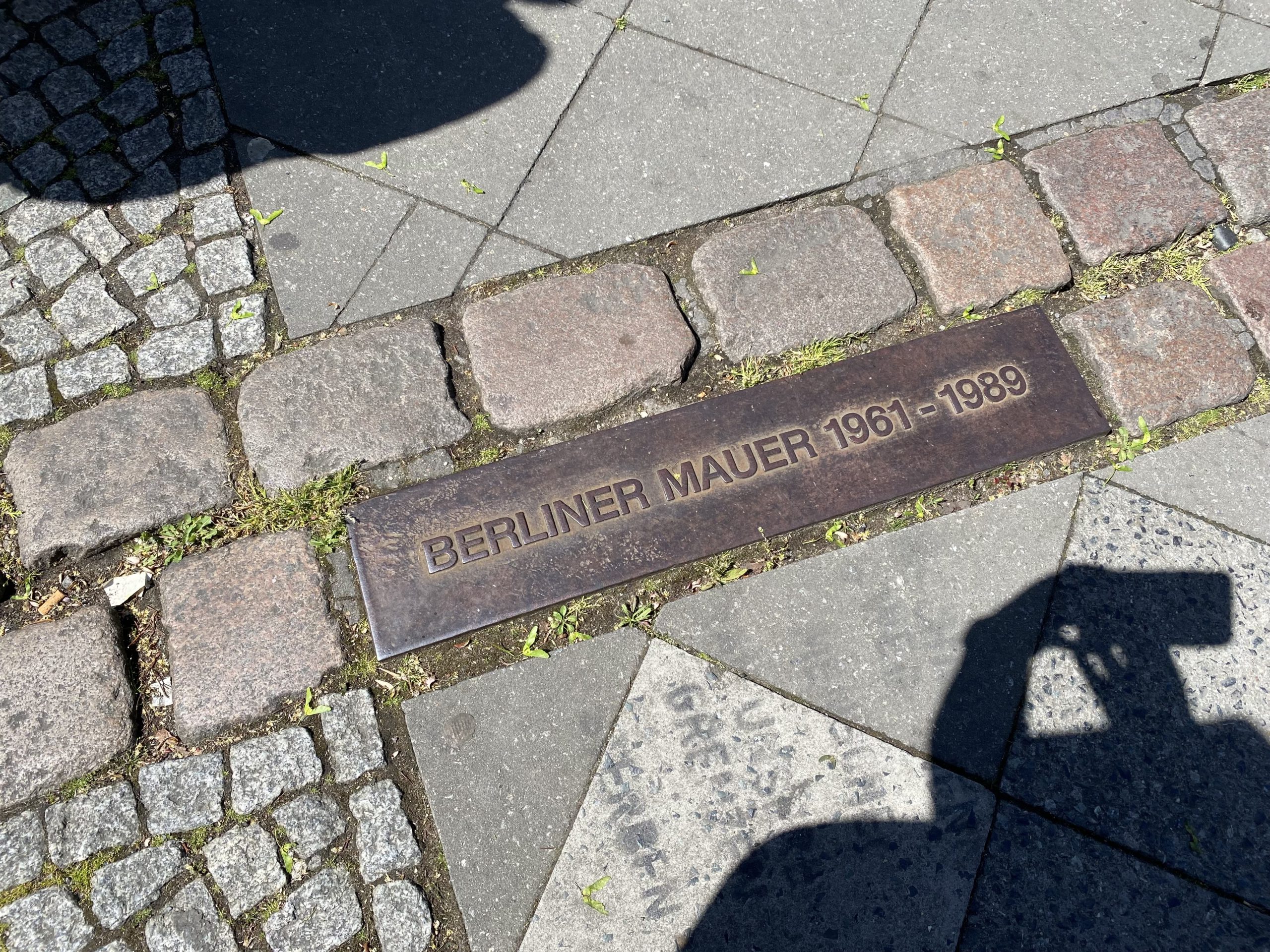 We then headed to the "Topography of Terror." This is a museum housed in the former SS and Gestapo Headquarters. It has a large surviving segment of the outer wall, and this part isn't covered in graffiti and artworks. Our guide told us a story of a brave Holzapfel family who somehow managed to zipline from the buildings in the distance across the Wall. (The story is true and you can read it in graphic novel form.)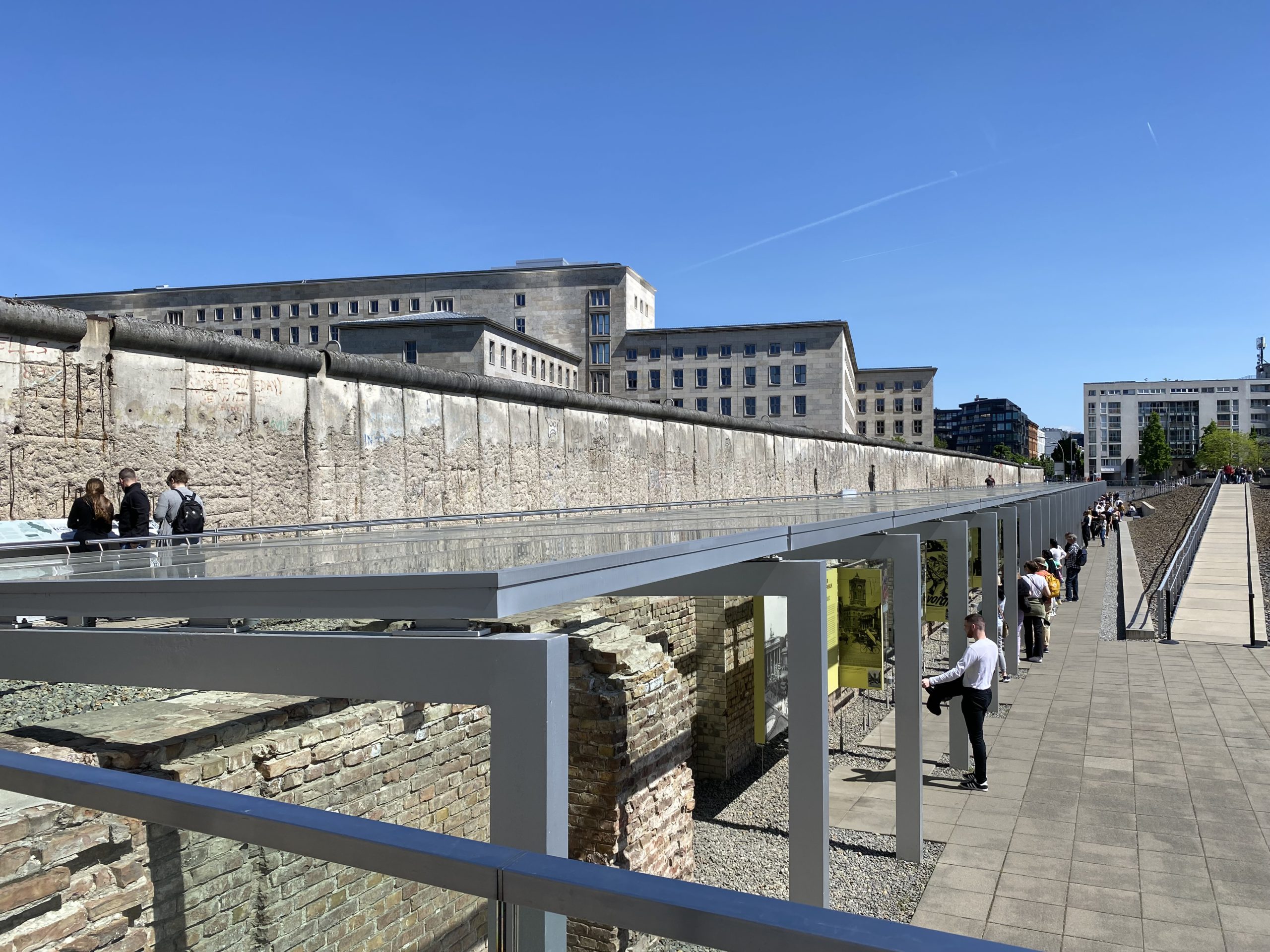 Our tour guide told us that the damage to the Wall here wasn't from the war, but rather from tourists hacking at it for chunks of concrete. That's why you can't go right up to it anymore. 😐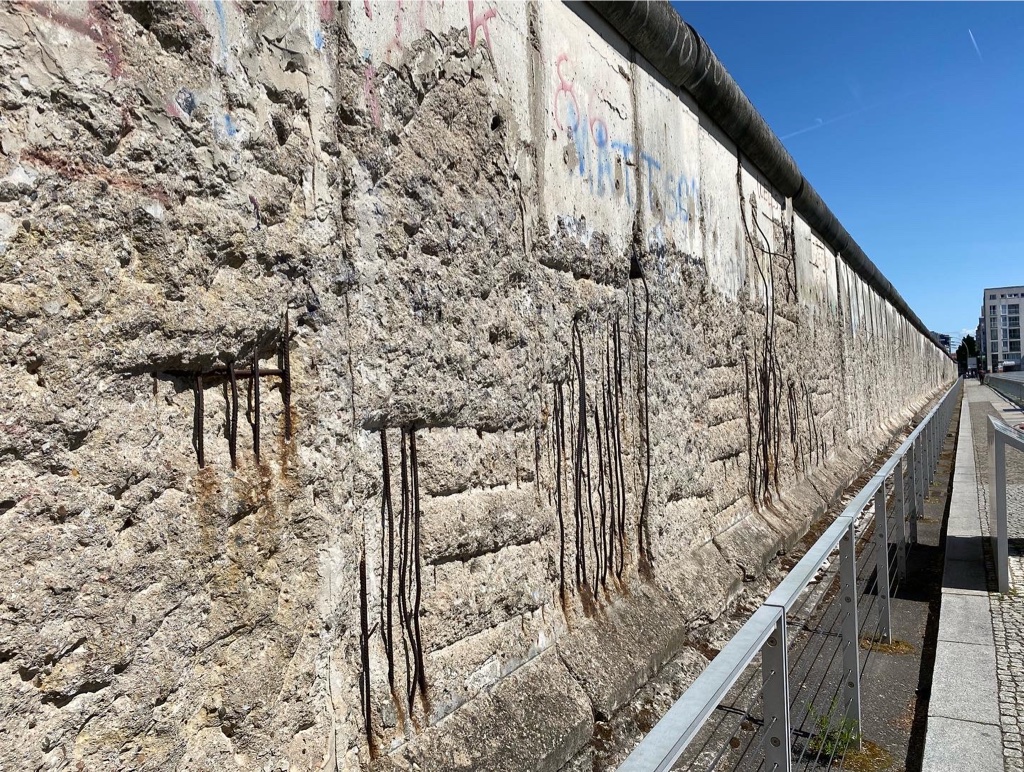 We next rode through Potsdamer Platz, with its gleaming office buildings and skyscrapers…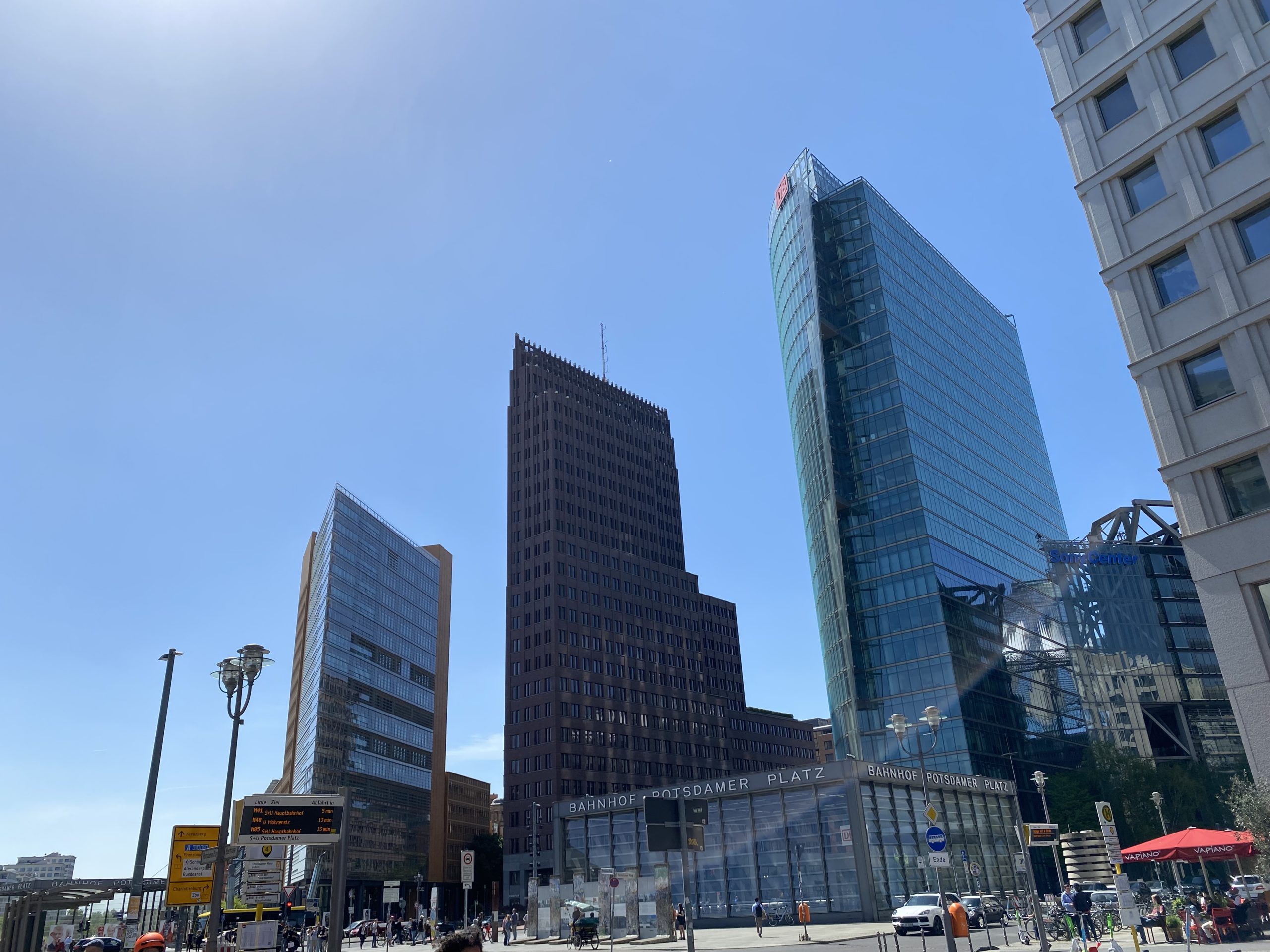 …and soon pulled over in what appeared to be a nice residential area, next to a car park. "This," our tour guide explained, "is the most spit-upon parking lot in Germany." He told us that beneath the ground here was Hitler's bunker, where he and Eva Braun committed suicide. The site is deliberately left unremarkable, with only an information board a short distance away (to avoid it becoming some sort of pilgrimage site for racists and skinheads).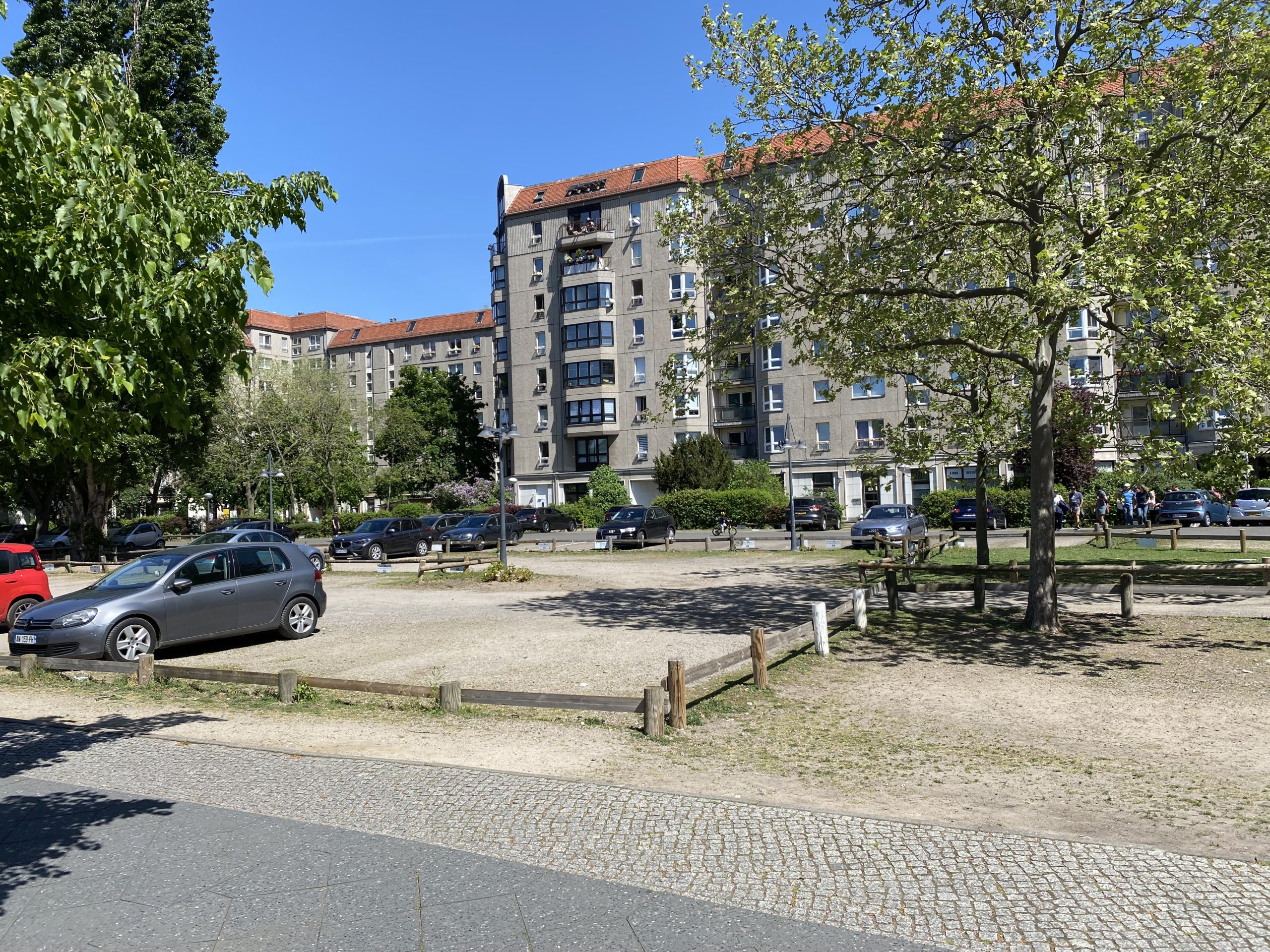 Our next stop was the Holocaust Memorial ("Memorial to the Murdered Jews of Europe"), which is unlike any memorial I've ever seen. It's an entire city block covered in 2711 concrete slabs, arranged in a grid pattern on a sloping field. It's hard from ground level to get a good view of how many there are. There are trees growing in places along the edges.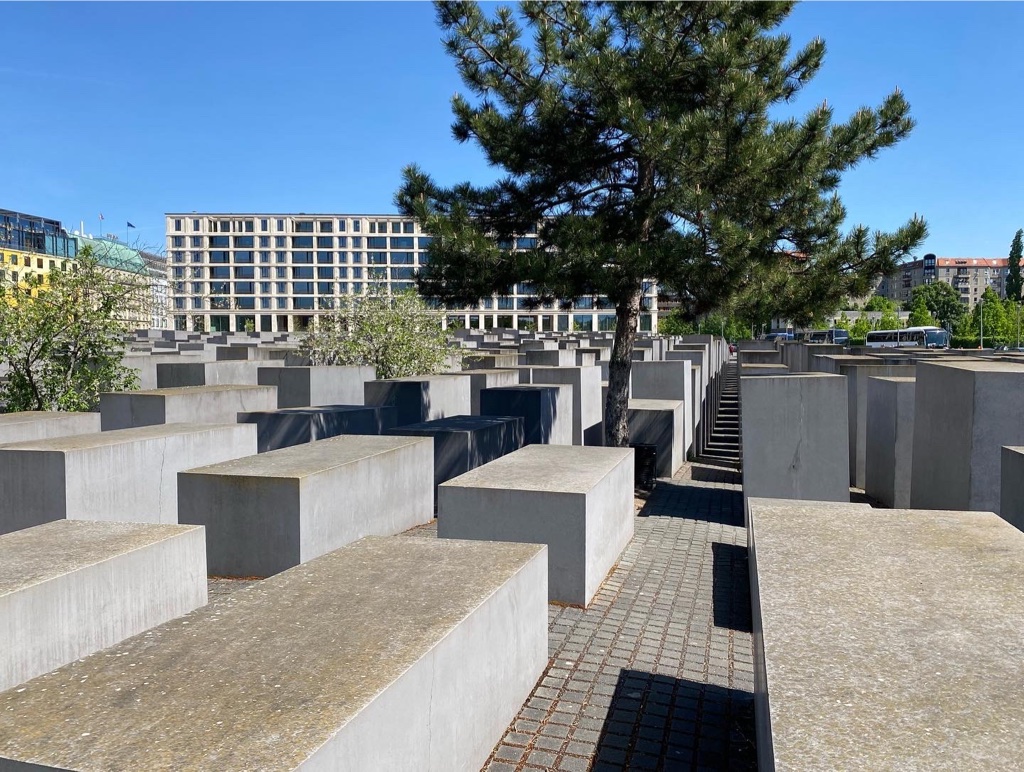 Our tour guide encouraged us to walk down among the slabs. You find yourself going downwards, and very quickly you realise that the irregular height slabs have become tall pillars looming over you.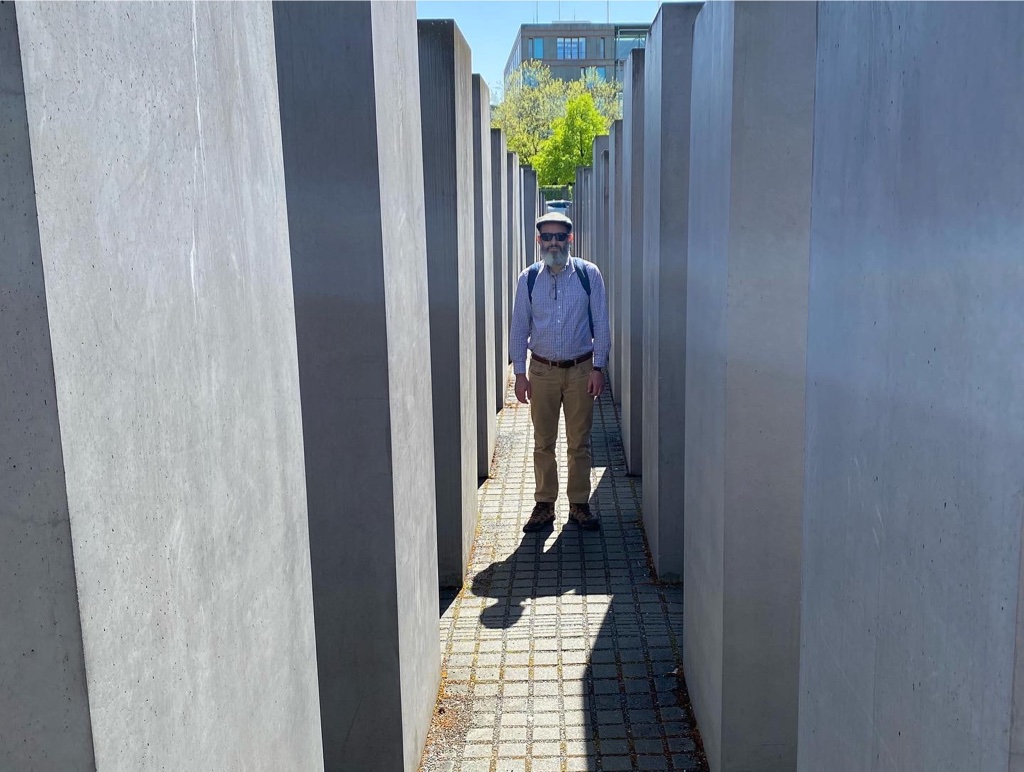 It very quickly felt oppressive. You couldn't see anyone until they were right next to you at an intersection. It was so quiet.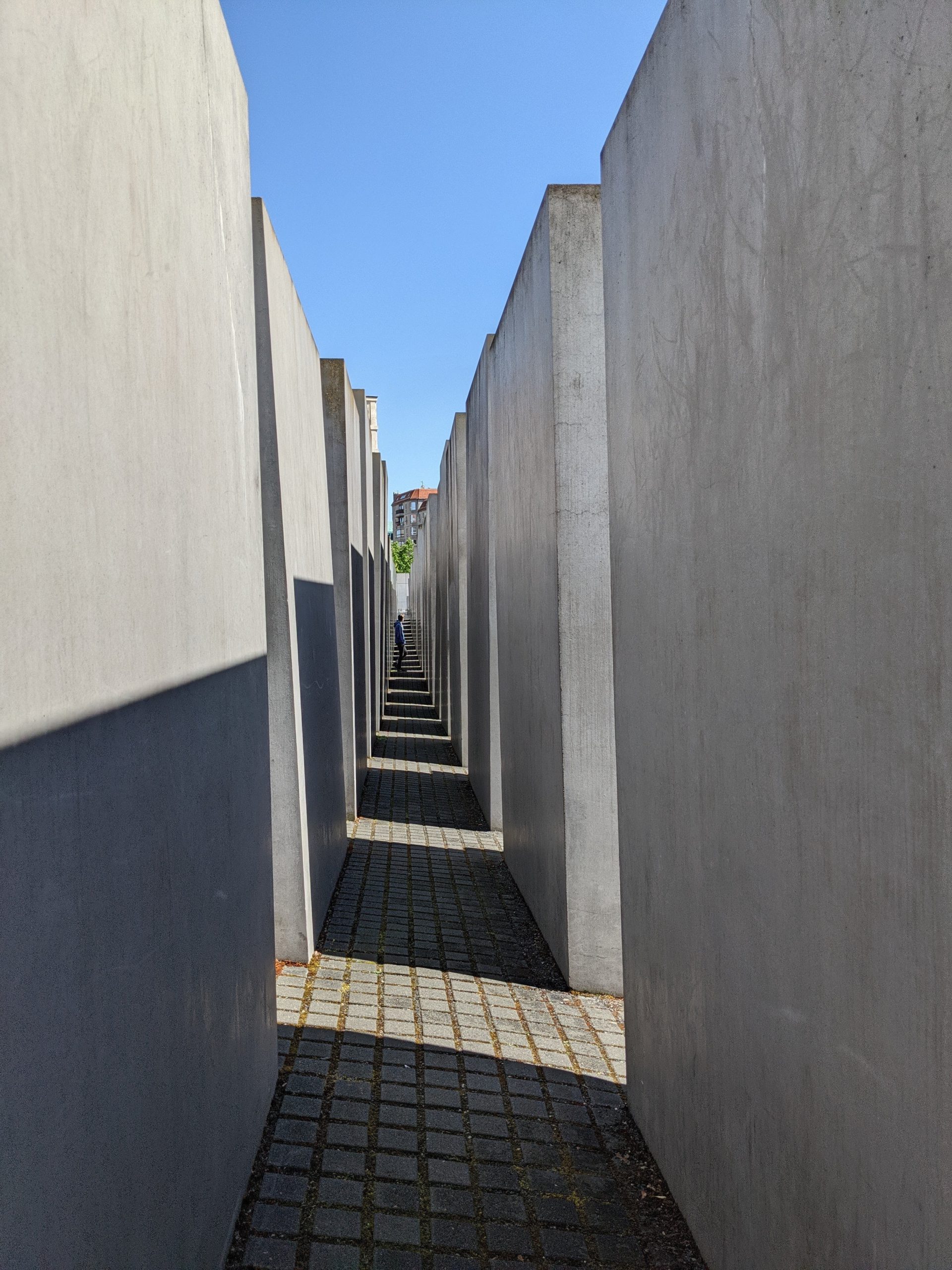 When we left the Memorial, our tour guide asked us how it made us feel. We talked about how the pillars looked like gravestones at first. We talked about how disorienting and silent it was inside the Memorial, and how you became almost paranoid. According to the designer, the slabs "are designed to produce an uneasy, confusing atmosphere, and the whole sculpture aims to represent a supposedly ordered system that has lost touch with human reason." It's a remarkable piece of art and remembrance.
We'd been riding for several hours now! We cut through the Tiergarten park, and I sneakily captured a photo riding along behind the Snook.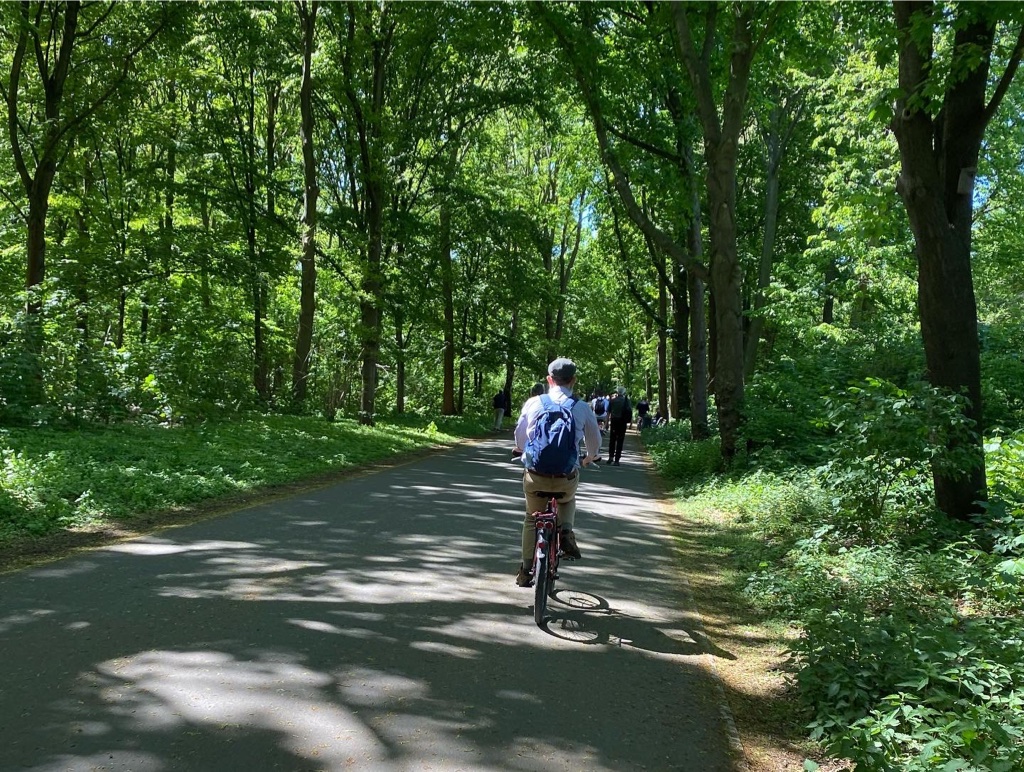 We stopped to check out the Siegessaüle ("Victory Column"), a tall monument topped with a golden statue. As a fan of Wim Wenders films, the Snook was excited to see this spot (where the angels in Wings of Desire would sit to watch the humans).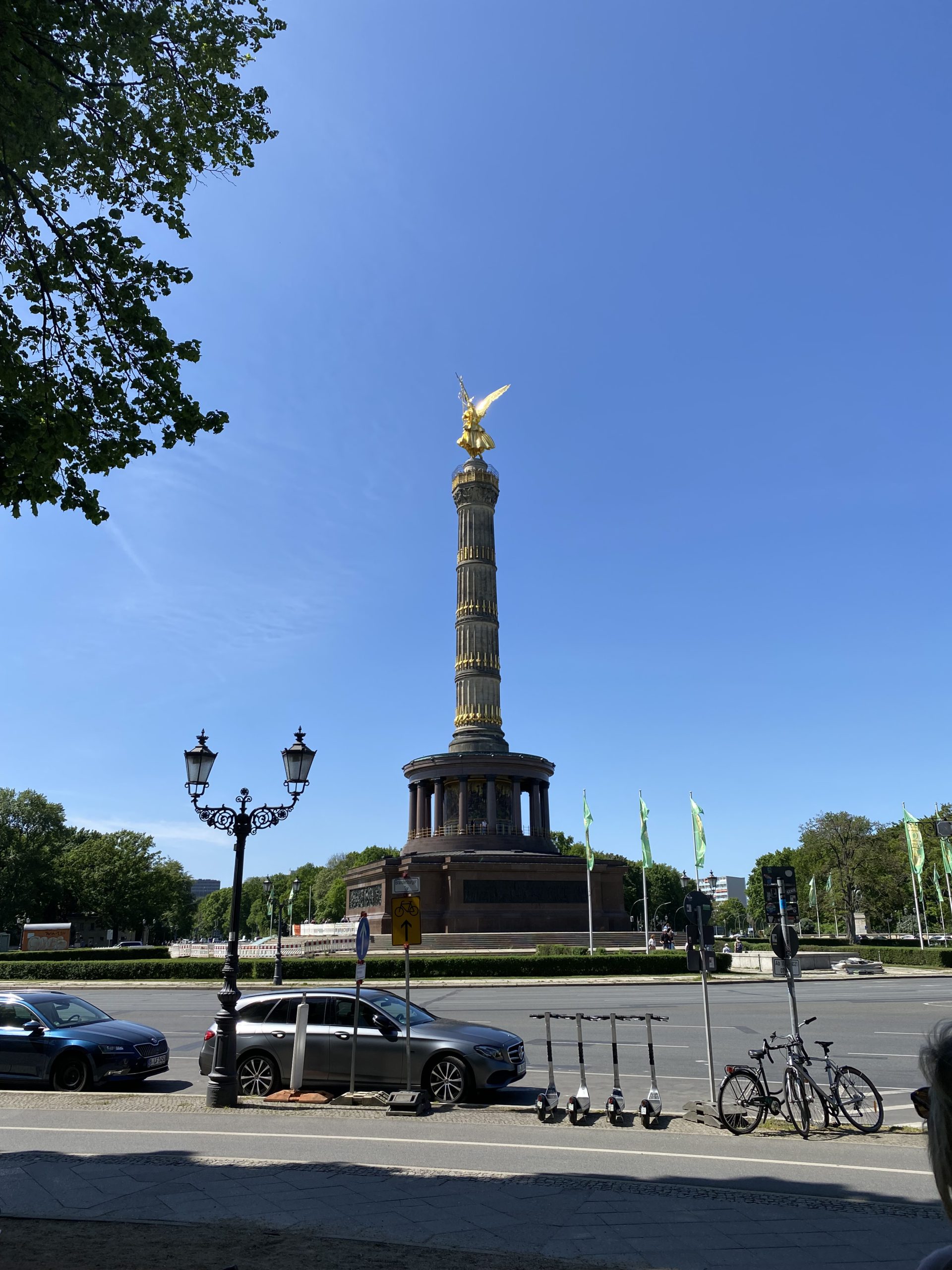 Phew – is it time for lunch yet?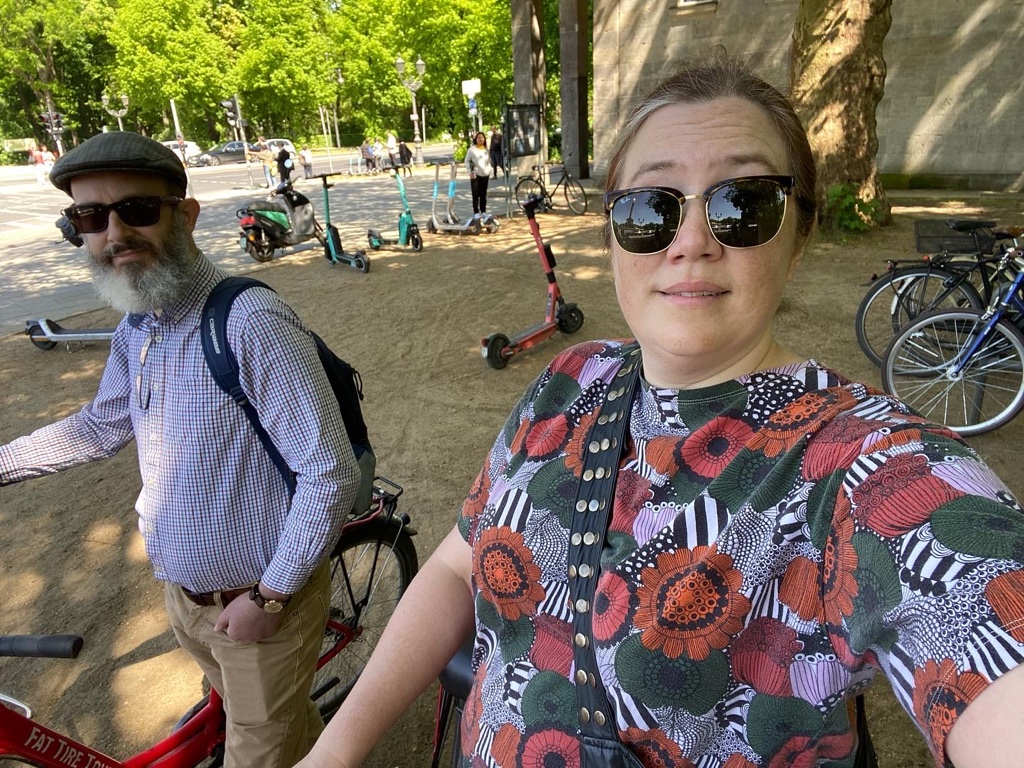 We briefly paused to check out Schloss Bellevue, the official residence of the German President. (Germany has a Chancellor who actually heads up the government, while the President's duties are more ceremonial.)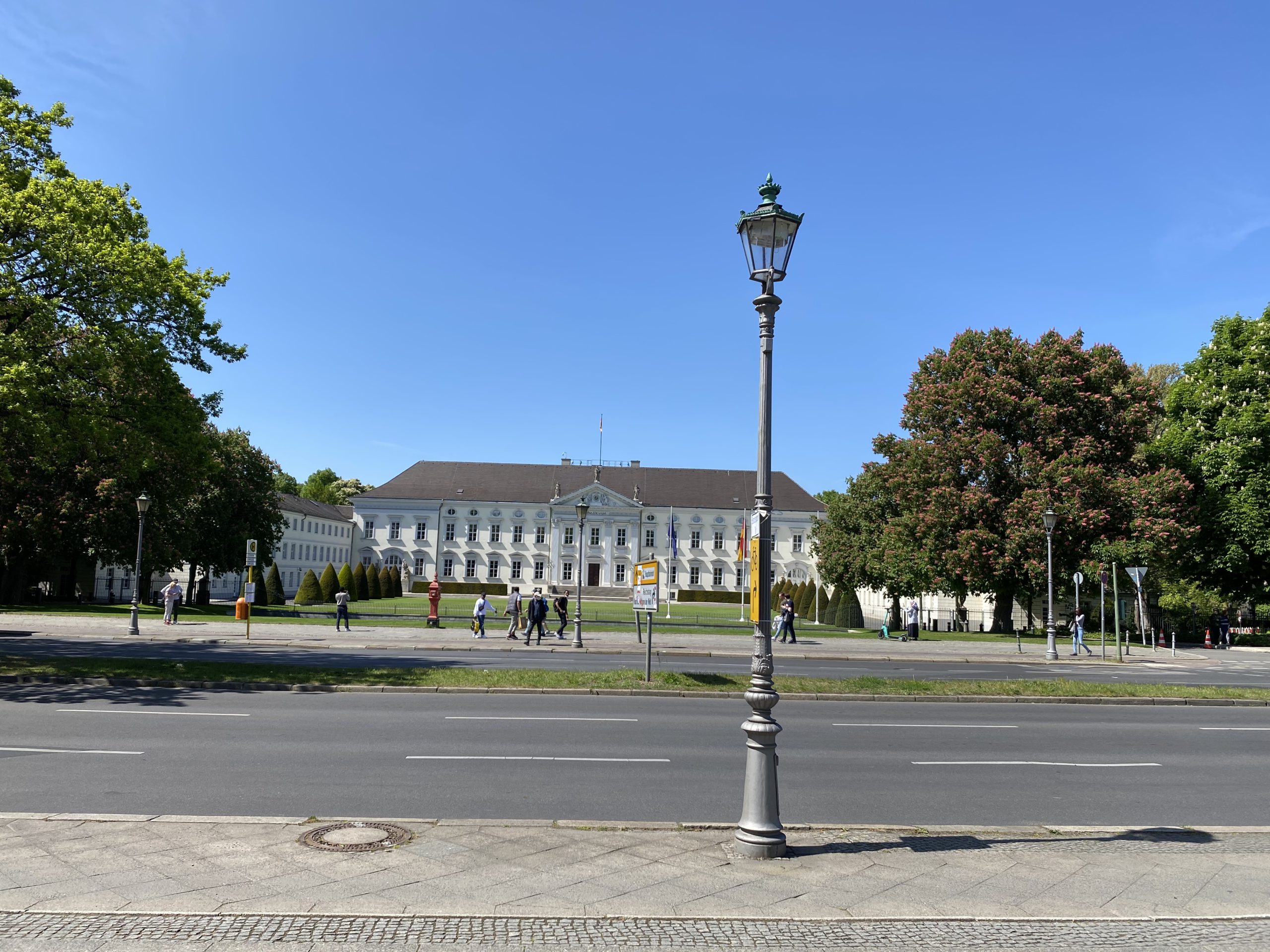 Finally, it was time for lunch! We stopped at the Zollpackhof, a restaurant and biergarten on the banks of the Spree. We happily queued up and grabbed a table together under the trees.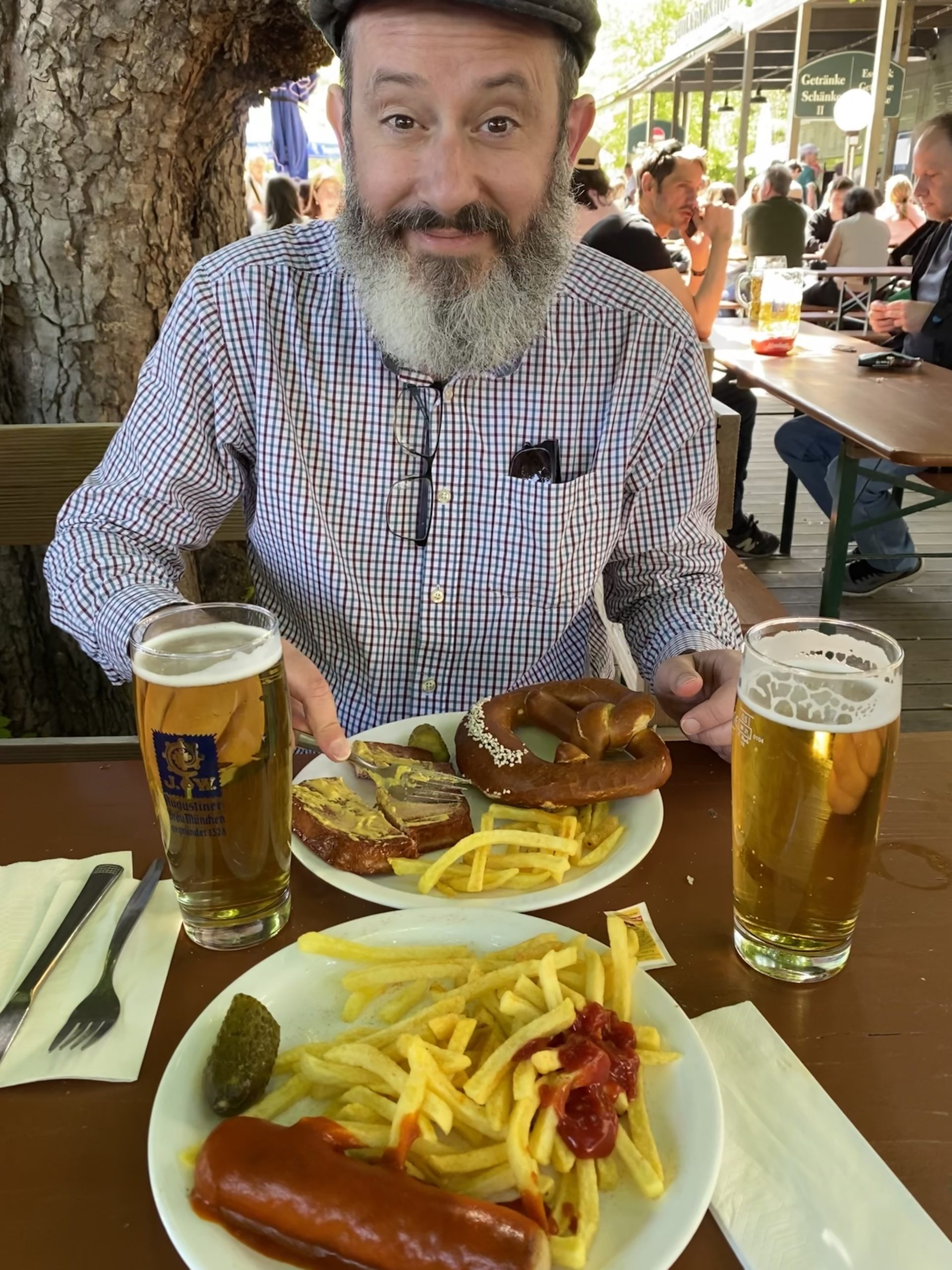 Since we were riding, we stuck with Radlers, which is lager mixed with lemonade (to reduce the alcohol content). I really like them!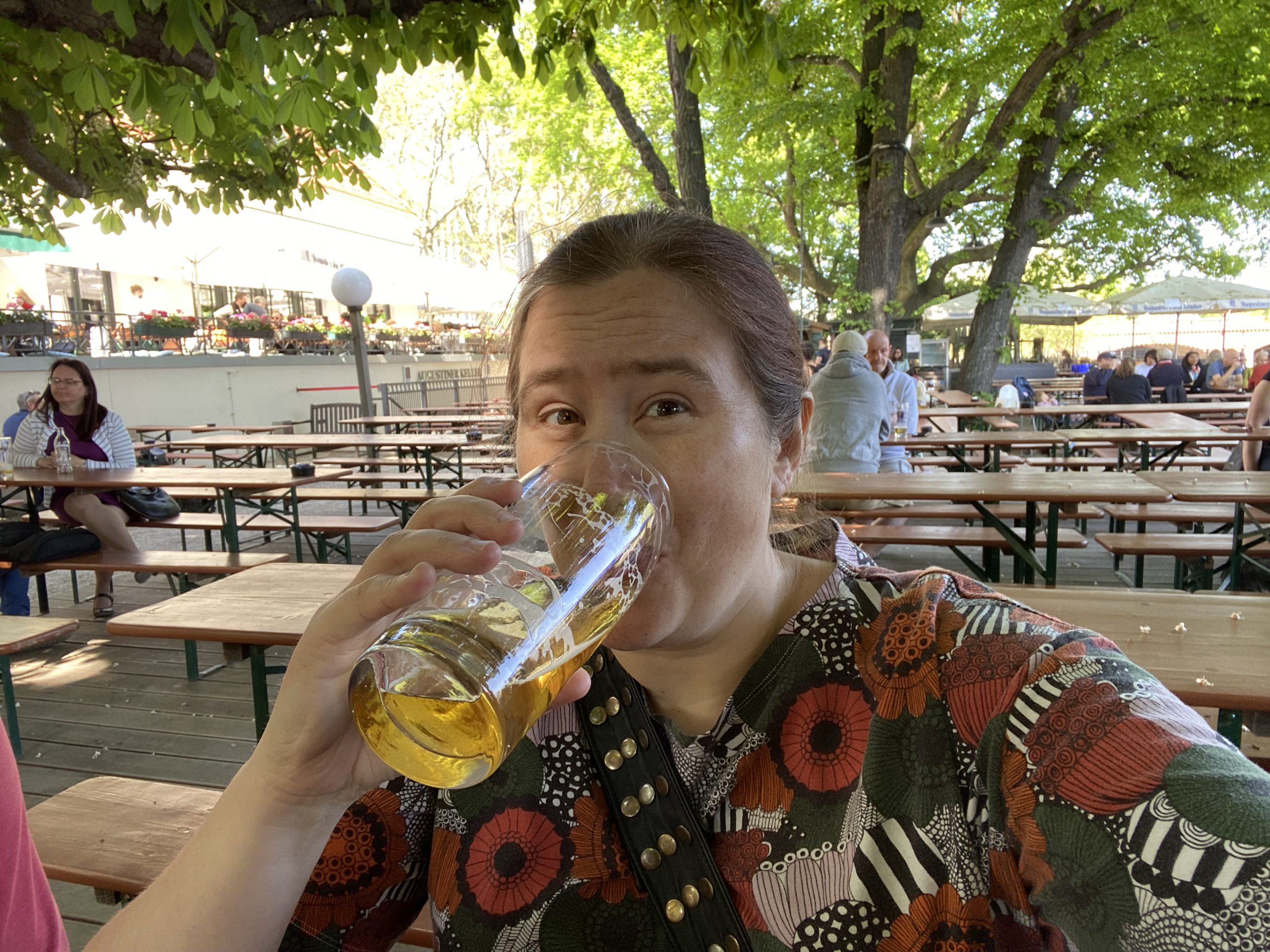 Back on the bikes! We were nearing the end of our tour at this point. Next stop was the Reichtstag, which houses the Bundestag, the lower house of Germany's parliament. It was heavily damaged in WW2 and reconstructed in the Sixties. The glass dome on the top makes it one of the most visited tourist attractions in all of Germany.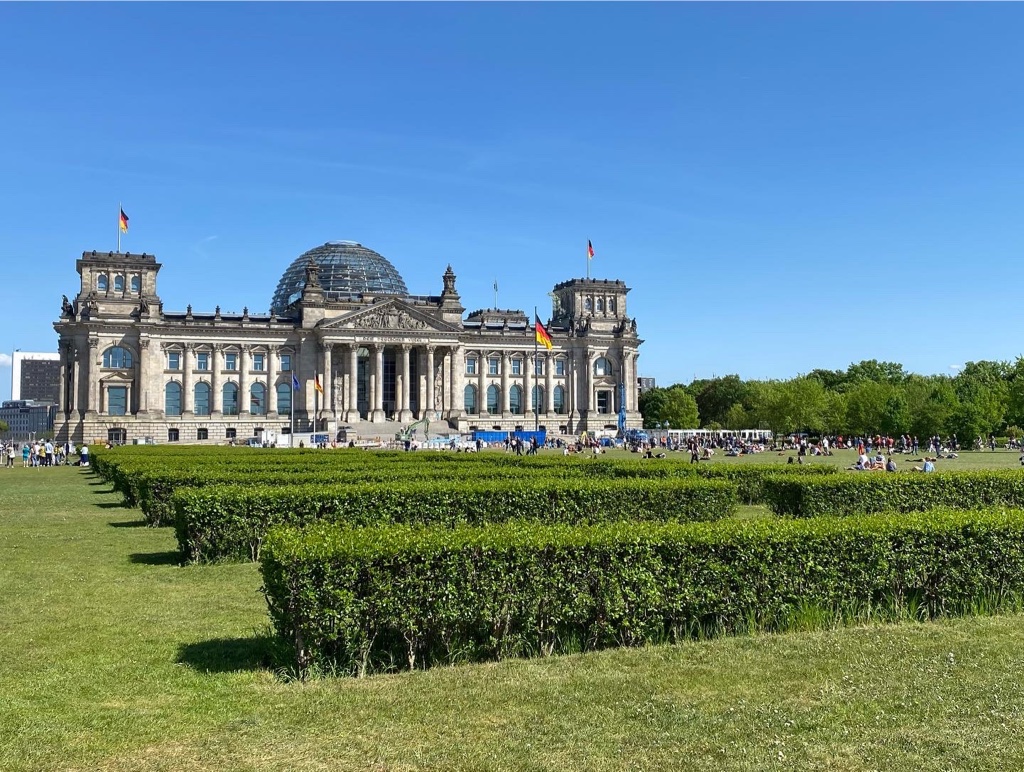 Our very last stop is one of the most famous landmarks in Germany – the Brandenburg Gate.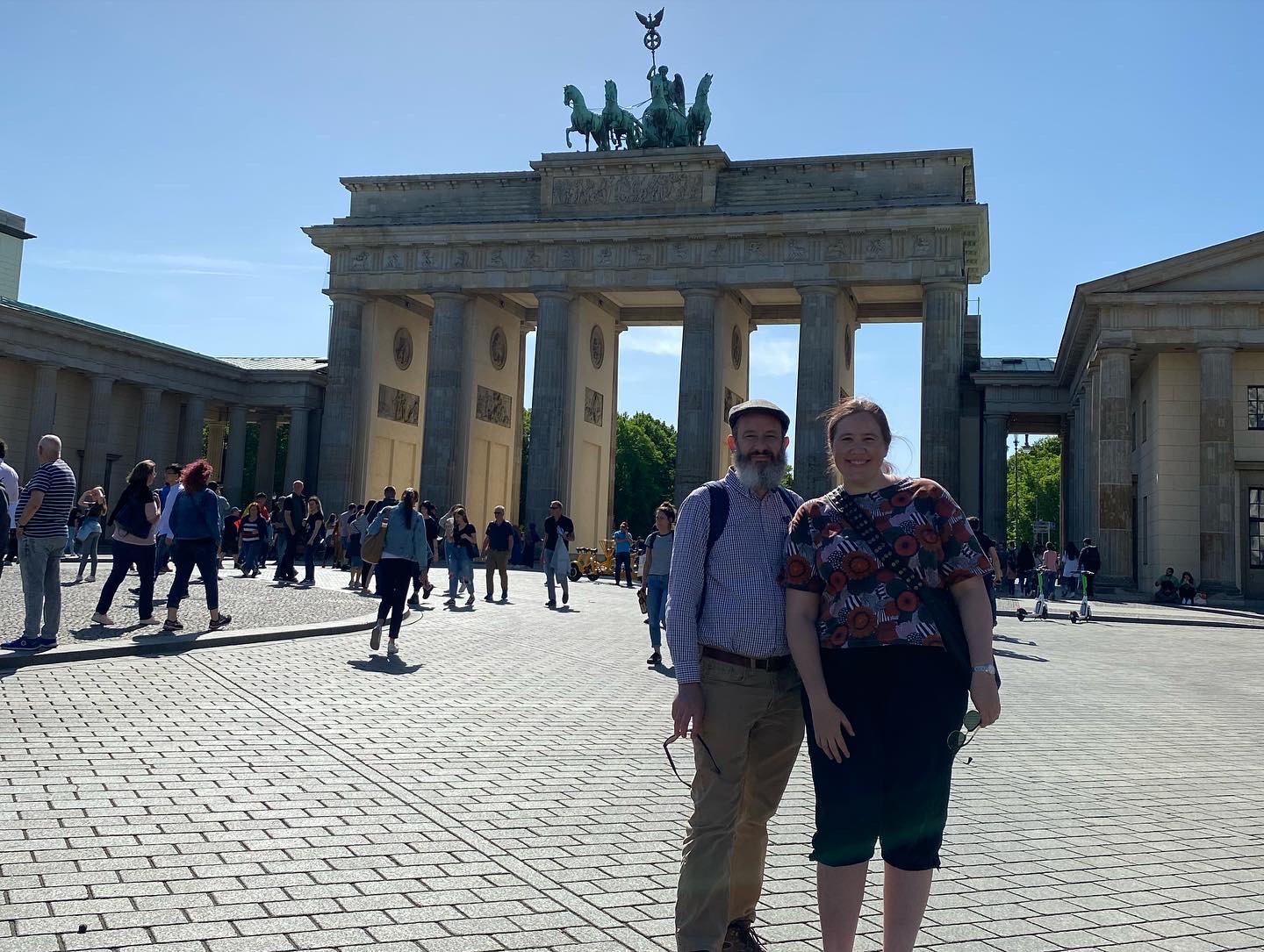 We finished the tour back where it started at the Fernsehturm, and bid goodbye to our guide and fellow cyclists. We decided to reward ourselves for all that biking with gelato… 🙂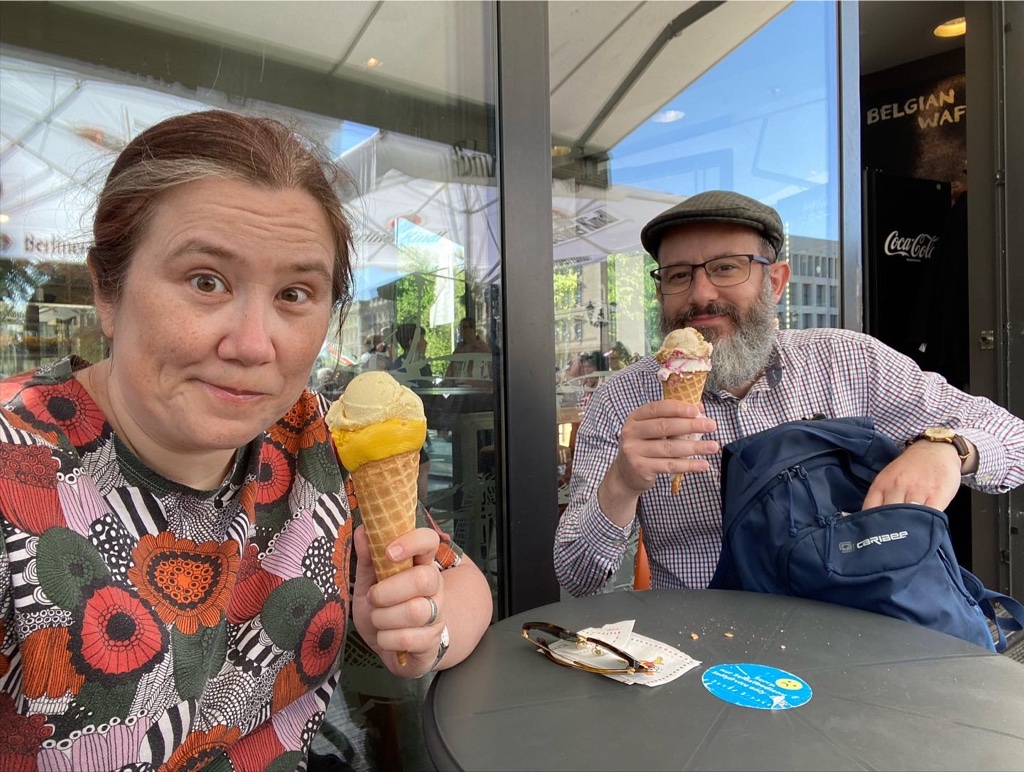 The next day was a work day, so we both visited our respective offices in Berlin. Then the Snook left me to head back to Munich for a few days, and it was finally time for the AWS Summit Berlin! I went to the venue to do the tech check for my session…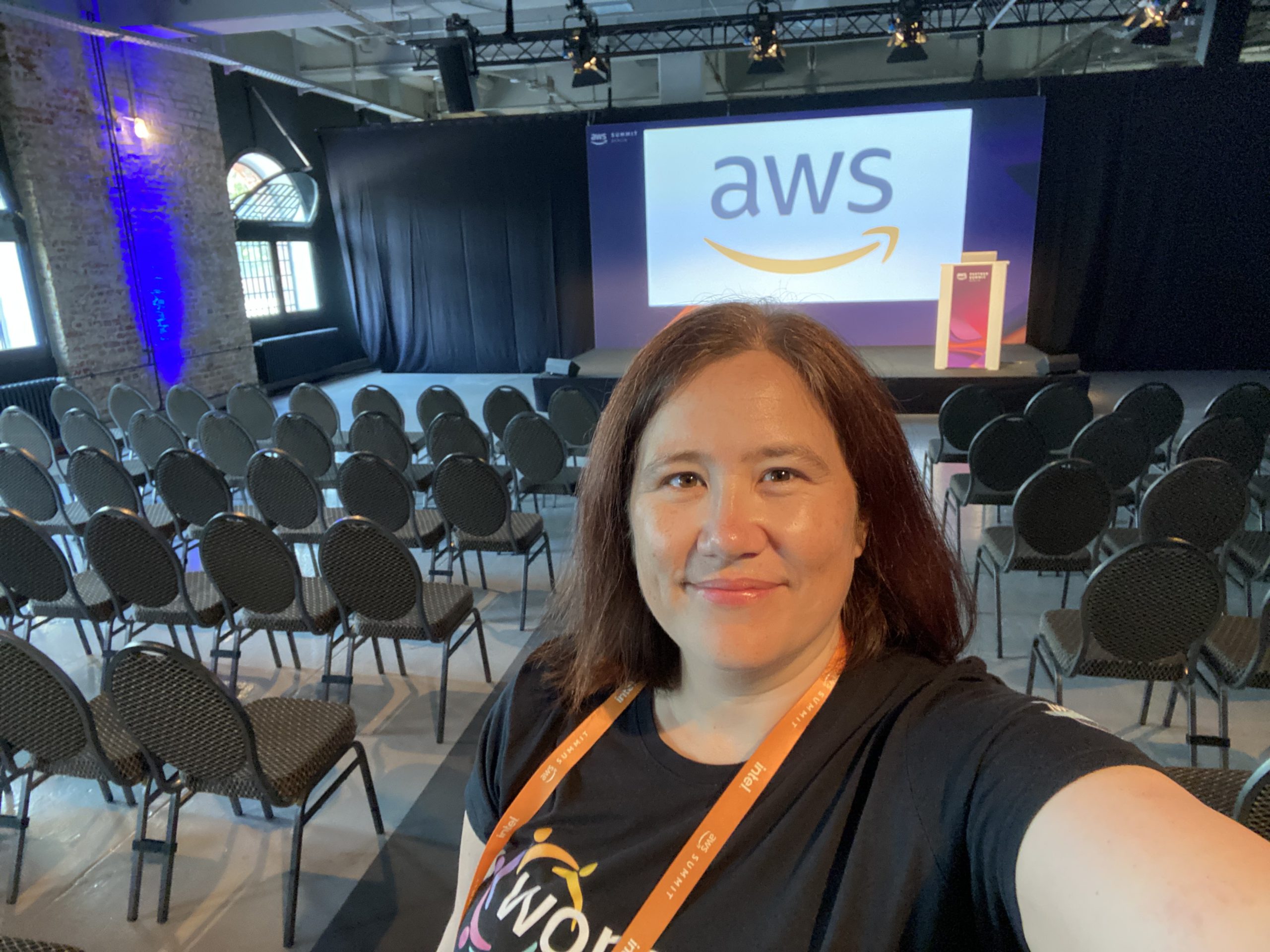 The conference itself happened over two days. It felt weird to be back at a big event, with lots of people walking around like the pandemic never happened. (I did try to wear my mask as much as possible, but there were a lot of folks who didn't bother.) I took a quick selfie from the stage as I was waiting for my session to kick off.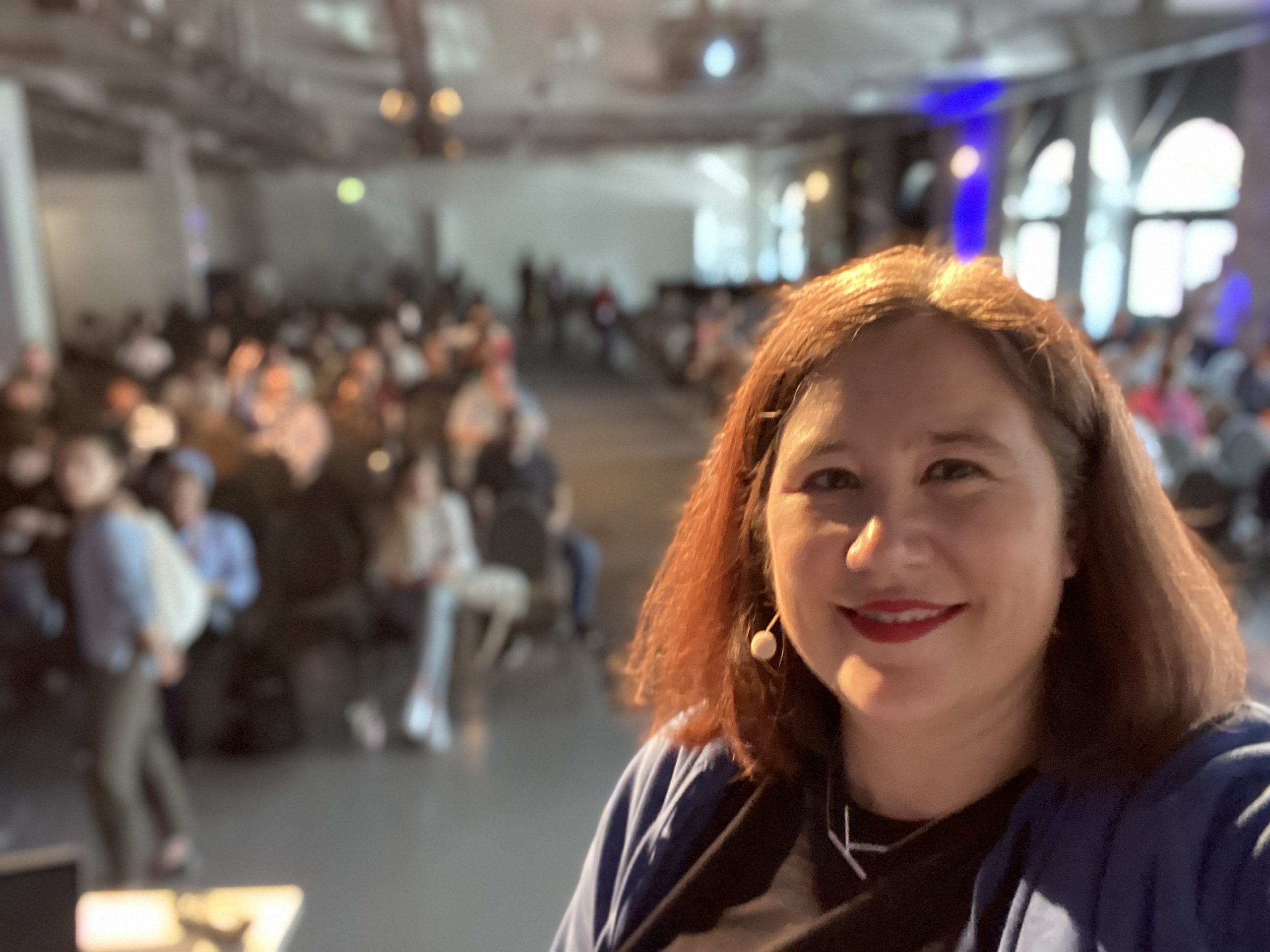 I presented on Amazon's Culture of Innovation, and the room was packed with hundreds of people. I feel like I did a pretty good job, and I had a lot of folks come up afterwards to ask questions. (Sadly, it wasn't recorded so you can't see it online.) Someone from the audience tweeted a photo of me in action, and as usual, I'm pulling a face. 😂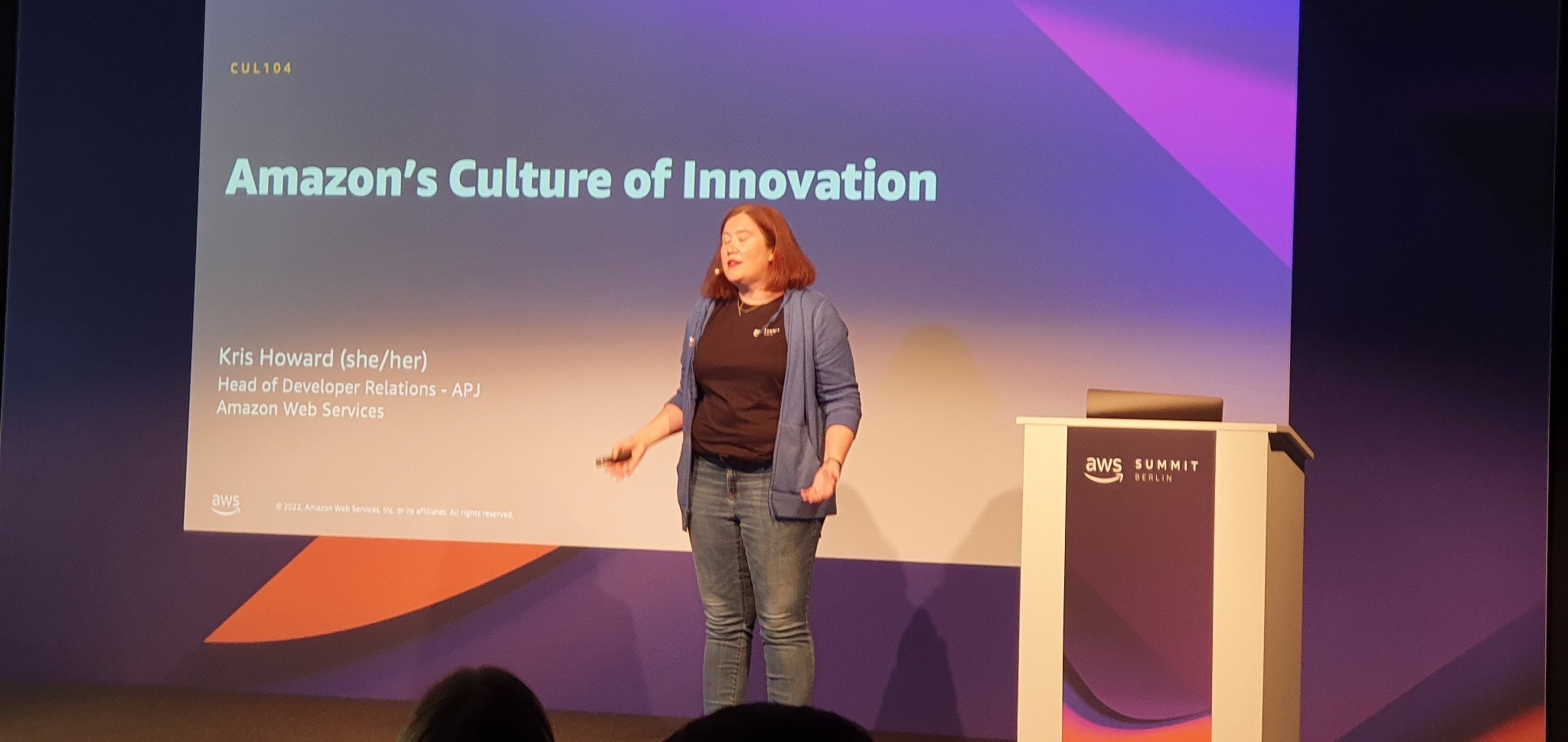 Once my session was done I could relax! That night I headed out to a nearby biergarten for a meetup with the German AWS User Group community. It was fun to hang out with Nora, Frank, Philipp, Thorsten, Markus, and many others I've been lucky enough to meet here in Germany.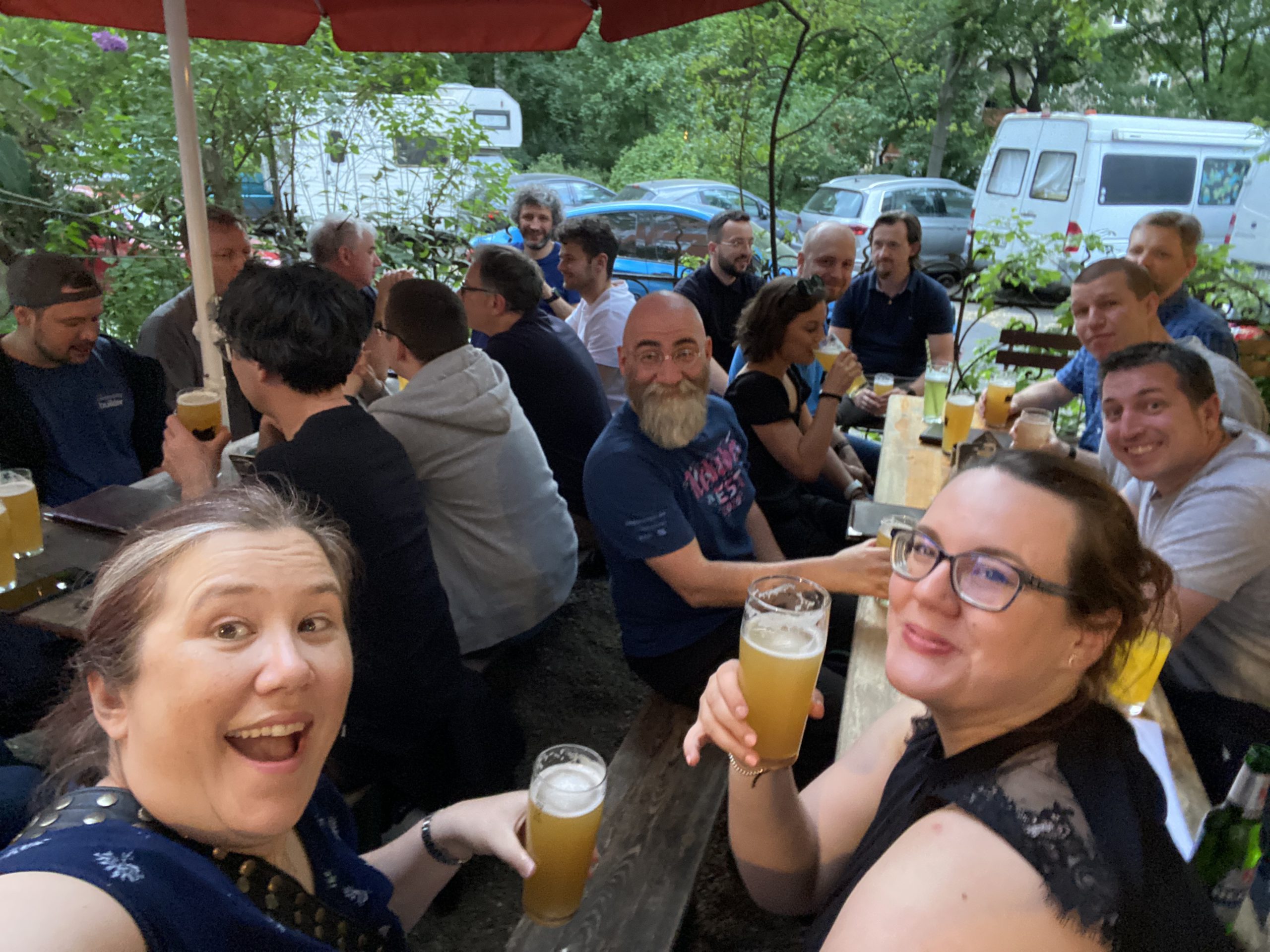 On day two I mostly hung out in the Community Lounge area. I wore the infamous AWS dress and brought a big bag of stickers to distribute.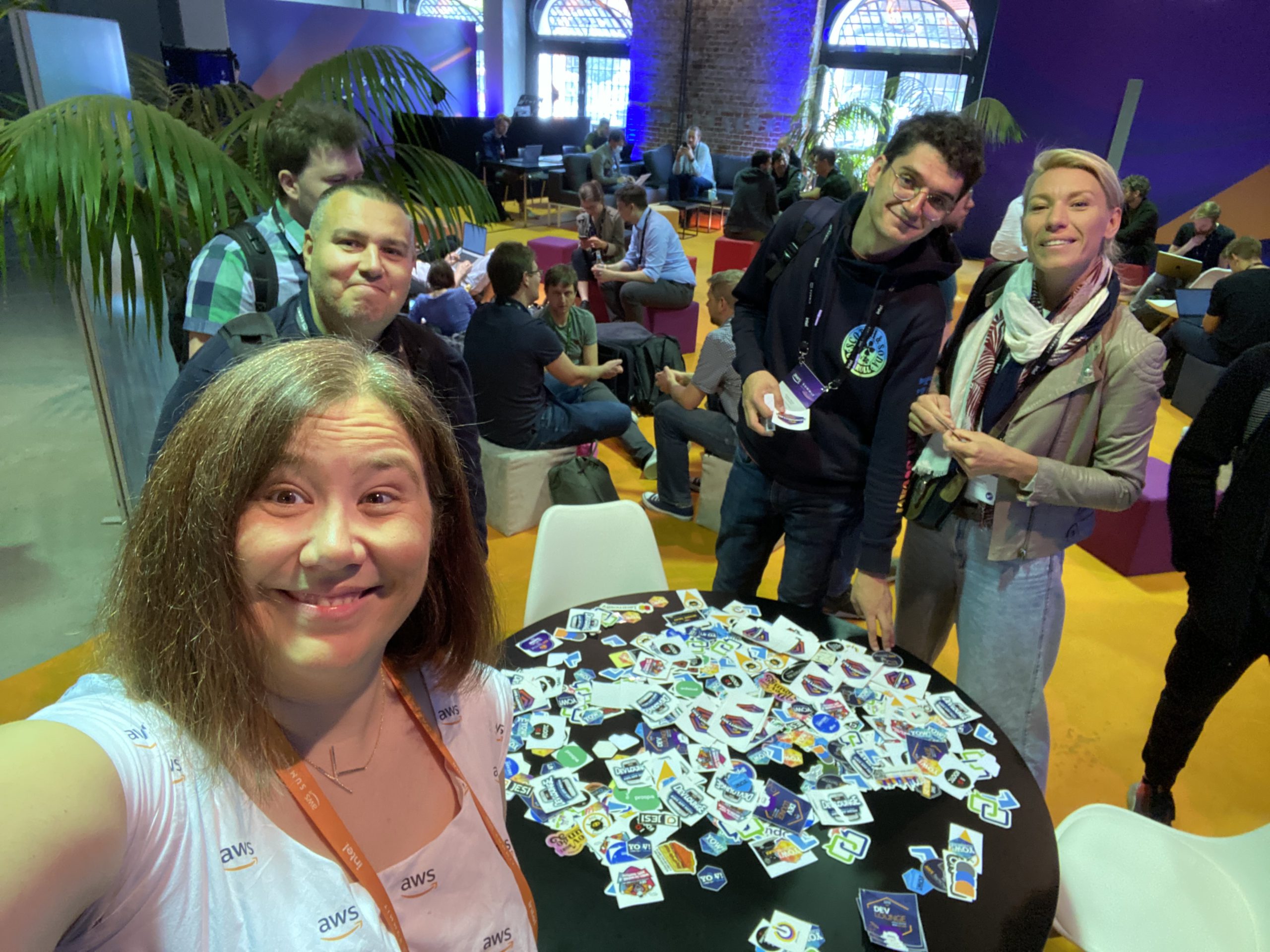 I also recorded some fun promo videos with the social media team (and stormtroopers!) for our upcoming Online Summit.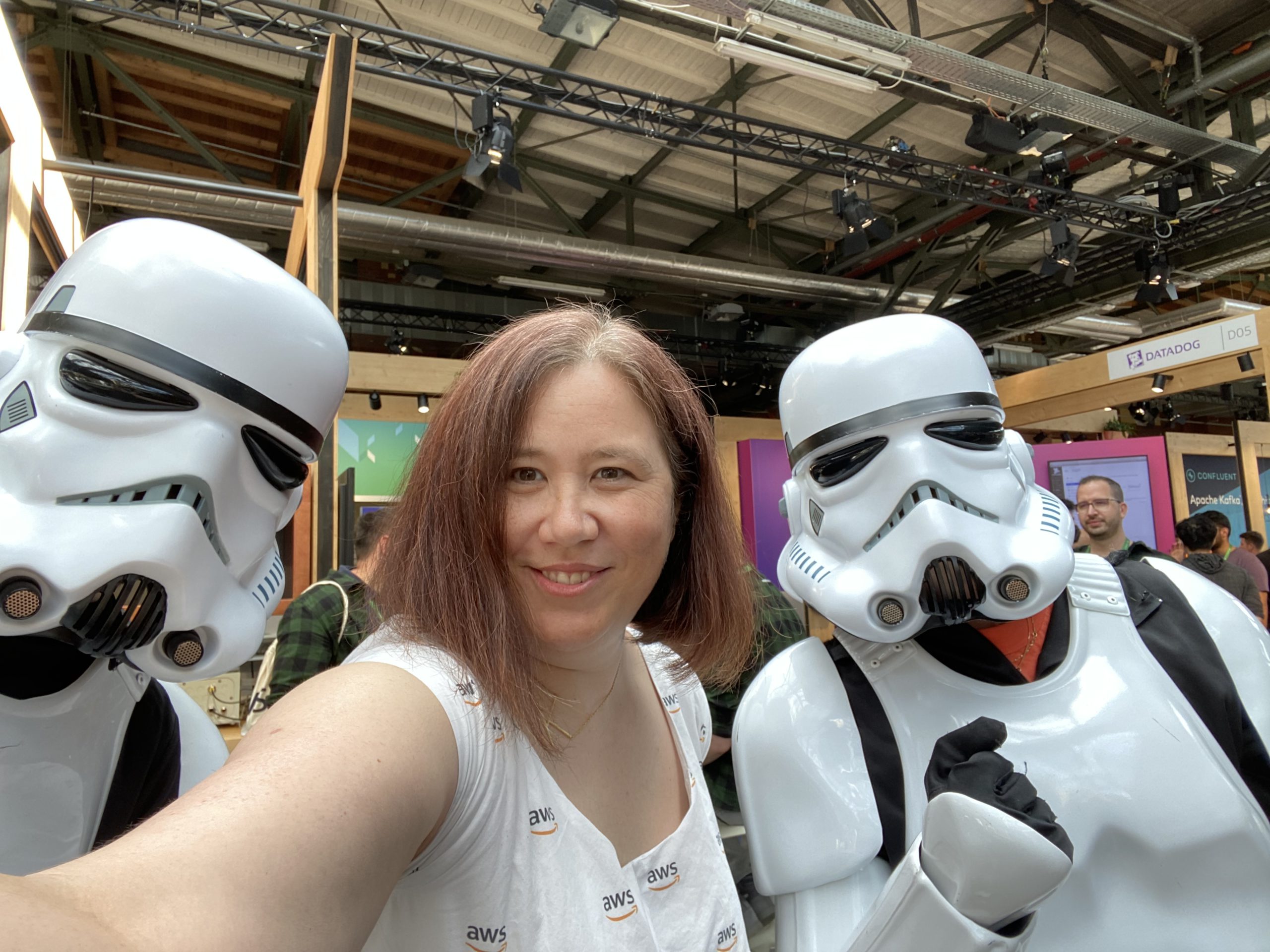 And then it was all over! All that was left was the afterparty, but to be honest I was pretty wiped out and didn't stay long.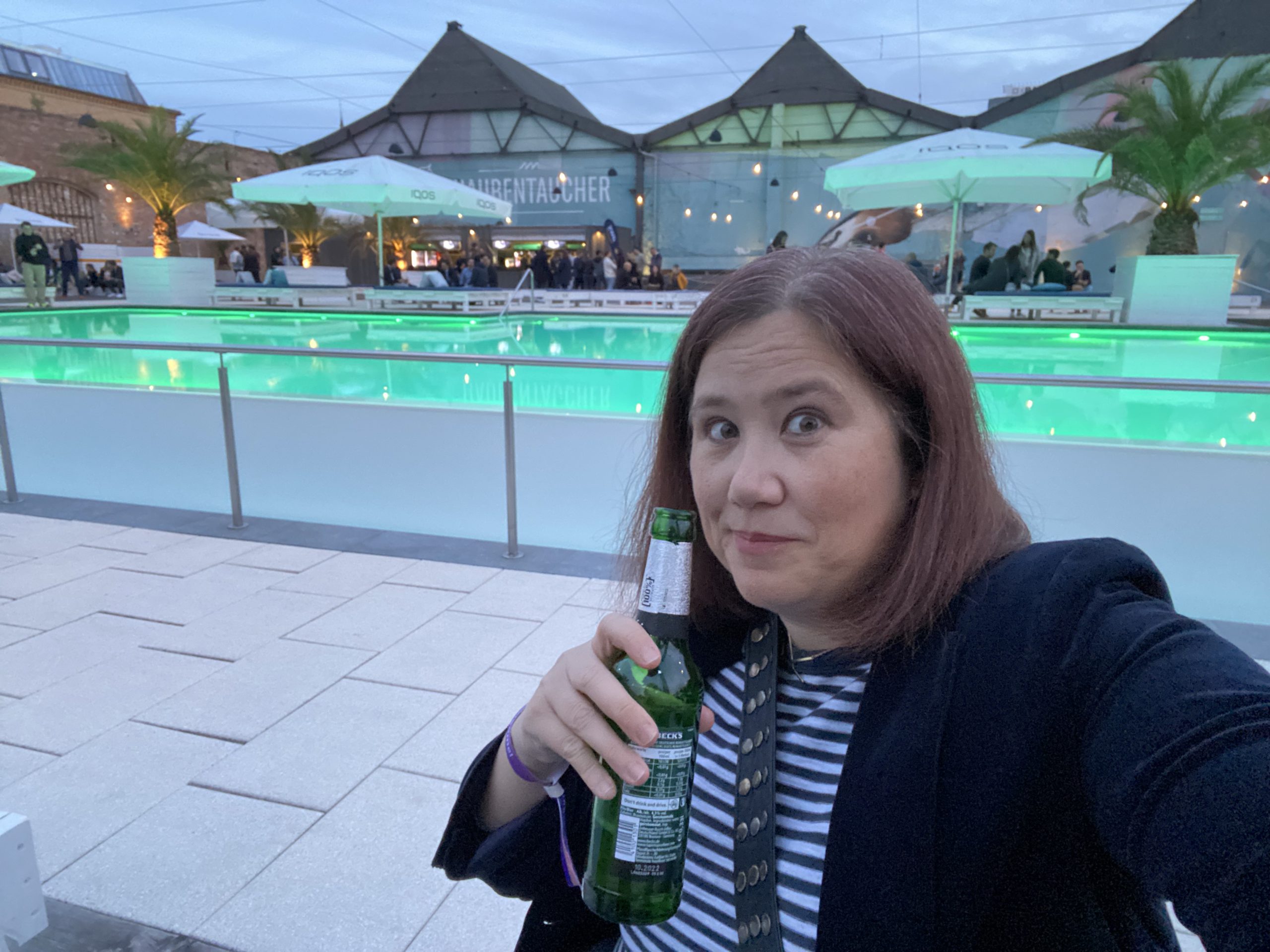 Happily, the Snook arrived the next day and cheered me right up. Since the work part of the trip was over, we had booked a more fun hotel on the other side of Berlin: the 25hours Hotel Bikini Berlin. It overlooks the Berlin Zoo! It wasn't cheap, but look at that view…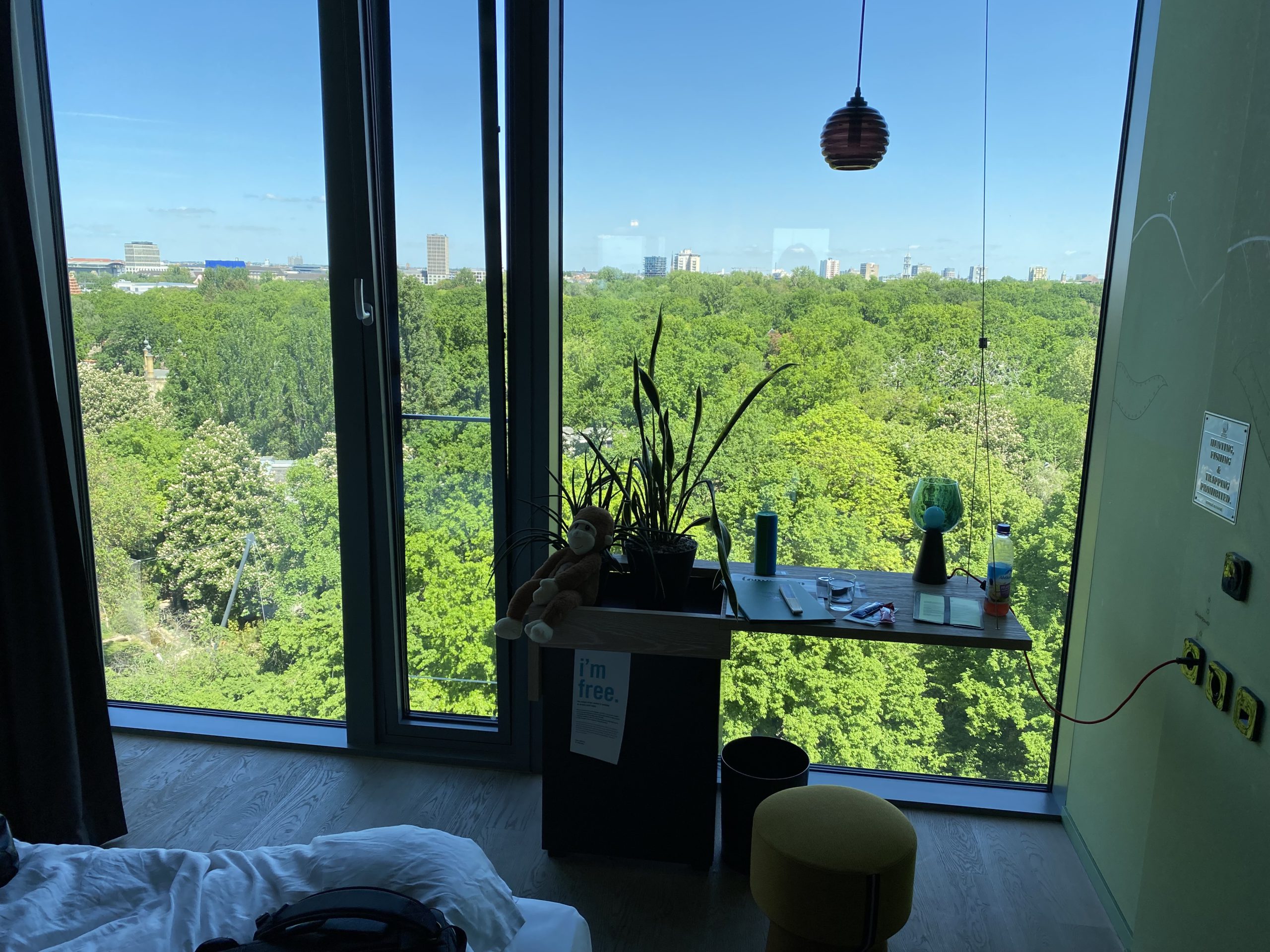 We found a great nearby coffee roastery place for breakfast. (Berlin's cafe culture definitely impressed me more than Munich's.)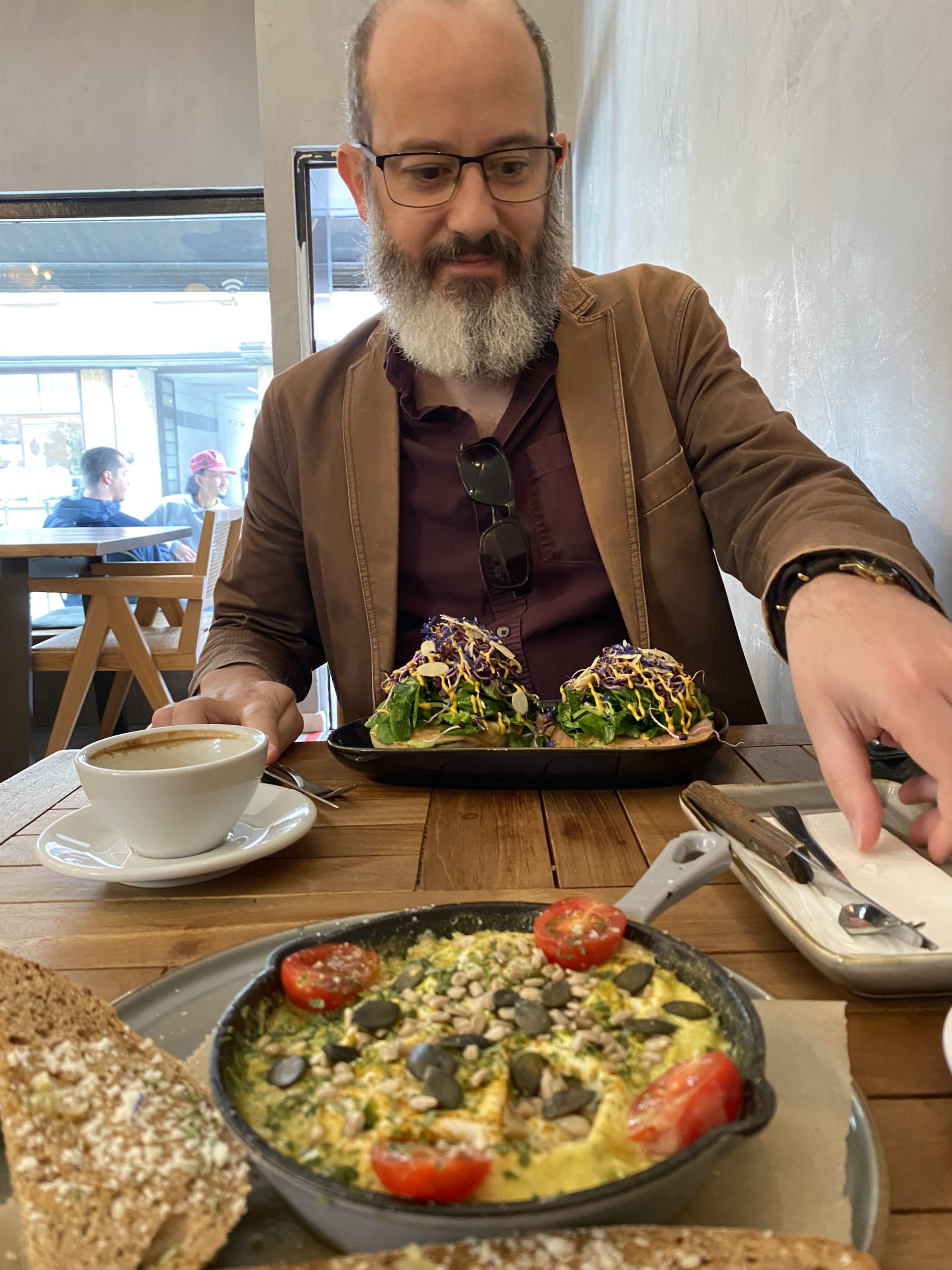 The weather was still fantastic, so we decided we needed to check out the zoo properly. There are a few different entrances, but we headed to the famous Elefantentor (Elephant Gate).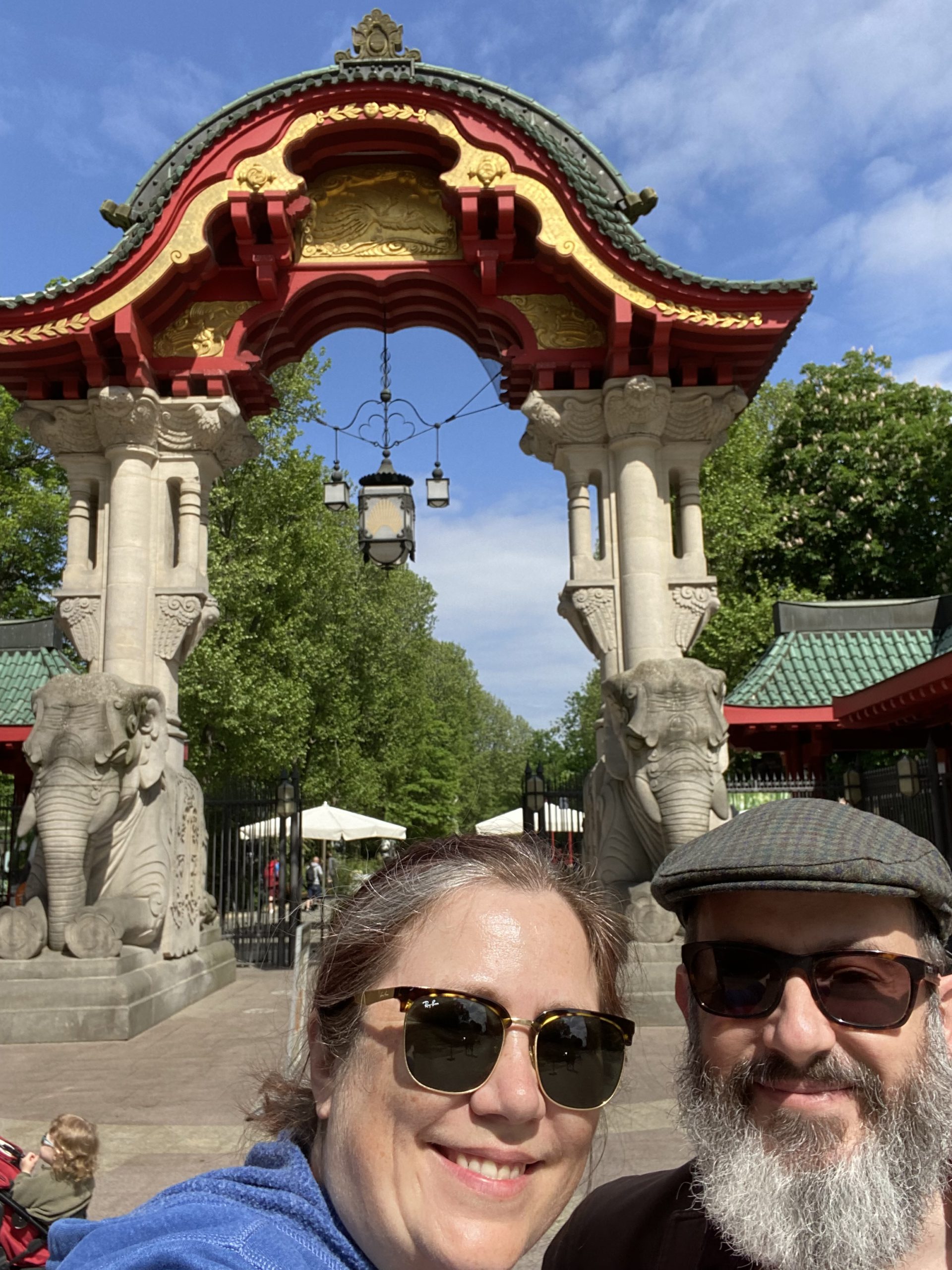 The zoo is set in a lovely well-manicured park, with natural-looking enclosures surrounded by lots of trees.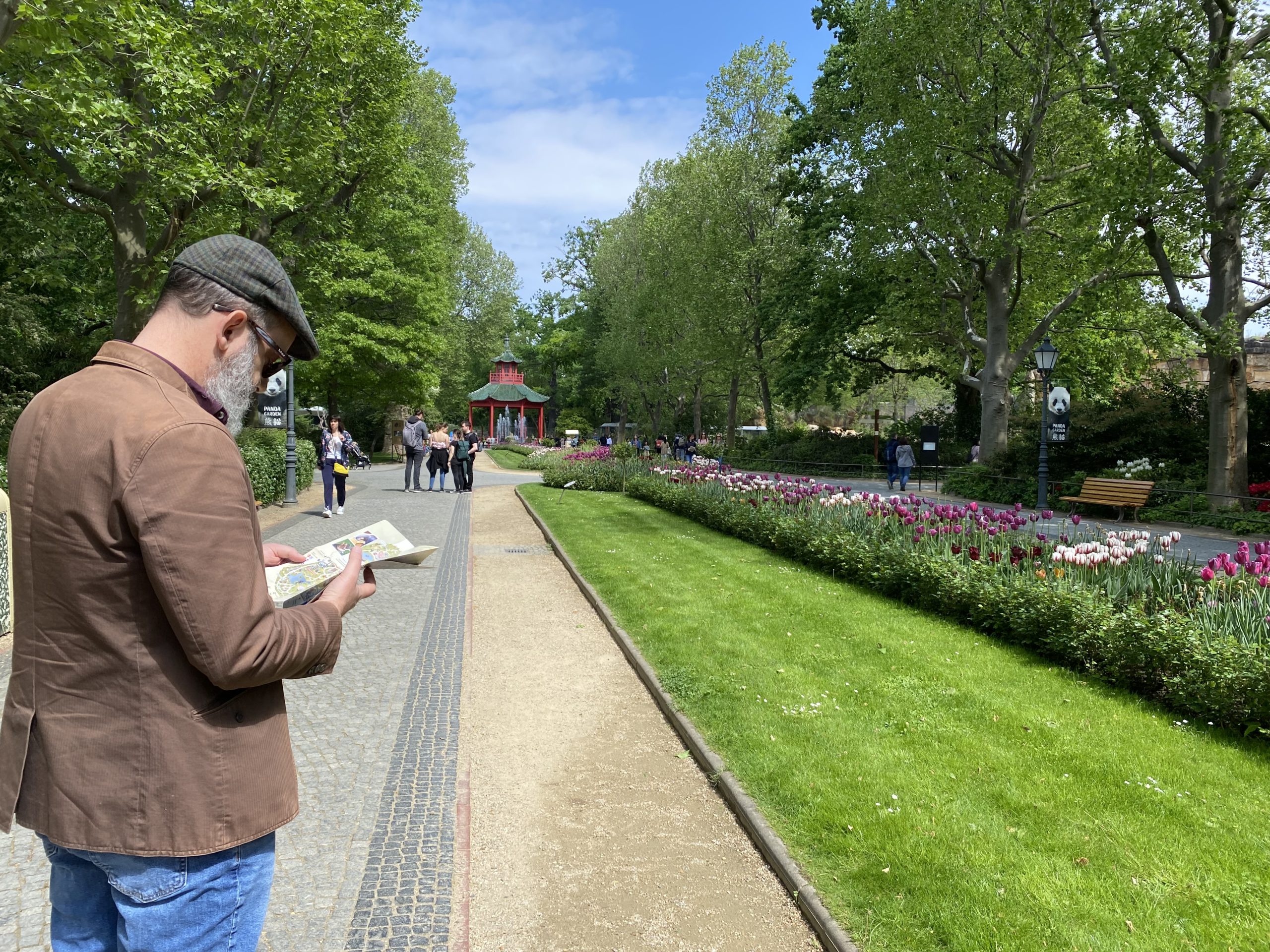 They have several live keeper talks a day, so we headed first to the elephant enclosure to see one. Of course it was all in German, but we understood enough of the words to follow the gist.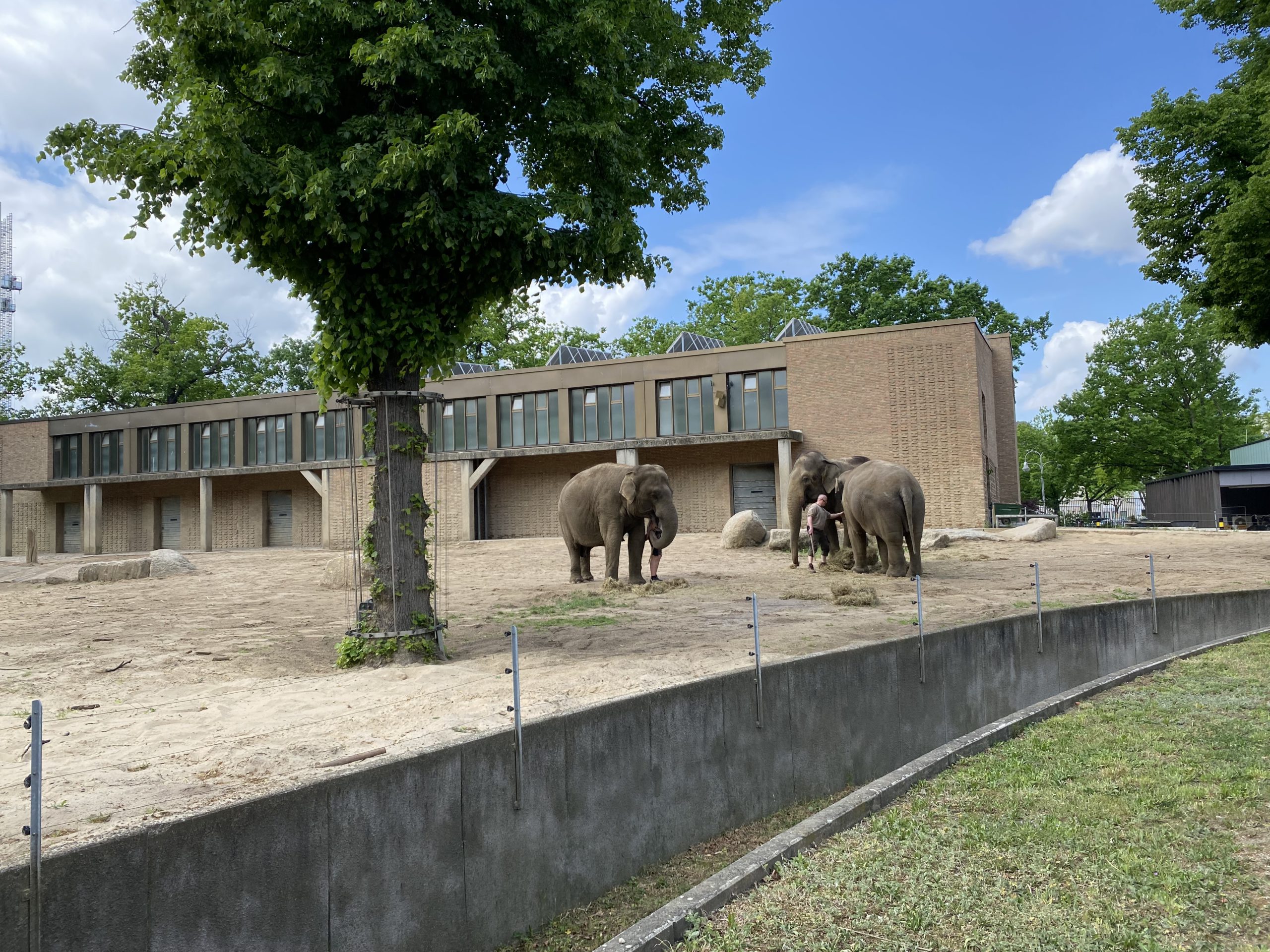 I really liked the mountain goats standing high up on their little crag.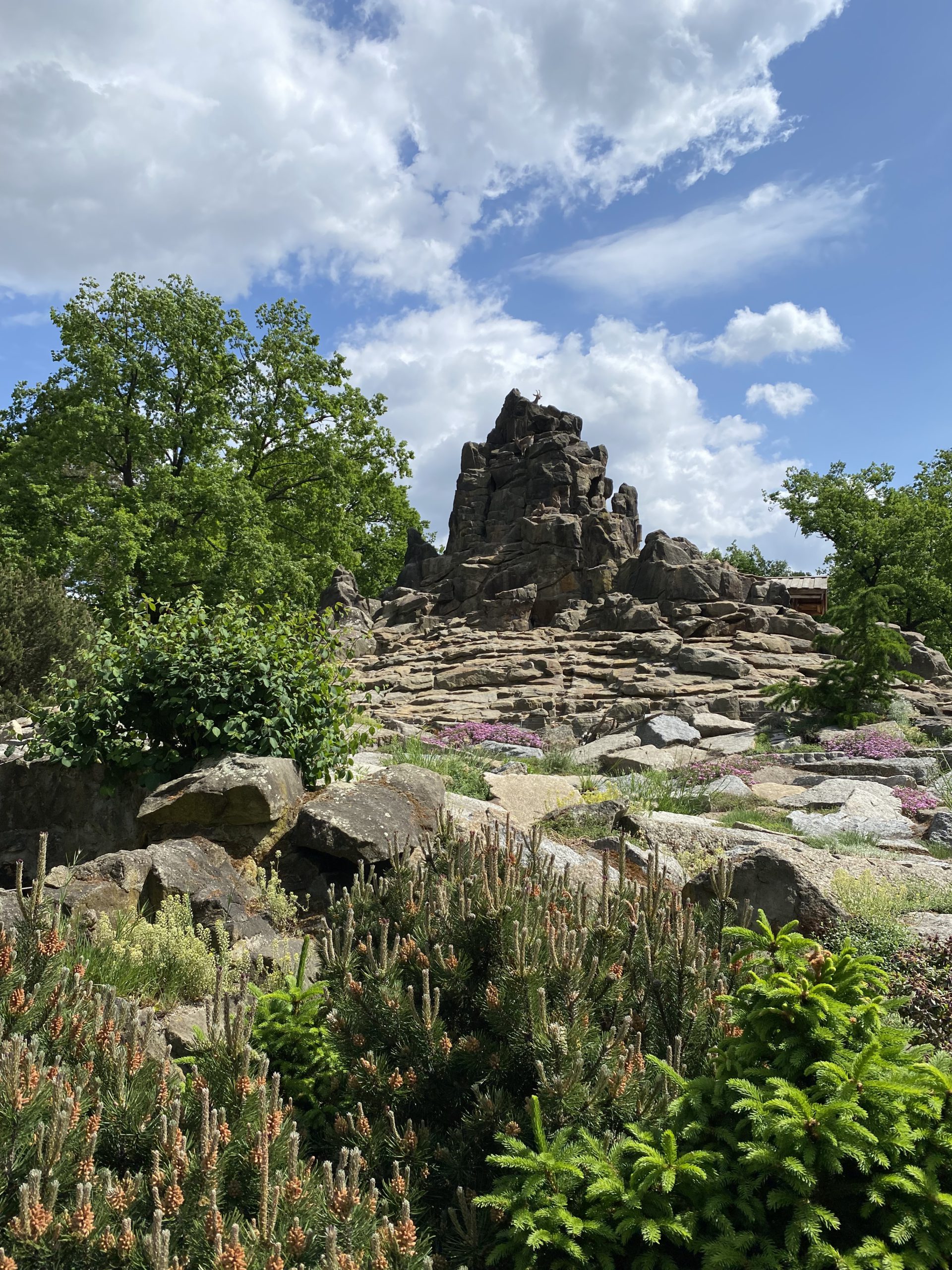 The hippo area was cool, with an indoor water part and an outdoor area. I tried to get a photo of the hippos nostrils coming up above the water to take a breath.
There was also a petting zoo part for kids with lots of friendly farm animals. I said hello to the sheep…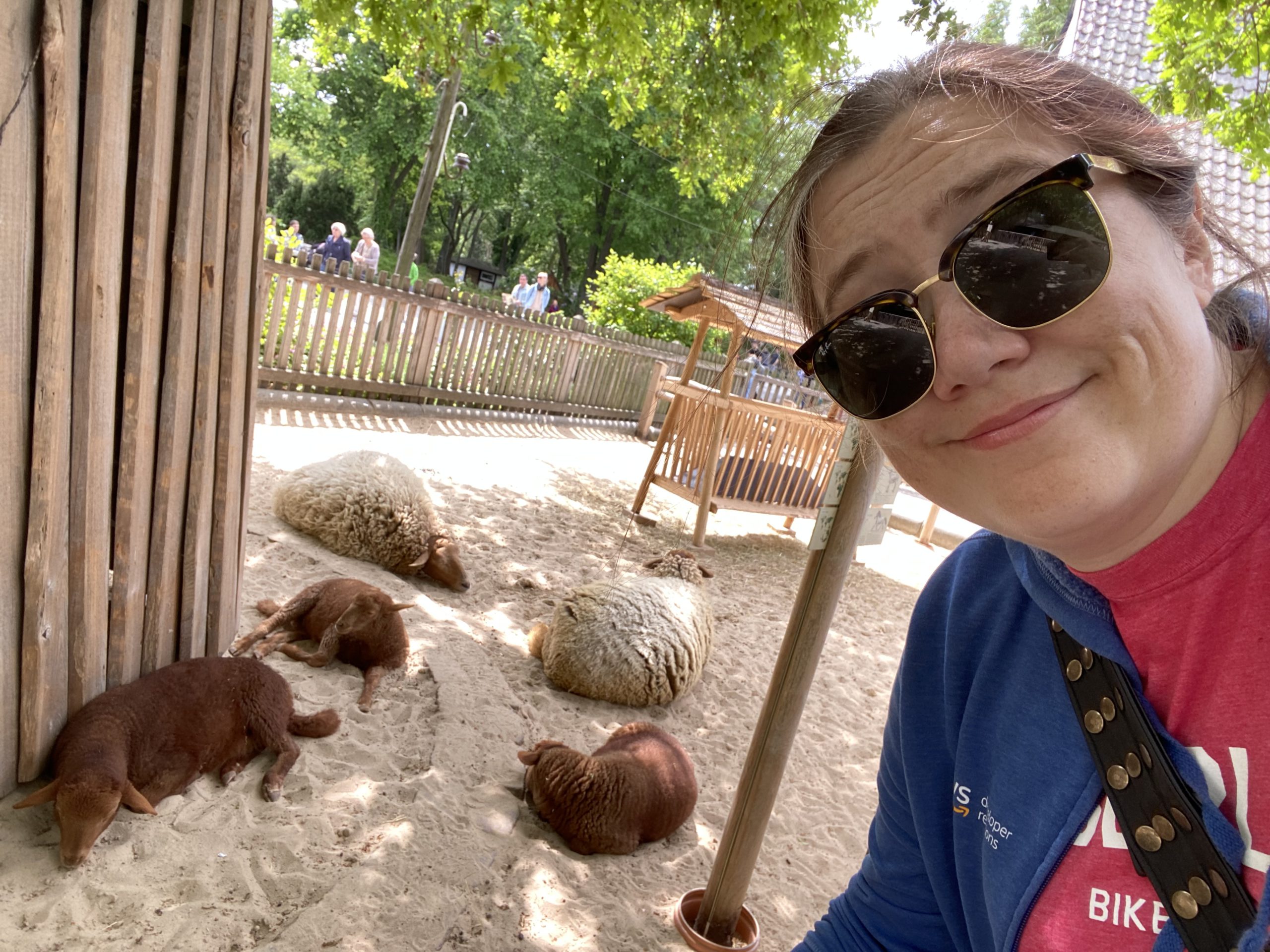 …while Mr. Snook patted a pony.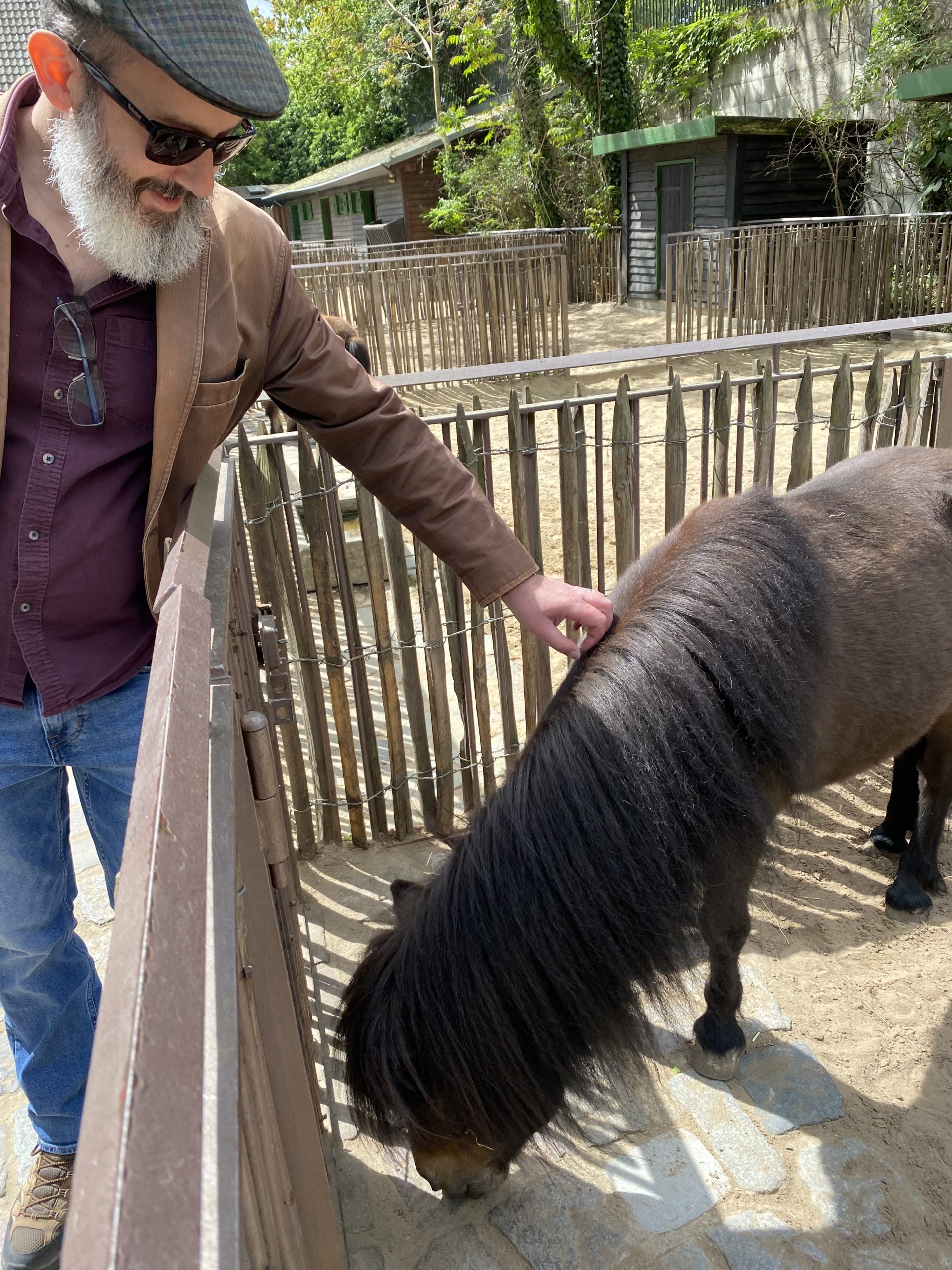 There was also a very cute donkey!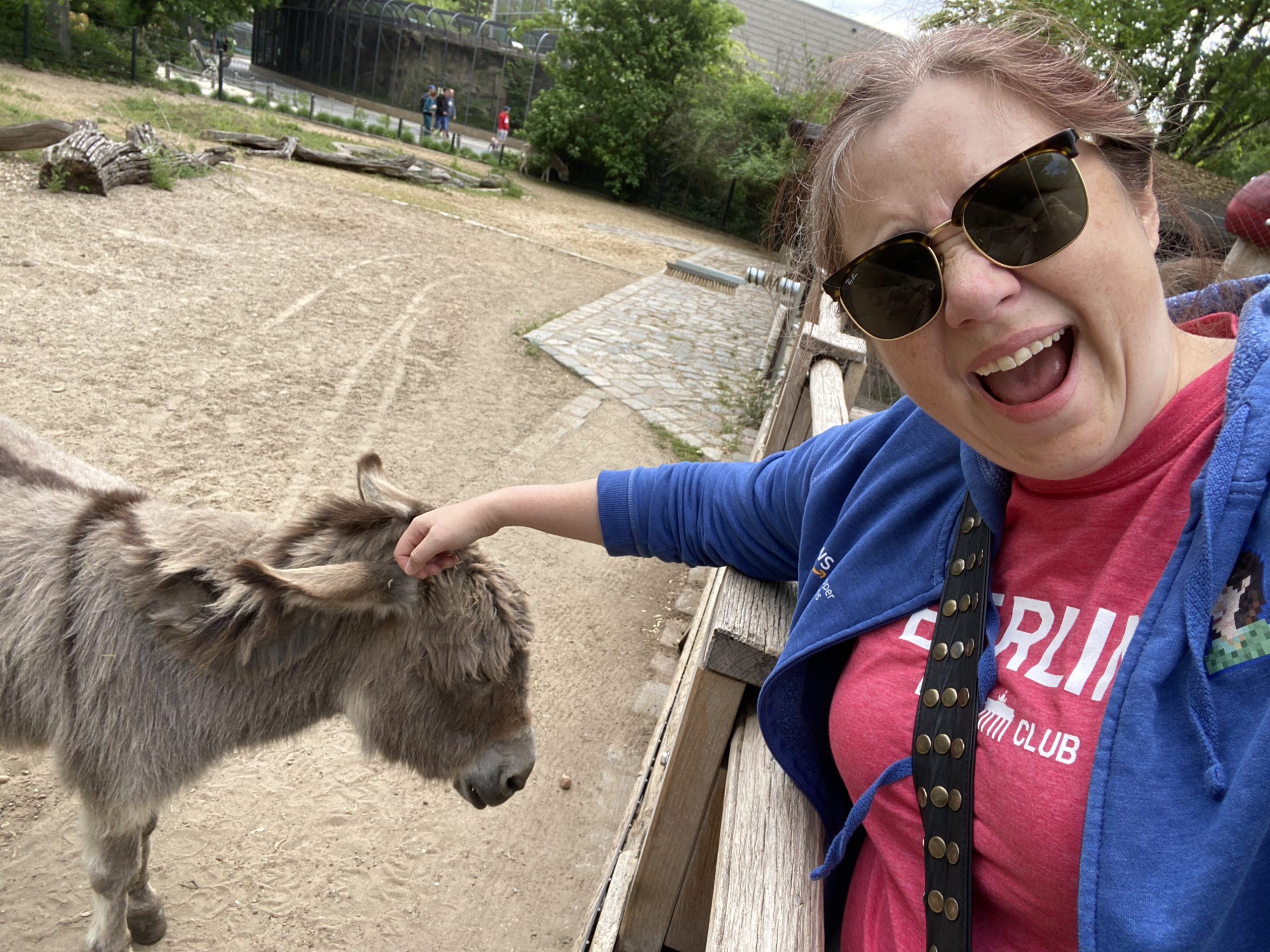 We also fed a very, very pregnant (but still agile!) goat. Look at that belly!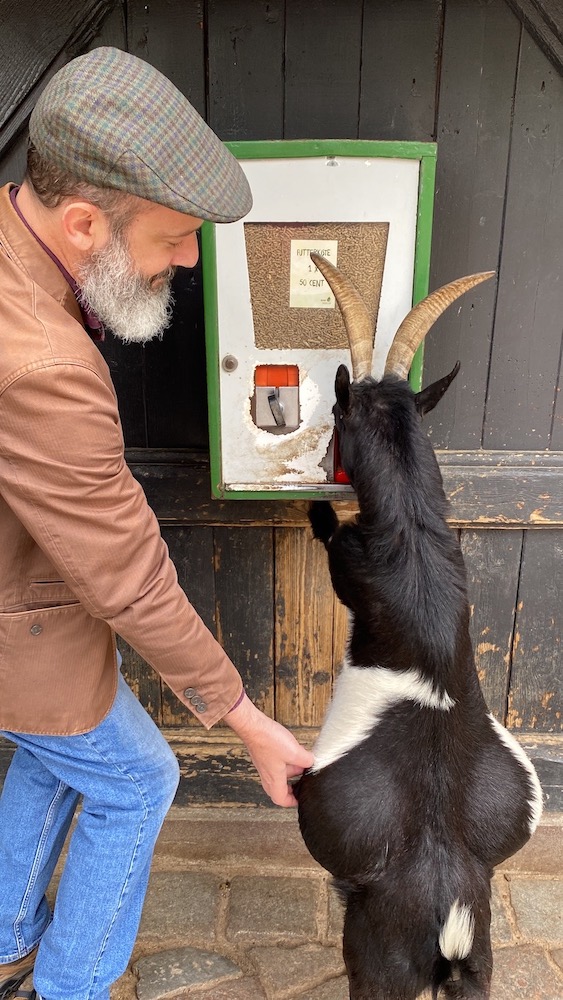 We also went to see another keeper talk at the chimpanzee enclosure (the one we could see from our hotel room). Again, it was in German but we could mostly understand.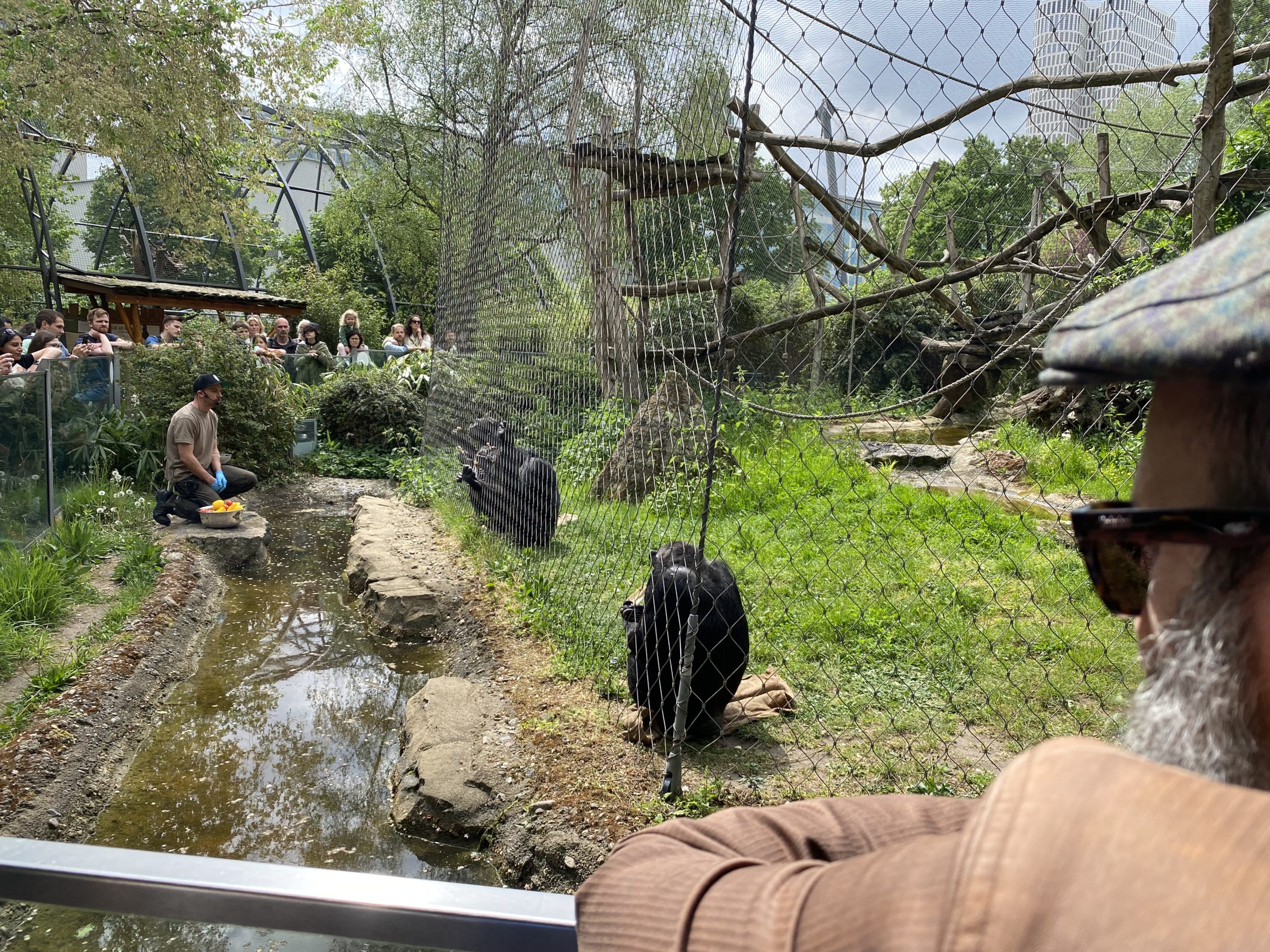 More monkeying around…
We also visited the pandas…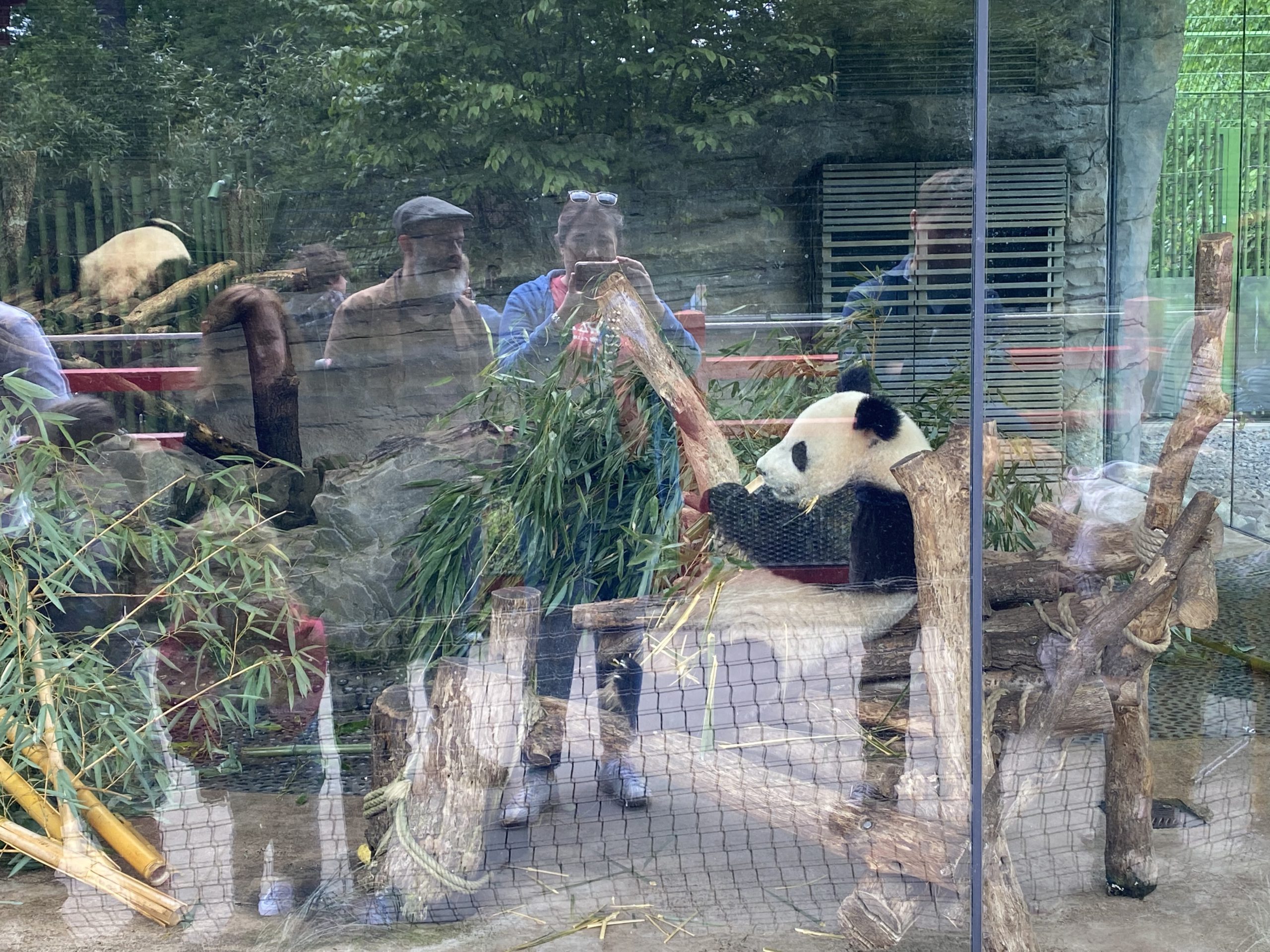 …and a very aggressive lizard.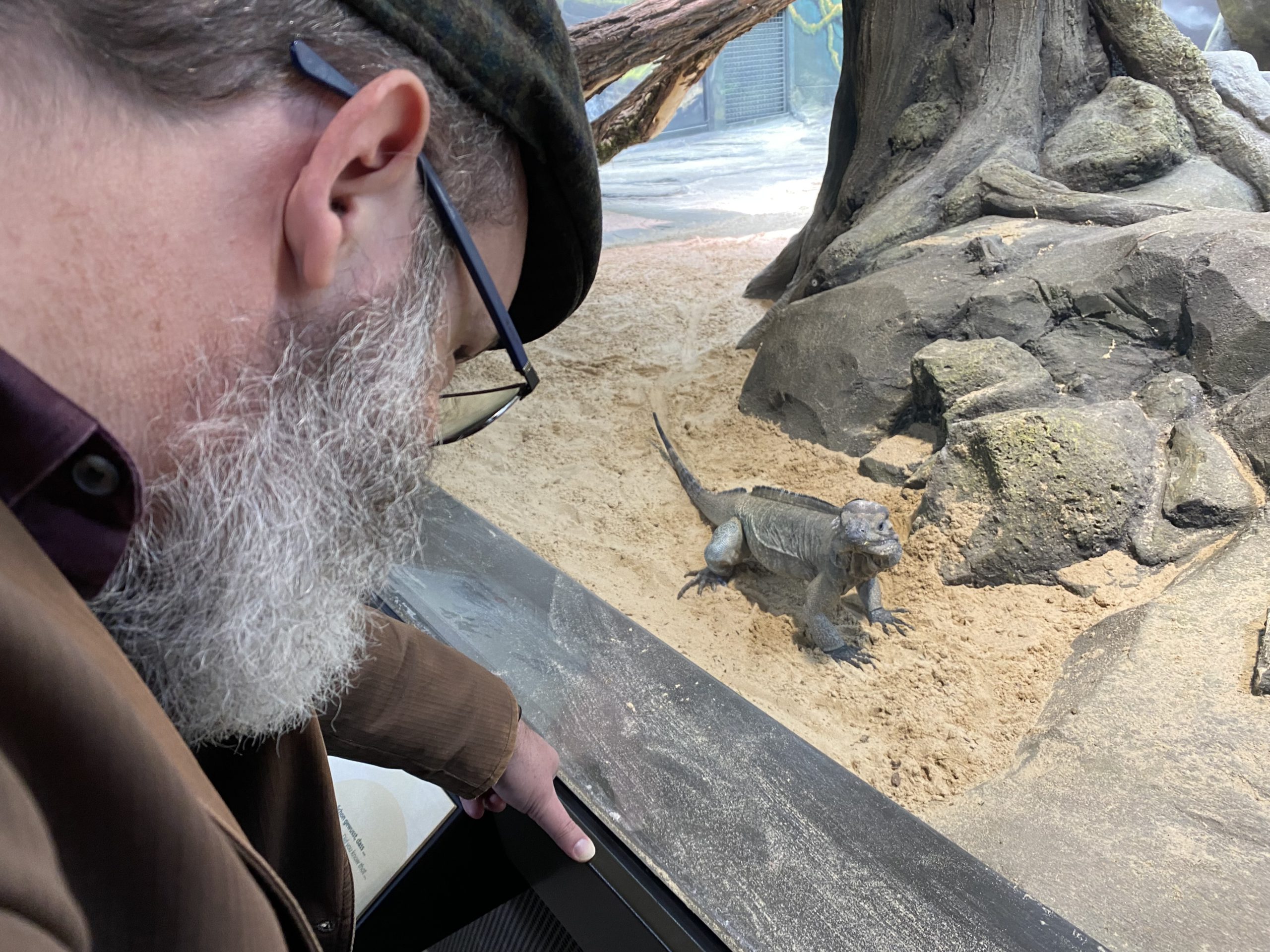 We even found some Australian buddies too!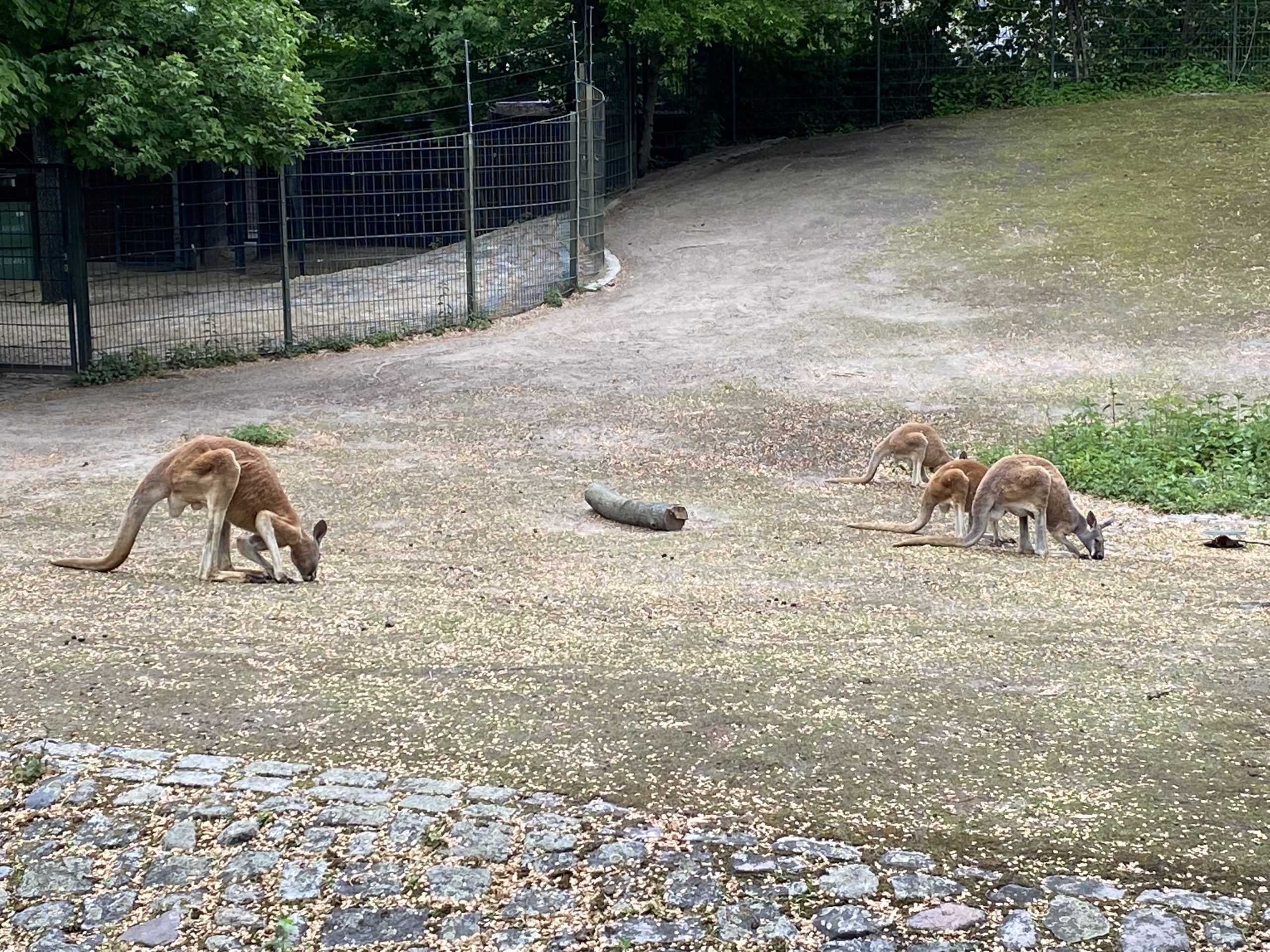 We were getting tired so decided to swing through the attached Aquarium before we finished our day. It has a very cool statue of an "Iguanodon" out front.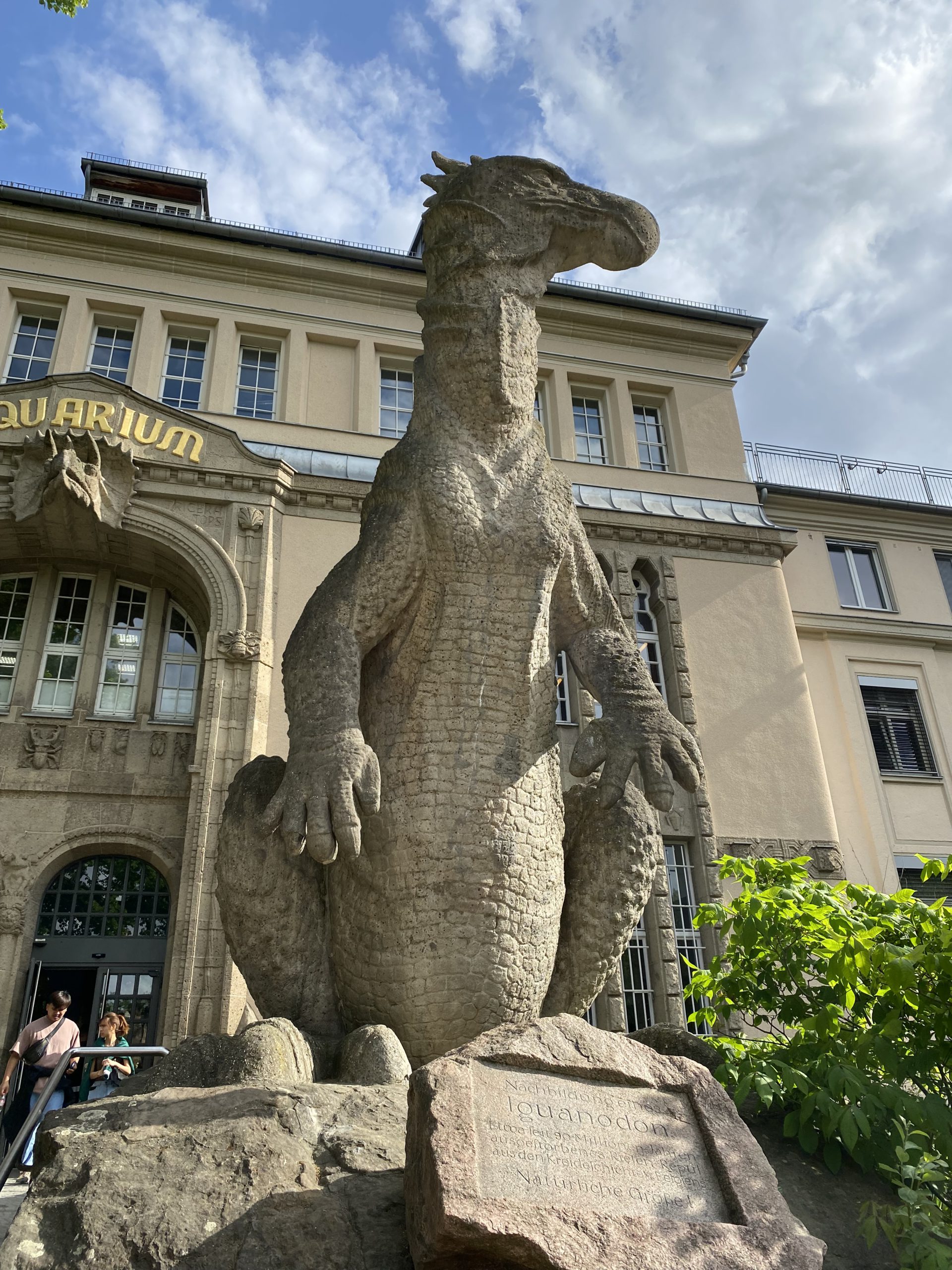 We zipped through the exhibits. I especially liked the decorative stained glass they had throughout the tanks.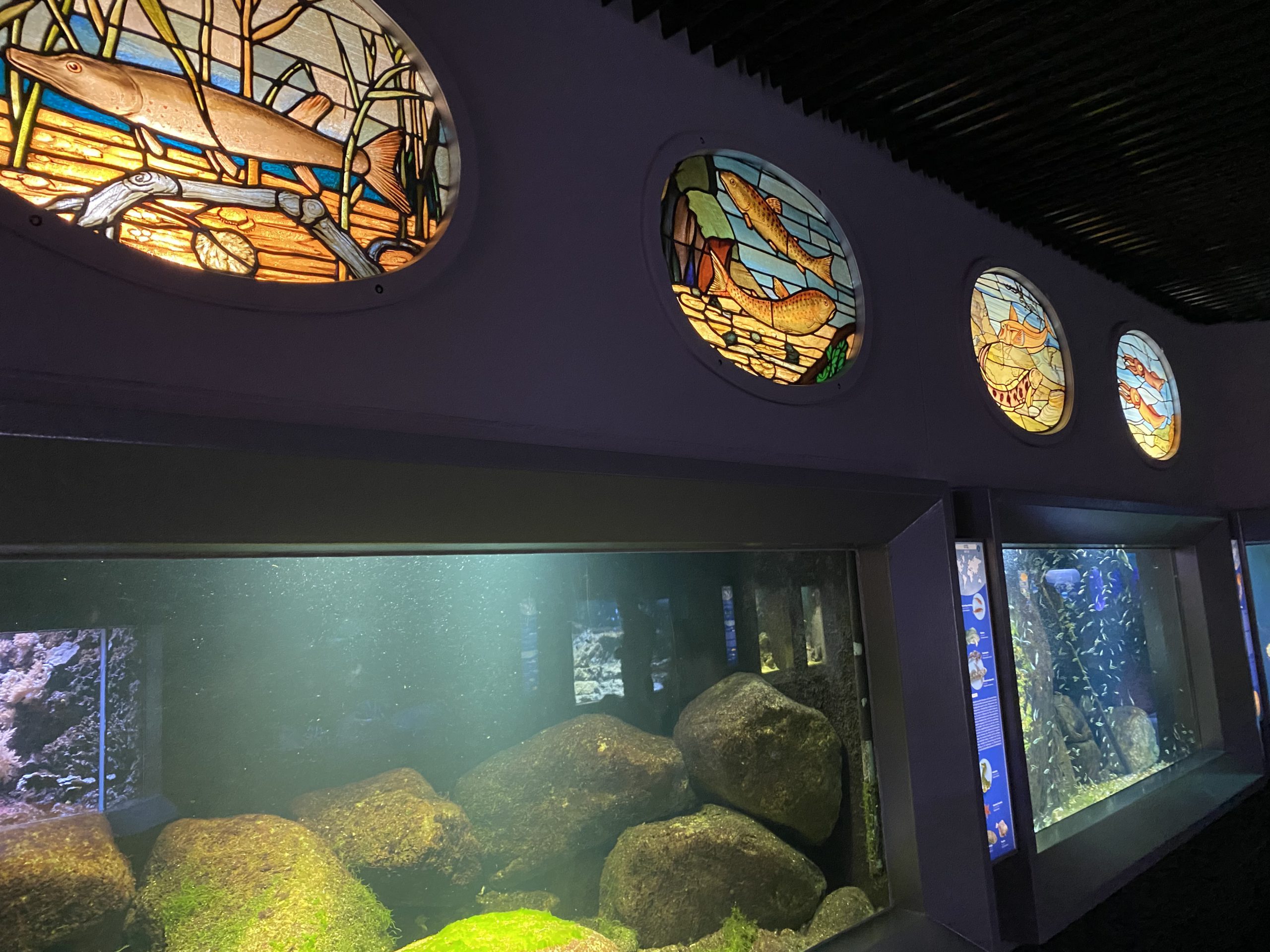 I do love moon jellyfish.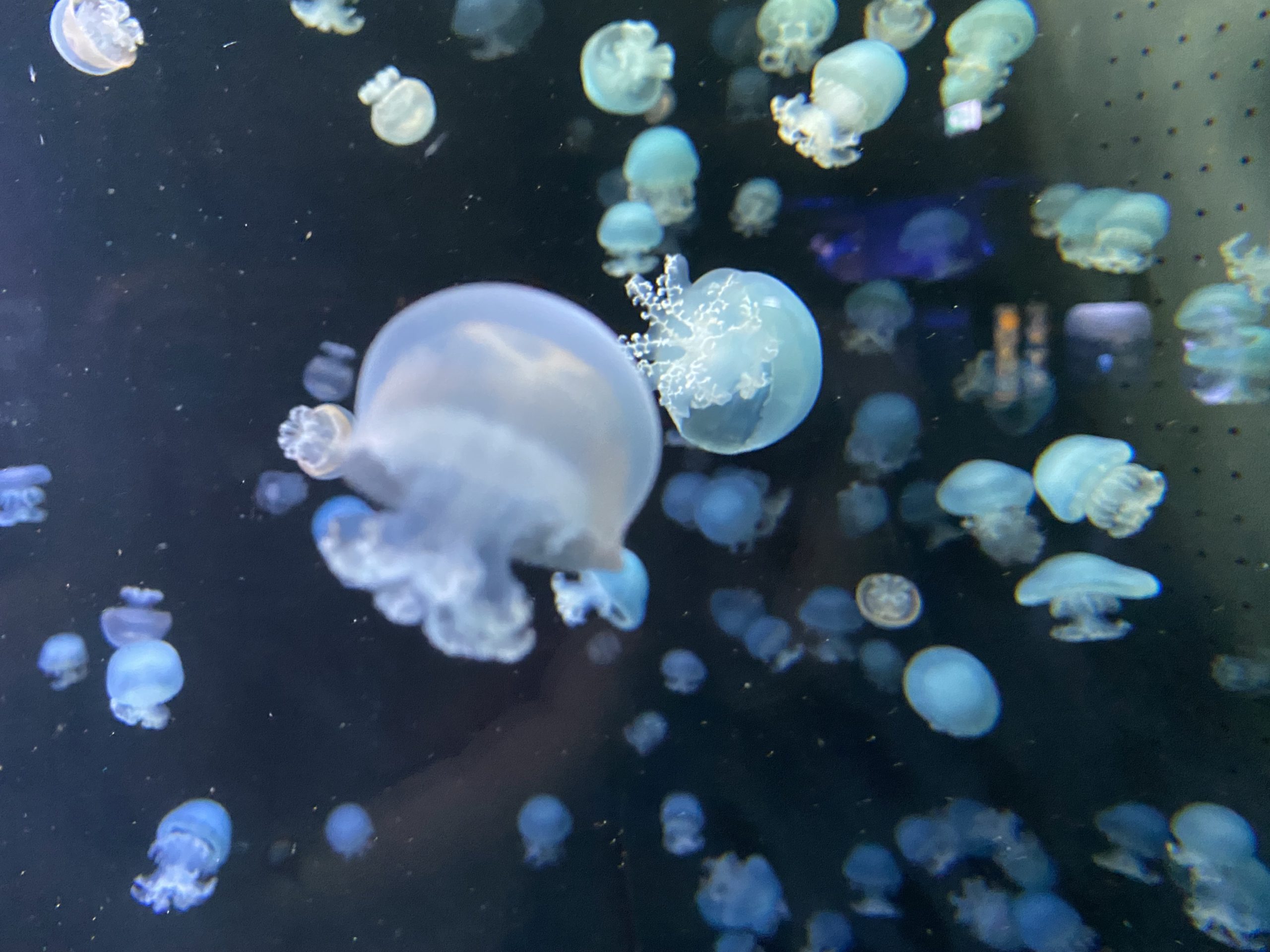 There were larger exhibits that you actually walked through, including one that had alligators (or was it crocodiles?).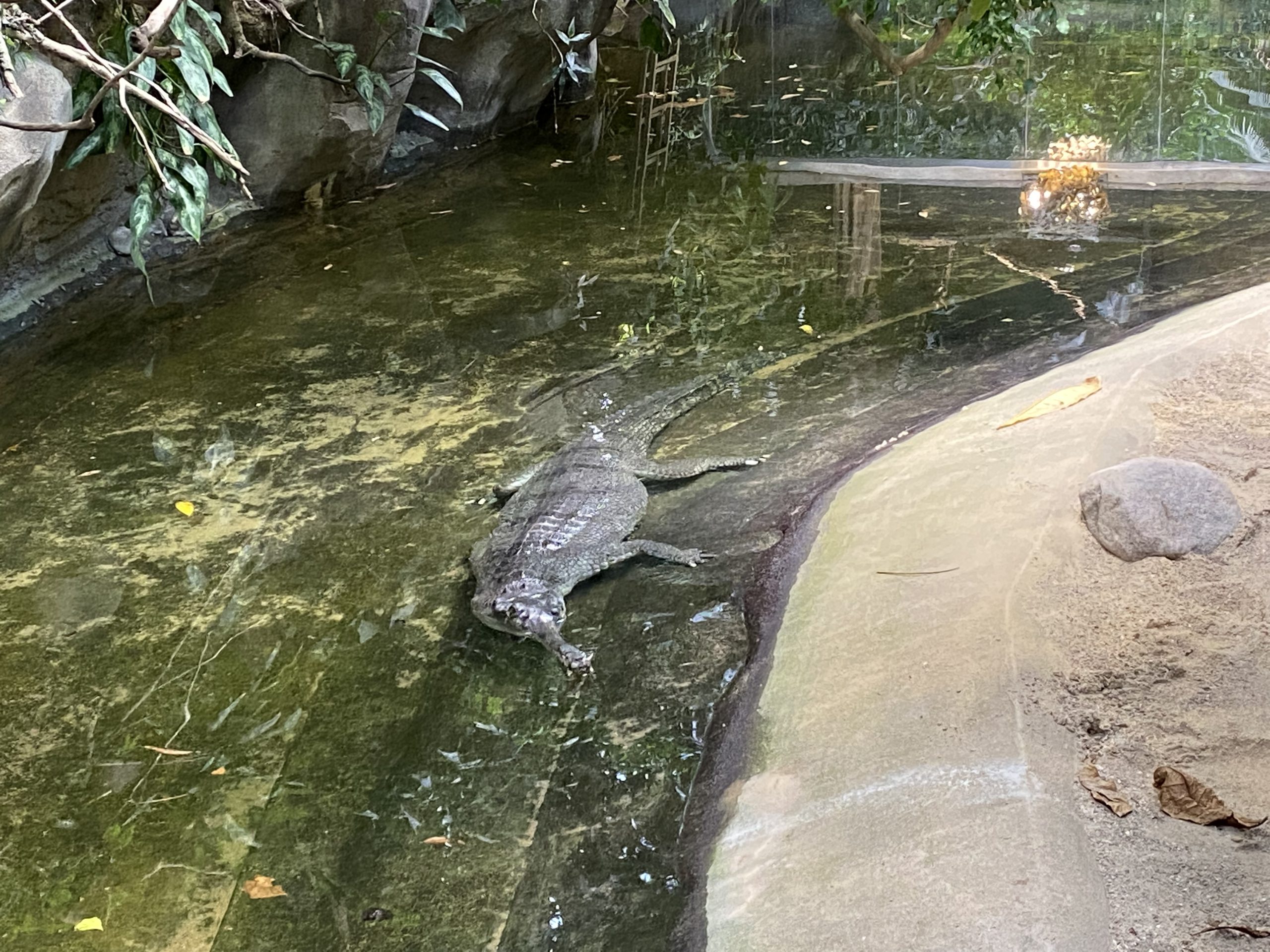 More photos of Mr. Snook looking at sea creatures…
Eventually we called it a day and headed out to dinner at Chicago Williams BBQ, a hipster barbecue place not far from the hotel. It was pretty good!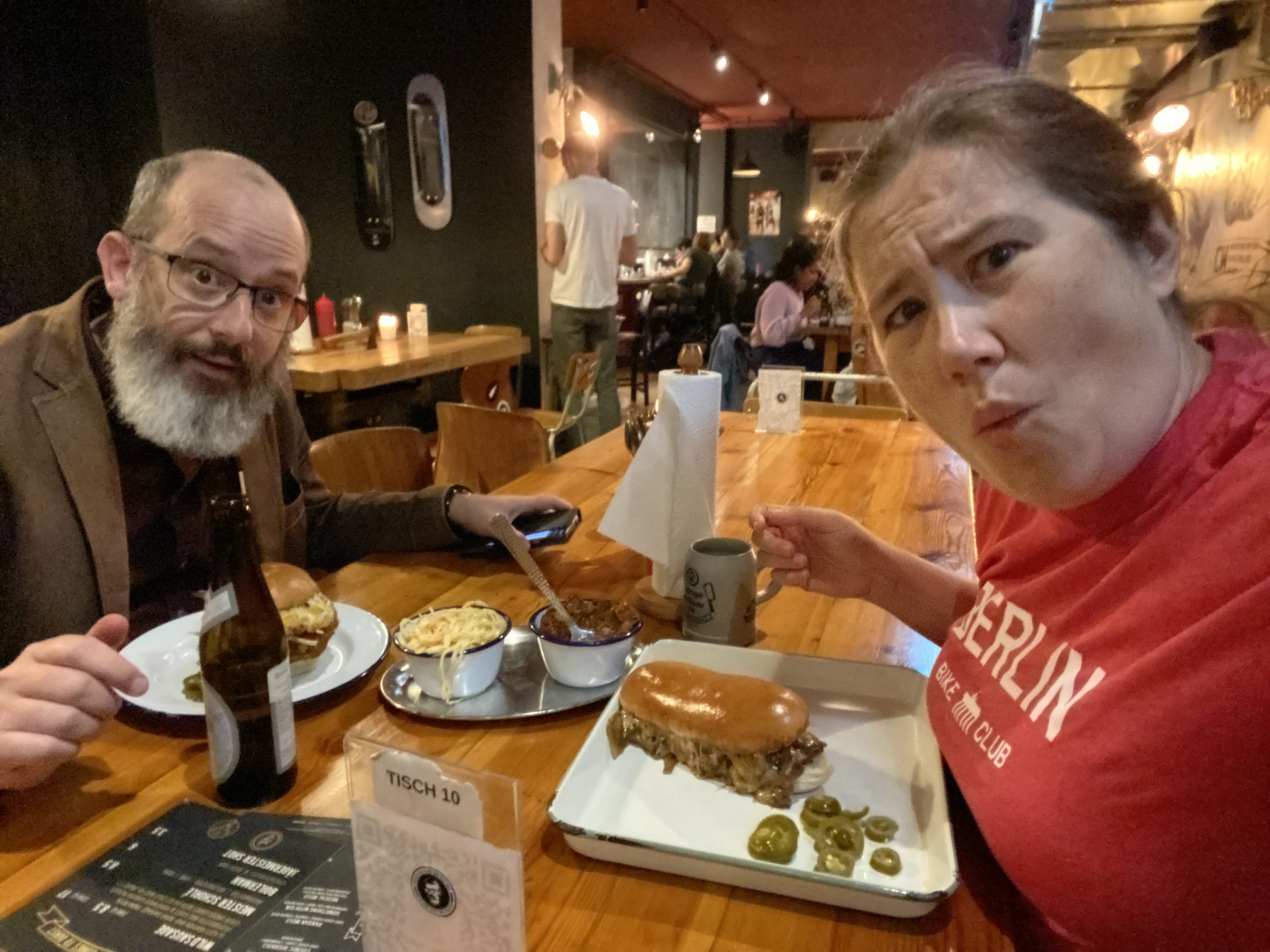 We also walked around the nearby Breitscheidplatz, which features the shell of the old Kaiser-Wilhelm-Gedächtniskirche (Kaiser Wilhelm Memorial Church). The church was badly damaged in the War in 1943 and left as a memorial hall. The locals call it der hohle Zahn", meaning "the hollow tooth."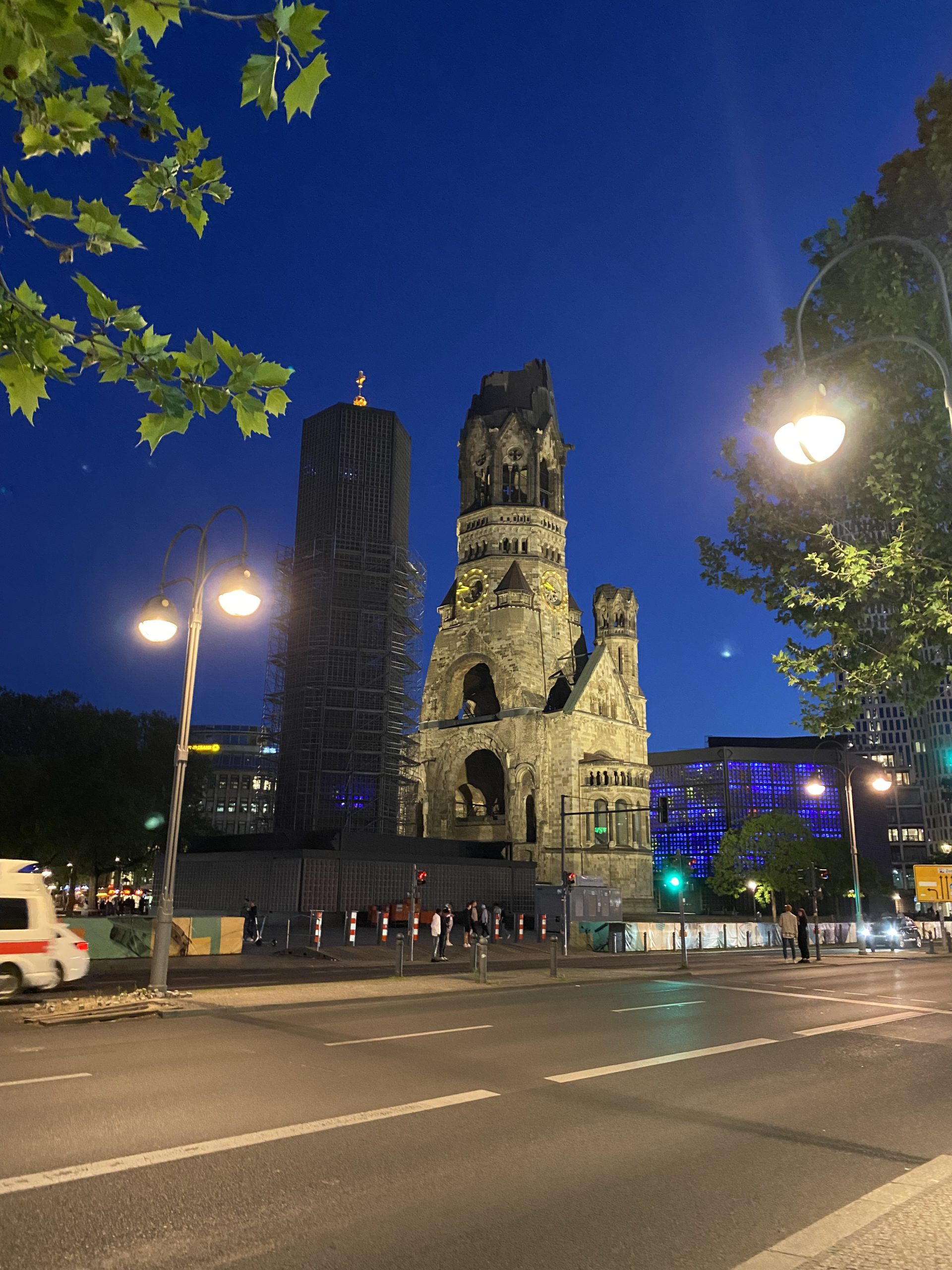 Breitscheidplatz was the site of 2016 Berlin truck attack at the Christmas market that was set up in the plaza. I think this is why the streets around it are so fortified with barriers now to keep any vehicles from mounting the curb. There is also a memorial next to the church to the people who were killed.
The octagonal and hexagonal structures behind the old church are the new church buildings that were built in the 1950's. I didn't much care for the boring concrete geometry of them during the day, but at night they really came alive with coloured lights shining through the glass squares.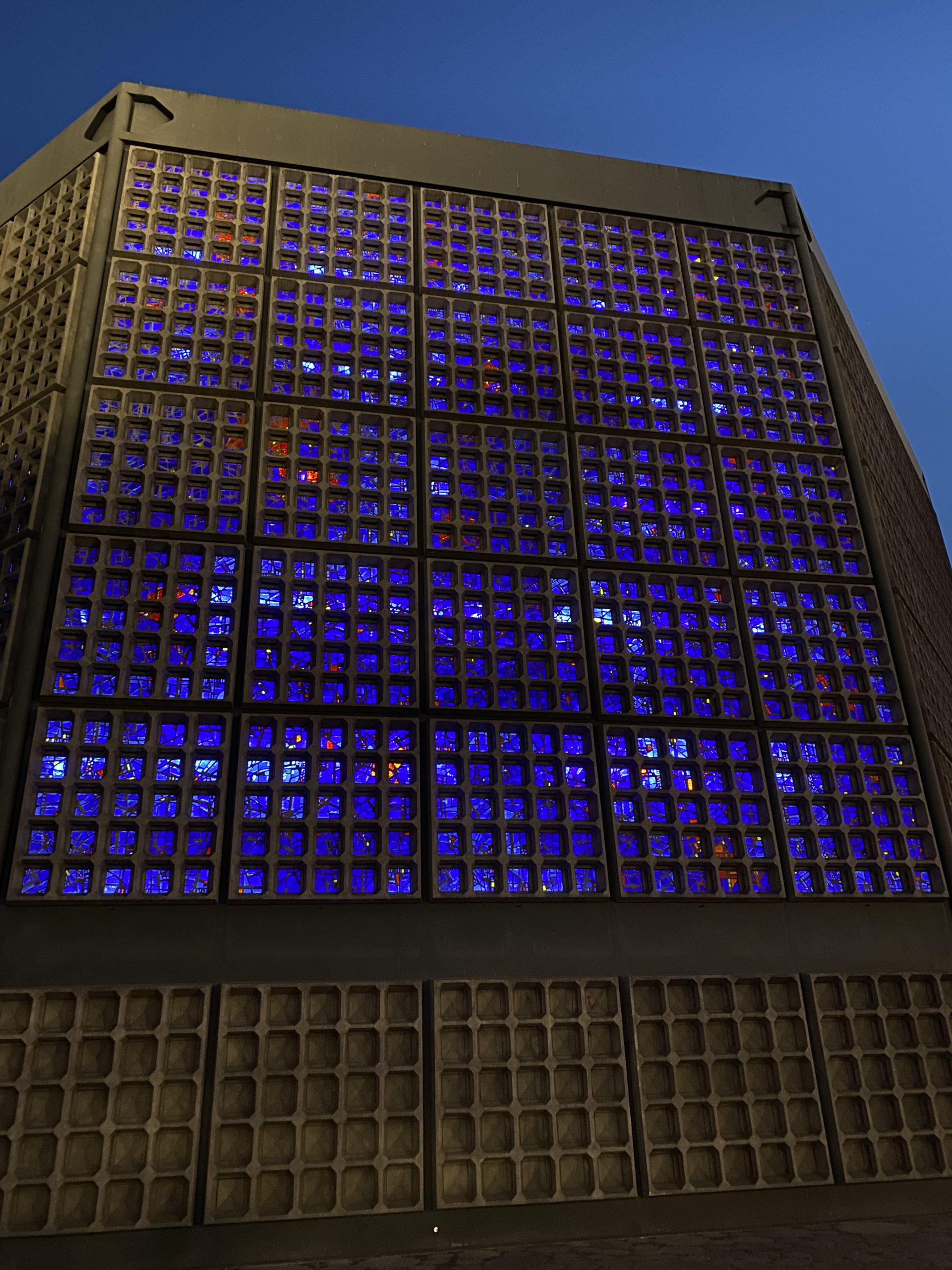 Finally we come to the real reason we picked this hotel – the sauna! It has a guest sauna that overlooks the chimpanzee enclosure at the zoo. We went one morning and had the place to ourselves.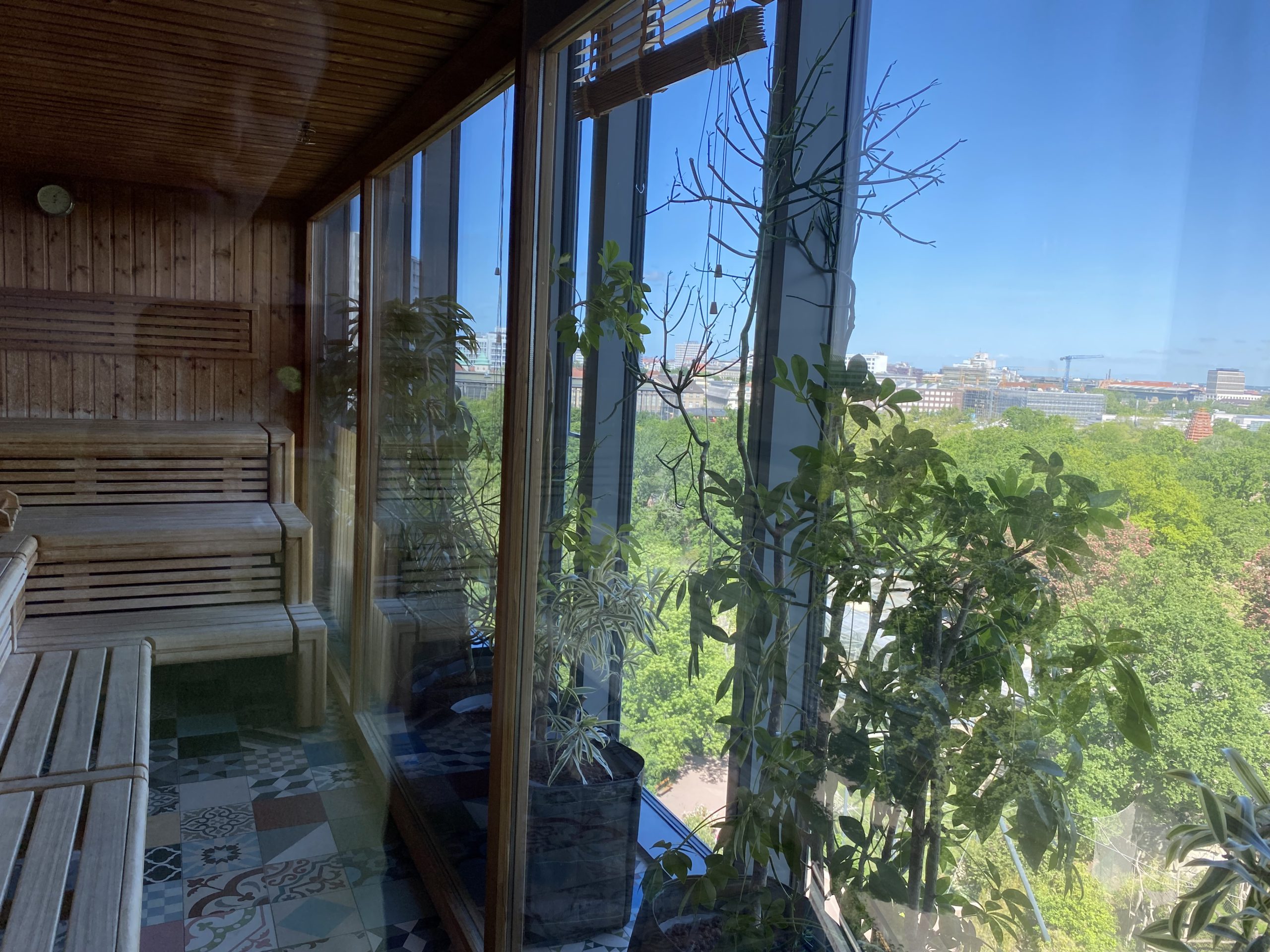 See? There are the chimps down below.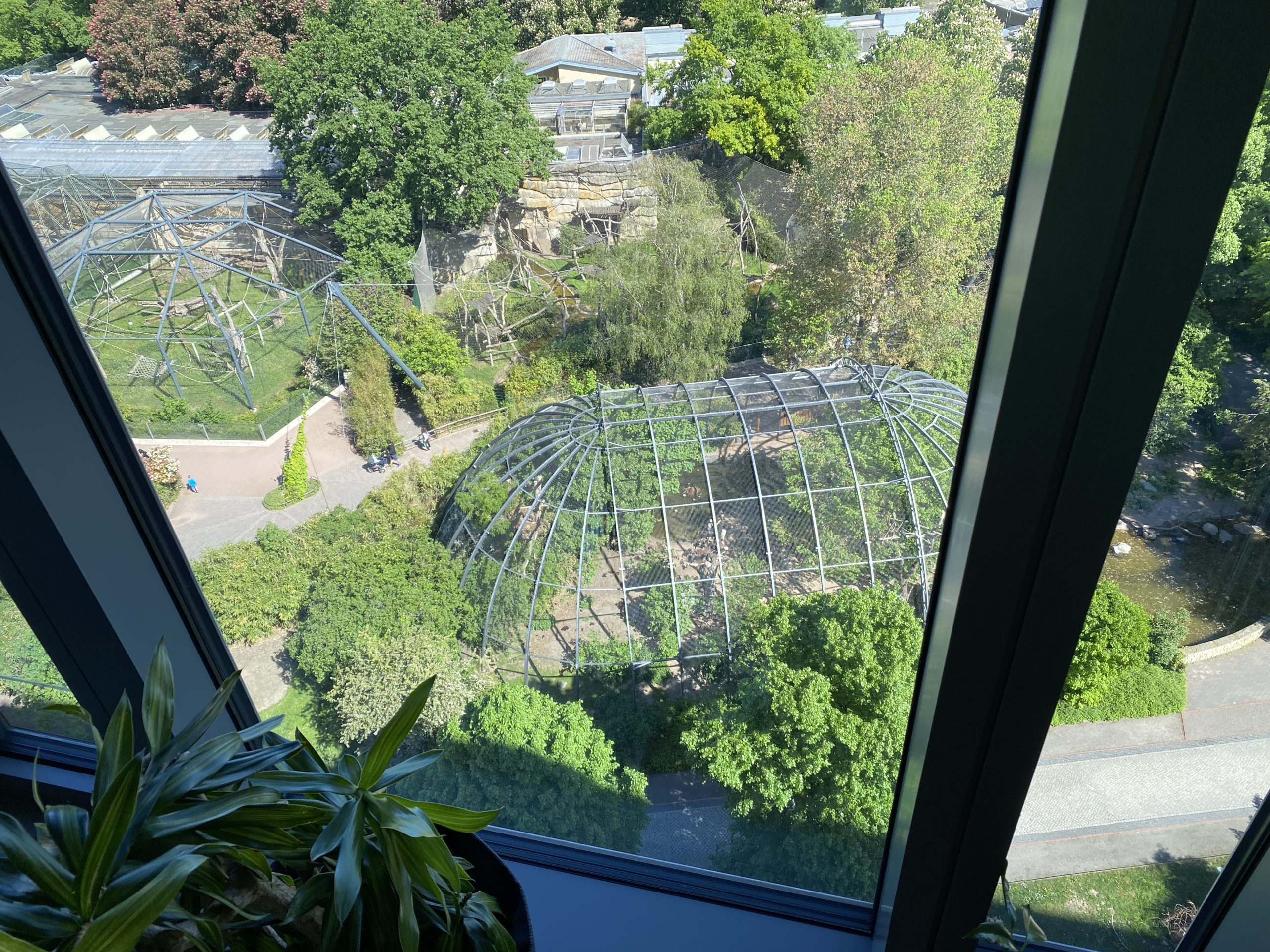 One last picture from Breitscheidplatz, where I'm having my favourite treat of Spaghettieis.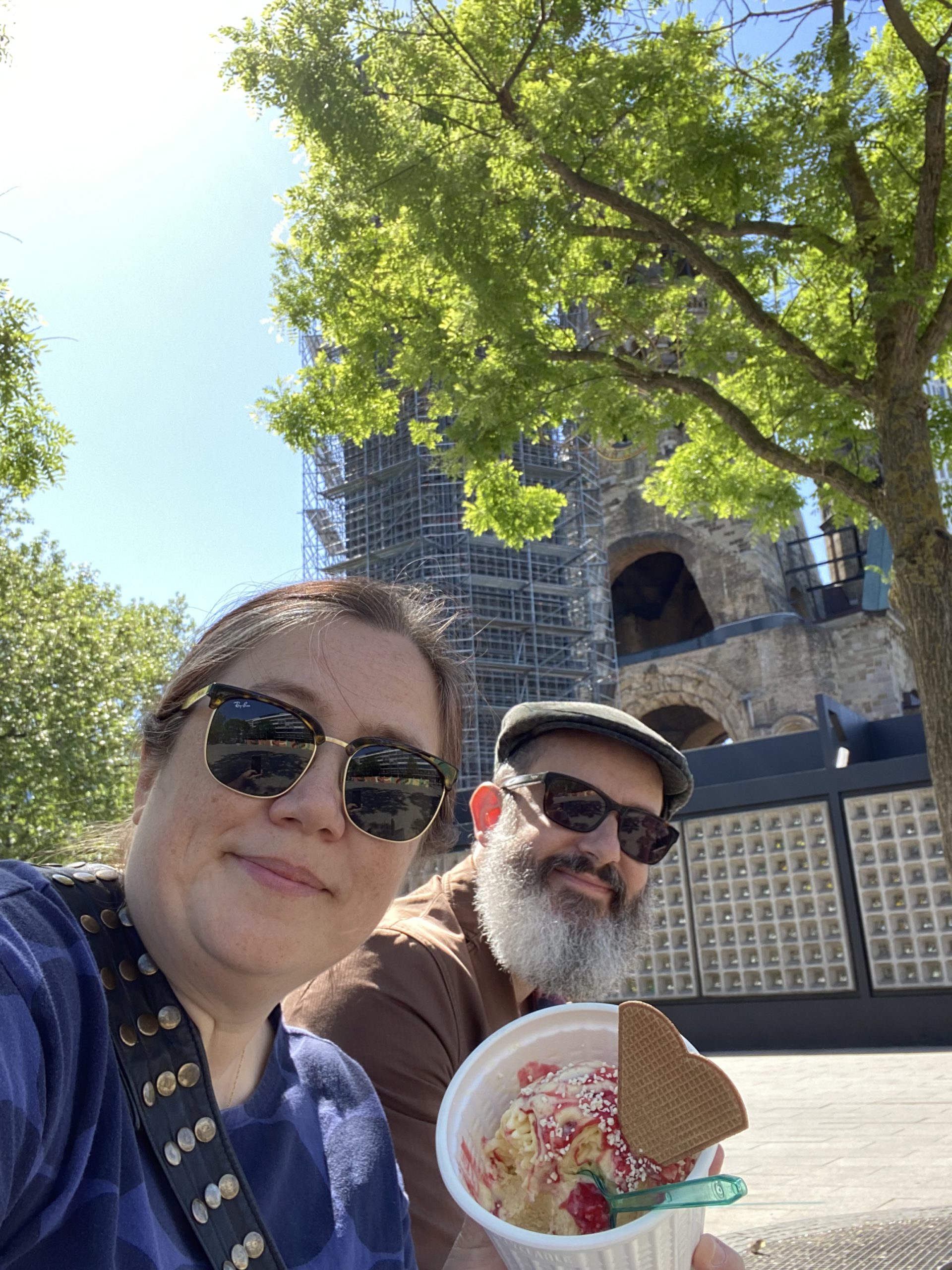 Thanks for a lovely week, Berlin!