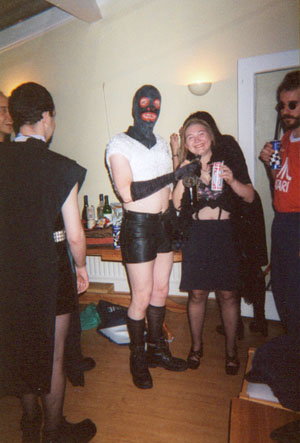 The award for best costume of all, though, had to go to Garreth. This red-haired Englishman, usually seen only in crisp double-breasted suits, waltzed into our house in what can only be described as Gimpwear. Yes, that's a rubber mask, angora crop top sweater, leather short shorts, silk opera gloves, block nylons, and leather boots. Apparently his taxi driver got quite a kick out of driving him to our place.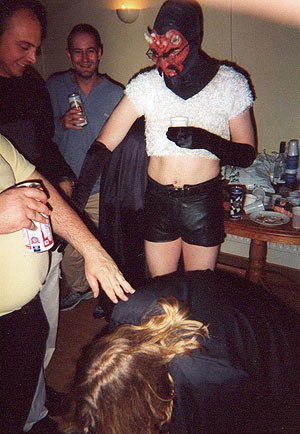 Here Garreth the Gimp samples one of my vodka jellies while Scott checks out his gloves. I have no idea what Ciaran's doing with that person in the foreground.
Various guests had told us that they noticed another party going on down our street. At one point in the evening, there was a knock at the door. I answered it to find some well-dressed strangers. They said that they were from the other party and just wanted to say hello. "Our party is louder," they said, "but your costumes KICK ASS." I asked if they had seen our Gimp, and their jaws dropped. We trotted him out to great fanfare. It's nice to be recognized.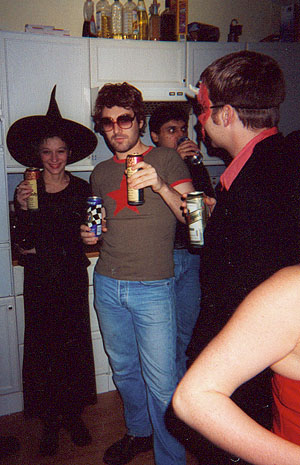 My French friend Eric came in one of my favorite costumes. I don't think he had anything specific in mind when he threw on a T-shirt, wig, and big sunglasses, but I think he looks exactly like Noel Gallagher from Oasis. Don't you agree? Plus he has this way of looking completely disaffected when he's being photographed. He cracks me up. And check out that double-fisting! That's his girlfriend Stefanie in the witch's hat.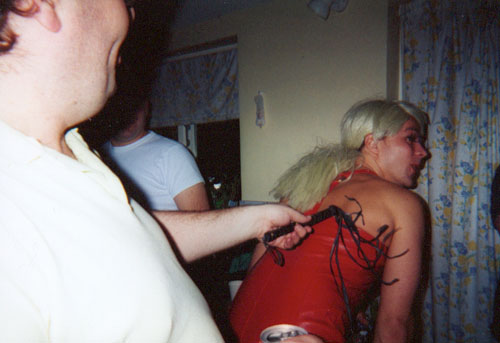 Nick has obviously done something very naughty, because Ciaran felt it necessary to give him a whipping. (They got the whips from the costume shop.) I like how Ciaran doesn't bother to put down his beer while meting out corporal punishment. The Irish have their priorities straight. *grin*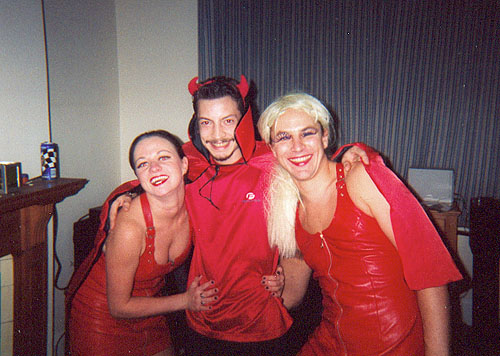 It's Amy, Phil, and Nick, also known as "Satan and his Minions." This is one case where the characteristic "red-eye" my cheapo camera leaves is a benefit to the picture. Nick is also sporting glittery eyelashes, courtesy of the Aimster.
Pages: <- previous / next ->