For our Sixth Annual Halloween Bash, the Snook and I welcomed twenty-nine guests to our new house in Chippendale. I think we set a record for the number of bloggers present: Amy, Rob, Miss Fee, Miss Helen, Bex, Emily, Andrew, James, Charisse, Mary-Helen, Lara, Mark, Kunaal, Nina, and Buggy. As usual, I spent way more time socializing than I did taking photos, so check some of their sites for even more pictures of the fun!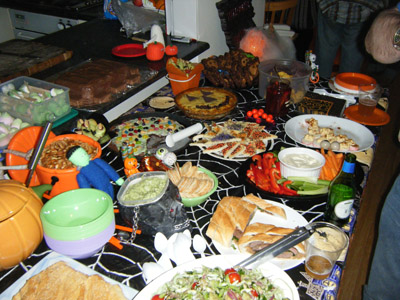 Behold… the party spread. We actually had more items that came out throughout the night, so this isn't even the sum of it. Our awesome guests also brought some special treats too, including a cookie pizza and some fun marshmallow monsters.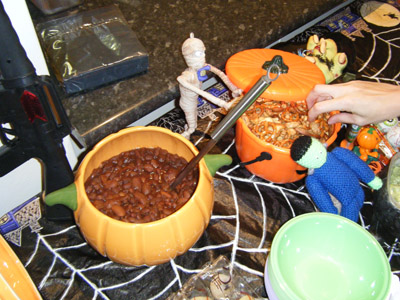 We had a lot of special dietary requirements to cater for, so we tried for a variety of dishes. I made these Hot and Smoky Baked Beans in the crock pot and they were a big hit. (I left out the bacon, used treacle for the molasses, subbed in some ketchup and vinegar for the Worcestershire sauce, and used chipotle powder instead of canned chilies. I also used three different types of canned beans.) You can also see a tub of my "Chex" Mix, which consists of Nutrigrain, macadamias, pretzels, bagel chips, and mixed nuts. (It was coated in butter, Worcestershire sauce, onion powder, garlic powder, and a tiny drop of Dave's Insanity Sauce.)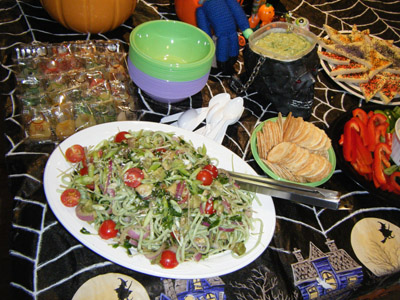 We made this Udon Salad last year and it seemed popular… but this year not so much. I wonder if it was because I used food colouring to dye the noodles green?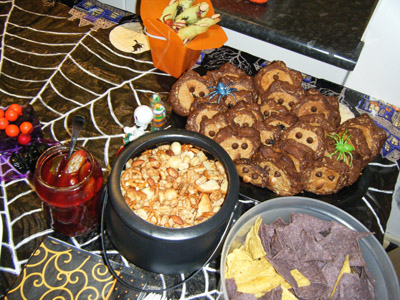 These Owl Cookies turned out adorable. I wish they were a little chewier and less crumbly though. (Note: The recipe linked there makes a huge double batch! I have lots left over.) I also made perennial favorite Witches' Fingers, dyeing the dough green and using a bit of jam for the blood. On the left you can see my Kool-Aid Pickles. (A week before the party, I cut the pickles each in half. Then I dumped out half the brine and added two packets of cherry Kool-Aid and a couple spoonfuls of sugar. I replaced the pickles and topped it up with water.) I think I was the only one who even tasted them. I thought they were okay! They tasted exactly like eating a dill pickle and taking a big drink of cherry Kool-Aid.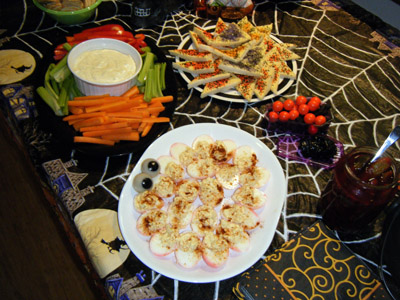 Devilled Eggs are indisputably the #1 favorite party dish. I have no idea why. They disappeared within the first half hour. We also made the Australian favourite Fairy Bread, which is cheap white bread spread with margarine and covered in candy sprinkles. To balance that nutritional void, we also had veggies with homemade Ranch dip.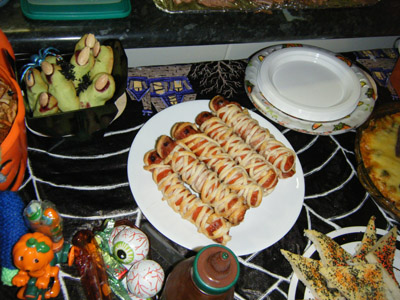 Mummy Dogs were big on the Internet this year. This was the Snook's interpretation. He used puff pastry for the wrapping and barbecue sauce for the eyes. To the right, you can see the edge of my Jack-O-Lantern Layered Mexican Dip. It actually turned out just like the picture! (Unfortunately I mistakenly grabbed "Mexe-beans" instead of refried beans at the store, so it turned out a little too soupy.) I specifically tracked down and bought the blue corn chips just for this dip.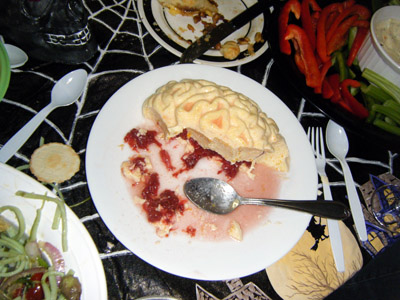 I was inspired to try something a little different with my brain mold this year. I used the same basic panna cotta recipe as last year, but I pureed a can of peaches and used it to replace part of the cream. I also filled the brain in two stages, putting mushed up strawberries in the middle so they'd "bleed" out when it was cut. (I poured the strawberry juice over the finished brain, which Emily the doctor told everyone looked very similar to the pink fluid that comes out of a spinal tap. Yummy.)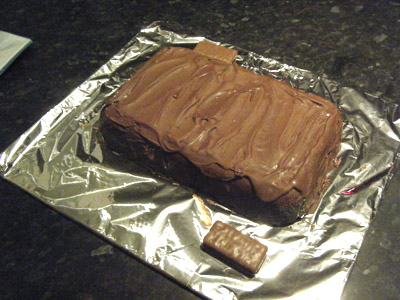 And here is the night's highlight: a Giant Tim Tam! The Snook has long been a fan of Pimp That Snack, and this monstronsity will be his entry. It uses 1.2kg (more than 2.5 lbs!) of chocolate, two packages of chocolate cookies, and a tub of chocolate cake frosting in the middle.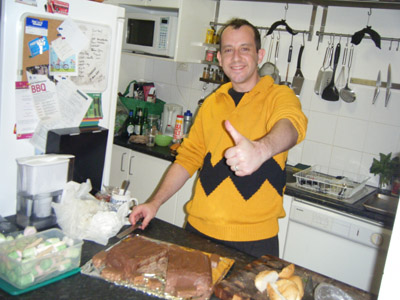 And here is the happy chef cutting his creation in two!
We also made Devils on Horseback (cheese-stuffed bacon-wrapped dates) and Paula Deen's Brie en Croute (baked brie with walnuts and brown sugar). They both disappeared before I could get a photo! And in that very first photo up the top, you can also see homemade guacamole (in the blinky skull), and two large pressed Shooters' Sandwiches (one vegetarian, one steak).
Pages: next ->