Now, some costume shots…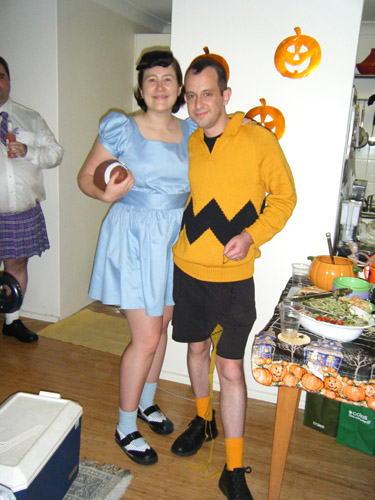 Here we are as Charlie Brown and Lucy. My dress was made from Simplicity #4015 and it turned out so much better than I'd hoped. (Huge thanks go to Miss Fee for walking me through the whole process!) The hardest part of my outfit was finding the shoes. (I'd wanted saddle shoes, but they were just impossible.) The Snook's jumper was, of course, hand knit by me. (Ravelry details here.)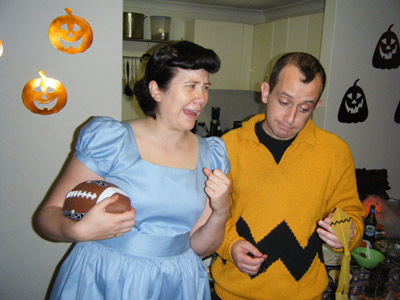 YOU BLOCKHEAD! I was really happy to find the football at Kmart. (They're not common in Australia.) Ma Snook made the little Charlie Brown kite. My hairdo was done by the amazing Desiree at Partners Hair Glebe, who didn't even bat an eye when I whipped out a comic strip and said, "I want that."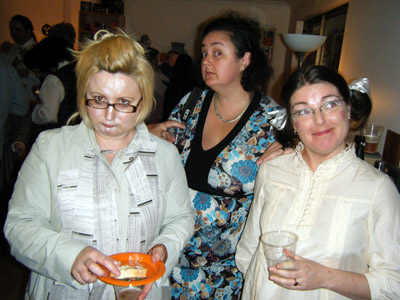 Three lovely ladies! Miss Jane came as "The Economy", complete with hair standing on end and a deathly expression. Miss Fee was Jemima from Playschool (with the Sock Victim as Big Ted). And in the back is Lara, who was Bristol Palin to her husband Mark's Levi.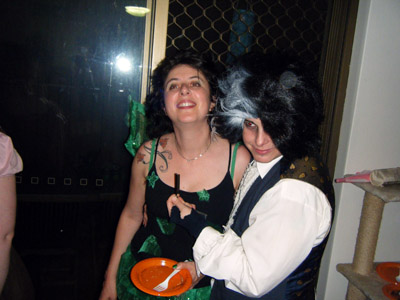 Fin finally made it to a Halloween party, and his costume did not disappoint! He and Bex came as Sweeney Todd and Mrs. Lovett. (Andrew got an awesome photo of them.) Here Sweeney Todd menaces Emily, the Green Fairy.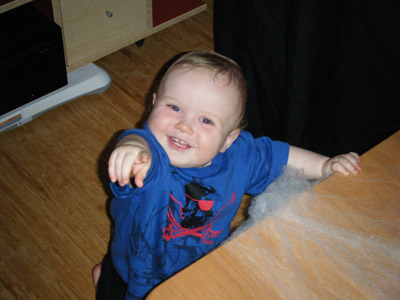 Our youngest guest came as a tiny baby pirate! Jonathan was an absolute doll and he seemed to really like seeing all the crazy grownups in costume.
That's all I managed to get, but you can see more here, here, and here. (I'll update the list as more guests upload their photos.)
Pages: <- previous